Pages 139-146
A History of the County of Oxford: Volume 15, Bampton Hundred (Part Three). Originally published by Victoria County History, London, 2006.
This free content was digitised by double rekeying. All rights reserved.
RELIGIOUS HISTORY
Clanfield had its own church by the late 12th century, though the former minster church at Bampton retained burial rights until the early 16th. From the late 13th century the benefice was a poorly endowed vicarage, and for much of its history the church was served by obscure resident vicars; like many parishes it suffered neglect particularly in the early 16th century and in the 18th, though by contemporary standards many of its incumbents seem to have been relatively conscientious. During the Middle Ages there were two chapels in addition to the parish church: that of St Leonard, established probably as a hospice for the nearby Hospitallers' cell at Friars Court and refounded in the 13th century, and a probably private chapel at Friars Court itself. Both were suppressed at the Reformation, along with obits in the church. Virtually no Roman Catholicism was recorded at Clanfield later, and there was little Protestant Nonconformity until the 19th century, when both Wesleyan and Primitive Methodists became established; relations with the Anglican Church seem usually to have remained amicable, and the Wesleyan chapel remained open in the early 21st century.
The Parish Church
Origins and Status
A chapel subject to Bampton, within whose late Anglo-Saxon parochia Clanfield lay, was established before the late 12th century, presumably by a lord of Clanfield manor. (fn. 1) In the early 14th century it was dedicated to St John the Baptist, (fn. 2) but probably by the late 15th century and certainly by 1506 its dedication was to St Stephen the Martyr. (fn. 3) Bampton claimed motherchurch status throughout the Middle Ages and retained burial rights until 1506, (fn. 4) but from the early 13th century Clanfield church was nevertheless usually treated as independent, and from 1276 the benefice was a vicarage. (fn. 5) The church had baptismal rights probably from its foundation and certainly by the 15th century, the date of the existing font. (fn. 6) A pension of 6s. 8d. recorded from the 13th century seems originally to have been due to Bampton, but was by then paid through the rector of Alvescot, perhaps indicating that Alvescot's chapel pre-dated Clanfield's; the pension continued in the late 17th century. (fn. 7) A pension of 23s. to Minster Lovell priory resulted presumably from early tithe grants by Roger d'Ivri, overlord of Clanfield in 1086 and founder of the priory's mother house, rather than from parochial jurisdiction. (fn. 8)
In 1960 Kelmscott chapelry (formerly part of Broadwell) and the hamlet of Radcot (formerly part of Langford) were added to Clanfield's ecclesiastical parish, forming the united benefice of Clanfield with Broadwell. (fn. 9) In 1976 Kelmscott and Radcot were removed, and Clanfield was merged with Bampton as a new united benefice. (fn. 10)
Advowson
The advowson passed to Ralph Hareng with Clanfield manor around 1200, and before 1219 was given to Elstow abbey (Beds.), presumably by Hareng. The abbey retained it until the Dissolution. (fn. 11) Though in 1549 executors of John Longland, bishop of Lincoln, presented for one turn, (fn. 12) before 1546 the advowson was granted to owners of Friars Court manor and of Clanfield rectory estate, with which it was divided in 1589 among Agnes Savage's three coheirs. (fn. 13) Francis More excepted it from the sale of his share of the rectory estate in 1604, and presented jointly with other coheirs in 1614 and 1620; (fn. 14) rival presentations were made in 1644, when the Crown successfully co-presented because John Chapman (d. c. 1658) had not yet entered on his estate.
Before 1662 the Mores' share was sold with other property to John Smith, who that year presented jointly with John Gunn and Katherine Chapman. (fn. 15) Ann Gunn presented in 1731, but from 1782 alternate presentations were made by the Elliotts as owners of two thirds of the rectory estate, and by owners of Chestlion Farm, latterly Christ Church, Oxford, presumably following an unrecorded purchase. (fn. 16) That arrangement continued in 1907, but in 1924 the bishop of Oxford acquired the whole advowson from Christ Church, and in 1997 his successor shared joint patronage of the united benefice with the Oxford Diocesan Board of Patronage and others. (fn. 17) An earlier bishop of Oxford collated by lapse in 1903, and the archbishop of Canterbury by lapse in 1957 and during a vacancy of the see in 1971. (fn. 18)
Endowment and Vicarage
Land in Clanfield belonging to the honor of St Valery reportedly included 'parson's hide', (fn. 19) but the church's 13th-century endowment seems to have comprised little more than a yardland, together with tithes from most of Clanfield, from Pitlands and Batelands in Alvescot, and churchscot. (fn. 20) The rectory's gross value in 1291 was reckoned at £8 4s., of which just over a third was attributed in 1341 to glebe and to hay and small tithes. (fn. 21)
A pension of 13s. 4d. was granted before 1219 to Elstow abbey, to which the rectory (including all or most of the glebe) was appropriated in 1276 under an arrangement of 1257, the abbey paying the pensions and all rectorial charges. Under the bishop's ordination the vicar received great tithes of curtilages, crofts, and mills, hay tithes from the Moor, all small tithes except those belonging to Bampton, and churchscot, together with 3 qr. of corn and 3 qr. of barley a year from the abbey, mortuaries and obventions, and, by 1317, a quarter of the oblations from St Leonard's chapel. (fn. 22) In the 17th century the vicarage also included 7 a. of glebe, while annual payments of wheat from specified holdings, perhaps representing churchscot, totalled 11½ bushels. (fn. 23) The vicarage remained poor, worth £8 gross in 1535 (fn. 24) and £25 during the Interregnum, when it was briefly augmented with £50 rent diverted from Bampton rectory estate; (fn. 25) in the early 18th century it remained under £30, and was discharged of first fruits and tenths. (fn. 26) During the 16th century and early 17th it was sometimes leased. (fn. 27)
At Alvescot's inclosure in 1796 the vicar received 15 a. and corn rents of 8s. 7d. for tithes there, and at Clanfield's inclosure in 1839 rent charges of £50 and 8 a. for glebe. (fn. 28) Land tax (around £3) was redeemed in 1802 from a charity run by governors of Queen Anne's Bounty, (fn. 29) and the Bounty augmented the living in 1809 by lot, and again in 1824 to meet a benefaction from the vicar. (fn. 30) Gross income in the late 19th century was nevertheless still under £100, including £7 from the Bounty and £10 from the Sons of the Clergy, and in 1905 the living was 'miserably small'. (fn. 31) Private benefactions between 1908 and 1913 were matched by the Ecclesiastical Commissioners, and in 1919 income was around £250, including a stipend of £111 which was increased in 1924. (fn. 32) In 1930 the Commissioners substituted a £5 stipend for a surviving corn rent of 2 bu. of wheat, (fn. 33) and in 1935 the net value was £348. (fn. 34)
Vicarage House
The rectory house was given in 1276 to Elstow abbey, which provided a vicar's house. Presumably it stood west of Black Bourton road as later, on a site taken probably from the rectory house curtilage to its north. (fn. 35) Though in good repair in 1634, (fn. 36) and by then probably stonebuilt, (fn. 37) the house was evidently small, being taxed on 3 hearths in the 1660s and judged 'very mean' in 1738. (fn. 38) Thereafter it was either let or vacant, and in 1800 it was ruined and uninhabitable. (fn. 39) A new house, designed by the local mason John Farmer, was built on the same site about 1819, (fn. 40) though until around 1836 it was leased, the vicar occupying the Grange to the north instead. (fn. 41) The house was enlarged in 1842, 1849, and 1909, (fn. 42) and the curtilage was extended southwards in 1908. (fn. 43) It remained the vicarage house until around 1986 after which it was sold, incumbents of the new united benefice living thereafter at Bampton. (fn. 44)
St Leonard's and Friars Court Chapels
The chapel of St Leonard, south of the village on the east side of the Faringdon road, was founded perhaps in the later 12th century, as a hospice served by sisters from the nearby Hospitallers' cell at Friars Court. The last of the sisters was removed about 1180, and shortly before 1244 the derelict chapel was rebuilt by a vicar of Bampton, and re-established as a subject chapel with hospice functions. The chaplain was to be appointed by the proctor of Exeter cathedral, which, as impropriator of Bampton rectory, retained half the oblations, the chapel's remaining income going towards maintaining the fabric and helping the poor. The tenant of a house and 4 a. granted towards support of the chapel during the 13th century was expected in 1317 to maintain the chapel roof, but by then some of the oblations had been diverted to Clanfield church, and the chapel may have been in decline. (fn. 45) Oblations were mentioned in 1421, (fn. 46) but by 1565, when the 'free chapel' of St Leonard was seized by the Crown, it was already leased with the land and house site, and later became a copyhold cottage. (fn. 47) Part of the walling of the chapel or of the adjacent house may survive in Friars Court Cottages (Fig. 46). (fn. 48)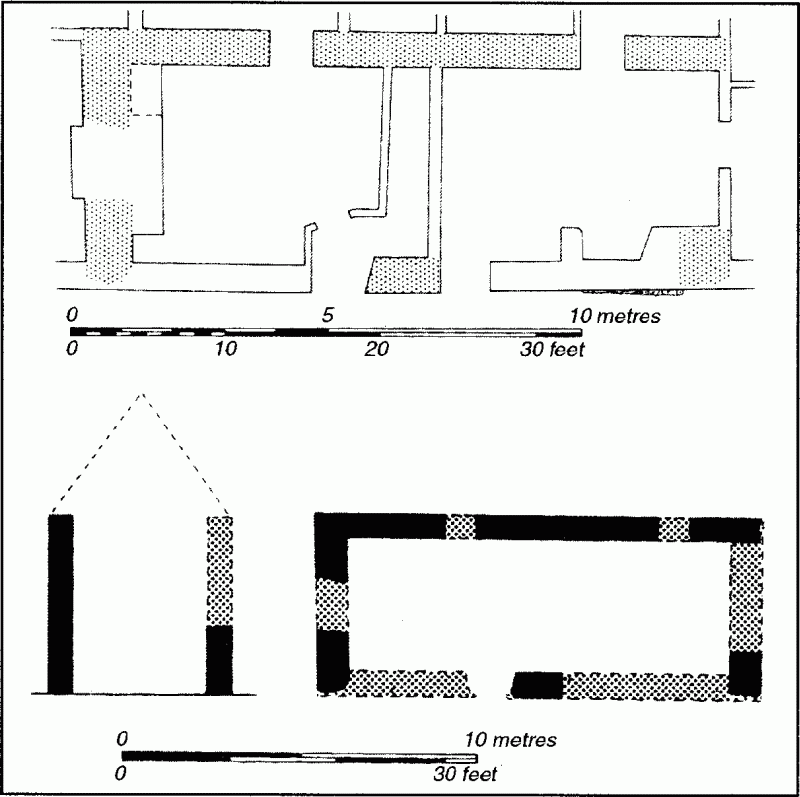 A second 'free chapel' seized in 1565 was the manorial chapel of Friars Court, the former Hospitallers' preceptory, for which lessees in the late 15th century and earlier 16th were required to provide a chaplain two days a week. That chapel is unknown to have fulfilled parochial functions, and was not mentioned after the Dissolution. (fn. 49) In the late 15th century one of the two chapels contained an 'image' of St John, before which a tenant of the Hospitallers was required to supply two tapers as part of his rent. (fn. 50)
Pastoral Care and Religious Life
A chaplain mentioned about 1200 presumably served either the church or St Leonard's chapel, and seems to have had a son. (fn. 51) Thirteenth-century rectors, recorded from around 1219, included three university graduates, and another became archdeacon of Huntingdon, though two were instituted not in full orders and whether any resided is unknown. (fn. 52) By contrast most medieval vicars (fn. 53) were obscure clerks of whom most probably lived in Clanfield: one was involved in local transactions, another resigned to become a Minorite in Oxford, and a third moved to Clanfield from a neighbouring benefice, (fn. 54) while in 1506 the vicar participated in his parishioners' appeal to the papacy to obtain burial rights. (fn. 55) At least two vicars came apparently from near Elstow, (fn. 56) though Robert Muschat (presented in 1476) was one of a long-established Clanfield family. (fn. 57)
Hugh Thomas (vicar 1519–49), the first known university graduate since the 13th century, lived elsewhere and appointed a succession of stipendiary curates, of whom one may have rented the entire vicarial income. None of the curates was university-trained, (fn. 58) and clearly there was some neglect: about 1520 the chancel was in disrepair, the font was uncovered, and there was no almsgiving, while ten years later Elstow abbey was refusing to supply wine and bread. (fn. 59) A Clanfield man in the early 1520s was accused of heresy, allegedly asserting that 'all the world was as well hallowed as a churchyard', (fn. 60) though he may have been exceptional; a curate's will in 1546 contained Catholic invocations, suggesting religious conservatism, and as late as 1558 a parishioner left money for the rood light. (fn. 61) Presumably the Reformation caused considerable local disruption: the chapel of St Leonard and that at Friars Court were suppressed, and the Crown seized property given for maintenance of lights and obits in the church, (fn. 62) while in 1578 the vicar William Phillips was deprived for unknown reasons. (fn. 63) Nevertheless all Clanfield's Elizabethan incumbents subscribed to the religious settlement and, since most resided, presumably enforced the new observances. (fn. 64) The Yate family, owners of part of the rectory estate in the 17th and early 18th century, were Roman Catholic recusants, but none of them lived in the parish, (fn. 65) and a single resident Catholic reported in 1682 agreed to attend the church. (fn. 66) No later recusancy was recorded.
From the late 16th to the early 18th century most vicars resided. (fn. 67) John King (vicar 1587–1600), probably a local man, was of 'tolerable learning' despite being a non-graduate, (fn. 68) and from 1600 graduates became the norm. John Woolley, co-presented by the Crown in 1644, seems to have retained the benefice throughout the Interregnum, resigning it in 1662; (fn. 69) Samuel Smith (1662–c. 1670) was presumably a relative of his copatron John Smith, (fn. 70) and Edward Tirer (vicar 1671– 1730) ran a school, latterly serving Swinbrook as well as Clanfield and employing a curate. (fn. 71) Thomas Middleton (vicar 1731–82), who achieved some local notoriety as a pluralist, lived at Bampton, where he was curate and schoolmaster; he employed a non-resident curate for Clanfield, who also served Shifford chapel (in Bampton) every third Sunday, reducing Clanfield's services on those days from two to one. Middleton acknowledged that 'too many', chiefly servants, failed to attend, and undertook personally to encourage better observance. (fn. 72) From around 1750, when Middleton was deprived of his Shifford duty, there were regularly two Sunday services with one sermon, and prayers on Good Friday and St Thomas's day; the sacrament was administered three or four times a year to 10 or 20 people. (fn. 73)
Middleton's successors to 1823 all lived elsewhere, though George Johnson, who served Clanfield from 1784 to 1813 first as curate and for a time as vicar, kept lodgings in the village. (fn. 74) By 1793 there was only one Sunday service, though the sacrament continued as before and the number of communicants rose slightly, while a Sunday school established in 1784 yielded 'considerable benefit'. (fn. 75) Presumably there was an accompanied choir, since a bass viol was bought for the church in 1819. (fn. 76) Resident vicars from the 1820s to 1850s altered little, (fn. 77) but thereafter there was some improvement: Richard Yorke (1864–73) restored the church, reintroduced two Sunday services, and administered the sacrament up to 16 times a year, while in 1875 his successor J. B. d'Arcy held 18 services a week with 4 sermons, administered weekly sacraments, and catechised regularly. (fn. 78) Good relations were maintained with Dissenters, who in 1869 contributed to the church restoration. (fn. 79) Congregations of 150 in 1866, some 26 per cent of the population, were judged 'fair', (fn. 80) though numbers fluctuated and from the 1880s fell slightly with the population. In 1875 d'Arcy complained that the high proportion of private pews alienated poorer parishioners, and in 1884 declining attendance was blamed partly on incoming Dissenters, though apathy and bad example were blamed in 1899. (fn. 81) A Bible class established in the 1880s 'dwindled away' after initial success, (fn. 82) though a choir evidently continued throughout the late 19th century and early 20th. (fn. 83) Twentieth-century vicars until the 1980s all resided, and there were some long incumbencies, notably that of H. M. Goodacre (vicar 1927–57). (fn. 84)
Church Architecture
The church of St Stephen the Martyr (fn. 85) comprises chancel with north chapel, nave with north aisle and south porch, and embattled west tower of two stages (Fig. 47); (fn. 86) the medieval parts are of roughly coursed limestone rubble, and 19th-century restorations of coursed and dressed rubble. The church appears to have been built about 1180–90 with a three-bay aisle, a short rectangular chancel, and, probably, a north-east chapel. The chancel arch has responds with trumpet capitals and double-torus bases; the arcade has pointed, doublechamfered arches on round piers with heavy multiscallop capitals and double-torus bases, and has matching east and west responds. The south doorway has a semi-circular tympanum with a hacked-off row of chevron, a semi-circular hoodmould, and chamfered jambs, and the C-hinges on the south door also appear original. (fn. 87) A masonry break in the south wall of the chancel just east of a narrow lancet indicates the length of the late 12th-century chancel. Continuously moulded image-niches flanking the chancel arch, one of which has a trefoiled head and traces of red paint, may also be late 12th-century. Presumably about 1312, when the church was reconsecrated, (fn. 88) the chancel was extended, with an east window of three intersecting lights, a south door, a south-west window, and, inside, an aumbry, a trefoiled credence, and a piscina. The lower part of the tower is also 14th-century; the high nave-arch incorporates four chamfered orders, the inner one carried on shafts with chamfered capitals, and the west window has a cusped rear-arch perhaps derived from windows in Bampton church. (fn. 89) The north aisle's west window is perhaps of similar date, though the tracery is 19th-century. The porch (fn. 90) may also have been added in the 14th century, and in the late 14th century or early 15th an ogee-headed window under a square hoodmould, incorporating a stepped three-seat sedilia, was inserted into the chancel south wall. The upper part of the tower and its stair turret, which has a cusped niche with a statue of St Stephen holding a book and stones, were added in the mid to late 15th century, and part of the north aisle was said in 1850 to be also 'Perpendicular'. (fn. 91) The font, which has quatrefoils on each face, is of similar date, though its wooden cover was given in 1913. (fn. 92) In 1520 the chancel roof and window-glass were in disrepair, (fn. 93) and perhaps after that the chancel north chapel was remodelled with a chamfered arch to the chancel, a similar arch to the aisle, and a large squint with a depressed four-centred head. Before 19th-century restoration the north chapel had a rectangular east window with stone transoms and mullions. (fn. 94)
In 1631 the church was 'in decay'. (fn. 95) The nave seems to have been roughly repaired either then or later, and in the early 19th century had a single pointed window (without tracery) east of the porch, a large rectangular window to its west, and a roofline lower than the chancel. (fn. 96) The chancel was repaired in 1677. (fn. 97) General repairs were noted in 1847, (fn. 98) but by 1867 parishioners were seeking to demolish the church and rebuild it. Those plans were vetoed by the diocesan architect in favour of a restoration to designs by John Luker of Faringdon (then Berks.), who between 1868 and 1870 entirely rebuilt the south wall of the nave (including the south porch), the north wall of the aisle, and the arch into the north chapel, some original carved features being incorporated in new walling. Luker also enlarged the chancel arch and reroofed the chancel, cleaning and scraping its remaining medieval masonry, replaced the east window of the north chapel by one matching the chancel east window, and unblocked the squint, probably also building the surviving fireplace into the north chapel south wall. The church was repaved and repewed, a gallery was removed, and a stone pulpit was installed. (fn. 99) The total cost was met by subscription and a twenty-year loan secured on parish rates, together with a small grant from the Diocesan Church Building Society. (fn. 100) Heating was installed about 1883. (fn. 101) A church clock mentioned in 1814 survived (in need of repair) in 1897, but was not mentioned later. (fn. 102)
The aumbry was reopened in 1903, (fn. 103) and the tower, lightly repaired between 1868 and 1870, was more fully restored in 1905. (fn. 104) An oak reredos, choir stalls, and large brass chandeliers in the sanctuary were fitted in 1906 following a bequest from Amelia Carter, and at the same time a north doorway in 13th-century style was made into the north chapel, and the chancel south doorway was internally blocked. (fn. 105) Memorial glass to the vicar's wife Sarah Rainey, by Mayer & Co. of London, was installed in the east window in 1908, and a harmonium mentioned in 1872 was replaced in 1910 with a two-manual pipe organ by Martin and Coate of Oxford. The church was electrified in 1933, and a lectern in memory of Ernest White of Northcourt Farm was given in 1934. (fn. 106) General repairs were carried out in 1959 and 1992. (fn. 107)
There was apparently a ring of at least three bells before the Reformation, (fn. 108) and in 1608 Leonard Wilmot left £7 for a new bell. (fn. 109) A ring of four was recast as five by James Keene of Woodstock in 1653, probably at the expense of John Saunders, and two bells were recast in 1667 and 1696. Three bells by John Taylor & Co. of Loughborough were added in 1905, and the 17th-century frame was replaced. (fn. 110) The plate includes a silver chalice and paten cover of 1575, a silver paten of 1679 given by Margaret Alworth, and a pewter flagon of the late 17th or early 18th century. (fn. 111) Memorials include inscriptions to Leonard Wilmot (d. 1608), Ferdinando White (d. 1719), and members of the Gunn and Rogers families, lay rectors. (fn. 112) Registers survive from 1633. (fn. 113)
The churchyard was extended southwards in 1874, 1930, and 1962. (fn. 114) In 1908 the churchyard walls were repaired following a public appeal. (fn. 115)
Nonconformity
Nonconformity was minimal in Clanfield until the 19th century: virtually no Roman Catholic recusancy was reported, and though a Clanfield man was among several accused of heresy around 1521 there was relatively little early Protestant Dissent. (fn. 116) A Quaker in the 1680s, presumably one of three Nonconformists noted in 1676, attended meetings probably in Alvescot, (fn. 117) and in 1743 Richard Ebsworth's house, perhaps Northcourt Farm of which he was tenant, was briefly licensed for Nonconformist worship. (fn. 118) One or two Clanfield Baptists worshipped at Bampton in the later 18th century, but attended Clanfield church as well, (fn. 119) and by 1802 there were again no Dissenters. (fn. 120) 'A few' inhabitants occasionally visited neighbouring meeting houses in the 1810s, and around 1820 a preacher from Faringdon (then Berks.) paid a few visits to the parish; a house in Clanfield was briefly licensed for worship that year, though only one Dissenter was reported. (fn. 121) In the mid 19th century a few other Clanfield inhabitants may have attended Alvescot Particular Baptist chapel, of which a Clanfield grocer was deacon in 1851. (fn. 122)
Wesleyan Methodists
A former brewhouse belonging to E. H. Butler of Faringdon was licensed in 1824, evidently for Wesleyan Methodists; probably it was a surviving rubble outbuilding east of the main street, which belonged to Willow Farm. In 1851 it had 80 free sittings, and 84 people attended evening service on Census Sunday. (fn. 123)
A new stone-built chapel in Gothic style (Fig. 36) was erected on the west side of the street in 1860, (fn. 124) and was enlarged in 1880, the foundation stone laid by Charles Early of Witney. (fn. 125) In 1904 the chapel was transferred from the Swindon to the Witney circuit, (fn. 126) and in 1909, as part of a general expansion of the circuit, a larger chapel in similar style was added on the north, the earlier building becoming a church hall and Sunday school. The chapel was refurbished in 1959 when a new organ was installed, and small alterations were made about 1974. (fn. 127) Membership from the 1920s to 1970s was usually between 20 and 30, (fn. 128) and the chapel remained open in 1998.
Primitive Methodists
A few Primitive Methodists were noted from the 1820s, attached at first to the Witney circuit and from around 1836 to the Faringdon circuit. (fn. 129) In 1844, when there were 8 members, a plain stone-built chapel with a pointed doorway was erected south of Bampton road, (fn. 130) on land perhaps also acquired from E. H. Butler; (fn. 131) in 1851 there were 100 sittings, 60 of them free, and average evening attendance on Sundays was 80–90. (fn. 132) Accommodation was increased to 130 about 1865–6, when the chapel was refitted with a new gallery, seating, and pulpit at a cost of £118. (fn. 133) Membership, comprising chiefly agricultural labourers in the 1840s, (fn. 134) rose from 22 in 1852 to 34 in 1865, falling intermittently thereafter; average Sunday attendance, 100 in 1866, fell to 60 by the mid 1870s, rose to 80 by 1890, but was 40 by 1902, in part reflecting falling population. (fn. 135) There were 15 members in 1923, (fn. 136) but from 1926 services were suspended, and in 1927 the chapel was sold and converted into a house. (fn. 137)