Pages 167-172
A History of the County of Oxford: Volume 15, Bampton Hundred (Part Three). Originally published by Victoria County History, London, 2006.
This free content was digitised by double rekeying. All rights reserved.
RELIGIOUS HISTORY
Kencot had its own church by the mid 12th century, and from the 13th remained an independent parish with its own rector. Though never a rich benefice it seems on the whole to have been adequately served, although, as in many places, there was some neglect in the early 16th century, and most 18th-century rectors were nonresident. After the Reformation there was little overt Roman Catholicism, despite the presence, until the early 17th century, of the recusant Yate family, and Protestant Nonconformity, too, remained weak, perhaps in part reflecting the number of large farmers and gentry in the parish. (fn. 1) A small Nonconformist chapel opened in an outbuilding in 1831 closed within a few years. (fn. 2)
The Parish Church
Origins and Status
During the late Anglo-Saxon period Kencot may have been served from a putative minster at Broadwell or Langford, as it appears to have lain outside the area dependent on the former minster church at Bampton. (fn. 3) A church was built at Kencot before the mid 12th century, the date of the earliest surviving fabric; (fn. 4) the benefice was a rectory by the 1220s, (fn. 5) and the existence of a 12th- or 13th-century font-base indicates that the church had baptismal rights then if not earlier. (fn. 6) Presumably the founder was one of the lords of Kencot, who later owned the advowson; (fn. 7) a possible candidate is Roger, the lord in 1086, whose relative and overlord Robert d'Oilly founded the chapel of St George in Oxford castle in 1074. (fn. 8) The chapel was later given two thirds of the tithes of various d'Oilly demesnes, including Kencot, (fn. 9) and it may be significant that Kencot church was similarly dedicated to St George perhaps from its foundation, though the first documentary evidence is from the early 18th century. (fn. 10) Certainly the dedication is unusual in Oxfordshire, found elsewhere only at Kelmscott and Hethe. (fn. 11)
Kencot church remained an independent rectory until 1966, when the parishes of Broadwell and Kencot were united. In 1995 Kencot became part of the larger benefice of Shill Valley and Broadshire, together with another eleven parishes. (fn. 12)
Advowson and Patronage
During the medieval period the advowson mostly followed the ownership of the manor, remaining in the hands of the d'Oilly family and their successors; occasionally it was leased with the manor, as in 1272–3 when the tenant Adam Fettiplace presented, (fn. 13) and in 1315 the rector was jointly presented by the heirs of the two halves of the manor, Richard de Goldesborough and John de Meaux. (fn. 14) The king presented in 1353, while holding the manor. (fn. 15) Subsequently the advowson seems to have been exercised alternately by owners of the two halves of the manor: presentations were made in 1390 by John Laundels, owner of the Goldsborough half, (fn. 16) and in 1504 X 1515 by Arthur Spanby's family, (fn. 17) heirs of the Meaux half.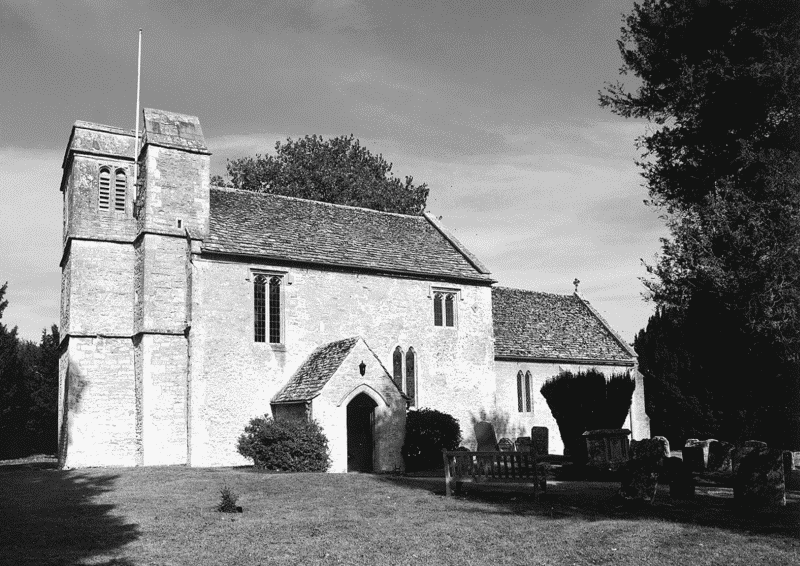 Thereafter until the mid 17th century the descent of the advowson is unclear. Sir Thomas Pope (d. 1559) included it in his abortive grant of the Goldsborough manor to Trinity College, Oxford, (fn. 18) and in 1625 his grandson Sir William Pope (d. 1631) was said still to hold it, (fn. 19) though in 1588 one Michael Harris quitclaimed it to Mabel Elston for 41 years with lands in Bampton. (fn. 20) Hugh Browker presented in 1600, (fn. 21) followed by one William Burgis of London, perhaps a lessee of the Yates, in 1628. (fn. 22) Some patrons may have merely been granted turns by the Popes or later owners. Whether the patronage passed with the manor in 1627 to the Yates, some of whom were Roman Catholics, is uncertain, and the advowson was subsequently acquired by James Frethern (d. 1664), rector of Kencot and vicar of Broadwell; he left it to a relative of Sir Hugh Hammersley, lord mayor of London and lessee of Kencot manor house, whose second wife was Frethern's mother. (fn. 23) The living remained in the gift of the Hammersleys until 1908, when the advowson was acquired by the Large family, then lords of the manor; (fn. 24) they granted it to the Church Society Trust, whose representative in 2001 was F.R. Goodenough. The Trust remained one of the patrons of the new united benefice in 2003. (fn. 25)
The patronage of Kencot rectory was frequently used to provide family members with a benefice. Some medieval rectors were relatives of lords of the manor, among them John de Goldesborough, presented in 1324; (fn. 26) like the rest of the family he was presumably from Yorkshire, and after twenty years exchanged his benefice with John de Hunsingore from Copgrove (Yorks.). (fn. 27) The Hammersleys, apparently less interested in providing for relatives, sometimes granted turns to others, who presented their own family members: thus James Oldisworth was presented in 1666 by William Oldisworth, and Seymour Loder in 1722 by Mr Loder of Lechlade (Glos.). (fn. 28) A relative through marriage of the Hammersleys complained in 1801 that he had not been so favoured and that presentation was being left to the bishop, though Arthur Hammersley (rector 1865–86) was presumably a family member. (fn. 29) Sale of advowsons and livings in the area prompted comment and criticism in the 19th century, ironically by Arthur Hammersley among others, who claimed that it impeded the welfare of the Church. (fn. 30)
Church Endowment
During the Middle Ages Kencot was not a wealthy benefice, though from the 17th century acquisition of additional glebe markedly increased its value. In 1291 and 1341 its gross income (including tithes) was £5 15s., (fn. 31) which by 1535 had risen to £8. (fn. 32) In 1723 its value was still recorded as only £6 9s. 4½d. clear, including 13s. 11¼d. annual rents. (fn. 33)
The income came from both glebe and tithes. The glebe, apparently small in the Middle Ages, (fn. 34) was around 70 a. in 1634 and 105 a. by 1685, making it the second largest estate in the parish; (fn. 35) how and when the increase occurred is not clear, though some of the 30 a. acquired in the 17th century, presumably by gift or purchase, came possibly from the Smallpages' part of the manor or from the Kencot farm estate, both apparently broken up about that date. (fn. 36) The rector received great and small tithes from virtually the whole parish, (fn. 37) including the detached meadow in Burroway by the Thames; (fn. 38) the sole exception was two thirds of the demesne tithes, given by Robert d'Oilly II before 1123 to the chapel of St George in Oxford castle, and passing with the chapel in 1149 to Osney abbey. (fn. 39) The rector tried to recover those tithes during the earlier 13th century, when they were worth some 8s. a year, (fn. 40) but the abbey retained them until the Dissolution, leasing them in the 15th century to local people and perhaps sometimes to the rector. (fn. 41) An annual pension of 10s. payable by the rector to the abbey by 1254 (fn. 42) presumably originated in connection with those tithes; at the Dissolution it was given to Christ Church, Oxford, but seems later to have lapsed. (fn. 43) In the 17th century all the rector's tithes were still paid in kind except for milk, for which money payments were made. (fn. 44)
At Kencot's inclosure in 1767 the tithes were commuted in return for additional land, bringing the glebe to c. 225 a.; (fn. 45) the tithe from Burroway continued until 1845, when it was exchanged for a rent-charge of £5 17s. a year. (fn. 46) In 1852 the rector's income was £260 a year, increasing steadily to £370 by 1869. (fn. 47) It remained around £300 until the mid 1890s when, during the agricultural depression, it fell to only £68 in 1896, a result both of falling rents and of a corresponding fall in the Burroway rent-charge. (fn. 48) The rector's income recovered slowly from the 1920s, again reaching £300 by 1935; (fn. 49) by then, however, it came from other Church sources, the glebe having been sold to William Paintin in 1907 for £2, 371. (fn. 50)
A rectory house built at the north end of the village in the 17th century replaced a medieval predecessor, probably on a different site. (fn. 51)
Pastoral Care and Religious Life
The Middle Ages
The first recorded incumbent was William son of Alan, presented in 1228 while still only a subdeacon. (fn. 52) The most notable medieval rector seems to have been Robert Darcy, clerk of the collector of the papal camera in England and an Oxford graduate, who was allowed in 1449 to keep his post at Oxford university and to hold Kencot with another benefice. (fn. 53) Presumably he never resided, and lesser incumbents are likely to have had much greater impact on religious life in the parish. A rectory house probably existed throughout the Middle Ages and was mentioned about 1520, (fn. 54) but its location is not known.
Little evidence survives of parishioners' involvement in religious life, except for occasional glimpses through charitable donations: thus in 1417 Richard Reve of Broughton Poggs, though buried in Langford, gave 2s. 6d. each to the rectors of several churches including Kencot, though his connections with the parish are not clear. (fn. 55) Church furnishings were provided from early on. William Brown of Kencot, buried in Oxford, left 20 marks to the 'chapel of St Michael in Kencot' in 1501, half for buying a new vestment and half to the fabric; (fn. 56) presumably the chapel was a side- or chantry chapel in the church, but no other references have been found.
The 16th and 17th Centuries
The first 16th-century rector (presented in 1508) was Hugh Thomas, another graduate, who was also vicar of Clanfield. (fn. 57) His running of the parish left much to be desired: around 1520 he allegedly grazed sheep in the churchyard, used tombstones to water his calves, and kept two women in his house, though 'they do not stay overnight'. At the bishop's visitation in 1530 both the rector and the churchwardens were absent. (fn. 58) Of Thomas's successors Elizeus Thomason, appointed during Mary's reign in 1556, 'disappeared' two years later following Elizabeth's accession, presumably as a Roman Catholic; (fn. 59) possibly he was related to the Thompson family of Broadwell, lords of the manor there in the late 16th century, and noted recusants. (fn. 60) William Fisher or Pearce, a 19-year-old scholar from Oxford presented in 1571, held Broadwell with Kencot from 1581, and is the first rector known to have appointed a curate. (fn. 61) Occasionally parishioners still made bequests to the church. In the early 16th century a London mercer and his wife, whose connection with Kencot is unknown, gave three bells and paid for heightening of the tower and addition of a porch, (fn. 62) while about the same time Thomas Palleyn gave two cows worth 16s., one for church repairs and the other for the poor and to provide an obit. (fn. 63)
Seventeenth-century rectors were resident, with only four throughout the century, of whom three served for exceptionally long periods: John King (1600–29), James Frethern (1629–64), and James Oldisworth (1666– 1722). (fn. 64) Frethern at first held both Kencot and Broadwell, but apparently resigned the latter in the early 1650s. (fn. 65) Towards the end of his life Oldisworth had successive curates to assist him, of whom one, Seymour Loder, succeeded in 1722. (fn. 66) Frethern probably built the 17th-century rectory house, which stands at the opposite end of the parish from the manor house at some distance from the church, suggesting that it was not a rebuilding of the medieval rectory: in 1634 it was new built, and in 1685 it was of two bays, with two barns and other outbuildings attached. (fn. 67)
In 1642 all male inhabitants (including the rector) took the Protestation oath, with no refusers, (fn. 68) though occasional non-attendance at church was mentioned from the mid 17th century: Thomas Monk was excommunicated for it in 1663, and in 1682 a woman absented herself repeatedly because 'she has not clothes'. (fn. 69) Many parishioners were still baptized late in life, sometimes in their 30s or 40s, but increasingly between the ages of 10 and 20; the Turner children's ages at baptism fell gradually from 21 to 3, though whether that reflected the rector's influence is not clear. (fn. 70) The usual funereal gifts from some rich parishioners continued. In 1624 Thomas Turner left in his will 10s. to the poor of Kencot, (fn. 71) and occasionally the rector, too, gave alms: James Frethern left 40s. a year from his house and lands to be given 'by the minister and bailiffs of Burford to a maidservant of six years' good service in one place', or towards apprenticing a boy or girl. (fn. 72) In 1662 the churchwardens William and John Turner requested a surplice and a communion table cloth. (fn. 73)
The leading Roman Catholics in Kencot were the Yate family, who leased (and later owned) the manor from the 1550s and who lived there until the early 17th century. (fn. 74) The family were staunch recusants: (fn. 75) in 1577 Francis and his wife Elizabeth owed fines of £200 per year, (fn. 76) and Francis had already been imprisoned in Newgate, which destroyed his health. In 1586 he was paying, with difficulty, a composition of £10 for himself, his wife, and his children, and was at liberty 'upon bonds' in 1592. (fn. 77) He died before 1594, when his widow Elizabeth was fined alone; (fn. 78) she and another Elizabeth Yate, probably a daughter, had been listed in the 1588 Lenten Assize as Catholics, (fn. 79) though the elder Elizabeth was nevertheless buried in Kencot church in 1607. Her and Francis's son John had a child baptized in the church in 1599, suggesting either a show of conformity, or a change of heart in later generations. (fn. 80) There is no definite evidence that after 1612 the Yates continued to be Roman Catholics, though that year another Catholic was recorded at Kencot, John Frances, perhaps a Yate retainer. (fn. 81) From the early 17th century the Yates lived elsewhere, and in 1676 and again in 1706 the rector claimed there were no Catholics in the parish. (fn. 82)
The 18th Century
Seymour Loder, rector 1722–43, was also vicar of Hinton Waldrist (then Berks.), (fn. 83) and like most of his 18th-century successors was non-resident. Geoffrey Underwood (rector 1743–80), who also held a Hampshire benefice, was repeatedly requested by Bishop Secker to move to Kencot, and was violently criticized by both parishioners and lord of the manor for not doing so. He was licensed to live elsewhere after claiming that his wife refused to move, challenging the bishop to relent or to break up a Christian marriage; eventually he did, in fact, live at Kencot briefly in the 1750s and 1760s. (fn. 84) William Martin Leake, rector from 1783, was not only non-resident as incumbent of Watlington, but eventually left England for Gibraltar, where he died in 1801. (fn. 85) Curates, too, were mostly non-resident: during termtime Loder's curate Huw Owen lived at Oxford, while others lived in neighbouring villages. The only known resident curate, in the early 1770s, was John Keble, father of the well-known Tractarian. (fn. 86)
The rectors' negligence sometimes extended beyond non-residence. Both the parishioners and John Jordan, as lord of the manor, complained to the bishop that Underwood had broken with his predecessors' custom of giving a breakfast for the poor on Holy Thursday and a dinner for the parish on St Stephen's day, creating much bad feeling. (fn. 87) A more shameful episode occurred in the 1790s, when Leake and his brother set up an annuity and borrowed money 'under false pretences'; when Leake, who according to his brother 'was always a desperado', could not repay the debt, he was imprisoned and the bishop authorized sequestration of his benefices of Kencot and Watlington. (fn. 88) Faced with such behaviour, respect for the Church may have suffered. From the mid 18th until the mid 19th century, out of a total population of between 20 and 37 families, the congregation usually numbered 50 to 55, with on average 15 to 20 communicants, though that number could double on major festivals, especially at Christmas. Between 1767 and 1771 a labourer constantly absented himself, (fn. 89) and in the late 1810s and early 1820s two or three people stayed away, though possibly just through 'negligence'. (fn. 90) One parishioner in 1811 attended 'another church', (fn. 91) possibly for convenience (if the church was Broadwell), or perhaps because he just did not like the rector.
Despite widespread non-residence, services throughout the 18th century and until the mid 19th were held twice each Sunday and holy day, with one sermon, and occasionally there were prayers on saints' days. (fn. 92) In the 18th century children and servants were said to be catechized on Sundays in Lent, either in church or in the village school, though in reality the regularity of catechizing probably varied according to whether the incumbent was residing. (fn. 93)
Church plate in the 18th century included a silver paten cover of 1630, a silver chalice and paten of c. 1701, and another silver paten of 1748. (fn. 94) In 1756 the church appears to have been unusually well furnished with, among other items, a crimson velvet carpet for the altar, a velvet cloth with a silver fringe for the pulpit, a velvet cushion, and a linen damask napkin to cover the elements, besides the silver chalice and salvers, a bible, a book of common prayer, a book of homilies, and a locked parish chest containing two sets of registers, of which one was on parchment. (fn. 95) Various items were regularly replaced, among them pulpit- and altar cloths and prayer books; a pewter chalice and flagon were provided in the 19th century. (fn. 96)
Catholics were mentioned only twice later: a farmer's wife in 1767, who had lived in Kencot only six years and was presumably an incomer through marriage, (fn. 97) and a single family in 1781, (fn. 98) possibly associated with the above.
The 19th and 20th Centuries
William Leake's successors were less colourful and mostly resident in the parish. The rectory house, following long-term non-residence in the 18th century, was 'out of order' in 1804, but by 1805 it had been sufficiently repaired for the new rector James Thorold to move in. (fn. 99) The long-lived Thorold (rector 1801–1857) served occasionally as curate of Clanfield, while Arthur Hammersley (rector 1865–86) was non-resident as curate of Nuffield in 1866. (fn. 100) Otherwise 19th- and 20th-century rectors served only Kencot until 1960, when the rector was appointed to Broadwell as well. (fn. 101) The rectory house, vacant from 1959, was subsequently sold, (fn. 102) and the benefices of Broadwell and Kencot were officially united in 1966; in 2003 the two main residences for the large Shill Valley and Broadshire benefice were at Filkins and Shilton. (fn. 103)
Some rectors were obviously popular. Celebrations at Kencot in 1856 to mark the end of the Crimean War were presided over 'at table' by the aged rector James Thorold; a band played, and 'afterwards the rector was escorted to his house to cheers', even though in 1845 the bishop had not thought 'well of him'. (fn. 104) During his incumbency church attendance rose; (fn. 105) from the mid 19th century the congregation reached 55–90, with communicants averaging 12–17 on normal days and 20–30 on major festivals, though numbers of communicants sometimes reached 50 in years when a new rector took office. Attendance of around 50 was reckoned 'fair' and 'stable', and 80–90 'above average'. Between 1854 and 1875 attendance was said to be increasing, notably because there were 'more working men', though by 1884 labourers were falling away 'due to the radical tendencies of the time', and a further decline three years later was 'due to depopulation and the Salvation Army nuisance'. From the 1850s absentees were specifically said to be Nonconformists. By the 1920s and early 1930s the average number of communicants had again declined to between 7 and 15, falling in the later 1930s to between 3 and 10 out of a congregation of 20 to 40; in 1943 the rector alluded to the very low attendance, reporting that there was 'sometimes nobody' in church. (fn. 106)
In 1818 and 1821 the second Sunday service, in the evening, was not held 'in the depth of winter'. From the 1850s both Sunday and feast-day services had a sermon, prayers were said on Wednesdays and Fridays as well as on saints' days, and there were evening services throughout Lent and Advent. Communion was administered four times a year until 1866, after which it increased to two Sundays a month, subsequently varying between 16 and 28 times a year towards the end of the century. A new table of fees was adopted in 1908. (fn. 107) From the 1850s catechizing was clearly very informal, taking place occasionally during the week, sometimes on Sundays, and increasingly during school teaching. A Sunday school was by then running regularly, with between three and five teachers. An evening school for adults and families functioned during the winter from 1869, but had closed by 1878 because there were too few takers. In 1884 a bible class apparently replaced it, to be succeeded after 1887 by a 'free reading room open five months a year' in the evenings in the school. (fn. 108)
Throughout the 19th century, as in the 18th, offertory money went to the poor and sick at the rector's discretion, hedged around with stipulations as when the rector limited it to the 'most frequent communicants'. (fn. 109) In the late 19th century Amelia Carter, a Kencot-born philanthropist, contributed annual sums for the poor and sick of the parish. (fn. 110) Most 19th- and early 20th-century church collections, as elsewhere, focused on the 'sick and needy', church missions, the church army, and local hospitals; others benefited the church choir or village school, reflecting a long-term concern for education in the parish and confirming the church's importance within the social life of the village. Possibly such concerns reflect High-Church attitudes, not unexpected in a community with a fairly large number of professional and military people. (fn. 111) Pastoral work, however, was sometimes hard-going, especially at times of crisis: the rector described the hindrances to its success in 1890 as 'want of means, and bad times'. (fn. 112)
Public rejoicing and other participation in the life of the nation continued to focus on the church in the 1930s and 1940s. Prayers were said for peace and for the League of Nations, on the death of George V and the coronation of George VI, and in support of Earl Haig's fund, as well as to avert the Czechoslovakian crisis and in support of 'non-Aryan Christian' refugees. The First and Second World Wars were punctuated by prayers for the war effort and for Kencot men serving abroad, and there were services of thanksgiving for victory and for the defeat of German air power. (fn. 113)
Nonconformity remained small-scale throughout. In 1811 the rector reported no Dissenters in the parish, (fn. 114) though in 1831 application was made for a building belonging to Elizabeth Moore (apparently not a Kencot resident) to be certified for use as a Dissenting chapel. (fn. 115) Presumably it was not successful, since in 1851 there was no place of worship for Nonconformists; (fn. 116) in 1854 a few inhabitants attended a neighbouring Dissenting chapel perhaps at Filkins or Alvescot, (fn. 117) though there were still no declared Dissenters in Kencot. From 1866 up to 10 Nonconformists were recorded, falling to four or five in the late 1860s and early 1870s, rising to 25 by 1875, but falling back to only five in 1881. (fn. 118) Another 16 people in 1872 were said to be 'prevented from attending church', (fn. 119) suggesting tensions within the community or within individual families arising perhaps from Nonconformist influence, or from hostility to the Church in general. Nonconformity was not mentioned later, save for the rector's complaint about Salvation Army influence in 1887; (fn. 120) the opening of a free reading room in the school the same year was perhaps in part an attempt to counteract such influence. (fn. 121)