Pages 173-177
A History of the County of Oxford: Volume 15, Bampton Hundred (Part Three). Originally published by Victoria County History, London, 2006.
This free content was digitised by double rekeying. All rights reserved.
BUILDINGS
The Built Character
Except for the parish church, which makes little visual impact, Kencot's surviving buildings are all postmedieval and most originated as farmhouses. All but one of the former farmhouses and the former rectory house have a 17th-century core, but a plain 18th- and early 19th-century style of building predominates, a result of the ambitious building activity that took place as affluent gentry or professional families settled in the village after 1700. The houses lie spread out along the main streets, separated from their neighbours either by large farmyards entered from the street or by ornamental gardens. There are few cottages, and some of those that existed in 1872 seem to have been jerry-built speculations. (fn. 1) Until the later 20th century all degrees of building were constructed in the slobbered limestone rubble, stone slate, and thatch conventional for the area. General availability of building stone was clearly important and public access to the village quarry was guaranteed at inclosure in 1767. (fn. 2) The 20th century intrudes little apart from a small group of council housing, begun soon after 1960, (fn. 3) a few private houses, and the unassuming Carter Institute, built in 1912–15. (fn. 4) The integrity of the village centre has been maintained partly through the protection afforded by statutory Listing and partly because of local planning policies which, since the early 1980s, have discouraged development in the county's smallest villages. (fn. 5) New building has been mainly restricted to conservative alterations and conversion of agricultural buildings to residential use.
The Parish Church
St George's church (Figs 55–6) (fn. 6) was built in the mid 12th century with a small nave and chancel, as can be seen from the nave's walling and proportions, blocked north doorway, shafted jambs of the chancel arch with impost mouldings continued along the nave east wall, and the south doorway which resembles the chancel arch in style and has a figurative tympanum. The carving of a centaur shooting an arrow into the mouth of a dragon has been interpreted, according to the probably later carved legend, as Sagittarius, a subject which recurs on the font at Hook Norton church, also connected with the d'Oilly family. (fn. 7)
In the 13th century the chancel was rebuilt, the nave remodelled by the insertion of two-light windows, and a two-stage tower added. In the late 13th or early 14th century the chancel was embellished when the chancel arch was modified and a piscina with credence shelf was created; windows were enlarged or replaced in nave, chancel, (fn. 8) and tower. Despite a donation to the fabric of a chapel in 1501 (fn. 9) the church was not enlarged, though about that time windows to imitate a clerestory were inserted high in the nave's south wall, and a new timber ceiling was constructed from which stone corbels survive. Probably between c. 1509 and c. 1530 Robert Weston, a London mercer, and his wife paid for construction of the south porch and the third stage of the tower (together with its south stairtower) to house the three bells they had donated, one of which survives. (fn. 10)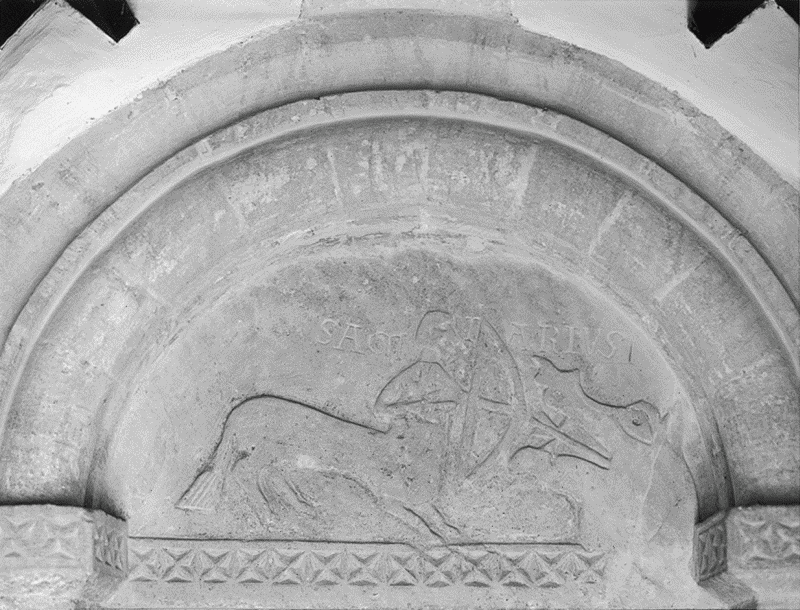 Though no building activity was recorded during the 17th or 18th centuries, quite lavish liturgical furnishings were provided. (fn. 11) Large items, including a pulpit and a new bowl and cover for the 13th-century font, were installed in the first half of the 17th century presumably to make good damage. At the same period an unusual timber monument with hinged doors was installed to commemorate the non-resident Richard Colchester (d. 1643), son-in-law of the former lord mayor of London Sir Hugh Hammersley: Hammersley was lessee of the manor house, and his family held the advowson. (fn. 12) The nave was ceiled in 1814 (renewed in 1962), (fn. 13) and the west gallery on classical columns was installed at about that time; the medieval south window lighting it was enlarged in 1854 to give more light to the singers. (fn. 14) Heavy mid 19th-century restoration included repewing in 1858, (fn. 15) reconstruction of the chancel, and replacement following the two-light pattern of the main nave and chancel windows; the chancel was decorated with stained glass (including the east window by Powell & Sons), and with stencilled designs since removed. (fn. 16) The chancel was mainly refurnished during the later 20th century, some of the joinery being the work of Richard Fyson of Manor Farm. In 2000 Sebastian Brooke carved the inner face of the tympanum with a lamb and flag. (fn. 17)
Houses and Farms
Building in the 17th Century
At least six surviving houses were built between c. 1580 and 1700. Most followed a common local pattern of two storeys and attics with three rooms on each of floor, sometimes on an L-plan, and with a cross-passage against a central stack. Though not all houses can have been new, from the 1630s the documented accommodation of fairly affluent inhabitants seems to have been arranged over two storeys or more. Thomas Turner used his main ground-floor rooms as parlour, hall, buttery, and kitchen in 1635, (fn. 18) but not all houses had parlours, and attic floors were variably used for chambers, or as garrets for storage or for storage and sleeping. (fn. 19) This impression is reinforced by the findings of the hearth tax assessors, who in 1662 recorded that among 19 houses nearly half had only two heated rooms, and four houses had one. No house was as large as the Hammersleys' manor house (a predecessor of Kencot Manor), which had at least nine hearths in 1662 and 1665, though in 1662 the rector had seven hearths and two properties owned by the yeoman Turners had five. (fn. 20)
Much of the surviving work, which has hollowchamfered mullioned windows with hoodmoulds as the most elaborate architectural elements, is mid 17th-century. At Manor Farm (Fig. 52) a two-storeyed front range was built onto a perhaps originally more extensive late 16th- or early 17th-century part, possibly by the Turners. (fn. 21) The L-plan south range of the rectory house seems to be the building erected shortly before 1634, to which seven hearths were ascribed in 1662, though in 1685 it was described as having only two bays. (fn. 22) Home Farm seems to have been built on an L-plan (fn. 23) and so does the Malt House, though that may incorporate two adjacent houses. Two bays of the standard plan remain at Kencot Lodge (Fig. 49), and the core of Wychwood is a single bay of what appears to have been a very prosperous home, to judge from its three- and four-light windows and the remains of ornamental plasterwork in what may have been the parlour. (fn. 24) Similar windows at Red Rose Cottages (Fig. 57), Kencot's most intact house of the 1650s according to its datestone, light three rooms of equal area on each floor, an arrangement expressed on the façade by three matching gables.
New Houses and Improvements, 1700–1918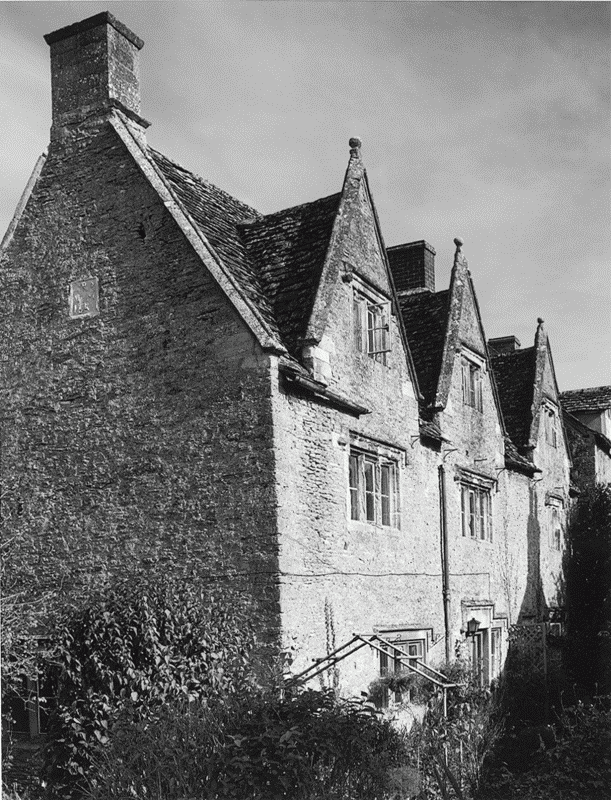 The house type of two storeys and three units continued to be used well into the next century. Two bays of a small early 18th-century farmhouse survive at Belham Hayes, but the most complete farmhouse of the period is Kencot Cottage (Fig. 58), which has a framed timber staircase in an external stair tower, an advance on the newel stair against the chimney of the 17th-century houses and smaller 18th-century ones. It also retains its original farm layout with dairy and barn attached in line to the north, and evidence of the farmyard behind. Of the much larger Kencot Manor, possibly rebuilt or enlarged by the Jordans c. 1708, (fn. 25) only one bay survives, its higher status betrayed by grander proportions, fashionable corner fireplaces, and a better standard of construction.
Although Kencot's inhabitants had included gentry and wealthy yeomen since the Middle Ages, the number of gentry and professional people who chose to be resident and desired appropriate accommodation increased in the 18th century. (fn. 26) Kencot House (Fig. 50) seems to have been the first house designed as a gentleman's residence rather than a farmhouse. It was built between c. 1730 and 1745 probably for William Stephens, (fn. 27) with the type of baroque façade characterized by segmentalheaded windows with prominent keystones then used in neighbouring Burford, and on an equally conservative plan with a large asymmetrically-placed entrance hall. The northern bay of the 17th-century farmhouse now divided into Kencot Lodge and North Lodge (Fig. 49) was rebuilt in similar style possibly by a member of the same family (fn. 28) in order to create a more gracious entrance and staircase hall leading to a panelled reception room and bedroom of generous size. At Home Farm a south-facing three-bay range with a hipped roof was built at that period, and probably a little later Manor Farm (Fig. 52) was also made more fashionable and convenient by the addition of a classical doorcase and a rear staircase tower.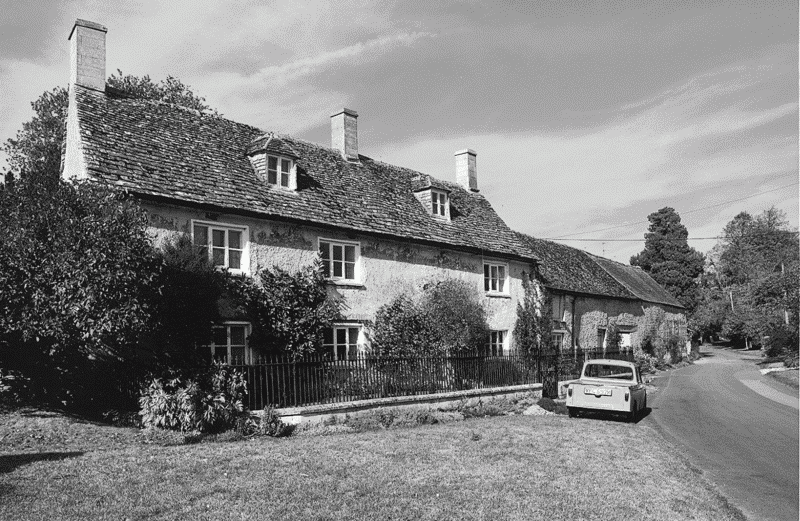 Otherwise the style of 18th- and early 19th-century building was plain, even at Kencot Manor where, during the Jordans' and Stephenses' time, the addition of an L-plan range north of the early 18th-century bay provided a staircase hall, another large reception room, and large north-eastern kitchen behind it. (fn. 29) Smaller houses were either extended in similar fashion, for example Red Rose Cottages where two pitched-roofed bays were added following the original alignment, or were partly rebuilt: Wychwood, for example, was given three new bays (later called Manor Farm Cottage), and Belham Hayes one. Asthall Farm (Fig. 59), newly built in the mid 18th century, is larger than earlier farmhouses, but repeats the usual three-bay plan. Only one new farmhouse, Kencot Hill Farm, was newly built after inclosure, and by 1863 had extensive farm-buildings including intercommunicating barn, wagon house, cattle sheds and stable, and nearby barn, wagon house and granary. (fn. 30) A similarly well-provided farmyard was created at Manor Farm in the early 19th century, probably about 1829 when the house was extended north by two bays, (fn. 31) and before 1881 the Malt House premises had been extended south with a long malting. (fn. 32)
As at Manor Farm the service end of Kencot Manor was extended north early in the 19th century. Services, as well as circulation, were improved in all houses above the meanest kind, for example at Belham Hayes where a kitchen bay was added. Kencot House was doubled in size probably in the 1830s, when another row of rooms was added to the north apparently for Charles Loder (formerly Stephens). The northern addition was updated about a decade later by the addition of a grand north-eastern room, and both eastern reception rooms were made more important by having Gothick baywindows thrown out towards the garden. All the changes were fashionable and high quality, especially the very compact, top-lit central staircase hall decorated in a refined neoclassical style. (fn. 33) The rectory house was doubled in size in 1857 (fn. 34) when the architect designed a tall, plain L-plan north-eastern block to interlock with the 17th century house, which he enlarged by the creation of well-lit attic rooms, and created on the east a new main entrance giving access to a spine corridor and staircase. An almost identical arrangement of entrance and corridor was achieved when a western bay was added at Asthall Farm. The existing entrance at Kencot Manor was updated between c. 1880 and 1923 by adding a large lobby-like porch. (fn. 35) The most complete mid 19th-century gentrification of a farmhouse occurred at Kencot Cottage, which was given new windows, a spine corridor, matchboard panelling and a timber floor in the parlour, and cast-iron front railings. The attached barn was converted to dairy, gig house, and stable, and another barn was built on to its north end.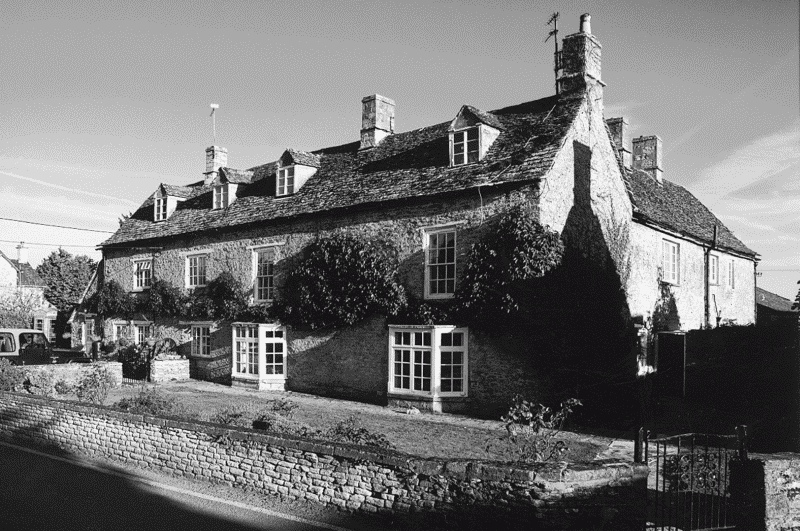 Adaptation 1918–2003
The 20th century saw a dramatic reduction in the number of working farms (fn. 36) and the consequent conversion of farm buildings to domestic use, for example the byre and hayloft joined to Kencot Lodge as a kitchen. Only at Home Farm and Asthall Farm were farm buildings used for their original purpose in 2003. New work was often done sympathetically, such as the alteration of the 19th-century wing at Manor Farm to match the 17th-century range, (fn. 37) or the doctor's surgery added to Kencot House as a sixth bay, indistinguishable from the front, in the 1930s. (fn. 38) Ironically Kencot Cottage, so thoroughly transformed in the 19th century, remained unaltered between 1947 and 2003, except for the transfer of the farmyard to the neighbouring Home Farm. (fn. 39)