Pages 199-204
A History of the County of Oxford: Volume 15, Bampton Hundred (Part Three). Originally published by Victoria County History, London, 2006.
This free content was digitised by double rekeying. All rights reserved.
RELIGIOUS HISTORY
Despite strong circumstantial evidence for a preConquest minster, by the late 12th century Minster Lovell had only an ordinary parish church, in which a vicarage was ordained. A small monastic cell, usually with only a single inmate or 'prior', was established in the parish by Ivry abbey before the 1220s, and a freestanding chantry (apparently perpetuating an earlier chapel) by 1273, though neither necessarily had much impact on daily religious life and observances. The quality of pastoral care varied: in the early 16th century there may have been only a stipendiary curate, and although from the Reformation to the late 17th century the parish seems to have been served by vicars who were both resident and moderately conscientious, from the 18th century to the late 19th it again relied mostly on curates, of whom several were non-resident. Presumably such neglect contributed to a marked increase, from the early 19th century, in Dissent, which benefited also from the creation of Charterville in the 1840s: a Wesleyan chapel established near Charterville by 1861 continued in the early 21st century, and a Primitive Methodist chapel there until the 1960s.
The Parish Church
Origins and Status
Circumstantial evidence, including the place name and the unusual dedication to St Kenelm (i.e. Cynehelm), implies that Minster Lovell was the site of a preConquest minster associated possibly with a Mercian royal vill. If so, its jurisdiction extended probably across the area between the neighbouring minster dependencies of Shipton-under-Wychwood, Eynsham, and Bampton, encompassing Asthall, possibly Hailey and Crawley, and perhaps even Burford, whose church owed a pension to Minster Lovell priory in the 13th century. (fn. 1) No documentary evidence has been found before 1183 X 1185, however, when Maud, widow of William Lovel, with the agreement of her son William, granted the rectory and the advowson to Ivry abbey in Normandy. (fn. 2) By then the church was an ordinary and averagely endowed parish living, with jurisdiction (including burial and baptismal rights) apparently confined to the later ecclesiastical parish; a vicarage was ordained in the late 12th century, and the church's status remained unaltered until the late 20th century. From 1980 to 2003 the benefice was combined with that of Brize Norton. (fn. 3)
Minster Lovell Priory
From 1226 or earlier Ivry abbey appointed 'priors', usually French monks, who administered the rectory estate and other abbey properties; in effect they were resident bailiffs, and the priory never attained a more formal existence. (fn. 4) The site of the priory house is unknown, unless it stood at the village's southern end near Bridge Cottage, the house for the rectory estate by the 17th century; (fn. 5) in the late 13th century the prior's house included a hall, bakery, buttery, kitchen, and barn, its contents being valued at 8s. 10d. in 1293 and at 34s. 9d. in 1324, together with farm stock worth 23s. 4d. (fn. 6) The priory's total income, from the rectory of Minster Lovell, small rents in Asthall, Fulbrook, and Marsh Haddon (in Brize Norton), and pensions in the churches of Burford, Clanfield, and 'Elyndon' (probably Ellingdon, Wilts.) was only around £9, (fn. 7) and though some priors perhaps received a stipend or other additional income, few stayed more than a year or two. (fn. 8) In 1277 a member of the Lovel family was 'proctor' for the abbey, (fn. 9) apparently distinct from the prior. Relations with local people may not have always been good: in 1294 the prior was allegedly 'turned out' of the priory and his goods seized, an interdict being laid on Minster Lovell church until the malefactors were removed. (fn. 10)
Between 1330 and 1441 the priory's possessions, as those of an alien cell, were seized repeatedly by the Crown, which granted or farmed them to relatives, royal servants, and others, some of them abbey proctors still styled 'priors'. In 1441 Henry VI granted reversion of the priory and other possessions, then let to Sir William Lovel (d. 1455), to the newly founded Eton College (Bucks.), the grant being confirmed in 1442, and thereafter the college retained the former priory lands including Minster Lovell rectory estate. (fn. 11)
Advowson
The advowson of Minster Lovell church passed with the rectory to Ivry abbey, which, during the 13th and the earlier 14th century, seems usually to have presented both vicars and priors for institution, some vicars being nominally presented by the prior or abbey proctor. (fn. 12) Between 1339 and c. 1440, following seizure of Ivry abbey's estates, the Crown presented vicars, and in 1442 the advowson was granted with other priory possessions to Eton College, which first exercised it in 1463. (fn. 13) The college retained it thereafter, presentations to the united benefice after 1980 being made alternately by the college and by Christ Church, Oxford, as patron of Brize Norton. (fn. 14)
Church Endowment and Vicarage
The church's 12th-century endowment, evenly divided in 1183 X 1185 between Ivry abbey and the newly ordained vicarage, seems to have comprised tithes and 2 yardlands; the vicar's share of the glebe remained a yardland (some 32 a. of land and meadow) in the 17th century and later. (fn. 15) The tithes were worth much more, comprising well over half the vicar's income probably in the 13th century (fn. 16) and certainly in the 17th, by which time he reportedly received all the hay tithes. (fn. 17) The vicarage as a whole remained poor, valued in 1291 at only £4 13s. 4d., in 1526 at £14 gross (from which a pension of £2 13s. 4d was paid to Eton College), and in the late 17th century and early 18th at £20–£40. (fn. 18) From the 16th century both land and tithes were usually leased to local tradesmen or farmers, the vicar receiving the rent. (fn. 19) In 1723 Queen Anne's Bounty gave £200 to meet benefactions of £100 each from the vicar James Harrison and from the Master of Eton College, but though the augmentation was still recorded in 1759, by 1831 it seems to have been lost, and in 1815 the income was still under £50. (fn. 20) In 1840 the vicar's tithes were commuted for an annual rent charge of £119, and in 1893 total income from tithe-rents, glebe, and offerings was roughly £152. (fn. 21)
Vicarage House Though none was mentioned in the vicarage ordination, there was a vicarage house by the 17th century. In 1635 it was described as having four bays, apparently arranged as a central range with a short cross-wing. There was an adjacent barn, stable, and garden, and in 1685 there were two gardens, one south, one north. (fn. 22) A datestone of 1612 survives inside the rebuilt 19th-century vicarage house, on the lane running westwards to Minster Lovell village from the manor house and church, and probably there was a medieval vicarage house on the same site; the datestone is not in situ, however, and could have been imported from another house. (fn. 23) Vicars from the early 18th century were usually non-resident, (fn. 24) and from the 1770s the house was repeatedly said to be so dilapidated as to be uninhabitable. (fn. 25) In 1787 the archdeacon sequestered the vicar's income, entrusting it to the churchwardens for repairs, (fn. 26) but though some work appears to have been carried out the house was still dismissed in 1815 as a 'mere cottage', and was 'unfit for residence' in 1831. (fn. 27)
An application for a grant to rebuild it was made to the Diocesan Church Building Society in 1849, and from the mid 1860s curates or vicars again resided there. (fn. 28) In 1916 the house had three living rooms and six bedrooms, (fn. 29) and improvements were made in 1938 and 1964. (fn. 30) In 1977 the house was sold and, following an abortive attempt to acquire Toll House in Minster village as a vicarage house, a new house was built on the Burford Road four years later. (fn. 31) After 1980 the vicar of the united parish continued to live in Minster.
Chapel of St Cecilia
A chantry was endowed by Sir John Lovel (d. 1287) in or before 1273, when he presented a chaplain to say masses in the chapel of St Cecilia in the churchyard, or at the altar of the Blessed Virgin in the church. (fn. 32) Though perhaps newly fitted up by Lovel the chapel seems to have been a pre-existing structure, possibly supporting suggestions that the parish church was preceded by a pre-Conquest minster: such double churches are attested at many minster sites, and a churchyard chantry chapel at Bampton may have had similar pre-Conquest origins. (fn. 33) Probably St Cecilia's chapel stood on the site of Manor Farm (Fig. 70), which juts into the churchyard's northern part and incorporates 12th-century remains. (fn. 34) The chantry's endowment, worth 6 marks in 1297, included by the 16th century unspecified land in the open fields, then let for only 40s. a year. (fn. 35)
The chapel's advowson descended with Minster Lovell manor, the Crown presenting during the minority of Henry, duke of York, in 1497, and in its own right in 1510; presentations are otherwise ill-recorded, an exception being that of Thomas Bloxham (presented c. 1400), author of numerous theological tracts and the only known graduate. (fn. 36) No chaplain was named at the chantry's suppression in 1548, when there were no plate or ornaments, (fn. 37) and the chapel's remains appear to have been incorporated into Manor Farm House in the mid to late 16th century. (fn. 38)
Pastoral Care and Religious Life
Little is known of the 13th-century vicars, though some Crown presentees in the 14th and earlier 15th century were quite distinguished, among them the royal clerk Richard de Sancto Paulo (presented 1339), who was also keeper of the priory. (fn. 39) During the earlier 14th century recorded institutions seem to be of priors only, some of whom possibly served the church through hired chaplains or even chantry priests, though it seems more likely that vicars continued to be appointed. In 1520 the church was dilapidated and the vicar failed 'to keep hospitality' or to visit parishioners 'until they are dead', reportedly burying them 'without mass or any other divine office'; possibly he was non-resident, since in 1526 there was a curate with a stipend of £5. (fn. 40) Neither he nor the vicar were graduates.
Among the vicars presented by Eton College, mostly university graduates from the 1620s, (fn. 41) the most active in the parish was Robert Debank, vicar of Witney from 1559 to 1564 and of Minster from 1560: after resigning from Witney he remained associated with Minster until his death in 1611. He accepted the Elizabethan settlement in 1559, as did his predecessor William Horley, vicar of Minster from 1553 to 1560, (fn. 42) and the only recusancy subsequently recorded in the parish was among a few resident gentry in the 17th century, who seem to have had little influence. (fn. 43) Little is known of the 17th-century vicars, who were presumably resident and reasonably competent. The Civil War saw no particular upheavals in the parish, though it maybe significant that there were no fewer than five vicars between 1643 and 1660, of whom four in the 1650s stayed only for one or two years. (fn. 44)
From the 18th century until 1873 most vicars lived elsewhere and the parish was served by stipendiary curates, (fn. 45) many of whom were themselves non-resident and often held other posts: one was usher at Witney grammar school, while Thomas Oakley (1817–27 and 1846–8) was master there and held other curacies. (fn. 46) The curates' stipend grew slowly from £25 in 1738 to £60 by 1831. (fn. 47) The number of communicants, from a population which doubled from 260 to nearly 600 between 1802 and 1890, remained usually between 10 and 20, mainly at the great feasts, with a low point of 7 in 1808 and a high point of 33 in 1872. (fn. 48) In the meantime Nonconformity made great progress, especially after the establishment of Charterville, with a steady increase from 200 reported Dissenters to 300 in 1890. (fn. 49) In the 1840s Bishop Wilberforce noted that although the curate was of good character the church was greatly neglected, and during his absence (since he lived in Witney) 'pigeons are kept by the clerk in the belfry, and dung in the church'. (fn. 50) By the 1860s and 1870s the curate John Augustine Beazor seems to have been taking much greater care of the community, as did his successor Horace Ripley, the first resident vicar for over a century. (fn. 51)
Beazor's relative success in bringing people back to church was probably the result of a more dynamic attitude to both the services and the setting up of other activities. Until 1854 there was one Sunday service, increased thereafter to two, of which one at least included a sermon, and prayers were said once a week during Lent. (fn. 52) The sacrament, administered 3 or 4 times a year until 1854, was similarly increased to twice a month and later to once a week, though the following year it was again reduced to once a month. (fn. 53) For much of the 18th and earlier 19th century catechizing was haphazard, but a Sunday school was running by 1854, and day schools were also established. (fn. 54) Other signs of the curate's energetic style were a complete restoration of the church in 1868 and the installation of a new organ. (fn. 55) Horace Ripley, vicar after 1873, tried with his wife and daughter to set up various activities including a night school, Bible classes, and confirmation classes, but seems to have encountered little interest. (fn. 56)
Church Architecture
The church of St Kenelm was entirely rebuilt in the 15th century, presumably by William Lovel in the 1440s. (fn. 57) Except for a few 13th-century fragments reused in the south transept, nothing remains of its predecessor, though the new church was rebuilt presumably on the same site and possibly re-using earlier foundations. The building, of coursed stone rubble with stone-slated roofs, is cruciform and unaisled, with a north porch and a central tower, an unusual feature for an entirely new church of the 15th century, but one which could be explained by the use of the foundations of an earlier tower. As the earlier church seems to have had a narrower, possibly aisleless nave, the widening of the nave in the 15th century necessitated an unusual arrangement at the crossing: instead of a crossing arch, the free-standing western piers of the small tower were linked to the north and south-eastern corners of the nave by large diagonal arches, allowing an unbroken view of both chancel and transepts from the nave (Fig. 72). Smaller diagonal squints behind the eastern crossing piers provided views from the transepts into the chancel. Fittings contemporary with the rebuilding include oak pews in the nave, an octagonal font, and window tracery and glass panels representing various saints, most conspicuously the two doctor-saints Cosmas and Damian, possibly an allusion to William Lovel's precarious health. A reportedly 15th-century rood screen had apparently disappeared by 1826. (fn. 58)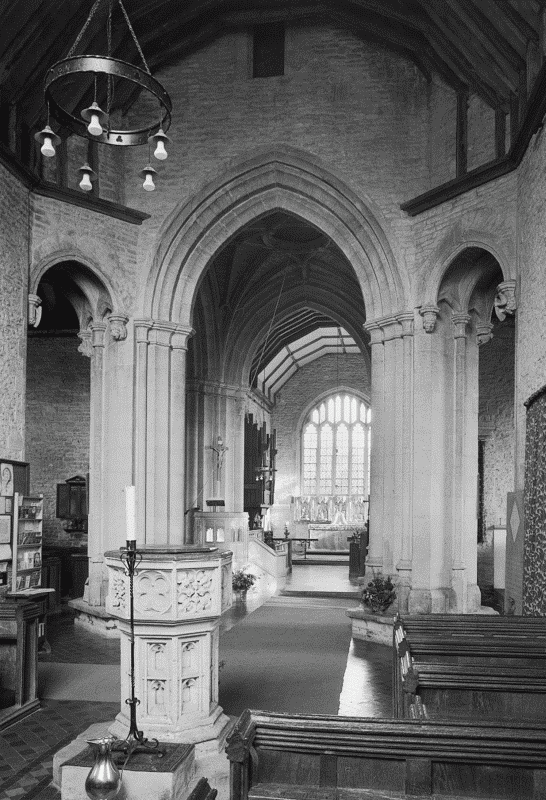 Reports on church furnishings between the mid 18th and mid 19th centuries were generally satisfactory, and there were occasional gifts of money for repairs and cleaning. (fn. 59) Minor repairs included repainting and whitewashing of walls, repairs to floors, seating, and windows, removal of ivy, and procurement of vestments. (fn. 60) In 1724 a faculty was granted for a private pew, possibly a box pew, of which there were apparently several. (fn. 61)
From around 1864 John Beazor began raising money for a general restoration, which took place about 1868, funded by subscription and by the Diocesan Church Building Society: the latter gave £400 in view of the poverty of the parish and the church's 'historical interest'. (fn. 62) Work included increasing free seating: in 1868 there was free seating for only about 60 people and unfree seating for 34, the rest being presumably standing room. A new pulpit and an organ by Gray and Davison of London were installed, (fn. 63) and a reredos by J.L. Pearson, consisting of five panels carved with scenes from the life of Christ, was erected in 1876, having been commissioned as a memorial to Lady Taunton. (fn. 64) Heating was renewed in 1924, 1938, and 1956. A new altar table in Taynton stone replaced the old wooden one in 1963, and was adorned with two new candlesticks and a specially commissioned Crucifix known as the 'Radiant Christ', designed by Robert Arnatt of Reading. Stone paving replaced some of the tiles, the pews were rearranged, and repairs were made to the Lovel tomb. (fn. 65) Other work included repainting, and installation of new furnishings, including an oak pew and book rest in the chancel. (fn. 66) The churchyard was enlarged in 1897, 1930, and 1952. (fn. 67)
Monuments include an inscription in the north transept to John Vampage (d. 1466), connected to the Lovels by marriage, and the flat stone tomb of Henry Heylyn, with his family arms and a Latin eulogy. Most notable is an alabaster monument with an effigy of a knight, either William (d. 1455) or John Lovel (d. 1465); the tomb has no inscriptions, and figures of St Christopher, the Virgin, and St Margaret, sculpted on the sides together with heraldic shields which were rather badly repainted in the 19th century, do not provide sufficient evidence for a more precise attribution. (fn. 68) Other memorials include inscriptions to John (d. 1672) and Jane Wheeler (d. 1661), tenants of Minster Lovell Hall, and to the vicar Horace Ripley (d. 1912). The ring of three bells was recast in 1928 by Thomas Bond of Burford. (fn. 69)
The plate includes a 17th-century pewter almsdish, a silver paten and chalice of 1902, and other silver or brass plate of the 20th century, the rest having been stolen in 1840 together with the registers. (fn. 70) The latter were recovered, and start in 1656. (fn. 71)
Nonconformity
Roman Catholicism
A Roman Catholic gentleman and his wife were recorded in 1603, and in 1624 four members of the Ewre family, lessees of the manor house, were fined for recusancy, together with Thomas Tempest, one of a prominent local recusant family. (fn. 72) The Ewres were still recorded as recusants in the early 1640s, together with at least one of their servants. (fn. 73) The resident Heylyn family of Little Minster was on friendly terms with the Trinders of Westwell and Holwell (in Broadwell), another prominent Oxfordshire recusant family, (fn. 74) but the influence of such families on the parish appears to have been minimal, and no further evidence of Roman Catholicism has been found.
Protestant Nonconformity
The 17th to Mid 19th Century Until the 19th century Protestant Dissent, too, was minimal. Two Anabaptists excommunicated in 1663 were still recorded as Dissenters in 1676 and 1685, together with family members, while two excommunicate Quakers were mentioned in 1683, although perhaps only through confusion with the Anabaptists. (fn. 75) During the 18th and early 19th centuries the vicars denied that there were any Dissenters, and in 1820 the curate reported 'very few . . . [with] no place of worship'; (fn. 76) in that he may have been mistaken since, in 1816, Henry Leake was licensed to 'set aside a building on his premises, as a place of religious worship', though that chapel, presumably in an outbuilding, had closed by 1851. (fn. 77)
Thereafter the presence of Nonconformists was grudgingly admitted. The curate alleged in 1854 that the 'O'Connor cottages' (i.e. Charterville) formed 'another parish almost, the generality of the occupiers being bigoted Dissenters'; they had a 'large building on the O'Connor Estate', where the number of Dissenters was 'upward of 200', and a Baptist meeting there was noted in 1861, together with a nearby Wesleyan chapel. (fn. 78) By 1872 half the parish was claimed to be Dissenters, and three quarters in 1878 and 1881. (fn. 79)
Wesleyans The Witney Wesleyan circuit did not include Minster in 1848, although a probably inaccurate claim was later made for the building of a chapel in 1845. (fn. 80) No chapel was reported in 1851, but a 'new' one existed at Charterville ten years later: (fn. 81) possibly that was the large, surviving, stone-built chapel, in Gothic style, on the Burford road near Charterville's northern end, whose anniversary was celebrated in 1870 with a well attended tea and sermon. (fn. 82) Membership rose from 11 in 1864 to 16 in 1868, but fell to between 7 and 11 in the 1870s. (fn. 83) Major repairs between 1907 and 1909, when the Witney circuit was being expanded, included new pews for 80 people and installation of a harmonium, (fn. 84) and the chapel remained open in the early 21st century with a congregation of around 25.
Primitive Methodists Primitive Methodists were preaching in Minster by 1851, and a chapel was being contemplated in 1858. (fn. 85) A small stone chapel was eventually opened in Charterville in 1893, incorporating a gate with reset scrolled supports and 18th-century wroughtiron railings. (fn. 86) After the Methodist unification of 1932 it continued, like the former Wesleyan chapel, as a United Methodist chapel, and closed in 1965; in the early 21st century it was derelict and used for storage. (fn. 87)
Baptists A chapel for Baptists and Congregationalists, served from Witney, was established in 1852 on the property of a small farmer, presumably in an outbuilding. (fn. 88) Walter Wheeler, a local farmer, was a Baptist 'preacher' in 1861 and 'minister' in 1871, though another Baptist minister also lived in the parish. (fn. 89) Members included one of the main Charterville farmers, and the Abrahams of Ringwood Farm: the leading Baptist preacher Charles Spurgeon preached every year at Ringwood Farm between 1864 and 1875. (fn. 90) No later reference to Baptists has been found.