Pages 302-337
A History of the County of Oxford: Volume 16. Originally published by Boydell & Brewer for the Institute of Historical Research, Woodbridge, Suffolk, 2011.
This free content was digitised by double rekeying and sponsored by Victoria County History Oxfordshire. All rights reserved.
ROTHERFIELD PEPPARD
Until 20th-century reorganization the ancient parish of Rotherfield Peppard stretched for 5½ miles (9 km) across Binfield hundred, from the Chiltern hills in the west to the Thames in the east. (fn. 1) Settlement is scattered, comprising isolated farmsteads and groups of houses set around commons or alongside roads. Formerly supporting a mostly poor farming population, from the 19th century the parish was subject to an ongoing process of gentrification.
Blount's Court, a minor residence of the Stonor family from the 15th to the early 18th century, lies in the far south of the parish, on the north-eastern edge of the 20th-century dormitory town of Sonning Common. (fn. 2) In the east, the southern suburbs of Henley-on-Thames extended into Rotherfield Peppard before the First World War. Nevertheless, although Henley lay only 3 miles (5 km) to the north-east of Peppard church, the town was probably eclipsed as a market centre by Reading, 5 miles (8 km) to the south, with which Peppard was connected by regular carrier and bus services from the 19th century. The suffix 'Peppard', from the chief medieval landowners, was added to the place name from the Middle Ages, distinguishing it from neighbouring Rotherfield Greys. (fn. 3)
Parish Boundaries
As with Greys and Harpsden, Peppard's elongated shape was probably the result of deliberate planning before the Norman Conquest, when an estate here was hived off from Benson. (fn. 4) In the 19th century the parish's (and county's) eastern boundary followed the river Thames for about 400 m., while the long northern boundary with Rotherfield Greys ran along roads and through fields as far as Greatbottom Wood. In the wooded north-west, the boundaries with Mongewell and Ipsden mostly followed paths and woodland boundaries; part of the western boundary with Checkendon followed similar features, but was largely undefined where it approached and looped around the former monastic grange of Wyfold. The boundary was also undefined in the wooded south-west, where the parish bordered Caversham and Sonning for short distances, and where it turned abruptly northwards into Shiplake. However, most of the Shiplake boundary followed the road from Kingwood Common to Blount's Court Farm. The long southern boundary with Harpsden, several sections of which were also undefined, passed mainly through fields on its way to the Thames. (fn. 5)
The antiquity of some of these boundaries is uncertain, particularly in the west where the area around Wyfold and Kingwood was shared in common by the inhabitants of Peppard, Harpsden, and Checkendon in the Middle Ages. (fn. 6) The boundary around Wyfold almost certainly post-dated the foundation of Thame abbey's grange in the 12th century, although it was probably established by 1452 when the rectors of Peppard and Checkendon each claimed the tithes of Wyfold manor. By then Wyfold was said to lie in Checkendon parish. (fn. 7)
In 1879 the ancient parish covered 2,194 acres. (fn. 8) In 1932 Peppard lost 186 a. to Henley parish and borough and 4 a. to Harpsden, but gained 2 a. from Rotherfield Greys, leaving it with 2,007 acres. Changes in 1952, involving Harpsden, Rotherfield Greys, Checkendon, Eye and Dunsden, and Shiplake, left it with 1,764 acres. Further minor changes to the boundaries with Checkendon and Sonning Common left it with 1,759 a. (712 ha.) in 2001. (fn. 9)
Landscape
The parish lies chiefly on chalk overlain by extensive patches of river gravel, except around Bolt's Cross in the north and Kingwood in the west where the high ground is capped by a mantle of clay-with-flints. (fn. 10) Chalk and gravel pits are scattered throughout the parish. (fn. 11) Close to the Thames, the alluvium of the floodplain (at 32 m.) provided a small area of meadow known as Peppard mead, which was developed for housing in the 20th century. (fn. 12) From there the ground rises to 75 m. at Highlands Farm and to 95 m. at Cowfields Farm, the church, and Blount's Court, rising still further to 110 m. at Bolt's Cross, 120 m. at Kingwood Common and Wyfold Grange, and 165 m. in the far north-west of the parish. (fn. 13) As elsewhere in the area the parish's dry valleys provided no water, and inhabitants relied on ponds and wells until the introduction of mains water, which was largely completed by 1926. (fn. 14)
As with Greys, the place name suggests that the extensive commons of the parish were already cleared of trees during the Anglo-Saxon period. (fn. 15) A medieval deer park probably lay between the church and Blount's Court, in the steep-sided valley of Stony Bottom. (fn. 16)
Communications
Roads
Two long-distance roads pass through the parish: the north–south road from Nettlebed to Reading, and an east–west route from Henley to Goring. (fn. 17) On entering the parish at Bolt's Cross, the north–south road (called Peppard Lane) leads southwards to Peppard Common. A pond opposite the Dog Inn was filled in when the road was straightened in the 1950s, and a mound opposite the Red Lion was removed to improve visibility. (fn. 18) The road bends sharply as it descends the hill on the south side of the common; part of an alternative route across the common was removed in the late 20th century. (fn. 19) The east–west road (no longer a major thoroughfare) was a continuation of Pack and Prime Lane (in Rotherfield Greys); the stretch east of Peppard Common was called Dog Lane, and in 2007 was mostly a narrow, unmetalled path. On meeting Peppard Lane, the road continues as Colliers Lane and Wyfold Lane, leaving the ancient parish at Wyfold Grange.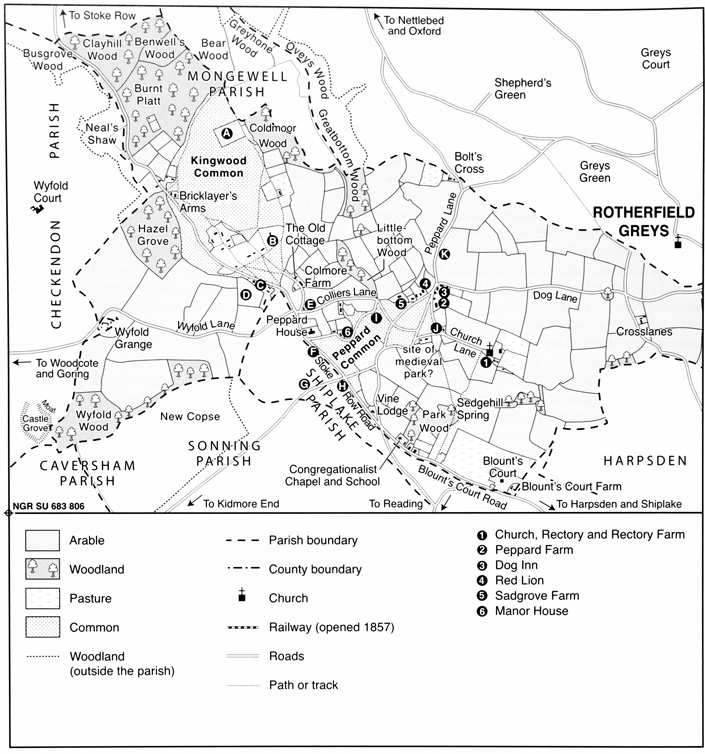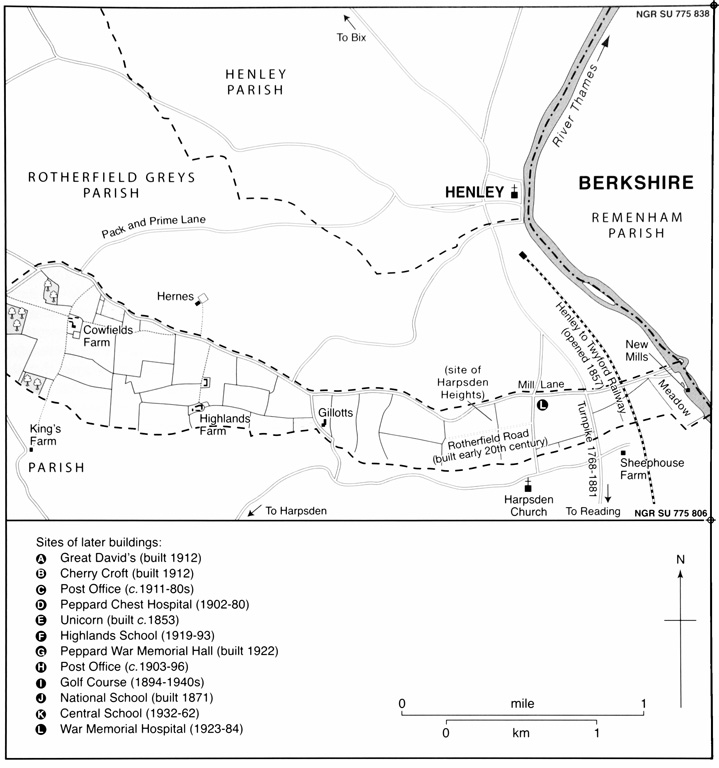 Two other roads formed part of the parish's boundaries, suggesting that they were known in the early Middle Ages. The road from Stoke Row to Shiplake enters the parish at its north-western corner, and loosely follows the Checkendon boundary before crossing Kingwood Common. Beyond the common the road formed the ancient boundary with Shiplake as far as Blount's Court Farm. In the east of the parish Dog Lane joins the former Greys–Peppard boundary road to the Thames. Three short north–south roads cross the narrow eastern part of the parish, linking Mill Lane to an east–west road in Harpsden. One provides access to Gillotts, another leads from Henley to Harpsden, while the easternmost forms part of the former turnpike road from Henley to Reading. (fn. 20)
Numerous tracks and paths criss-cross the parish, particularly the two commons. Crosslanes (as its name suggests) lies at the intersection of a path from Peppard to Henley with one from Greysgreen Farm (in Rotherfield Greys) to King's Farm (in Harpsden). (fn. 21) Several paths also meet at Cowfields Farm, while others lead to Sedgehill spring, south of the church, an important source of water in the parish.
Carriers, Post, and Rail
Regular carriers to Reading passed through the parish from the mid 19th century, and in the early 20th two (later three) Peppard-based carriers operated a daily service. A motorised bus service from Stoke Row to Reading, which stopped at Peppard Common, was introduced by British Automobile Traction in 1919, and taken over by the Thames Valley Traction Company in 1920. A daily service was provided by 1924, when only two carriers survived. A single carrier, operating three days a week, was last mentioned in 1931. (fn. 22) In 2007 regular bus services connected Peppard to both Reading and Henley.
A sub-post office was recorded in 1847, run by Lucy Reeves, a baker, probably from a cottage on the corner of Church Lane. (fn. 23) In 1854 the parish clerk, James Crutchfield, took over the service, but it seems to have closed soon after. Until c. 1897 letters were received on foot from Henley, and the only provision within the parish was a wall box, presumably at Peppard Common, and pillar boxes at Kingwood Common and on the Greys–Peppard boundary road. (fn. 24) From c. 1897 a shop and sub-post office at Peppard Hill was run by Maria Bond; it transferred to Ernest Fry's grocer's shop on Stoke Row road (in Shiplake parish) c. 1903, the sub-post office closing in 1996. (fn. 25) A second sub-post office was opened at Kingwood Common c. 1911, near Maitland sanatorium; it transferred to a site near Colmore Farm in the 1950s, but returned to its original location soon afterwards and closed in the mid 1980s. (fn. 26)
The branch railway line from Twyford to Henley, opened in 1857, crossed the narrow eastern part of the parish. A pair of cottages was built next to the line on the southern side of Mill Lane, presumably for signalmen operating the level-crossing. James Drake, a 'gateman' for Great Western Railway, lived there in 1871. (fn. 27) A road bridge over the railway was built in the early 20th century. (fn. 28)
Settlement and Population
Early Settlement
Human occupation in the parish up to half a million years ago is attested by a large number of Palaeolithic artefacts, recovered from a gravel pit at Highlands Farm close to an ancient side-channel of the Thames. (fn. 29) Palaeolithic hand-axes have also been found elsewhere in the parish, including Kingwood Common, Peppard Common, and Gillotts. (fn. 30) Neolithic occupation is suggested by the discovery of worked tools near Crosslanes, by possible flint-axe production at Peppard Common, and by a chipped flint axe found at Wyfold. (fn. 31) Bronze-Age implements have been discovered close to Blount's Court, and a large barrow of the same era survives near Crosslanes, while a linear ditch has been identified in Spring Wood. (fn. 32) Roman settlement in the parish is not well evidenced beyond finds of coins and pottery scatters, but villas and pottery production sites are known close by. (fn. 33)
No archaeological evidence of Anglo-Saxon settlement has yet been found in the parish, though the creation of a substantial estate before 1066 suggests both an agrarian population and an estate centre, sited possibly near Peppard Common in the likely vicinity of the Peppards' medieval manor house. (fn. 34) Eleventh-century settlement was probably dispersed as later, though perhaps with a concentration of estate workers close to the putative manorial site.
Population from 1086
In 1086 there were 17 tenant households on Rotherfield Peppard manor, headed by 10 villani, 5 lower-status bordars, and 2 slaves; all probably lived within the bounds of the later parish. (fn. 35) Eight landholders were taxed in 1306, 10 in 1316, and 13 in 1327; each presumably represented a household, which may suggest that the parish's population was rising. (fn. 36) The Black Death almost certainly reduced numbers: in 1377 poll tax was paid by only 31 adults over 14, suggesting a total population of around 55–68. (fn. 37) Further depopulation occurred in the 15th century when the number of rent-paying tenants fell from more than 30 in 1401 to 19 in 1470. (fn. 38) Population apparently failed to recover in the early 16th century: only 26 taxpayers were listed in 1523, and 16 in 1543. (fn. 39) However, from the 1570s baptisms consistently outnumbered burials. (fn. 40) Fifty-two men swore the obligatory protestation oath in 1642, implying an adult population of 104; 23 houses were assessed for hearth tax in 1662, and 94 adult inhabitants were noted in 1676. (fn. 41)
Average numbers of baptisms increased from the 1720s, but were matched by rising numbers of burials after 1740, and in the 1770s burials briefly exceeded baptisms. (fn. 42) Rectors reported between 35 and 50 houses in the parish during the 18th century, almost certainly an underestimate: in 1801, 70 houses were occupied by 73 families, a total of 317 inhabitants. (fn. 43) The population increased steadily to 439 in 1841, occupying 100 houses, before falling back in subsequent decades. The 19th-century population peaked in 1881 at 484 persons in 93 houses, after which it fell again, presumably as a result of agricultural depression.
In the 20th century, rising prosperity and extensive housing development led to an increase of population from 410 in 1901 to 882 in 1931, occupying 193 houses. Following successive boundary changes, in 1951 there were 1,155 persons in 288 households, increasing to 1,525 persons in 465 households in 1971. Thereafter the number of households continued to rise, reaching 577 in 2001, though the population fell to 1,473. (fn. 44)
Medieval Settlement
Medieval settlement was dispersed, most people living in the western part of the parish in hamlets on the edges of Peppard and Kingwood Commons; there has never been a village of Rotherfield Peppard. (fn. 45) At Peppard Common settlement probably grew up where the north–south road from Nettlebed to Reading crossed the east–west route from Henley to Goring. (fn. 46) The medieval church lay 400 m. east of the common, along a lane which seems not to have been built on until the 20th century. (fn. 47) On the common's south-eastern edge was the medieval park, close to the presumed location of the early manor house. (fn. 48) A late 13th-century charter, which may refer to settlement around the common, describes a group of houses and gardens, one of them beside the street end (le stretende), from which a way ran to the curia (or manorial site) of Rotherfield. (fn. 49) To the south of the park lay Blount's Court, probably built in the early 15th century by a prominent resident freeholder. (fn. 50)
In the west of the parish, the medieval hamlet of Wyfold, which presumably lay close to Wyfold Grange on the Peppard–Checkendon boundary, may have included part of Kingwood Common. Fourteen tenants named in 1279 held extensive common rights in Kingwood, where the lord, Thame abbey, appropriated 200 a. of royal demesne in the 13th century. About the same time one Andrew of Kingwood was recorded as a tenant of Benson manor, of which Wyfold formed part. (fn. 51)
A mill stood on the parish's narrow Thames frontage from the 11th to the 20th century. Further west, farmsteads were established at regular intervals among largely arable fields. Of these, Cowfields farm, recorded as Coufold in 1369, and Highlands farm, named as Hellelane in 1401, were almost certainly of medieval origin. (fn. 52)
Settlement 1600–1900
A settlement called 'the village of Pepper Green' in 1642 was probably the group of houses shown on 18th-century maps, at the crossroads of Peppard Lane and Dog Lane on Peppard Common's north-eastern edge. (fn. 53) Although some 600 m. from the church this was probably also the hamlet called Peppard Green by the rector in 1814, which he described as comprising '12 families contiguous to the church'. (fn. 54) In 1840 the hamlet contained 10 houses on both sides of the apex of the triangular-shaped common; among them were Peppard and Sadgrove Farms and two public houses, the Dog and the Red Lion (known briefly as the Anchor at the end of the 18th century). To the south-east, where Church Lane forked on entering the common, lay four more houses including Slater's Farm, while on the common's north-western edge at Peppard Hill was another group of six houses, including Peppard House and Manor House (formerly a public house called The Blue Monkey), which appear to have encroached on former common land. (fn. 55)
The number of houses and inhabitants in the parish barely changed between 1840 and 1900 and there was little new building around Peppard Common. (fn. 56) Exceptions included the Unicorn public house at a crossroads at Peppard Hill, first recorded in 1853, and the National school, opened in 1871 on former common land at the west end of Church Lane. (fn. 57)
Unlicensed inclosure and building of cottages on the edge of Kingwood Common was reported in 1779 and marked on 18th-century maps. (fn. 58) In 1808 the rector described Kingwood as a hamlet about a mile from the church consisting of 20 houses. (fn. 59) The main focus of settlement was a group of inclosures in the southern part of the common, where 15 houses were recorded in 1840. Seventeen more houses were scattered around the common, including small groups of eight on the common's north-western edge and four (including Colmore Farm) on its south-eastern edge. (fn. 60) Little development occurred before 1900, apart from the temporary appearance of tents (occupied by tinkers and hawkers) in 1871–81. (fn. 61)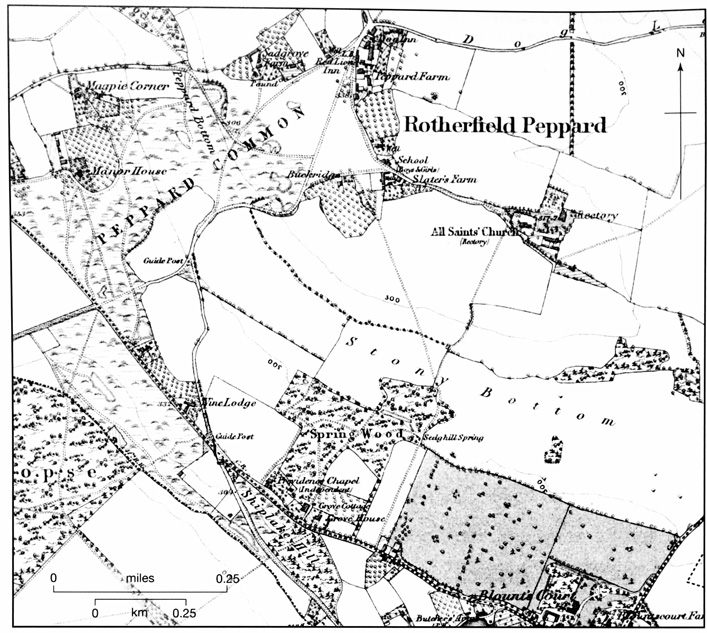 In 1840 about a dozen houses were scattered at irregular intervals along the Stoke Row to Shiplake road, mostly to the south-east of Peppard Common. Apart from Blount's Court and the neighbouring farmstead, these were probably all of 18th-century origin or later; they included the Nonconformist chapel and manse, and a gentleman's residence called Vine Lodge. (fn. 62) More houses and a mission hall were built along the road on former arable land in the late 19th century. (fn. 63)
Settlement in the 20th Century
Extensive housing development occurred throughout the parish in the 20th century, principally around the commons, along the main roads, and to the south of Henley. A number of commercial premises were also built, as well as schools, farms, and two hospitals. (fn. 64) Nevertheless, in 2007 the parish's settlement pattern remained dispersed, mostly rural, and relatively remote from the area's major roads and urban centres.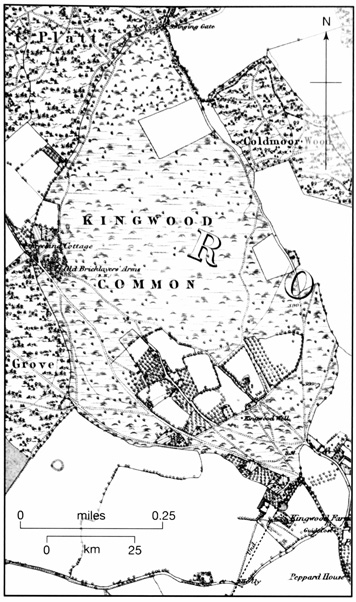 Peppard Common
As the number of wealthy residents increased before the First World War, vacant plots around Peppard Common were infilled and former arable inclosures developed, though the settlement pattern remained characteristically dispersed. (fn. 65) Development was less intense during the inter-war years, being mostly limited to scattered private houses, and a row of six council houses along Church Lane, the focus of post-war building activity. (fn. 66) Plots to the north of Church Lane were offered for sale in 1927 and again in 1938, but were not developed until the 1940s and later, including a further row of six council houses and two culs-de-sac. (fn. 67) Development of greenfield sites and infilling of existing plots continued into the 1970s, and though activity slowed thereafter, one result of the expansion was a new focus of settlement between Peppard Common and the parish church. (fn. 68)
A secondary school was built on Peppard Lane north of the common in 1932, but closed in 1962 and was later converted to a private house. Subsequent development of surrounding land included the creation (on the opposite side of the road) of a trading estate called Manor Farm. Nevertheless, in 2007 much of Peppard Lane between the common and the houses at Bolt's Cross (mostly built before 1800) remained open. (fn. 69) To the south-east of the common, some infilling took place along the Stoke Row to Shiplake road (including a former builders' yard converted to housing in 2002), but most development occurred on the road's opposite side, on land formerly in Shiplake parish but included since 1952 in Rotherfield Peppard. (fn. 70)
Kingwood Common
The early 20th century saw the foundation and rapid expansion of a sanatorium (later the Peppard Chest Hospital) on Kingwood Common's southern edge. (fn. 71) Less intensive development occurred around the same time on the common's eastern side, with the appearance (in former arable inclosures) of several large houses, including Cherry Croft and Great David's (both built 1912). (fn. 72)
During the Second World War a Royal Artillery camp and American military hospital were built in the north-western part of the common, close to the late 19th-century public house the Bricklayers' Arms (converted to a private residence in the early 21st century). In the early 1950s 72 huts at the former camp were used as housing by Henley Rural District Council. A controversial proposal by the council to build a housing estate on the site was defeated in 1956. Some of the buildings were still marked on a map of 1960 but were subsequently demolished. (fn. 73) After the war further housing development took place in the main group of inclosures in the south of the common, provoking local concern, while at the end of the 20th century houses were built on the site of the former sanatorium (closed in 1980). Despite the rise in house numbers, however, in 2007 much of Kingwood Common retained a remote and secluded character. (fn. 74)
The east of the parish
Considerable development occurred to the south of Newtown (in Rotherfield Greys), now part of Henley. The Henley and District War Memorial Hospital opened in 1923 on the corner of Mill Lane and the Henley–Harpsden road. A little earlier, large houses were built in Harpsden Heights along Mill Lane and a new parallel road to the south (Rotherfield Road), while land near the railway, belonging to George Shorland, was developed with houses, a motor garage and filling station. Houses were also built in the early 20th century on former meadow near the Thames. (fn. 75) Redevelopment followed the hospital's closure in 1984, and in the late 20th century some house plots were subdivided. The former Shorland properties were absorbed into an extended Newtown industrial estate. (fn. 76)
The Built Character
Rotherfield Peppard's buildings are similar in character to those of its neighbours. Although individual houses vary greatly in size and style, most are of brick and clay tile, with occasional use of timber-framing, flint, and slate tile. Since the 19th century thatch has rarely been used to roof either houses or outbuildings. (fn. 77)
Except for the parish church and Blount's Court, surviving buildings are all post-medieval. Some of the farmhouses (notably Cowfields and Highlands) may have replaced medieval predecessors, but the present buildings date from the 16th century and later. (fn. 78) The rectory house, too, probably occupies its medieval site, although it was first recorded in 1562 (in a state of dilapidation), and its present exterior is mid 19th-century. (fn. 79) A few 16th or 17th-century cottages survive, among them the Old Cottage on Colmore Lane, which was probably built as a hall house in the early to mid 16th century. The house is timber-framed with plastered wattle-and-daub infill and a plain tile roof, and has two bays and one storey with an attic, with a rear and a side outshut. (fn. 80) Most of the present housing stock, however, is 18th-century and later.
During the 19th century the number of houses rose from 75 to only 100 or so, and as several were often uninhabited demand for housing was presumably low. (fn. 81) There was some speculative building before the First World War, notably along the Stoke Row to Shiplake road, where the builder Charles Butler owned a number of houses. (fn. 82) However, in 1914 the parish council called for more cottages to be built for local labourers and artisans, and in 1919 gave the names of 14 applicants for houses to Henley Rural District Council. That year the council agreed to build 18 houses in the parish, although only six were eventually built, along Church Lane in 1928; (fn. 83) a further six (adjoining the first) were built after the Second World War. More important was 20th-century private development, which was chiefly responsible for the steady increase in the number of dwellings to 633 in 2001. (fn. 84)
Manors and Estates
Rotherfield Peppard was one of several 5-hide estates in the Henley area which were probably detached from the royal manor of Benson before the Norman Conquest. (fn. 85) From the 11th to the 20th century it was held by a series of high-status lords including the Pipards, Butlers, Stonors, and Flemings; the Pipards maintained a manor house and nearby deer park, but they and their successors were mostly non-resident. (fn. 86) From the 16th century to the early 18th some younger members of the Stonor family lived at Blount's Court, a house built probably in the early 15th century by the owner of a short-lived sub-manor. (fn. 87)
Nineteenth-century perambulations imply that the manor originally encompassed the entire parish. The Stonors sold off nearly all of the estate in the 17th century, however, and in 1840 held only 192 a., mostly as a single block in the north-west. The remains were finally sold in 1894. Other large estates in 1840 were also relatively compact, including (in the south-west) 245 a. belonging to the Wyfold estate, in the centre 220 a. held by Charles Elsee of New Mills and 212 a. by Mary Atkyns Wright of Crowsley Park, and in the east 432 a. held by the Hodges family of Bolney and 158 a. by the Halls of Harpsden. These estates were largely broken up during the 19th and 20th centuries. (fn. 88)
Rotherfield Peppard Manor
Descent to 1465
In 1066 Rotherfield Peppard was held freely by Uluric, and in 1086 by Miles Crispin of the king. (fn. 89) The manor formed part of the honor of Wallingford, which escheated to the Crown in 1300 and later became the honor of Ewelme. (fn. 90) Its overlords were therefore the holders of the honor, and men from Rotherfield Peppard attended the honor's frankpledge courts from the Middle Ages to the 19th century. (fn. 91)
Miles Crispin probably granted Rotherfield Peppard to his steward Gilbert Pipard, whom he sent to make a donation of land to the monks of Abingdon in 1107. (fn. 92) Gilbert's successor William Pipard, probably his son or grandson, held six fees of the honor of Wallingford in the mid 12th century, of which Rotherfield Peppard was one. (fn. 93) William was succeeded by his sons Gilbert (d. 1191–2), who died on crusade, and William (d. 1195). (fn. 94) William's successors were probably his sons Walter (d. 1214) and Roger (d. 1225), who inherited lands in Ireland from his uncle. (fn. 95) Roger's son William Pipard died in 1227, leaving his daughter Alice, a minor, as heiress. Alice became the ward of Ralph FitzNicholas, who before 1242 married her to his younger son Ralph. (fn. 96) Their son Ralph Pipard, 1st Lord Pipard, inherited the manor about 1265 and died in 1303. (fn. 97) His successors were his grandson John, a minor, who died in 1306, and his younger son John (d. 1331), who granted the reversion of his English lands after his death to his brother-in-law, Edmund Butler. (fn. 98)
Edmund Butler, twice Justiciar of Ireland, died in 1321, and was succeeded by his son James, the future earl of Ormond, but then a minor. (fn. 99) James (d. 1338) left as heir his second son James (II), aged seven, who received his father's estates in 1347; (fn. 100) meanwhile his mother Eleanor married Thomas de Dagworth, who held the manor in 1346. (fn. 101) James Butler (II) died in 1382 and was succeeded by his son James (III). (fn. 102)
In 1391 James conveyed the manor to John Waryn, Thomas Clobber of Henley, and William Blike, presumably as trustees in connection with his purchase of Kilkenny Castle. (fn. 103) The manor was then briefly divided. One half was held by William Faukener on his death in 1412, and passed to William his son; (fn. 104) the other half was acquired by John Drayton, possibly the man of that name (d. 1417) commemorated in the abbey church at Dorchester. (fn. 105) Both Faukener and Drayton received cash payments from the manor between 1398–9 and 1408–9. (fn. 106)
Descent from 1465
The two parts of the manor, together with the former sub-manor of Kents (below), seem to have been reunited in the possession of Richard Drayton of Dorchester, presumably a descendant of John Drayton. Richard sold the manor to his stepson Thomas Stonor in 1465. (fn. 107) The manor, known thereafter as Rotherfield Peppard or Blount's Court (from the former chief house of Kents manor), descended in the Stonor family until the sale of 1894, although not always in the direct male line. (fn. 108) Thomas Stonor (d. 1474) left the manor in his will to his second son Thomas (d. 1512), whose eldest son Walter (d. 1550) lived at Blount's Court before inheriting Stonor in 1536. (fn. 109) In the 17th century Blount's Court was again occupied by younger members of the family, of whom the last was Henry Stonor (1633–1705). On his death the house and some of its land were sold. (fn. 110)
In 1894 the Stonors sold Rotherfield Peppard, as part of their larger Nettlebed estate, to H.H. Gardiner, a London businessman who was forced to sell following financial losses. (fn. 111) Robert Fleming (1845–1933), a Scottish financier, bought the estate in 1903, (fn. 112) but sold the outlying parts in 1913, when the lordship of Rotherfield Peppard was divided. Manorial rights over Peppard Common became attached to Sadgrove (later called Manor) farm, while those over Kingwood Common were said to go with Colmore farm; (fn. 113) Fleming seems nonetheless to have retained the rights over Kingwood, and was called lord of the manor of Kingwood in 1920–31. The lord of Peppard manor was then Walter Ford of Dunsden, presumably as successor to George Ford, the tenant of Sadgrove farm in 1913. (fn. 114) Fleming was succeeded by his son Philip, who, in the late 1930s, gifted the entire Nettlebed estate (then 2,000 a.) to his nephew (Robert) Peter Fleming (d. 1971), in whose family it remains. Fleming was still called lord of the manor in the 1950s. (fn. 115)
Kents Manor and Blount's Court
A sub-manor called Kents was created in the 13th century. In 1286 Ralph Pipard granted John of Kent and Emma his wife an annual rent of 1 mark which Roger Stormy paid for land called la Selgrave in Rotherfield Peppard. (fn. 116) Three years later Kent was given free pannage in Pipard's wood and free grinding at his mill, and at about the same time Ralph sold him a house and curtilage, possibly near Peppard Common. (fn. 117) In 1319 John's descendant Robert of Kent held a house, (fn. 115) yardlands, 3½ a. of meadow, 10s. rent, pannage in the lord's wood, common in Kingwood, and a way extending from the house to Selegrovelond, all of which he sold to Roger de Shire. (fn. 118) Roger, in turn, sold the property to John de Alveton in 1321, a transaction which Robert of Kent confirmed. (fn. 119)
John de Alveton (d. 1361), the earl of Ormond's attorney-general, acquired other lands in the parish between 1323 and 1340, which on his death passed to his stepson Thomas Blount. (fn. 120) Blount (d. 1407) was first recorded in Rotherfield Peppard in the early 1360s holding his stepfather's estate. (fn. 121) In 1396 he leased to John Chiltern a house called Benschefysplace and land called Seyntfeyslond or Groveslond. (fn. 122) In 1401 Blount held a court and land at Hellelane (an early spelling of Highlands) for a nominal rent of 1d. each; Groveslond was still held by John Chiltern. (fn. 123) Thomas was succeeded by his son John Blount, the last member of the family, who was described as lord of Rotherfield Peppard (presumably meaning Kents) in 1412. (fn. 124) In 1425 the whole manor of Kents, with land in Rotherfield Peppard, Kingwood, and several surrounding parishes, was held by John Chiltern, before its re-absorption into the main Rotherfield Peppard manor before 1465. (fn. 125)
Blount's Court
Blount's Court, which lies on the southern edge of the parish along the Stoke Row to Shiplake road, was built probably by John Blount or his successors in the early 15th century. (fn. 126) The house was acquired with the rest of Kents and Rotherfield Peppard manors by Thomas Stonor in 1465, and became a minor residence of the Stonor family until its sale c. 1705; (fn. 127) Charles Price acquired it c. 1722, (fn. 128) and in 1803 the estate passed to his cousin Thomas Ovey, whose son sold it in 1821 to Charles Elsee of New Mills. Elsee sold it to John Bayley in 1828, repurchased it in 1836, and held 220 a. in the parish in 1840, (fn. 129) before auctioning the estate in 1841. The purchaser was Sir William Thomas Knollys (1797–1883), a descendant of the Knollys family of Rotherfield Greys. (fn. 130) Thereafter the estate was gradually dispersed, culminating in the sale of Blount's Court house in 1933. In 1960 the house was converted into company laboratories and offices. (fn. 131)
The conversion removed or obscured many earlier features, but an internal 15th-century stone doorway and some 16th-century panelling have been identified. (fn. 132) On Henry Stonor's death in 1624 the house included a hall, two parlours, nine chambers, two closets, and a lobby; service areas included a kitchen, two pantries, a larder and milkhouse, a bakehouse, a brewhouse, a stable, and three service chambers, including the maid's chamber. (fn. 133)
Probably in the 18th century the house was refronted in stone by the Price family, and was given a Doric porch and a semicircular bay window (Fig. 76). (fn. 134) The main front (including the porch) faces eastwards across the lawn, while the bay window looks north towards Stony Bottom. A southern wing, facing Blount's Court Road, adjoins the main part of the house at right angles. (fn. 135) When auctioned in 1841 the mansion included a stone hall and staircase, two parlours, a library, a drawing room, a boudoir, 11 bedrooms, two dressing rooms, closets and water closets; the service part included a servants' hall, a butler's pantry, a man's bedroom, bachelors' bedrooms, a housekeeper's room, a kitchen, a larder, and extensive cellars. Outbuildings included an ornamental dairy and scullery, a coach-house, a stable, and three servants' rooms. (fn. 136)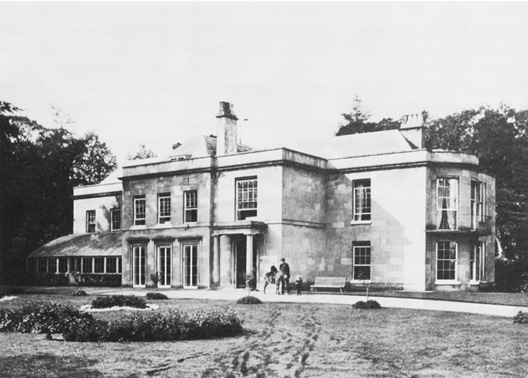 When the house was sold in 1960 it was described as a 'fine Georgian residence ... solidly built of stone and part in brick with slated roof with four urn vase surmounts', and included a hall, four reception rooms, domestic offices, two suites of bedrooms each with bathroom, five secondary bedrooms with two bathrooms, two servants' bedrooms, three small flats, and an 'old world gardener's cottage'. (fn. 137) In the late 20th century the original house was retained but was greatly extended westwards with offices and laboratories over the former shrubbery. (fn. 138)
A separate farmhouse at Blount's Court was also owned by the Stonors until 1705, and descended thereafter with the main house, whose owners let it to tenant farmers. Brick-built with a plain tile roof, the house has a 16th-century core; its 18th-century front was added probably by the Price family, while 19th-century alterations may have been by Knollys. Outbuildings include an early 18th-century barn. (fn. 139)
Other Estates
Two neighbouring estates contained land in the parish in the Middle Ages. In the west, Thame abbey acquired 200 a. of royal demesne in Kingwood in the 13th century, which became attached to its manor of Wyfold (held of the royal manor of Benson). (fn. 140) In the 19th and 20th centuries the Wyfold estate still extended into Rotherfield Peppard, although most of it lay in the neighbouring parish of Checkendon. (fn. 141) The medieval manor of Harpsden extended into Peppard's east part, where the Hall family of Harpsden Court held 158 a. in 1840. The Halls sold it in 1851. (fn. 142)
Several new estates were created in the late 17th century when the Stonors sold most of the manor, probably to pay recusancy fines. (fn. 143) In 1684, for example, John Stonor sold Highlands farm to Robert Hanson, a maltster of Blewbury near Didcot (formerly Berks.). (fn. 144) Hanson's son John sold the farm in 1719 to Samuel Grice of Henley, whose grandson George Blount sold it in 1754 to Anthony Hodges of Bolney Court in Harpsden. By then the estate included the neighbouring properties of Cowfields farm and Gillotts, which had also formerly belonged to the Stonors. (fn. 145) The Hodges family remained owners of the 432-a. estate in 1840, (fn. 146) and c. 1855 it was evidently sold to Edward Mackenzie of Fawley Court. Most was auctioned by Keith Ronald Mackenzie in 1906 and broken up, and Gillotts was sold c. 1920. (fn. 147)
Samuel Norman, whose family had been tenants of Rotherfield Greys manor, held land close to the Peppard–Greys boundary in the late 18th century. (fn. 148) Mary Atkyns Wright held the 212-a. estate in 1840, adjoining her lands in Rotherfield Greys. Known as Peppard farm, it formed part of the Crowsley Park estate sold to Henry Baskerville in 1844, and was auctioned as part of the Mackenzie estate in 1906. (fn. 149) The farm, with neighbouring Greysgreen farm in Rotherfield Greys, was owned by Mrs Pipe Wolferstan in the 1930s, who by this date was described as the principal landowner in the parish. (fn. 150)
Wallingford priory held lands and rents in Rotherfield Peppard and Newnham Murren, worth £1 10s. in 1291. (fn. 151) Goring priory held land at Colmore of Peppard manor until the Dissolution. (fn. 152) The glebe, about 56 a. from the 17th to early 20th century, lay in the centre of the parish, surrounding the church and rectory. (fn. 153)
ECONOMIC HISTORY
Until the 20th century inhabitants depended largely on agriculture, and numerous farms were dispersed throughout the parish's settlements and fields. From the Middle Ages a variety of rural trades and crafts were practised, and in the 19th century there was a significant paper manufactory and flour mill by the Thames. Some long-standing businesses were established at that time, notably the Butler family's building firm, while in the 20th century some specialized employment in medicine and technology was created at Peppard Chest Hospital and Blount's Court. The parish's sub post-offices closed in the late 20th century, but in 2007 a few shops and several business parks continued.
The Agricultural Landscape
Peppard's landscape was similar to that of Rotherfield Greys, and its inhabitants had access to a similar range of agricultural resources. (fn. 154) Domesday Book suggests that the mixed countryside and mixed farming of later periods was well established by the 11th century: in 1086 Miles Crispin's 5-hide manor had land for 7 ploughteams, 9 a. of meadow, and woodland ½ league long and 3 furlongs broad. (fn. 155)
Fields, Crofts, and Arable
In the Middle Ages there were presumably irregular open fields in Rotherfield Peppard as in other parts of the south-west Chilterns, but little is known of their location or extent. (fn. 156) Occasional references to tenants' yardlands between the 14th and 17th centuries suggest that some land was farmed in common, and in the 1660s several copyholders on the Stonor estate held yardlands of 40 acres. But the same sources also reveal numerous crofts inclosed by hedges, while there is no mention of the bylaws and field orders typical of open-field farming. (fn. 157) As early as 1279 tenants' land at Wyfold (on the Peppard–Checkendon boundary) was mostly described in terms of crofts and groves. (fn. 158) Most likely the parish was largely inclosed by the end of the 16th century, (fn. 159) and in the 1620s the Stonors' demesne was divided among numerous closes. A landscape of hedged inclosures was also depicted in the 18th century. (fn. 160)
Arable land was almost certainly scattered throughout the parish from an early date. The tenants at Wyfold presumably grew grain in their crofts in the late 13th century, while in the 1660s arable was recorded near Kingwood Common as well as in the centre and east of the parish. That pattern persisted in 1840, when more than two thirds of the available land was ploughed. (fn. 161)
Woodland, Commons, Parks, and Pasture
From the Middle Ages woodland dominated the north-western parts of the parish. In 1263 an agreement between the monks of Thame and the lords of Rotherfield Peppard and Harpsden allowed common grazing in 300 a. of wood extending from Coldmoor wood on the north-eastern side of Kingwood Common across the boundary into Checkendon. (fn. 162) The extent of tree cover must have varied over time according to levels of grazing, the management of coppices for timber and underwood, and demand for arable. Numerous inclosures were carved out of the wood, including that which Francis Gouldar 'turned into arable by grubbing up bushes, ferns, briers, hazel stubs and such like from the waste' in about 1590. (fn. 163) In the 1670s tenants' right to cut wood for household use in Kingwood was limited to two loads each, while in the 1770s unlicensed cottages and inclosures encroached on the common. (fn. 164) In the late 18th century Kingwood appears to have been an open area of heath and grass, and remained so until the second half of the 20th century when a decline of grazing allowed woodland to regenerate. (fn. 165) Further east, smaller patches of woodland were mapped in the 18th and 19th centuries, again varying in extent over time, but such that in 1840 most of the large landowners held at least some wood. During the 20th century individual woods were grubbed up, but across the parish as a whole the area of woodland increased. (fn. 166)
Ralph Pipard was granted free warren at Rotherfield in 1284 and held an inclosed park on his death in 1303. Probably it lay on the south-eastern side of Peppard Common, where later sources recorded arable closes called 'Great Park' and 'Little Park', and wood called 'Park Wood' (in all about 60 acres). (fn. 167) The park appears to have been maintained throughout the 14th and 15th centuries. In 1355 the park-keeper was given 10s. by the Black Prince, presumably after a successful hunting expedition, while tenants whose animals trespassed in the park were brought before the manorial court in the 1360s. Labourers were hired in 1406–7 to repair the park's boundaries. (fn. 168) In 1517 Thomas Stonor enlarged the park by inclosing 38 a. formerly occupied by tenants; this may have been land surrounding the house at Blount's Court, of which 32 a. was called parkland in 1840. (fn. 169) In the 17th century part of the original park was converted to arable, and the process evidently continued, so that only about 14 a. of 'Park Wood' (later called Spring Wood) survived in 1840. (fn. 170)
Private pasture held by the lord of the manor was broken into in 1351, and arable closes must regularly have been put down to grass to replenish the soil, as on the Blount's Court estate in the 19th century. (fn. 171) Such closes may have been used to supplement the extensive but poor-quality common grazing available in the woods and commons in the west of the parish. An agreement in 1211 between Walter Pipard and Thame abbey allowed the tenants of Rotherfield to pasture their animals and collect wood for fuel and repairs over a wide area around Wyfold Grange, rights which were reinforced in 1263 when pannage was recorded. (fn. 172) Both lord and tenants were concerned to protect the manor's common pasture from outsiders, as in 1456 when a Caversham man was fined for pasturing sheep in the parish. (fn. 173)
The right of common grazing on Peppard Common (54 a. in 1840) and Kingwood Common (140 a.) persisted into the 20th century. In 1906 occupiers of cottages in the parish were entitled to take undergrowth and scrub for fuel and litter, and to graze up to 50 cattle, sheep, and donkeys. When the commons were registered in 1965 no-one came forward to claim common rights, although some inhabitants continued to graze cattle and gather wood. (fn. 174)
Meadows
Lack of water meant that meadow in Rotherfield Peppard was largely confined to the narrow Thames frontage in the extreme east of the parish. Only 9 a. belonged to the manor in 1086 and 4 a. 'that can be mowed' in 1303. (fn. 175) In the early 15th century a watercourse was mended 'from the lord's ditch to the lord's meadow', but this was not necessarily privately inclosed. In the same period the lord regularly leased 6 a. 'lying in the common meadow', together with 1 a. called Shabbydacre which belonged to the mill. (fn. 176) Some medieval tenants held small pieces of meadow, such as Robert Wheeler who occupied a house, ½ yardland, and ½ a. of meadow in 1457. In 1465 a miller was fined for allowing his horses to graze in the lord's meadow. (fn. 177)
Three closes of meadow, called Peppard mead, Mill mead, and Mill close, were recorded in 1840, divided into nine pieces and amounting to about 11 acres. The area was probably larger in the Middle Ages before part of the river-bank was built on, and in the 20th century the whole of the former meadow was developed for housing. (fn. 178)
Medieval Agriculture
Medieval Demesne Farming
Two hides (around 240 a.) of land were in demesne in 1086, worked by two slaves with two ploughteams. By 1303 and 1338 the demesne was only 60 a., perhaps reflecting the Pipards' and Butlers' non-residence and their lengthy absences in Ireland. (fn. 179) The land may have been directly managed c. 1300 when tenant labour-services were available to reap and carry crops, but by 1338 these had been commuted, and by the end of the century the demesne was leased. In 1398–9 John White paid 3s. 4d. for the 'buildings and close of the manor of Rotherfield', while others leased arable fields, the park, meadows, mill, and fishery. However, tenants' rents were collected by a reeve and delivered to the manorial lords, William Faukener and John Drayton, who retained control over the manor's woodland and court, and were responsible for the maintenance of some manorial buildings. Their successors, Thomas Stonor, father and son, appear to have followed the same policy in the late 15th century, leasing the land but collecting the rents. (fn. 180)
Although the Pipards and their successors almost certainly practised mixed farming, little is known about their demesne management. A low valuation of 2d. an acre in 1303 and 3d. in 1338 suggests that the arable was not farmed intensively and may not have been kept in good heart. Presumably any surpluses were sold at Henley, which was also the most likely destination for the manor's woodland produce – the woodland was not leased in the Middle Ages, suggesting that it was regarded as a valuable resource. Pannage (money for grazing pigs in woodland in autumn) was regularly collected in the 14th century. Trespassers in the manor's woods were prosecuted, as when four young oaks were felled without licence in 1366. Other trees felled included beech and ash. In the early 15th century various woodland products were sold or used on the manor, including timber for repair of the mill, loppings, talwood (which may have been shipped to London for use as fuel), and charcoal. The demand for wood tempted a manorial tenant to fell oaks and cart them to Henley, for which he was fined in the manor court in 1461. (fn. 181)
Medieval Tenants and Farming
In 1086 there was land for 7 ploughs, although only 5 ploughteams were recorded: 2 on the demesne and 3 shared by 15 tenants (10 villani and 5 bordars). Nevertheless, the estate's value had increased from £7 in 1066 to £10 in 1086. (fn. 182) There was apparently little growth in the number of customary tenants during the 12th and 13th centuries: their annual rents were worth only £2 7s. 10d. in 1303, while those of the cottars amounted to £1 4d. By contrast, free tenants paid a total of £17 2s. 1d., their appearance perhaps indicating that settlement in the parish was spread by the inclosure and cultivation of common land. (fn. 183)
In 1341 it was claimed that all but three carucates (about 360 a.) lay uncultivated on account of the poverty of the parishioners, which may be reflected in the low tax assessment of 1334 and a decline in free tenants' rents in 1338. Probably that was a result of the early 14th-century agrarian crises, which also affected other parts of the Chilterns. (fn. 184) In the 1350s and 1360s both customary and free tenants occupied a variety of holdings: cottages and crofts, and land measured in acres and yardlands, some for life, others at the lord's will or for a term of years. In the aftermath of the Black Death some holdings remained vacant, and a few buildings fell into ruin, but a number of tenants also took the opportunity to accumulate land. In 1358, for example, John de Alveton held at least five formerly separate holdings, amounting to 4¼ yardlands. (fn. 185)
The number of tenants may have continued to fall during the 15th century. In 1470 only 19 tenants paid rents compared with more than 30 in 1401. Rents were also reduced, indicating a falling demand for land, as allowances to the reeve in the early 15th century make clear. (fn. 186) At courts in the 1450s and 1460s tenants were frequently chastised for not repairing ruined buildings, among them Joan Taylor, whose walls and plasterwork needed attention, while in another house the timber and roof were decayed. But although some holdings lay vacant, and individual buildings were destroyed, free and customary tenants continued to hold land of the manor, and there is little to suggest that the pattern of settlement was radically altered. (fn. 187)
Tenant agriculture probably resembled the mixed farming of the lords. In the mid 14th century tenants grew grain, including dredge and probably barley (which they brewed into ale). Neighbours' animals sometimes strayed into their crops, amongst them horses, oxen, cattle, sheep, and pigs, of which some tenants held large numbers: in 1364 both John Chapman and John Cowherd were fined for allowing flocks of 160 sheep to graze illegally. A few tenants may have supplemented their diet by poaching, especially rabbits in the lord's warren. (fn. 188)
The names of many tenant holdings were recorded in 1401, though most individual farms cannot be identified. A probable exception is Hellelane, an early spelling of Highlands, a farm in the east of the parish. Similarly, lands called Coufold in 1369 almost certainly formed part of the later Cowfields farm. (fn. 189)
Farming From 1500 to 1800
Estate Management
Apart from their enlargement of the deer park in 1517, (fn. 190) little is known about the Stonors' management of the manor in the 16th century. Presumably the estate was leased as in the early 17th century, when the family employed a bailiff, John Benwell, to oversee the leasing of the demesne (then about 300 a.) and to manage the woods. (fn. 191) A survey of the 1660s records the lease of 322 a. of demesne, 68 a. of leasehold land, and 234 a. of copyhold land, although 331 a. of woodland was kept in hand. All those lands extended into the neighbouring parishes of Harpsden and Shiplake; within Peppard itself the demesne extended as far east as Gillotts, but was concentrated in the south of the parish near Blount's Court. The demesne brought in over £109 a year in rents, but the leasehold and copyhold lands less than £10, despite a valuation of £142. (fn. 192)
The survey was made shortly after the Stonors recovered control over the manor in 1660, following an eight-year lease forced upon them by the Cromwellian government's demand for recusancy fines; possibly it was made in preparation for a subsequent lease. (fn. 193) In 1662 the lessees held an estimated 250 a. of arable, 30 a. of meadow, 30 a. of pasture, 200 a. of wood, and 100 a. of furze and heath, together with houses, cottages, gardens, orchards, a dovecot, and three watermills. (fn. 194) In the 1670s Thomas Stonor began to improve the soil around Blount's Court by applying marl; (fn. 195) in the 1680s, however, most of the estate in Peppard was sold, so that in 1725 the Stonors' land was confined to the area between Peppard Lane and Kingwood Common. At that time most of the land was leased to John Clark, although the woodland was still in hand. (fn. 196) An account records the cost of felling different types of wood in the parish, including 'town billet', 'water wood', 'stackwood', and bavins, most of which was probably intended for sale as fuel. (fn. 197)
Tenant Farming
The mixed farming practices of the later Middle Ages continued throughout the period 1500–1800, the chief crops being barley and wheat, with some rye, oats, mixed grains, and legumes. Livestock included horses, oxen, cattle, sheep, pigs, and poultry. Stores of grain, cheese, and bacon were frequently kept, in some households alongside other meat such as beef, together with malt and hops for brewing, honey, and fruit. (fn. 198) There is little evidence of specialization for the market, but some farmers evidently engaged in trade: for example, the yeoman Griffin Jemott (d. 1676) held £80-worth of cash and grain at Henley. (fn. 199)
As well as the implements of husbandry, many (but apparently not all) farmers owned tools for felling and working wood. John Benwell (d. 1635) kept bills and axes, which he no doubt used in 6 a. of wood purchased in Rotherfield Greys in 1631, while William Blackall (d. 1694) bequeathed to his wife the right to fell, cut and take firewood for her own use for life. Both families retained woodland in the 18th century (mostly in Peppard), of which some was intended for sale: thus Robert Blackall (d. 1745) specified that his wife could cut and sell wood worth £10 a year in three named coppices. (fn. 200) Many households must have owned gardens and orchards, valued both as a source of produce and pleasure, although they are not well documented. Walter Clark (d. 1675) left his wife a 'garden plot against the hall window next to the lane and so down to the pond's side with the fruit growing on it', while John Blackall (d. 1670) left apples growing worth £2 10s. (fn. 201)
When the Stonor estate was surveyed in the 1660s, the demesne was leased to six different tenants in parcels ranging from 20 a. to 92 a., for terms of 7 or 21 years, and at rents of between 5s. 10d. and 10s. an acre. Eight other leaseholders held a total of 68 a., on terms of 99 years determinable upon lives, for low annual rents amounting to £2 19s. 4d., while 11 copyholders (four of whom were also demesne lessees or leaseholders) held a total of 234 a., mostly for three lives, for rents amounting to £6 8s. 8d. a year. (fn. 202)
By this time a number of the parish's farms can be identified. Henry Round held Gillotts, in the east of parish, while the copyholder John Clark occupied land belonging to Colmore farm (near Kingwood Common). The farms of Cowfields (Cuffalls) and Highlands (Hellons), both Stonor properties, were mentioned in a list of dues collected by Eldridge Jackson (rector 1673–97), alongside other holdings which cannot be located. (fn. 203) Throughout this period, most farms in the parish were leased, either from the Stonors or their successors. Only occasionally were farms owner-occupied: Highlands, for instance, was bought in 1684 by Robert Hanson, who died as a yeoman of the parish in 1711. (fn. 204) Even the eponymous farms owned by the Sadgrove and Slater families were leased to tenants in the late 18th century. (fn. 205)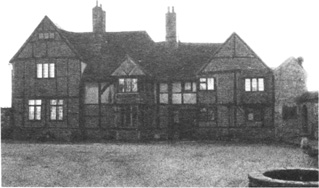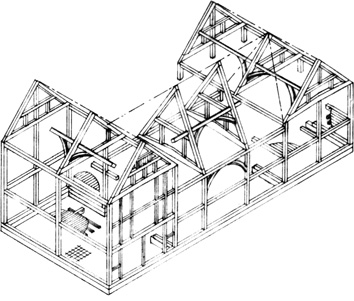 A number of families lived in the parish for several generations, among them the Benwells, who occupied Cowfields farm from the late 16th century to the early 19th. (fn. 206) William Benwell (d. 1669) was assessed on five hearths in 1662 (one of the highest assessments in the parish) and leased land from the Stonors; (fn. 207) in the 18th century the farm covered 226 a. including wood in Kingwood and meadow in Peppard mead, and was held on 11-year leases at £116 a year. (fn. 208) The farmhouse's irregular four-bay north front (Fig. 77) reflects successive rebuildings by the family and their successors, most of whom appear to have been prosperous. Part of the original open hall survives in the central bays, although limited smoke-blackening suggests that a ceiling, at collar-beam height, was probably inserted in the 17th century. At about the same time the end bays were replaced by two timber-framed and brick wings, of two storeys, with a cellar and attic on the eastern side. The infill of the timber-framed central bays, originally of wattle and daub, has been partly replaced by bricks with added timber studs. In other places, too, the fabric has been repaired, including the four-gabled south front, which was extended in the 20th century. The house lies on the south-eastern side of a large square courtyard bounded by substantial outbuildings, including a six-bay barn of 18th- to 20th-century date. (fn. 209)
Alice Clark of Kingwood (d. 1561), who left bequests of grain and livestock and owned a harrow, is the earliest known member of a family who probably lived at Colmore Farm until the mid 18th century. (fn. 210) The descendants of Griffin Jemott (d. 1676) occupied Peppard farm until the 1780s, while the Sadgrove family owned Sadgrove farm from the late 17th to the early 19th century. (fn. 211) At Sadgrove the surviving 18th-century house forms a long, narrow range of five bays and one-and-a-half storeys; originally timber-framed, it was later rebuilt in red brick with blue burnt headers and stretchers. (fn. 212)
By the end of the 18th century the parish contained eight farms: from east to west, Gillotts (40 a.), Highlands (140 a.), Cowfields (226 a.), Blount's Court (318 a. in Peppard, Harpsden, and Shiplake), Slater's (75 a.), Peppard (205 a.), Sadgrove (34 a.), and Colmore (104 a.). In addition, Kingwood farm (in Shiplake) and Wyfold (in Checkendon) held land in the south-west of the parish, while Harpsden Court farm and Sheephouse farm (both in Harpsden) held land in the far east. There were also a number of smallholdings. (fn. 213)
Farming in the 19th and 20th Centuries
Land Use
When mapped in 1840 the parish's farms were relatively compact. Some (such as Cowfields farm) were confined to the parish, while others included land in neighbouring places. All were predominantly arable: more than 1,500 a. were ploughed in 1840, about 70 per cent of the available land. Permanent pasture (including the commons) amounted to little more than 300 a. (15 per cent), and woodland occupied 275 a. (13 per cent). (fn. 214) As at Greys, the chief crops in the late 19th and early 20th century were wheat, barley, oats, and root crops (especially turnips and swedes). (fn. 215)
The tide of arable farming turned in Rotherfield Peppard at the onset of agricultural depression in the 1870s. By 1879 the arable acreage fell to 1,364 a. (about 62 per cent of the parish), while that of grass and wood increased. (fn. 216) Thereafter, as in other parts of the Oxfordshire Chilterns, livestock (especially dairy) farming increased at the expense of arable husbandry. (fn. 217) As at Greys, cherry orchards flourished, especially around Kingwood Common. Three fruiterers were recorded in 1851 and 1871, while in 1881 Peter Butler was listed as a fruit farmer. (fn. 218) The changes were particularly noticeable on those farms bought by George Shorland in the late 19th and early 20th centuries from the Blount's Court and Mackenzie estates. When offered for auction in 1927, Cowfields farm included 95 a. of arable, 108 a. of grass, and 11 a. of wood, compared with more than 220 a. of arable in 1840. In 1938 the arable acreage was even smaller at 58 a., and there was 145 a. of grass. Shorland's Rectory farm (71 a., made up of former glebe and land belonging to Blount's Court farm) was wholly under grass, and included pigsties, a cowshed, and a stable. (fn. 219)
In the west of the parish, Park farm included 46 a. of pasture in Peppard in the 1930s, which in 1840 had been arable. The tenants were pig farmers engaged in breeding and fattening, and the buildings included a Danish-type pig house. Much of the pasture was 'badly rootled' by pigs, and although by 1940 some land had been ploughed to meet wartime demands, a government inspector thought it would require ample manuring to produce successful crops. (fn. 220) During the Second World War, the amount of arable in the parish undoubtedly increased. Rectory farm, for example, was described as practically all arable in the early 1940s, though it suffered from lack of attention at vital periods. Most farms at this time were mixed, although the emphasis remained on dairying, poultry, and pigs, and some farmers lacked experience of growing crops. At Colmore farm, which sold milk for retail, the farmers had little knowledge of arable management and no arable equipment, though a few acres were under wheat, oats, and other crops. By contrast, at Highlands farm, where the buildings and 12 a. were occupied by a poultry farm in the 1930s, other land (about 58 a.) was ploughed and the crops were described as looking remarkably well. (fn. 221)
Mixed farming continued in Peppard in the second half of the 20th century. At Cowfields farm (250 a.), purchased by R. S. Green in 1956, livestock included cattle, sheep, and poultry, while the arable produced oats, wheat, and barley. (fn. 222) In 1964 Wyfold Grange (254 a. in Peppard and Checkendon) was a highly productive mixed farm, used mainly for barley growing and cattle rearing, and well known for its pedigree herd of Aberdeen Angus cattle. (fn. 223) In 1970 five farms were recorded in the parish; the principal crop was barley, and livestock still included dairy cattle, pigs, poultry, and sheep. Thereafter both arable and livestock farming declined, although an organic farm near Littlebottom Wood was established in the late 20th century. (fn. 224)
Landlords and Tenants
Until the break-up of the large landed estates in the early 20th century most farms in the parish continued as leasehold, either on yearly tenancies or for longer terms not exceeding 21 years. For example, Blount's Court farm (318 a.) was leased to Thomas Stevens in 1837 for 21 years at an annual rent of £465. (fn. 225) Rents fell during the agricultural depression, which may have encouraged landlords to sell. Thus Peppard farm (314 a. in Peppard and Harpsden) was leased by K. R. Mackenzie to Charles Butler for a term of 3 years in 1904 at the 'inadequate' rent of £104 10s. a year. (fn. 226) Not all rents were so low, however: on the Fleming estate, sold in 1913, Colmore farm (75 a.) and Sadgrove farm (111 a.) were held on yearly tenancy agreements for annual rents of £66 10s. and £82 14s. respectively. (fn. 227)
The sale of estates had a number of effects on farming in the parish, including the (re)appearance of owner-occupiers, changes in the size, shape, and number of farms, and the separation of farm buildings from the land. The increase in owner-occupation began before the First World War. Colmore farm and Sadgrove farm were purchased in 1913 by their respective tenants, Thomas Pollock and George Ford, whose families still farmed them in the 1930s. (fn. 228) Other owner-occupiers included H. W. Hooper, who farmed part of the former Mackenzie estate at Highlands (58 a.) and Gillotts (27 a.), and George Shorland, who purchased former glebe, and land belonging to Blount's Court and Sheephouse farms. (fn. 229) Nevertheless some large landowners remained, including Lord Knollys, owner of the Blount's Court estate, and Mrs Pipe Wolferstan, who in the 1940s sold Peppard farm (150 a.) to the tenant, Harold Long. (fn. 230)
The boundaries of the farms mapped in 1840 changed over time as a result of sales and the decisions of landlords. Even farms which retained roughly the same acreage experienced boundary changes, such as Cowfields, which gained land on the east from Highlands farm and lost it on the west to Crosslanes, to create the more compact holding sold in 1938. (fn. 231) The farmhouse at Blount's Court, sold by the Knollys family to the Crowsley Park estate with 103 a. in Harpsden and Shiplake, was wholly divorced from its land in Peppard, part of which was taken into George Shorland's newly-created Rectory farm; the remainder (after its sale to Shorland) was farmed from Kidmore. (fn. 232) The smallest of the late 18th-century farms were amalgamated with their neighbours early on, Highlands farm and Gillotts, for instance, being combined under Daniel Piercy in 1802. (fn. 233)
The creation of larger farms, and changing farming practices, meant that some farm buildings and residences were no longer required and were detached from the land. Before 1851 the house at Gillotts was transformed into a desirable residence by W. D. Mackenzie, with extensive landscape gardens, and later became a school. (fn. 234) Slater's farm (75 a. in 1881) was broken up in the early 20th century and the house became a private residence. (fn. 235) Buildings at Highlands farm were separated from the land when it became a poultry farm after the First World War, (fn. 236) and in the early 21st century the site was occupied by a business park. Colmore farm ceased to be a working farm after the Second World War. (fn. 237)
Despite the trend towards larger farms, some smallholdings survived into the mid 20th century, although many were in a poor state in the 1930s. (fn. 238) City farm, for example, was the rather grand name for 3 a. held by Jesse Butler at Kingwood Common, on which he grew cherries and kept 5 cattle and 28 poultry in the early 1940s. (fn. 239)
Rural Trades and Industry
The usual trades and crafts were practised in Rotherfield Peppard from the Middle Ages, often alongside agriculture. Tenants with surnames such as Carpenter, Cooper, Smith, Tailor, Tanner, Turner, and Wheeler were presented before the manorial court in the 14th and 15th centuries. (fn. 240) In 1295–6 six brewers were fined for breaking the assize, while in 1405–6 a carpenter was paid for repairing the mill. (fn. 241) Blacksmiths were recorded in the parish from the 16th to the 20th century, including the Perrins and later the Pigdens of Crosslanes, who built the surviving house. (fn. 242) The Burgess family of Kingwood were wheelwrights in the 18th and 19th centuries. (fn. 243) William Crutchfield (d. 1758) was a cordwainer, and about the same time Edward Sadgrove was a cooper. (fn. 244)
In 1811–31, 18 or 19 families (about 20 per cent of the total) were employed in trade, manufactures or handicraft, and in the later 19th and 20th centuries a wide range of trades and crafts were recorded, most notably those concerned with the preparation and sale of food and clothes, and others which involved working with wood, stone, and brick. Women worked as dressmakers and seamstresses and in various other capacities, while travellers living in tents on Kingwood Common included a basket-maker. (fn. 245)
A considerable number of bodgers, who made chair legs and spars, and later tent pegs, lived in nearby settlements in the late 19th and early 20th centuries, including Stoke Row, Highmoor, and Witheridge Hill. (fn. 246) Surprisingly, none are known in Peppard, perhaps because the owners of the parish's woods did not permit them to practise their trade there. Certainly some landowners held sporting rights, and employed gamekeepers to protect their woods. (fn. 247)
Small chalk and gravel pits were dug throughout the parish, mostly by local farmers for improving the soil and for mending roads. (fn. 248) From the early 20th century more commercialized gravel extraction also took place, including at Littlebottom Wood, Highlands Farm, and in the far east of the parish. (fn. 249)
Milling and Paper Manufacture
A mill worth 20s. in 1086 stood presumably on the site of its late medieval successor on the Thames. (fn. 250) In 1289 it belonged to Ralph Pipard and was used for grinding grain; called Marsh (Mersche), it lay opposite a mill on the other side of the Thames in Remenham. (fn. 251) The two mills shared a weir called Marsh Lock, where a winch hauled boats travelling upstream from London through the flashlock. In about 1395 William Drayton (presumably a relation of the lord of the manor John Drayton) was alleged to have neglected to carry out repairs at the mill, then called Meadow mill (Meedmelle), with the result that 'the said lock is now stopped up with sand, gravel and the increase of the water, and the winch altogether taken away so that boats and shouts cannot be drawn or navigated there'. (fn. 252) The complaint produced the desired effect: in 1405–6 timber and iron were bought to repair the winch. The carpenter employed to carry out the work, Robert White, leased the mill and fishery from Faukener and Drayton, and thereafter the lock at Rotherfield Peppard was passed without difficulty. (fn. 253)
In 1462 Robert West leased the watermill from Richard Drayton for a term of 10 years at a rent of £2 a year, and agreed to build anew two mills, the weir, waterworks, and bridge, and to repair the mill house. (fn. 254) The mill belonged to Francis Stonor in 1585, (fn. 255) but little is known about its management until the late 17th century, when it was held by Bartholomew Quelch (d. 1679), whose goods included 20 meal sacks. (fn. 256) By that time the mill was known as New Mill, and after expansion as New Mills: in 1705 the Stonors held five water corn mills there. (fn. 257) Thomas Quelch (d. 1716) succeeded to the family milling business, but his sons pursued different careers, and Thomas Harris (d. 1751) took over the lease. (fn. 258)
In 1786 four water corn mills occupied by Messrs Westbrook and Whiting were destroyed in an arson attack, (fn. 259) and when rebuilt shortly afterwards were replaced by a flour and paper mill. Those were burnt down ten years later but evidently replaced, (fn. 260) and in 1798 the timber-built and tiled mills were acquired by John Elsee, a paper manufacturer and miller. (fn. 261) Charles Elsee (d. 1855) took over the business c. 1820, and in 1841 sold the mills to William Thomas Knollys. (fn. 262)
Paper and flour were manufactured at New Mills throughout the 19th century, employing 30–40 people in 1840. (fn. 263) In 1861 the paper manufacturer James Allen employed 11 men and 4 boys, including several paper-makers and engineers who lived in nearby tied cottages. (fn. 264) The two mills straddled a single millrace, one lying on the river-bank, the other on a small island in the Thames. (fn. 265) C. H. Smith and Sons were still paper-makers there in 1903, but the buildings were ruinous in 1915, and by 1925 both mills had been demolished. (fn. 266)
A horse mill was recorded in 1432, when the miller charged excessive tolls; (fn. 267) in 1470 it was held of the Stonors for 6d. rent. (fn. 268) That or another horse mill was among properties in Peppard, Mongewell and Lewknor disputed between Thomas Stonor and William Lendall in 1532. (fn. 269)
Shops
No references to shops in Peppard survive until the 19th century, although presumably goods were sold from houses and workshops or by itinerant salesmen, such as the cheesemonger William Warner (d. 1680). (fn. 270) From the 18th century local publicans also acted as victuallers, and a shopkeeper was recorded in 1847. (fn. 271) After 1860 there were at least two shops: a baker's near Peppard Common, and a grocer's near Kingwood Common. In the early 20th century their role as general stores may have been assumed by the two sub-post offices. (fn. 272) However, as at Greys, most inhabitants probably travelled to Reading or Henley for the bulk of their shopping.
A commercial garage, later called Hillcrest Motors, was established by Albert Butler about 1920 along Blount's Court Road, and remained open in 2007. (fn. 273) A similar business on Reading Road was part of the Shorland estate sold in 1938. (fn. 274) In the 19th century the Butler family also established a building firm in the parish, whose former yard was developed for housing in the early 21st century. (fn. 275) In 2007 business parks were located at Newtown (in Henley), Highlands Farm, and Peppard Lane.
Medicine and Technology
Local innovations in medical care were largely due to Dr Esther Colebrook (1870–1957), who began a general practice in the area, and in 1902 founded a sanatorium (later the Peppard Chest Hospital) for the open-air treatment of tuberculosis. The hospital expanded rapidly in the early 20th century, becoming part of the NHS in 1948. It employed a considerable number of medical and other staff before closing in 1980. (fn. 276)
Technological breakthroughs in the parish followed the conversion of Blount's Court into laboratories in 1960, by its new owners, American Machine Foundry Ltd. In 1964 Brooke Bond Tea Ltd bought the premises, and in 1975 the site was acquired by Johnson Matthey and Co., the owners in 2007. The firm developed the catalytic system to control car exhaust emissions, and later worked on platinum anti-cancer drugs. (fn. 277)
SOCIAL HISTORY
Social Structure and the Life of the Community
From the Middle Ages Rotherfield Peppard remained a predominantly agricultural community. Lords of the manor were intermittently resident until the early 18th century, after which a succession of minor gentry exhibited a limited but philanthropic interest in community life. Most inhabitants, however, were relatively low-status farmers and agricultural workers. The few yeoman farmers enjoying greater wealth played a prominent part in church and parish activities in the 17th and 18th centuries.
From the 19th century the parish attracted a growing number of wealthy residents who built or improved a range of exclusive houses, although until the late 20th century the community remained socially mixed. Several public buildings, including church, school, memorial hall, public houses, and sporting facilities, provided a focus for parish life.
The Middle Ages
In the Middle Ages most inhabitants were tenants of the Pipards and their successors, although the large number of freeholders recorded in the early 14th century, (fn. 278) combined with the lords' frequent absenteeism, suggests that many probably enjoyed considerable independence. Court rolls of the mid 14th and mid 15th century indicate relatively limited seigneurial control, allowing tenants to evade rents and to ignore a variety of injunctions. (fn. 279)
The principal settlements at Peppard Common and Kingwood Common seem not to have been distinguished by function or status, and both probably had a mixed population in terms of landholding, wealth, and occupation. Early 14th-century tax returns do not show a marked polarization of local society. In 1327, apart from John de Alveton (who paid 6s. 8d.), 12 inhabitants contributed between 6d. and 2s., with a median of 15d.–18d. (fn. 280) Most were probably customary tenants holding a yardland or half a yardland, and were the successors of the Domesday villani. Matilda Bolle, for example, who paid 2s. in 1327, may have occupied the half-yardland held later in the 14th century by Gilbert Bolle. The names of several other early 14th-century taxpayers also appear in court rolls of the period 1351–66, indicating a degree of social stability, though by 1456–67 there seems to have been a much greater turnover of tenants. The parish's smallholders, successors to the Domesday bordars and slaves, probably fell below the tax threshold, among them the cottager John Balet (d. 1351). (fn. 281)
The Pipards built a house at Rotherfield Peppard (recorded for the first time in the late 13th century), maintained a deer park, and were occasionally resident. (fn. 282) Nevertheless, Peppard was not their principal seat. The family held lands stretching from Gloucestershire to Suffolk as well as in Ireland, and Ralph Pipard (d. 1303) was particularly attached to the Buckinghamshire manor of Great Linford. (fn. 283) Despite giving their name to the parish the family left no lasting legacy, therefore: the location of their house is unknown, and there are no surviving memorials to them in the parish church. Likewise the Butlers, earls of Ormond, had a limited impact during their lordship (1331–91), living for the most part in Ireland. (fn. 284) Their authority was maintained by an attorney-general, John de Alveton (d. 1361), and by the holding of regular manor courts. (fn. 285) After Alveton's death the most influential landowner in the parish was Thomas Blount (d. 1407), whose son John was wrongly described as lord of the manor in 1412. (fn. 286) Around the same time the Pipards' former manor house was leased, the new joint lords of Peppard manor almost certainly living outside the parish. (fn. 287)
1500–1700
Surviving tax records suggest that the lack of marked social stratification persisted into the 16th and 17th centuries. In 1515 eleven taxpayers were assessed on goods valued between £2 and £10 (with a median of £3), while in 1543 the goods of 16 inhabitants were valued between £1 and £9 (with a median of £2). Excluding Blount's Court and the rectory house, the hearth tax of 1662 was assessed on 21 households each with between one and five hearths; the mean, however, was only 1.6, and in 1665 five out of 16 households were discharged payment through poverty. (fn. 288)
Even so, there were considerable gaps between the most prosperous and the poorest, and occasional hints of social conflict. The value of 17th-century probate inventories ranged from just over £7 (the labourer Robert Rose) to more than £337 (the yeoman Griffin Jemott), with a median of just over £44 and a mean of about £80. (fn. 289) In 1689 'three sturdy vagabond rogues' attacked the yeoman farmer Robert Hanson, and about the same time there was concern to prevent a labourer, Henry Dolton, from settling in the parish because he might claim poor relief. (fn. 290) Augustine Knapp (d. 1602) acknowledged the plight of the 'poor, lame, impotent and needy people' of the parish by establishing a clothing charity, and his example was followed by others. (fn. 291) Other Peppard yeomen and husbandmen made bequests to the church and served as parish officers. (fn. 292)
Evidence of the size and layout of houses at this period is provided by probate inventories, of which 47 survive for Rotherfield Peppard between 1594 and 1735. Most of the larger houses (of four rooms or more) were recorded after 1670; before then smaller houses seem to have been more common, a change presumably reflecting increased prosperity and rising standards of living. Most inventories listed a hall and one or more chambers, while a kitchen was mentioned in ten houses, with less frequent references to a buttery, cellar, and milkhouse. (fn. 293)
Following their purchase of the manor in 1465, members of the Stonor family regularly lived at Blount's Court until 1705. (fn. 294) An inventory of 1624 shows the house to have been elaborately but not luxuriously furnished, with items including 7 feather beds, 6 court cupboards, and 13 tables, although the single most valuable item was a trunk containing Sir Henry Stonor's clothes, in all worth £10. (fn. 295) According to tradition part of the house was burned down by Parliamentary troops during the Civil War, but if so it was presumably rebuilt before being leased in 1652: (fn. 296) in 1662 Richard Bewmorris was taxed on 12 hearths there, and shortly afterwards the house was occupied by Henry Stonor (d. 1705). (fn. 297)
The Stonors' most significant impact on local society was their encouragement of Roman Catholicism during the 17th century. Their activities were not confined to their presumed chapel at Blount's Court, but extended to orchestrating the election of a possibly Catholic churchwarden in 1606. (fn. 298) However, following the sale of Blount's Court in the early 18th century Roman Catholicism largely disappeared from the parish, (fn. 299) and thereafter the Stonors played little part in parish life.
1700–2000
Local gentry
A succession of minor gentry lived at Blount's Court after 1705, most of whom had a limited impact on local society. Three generations of the Price family lived there during the 18th century, and Charles Price (d. 1744), who served as churchwarden, received permission to build a family vault in the chancel of the parish church. (fn. 300) The family was regarded as the most notable in the parish until the 1780s, but otherwise seems to have made little impression. (fn. 301)
In the early 19th century the house was occupied by a series of short-term tenants, including Charles Boyle (d. 1834), Viscount Dungarvan, and the Revd. Henry Hinxman, who agreed a 21-year lease in 1836. (fn. 302) In 1841 the estate was bought by Sir William Thomas Knollys (1797–1883), who lived at Blount's Court for about 20 years before leasing it, and returned during the last years of his life. (fn. 303) Knollys financially supported the local school and erected a memorial window to his wife (d. 1878) in the parish church; a window to his own memory was removed in 1957, the rector pointedly observing that 'four brasses do somewhat excessive praise to the Knollys family whose connection here was slim, spiritually anyhow'. (fn. 304)
After Knollys's death in 1883 Blount's Court was again leased to tenants, including James Craig (d. 1902) and his wife Kate (d. 1930), to whom a memorial was placed in the parish church. (fn. 305) Mrs Craig was a popular figure, a supporter of the church, who at Christmas entertained the choir boys in the conservatory. (fn. 306) After her death the Knollys family sold Blount's Court to the Hon. Arthur and Agnes Peel, who also held Christmas parties for the local children. Some of them described Lady Agnes as 'an elderly and distinguished woman, whose habit of ending every sentence with "Yes, Yes" we imitated with many giggles'. (fn. 307)
Nineteenth- and 20th-century gentrification
From the early 19th century the parish was subject to the ongoing gentrification typical of the area. The process was no doubt encouraged by enthusiastic estate agents, one of whom described the area in 1842 as 'imparting all the characteristics essential to residence', while another called it 'the most picturesque and salubrious part of Oxfordshire'. (fn. 308) The former farmhouse at Gillotts was variously occupied by professionals (including a barrister and an East India merchant) and by relatives of its owners, the Mackenzies of Fawley Court. (fn. 309) Other residents with a private income included Richard Hitchcock (d. 1881), who lived at Peppard House from the 1840s, (fn. 310) and the Minett family, owners of Sadgrove farm and Manor House. The Minetts sold both properties in 1896, but donated land to the parish in 1904. (fn. 311)
The number of private residents listed in trade directories rose from 11 in 1883 to 52 in 1939, among them the anaesthetist Sir Frederick Hewitt (d. 1916), who lived at Vine Lodge, and the anarchist and feminist Charlotte Wilson (d. 1944), for whom Peppard was a weekend retreat. (fn. 312) In 1898 Henley Rural District Council was warned that Peppard was 'becoming an increasingly favourite summer resort for inhabitants of Reading so it is possible that there is at least more building to be looked for in the near future'. (fn. 313) Among the larger residences built was Great David's (1912) for Major Nigel Maxwell, one of the first houses in the area to have electricity. (fn. 314) Other houses were bought by Ottoline Morrell, the bohemian literary hostess, and her husband Phillip (an Oxfordshire MP), who lived at Peppard Cottage from 1907 to 1912. (fn. 315) The novelist and children's writer Joanna Cannan brought her family to live at Peppard Grove in 1931, and in 1952 the novelist Elizabeth Goudge moved to Peppard Common. (fn. 316)
Leisure facilities included a nine-hole golf course on Peppard Common, which opened in 1894 and continued until the 1930s. (fn. 317) A tennis club was founded later. (fn. 318) The district's first general medical practice was started in the early 1900s by Esther Colebrook, who locally pioneered the open-air treatment of tuberculosis. (fn. 319) The area's attractions continued to be extolled, one observer commenting in 1939 that 'the district needs very little description to commend it, being one of the best known residential areas of the country'. (fn. 320) Newcomers such as the Chaters and the Wilsons engaged extensively in parish life, for which they were long afterwards remembered. (fn. 321)
As owners of Peppard and Kingwood Commons, the Flemings had a considerable impact on parish life in the 20th century. A 1906 Act, which preserved the commons as public open spaces, was promoted by Robert Fleming, who was concerned to prevent the spread of urban sprawl. (fn. 322) Local residents were sometimes zealous in their efforts to protect the commons, even to the point of provoking conflict, and a body of conservators continued in 1984 under the chairmanship of Nicholas Fleming. (fn. 323) In the 1950s a controversial proposal by Peter Fleming to build council houses on 40 a. of Kingwood Common was defeated by local people, despite being adopted by Henley Rural District Council. Later Fleming was a supporter of the Berkshire, Buckinghamshire and Oxfordshire Naturalists Trust (founded 1959), which sought to preserve the remaining fragments of heathland and grassland on the commons from woodland regeneration. (fn. 324)
Despite the parish's gentrification poverty was still in evidence in the early 20th century, when many inhabitants were still employed in farming, trade, and crafts. (fn. 325) Joanna Cannan's daughters wrote a vivid account of their childhood in Peppard, and were fully aware of the social divisions around them. Impressed by the dining room at Blount's Court, they also observed a countryside blighted by depression: 'ruinous cottages, unrepaired barns and sagging barbed wire fences abounded. The ubiquitous corrugated iron rusted as it filled gaps in hedges, patched up roofs and walled the shanty town sheds that passed for farm buildings in many smallholdings'. (fn. 326)
The parish remained socially mixed following the Second World War. Council houses were built by Henley Rural District Council, which also leased out former army huts on Kingwood Common. (fn. 327) Local employment was still available at Peppard Chest Hospital and on a number of farms, while some residents continued to exploit common rights to graze animals and gather wood. Boys who left school in the 1950s mostly went into farming or the building, engineering and electrical trades, while girls mainly worked in shops and offices, many of them locally or in Reading. The number of residents working in central London in the 1960s was relatively small, and even in 2001 the average daily commute was still only 13 miles. (fn. 328) However, the rise in property prices towards the end of the 20th century led to greater social exclusivity. Almost a quarter of households in 1991–2001 were over the age of retirement, owner-occupation increased, and a few second homes were bought. (fn. 329)
Community activities and public buildings
Peppard Common was the site of annual Whit Monday revels, which are documented in the 18th century and continued until about 1840. Prize-fighting took place on a mound opposite the Red Lion, and various races were held. The Congregationalist minister Joseph Walker (1797–1828) took a dim view, claiming that the revels 'brought together the very scum of the surrounding country, to partake in, and be witnesses of, cudgelling, foot and ass racing, and all the various abominations usual on these occasions; the day always ending in intoxication, fighting, and other evils too shameful to mention'. Walker instituted an 'anti-revelling anniversary', inducing many young people to spend Whit Monday at the chapel by promising them dinner, and gradually the tradition died out. (fn. 330)
The common was also the scene of more temperate sports, including cricket, which was played there possibly from the 18th century. (fn. 331) In the 19th century football was played close to the Dog Inn, and later near the Unicorn, while in 2007 a youth team occupied a field on Peppard Lane. The golf course was laid out in the northern part of the common at Peppard Bottom in 1894, (fn. 332) and in 2007 a larger golf course occupied land formerly belonging to Peppard farm. A playing field was created in the south-west corner of Peppard Common in 1946 as a war memorial, and a sports pavilion was opened in 1950. (fn. 333) Another sports ground, owned by the YMCA, lay along Mill Lane in the east of the parish. (fn. 334) In the early 20th century tennis courts were built to the north of the Red Lion, and later along Harpsden road, and a bowls club was founded after the Second World War. (fn. 335) Joanna Cannan's family established a riding school in the 1940s, while across the parish gamekeepers were employed to protect landowners' sporting rights, which were still recorded in the 1950s. (fn. 336)
A parish room owned by the church was built along Stoke Row road (in Shiplake parish) on land given by Sarah Minett in 1904. This was the only hall available for concerts and meetings until the completion of Peppard War Memorial Hall (also in Shiplake) in 1922. Organizations such as the local Women's Institute (founded 1919) used the memorial hall in preference to the parish room, which was sold in 1978 and the money used to build a new parish room adjoining the church. (fn. 337) Both the parish room and memorial hall remained in use in 2007, and the church choir was still active. The local branch of the Mothers' Union, however, closed in 2004 due to lack of volunteers. (fn. 338)
Two public houses recorded in the 18th century remained open in 2007. The Dog, built in the late 17th century, may have been the 'alehouse' recorded in 1673. Opposite is the Red Lion, known briefly as the Anchor, which the Henley brewer Robert Brakspear owned by 1794. (fn. 339) Two other public houses, the Unicorn and the Bricklayers' Arms, lay at opposite ends of Kingwood Common, and opened during the 19th century. (fn. 340) By tradition the Manor House was formerly a pub called the Blue Monkey; the claim is unproven, though the owner in 1840, William Shurvell, was later listed as a farmer and beer retailer. About the same time Charles Butler ran another short-lived beerhouse called the Donkin Arms. (fn. 341) Peppard's rectors made the usual disparaging remarks about their parishioners' drinking habits, Thomas Williams in 1878 blaming absence from church on 'love of beer or other habits inconsistent with religious worship'. They were, however, less vociferous in their condemnation than their counterparts at Greys, perhaps reflecting Peppard's greater distance from Henley with its numerous pubs and beerhouses. (fn. 342)
Education
Sporadic educational provision in the 18th century gave way in the 19th to competing schools run by the Church of England and the Congregationalist chapel. Both were rebuilt in the 1870s, but whereas the Anglican National school continued as a primary school in 2010, the undenominational British school closed in 1916. The county council ran a secondary school on Peppard Lane from 1932 to 1962, (fn. 343) and in 1948 took over an existing school (closed 1973) at the Chest Hospital. A school organized by the Parents' National Education Union was transferred from Shiplake parish to Rotherfield Peppard during boundary changes in 1952, but closed in 1993.
Provision to 1871
In 1738 the rector was paying £2 a year for five boys of the parish to be taught to read and write, but apart from catechizing in Lent, the Anglican Church apparently made no other attempt to educate the poor before the 19th century. (fn. 344) In 1805 the rector reported that many children attended school at Henley and that there was a school mistress in Peppard; (fn. 345) possibly the dame-school had been opened in response to a Sunday school set up in 1798 by the Congregationalist minister Joseph Walker, who paid the children a halfpenny a week to attend. (fn. 346) In 1808 the rector noted that about a dozen children were taught by 'an old woman' and as many by Joseph Walker, 'at the expense of their respective parents'. (fn. 347)
In 1810 an Anglican day school and Sunday school were founded, financed jointly by the rector and parishioners. Four boys and five girls attended the day school in 1815, about the same number as went to Walker's school, while 12 boys and 16 girls attended the Sunday school. According to the rector, Peppard was a suitable place for the establishment of a National school: 'there is nothing wanting but a school room [and] two proper teachers. Such an establishment I am convinced would rescue a number of children from the grasp of the Methodists who are very indefatigable. And the desire the labouring poor have to give their children a little schooling is inconceivable'. (fn. 348) But no endowment was forthcoming. (fn. 349)
Both church and chapel schools benefited from the will of Shute Barrington (d. 1826), bishop of Durham, who left £70 in trust for educating the poor in Mongewell and neighbouring parishes. (fn. 350) In 1834–5, however, the Anglican schools languished. Only 14–16 boys and girls attended the day school, with an extra 10–12 on Sundays; children attended from the age of five, and left at 13 'or sooner if they can get into service'. By contrast the Congregationalist day school, supported by local landowner Elizabeth Furnell, had 60 pupils with an extra 30 on Sundays; in addition Miss Furnell clothed 20 of the children, the boys in fustian suits and the girls in holland dresses. There were also two boarding schools in the parish in 1835, with 45 children paid for by their parents. One was presumably Isaac Caterer's private school, which he transferred from Tetsworth to Peppard on his appointment as Congregationalist minister in 1828. (fn. 351)
In the 1850s and 1860s there were three day and Sunday schools for all ages, averaging 20 pupils each; these included the Congregationalist school funded by Miss Furnell and Caterer's private school. The Anglican school was supported by subscriptions from residents and landowners in the parish, and received a government grant in 1867–8. It then had accommodation for 72 children, and an average attendance of 89. (fn. 352) Caterer's private school appears not to have long survived his death in 1868, and in the 1870s both church and chapel schools were reorganized and rebuilt.
Rotherfield Peppard National (later Primary) School
In 1871 a new stone-built Church of England school was built on the corner of Peppard Common on land donated by Lord Camoys. The cost of just over £500 was met by public subscription. The trustees of the school, which was linked to the National Society, were the rector and churchwardens. The school, with 44 pupils on the first register, was opened by the bishop of Oxford on 28 October; it consisted of two rooms separated by a large wooden double door, with accommodation for 53 children in the mixed class and 29 in the infant class. Running costs were met by a voluntary parish rate of 4d. in the pound, supplemented by a government grant and school pence. (fn. 353)
In 1900 the school had space for 100 pupils, presumably after enlargement, though average attendance was only 56. (fn. 354) The work, discipline, moral tone, and progress were 'admirable'. In the 1920s two or three teachers were employed, and despite some criticisms government inspectors judged that 'this is in many ways quite a pleasing little school'. The children did not readily respond to learning history, geography, and the three Rs, but their drawing, needlework, singing, and nature notebooks were excellent, and each child had a garden plot. In 1932 the school was reorganized for mixed junior and infant children, the seniors going to Rotherfield Central School. In 1934 there were 33 children on the register, aged from 4 to 11 years and taught in two classes which were 'bright and orderly'. (fn. 355)
In 2007 Peppard Church of England primary school taught 87 children from Peppard, Greys, and Highmoor. Staff comprised the head and three teachers, a foundation stage co-ordinator, and four teaching assistants. (fn. 356)
Rotherfield Peppard Undenominational School (1879–1916)
A brick school with a slate roof was built in 1879 adjoining the Congregationalist chapel, from which it was separated by a glass partition. Two rooms were separated by a folding wood and glass panel, providing accommodation for 58 children in the mixed class and 21 in the infant class. The premises were freehold under a charitable trust; among the first trustees were a JP and the mayor of Reading. Board of Education reports in 1904 showed the school to be successful but in urgent need of a new infants room (built 1905). Reports were consistently favourable until 1913 when there was said to be a considerable falling off in attainment and intelligence. The school closed in 1916 and the pupils were transferred to the recently built Grove Road school in Sonning Common. (fn. 357)
Rotherfield Peppard Central School (1932–62)
A new secondary school opened on Peppard Lane in 1932 for Peppard, Greys, Highmoor, and Stoke Row. Swyncombe was added to the intake in 1937, and Dunsden and Shiplake in the early 1940s. Built at a cost of £2,750, about half the money was contributed by the parishes and the rest by the Diocesan Board. The accommodation (for 100 pupils) consisted of three classrooms plus two large rooms for practical instruction. The first staff were well qualified but inexperienced, while some incoming pupils had been inefficiently taught; by 1934, however, the 62 children showed a decided improvement. The school was fondly remembered, but in the 1950s its 140 pupils and 7 teachers suffered from poor accommodation, and it closed in 1960, its pupils transferring to the new Chiltern Edge Secondary Modern school at Sonning Common. The premises were briefly used as an annexe to Langtree (Woodcote) secondary school, but closed in 1962. (fn. 358)
Rotherfield Peppard Chest Hospital School (1914–73)
A school was established in Peppard Chest Hospital in 1914, and in 1948 was taken over by Oxfordshire Education Authority. Children admitted were suffering from pulmonary tuberculosis or from chest diseases such as asthma, bronchitis or pneumonia; the two categories had to be kept apart. Those of school age either attended the school, or had lessons in bed during the whole of their stay; for TB children this was usually from 3 to 6 months, and for others less than a month.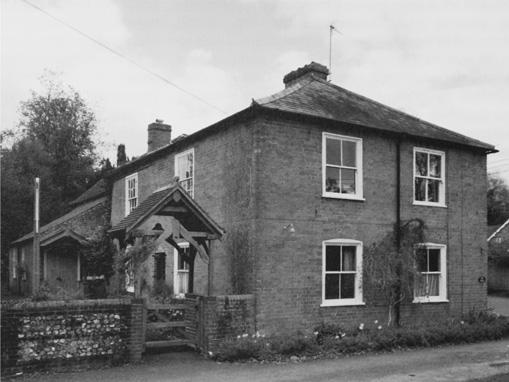 Two teachers were increased to three in 1919, following an increase in numbers. The school compared favourably in academic subjects, but the standard in practical subjects was below that of other schools. Attendance remained high into the 1930s, when inspectors reported that the school was a valuable part of the sanatorium's work; numbers fell during the Second World War, however, and did not recover. In 1958 there were 25 children from a wide variety of schools mainly in Buckinghamshire, Berkshire, Oxfordshire and Northamptonshire, and the head was described as a trusted housemaster to children whose lives had been disrupted. From 1969 the number of pupils declined steeply, and continued at a low level until the school closed in 1973. (fn. 359)
Highlands School (1919–93)
A school organized by the Parents' National Education Union was opened in 1919 in one of the first houses to be built on Stoke Row Road (in Shiplake parish). According to Joanna Cannan's daughters, who briefly attended in the 1930s, it was run by two genteel sisters assisted by a more down-to-earth teacher. The school closed in 1993 and was demolished. (fn. 360)
Charities and Poor Relief
From the 17th century the parish had a few endowed charities on the usual model. Augustine Knapp (d. 1602), a Peppard yeoman, left a £1 rent-charge on land and property in Rotherfield Greys and Henley to provide clothing for the 'poor, lame, impotent and needy', which until the late 18th century was used to clothe poor women on Good Friday. Payments lapsed from 1784 until the 1820s or later, (fn. 361) but presumably resumed since in 1881 Colonel Makins paid £33 12s. 6d. to the Official Trustees of Charitable Funds to redeem the rent-charge. (fn. 362) Administration of the charity passed to the parish council in 1895. (fn. 363)
Another Peppard yeoman, John Clark (d. 1641), left £10 to benefit the poor at Christmas. That too seems to have lapsed in the mid 18th century, and by 1820 the parishioners had never heard of it. (fn. 364) Eldridge Jackson (rector 1673–97) donated an acre of meadow in Peppard, the rent to be distributed on Palm Sunday or Good Friday 'to 10 of the poorest parishioners that come to church to hear divine service'; yearly income by 1819 was over £4. (fn. 365) Other charities were more short-lived, including 100 a. of coppice reported by the rector in 1771, 'which charity is much abused'. (fn. 366)
The workhouse established by Isaac Combee at Satwell (in Rotherfield Greys) in 1742 admitted the poor of Rotherfield Peppard from 1744. In 1746 Combee was paid over £40 from the parish poor rate, rising to £80 a year from 1748. Payments to the workhouse were last recorded in 1757. (fn. 367) By the late 18th century the mounting cost of poor relief was increasingly falling on parish rates, which were over £200 in 1776. (fn. 368) From 1783 to 1785 the average raised was about £292, of which £284 was spent on the poor. (fn. 369)
In the early 19th century the cost of poor relief rose less sharply in rural Peppard than in neighbouring Rotherfield Greys, although it was paid to a higher proportion of the population. A rate of 5s. 6d. in the pound was levied in 1803, raising over £367, of which £330 was spent on the poor. A total of 36 persons received regular out-relief, and another 29 occasional relief, about 20 per cent of the population. (fn. 370) Between 1813 and 1815 expenditure averaged £456, the number of adults on permanent out-relief fluctuating from 33 to 37, and those on occasional relief from 21 to 26. (fn. 371) Spending on the poor peaked at almost £577 in 1818, fell to £360 in 1824, then climbed to £401 in 1829 and £396 in 1834. (fn. 372) After 1834 the parish became part of the newly established Henley poor-law union; (fn. 373) the parish poor rate was levied at the rate of 9d. in the pound in 1852, 2s. in 1904, and 5s. in 1924. (fn. 374)
Alongside this official provision, local initiatives continued into the 20th century. An apparently short-lived friendly society was established at the Dog Inn in 1824, (fn. 375) and a clothing club was recorded in 1869 and again in 1909, when money from the offertory was regularly put aside for the poor. In 1913–14 money was spent on bread, milk, boots, coal, tea and meat for six people from the sick and aged poor fund. (fn. 376) Peppard was also among the parishes to benefit from the almshouses established by Sir Francis Stonor in Upper Assendon in 1620, which remained in use until the 1940s. (fn. 377) In 1901, when a water pump was erected on the Thames at Mill Lane, £50 was vested in Rotherfield Peppard parish council to maintain it. The pump was closed when the main supply was brought from Goring in 1926, but the pump fund was later used to maintain the sports pavilion on Peppard Common. (fn. 378)
During the 20th century Peppard's ancient charities were much diminished. In 1977 Jackson's and Knapp's charities together yielded under £4, and the charity commissioners agreed that a gift from a parishioner of £1,000 should be used as capital to restore all three ancient charities, to be administered by trustees for the benefit of any parishioners in need without restriction. (fn. 379) An educational charity to benefit the parishes of Peppard, Greys, and Highmoor was established in 1982 on the proceeds of the sale of Rotherfield Peppard Central school. (fn. 380)
RELIGIOUS HISTORY
Rotherfield Peppard had its own church by the 12th century and probably earlier. The relationship between the church and the lords of the manor appears not to have been close: medieval lords were frequently non-resident, while after the Reformation the Stonors adhered to Roman Catholicism.
In 1685 the patronage was bought for Jesus College, Oxford, whose nominees (until 1971) were mostly fellows or former students of the college, many of them of Welsh origin. The living, a rectory, was never rich, and experienced some neglect in the 16th century. Thereafter it attracted a range of both resident and absentee rectors of varying conscientiousness, many of whom died in post.
Roman Catholicism retained a strong presence in the parish until the Stonors sold Blount's Court in the early 18th century, after which Protestant Nonconformity became deeply entrenched. A Congregationalist chapel (known also as Providence Chapel) was built in 1796, and frequently attracted attendances higher than those at the parish church. Both churches remained active in 2007.
Parochial Organization
A church was probably in existence when Miles Crispin (d. 1107), the Domesday holder of the manor, granted tithes in the parish to Bec abbey. (fn. 381) Architectural evidence suggests that the present church, dedicated to All Saints, was built during the 12th century, by which time it had its own 'parson' (persona) and was almost certainly fully independent. (fn. 382) The building was probably paid for by the Pipard family, as lords of Rotherfield, who subsequently owned the advowson. (fn. 383)
The ecclesiastical parish remained unaltered until 1849, when c. 80 a. were assigned to Henley Holy Trinity. The land lay in the east of the parish, and in 1871 comprised 11 houses at New Mills and Gillotts, with a population of 68. (fn. 384) Robert Prichard (rector 1808–48) supported the change, which he claimed would be 'a boon to the rector as well as to the inhabitants of the lower end of the parish'. (fn. 385) A grant of £50 was made to the Holy Trinity building fund, but an endowment in the form of a rent-charge on Peppard rectory was not forthcoming. (fn. 386)
In 1979 the rector of Rotherfield Peppard became priest-in-charge of Rotherfield Greys, holding both rectories in plurality until his retirement in 2002. Thereafter the vicar of Kidmore End and Sonning Common served as priest-in-charge of Rotherfield Peppard, until the benefices were formally united in 2003, the rector being supported by two non-stipendiary ministers. (fn. 387)
Advowson
The advowson belonged to the lord of the manor, and was first recorded in the possession of the Pipards in the early 13th century. Reginald, the earliest known incumbent, confirmed Walter Pipard's quitclaim of pasturage rights to Thame abbey in 1211. (fn. 388) Presentations during Pipard minorities were made by Ralph FitzNicholas in 1233, his son Ralph in 1262, and by the king in 1308. (fn. 389) In 1334 and 1338 James Butler, earl of Ormond, delegated his right to present to his attorney-general, John de Alveton, but following Ormond's death in 1338 his widow Eleanor presented in person. (fn. 390) In 1349 the bishop of Lincoln presented to the church 'by lapse of time', suggesting neglect by absentee lords, while in 1350 attorneys of Thomas de Dagworth acted as patron. (fn. 391) In 1383–4 the king presented during the earl of Ormond's absence in Ireland. (fn. 392) The patrons in 1396–8 were John and William Drayton, (fn. 393) and Richard Drayton presented on several occasions between 1431 and 1459. (fn. 394)
Thereafter the Stonors were patrons of the church until 1685, (fn. 395) when John Stonor (d. 1687) sold the advowson to Jesus College, Oxford, for £330. Thomas Rowney, who also purchased the advowson of Rotherfield Greys for Trinity College, Oxford, advised Jesus that it was 'a very good bargain'. The advowson was acquired in trust on behalf of its former principal Sir Leoline Jenkins (d. 1685), on whose death it passed to the college. (fn. 396) Jesus College presented every subsequent rector, and in 2007 remained joint patron of the united benefice. (fn. 397)
Endowment and Rectory House
The medieval rectory was valued at the relatively low sum of £5 a year in 1254, and at £8 in 1291 and 1428, less 13s. 4d. for tithes belonging to Bec abbey. (fn. 398) In 1341 a jury reduced the valuation to £3, claiming that the glebe was worth only 13s. 4d. because of the general poverty of the parish. (fn. 399) In 1526–35 the rectory was valued at around £10 a year, (fn. 400) and in 1584 was leased to Francis Stonor (d. 1625), who was at that time a Conformist and not yet lord of the manor. (fn. 401) In 1684 the living was valued at £140 a year. (fn. 402)
By the 17th century, and probably from the Middle Ages, the glebe totalled around 56 a., comprising the rectory house and garden, surrounding arable closes and woods, and unlimited rights of common. (fn. 403) In 1808 the glebe and tithes were leased for £630 a year, and in 1839 the tithes were commuted for a rent-charge of £540 10s. (fn. 404) Most of the glebe continued to be leased until 1919 when 47 a. were sold. (fn. 405) Small pieces of glebe were conveyed to the Ecclesiastical Commissioners in 1900 and 1931 in order to enlarge the churchyard, the last part of which was consecrated in 1973. (fn. 406)
The rectory house was rebuilt on at least three occasions between the 17th and 19th centuries, but probably always occupied the same site to the east of the church. Presumably that was the site of the medieval house, which William Cheshire (rector 1562–87) re-tiled. (fn. 407) In 1635 the house included a hall, kitchen, nursery, two butteries, and two other small rooms, and in 1662 it was taxed on three hearths. (fn. 408) It was rebuilt in 1673 by Eldridge Jackson (rector 1673–97), after which it was described as 'three bays of building with a large entry and a study over it'. (fn. 409) When Timothy Huxley (rector 1697–1727) died, his inventory listed goods in the hall, parlour, bedchamber, study, and cellar. (fn. 410) Further rebuilding was carried out by Thomas Pardo (rector 1727–63), who added a new brick front to the house and provided additional outbuildings, including a brewhouse. (fn. 411)
In 1815 the rectory was said to be 'very sufficient and in ample repair', following building work in 1808 on the appointment of Robert Prichard (rector 1808–48); in 1849, however, Henry Reynolds (rector 1848–70) claimed it was 'dilapidated and unfit for residence', and it was accordingly rebuilt. (fn. 412) Further improvements were made in 1917–21 by Maurice Jones (rector 1915–23) and in 1933 by Lewis Richardson (rector 1925–39). (fn. 413) The house was sold c. 2003, following the union with Kidmore End and Sonning Common. (fn. 414)
Pastoral Care and Religious Life
The Middle Ages to the Reformation
Thirty rectors of Rotherfield Peppard are known before the Reformation. Only six appear to have received a higher education, the earliest of whom was Walter of Wycombe (rector 1293–1300). (fn. 415) Four rectors attended Oxford University in the 14th and 15th centuries, including John Dumbleton (rector 1332–4), natural philosopher and fellow of Merton College and Queen's College, while Thomas Farrant (appointed rector in 1398) was granted licence for three years' non-residence for study in 1405. (fn. 416) For some incumbents the appointment to Rotherfield Peppard came at an early stage in their careers. Two were only acolytes at their institution, including the university graduate Thomas of Kingston (rector 1349–50), while John of Stowe (rector 1308–13) was removed because he did not proceed to priest's orders within a year. (fn. 417) Also appointed as rectors in the Middle Ages were two subdeacons. (fn. 418)
A number of presentees in the late 13th and early 14th century seem to have been north Buckinghamshire men, a reflection perhaps of the Pipards' residence at Great Linford. (fn. 419) Richard Seward (rector 1300–8) was from Newport Pagnell, (fn. 420) while John Dayrell (rector 1262–93) was probably from Lillingstone Dayrell (near Buckingham), and John of Stowe from the neighbouring parish of Stowe; Dayrell's family were granted land in Peppard by Ralph Pipard (d. 1303). (fn. 421) Other clerical families also held land in the parish, notably those of Geoffrey de Alveton (rector 1326–32), presumably a relative of John de Alveton, (fn. 422) and John le Waleis (appointed rector in 1350), who in 1360 was fined for allowing his sheep in the lord's park. (fn. 423)
Though the length of medieval incumbencies varied greatly – from a few months to 43 years in the case of John Frythyon (rector 1459–1502) – most tended to be short. Of the 23 rectors for whom information is available, 15 served for less than 10 years, and only four for more than 20 years. Many of those who served for a short time resigned their living or exchanged it for another: 14 medieval rectors resigned compared to 9 who died in post. Evidence of pluralism is scarce: James de Kaworth (rector 1233–62) was also for a few years rector of the Pipards' church at Great Linford, while Roger de Drax (rector 1334–8) was nominated in 1336 to a benefice in Suffolk. (fn. 424) Assistants may have been employed, but information is generally lacking. In 1297 a chaplain of Rotherfield Peppard was violently attacked by the parish clerk, (fn. 425) while John Griffith (rector 1525–31) seems to have employed his predecessor James Johnson (rector 1506–25) as curate; Johnson also received a pension of £3. (fn. 426) Some medieval rectors fell into debt, while Robert Bateman (appointed rector in 1431) lent money to a parishioner which had to be recovered in court. (fn. 427)
Little evidence survives of popular religion, though the parishioners may have contributed to the rebuilding of the church in the 13th century and to the cost of the surviving 14th-century bell. (fn. 428) Some small bequests to the church were made in the late 15th and early 16th century, but in 1530 the windows in the nave were said to be broken, suggesting neglect. (fn. 429)
The Reformation to the Late 17th Century
In 1552 the churchwardens reported that a great chalice worth £10 had been taken from the church by Lady Stonor following the death of her husband in 1550, presumably for safe-keeping. Other church goods, including vestments and candlesticks, were removed in accordance with Edwardian legislation. (fn. 430) The Stonors' Catholicism may have compelled their surrender of the right of presentation in 1555 and 1562, and probably contributed to their failure to institute Richard Clark as rector in 1583. However, Francis Stonor (d. 1564) was able to present John Thomson (who was also rector of nearby North Stoke) in 1558, while his son Francis (d. 1625), then a Conformist, presented Richard Tynney in 1587. (fn. 431)
No recusants were recorded in the late 16th century, (fn. 432) possibly because the Stonors were not resident, but at least ten were known in the early 17th. Among them were the yeoman Henry Curtis and his wife, fined on several occasions in the 1620s. (fn. 433) The Stonors' influence almost certainly lay behind a dispute in 1606 when John Knapp was elected churchwarden at Henry Stonor's house: 'since then there had been little quietness in the church because Knapp had troubled the neighbours with unquietness and had given cause for offence to the parishioners and to other parishes adjoining. He and his family either did not come to church or came negligently to the end of the service and the sermon'. (fn. 434) Henry Stonor (d. 1637) lived at Blount's Court with his wife Elizabeth, who was indicted for recusancy in 1638, but 'being a weak and sickly woman' was granted a respite by the king. (fn. 435) Arthur Pitts (1557–c. 1634), a Roman Catholic priest, lived with them at Blount's Court for some years and was buried in Peppard parish church. (fn. 436) The number of Catholics appears not to have diminished much by the late 17th century, when six were recorded including Henry Stonor (d. 1705) and his wife. Three other women were called fanatics. (fn. 437)
Although patrons of the parish church, the Stonors may not have been inclined to support it financially after the Reformation. Indeed, the broken windows recorded in 1530 seem to have been symptomatic of a wider neglect which continued until the late 16th century and possibly until the late 17th. Both Roger Ponsonby (rector 1531–55) and John Thomson (rector 1558–62) were pluralists, Ponsonby holding neighbouring Checkendon from 1546, and Thomson probably living at North Stoke, where he was rector from 1554 until his death in 1571. (fn. 438) Church, rectory, and outbuildings were dilapidated at William Cheshire's induction in 1562, when repairs were carried out, though he too may have resided only occasionally. Some parishioners evidently took advantage of absentee rectors to avoid paying tithes, prompting Richard Tynney (rector 1587–1625) to seek remedy in the courts. (fn. 439) His successor John South (rector 1625–73) was another pluralist, but was removed from his other livings during the Civil War and restored only in 1660. (fn. 440) Things may have improved under Eldridge Jackson (rector 1673–97), who rebuilt the rectory house and was buried in the parish. (fn. 441) Curates were probably employed throughout the period. One, William Grey, was buried in the parish in 1643, and others were recorded later in the 17th century. (fn. 442)
Despite the apparent neglect by some rectors, many parishioners supported the fabric and ministry of the church. Late 16th- and 17th-century wills record numerous small bequests for the church's maintenance, ranging from 1s. to 10s., while the husbandman Henry Young (d. 1619) left two bushels of rye. (fn. 443) A silver chalice was donated to the church in 1640, and in the late 17th century one of the bells was replaced. (fn. 444) Wills also record bequests to the poor of the parish, notably those of Augustine Knapp, John Clark, and the rector Eldridge Jackson, who established charities. (fn. 445) Jackson, a graduate of Queen's College, Oxford, was the last of Peppard's rectors to be appointed before Jesus College acquired the advowson. (fn. 446)
The 18th and 19th Centuries
Throughout this period Jesus College presented fellows or former fellows of the college to Peppard rectory. The one exception was the college's first appointment, Timothy Huxley (rector 1697–1727), a Shropshire graduate of the college whom an acquaintance judged 'empty, proud, peevish, pragmatical, spleenetick and mistrustful', and whose living, worth £200 a year, 'ought to have been bestowed where there was more desert'. (fn. 447)
Huxley's appointment certainly calls for explanation, since according to Leoline Jenkins's bequest Peppard rectory was meant to enhance the stipend of the principal of Jesus College. The following three rectors (from 1727 to 1768) were all instituted after their appointment as principal, including Humphrey Owen (rector 1763–8), Bodley's Librarian. (fn. 448) Thereafter, this restriction was relaxed and fellows of the college were appointed until 1848, when Henry Reynolds (rector 1848–70) resigned his fellowship on being instituted to the rectory. (fn. 449) The association with Jesus College brought a succession of Welshmen to the rectory at Peppard, several of whom were only occasionally resident. Thomas Pardo (rector 1727–63) lived mostly at college and employed a curate, who in 1738 lived about two miles from the church, while in 1768 a later curate reported that he too was unable to reside constantly because of the demands of a college office. (fn. 450) Later rectors were more likely to be resident, although Robert Prichard (rector 1808–48) also served a benefice in Wales and was increasingly absent, leaving a curate to minister at Peppard. (fn. 451)
Despite the inconvenient shape of the parish, few rectors considered attendance a serious problem during the 18th and early 19th century. In 1799 and 1802 the rector suggested that 'the lower sort of people' frequently failed to attend, perhaps because the public houses were open during divine service; (fn. 452) however, compared to those in Greys, the rectors of Peppard seem to have been remarkably sanguine about the state of their ministry. In 1834 Robert Prichard reported that 'at morning prayers the church is commonly full', claiming that the church's central position attracted worshippers from three neighbouring parishes, 'even occasionally incommoding the parishioners'. In view of the area's scattered settlement he suggested a new church or chapel 'where the above parishes meet', though he acknowledged that some parishioners living near Henley attended the town church. (fn. 453)
Throughout the 18th century and earlier 19th there were usually two Sunday services with one sermon, and communion three (later four) times a year attended by 10–20 communicants, rising to more than 30 after 1815. Children were catechized in Lent. (fn. 454) The number of services was increased by Thomas Williams (rector 1870–81), who requested the living from Jesus College in order to escape a teaching career; the congregation responded positively, increasing from c. 50 in 1860 to almost 200 in 1884, when Robert Price Williams (rector 1881–90) noted that it was 'not known before to be so large'. (fn. 455) Much, however, depended on the quality of the incumbent, and Williams's long illness and a subsequent vacancy were acknowledged to be a problem in 1890. (fn. 456) Until the 1870s offertories were not usually made during services because of local poverty; (fn. 457) as a result, apart from work on the chancel in 1834, there was little money for repairs, so that by 1874 the church had fallen into a 'serious state of dilapidation'. (fn. 458) Few gifts or bequests were made during this period, except for a pewter flagon donated by the churchwardens in 1713 and two salvers given by Revd Prichard in 1842. (fn. 459)
Following the sale of Blount's Court by the Stonors in the early 18th century, no Roman Catholics were reported in the parish for more than a century. However, in 1814 the rector observed that 'a family of papists is lately come to reside within the parish consisting of a gentleman, his lady and two infants'; they were thought to attend 'Mr Stonor's chapel', presumably at Stonor Park. Though still resident in 1817 they planned to emigrate to the Netherlands, after which no Catholics were recorded. (fn. 460) By contrast Protestant Nonconformity, of which there was little sign before 1700, became deeply entrenched during the 18th century. In 1738 the rector reported three families of 'Presbyterians' headed by substantial farmers, who attended the Congregationalist meeting house at Henley; in all they numbered around 18, 'the same as ... for many years'. (fn. 461) One was William Benwell (d. 1739) of Cowfields, who left money to support the Congregationalist minister in the Greys district of Henley. (fn. 462)
Later support appears to have fluctuated, but in 1796 a Congregationalist (or Independent) chapel was built in the parish, paid for by Peter French of Reading. (fn. 463) A manse constructed shortly afterwards was occupied by a succession of long-serving ministers, including Joseph Walker (1797–1828) and Isaac Caterer (1828–68). Walker found Peppard to be in a 'wild, dark, and benighted condition', and sought to dissuade his congregation from attending the Whit Monday revels on Peppard Common. (fn. 464) Although Revd Prichard was 'inclined' to think that their number was decreasing (or at least not increasing), in 1851 the general congregation in the morning was said to be about 70 and in the afternoon 108, far more than at the parish church. (fn. 465) By 1860 Henry Reynolds (rector 1848–70) considered that about half the inhabitants were Dissenters, while in 1881 Thomas Williams reported that 'Dissent has gained new life from a new active preacher and revivalism helped from Reading'. (fn. 466)
Of other denominations, the rector observed in 1823 that some Wesleyans 'who come principally from the adjoining parishes frequently meet at an unlicensed house'. In later years resident Wesleyans who attended the parish church in the morning met in a neighbouring parish in the evening. (fn. 467)
The 20th Century
Following the death of Morris Price Williams (rector 1890–1901), Jesus College no longer presented former fellows to Peppard rectory, possibly because none were willing to accept it. (fn. 468) Although most rectors (until 1971) were educated at the college, even that was not a requirement: Charles Adams (rector 1904–15) was a graduate of Sidney Sussex College, Cambridge. (fn. 469) The living was undoubtedly attractive, with a net yearly value of £600 in 1924 and a reputation for relative calm: when Maurice Jones (rector 1915–23) died in 1957 his obituary recalled that he had been 'happy in the peace and quiet of Henley'. (fn. 470) On Jones's removal elsewhere a former scholar of Jesus College put himself forward, and was advised to emphasize his experience of parochial work and his Oxfordshire family connections. (fn. 471)
Many improvements were made to the church during the 20th century. In 1907 there was discussion about the proposed new tower (built 1908), and in the following year the rector insisted that a new vestry should have priority over a new clock and bells. (fn. 472) Subscriptions were raised in 1913 to install new heating, in 1919 to build a war memorial, and in 1938 to erect a lychgate. A number of new windows were paid for privately to serve as memorials, and gifts were made of churchwardens' staves and a Jacobean chest. The organ was replaced in 1949 and again in 1993, and the church was rewired in 1956, the cost of the latter met from the proceeds of the church fête. (fn. 473)
The Congregationalist chapel continued to thrive under the long ministries of Benjamin Summersby (1878–1922), Arthur Hill (1923–33), and Thomas Wilson (1934–76). Wilson also served as chaplain at Peppard Chest Hospital and was chairman of the parish council from 1938 to 1968. He worked closely with rectors of Peppard church, establishing a united church worship. (fn. 474) A meeting house of Plymouth Brethren was recorded from 1907 to 1939, presumably the mission hall built on Stoke Row Road. (fn. 475)
Religious Buildings
Parish Church
The medieval church was heavily restored in 1875, resulting in a plain building of stone and flint with a slate roof. The present church has a two-bayed chancel and a four-bayed nave with a three-bayed north aisle. The gabled south porch is timber-framed with decorative barge-boards, and the stone and flint bell tower with tiled roof is supported from within the west end of the nave. A vestry was added at right angles to the north side of the chancel in 1965, while a parish room (built 1981–2) adjoins the west end of the north aisle at an angle. (fn. 476)
A few pieces of 12th-century stonework survive in the chancel, notably two Norman windows on the north side and one on the south, with internal roll sill-moulding. During the 1875 restoration, the outer jambs with scalloped capitals and the springing of two arches of a Norman arcade were discovered flanking the east window, variously interpreted as the remains of blind arches or of windows blocked during the 14th century. (fn. 477) The pointed chancel arch on Romanesque shafts with carved capitals is of early 13th-century design, suggesting that the church was extended at that date. The Norman font, of Corallian freestone from Wheatley, is tub-shaped with a band of cable-moulding.
The medieval chancel was re-roofed by William Cheshire (rector 1562–87), while in 1759 orders were issued to repair the roof tiles and various internal furnishings. (fn. 478) In the early 19th century the church was said to be 80 feet (24 metres) long and 20 feet (6 metres) wide, in good repair, and able to seat 150 people. (fn. 479) It was described as 'a neat and rather spacious structure with a wooden turret. The walls are whitened on the outer side, and gain much pictorial effect from a partial but umbrageous screen of ivy'. (fn. 480) Robert Prichard (rector 1808–48) repaired and re-roofed the chancel c. 1830, and his successor Henry Reynolds (rector 1848–70) agreed that the church was in good condition. (fn. 481) However, in 1872 Thomas Williams (rector 1870–81) described the church as 'in tolerable repair but very shabby', and was already seeking funds to remove the 'tall white pews with vast pulpit' and to restore the choir. (fn. 482) In 1874 plans for a more thorough restoration were well advanced. An appeal for funds described 'the serious state of dilapidation into which Peppard church has fallen from age and decay, the perished state of much of the woodwork, and the consequent dangerous condition of the gallery and bell turret'. About £700 of the estimated cost of £1,600 was still wanting when work began. The architect, William Scott Champion, proposed to remove the gallery and rebuild the wooden bell turret, to add a new roof, new floor and new seats, to insert new windows in the nave and at the east end, to build a north aisle, and to add a vestry at right angles to the south side of the chancel. Much of this work was carried out during 1875, although neither vestry nor bell turret were built because of a lack of funds. (fn. 483)
A temporary wooden belfry was constructed at the west end of the nave, until plans for a new tower (under discussion by 1905) were adopted in 1908. (fn. 484) The original plans of the architect, Edmund Sedding, which included room for a vestry at the base of the tower, were not accepted. (fn. 485) Instead a separate vestry was proposed adjoining the west end of the north aisle and extending beyond the west end of the nave. The tower was built first, the cost met by subscriptions and grants, although the rector insisted that the new vestry (built in 1909) should take precedence over the addition of a clock and the hanging of the bells. (fn. 486) The tower was erected by local builder Charles Butler, and funds were needed for its repair in 1930. (fn. 487) The present porch was also built in 1908.
A separate clergy vestry, built in 1965, was the gift of a local resident. The choir vestry of 1909 was replaced by a parish room in 1981–2 at a cost of £38,000, met by general fund-raising. The church was redecorated in 1960, and repairs to the exterior were carried out in 1985 and during the 1990s, including re-slating the chancel roof. The lychgate at the entrance to the church, of oak on brick foundations with a tiled roof, was built in 1938. (fn. 488)
Congregationalist Chapel
The chapel built in 1796, set back from Blount's Court road, is of brick with a hipped tiled roof (Fig. 78). An aisle was added to the west in the early 19th century, separated internally from the chapel by a colonnade of three timber columns with moulded caps and bases. A schoolroom was added to the east in 1879, replacing an earlier structure; the original glass partition has since been replaced by modern folding doors. The chapel interior includes a gallery at the south end. (fn. 489) The brick-built, two-storeyed manse was erected soon after the chapel, directly in front of it and facing the road.
LOCAL GOVERNMENT
Manor Courts and Officers
Honor of Wallingford Courts
In the late 13th century the vill of Rotherfield Peppard paid 5s. cert money at the honor of Wallingford's annual view of frankpledge. (fn. 490) The view, held by successive lords of the honors of Wallingford and later of Ewelme, met at North Stoke in the 15th century, when its chief business was the regulation of mill tolls and the assize of ale. (fn. 491) A constable at Peppard was recorded in 1377 and c. 1465, collecting money for the king. (fn. 492) In 1536 the constable presented jointly at the annual view with the manor's tithingman, who had previously appeared alone. (fn. 493) Peppard later formed part of the Ipsden division of the honor of Ewelme.
In the 18th and 19th centuries the annual view of frankpledge and twice-yearly court leet were held at various locations, including the Dog public house at Rotherfield Peppard. The constable and tithingman of Peppard were joined by a hayward from the 1820s until c. 1840; soon after, the records of the honor cease. (fn. 494)
Local courts
The medieval lords of the manor held regular manor courts. Suit of court was reserved by Ralph Pipard when granting land to John of Kent in 1286, (fn. 495) and on Ralph's death in 1303 court pleas and perquisites were worth 2s. a year. (fn. 496) In 1338 the court was worth 6s. 8d. a year. (fn. 497) The rolls of 14 courts survive from 1351 to 1366, held sporadically once or twice a year. Fines ranged widely but averaged about 11s. per court. In 1363 profits of 13s. 4d. were divided between the lord and the demesne lessee. Court business included the resolution of disputes, cases of trespass, orders to tenants, and the conveyancing of land. (fn. 498)
Courts were most likely held by the manor's steward, including Robert Quynaton, who stayed at Peppard for two days and two nights in April 1399. Profits of £1 7d. that year were reduced by the steward's expenses, the cost of writing the court roll, and by release of the lord's suit to the honor of Wallingford's court. (fn. 499) In the mid 15th century courts were held twice yearly (most often in May and October), though profits declined to an average of 2s. 6d. per court. (fn. 500) The Stonors continued to hold courts in the 17th century and later; typical business included the granting of copyholds and issuing of orders, in particular to prevent the over-exploitation of Kingwood. In 1680 the lord provided timber to repair the manor's pound and stocks. (fn. 501)
Parish Government and Officers
Two churchwardens were mentioned in 1530, (fn. 502) and by the 17th century they were chosen in the usual way, one by the rector and the other by the parishioners. In 1606, at the end of their term, the outgoing churchwardens came to church on Tuesday before Easter to surrender their office and make their accounts, whereupon their successors were appointed. Notice of the election was given about 10 days before, which on this occasion provided the opportunity for Catholic interference. (fn. 503)
Two churchwardens, two overseers of the poor, and a constable were recorded in 1641–2, most of them from local yeoman families. (fn. 504) Churchwardens' and overseers' responsibilities included distribution of charitable funds. (fn. 505) Overseers' accounts from the early 18th century show that the parish rate was used to buy food, fuel and clothes for the poor, and to pay their rents and medical bills. (fn. 506) The overseers presumably accounted to the vestry, but no vestry minutes survive until the beginning of the 20th century, when many of their functions had passed (in 1834) to Henley poor-law union, and (in 1894) to Henley Rural District Council and Rotherfield Peppard parish council, which in 1895 elected two overseers and one assistant overseer. (fn. 507) Nevertheless, the vestry continued to provide help to the poor before the First World War, and was responsible for repairs and alterations to the fabric of the church. (fn. 508) Those functions were later assumed by the parochial church council, which continued in 2007. (fn. 509)
In the mid 19th century Charles Bullock of Cowfields Farm served as surveyor of the highways, employing labourers to pick, break, and cart stones from the fields and spread them on the roads, and to trim overhanging hedges. Labourers were usually paid 1s. or 1s. 4d. a day, their annual wages amounting to more than £57 in 1846–7. (fn. 510) Bullock also served as churchwarden, in 1852 alongside William Butler of Kingwood. Together with the overseer, the blacksmith George Pigden of Crosslanes, they collected more than £93 towards the poor rate in April 1852, with a similar sum collected three months later. (fn. 511)
Rotherfield Peppard parish council was established following the creation of Henley Rural District Council in 1894, and met regularly thereafter. Six parish councillors were elected, and in 1895 a rate of 2d. in the pound was levied for council expenses. (fn. 512) Committees were formed to organize events such as the victory celebrations at the end of the Second World War, and the celebrations surrounding the accession and coronation of Elizabeth II in 1952–3. (fn. 513) Committees were also formed to maintain the sports pavilion and war memorial. (fn. 514) Under local government reorganization in 1974 the civil parish became part of South Oxfordshire District. (fn. 515)