Pages 175-208
A History of the County of Oxford: Volume 17. Originally published by Boydell & Brewer for the Institute of Historical Research, Woodbridge, Suffolk, 2012.
This free content was digitised by double rekeying and sponsored by Victoria County History Oxfordshire. All rights reserved.
LANGFORD PARISH
Until 19th-century reorganization Langford parish included the contiguous townships of Langford, Little Faringdon, Grafton, and Radcot. (fn. 1) As with Broadwell, the parish's unusual size reflected its derivation from a large late Anglo-Saxon estate, and in Langford's case medieval tenurial links resulted in the townships of Langford and Little Faringdon becoming (from the 13th century) detached parts of the Berkshire hundred of Faringdon. Only in 1844 were they transferred back to Bampton hundred in Oxfordshire, to which Grafton and Radcot had belonged throughout. (fn. 2)
The villages, built mainly of local limestone, were predominantly agricultural, but from the Middle Ages each developed a distinctive character. Langford, with its renowned Anglo-Norman church, was the most populous and most diverse, and in the absence of a resident lord developed many of the characteristics of an open village. By the 19th century it possessed two Nonconformist chapels, numerous farmhouses and cottages, and several shops, schools, public houses, and friendly societies. Little Faringdon, by contrast, was dominated by its 19th and 20th-century lords, who took a close interest in the lives of its inhabitants and preserved its rural seclusion. Grafton was the most isolated settlement, built on the margins of a large common inclosed only in 1846, and dependent for most local services on neighbouring places. Radcot, on the other hand, developed close to an important crossing of the Thames, and though it suffered considerable depopulation in the later Middle Ages (shrinking to a hamlet of only half a dozen houses), its position ensured that it remained a notable trans-shipment point from road to river. Its strategic location also lent it a sometimes unwelcome role in the national power struggles of the 12th, 14th, and 17th centuries.
Parish and County Boundaries
The ancient parish (Fig. 1) covered 4,350 a., comprising the townships of Langford (2,117 a.), Little Faringdon (1,167 a.), Grafton (625 a.), and Radcot (441 a.). (fn. 3) Its elongated shape encompassed a wide range of agricultural resources, from the Cotswold downlands on the Gloucestershire border to the flat meadowlands by the rivers Thames and Leach (Fig. 3 and Plate 1). As with neighbouring parishes, that diversity almost certainly reflected conscious planning when the Langford estate was created during the 11th century, carved probably from a larger unit which included neighbouring Broadwell. (fn. 4)
The parish's southern and western boundaries (fn. 5) coincided with those of Berkshire and Gloucestershire, which were determined in outline by the early 11th century, and clearly reflected earlier divisions. For long stretches they followed the rivers Thames and Leach. (fn. 6) The boundaries with Kelmscott, Clanfield, Broadwell, and Broughton Poggs must have also been broadly established by the mid 11th century, when all those places formed separate territorial units, (fn. 7) although some stretches may have been subject to minor adjustments later on. This was especially true of the northern and south-western boundaries with Broughton Poggs and Kelmscott, which in the 19th century followed field boundaries which were perhaps of relatively recent origin. By contrast, the 19th-century eastern boundary mostly followed small streams flowing into the Thames, and was probably little altered from the Middle Ages.
In 1086 Langford was still included in Oxfordshire. (fn. 8) However, King John's grant to Beaulieu abbey in 1203 of an estate centred on Great Faringdon, including Little Faringdon and 'whatever the king had' in Langford, resulted in the incorporation of both townships into Berkshire and their administrative separation from Grafton and Radcot. (fn. 9) Langford and Little Faringdon's detachment from Oxfordshire was confirmed in 1313 when the lord of Bampton conceded that Beaulieu's tenants no longer owed suit to Bampton hundred court. (fn. 10) Presumably that confirmed a long-standing arrangement, because in 1279 neither township was included in the Bampton hundred roll enquiries, with the minor exception of the land in Langford held by Matthew de Besyles of Radcot. (fn. 11) The unusual division of a single parish between two counties, and the continuing inclusion of Langford and Little Faringdon in the archdeaconry of Oxford, (fn. 12) may have caused confusion on the part of administrators, and until the 19th century the townships were often described as lying in either Berkshire or Oxfordshire, or both. (fn. 13)
In 1832 Langford and Little Faringdon were transferred from Berkshire to Oxfordshire for parliamentary purposes, and in 1844 for civil purposes, when they rejoined Bampton hundred. In 1866 the ancient parish was divided into four civil parishes with the same boundaries as the former townships. (fn. 14) The ecclesiastical parish was divided slightly earlier, in 1864. (fn. 15)
LANGFORD TOWNSHIP
The limestone-built village of Langford lies on the edge of the Cotswolds, on flat, low-lying ground north of the river Thames. Its fine church, incorporating a late 11th-century tower and reset Anglo-Saxon figure sculptures, reflects its early importance as the centre of a large late Anglo-Saxon estate, and its later medieval landowners included Beaulieu abbey and Lincoln cathedral. (fn. 16) Until the 20th century it remained a moderately sized farming community, however, and most other surviving buildings are 17th or 18th-century yeoman farmhouses and labourers' cottages typical of the area. From the Middle Ages it lacked a resident lord, and developed some of the characteristics of an 'open' village: Nonconformist chapels were built in the 19th century and a range of rural crafts developed, although the village failed to expand. (fn. 17) The nearest towns were Lechlade (Glos.) some 3 miles to the south-west, Faringdon (formerly Berks.) 5½ miles south-east, and Burford (Oxon.) 6 miles to the north.
During the 20th century Langford's 'unspoilt' character began to attract a new class of prosperous commuters, for whom many of its better-quality houses were restored as desirable residences. Even so, compared with some neighbouring Cotswold villages the community remained socially mixed in the early 21st century, with council housing making up almost a quarter of the local housing stock. (fn. 18)
Township Boundaries and Landscape
The township (Fig. 51) covered 2,117 a. (856 ha.), its boundaries having presumably crystallized during the 11th and early 12th centuries as neighbouring estates were hived off and became separate manors. (fn. 19) The eastern boundary with Broadwell follows Broadwell brook, where the 'long ford' from which Langford took its name was probably located. (fn. 20) That to the south, bordering Grafton and Kelmscott, runs along field boundaries and ditches. The western boundary with Little Faringdon follows Langford brook and field boundaries to the river Leach, which separates the township from Southrop (Glos.) and from Lemhill, a formerly detached part of Broughton Poggs. The north-western boundary with Eastleach Martin (Glos.) and the north-eastern one with Broughton Poggs follow what appear to be former open-field boundaries, suggesting that the boundary there was determined only after the open fields were laid out. (fn. 21) In 1866 the township became a separate civil parish, and its ancient boundaries remained unaltered in 2001. (fn. 22)
The flat, low-lying ground in the south of the township lies chiefly on gravels of the Second (Summertown-Radley) Terrace, and rises imperceptibly from 74 m. on the Grafton boundary to 78 m. in the village. South-west of there are some small areas of Third (Wolvercote) Terrace and underlying Oxford Clay. (fn. 23) The varied soils were reflected in 17th-century furlong-names such as 'Clay furlong', 'Sandy furlong', and 'Redland', while names such as 'Marsh furlong', 'Fulpitts', and 'Gripe' reflected the need for drainage. (fn. 24) Ditches were dug for that purpose from the Middle Ages, a man drowning in one of them in the 13th century. (fn. 25) Broadwell brook itself has long been liable to flood, and as late as 2007 parts of the village were affected. (fn. 26) Further north, the downs rise to 93 m. at Whitehill on the Little Faringdon boundary, and to 100 m. at Shire Gate on the Gloucestershire border. There, the underlying geology is mostly Cornbrash. (fn. 27)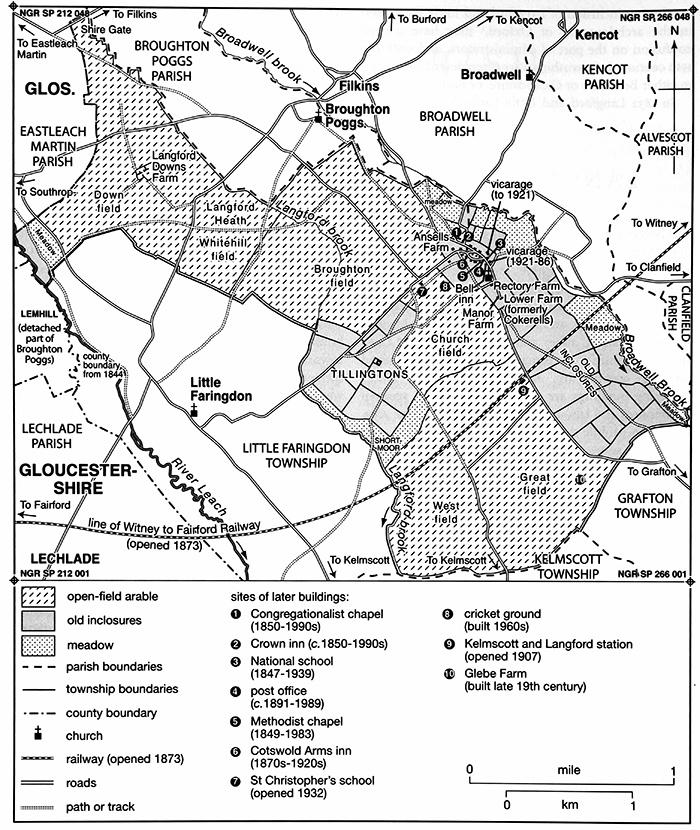 Narrow bands of alluvium along the streams provided good meadow, while the township's lack of woodland contributed to a perception of the landscape (largely approved of in the 20th century) as a 'featureless plain'. (fn. 28) Stone and gravel for road-mending and other local uses were dug from small scattered pits before the mid 20th century, (fn. 29) and larger quantities were extracted during the Second World War, particularly in the far west of the township. The resulting pits were later turned into artificial lakes, and used for recreational fishing. (fn. 30) The relative monotony of the landscape is now broken by prominent overhead power-cables, which cross the length of the township and pass south-west of the village. (fn. 31)
Communications
Roads
Langford village lies at a multiple crossroads (Figs 2 and 51). The road south-westwards to Little Faringdon was mentioned in 1307, though it was probably straightened at inclosure in 1808. (fn. 32) From this, another pre-inclosure road branches off to Broughton Poggs and Southrop (Glos.), crossing the main Lechlade-Burford road (the present A361). (fn. 33) The roads north-eastwards to Broadwell and north-westwards to Filkins are both also of medieval or earlier origin. (fn. 34) The Filkins road continues south-eastwards to Grafton, (fn. 35) and it was along this route that settlement in Langford mainly developed. A back lane in the present centre of the village created a loop, which may formerly have bounded a green used for grazing and the protection of livestock, before it was infilled with houses. (fn. 36) The road to Kelmscott, mentioned in 1320, branches off midway along the road from Langford to Grafton. (fn. 37)
No roads or paths were suppressed at inclosure, when a dozen bridleways and footpaths were listed. Most remained in use in the early 21st century, converging on the village from all directions. (fn. 38) The names of some of them, including 'Lychewey', 'Crokers Lane', and 'Westway', are recorded from the Middle Ages. (fn. 39)
Carriers, Rail, and Post
Carriers to Burford, Cirencester, Faringdon, and Witney were mentioned from the 1860s to 1890s, and in the early 20th century there was a short-lived service to Lechlade and Witney. (fn. 40) Presumably the carriers lost business to the railway: stations were opened at Alvescot and Lechlade in 1873, both of them three miles away on the East Gloucestershire line from Witney to Fairford, and in 1907 a closer station called Kelmscott and Langford was built about half a mile south of the village. A siding for loading and unloading cattle and farm machinery was added there in 1928, by which time the line formed part of the Great Western Railway. It closed in 1962, (fn. 41) but local bus services continued. A weekly service to Swindon was mentioned in 1962 and later became more frequent, (fn. 42) and in 2010 there were regular buses to Carterton, Lechlade, and beyond. Post was delivered from Lechlade in the 19th century, and a sub post-office was opened in the village before 1891. It closed in 1989. (fn. 43)
Settlement and Population
Early Settlement
Evidence of prehistoric settlement, trackways, and agricultural boundaries has been found across much of Langford, although much of it is undated. (fn. 44) A possible Neolithic henge lies in the south-east of the township (SP 2600 0153), and a causewayed enclosure in the south-west (SP 245009), while Bronze-Age ring ditches have been identified on the downs (SP 215029). (fn. 45) Significant Iron-Age settlement complexes were situated both on the downs and on low-lying ground in the south, where 34 separate roundhouses have been identified (SP 252010). That site continued to be occupied into Roman times, although the settlement on the downs was abandoned. (fn. 46) Evidence of Romano-British occupation has also been found to the east and north-west of the village. (fn. 47)
The extent to which Langford remained inhabited in the post-Roman period is uncertain, although the minor place name Tillington (meaning the farm of Tilli's people) suggests Anglo-Saxon settlement in an area adjoining the parish's western boundary (Fig. 51). Possibly this was one of several dispersed farmsteads in the township before the development of the village and open fields in the 9th century or later, (fn. 48) and an early-inclosed pasture farm continued there into modern times. (fn. 49) By the 11th century, however, the bulk of the substantial population recorded in Domesday Book was most likely concentrated in and around the site of the modern village of Langford (discussed below).
Population from 1086
In 1086 there were 37 tenant households on Langford manor, headed by 21 villani, 4 lower-status bordars, and 12 slaves (servi). The slaves were presumably located near the demesne farms, but otherwise there is no indication of the pattern of settlement, and some of the tenants may have lived at Little Faringdon (which then still belonged to Langford manor) rather than in Langford itself. (fn. 50) Eighteen landholders in Langford alone were taxed in 1322, 21 in 1327, and 28 in 1332, (fn. 51) most of them probably representing a household. In addition there must have been an unknown number of inhabitants who fell below the tax threshold, and the figures suggest that the township's population was rising.
Depopulation during the Black Death seems to have been relatively limited, since the 1381 poll tax was paid by 86 adults aged over 14 (grouped in about 42 families). (fn. 52) Ruined houses were reported in the late 15th century, implying that population remained below its early 14th-century peak; nevertheless the profits of sheep farming may have brought some local prosperity. (fn. 53) Up to 30 taxpayers, including labourers and servants, were named in the 1520s and 1540s, (fn. 54) and 59 people were recorded in 1548, (fn. 55) while from the 1560s baptisms (for the whole parish) consistently out-numbered burials. (fn. 56) In Langford itself 46 houses were assessed for hearth tax in 1662, including 15 whose occupiers were too poor to pay. (fn. 57) Thirty five land-holders paid land tax in 1716, though not all were necessarily resident. (fn. 58)
By 1801 Langford had 79 inhabited houses and a population of 356, which rose to a peak of 453 (in 103 houses) in 1851. The trend was reversed following the onset of agricultural depression in the 1870s, with population falling sharply to 297 (in 72 houses) by 1901. A partial recovery to 333 followed over the next decade, but thereafter numbers remained under 300 until the 1950s. By 1961 the population was 349 in 107 houses, though it fell again to 275 (in 115 houses) by 1991. In 2001 there were 327 inhabitants, and a total of 138 households. (fn. 59)
The Development of Langford Village
Langford grew up at an intersection of early routes, and its place name (meaning 'long ford') refers probably to a crossing of Broadwell brook ('broad stream'). (fn. 60) Though first recorded in 1086 the name is Anglo-Saxon, and the village probably had its origins in the 9th or 10th century, when nucleated settlements generally formed. (fn. 61) The early core may have developed close to the parish church, which was built (or possibly rebuilt) in the later 11th century; the rectory, manor house, and a 12th-century farmstead later called Cokerells were all located there, and archaeology has revealed medieval settlement (later abandoned) to the north and east of the church. (fn. 62) The centre of the present village lies about 200 m. north of the church, where the roads from Broadwell and Little Faringdon meet the Filkins-Grafton road; settlement there is grouped around a probable medieval green, which was subsequently infilled (Fig. 52). Similar extension or reorganization of settlement, leaving the original village core isolated, has been noted at other places in Oxfordshire, (fn. 63) although at Langford it is unclear when the change took place or whether it was a planned development.
The physical separation of the southern end from the rest of the village was reinforced in the late 19th century, when a number of houses (including some near the church) were demolished as population fell. (fn. 64) Nevertheless Langford retained a compact appearance, which was only slightly diminished by the building along the Little Faringdon road of a school (in 1932) and of council housing (in the late 1940s). (fn. 65) In the late 20th century some previously undeveloped land was built on, including along the Broadwell road, but most new housing resulted either from the infilling of existing plots or the conversion of former farm buildings to residential use. A cross (Plate 3) was erected at the junction of the Grafton and Little Faringdon roads to commemorate parishioners killed in the First World War, while the village hall (built c. 1923) occupied a vacant plot along the Filkins road. (fn. 66) Water supply, previously from wells or surface springs, was improved in the 1890s by the sinking of an artesian well and provision of a standpipe; (fn. 67) electricity was available from the 1930s, and mains water after the Second World War. (fn. 68)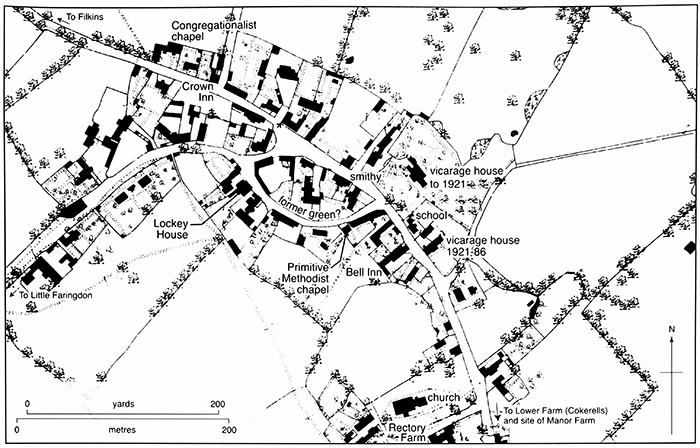 Outlying Sites
Tillingtons was an old-inclosed pasture farm by the 16th century, and in 1808 included a farmhouse (now derelict) some ¾ mile south-west of the village. (fn. 69) Since the place name suggests origins before the Norman Conquest, this may be an example of an isolated farmstead which survived the late Anglo-Saxon development of the village and open fields. (fn. 70)
Apart from the medieval mills (of which no trace remains), (fn. 71) all of Langford's other outlying sites are post-medieval. A farmhouse at Langford Downs was built around the time of inclosure in 1808, while Glebe Farm (near the Grafton boundary) was built in the late 19th century on land allotted to the vicar in lieu of tithes. (fn. 72) In the 20th century a house called The Bungalow was built along the road to Eastleach Martin in the far north of the township, and in 1940 another was built in the far west along the road to Southrop. (fn. 73)
The Built Character
Langford has a largely homogenous built character. Cottages and houses of 17th- to 20th-century date, constructed of local limestone and stone slate, cluster in the village centre (Plate 3), with smaller outliers near the church and school and a few isolated farmhouses further afield. Many feature the stone mullions and hoodmoulds typical of the area, while others have casements under simple wooden lintels, and the majority (with some notable exceptions) have uncoursed walling. (fn. 74) Much of the stone and slate is probably from local quarries; its distinctive grey colour is characteristic of the Cotswolds, and lends the village much of its attractiveness and appeal. (fn. 75) Nevertheless the uniformity of the building materials masks a variety of styles and structures, and is to some extent a product of 20th-century improvement and planning regulations: previous generations used a wider range of often cheaper materials, including timber, thatch, and corrugated iron. An example is the sub post-office, which was partly rebuilt in a stone-and-slate 'Cotswold vernacular' style in 1932. (fn. 76)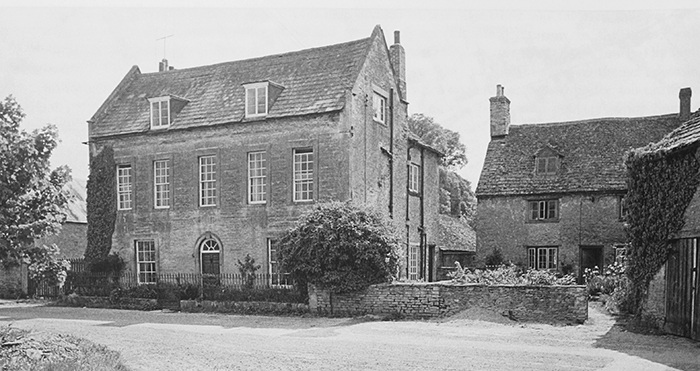 Surviving domestic buildings appear to be post-medieval, (fn. 77) though some farmhouses had medieval predecessors. Lower Farm (or Cokerells) and Rectory Farm are both recorded from the Middle Ages, while Manor Farm (demolished in the 19th century) occupied a medieval site. (fn. 78) Several more modest farmhouses and cottages survive from the 17th century, but most of the present housing stock is 18th-century and later, built chiefly by prosperous yeoman farmers. (fn. 79) Some houses have descriptive names such as Greystones, but many are named after former owners (Ansell, Lockey, Pember), or from their former use (The Old Bakery, The Forge). Blenheim Cottage was presumably named after the early 18th-century battle, although its datestone of 1755 suggests that it may have been rebuilt or remodelled. (fn. 80) The Bell Inn, Langford's oldest and only surviving public house, began as a nondescript mid 17th-century dwelling, which was remodelled and extended in the late 18th century and again in the 19th. Two-storeyed, it is of whitewashed uncoursed lime-stone rubble with a Welsh-slate roof, and has 19th-century casements under wooden lintels. (fn. 81)
At the beginning of the 19th century there were 80 houses in the township, rising to 109 (including six unoccupied) in 1851. (fn. 82) Many of these new dwellings were probably created by subdivision: by 1901 the number of houses had fallen back to 83, of which 11 were uninhabited. (fn. 83) At that time the Ecclesiastical Commissioners (as lord of the manor) owned around 18 cottages, of which several were old and in need of repair; most were maintained, but a few were pulled down. (fn. 84) From the 1920s and especially from the 1950s the Commissioners sold off much of their housing stock to tenants and other private purchasers, a policy which continued in the 1990s. (fn. 85)
The Commissioners also sold land to Witney Rural District Council for house building. An 11-a. area near the school was sold in 1946, and an estate of 33 council houses was subsequently built on part of the site. (fn. 86) Private development followed in the late 20th century, and was chiefly responsible for an increase in the number of dwellings to 138 in 2001. (fn. 87) Like the council housing, most new houses were built of stone and stone slate to mock-vernacular designs, in order to blend in with the village's existing housing stock.
Public Buildings
In the late 19th century Thomas Banting of Filkins reported that a large thatched timber building once stood between the church and the Bell Inn. Demolished during his father's lifetime, it 'used to be a gaol and town hall where the judge used to try prisoners'. (fn. 88) This was perhaps the structure shown on the inclosure map of 1808, and described by another observer as forming part of the northern boundary of the churchyard. According to this account it was a 'large quadrangular building, containing a noble room, lighted by a gothic window of stone, richly ornamented by a cross, and a label supported by two angels, of very elegant workmanship'. Already mostly dismantled for its materials, the building was partly surrounded by a moat, and may have been of medieval origin. (fn. 89)
The National school, built of re-used materials in 1846–7 in traditional Cotswold style, comprised two classrooms and a small two-storey house for the teacher (only 18 ft by 12 ft). (fn. 90) Extended in 1896 by the addition of a galvanized iron classroom, and later rebuilt after protests from educational authorities, the school was sold in 1939 and converted into a house (Plate 15). (fn. 91) In 1972 it was bought by the fashion designer and Queen's dresser Sir Hardy Amies (d. 2003), who employed local craftsmen ('men who understand how to build in stone') to extend it and convert former farm buildings to residential use. (fn. 92) A new school was built in 1932 by the Oxford architect Harry Smith, using local stone donated by Sir Stafford Cripps of Filkins; the village blacksmith provided the wrought ironwork. (fn. 93)
The railway station, which does not survive, was formed from two standard Great Western Railway pagodas, clad in corrugated iron and erected end to end. (fn. 94) The village hall on the Filkins road, built c. 1923 with financial assistance from the Ecclesiastical Commissioners, was refurbished in 2000 when a stone façade was added. (fn. 95)
MANORS AND ESTATES
In the late Anglo-Saxon period Langford (including Little Faringdon, Grafton, and Radcot) formed part of a large comital estate which also included Broadwell (Fig. 1). (fn. 96) Broadwell (with its constituent townships) and Grafton were separated before the Norman Conquest, leaving a reduced Langford estate which probably comprised the later townships of Langford and Little Faringdon. In 1066 that estate was held by Earl (later King) Harold, together with Great Faringdon and other property in west Oxfordshire. (fn. 97)
The estate was further subdivided by the king in the late 11th and early 12th century, (fn. 98) creating an independent manor of Little Faringdon and, within Langford township, three separate estates, of which two were granted to Lincoln cathedral c. 1139–46 and used to endow prebends. One (called Langford Manor) included the lordship, while the other (Langford Ecclesia) comprised Langford rectory estate. A small lay estate called Cokerells was also held of the dean and chapter. The rest of Langford remained with the Crown until the early 13th century, when it was granted to Beaulieu abbey (Hants), whose estate was divided into numerous independent freeholds after the Dissolution. All three of the Lincoln cathedral estates and much of the former Beaulieu estate were acquired in the 19th and 20th centuries by the Ecclesiastical (later Church) Commissioners, who in 2008 remained the largest landowner.
Langford Manor
In 1086 Aelfsige of Faringdon held Langford (with Little Faringdon) at farm from the king, together with other properties formerly belonging to Earl Harold. (fn. 99) Thereafter the estate was divided: Little Faringdon became a separate manor from 1156 and possibly earlier, (fn. 100) while under Henry I (1100–35) a part of Langford was held by Ailric, possibly a relative of Aelfsige of Faringdon, and later by Roger (d. 1139), bishop of Salisbury. (fn. 101) This land was granted to Lincoln cathedral probably by King Stephen in 1139–46, and around 1150 Robert de Chesney (d. 1166), bishop of Lincoln, used it to endow a cathedral prebend, later called Langford Manor or Langford Lay Fee. (fn. 102)
The prebend belonged to Lincoln cathedral until 1650 and again from 1660 to 1844, when it was vested in the Ecclesiastical Commissioners. The prebendary, a canon of the cathedral, was lord of the manor and held an estate of about 538 a. before inclosure and 588 a. thereafter, although few if any of the prebendaries visited the parish more than occasionally. (fn. 103) In 1650, following the abolition of cathedral foundations during the Interregnum, the prebend was briefly held by Francis Pigott, a London lawyer. (fn. 104) The Ecclesiastical Commissioners sold part of the land in 1848 to Richard Frampton, owner of Langford Downs farm, but in 2008 their successors the Church Commissioners still retained most of it together with the lordship. (fn. 105)
Manor House (Manor Farm)
A manor house existed in the Middle Ages, at which the prebendary of Langford Manor was lavishly entertained on his occasional visits to the village. (fn. 106) Probably it occupied the site of the now-demolished Manor Farm south of the church, which in more recent times was occupied by the lessee of the manor prebend. In 1650 it was a stone-built house of twelve bays with a tiled roof, and included a hall, parlour, kitchen, buttery, dairyhouse, malthouse, and nine chambers; (fn. 107) in 1662 it was the largest house in the village, taxed on 11 hearths. (fn. 108) The prebendary's lessee Richard Broderwick (d. 1681) lived there in some comfort, occupying at least a dozen furnished rooms. (fn. 109) By 1845 the house and outbuildings were 'rather out of repair', (fn. 110) and although they were probably still standing in the 1860s when William Craddock leased the farm from the Ecclesiastical Commissioners, they had been demolished by 1880, when the farmland was incorporated into Lower farm. The site was used for outbuildings. (fn. 111)
Other Estates
Langford Ecclesia Prebend (Rectory Estate)
The church of Langford, with its lands and tithes, was granted by King Stephen as a prebend to Lincoln cathedral in 1139–46, and was confirmed by Henry II in 1155–8. (fn. 112) The prebend comprised the rectory of Langford parish church, with great tithes in Langford, Little Faringdon and Radcot, some hay tithes in Grafton and Radcot, and around 120 a. of glebe with meadow and pasture rights. (fn. 113) The estate belonged to Lincoln cathedral until its temporary suppression in 1650, when it was briefly sold to speculators; (fn. 114) the cathedral recovered the estate at the Restoration in 1660.
In 1846 the prebendary gave up his interest to the Ecclesiastical Commissioners in return for a life annuity of £260, (fn. 115) and in 1848 the estate (453 a. after inclosure) was divided between the Commissioners and the lessee William Vizard (d. 1859). The former received 291 a. and most of the buildings, while Vizard was awarded compensation of £6,500 and the remaining 162 a. as freehold. (fn. 116) Following the prebendary's death in 1866 the Commissioners obtained outright ownership of their share of the estate, which was merged with the lands of Langford Manor prebend and remained with the Church Commissioners in 2008. (fn. 117) Vizard's share passed with Little Faringdon manor to the 2nd Baron de Mauley, whose successors sold most of it to the Church Commissioners in 1970. (fn. 118)
Rectory Farm
Rectory Farm (Fig. 54) lies south of the church, and probably occupies the site of the medieval rectory house said to be in ruins in 1540. (fn. 119) From the 16th century and probably earlier it was occupied by the prebendary's lessee, who was obliged to maintain it. (fn. 120) In 1650 it was of ten bays and included a hall, parlour, kitchen, buttery, and six chambers, and in 1662 it was taxed on eight hearths. (fn. 121) Outbuildings included a five-bay brewhouse and bakehouse, a fourbay malthouse, three barns (one built of stone and tile), a dovecot, a stable, and a two-storeyed gatehouse. (fn. 122) The gatehouse no longer survives, but the present house and dovecot are both of 17th-century date. The house is H-shaped in plan, built of uncoursed limestone rubble with a stone slate roof, and has two storeys with gablelit attics. On the north front the windows are mostly 18th- or 19th-century sashes and casements with dripstones, and during the 19th and 20th centuries the house was subject to other alterations and additions. (fn. 123) The cost of repairs and improvements was shared by the Ecclesiastical Commissioners and their tenants. The Kirby family, who look over the lease in 1948, continued as occupiers in the early 21st century. (fn. 124)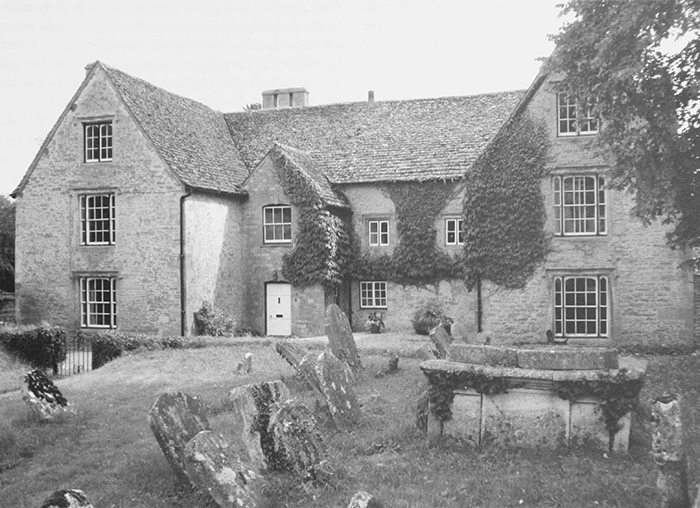 Cokerells
Before Bishop Robert de Chesney endowed the prebend of Langford Manor he granted an estate to his man, Robert son of Fulk. About 1150 the chapter of Lincoln confirmed the grant of a house, half a hide of arable, 20 a. of 'in-land', 8 a. of meadow, and common pasture in Langford, to be held of the dean and chapter for an annual rent of 1s. (fn. 125) Robert was succeeded by his brother Geoffrey c. 1152, but in 1183–4 the estate was granted to Simon of Arden, saving the dower of Robert's widow Reinburga. (fn. 126) Reinburga may have remarried, because in 1198 she and Nicholas de Forholt attempted unsuccessfully to prevent Simon of Arden's daughter Juliana from inheriting the property. (fn. 127)
In the early 14th century the house was held with three yardlands by John de Bourne, whose annual rent of 1s. was granted in 1303 by the dean and chapter of Lincoln to Michael Meldon. (fn. 128) In 1349 the estate was held by Thomas de Bourne, chaplain, and Alice, widow of John Cokerell (perhaps Thomas's sister). (fn. 129) Their successors were probably John Cokerell and his wife Amice, who paid 5s. poll tax in 1381. (fn. 130) By 1421, when it was called 'Cockerelles', the estate belonged to Thomas Cokerell and his wife Alice. (fn. 131) It was inherited in the mid 15th century by Margaret wife of William Bond, who sold it in 1459 to Richard Harcourt. (fn. 132) The estate passed to Thomas Ricards or Fermor of Witney, son of a Langford wool merchant, whose service to the dean and chapter of Lincoln was not known at his death in 1485. (fn. 133)
In 1522 Cokerells was sold by William Porter to the bishop and dean of Chichester, and was granted to the dean and chapter as part of a prebendal endowment. (fn. 134) The estate (67½ a.) remained their property until 1854, when it was sold to the Ecclesiastical (later Church) Commissioners; they remained the owners in 2008. (fn. 135)
Lower Farm (Cokerells)
Lower Farm dates from the early 17th century, and probably succeeded the 12th-century house. In 1662 it may have been occupied by Thomas Broderwick (d. 1677), who was taxed on four hearths and whose furnished rooms included a hall, kitchen, buttery, dairy, and four chambers. (fn. 136) The present L-shaped house was remodelled in the 18th century, and has two storeys with attic dormers; it is built of uncoursed and roughly coursed limestone rubble with a stone slate roof. The interior includes 17th- and 18th-century panelling, and the attic has a tiebeam roof. (fn. 137) The house (with 5 a. of land) was sold by the Church Commissioners in the late 20th century. (fn. 138)
Beaulieu Abbey Estate
In 1203 King John granted more than 800 a. in Langford to his newly founded abbey of Great Faringdon, which was transferred to Beaulieu (Hants) the following year. Beaulieu abbey retained the estate with the adjoining manor of Little Faringdon until its Dissolution in 1538. (fn. 139)
In 1547 the abbey's lands in Langford were granted (with its separate manor of Great Faringdon) to Thomas Seymour, Baron Seymour of Sudeley, on whose fall in 1549 they reverted to the Crown. (fn. 140) Part of the estate later passed to Toby Pleydell (d. 1583), whose son John sold it in 1590 to Sir Henry Unton; he sold it the same year to Gabriel Bush. (fn. 141) At inclosure in 1808 the Bush family was one of a number of freeholders whose lands probably derived from Beaulieu abbey's estate, although their descent cannot always be traced. (fn. 142) Several freeholds, including that of the Bushes, were later bought by the Ecclesiastical Commissioners, and remained the property of the Church Commissioners in 2008. (fn. 143)
Other former Beaulieu freeholds included John Blomer's house and 3 yardlands, called 'Barens' in 1551; this land was inherited by William Blomer (d. 1613) of Hatherop (Glos.), and passed with Hatherop manor to the Webbs of Canford (Dorset), whose descendants, the Barons de Mauley, later held Little Faringdon manor. (fn. 144) A freehold owned by John Webb in 1808 was later combined with those of Simon Ansell and Richard Lockey to create Ansells farm, which was owned in the early 20th century by Ernest Liddiard of Grafton. (fn. 145) Another freehold in 1808 belonged to John Short; that was sold by the Tombs family in 1901, and was later bought by Charles Edmonds of Fairford, the owner in 1942. (fn. 146) Most of Short's farm and Ansells farm were purchased by the Church Commissioners in 1970, and remained their property in 2008. (fn. 147) Another large freehold in 1808 was Langford Downs farm (c. 380 a.), acquired in 1875 by Trinity College, Oxford, and sold to the lessee Charles Wakefield in 1920. It was bought by the Church Commissioners in 1956. (fn. 148)
Lesser Estates
Land held by William of Buckland in 1212 had most likely been granted by the king in the 12th century, and was probably the tenanted estate of three yardlands and two smallholdings which Matthew de Besyles owned in 1279 as part of his manor of Radcot. (fn. 149) It descended with Radcot manor until 1614 when it was sold by John Wentworth to Richard Turner, one of an established family of Langford yeomen. (fn. 150)
In the mid 13th century Robert Aleyn, described as 'half-free' (semiliber), held ten yardlands from Beaulieu abbey, for service which included travelling at his own expense for one day a year with the king's treasure to the sea. (fn. 151) This estate may have originated in a royal grant to a 'riding-man' before the Norman Conquest, although it is perhaps more likely that before c. 1200 goods destined for the sea were loaded onto boats at Radcot and transported along the river Thames. (fn. 152) In the late 13th century Aleyn's holding belonged to Michael Meldon of Cassington as part of a larger estate, which included land held of Langford Manor prebend; it was partly inclosed, and probably run as a sheep farm. (fn. 153) The estate passed c. 1321 to Michael's son William Meldon, who paid Beaulieu abbey an annual rent of 10s. 2d. (fn. 154) Probably it was divided into three freeholds mentioned in 1551, totalling 9½ yardlands and held for a similar rent; one was called 'Molendies', possibly a corruption of Meldon's name. (fn. 155)
The vicar of Langford's glebe comprised 2 yardlands in 1650 and possibly earlier. At inclosure in 1808, 102 a. were allotted for glebe; the estate was sold in 1919. (fn. 156)
ECONOMIC HISTORY
Until the 20th century most of Langford's inhabitants were employed in agriculture, either on the large estates of non-resident landowners or on the smaller farms of local freeholders and lessees. Grain, wool, and dairy produce were the most important products. From the 15th century medieval customary tenancies were converted into leaseholds and copyholds, which were held both by prosperous yeomen and more modest husbandmen. Inclosure in 1808 led to the consolidation of land into larger farms, many of which turned from arable to dairying during the late 19th-century agricultural depression. A variety of rural trades and crafts developed to service the local community, and there were several retailers of food and drink. In the 20th century, as agricultural employment declined, Langford's population increasingly worked outside the village, and local shops and services closed.
The Agricultural Landscape
The strip-like shape of Langford township provided its inhabitants with varied agricultural resources (Fig. 51). Rivers and streams produced valuable meadow and pasture, and in the Middle Ages powered two watermills. On the downland in the north was furze and heath which, in the absence of woodland, provided fuel and rough grazing. On the flat, low-lying ground in the centre and south, open fields were laid out probably in the 9th or 10th century. (fn. 157) The fields were formally inclosed in 1808, though piecemeal inclosure of meadow and pasture took place from the 13th century and possibly earlier. (fn. 158) The inclosed area known as Tillingtons to the south-west of the village may survive from before the development of the open fields, while the probable green in the centre of the village perhaps originated as an enclosure for grazing before being infilled with houses. (fn. 159) Farming was mixed from the Middle Ages, combining large-scale cultivation of grain with sheep husbandry and cattle-based dairying.
Arable
In 1086 only 10 ploughlands of arable were cultivated at Langford (possibly including Little Faringdon), although as 15 ploughlands were available there was probably room for expansion. (fn. 160) Beaulieu abbey seems to have extended the arable area in the 13th century, agreeing to pay tithe to the prebendary of Langford Ecclesia from half of its newly cultivated demesne ground. (fn. 161) By the 17th century parts of the downs were also cultivated, the arable extending as far north and west as the roads to Eastleach Martin and Southrop, although some areas of rough grazing, described as barren heath in 1650, remained unploughed. To the south the arable reached the boundary hedges of Grafton and Kelmscott, while in the east an arable headland lay next to the 'long ford', possibly that from which Langford was named. (fn. 162)
In the 17th century and probably from the Middle Ages, Langford's open-field arable lay in two large fields called North and South fields, divided by the road to Little Faringdon. (fn. 163) A two-course rotation was probably practised early on in order to maximize the fallow, though more complex rotations may have been introduced following the fields' subdivision in (most likely) the 17th or 18th century. (fn. 164) By inclosure in 1808, when the open fields covered some 70 per cent of the township, North field had been divided into three: Broughton field (368 a.), Langford Heath and Whitehill field (99 a.), and Down field (312 a.). South field had similarly been divided into Church (134 a.), Great (334 a.), and West fields (212 a.). Another 150 a. of arable lay in old inclosures. (fn. 165)
Almost three quarters of the township remained arable in 1877, but during the agricultural depression of the late 19th and early 20th centuries much land was laid down to grass, especially in areas where drainage was poor. (fn. 166) That trend was reversed after the Second World War, and in 1965 about 60 per cent of the available farmland was under crop. (fn. 167)
Pasture
Only 5 a. of pasture were recorded in 1086, but presumably that was demesne and excluded the down, furze, and heath in the north of the township. (fn. 168) Rights of common grazing were defined following the endowment of Langford Manor prebend c. 1150: before then the bishop of Lincoln's man was entitled to undefined common pasture rights, but afterwards his brother was limited to 5 a. of furze and grazing in the lord's pasture. (fn. 169) In 1244 restrictions were similarly placed on Beaulieu abbey's tenants: common pasture for their plough-beasts after harvest was limited to two thirds of the area (mostly in the east of the township) for which they owed a plough-duty called grass acre (gresacre). The remaining third was for the exclusive use of the prebendary, and may have been inclosed. (fn. 170) In 1249 the prebendary of Langford Manor agreed to open his demesne pasture to the rector, who could graze a minimum of 42 cattle and 240 sheep with their young, or half the number of animals the prebendary himself grazed; the rector was to be compensated if any pasture was sold. (fn. 171)
The rector's grazing rights continued in the 17th century, (fn. 172) but by then much of the pasture belonging to the manor prebend was inclosed, lying mainly in the east of the township and at Tillingtons. The prebendary's tenants could graze 6 cattle, 2 horses, and 30 sheep for each yardland held (about 28 a.), both in the fallow field and in the remaining commons, principally Langford Heath in the north and Shortmoor in the west. (fn. 173) Many tenants held parcels of furze on Whitehill or Langford Heath, either as inclosed plots or as shares in the common or lot furze. (fn. 174)
By the early 19th century the area of permanent pasture was much reduced, and it declined further after inclosure. (fn. 175) In 1877 only 450 a. of grass remained, though that figure increased sharply during the agricultural depression. Short's farm, for example, was less than a fifth pasture in 1901, but in 1941 almost two thirds of its acreage was grass, even though some had been ploughed up for the war effort. (fn. 176)
Meadow
Common meadow, estimated in 1086 at 40 a., probably lay chiefly in the east by Broadwell brook, although there may have been smaller parcels in the west along Langford brook and the river Leach. (fn. 177) Most meadow was inclosed from the 13th century: in 1650 more than 50 a. belonging to the manor prebend lay in closes, some with characteristic wetland names such as Over and Nether Eye (OE ēg), a common name for meadow in the area. (fn. 178) Smaller amounts of common or lot meadow survived until inclosure in 1808. (fn. 179)
Although the manor prebend was said to have an abundance of meadow in the early 14th century, Langford's meadows were valuable, worth up to 16s. an acre in 1650 (more than four times the value of arable). (fn. 180) In the 17th century and later, tenants were sometimes limited to taking only the first crop of a meadow or as much as could be mown with a specified number of sweeps (or swaths) of a scythe. (fn. 181) Some freeholders held meadow outside the township, including in Radcot where it was relatively plentiful. (fn. 182) In the 19th century meadow was less likely to be ploughed up than pasture, and in 1877 it still occupied 15 per cent of the acreage (compared with 12 per cent pasture) on the farm of the former manor prebend. (fn. 183) In the early 20th century about a quarter of Langford's farmland was given over to haymaking, but that figure fell after the Second World War. (fn. 184)
Woodland
No woodland was recorded in Langford in 1086, and it remained rare. Trees were felled without permission in 1346, (fn. 185) and in 1650 the manor prebend's surveyor reported 836 small trees of oak, ash and elm, with another 426 in two closes belonging to the church prebend. (fn. 186) By the 17th century tenants were sometimes obliged to plant trees, and timber might be excluded from a lease; presumably most households purchased their supplies of firewood or gathered it from hedgerows. (fn. 187)
In 1801 only 1½ a. of woodland were reported in the township, rising to 5½ a. in 1877. (fn. 188) Most lay along the Little Faringdon road and near the western boundary with Lemhill, though hedgerow trees were more widely scattered. (fn. 189) Small stands of trees were often valuable. When the glebe was sold in 1919, the standing timber was worth £160. (fn. 190)
Medieval Agriculture
Medieval Tenant Farming
Three of Langford's medieval estates had free and customary tenants: the manor prebend, Beaulieu abbey's estate, and Matthew de Besyles' land. The church prebend and Cokerells were wholly demesne. (fn. 191) Most tenants probably grew a combination of wheat, barley and oats, and kept significant numbers of sheep and cows. Some freeholders were engaged in the large-scale production of wool. (fn. 192)
In 1086 tenants on the 15-hide manor of Langford (probably including Little Faringdon) numbered 21 villani, four lower-status bordars, and twelve slaves, and the estate was valued at £18 as in 1066. Of the ten ploughlands (40 yardlands) in cultivation, five were in demesne and five were shared among the tenants, suggesting that most villani held a yardland. (fn. 193) There seems to have been little fragmentation of tenant holdings in the following two centuries, and some accumulation. On Beaulieu abbey's estate in the early 14th century, twelve customary tenants held yardlands and another held ½ yardland; the yardlanders paid annual rents of 5s., owed various servile dues, and performed extensive seasonal labour services, including ploughing, harrowing, weeding, harvesting, threshing, winnowing, and haymaking. Most yardlanders also held a smallholding (nine were listed) for an additional rent of 1s. 4d. Probably such holdings had once belonged to cottars, the successors of the Domesday bordars and slaves; if so, their descendants had presumably become landless wage labourers working on the demesne and on tenants' yardlands. In all, Beaulieu received £4 14s. 9d. in annual rents from Langford. (fn. 194)
Tenants of the manor prebend similarly owed labour services on the lord's demesne. (fn. 195) Another of their customary obligations was to watch over the harvest at night: on one occasion in 1274 a gang associated with Beaulieu abbey attacked them 'with banners outspread', causing damage and stealing property estimated at £20. (fn. 196) As a group they seem to have been less prosperous than some of their neighbours: in 1322 they were assessed on average moveable wealth per head of only 13s., compared with 23s. for Beaulieu abbey tenants and others. In 1327 and 1332 per capita wealth was considerably higher (averaging 52s. and 71s. respectively), although by then Langford seems to have been an increasingly stratified community. The assessed wealth of Beaulieu abbey's yardlanders in 1332 ranged from under £2 to £6, while remaining taxpayers (assessed on goods worth up to £9) may have included some otherwise undocumented freeholders. (fn. 197) The township's overall assessment was reduced in 1341, when, it was claimed, the fields lay 'exhausted and unsown' and sheep mortality was high. (fn. 198)
The abbey's (mostly customary) tenants included the half-free Robert Aleyn, whose exceptionally large holding of ten yardlands was acquired by Michael Meldon in the late 13th century. (fn. 199) Around the same time Meldon successfully claimed other land held freely of Beaulieu abbey, (fn. 200) and in 1309 he rented 8 a. of meadow to the west of the Langford-Broadwell road from the manor prebend. (fn. 201) Meldon inclosed some meadow, for which he was given retrospective permission by Beaulieu abbey, and in 1307 he was allowed by the king to annex and inclose a plot of waste lying between his house and the road to Little Faringdon. (fn. 202) Meldon has rightly been called a 'persistent and enterprising outsider' who was able to carve a farm of an essentially modern type out of a medieval open-field village, and whose business was almost certainly sheep rearing. (fn. 203) Like his successor Henry Ricards (d. 1467), who may have held part of his estate, Meldon was probably a woolman; his estate was subsequently fragmented, however, and is perhaps to be identified with three freeholds belonging to Beaulieu abbey in the 16th century. (fn. 204)
Otherwise there is little direct evidence for the scale and scope of medieval tenant farming. In 1269–70 Beaulieu abbey sold 20d. worth of pannage for pigs, and larger amounts of pasture and stubble, indicating that local tenants had animals to graze. Only 3d. was raised in tolls on animal sales outside Faringdon market, however, charged at the rate of 2d. per horse, 1d. for an ox or cow, and nothing for sheep and pigs. (fn. 205) In the 1340s Beaulieu's tenants regularly brewed ale, illegally grazed cattle, horses and sheep in the abbey's demesne pasture, and were negligent in performing labour services. In the 15th century, by contrast, tenants were most often fined for not maintaining watercourses and for failure to maintain houses, suggesting some depopulation after the Black Death. (fn. 206) The abbey was obliged to negotiate with tenants in order to fill holdings: in 1461 a yardland was leased for the relatively long term of 40 years, the tenant promising in return to be resident, to repair buildings, and to perform customary services, conditions which, by implication, may have been frequently ignored. (fn. 207) Local tenant prosperity, perhaps based on sheep farming, is suggested by 15th-century remodelling of the church. (fn. 208)
Medieval Demesne Farming
The extent to which Langford's medieval demesnes were managed directly or leased is unclear. A single account of 1269–70 survives for Beaulieu abbey's estate, when a reeve managed it jointly with the Little Faringdon demesne. (fn. 209) Langford may similarly have been included in Beaulieu's lease of Great (and probably Little) Faringdon to the bishop of Winchester in 1351. (fn. 210) A single reference survives, too, to the lease of the church prebend, to two men for four years from Easter 1299. (fn. 211) Most demesnes probably employed hired workers: the church prebend and Cokerells had no tenants to work the land, and even Beaulieu abbey hired labour for threshing, winnowing, weeding, and haymaking. (fn. 212)
In the 13th century Beaulieu combined grain production with sheep farming: in 1269–70 the harvest comprised wheat (30 per cent), barley (25 per cent), and dredge (45 per cent). Most of the wheat was sold, together with 50 per cent of the barley and 70 per cent of the dredge, indicating that production was strongly commercialized. (fn. 213) The grain was probably sold at the abbey's own market at Faringdon, where it fetched nearly £42 (about 75 per cent of total receipts in 1269–70). Other sales included straw and hay and some livestock. Beaulieu maintained a team of 12 oxen and a few horses and cows, but its extensive sheep flock was managed centrally, and it is not known how many sheep were regularly pastured in Langford. (fn. 214)
A sheepcote belonging to the manor prebend stood in the pasture near Broadwell brook in 1244, (fn. 215) and in 1253–4 (despite a valuation of only £15) the prebend was leased to Roger de Alfredesfeld for an annual rent of £53 6s. 8d., along with half the court profits, and grain and stock received on the death of the prebendary's predecessor. If the prebendary visited Langford the lessee was to provide hay for 24 horses for eight days, together with litter, and fuel for brewing, baking and cooking; he was also to purchase a fat goose, a hen and two chickens, eight pigeons, wheat, 20 quarters of barley, and oats. (fn. 216) In the late 13th century the prebendary employed a hayward (messor), who apprehended two local men stealing grain from the prebend's granary. (fn. 217) Valuations of the prebend rose to £35 c. 1274 and to £40 in 1291 and 1406, falling to £16 in 1487, then rising again to £18 in 1522 and £20 in 1526–35. (fn. 218) A grant of free warren (to snare small game) was made to the prebendary in 1347. (fn. 219)
The 16th Century to Parliamentary Inclosure
From the 16th century Langford's ecclesiastical landowners continued to lease their demesnes, often to wealthy yeomen, although the township also supported many more modest farmers, craftsmen, and labourers. (fn. 220) Around 30 inhabitants were named in the military survey of 1522, and a similar number were taxed in 1543; of those, 14 were labourers and servants assessed on wages, who presumably worked on the farms of their better-off neighbours. (fn. 221) Among the wealthiest farming families were the Broderwicks, who leased the manor prebend from the early 16th century to the early 18th for a fixed annual rent of only £24 6s., despite an estate valuation in 1650 of over £195. (fn. 222) John Broderwick (d. 1550), who also leased Cokerells from the dean and chapter of Chichester, made bequests of 240 sheep and 26 cattle, and left a farm to each of his two sons. (fn. 223) The family wintered their sheep in Langford, but in summer grazed them on the downs at Eastleach, Holwell, and elsewhere in the Cotswolds. (fn. 224)
Other leading taxpayers included Walter Prunes (d. 1594), who leased the prebend of Langford Ecclesia, and who also pastured cattle and sheep in the Cotswolds. (fn. 225) Prunes's annual rent of £20 remained unchanged throughout this period, and charges of £4 13s. 4d. to Lincoln cathedral and 4s. to the prebendary of Langford Manor were similarly fixed. In the 16th century both prebends were leased for terms of between 30 and 50 years, and from 1600 they were usually leased for three lives. (fn. 226) By then the pasture farm called Tillingtons (c. 138 a.) was divided between the two prebends: Prunes pastured cattle, sheep and horses there, although Francis Broderwick (d. 1635) converted part of it to tillage, an indication of the increasing importance of grain production in Langford in the 17th century. (fn. 227)
More than 700 a. of the former Beaulieu abbey estate was leased by the Crown in 1551 to three free tenants and seven copyholders. Most held amalgamations of what had once been separate holdings, reflecting late medieval depopulation. The size of the 16th-century holdings ranged from around 30 a. to 100 a., mostly arable distributed in the two open fields, with smaller amounts of inclosed pasture and lot meadow. Copy-holders held for terms of lives, paying annual rents of 6s. 8d. per yardland; several of them also paid 2d.–6d. for tithingpenny (certum), and one owed suit of court. (fn. 228) A number of copyholders were among the least wealthy of those taxpayers assessed on goods in the 1540s. (fn. 229)
Prosperous yeoman families were recorded through-out the 17th and early 18th century, some of them (such as the Broderwicks, Bushes, Stubbses, and Wheelers) leaving goods worth over £100. William Bush (d. 1702) left 94 a. of unharvested grain worth £84 12s., while in 1724 Simon Stubbs's house and land were alone worth £200. (fn. 230) Several such families were taxed in 1662 on above the parish average of three hearths, and members of the Bush and Howse families, together with the lessees of the two prebends, were among a fifth taxed on five hearths or more, suggesting substantial houses. By contrast 12 inhabitants (more than a third) paid on one hearth only, and 15 were exonerated through poverty. (fn. 231) During the 18th century there was some consolidation of both freehold and leasehold, leading to the emergence by 1800 of seven or eight principal farmers each paying land tax of between £5 and £20. By then some farms were rented from several owners. (fn. 232)
Farming remained mixed as in the Middle Ages. The most common winter-sown crop was wheat, while in the spring still larger quantities of barley were sown, some of it malted for brewing. Beans and peas were grown for fodder. (fn. 233) A few 17th and 18th-century farmers grew small quantities of oats and hemp, and in some cases kept linen wheels. (fn. 234) Flocks of up to 90 sheep were commonly kept, often alongside smaller numbers of pigs and poultry, while dairy herds provided milk for widespread cheese-making. (fn. 235) John Howse (d. 1667), who held a yardland, left grain worth over £15, hay worth £5, 40 sheep worth £6, 5 cows worth £7, 6 pigs worth £2, and cheese worth £1. (fn. 236) Several inhabitants owned bees, ducks, and geese, and many left bacon or (less commonly) beef. (fn. 237)
Parliamentary Inclosure and Later
Inclosure was carried out under a private Act of 1808 promoted by the prebendaries and their lessees. (fn. 238) Land was distributed among some 16 owners and 7 occupiers, of whom 5 (most of them freeholders) received 10 a. or less in exchange for commons or small amounts of land. Among leading farmers, the lessee of the church prebend received 450 a., Richard Wells and William Young of Langford Downs farm 380 a., mostly for freehold land, and Simon Ansell 130 a. as freeholder and lessee. Four other farmers each received 90–100 a. Apart from Langford Downs farm, newly built amidst its fields, the chief farms continued to be run from existing homesteads in the village. The largest, including old inclosures, were Rectory farm (450 a.), Langford Downs farm (380 a.), Ansells farm (375 a.), Manor farm (200 a.), and Short's farm (100 a.). (fn. 239) An allotment of 4a. to the poor was divided into around 40 plots, and in the 19th century was leased to villagers. (fn. 240) By 1908–14 up to nine allotment-holders held 15 a. in all, (fn. 241) and, though some of the land was later sold for council housing, the original poor ground continued as allotment gardens in the early 21st century. (fn. 242)
From the mid 19th century landholding was reorganized following the acquisition of several estates in the township by the Ecclesiastical Commissioners. (fn. 243) South of the Little Faringdon road, the Commissioners consolidated land formerly belonging to the two prebends, Cokerells, and several freeholds into two farms called Lower farm and Rectory farm (respectively 518 a. and 434 a. in 1877). (fn. 244) The remaining land in that area belonged to the glebe (77 a.) and a Kelmscott estate (99 a.). (fn. 245) Some consolidation also took place in the north of the township: by 1910 Langford Downs farm was enlarged to 424 a., and the freeholds formerly belonging to Simon Ansell and Richard Lockey were consolidated into Ansells farm (176 a., also called Cooks or Lockeys farm). Short's or Upper farm (114 a.) survived intact. (fn. 246)
The agricultural depression of the late 19th and early 20th centuries was a difficult period for Langford's farmers. William Reading, who took over Rectory farm in 1875, negotiated a reduction in his annual rent in 1881 from £770 to £600, while in 1899 he paid only £340 10s. By 1922 the farm's rent was £406 10s., rising to £600 in 1948 when Sydney Reading, William's son, was replaced as tenant by his nephew. (fn. 247) The Readings turned increasingly to dairy farming during the depression, despite complaints that the cows were milked in inadequate and insanitary conditions. The Ecclesiastical Commissioners responded by investing substantial sums in the maintenance of existing buildings and the erection of new ones, so that by 1941 both farm and farmer were described as excellent. (fn. 248)
Other farmers may have been less capable than the Readings, or less able to invest in capital expenditure than the Ecclesiastical Commissioners. The tenancy of Lower farm, which also turned to dairying in the late 19th century, changed hands several times during the Readings' occupation of Rectory farm. (fn. 249) The mostly arable Ansells farm was sold in 1878, 1899, and again after 1910, and the farm buildings were in need of much attention in 1941 when leased to Sydney Reading. (fn. 250) Short's farm, also largely arable, was sold in 1901, after which a dairy herd was introduced. (fn. 251) During the 1880s the overall acreage devoted to grass surpassed that planted with crops, and the number of milk cows more than doubled to 114. (fn. 252) Nevertheless arable farming remained prominent in 1914, when the chief crops were wheat and barley (21 per cent each), swedes and turnips (11 per cent), oats (8 per cent), and mangolds (3 per cent). The shift to dairying probably contributed to the marked decline in sheep numbers. (fn. 253)
Mixed farming with an increased pastoral bias continued in 1941, when Rectory and Ansells (705 a.), Short's (114 a.), and Glebe farms (98 a.) were each 35–45 per cent arable. Only on the higher ground in the north of the township was the traditional Cotswold sheep-and-corn husbandry preserved: Langford Downs farm (413 a.) was 72 per cent arable and had a flock of over 400 sheep. The chief crops were still wheat, barley, and oats, together with root crops. All the farms had dairy herds, most raised pigs and poultry, and Rectory farm, exceptionally, maintained a flock of comparable size to that on Langford Downs farm. (fn. 254) In the second half of the 20th century the number of farms fell, partly because the Church Commissioners purchased land to enlarge the existing Rectory and Lower farms (respectively 793 a. and 630 a. in 2008). (fn. 255) In the 1960s and 1970s barley replaced wheat as the principal crop, 488 a. of barley being sown in 1965 compared with 110 a. of wheat. Sheep farming declined still further, while dairying became more prominent. (fn. 256)
Rural Trades and Industry
The usual trades and crafts were practised in Langford from the Middle Ages, often alongside agriculture. One of Beaulieu abbey's yardlanders in the 13th century was a smith whose service included mending ploughs, and in 1346 several tenants combined farming with brewing ale, possibly for sale. (fn. 257) Occupational surnames in the 13th and 14th centuries included Fisher, Roper, Smith, and Tailor, while Cakebread, Fleshmonger, Garlic, and Hose suggest involvement in the preparation and sale of food and clothes. (fn. 258) A tailor mentioned in 1592 had only £2-worth of goods, not enough to be taxed, (fn. 259) and village craftsmen in the 17th and 18th centuries, including blacksmiths, carpenters, joiners, shoemakers, tailors, wheelwrights, and weavers, were not particularly prosperous. (fn. 260) Several tradesmen farmed, among them a baker, a butcher, and the wheelwright Thomas Turner (d. 1668), who grew wheat, barley and peas, raised cows and pigs, and made cheese. (fn. 261) John Bond (d. 1783), a grocer, leased his freehold and leasehold land to neighbouring farmers, while in the mid 18th century a prosperous local family of tobacconists, the Lockeys, acquired the lease of the manor prebend. (fn. 262)
In 1821 there were said to be 15 families out of 63 employed in trade, craft, or manufacture, (fn. 263) and in 1851, besides the common rural trades, there were two sawyers, a harness maker, ironmonger, slater, and stonemason. In all, tradespeople represented some 18 per cent of householders. (fn. 264) The Taylor family of coal merchants was mentioned from the 1860s to 1910s, a few women worked as dressmakers and laundresses, and some publicans were bricklayers, carpenters, or drapers. (fn. 265) The overall proportion of tradespeople nevertheless changed very little during the 19th century, and in 1901 still comprised only about 22 per cent of householders. (fn. 266) In the 1930s a baker, blacksmith, carpenter, coal merchant, and fried-fish dealer were based in the village, (fn. 267) and in 1947 a builder was trying to develop a builder's yard. (fn. 268) In the 1970s a specialist joinery and cabinet-making business employed up to 20 local people, and there was a crane-hire depot south of Lower farm. (fn. 269)
Milling
Two mills together worth £1 were recorded in 1086. (fn. 270) One continued in 1451, and probably lay along the river Leach bordering Lemhill, where there was a weir. (fn. 271) The other may have been on Broadwell brook, near Broadwell mill and the meadow at Cottesmore: (fn. 272) in 1244 the house of Bartholomew, miller of Cottesmore, lay between the village and the prebendary of Langford Manor's sheepcote. (fn. 273) This was perhaps the 'mill house' leased by the prebendary of Langford Manor in 1665, but no mill equipment was then mentioned. (fn. 274) In the Middle Ages Beaulieu abbey's tenants were required to grind their corn at Little Faringdon mill. (fn. 275)
Quarrying
Before the mid 20th century gravel extraction was relatively small-scale: from the 1880s, for example, the Ecclesiastical Commissioners took gravel from a pit to the south of Lower Farm for mending local roads. (fn. 276) Larger pits were dug during the Second World War, presumably for the war effort, but unlike in Lechlade no commercial extraction seems to have been attempted, and the pits were later filled with water. (fn. 277) In 2008 controversial plans to extract gravel on Church Commissioners' land were under discussion. (fn. 278)
Shops
In the 17th and 18th centuries several craftsmen owned workshops from which goods were presumably sold; one included a shopboard or counter. (fn. 279) Two shopkeepers lived in the village in the 1840s, presumably selling general supplies, and there was a separate bakery. (fn. 280) In the 1850s (and possibly earlier) publicans also acted as victuallers, while a butcher's shop was opened and a higgler was mentioned. (fn. 281) Thereafter until the early 20th century the village supported a baker's, butcher's, and two grocer's shops, of which one became a sub post-office. Another shop, mentioned in the 1860s, was short-lived, and an established tailor's also closed. (fn. 282) One of the remaining shops closed during the First World War, and by the mid 1920s only the sub post-office and bakery survived; both were owned by the Ecclesiastical Commissioners, who paid for repairs. (fn. 283) A village shop and post office continued in 1976, but closed thereafter. (fn. 284)
SOCIAL HISTORY
Social Structure and the Life of The Community
From the Middle Ages Langford remained a small, predominantly agricultural community. In the absence of a resident lord the settlement developed some of the characteristics of an 'open' village, which may have contributed to sporadic outbursts of strife among leading farmers and their tenants. In the Middle Ages there were signs of conflict between tenants of Beaulieu abbey and those of the manor prebend, while after the Reformation competition for pre-eminence was expressed in the pretensions to gentry status of the lessees of the cathedral prebends, in their rising standards of living, and in their burial arrangements and bequests to church and poor. At a slightly lower social level, half a dozen or more yeoman families (some of them long-established in the village) displayed similar aspirations. The spread of Nonconformity during the 19th century added further to village tensions, a problem apparently exacerbated by the Anglican clergy, who accused the township's landowners and farmers (not entirely fairly) of showing little concern for the moral or material welfare of their workers.
Below this village élite, the vast majority of inhabitants were relatively low-status agricultural workers and craftsmen. Friendly societies were established in the 19th century, and for many inhabitants community life probably revolved around the village's public houses. Nonetheless, Langford seems not to have developed the distinctive 'labouring-class' culture evident at nearby Filkins, and despite the township's 'open' characteristics there was no pronounced influx of poor families, with population falling markedly in the later 19th century. In the 20th century, like most neighbouring Cotswold villages, Langford attracted a growing number of wealthy residents, radically changing its social character. Even so the community remained socially mixed in 2001, when almost a quarter of houses were still rented from the local authority. (fn. 285)
The Middle Ages
In the Middle Ages most inhabitants were tenants of either Beaulieu abbey or the manor prebend, and the two groups may have formed distinct communities. In 1322 the village's taxpayers were divided: the wealthier part included tenants of Beaulieu abbey, while the poorer part was listed under the name of the prebendary Peter of Savoy (1292–1308). The continued use of Savoy's name suggests that the tax collectors adopted an existing administrative division, although the practice lapsed in 1327. (fn. 286) The division of Langford's society into two possibly rival groups is also suggested by an attack on the village in 1274. A gang of more than 30 men, led, it seems, by some lay brothers of Beaulieu abbey, rampaged through the village, apparently targeting the men and goods of the prebendary of Langford Manor. (fn. 287) The incident may have been sparked by a poor harvest, although it perhaps also reflected long-term antagonism between the tenants of abbot and prebendary, which may have arisen following the prebendary's restriction of the abbey's pasture rights in the 13th century. (fn. 288) A theft of the prebendary's grain was reported in 1284, (fn. 289) and the abbey's few surviving 14th and 15th-century court rolls report several cases of trespass, assault, and raising the hue and cry. (fn. 290)
Such tensions were perhaps exacerbated by the lack of a resident lord. The prebendary of Langford Manor was an infrequent visitor, despite generous provision for his hospitality, while Beaulieu abbey administered its Langford estate from neighbouring Little Faringdon. (fn. 291) Another factor may have been the wide disparity in wealth reflected in medieval tax assessments, even among Beaulieu's yardlanders. (fn. 292) As later, leadership in the village presumably devolved upon half a dozen or more principal farmers, including, perhaps, the six taxpayers assessed on goods worth more than £5 in 1332. (fn. 293) Prominent sheep farmers and woolmen such as Michael Meldon in the late 13th century or Henry Ricards in the 15th must have been especially dominant, and in the later 15th century Ricards contributed to a remodelling of the church, an expression not only of personal devotion but of social standing. (fn. 294)
1500–1800
Langford remained a clearly stratified society throughout the early modern period. (fn. 295) In the 16th and 17th centuries the wealthiest families were the Broderwicks, Pruneses and (later) the Copleys, lessees respectively of Langford Manor and Langford Ecclesia prebends. (fn. 296) Richard Broderwick (d. 1681) was taxed on eleven hearths in 1662, the highest assessment in the village, and left goods valued at over £200, including £46-worth of silver plate. At least three other members of the Broderwick family lived in the village in 1662, although their occupation of houses taxed on between one and four hearths was more typical of the majority of Langford's yeoman farmers. (fn. 297) Several generations of such families, including the Bushes, Days, Faulkners, Howses, Nortons, Stubbses, Trinders, and Turners, remained in the village throughout the period, overseeing and witnessing each other's wills, and occupying parish offices such as churchwarden and overseer of the poor. (fn. 298)
Langford's prosperous yeoman farmers of the 17th and 18th centuries built most of the surviving farmhouses in the present centre of the village. (fn. 299) A notable example is the house owned by the Bush family from the 17th century to the 19th, and adopted as a vicarage house from 1921 to 1986. Built of uncoursed limestone rubble, the three-bay main range was extended in 1652 by Walter Bush (d. 1670), who was taxed on six hearths in 1662, and whose furnished rooms included a hall, parlour, kitchen, buttery, dairy, three chambers, and garrets. The south front, of two storeys with attics, has four irregular gables with mullioned and transomed windows under hoodmoulds. Grotesque heads set into the front and rear of the building are probably re-used 15th-century gargoyles. (fn. 300) Other 17th-century farmhouses of similar type include Short's Farmhouse (later called Threeways), which is of three bays and two storeys with attics, and built of uncoursed limestone rubble with a stone-slated roof (Plate 3). Its datestone (H/RK/1655) suggests that it was probably built by Richard Howse (d. 1670), who was taxed on five hearths in 1662. (fn. 301)
The building and remodelling of houses and cottages in the 17th and 18th centuries no doubt provided many of Langford's inhabitants with additional rooms and greater comfort. In 1662 nearly two thirds of those paying hearth tax were assessed on only one or two hearths, and half as many again were exonerated through poverty. (fn. 302) Edward Davis (d. 1679) may have been typical of those taxed on two hearths, occupying a hall and buttery with a chamber over each, and a presumably separate dairy house. (fn. 303) Many other 17th-and 18th-century inventories list only a limited number of rooms, such as the hall, buttery and chamber occupied by William Howse (d. 1685), who was excused payment on a single hearth in 1662. (fn. 304) By contrast, the grand appearance of Lockey House (Fig. 53) suggests owners with pretension: its central doorway is flanked by a pair of sash windows in moulded stone surrounds, with five similar windows to the first floor. Although built in the 17th century, a datestone of 1719 suggests that it was remodelled for the tobacconist and Quaker John Lockey (d. 1754). (fn. 305) Many 18th-century features survive, despite its conversion in the 1870s into the Cotswold Arms public house. (fn. 306)
Langford's wealthier inhabitants presumably employed the township's landless labourers and servants. In 1522 about three fifths of those assessed on goods were taxed on sums of less than £2: a high proportion, which suggests considerable dependence on income from wages. (fn. 307) In 1543 the minimum tax of 4d. on wages was paid by 14 labourers and servants, and similar people may have been among the 15 inhabitants too poor to pay hearth tax in 1662. (fn. 308) One such was John Higgs, most likely the son of a labourer who died in 1623 leaving goods worth £33, including some modest pieces of furniture and a few cattle, sheep, and pigs. (fn. 309) Servants were sometimes remembered in the wills of their employers, including the unusual case of Elizabeth Burbridge, who was left part of the house and land leased by Stephen Trinder (d. 1761). (fn. 310) On her own death in 1794 Elizabeth left grain and cattle to John Trinder, whom she employed to farm her land. (fn. 311) By contrast Richard Broderwick's servant Thomas Taylor (d. 1640) owned only a chest of clothes worth £1, while cash and debts owed him totalled £14 11s. (fn. 312)
The poorest members of village society received assistance from the overseers, among them two orphans housed and clothed at the parish's expense during the 1730s. (fn. 313) Occasional help was given to travellers and other outsiders passing through the village, including Irish Protestants driven from their homes in the 1630s and 1640s, and families whose houses had burnt down. (fn. 314) Few such people settled in Langford, and overseers occasionally paid for the removal of labourers under the settlement laws, while in 1672 a group of 18 'pretended gypsies' was driven away. (fn. 315) Even so, by the end of the 18th century the cost of Langford's poor relief was almost 75 per cent higher than the average for the area, although the rate of 2s. 3d. in the pound in 1803 was (like per capita costs) relatively low. (fn. 316)
Social tensions within the village élite were expressed in the 17th century in disputes over church seating, (fn. 317) and in 1704 Richard Turner was fined 10s. for abusing the lord of the manor (presumably meaning the lessee of the manor prebend) in court. (fn. 318) During this period the churchwardens acted as guardians of public morality, presenting inhabitants for non-attendance at church, for sexual relations outside marriage, and for failure to pay church rates. (fn. 319) The church was a focus for community life: a church ale was held at Whitsun, (fn. 320) and considerable sums were spent on the church bells, which were rung to commemorate events such as the fifth of November. (fn. 321) Many wealthier inhabitants requested burial within the church, sometimes specifically in the chancel or close to a spouse. (fn. 322)
The 19th and 20th Centuries
In the early 19th century Langford was still dominated by six or seven principal farmers, of whom most were newcomers to the village. (fn. 323) Tensions within this élite may have persisted: in 1806, for instance, the rector's tenant provided details of the prebendal estate to a surveyor 'in a very open and candid manner', but asked that 'it may not be known any information came from him'. (fn. 324) Religious tensions arose when two of the leading farmers converted to Nonconformity, so that, according to the curate, the village became one of 'divisions and envy'. (fn. 325) The number of farmers fell following the transfer of the prebendal estates to the Ecclesiastical Commissioners and their purchase of other land in the township. This, combined with the effects of the agricultural depression, seems to have made Langford a much less prosperous community. The vicar complained in 1890 that the township was very poor with no resident squire, and in 1929 commented that 'there is not a soul in the village' who could assist the church financially. (fn. 326) In the absence of wealthy inhabitants, shooting rights were bought in the mid 19th century by James Price, a solicitor from Burford, who also hunted with hounds across the village's fields. (fn. 327)
In 1843 the curate estimated that a quarter of the population were children who, he claimed, grew up 'in the most wretched state of ignorance, irreligion and vice, drunkenness, sabbath breaking, profligacy, lawlessness, contempt of God and man, and moral degradation'. (fn. 328) In 1857 the vicar agreed, complaining of 'a general laxity of morals, drunkenness and gambling among the young men, [and] immodesty and licentiousness in the young women, inherited from their parents'. (fn. 329) Certainly drink must have been freely available, since in the 19th century Langford had no fewer than three public houses. The oldest was the Bell, where Charles Young may have sold ale in 1784. (fn. 330) The pub was owned by the prebendary of Langford Manor, and subsequently by the Ecclesiastical Commissioners; lying close to the church, it was the venue for vestry meetings in the 1870s, and remained open in 2011. (fn. 331) The Crown was built in the mid 19th century next to the Congregationalist chapel, and continued until the 1990s. (fn. 332) The Carriers (later Cotswold) Arms occupied a cottage in the 1860s, before moving to Lockey House in the 1870s and closing in the 1920s. (fn. 333)
As well as a daily social focus, these pubs provided the venue for some of the village friendly societies established during the 19th century. The True Britons friendly society (started in 1858) met first at the Crown and later at the Bell, where a highlight of the 1870 annual Feast was a leg of mutton suspended from a greased pole fifty feet high, the first to reach it being allowed to keep the meat. (fn. 334) The Cotswold Arms was reportedly the meeting place for the Langford Whitsun Club, a friendly society apparently associated with the Red, White and Blue Club at Filkins (started in 1879). (fn. 335) An earlier United Benefit Society (registered at the school) was established in 1863 but closed in 1891, when its income was insufficient to pay medical bills. (fn. 336) Other clubs included a Mother's Union and girls' friendly society, established in the late 19th century, and a branch of the Women's Institute started in 1920. (fn. 337) The National school provided a venue for late 19th-century community events such as the annual vegetable show and the clothing club, while schoolchildren were involved in festivities such as May Day, the Temperance fête in July, and Langford Feast in September. (fn. 338) A vestry committee organized celebrations for Queen Victoria's golden jubilee in 1887, when dinner was provided for the men and tea for the women and children. (fn. 339)
In the 20th century Langford began to attract a few wealthier inhabitants, who converted former farmhouses and other buildings to residential use. In the 1930s the former vicarage was occupied by a captain in the Royal Navy, while in 1972 the former school was bought by Sir Hardy Amies (d. 2003), fashion designer and Queen's dresser, who created a celebrated garden there. (fn. 340) During this period the village was transformed from a predominantly poor agricultural community into one of wealthy pensioners and professionals working in Oxford and elsewhere, though it remained socially mixed. (fn. 341) Several wartime evacuees settled permanently in the village, which may also have contributed to social change. (fn. 342) A cricket ground and pavilion were built in the 1960s, (fn. 343) and cricket continued to be played there in the early 21st century; other local clubs and societies met at the village hall, which, with the church, school, and Bell Inn, remained the only public buildings in 2011. (fn. 344) A doctor's surgery occupied the former Primitive Methodist chapel in the 1980s and 1990s. (fn. 345)
Education
Sporadic educational provision from the 17th century gave way in the early 19th to competing but mostly short-lived private schools. An Anglican National school was opened in 1847, moving to a new building on the edge of the village in 1932. The school was later extended and remained open in 2011, teaching primaryage children from several surrounding villages. Older children attended school in Burford. Anglican and Nonconformist Sunday schools were also established in the 19th century, and continued into the 20th.
Private, Church, and Sunday Schools
In the 1660s John Moone, a local landholder and licensed schoolmaster, taught the church catechism in a freestanding chapel in the churchyard, which the vicar was obliged to repair. (fn. 346) In 1732 the overseers paid a local farmer 2s. 8d. 'for lettering the poor', and in 1738 they were educating a boy (but not his sister) in their care. (fn. 347) A village schoolmaster was mentioned in 1756. (fn. 348)
In the first half of the 19th century Langford's schools were mostly short-lived. Six schools reported in 1808 closed soon afterwards, including a girls' boarding school, two day schools for young children, and two Anglican Sunday schools. (fn. 349) In 1812 'a respectable master' established a private day school attended by 12–20 boys and girls, and two years later an evening adult school for girls, supported by charitable donations and weekly payments of 1d., attracted 24–30 pupils. (fn. 350) The lack of an endowed school meant, however, that the poor were largely excluded. (fn. 351)
In 1834 the vicar mentioned a dame school where 'for some years' about 20 children had been taught for 3d. a week. A Sunday school, established in 1819, was supported by weekly payments of ½d. from around 60 boys and girls, supplemented by an annual charity sermon. Richard Hodges (vicar 1834–54) started an additional day school in 1834–5, paid for by parents, (fn. 352) and in 1841 either that or the dame school was run by 70-year old Lucy Carter. (fn. 353) The dame school continued in 1847, when Hodges's curate reported that the population was in a very ignorant condition and in need of 'strenuous efforts for education'. (fn. 354)
The Sunday school, which in 1847 moved into the new National school building, was attended by about 50 children in the 1850s. Supported by the vicar, it continued to be well attended into the 20th century, and was run by several mostly female volunteers. (fn. 355) Francis Lémann (vicar 1855–85) established and funded other schools in the village, including an evening school for men and boys, a dame school for infants, and a Sunday school for older boys which met in a cottage. The evening school was the most successful, and continued to meet during the winter until the early 1880s; Lémann's successors failed to revive it, however. (fn. 356)
Langford National (later Primary) School
Plans for establishing a school linked to the National Society were discussed in 1843, (fn. 357) and in 1846–7 a school was built on land bought for the purpose by William Vizard (Plate 15). (fn. 358) The school provided accommodation for 80 children, and until the mid 1870s was funded wholly by contributions from parents, parishioners, and the vicar, the Ecclesiastical Commissioners having refused a request for financial support when the school was set up. (fn. 359) According to the vicar the school attracted increasing numbers, although only 49 attended on inspection day in 1871. (fn. 360)
From 1875–6 the school received a government grant, but expenditure still exceeded income in the 1890s; presumably the vicar and other parishioners continued to make up the shortfall. (fn. 361) Following the departure of the school's long-standing teacher in the early 1870s (fn. 362) a rift developed between the vicar and her successor, leading to a decline in standards and discipline. (fn. 363) Another hindrance was the lack of a separate room for infants, who made up a third of the 60 pupils in 1893; an additional classroom was built in 1896 and enlarged in 1899, for which more than £125 was received in donations, including £50 from the Ecclesiastical Commissioners. (fn. 364) By then standards had risen under the impressive Joshua Walker (schoolmaster 1881–1907), who was assisted by his wife and a succession of infant teachers. (fn. 365) Average attendance was about 50 in 1923, when children aged over ten were transferred from Broadwell school, but by 1926 the building was in poor repair, and numbers declined until its replacement in 1932. The old building was used for woodwork classes until its sale in 1939. (fn. 366)
The Ecclesiastical Commissioners provided a site of 2½ a. for the new school and playing fields, and made a grant of £100; stone for the building was donated by Sir Stafford Cripps of Filkins. (fn. 367) The school taught older children from Broadwell, Filkins, Little Faringdon, and Kelmscott, as well as pupils of all ages from Langford. On the outbreak of war the school took in 38 evacuees from West Ham (London) and twelve private evacuees, alongside its own roll of 105; temporary additional accommodation was found in the chapel schoolroom and in the village hall. By 1945 only 63 children attended, but numbers increased following the closure of Broadwell and Little Faringdon schools in 1946, when a new headmaster initiated a long-standing arts and crafts course inspired by the work of William Morris. In 1948 a diocesan inspector judged standards to be unsurpassed by any school he visited. (fn. 368)
In 1951–2 the school was reorganized for mixed junior and infant children, the seniors going to Burford secondary school. Children attended from a number of surrounding villages, including Kelmscott and Filkins when those schools closed. Known officially as St Christopher's Church of England school from 1954, the school was extended in 1963 and 1997, and in 2007 taught 113 mixed pupils aged from 4 to 11. (fn. 369)
Langford Congregationalist School
In 1847 a disused barn next to the site of the Congregationalist chapel (built 1850) was converted into a schoolroom, though it was probably used mostly as a Sunday school. In 1851 more than 70 children were attending. (fn. 370) The school was supported financially by the leading farmer Lancelot Myers, who was accused of enforcing the attendance of his labourers' children. (fn. 371) In 1930 the building was additionally used to teach handicraft to up to 20 boys from the Anglican schools at Alvescot, Filkins, Little Faringdon, and Langford, and woodwork classes were added in 1939. (fn. 372) The Sunday school closed in the late 20th century. (fn. 373)
Charities and Poor Relief
In the 16th century charitable bequests to the poor were made in cash and kind by Langford's wealthier families, notably the Broderwicks and Pruneses. Margaret Broderwick (d. 1595) left £10 to endow a charity which produced £1 4s. in 1734 but was subsequently lost, while Mary Prunes (d. 1610) ordered the distribution of £20-worth of meat and drink at her funeral, and a further £20 in cash among the poor of Langford, Little Faringdon, Grafton, and Radcot. (fn. 374) Lesser bequests (usually of no more than £1) were made more widely during the 17th century, including some from inhabitants of neighbouring villages. (fn. 375) The churchwardens also provided occasional relief, such as 5d. given to two poor men (possibly outsiders) in 1662. (fn. 376)
From the 17th century the township had a few endowed charities on the usual model. Those of Ursula Parker (d. 1626) of Langford and Francis Symes (d. 1631) of Kelmscott were later lost, but that of John Hucks (d. 1661) of Kelmscott continued in the 19th century. (fn. 377) The Langford cordwainer William Trinder (d. 1730) and his wife gave £15 to provide bread for poor householders, which produced 15s. a year in 1786. (fn. 378) Other inhabitants made similar bequests, including John Lockey (d. 1754) and William Turner (d. 1791), but during the 18th century the mounting cost of poor relief fell increasingly on parish rates. (fn. 379) From the 1720s a rate usually of 2s. or more per yardland was levied up to three times a year, the overseers making weekly payments to particular individuals as well as more occasional distributions to those in need. (fn. 380) In 1744 they ordered the repair of a 'hovel', apparently a rented cottage or outbuilding used as a workhouse; in 1776 the workhouse had accommodation for twelve, but closed before 1803. (fn. 381)
Annual spending on Langford's poor, in line with national trends, increased from £60 in 1776 to £95 in 1783–5, doubling to more than £180 in 1803. By then 37 people (including 15 children) were receiving regular out-relief, and 21 occasional relief, in all around 16 per cent of the population. (fn. 382) By 1813 expenditure was 13s. 4d. per head of population, and in 1818 24s., a total outlay of £461; from the early 1820s, however, as agriculture recovered, it rarely exceeded 18s. a head, and averaged about 12s. 6d. (fn. 383) From 1834 formal responsibility for Langford's poor passed to the new Faringdon poor-law union, although Langford vestry continued to appoint rating officers and overseers. (fn. 384)
By 1837 Langford's charities produced £17 10s. a year, of which £12 comprised the rent from a 4-a. allotment awarded to the vicar and churchwardens at inclosure in 1808, in trust for the poor. The income was supplemented by voluntary subscriptions from parishioners, and was used to buy coal for poor families at Christmas. (fn. 385) The Ecclesiastical Commissioners were asked to subscribe to the village coal club in 1853, and to the clothing club and the offertory fund for the sick and needy in 1885; both requests were refused, (fn. 386) although the Commissioners supported poor estate labourers by allowing them to remain in their cottages for life at a nominal rent. (fn. 387) Charitable coal distributions continued throughout the 20th century, the income increased by bequests from Robert Day in 1869 and from Miss Hobbs (presumably one of the Kelmscott family) in 1960, which together produced £25 a year. (fn. 388)
RELIGIOUS HISTORY
Langford had an independent church by the late 11th century, serving the townships of Langford, Little Faringdon, Grafton, and Radcot; possibly it was the site of a pre-Conquest minster. (fn. 389) The quality of the building, which includes an exceptional late 11th-century tower and some reset Anglo-Saxon figure sculpture, is evidence of its high-status origins, and implies aristocratic patronage. (fn. 390) Dependent chapels were established at Little Faringdon and Radcot in the 12th century, and in 1864 Little Faringdon became a separate ecclesiastical parish. (fn. 391)
From the 12th century to the 19th the rector of Langford was a prebendary of Lincoln cathedral. (fn. 392) He exercised ecclesiastical jurisdiction in the parish, which formed a peculiar within Lincoln (and later Oxford) diocese. A vicarage was ordained in 1277, but was poorly endowed; nevertheless most medieval incumbents were relatively well-educated. Thereafter the value of the endowment increased and the living attracted a succession of mostly resident and long-serving vicars.
The religious changes of the 16th century were accepted without apparent opposition, and evidence of Roman Catholic recusancy is slight. In the 19th century Protestant Nonconformity was embraced by up to half of Langford's population, and a Congregationalist and a Primitive Methodist chapel were built in the village. Declining numbers of churchgoers in the late 20th century led to the closure of both chapels and the incorporation of the parish church into a large rural benefice.
Parochial Organization
The original extent of Langford's parochia is uncertain, (fn. 393) but by the Norman Conquest the parish probably included, as later, the townships of Little Faringdon, Grafton, and Radcot. In the Middle Ages and still in the 18th century the church was dedicated to St Mary, but from the 19th century its dedication was to St Matthew. (fn. 394)
In the mid 12th century the king granted the church and its endowment as a prebend to Lincoln cathedral. (fn. 395) The prebendary, as rector, may have appointed a chaplain to serve Langford from then on, and from 1277 the benefice was a vicarage. (fn. 396) The dependent chapels at Little Faringdon and Radcot were variously served by resident chaplains or curates, or by Langford's vicars. (fn. 397)
Langford remained a peculiar jurisdiction held by the prebendary of Langford Ecclesia until 1846, when it became part of Oxford diocese. (fn. 398) The peculiar (or spiritual) court, which dealt with probate and other ecclesiastical matters, was mentioned in 1592 and was usually held by a deputy, who sometimes lived in the village. (fn. 399) In the 17th and 18th centuries the church-wardens made irregular payments for presentments to the court, and contributed to the fees of its official. (fn. 400)
In 1864 the chapelry of Little Faringdon became an independent parish, but was reunited with Langford in 1960. The hamlet of Radcot, which lost its chapel in the 17th century, was added to Clanfield ecclesiastical parish also in 1960, and in 1976 was transferred to Kelmscott. (fn. 401) In 1986 Langford and Little Faringdon were added to a single benefice incorporating Broughton Poggs, Filkins, Broadwell, Kelmscott, and Kencot, which in 1995 became part of the extensive Shill Valley and Broadshire ministry. (fn. 402)
Advowson
The rectory of Langford, as a prebend of Lincoln cathedral, belonged to the bishops of Lincoln until the division of the prebendal estate in 1848, when the Ecclesiastical (later Church) Commissioners became lay impropriators. (fn. 403) The advowson of the vicarage was held by the prebendary of Langford Ecclesia, who usually presented in person until the mid 16th century. (fn. 404) From 1574 the advowson was included with the lease of the prebendal estate, (fn. 405) and from 1730 it was leased separately, often to men with local connections. (fn. 406) Ownership of the advowson was disputed after the Ecclesiastical Commissioners acquired the prebendal estate, but passed eventually to the bishop of Oxford, who presented Langford's vicars from 1885. The bishop remained a co-patron of the united benefice until 1995. (fn. 407)
Glebe and Tithes
The rectory estate granted to Lincoln cathedral by King Stephen included tithes and a glebe of around 120 a., perhaps the equivalent of a hide. In 1254 it was valued at £17 10s., (fn. 408) and like the manor prebend its value increased thereafter, making it one of the wealthiest rectories in the county. By c. 1274 it was worth £53 6s. 8d., rising to £60 in 1291 and 1428. (fn. 409) From the 16th century it was leased for only £20 a year, which was reflected in lower valuations of £15 9s. in 1522, £16 in 1526, and £18 in 1535; (fn. 410) by 1650, however, the estate's annual value was £246 9s. 4d., rising to over £855 in 1806. (fn. 411)
By contrast, the vicarage ordained in 1277 was worth only £5 10s. in 1291. (fn. 412) It was endowed with parochial oblations and small tithes, the grain tithes of Broughton Poggs (later exchanged for those of Grafton), and 1 a. of common meadow. (fn. 413) Its value rose to £7 3s. 4d. in 1428, £21 19s. 4d. in 1535, and £60 in 1650; (fn. 414) the increase may have followed grants of glebe, since the vicar held two yardlands in Langford in 1650. (fn. 415) A dispute in 1592 suggests some difficulty in collecting tithes of lambs. (fn. 416)
At Little Faringdon's inclosure in 1788 the vicar was assigned a grain-rent of £19 18s. instead of small tithes, and 30 a. of arable for glebe; the land was exchanged for an equal area in Langford at the latter's inclosure in 1808. (fn. 417) The vicar's total allotment in 1808 was 102 a., (fn. 418) and James Johnson (vicar 1800–25) later reckoned the living to be worth £450 a year. (fn. 419) In Radcot the vicar was entitled to hay from 4 a. of meadow, and in 1840 he received an annual rent-charge of £38 10s. in lieu of small tithes; (fn. 420) in Grafton he received a similar rent-charge of £115 for grain and small tithes. (fn. 421) Francis Lémann (vicar 1855–85) and the Ecclesiastical Commissioners added 4 a. to the glebe in 1874, (fn. 422) and Glebe Farm was built in the south of the township in the late 19th century. (fn. 423) The glebe was finally sold in 1919, when it comprised 113 a. in Langford and 4 a. in Radcot, all let to tenants; (fn. 424) Oxfordshire County Council bought Glebe farm, while 35 a. of meadow were bought by Sydney Reading. (fn. 425) In the early 20th century the vicar's annual income was usually less than £300. (fn. 426)
Vicarage House
In 1277–8 the rector provided the vicar with a house 'on the north side of Walter Pither's house'. (fn. 427) Probably it occupied the site of the post-medieval vicarage house now known as Langford Grange (Fig. 56), which lies some distance north of the church on the opposite side of the road. (fn. 428) The present building (fn. 429) incorporates a stone-built three-gabled range with an adjoining service wing, attached outbuildings to the north-west, and (at the rear) a 19th-century entrance hall adjoining a tower-like range which probably began as a stair turret. The main gabled part appears to be of 17th-century origin, but major changes in the 19th century have made the house's earlier development difficult to reconstruct: in particular the attic gables, typical of so many 17th-century houses in the area, seem to be a late 19th-century addition. Irregular ground-floor fenestration in the main range's south-west front may indicate remodelling of an earlier structure, and it has been suggested that the adjoining service range may pre-date it, incorporating part of an earlier L-shaped house. (fn. 430)
In 1662 the house was taxed on five hearths. (fn. 431) Three years later the vicar William Phipps (incumbent 1635–67) was accused of failing to maintain it adequately, and the kitchen in particular needed new roof timbers; (fn. 432) presumably Phipps undertook some repairs and possibly remodelling, since he was living there at his death in 1667. At that date he occupied about a dozen rooms including hall, parlour, buttery, kitchen, study, and five chambers. (fn. 433) Further work was probably carried out in the later 17th century when most vicars seem to have resided, (fn. 434) and sash windows were fitted in the 18th, when the main entrance was probably in the street-facing south-west front.
In 1815 James Johnson (vicar 1800–25) claimed to have spent nearly £600 on the vicarage house. (fn. 435) Substantial work from that period is difficult to identify, but perhaps included a catslide addition to the north-west service range. Further improvements were made in mid century, when Richard Hodges (vicar 1834–54) borrowed £530 from Queen Anne's Bounty: (fn. 436) possibly that was when the new entrance hall was made at the south-east end, and the former stair turret was extended outwards and its staircase rebuilt. Drawings of 1851 show the south-west front still lacking its gables, which may have been added a few years later for the long-serving vicar Francis Lémann (1855–85). (fn. 437) Lémann was perhaps also responsible for a narrow brick-built addition at the house's north-west end (used reportedly as a parish room) (fn. 438) and for a heightening of the former rear stair turret, whose north-east gable end incorporates a miscellany of re-used medieval stone fragments. Some of the stone may have come from Langford church, whose restoration in the 1870s saw the removal of the 15th-century clerestory. (fn. 439) The incoming vicar Arnold Jerram installed a bath and hot water system in 1910, after the Ecclesiastical Commissioners agreed to supply water to the house from the village borehole. (fn. 440)
In 1919 the vicar proposed exchanging the house (which was expensive to maintain) (fn. 441) for a smaller one belonging to the Ecclesiastical Commissioners. The Commissioners refused, and in 1921 an exchange was agreed instead with the owner of a nearby farmhouse to the east. That house (known now as the Old Vicarage) was itself sold following the creation of a united benefice in 1986. (fn. 442)
Pastoral Care and Religious Life
The Middle Ages to the Reformation
The earliest known rector is Master Ralph of Langford, prebendary of Langford Ecclesia and dean of St Paul's, who was succeeded in the mid 1150s by Robert Foliot. Foliot was archdeacon of Oxford, and on his collation the bishop of Lincoln formally annexed the prebend to the archdeaconry, an arrangement which lasted until the mid 13th century. (fn. 443) Foliot and his successors were probably only intermittently resident at Langford if at all, and presumably appointed chaplains, of whom two were named c. 1221. (fn. 444) The perpetual vicarage established at Langford (as at other prebendal churches) in 1277 was ordained by Bishop Richard Gravesend, who was himself a former prebendary of Langford Manor. (fn. 445)
Twenty-three vicars of Langford are known before the Reformation. Most had been ordained priest before their appointment, and at least six had received a higher education, including Richard Marshall (vicar 1458–79), fellow of University College, Oxford. (fn. 446) Clearly the prebendaries were able to attract well-qualified men to the vicarage, despite its relative poverty. Some vicars, including Marshall, may have enjoyed alternative sources of income, though only Robert Muschat (vicar 1479–98), William Unton (1503–17), and Gregory Charlett (1517–23) are known to have been pluralists, Muschat holding Langford with the neighbouring benefices of Broughton Poggs and Clanfield. (fn. 447)
Muschat was from a long-established Clanfield family, (fn. 448) and when the prebendary's lessees presented in 1299 their candidate was another local chaplain, Robert of Highworth (Wilts.). (fn. 449) Few other vicars seem to have been local men, however. Thirteenth-century toponymic surnames included Biggleswade (Beds.) and Fotheringhay (Northants.), while William Knight (vicar 1336–47) was from Eyton (Salop.). (fn. 450) The length of medieval incumbencies varied greatly, but at least seven of Langford's vicars served for more than ten years, among them John of Buckingham (vicar 1347–59), (fn. 451) John Browning (1386–1420), and William Unton (1503–17), who was probably one of a local family from Wadley (formerly Berks.) and later of Radcot. (fn. 452) Whether vicars resided or appointed curates is not generally known, although John Lucesse, 'parish priest', may have been Charlett's curate in 1522, when he held lands worth £3. (fn. 453)
The church's medieval furnishings are relatively well recorded. On the establishment of the vicarage in 1277 the vicar agreed to provide lights, incense, and wine for Easter and other days, and was to keep the church's books and ornaments in good condition. (fn. 454) Henry Ricards (d. 1467), a Langford wool merchant, gave £6 13s. 4d. to an image of St George 'newly made in Langford church' and for the completion of a new pavement and seats; he also left a ewe to each of seven principal lights, and a cow to the 'adjoining' chapel of St Mary in the churchyard, which had perhaps been established as a chantry chapel. A chantry chaplain (celebrating apparently in the church rather than the chapel) was to receive £5 6s. 8d. a year for seven years after Ricards's death. (fn. 455) A few other 15th-century bequests included £1 for the church fabric from Richard Reeve (d. 1417) of Broughton Poggs, 10s. from Peter de Besyles (d. 1425), lord of Radcot and Grafton, and £5 from the vicar Robert Muschat. (fn. 456) Exceptionally, two 15th-century screens survive across the north and south aisles. (fn. 457)
The Reformation to 1800
Richard Dodson (vicar 1523–43) was succeeded by the long-serving William Price (1543–74), who retained the benefice through the religious changes of the mid 16th century and in 1558 subscribed to the Elizabethan religious settlement. His two 16th-century successors also subscribed, and since all three were resident they presumably enforced the new observances. (fn. 458) The Reformation must nevertheless have caused local disruption, with church fittings and furnishings removed or destroyed. The Crown seized 2 a. of land worth 10d., held by the churchwardens for the funding of a 'lamp light' in the church, (fn. 459) although the medieval chapel in the churchyard survived, having presumably been adapted to new uses. (fn. 460) There is little to suggest strong local resistance: surviving 16th-century wills include no Catholic invocations, and several inhabitants made bequests to the church. (fn. 461) A Catholic carpenter and his wife were mentioned in 1706, but despite a strong Catholic presence elsewhere in the area no other recusancy was reported. (fn. 462)
Like Price, most of Langford's vicars in this period served for twenty years or more, died in post, and were buried in the parish. Among them were William Phipps (vicar 1635–67), who survived the religious and political upheavals of the mid 17th century and whose successors included the long-lived Edward Davis (vicar 1692–1730) and Thomas Clark (1780–1800). (fn. 463) Most were graduates, while Savile Bradley (vicar 1667–91) was a fellow of Magdalen College, Oxford. (fn. 464) The majority probably resided, although Thomas Nutt (vicar 1600–28) employed a curate in 1610, while Phipps also served Lechlade until c. 1645. Twenty years later he was accused of allowing the vicarage house to fall into disrepair, although he may subsequently have rebuilt parts of it, and apparently lived there at his death. (fn. 465) Phipps may also have overseen the demolition of the medieval St Mary's chapel in Langford churchyard, and of the dependent chapel at Radcot. (fn. 466)
In the 17th and 18th centuries Holy Communion was celebrated at Easter, Whitsun, Michaelmas, and Christmas. (fn. 467) Psalm singers were accommodated on three new seats in the gallery in 1741, which provoked the recurrence of a dispute about seating first heard in 1618. (fn. 468) Churchwardens' accounts reveal a wide variety of expenditure, including the purchase of a bible and book of homilies in 1662, and erection of a new pulpit costing £8 in 1673. Maintenance of the church fabric and furnishings was a constant expense, and by the 18th century there were increasing signs of neglect and disrepair. In 1769, for example, a cloth was bought to cover a window, 'the glass being out'. (fn. 469)
Bequests to the church from local inhabitants were frequent in the 17th century, when there were several gifts of church plate, although none were recorded later. (fn. 470) The earliest surviving monuments date from the late 16th and 17th centuries, and include a brass to Walter and Mary Prunes in the chancel (Fig. 55), and a rustic wall monument of 1691 to the Howse family. Most others are engraved stones, with a few modest wall plaques dating from the 18th or early 19th century. A new ring of five bells was cast in 1741, paid for from the church rates; the sixth bell was added in the 1950s. (fn. 471)
In 1701 an unknown number of Quakers met at Mary Minchin's house, including some from nearby Alvescot. (fn. 472) Minchin was presumably a member of the prominent Burford family of Quakers, (fn. 473) and was also related to John Lockey of Langford (d. 1754), who left money to the Quakers of Burford, Faringdon, Milton-under-Wychwood, Stow-on-the-Wold, and Witney. (fn. 474) Like the group at Alvescot, however, Langford's Quakers quickly declined. (fn. 475)
The 19th and 20th Centuries
Church services probably remained unchanged in the early 19th century, when a sermon was delivered every Sunday morning and Sunday evening prayers were held during the summer months. (fn. 476) Most of the village's 400 inhabitants were thought to be attending in 1810, (fn. 477) and showed their prudishness by forcing the retirement to Kent of the resident prebendary of Langford Ecclesia, William Peters (d. 1814). Peters was a pluralist and Royal Academician whose early paintings were noted for their eroticism, and who around this time displayed a 'certain sketch' which clearly upset his Langford neighbours. (fn. 478) From 1813 the vicar James Johnson (1800–25) was also a pluralist living in Somerset, leaving a succession of curates in charge at Langford. (fn. 479) He was succeeded by his former curate John William Peters, the prebendary's son, who also served as rector of nearby Quenington (Glos.) until his secession from the Church of England in 1834. (fn. 480) His wife Mary was later a well-known hymn writer. (fn. 481)
Richard Hodges (vicar 1834–54) at first resided, but from 1841 held Langford in plurality with Little Barrington (Glos.), and employed curates. (fn. 482) In 1854 he resigned in favour of Henry Vizard, a son of the patron William Vizard; (fn. 483) Vizard himself resigned the following year, to be replaced by Francis Lémann, the curate since 1851. (fn. 484) Lémann remained until his retirement in 1885, and was the most dynamic of Langford's 19th-century vicars, overseeing the restoration of the parish church, encouraging the education of his parishioners, attracting a growing congregation despite the opening of two Nonconformist chapels, and combating the perceived ills of contemporary society. (fn. 485) During his incumbency Holy Communion was celebrated six times a year, with two full services every Sunday. He refused to regard Dissent as a particular problem, bemoaning instead 'an absence of religious feeling', and seeking to employ 'the gospel' to combat 'sin'. (fn. 486)
Until the 1840s few Nonconformists were resident in Langford. In 1834 the vicar reported that none of his parishioners were 'strictly Dissenters', although a Baptist minister occasionally visited a licensed meeting house in the village. (fn. 487) Independent or Congregationalist ministers began to hold services in a barn on the edge of the village c. 1840, and a few years later attracted the financial assistance and influential support of two of Langford's leading farmers, Lancelot Myers (the lessee of Langford Ecclesia), and James Tombs (of Tillingtons Farm). In 1847 Myers founded a Non-conformist Sunday (and short-lived day) school to rival the National school, much to the chagrin of the Anglican curate, and was later accused of preventing his labourers from being confirmed in the Anglican church unless they gave up a day's wages. (fn. 488)
Meanwhile James Tombs donated land next to the barn, on which a Congregationalist chapel was erected in 1850. (fn. 489) A manse alongside was occupied by a succession of resident ministers, including Mark Cunningham (1846–53), Henry Larter (1853–62), and the energetic Francis Smith (1862–71), who preached three times every Sunday and on several weekday evenings to around 150 adherents. (fn. 490) The barn was refaced c. 1853 with a stone gabled front with pointedarch windows, and in 1884 the chapel was rebuilt in stone and slate (Fig. 57), linked to the former barn by a low connecting range. (fn. 491)
Primitive Methodism also attracted followers in Langford by the early 1840s, and in 1849 a stone-and-slate chapel with a central entrance porch was built on land given by another member of the Tombs family. The chapel (which belonged to the Faringdon circuit) was smaller than its Congregationalist counterpart, and in 1851 attracted less than half the number of worshippers. (fn. 492) Nonetheless the vicar showed greater concern about the spread of Primitive Methodism among the labouring classes, which he clearly regarded as more radical and subversive. (fn. 493) Regular meetings continued in the 1880s–90s, supported by five resident preachers and a society steward. (fn. 494)
Despite these developments, Lémann reckoned in the 1870s that the number of Dissenters had fallen from around half the population in 1851 to only two fifths, and that of those some also attended the parish church. (fn. 495) Certainly by the late 19th century Langford's Congregationalist ministers rarely stayed for more than a few years, which may have done little to encourage support at a time of hardship caused by agricultural depression. (fn. 496) Meanwhile, attendance at the parish church grew considerably under Lémann's successor Edmond Walters (vicar 1885–92), an Oxford-educated poet and author who increased the number of weekday services. (fn. 497) He was followed by a series of experienced clergymen including Constantine Wodehouse (vicar 1892–1910), whose services were notable for their Low-Church tone. (fn. 498) Despite the village's general poverty offertory collections were made to support the sick and needy and to pay for church expenses, and gifts were received of a cross, candlestick, and lectern. (fn. 499)
Following a marked decline in the village's population, Frank Hearn (vicar 1914–28) proposed in 1922 that Langford and Little Faringdon should be held in plurality. (fn. 500) His suggestion was adopted on his resignation, when after a short delay James Fisher, vicar of Little Faringdon from 1927, was inducted to Langford, and moved there in 1933. (fn. 501) Fisher's incumbency (1930–47) was marked by continued improvements to the church fabric and by adoption of High Church practices, notably the reservation of the sacrament in the medieval aumbry: a reflection, perhaps, of Langford's changing social tone. (fn. 502) His successors Wilfred Bunce (vicar 1947–61) and David Lane (1961–86) oversaw further restoration and repair projects, funded partly by the Church Commissioners. (fn. 503) On Lane's retirement Langford and Little Faringdon were added to a benefice whose vicar lived at Filkins until 1995, and thereafter the churches were included in an extensive ministry based at Shilton. (fn. 504)
The Primitive Methodist chapel celebrated its centenary in 1949, which the Anglican vicar attended. By then membership had increased to 20, even more than at nearby Filkins, and it remained at 16 (one of the largest memberships in the circuit) in the early 1960s. The building was renovated in 1956 when a lean-to extension was probably added, and remained in good condition at its eventual closure and sale in 1983. (fn. 505) The Congregationalist group was in severe difficulties by the 1950s, when differences among its members led to a suggestion of closure or the transfer of responsibility to Witney. (fn. 506) The chapel eventually closed in the mid 1990s. (fn. 507)
Church Architecture
Langford church (fn. 508) is well known for its exceptional late 11th-century central tower, almost certainly constructed under the patronage of Aelfsige of Faringdon and widely judged a 'superb monument' to Anglo-Norman architectural fusion. (See Frontispiece, Fig. 58, and Plate 12.) Equally exceptional are two late Anglo-Saxon crucifixion sculptures reset in the (later) south porch (Fig. 4), but possibly taken from an earlier building on the same site. Much of the rest of the building was reconstructed to a high standard in the 13th century, and 15th-century remodellings reflect the prosperity generated by the local wool trade. In its present form the building comprises a two-bayed chancel, the central tower, and a three-bayed nave with north and south aisles and south porch, all constructed of uncoursed limestone rubble with ashlar dressings, and roofed with stone slate. Several piecemeal restorations were carried out during the 19th and 20th centuries, most extensively in 1864–7.
The Medieval Building
The central tower is of three stages, with two large arched bell-openings on each side. Its decorative features, notably a band of acanthus and palmette leaves across the roll-moulding of the arches, and the central pilasters with stepped capitals and bases, suggest that it was built by non-local Anglo-Saxon masons in the mid to late 11th century. The architectural details show a knowledge both of Norman Romanesque, and of the Winchester school of manuscript illumination developed in the late 10th and early 11th centuries. (fn. 509) The two late Anglo-Saxon crucifixion sculptures are of a slightly earlier date, and survive reset (in one case incorrectly) in the 13th-century south porch. (fn. 510) Their provenance is unknown but if, as seems likely, they came from an earlier church on the same site, this may add credence to the possibility of a small late Anglo-Saxon minster established on the preConquest comital estate. (fn. 511)
Much of the church was rebuilt in the early 13th century, possibly when it was held by the prebendary Walter Map (archdeacon of Oxford c. 1196/7–1210). (fn. 512) A parapet and corbel table were added to the tower c. 1200, and about the same time the nave was enlarged by the addition of north and south aisles. The north and south doorways are of similar date, and the south porch, too, is 13th-century. The masons for this later work were probably local, since the combination of round Norman arches and Early English architectural details is characteristic of nearby churches such as Great Faringdon, Little Faringdon, and Fulbrook. (fn. 513)
Later in the 13th century, perhaps when the vicarage was ordained in 1277, the chancel was rebuilt on an ambitious scale, the unusual design of the windows recalling those at Wyck Rissington (Glos.) around twelve miles away. In the north wall is an unusual 13th-century aumbry with three gables and six compartments, and in the south wall a piscina recess of similar date. Of the same period are the external gabled staircase tower and a tunnel-vault inside the tower itself, which possibly marked an altar. (fn. 514) Few changes were made in the early 14th century, with the notable exception of a window with reticulated tracery inserted into the south aisle. During the 15th century, however, parishioners made a significant investment in the fabric, fitting a new pavement and seats, several windows, the surviving octagonal font, and surviving screens with panel tracery at the east end of both aisles. (fn. 515) A clerestory was added around the same time, and the nave and chancel were both re-roofed at a lower pitch. (fn. 516) The churchyard contains the square base and part of the octagonal shaft of a 15th-century cross, which was presumably mutilated during the Reformation. (fn. 517)
An 'adjoining' chapel in the churchyard, dedicated to St Mary, was mentioned in the will of Henry Ricards (d. 1467). (fn. 518) If Langford church was indeed preceded by a small minster, the chapel may conceivably have had early and possibly pre-Conquest origins. (fn. 519) Nothing is known of its date or foundation, however, and possibly it was newly built as a chantry chapel during the 13th, 14th or early 15th centuries, either by a wealthy parishioner or by one of the vicars or prebendaries. The vicar was obliged to maintain it as late as the 1660s, when it was used as a schoolroom; it was then in disrepair, however, and as no later mention has been found it was probably demolished soon after. (fn. 520)
Changes Since the Reformation
In the later 16th century two flying buttresses were added to the north aisle: one is inscribed 1574, the year in which Walter Prunes presented to the vicarage. (fn. 521) Churchwardens' accounts for the 17th and 18th centuries point to numerous repairs, including, perhaps, the botched restoration of the chancel, which was probably shortened by one bay, and its east wall taken apart and badly reassembled. A gallery at the west end of the nave was mentioned in 1723, and the surviving clock mechanism dates probably from the late 17th century. (fn. 522) Repair and erection of church seats led to disputes over precedence. (fn. 523)
Further restoration was undertaken by Richard Pace in 1829, including the provision of an additional 200 seats in the nave, aisles, and gallery. (fn. 524) In 1848 the Ecclesiastical Commissioners became liable for repairs to the chancel, which the bishop of Oxford described as dilapidated, and in the following year they implemented the recommendations of their surveyor Benjamin Ferrey. (fn. 525) The chancel remained in reasonable repair in 1864 when another survey reported that the whole of the building west of the tower was in poor condition. Francis Lémann (vicar 1855–85) made plans to remove the gallery and pews, establish a vestry in the south aisle chapel, restore the nave and aisle roofs to their original pitch, and make other improvements to the fabric. (fn. 526) He had difficulty in raising the estimated cost of £1,100 because the chief tenant farmers were Dissenters and opposed to the levying of church rates, although both the Ecclesiastical Commissioners and the Diocesan Church Building Society made contributions. (fn. 527) The restoration work was finally undertaken by Ewan Christian, several of whose rainwater heads are marked with the date 1864 or 1867. (fn. 528) The successful raising of the nave roof encouraged the Ecclesiastical Commissioners to pay for the raising of the chancel roof to its original pitch in 1869–70. (fn. 529)
In the late 19th century the Ecclesiastical Commissioners contributed towards the cost of the churchyard gates, and paid for the lighting of the chancel; they declined, however, to help repair the bells or pay for a new organ, which was placed in a side chapel to which an opening was made in the wall of the tower. (fn. 530) In 1907 the Ecclesiastical Commissioners also paid for filling in a circular window in the east wall of the chancel (inserted by Ewan Christian), and for other chancel repairs and heating. (fn. 531) Later alterations included the insertion of memorial windows, and improvements to the church's heating, lighting, bells, and organ. The aisle roofs were repaired in 1952, the church was rewired, redecorated and repaired in 1968, and in 1995 about £60,000 was spent on the tower, the cost met by English Heritage and the parochial church council. English Heritage was also involved in repairs to the nave and north aisle in 1999. (fn. 532) Further repairs to the nave were undertaken in 2009. (fn. 533)
LOCAL GOVERNMENT
Manor Courts and Officers
In the Middle Ages manor courts and views of frankpledge were held by the prebendary of Langford Manor and by Beaulieu abbey. In 1260, after 'many quarrels', it was agreed that both lords should hold their annual view of frankpledge at the same time and place, although the abbot was not to benefit financially from the court nor to levy fines in the manor. (fn. 534) Presumably this arrangement broke down before the mid 14th century when the abbot held a separate view for Langford at Little Faringdon, (fn. 535) and from the 13th century his Langford tenants were also represented by a tithingman at the abbot's Great Faringdon view. (fn. 536)
The prebendary may have had more wide-ranging rights. Before 1284 his hayward brought a thief before the prebendal manor court, where he was found guilty and subsequently hanged. (fn. 537) According to the Filkins antiquary Thomas Banting (writing c. 1895) a gallows once stood in the far north of the township at Shire Gate, where the boundaries of Berkshire, Gloucestershire, and Oxfordshire formerly met. (fn. 538)
After the Dissolution tenants of the former Beaulieu abbey estate continued to owe suit to Great Faringdon manor and hundred court until the 17th century and possibly later. (fn. 539) Constables and tithingmen for Langford were elected both at the Great Faringdon manor court and at the prebendary's manor court in 1650. (fn. 540) The prebendary's court continued until the 19th century, (fn. 541) and in the 17th and 18th centuries was held by a steward whose annual fee and hospitality were to be provided by the lessee of the manor prebend. (fn. 542) By then it was mainly concerned with road and ditch maintenance and preventing animals from trespassing, and a hayward was employed to manage the common herd. (fn. 543) In 1767 the steward was ordered to enquire into the customs of Langford's commoners, and to ensure that they were not threatened by the lessee. (fn. 544) The prebendary presumably maintained the large timber prison and 'town hall' where the courts were held, which stood in a close called the Vineyard between the church and the Bell Inn; the building was said to have half an acre of thatching and included rings for tethering prisoners, but was pulled down in the mid 19th century. (fn. 545)
Parish Government and Officers
Churchwardens are recorded from the 17th century, one chosen by the vicar and the other by the parishioners. Two sidesmen (or deputy church-wardens) were also appointed, (fn. 546) and in the 17th and 18th centuries a parish clerk was paid a salary of £1 10s., his responsibilities including maintaining the church clock. (fn. 547) Two overseers of the poor were named from the early 18th century, and like the churchwardens were often drawn from local yeoman families. (fn. 548) In the 17th century several inhabitants left money to repair local roads, (fn. 549) and surveyors of highways were mentioned in 1732; at inclosure in 1808 they were allotted four stone-and gravel pits. (fn. 550) All those parish officers were presumably appointed by the vestry, and in 1752 the clerk was paid for keeping the vestry book. (fn. 551)
In the 19th century the vestry met at the school or Bell Inn. By then the parish officers were two overseers, a guardian, and a waywarden, most of them leading farmers. The vestry oversaw rating and road repairs, and managed the allotment for the poor: (fn. 552) footpaths through the village were frequently impassable during wet weather and needed constant repair, for which the Ecclesiastical Commissioners sometimes contributed gravel. (fn. 553) The vestry was presumably also involved in raising funds for a new sewer in 1853, which was intended to empty into Broadwell brook. (fn. 554)
In 1894 most of the vestry's civil functions passed to a new parish council under the Local Government Act. One of the first tasks of its chairman, the vicar, was to ask the Ecclesiastical Commissioners for four standpipes to supply the village with water from its artesian well (sunk in 1890). Previously water was collected from surface springs or wells, and the artesian well remained the village's main water supply until after the Second World War. (fn. 555)
According to Arnold Jerram (vicar 1910–14), a parochial church council was set up on his arrival in the parish. However, most of the residents invited to serve on it refused because they worked for the leading farmers, suggesting continuing tensions within the village. Instead, the vicar, churchwardens, and one of the farmers met for discussion when important matters arose. (fn. 556) A parochial church council was finally established in 1917, and met regularly to oversee management of the church. (fn. 557) In the early 21st century Langford retained two churchwardens and a parochial church council. (fn. 558)
Following its transfer to Oxfordshire in 1844 Langford was separated from the neighbouring townships of Little Faringdon, Grafton, and Radcot, and in 1866 it became a separate civil parish. (fn. 559) In 1894 it was transferred from Faringdon rural sanitary authority to the newly created Witney rural district, although it remained part of Faringdon poor-law union, the vestry having decided against its transfer to the Witney union. (fn. 560) In 1974 the civil parish became part of the new West Oxfordshire district. (fn. 561)