Pages 111-145
A History of the County of Oxford: Volume 17. Originally published by Boydell & Brewer for the Institute of Historical Research, Woodbridge, Suffolk, 2012.
This free content was digitised by double rekeying and sponsored by Victoria County History Oxfordshire. All rights reserved.
KELMSCOTT TOWNSHIP
Now widely known for its association with the designer, writer, and socialist William Morris (d. 1896), Kelmscott (fn. 1) remains a small and secluded hamlet, sharing much in common with its more obscure neighbours on the Oxfordshire-Gloucestershire border. The village lies just north of the river Thames in what was, until 1974, the county's extreme south-west corner. The market town of Faringdon (formerly in Berkshire) lies 3 miles (5 km) to the south across the river, while that of Lechlade lies 2¼ miles (3.5 km) to the west in Gloucestershire.
The village has always been predominantly agricultural, and contains several high-quality 17th- and 18th-century farmhouses. Most were built by prosperous yeoman farmers in the attractive, stone-built Cotswold style typical of the area. Among them, close to the river, is Kelmscott Manor, which originated as a moderately sized late 16th- or early 17th-century farmhouse long before Morris rented it as a summer home from 1871. (fn. 2) The only medieval building is the church, established as a chapel of Broadwell in the 12th century or earlier, and relatively unscathed by Victorian restoration. The riverside landscape, like that of the neighbouring hamlets of Grafton and Radcot, is predominantly flat and featureless, although now broken up by hedgerows and trees. Morris's friend Dante Gabriel Rossetti thought it 'the most uninspiring I ever stayed in', though to Morris himself, with more idealized views of rural life, Kelmscott was a 'beautiful grey little hamlet' unspoiled by industrialization. (fn. 3) Morris's influence continued throughout the 20th century, first in the erection of a number of Vernacular Revival buildings by his widow and daughter, and later in the development of Kelmscott Manor as a shrine to his life and work. (fn. 4)
Boundaries and Landscape
From the Middle Ages until the mid 19th century Kelmscott was a detached township and chapelry of Broadwell parish, reflecting pre-Conquest arrangements which are described above. In the early 11th century it belonged to a large comital estate which may have included not only Broadwell, Filkins, and Holwell, but nearby Langford with its dependent settlements, and it remained part of the reduced manor of Broadwell until the 16th century or later. (fn. 5) From the late 19th century it was usually counted a separate civil parish, although for ecclesiastical purposes it remained attached to Broadwell until 1960, when it was combined first with Clanfield and later with other neighbouring parishes. Its acreage, 1,037 a. in 1881, remained unaltered in 2001. (fn. 6)
The township's boundaries (Figs 1 and 33) were established in outline by the mid 11th century, when Kelmscott was first defined as a detached part of the large Broadwell estate. (fn. 7) The southern and western boundaries were those of the shire and hundred, (fn. 8) and followed the river Thames and a small tributary of the river Leach called Marlake Ditch. A small detour in the south-west brought an additional parcel of meadow into Kelmscott, and was established by the mid 18th century and possibly by 1066. The north-eastern and eastern boundaries are markedly straight, and in the mid 18th century were marked by watercourses and hedges dividing Kelmscott's and Grafton's fields, commons, and meadows. (fn. 9) Nonetheless they are probably medieval in origin, since in 1320 the eastern boundary followed a north-south way (now lost) from a stream called 'Lake' towards Radcot, which divided Kelmscott's and Grafton's pastures. The road ran on past Radcot's gallows (furcas), which presumably stood on or near the boundary, and from which Kelmscott's Gallow or Galloway field was evidently named. (fn. 10) Elsewhere the township's boundaries followed small watercourses, and were apparently unaltered at inclosure in 1799.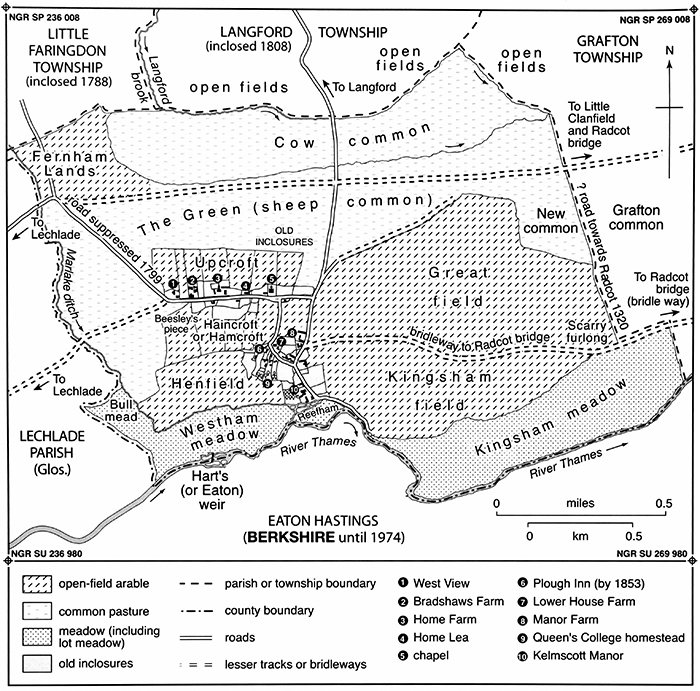 The entire township is flat and low-lying, rising from around 68 m. on the eastern boundary to only 71 m. in the village's northern part. (fn. 11) Riverside alluvium provided rich and extensive meadows which were central to Kelmscott's agricultural economy until modern times. Most of the township, including the village, lies on river gravels of the First and Second Floodplain terraces, overlying Oxford Clay; Kelmscott Manor, at the village's southern end, stands on the extreme southern edge of the gravel, close to the former meadows. (fn. 12) Flooding, both of agricultural land and occasionally of the village's southern part, has long been endemic. The name 'at flood', attached to a house in the early 14th century, may have denoted only its proximity to the river, (fn. 13) but field ditches were mentioned in the 16th century, (fn. 14) and extensive new drainage channels were thought necessary at inclosure, including a stank to prevent drain water flowing through the village. (fn. 15) Despite extensive improvements to upper Thames drainage in the late 19th century seasonal flooding of meadows remained commonplace, and there was more serious flooding of the village in 1893, 1903, 1915, and 1947. (fn. 16) Flood-water came close to Kelmscott Manor and the Plough Inn in the winter of 2000, and the village was further affected by the floods of 2007.
Communications
Though no through-routes now run through the village, early roads connected it with important routes outside the township (Fig. 2). The 'royal highway' from Broadwell and Langford to Kelmscott was mentioned in 1320, (fn. 17) and the road southwards from Little Faringdon is presumably also of medieval origin. (fn. 18) The same may be true of the main west-east route north of the village, which links Lechlade (Glos.) with the road to Radcot Bridge, although in the 18th century it seems to have been only a relatively minor track traversing the common. Until inclosure a branch-road ran south-eastwards to the village's western edge, and may once have continued to the present-day road to the river past the Plough Inn and Kelmscott Manor, which is on the same alignment (Figs 33 and 35). (fn. 19) Lesser routes mentioned in 1320, besides that apparently running along the township's eastern boundary, included tracks to riverside meadows, among them an 'ancient' way called Thamesway. (fn. 20) A bridleway from Kelmscott village to Radcot, running through Kelmscott's fields and neighbouring meadows, existed by the mid 18th century, (fn. 21) and a footbridge crossed the Thames at Hart's weir in the late 18th century and possibly from the Middle Ages. (fn. 22)
At inclosure in 1799 the Lechlade road was upgraded as a carriageway 40 feet wide (including verges), along with the intersecting roads to Langford and Little Faringdon. The connecting road from the west end of Kelmscott's main village street was realigned to run north-south, and a few smaller paths and private roads were laid out or confirmed (Fig. 39). (fn. 23) During the 20th century the poor repair of many of Kelmscott's roads and footpaths caused occasional local concern, particularly as the volume of heavy traffic on the Lechlade road increased from the 1970s. The parish meeting pressed frequently for improved public transport from the 1940s, though with limited success. (fn. 24)
River transport was locally important by the 13th century, when there was commercial traffic between Radcot and London. Large-scale navigation as far as Kelmscott seems unlikely, however, and in contrast to Radcot there is no evidence of a landing place or of commercial traders. (fn. 25) From the 17th century, with the reopening of the upper Thames beyond Oxford, river traffic increased, (fn. 26) and it has been suggested that the placing of Kelmscott Manor's farm buildings close to a small backwater may have been intended to take advantage of the river. (fn. 27) Even so most river-borne produce from Kelmscott probably went via Radcot wharf. The flashlock at Hart's weir (a little way south-west of Kelmscott village) was in poor repair in the late 18th century, and in 1883 the weir collapsed. It was rebuilt within twelve months, but there was still only a flashlock in 1914, and in winter small pleasure boats could scarcely fit under the bridge. (fn. 28)
By then river links had been superseded by the railway. Stations were opened at Challow, Witney, and Faringdon in 1840, 1861, and 1864 respectively, and a much nearer one at Lechlade (on the GWR's Witney-Fairford branch) in 1873. (fn. 29) Kelmscott and Langford station was opened 1½ miles north of Kelmscott village in 1907, and continued until the line's closure in 1962. Its isolation and (until 1928) its lack of goods facilities made it of limited use, however, and local dairy farmers continued to transport milk from Lechlade. (fn. 30) Post was delivered through Lechlade from the early 19th century, and in 1908 the parish meeting pressed for Sunday deliveries. A village post and (later) telephone office opened before 1911, re-opened in the 1920s, and closed in the late 20th century. (fn. 31) No village carriers are recorded, though in the early 1870s a carrier delivered parcels from Faringdon station for what Rossetti considered the exorbitant sum of 6s. 6d. per journey. (fn. 32)
Settlement and Population
Early Settlement
Kelmscott lies amidst a dense concentration of cropmarks along the edge of the gravel terraces, which together suggest extensive Iron-Age and Roman settlement in the area. Traces of paddocks and enclosures imply pastoral farming with seasonal grazing on the Thames floodplain, and possibly there was some small-scale crop-growing. Within the parish clusters of largely undated cropmarks survive immediately west, south, and east of the modern village, ranging probably from prehistory to the Roman period. A rectangular enclosure immediately south of the village may be of Iron-Age date, and traces remain of several undated early trackways, some of them apparently related to parts of the existing road system (Fig. 35). (fn. 33) Roman coins were found near Kelmscott church in 2000, unearthed apparently from a cable-trench in the churchyard. (fn. 34)
No archaeological evidence of Anglo-Saxon settlement has yet been discovered, and from the late Roman period the Kelmscott area (though probably exploited for grazing and hay) may have remained unoccupied for several centuries. (fn. 35) The Anglo-Saxon place name (meaning Coenhelm's cott) suggests settlement by the mid or late Anglo-Saxon period, however, associated presumably with the large emerging estate focused on Langford. (fn. 36) By 1086 Kelmscott was established as an outlier of the recently created Broadwell manor, and it seems likely that some of the 60 tenant households recorded on the estate lay within the later township. (fn. 37) A chapel existed by the late 12th century and possibly by the late 11th, and by the 1270s Kelmscott was an established village of approaching 30 houses, surrounded (as later) by its own open fields and commons. (fn. 38)
Population from 1279
In 1279 the village contained around 28 households, a total population of perhaps 130, of whom most (22 households) were unfree villeins or cottagers. (fn. 39) Between 18 and 23 people, most of them probably householders, were taxed in the early 14th century. (fn. 40) During the 14th century the population fell: only 41 people over fourteen years of age paid poll tax in 1377, (fn. 41) suggesting marked (though not catastrophic) depopulation through plague, and the population had probably not recovered significantly by the 16th century, when only 12 or 13 taxpayers (each presumably prominent householders) were noted in 1544. (fn. 42) Probably such depopulation contributed to the emergence of the prosperous yeoman farmers who dominated the township thereafter, and who from the 16th century benefited from the gradual break-up of Broadwell manor. (fn. 43) In 1642 and 1676 the total adult population appears to have numbered around 60–65, and 16 households were taxed in 1662, probably an underassessment. (fn. 44) During the succeeding century and a half the population seems to have risen only slowly: in 1759 there were reckoned to be 18 families in Kelmscott, and in 1793 around 20 houses, accommodating a total population of 100. (fn. 45) In 1801 there were 27 houses accommodating 132 people. (fn. 46) Between 1801 and 1821 the population fell to 118: possibly that reflected labourers' difficulties following inclosure in 1799, although the overall number of families and households actually rose slightly to 30. During the 1820s and 1830s the decline was reversed, the population reaching 179 by 1841; by then over 80 per cent of householders were agricultural wage-earners employed on the four main farms, a pattern established apparently by the late 18th century and probably accentuated by inclosure. During the mid 19th century the population again fell steadily to only 101 in 1881, but recovered to 164 (accommodated in 32 houses) by 1901. Such recovery was untypical for the period, and almost certainly reflected the expansion of the Hobbs family's labour-intensive dairying business: in 1891 over 70 per cent of the population came from outside the township, compared with only 45 per cent in 1851. (fn. 47) A small decline before 1921 was followed by a more rapid fall from 152 to 114 during the 1920s, and although the population reached 136 in 1951 following small-scale building of new housing, thereafter it fell steadily to only 82 in 1981. (fn. 48) In the early 1960s there was said to be no demand for new houses, and some younger inhabitants were moving away. (fn. 49) A small increase to 95 by 1991 and to 101 by 2001, following further small-scale building, presumably reflected the village's attractiveness to commuters, over half of its households then owning two or more cars, and most working elsewhere. (fn. 50)
Development of the Village
The earliest surviving building is the church at the modern village's northern end, built possibly in the late 11th century and certainly by c. 1200. (fn. 51) Presumably this was an early focus of settlement: the church's south doorway opens to the main east-west street, and 14th-and 15th-century pottery has been found nearby. (fn. 52) Houses west of the church are 17th-century and later, (fn. 53) but the plots are probably medieval and may represent a planned extension of the village between the 11th and 13th centuries, perhaps associated with the building of the chapel.
Medieval settlement is also documented further south. The medieval surnames 'at flood' and 'at water' imply settlement near the river, (fn. 54) and a freeholder's house mentioned from the 1290s to 1340s stood north of Reefham, presumably near Kelmscott Manor. (fn. 55) Another house, mentioned from 1302, lay probably near the modern Plough Inn. (fn. 56) Long, sinuous tenement boundaries just south of the Plough (mapped in 1798) (fn. 57) may indicate that they were taken from the adjoining arable, presumably during the 12th or 13th century when the population was still rising, and close by is the weathered base of a 14th- or 15th-century preaching cross (Fig. 34), at what may once have been a significant road junction. (fn. 58) The road past Manor Farm, a little further east, seems to relate to earlier cropmarks, suggesting that part of its alignment is of considerable antiquity, (fn. 59) and that too may have been settled in the medieval period, although existing buildings are no earlier than the 17th century. (fn. 60) Late medieval population decline presumably thinned out the density of settlement: by the 1760s the village's north and south parts were largely separate, (fn. 61) although the area between them may once have been more fully built up.
From the 18th century the village's layout changed very little. Early 20th-century additions in Vernacular Revival style, built under the auspices of Morris's widow and daughter, essentially preserved its character, (fn. 62) and by the early 20th century Kelmscott was already being promoted as a 'charming old world village' and 'picturesque hamlet', (fn. 63) building on its association with Morris, and on his idealized representation of it in his utopian novel News from Nowhere (1890). Development during the mid and late 20th century was largely confined to small-scale building in traditional styles and materials, no doubt partly influenced by such attitudes as well as by stagnant or falling population. During the 1960s and 1970s the parish pressed for new bungalows suitable for old and retired people, but only in the 1980s was there small-scale new housing development near the Plough Inn. (fn. 64) In 1991 there were 34 households, little different from the township's average since 1801, and in 1995 further development was proscribed by the creation of a conservation area. (fn. 65) Electricity was available by 1939, but there was still no mains water in the 1960s, and no mains sewerage in the late 1980s. (fn. 66)
During the Second World War a small grass airfield at Kelmscott (opened in 1942) served as a relief landing ground for RAF Watchfield. At first it was used for beam-approach training, and was equipped with corrugated-iron Nissen huts and a 'Blister' hangar. Before the Normandy landings practice parachute-drops were made there, and according to locals it was not uncommon for parachutists to miss the site and land 'in fields and trees for miles around'. (fn. 67) Concrete pillboxes, part of a chain designed to stop German invaders from crossing the Thames, survive just north of the river, and in 1995 were included in the new conservation area; (fn. 68) nothing remains of the airfield, however. In 1958–9 controversy erupted over the siting of a navigation beacon for the military airbase at Fairford (Glos.), which the Air Ministry wished to erect near Kelmscott Manor. The proposal was modified following local enquiries, and interventions by the William Morris Society and the Society for the Protection of Ancient Buildings. (fn. 69)
The Built Character
Most existing domestic buildings in Kelmscott are of the 17th century and later, built of rough-coursed limestone rubble with stone-slated roofs, and accompanied by a small group of 20th-century buildings in Vernacular Revival style. (fn. 70) Several high-quality farmhouses, many of which display progressive tendencies for their date, reflect Kelmscott's domination, from the 16th century, by a small group of prosperous yeoman farmers: in 1662 six houses (38 per cent), all belonging to prominent yeomen, were taxed on three or four hearths, while the rest were taxed on one or two hearths only. (fn. 71) By far the grandest house is the so-called Kelmscott Manor (described below) at the village's southern end, built in the late 16th or early 17th century by one of the prominent Turner family, extended around 1666, and occupied by the Morrises from 1871 to 1938. (fn. 72)
Other larger houses include Lower House Farm, an L-shaped building of two storeys and attics dating probably from the late 17th century. Its symmetrical five-bayed front has a moulded wooden eaves cornice broken by a large central gable, cross-mullioned windows, and a central doorway in a moulded stone surround, surmounted by a flat hood with carved scroll brackets. In the 19th century and probably earlier it was divided into three labourers' cottages for nearby Manor Farm, but was later restored to single occupancy. (fn. 73) Home Farm (Fig. 40), in the village's northern part, is a house of comparable size, whose rear range is probably 17th-century or earlier. It was remodelled in the mid 18th century perhaps for one of the Turner family, which owned it by the 1790s. The symmetrical main front (originally rendered) has a slightly projecting central bay surmounted by an open pediment with a blind lunette, while the flanking bays have Venetian windows on the ground floor. A central recessed door with radiating fanlight opens into a stone-flagged entrance hall. (fn. 74)
Bradshaws Farm to the west was built for another family of prosperous yeoman freeholders in the late 17th century, perhaps incorporating fragments of an earlier house. (fn. 75) The earliest parts are rubble-built with stone mullion and transom windows, and internal fittings (including an impressive dog-leg staircase) are consistent with a date of c. 1670–90, a few decades after the Bradshaws' arrival in Kelmscott. (fn. 76) Mid 18th-century remodelling (possibly in 1757) (fn. 77) included a symmetrical refronting in ashlar, incorporating mullion windows, a pedimented central doorway, and a hipped roof. Substantial adjacent barns (one of them bearing Edward Bradshaw's initials) were rebuilt around the same time, (fn. 78) although the house itself is fronted by a large garden, and was clearly intended to appear as a domestic dwelling quite separate from its farmyards. (fn. 79) An unusual gothic porch with an ogee head, half blocking the earlier doorcase, was probably added by the Bradshaws or their immediate successors in the early 19th century. (fn. 80)
More vernacular in style is Home Lea near the church, a late 17th-century house of uncoursed lime-stone rubble extended in 1767 for the farmer Thomas Carter (d. 1794) and his wife Mary. The older (western) part, of three bays, has integral endstacks with flanking winder staircases leading from first-floor to attic level, and mullioned windows with dripstones; the lower, 18th-century range has an endstack with a projecting rectangular bread oven at its base. (fn. 81) Smaller houses of 17th-century origin include 2–3 Manor Cottages, Garden Cottage, Jobs Close, and Plough Cottages, the latter dated 1690 and built probably by John and Mary Turner, perhaps as labourers' accommodation. An adjoining range, now the Plough Inn, was added in the 18th century (Fig. 34). (fn. 82)
During the 19th century there appears to have been little new domestic building, the increase from 27 to 36 separate dwellings between 1801 and 1851 being probably largely due to subdivision, as at Lower House Farm. (fn. 83) Church Cottage was rebuilt in the early 19th century incorporating parts of an earlier house, (fn. 84) and the small single-storeyed school nearby, the only new institutional building, was built around 1872. (fn. 85) A few thatched cottages and farm buildings survived in the late 19th and early 20th century: in 1871 Rossetti commented that most farm buildings were 'of the thatched squatted order', while in 1896 William Morris expressed relief that the leading farmer R. W. Hobbs had re-roofed his buildings with thatch rather than corrugated iron, and admitted 'bribing' another landowner to do the same. (fn. 86) Brick, too, made a sporadic appearance from the later 19th century, brought in presumably by rail. (fn. 87)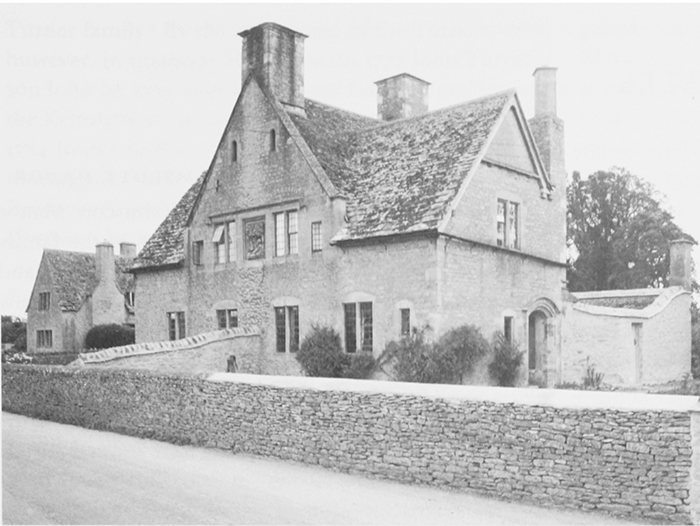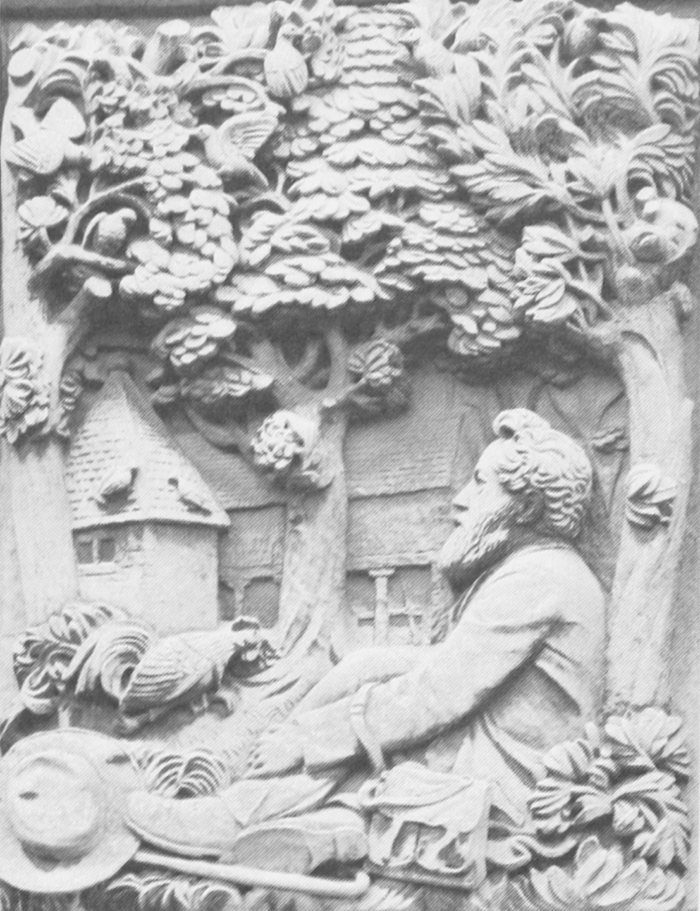 In 1919 the parish meeting pressed for Kelmscott to be included in local housing plans. (fn. 88) With population falling there was presumably little need, however, and what new building there was in the early 20th century was almost all on the Morris family's initiative, reflecting William Morris's idealized views of vernacular architecture, traditional crafts, and rural life. In 1902 Morris's widow Jane commissioned Philip Webb to build a pair of cottages in her husband's memory, on a plot north of Kelmscott Manor which she bought for the purpose; Webb was a friend and associate of Morris, and had designed Morris's tombstone in Kelmscott churchyard. The cottages (Fig. 36), built of traditional materials in Vernacular Revival style, are of two storeys with attic; a stone plaque on the front, carved by George Jack from a design by Webb, shows Morris reclining in nearby meadows with his hat and satchel. In 1914 William's daughter May Morris commissioned two further cottages on an adjacent site, designed in similar style by the Arts and Crafts architect Ernest Gimson (d. 1919), who erected a limestone-plank fence at the nearby roadside. Soon after, May commissioned Gimson to design a village hall in Morris's memory, and following a public appeal the building was finally erected in 1934 to coincide with Morris's centenary, on a site given by Lord Faringdon of Buscot. The hall, L-shaped and single-storeyed with a cellar and attic in the north range, is in similar vernacular style, with a pegged timber roof covered in stone slate, and a fence of limestone slabs. (fn. 89)
Development during the mid and late 20th century was largely confined to further small-scale building in traditional styles and materials. Small cottages were erected near Home Lea and the school in the 1930s and 1940s, and in 1950 a range of four council houses north of the Plough Inn was erected in a neovernacular, stone-built style by the Filkins mason Joe Swinford, partly re-using materials from three demolished thatched cottages nearby. The architect was Stanley Roth. (fn. 90)
MANORS AND ESTATES
In 1086 Kelmscott formed part of the large estate centred on Broadwell. (fn. 91) On the manor's division in the early 13th century most of the township passed to the d'Oddingseles family, and remained part of their manor of Bradwell Odyngsell throughout the Middle Ages. Another 6½ yardlands (including 4 yardlands in demesne) belonged in the 1270s to Roland d'Oddingseles (d. 1316), who held them for life for an annual render of a pair of gloves. (fn. 92) That land belonged to what became Bradwell Cirencester manor, and on Roland's death reverted to Cirencester abbey (Glos.). (fn. 93) A third Broadwell manor (Bradwell St John) included a meadow in Kelmscott in 1498. (fn. 94)
Bradwell Odyngsell and Bradwell Cirencester manors retained holdings in Kelmscott in the late 16th and early 17th century, (fn. 95) but by the late 18th century most had been sold or otherwise enfranchised. Long before then Kelmscott was dominated by resident and non-resident freeholders including prominent local farmers, and at inclosure in 1799 the owner of Bradwell Grove, though still called lord of the reputed 'manor' of Kelmscott, was awarded only 53½ a. of meadow in the township. (fn. 96) In 1864 the meadow was sold with the 'lordship' to the resident farmer James Turner (d. 1870), the owner of a freehold centred on what was then called Lower House, but which subsequently became known as Kelmscott Manor. (fn. 97) The Turners and their successors were still occasionally called lords of Kelmscott in the late 19th and early 20th century, (fn. 98) but never exercised any manorial rights. Kelmscott Manor itself was leased to William Morris from 1871 and sold to his widow Jane in 1913. Later land purchases resulted in most of the township becoming divided by the late 20th century among the Society of Antiquaries (which acquired Kelmscott Manor), the Church Commissioners, and the National Trust. (fn. 99)
The Turners and Kelmscott Manor
The early descent of the Turners' Kelmscott Manor freehold is obscure, as various branches of the family lived and farmed in the township between the 16th and 19th centuries. (fn. 100) Thomas Turner (d. 1611) and his widow Ann (d. 1620) have been suggested as possible owners, largely on the grounds that Thomas's probate inventory describes a house of roughly comparable size, and that the house's earliest parts appear to be early 17th-century. (fn. 101) The house could equally have formed part of the estate of Richard Turner (d. 1600), however, a prosperous Kelmscott yeoman whose lands in Kelmscott and Filkins passed to his widow Ann and infant son Thomas (d. 1663), and to Thomas's son Thomas (d. 1682). (fn. 102) The elder Thomas lived at Hall Place in Filkins, (fn. 103) but his son, who was granted a coat of arms in 1665, is the first of the family to be unequivocally associated with Kelmscott Manor, which he extended probably in 1666. (fn. 104) By the early 18th century the house and estate totalled 4 yardlands, which was held with other freehold and leasehold estates including a manor in Suffolk. (fn. 105)
Thomas (d. 1682) was succeeded by his eldest son Thomas (d. 1709), who mortgaged the estate and left it to his sons Thomas, Charles, and George in trust to be sold. (fn. 106) They presumably paid off the debts, and on Thomas and Charles's deaths in 1730 their shares passed to George (d. 1734). He left it in trust for his unmarried sister Arabella (d. 1736) with provision for his widow Penelope, and established contingent remainders to members of the Hammersley family and to the sons of his cousin John Turner (d. 1763). (fn. 107) The Hammersleys' interest continued until 1775, (fn. 108) but none of them seem to have lived in Kelmscott, and probably the house and land continued to be occupied by members of the Turner family. (fn. 109) By the 1770s some of the Turners were, however, in financial difficulties. In 1772 John Turner's son John (d. 1779) was imprisoned for debt, and though the Kelmscott estate was briefly recovered by his son, in 1784 John's brother James (d. 1799), together with the mortgagees, sold it to James's brother-in-law John Beesley, of Charney in Berkshire. (fn. 110) James and his son Charles (d. 1833) continued as Beesley's tenants until 1816, when Charles recovered the freehold from Beesley's son. By then the estate (80 a. after inclosure) was combined with a small freehold of 36 a. centred on Home Farm. (fn. 111)
From the 1830s Charles's son James enlarged the estate, acquiring the manorial title in 1864, and by 1867 farming some 478 a. as freeholder and lessee. (fn. 112) James died in 1870 and his widow Elizabeth in 1883, when ownership passed to their nephew Charles Hobbs (d. 1893) of Meysey Hampton (Glos.), also a working farmer. Having no need for the house he let it to Morris in 1871, and from 1873 handed management of the Kelmscott estate to his son R. W. Hobbs (d. 1920), who farmed it from Home and Bradshaws Farms. (fn. 113) On Charles's death the freehold estate, 205 a. in Kelmscott and 70 a. in Lechlade (Glos.), was divided among eight children, of whom R. W. Hobbs bought out the others in 1895 with a loan from Morris. (fn. 114)
In 1905, following financial difficulties, R. W. Hobbs sold Home Farm and most of his land to the Ecclesiastical (later Church) Commissioners, but continued as their tenant. (fn. 115) Kelmscott Manor, which he retained with a few small parcels, was sold in 1913 with a barn, cottage, and 9 a. to Morris's widow Jane, who had remained there as tenant; in 1899 she had already bought part of nearby Crooks Close, on which the Morris Memorial Cottages were built in 1902. (fn. 116) In 1935 William and Jane's daughter May Morris bought another four cottages and some farm buildings from a private landowner. (fn. 117) May died in 1938 leaving Kelmscott Manor to Oxford University, subject to detailed stipulations concerning public access and preservation of its contents, and with wholly inadequate provision for its upkeep. Following numerous difficulties the university proved unwilling to maintain 'a museum piece ... of no conceivable value to its academic life', and in 1962 the house and its land passed to the Society of Antiquaries of London, the residuary legatees under May Morris's will. (fn. 118) In 1967 the Society bought the barns, yard, and an adjacent close from the Church Commissioners, (fn. 119) and remained the owner in 2011.
Kelmscott Manor: Occupancy
In origin an ordinary yeoman farmhouse, Kelmscott Manor stands at the village's southern end near the river Thames. It or a predecessor may have been occupied by Richard or Thomas Turner (d. 1600 and 1611) and their widows, or by the other family members recorded in Kelmscott in the early 17th century. (fn. 120) Thomas Turner (d. 1682) certainly lived there by the early 1660s, before his father's death, (fn. 121) and thereafter the house was continuously occupied by his successors until at least the 1730s. (fn. 122) Before George Turner's death the house was temporarily divided, much of the service end being let to a yeoman tenant (Thomas Ford), and the rest reserved for George's sister, widow, and heirs, who were required to live there for at least six months a year or forfeit the inheritance. (fn. 123) The Fords may have remained until 1775, (fn. 124) but occupation of the rest of the house during that period is unclear: the Hammersleys retained a life interest but were non-resident, (fn. 125) while George's residuary legatee John Turner (d. 1763) and his family had other farmhouses in Kelmscott. (fn. 126) Even so it seems likely that Turner family members continued to farm the land, and to occupy some at least of the buildings: in 1775, when the estate was offered for sale, the farm was leased to James Turner (d. 1799), and the house was said to be in hand. (fn. 127) James and his son Charles probably occupied the house and its farm buildings thereafter, although they also owned and occupied Home Farm. (fn. 128) Charles's son James (d. 1870) farmed from Kelmscott Manor from the 1830s. (fn. 129)
William Morris rented the house from 1871, at first with Dante Gabriel Rossetti and later with his publisher F. S. Ellis. The Morrises and their co-lessees used the house as a second home, visiting mainly in the summers. After Morris's death in 1896 his widow Jane made Kelmscott her main home, buying the freehold in 1913 for her daughters Jenny (d. 1935) and May (d. 1938). After Jane's death in 1914 they continued to divide their time between Kelmscott and London, but in 1923 May settled at Kelmscott permanently, latterly sharing the house with her companion Mary Lobb. (fn. 130)
May's will provided for Oxford University to let the house as a rest home for artists, writers, and academics, with preference given to the Rector of Exeter College, the Slade Professor of Fine Art, Keepers of the Ashmolean Museum, and Bodley's Librarian. None wished to occupy the house, which from 1939 was let successively to a schoolmaster and artist, to the poet John Betjeman (who sublet it), and to the Morris scholar Dr D. C. Wren. (fn. 131) Stipulations that the house should be preserved as it had been during Morris's lifetime and that the public should be given access caused friction with tenants, (fn. 132) and after the house passed to the Society of Antiquaries the southern part was turned into custodian's accommodation, while the rooms associated with Morris, on the north side, were made accessible to visitors through a new north entrance made in 1966. (fn. 133) The arrangement continued in 2011.
Kelmscott Manor: The House
The earliest parts of Kelmscott Manor (Fig. 37 and Plates 8–9) comprised a traditional U-plan farmhouse with a hall at the centre, entered from a screens passage at the southern end, and flanked on the south by a projecting two-roomed service end (which included a heated kitchen), and on the north by a projecting two-roomed high end (of which one room was heated). (fn. 134) From the outset the house was two-storeyed with gabled attics, and like most other buildings in the area it is of uncoursed limestone rubble (formerly lime-washed) (fn. 135) with stone-slated roofs. Entry may originally have been from the west, between the projecting wings, but by the 1660s the main entrance faced eastwards towards the road. A late 16th-century origin has been suggested, based partly on a scratched date on a mullion, which has been questionably interpreted as 1571. The staircase and fireplaces imply an early 17th-century date, however, perhaps adding weight to the suggestion that Thomas Turner (d. 1611) was the builder. (fn. 136)
Thomas Turner (d. 1682) remodelled the north end around 1666, when he acquired an adjoining strip of land lying probably on the house's north side, abutting eastwards on the road. (fn. 137) A new multi-gabled parlour block was added at the house's north-east corner, projecting forwards and forming a cross wing; the scale of the new work was larger than the old, incorporating higher ceilings, applied classical motifs in the form of some small pedimented windows, and high-quality fireplaces which featured Turner's newly acquired coat of arms (Plate 9). (fn. 138) A sophisticated joisting technique between the ground and first floors allowed use of timbers shorter than the space to be spanned, and may have been derived from recent Oxford examples. (fn. 139) Additional work included rebuilding the chimney stacks in a diamond-set pattern and heightening the attic gables, although the conventionally placed staircase in the north-west wing probably remains from the earlier house. Rooms in 1734 included the great (presumably north-east parlour) and chamber above, a 'flock-worked' room probably in the north-west wing, and a study of books, perhaps in one of two small northwards projections or closets. The principal bedroom was over the hall, and the service end (let to Thomas Ford) comprised the kitchen, a maids' chamber with garrets above, a second chamber, and various outbuildings. (fn. 140) Panelling in the north-east parlour is 18th-century, perhaps installed by George Turner, and 17th-century Flemish tapestries in the north-east chamber (Plate 9) may have been brought in around the same time: they are cut to fit the room, and so were not commissioned new. (fn. 141) In the 1780s the house (described as 'genteel') still contained two large parlours, a hall, and a kitchen, with six first-floor chambers and five attic rooms, all elegantly furnished. (fn. 142) A single-storeyed south-west service wing, at an oblique angle to the main range, was built in the late 18th or early 19th century, perhaps replacing the dairy, brewhouse, and butteries mentioned in 1734. The Turners' 19th-century changes were minor, including insertion of small iron grates and conversion of the south-west chamber into a cheese room. (fn. 143) The Morrises, too, carried out few structural alterations, although William redecorated, and in 1895–6 had stone-flagged or solid wood-block floors laid in all the ground-floor rooms, partly re-using flags found under the dining room (the former hall). (fn. 144) Ceramic tiles in the splays of some 17th-century fireplaces have been attributed to Charles Marks of London, and two castiron Art-Nouveau fireplaces upstairs were probably inserted c. 1890. (fn. 145) May Morris intended the house to remain a memorial to her father, and her bequest to Oxford University included furniture, paintings, tapestries, and embroideries associated with Morris and with the family's Pre-Raphaelite and Arts-and-Crafts circle, in particular Rossetti and Philip Webb. Some items had been at Kelmscott during Morris's period, although many others were imported later. (fn. 146)
By 1961–2 the house was in serious disrepair, and over the next few years the Society of Antiquaries undertook a major renovation, overseen by Donald Insall, Peter Locke, and the then custodian A. R. Dufty. The work became a model of late 20th-century building conservation, carried out so far as possible according to Morris's precepts as laid out in the manifesto of the Society for the Protection of Ancient Buildings. Following the structural work many of the public rooms were redecorated with Morris wallpapers, some from rolls discovered in the house, while the tapestries and fabrics were cleaned or replaced. (fn. 147)
The main farmyard lies south of the house, flanked by two large stone-built barns and a tall stone dovecot, all roughly contemporary with the 1660s work. The westernmost barn is now a tea room. In the 19th century the farmyard's south side was closed by a byre, and there was a rickyard further west; a granary was added by Charles Turner in the early 19th century. (fn. 148) A stone-built privy with a pyramidal roof, adjoining a garden wall at the back of the house, may be late 18th-or early 19th-century. (fn. 149) In 1993 the Antiquaries initiated a major restoration of the gardens, informed by their use and layout during Morris's tenure. The contractors were the landscape architects Colvin & Moggridge. (fn. 150)
Other Estates
Church Commissioners' (formerly Chichester Cathedral) Estate
A holding of 1½ yardlands, comprising a cottage, close, and 18½ a., was acquired in 1522 by Robert Sherburne, bishop of Chichester, who the same year granted it to Chichester cathedral with land in Langford. (fn. 151) The estate totalled 25 a. after inclosure in 1799, and in the late 18th and early 19th century was let or sublet to local gentry or farmers, including members of the Turner family. (fn. 152) In the mid 19th century it was vested in the Ecclesiastical (later Church) Commissioners, who added to it before 1879 when they held 80 a. in Kelmscott. (fn. 153) In 1905 the Commissioners bought Home farm from R. W. Hobbs, and Bradshaws or Kelmscott farm from trustees for George Milward, and around 1912 they owned 418 a. (let mostly to Hobbs) and 12 cottages. Another 86 a. were bought from the Hobbses' partner Vaisey Davis in 1935, and the Commissioners remained one of two chief landowners in Kelmscott in the early 21st century. (fn. 154)
A house or homestall for the Chichester cathedral estate seems to have stood south of the village street opposite Home Farm, with which it was occupied by the lessee in the early 19th century. The buildings were demolished in the late 19th or early 20th century. (fn. 155)
Manor Farm Estate
A freehold centred on Manor Farm was owned in the late 18th century by the farmer John Edmonds (d. 1809), who in 1767 bought two houses, rectorial tithes, and over 100 a. from James (d. 1799) and Elizabeth Turner. (fn. 156) The estate may formerly have belonged to James's grandfather John Turner (d. 1706) and his wife Mary: their initials appear on Plough Cottages (now part of the Plough Inn), which subsequently formed part of the Edmonds estate. (fn. 157) At inclosure in 1799 Edmonds received 150 a. for his freehold land and 158 a. for the tithes, together with 40 a. for a separate leasehold. (fn. 158)
Around 1821 Edmonds's successor William Edmonds sold the farm to George Milward (d. 1838), lord of nearby Lechlade (Glos.). In addition Milward acquired Bradshaws farm (c. 120 a.) from the Bradshaw family, making him the largest landowner in Kelmscott besides the Turners. (fn. 159) In 1898 trustees for Milward's heirs sold Manor farm (then 314 a.) and a few cottages to Sir Alexander Henderson (d. 1934) of Buscot Park (then Berks.), who in 1916 was created 1st Baron Faringdon; his grandson A. G. Henderson (d. 1977), 2nd Lord Faringdon, sold it in 1948 to Ernest Cook, from whom it passed with the Buscot Park estate in 1956 to the National Trust. (fn. 160) The Trust retained both estates in the early 21st century.
Manor Farm
Manor Farm was so called by 1898, presumably from its recent connection with Lechlade manor. (fn. 161) The house was substantially rebuilt and extended around 1700, perhaps for John and Mary Turner, and displays progressive features for its date. (fn. 162) The symmetrical south front (Fig. 38), with a hipped roof and endstacks, is of five bays, and has a pedimented central entrance and ovolo-moulded cross-mullioned windows. The walling is mostly coursed limestone rubble, but includes two ashlar bands on each floor and ashlar quoins around the windows and at the corners. Early 18th-century fittings in the eastern ground-floor room include panelling, a dentilled wooden cornice, and fluted pilasters to either side of the 19th-century fireplace, while the western room retains an Adam-style fireplace surround. A north-eastern back range, single-storeyed and with agricultural buildings at its northern end, may be of 17th-century origin, although the full-height north-west range is possibly contemporary with or slightly later than the main range. Stone-built agricultural buildings to the north, south-west, and south-east (across the road) include two 18th-century barns and an early 18th-century square dovecot, with a stone-slated roof and a pyramidal-capped louvre. (fn. 163)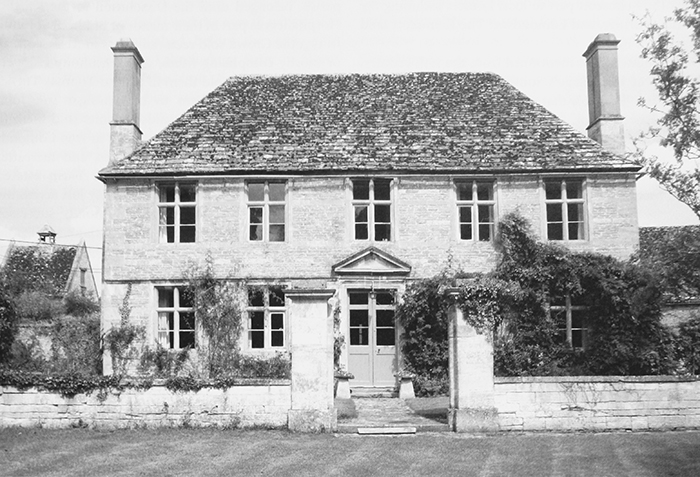 The Edmondses farmed the land themselves but mostly lived elsewhere, and in 1799 the house was let to a tenant. (fn. 164) Resident farmers in the 19th and 20th centuries included John Wells Brain in the 1850s and 1860s, Alfred Mace in the 1890s, and later the Eavises, (fn. 165) and the building remained a farmhouse in 2011. It was partly refenestrated during the 19th and 20th centuries, and a two-storeyed addition between the rear ranges was also added in the 20th century.
Queen's College Estate
The Queen's College, Oxford, acquired a holding at Kelmscott around 1526, given by Sir William Fettiplace and his wife Elizabeth as part of a larger estate centred on Letcombe Basset (formerly Berks.). (fn. 166) The Kelmscott holding included a yardland which had apparently been sold by Roland d'Oddingseles c. 1302, and which was acquired in the 15th century by Elizabeth's grandfather Thomas Walrond. (fn. 167) In the 16th and 18th centuries the college's Kelmscott estate totalled 2 yardlands comprising some 40 a., and 62 a. were awarded at inclosure in 1799. (fn. 168) Until the 19th century the college seems to have let the whole of its Letcombe estate to the Fettiplaces, who sublet the Kelmscott part to local farmers including the Davises, Turners, and Edmondses. (fn. 169) The Kelmscott land was sold in 1920. (fn. 170)
A homestead was mentioned from the 16th century, standing at the village's southern edge south of the Plough Inn. Probably that was the site of a house called Snow's Place or Goulds in the 14th and 15th centuries, which was mentioned in the college's early deeds. In 1722 the site included barns and outhouses, an orchard, and a garden; a house or cottage remained in 1920, but was subsequently demolished. (fn. 171)
Rectorial Tithes
Rectorial tithes in Kelmscott, as elsewhere in Broadwell parish, belonged until the Dissolution to the Knights Hospitallers as part of their manor of Bradwell St John. (fn. 172) In 1553 the Crown sold rectorial rights in Kelmscott, all or mostly comprising tithes, to Sir Anthony Hungerford, whose heirs sold them in 1638 to Thomas Turner (d. 1663). He left them to his younger son John (d. 1667/8), whose great grandson James sold them to John Edmonds in 1767. (fn. 173) At inclosure in 1799 Edmonds received 158 a. in lieu of great tithes, and thereafter the land formed part of his Manor Farm estate; (fn. 174) buildings known as 'parsonage farm' lay just across the road from Manor Farm in 1798. (fn. 175) Edmonds' successor George Milward was called lay impropriator in the mid 19th century. (fn. 176)
ECONOMIC HISTORY
Until the 20th century farming was the principal occupation of Kelmscott's inhabitants. Sheep-and-corn husbandry was probably most common, although the township's rich meadowland encouraged the grazing of both sheep and cattle. From the 16th century several prosperous yeoman families emerged, holding extensive farms as freeholders and leaseholders, and employing local labourers and servants. Parliamentary inclosure in 1798–9 consolidated their position, reducing the remaining smallholders and commoners to the position of wage labourers. In the 19th century the arable acreage increased until the agricultural depression of the 1870s compelled Kelmscott's farmers to diversify into dairying and livestock breeding, some of them (particularly the Hobbs family) on a large commercial scale. Mixed farming with a pastoral bias continued during the 20th century.
The Agricultural Landscape
Kelmscott's riverside location was ideal for the creation of high-quality meadowland, which remained important to its agricultural economy into modern times (see Fig. 33). (fn. 177) Open grassland, too, was in good supply: much of the township's northern part was common pasture from the Middle Ages until 1799, and supported substantial numbers of sheep, cattle, and horses. Between the meadows and the pasture, lying mostly on the river gravels, was an extensive area of open-field arable, which was most likely established by the 11th century, and which until the 1790s comprised several named fields and crofts clustered around the village. (fn. 178) Wood and fuel was possibly available from hedgerows before inclosure, (fn. 179) although much probably had to be brought in from outside. In 1611 the prosperous yeoman Thomas Turner had 15 loads of firewood worth £4 10s., while furze worth 4s. belonging to a labourer in 1582 had presumably been cut on the common or near the river. (fn. 180)
Open-Field Arable
Before inclosure Kelmscott's open-field arable comprised some 476 a. (46 per cent of the township), with 400 a. of common pasture (38 per cent), and 170 a. of meadow (16 per cent). The largest common fields were Great and Kingsham fields, which abutted each other on the township's eastern side and together covered over 300 acres. The smaller Haincroft, Henfield, Upcroft, and Long Croft (or Lincroft) were clustered around the village, while Fernham, which covered 59 a., adjoined the north-west boundary, detached from the rest of the arable. (fn. 181)
Home and Galloway fields, mentioned in 1573 with Fernham, Henfield, and Kingsham, were apparently predecessors of Great field, (fn. 182) and the overall pattern was almost certainly established before the early 14th century, when arable in Lake furlong (later in Home field) was mentioned. (fn. 183) The 'croft' field names suggest that some of the open-field arable around the hamlet may have been taken from medieval closes, but by the 16th century all seem to have been fully integrated into the common fields. (fn. 184)
Kelmscott's soil, a deep loam overlying gravel, was judged in the early 20th century to be 'unequal and inferior' to some in the area, but supported a variety of cereals, legumes, and root-crops. (fn. 185) The 16th-century names Beanlands and Stonyland suggest varying quality, and the name Lincroft implies that flax may have been grown in the Middle Ages. (fn. 186) Nothing is known of medieval crop rotations, though on the eve of inclosure there appears to have been a standard fourcourse rotation of fallow, wheat, beans, and barley. (fn. 187)
Pasture and Meadow
The 'pasture of the men of Kelmscott' was mentioned in 1320, (fn. 188) and then as later probably occupied a broad arc of land from Bull mead in the south-west to Langford brook in the north-east. By the 18th century it was divided into an outer cow common and an inner common called the green, presumably the 'sheep green' mentioned in 1722. (fn. 189) Additional pasture rights in some meadows were agreed in 1320 between the lords of Bradwell Odyngsell and Bradwell Cirencester manors, who confirmed grazing there from mowing time until the feast of the Purification (2 February), (fn. 190) and presumably there was some regulated grazing in the arable fields after harvest. Filkins inhabitants seem to have also had some limited pasture rights in Kelmscott, perhaps for the town bull, since at inclosure they collectively received ¼ a. (called 'Filkins bull') in compensation. (fn. 191) In 1573 the Queen's College's 2-yardland estate carried common rights for 80 sheep, 14 cows, and 4 horses. (fn. 192)
The township's meadows flanked the open fields' southern edge along the northern bank of the Thames, and presumably accounted for much of the 185 a. of meadow recorded on Broadwell manor in 1086. (fn. 193) Kingsham (c. 115 a.) in the south-east and Westham (c. 50 a.) in the south-west were mentioned from 1320, when the lords of Bradwell Odyngsell and Bradwell Cirencester manors shared rights there and agreed access for their servants and waggons, rotating some of their rights from year to year. (fn. 194) Some of the meadow was probably already inclosed demesne, and a few other small inclosed parcels or hams were mentioned from the Middle Ages. (fn. 195) Some was common meadow, however, and in Westham some strips were apparently still allocated by lot in the 18th century. (fn. 196)
The desirability of Kelmscott's meadowland is suggested by numerous purchases made by outsiders. Small parcels in Littleham and Reefham changed hands repeatedly between 1296 and 1364, (fn. 197) and in 1498–9 one of the non-resident Harcourt family held another meadow for 13s. 4d. a year. (fn. 198) Some tenants' shares were apparently much smaller, however, (fn. 199) and by the 17th and 18th centuries most larger farmers probably supplemented their common mowing rights with privately owned meadow. (fn. 200) In the early 19th century a leading Kelmscott farmer praised the quality of local hay, commenting that he had bought no cattle cake for many years and that his prize animals ate nothing else. (fn. 201) Persistent flooding, still common in the 20th century, (fn. 202) may nevertheless have reduced their value, and perhaps that of Kelmscott's other agricultural land.
Fisheries and Weirs
Fish provided an important supplementary resource from the Middle Ages, for both lords and tenants. The lord of Broadwell owned a fishery at Kelmscott by 1086, and his successors retained it until at least the 17th century, (fn. 203) occasionally letting it to local inhabitants. (fn. 204) A Kelmscott husbandman owned a boat and a flue-net in 1632, and in the late 19th century the river was still said to be well stocked with pike and crayfish. (fn. 205) The fishery may have become detached from Broadwell manor by 1784, when the Turner family's Kelmscott holding included a fishery and fishpond. (fn. 206)
Hart's or Eaton weir, which straddled the Thames ½ mile south-west of Kelmscott village, was probably also of medieval origin, and by 1754 was owned with an attached fishery by the local Hart family. An attached house lay just south of the river in Eaton Hastings (formerly Berks.). (fn. 207) Osier beds in Kelmscott (presumably near the weir) were also owned by the Harts in the 1790s, and until 1837 the family owned a small meadow nearby. (fn. 208)
Medieval Tenants and Farming
The Domesday entry for Broadwell did not distinguish between the estate's separate settlements, and nothing is known of agrarian organization in 11th-century Kelmscott. (fn. 209) By 1279, however, the township was divided in the usual way into around 22 yardland holdings, (fn. 210) each, on later evidence, comprising some 17–18 a. of open-field arable, with around 2 a. of common meadow and (in the 16th century) pasture rights for 40 sheep, 7 cows, and 2 horses. (fn. 211)
Fifteen yardlands were occupied by unfree villeins in 1279, each of whom held an entire yardland. Of those, 13 held directly of the d'Oddingseles' Broadwell manor for rents of 3s. 9d. each and labour services valued at 6s. 3d. a year; the other two were tenants of Hugh d'Oddingseles's kinsman Roland, and owed much larger rents (13s. 4d. each) but lighter services. Another seven tenants were cottagers, occupying between 1 a. and 8 a. each for varying money rents. Only 7 yardlands and a few odd acres were occupied by free tenants. Roland d'Oddingseles held 4 yardlands apparently in demesne, while John of Greenbarrow held and sublet 2 houses and 2 yardlands, and another tenant held a house and yardland jointly under Roland and Hugh d'Oddingseles. The last two holdings were unchanged in 1305, although the recorded rents were by then slightly lower. Henry in Angulo, free tenant of another yardland in 1305, came from a family which had earlier held in villeinage. (fn. 212)
Early 14th-century tax assessments show considerable disparities in the wealth of individual tenants, which was not entirely related to size or status of holdings. (fn. 213) Occupiers in 1306 were taxed on moveable goods worth between 12s. and just under £7, and in 1316 on between 26s. and just under £6. Many of the higher payments came from tenants whose yardlands had been held in villeinage in 1279 and 1305, (fn. 214) while Walter Staleworth, assessed in 1327 on goods worth over £14, was related to a family of 13th-century cottagers. (fn. 215) John Crock, tenant of a free yardland, was assessed on £3 in 1306 and on £4 17s. in 1316. The township's total assessed wealth exceeded £70 both in 1316 and 1327, and average assessments per person, 68s. in 1306, 63s. in 1316, and 79s. in 1327, suggest that Kelmscott was among the more prosperous rural settlements in the area.
From the mid 14th century outbreaks of plague reduced Kelmscott's population, though less markedly than in some neighbouring places. Its fortunes during the later Middle Ages are obscure, although extensive remodelling and beautification of the chapel, combined with its acquisition of burial rights in 1430, suggest prosperity amongst some at least of the township's inhabitants. (fn. 216) As elsewhere, the fall in population probably precipitated consolidation of holdings and the emergence of some of the dominant farming families recorded from the 16th century, when piecemeal sale of manorial lands reinforced the process. (fn. 217)
No direct evidence survives for the type of farming carried out in medieval Kelmscott, but presumably it followed a similar pattern to that on local demesne farms, combining cereal-based arable production with sheep rearing and probably some dairying. Pastoral farming (some of it possibly by outsiders) may have been particularly significant given the size of the township's commons and meadows, (fn. 218) and as elsewhere it probably increased in the later Middle Ages. Fishing (both legal and illegal) was probably also important. In 1305 the manorial fishery was let to John at Water with a villein yardland for 28s. a year, and a villein family surnamed Fisher was recorded in the late 13th and early 14th century. (fn. 219)
Farmers and Farming c. 1520–1798
By the early 16th century some of the prosperous yeoman families which dominated Kelmscott for the next few hundred years were beginning to emerge. In particular the prominent Turner family were established in the township by the 1520s, (fn. 220) their growing wealth evidenced by the lay subsidy of 1544, to which Elizabeth Turner (d. 1558) paid almost half of the total raised from 12–13 Kelmscott taxpayers. (fn. 221) By the 1570s three out of eight taxpayers in Kelmscott were members of the Turner family, and together owned nearly half the township's assessed moveable wealth. (fn. 222) The largest taxpayer, Andrew Turner, left goods worth £169 at his death in 1594, (fn. 223) compared with only £10–£30 left by many Kelmscott farmers in the period. (fn. 224)
Such prosperity probably allowed the family to take advantage of the gradual break-up of the Broadwell manors during the 16th and early 17th centuries. At his death in 1600 Richard Turner had a house and 1½ yardlands in Kelmscott as a tenant of Bradwell Cirencester manor, the lingering residue of manorial custom reflected in the relief of a horse which his son Thomas owed for entry into the holding. (fn. 225) Three years later the new owner of Broadwell manor sold to William Turner, in perpetuity, a house, garden, and 84 a. in Kelmscott and Broadwell, including pasture and meadow, (fn. 226) and several other Kelmscott freeholders seem to have acquired parcels of former manorial land around the same time. (fn. 227) By the mid 17th century the later pattern was well established, with landholding and farming in the township dominated by a handful of prosperous yeoman families such as the Bradshaws, Grains, and Symeses, of whom several remained for several generations. (fn. 228) By then the Turners of Kelmscott Manor owned and farmed at least 70 a. with commons for 20 cows and 96 sheep, (fn. 229) while in 1714 the Bradshaws owned a farm of 'pretty considerable yearly value'. (fn. 230)
Further consolidation followed during the 18th century, long before parliamentary inclosure in 1798–9. In 1767 John Edmonds (d. 1809), a leading farmer based in Gloucestershire, bought 130 a. centred on Manor Farm, (fn. 231) and by 1785 he was the second-largest land-tax payer in Kelmscott, assessed at £13 or one quarter of the total paid. Edward Bradshaw (predominantly a freeholder) paid £9 11s. 8d. and James Turner £9, although the largest farm was that of Thomas Carter (£17), an amalgamation of leaseholds held under various nonresident landowners, and run from Home Lea near the chapel. Following Carter's death in 1794 much of his leasehold land was acquired by Edmonds and others, leaving Kelmscott divided among three chief farms. (fn. 232) Such expansion did not come without risk, however. In the 1770s several of the Turners suffered serious financial crises, culminating in imprisonment for debt and the temporary loss of their freehold to a relative, under whom they continued as lessees. (fn. 233)
Sixteenth- and 17th-century wills and probate inventories point to the mixed sheep-corn farming typical of the area. Scythes, ploughs, harrows, harnesses, and other instruments of arable farming were itemized, together with livestock including sheep, cattle, pigs, poultry, and horses. A testator in 1546 bequeathed nearly 40 sheep, (fn. 234) while the wealthy yeoman Francis Symes (d. 1631) left 80 sheep and lambs, 10 cattle, 4 horses, and a few pigs, together with wheat, barley and malt worth £25, and 50s.-worth of hay. (fn. 235) Lambs with ewes were accommodated in cots and stalls, (fn. 236) and some wool was sold direct to weavers in Witney and presumably other cloth-manufacturing centres. (fn. 237) William Turner (d. 1626) had a dairy house fitted with troughs, a tub, a churn, and a cheese-press and rack, and his possession of a malt mill, cistern, and drinking barrels may indicate small-scale brewing. (fn. 238) Bullocks, heifers, sheep, and small quantities of wheat and barley were frequently left to younger sons and daughters, and several Kelmscott testators left quantities of hemp. (fn. 239) Several large, stone-built 17th- and 18th-century barns (some with pigeon roosting boxes) point to significant investment in arable and probably pastoral farming, while Kelmscott Manor and Manor Farm each acquired large stone dovecots. (fn. 240) Even landless labourers sometimes kept a few livestock, pastured presumably on the commons where they could also cut furze. (fn. 241)
Parliamentary Inclosure 1798–9
Some small-scale, piecemeal inclosure was carried out by freeholders before parliamentary inclosure in 1798–9. In 1735 Edward Turner owned 4½ a. of newly inclosed land called Haggots croft, taken apparently from the open fields, (fn. 242) while Beesley's piece (9 a.), mentioned in 1798, seems to have been a consolidated block of open-field arable immediately south of the village. (fn. 243) Except for a few small closes adjoining the houses and some small plots of meadow there was, however, virtually no other inclosed land before 1799, when most arable was still held in small scattered strips of 1 a. or less. (fn. 244)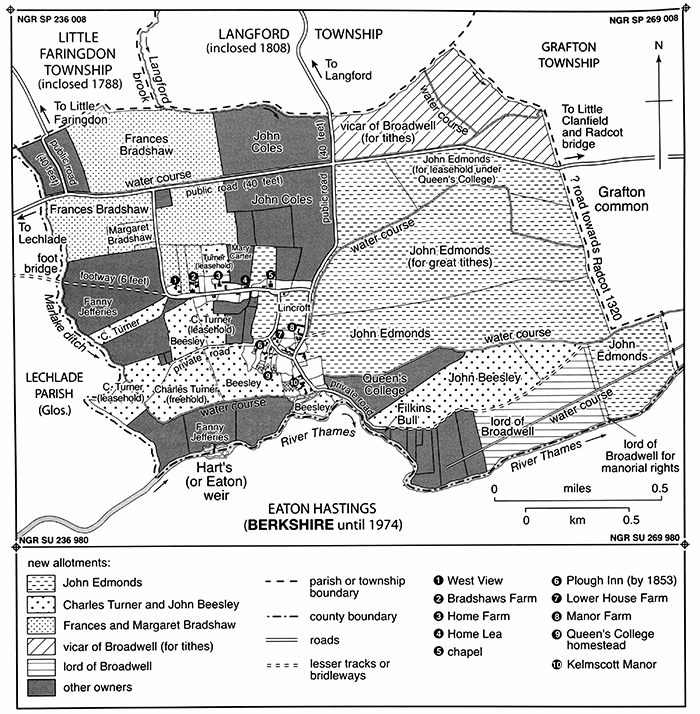 An Act for Kelmscott's inclosure was obtained by the chief landowners and farmers in 1798, and a professional land surveyor, William Church of Longcot (then Berks.), was appointed. The inclosure was accompanied by extensive laying of new roads and drains, financed partly by the sale of two parcels totalling some 15 a., and the farmers John Edmonds and Edward Bradshaw were appointed as surveyors of the carriage roads. Five new water courses were laid to improve drainage, each of them 6 or 8 feet in width. Their future maintenance was charged to the land-holders through whose allotments they ran. (fn. 245)
The allocation of newly inclosed land, totalling some 970 a., reflected the ascendancy of the chief farming families and of a few non-resident landowners (Fig. 39). The absentee lord of Broadwell manor received 53½ a. in the south-east for his residual rights, but the largest allocation was 347 a. to John Edmonds as freeholder and lessee. This represented 35 per cent of the land allotted, and comprised the whole of the former Great and Kingsham fields and adjacent meadows. Frances Bradshaw received 118 a. north-west of the village in the former common pasture, and Charles Turner (d. 1833) a total of 142 a., including 80 a. rented with Kelmscott Manor from his cousin John Beesley. (fn. 246) The vicar of Broadwell received 79 a. of glebe in lieu of tithes, the remaining land being mostly allotted to non-resident proprietors including John Coles (79 a.), Fanny Jeffries (47 a.), and Francis Grain (12 a.), who let it to local farmers. Five people receiving 2 a. or less may have been cottagers, and so too may one or two others who paid under 5s. land tax. There seem, however, to have been no other resident smallholders, and by the 1840s there were apparently none. (fn. 247)
Inclosure was reckoned by the early 19th century to have increased Kelmscott's arable by 50 a., and John Edmonds, reflecting the conventional view of large commercial farmers, asserted that it had increased both arable and pastoral productivity and had doubled rents, which he claimed were 'paid with more ease'. (fn. 248) His own farming methods, reported with approval by the agriculturalist Arthur Young, included rotations of turnips, beans, wheat, and oats or vetches, with some sainfoin; on former common pasture he burnt off the grass, planted two successive turnip crops which were grazed with sheep, then planted rye grass, hops, or honeysuckle clover. Other improvements included erection of model stalls for livestock, and selective breeding of Cotswold sheep. (fn. 249)
The effects of inclosure on labourers and cottagers were less beneficial, and the decline in Kelmscott's population between 1801 and the 1820s may reflect a gradual exodus following loss of common rights. (fn. 250) Even so the number of families supported by agriculture rose from 26 to 28, (fn. 251) and Kelmscott remained a predominantly agricultural community. Out of 35 households in 1841, 27 (77 per cent) were headed by agricultural labourers, and the proportion remained similar in 1861 and 1881, when the only householders not supported from agriculture were the publican, a housekeeper at Kelmscott Manor, a widow on poor relief, and a domestic groom. In 1851 the chief farms employed a total of 37 labourers and in 1861 a total of 45, suggesting that continuing population decline was not entirely due to agricultural under-employment. (fn. 252)
Farms and Farming From 1800
The Edmondses, Bradshaws, and Turners remained the chief farmers until the 1820s, when Albert Edmonds briefly took over Bradshaws farm, although by then the family had sold its freehold land. (fn. 253) In the 1830s the Edmondses moved elsewhere, and throughout the mid 19th century there were four farms of between 200 and 400 a., centred on Manor and Home Farms, Bradshaws, and Kelmscott Manor. By then Charles and James Turner, the only freeholders, farmed some 550 a. between them, and in 1864 James crowned several decades of expansionism with the purchase of 53½ a. and the manorial title. (fn. 254) From 1873 the combined Turner holdings were farmed from Bradshaws and (later) Home Farms by James's great-nephew R. W. Hobbs (d. 1920), first as lessee and, from 1895 to 1905, as owner, the land having been purchased with a loan from his tenant William Morris. By 1881 Hobbs farmed 600 a. and employed 30 labourers; his estate had a gross annual value of £440, although of that more than half was consumed by overheads. (fn. 255) Thereafter Kelmscott remained divided between the Hobbs farm and Manor farm, the latter let successively to the Brains, Simpsons, Maces, and Eavises. (fn. 256)
The increasing emphasis on arable farming noted after inclosure continued until the 1870s, when Kelmscott was over 80 per cent arable. (fn. 257) In the late 19th and early 20th century, however, R. W. Hobbs and his sons built up a substantial farming enterprise which concentrated on dairying and speciality breeds, including horses and a flock of Oxford Down sheep. The principal output of the flock was shearling rams and ram lambs, of which 300 were sold annually, mainly at Oxford, Cirencester, and Northampton, but also as far afield as Kelso (Roxburghshire) and Edinburgh. Despite the considerable sums invested in their stud, the Hobbses seem not to have profited from this aspect of their stock-breeding, their greatest successes being with their herd of Dairy Short Horn cows, which won numerous awards before the First World War. Bulls and heifers were sold for overseas export, cows were sold domestically, and milk was sold for the London market, fifty of the least productive milk cows being sold off annually. The quality of the calves and heifers was maintained through a special diet of cream substitute, bran, crushed oats, and linseed cake. Pioneers of industrialized milk production, the Hobbses built a dairy and bottling plant at Kelmscott in 1900, their innovative production techniques including tuberculosis-testing of livestock and the refrigeration and sealed bottling of milk, which was transported to London by rail, and distributed from their own outlet at 20 Connaught Street. (fn. 258)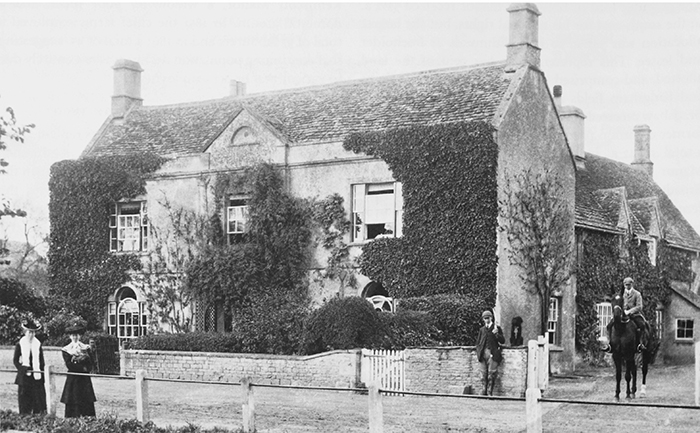 In 1905 Hobbs sold most of his land, but continued as a tenant farmer. (fn. 259) By 1916 he farmed 2,300 a., much of it in neighbouring parishes and all but 4 a. of it leasehold. From the turn of the century the emphasis shifted from milk production to cattle breeding, three fifths of the family's income by 1914 coming from sale of stock; by then they had 506 cows, 1,667 sheep, and 117 horses. The partnership continued to pioneer industrialized, capital-intensive farming: by the First World War annual expenditure on cattle feed was £4,000–£5,000, and £100 was spent on super-phosphates, while high wages and much-valued training attracted labour. A commentator in 1916 remarked on the business's consciousness of product-development and cultivation of overseas markets, concluding that there were 'several farms in other parts of the county where the management is highly efficient, but none on which it has been so strictly and formally adhered to'. (fn. 260) Following R. W. Hobbs's death in 1920 his son Robert (d. 1967) succeeded, dissolving the family business and forming a partnership with his brother-in-law Vaisey Davis. (fn. 261)
Notwithstanding the Hobbses' initiatives, in 1916 Kelmscott as a whole remained fairly evenly divided between arable and pasture, the chief crops being wheat and oats (25 per cent each) and turnips (10 per cent). The Hobbses had over 400 a. under wheat and barley, besides oats, beans, and fodder crops. (fn. 262) Mixed farming with a pastoral bias continued in 1941, by which time arable had further declined to 41 per cent: of 605 a. on the Hobbs–Davis farm, 22 per cent was under wheat, 27 per cent under mixed corn, and 10 per cent under barley, with 17 per cent under sainfoin, and 12 per cent under oats. Peas, turnips, swedes, mangolds, kale, and vetches were planted for stock feed, while small crops of sugar beet, potatoes, carrots, maize, and pears were also grown. The dairying tradition continued with a herd of 201 cows and 56 bulls, and there was a substantial flock of 354 sheep and lambs. Manor farm practised similar agriculture, growing wheat, oats, barley, sainfoin, and fodder crops, maintaining a herd of 73 dairy cows, and, like Hobbs and Davis, keeping poultry. Both farms were well managed, though Eavis at Manor farm was 'handicapped by a bad landlord', and buildings were in 'a very bad condition'. The Hobbs farm continued to be labour-intensive, employing 27 full-time workers compared with Eavis's six, though both farms were thoroughly mechanized and used chemical fertilizers. (fn. 263) Following the Second World War Roland Maughan succeeded Davis as Hobbs's partner at Home farm, and in 1969 sold the milking herd to concentrate on pigs, cereals, and potatoes. Manor farm's Shorthorn herd was sold in 1953, and a later Friesian herd in 1981. (fn. 264) Rural Trades and Crafts
A villein surnamed 'smith' in 1279 may have been a blacksmith, (fn. 265) but from the Middle Ages even the usual rural trades were infrequently documented in Kelmscott. (fn. 266) One of the Cockbill family of Filkins was established by the 1840s as a wheelwright, carpenter, and beer retailer at the Plough Inn, and in the 1850s there was a basket- or sieve-maker. A smithy near Manor Cottages was recorded from the 1890s to 1920s, housed in a single-storeyed rubble-built shed which still survives. (fn. 267) During the late 19th and early 20th century some wives or daughters of agricultural labourers worked as dressmakers, and in 1871 one was a laundress. Several other women were domestic servants, working mostly in the households of the principal farmers: in 1891 there were ten such, including a nurse, cook, governess, and general servant all employed by R. W. Hobbs. Only one of them had been born locally. A grocer's shop existed by 1841, and from the 1860s the Cockbills ran another one at the Plough. In the 1890s a former shopkeeper and agricultural labourer became a coal dealer presumably using the railway, and another coal dealer continued in the 1920s.
Most traditional trades seem to have disappeared during the 1920s. By the mid 1930s there was only a recently established cabinet-maker, and in the early 1960s Kelmscott still offered only dwindling agricultural employment, a chief cause of its falling population. (fn. 268) A shop adjoining the Plough continued to sell groceries until the late 20th century, but by 1990 there was no shop or post office, and except for a few farm workers almost all the population were commuters working elsewhere. (fn. 269)
SOCIAL HISTORY
During the earlier Middle Ages Kelmscott housed a middling-sized peasant community similar to many others in the area, closely linked to the manorial centres at Broadwell. Between the 15th and 17th centuries, however, population decline and the sale of manorial lands fundamentally altered its character, creating a prosperous group of yeoman freeholders of whom the Turners, who built Kelmscott Manor, were pre-eminent. The pattern persisted into the 18th and 19th centuries when, after inclosure, the village became primarily a community of agricultural labourers employed on the two or three large commercial farms. The village's social life is poorly recorded before the 19th century, when it finally acquired a pub and school. Earlier the only communal building was the Anglican chapel, with no Nonconformity emerging to provide an alternative focus.
From 1871 the occasional presence of William Morris added a new dimension, though the family's impact on the village was muted until the early 20th century, when Morris's widow and daughter became more actively involved and added several new buildings. Under the terms of May Morris's will Kelmscott Manor became a shrine to her father's life and work, culminating in its opening to the public in the 1960s by the Society of Antiquaries. Even so Kelmscott has largely retained its secluded character, following its transition (like most neighbouring places) into a small community of well-off commuters, with a couple of still functioning farms.
Social Structure and the Life of the Community
The Middle Ages
Like Broadwell's other townships Kelmscott originated within a complex pre-Conquest estate. (fn. 270) As it was not separately described in Domesday Book nothing is known of its 11th-century social structure, though if, as has been suggested, Kelmscott chapel originated in the late 11th rather than the late 12th century, that would imply a sizeable population. (fn. 271) By the 13th century Kelmscott supported a heavily manorialized peasant community, in which the vast majority of inhabitants held their land of the non-resident d'Oddingseles family for rents and labour services. Of those, 15 occupied yardlands in villeinage, while another seven occupied small cottage holdings, and probably supplemented their income by labouring for some of their better-off neighbours. There was a wide range of individual prosperity, with some evidence in the early 14th century of upwards social mobility, and over all, taxation records suggest that Kelmscott was among the more prosperous rural communities in the area. (fn. 272)
The main exception to this landholding pattern was a ploughland (probably around 80 a.) held in demesne by the lord's kinsman Roland d'Oddingseles (d. 1316), who possibly lived in Kelmscott and had a few tenants of his own. After his death his holdings were absorbed into Bradwell Cirencester manor and possibly broken up, but during his lifetime he may have been a dominant local figure, and it is possible that he paid for some of the extensive late 13th-century building work carried out in Kelmscott church. (fn. 273) It has been suggested that his ploughland holding could have been of early and possibly Anglo-Saxon origin, representing a hide unit of a type now widely recognized elsewhere. (fn. 274) There is, however, no supporting evidence, and his life-hold property in Kelmscott and elsewhere may equally have arisen from a recent family settlement.
The chapel presumably provided a major communal focus, and was theoretically served on a daily basis by a chaplain who may have lived in the village. Children were baptized there, but burial was at Broadwell until the 1430s. (fn. 275) In the 13th century tenants were also required to attend the lord's manor courts at Broadwell, (fn. 276) and to work on his demesne lands in Broadwell and Filkins. Outside links were reinforced by the value of Kelmscott's pasture and especially its meadows, which attracted investment from outsiders and provided a shared resource. In the 13th century the river may also have encouraged outside trade and contacts, although Kelmscott remained predominantly agricultural, with none of the unusually wide range of 13th-century traders found at nearby Radcot with its wharf and bridge. (fn. 277) Lechlade and Faringdon, as the two closest market towns, were presumably well known to Kelmscott's peasant farmers.
As elsewhere social relations began to change during the later Middle Ages, driven by falling population and (from the 16th century) by the piecemeal sell-off of manorial lands in Kelmscott. Late-medieval population decline was less marked than in some neighbouring places, but almost certainly initiated the consolidation of holdings which led, by the 16th and 17th centuries, to the emergence of a few dominant yeoman farmers. (fn. 278) Labour services on the Broadwell demesne ended probably during the 14th century, (fn. 279) and by the 17th virtually all links with Broadwell manor and its manor court seem to have been broken, (fn. 280) leaving a small but largely independent community of freeholding yeomen, husbandmen and cottagers.
Village Society c. 1600–1800
By the mid 17th century Kelmscott's transition into a community of prosperous yeoman freeholders seems to have been largely completed. In 1665 the six largest houses in the township (taxed on three or four hearths) were all occupied by leading yeomen, including three members of the dominant Turner family, and one each of the Bradshaw, Symes, and Grain families, whose wills and inventories testify to their prosperity over several generations. (fn. 281)
The Turners' rise was the most spectacular, culminating in Thomas Turner's acquisition of a coat of arms in 1665 and his subsequent extension of Kelmscott Manor. (fn. 282) The new building work was designed to impress and may have been influenced by houses of comparable and higher status within the immediate area, although by then its multi-gabled style was becoming a little old-fashioned. (fn. 283) The family's position was cemented by prudential marriages, for example into the wealthy Derbyshire gentry family of Faulcons, (fn. 284) while their local dominance was expressed through the numerous family memorials erected in the chancel of the chapel, and in their occasional role as church-warden. (fn. 285) As yeomen rising into the ranks of the lower gentry they were comparable locally with families such as the Goodenoughs at Broughton Poggs or the Trinders at Holwell, with whom (despite the Trinders' Catholicism) they were evidently on familiar terms. (fn. 286) The jewellery, silverware, and books mentioned in their wills illustrate their standard of domestic comfort, and the same was true of some of the other Turner branches in Kelmscott: John Turner (d. 1763), for instance, left his daughter Mary £430, a set of china dishes, and a tortoise-shell snuffbox. (fn. 287) Even so, the family appear to have overreached themselves. Thomas Turner (d. 1709) of Kelmscott Manor had to mortgage his estate and contemplate its sale, while in the 1770s the separate Kelmscott branch to whom the property descended suffered worse difficulties, culminating in temporary loss of ownership. (fn. 288)
Several other prominent yeomen played a similarly dominant role in the village, and enjoyed a comparable degree of domestic comfort. John Grain (d. 1688) had both a hall and a parlour in his house (the parlour comfortably furnished with a table, chairs, and fire-irons), while his chamber over the parlour contained items worth nearly £20, including a bed with hangings, a chest of drawers, two trunks, and a silver tankard and silver spoon. (fn. 289) The Bradshaws, recorded in Kelmscott from the 1660s to 1820s, acquired some land outside the township, and by the early 18th century occupied a substantial estate run from a recently rebuilt farmhouse. (fn. 290) The chapel's north transept was adopted as a family mortuary chapel, and around 1714 their family box pew seems to have been moved there from the nave. (fn. 291) Another yeoman, Thomas Symes (d. 1708), called himself gentleman, and not long before his death rebuilt or substantially remodelled his (unidentified) house. (fn. 292) Almost certainly such farmers kept servants. Thomas Turner had a servant's chamber in 1611, (fn. 293) and in 1600 the servant of another prosperous yeoman represented his master in the Witney borough court, where he was pursuing a debt case. (fn. 294)
Such families presumably played a dominant role as employers of labour. The 1662 hearth tax listed seven houses with only one hearth (presumably small labourers' cottages) and three others with two hearths, (fn. 295) while some other labourers may have been accommodated in the larger farmhouses. By contemporary standards not all of them necessarily lived in serious poverty, one reason, perhaps, why Kelmscott acquired no endowed charities for the poor. (fn. 296) A labourer who died in 1582 left goods worth just over £10, comprising basic furnishings (including a table cloth) and a few livestock, which he presumably grazed on the commons. (fn. 297) Two centuries later another labourer made cash bequests totalling £35 to various relatives, leaving the residue to his widow, (fn. 298) while the Harwood family, who worked as labourers and later as basketmakers, occupied a substantial cottage near the chapel, and at inclosure received ¾ a. for common rights. (fn. 299) Even so pauper burials were occasionally noted in the parish register, and it seems unlikely that Kelmscott's labourers escaped occasional periods of economic hardship. The township's expenditure on poor relief, though lower than in many neighbouring places, suggests that as elsewhere the problem of poverty expanded from the later 18th century, if only on a seasonal basis, while the loss of commons in 1799 presumably had serious consequences for many. (fn. 300)
Less is known of Kelmscott's social life during this period, which probably revolved around the chapel, and around relations between families of similar status both in and outside the township. The village had no pub until the 19th century, and no Nonconformity to provide an alternative focus. Far more varied social facilities were available at the local market town of Lechlade two miles away, whose cultural influence may be reflected in similarities between the symmetrical façade of Home Farm, with its small pediment and Venetian windows, and a grander but comparable house fronting Lechlade market place. (fn. 301) The only national event to touch the township was the Civil War, when billeting of soldiers seems to have led to increased mortality (presumably from camp fever) and possibly to a temporary fall in the resident male population. Royalist fortifications were established at nearby Radcot by 1645, and saw heavy fighting. (fn. 302)
The Village Community from 1800
Inclosure in 1798–9 consolidated the pattern of large, mostly freehold farms, and like many neighbouring villages Kelmscott became essentially a community of agricultural labourers, with social leadership devolving on the four (and later two) chief resident farmers. The residual lordship, by then a meaningless title, passed to the farmer James Turner with a parcel of meadowland in 1864. (fn. 303) From the mid 19th century the chapel became better served than earlier, but Kelmscott never acquired a resident clergyman and there was still virtually no Nonconformity, in part reflecting the leading farmers' Anglicanism. (fn. 304) With the opening of a pub by the 1840s and a school in 1872 the village nevertheless started to develop a stronger social identity, culminating in a flowering of social activities in the early 20th century. (fn. 305)
Among leading 19th-century farmers both James Turner and his brother Charles were Kelmscott-born, though successive tenants of Manor Farm came from Warwickshire, Gloucestershire, and Fulbrook, while R. W. Hobbs was from Meysey Hampton (Glos.). (fn. 306) Many of them served as churchwarden, (fn. 307) a role which from 1872 made them ex officio school trustees as well. (fn. 308) Such farmers were also the village's main source of employment, collectively hiring at least 37 villagers in 1851, and 45 ten years later. In both years that was slightly fewer than the number of labourers living in Kelmscott, but by the 1880s, as the Hobbses' farming and dairying operations expanded, the situation was reversed, fuelling immigration in sharp contrast to virtually every other village in the area. In 1851 some 54 per cent of the population had still been born in Kelmscott, with most others drawn from nearby villages and towns in Oxfordshire, Gloucestershire, or Berkshire; by 1891 the proportion was only 29 per cent, even though the majority were still relatively local. (fn. 309) The Hobbses' model farm continued to attract workers from a wide area in the early 20th century, both for the valuable training it provided, and for wages per acre which were 'perhaps higher than on any other farm in the county'. (fn. 310)
As elsewhere the First World War saw an increase in agricultural work by women, in which R. W. Hobbs played a central role. At his suggestion a demonstration day was held at Kelmscott in June 1916 to show women engaged in a variety of farm work, including ploughing, horse-hoeing, and dairy work (Fig. 42). Attendees included the secretary to the board of agriculture and fisheries, and a newspaper photographer who took a variety of photographs for propaganda purposes. (fn. 311) The Women's Land Army also provided workers, of whom one (the mannish and eccentric Mary Lobb) was befriended by May Morris and eventually became her long-term companion, gardener, and occasional cook at Kelmscott Manor. She continued there until May's death in 1938, dying herself shortly afterwards. (fn. 312) During the Second World War evacuees and internees were billeted at Kelmscott, where they also helped on the land. (fn. 313)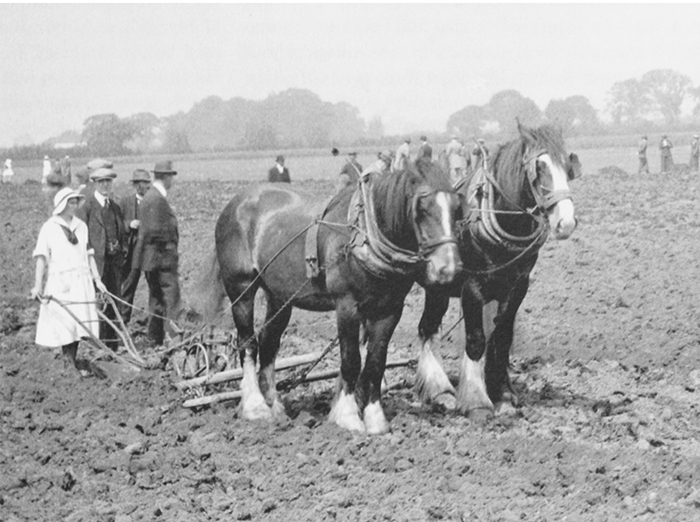 By the 1840s the village carpenter sold beer from a cottage near the village's southern end, known as the Plough by the early 1850s, and ten years later there was also a grocer's shop there. (fn. 314) The Anchor pub, at Hart's or Eaton weir just outside the parish, existed by 1879. (fn. 315) Kelmscott school (opened in 1872) provided a venue for parish meetings, and by the 1920s there was a wooden village hall, superseded by the Morris Memorial Hall in 1934. (fn. 316) The village's wider early 20th-century social life owed much to Robert Hobbs's wife May (née Elliott), the daughter of a wealthy Kelso farmer, who promoted country dancing and amateur dramatics and was a key figure in the burgeoning Women's Institute movement, helping to establish the Kelmscott WI (the first in Britain) in 1916. Her interests were shared by May Morris, whose wide connections brought celebrities to the village: the folklorist and country dance revivalist Cecil Sharpe attended a display of country dancing in Kelmscott in June 1912, while George Bernard Shaw attended an amateur production of A Midsummer Night's Dream, mounted on May Hobbs's grass stage at Bradshaws Farm. During the First World War evening classes were run for the Land Girls brought into Kelmscott, and a men's club was established possibly around the same time, catering partly for men from boats moored at the Anchor. (fn. 317)
Throughout the 20th century village life continued to be regulated through the parish meeting, which was generally attended by up to fifteen inhabitants including the chief farmers, and which organized periodic celebrations for national events such as the Armistice, George V's 1935 jubilee, and successive coronations. A Kelmscott and Little Faringdon Horticultural Society was mentioned in 1928 and a recreation club in 1953, and in 1955 a tennis club was set up in conjunction with the laying out of a new court on the site of demolished cottages near the Plough, to mark the coronation of Elizabeth II. (fn. 318) By then, however, with the decline in agricultural employment, the village's social character was changing. By the early 21st century there were only around fifteen farm workers, not all of them resident, and most houses were occupied by commuters who worked elsewhere. (fn. 319) The tennis club foundered around 1970, when the court fell derelict and became for some time a source of local controversy; the village school closed in 1962, and by the 1990s there was no village shop or post office. (fn. 320) The survival of the Plough probably owed as much to Kelmscott's fame as a scenic tourist village as it did to local patronage, and the increasing number of visitors to Kelmscott Manor and the regular influx of recreational anglers caused periodic concern within the village. (fn. 321) Even so, a long-term resident claimed in 1990 that unlike many local villages Kelmscott remained 'a community'. (fn. 322) A children's football ground was established in 1998, (fn. 323) and in 2011 Kelmscott largely retained the feeling of secluded isolation which had so appealed to William Morris. A conservation area was designated in 1995. (fn. 324)
The Morrises and Kelmscott
William Morris came to Kelmscott Manor in 1871 for prosaic reasons, needing a country summer home for himself and his family away from the heat and pollution of London, and also away from the gossip that was developing about the relationship between Morris's wife Jane and the family's close friend, the poet and artist Dante Gabriel Rossetti. Rossetti became Morris's co-lessee, and until 1874 (despite his dismissal of Kelmscott as 'the doziest dump of old grey beehives') spent at least as much time there as Morris himself. For the rest of his life Morris visited whenever he could, both alone and with his family, enjoying the peace and quiet and in particular the fishing. (fn. 325)
From the outset Kelmscott had a profound effect on Morris, who saw in it his ideal of unpretentious traditional craftsmanship merged with nature, a place whose houses seemed to have 'grown out of the soil and the lives of those that lived on it'. An evocative description of the river, village, and Manor formed the climax to his utopian novel News from Nowhere (1890), and to the end of his life Kelmscott played powerfully on his imagination and on his ideas about conservation. Morris died in London, but at his own wish was buried in Kelmscott churchyard. (fn. 326)
Morris's impact on the village itself was much more limited, at least during his lifetime. Most villagers probably viewed him as a distant (and eccentric) squire-type figure, although he knew his landlord R. W. Hobbs well, and once shared a train journey on which they briefly discussed Hobbs's new farm machinery. His interventions in village life were few, confined mostly to encouragement to use traditional materials such as thatch, and expressions of concern over the chapel restoration. (fn. 327) Kelmscott Manor, too, saw few changes during his lifetime, being furnished with a spartan simplicity which Morris found appropriate. (fn. 328)
The family's impact increased during the occupancy of Morris's widow Jane (d. 1914) and daughter May (d. 1938), who oversaw the erection of several Vernacular Revival buildings including the Morris Memorial Hall. The latter, designed in 1919, was finished for Morris's centenary in 1934, its completion owing much to May's tenacity in raising the necessary funds. The opening ceremony was conducted by George Bernard Shaw in the presence of Ramsay Macdonald. From 1923 May retired to Kelmscott permanently, serving actively in the parish meeting (which she latterly chaired) and as a school manager. Her cultural interests were shared by May Hobbs in particular, with whom she enjoyed a long-standing friendship, while frequent visitors from May's wider circle included not only Shaw but Betjeman, Basil Blackwell, and numerous other artists, writers, and academics. (fn. 329)
May's greatest long-term impact, however, was through her transformation of Kelmscott Manor into a museum of her father's life and work, begun in her lifetime and perpetuated under the terms of her will. Even during her occupancy friends were ushered from 'lunch in a homely dining room' into 'a shrine [in the north part of the house] to the memory of "my Father"', (fn. 330) and in 1951 John Betjeman complained in characteristic fashion of visitors who 'say as they unbutton their leather jerkins and produce their Fabian Society membership cards that the house belongs to the people, and should not be shut at any time'. (fn. 331) By then interest was increasing markedly, with 146 visits (by written appointment only) between 25 March and 30 June 1952. (fn. 332) The Society of Antiquaries made partial public access a key aspect of its building restoration from 1962, and thenceforth the house was regularly opened on certain days of the year, with numbers carefully monitored to avoid too much traffic congestion. (fn. 333) In 2011, when the Manor was open for an extended period, it received almost 18,500 visitors. (fn. 334) A major research project into the Manor, the Morrises, and the village's wider history and ecology was overseen by the Antiquaries between 1999 and 2007, with active support from the village community and talks in the Memorial Hall. (fn. 335)
Education
Until the late 19th century the only education available in Kelmscott was in local Sunday schools. In 1759 Kelmscott children were occasionally catechized and perhaps received rudimentary instruction in reading, but catechizing in Kelmscott had ceased by the 1800s and 1810s, when there were Sunday schools at Broadwell and Filkins. (fn. 336) In 1819 up to a dozen Kelmscott children regularly attended Broadwell Sunday school, (fn. 337) and by 1831 the vicar's wife ran a Sunday school in Kelmscott itself, attended by ten girls. At that date it was claimed that only a few very young children had no access to education, although the vicar still hoped that a day school would soon be established. (fn. 338) Nothing was done, and in the 1850s Kelmscott still had only a Sunday school with around 25 pupils. (fn. 339) A non-denominational dame school with space for 19 pupils was opened probably in the late 1860s, presumably in a cottage, and by 1871 accommodated six boys and nine girls taught by an agricultural labourer's wife. Some other children attended Langford school. (fn. 340)
In 1872 a Church of England National school under the management of the vicar and churchwardens was established in a plain, stone-built schoolhouse opposite the church, on land given by Charles Hobbs and his aunt Elizabeth Turner. (fn. 341) The first mistress seems to have been the teacher of the former dame school. (fn. 342) In 1890 there was accommodation for 38 children, but average attendance was only 17, and truancy and non-attendance (sometimes for farm work) remained a problem. (fn. 343) Total income was around £40 including a government grant of £25, the rest made up of school pence and voluntary subscriptions. (fn. 344) Attendance rose to around 30 by the late 1890s, when inspectors complained of overcrowding and threatened to withhold the grant. A new infant classroom was added in 1898–9 and ventilation was improved a few years earlier, after inspectors complained of unsanitary toilets and pigsties next to the school. (fn. 345)
Reports were mixed: in 1883 pupils were judged 'backward' and 'undisciplined', but improvements were noted soon after and in 1901 the school was in 'excellent order'. Between 1904 and 1914 few teachers stayed more than a year, and in the late 1920s reports were again unsatisfactory. In 1928 parents were said to be uncooperative, with children frequently congregating around village pubs at night, and the following year the inspector 'almost despaired' of progress on account of the rapid turnover of both teachers and pupils. The roll was then 24, of whom only 14 had attended the school for more than a year. There was no schoolteacher's house, although under May Morris's will the school-teacher was among those to be given preference when selecting tenants for the Morris Memorial Cottages. (fn. 346) A night school was started in the school in 1883, but was not mentioned later. (fn. 347)
In 1929 the school was reorganized as a junior school with 18 pupils, the older children going to Langford or (later) to Burford school. (fn. 348) A school bus was provided in 1950, after local lobbying. (fn. 349) Following the appointment of a new headteacher at Kelmscott in 1929 there was 'great improvement', but rolls remained low, reaching 23 in 1944 only because of an influx of evacuees. In 1952, when the roll was 27, all children over nine years old were transferred to Langford school, leaving only twelve at Kelmscott. Proposals to close the school in 1946 and 1956 were resisted, but in 1962 the remaining pupils (twelve girls and a boy) were transferred to Langford school. (fn. 350) The building was sold the following year, and converted soon afterwards into a private house. (fn. 351) School buses to Burford and Langford continued in the 1990s. (fn. 352)
Charities and Poor Relief
In the late 16th century small bequests were occasionally made to the 'poor men's box', (fn. 353) presumably kept in the chapel and administered by the churchwardens. A few small bequests to the poor were made later, (fn. 354) but Kelmscott had no endowed charities, and in the 18th century the destitute were supported entirely from poor rates, supplemented by offertory money distributed three times a year by the churchwardens. (fn. 355)
In the mid 1770s the township spent just over £21 a year on poor relief, fairly average for its population; of that, £4 10s. was apparently spent on cottage rents. Annual expenditure, in line with national trends, rose by 1785 to £47, and by 1802–3 to £104, reaching over £182 (more than the sum raised) in 1813. The creation of large commercial farms, seasonal hiring of labour, and loss of commons, combined with rising national bread prices, probably all contributed to the increase: in 1802–3 only six people (under 5 per cent of the population) received permanent out-relief, but another 23 were supported occasionally, which perhaps reflected seasonal unemployment. By 1813–15 between 13 and 15 people (11 per cent of the population) were receiving permanent relief, and another 3–5 occasional relief. (fn. 356) From the early 1820s expenditure fell as elsewhere, although expenditure per head of population remained high compared with Broadwell's other townships, reaching 28s. in 1819–20 (one of the highest sums in the area), and remaining above 18s. for much of the 1820s. (fn. 357) Poor rates seem nevertheless to have remained relatively modest. In 1803 they were 2s. in the pound, among the lowest in Bampton hundred, and in 1820 (when expenditure per head exceeded 25s.) an advertisement commented favourably on the township's low rates. (fn. 358)
Following the Poor Law Act of 1834 responsibility for the township's poor passed to Faringdon poor-law union, of which Kelmscott, with a few neighbouring Oxfordshire parishes abutting Berkshire, became a part. (fn. 359) The vestry continued to appoint overseers and rating officers, and in 1867 agreed to the union guardians selling two cottages in the village, which had perhaps been used as pauper accommodation. (fn. 360) In 1885 the township's poor rates yielded £135. (fn. 361)
RELIGIOUS HISTORY
Parochial Organization
In the 10th and early 11th century Kelmscott was probably dependent on a minster or other early church at Langford. (fn. 362) A chapel was established possibly in the late 11th century and certainly by c. 1200; by then it was subservient to the parish church at Broadwell, reflecting Kelmscott's inclusion in the Broadwell estate created by 1066. (fn. 363) From the 13th century onwards it was served by vicars of Broadwell or by the chaplains or curates whom they appointed. (fn. 364) The chapel was dedicated to St George by 1430, when the churchyard was consecrated on the saint's feast day; (fn. 365) the dedication is unusual in Oxfordshire, and perhaps reflected the Knights Templars' role as patrons and appropriators of Broadwell church. (fn. 366)
Inhabitants in the 16th and 17th centuries occasionally called it a church, (fn. 367) although its official status as a chapel of Broadwell seems never to have been in doubt. Nonetheless it almost certainly had baptismal rights from its foundation: the font is 12th-century or earlier, (fn. 368) and baptismal and marriage records survive from 1538. (fn. 369) Burial rights, by contrast, were probably reserved for Broadwell until Kelmscott churchyard's consecration in 1430. The chapel's only independent endowment was £7 left by Ann Turner in 1620, the interest from which was to pay for two annual sermons on St Stephen's Day and Whit Monday, and which was still received by the vicar of Broadwell in the late 18th century. (fn. 370) In the late 17th century members of the Stephens family also paid 1s. 3d. a year towards the cost of holy water, perhaps following a similar bequest or endowment. (fn. 371) The township's small tithes belonged to the vicar of Broadwell, who received 79 a. in lieu at inclosure in 1799. The great tithes belonged to the Templars' Bradwell St John manor, and from the 17th century to local yeoman farmers. (fn. 372)
In the 1850s the bishop contemplated making Kelmscott a separate parish, (fn. 373) but it remained a dependent chapelry of Broadwell until 1960 when it was annexed to Clanfield. (fn. 374) In 1976 it was re-united with Broadwell and Kencot, and from 1995, following further amalgamations, it formed part of the large Shill Valley and Broadshire ministry. (fn. 375)
Pastoral Care and Religious Life
In the early 13th century the vicarage ordination for Broadwell ruled that Kelmscott chapel should be served daily, and apparently envisaged that it should have its own chaplain, although no stipend was laid down and no house was provided. (fn. 376) Chaplains or clerks mentioned in the 14th century may have served the chapel, among them John at Flood, who owned half a yardland in Kelmscott, (fn. 377) and Robert the clerk, who in the 1340s–50s was implicated in violent attacks on property at Broadwell. (fn. 378) No formal appointments are known, however, and none of those mentioned seem to have been university graduates. In the early 16th century, when both Broadwell and Holwell churches were neglected, the vicar failed to provide a chaplain for several years, though the fact that he was still expected to do so suggests that this may have been unusual. (fn. 379) Certainly medieval additions and embellishments to the chapel imply some measure of local patronage, (fn. 380) and there is no evidence for long-term religious neglect.
From the 1520s to the mid 17th century Kelmscott was served by a succession of resident and long-serving stipendiary curates, who witnessed local wills and appear to have fulfilled their duties adequately. (fn. 381) Among them was Richard Turner (d. 1552), one of a local yeoman family which became prominent in Kelmscott. Turner beqeathed sheep and other livestock, and was evidently closely involved with the local community. (fn. 382) Signs of religious conservatism during the Reformation may partly reflect his long curacy: in 1546 there were still three lights in the chapel, and during Mary's reign two inhabitants left bequests towards purchasing a new cope and cross. One, the wealthy farmer and landowner Elizabeth Turner (d. 1558), also left a cow to fund a chantry for herself and other family members. (fn. 383) Nonetheless, by the 17th century all of Kelmscott's adult inhabitants professed to be Anglican conformists, (fn. 384) and the only Catholics recorded later were a non-resident family which owned a few acres in Kelmscott in the early 18th century. The land was let to the local Bradshaw family which, like Kelmscott's other leading farmers, was unequivocally Anglican. (fn. 385)
Ann Turner's endowment for sermons in 1620–1 envisaged them being delivered 'as the pastor and curate there shall ... appoint', (fn. 386) but from the late 17th or early 18th century vicars of Broadwell ceased to employ chaplains for Kelmscott, serving the entire parish themselves or, in the 1730s and 1740s, hiring curates who lived at Broadwell. Services were reduced to one a fortnight, alternating with those at Holwell, and the sacrament was administered three times a year compared with monthly at Broadwell. (fn. 387) In the 1750s the vicar sometimes catechized at Kelmscott, and claimed that popular support had encouraged him to continue communions. Even so he was unfamiliar with the needs of Kelmscott's poor, and the offertory money was consequently distributed by the churchwarden. (fn. 388) A curate of Lechlade (Glos.) was briefly appointed to serve Kelmscott and Holwell in the 1780s and 1790s, but fortnightly services seem to have continued, and numbers of communicants fell from around 90 in 1801 to 54 in 1805, and to only 20 by 1817. (fn. 389) In 1831, when Kelmscott's population was 140, the average congregation in summer was around 40, although by then a Sunday school had been established and the vicar visited the sick. (fn. 390) A silver chalice and paten were given to the chapel around 1754, presumably by a prosperous parishioner. (fn. 391)
The separation of Holwell and Filkins from Broadwell parish in the 1850s allowed more attention to be given to Broadwell and Kelmscott. (fn. 392) Before 1851 employment of a curate allowed re-introduction of weekly services at Kelmscott, which were held alternately in the morning and afternoon. Even so attendance still averaged only 33–40, which the vicar believed might be almost doubled by the presence of 'a resident priest of ordinary diligence'. (fn. 393) In 1854, when the vicar again served both places alone, the congregation averaged 54, and the Sunday school had 25 pupils. The numbers attending church were considered to be unacceptably low, though in the 1850s the principal farmers were 'all church people'. (fn. 394) Eight Dissenters (presumably a single family) were noted in 1878, but this appears to have been unusual and Nonconformity never became established. (fn. 395)
Alternate morning and evening Sunday services (with a monthly communion) continued in the late 19th century, when the vicar identified his chief difficulties as apathy and indifference. (fn. 396) The remark may, however, have referred to Broadwell rather than to Kelmscott, whose inhabitants pressed for the chapel's restoration in the 1880s. (fn. 397) During the 20th century the chapel continued to be served from elsewhere: in the early 20th century there were usually between 5 and 7 services a month including evensong and children's services, and leading farmers continued to be actively involved as churchwardens, sometimes for several decades. (fn. 398) Attendance nevertheless declined as in most places, and in the 1990s seldom reached double figures. (fn. 399)
Church Architecture
The medieval chapel, built of partly-rendered rubble walling, stands on the village's northern edge, and has a tall narrow nave now lit by a clerestory, a narrow north aisle, north and south transepts, and a lower chancel (Fig. 43). The dimensions of the nave, which had reached its present height by the 13th century, have prompted a suggestion that the church originated in the mid 11th century, although the earliest clearly datable fabric is the four-bay north arcade which appears to date from c. 1190–1210. (fn. 400) The arcade may well be an addition to an earlier structure, but the building evidence is ambiguous, and an alternative interpretation would see both nave and aisle as resulting from a single late 12th-century building campaign. (fn. 401) The plain tub font has also been interpreted as either 11th- or 12th-century, although the stem and base are closer to c. 1200. Whatever the case, the chapel's scale is larger than that of the small medieval chapel at Holwell, while the nave is longer than that of the mother church at Broadwell. (fn. 402)
The north arcade has a continuous hoodmould over round-headed arches of one chamfered order, supported on round piers with spurred waterholding bases and transitional foliage capitals. In the spandrels are quatrefoils containing carved heads, (fn. 403) and traces of red foliage scrolls painted on the soffits of the arches are still visible. The style over all is similar to work of the 1190s at Oxford cathedral. The head of the south doorway, which has a double roll hoodmould like that of the arcade, is probably contemporary, although the jambs and plain imposts could be earlier. The aisle's north doorway (now blocked) is plain with a square head.
Extensive 13th-century work included a remodelling or rebuilding of the chancel, which has a lancet window in the middle of its north wall, and which was given a steeply pitched roof, whose scars are still visible externally. An earlier scalloped capital, possibly from a pillar piscina, is reset in a niche in the chancel's south wall. Around the mid 13th century the arcade's easternmost bay was extended northwards to create a north transept chapel, and the south transept chapel (which retains a trefoil-headed piscina) was added probably a few decades later. The north chapel is linked to the aisle through a chamfered half arch, and a pair of now-blocked half arches in the south-east angle of the chapel and chancel (once covered by an external pentice) may be contemporary; their purpose is unclear, however, and certainly they would not have given a clear view of the high altar. The chapel's north window, a gradated triplet of cusped lancets, is probably a slightly later insertion: similar windows exist in the south walls of the chancel and south chapel and in the west wall of the nave, where they have cusped rere-arches of a type found in several other local churches, datable probably to c. 1300. (fn. 404) A south porch with a steep-pitched roof (fn. 405) was possibly added around the same period, and a bellcote at the nave's east end, with two cusped lancet openings, may also be 13th-century. One of the surviving bells is of that date, although the other was replaced in 1762. (fn. 406) Wall paintings in the north chapel depict Genesis and Nativity scenes, perhaps reflecting its use as a Lady chapel, and were probably added in the 13th or early 14th century. (fn. 407) The chancel arch, of two chamfered dying orders, was probably rebuilt around the same time, a generation or two later than the chancel itself.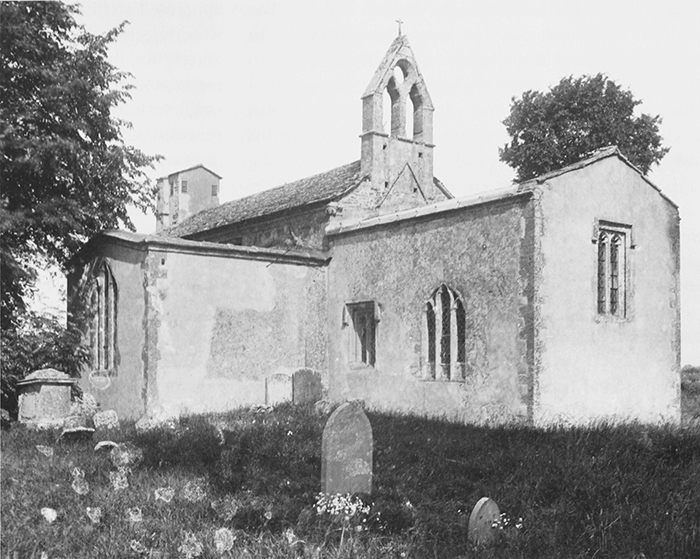 Little further work was carried out until the 15th century, some of it probably associated with the consecration of the churchyard in 1430. (fn. 408) A clerestory of square-headed windows was inserted, similar windows were added in the chancel, the south porch was remodelled or rebuilt, and shallower roofs supported on high-quality carved corbels replaced the earlier steep-pitched ones. An embattled parapet surmounted by pinnacles was probably added around the same time, but was removed in the early 19th century; so too were stone carvings from the external west wall, depicting St George (the church's patron saint) killing the dragon, and the Virgin Mary holding the infant Christ. (fn. 409) Inside, slots to support a rood loft were cut into the west face of the chancel arch and the adjoining arcade arch: the easternmost pair of corbels in the nave depict angels holding shields with passion symbols, which presumably formed part of the iconography. The east window retains a 15th-century stained-glass panel depicting a mounted St George slaying the dragon, (fn. 410) and in the late 15th century a lavish new window was inserted in the south wall of the nave.
The roof of the south transept chapel was rebuilt in the 17th century, but rests on earlier corbels. Box pews were probably introduced by 1626, when one of the Turners was buried 'at the end of the seat where I usually sit', (fn. 411) and in the early 18th century the Bradshaws erected a large pew which blocked views of the reading desk. Some parishioners objected, requesting its removal to the north chapel where several of the Bradshaw family were buried, and which continued to be associated with the family into the 19th century. (fn. 412) The chancel is dominated by mural monuments to members of the Turner family, dating from 1667/8 to 1833. (fn. 413) Among the most elaborate is a large mural monument to Thomas and Charles Turner (d. 1730), erected by their brother George (with a blank for his own name) and featuring the Turner arms and a long Latin inscription. (fn. 414) One or two members of other leading families are commemorated in the nave, which was given a coved plaster ceiling probably in the 18th century. Then or later the arcade piers were painted to give a marbling effect. (fn. 415)
Some structural work was carried out in the early 19th century when several cartloads of stone and other materials were carried away, including the parapet and pinnacles, and lead from the roof. (fn. 416) A lath and plaster bellcote, subsequently condemned by William Morris as 'unarchitectural', may have been built onto the west end around that time. (fn. 417) The interior underwent a 'complete repair' shortly before 1840, and in 1871 part of the north transept chapel was partitioned for use as a vestry. (fn. 418) By 1885 the parishioners were pressing for a more thorough restoration, leading the vicar of Broadwell to approach the Diocesan Church Building Society. E. G. Bruton was appointed architect after plans drawn up by 'a builder' were rejected. Morris took a keen interest, and the Society for the Protection of Ancient Buildings issued recommendations; in the end, however, the relatively small scale of the restoration (carried out in 1888–9) reflected lack of funds rather than external pressure. The nave was re-roofed in a steep-pitched 13th-century style (re-using the old stone slates), and was refloored (to Morris's relief) with existing stone flags. The pews were replaced with moveable benches and chairs, a new oak pulpit was installed, and the paint and whitewash were removed, revealing the medieval wall paintings. The offending lath and plaster bellbox was also demolished, although Morris took exception to a tall stone chimney added to the north transept chapel in connection with hot-water heating, 'as ugly and vulgar as the heart could wish'. (fn. 419) Later work was mostly confined to conservation: in particular the wall paintings were restored in 1972 and 2000–1, the St George window was restored in 1974, and general repairs were carried out in 1990. (fn. 420) A harmonium from Broadwell church was installed c. 1930, and replaced c. 1990 by a cast-off organ also from Broadwell. (fn. 421) Former tram seats in the south transept chapel are of unknown provenance.
LOCAL GOVERNMENT
Manor Courts
During the Middle Ages those Kelmscott inhabitants who held their land of Bradwell Odyngsell manor presumably attended the manor court and the annual view of frankpledge, which were probably held in Broadwell. (fn. 422) Courts for all three Broadwell manors continued until the 1670s or later, granting copyhold lands and issuing field orders, and as late as 1600 the Bradwell Cirencester court demanded payment of a horse as relief for a Kelmscott freehold. (fn. 423) By the mid 17th century Kelmscott seems to have largely fallen outside the courts' jurisdictions, however, presumably because most Kelmscott lands had become detached from the manors and converted into freehold. (fn. 424)
Some or all of Kelmscott's tenants owed suit at the hundred court as well. In 1279 Roland d'Oddingseles (as tenant of a large freehold in Kelmscott) was required to attend the twice-yearly view at Bampton, (fn. 425) and in the 17th century Kelmscott representatives still attended the annual view or lawday which the lord of Bampton's steward held in Broadwell, usually in September or October. In 1668 the view set fines for allowing unringed pigs to stray, and in 1672 it ordered repair of a drainage ditch, while in 1671 it seems to have elected a tithingman for Kelmscott. The lawdays possibly continued until the early 19th century. (fn. 426)
Parish Government and Officers
In other respects Kelmscott seems to have governed itself as an independent parish. By the 16th century the township had two churchwardens and (for a time) a sidesman, (fn. 427) and in the mid 17th century it had its own constable and overseer and administered its own poor relief. (fn. 428) Appointments were presumably made through a vestry or similar assembly, which must have also regulated the village's open-field agriculture. (fn. 429) By the 1840s the vestry generally met in the church in March and April, though it occasionally adjourned to a nearby farmhouse or (after 1874) to the recently built school. It appointed two overseers, two poor-rate assessors and collectors, and two surveyors of highways (replaced later by a waywarden), and still nominated a constable, besides levying occasional rates and overseeing repair of the church and footpaths. (fn. 430) By then there was a single churchwarden, of whom most were leading farmers who served sometimes for several decades. (fn. 431) No parish property was mentioned, and officers' income came solely from parish rates. (fn. 432)
Under the Local Government Act of 1894 Kelmscott became part of the newly formed Witney rural district. (fn. 433) Its vestry was succeeded by a parish meeting with more limited powers, which met annually in the school; from the 1920s meetings were transferred to the village hall, and from 1935 to the newly built Morris Memorial Hall. The meeting appointed two overseers until 1924, and among other functions liaised with outside bodies over planning and facilities. Annual or twice-yearly meetings continued in the early 21st century, when there were again two churchwardens. (fn. 434) In 1974 the civil parish became part of West Oxfordshire district. (fn. 435)