Pages 122-157
A History of the County of Oxford: Volume 18. Originally published by Boydell & Brewer for the Institute of Historical Research, Woodbridge, Suffolk, 2016.
This free content was digitised by double rekeying and sponsored by Victoria County History Oxfordshire. All rights reserved.
CHALGROVE
Chalgrove occupies the flat clays and gravels between the Thame valley and the Chiltern scarp, c.5.6 km north-west of Watlington and 15.3 km south-east of Oxford. (fn. 1) The village developed along a narrow stream-valley south of the Oxford-Watlington road, and became one of the hundreds more populous settlements, growing substantially in the 1960s when new building quadrupled the number of households. An outlying hamlet at Rofford shrank considerably in the later Middle Ages, but remained the centre of a separate liberty until the 19th century. By then the parish was usually administered as a whole, and in 2013 Rofford comprised just two houses.
The parish was predominantly agricultural until the 20th century, its large open fields remaining mostly uninclosed until 1843. (fn. 2) From the 15th century it was largely owned by Magdalen College, Oxford, which sold its estate in 1942. The following year a military airfield was built over former farmland, its huts and barracks providing temporary post-war accommodation pending larger-scale house-building, and in 1946 the Martin-Baker Aircraft Co. (manufacturing aircraft ejector-seats) took over the airfield itself. A late 20th-century industrial estate provided further employment, although by then most inhabitants worked elsewhere. (fn. 3)
PARISH BOUNDARIES
The ancient parish (2,385 a.) comprised the manors of Chalgrove and Rofford, whose boundaries (with those of neighbouring estates) were probably established before 1066. (fn. 4) The northern boundary along Haseley brook was mentioned in 1002, while the western boundary with Newington was apparently established soon afterwards. (fn. 5) The western boundary with Ascott (in Great Milton parish) followed that of the hundred, (fn. 6) diverting westwards along Chalgrove brook to include an area of meadow, while the indented eastern boundary with Easington followed open-field furlongs as far as detached meadow belonging to Lewknor, (fn. 7) continuing in a more or less straight line to take in Chalgrove common. The southern boundary with Cadwell (in Brightwell Baldwin) is probably also pre-Conquest. (fn. 8)
The liberty, tithing, or township of Rofford covered 363 a. in the parish's north-western corner, bordering southwards on the Oxford-Watlington road. (fn. 9) On its north side an isolated dwelling called Lower Rofford lay in a detached part of Wheatfield parish (481/2 a.), which probably originated in the 12th or 13th century when the lord of Wheatfield held Rofford manor. (fn. 10) The Wheatfield land was added to Chalgrove parish in 1886, bringing the total area to 2,433 acres. (fn. 11) In 1932 the parish was united with Warpsgrove but lost 12 a. to Stadhampton, leaving it with 2,756 a. (1,115 ha.) in 2013. (fn. 12)
LANDSCAPE
Chalgrove lies chiefly on gravels of the Second (Summertown-Radley) Terrace, with areas of underlying Gault Clay in the village, and in the north-east and south-west. (fn. 13) The red, gravelly soil is easily worked, and with sufficient rainfall produces large yields, whereas the heavier clays are better suited to grass. (fn. 14) Chalgrove village occupies a slight dip, above which rises the squat church tower, and generally the relief is undramatic, falling gently north-westwards from c.75 m. on the boundary with Brightwell Baldwin to 70 m. at Chalgrove airfield and 58 m. at Rofford (by Haseley brook). Only at the Easington boundary does the ground climb higher towards 'Esa's hill' (107 m.). (fn. 15)
The parish is watered by tributaries of the river Thame, its plentiful marsh and meadow reflected in medieval field names incorporating the elements eg, lag, mœd, and mersc. (fn. 16) Chalgrove brook flows south of the village, passing near the church and formerly powering several mills, including that at Mill Lane. (fn. 17) A separate channel (controlled by a sluice gate) runs along High Streets north side, and until the 20th century houses there flooded regularly (fn. 18) Continued flooding of surrounding fields prompted flood alleviation schemes in 1981–4 and formation of a Chalgrove Flood Alleviation Group in 2008. (fn. 19) Woodland was largely confined to hedgerow trees, contributing to the landscapes flat and featureless aspect. (fn. 20) The large plain north of the village was the scene of a Civil War battle in 1643, (fn. 21) and from 1943 the military airfield covered some 700 a. of the same level ground (Fig. 120). (fn. 22) Water supply was mostly from wells and streams until mains water arrived in 1950. (fn. 23)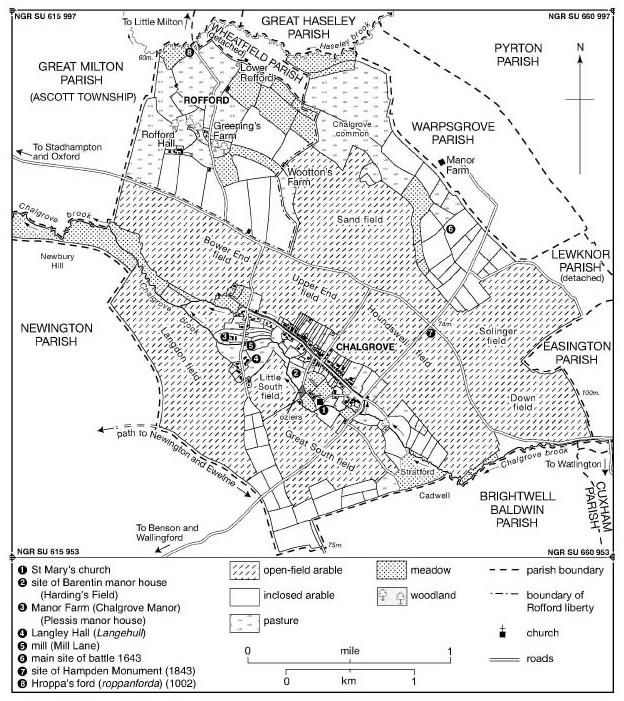 COMMUNICATIONS
Until its diversion in 1943 the main Oxford-Watlington road ran north-east of Chalgrove village, connecting with roads to Rofford and Warpsgrove, and intersecting the road to Benson and Wallingford which runs close to Chalgrove church. (fn. 24) Probably it was of pre-Conquest origin, and may have been the 'broad way' mentioned in the Middle Ages. (fn. 25) In the 1770s it was frequently impassable especially in winter, and the parish surveyors were ordered to repair it. (fn. 26) The Rofford road (in poor condition in 1688) (fn. 27) continued to Little Milton, crossing Haseley brook at Roppanforda (Hroppa's ford), which was mentioned in 1002 and where a bridge was broken in 1285. (fn. 28) Lesser lanes mentioned in the Middle Ages included mill way ('mulewei'), 'Medecroftlane', and 'Wauscherdeswey'. (fn. 29)
At inclosure in 1843 the Watlington, Rofford, Warpsgrove, and Wallingford roads were confirmed as public highways, (fn. 30) but in 1943 creation of the airfield stopped up the first two, with Watlington traffic diverted along Chalgrove village street. A bypass (the modern B480) was built in 1966–7, running between village and airfield. (fn. 31) Several footpaths south of the village were also confirmed at inclosure, although residential development from the 1960s caused some diversions. (fn. 32)
A carrier (Ralph Upshaw) died in 1704, (fn. 33) and two carriers were mentioned in 1841, (fn. 34) one of them running to Thame, Wallingford, and Oxford. The business continued in the 1860s, but from c.1900 was gradually reduced to twice-weekly visits to Wallingford. (fn. 35) Motor buses ran to Wallingford and Thame on market days by 1924, with a daily service to Watlington started soon afterwards. (fn. 36) Weekly buses to Wallingford and Thame continued in 1990, (fn. 37) and hourly services to Oxford in 2013.
Post was delivered through Wallingford or Tetsworth in the 19th century. A sub-post office on Chalgrove High Street was run in 1851 by the carriers daughter, (fn. 38) and in 1899 (when run by the farmer Frederick Mander) it was a money-order office and savings bank. (fn. 39) Telegraph facilities were briefly added c.1911, (fn. 40) and the post office remained open in 2015.
SETTLEMENT AND POPULATION
Prehistoric to Anglo-Saxon Settlement
Neolithic activity is suggested by finds of polished stone axes, (fn. 41) but the earliest settlement evidence is a Bronze-Age roundhouse with associated pottery and flint scatters south-east of the modern village. (fn. 42) Iron-Age finds include a gold coin and a few pottery sherds, (fn. 43) while more striking is the discovery of two Roman coinhoards and a 2nd-century cornelian intaglio personifying rustic prosperity. (fn. 44) Cropmarks and pottery finds indicate extensive Romano-British settlement, some of it west of the modern village. (fn. 45)
Chalgrove's Anglo-Saxon place name may refer to chalk- or limestone pits, highlighting a relatively rare resource in the lowland clay vale. (fn. 46) Later Anglo-Saxon settlement was most likely concentrated on the modern villages southern edge close to Chalgrove brook, around the site of the church and nearby Harding's Field. Pottery sherds and two 9th-century strap ends were found in the vicinity, and there are residual earthworks. (fn. 47) By the mid 11th century a sizeable Chalgrove estate (probably still focused on that area) supported a substantial population and a striking concentration of watermills along Chalgrove brook, while a separate settlement had developed at Rofford (Hroppa's ford) by Haseley brook. Recorded Anglo-Saxon field names suggest both open-field cultivation and clearance of land for tillage. (fn. 48)
Population from 1086
By 1086 there were at least 52 tenant households in the parish, 42 at Chalgrove and 10 at Rofford. (fn. 49) By 1279 the number of households had more than doubled to 110, with growth focused exclusively on Chalgrove: there 99 tenants (52 of them free) held land from one or both of the two main manors, while Rofford had only 8 villeins and 3 free tenants. (fn. 50) Total population may have approached 500, and further expansion probably followed in the early 14th century, when the number of taxpayers rose from at least 63 in 1306 to 80 in 1327. (fn. 51)
Fourteenth-century plague reduced population particularly at Rofford, where in 1377 only six households (including 13 inhabitants aged over 14) paid poll tax. Chalgrove had 185 taxpayers in 74 households, suggesting a total parish population of perhaps 450. (fn. 52) By the 16th century population was apparently growing again, despite occasional epidemics including (in 1557–9) a nation-wide outbreak probably of influenza. (fn. 53) Sixty houses were assessed for hearth tax at Chalgrove in 1662 and four at Rofford, (fn. 54) and in 1676 there were an estimated 260 adults in the parish. (fn. 55)
In the 18th century the surplus of baptisms over burials gradually increased, (fn. 56) the estimated number of houses rising from 60 in 1738 to 80 by 1790. (fn. 57) By 1801 Chalgrove's 117 occupied houses accommodated 509 people, and Rofford's two a population of nine. (fn. 58) The 1830s saw a significant increase, the 19th-century population peaking in 1841 at 668 in 136 houses at Chalgrove, and 23 in 5 houses at Rofford. Thereafter numbers declined steadily to 359 people in 90 houses in 1921, with notable falls in the 1840S-50S and 1880S-90S. Nissen huts at Chalgrove airfield (used as temporary housing after the Second World War) accounted for a rise to 910 (in 231 dwellings) in 1951, while residential development in the 1960s increased the population from 652 (188 houses) in 1961 to 2,433 (730 houses) in 1971. Further building swelled the population to 2,909 (1,089 houses) in 2001, and 2,830 in 2011. (fn. 59)
Medieval and Later Settlement
A predecessor of Chalgrove church existed apparently by the late 11th century, (fn. 60) and excavation has revealed late 12th- and early 13th-century occupation of the neighbouring manorial site at present-day Harding's Field. The medieval village developed some distance to the north and west, along High Street and Mill Lane: High Street itself may follow a former headland in the open fields, since curving croft boundaries on its north side suggest that they were laid out on openfield strips. Some of those changes may have followed from the manors division in 1233 and the creation of an additional manorial complex on Mill Lane, which provided a secondary focus and perhaps involved some reorganization of tenant housing. The chronology of the shift is uncertain, however, and other factors (including general population increase) may have played a part. (fn. 61) By the mid 14th century the village was divided into three 'ends' called Langehull (from a significant freehold estate at Mill Lane), Bour or Bower end, and East end, implying some gaps in the over-all settlement pattern. (fn. 62) The name 'bour' suggests an area of lower-status tenants, (fn. 63) and in the 15th century each end was secured by gates, (fn. 64) presumably to control livestock. The moated manorial complex at Harding's Field, expanded during the 13th and 14th centuries, was abandoned by c.1500, but the moated Mill Lane complex is marked by present-day Chalgrove Manor, opposite a medieval mill site on the lane's eastern side. (fn. 65)
Apart from some infilling between the 'ends' the picture was probably little changed by the 18th century, when the village contained 60–80 households. (fn. 66) High Street remained its principal focus, extending for a kilometre from its junction with Mill Lane to the Warpsgrove road, with a small green at its centre where the village stocks and a stone cross formerly stood. (fn. 67) Some houses were later removed, notably along Frogmore Lane, and the rapid increase in the number of households by 1841 must have been largely achieved by subdivision. (fn. 68) As population declined in the late 19th and early 20th centuries several older cottages were demolished, and a row of council houses was built on Monument Road (1928–30). Otherwise the shape of the village remained largely unchanged until after the Second World War. (fn. 69)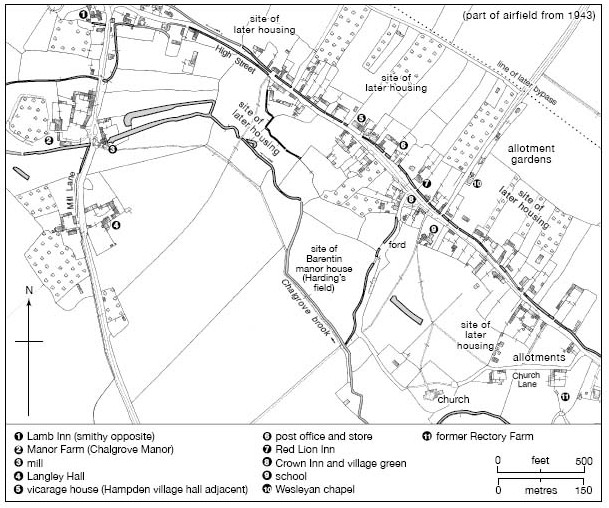 From 1948 abandoned Nissen huts at Chalgrove airfield attracted large numbers of incomers, creating a sizeable 'squatter colony' which was eventually adopted as temporary housing by Bullingdon Rural District Council. A school (housed in similar accommodation) was provided in 1950, and the site, known as the Hampden Estate, was only finally cleared in 1958. (fn. 70) Some families moved to new council houses on Chalgroves north-western edge, and in the 1960s development spread eastwards along both sides of High Street, serviced by new residential roads, shops, and other amenities. (fn. 71) Further expansion was limited by the new bypass to the north, the brook to the south, and roads to the west and east, but the whole of that area was infilled by the end of the 20th century (fn. 72) Development elsewhere focused on Warpsgrove Lane, where a light industrial estate, depot, and poultry farm were constructed east of the airfields surviving buildings, on the site of the Hampden Estate. The road to Berrick Salome and Benson also acquired additional dwellings. (fn. 73)
The medieval village at Rofford probably comprised no more than a dozen households c.1300, and after the Black Death gradually declined to the three or four isolated houses marked on 18th- and 19th-century maps, including Rofford Farm, Rofford Hall, and (in the detached part of Wheatfield) Lower Rofford. (fn. 74) The site of the deserted village was bulldozed in 1959, when pottery of the 12th century onwards was found. (fn. 75)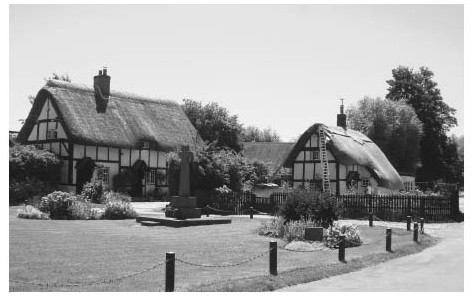 THE BUILT CHARACTER
Chalgrove is notable for its stock of timber-framed and thatched cottages, (fn. 76) of which some are of late medieval origin. (fn. 77) Crucks survive at 68–70 Mill Lane (originally a small two-bay cottage on the villages western fringe), the Red Lion on High Street (its medieval plan obscured by a major 17th-century remodelling), and Apple Tree Cottage, while Brook Cottage (113 High Street) incorporates a former two-bay open hall. As elsewhere upper floors and chimney stacks were inserted in the late 16th or early 17th century, with some Chalgrove buildings showing signs of a transitional phase. No. 1 The Green, built probably on a traditional open-hall plan in the late 16th century, seems to have been modernized only a decade or two later, while 159 High Street was apparently started on traditional lines in the early 17th century, but was given a chimney, lobby entry, and upper floor during construction. (fn. 78) Despite such improvements over 70 per cent of those paying hearth tax in 1662 were still assessed on only one or two hearths, suggesting modest one- or two-storeyed dwellings of two or three bays. (fn. 79) Church Cottage may have been typical, with its three-bay plan with attics, chamfered ogee-stopped beams, and ridge stack. It was extended one bay eastwards in the 19th century, probably acquiring its Flemish-bonded brick front at the same time. (fn. 80)
Unlike neighbouring Great Haseley or Little Milton, Chalgrove lacked building stone, and timber-framing continued into the later 17th century (fn. 81) A high-quality example (built c.1610 probably for a prosperous yeoman) is the present-day Lamb Inn, a lobby-entry house with moulded beams, at least three heated rooms, and a well-lit upper floor. (fn. 82) Jinnetts, on the villages western edge, may have been one of the last timber-framed cottages to be built, probably c.1690. Its timbers of light scantling include a central timber-framed partition with carpenters marks, rising to a closed truss with straight windbraces, (fn. 83) and like other houses in the village it was later extended, modernized, and improved rather than replaced. Brick chimney stacks are widespread, and brick fronts were sometimes added as at Church Cottage, (fn. 84) though more commonly brick was used as infill, preserving the visible timber framing. (fn. 85) Some new building in red and grey brick appeared by the 19th century, the village post office bearing the date 1869 in patterned brickwork in its gable wall.
Few of the villages 17th- and 18th-century houses display social pretension, the most notable exception being the former vicarage house (rebuilt in 1702 and remodelled in 1885). (fn. 86) Rofford Hall, too, is an impressive double-pile farmhouse of 18th-century date, built of uncoursed limestone rubble with brick quoins, dressings, and a parapet. The symmetrical three-bay front is lit by eight-over-eight sash windows, and the central door has a decorative fanlight. (fn. 87) Otherwise the absence of grand houses reflects the relatively modest status of most inhabitants, (fn. 88) combined, perhaps, with landlords' unwillingness to pay for expensive rebuilding. In 1910 Magdalen College, Oxford, the single largest landowner, controlled around a third of the housing stock. (fn. 89) Absentee lordship may nevertheless have provided opportunities for squatters and labourers to build cottages on the waste. (fn. 90) A possible example is John Hampden Cottage, a tiny two-roomed dwelling built on the village's southern edge in the late 17th century, with a single gable-end stack. (fn. 91)
By the mid 20th century Chalgrove presented an attractive mix of timber-framed cottages and brick and tiled Victorian houses, but in the 1960s the pressing need for new housing led to intensive infilling along High Street, with new access roads leading to additional housing behind. Several older properties were demolished. Following a survey in 1966 further expansion was discouraged, and in the 1970s Chalgrove twice won the county's 'Best Kept Village' competition. (fn. 92) In 2015 it remained well cared for, though architecturally its numerous 20th-century buildings were unremarkable.
MANORS AND ESTATES
In 1086 Chalgrove manor was assessed at 10 hides and the smaller Rofford manor at 3 hides. (fn. 93) The former, repeatedly divided by the Crown to reward royal supporters, was partitioned in 1233 between the Barentin and Plessis families, creating two separate manors, and in the 1480s Barentin's and a third of the Plessis manor (called Argentein's) were acquired by Magdalen College, Oxford. Another third (called St Clares) was given to Lincoln College, Oxford, in 1507, while the remaining portion (Ellesfield's), including the present-day Chalgrove Manor, descended from 1594 with an ancient freehold centred on Langley Hall. Magdalen's estate was sold in 1942 when it covered 1,104 a., and Lincoln's (212 a.) in 1950–1. The Langley (formerly Langehull) estate then covered 185 a., the parish's remaining land being divided among numerous freeholders. (fn. 94) From the Middle Ages to the 20th century Chalgrove manor also included Gangsdown (in Nuffield) and Berrick Salome, which were in the same ownership by 1086. (fn. 95)
Rofford remained an independent manor until the 20th century, although by 1925 the liberty as a whole was divided amongst three separate estates totalling 570 acres. (fn. 96) Chalgrove airfield, constructed in 1943, took in 700 a. from several farms and estates, (fn. 97) and remained in state ownership in 2015.
CHALGROVE MANOR
Descent to 1233
In 1066 Chalgrove was held freely by Thorkil, and in 1086 (as part of the honor of Wallingford) by Miles Crispin (d. 1107), who also held Berrick Salome and Gangsdown. (fn. 98) During the earlier 12th century it was probably held by members of the Boterel family as constables of Wallingford castle, passing in 1154 to Peter Boterel (d. 1165). (fn. 99) Thereafter it escheated to the Crown, which periodically assigned parts to royal servants. (fn. 100) Around 1190 Prince John granted it to Hugh de Malaunay (d. 1221) as 2 knight's fees, including Gangsdown, Berrick, and Rycote (in Great Haseley). (fn. 101) It reverted to the Crown c.1210 (fn. 102) but was restored in 1212, (fn. 103) and passed briefly to Malaunay's son Peter. (fn. 104) Another 25 librates were held in 1212 by Thomas Keret. (fn. 105)
In 1224 the Crown granted half the manor to Hugh Despenser and half to Hugh de Plessis, Drew Barentin, and Nicholas Boterel. (fn. 106) It was re-granted to Peter de Malaunay in 1226 and to Theobald Crespin in 1228, (fn. 107) but returned to the Crown in 1229 when the entire manor was divided amongst Hugh de Plessis, John de Plessis, and Drew Barentin. (fn. 108) Hugh's third was given on his death in 1231 to William de Huntercombe, (fn. 109) who was deprived in 1233. The same year the whole was partitioned between John de Plessis and Drew Barentin, (fn. 110) creating two separate manors each reckoned at a knights fee. (fn. 111)
The Divided Manors, 1233–C.1600
Barentin's Manor Drew Barentin (d. 1264 or 1265) (fn. 112) was succeeded by his son (or possibly nephew) William Barentin (d. 1290 or 1291). (fn. 113) The manor then passed in the direct male line to Drew (d. 1329), Thomas (d. c.1364), Thomas (d. 1400), Reynold (d. 1441), Drew (d. 1453), and John Barentin (d. 1474). (fn. 114) John's son John was beset by financial difficulties, and in 1485 sold the manor to Thomas Danvers on behalf of William Waynflete, bishop of Winchester, who used it to endow Magdalen College, Oxford. (fn. 115)
Plessis's and Related Manors John de Plessis (d. 1263), 7th earl of Warwick, was succeeded by his son Hugh, (fn. 116) who in 1279 gave the manor to his daughter Margaret. She married the royal justice Sir William de Bereford (d. 1326), (fn. 117) lord of neighbouring Brightwell Baldwin, and was succeeded by their son Edmund de Bereford (d. 1354) and by Edmund's illegitimate son Sir John (d. c.1356). (fn. 118) Following John's death the manor was divided among Edmund's three sisters Agnes, Margaret, and Joan, and John's illegitimate brother Baldwin (d. 1405). (fn. 119)
Agnes (d. 1375) married John Argentein, their share passing to their son John (d. 1382) and to John's illegitimate son William (d. 1419). (fn. 120) He was succeeded by his grandson John Argentein (d. 1420) (fn. 121) and granddaughters Joan and Elizabeth, the latter inheriting her sister's portion in 1429. (fn. 122) In 1455 Elizabeth's son John Alington sold the manor to Richard Quatremain and others, who in 1459 sold it to John Barentin (d. 1474). (fn. 123) In 1483 it passed to Richard Harcourt (d. 1486), whose grandson Miles sold it in 1487–8 to Thomas Danvers on behalf of Magdalen College. (fn. 124)
Margaret's share (known later as St Clare's) passed from her and her husband James Audley to their sons William (d. 1365) and Thomas (d. 1372), then to Thomas's son James (who died young) and daughter Elizabeth. Later it was held by Philip St Clare (d. 1408), the elder James's great-grandson. (fn. 125) Philip's son John (d. 1418), a minor, was succeeded by his brother Thomas St Clare (d. 1435) and by Thomas's three daughters, (fn. 126) the share passing by marriage to Richard Harcourt. In 1496 Miles Harcourt sold it to Edmund Hampden of Woodstock, who in 1506 sold it to the bishop of Lincoln, and the following year it was given to Lincoln College, Oxford. (fn. 127)
Joan's share passed from her and her husband Gilbert de Ellesfield to William de Ellesfield (d. 1398), (fn. 128) who also held Baldwin de Bereford's portion. (fn. 129) Their combined estate, which on later evidence included the Plessis manor house, passed to Williams daughter and granddaughter, half being held by Joan wife of Thomas Loundres, and half by Joan wife of John Hore. (fn. 130) The two parts seem, however, to have been reunited by John's son Gilbert Hore (d. 1453), (fn. 131) and presumably descended to Gilberts son John (d. 1471) and granddaughter Edith, who married Rowland Pudsey. (fn. 132) The manor remained in the Pudsey family until 1594 when it was sold to Benedict Winchcombe of Noke. (fn. 133) Thereafter it descended with Winchcombe's Langehull or Langley estate, passing to the Halls and in the 18th century to the Blounts. (fn. 134)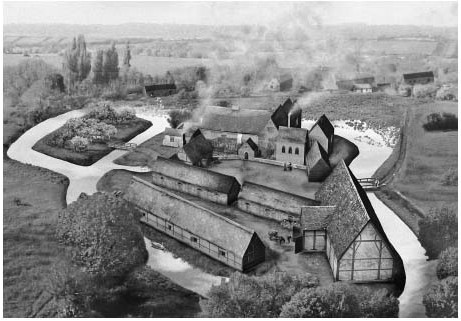 The Manors from 1600
Magdalen College retained the united Barentin's and Argentein's manors until the 20th century, and from the 19th extended its holdings. (fn. 135) In 1900 it bought the Langley estate and Chalgrove Manor farm (the former Ellesfield portion) from the executors of G.R. Blount, (fn. 136) and in 1901 added the former rectory estate (Houndswell farm, 78 a.). (fn. 137) Langley and some other property was sold in 1922, (fn. 138) and in 1942 the college's remaining estate (still 1,104 a.) was sold to former tenants including S.C. Franklin (d. 1948) and PH. Fleming, who bought Manor farm. (fn. 139) Franklin's estate (728 a.) was sold in 1949 to R.N. Richmond-Watson of Brightwell Baldwin, (fn. 140) while Manor farm passed in 1970 to Roy Brown. In 1977 he sold the house (Chalgrove Manor) to Paul and Rachel Jacques, who bought the lordship from Magdalen College in 1995. (fn. 141) Lincoln College sold its estate to the Air Ministry and others in 1950–1, construction of Chalgrove airfield in 1943 having already taken up parts of both the Lincoln and former Magdalen estates. (fn. 142)
Chalgrove Manor Houses
Barentin's (Harding's Field) (fn. 143) Until the manor's partition in 1233 there was only one manor house, situated north-west of the church in present-day Harding's Field. Excavation revealed traces of late 12th- or early 13th-century buildings, associated possibly with Hugh de Malaunay and assigned later to the Despenser and Huntercombe shares of the manor. Drew Barentin constructed a more extensive moated complex probably c.1255, which included a three-bay stone-built hall, a bakehouse or brewhouse, and a dovecot. Re-used voussoirs from a high-quality 12th-century doorway came possibly from the earlier buildings. (fn. 144) In the early 14th century (when Chalgrove was the Barentins' principal mainland seat) the house was remodelled and extended to provide additional services and accommodation, creating an L-plan. Other domestic buildings (possibly including a detached kitchen and bread oven) occupied the north side of a central courtyard, to the south of which lay a large stable block and barn. The house was further extended in the late 14th century by the probable addition of a chapel and new kitchen, while new buildings on the courtyards south side may have included a cattle byre and cart house. In the mid 15 th century the Barentins moved to Haseley Court (in Little Haseley) and abandoned the Chalgrove house, which was probably largely demolished in the 1480s.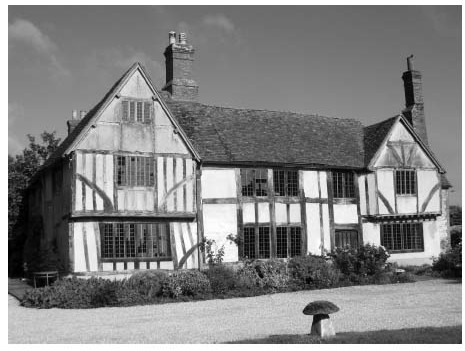 Chalgrove Manor (Plessis's) The existing Chalgrove Manor off Mill Lane occupies the site of the Plessis-Bereford manor house. (fn. 145) John de Plessis probably began building there c.1240 when he received 30 tree trunks from the king, (fn. 146) with further grants following in the 1240s–50s. By 1336 the site, surrounded by a moat, covered over an acre, encompassing a hall, byre, stable, three barns, and a granary (fn. 147) Probable survivals include a 13th-century oak screen and a stone window-mullion re-used in the present house, unless they were imported from the Barentin site or elsewhere. (fn. 148) Certainly the house appears to have been at least partly stone-built. (fn. 149)
From the mid 15th century the house was replaced in stages, creating a timber-framed successor comprising a hall, two jettied and gabled cross-wings, and a two-storeyed porch. (fn. 150) The north wing (tree-ring dated to 1444–68) was built first, presumably by the Hores or a lessee, and has a braced collar-beam roof, finely moulded beams, and expensive close-studding. Probably it served as a parlour with a solar (or chapel) above. The hall (built c.1488) was originally open to a five-bay arched collar-beam roof of exceptional quality, associated possibly with the Oxford master mason William Orchard, (fn. 151) and was lit by a large oriel window. The south wing was added in similarly lavish style c.1503–5, and the north-wing parlour became a buttery. During the 16th century the house and services were extended to the rear and the hall was ceiled over, brick chimneys replacing its former open hearth and louvre, while the south wing's roof was raised to create an attic room. A 16th-century timber-framed gatehouse (part of a continuous line of buildings fronting the street) survived until the 1970s.
The houses 16th- and 17th-century occupants are not known, but in 1662 it was probably one of several taxed on six hearths, occupied by members of the White, Child, Quatremain, and Wiggin families. Such lessees were perhaps responsible for painted panels of c.1680 in the south wing, and for other 17th-century improvements. (fn. 152) Later modifications included removal of the porch, and in the 19th century the east-facing front was rendered and new windows inserted. The houses present appearance reflects work since 1977 by Paul and Rachel Jacques, who removed the render and restored the timber framing and fenestration. Restoration of the north and south fronts revealed evidence of 15th- and 16th-century garderobes, while the west-facing rear wall, largely of red and blue Victorian brick, overlooks a 16 ft-deep well. (fn. 153)
ROFFORD MANOR
In 1086 Rofford was held of the king by Saswold, and was pledged to Robert d'Oilly. (fn. 154) By the late 12th century it belonged to Robert of Wheatfield, whose widow Isabella received dower there in 1196, (fn. 155) and whose brother Henry of Wheatfield (d. 1226) later held it of the d'Oilly barony as ½ knight's fee. (fn. 156) Henry was succeeded by his son Elias (lord in 1243) and grandson Henry (d. by 1264), (fn. 157) whose son Elias sold two thirds and reversion of the remaining third to John de St Valery in 1275. (fn. 158) John's son Richard was lord in 1279 but sold the reversion to Hugh Despenser in 1309, when the life tenant was Philip de Hoyville. (fn. 159)
Hoyville's wife Mary was taxed there in 1327, (fn. 160) but in 1316 Rofford was held with Chalgrove by Drew Barentin and William de Bereford. (fn. 161) By 1346 Oliver de Bohun held it of Hugh Plessis (d. 1350), (fn. 162) succeeded by Hugh Plessis (d. 1363) and by Margaret de Warbelton (d. 1365), who held it of the d'Oilly fee with reversion to the Despensers. (fn. 163) Instead the manor reverted to the Crown, and in 1367 was granted to the king's yeoman John of Beverley. (fn. 164) In 1377 it was bought by John James (d. 1396) of Wallingford, (fn. 165) whose son Robert sold it in 1408 to his brother-in-law Reynold Barentin (d. 1441) of Chalgrove. (fn. 166) Thomas Danvers acquired it with Chalgrove in 1485 and, following an abortive sale to Magdalen College, (fn. 167) sold it in 1498 to Henry Colet (d. 1505). From him it passed to William Barentin (d. 1549) of Little Haseley (fn. 168)
In 1540 Barentin sold Rofford to John Frost. (fn. 169) It seems later to have been acquired by Sir Christopher Hatton, passing with Warpsgrove to the Molynses and Simeons and (probably) to Sir Robert Dormer in 1631. (fn. 170) Thereafter the descent is unclear, but by the early 18th century the owner was Anthony Collett of Bourton-on-the-Water (Glos.), and in 1753 the manor was sold by Daniel Holworthy to Charles Greenwood. (fn. 171) He sold it in 1799 (with c.210 a.) to Nathaniel Ludbrook, who in 1802 sold to the graziers Christopher and Thomas Reeves. (fn. 172) William Cox of Dorchester followed in 1840, and at inclosure in 1843 owned 326 acres. (fn. 173) His successor Thomas Cox mortgaged the estate, (fn. 174) which in 1868 was sold to C.R. Powys; following additions he held 393 a. in the liberty's eastern part and in adjoining Chalgrove, (fn. 175) other landowners in 1910 including the Revd Hilgrove Cox (147 a.) and Great Haseley's Tayler-Blackall charity (28 a.). (fn. 176) Powys's tenant C.H. Rowles bought the manor in 1915, and was succeeded by B.C. Rowles before 1943, when most of the land was requisitioned (and later purchased) for Chalgrove airfield. (fn. 177) In 2013 the principal remaining landowner was Jeremy Mogford.
Rofford Manor House
An undocumented manor house possibly existed in the Middle Ages. The present Rofford Manor is, however, a late 17th-century farmhouse extended c.1730–40, (fn. 178) and known formerly as Greenings. (fn. 179) By 1738 it belonged to the Colletts, (fn. 180) who may have installed its early 18th-century moulded fireplaces, elaborate panelling, and other fittings. It descended with the estate until 1957 when the Air Ministry sold it to W.E. Hazell of Little Haseley, (fn. 181) but by the early 1980s it was largely derelict until bought by Jeremy Mogford, a managing director, and his wife Hilary. They restored it and created a celebrated garden. (fn. 182) The house itself is of coursed limestone rubble with ashlar quoins, a gabled tiled roof, and a main front of four irregular bays, its two storeys and attics lit by 18th- and 19th-century casements and sashes. (fn. 183)
OTHER ESTATES
Large numbers of freeholds developed between the 11th and 13th centuries, some arising, perhaps, from the Crowns repeated divisions of Chalgrove manor over the period. The most important included the Langehull and Quatremain estates, though many were less stable and cannot be traced beyond the Middle Ages. Part of the Langehull estate was held from Wallingford priory, the parish's largest ecclesiastical landholder, while smaller holdings belonged to the Knights Templar and the Hospital of St John the Baptist in Oxford. (fn. 184) Several other freeholds continued beyond the Middle Ages, (fn. 185) and at inclosure in 1843 c.30 landowners were allotted a total of 620 acres. (fn. 186) The rectory estate (held by Thame abbey from 1319 and later by Christ Church, Oxford) then comprised c.60 acres. (fn. 187)
The Langehull (later Langley) Estate (fn. 188)
Adam de Langehull was a prominent freeholder by the early 13th century, when he granted land to the Knights Templar, (fn. 189) and in 1279 his descendant Thomas son of John de Langehull held 2 yardlands from William Barentin and 6 from the prior of Wallingford, besides having his own tenants. (fn. 190) In 1327 Robert de Langehull was Chalgrove's fifth highest taxpayer (paying 7s. 8d.), while Simon de Langehull served with the Black Prince in Gascony in 1356. Thomas de Langehull paid poll tax in 1377. (fn. 191)
The Wallingford priory land was subsequently held by Edward Woodward (d. 1496) and his son Thomas, who retained it in 1536 when it was called Bossynges Place alias Langhulles. (fn. 192) It passed later to Henry Bradshaw (d. 1553) of Noke, chief baron of the Exchequer, to Bradshaw's son-in-law Thomas Winchcombe (owner in 1568–71), and by 1576 to Thomas's son Benedict (d. 1623), who added the Ellesfields' share of the Plessis manor and was succeeded by his sister Mary Hall. By 1571 the estate was called Langhull manor. (fn. 193) Ownership remained with the Halls until at least the 1680s, (fn. 194) although for much of the 17th century both house and land were let to the Quatremains. (fn. 195) The Halls' Noke estates were largely sold in 1707, (fn. 196) and by 1774 'Langley Hull' belonged to Joseph Blount, esquire, (fn. 197) remaining in the Blount family until bought by Magdalen College (with Chalgrove Manor farm) in 1900. (fn. 198) The estate was sold in 1922 to the tenant George Nixey, whose family retained most of it in the early 21st century (fn. 199)
Mansion House (Langley Hall) The Langehulls' house (at Mill Lane) was rebuilt in the 16th century, and largely demolished in 1980. (fn. 200) The 16th-century house included several elaborately decorated rooms, among them a hall, great parlour, gallery, chapel chamber, and spice loft, and in 1662 it was probably taxed on seven hearths, the highest assessment in the village. (fn. 201) It was later remodelled with a stuccoed Georgian façade of four bays, retaining two mullioned windows at the side and an original chimney with two diamond-shaped brick shafts. (fn. 202) A 17th-century brick-built lodge was erected possibly by the Quatremains, while surviving outbuildings include an 18th-century barn with a queen-strut roof. (fn. 203) Quatremain Estate
In 1163–78 William Quatremain was granted two hides in Chalgrove by his relative Gilbert Foliot (lord of Cuxham), to be held as ¼ knights fee. (fn. 204) The holding was divided in 1203, when half was granted to Hugh de Pageham and half to the Quatremains: by 1279 both parts were held as 1/8 knights fee, the Quatremain's part under Geoffrey of Lewknor, who held from Merton College, Oxford, as Foliot's successor. Merton remained overlord until 1517, when it transferred its rights to Magdalen College, (fn. 205) and in 1321 the Quatremains' share comprised a chief house, 4 yardlands (84 a.), 6 a. of meadow, 14 a. of pasture, and 95. rent. (fn. 206) William Forthey (d. 1487), who married the Quatremain heiress, performed homage for the estate in 1485, (fn. 207) presumably ending the family connection. Nonetheless the Quatremains remained a prominent and exceptionally wealthy family in the parish until the 18th century (fn. 208)
Rectory Estate
Chalgrove's valuable rectory estate was given to Thame abbey in 1319, (fn. 209) passing in 1542 (after the abbeys suppression) to Oxford cathedral, and in 1546 to Christ Church, Oxford. (fn. 210) The size of the medieval glebe is uncertain: in 1341 only £4 13s. 4d. income came from glebe and small tithes (compared with £20 from great tithes), (fn. 211) and the estates 60–70 a. extent in the 18th century may partly represent later acquisitions. Shares in the tithes belonged to Bec abbey (£3 6s. 8d. in 1291) and Wallingford castle (£2), both following 11th-century grants by Miles Crispin (d. 1107); (fn. 212) some of the Bec tithes belonged by 1428 to John (d. 1435), duke of Bedford, (fn. 213) and by 1476 all had passed to St Georges Chapel, Windsor. (fn. 214) Thame abbey latterly leased its rectory estate, in 1495 to the vicar, (fn. 215) and in 1534 (for 41 years) to Roger Quatremain. (fn. 216) A few additional acres of glebe lay in Berrick Salome, with whose tithes they passed to the vicar of Chalgrove in the later Middle Ages. (fn. 217)
Christ Church continued to lease both land and tithes, in 1554 for 41 years at £14 annually, and in the 17th century for three lives or 21 years. Lessees were to repair the chancel, give a fat wether or 135. 4d. at audit, and pay part of the rent in wheat and malt. An agreement over division of the parish's tithes was reached with the dean and canons of Windsor in 1561. (fn. 218) In 1771 the rectory lands covered an estimated 60 a. in the open fields, valued at £35 17s. a year, while the tithes were worth £232. The lessee in 1799 (at £80 a year) was John Hatt, based at Rectory (later Houndswell) Farm off Church Lane.
Following an abortive sale in 1803 Christ Church continued to issue 21-year leases, and in 1813 the farm (then 68½ a.) had a rental value of £120. Some buildings were in disrepair, and the tenant considered the tithes over-valued at £635. (fn. 219) The tithes were commuted in 1841, when Christ Church was awarded an annual rent charge of £435, and St Georges Chapel, Windsor, £170 for the former Bec tithes; (fn. 220) the glebe was exchanged at inclosure two years later for three allotments totalling 59 acres. The land (but not the tithe-rent) was sold in 1877, (fn. 221) passing in 1901 (as Houndswell farm) to Magdalen College, which sold it with the manor in 1942. (fn. 222) The farmhouse was demolished in the early 20th century (fn. 223)
ECONOMIC HISTORY
The parish remained predominantly agricultural until the 20th century, combining sheep-and-corn husbandry with cattle rearing and dairying. Rofford was inclosed by c.1600 and divided among three or four farms, although its agriculture remained little different from elsewhere in the parish. Chalgrove, by contrast, was uninclosed until 1843, supporting numerous small-scale farmers and cottagers who benefited from common grazing rights. Parliamentary inclosure promoted no immediate consolidation of landholdings there, and only after the Second World War were some large and increasingly mechanized cereal farms created.
The village also supported the usual range of crafts and trades, and from the 1960s residential development encouraged further expansion of shops and businesses, while the Martin-Baker Aircraft Co. occupied Chalgrove airfield from 1946. Watermills were established by 1086, the last of them closing in the 1960s.
THE AGRICULTURAL LANDSCAPE (FIG. 31)
Open fields probably covered much of the parish by the mid 11th century, as suggested by Anglo-Saxon furlong names, (fn. 224) indentations (probably derived from open-field furlongs) along the Easington parish boundary, and the total of 18 ploughteams recorded in 1086. (fn. 225) By the 14th century Chalgrove had nine fields grouped into three 'seasons', which were probably cultivated on a three-course rotation of winter- and spring-sown crops and fallow; (fn. 226) in the 19th century they covered 1,764 acres. Three (Langley or Langdon, Great South, and Little South) lay south of the village, with three more (Bower End, Upper End, and Houndswell) along the village's northern edge. The others (Down, Solinger, and Sand) bordered Easington and Chalgrove common. (fn. 227) All those fields were inclosed by Act of Parliament in 1843, long after Rofford's private inclosure in the 17th century or earlier. (fn. 228) In 1841 (when arable covered two thirds of the parish) the largely gravel soils produced good wheat land', and the proportion of arable rose to three quarters by 1870. Following the agricultural depression it fell to less than half by 1930, however, recovering its former primacy after the Second World War. (fn. 229)
Streams provided extensive meadow, (fn. 230) organized from the Middle Ages both in common and in private closes. (fn. 231) Additional meadow lay in the detached part of Lewknor on the parish's eastern border, where Chalgrove's inhabitants were accused of illegally grazing cattle in 1237; (fn. 232) common rights there were still claimed in the 17th century, and c.14 a. were included in Chalgrove's 19th-century inclosure and tithe awards. (fn. 233) Common pasture was available in Chalgrove common (112 a.), (fn. 234) and also in the fallows; the manor court resisted overgrazing, however, (fn. 235) and medieval tenants were sometimes fined for trespassing in private pastures. (fn. 236) Old inclosures were variously grazed or ploughed, (fn. 237) but though the area under grass increased considerably in the early 20th century it was rarely of good quality, and was ploughed up as soon as arable farming's prospects improved. (fn. 238)
The parish was unwooded in 1086, and some manorial woods mentioned in the 14th century may have lain in Gangsdown (in Nuffield). In 1336 the Plessis manor produced 400 faggots and ½ a. of underwood a year, and in 1329 a tenant trespassed in Barentin's wood. Magdalen College received 185. from wood sales in 1504–5. (fn. 239) Building timber had to be purchased elsewhere: 32 cartloads were brought from Shipston-on-Stour (Warws.) via Woodstock in 1453–4, (fn. 240) and in later centuries locally produced timber remained scarce. (fn. 241) In 1671 Thomas Wootton's Rofford holding included timber trees 'wasted and rotten about the grounds', (fn. 242) and only hedgerow trees were marked on 18th-century maps. Fewer than 8 a. of woodland remained in 1841, (fn. 243) increased to 45 a. in a few small copses by 1988. (fn. 244)
MEDIEVAL TENANT AND DEMESNE FARMING
In 1086 Chalgrove manor contained land for 12 plough-teams, meadow 3 furlongs square, and 60 a. of pasture, and yielded £12 including tenants' rents. The smaller Rofford manor comprised 5 ploughlands, 5 a. of meadow, and 16 a. of pasture, and was worth £3. Both manors had increased in value and were largely arable-based, Chalgrove's 13 ploughteams suggesting a recent expansion of the cultivated area. Its 4-ploughland demesne farm was run partly by servi, while Rofford's demesne was 2 ploughlands; the two places together also had 12 teams worked by 43 tenants (30 villani and 13 bordars). (fn. 245) Arable farming continued to provide much of Chalgrove's income in the late 12th century, (fn. 246) and in 1212 the king received more than £9 from grain sales, besides £20 paid by the manors lessee. (fn. 247) The same year 200 a. were sown with wheat, 10 a. with beans, 14 a. with barley, and 215½ a. with oats. The ploughs were worked by oxen (50 were bought in 1195, enough for 6¼ eight-ox ploughteams), and cattle and pigs were also reared. (fn. 248)
In 1233 Chalgrove's demesne and tenant land was divided between two owners, (fn. 249) and in 1279 both the Barentin and Plessis demesnes included c.312 a. of arable, 30 a. of meadow, and 30 a. of pasture. On both manors villeins holding yardlands and half-yardlands owed cash rents and labour services including ploughing, harrowing, weeding, reaping, mowing, carrying, and threshing, although free tenants and cottars owed few if any labour services. Rofford's two-hide demesne (c.200 a.) was leased, and tenants' labour services there were commuted, with yardlanders paying 185. rent compared with 55. at Chalgrove. (fn. 250) The Plessis demesne was still worth £32 in 1336, four times the nominal value of the tenants' rents and services; fields were sown on a complex three-course rotation, and harvested crops stored in three barns and a granary. (fn. 251) The parish's agriculture evidently produced a large taxable surplus, its payment of £15 4s. 6d. in 1334 being the highest in the hundred. (fn. 252)
Tenants' livestock included horses, oxen, cows, pigs, sheep, and geese; some were grazed illegally in the lord's meadow and corn in 1340–1, and one half-yardlander gave a mare for heriot. (fn. 253) Trespass by livestock continued after the Black Death, suggesting continued pressure on grazing; as land became more readily available such cases became less frequent, however, and by the 15th century the manor court's chief concern was neglect of unused buildings and of ditches. Falling land values enabled tenants to accumulate larger holdings, and rents rose as labour services were commuted: in 1424 a half-yardlander paid 125. a year and owed one day's service at harvest-time, while in 1433 William Gregory paid an annual rent of 165. 8d. for 1¼ yardlands and a 3-a. croft. (fn. 254) Mixed farming continued, with the arable acreage apparently undiminished c.1380. (fn. 255)
In 1458–9 John Barentin leased his Chalgrove demesne for £15 2s. 11d. a year, receiving rents of more than £25 from his free and customary tenants and cottagers. Rofford's demesne was leased to Richard Coleman (with tenants' rents) for £11 a year, rising to £12 in 1462–3. (fn. 256) Profits later fell: by 1488–9 Magdalen College received only £11 3s. 4d. from the Barentin demesne, then leased in parcels with some uncultivated parts left unlet, while rent for the Argentein demesne (let to William Wiggin) fell from £3 6s. 8d. to £3. The college also encountered difficulties in collecting tenants' rents, and in the 1490s built a pinfold for impounding defaulters' animals. Nevertheless its Chalgrove estate remained profitable, prompting the college to invest in repair of tenants' buildings and, in 1490–1, construction of a new five-bay barn. (fn. 257)
FARMS AND FARMING 1500–1800
In the early 16th century Magdalen's Chalgrove income rose from c.£35 in 1497–8 to £39 in 1524–5, while rent arrears fell from over £66 to c.£28. (fn. 258) In 1520 all but 26½ a. of its 239-a. Barentin demesne were let at 6d. an acre to a total of 16 tenants, holding plots of between ½ a. and 56 a. each. Lessees included members of the Burnham, Cave, Child, Quatremain, Simms, and Wiggin families, who featured also among the manor's copyholders, occupying open-field yardlands with parcels of meadow and pasture. (fn. 259) Most grew wheat and barley (some of it malted for brewing), kept cattle and sheep, (fn. 260) and were moderately prosperous, (fn. 261) while debts mentioned in 1566 suggest that markets included not only Watlington but Oxford, Reading, and Henley- on- Thames. (fn. 262)
Sheep-and-corn husbandry and dairying continued into the 17th century, most obviously among the parish's wealthier farmers. (fn. 263) Wheat and barley remained the principal cereals, with beans, peas, and hay providing fodder. Farmyard dung (mostly from cattle and pigs) was used for manuring, while oxen were generally supplanted by horses for ploughs and carts. Sheep were presumably folded on the arable (hurdles were sometimes mentioned), and the larger flocks produced marketable quantities of wool; cows supported butter- and cheese-making, although herds (including bulls and younger animals) generally numbered no more than thirty. Pigs provided bacon, while poultry included ducks, geese, hens, and turkeys. Farm servants and labourers were widely employed: William Child (d. 1630) owed wages for ploughing and weeding, and also hired a molecatcher.
In 1678 Magdalen's copyhold rents totalled £35 105. 9d., while three leaseholders paid £12 17s. 11d. and eight freeholders £1 3s. 11½d. The college's total rent-roll of c.£49 remained unchanged between the late 16th and mid 18th century (fn. 264) Amongst Magdalen's tenants, John Sedgley, a barber and wigmaker, held a mixture of copyhold, freehold, and leasehold land, but was bankrupted in 1762; his copyholds were held for three lives, and his college leaseholds for 20-year terms renewable every seven years. His estate (which included 64 a. of freehold) was sublet, although valuations of that and other farms suggest that rack-renting remained uncommon. (fn. 265)
The open fields were cultivated probably on a four-course rotation of wheat, barley, pulses, and fallow, (fn. 266) with apples grown in orchards and crops such as hemp cultivated possibly in gardens. (fn. 267) Holdings were generally scattered across three or four fields, in which tenants enjoyed common grazing rights, and often they included parcels of meadow and inclosed pasture. (fn. 268) The commons were stinted: each yardlander was entitled to graze 4 cattle or horses and 40 sheep, and subletting was restricted to two cow commons per cottager. Cattle were grazed on the harvested fields until 1 November, while sheep were admitted to the wheat field a week after harvest, to the barley and pulse fields on 1 November, and to other named fields on 30 November, remaining there until 25 March. Four fieldsmen were appointed to enforce the orders. (fn. 269)
Rofford's inclosure (complete by c.1600) permitted greater flexibility, though its farming was probably similar to Chalgrove's. Both Greenings and Wootton's farms (in the east of the township) included arable, meadow, and pasture closes, their names suggesting cereal and legume cultivation as well as cattle and sheep grazing. (fn. 270) Proposals to inclose Chalgrove's fields in the 1770s and 1790s were not pursued, (fn. 271) and holdings remained both dispersed and often quite small: (fn. 272) those on Langley manor ranged from 110 a. to 1 a., with most under 10 acres, while open-field land in 1774 (still held in ½-a. strips) was worth a modest 11s.-14s. an acre compared with 305. for nearby inclosed ground. (fn. 273) The agricultural improver Arthur Young dismissed the entire parish in few words: 'Clay; sad roads, and bad husbandry: all open.' (fn. 274)
FARMS AND FARMING SINCE 1800
Young's judgement was confirmed in 1841 by the tithe commissioner, who observed that the open fields were 'let in small farms under college leases and [are] consequently very badly farmed'. (fn. 275) Nineteen farmers were resident in Chalgrove and two in Rofford, (fn. 276) of whom eight held over 100 a., and seven 41–90 acres. Some holdings were owner-occupied or held from a single proprietor, but others were a complex mix of freehold, copyhold, and leasehold. Gabriel Billing occupied 127 a. in 12 parcels from 4 different landowners, while James Honey's 83-a. College farm included Magdalen copyholds sublet by Henry Adeane. (fn. 277)
Inclosure was carried out under a private Act of 1843 promoted by Magdalen and Lincoln colleges and Mary Blount of Langley, (fn. 278) with land distributed among 56 owners and occupiers. Of those, 28 landholders received less than 10 a., and only 6 more than 100 a., out of 1,764 a. allotted. (fn. 279) Inclosure had no immediate impact on either farm size or tenancies: no new outlying farms were built, and many of the parish's established farming families remained in 1851, when eight farmers (including two in Rofford) held more than 100 a., and six farms covered 27–82 acres. In all around 2,100 a. were worked by 16 farmers employing 122 labourers. (fn. 280) The pattern was largely unchanged in 1870–1, when Richard Hatt held 470 a., and five other Chalgrove farmers 142–236 acres. Another six farms covered 20–100 a., and there were six smallholdings. (fn. 281)
At that date Chalgrove remained three quarters arable. Wheat, barley, and oats were the main crops, occupying 55 per cent of the cultivated area, while fodder crops covered 34 per cent, and 11 per cent (142 a.) was fallow. Meadow and pasture (393 a.) supported 70 horses, 67 dairy or younger cattle, 1,960 sheep, and 186 pigs. Similar practices prevailed at Rofford, where two thirds was cropped and a third was grass. (fn. 282) Thereafter late 19th-century agricultural depression reduced the proportion of arable to little more than half, as tillage was converted to pasture: by 1900, 1,000 a. of grass supported an enlarged herd of 277 cattle, 126 horses and foals, and 1,476 sheep. The remaining arable was increasingly dominated by cereal production, sometimes using steam ploughs and other machinery, although sheep were probably still folded. (fn. 283)
Despite the depression, Magdalen initially maintained or even increased its rental income from Chalgrove, collecting more than £1,000 in 1900. (fn. 284) Rents increased still further in the early 1900s and after the First World War, rising on the larger farms from c.21s. an acre in 1911 to 295. in 1922. (fn. 285) Farm sizes still varied: in 1920 nine farms exceeded 100 a. and six covered 20–100 a., and there were eight smallholdings as well as 13 a. of allotments (provided by the parish council). (fn. 286) By the 1930s several farmers could no longer afford Magdalen's rack rents, and were granted allowances. The college's surveyor reported that one farmer was hard working but 'rather beaten by circumstances', and that his rent was too high; another had laid down land to grass, though none of it was 'really good' and a rent reduction 'can hardly be resisted'. Buildings were converted to milk sheds as dairying increased, though one such was condemned as insanitary, and the college was sometimes reluctant to bear improvement costs. (fn. 287)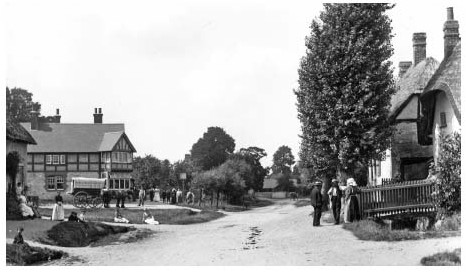 Despite the shift towards dairying several farms remained predominantly arable in 1941, growing wheat, barley, oats, and fodder crops, and stocking cattle, sheep, and pigs. (fn. 288) On S.C. Franklins estate (bought from Magdalen College in 1942 and truncated by construction of the airfield the following year), most remaining grass was ploughed up in the later 1940s, and graindrying plants were installed. (fn. 289) By 1960 arable covered almost 70 per cent of the parish's farmland, producing chiefly barley and wheat, while increasing mechanization encouraged larger enterprises, with two cereal farms covering more than 1,000 a. each by 1970. In 1988 a large pig and poultry farm stocked over 6,600 pigs, and there was a smaller cattle and sheep-rearing farm. (fn. 290)
TRADES, CRAFTS, AND RETAILING
Like some other vale settlements Chalgrove had a relatively wide range of crafts and trades. Jordan the weaver was mentioned c.1230–40, (fn. 291) and other medieval occupational surnames included Cook, Ironmonger, Tailor, Skinner (Pellipar'), and Thatcher, while carpenters were employed on Magdalen Colleges manor in the 1480s-90s. (fn. 292) Robert the smith held half a yardland on Barentins manor in 1279, making ironwork for two ploughs for his labour service, (fn. 293) and the family continued as tenants of the village forge into the early 16th century (fn. 294) Brewing was apparently widespread: 43 fines for breaking the assize of ale were paid in 1296–7, and in the I5th-i6th centuries (when production was generally on a larger scale) three or four brewers were named in Chalgrove, and one in Rofford. (fn. 295)
As elsewhere crafts were sometimes practised alongside farming, William Payse (d. 1598) leaving carpenters tools to his son, and wheat, barley, and cattle to other relatives. (fn. 296) Edmund Hambledon (d. 1617) was a weaver, and other 17th-century inhabitants kept spinning wheels, although cloth-making remained small-scale. (fn. 297) Both Chalgrove and Rofford continued to support blacksmiths, carpenters, tailors, and wheelwrights, (fn. 298) while less common occupations included bricklayer, joiner, tiler, and maltster, (fn. 299) with malting possibly increasing during the 18th century (fn. 300) Nonetheless numbers employed outside agriculture remained small, reportedly comprising only 10 people out of a population of 518 in 1801. (fn. 301) Probably those included the grocer and baker John Skeat, the shopkeeper John Cross, and village publicans John Herbert and Edward Peedle. (fn. 302)
Occupations in 1841 included those of baker, blacksmith, butcher, carpenter, clockmaker, cooper, cordwainer, grocer, harness maker, mason, publican, sawyer, shoemaker, tailor, and wheelwright, and ten years later several women were employed as dressmakers, lacemakers, and laundresses. (fn. 303) Even so, as population fell employment became increasingly limited to farm work. (fn. 304) A small brickworks at nearby Lonesome Farm (in Newington parish), opened in 1927, may have provided occasional work, and in 1949 (when renamed the Chalgrove Brick Co.) employed up to a dozen men. Thereafter production fell, and the works closed in 1954. (fn. 305)
A cycle repair business opened in the 1920s and a petrol station in 1954, but in 1966, following closure of two of the villages pubs and of a long-standing grocers (formerly Baileys), only the petrol station, post office, and three other pubs remained, employing twelve full-time staff. (fn. 306) Thereafter housing development attracted new businesses, beginning with a parade of four shops opened on High Street in 1967. (fn. 307) A particular success was the Monument Industrial Park on Warpsgrove Lane, which provided business units, offices, and warehouses to c.8o firms, employing more than 500 people in 2013. (fn. 308) Rather different was the Martin-Baker Aircraft Co., based at Denham (Bucks.), which in 1946 began using Chalgrove airfield to test its aircraft ejector-seats, of which it was the country's only manufacturer. Despite local opposition, in 1963 the government offered the airfield to the company on a long lease on the grounds that its work was 'essential for defence purposes', and it remained in Chalgrove in 2015. (fn. 309)
MILLING
In 1086 Chalgrove manor included five mills worth £3 a year, (fn. 310) sited probably on Chalgrove brook. Almost certainly they exceeded the manor's own needs, and perhaps served neighbouring communities. Several millers were mentioned in the early 13th century, (fn. 311) and three or four mills continued in 1279, including one on each of the two main manors and another leased jointly (fn. 312) The mill's tithes were given by Miles Crispin to Bec abbey, which c.1250 leased them to the rector for life for 135. 4d. a year. (fn. 313)
The Plessis manor still had two watermills in 1336 (let for £3 13s. 4d. a year), but later only one. (fn. 314) Probably that was the mill let by the Audleys for 5s. a year in 1377, which is perhaps to be identified with Stratford mill on the Brightwell Baldwin boundary (fn. 315) The Barentin manor included Trylle and Church mills, let respectively in 1451 to two Wallingford butchers and a miller (for 375. a year), and to Thomas Algar. (fn. 316) By 1490 one was empty and possibly abandoned, although Magdalen College may have repaired the other in 1492–4. (fn. 317) In the 1520s the college owned one watermill and a horse mill (let for £3 135. 4d.), (fn. 318) and from the late 16th century it let its remaining watermill (on Mill Lane) for £20 a year to successive members of the Gillman family (fn. 319)
Henry Gillman (assessed on two hearths in 1662) may have built the surviving timber-framed miller's house, which was probably extended and infilled with brick in the 18th century (fn. 320) Later millers included William Carter, Thomas Young, William Knight, and Richard Smith, the occupant in 1871 when the mill itself was rebuilt in brick, with a weatherboarded extension housing an iron overshot wheel. (fn. 321) In 1900 the lessee Henry Nixey still paid £20 a year, and in 1942 Frederick Nixey bought the freehold for £775; (fn. 322) by 1955 the mill was powered by electricity, but ceased operating in the 1960s. (fn. 323) In the 1990s new owners extended the house and restored the mill machinery (fn. 324)
SOCIAL HISTORY
SOCIAL CHARACTER AND THE LIFE OF THE COMMUNITY
The Middle Ages
Chalgrove and Rofford remained distinct communities throughout the medieval period, notwithstanding that some Rofford inhabitants held land in Chalgrove. (fn. 325) Rofford's failure to expand after 1086 was untypical, and the Black Death exacerbated the gap, making it more vulnerable to inclosure by non-resident lords. By the 16th century it may already have been divided amongst three or four largely inclosed farms. (fn. 326)
By contrast Chalgrove's population more than doubled between the late 11th and late 13th centuries, much of the increase generated by creation of freeholds: 52 free tenants occupied land at Chalgrove in 1279, whereas none was mentioned in 1086. Their presence had a long-term impact, creating a complex and constantly changing tenurial pattern. Some (including William Quatremain) had their own subtenants, (fn. 327) while regular sales, leases, and exchanges allowed outsiders to acquire Chalgrove holdings. (fn. 328) Other newcomers acquired land through marriage, amongst them Thomas Curtis of Birmingham and Thomas Page of Dorchester, who in the 1330s married into the Maynard and Blackbird families. (fn. 329) Some land purchases before 1290 may have been financed by Jewish money-lending. (fn. 330)
The number of unfree customary tenants apparently changed very little between 1086 and 1279, when 39 villeins (mostly yardlanders and half-yardlanders) and 8 cottars were the likely successors to the 23 villani, 10 bordarii, and 9 servi recorded in Domesday Book. (fn. 331) The division of Chalgrove manor in 1233 saw the customary holdings almost equally divided between the Barentin and Plessis manors, with few customary tenants holding land from both, (fn. 332) while Chalgrove's separate 'ends' may have helped to preserve social as well as physical divisions within the village, with tenants at the 'bour end' generally occupying smaller holdings. (fn. 333) Nevertheless the vill remained united for tax purposes, and the whole community cooperated in open-field farming. (fn. 334)
Lords of Chalgrove's two main manors maintained substantial houses (at opposite ends of the village) from the 13th century, but were probably often away on royal service. Both Drew Barentin and John de Plessis were regularly employed by the king in the 1230s-60s, and received royal gifts including timber (from Bernwood forest) for their Chalgrove building works. (fn. 335) In the 1240s the king allowed them to levy tallage at Chalgrove, provoking disputes with tenants, confiscation of livestock, and court hearings, (fn. 336) while in 1293 an attempt to impound cattle led to an assault on one of the lord William de Bereford's servants. In 1340 Thomas Barentin faced encroachments on his demesne by inhabitants and outsiders including John Stonor and the abbot of Osney, (fn. 337) although such incidents were probably untypical. The Barentins and Berefords were of similar wealth and social standing, though from the 1320s it was the Barentins who maintained the closest local links, particularly with Chalgrove church. (fn. 338) The Berefords apparently developed stronger ties with their nearby manor of Brightwell Baldwin. (fn. 339)
Tax assessments reflect wide social and economic stratification. In 1306 the lords of Barentin's and Plessis's manors were among only seven occupiers (11 per cent) paying more than 3s., while 20 people (32 per cent) paid between 13d. and 3s. Amongst them were John Botte, possibly a half-yardlander mentioned in 1279, and the freeholders John Quatremain and John Brian. Another 36 inhabitants (57 per cent) paid 12d. or less, the cottar Robert Whiting contributing only the 4d. minimum. Several families (both free and unfree) remained present both in 1279 and 1327, although others were undoubtedly newcomers. (fn. 340) Pressure on resources, particularly amongst poorer inhabitants, is reflected in royal and manorial court records, which suggest widespread illegal grazing and trespasses by livestock. Other efforts at social control included a prohibition against visiting inns at night, which an unnamed innkeeper swore to support. (fn. 341)
The Black Deaths immediate impact on Chalgrove seems to have been relatively limited judging from court rolls of 1348 and 1352, which recorded routine business including election of harvest overseers. (fn. 342) By the early 15th century, however, the effects of long-term population decline were evident, including abandoned buildings, larger landholdings (often transferred outside the family), (fn. 343) and increased migration. At least two villeins left the manor in the 1370s, (fn. 344) while others fought in the French wars. (fn. 345) Newcomers were presumably attracted by the easier terms available, an entry fine of two capons for a yardland in 1434 contrasting starkly with the 5 marks (£3 6s. 8d.) charged for half a yardland (in eight instalments) in 1340. (fn. 346) Nevertheless several families remained in the parish for more than a century after 1377. (fn. 347)
The Barentins continued as resident lords until the 1440s, Thomas Barentin (d. 1400) serving as sheriff and MP, and enjoying friendly relations with Oxfordshire gentry such as Sir Ralph Stonor and John James of Wallingford, the lord of Rofford. The family's fortunes were transformed in 1415 when Reynold Barentin inherited Haseley and numerous other estates from his uncle Drew, a London goldsmith. After Reynolds son Drew (d. 1453) moved to Haseley Court the family gradually withdrew from Chalgrove, although they continued to be buried in the church until 1474. (fn. 348) Late-medieval lords of the Plessis manor (divided into three in 1356) may have never resided and latterly leased their estates, (fn. 349) while Rofford, too, belonged to absentee landowners. With the subsequent sales to Magdalen and Lincoln colleges, social leadership devolved presumably upon the parish's more important farmers. (fn. 350)
1500–1800
In the early 16th century Chalgrove's cottagers, smallholders, and larger-scale farmers occupied a wide variety of free, copyhold, and leasehold tenancies displaying little regularity, and occasionally combining open-field strips with some small private closes. (fn. 351) Tax assessments suggest a broad range of prosperity, with few markedly wealthy inhabitants. In 1523 a dozen people (43 per cent) paid between 4d. and 12d., 8 (28.5 per cent) paid 18d. to 3s., and 8 others (including several members of the Quatremain and Wiggin families) paid 45. or more. Twenty years later 25 inhabitants were assessed on goods worth £1-£2,11 on goods worth £3-£4, and only 5 (12 per cent) on goods worth £6-£20. (fn. 352)
On both occasions the parish's highest taxpayer was Roger Quatremain (d. 1549), whose family were prominent in Chalgrove from the Middle Ages to the 18th century, and whose goods at death were worth £94 6s. 8d. His widow Alice (d. 1559) owned silver spoons, pewter dishes stamped with a maker's mark, and a painted cloth above her bed, and as befitted their status both were buried in the church's middle aisle. (fn. 353) Most other inhabitants were far less wealthy, the median value of goods itemized in wills for the period 1531–59 totalling only £13 8s. 8d. (fn. 354) Fairly typical were members of the long-standing Burnham, Cave, Child, Simms, and Wiggin families, (fn. 355) who like the Quatremains were interconnected by marriage and friendship, left money to the church and poor or for mending roads, and had links with the nearby market town of Watlington. (fn. 356) Church court records point also to the petty disputes typical of most close-knit rural communities. (fn. 357) A similar picture prevailed in the later 16th century, when Ralph Quatremain (d. 1594) left £180-worth of agricultural stock and a little under £40-worth of household goods in his hall, parlour, buttery, three chambers, milkhouse, and brewhouse. (fn. 358) Few others' goods were worth more than £100, however, and a weaver with only a hall and chamber left possessions worth under £4. (fn. 359)
The more transient population included servants, labourers, and (in 1545) an itinerant miller, (fn. 360) with servants (several of whom lived in) being occasionally remembered in employers' wills. (fn. 361) Beggars and vagabonds (amongst them a 'poor wandering old man and a 'travelling boy') were mentioned intermittently, (fn. 362) perhaps reflecting the village's proximity to the Oxford-Watlington road, which presumably brought more welcome trade to the village's craftsmen and shopkeepers. An alehouse was kept by William Slatter (d. 1660), and slightly later ones were probably run by Thomas Taylor and Walter Haines. (fn. 363)
During the Civil War the parish was the scene of a violent battle. (fn. 364) On 17 June 1643 Parliamentary forces from Thame were repulsed at Islip near Oxford, prompting a Royalist counter-attack against Chinnor. Returning to Oxford the following day, Prince Ruperts cavalry routed pursuing Parliamentary forces in closes near Warpsgrove, numerous Parliamentarian casualties including John Hampden, who was mortally wounded and died later at Thame. More routine Civil War disruption included demands for grain and supplies: Royalist troops camped around Wheatley pillaged food from the surrounding countryside in 1643, and in 1644 grain was taken from the parish for the Royalist garrison at Oxford. (fn. 365) A monument to Hampden was unveiled on the 200th anniversary of the battle by George Grenville, Baron Nugent, and was later enlarged by addition of an obelisk. A brick pedestal faced with stone has a roundel of Hampden on one side, and inscriptions (including donors) on the others. (fn. 366)
The 17th century saw social continuity in the parish, the long-standing families of Burnham, Cave, Child, Quatremain, Simms, and Wiggin featuring prominently in the hearth tax of 1662, when 24 householders (40 per cent) still had one hearth only. Another 19 (32 per cent) paid on two hearths, and 9 (15 per cent) on three or four, with only 8 (13 per cent) paying on five or more. Of those Robert Quatremain (d. 1681) was assessed on seven hearths probably at Langley Hall, though several other family members occupied much smaller houses. (fn. 367) Wealthy newcomers included the Hobbses and their friends the Adeanes of Watlington - related by marriage to the Wiggins and to the vicar Francis Markham (1656–68) (fn. 368) - but during the 18th century most of the parish's longest-standing families departed, including the Burnhams, Childs, and Quatremains. (fn. 369) The Adeanes, too, went elsewhere, leaving the parish (according to the vicar in 1790) with 'no person of opulence'. (fn. 370) New families rising to prominence included the Collinses, Kings, and Whites, though landholding in Chalgrove remained too fragmented to allow any individual or group to dominate. (fn. 371)
Chalgrove's lords made relatively little impression, although in 1685 the Halls (owners of Manor farm and the Langehull estate) disputed Richard Child's erection of a new pew in the church's north aisle. (fn. 372) Magdalen and Lincoln Colleges' more distant lordship may have fostered an independent spirit, reflected in sometimes difficult relations with vicars. Both George Villiers (vicar 1723–48) and Paulo Tookie (1758–83) complained that the church's charitable estate had been 'misapplied for many years', and Tookie's attempts at reform led allegedly to 'odium and abuse'. (fn. 373)
By the 1750s the village had four or five licensed pubs or inns, and two remained in 1800. (fn. 374) Other entertainment included the Whitsun feast, combining communal merrymaking with maypole dancing and a court of misrule, (fn. 375) while an August feast was mentioned in the 1720s. (fn. 376) As in most rural communities occasional crime and disorder were endemic. An alehouse keeper was banned from keeping an alehouse (possibly the Wheatsheaf) in 1708, (fn. 377) and in 1687 a labourer was accused of sheep stealing. (fn. 378) Later cases of theft, fraud, extortion, or violence included accusations in the 1720s against the schoolmaster John Trumble, (fn. 379) while in 1761 a gypsy and ratcatcher stripped and robbed a girl in Chalgrove's fields. (fn. 380) More routine offences included swearing and withholding of wages. (fn. 381) Strangers and vagrants continued to seek shelter and sustenance, although the parish repeatedly removed non-residents under the settlement laws. (fn. 382)
Since 1800
Chalgrove's feast (or 'wissenail') was last held c.1805, though the reasons for its demise are unclear. Possibly rising Nonconformity brought it into disrepute, prompting removal of the maypole into the rafters of an old barn. (fn. 383) In other respects Chalgrove's social character changed only slowly before inclosure in 1843. Poverty and crime remained prevalent, with several incidences of violence, theft, and poaching. (fn. 384) Even the farmers were mostly poor according to the vicar in 1838, with 'scarce a halfpenny to spare', and in 1841 few inhabitants were employed outside agriculture or its related trades. (fn. 385) In 1840 a Friendly Society was established for workers aged 14–45, meeting at the Red Lion as one of four pubs then operating in the village. Its annual club dinner was held at Whitsun, perhaps recalling the former wissenail. (fn. 386)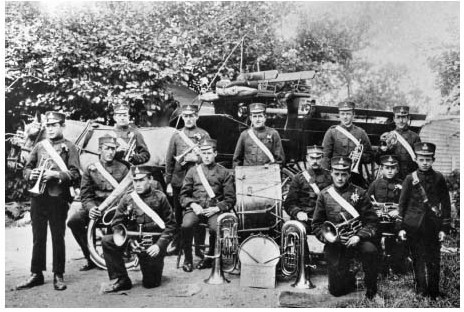 Inclosure ended common grazing, depriving cottagers of part of their livelihood. (fn. 387) The loss may explain an increase in the number of recorded paupers from 13 in 1841 to 43 in 1851, during a time of over-all population decline. (fn. 388) Presumably the larger farmers benefited from inclosure, although the vicar complained in 1857 of their great parsimony', and bemoaned the 'want of a resident family of the highest order'. (fn. 389) Farm workers were hired at local fairs, which may have involved local merriment; certainly the vicar disliked the Whitsun meeting of the Friendly Society (whose membership rose from 71 in 1855 to a peak of 106 in 1865), and disapproved of a late-summer fair marking the church's patronal festival. (fn. 390) Villagers also gathered on Mid-Lent Sunday at a former clay-pit or hollow, traditionally the burial site of those killed in the Civil War battle, where they indulged in games, drinking, and fighting. (fn. 391)
In 1861 72 per cent of inhabitants were still native to the parish, with only 10 per cent born outside the county. (fn. 392) Poverty and poor housing may have encouraged some to leave, (fn. 393) while others looked to agricultural trade unionism, inviting Fabian Society speakers to the Red Lion. (fn. 394) The rise in trade union support may have adversely affected the Friendly Society, which was last mentioned in 1880 with 99 members; though re-formed in 1892, it was finally dissolved (with 74 members) in 1913. (fn. 395) Late 19th-century agricultural depression prompted further out-migration, reducing the proportion of parish-born inhabitants to 62 per cent by 1901. (fn. 396) By then there were five pubs and beerhouses including the Mousetrap on the Oxford-Watlington road, and it was perhaps to challenge their influence that the vicar J.H. Swinstead (1902–12) raised funds for a village hall, named in memory of John Hampden and opened in 1906. (fn. 397)
A temperance band was formed around the same time, succeeding an earlier village brass band. Members played at the village feast in August, when fairground rides and stalls were set up on the green. (fn. 398) Sports and other activities were popular: clubs and groups included football and cricket teams and a mothers' union, while one-off celebrations included a pageant hosted by the vicar to mark George V's coronation. (fn. 399) During the First World War the village hall was occupied by the military, and in 1921 a memorial was raised on the green to commemorate the twelve villagers killed. (fn. 400)
During the 1920S-30S Chalgrove remained a working village with few resident professionals or gentry, dominated by farmers and shopkeepers such as the Nixeys and Croxfords. (fn. 401) The villages first council houses were built in 1928–30, and soon afterwards a number of industrial workers were given temporary accommodation in the parish. (fn. 402) The military airfield built in 1943 was handed to the USAAF in 1944 and used for photographic reconnaissance, with friendly relations developing between villagers and service personnel. Military occupation of the airfield ended in 1948, its abandoned Nissen huts attracting a sizeable 'squatter colony' into the parish, and later providing inadequate interim council housing until its residents were re-housed in Berinsfield, Marston, Littlemore, and Chalgrove during the 1950s. The abandoned huts were initially replaced by chicken houses, and later by small industrial units. (fn. 403) In 1963 the airfield itself was offered to the Martin-Baker Aircraft Co. on a 99-year lease, reneging on earlier government pledges to return it to local landowners, and prompting village protests. (fn. 404)
Further housing development from the 1960s accelerated the social changes already evident. By 1966 (when the population was c.1,150), around half of Chalgrove's 345 households comprised recent incomers, most of them from Oxford or neighbouring parishes. The chief attractions were the village's rural location, new affordable housing, and proximity to Oxford, with almost 90 per cent of inhabitants commuting to work. Many were employed in the Cowley motor works, which was linked by a dedicated bus service. Car ownership was relatively high, and increased further in the late 20th century when the still-expanding village became part of the London commuter belt. (fn. 405) Even so Chalgrove retained a strong sense of community. Clubs and societies were established, national and local events (including the 350th anniversary of the Civil War battle) were commemorated, and in 1989 the parish council built a village hall (enlarged in 2000), providing an alternative to the still-functioning John Hampden Hall. A flourishing local history group was established in 1973. (fn. 406)
EDUCATION
A schoolmaster was mentioned in the 1670s and a school c.1685, perhaps that at which John Trumble taught in 1728. (fn. 407) By then children were occasionally catechized by the vicar or his curate, (fn. 408) and c.1800 a Sunday school supported by subscription taught 50–60 children, (fn. 409) continuing in 1818 when the teacher received £8 a year. A separate day school established in 1815 proved short-lived, (fn. 410) but in the 1830s the vicar R.E Laurence (1832–85) started another in a vacant cottage next to the vicarage house, anticipating attendance by 60–70 children (similar to the Sunday school) at 75. each a year. (fn. 411) In the event that too closed after barely a year (in 1837), partly because the church's patron and tithe owner (Christ Church, Oxford) refused to assist with funding. (fn. 412) Laurence reopened it in the 1850s, (fn. 413) but irregular attendance and continued financial difficulties led to its final closure in 1871, apparently along with the Sunday school. (fn. 414) Competition from rival schools may have been an additional factor: Jesse Crake ran one in 1841, (fn. 415) and in the 1860s there were two small private schools and a Wesleyan Sunday school. (fn. 416)
Chalgrove Board (later Primary) School
A School Board covering Chalgrove, Rofford, Warpsgrove, and Easington was elected in 1875, and in 1877 a school was built on High Street on land donated by Magdalen College, Oxford. (fn. 417) Accommodating c.111 children (who paid 3d. a week), it was funded primarily from rates and parliamentary grants. (fn. 418) In 1881 the master William Harvey occupied the adjoining school house with his sister (one of four other teachers then living in the village), (fn. 419) and before 1899 was succeeded by Robert Lunn, who taught c.80 infants and older children with his wife and one other assistant. (fn. 420) Despite declining population and static attendance the brick and tiled building was enlarged in 1905, when inspectors reported approvingly. (fn. 421) Laurences successor as vicar taught religious instruction there in the 1880s-90s, when the Anglican Sunday school was successfully re-established. (fn. 422)
Later school reports were mixed, and though the master Bernard Swift was praised in 1913 (fn. 423) there were concerns in the early 1920s, by which time the Sunday school had closed. (fn. 424) Swift resigned in 1925, and the following year the school was reorganized (despite local opposition) as a junior school, with children over 11 transferred to the senior school at Watlington. The new headmistress quickly raised standards, although the school was disrupted in 1931–3 by a temporary influx of industrial workers into the village. (fn. 425)
In the mid 1950s c.50 pupils aged 5–11 were taught by two staff, and following the closure of the Hampden school (below) and the onset of major housing development, an additional classroom was provided in 1960. Further expansion followed in the 1960S-70S, (fn. 426) and in 1980 (when 12 full-time staff taught 332 pupils) inspectors praised the school's 'many excellent features'. (fn. 427) Educational weaknesses were alleged in 1999 and 2011, but improvements were under way in 2012 when the school had 189 pupils aged 3–11. (fn. 428)
Hampden Estate Primary School (1950–8)
In 1950 a two-class primary school opened on Chalgrove airfield to serve children living in temporary housing there, a large Nissen hut and other camp buildings being converted into an unweatherproofed hall, dining room, kitchen, and classrooms. In 1955 it accommodated 55 pupils aged 5–8, the older children attending the village school. The headmistress struggled to teach the 'wild and uncontrolled' 7–8 year-olds, of whom only 3 out of 21 could read 'tolerably well'; her assistant performed better with the infants, but given the children's poor living conditions, irregular attendance, and previous changes of school, the inspector judged that 'normal standards of attainment' could not be expected. The school closed in 1958 following clearance of the estate. (fn. 429)
CHARITIES AND POOR RELIEF
During the Middle Ages Thame abbey (as owner of the rectory estate) distributed 13s. 4d. a year to parishioners in memory of Edward II. (fn. 430) From the 16th century one-off charitable bequests to the poor were made in cash and kind by Chalgrove's wealthier inhabitants, and a poor men's box was mentioned in 1566. (fn. 431) Roger Quatremain (d. 1549) provided for 3 bushels of wheat to be distributed as loaves on Good Friday and All Saints' day for seven years, while Ralph Quatremain (d. 1594) left 6d. to every poor person in the parish. (fn. 432) Seventeenth-century bequests ranged from 105. to £20, (fn. 433) and a few of £2-£5 (in bread or cash) were made in the early 18th century, (fn. 434) when offertory money, too, was distributed to the poor. (fn. 435)
Endowed charities were established from the 1640s. In 1646 Joan Chibnall provided for gowns worth 185. to be given annually to four poor widows or old maids, with another £3 distributed among the poor in September following the preaching of a charity sermon. (fn. 436) In 1664–5 John Hart left a £3 rent charge on lands in Easington for apprenticing a poor boy, the sum being supplemented by a £5 annuity given by Francis White in 1710, and implemented by Simon Whorwood Adeane (d. 1719). During the 18th and 19th centuries a boy was apprenticed once a sufficient sum was raised, as in 1786 when an Oxford farrier was paid £16 for a 7-year apprenticeship. (fn. 437) Chalgrove's former vicar John Wall (d. 1666) gave three fifths of the rent from 13 a. in Benson to poor Chalgrove parishioners, and Alice Markham (widow of Walls successor) added two thirds of the rent from a further 3 a., the remaining income going to Berrick Salome. (fn. 438) Finally in 1718 Mary Smith provided for an annual charity sermon on 1 May, when 20 loaves were distributed out of a rent charge on 9 a. in Chalgrove. (fn. 439) Another 105. was distributed in sixpences on the same day, raised from 2 a. in Berrick Salome donated by an unknown benefactor. (fn. 440)
Despite such charities the parish's poor-relief costs were high, amounting to £187 in 1776 and an average of £295 a year in 1783–5. (fn. 441) Following a national pattern, expenditure increased to £368 by 1803, when 74 people (including 49 children) received regular out-relief, and 26 occasional relief, in all nearly a fifth of the population. Costs more than doubled to £782 in 1813, falling to £544 in 1815 when 28 people were relieved permanently and 39 occasionally, around 12 per cent of the population. (fn. 442) From 1816 post-war slump increased agricultural distress, raising expenditure to £939 in 1819 (c.33s. per head of population); thereafter, as agriculture recovered, it fell to £499 in 1826, averaging c.23s. per head over the whole decade. (fn. 443) Costs rose again in the 1830s, reaching £795 in 1834 when formal responsibility for Chalgroves poor passed to the new Thame Poor Law Union. (fn. 444)
All the endowed charities continued in 1871, raising a total of £64 125. a year for the poor and £74 for the church. (fn. 445) Beneficiaries included two boys apprenticed in 1848 to an Ickford tailor and an Oxford cordwainer, costing the Hart-White charity £18 each. (fn. 446) A new charity (producing £14 a year) was founded in 1879 by the former churchwarden Ferdinando Stevenson, (fn. 447) and in the 20th century offertory money was still being given to the sick and needy, (fn. 448) while the Hart-White charity funded school prizes. (fn. 449) In the 1960s the poor's charities were amalgamated to create the Chalgrove Relief in Need Charity, which in 1979 received £214 from an endowment of 21 a., and in 2011 disbursed £1,113. (fn. 450) Mary Smiths charity apparently remained separate, yielding £1 a year. (fn. 451) Several late 20th-century charities supported the villages elderly population, school, scout group, Women's Institute, and recreation ground (bought by the parish council in 1950). (fn. 452)
RELIGIOUS HISTORY
A well-endowed church existed by the late 11th century, associated at first with a prebend in the chapel of Wallingford castle, and attracting high-status but mostly non-resident incumbents. In 1317 Edward II gave the advowson to Thame abbey, which appropriated the living in 1319. Thereafter the parish was served by meagrely endowed vicars, though the church fabric benefited from support of wealthy inhabitants including the Barentins. Patronage passed at the Reformation to Christ Church, Oxford, which presented prominent churchmen and academics who were often absent. Dissent developed from the 19th century, leading to the building of a Congregationalist chapel which passed later to Wesleyan Methodists, and regular services in both church and chapel continued in 2015.
CHURCH ORIGINS AND PAROCHIAL ORGANIZATION
Chalgrove church was apparently one of several given by the Norman baron Miles Crispin for the endowment of prebends in the collegiate chapel of St Nicholas in Wallingford castle, probably in the late 11th century. It was still nominally held as a prebend (in the earl of Cornwall's gift) in the 1250s, (fn. 453) although in practice it was treated more like an independent parish church, and most institutions to the rectory made no mention of the Wallingford link. (fn. 454) By 1291 Wallingford castle had only a £2 pension from the church, which was paid to Bec abbey along with £3 6s. 8d. for specified tithes, (fn. 455) given to the abbey by Crispin. (fn. 456) The prebend was not mentioned later, (fn. 457) and the church (dedicated to St Mary the Virgin) (fn. 458) remained a rectory until its appropriation by Thame abbey. Long before then Berrick Salome formed a dependent chapelry, reflecting the manors' shared ownership. (fn. 459)
For administrative purposes the parish was included in the rural deanery of Aston from at least 1254 until its transfer to Cuddesdon deanery in 1956. (fn. 460) The boundaries of the ecclesiastical parish remained unchanged until 1929, when the formerly detached part of Wheatfield parish at Rofford was transferred to Chalgrove. Warpsgrove was added in 1932. (fn. 461) From 1938 to 1976 the benefice was held in plurality with Newington, but following the villages expansion in the 1960s an independent vicar was appointed to serve the single benefice of Chalgrove with Berrick Salome. (fn. 462)
Advowson
The right to present to both church and prebend passed probably with the honor of Wallingford, until King John granted the advowson of the church alone to Hugh de Malaunay in 1199. (fn. 463) Disputes followed in 1219. (fn. 464) Thereafter the advowson reverted apparently to holders of the honor, despite the king expressly reserving patronage of the Wallingford chapel prebends in 1229. (fn. 465) Richard, earl of Cornwall, presented before 1241 and c.1258, (fn. 466) and successive earls retained the advowson until Piers Gaveston's death in 1312, when it reverted to the Crown. (fn. 467) Edward II presented in 1313, (fn. 468) and in 1317 granted the advowson to Thame abbey, to maintain six monks to perform daily mass for the souls of Piers and the king's ancestors. (fn. 469)
After the abbey acquired the rectory in 1319 (fn. 470) it presented vicars until the Dissolution, (fn. 471) the abbeys steward Edmund Bury being granted a single turn in 1511. (fn. 472) In 1542 the king gave the advowson to Oxford cathedral, from which it passed to Christ Church college on its foundation in 1546. (fn. 473) One-off presentations were granted to Roger Day, Thomas Osborne, and Richard Day in 1544, and to Richard Rice in 1604, (fn. 474) and in 1620 the Crown presented 'by lapse'. Thereafter Christ Church presented every subsequent vicar, remaining patron in 2015. (fn. 475)
Glebe, Tithes, and Vicarage
The rectory was valued at 40 marks (£26 13s. 4d.) in 1241, 30 marks (£20) in 1219 and 1254, and £21 6s. 8d. in 1291, making it one of the wealthiest in the deanery (fn. 476) The late 18th-century rectory estate included over 60 a. of arable, (fn. 477) but its medieval extent may have been smaller, since in 1341 (when the rectory belonged to Thame abbey) less than a fifth of rectorial income came from glebe or from hay and small tithes. (fn. 478) Church land held by tenants of Plessis's manor in 1279, including 3 houses, ½ yardland, 8 a., and a close, probably represented gifts for the church's maintenance rather than glebe. (fn. 479) Bec abbey's share of the tithes (which included mill tithes) was sometimes leased to the rector, (fn. 480) who also received specified tithes from Colham (Middx) and Fleet Marston (Bucks.). Since both manors belonged to the honor of Wallingford those, too, were probably granted by Miles Crispin. (fn. 481) A few acres of additional glebe lay in Berrick Salome. (fn. 482)
The vicarage ordained in 1319 comprised a house and 4 a. of glebe, altarage from Chalgrove and Berrick Salome, and a portion of Clapcot's tithes (Berks.). The abbey was to provide two cartloads of hay a year, the vicar taking over provision of books, vestments, and furnishings. (fn. 483) In 1392 the vicar petitioned the pope claiming that the endowment was insufficient, and that the monks (whom he greatly feared) had extorted an oath that he would not try to increase it. The pope ruled for the vicar, (fn. 484) but it is unclear whether anything was done before 1471 when the archbishop of Canterbury ordered the abbey to grant additional tithes worth £3 13s. 4d. (fn. 485) Those probably included Berrick Salomes tithes, which the vicar subsequently held along with a few acres of glebe there. (fn. 486) In 1526 his income was £12 a year, and in 1535 £12 9s., reduced by payment of a pension to the abbot. (fn. 487) A few vicars rented additional tithes or land, including (in 1476) the former Bec tithes at £2 13s. 4d. a year, (fn. 488) and in 1495 the entire rectory (fn. 489)
By the 19th century the vicar's income derived mainly from tithes, including (by then) the small tithes. The dean and canons of St Georges Chapel Windsor gave a customary payment of £5 for the former Bec tithes, and rent from the original vicarial glebe produced £4 a year. Christ Church paid £7 in lieu of the two cartloads of hay (fn. 490) At tithe commutation in 1841 the vicar received an annual rent charge of £152 7s. 6d., and at inclosure in 1843 he was awarded 3½ acres. (fn. 491) An additional £200 rent charge was awarded for Berrick's tithes, plus 7½ a. for glebe there. (fn. 492) By 1910 net income was £216, rising to £337 in 1930. (fn. 493)
Rectory and Vicarage Houses
Reference to the 'parson's gate' in 1203 suggests a rectory house complex, possibly on the site of the later glebe farmhouse on Church Lane. (fn. 494) A separate cottage belonging to the church, set in 1 a. in the village centre, was given as a vicarage house in 1319, having previously been occupied rent-free by Thomas Mitchel (presumably a priest) and his predecessors. Thame abbey agreed to rebuild it with a hall, two chambers each equipped with a garderobe (one chamber for the vicar and one for guests), and a buttery, stable, kitchen, and brewhouse. Meanwhile the vicar occupied the church's principal house or mansum, presumably the former rectory house. (fn. 495)
Robert Whicker (vicar 1585–1609) built a new chimney and made other repairs, (fn. 496) but the vicarage house was not large and in the 1660s was assessed on only three or four hearths. (fn. 497) Richard Manning (vicar 1668–1701) raised a family there, (fn. 498) but his successor Thomas Pocock (1701–11) considered it inadequate and rebuilt it on a larger scale in 1702, (fn. 499) with a square, five-bay main range of two storeys and attics. An off-centre entrance hall led to a back staircase, giving access to four rooms on each floor. A single-storeyed, L-shaped service wing on the east contained the vicars study, kitchen, cellars, and stable. (fn. 500)
In 1782 the house (despite an incoming vicars complaints) was reportedly in good repair, (fn. 501) and no major work was undertaken until 1885 when the Oxford architect E.G. Bruton judged it to be small, inconvenient, and insanitary. (fn. 502) Bruton's remodelling created a seven-bay symmetrical stuccoed front lit by sash windows and dormers, (fn. 503) with a central glazed doorway under a wooden hood. The building retains the single-storeyed service range, though Bruton extended the dining room into its western end. The interior includes 18th-century panelling and window shutters, a moulded plaster cornice, chamfered beams, and a dogleg staircase with turned balusters on a closed string. (fn. 504)
Improvements were carried out in 1949 following the houses use for London evacuees during the Second World War. It was sold and converted into separate dwellings in 1986, the vicar moving to a modern house on Brinkinfield Road. (fn. 505)
Church Fabric Endowment
A charitable endowment for church repair was recorded from the 17th century, derived perhaps from the church lands held by tenants in 1279. (fn. 506) In 1685 it included a house next to the churchyard, a house and close with 6 a. in the fields, and a third house with a close, 16 a. of arable, and 1 a. of pasture. (fn. 507) The charity suffered long periods of mismanagement: in 1617 no account had been given for 12 years of an acre from which the churchwardens took timber to repair the church barn, (fn. 508) and in the early 18th century they were accused of 'shamefully' misapplying the profits (then worth c.£20 a year) and failing to keep accounts. Such criticisms had little effect, possibly because the income removed the need for a church rate. (fn. 509) In the early 19th century the accounts were conflated with those of Hart's and White's charities, and some rents were irregularly paid; by then the estate included the Red Lion public house, three houses occupied by paupers, and 22½ a. of open-field land, let for a total of £43 10s. a year. (fn. 510) Parts of the estate were sold in 1965 and 1980–2, though the trustees retained the Red Lion. (fn. 511)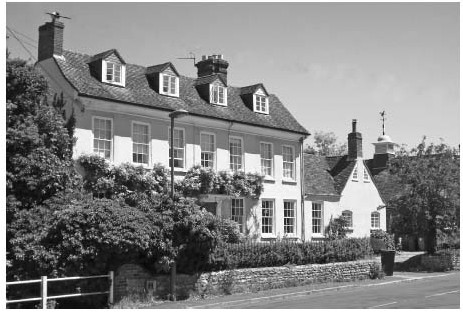 PASTORAL CARE AND RELIGIOUS LIFE
The Middle Ages
Rectors or prebendaries appointed before the church's appropriation in 1319 included several high-status careerists, who are unlikely to have resided. Master John Romanus, rector by 1241, was a notorious pluralist and already subdean of York Minster, and was refused permission to lease the church. (fn. 512) Walter Bronescombe, archdeacon of Surrey, held the church from 1257 before becoming bishop of Exeter, (fn. 513) and was succeeded by Philip of Eye, treasurer of the church's patron Richard, earl of Cornwall, and later treasurer of England. (fn. 514) Occasionally there were rival claims: Master Roger of Ludlow successfully resisted a challenge by Peter of Lewknor in 1294, remaining rector until his death in 1307, (fn. 515) while in 1313 the king presented Nicholas of Lichfield, forcing the eventual resignation of the sitting (but probably non-resident) rector Bonacursus de Frescobaldi of Florence. (fn. 516) Daily care was presumably provided by stipendiary chaplains, of whom one in the late 12th or early 13th century called himself 'vicar', suggesting some formal but probably temporary arrangement. (fn. 517)
Vicars appointed by Thame abbey after 1319 were less prestigious, subsisting on a sometimes inadequate income. (fn. 518) Simon de Croilland (vicar 1319–33), Simon de Weedon (1333–51), and John Leyton (instituted 1351) were apparently all outsiders, though probably resident. (fn. 519) William Manning had local connections but resigned soon after his institution in 1375, (fn. 520) while William Achecot, vicar in the 1390s, was associated with the lord Thomas Barentin, accompanying him in 1391 when Thomas illegally seized possession of Purley manor (Berks.). (fn. 521) Following Achecot's resignation in 1401 each of his three successors stayed for under a year. (fn. 522) A few other named chaplains may have served in the lords' households, assisted at Berrick Salome, or helped within the parish, one of them (John Bonere) becoming vicar in 1375. (fn. 523)
Parishioners and churchwardens may have built a church house during the 15 th century, (fn. 524) while private donations to the church included land given in 1365 to maintain a cresset full of pitch, for lighting four lamps in memory of John Pyron. Part of the cresset probably survives in a wall at the south arcades east end. The donors son augmented the grant in 1400, requesting that five lights be maintained at a daily mass and on other occasions for 50 years. (fn. 525) Patronage by the lordly Barentins was reflected in elaborate memorial brasses in the chancel, and probably in the chancel's celebrated wall paintings, (fn. 526) while a private oratory in the Barentin manor house existed by the 1330s (fn. 527) and was probably rebuilt c.1370. (fn. 528) Chalgrove land given to the Hospital of St John the Baptist in Oxford c.1210–30 supported altar lights in the hospital. (fn. 529)
Perhaps the most distinguished of Chalgrove's late medieval vicars was John Kyrkby (1468–1511), a fellow of the Queens College, Oxford, who bequeathed Chalgrove property to the college. (fn. 530) His successor Ralph Haydock (vicar 1511–49) resided and witnessed local wills, apparently employing chaplains or curates. (fn. 531) Continued lay involvement is reflected in parishioners' bequests, including a bullock from Thomas Simms (d. 1531) for 'upholding' the church, and ½ a. of barley to maintain St Catherine's altar. (fn. 532) Parishioners in the 1540s left money to the high altar, barley for upkeep of bells, and less specific bequests of money and grain, (fn. 533) while John Child (d. 1543) requested five masses on the anniversary of his death. (fn. 534)
The Reformation to 1800
Despite such bequests most inhabitants seem to have outwardly accepted the religious changes of the mid 16th century, with Catholic invocations quickly disappearing from parishioners' wills. (fn. 535) The vicar William Huske (1549–63) was a Protestant (fn. 536) who may have been temporarily removed under Mary I(1553–8), when the curates Peter Moryn and Geoffrey Acrith briefly revived Roman Catholic practices. (fn. 537) In 1552 he reported that some of the church's furnishings had been stolen, presumably early in Edward VI's reign, although several vestments and pieces of plate remained. (fn. 538) Despite the upheavals parishioners continued to make bequests towards the church's upkeep throughout the 1550s, (fn. 539) and wills remained firmly Protestant in tone. (fn. 540) Land given for obits was sold in 1568, removing the last vestiges of pre-Reformation practice. (fn. 541)
Christ Church's acquisition of the advowson seems to have increased the incidence of non-residence amongst Chalgroves vicars. Thomas Day (vicar 1563-70) was presumably presented by his kinsman Roger Day (granted a turn in 1544), while two subsequent presentees failed to reach induction, suggesting that the granting of turns was causing confusion. (fn. 542) Day and his successors let the vicarage's tithes, prompting disputes between the lessee and local farmers, (fn. 543) while Giles Laurence (vicar 1573–85), an Oxford academic and pluralist, may have also let the vicarage house, which his successor Robert Whicker (1585–1609) had to repair. (fn. 544) Whicker himself was buried in the parish and was a generous benefactor to its poor, but employed a succession of curates including his nephew Thomas Whicker. (fn. 545) His successors were mostly high-ranking churchmen and academics who probably delegated their parochial duties to curates: among them were Richard Thornton (vicar 1609–15), a prebendary of Worcester cathedral, Samuel Fell and William Goodwin (1615–17 and 1617–20), who both served as dean of Christ Church, and John Prideaux (1620–5), later bishop of Worcester. (fn. 546) An exception was Goodwins son (and Prideaux's brother-in-law) John Goodwin (vicar 1625–36), who apparently resided and left goods worth over £117, including books, silver, grain (some from tithes), and livestock. (fn. 547)
John Wall (vicar 1637–56) was a canon of Christ Church and a renowned preacher, who despite his praise for Cromwell scorned religious separatists and remained a moderate Anglican. (fn. 548) His successor Francis Markham (1656–68), who was buried in the church and apparently resided, (fn. 549) was probably no more tolerant, and Dissent remained small-scale in Chalgrove despite its presence in the area, (fn. 550) with only three Nonconformists reported in 1676. (fn. 551) Several 17th-century vicars were equally strongly anti-Catholic, and few recusants were reported save for the Cumber family, resident until the 1650s. (fn. 552) In 1682 the vicar claimed that the parish's only Roman Catholic had been 'through my endeavours reclaimed and brought to a complete conformity', (fn. 553) although Mary Quatremain remained a recusant in the 1690s. (fn. 554)
Parishioners' gifts during the 17th century included a silver tankard flagon inscribed to the memory of Richard Chibnall (d. 1620). A chalice in memory of his wife was bought in 1656, (fn. 555) and Markham's widow Alice (d. 1679) left a silver paten, (fn. 556) while a a new sanctus bell was hung in 1659 and a new ring of six in 1664. (fn. 557) A parishioner in 1679 requested burial in the church's middle aisle near his usual seat, (fn. 558) although laymen's stakes in the church led sometimes to conflict. Under Richard Manning (vicar 1668–1701) the Halls of Langley claimed the north aisle's east end for their exclusive use, opposing Richard Child's erection of a pew in the aisle in 1685. Child argued that other parishioners were buried there, but though both men attracted support the outcome is unknown. (fn. 559)
Manning (although a pluralist) probably resided, (fn. 560) and so too did his successor Thomas Pocock (vicar 1701–11), who rebuilt the vicarage house. (fn. 561) Other 18th-century vicars may have been less conscientious, and generally employed curates. (fn. 562) John Robinson (vicar 1711–22) was dean of Windsor and a pluralist, (fn. 563) while George Villiers (1723–48) was de jure 12th earl of Buckingham, though he never used the title. (fn. 564) He was probably resident in 1726–7 when the church tower partly collapsed and was rebuilt at the parish's expense; the initiative seems, however, to have been led by the churchwardens and parishioners (especially Rodolph Hobbs), and Villiers' opposition to mortgaging church lands to pay for the work was ignored. (fn. 565) In 1736 he moved to Oxford on medical orders, complaining that he had contracted a 'bad habit of body' from Chalgrove's Tow situation. An unlicensed curate was paid £30 a year to take services twice on Sundays, using 'some printed exposition', while a Targe number' of communicants received holy communion four times a year. (fn. 566)
Services remained unchanged under Richard Nash (vicar 1749–57) and Paulo Tookie (1758–83), who resided, and alleged there was no absenteeism or Nonconformity (fn. 567) His view was initially shared by Charles Ballard (vicar 1783–1832), who lived in Chalgrove occasionally but moved to Henley before 1790, employing a curate at £40 a year. Services were reduced to once on Sunday, and during the 1790s the number of communicants halved to twenty. By 1800 (when Ballard left Chalgrove for Great Haseley) he was becoming more concerned about irregular attendance, (fn. 568) and though Dissent was not yet established in the parish, past neglect probably helped its emergence. (fn. 569)
Since 1800
The Congregationalist James Raban (a minister at Wallingford) held services in private houses in Chalgrove in 1810–11, (fn. 570) although according to Ballard (who thought Raban a Calvinist) attendance was low (fn. 571) Over the following years Dissent increased, and by 1821 Chalgrove had a chapel and manse and a resident minister, John Heafford. Probably he was a Congregationalist, although Ballard considered most of the parish's Dissenters to be Wesleyans because 'they not unusually attend the church'. (fn. 572) The licensing of a farmhouse for religious worship in 1835 suggests rival denominations, (fn. 573) and by then the chapel was used probably by Baptists, to whom Henry Lewingdon (d. 1825) left a ten-year annuity of £10. In 1847 it was taken over by Wesleyan Methodists, who remained there until a new chapel was built in 1869. (fn. 574)
The Anglican church responded slowly, Charles Ballard remaining non-resident, and employing a succession of curates at £80 a year to perform a single Sunday service. (fn. 575) His more dynamic successor Robert French Laurence (vicar 1832–85) added a Sunday evening service and increased holy communion to six times a year, but there were still only 20 communicants, (fn. 576) and in 1835 Laurence attended the parish on Sundays only, leaving it 'altogether neglected' during the week. (fn. 577) The bishop found him 'sensible, but odd', claiming that he had married 'below himself, and by the 1850s he was at loggerheads with parishioners, having attempted to 'repress gross misconduct on the part of one of the leading inhabitants'. A supporter of parish education, and later of the local labourers' union, his unpopularity was reflected in relatively low attendances of 80–120 in the morning or afternoon, and c.30 in the evening. Laurence himself admitted that the farmers did not attend 'as they should, and this of course acts upon the lower classes'. (fn. 578) Of the Wesleyans he claimed that their number was 'very much exaggerated', although on Census Sunday 1851 the chapel was attended by 82 people in the morning and 100 in the evening, with support showing no sign of waning. (fn. 579)
Laurence succeeded in increasing his congregation especially in the evening, but otherwise his difficulties mounted. In 1857–60 he complained of poor relations with the parish churchwarden, the 'anti-sacramental agitation' which inhibited the taking of communion, and above all the union with Berrick Salome, admitting in 1875 that his 'unkind treatment' by a section of the community had led him unsuccessfully to seek a change of benefice. (fn. 580) As he aged and the church fell into disrepair the congregation dwindled, although at Berrick he enjoyed greater popularity, and at Chalgrove the church's restoration in his final years created a lasting legacy (fn. 581) Meanwhile the Methodists continued to thrive. Local farmers donated land, labour, and materials to the new chapel, which following its opening in 1869 was attended by c.80 parishioners and others from outside the parish. Laurence suspected one of the farmers of compelling his labourers to attend, and in 1881 claimed that only nine or ten families were 'wholly Dissenters', many others attending both church and chapel. (fn. 582)
After an incumbency of 53 years Laurence was succeeded by George Blamire Brown (vicar 1885–1902), who increased services and attendances, provided new furnishings, and quickly raised the number of communicants to 54. (fn. 583) The union with Berrick Salome remained difficult to manage, however, and the main Sunday services at Chalgrove continued at 11 a.m. and 6 p.m. (fn. 584) Under John Howard Swinstead (vicar 1902–12) a distinctly low-church tone was adopted, perhaps in response to the Methodists, and religious instruction was moved from the village school to the church following Nonconformist objections. Less controversially Swinstead raised funds for the new village hall, opened next to the vicarage house in 1906 on land bequeathed by Charles Ballard. (fn. 585) Thomas Floyd (vicar 1912–29) and Alphonse Dru (1929–37) maintained a regular pattern of services, and from 1920 worked with the new parochial church council to improve the fabric. A new organ was installed in 1931. (fn. 586)
Following Dru's resignation the parish agreed to Christ Church's proposal that the rector of Newington should serve as priest-in-charge, reflecting Chagrove's then-small population. (fn. 587) The arrangement continued until 1949 when Albert Liddon became vicar, holding Newington in plurality from 1950. (fn. 588) Liddon (vicar to 1977) witnessed Chalgrove's dramatic growth in the 1960s and made improvements to the church, including measures to prevent vandalism. (fn. 589) His successors undertook extensive conservation work with local support, and in 2006 a congregation of c.45 attended regularly on Sundays. A sung Eucharist continued in 2015, together with a weekday communion and family service, the vicar (Ian Cohen) being assisted by a licensed lay minister (Robert Heath-Whyte). (fn. 590) The Methodist chapel, probably saved from closure by the rise in population, celebrated its centenary in 1969, and regularly attracted 25–30 worshippers on Sunday evenings. A flourishing Sunday school met in the morning, for which a new room was built in 1993. (fn. 591) The chapel remained open in 2015 as part of the Oxford Methodist circuit, attended usually by 10–15 villagers. (fn. 592) CHURCH ARCHITECTURE
Chalgrove's spacious church dates chiefly from the 12th to 15th centuries, and was sympathetically restored in 1881–4 by Joseph Morris and S.S. Stallwood of Reading. Built of coursed limestone rubble with ashlar dressings, it comprises a two-bay chancel, a four-bay doubleaisled nave with south porch, and a three-stage west tower, whose top part was reconstructed following a partial collapse in 1726. The nave's and chancel's steep tiled roofs probably retain their original pitch. High-quality early 14th-century work in the chancel, including a celebrated cycle of wall paintings, probably reflects patronage by well-connected local lords, particularly the Barentins. (fn. 593)
The nave may contain mid 12th-century stonework, (fn. 594) but the earliest dateable fabric is a doorway of c.1190 in the base of the tower, and the contemporary south arcade, its Transitional arches (with a single roll-moulding and continuous hood) resting on round piers with square bases and waterleaf capitals. A half bay at the eastern end was probably shortened when the present chancel was built. The north arcade was added c.1240, making it roughly contemporary with new building at the Plessis and Barentin manor houses, and includes three single-chamfered arches on round piers, one with a moulded capital and the other carved with stiff-leaf. Its east end, extending alongside the chancel, includes a 13th-century aumbry and a later squint, giving a view of the high altar. A piscina and credence of similar date survive at the south aisle's east end.
The chancel was rebuilt and extended c.1310–30, possibly by Thame abbey as corporate rector. Its lavish decoration, however, probably reflects patronage by Sir Drew Barentin (d. 1329), whose successors until 1474 were buried and commemorated there. (fn. 595) The three-light east window has reticulated tracery, and the piscina and three-seat sedilia (under four cusped ogee arches) are of high quality, possibly by royal craftsmen. (fn. 596) The wall paintings (Plate 14) are contemporary, and form one of the most complete cycles in the country. Arranged in three tiers and depicted in red and yellow ochre and lamp-black mixed with white, they show scenes from the life of Christ and the death and Assumption of the Virgin. The north wall includes a Tree of Jesse and portrays Christ's birth and Passion, the narrative culminating on the east wall with the Resurrection and Ascension. On the south wall opposite the Jesse Tree is a Last Judgement, followed by the death and burial of the Virgin, and concluded on the east wall with her Assumption and Coronation. The focus suggests that the feast of the Assumption (15 August) was the church's patronal festival from the Middle Ages, while in their progression from west to east the paintings provided a theatrical backdrop to the liturgy (fn. 597) The scheme was probably extended through painted glass. (fn. 598)
Around 1450 the north aisle was remodelled and decorated with wall paintings, probably for Sir Drew Barentin (d. 1453), who left ornaments from his private oratory to 'the chapel newly repaired in Chalgrove church, on the north side'. (fn. 599) Painted glass depicting two angel heads is probably contemporary, (fn. 600) other mid-to-late 15th-century work including the south porch, the south aisle's crenellated parapet, and liturgical texts added to the chancel wall paintings. The chancel's disrepair by the 1520S-30S may reflect the Barentins' departure or neglect by Thame abbey, (fn. 601) but parishioners' continued to invest in the fabric and in St Catherine's altar, (fn. 602) which stood possibly at the south aisle's east end. The rood loft and altars were presumably removed and the paintings whitewashed in the 1540s-50s.
Later furnishings include the cup-shaped octagonal font with a twisted stem, previously dated to c.1660, but recently claimed to include 16th-century heraldry and to have perhaps been recut from an earlier bowl. (fn. 603) The communion rail and polygonal oak pulpit are 17th-century, (fn. 604) and the church clock (perhaps by a local clockmaker) is dated 1699. (fn. 605) The tower was partly blown down in 1726, and repaired by the Little Milton mason Richard Belcher; 14th-century bell-openings were retained, though the crenellated parapet and pinnacles and a round second-stage window were new additions. (fn. 606) Two bells broken in the fall were recast in 1729. (fn. 607) Routine repairs were ordered in 1758, (fn. 608) the clock was repaired in 1801, (fn. 609) and further work was carried out c.1841–4, possibly by the architect Thomas Rickman. (fn. 610) A singers' gallery was mentioned in 1841, a harmonium installed in the 1860s, and in 1858 the whitewash was removed from the chancel, revealing the wall paintings. (fn. 611)
By the 1870s the church was in decay, (fn. 612) and by 1881 it was unsafe, the north arcade falling outwards and the roofs dilapidated. The architects Morris and Stallwood estimated costs of £1,500 to restore the fabric, and another £500 to reseat the nave and aisles. (fn. 613) Work was completed in 1884, (fn. 614) restoration of the nave's arch-braced roof involving removal of earlier dormer windows. The chancel screen was removed in 1906, a pipe organ installed in 1931, and electricity supplied in 1950, while in 1956 the vestry was moved from the north aisle to the south aisle's west end. Its panelling dates probably from the 18th century, and is inscribed with the Creed, Lord's Prayer, and Ten Commandments. A side chapel (dedicated to St James after the demolished church at Warpsgrove) replaced the former vestry at the north aisles east end. (fn. 615)
Improvements to heating and lighting were carried out in 1967, and in 1974 iron gates were fitted to the porch to prevent vandalism. From the 1980s the church was subject to regular repairs including conservation of the wall paintings, the work financed by the church estate, the PCC, and external grants. Projects included restoration of the clock in 1995, reroofing of nave and aisles in 2002, installing toilets at the base of the tower in 2006–7, and rehanging the bells in 2010, (fn. 616) followed by a major restoration in 2015. The churchyard was extended in 1898 and 1997. (fn. 617)
LOCAL GOVERNMENT
MANOR COURTS AND OFFICERS
In the 13th century manor courts were held at Chalgrove for Barentin's and Plessis's manors, with a separate court at Rofford. (fn. 618) All three probably continued in 1377 when Chalgrove had two constables and Rofford one, presumably each representing a separate court. (fn. 619) Rofford's court ceased in the 15th century, after Reynold Barentin acquired the manor: a Rofford landholder owed suit to Barentin's Chalgrove court by 1420, (fn. 620) which by then probably met irregularly two or three times a year. (fn. 621) The subdivision of Plessis's manor may initially have generated separate courts for the Argenteins, St Clares, and Ellesfields, although joint sessions were sometimes held in the 1430s as manor-court business declined. (fn. 622) Separate courts resumed following the manors' sales to Magdalen and Lincoln Colleges, which both held independent courts in Chalgrove until the 19th century (fn. 623) Magdalen's yielded 27s. 4d. in 1507, (fn. 624) typical business including copyhold grants and punishment of agricultural misdemeanours.
Chalgrove's tenants also owed suit to the honor of Wallingford's annual view of frankpledge, sessions for which were held in the village by the 13th century (fn. 625) In 1296–7 inhabitants paid 6s. 8d. cert money, plus 175. 4d. for 43 brewing offences. (fn. 626) Similar payments were made in the 1530s, when Chalgrove was represented by two constables, two tithingmen, and an ale taster; complaints included a miller taking excessive tolls, theft of wool, and disrepair of the king's highway. By then Rofford's tithingman also attended the court, paying 15. cert money (fn. 627) Until the late 15th century Rofford's tenants additionally attended the Ewelme hundred court, presenting brewing offences, assaults, and stray livestock. (fn. 628)
From 1540 Chalgrove's and Rofford's inhabitants owed suit to the honor of Ewelme's court leet and view of frankpledge, which succeeded those for the honor of Wallingford. Sessions for the Chalgrove division were still held in the village, typical business in 1723 including grazing, cleaning of ditches, and furze cutting, with four fieldsmen appointed to enforce the orders. (fn. 629) The courts continued until 1847. (fn. 630)
PARISH GOVERNMENT AND OFFICERS
For parochial purposes Chalgrove and Rofford were usually administered together. A churchwarden (procurator ecclesie) was mentioned in 1365, (fn. 631) with a second recorded from 1402, (fn. 632) and by the 17th century their successors administered the church estate and other charities, (fn. 633) often serving in the 18th and 19th centuries for several successive years. (fn. 634) As elsewhere one warden was elected by the vicar and one by the parishioners, (fn. 635) R.F. Laurence (vicar 1832–85) enduring a difficult relationship with the parish churchwarden, possibly following disputes over misuse of church funds. (fn. 636) Two overseers of the poor were mentioned from the 18th century, and a surveyor of highways in the 19th, who at inclosure in 1843 was allotted 2 a. to supply stone for road repairs. (fn. 637) The churchwardens were allotted 22 a. for the church estate, and (with the overseers) a 5-a. recreation ground on the parish's south-western edge. (fn. 638) A parish clerk was mentioned in 1617, but was reportedly 'ill paid' in the early 19th century (fn. 639)
From 1920 a parochial church council took over the vestry's role of electing churchwardens, overseeing church expenses, and maintaining the fabric, (fn. 640) continuing in 2015. A parish council was established in 1894, its 11 councillors remaining responsible in 2013 for the village hall, recreation ground, and allotments, besides advising on planning and transport. A 'village plan was completed in 2010 following lengthy consultation, identifying priorities and proposing a series of volunteer-led projects. (fn. 641)
The parish belonged from 1834 to Thame Poor Law Union, from 1894 to the newly formed Thame Rural District, and from 1932 to Bullingdon Rural District, becoming part of the new South Oxfordshire District in 1974. (fn. 642) The latter designated the village green a conservation area in 1992. (fn. 643)