Pages 192-234
A History of the County of Oxford: Volume 18. Originally published by Boydell & Brewer for the Institute of Historical Research, Woodbridge, Suffolk, 2016.
This free content was digitised by double rekeying and sponsored by Victoria County History Oxfordshire. All rights reserved.
EWELME
The attractive village of Ewelme lies amongst the Chiltern foothills, its celebrated 15th-century almshouses (which incorporate some of the earliest brickwork in Oxfordshire) extending up a hillside to the church. (fn. 1) Further down, the stream from which the place name derives (fn. 2) flows alongside the village street, incorporating watercress beds developed in the 19th century. Resident medieval lords included Geoffrey Chaucer's son Thomas and granddaughter Alice de la Pole, duchess of Suffolk: their elaborate tombs survive in the church, and in the 16th century the de la Poles' substantial manor house (now mostly demolished) became an occasional royal residence. The village has always been predominantly agricultural, however, and its cottages and farmhouses are otherwise characteristic of the area.
PARISH BOUNDARIES
In 1840 Ewelme parish covered 2,376 acres. On the north-west and south-west, where it shared open fields with Benson and Berrick Salome, there was no clear linear boundary until inclosure in 1863, (fn. 3) the parishes' intermingling reflecting their close association with Benson's Anglo-Saxon royal estate (see Fig. 4). (fn. 4) A core area known as the 'home parish' was more sharply defined (Fig. 50), following Grove Lane on the north, Tidmarsh Lane on the west, and Love and Potter's Lanes on the south, while the irregular eastern boundary followed paths or field boundaries to bring in Ewelme Downs in the south-east, and an area known as Huntinglands in the north-east. (fn. 5) The home parish's antiquity is unclear, but its fields were independently administered, and probably it reflected medieval arrangements. (fn. 6)
Some of the boundaries around Huntinglands and the Downs were perhaps adjusted during late medieval inclosure, (fn. 7) and in the 15th century areas known as Heydon and Grendon still straddled the south-eastern boundary, the former extending into Ewelme park in Swyncombe parish, and Grendon into the later Warren farm in Nuffield parish. Both the park and Warren farm became attached to Ewelme manor in the later Middle Ages, but remained outside the parish. (fn. 8) The 19th-century acreage also included 124 a. of former woodland at Westwood near Bix (three miles to the east), and 3 a. of detached riverside meadow in Drayton St Leonard, both of which had probably formed outliers of one of Ewelme's four late Anglo-Saxon estates. Other parish outliers included premises in Benson and Roke, and Whitehouse Farm near Berrick Salome, apparently all reflecting early manorial connections. (fn. 9)
At inclosure the boundaries with Benson and Berrick Salome were redrawn, creating a parish of 2,495 a. which, reflecting earlier complexities, included 226 a. scattered in twelve detached areas. Changes in 1882 reduced it to 2,487 a., while rationalization in 1932 removed the remaining detached parts (including Westwood and premises at Roke) and brought in other areas, reducing the parish to 2,350 acres. (fn. 10) Alterations in 1993 brought in Harcourt Hill and the former Warren farm south of Ewelme Downs, leaving Ewelme with 2,842 a. (1,150 ha.). (fn. 11)
LANDSCAPE
The parish's eastern part - inclosed by the late Middle Ages - rises onto the Chiltern foothills, reaching 131 m. near Huntinglands and 190 m. at Ewelme Downs. Its flatter western part, dominated by open fields until the 1860s, extended towards the Thames floodplain, the home parish's western boundary lying at 65 metres. The village itself occupies a gently descending valley, whose flanking slopes reach over 100 m. to the north and south. (fn. 12) The underlying geology is mostly chalk, though much of the village (including the church and main street) lies on tongues of gravel, (fn. 13) and clay was reflected in early field names, particularly south of the village. (fn. 14) In 1839 the soils were characterized as typical of the area, well suited to sheep-corn husbandry. (fn. 15)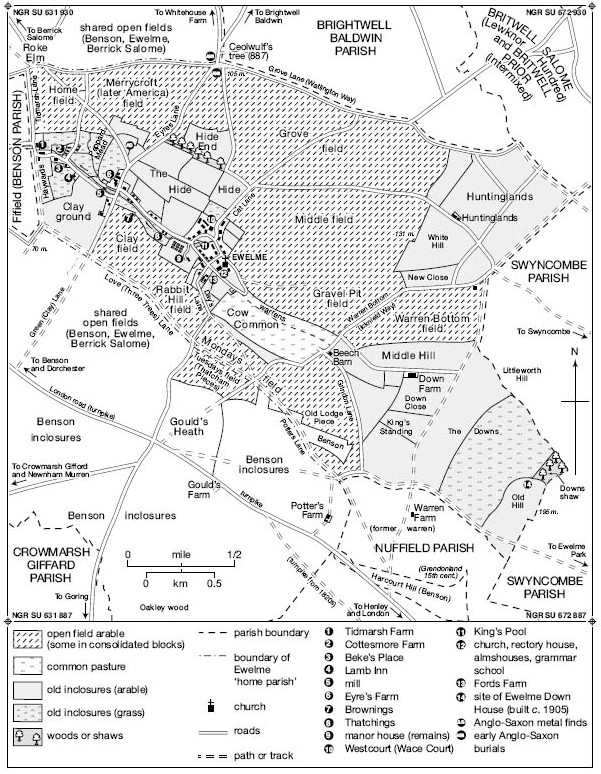 The village pond and roadside stream are fed from springs within the village, and several others formerly rose amongst the Chiltern foothills, occasionally causing flash floods. (fn. 16) Twentieth-century gravel extraction allegedly lessened their flow, reducing available pasture. (fn. 17) The springs' importance is reflected in the villages name, from the Anglo-Saxon aew(i)elm (a spring); (fn. 18) from the Middle Ages, however, the name was frequently corrupted to Newelm, apparently influenced by the presence of numerous elms around the manor house and village. (fn. 19) The pond itself was called Queens (and later Kings) Pool by the 1570s, from association with the nearby royal manor house. (fn. 20)
COMMUNICATIONS
The village lies along one of several roads radiating eastwards from Benson, connecting with Pyrton and Watlington and, further east, with the Chiltern uplands. (fn. 21) The northernmost road (the modern B4009) passes the probable hundredal meeting place, (fn. 22) and was presumably important from an early date. In the 19th century it was called Watlington Way or Grove Lane, and formed part of the parish boundary (fn. 23) South of the village, the lane which formed the home parish's southern edge may mark the course of the Roman road from Dorchester to Henley; (fn. 24) the medieval Henley (and London) road ran further south along Beggarsbush Hill, however, and was turnpiked in 1736. (fn. 25) Intersecting those roads east of Ewelme village is the ancient Icknield Way, which passes along Warren Bottom following the Chiltern scarp. (fn. 26)
The village was linked to the major routes and surrounding settlements by a dense network of roads and lanes, of which many survived inclosure as roads or bridleways. (fn. 27) The most important include the now-metalled Firebrass Hill and Eyres (formerly Mill or Watlington) Lane, both running north-east to Watlington, while the metalled Days or Fords Lane climbs south up a deep hollow way to join the former London road. Surviving tracks include Potters and Grindon Lanes, both running south-east towards former farms, Ewelme park, and the London road, while Rumbold's, Cottesmore, and Tidmarsh (or Roke) Lanes run north towards Whitehouse Farm, Holcombe, and Berrick Salome. (fn. 28) Rumbold's Lane formed part of a late Anglo-Saxon route linking vale and upland, while Cottesmore Lane may be a continuation of a minor Roman road through Newington parish. (fn. 29) The main village street was called the 'London highway' in 1710, (fn. 30) and remained a recommended trunk road until 1969 when, following local protests, traffic was diverted along the present B4009. (fn. 31)
Two carriers were noted in the 1780s, of whom William Bond ran a service through Dorchester to Oxford. (fn. 32) The family continued as carriers (and later publicans) until the 1860s, and their successors the Cherrills in the 1930s. (fn. 33) By then a bus service begun in 1920 ran to Wallingford three times a week. (fn. 34) The nearest railway stations were at Wallingford (opened in 1866) and Watlington (opened 1872), which imported coal and exported watercress and other produce. A Ewelme–Watlington link proposed in 1881 came to nothing, and both stations closed in the 1950S-60S, leaving a station at Cholsey 5 miles away (fn. 35) A post office run by a Ewelme grocer existed by 1847, when letters were delivered through Wallingford; before 1903 it became a money and telegraph office, moving later from premises on the main street to the former Wesleyan chapel. (fn. 36) It closed in 2000 following a change of ownership. (fn. 37) Buses to Wallingford, Benson, and Henley continued in 2015.
SETTLEMENT AND POPULATION
Prehistoric to Anglo-Saxon Settlement
Isolated finds of Neolithic tools and pottery probably reflect small mobile groups passing between the chalk downlands and Thames floodplain. (fn. 38) No Bronze- or Iron-Age settlement is known, although a circular cropmark south of the village may be prehistoric, and there have been isolated Iron-Age finds. A substantial Romano-British presence seems likely given the terrain, the proximity of the Dorchester-Henley road and Icknield Way, and a large number of Roman finds including pottery, coins, and metalwork, unearthed within the village, west of Eyres Lane, and close to the Roman road. (fn. 39) No settlement has yet been discovered, although the presence of coins and (possibly) a votive figurine has prompted speculation that a small shrine may have been associated with local springs. (fn. 40)
A 5th- to 6th-century Anglo-Saxon cemetery was established on high ground north-west of the modern village, adjoining early routeways and the later parish boundary. Significant 8th- and 9th-century metal finds a little further south include 8th-century coins and several pins, strap ends, and hooked tags: their quantity suggests a place of trade or (possibly) tax collection, associated presumably with the adjacent royal centre at Benson, or with the probable hundredal meeting place to the north. Associated settlement may have lain close by on the modern villages western edge. (fn. 41) The area was separated from Benson before the Norman Conquest, perhaps initially as a 20-hide unit, and by 1086 comprised four separate estates each with a manorial centre. (fn. 42) By then there was almost certainly settlement around the modern village, which may have adjoined a late Anglo-Saxon 'hide farm' recalled in the field name 'the Hide'. (fn. 43)
Population from 1086
By 1086 Ewelme's four manors had 46 recorded households, amongst the highest concentrations in the hundred. (fn. 44) During the 12th and 13th centuries the population probably grew: over 80 tenants were noted in 1279, although an unknown number of the freeholders may have lived elsewhere. (fn. 45) Mortality during the Black Death was severe, rents on one manor falling by 59 per cent; (fn. 46) nonetheless in 1377 there were 84 taxpayers aged over 14, making Ewelme the fifth or sixth largest settlement in the hundred. (fn. 47) From the mid 15th century its reduced population was swelled by de la Pole servants and retainers, almsmen, and grammar-school pupils, (fn. 48) and the village apparently maintained its ranking in the 16th century: (fn. 49) by then numbers were probably rising again, fuelled partly by immigration. (fn. 50) In 1662 there were at least 38 houses, and 150 'conformists' (probably adult men and women) were noted in 1676. (fn. 51) Over 70 families were reported in 1738, and c.65 houses (some in multiple occupation) in the 1760s–80s. (fn. 52) By 1801, 86 houses accommodated a population of 490, comprising 99 familes. (fn. 53)
The population continued to grow during the 1810s– 40s and (more slowly) in the 1850s–60s, reaching 691 (in 154 houses) by 1871. Thereafter agricultural depression prompted a fall to 473 by 1901 and to 426 by 1921. A small increase in the 1930s was followed by more sustained growth after the Second World War, accelerated by new house-building: a population of 471 in 1951 grew to 810 in 1971 and to 1,103 in 2001, the number of dwellings rising from 154 to 422. Presumably that figure included some RAF housing on the parish's southern fringe, adjoining RAF Benson. In 2011 the population was 1,048, comprising 387 households in 410 houses. (fn. 54)
Village Development
The village's elongated, polyfocal layout (Figs 50–2) was probably established by the 13th century. The church (founded by the 1180s and probably much earlier) (fn. 55) stands partway up the hillside on the northern edge of what may once have been a long linear green or enclosure, now bounded by Parson's Lane and by the village street in the valley bottom. (fn. 56) A substantial wall excavated south-west of the church may mark one of the early manor houses, and another (Wace Court or Westcourt) stood immediately north-west of Parson's Lane. A third perhaps stood south of the main street, on the site of the de la Poles' 15th-century successor. (fn. 57) Pottery finds suggest 13th- and 14th-century occupation across that area and along the village street at Brownings. (fn. 58) Further west, medieval settlement extended along the Fifield road perhaps as far as Tidmarsh Lane, encompassing late medieval homesteads at Cottesmore Farm, Beke's Place, and near the mill. (fn. 59) Outlying farmsteads on the eastern downlands are suggested by the 13th-century surnames 'of Heydon' and 'of Grendon', although none seem to have survived into the late Middle Ages. (fn. 60)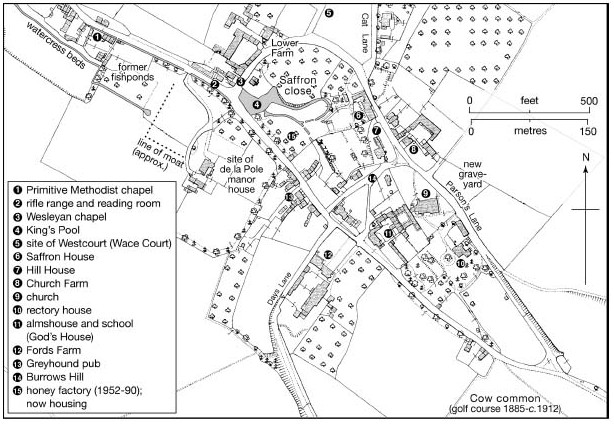 Those farms apart, late medieval depopulation (fn. 61) probably affected the density rather than the overall layout of settlement. During the 1430s–40s the de la Poles replaced buildings below the church with the brick-built almshouses and grammar school, and built or rebuilt the large manorial complex south of the village street. (fn. 62) The rest of the village was unaffected, however, and 18th-century maps confirm that settlement still extended from Tidmarsh Farm to the edge of the cow common, with houses loosely scattered along both sides of the village street and, higher up, along Parsons Lane and Burrows Hill. (fn. 63) The manor house was mostly demolished c.1612, (fn. 64) while a demesne barn near the grammar school was rebuilt as cottages c.1650–82. (fn. 65) A vacant area in Saffron Close (on Parsons Lane opposite Westcourt) resulted from a fire in 1755, which destroyed 13 houses and associated farm buildings. (fn. 66) Early street names included Court or Cat Lane (named from Wace Court) and Burrows Hill (leading up past the church), while Parsons Lane, bordering the rectory house, was formerly the 'upper road'. (fn. 67)
Outlying downland sites included Huntinglands (which had a stone house and barn by 1681) and Down Farm, probably both developed from post-medieval field barns. (fn. 68) A 'warren house' and a nearby old lodge' (near the Nuffield boundary in the south-east) were mentioned in the early 17th century, by which time the lodge had been demolished. Some of its materials were re-used in a nearby lodge at Grendon, perhaps Warren Farm in Nuffield. (fn. 69) Further north, a predecessor of Whitehouse Farm existed by 1681, set amidst the shared open fields. (fn. 70)
Nineteenth- and early 20th-century changes included demolition of Westcourt and the mill, conversion of the stream to watercress beds, (fn. 71) and increasing infill, while an isolated country mansion was built on the Downs c.1905. (fn. 72) Road surfacing transformed the alternately muddy and dusty village streets, (fn. 73) while mains electricity was available from 1932–3, (fn. 74) and mains water and drainage from c.1953, (fn. 75) replacing wells, streams, and ponds at constant risk of pollution. (fn. 76) Further change followed the development of RAF Benson from 1937 and its expansion to the Fifield road in 1942, prompting demolition of the Lamb Inn, Eyre's Farm, and several other buildings. (fn. 77) Large compounds built for service personnel from the 1960s lay mostly south of the parish boundary, however, largely preserving Ewelme's rural setting. A few council houses were built on Green Lane in the 1920s, and more off Cat Lane in the 1940s–50s, followed by small private developments at Chaucer Court (the site of Westcourt) in 1966–8, and east of King's Pool (replacing a vacated honey factory) c. 1992–3. (fn. 78) Over all the number of houses more than doubled between 1961 and 2001, (fn. 79) loss of elms in the 1970s further altering the village's appearance. (fn. 80) The watercress beds, abandoned in 1988, were restored by the Chiltern Society following an appeal launched in 1999. (fn. 81)
THE BUILT CHARACTER
Ewelme's best-known buildings are the medieval almshouses, school, and church, together with the largely demolished 15th-century manor house. (fn. 82) Its farmhouses and cottages are more typical of the area, combining timber-framing (much of it in elm), flint, chalk clunch, and (latterly) brick. Those of late medieval or 16th-century origin include Old Mill House, Brownings, and Thatchings, all originally timber-framed. The first incorporates a high-status 3-bayed hall-house of late 15th-century date, which includes raised cruck trusses and was perhaps (like nearby Beke's Place) attached to a substantial medieval freehold. Floored over in the 16th–17th century and later encased in brick, it was extended into a small gentry house c.1890–1900, probably for Edward Birkett or Charles Schunk. (fn. 83) Thatchings, a smaller 3-bayed house of 1½ storeys, has a timber-framed core behind a clunch façade with brick window-dressings, and retains some early thatch smoke-blackened from an open hearth. (fn. 84) The two-storeyed Brownings, the only house south of the village stream, has been partially underbuilt in brick, and has brick infill to the framing and a half3-hipped tile roof. At the rear is a massive chimneystack constructed mostly of clunch, with squared limestone quoins. Nearby Brook Cottage (formerly Smockacre) also retains a probably 16th-century timber-framed core. (fn. 85)
Most houses seem to be 17th-century and later, (fn. 86) the majority walled in clunch or flint with brick dressings. Poor-quality timber-framing continued, however, (fn. 87) while some better façades feature patterning in red and grey brick. (fn. 88) Larger farmhouses include Fords (Plate 9), a substantial rubble and brick house of probably 17th-century origin, which was remodelled for John Lane in the 1780s and extended for the Franklins in the 19th century. (fn. 89) Probably of similar date are Lower and Church Farms on Parsons Lane and the Old Mansion at Cottesmore. (fn. 90) Surviving agricultural buildings reflect the arable-based mixed farming which characterized Ewelme from the Middle Ages. (fn. 91) A barn at Cottesmore has been dendro-dated to 1602, (fn. 92) while the 18th-century farmyard at Fords includes a former granary, stables, and nine-bay aisled barn, all now converted to other uses. (fn. 93) Two large rubble-and-brick barns formerly belonging to Westcourt are of similar date. (fn. 94) All are tiled, although thatched farm buildings were formerly common. (fn. 95) Numerous labourers' dwellings include the thatched, 1½-storey King's Pool Cottage at the bottom of Parson's Lane, enlarged by a farmer in the 1780s and let to a carrier. (fn. 96)
New 19th-century buildings included the brick-built Wesleyan chapel of 1826 (now a shop), (fn. 97) and some older buildings were remodelled or extended for better-off inhabitants, amongst them High House (with its stuccoed front, bay windows, and portico) for one of the Eyre family (fn. 98) New labourers' housing included Forge Cottages, erected next to a surviving brick- and stone-built forge with a cheap, rendered timber frame whose joists were subsequently reinforced with castiron railway lines. (fn. 99) By contrast, late 19th-century infill included some imposing 2½-storey estate cottages built on the main street around the 1880s, combining brick with decorative use of stone, and featuring gothic porches and elaborate chimneys. (fn. 100) Piecemeal additions of varying quality continued throughout the 20th century, houses on the new developments being generally of standard design. (fn. 101) A functional brick-built village hall was erected in 1981, and acquired an external mosaic (by a local artist) in 2000, depicting village scenes. (fn. 102) Outside the village, a large mockTudor mansion designed by Walter Cave was built at Ewelme Downs in 1905, commanding spectacular views, (fn. 103) while Whitehouse Farm ('new erected' in 1803) was remodelled in 1891, and extended northwards (as a private house) in 1990. (fn. 104)
Almshouses and Grammar School (fn. 105)
The almshouses and associated school were built by William and Alice de la Pole in stages between 1437 and the mid 1450s, alongside construction of a lavish new manor house and substantial remodelling of the church. (fn. 106) The earliest phase (probably completed by c.1442) was the almshouse cloister immediately south-west of the church, followed by an abutting grammar masters house running down the slope to a battlemented gateway and, at the bottom of the slope, the school. Like the manor house the buildings incorporate some of the earliest brickwork in the county, its use becoming more extensive in the later phases. (fn. 107)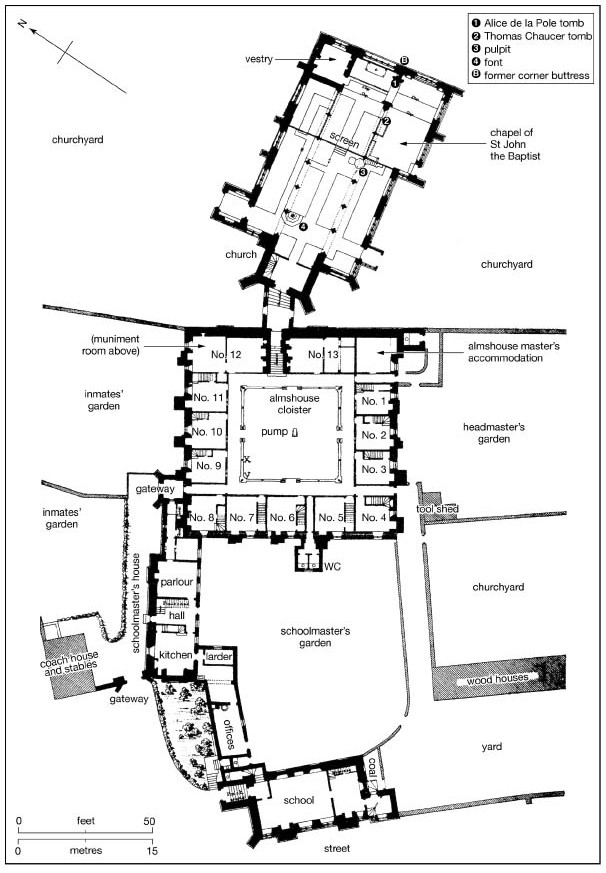 As first built the almshouse cloister (Fig. 59) included accommodation for 13 almsmen, ranged around a courtyard and accessed from a covered walkway with a pentice roof. (fn. 108) Eleven of the units comprised a single upstairs and downstairs room linked probably by a recessed stair or ladder, with a stone window (possibly glazed) in the external wall, a timber-mullioned window to the cloister, and a fireplace possibly on each floor. Two units in the north-east range comprised adjoining ground-floor rooms. Between them a stairway leads up to the church through a covered passage, flanked on the left by a first-floor common hall, and on the right by what appears to have always been the almshouse masters accommodation. (fn. 109) The hall retains its original roof and a fireplace against the north wall; its westernmost bay was partitioned as a strong-room, probably by 1459–60 when alterations were made to the 'inner chamber'. (fn. 110) The masters accommodation was probably also heated and possibly included a ground-floor kitchen, but later alterations have obscured its layout. The cloisters external walling is mostly rubble (formerly rendered), with brick used sparingly and for effect, while roofs were tiled from the outset. The central well is original, and was replaced with a pump by the 1820s. (fn. 111)
The south-west porch (Plate 13), with its Flemish-inspired decorative brickwork, is an addition associated with the adjoining domestic range, which was probably allocated to the grammar master from its construction and may have also included rooms for guests and entertainment. The 15th-century part comprises a three-bay timber-framed house encased in contemporary brick, with a narrower annexe of similar construction linking it to the cloister through surviving 15th-century doorways. Blocked windows are visible in the north-west wall, and a massive chimney stack in the south-west gable wall is original. The roof was originally open to the apex, and some timbers at first-floor level retain traces of early 16th-century painted decoration. (fn. 112) A two-storeyed block at the south-east corner was added in 1773–4, (fn. 113) when the older part was remodelled and probably refenestrated.
The two-storeyed brick-built school (Plate 12) (fn. 114) appears to have originally been freestanding, and though functioning by c.1454 may have been the last part to be completed. Stone-mullioned windows with distinctive pointed-arched lights and cinquefoil heads light each floor, and the south front (to the street) features two massive chimney stacks, one with diaper patterning. Heraldic shields displaying the de la Pole, Chaucer, and Burghersh arms are modern replacements of 15th-century originals. Entry is through a heavily altered two-storey porch in the west gable, to the north of which are remains of a medieval spiral stair; the upper floor remains open to its fine timber roof, which has double rows of purlins with windbraces, and moulded arch-braced collar trusses. Both floors were heated, one (perhaps the upper) probably originally providing dormitory accommodation, and the other the main teaching space. (fn. 115)
Periodic repairs to all the buildings were noted from the 16th century, including unspecified (but probably largely cosmetic) alterations to the cloisters and walkway, renewed fenestration, and reordering of the cottage interiors and almshouse masters accommodation, while a clock was mentioned c.1567–1723. (fn. 116) Nonetheless the fundamental layout remained unaltered until a major remodelling in 1970, which reduced the original 13 units to eight. (fn. 117) The school (largely derelict in the early 19th century) was reordered as a National schoolroom c.1830 and subsequently as a primary school, necessitating new stairs and other internal alterations. (fn. 118) The former schoolmasters house (linked to it by a low service range by the 1820s) (fn. 119) became part of the school in 2010, and new classrooms were added on the east in 1999. (fn. 120)
MANORS AND ESTATES
Ewelme belonged in the late Anglo-Saxon period to the Benson royal estate, (fn. 121) from which four separate Ewelme manors were carved before 1086. Their high Domesday assessment (20¾ hides) suggests that some parts lay outside the parish, (fn. 122) and in the 13th century they included woodland near Bix, premises at Roke, and land at Cookley in Swyncombe. (fn. 123) Before the early 14th century the manors were combined into two large estates held by the resident Burghersh and Wace families, and from the early 15th those were merged by the Chaucers and their successors the de la Poles, dukes of Suffolk, who built a lavish new manor house.
After the family's fall the manor forfeited to the Crown, which in 1540 made it the centre of an honor combining the estates of the duchy of Cornwall with the ancient honor of Wallingford. (fn. 124) Ewelme manor itself was sold piecemeal in 1627–8, the Crown retaining only the lordship, the manor house, and what became Warren farm in Nuffield; much of the remaining land became focused on Wace Court or Westcourt (one of the earlier manor houses), and passed in the 18th century to the mostly non-resident Cope family. In 1840 they owned 1,183 a. (just over half the parish), let mostly to tenant farmers. The rest was divided among three sizeable Ewelme freehold farms, some large Benson farms, and more than 40 smaller holdings. (fn. 125) The Crown sold its remaining property in 1817, and the Westcourt estate (following some further enlargement) was largely broken up in the late 19th century.
MANORS TO 1434
The Despenser-Burghersh manor
In 1086 an estate of 4¾ (later 5) hides was held by the king's servant Robert son of Ralph. (fn. 126) The Despensers of Great Rollright acquired it in or before the 12th century, holding it with land in Gloucestershire by serjeanty of acting as the king's despenser or steward: probably the lordship passed to Simon (fl. 1120–30), Thurstan (fl. 1153–77), and Aumary Despenser (fl. 1180–1204), and in 1217 (after various custodies) to Aumary's son Thurstan (d. 1249), (fn. 127) followed by his widow Lucy. (fn. 128) By then the family's Ewelme holdings included an additional ½ knight's fee held of the earl of Oxford and 1/10 fee held of the honor of Nottingham Peverel, making them Ewelme's largest landholders. (fn. 129) In 1265 Thurstan's son Adam (d. 1295) forfeited his lands for involvement in the Barons' revolt, and in 1267 paid £500 for their recovery. By the 1290s he was in financial difficulties, and in 1294 he sold the manor to the royal clerk John Bacon. (fn. 130)
In 1297 Bacon enfeoffed his brother Sir Edmund (then overseas on royal service) for £20 annual rent. (fn. 131) Edmund was granted free warren in his demesne lands of Ewelme in 1310, and the following year settled the manor on himself and his wife Joan; (fn. 132) their daughter and heir Margery predeceased them, and on Edmund's death in 1336 his son-in-law William de Kerdeston (d. 1361) obtained custody during the minority of his and Margery's daughter Maud. (fn. 133) She and her husband John de Burghersh were in possession by 1343 when their son John was born at Ewelme, but both died in 1349 presumably from plague. Wardship and manorial revenues were granted to relatives until 1366, when the younger John secured possession. (fn. 134) He died in 1391 leaving two underage daughters, of whom Maud (d. 1437) married Thomas Chaucer (d. 1434), eldest son of the poet Geoffrey, and himself a prominent politician and administrator. (fn. 135) Maud's sister Margaret and her husband John Arundel (d. 1423) gave up their half-share in 1417 in return for £8 13s. 4d. annual rent. (fn. 136) Chaucer expanded his estate by buying the other Ewelme manor (below) and the neighbouring manor of Swyncombe, where he created a park, and at his death he held over 1,000 a. of demesne in the two places. By then the former Despenser manor was held as ¼ knights fee rather than by serjeanty. (fn. 137)
The Wace manor
A separate 5½-hide estate was held in 1086 by the Norman tenant-in-chief Walter Giffard, and of him (with other Oxfordshire manors) by Hugh de Bolbec. (fn. 138) Half of the Giffard estates passed in the 1190s to the earls of Pembroke, who remained overlords in the 1240s. The Bolbec tenancy passed with the barony of Whitchurch (Bucks.) to the de Veres, earls of Oxford, whose overlordship continued in 1372. (fn. 139)
William Wace occupied the manor as a knights fee by the 1220s-40s, (fn. 140) and he or a namesake was lord in 1279. Besides its detached woodland the manor then included a holding at Cookley Green in Swyncombe, occupied by a free tenant as ⅓ knights fee. (fn. 141) Gilbert Wace was mentioned in 1309–10 (fn. 142) and another William in the 1320s–50s, (fn. 143) his son Sir Gilbert succeeding before 1360. That Gilbert served in various official capacities, and also rented the Despenser manor for 20 marks a year. In 1397, when old and infirm, he conveyed most of his lands to Thomas Chaucer for a £20 life annuity, and following his death c.1409 the Wace manor remained part of Chaucer's Ewelme possessions. (fn. 144)
A separate ½ knight's fee, held of the earldom of Oxford by the Despensers in the 13th century, derived presumably from the same Domesday estate. It seems to have subsequently become part of the Burghersh and (later) Chaucer manors, along with 3 yardlands belonging to the earldom. (fn. 145)
Other manors
Of the two other Domesday estates, one (rated at 8 hides) was held before the Conquest by Ulf, and after it by the Fleming Gilbert of Ghent (de Gand) and his tenant Robert of Armentères. (fn. 146) Appurtenances included a house in Wallingford. (fn. 147) The overlordship remained with the Ghent barony of Folkingham (Lincs.), which was divided among coheiresses in 1298. The Armentères' interest descended through the male line until the 1270s, when it passed through marriage to the de Lisles of Kingston Lisle (Berks.). Their interest was still recorded in the 1360s. (fn. 148)
By the 13th century the 8 hides had been divided into smaller estates held of the overlords by undertenants. Organus Pipard held a knight's fee of the Ghents in 1235–6, which passed by 1242–3 to Henry son of Robert, and by 1279 to Henry's unnamed heirs. By then it was reckoned at ½ knight's fee and contained 3 hides made up mostly of free tenures, of which some (held by Walter of Huntercombe and Bec abbey) lay possibly in Nuffield or Swyncombe. A separate Ghent estate, reckoned in 123 5–6 at ¼ knight's fee, was held by the de Sandford family, and in 1279 (when held of the earl of Oxford) comprised 4 yardlands held by 11 free tenants. Other Ghent/ Armentères lands were held by Henry son of Judocus (¼ knight's fee in 1235–6) and Robert de Haltested' or Halensted' (⅓ fee in 1242–3), while William Wace held some small parcels in 1279. (fn. 149) All those estates were apparently absorbed into the two main 14th-century manors. (fn. 150)
The fourth Domesday estate, assessed at 2½ hides, was held in 1086 by Ranulf Peverel (d. c.1091), a major tenant-in-chief in East Anglia. Ranulf's son William died before 1129/30, when most of the family's estates were back in Crown ownership. (fn. 151) The manor was not mentioned later, and was probably absorbed into the Despenser-Burghersh holdings. (fn. 152)
A separate ½ knight's fee held by the Montsorel family in the 13th century was apparently derived from a 2-hide estate held by Theoderic the goldsmith in 1086, when it was recorded under Benson. The fee was held of Hampstead Norris manor (Berks.), where Theoderic also had property. (fn. 153) The overlordship passed with Hampstead to the Cauz and Sifrewast families, of whom John de Montsorel held the estate in 1242. (fn. 154) William de Montsorel still held it for scutage in 1285, (fn. 155) but it too seems to have become absorbed into the other manors.
EWELME MANOR FROM 1434
After Thomas Chaucer's death the combined Ewelme and Swyncombe estate passed first to his widow Maud and in 1437 to their daughter Alice, the wife of William de la Pole, earl (and later duke) of Suffolk. (fn. 156) In 1440 the de la Poles added adjoining land in Nuffield, south of Ewelme Downs, (fn. 157) where they probably created a warren. (fn. 158) Their Ewelme building projects were interrupted by Williams exile and assassination in 1450, but Alice successfully preserved the ducal estates, largely by abandoning the family's long-standing Lancastrian loyalties in favour of new Yorkist alliances. In 1475 she was succeeded by her son John (d. 1492), 2nd duke of Suffolk and brother-in-law to both Edward IV and Richard III. (fn. 159) He was succeeded by his younger son Edmund, who was demoted to the rank of earl by Henry VII and fled abroad in 1501, prompting seizure of his estates. Formally attainted in 1504, he was imprisoned from 1506 and executed in 1513. (fn. 160)
Ewelme was one of several manors vested in trustees for the life of Edmund's widow, (fn. 161) but the Crown nevertheless administered the manor directly. (fn. 162) In 1525 Henry VIII granted it to Charles Brandon, duke of Suffolk, with appendages in neighbouring parishes, but in 1535 demanded its return in exchange for lands elsewhere. (fn. 163) Subsequently it formed part of the settlement on Princess Elizabeth (later Elizabeth I) in 1550, (fn. 164) and on Charles, Prince of Wales (later Charles I) in 1619. (fn. 165) In 1627–8 the Crown sold it piecemeal, (fn. 166) retaining various fee farm rents which were also later sold; (fn. 167) otherwise it kept only the manor house site (11½ a.) with its much-reduced buildings, the warren (137 a.) in Nuffield parish, and manorial rights, including certainty payments and a few small quitrents. (fn. 168) All those premises and rents were leased, for much of the 18th century to the non-resident Hucks family, (fn. 169) and in 1817 they were sold with remaining Crown property in Wallingford and vestigial rights associated with the honor of Ewelme. (fn. 170) The lordship of Ewelme was bought separately from the house and land, first by Jacob Bosanquet and in 1821 by the earl of Macclesfield, whose successor was still deemed lord in 1939. (fn. 171)
THE WESTCOURT (WACE COURT) ESTATE
Following the break-up of Ewelme manor a large estate became centred on Wace Court or Westcourt, the former manor house of the Wace family. (fn. 172) By the early 16th century Wace Court farm was a major leasehold of c.368 a., made up chiefly of former demesne and let on long leases to gentry or their subtenants. (fn. 173) In 1628 it was sold to the tenant Bartholomew Hone for £400, reserving £25 17s. 4d. rent to the Crown; (fn. 174) the rent was later sold, and remained payable in the 19th century. (fn. 175) Hone mortgaged the estate, and after his death in 1650 his widow and sons sold it to Francis Martyn of Over Winchendon (Bucks.), who moved to Ewelme and added other properties. By his death in 1682 the estate covered c.1,265 a., half of it inclosed, and was held with several fee farm rents from other estates. Under Martyn's will the estate was briefly divided amongst relatives, but from 1683 it was reunited by Thomas Tipping of Wheatfield, who settled at Westcourt and served as MP for Oxfordshire and later for Wallingford. In 1687 he sold the estate to his brother William, who enlarged it further and died in 1729. His successor was his granddaughter Penelope, the only child of his daughter Penelope and her husband the Hon. Harry Mordaunt. (fn. 176)
Penelope (d. 1737) married Monoux Cope (d. 1763), eldest son of John Cope, Bt, of Bramshill (Hants). From them the estate descended with the baronetcy, passing to John Mordaunt Cope (d. 1779), his cousin Richard (d. 1806), Richard's nephew Denzil (d. 1812), and Denzil's brother John (d. 1851). (fn. 177) Under family trusts Denzil's widow Dorothea received a £500 annuity, and by her will left the reversion after Johns death to her nephew Francis William Lock Ross (d. c.1861). He left it to his wife Anna Maria (d. 1865) with remainder to his cousin Henry William Francis Greatwood, who in 1875 sold it for £39,000 to Thomas Taylor of Aston Rowant. After the 1730s–40s none of the owners lived in Ewelme, and the estate (1,180 a. in 1875) was mostly let to tenant farmers. (fn. 178) Taylor (d. 1892), a Lancashire mill owner, built up extensive estates in the south-west Chilterns, (fn. 179) and in Ewelme added Eyres farm (c. 200 a.) and Cottesmore farm (157 a.) and some cottages and gardens, along with Ewelme Park farm in Swyncombe. (fn. 180) From 1881 his property was increasingly mortgaged, (fn. 181) and c.1890–2 the Ewelme estate was sold off in parcels, chiefly to tenants. (fn. 182)
MANOR HOUSES AND RESIDENCE
Ewelme's Domesday lords held extensive estates elsewhere, but as all four manors had land in demesne they probably included manor houses. The Waces resided from the 12th or early 13th century to the early 15th, (fn. 183) and the Despensers and their successors to the mid 14th, (fn. 184) followed, from the 1390s, by the Chaucers and de la Poles. (fn. 185) The latter built a lavish new house which, during the 16th century, became an occasional royal residence. (fn. 186)
The Waces' house occupied a site adjoining Parsons Lane on the villages north-western edge. (fn. 187) The location of the Despenser–Burghersh manor house is unknown, but may have been partway down the hillside below the church, where excavation uncovered a substantial flint and mortar wall with late 13th- or early 14th-century finds; (fn. 188) if so the buildings had gone by the 1430s-50s when they were replaced by the almshouses and school, (fn. 189) leaving a large demesne barn nearby. (fn. 190) An alternative site is that of the de la Poles' large moated complex in the village's lower part, (fn. 191) though whether that overlies earlier manorial buildings is unknown.
With the manors' gradual unification most of the earlier sites presumably became redundant. The Waces' house survived as a farm- and (later) gentry house, but from the mid 15th century Ewelme's only manor house was that built by the de la Poles. Most of the buildings there were demolished in the early 17th century, leaving a fragment which was remodelled as a private house in the 1830s.
Ewelme Manor House ('Ewelme Palace') (fn. 192)
The House to 1612 The de la Poles' new manor house was a lavish aristocratic complex, (fn. 193) influenced in part by Henry VI's buildings at Eton College (with which William de la Pole was involved), and making extensive use of brick, which was still virtually unknown in Oxfordshire. (fn. 194) Building probably began in the mid 1440s after William became a marquis, (fn. 195) and the family was regularly resident thereafter. (fn. 196)
The 15th-century buildings (fn. 197) were grouped around two adjoining courtyards south of the village street, the main domestic ranges within a moat, and ancillary buildings around a base court to the east. Entry was through a two-storeyed gatehouse probably on the base court's east side. The main house seems to have been quadrangular, with a regular and probably symmetrical groundplan incorporating a great hall, parlour, chapel, and (apparently) separate suites of rooms for male and female members of the household. (fn. 198) Like Eton's Cloister Court it was brick-built with stone windows, doorways, and buttresses, and was richly furnished with tapestries and painted or moulded family devices, (fn. 199) while the hall was spanned by unusual wrought- or cast-iron beams. (fn. 200) A keeper of the garden mentioned in the 1530s suggests landscaping, (fn. 201) and in 1649 an orchard west of the moat contained ten regularly arranged fishponds which survived in 1817. (fn. 202) A 'fair park' mentioned by Leland was probably Ewelme park up on the downs. (fn. 203) Following the Crowns seizure of the de la Pole estates the house became an occasional royal residence. Henry VIII stayed there in 1518 and on several later occasions, (fn. 204) its convenient location being presumably one of the reasons he recovered the manor from Charles Brandon. Brandon himself lived there regularly from 1525–35, and claimed (besides enlarging Ewelme park) to have spent £1,000 on the house, although the king insisted that the buildings still needed expensive repair. (fn. 205) Elizabeth I visited in 1568 and 1570, but by then the buildings were increasingly run down, and by 1609 they were 'ruinous and totally decayed'. (fn. 206) Most were demolished soon after 1612 when a detailed survey was made of the buildings and fittings, leaving the gatehouse (removed before 1649), and a single brick lodging range which formerly closed the base courts south side, preserved only because sale of materials was thought unlikely to cover the cost of demolition. (fn. 207)
The Site from 1612 Though in Crown ownership until 1817, from the 17th century the site was leased to non-resident gentry with the warren and, by the 18th century, with the remains of Wallingford Castle. (fn. 208) The Ewelme premises were sublet to local tenants, who exploited the grounds and fishponds and used the former lodging range for menial purposes: in 1649 part was a pigeon house, and before 1715 part was used as a laundry. (fn. 209) The ranges higher-status western part was used for manor and honor courts by the early 17th century and, under the terms of Crown leases, into the 18th, (fn. 210) one reason, perhaps, for its survival. In 1786 the range was adapted to accommodate parish paupers. (fn. 211)
In the 17th century the lodging range still contained five rooms on each floor, adjoining the 'house' or room where the manor courts were held. Access was originally by an external wooden gallery, which survived in 1612. (fn. 212) A drawing of 1729 (Fig. 54) shows a long two-storeyed block with upper and lower rows of doors and windows, each serving a two-bay room heated by chimney stacks in the rear wall; a small roof-opening near the east end perhaps reflected the range's brief use as a pigeon house. A grander door and window at the west end marked the three-bayed upper hall in which the courts were presumably kept. (fn. 213) By 1821 much of the range had lost its upper storey, leaving only the two westernmost lodging rooms (one on each floor) and the upper hall. Those retained their medieval north doorways and some medieval window-openings, together with a puzzling post-medieval chimney stack on the western gable above three tiers of windows. (fn. 214)
The site was bought in 1817 by Edward Rudge (d. 1835), (fn. 215) whose son Edward remodelled the ranges west end as a small gentry house which he occupied with his family and servants. (fn. 216) The interior was completely reordered, creating a central entrance hall with a projecting brick porch. Service ranges at the rear were added or remodelled, a new staircase was inserted, and sash windows replaced the surviving medieval openings, of which some remain visible in outline. The rest of the range was removed around the same time, and the moat and fishponds filled in. (fn. 217) The houses three westernmost bays retain the high-quality 15th-century arch-braced roof of the former courthouse, incorporating a double row of purlins supported by sharply curved wind braces, while the houses eastern part (over the former westernmost lodging chamber) retains a 15th-century roof of different character. (fn. 218) In 1868 the premises were acquired by the Ewelme Almshouse Trust, (fn. 219) which leased it to resident tenants and remained the owner in 2015. An extensive restoration was carried out in 1975–6 under the supervision of Messrs King and Chasemore. (fn. 220)
Wace Court (Westcourt)
Wace Court (so called by the 1430s) (fn. 221) was the Wace family's principal residence probably by the 13th century. In 1434 both it and the Burghersh site were reportedly worth nothing, (fn. 222) but the Chaucers must have occupied one of them, and Wace Court continued as a leasehold farmhouse following the building of the de la Poles' new complex in the 1440s. Lessees included Thomas Spyer (fl. 1515), in 1522 the courtier Henry Norris (who served as bailiff, woodward, and keeper of the park), in 1535 the duke of Suffolk's steward Thomas Carter, and from 1571 members of the Mercer family, (fn. 223) who evidently lived there. (fn. 224) In 1609 the buildings included a six-bay dwelling house, five- and six-bay barns, a stable, and a dovecot, brewhouse, and gatehouse. (fn. 225) The Hones lived there by the 1620s, (fn. 226) followed from c.1650 by Francis Martyn, who largely rebuilt it. In 1662 it was taxed on 19 hearths, and at his death was described as a 'new brick house' with a 'well-planted' walled garden, three great barns, six stables, a pigeon house, and two yards surrounded by farm buildings. (fn. 227) Mid 18th-century drawings show a south-facing H-shaped house of two storeys and attics, opening to a forecourt garden. The central hall was flanked by projecting parlours and dressing rooms, with services around a rear courtyard and barns and cottages in two large yards to the west. (fn. 228) The Tippings lived there until 1729, followed by Monoux and Penelope Cope, (fn. 229) but by the 1750s the farm buildings were let to local farmers and the house to Hildebrand Jacob (d. 1790), Bt, (fn. 230) who laid out an avenue of limes to the east. (fn. 231) After his death the site was leased to farmers and as school accommodation, (fn. 232) and though the house was reportedly still standing in the 1850s, by the 1870s it had been demolished, leaving adjacent agricultural buildings and a cottage called The Mount. (fn. 233) In the 1960s a new housing estate (Chaucer Court) was built on the site, and The Mount was demolished, surviving barns being converted for domestic use. (fn. 234)
OTHER ESTATES
Ewelme's manors included numerous free tenancies by the 13th century, although few exceeded a yardland or are traceable as stable holdings. (fn. 235) By the 15th century several large leaseholds were also emerging, (fn. 236) of which some became sizeable freeholds following the manors break-up in 1627–8.
'Cottesmoreslondes' (mentioned from 1476) belonged presumably to the medieval Cottesmore family, recorded as prominent landholders from the 14th century to the 16th. (fn. 237) By the 1510s 'Cottesmore farm' was let on long leases for £6 (later £6 10s.) a year, and in 1609 totalled 270 a.; 16th-century tenants included members of the locally important Simms, Spindler, Slythurst, and Marmion families. (fn. 238) In 1627 it was sold to the tenant Andrew Field, reserving the fee farm rent to the Crown, (fn. 239) and in 1673 it was among Ewelme premises sold by Gilbert Crouch, gentleman, to the judge Sir Matthew Hale, (fn. 240) whose son Edward (d. 1682) and his descendants lived there until the 1740s. (fn. 241) The estate passed later to the farmer William Read (d. 1767) and his descendants the Greenwoods and Heaths, between whom it was divided in the 1770s-80s. (fn. 242) In the later 19th century it was absorbed into Thomas Taylor's Ewelme estate as a 157-a. farm. (fn. 243)
A comparable holding was accumulated by the medieval Beke family, who were recorded in the 14th and early 15th century (fn. 244) and lived presumably at Bekes' Place on the Fifield road. (fn. 245) By the 1510s the 'tenement and lands called Bekesplace' were let for £4 2s. to the Haywards and (later) Hatchmans, and in 1627 they were sold to George Carleton, gent, passing by the 1650s (with over 100 a.) to Mary Dunch of Newington. (fn. 246) In 1699 the freehold was bought by Charles Eyre of Goulds Farm, one of a prominent family of Benson and Ewelme yeomen who were already lessees. Thereafter it became part of the emerging Eyres farm, an accumulation of freeholds which exceeded 200 a. by 1840 and 300 a. in 1874, when it was bought by Thomas Taylor. (fn. 247) The Eyres' main farmstead was at the bottom of Eyres Lane, and Bekes' Place (latterly called the Tavern House from its proximity to the Lamb Inn) was demolished in 1876. (fn. 248) The holding still owed a fee farm rent of £8 4s. (then payable to Francis Martyn) in 1682. (fn. 249)
The third major freehold in 1840 was Fords or Days farm (then 161 a.), focused on a large 17th- or 18th-century farmhouse in the village's lower part. (fn. 250) Presumably it derived from a leasehold called Fords Place by 1515, (fn. 251) or from an apparently different leasehold occupied by Thomas Ford for 305. rent in 1609 and sold in 1627. (fn. 252) The holding subsequently passed from Francis Martyn (d. 1682) of Westcourt to his nephew Edward, (fn. 253) and to the prosperous Ewelme yeomen John (d. 1701) and Robert Day (d. 1728), (fn. 254) followed before 1745 by the Bruchs of Wallingford. (fn. 255) They leased it until 1784 when it was sold to the Ewelme farmer John Lane (d. 1790), followed by his relatives the Franklins and, from 1904, by the Edwardses, (fn. 256) who remained there in 2013.
A holding focused on the outlying Whitehouse Farm was separated from the Westcourt estate in 1631, passing to the Blackalls and, in 1803, becoming part of the Lowndes Stones' Brightwell estate. Known formerly as Cadwell's, it may have derived from lands held of the Despensers by Roger of Cadwell in 1279, and by 1681 included a house surrounded by 20 a. of inclosures. (fn. 257) The name Whitehouse was established by 1767. (fn. 258) A few acres owned by Magdalen College, Oxford, in 1840 belonged to its Berrick Salome and Benson estates, while a 107-a. estate at Westwood farm, acquired in the 18th century by the Freemans of Fawley Court (Bucks.), lay in Ewelme's detached part adjoining Bix and Nettlebed. (fn. 259)
ECONOMIC HISTORY
THE AGRICULTURAL LANDSCAPE (FIGS 4 AND 50)
The parish's varied landscape extends from the vale to the Chiltern foothills, suggesting a planned allocation of resources when Ewelme's late Anglo-Saxon estates were created. (fn. 260) Open-field arable dominated the western part until 1863, the parish's strips either scattered amongst the large shared fields of Benson, Ewelme, and Berrick Salome, or lying more closely grouped within the 'home parish'. (fn. 261) A surviving common occupies a shallow valley south-east of the village, beyond which rise Ewelme Downs and Huntinglands, both inclosed for pasture by the 15th century. Limited meadow was available near the village stream and in detached areas by the Thames and river Thame, (fn. 262) while fishponds were mentioned in the Middle Ages, (fn. 263) and private fishing rights in the stream in the 19th century. (fn. 264) Detached woods lay near Bix and in neighbouring Swyncombe, which was held with Ewelme in the later Middle Ages.
In 1840 the parish was 85 per cent arable, with around 1,000 a. (almost half the cultivated area) still lying in open fields. (fn. 265) The proportion of pasture was probably greater in the late Middle Ages, with downland closes used for grazing. Even so, extensive arable most likely characterized Ewelme for much of its history.
Open Fields, Pastures, and Meadow
Ewelme may have had its own core fields (distinct from Benson's) by the 13th century, when land near the mill lay in 'Ewelme fields'. (fn. 266) By the 17th or 18th century there were at least eight 'home fields' of varying size, including Home and Merrycroft (later America) fields north-west of the village, Grove, Middle, and Gravel Pit (earlier Church or Warren) fields to its north and north-east, and Clay, Rabbits Hill, and Monday (or Munday) fields to its south. Warren Bottom field lay east of Warren Bottom road. (fn. 267) In 1771 the home fields were reckoned at 1,260 a. and formed three groups, each following a separate four-course rotation. The westernmost group included Scaldhill field (shared with Benson and Berrick Salome), but otherwise the fields formed an independent unit. (fn. 268) Nevertheless many Ewelme holdings included additional strips in the shared fields. (fn. 269)
By the mid 18th century the home fields included some sizeable blocks of consolidated land, which may have included medieval demesne. (fn. 270) Smaller strips of ½ a.–2 a. survived into the 19th century, but consolidation continued during the 1840s-60s, facilitated by the fact that much of Ewelme remained in single ownership. By the 1880s the fields (though never formally inclosed) (fn. 271) had been thrown into a few large private closes, and in 1891 the changed landscape was recognized in a new tithe apportionment. (fn. 272)
Common grazing was permitted after harvest in both the shared (or 'intercommoning') and home fields, (fn. 273) while some private closes were commonable from Lammas (1 August). (fn. 274) Permanent pasture included the 53-a. cow common by the village, (fn. 275) which by the 17th century belonged to the Westcourt estate, and was open for parishioners' cattle from March or May to 29 September. The rest of the year it was grazed by sheep, but appears (as later) to have been reserved for the owner of Westcourt or his lessee. (fn. 276) A similar arrangement continued in the 1880s, when 13 farmers retained a total of 58 cow commons there from 12 May to 11 October. (fn. 277) Additional commoning was allowed in the warren at Grendon (in Nuffield parish), which belonged to Ewelme manor from the 15th century; in 1721 (when the land became arable) £4 of the rent was awarded to Ewelme's common herdsman in recompense, and by 1817 the lessee was required to provide a bull for Ewelme cow common. (fn. 278) Disputes over commons arose intermittently from the Middle Ages, (fn. 279) and in 1898 attempts to undermine smaller freeholders' rights on the cow common met with strong opposition. (fn. 280)
The largest common meadows lay outside the home parish near the Thames, where those with strips in the shared fields presumably had rights. (fn. 281) Meadow in Ewelme itself was confined chiefly to small demesne parcels, including 28 a. itemized in 1086; (fn. 282) a reported 80 a. of 'hilly meadow' in 1356 was more likely inclosed downland pasture, (fn. 283) although Cottesmore and Westcourt farms each had 11 a. of private meadow in the 17th century. (fn. 284) The meadows' scarcity attracted high prices, with some on the Chaucer manor in 1434 valued at 12d. an acre compared with 2d. for arable and 1d. for pasture. (fn. 285)
Early Indosures, Parks, and Warrens
By the late 18th century the home parish included 800 a. of inclosures chiefly on the eastern downlands, with some others around the village and at Cottesmore. (fn. 286) Most probably dated from the later Middle Ages, when the Wace and Burghersh manors included an estimated 260 a. of inclosed demesne pasture probably also on the downs. (fn. 287) The chief motive was presumably sheep grazing, though the name Huntinglands (for a 100-a. area in the north-east) may indicate an undocumented park; (fn. 288) the nearby Ewelme park (in Swyncombe) was certainly established in the early 15th century, and the name King's Standing (on Ewelme downs) may imply its later encroachment into Ewelme. (fn. 289) An adjacent rabbit warren at Grendon (in Nuffield) was probably created after the de la Poles acquired land there in 1440, (fn. 290) and later warrens at Rabbits Hill and Middle Hill were probably also medieval, the Middle Hill warren covering 55 a. in 1649. (fn. 291) From the 17th century the inclosed downlands (c. 500 a. in all) belonged to the Westcourt estate, and formed the basis of some large leasehold farms. (fn. 292)
Some large closes further west were probably associated with the Waces' medieval manor house, the mill, or the medieval farms at Cottesmore and Bekes' Place. (fn. 293) A few crofts were mentioned from the 13th century, (fn. 294) and in 1609 several copyholders had small pasture closes adjoining their houses. (fn. 295) Otherwise the only sizeable private closes were consolidated holdings in the open fields, estimated at 155 a. in 1771. (fn. 296)
Woodland
Three of Ewelme's manors included woodland in 1086, (fn. 297) although much may (as later) have lain outside the parish. William Wace's 60 a. in 1279 was probably at Westwood (formerly Wace's wood) near Bix, while a Wace tenant at Cookley had 32 a. presumably in Swyncombe. (fn. 298) Another 30 a. on the Despenser and Pipard manors may have been in Swyncombe or at Heydon on the Ewelme-Swyncombe boundary (fn. 299) Much larger amounts of woodland were recorded in the 15th century when Swyncombe and Ewelme manors were held together, but its whereabouts were not specified. (fn. 300)
Adam Despenser's tenants in 1279 included Jordan the forester, (fn. 301) and in the 14th and 15th centuries the woods, though not especially valuable, provided demesne wood-pasture and coppice wood. (fn. 302) In the 16th and early 17th century the Crown appointed high-status keepers to administer the Ewelme manor woods in Swyncombe and beyond, (fn. 303) and by then there were periodic timber sales to the navy or for making buildings, barrels and boards. (fn. 304) Ordinary tenants may have benefited less from the woodland, although in 1535 a lease of Wace Court included the right to take firewood and timber for repairs from Swyncombe wood, (fn. 305) and in 1555 a Ewelme yeoman killed a neighbour with a forest bill. (fn. 306) In the 1570s the woods were generally coppiced on a 7-year cycle, (fn. 307) and in 1623 comprised beech and oak. There were then 'diverse husbandmen desirous to buy [trees] for their necessary uses', the woods lying 'near unto the vale country'. (fn. 308)
The detached woods were separated from Ewelme manor in the early 17th century, (fn. 309) leaving only hedgerow trees and a few small shaws within the parish. Closes adjoining Ewelme manor house in 1649 included 94 elms and 20 'short trees' for fuel, (fn. 310) while Westcourt had a few small orchards and copses. (fn. 311) By the 1770s the only sizeable coppice was a 7½-a. shaw made up of beechwood, (fn. 312) with fuel presumably bought in or taken from hedgerows. (fn. 313) The parish contained little more woodland in the early 21st century, when there were a few small scattered plantations and a slightly larger wooded area around Ewelme Down House. (fn. 314)
MEDIEVAL TENANT AND DEMESNE FARMING
In 1086 all four Ewelme manors had demesne farms worked by up to four families of slaves or servi and stocked with 1 or 2 ploughteams, while tenanted land was divided among 23 villani and 16 lower-status bordars. Over all there were 17½ ploughteams (7 on the demesnes and 10½ shared by tenants), though as the combined manors had land for 24 ploughs they were apparently not all being fully exploited. The small Peverel manor had doubled in value since 1066 (to £4), while the others had retained their values of £5–£6. (fn. 315) An independent pre-Conquest farm may be recalled in the field name 'the Hide' (for an inclosed area north of the village street), (fn. 316) but if so it had apparently been absorbed into one of the manors.
The late 13th-century tenurial pattern was more complex, suggesting intervening fragmentation and subinfeudation, creation of free tenancies, and perhaps some over-simplification in the Domesday description. (fn. 317) Of 51 tenanted yardlands, (fn. 318) 9¼ were held in villeinage by c.15–16 tenants (most of them on the Despenser and Pipard manors), who owed rents and relatively light harvest services. (fn. 319) Individual villein holdings ranged from whole yardlands (apparently c.40 a.) (fn. 320) to ¼ yardlands, and there were a dozen or more cottagers who presumably had only gardens. The other 41 yardlands were held freely for rent and suit of court (and sometimes for hidage and scutage) by c.60 tenants, not all of them resident, whose individual holdings ranged from a few acres to 2 yardlands or more. Some such families featured amongst Ewelme's wealthier taxpayers in the early 14th century, (fn. 321) and benefited from an active local land market. (fn. 322) Large-scale demesne farming continued. Both the Despensers and the Waces had 10 or more yardlands in hand (the former under three different overlords), and woodland too was directly managed. Demesne labour was presumably bought in as required, tenant services on the Wace manor being apparently available from only two villein holdings and a few cottagers. (fn. 323)
Early 14th-century subsidies suggest that Ewelme was among the area's more prosperous and populous parishes, (fn. 324) and in 1336 the large sum of £120 was paid for custody of Edmund Bacons manor, (fn. 325) which may have yielded up to £20 a year. (fn. 326) Mid-century plagues had a long-lasting impact, however. Mortality in 1349–50 reduced the same manors free and customary rents from £4 115. to only 375. (the victims including the lord and his wife), (fn. 327) and thereafter Ewelme's population probably remained below 13th-century levels until the 18th century (fn. 328) In closure of downland in the east of the parish (for grazing and possibly as parkland) probably followed. (fn. 329) Even so rents on the combined Chaucer manors rose to £7 by 1434, (fn. 330) and demesne farming apparently continued, since in 1397 Thomas Chaucer sold nine horses and all his corn in Ewelme to the local freeholder William Beke for 41 marks (£21 6s. 8d.). (fn. 331) At Chaucer's death his combined Ewelme demesnes totalled 260 a. of arable, 260 a. of pasture, and an acre of meadow, supplemented by detached woodland. (fn. 332) By then some of the large, partly inclosed freehold and leasehold farms visible in the 16th and 17th centuries were probably also emerging. Turner's (in Benson) was mentioned from the 14th century, (fn. 333) and a settlement of de la Pole lands in 1476 mentioned various other holdings including Cottesmoreslondes (later Cottesmore farm), Brittoneslondes, Derkeslondes, Croucheslondes, and Turkevileslondes, in Ewelme, Benson, Newnham Murren, and Nuffield. (fn. 334)
The size of the open fields suggests that grain production was paramount, although a late 12th-century grant of demesne tithes mentioned corn, lambs, piglets, cheese, and wool, (fn. 335) and pastoral farming probably expanded in the late 14th and 15th centuries, particularly on the newly inclosed grazing lands. The de la Poles had long-standing connections with the international wool trade, and in 1448 William (d. 1450) became governor of the wool staple at Calais. (fn. 336) Herbage and pig-grazing in Ewelme park (in Swyncombe) was mentioned in the 16th century, (fn. 337) and tenants' common rights recorded in the early 17th century (for sheep as well as cattle) probably had medieval antecedents. (fn. 338) More generally the presence of gentry and aristocracy presumably boosted local demand and employment at least sporadically, particularly during the de la Poles' great building campaigns of the 1430s-50s. (fn. 339)
FARMS AND FARMING 1500–1800
In the 16th and early 17th century most inhabitants still occupied small or moderately sized copyhold farms, granted usually for three lives and held for modest rents, varying entry fines, and heriots payable in cash or livestock. In 1609 there were 27 such tenants, (fn. 340) of whom half a dozen had only a cottage with an acre or two. By contrast Richard Eyre and William Poxon had over 60 a. and two others over 30 a., chiefly in the common fields. Much larger were the leaseholds centred on Cottesmore (270 a.) and Westcourt farms (338 a.), the latter run by the resident Mercer family, and made up mostly of inclosed demesne. In 1581 William Mercer was Ewelme's weathiest inhabitant, and Maximilian Mercer (d. 1614) left goods worth the exceptional sum of £859, including a valuation of £600 for the Westcourt lease. (fn. 341) The parish's detached woods were generally kept in hand and administered (with Ewelme park) by high-status royal officials, though in the later 16th century they were sometimes leased. (fn. 342)
The break-up of the royal estate in 1627–8 (fn. 343) probably accelerated accumulation of larger holdings, reflected in the presence of some prosperous farmers. John Eyre (d. 1684) and John Potlock (d. 1698) each left goods worth over £100, while James Warner (d. 1677) and John Day (d. 1701) left over £200, and John Warner (d. 1685), exceptionally, £552, much of it in livestock and agricultural produce. (fn. 344) Westcourt, too, remained the centre of a large commercial farm under Francis Martyn and the Tippings, (fn. 345) though by the mid 18th century much of its land was leased. By the 1780s there were 6 or 7 substantial freehold or leasehold farms including Cottesmore (split between Richard Greenwood and John Heath), Eyres' (owned and run by Charles Eyre), Fords (let to Edward Leaver), and Tidmarsh's. (fn. 346) Fords (172 a.) was let for c.10s. an acre, fairly average for middling-quality open-field arable. (fn. 347) Thomas Heath held two formerly separate farms from the Copes (possibly 650 a.) together with Warren farm in Nuffield, and as later some Benson farms extended into Ewelme. Smallholdings continued, though by then many inhabitants were labourers with only small gardens or closes and limited common rights, (fn. 348) a situation reflected in relatively high poor relief costs. (fn. 349)
Farming remained mixed with an arable bias, though sheep-rearing and dairying were important, and dung (for fertilizer) was sometimes itemized in inventories. (fn. 350) In 1683 the large Westcourt estate supported 100 sheep and a few cows and pigs worth £80 in all, compared with 156 a. of corn worth £280. (fn. 351) James Warner (d. 1677) had nearly 300 sheep, 17 cattle, and 21 pigs, together with 48 a. of wheat, barley, peas, and vetches. (fn. 352) Similar farming on varying scales was common from the 16th century, with many lesser inhabitants owning a few livestock and poultry (fn. 353) Several farmers made cheese or cider (fn. 354) and there was some bee-keeping, (fn. 355) while lesser crops included woad, hops, and hemp, mentioned occasionally along with spinning wheels for linen or wool. (fn. 356) Malt was mentioned from the 1530s, (fn. 357) made sometimes on a commercial scale: Westcourt and several other farms had malthouses in the 17th century, (fn. 358) and in 1695 the maltster John Lane left 33 qrs worth £33. (fn. 359) Crop rotations were adjusted by common agreement in the 1780s, when it was decided to plant the 420-a. fallow with clover or other artificial grasses. The remaining cultivated fields were divided between wheat and barley (210 a. each) and beans or similar (420 a.). (fn. 360) The Eyres and Heaths were by then employing shepherds, of whom some were housed on the Downs. (fn. 361)
Markets (besides Benson) may have included Wallingford, Watlington, Henley, Oxford, and Abingdon, in all of which a Ewelme tanner was owed debts in 1556. (fn. 362) Through Henley, some malt and other produce was probably destined for London, where a few Ewelme inhabitants had family connections. (fn. 363) Individual fortunes nevertheless fluctuated. Civil War disruption seriously affected the miller and presumably local farmers, (fn. 364) while in 1755 at least 20 inhabitants suffered losses totalling £487 following a major fire. (fn. 365) A flash flood in 1749 caused damage at Fords Farm, (fn. 366) while another farmer lost £150-worth of uninsured corn and equipment in 1766. (fn. 367) Farming standards also varied, with Fords reportedly 'ill cultivated' by its lessee Edward Leaver in the 1770s-80s. (fn. 368)
FARMS AND FARMING SINCE 1800
The Greenwoods, Eyres, and Heaths continued into the 19th century, but increasingly Ewelme farming was dominated by the Franklin family. John Franklin (d. 1824) took over Fords on his uncle John Lane's death in 1790, and by 1840 his sons John, William, and Joseph farmed 1,580 a. (two thirds of the parish) as freeholders and lessees, based respectively at Fords, Lower Farm on Parson's Lane, and New (later White) House on Cat Lane. In 1851 they employed 84 labourers between them. (fn. 369) The family's dominance continued until the 1880–90s, when Fords was leased to a tenant and the incomer Herbert Orpwood (d. 1935) took over Lower and several other farms. (fn. 370) Other prominent 19th-century farmers included the Wallingford-born Thomas Bishop Greenwood (farming c.300 a. latterly from Mill House), while Eyres farm (200–250 a.) was run successively by the Heaths and Deverells, Septimus Garlick, and William Bryant, and the smaller Cottesmore farm by Greenwood and (by 1871) William Atkinson. Some leading Benson farmers (notably the Newtons) also farmed land in the parish. (fn. 371)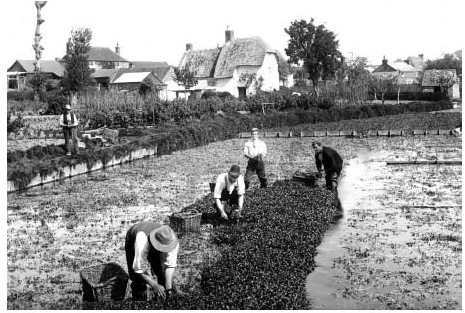 In 1830 the Franklins and John Eyre joined those opposing Thomas Newtons attempts to force inclosure of the shared open fields. (fn. 372) Consolidation of Ewelme's home fields continued piecemeal, however, (fn. 373) and when the shared fields were inclosed in 1863 John Franklin received 104 a. for his freehold land there, and a trustee under Eyre's will 82 acres. (fn. 374) Despite those changes arable-based sheep-corn husbandry continued. Cash crops (principally barley and wheat) still accounted for half the agricultural land in 1889, with another 300 a. producing fodder crops including turnips and swedes, and 177 a. of permanent grass supplemented by 268 a. planted with clover or sainfoin. Livestock included over 1,300 sheep and lambs, 145 pigs, 60 cattle (26 of them in milk), and 44 horses. (fn. 375) Some individual farms were predominantly arable, (fn. 376) though Robert Franklin, with 100 a. of pasture on the Downs, was a substantial mixed farmer. Even so by 1883 he was suffering from the agricultural depression, causing his stock to be distrained to meet rent arrears exceeding £2,000. Still farming in 1891, he moved later into non-agricultural activities. (fn. 377) New initiatives included development of a watercress business by the Smiths of Lewknor and South Weston, who were established at Brownings by 1881, and created cress beds along the roadside stream probably in stages. (fn. 378) The business continued until 1988, with cress initially transported from Watlington station for sale in the Midlands, Covent Garden, and Oxford. (fn. 379) Commercial nurseries north of the main street were established by Stewart Paget before 1899, growing cucumbers and tomatoes under glass. (fn. 380)
The Orpwoods remained Ewelme's largest farmers in the early 1940s, running 862 a. between them from Lower farm, Levers, and Huntinglands. Cottesmore farm (291 a.) was run by Oliver Medley as tenant, Fords (145 a.) by John Edwards (whose family moved there in 1902), and Down farm (286 a.) as a hobby farm by Alexander Gemmell of Ewelme Down House. The Winfields ran 139 a. with Ewelme dairy, and Brownings and Ewelme Manor had 30 a. between them (mostly pasture). (fn. 381) Some arable was laid to grass in the earlier 20th century, (fn. 382) but the parish's over-all balance remained little altered, with around a third under permanent or artificial grass in 1902, 1930, and 1941. In the latter year the parish supported 213 cattle, 406 sheep (a drop from nearly 2,000 forty years earlier), 93 pigs, and over 1,000 poultry; the chief crops were still barley, wheat, and oats, together with fodder crops and small quantities of potatoes. Four farms had tractors, and only 36 workers were employed, falling to 11 by 1960. (fn. 383)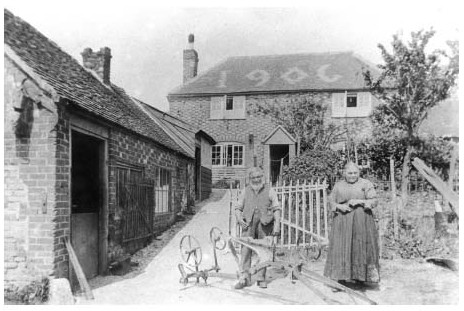 Huntinglands was acquired c.1945 by the Watlington-based Roadnight family, which used it for intensive outdoor pig-rearing. (fn. 384) The Orpwoods sold up in 1957, leaving Fords as the largest village-run farm: there, Bill Edwards (occupying 1,200 a. by 1983) specialized in cereals, pig-rearing, and beef cattle, introducing sheep from the 1960s, and trout-farming (in tanks associated with the watercress beds) in the 1970S-80S. The much-reduced farm continued in the early 21st century, run alongside a bed-and-breakfast business, and with its 18th-century farmyard buildings converted to holiday cottages. (fn. 385) Down farm was c.300 a. in 2013, though by then much of Ewelme was farmed from outside the parish. (fn. 386) Most of the area's small local markets had also closed, although some produce was sold through a recently opened farm shop at Britwell Salome. (fn. 387)
TRADE, CRAFTS, AND RETAILING
Medieval occupational surnames included smith, carpenter, and tailor, (fn. 388) and several inhabitants (including women) brewed ale. (fn. 389) A 'merchant' (John Dyer) with Henley and London connections was mentioned in 1421, (fn. 390) and an inn existed by the 16th century (fn. 391)
From the 17th and 18th centuries blacksmiths, carpenters, wheelwrights, shoemakers, and tailors were regularly recorded, with one or more of each probably operating at any given time. (fn. 392) Forges occupied various locations on the village street, (fn. 393) with another (recorded from 1673) at Cottesmore. (fn. 394) Less usual craftsmen included a tanner (d. 1556), (fn. 395) a laceman (mentioned 1684), (fn. 396) a staymaker (mentioned 1776), (fn. 397) and masons (d. 1608 and 1739), (fn. 398) while gravel pits were mentioned from the early 17th century (fn. 399) Shops became established by the 18th century, presumably selling groceries and serving both Ewelme and neighbouring parishes: in 1786 there were four between the Greyhound Inn and Tidmarsh Farm. Contemporary tradesmen included a carpenter, a wheelwright, two shoemakers, a tailor, a butcher, a baker, two carriers, and a possibly itinerant bricklayer, (fn. 400) while two blacksmiths included one of the Jacob family, recorded as smiths from the 1630s-1790s. (fn. 401)
A similar range of trades continued in 1851, when there were still 3 blacksmiths (one of whom sold beer), 2 shoemakers, 2 bakers-cum-grocers, and a tailor. Thomas Garlick at the Greyhound was both innkeeper and butcher, while the wheelwright John Hathaway (at Thatchings) had expanded into iron-founding and agricultural machine-making. A few women worked as dressmakers, and 25 (plus two men) as domestic servants. (fn. 402) Brakspear's Brewery opened a small distribution depot behind the Shepherds Hut pub before 1901, managed by the former farmer Robert Franklin, (fn. 403) and c.1900 Sidney Heather started a drapers business at London House (near the Greyhound), which included millinery and boot-repair and served surrounding villages. It continued in 1939, along with grocers' and bakers', a sweet shop, a smith and carpenter, an agricultural engineer, and a motor garage. Thereafter traditional crafts declined and, as transport improved, local shops gradually closed, one near the school briefly becoming a pottery (fn. 404) A thatcher continued in the 1980s, (fn. 405) and Ewelme Village Store (run on a non-profit basis) in 2015. (fn. 406)
After the Second World War RAF Benson provided additional employment, partly counterbalancing declining agricultural work. (fn. 407) A honey factory started at Ewelme in 1952 employed 50 local people by the 1970s, having sold its hives and switched to bottling; it closed in 1990, and moved to Wallingford. (fn. 408) Gravel-quarrying south-east of the village was intensified from 1947 by Grundon's, which later exploited the quarries for waste disposal, and in 1999 opened a nearby recycling facility (fn. 409) Ewelme Coachworks (offering commercial vehicle repair) continued behind the former garage in 2013, (fn. 410) though long before then most inhabitants worked outside the village. (fn. 411)
MILLING
Two freehold corn-grist mills were recorded in the 13th century, of which one (on the Montsorel fee) owed 2d. hidage and scutage, and the other (on the Despenser manor) 55. rent a year, paid to the Knights Templar of Cowley (near Oxford) as intermediate lords. (fn. 412) The Montsorel mill was not mentioned later, but the second (by the stream along the Fifield road) continued until the 19th century (fn. 413) By 1350 the rent was 65. 8d., paid directly to the lords of the Despenser manor, (fn. 414) and in the 16th and early 17th century the double mill and attached mill house were usually let for 21 years at £7 6s. 8d., with substantial (though varying) entry fines. (fn. 415) In the 16th century it included both malt and wheat mills. (fn. 416)
After the Crown's sale of Ewelme manor the mill passed to various owners, who let it to local millers. (fn. 417) By 1673 it was a triple mill, (fn. 418) and in the 19th century a gabled two-storey house abutted the mill buildings. (fn. 419) By then, however, lessees generally occupied a larger house across the road, using the 'mill cottage' for employees or storage. (fn. 420) In the 1840s James Ashby (d. 1849), mealman, held the mill with both houses and 36 a. from Thomas Bishop Greenwood, (fn. 421) whose family moved to Ewelme as resident farmers and millers in the 1850s. (fn. 422) Though the mill cottage burned down in 1881, (fn. 423) the mill itself apparently continued under John Slade; (fn. 424) it was finally demolished in the 1890s, when the watercress beds were extended along the millstream. (fn. 425)
SOCIAL HISTORY
SOCIAL CHARACTER AND THE LIFE OF THE COMMUNITY
The Middle Ages
Ewelme had resident lords throughout the Middle Ages. (fn. 426) In the earlier period their dominance may have been diluted by the parish's division amongst several manors, and by the presence of numerous freeholders; (fn. 427) nonetheless many belonged to a close-knit group of south Oxfordshire gentry with considerable local influence. Sir Adam Despenser (d. 1295) was related by marriage to the Rycotes of Rycote in Great Haseley, (fn. 428) and his successor Sir Edmund Bacon (d. 1336) served regularly with the king, becoming constable of Wallingford castle. (fn. 429) Gilbert Wace (d. c.1409) served as tax collector, sheriff, JP, and MP, and had close connections with the Black Princes circle in and around Wallingford. (fn. 430) The arrival of Thomas Chaucer and the de la Poles brought Ewelme within the orbit of national politics, (fn. 431) culminating in the de la Poles' lavish building campaigns (fn. 432) and bringing exalted visitors, including Henry VII in 1490 and 1495. (fn. 433) Both Chaucer and the de la Poles were also constables of Wallingford, and wielded additional parish influence as patrons of Ewelme church. (fn. 434) Chaucer almost certainly established the adjacent Ewelme park, and appears in a poem by John Lydgate as the centre of a local social circle much given to hunting and hawking. (fn. 435)
Some better-off freeholders mixed with the lords socially: John Beke, for instance, was hunting with John de Burghersh in 1343 when the latter's son was born. (fn. 436) Sometimes such familiarity reflected comparable wealth and status. In 1327 the parish's wealthiest inhabitant was the manorial lord Edmund Bacon (taxed on £13), but the freeholder Philip de Molesham was taxed on £8 (the same as the lord William Wace), (fn. 437) while some other freeholders had their own tenants (fn. 438) or were active in administration. John de la Rose (tenant of 2 yardlands) was a juror for the hundred roll survey in 1279, and a few years earlier was prosecuted for illegally hunting in Stowood Forest with fellow landowners. (fn. 439) Members of the Baillemond family occur as witnesses and small-scale landholders from the late 12th to mid 14th century, (fn. 440) and had dealings with Tetsworth and London traders. (fn. 441)
Many other freeholders had much smaller holdings, and 15–16 families in the the 1270s held in villeinage, owing labour services on the lords' demesnes. Some had whole yardlands (producing surplus for market), but many others only ¼ yardlands, while even poorer were the dozen or so unfree cottagers and an unknown number of labourers and servants. (fn. 442) Mid 14th-century plagues affected all social levels, apparently killing the lord John de Burghersh and his wife within a month of each other in 1349, and leaving lands and houses temporarily vacant. (fn. 443) As elsewhere, however, the fall in population probably ended labour services and created opportunities for accumulating larger holdings, sometimes by newcomers. Very few 13th and 14th-century surnames seem to have survived in the parish into the later Middle Ages, and virtually none into the 16th century (fn. 444)
Village cohesion may have been tempered by Ewelme's straggling layout, its division (until the 15th century) among several manors, and its complex shared fields: (fn. 445) even in the early 20th century the 'lower end' beyond the mill was perceived as slightly separate. (fn. 446) Nonetheless the church provided a focus for the whole community, (fn. 447) and in the 16th century women regularly gathered at the village pond to fetch water and do their washing. (fn. 448) The building of the almshouses and grammar school (below) introduced further outsiders, whose behaviour was carefully regulated by the almshouse statutes presumably in an attempt to minimize conflict. (fn. 449) Since both insitutions created employment, they were possibly welcomed.
1500 to 1800
The Crowns seizure of Ewelme manor in 1501 and its elevation as the centre of an honor preserved the villages high-status character, bringing frequent royal visits particularly by Henry VIII (who sometimes hunted there), (fn. 450) occasional meetings of the privy council, (fn. 451) and routine administration by high-profile royal officers, of whom several lived locally. Thomas Broke (d. 1518), serjeant-at-arms to Henry VIII and keeper of Ewelme manor, park, and woods, is commemorated with his wife Anne by a brass in Ewelme church; (fn. 452) so, too, is an infant son of the courtier Henry Norris (executed 1536), who succeeded Broke and acquired leases of Westcourt and Cottesmore. (fn. 453) Norris's successor Sir Edmund Ashfield acquired extensive property in Oxfordshire and became MP for Wallingford and the shire, dying at Ewelme Lodge (in Ewelme park) in 1578. His Ewelme offices passed to Henry Knollys, whose father Sir Francis (of Greys Court in Rotherfield Greys) was master of game, steward of the honor, and constable of Wallingford castle. (fn. 454) Other prominent inhabitants included prosperous Crown lessees such as the Spyers, Hatchmans, Slythursts, Marmions, and Mercers, who occupied substantial houses and farms and sometimes called themselves gentleman. (fn. 455)
Ordinary villagers still held relatively modest copyhold farms or cottages, (fn. 456) and there was a sizeable body of wage-earners and domestic servants who were sometimes remembered in their employers' wills. (fn. 457) Not all were Ewelme-born, some incomers in the 1570s hailing from Brightwell and North Moreton (both Berks.) and Nuffield, (fn. 458) while Griffith Powell (d. 1611) was presumably of Welsh origin. (fn. 459) The village experienced the petty crime and disputes common to any community, (fn. 460) and sometimes more serious incidents: in 1539 an inhabitant was committed to Wallingford castle after being reported a 'seditious tale-teller', (fn. 461) while William Slythurst was killed during an altercation in 1555. (fn. 462) A more positive community spirit is reflected in bequests by an impoverished widow in 1605 to neighbours who had cared for her in her old age. (fn. 463)
The manor house's demolition and subsequent Crown sale ended the parish's illustrious connections, though Westcourt continued as a gentry house until the 18th century (fn. 464) Of its occupants Francis Martyn, a former Parliamentary officer, served as sheriff in 1655, and is reputed to have protected the church from damage during the Interregnum. (fn. 465) The story lacks evidence, although Ewelme certainly experienced disruption during the Civil War, and was billeted by Royalist troops. (fn. 466) The Tippings' alleged social pretensions and attempts to dominate the village were lampooned in 1702 in an anonymous satirical poem, aimed particularly at William Tippings Whig politics and role as JP, (fn. 467) while Tipping's successor Monoux Cope (d. 1763) promised help for church improvements, but departed the parish leaving his share unpaid. (fn. 468) Other gentry families in the 17th and 18th centuries included the Hales, who lived at Cottesmore 'in splendour' and were commemorated in a series of large tombs in the churchyard. (fn. 469) Resident clergy included curates, schoolmasters, and (sometimes) rectors from Ewelme and Swyncombe, (fn. 470) whose occasional philanthropy was generally tempered by a strong belief in social authority (fn. 471)
Otherwise the village was increasingly dominated by its leading farmers, of whom many were newcomers. (fn. 472) The Spyers, Eyres, Poxons, and Warners were established by the 16th century, (fn. 473) but the Lanes (from Watlington) only in the 1690s, and the Tidmarshes, Heaths, Leavers, and Greenwoods during the 18th century (fn. 474) Social stratification widened as such people became established as gentleman farmers, (fn. 475) often monopolizing parish offices. (fn. 476) Even in the 1660s nearly half the villages householders had only 1 or 2 hearths, with just four people taxed on 5–8 hearths, and Francis Martyn on 19. (fn. 477) By the 1780s the villages half dozen main farmhouses were set amongst 60 lesser dwellings housing smallholders, craftsmen, shopkeepers, and labourers, sometimes with two or three households under one roof (fn. 478) Leading inhabitants' wealth and aspirations were reflected in their furnishings, which by the 17th century included featherbeds, warming pans, books, and clocks. (fn. 479) Conversely, poverty among the less well-off was reflected in rising poor rates (fn. 480) and occasional robberies or poaching, (fn. 481) while baptisms and burials of 'travellers' or gypsies' (recorded from the late 17th century) hint at a more transient population. (fn. 482) In 1774 one old man was lodged in an outhouse. (fn. 483)
An inn called the Broadgates (later the Crown) existed by the 1530s, located on the main street near Fords Lane, (fn. 484) and an alehouse keeper cum farrier died in 1663. (fn. 485) In the 1770s there were at least two inns (the Greyhound and the Hare and Hounds), both used for auctions; (fn. 486) the Lamb (on the Fifield road) existed by 1786, and with the Greyhound continued into the 20th century (fn. 487) Maypoles were erected in the early 18th century, traditionally on Burrows Hill near the church, until Lady Tipping allegedly insisted that they be moved nearer to Westcourt where she could see the festivities. (fn. 488) An Easter Monday fair was established by 1792, when it attracted travellers from Coventry; (fn. 489) it continued until the First World War, latterly with stalls, swings, and roundabouts along the village street between King's Pool and the Greyhound. (fn. 490)
Since 1800
During the 19th and early 20th centuries Ewelme remained a typical agricultural village, dominated by its leading farmers but with the bulk of the population comprising agricultural labourers' families and a few craftsmen or shopkeepers. (fn. 491) Over all, 46 per cent of the population in 1891 was Ewelme-born, with another 13 per cent from immediately surrounding parishes. Some farmers came from further afield, as did a smattering of incomers with independent means or professional backgrounds, occupying such buildings as Saffron House or Close, Old Mill House, and Ewelme Manor. Both they and the larger farmers employed local people as domestic servants, and the farmer Robert Franklin employed a governess for his children. (fn. 492) By c.1900 the area's attractions (including shooting, golf, and boating) (fn. 493) were bringing additional incomers, amongst them the author Jerome K. Jerome, who lived just outside the parish near Gould's Grove and was buried in Ewelme. (fn. 494) Others included Frank Lawson, who c.1905 built Ewelme Down House on downland east of the village. (fn. 495)
Villagers' social life still partly revolved around the pubs, supplemented by several beerhouses including the Shepherd's Hut (opened c.1841–51). (fn. 496) A Friendly Society met at the Greyhound by 1869, (fn. 497) and a Ewelme band existed c.1890. (fn. 498) Plough Monday May day and Guy Fawkes celebrations continued (with a summer marbles contest) into the 20th century while cricket was mentioned from the 1850s and a football team by 1906. (fn. 499) A short-lived golf course on the common (opened in 1885) catered for more affluent residents. (fn. 500) Other activities included coronation sports, and from 1906 to the 1950s villagers staged several pageants enacting scenes from Ewelme's past. (fn. 501) A thatched reading room was built in 1909–10 on land given by Miss Maxwell of Saffron Close, with an adjoining rifle range given by Charles Schunk of Old Mill House. Fundraising for both included a fete at the Old Mansion in Cottesmore, with prizes given by Jerome K. Jerome and by the earl of Macclesfield as lord. (fn. 502) A Women's Institute was founded in 1920. (fn. 503)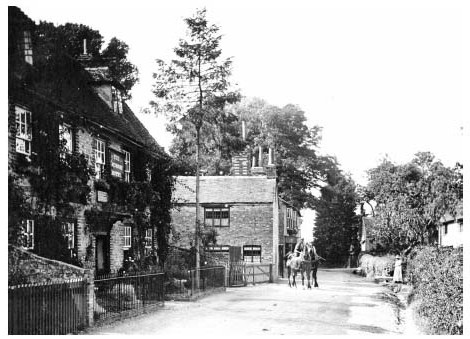 Social tensions surfaced in 1820, when a mob smashed windows at the rectory house in protest at the rectors support for the bill of pains against Queen Caroline. (fn. 504) Ten years later a crowd from Benson smashed threshing machines at Eyre's farm. (fn. 505) Later rectors complained of farm lads' rowdiness in church and, in 1866, of the 'radical and dissenting' tone of the local penny newspaper bought by many labourers. (fn. 506) Tensions of a different kind persisted in the 1930s, when Bill Edwards, later of Fords Farm, participated in national anti-tithe rallies. (fn. 507) More local in character was the 'rough music' directed in 1870 against the lawyer George Eyre (d. 1885), who allegedly abused his wife, and controversially had his brother interred in the garden of High House. An eye-witness reported how 'full hundred men and boys' equipped with 'cowhorns, tin trumpets, pots and pans' processed through the village over three nights, burning an effigy of Eyre and discharging guns and pistols. (fn. 508)
The opening of RAF Benson in 1939 and its expansion during the Second World War accelerated social change in Ewelme, where agricultural employment was already declining. A wartime influx of evacuees and PoWs was followed by a longer-term influx of service families and, for a time, by shared activities, until the station gradually became more self-contained. (fn. 509) A comparable turning-point was the building in 1968 of the Chaucer Court housing estate, which brought in middle-class commuters and engendered two largely separate communities, which integrated only slowly and with some antagonism. Closure of shops and pubs (leaving only the Shepherds Hut) reinforced the changes. Nonetheless early 21st-century Ewelme retained a strong community spirit, reflected in a wide variety of groups including sports clubs, a play group, a long-established horticultural society, the Elm Club (for the over-6os), and the Ewelme Society, founded as an environmental lobbying group in 1968. A recreation ground was created c.1956, the village hall was rebuilt in 1981, and the common was secured for the parish in 1998. (fn. 510) Ewelme Store was re-established in 2007–9 as a non-profit provident society, with strong community support; the premises were secured by Lord Jay of Ewelme, (fn. 511) one of several eminent professionals who settled in the village. (fn. 512) Ewelme's photogenic appearance also increasingly attracted TV and film location crews. (fn. 513)
EWELME ALMSHOUSE AND GRAMMAR SCHOOL (GOD'S HOUSE)
Almshouse and Almsmen
1437 to the Reformation God's House (fn. 514) was established by William and Alice de la Pole between 1437 (when royal permission was obtained) and the mid 1450s, encompassing a newly built cloister for 13 almsmen, an adjacent grammar school and schoolmaster's house, and a newly built almshouse chapel in the adjoining parish church. (fn. 515) Planning was apparently under way by 1433, and an embryonic community probably existed by 1442 when a further royal grant ratified transfer of the endowment. Nonetheless it was not fully independent until at least 1445–6, and the statutes were not formalized until c.1448–50. (fn. 516) The royal licence allowed for an annual endowment of up to 100 marks, (fn. 517) and by grants of 1442 and 1446 the de la Poles gave the community their manors of Ramridge (Hants), Conock (Wilts.), and Marsh Gibbon (Bucks.), valued at £59 a year. (fn. 518) An almsman added a 2-a. parcel at Benson in 1460, while another gave 1 a. at Garsington. (fn. 519)
The foundation was run by two resident chaplains appointed by the lord of Ewelme manor, who each received accommodation and a £10 salary. Additional officers included reeves at Marsh Gibbon and Ramridge. (fn. 520) The senior Ewelme chaplain (designated 'master') had responsibility for overall administration, and led the almsmen's daily devotions in Ewelme church. Ideally he was an Oxford graduate, although the founders waived the requirement for their first master, the former rector John Seynesbury The second chaplain taught in the associated grammar school, and substituted for the master during absences. Almsmen were probably nominated to the lord on the recommendation of a sponsor, with preference for men from Ewelme and the three almshouse manors, and for de la Pole servants. Applicants were to be unable through age or infirmity to earn their own living, although sufferers of infectious diseases were ineligible. Inmates were identified by a red cross on their gown and received a 14d. weekly wage, paid in the 17th century around the Chaucer tomb in the church. One (designated 'minister') undertook modest administrative duties for an additional 2d. a week. Religious observance provided a strong communal focus, although there was no reference to communal eating. (fn. 521)
Alice monitored the foundation closely, (fn. 522) and though the almshouse was not always full demand apparently increased during the late 15th and early 16th century. Documented almsmen included former labourers or smallholders with meagre personal possessions, some of them apparently from Ramridge or Marsh Gibbon, and a few undertook occasional administrative tasks including journeys to almshouse estates. (fn. 523) Discipline was maintained through docked wages, and in 1504 an inmate was expelled for having concealed a modest private income. (fn. 524) Seynesbury's immediate successors as master were experienced administrators and university graduates closely involved in local life, (fn. 525) and almshouse accounts suggest no immediate change after 1501, when patronage passed with Ewelme manor to the king. Thereafter the Crown appointed the master and grammar teacher and authorized admission of inmates, based probably on local nominations. (fn. 526)
The Reformation to 1800 That the almshouse survived the Reformation most likely reflects the Crowns interest and, perhaps, its association with a grammar school. The master c. 1560–5 (Alexander Bolton) was rector of Ewelme, (fn. 527) but most 16th-century appointees were careerists who probably had little regular contact. (fn. 528) In their absence day-to-day running fell to the grammar master and almsmen, who by the 1570s signed the annual accounts. (fn. 529) Relations were not always good, Thomas Banks (schoolmaster c.1571–1630) provoking numerous complaints for unpaid wages, threatening behaviour, and other irregularities. (fn. 530) Numbers of almsmen apparently still varied, though by the later 16th century there seems to have often been a full complement, (fn. 531) of whom some left wills. (fn. 532)
In 1617 James I annexed the mastership to the regius professorship of medicine in Oxford university, whose holders became masters ex officio. (fn. 533) Accounts were still signed by the grammar master and leading almsmen, though masters received expenses on almshouse business and sometimes attended the audit. Annual income varied considerably, leading sometimes to ongoing deficits; mostly it proved adequate, however, and in 1638–9 the masters and grammar teachers stipends were increased to £30 and £20 respectively. Almsmen's wages were increased in the early 17th century and again in 1633–4, when the minister received 25. 6d. a week and the others 25. (subsequently reduced to 1s. 8d.). (fn. 534) Almsmen also received occasional gratuities and, by the 1630s, one fifth of the income from entry fines on the almshouse estates, which was sometimes substantial. (fn. 535)
Candidates applied to the Crown for admission, supported usually by testimonials. (fn. 536) Reasons included incapacitating injury (e.g. a leg crushed by a cart), unspecified inability to support themselves or their families, and sometimes service in the king's wars. (fn. 537) Several applicants were Ewelme men, including smallholders (presumably retired) who sometimes retained goods or farmstock on the family copyhold. (fn. 538) Others came from surrounding towns and villages or from further afield, and a number remained in the almshouse for several decades, suggesting admission in no more than middle age. (fn. 539) By the later 17th century authorized absence was becoming common: in 1680–1 only 6 almsmen resided, the other 7 receiving a smaller allowance of 15. a week. (fn. 540) The practice apparently continued into the 18th century, though by the 1750s there were again 13 resident almsmen, and at least 10 in the 1770s. (fn. 541) Almsmen's families were admitted possibly by the early 17th century and certainly by 1699, when a woman signed the accounts on her husband's behalf, (fn. 542) and in the 1780s most inmates were accompanied by wives and up to four children. (fn. 543) Resident almsmen received an annual audit dinner throughout, and a barber was paid annually, while medical help was bought in as needed. New gowns, badges, and bands were bought in 1758–60. (fn. 544)
The Almshouses since 1800 In 1826 the earl of Macclesfield (as purchaser of Ewelme manor) successfully challenged the Crown for the right to appoint almsmen, though the mastership remained attached to the regius professorship. (fn. 545) In 1851 eight of the 13 almsmen (all aged from 52 to 79) were Ewelme-born, with others from Brightwell Baldwin, Swyncombe, Wallingford, and London. Most were agricultural labourers or small craftsmen, and seven were accompanied by wives or other family. (fn. 546) Allowances (increased in 1820) were 35. 4d. a week, and the masters stipend was £60 a year. (fn. 547) Administration was overhauled by a Charity Commission Scheme of 1860, which created a body of 13 trustees including the regius professor, the vice chancellor of Oxford University, the rector of Ewelme, and the lord of Ewelme manor. Oversight remained with the regius professor as master, who henceforth received £250 a year, while new regulations governed appointment of a clerk and receiver of rents. Almsmen (still appointed by the lord of the manor) received 95. a week, and must not have received parish relief within the past year. (fn. 548) The almshouse buildings (in a 'fair state' in 1837–8) (fn. 549) were renovated, and in 1899 a further Scheme diverted a third of the Trust's income to a new educational foundation, replacing the long-defunct grammar school. (fn. 550) Widows were required to vacate their husbands places, prompting a petition in 1878 for an increased weekly stipend to help almsmen provide for them. (fn. 551)
Wearing of smocks ended c.1900, (fn. 552) although daily services in the almshouse chapel in Ewelme church were revived, for which the rector received £40 a year. (fn. 553) A nearby cottage for a salaried nurse was acquired before 1906. (fn. 554) After the Second Word War widows retained their places, and the buildings, too, were gradually modernized, with electricity introduced in the 1930s and mains water probably in the 1950s. (fn. 555) The masters (as regius professors) were still eminent medical figures, although some (notably the Canadian Sir William Osier, d. 1919) became closely involved in the life of both almshouse and village. (fn. 556)
A major renovation in 1970 reduced the accommodation to eight modern flats, and in 1977 five new units called Suffolk House were built along the village street. Another ten were built at Marsh Gibbon (part of the ancient endowment) in 1987. By then women were admitted in their own right, and residents' stipends had recently ceased. (fn. 557) In 2011 the Trust accommodated 25 elderly men and women selected by local subcommittees, and total income (including educational revenues) exceeded £797,000, derived from investments, the three ancient properties and other rents, and Ewelme Manor House (bought 1868). (fn. 558) The regius professor of medicine retained chairmanship of the Trust, his stipend having ceased in the early 20th century. (fn. 559)
The Grammar School
The junior chaplains role as grammar teacher was first mentioned in 1448–50, with the first postholder installed by c.1454. The size of the school building has prompted suggestions that it was conceived as a feeder school for an Oxford college, but as constituted it was more modest, offering free instruction in reading and grammar to children from Ewelme and the almshouse manors, and more advanced tuition to older pupils. (fn. 560) A student documented in 1464–5 may have been a northerner associated with the master of the almshouse, sent there to perfect his Latin before attending university. He apparently boarded privately, although the school's heated upper floor may originally have provided a dormitory both for boarders and for the usher or assistant schoolmaster recorded in the 1520s, with a school room below (fn. 561) The grammar master himself seems to have been separately accommodated in the purpose-built house between the school and almshouse. (fn. 562)
Grammar masters in the 16th and 17th centuries regularly signed almshouse accounts (fn. 563) and evidently still taught local children, though not always adequately, in person, or without charge. (fn. 564) Under William Howell (curate and schoolmaster 1689–1714) the school reportedly 'flourished', but his successor Henry Newcome (1714–50) 'never taught so much as one soul', (fn. 565) and thereafter the post became a sinecure. The master from 1810 let the house to curates, and by then the school itself was semi-derelict, until renovated for use as a parish schoolroom. Even so the stipend was doubled to £40 in 1820. (fn. 566)
The 1860 Charity Commission Scheme envisaged a revived grammar and commercial school' for boys, (fn. 567) but nothing was done and in 1899 a third of the almshouse trust's net income was diverted to annual scholarships: £25-£30 for pupils attending approved secondary schools, and £30-£50 for those in higher education. Both were open to boys and girls irrespective of religious affiliation, with preference to those from Ewelme, the almshouse estates, or (in default) from Oxfordshire, Buckinghamshire, and Berkshire. Ownership of the school premises remained with the Ewelme (or almshouse) Trustees, but the educational funds were administered by a new body named the Ewelme Exhibition Foundation, comprising representatives of the Ewelme Trust, the three county councils, and Oxford University (fn. 568) In 2011 the Foundation's annual income was over £120,000, used for educational grants and bursaries. (fn. 569)
OTHER EDUCATION
Private Schools
A boarding school for young ladies was established in the recently vacated mansion house at Westcourt c.1790, run by Anna Mason (later Kirby). (fn. 570) Subjects included French, (fn. 571) and the school may have continued in 1815 when Ewelme had a girls' and a boys' boarding school, each also taking day pupils. (fn. 572) The boys' school was presumably that run by James Garlick (d. 1843) and his widow Elizabeth (d. 1875), which took over the Westcourt premises and adjacent cottages called The Mount. In 1841 it had 48 boarders aged from 7 to 14, and catered primarily for prosperous middle-class trading families from the surrounding area and especially London. Girls were briefly admitted in the 1850s, but generally the curriculum prepared boys for trade and (sometimes) more advanced schooling elsewhere. It closed following Elizabeth's death. (fn. 573)
Some local children were taught at unendowed cottage schools in the early 19th century. Three were mentioned in 1808 and two in 1815, teaching c.20 boys and 30 girls, though attendance fell at harvest times. (fn. 574) Thereafter the parish or National school (below) met the villages needs.
Parish, National, and Primary Schools
From the 1760s successive rectors provided for a few children to learn to read, alongside intermittent Sunday schools and catechizing. (fn. 575) In 1814 there was a 'decent' village school, (fn. 576) and c.1830 the rector Edward Burton fitted up the dilapidated grammar school as a mixed National schoolroom, (fn. 577) despite fears that labouring parents might prove reluctant to lose their children's earnings. (fn. 578) By 1834 the school taught 45 boys and 45 girls aged from 5 to 11, with funding from subscriptions and an annual collection, and the rector making up the shortfall. (fn. 579) Reorganization in 1856–8 brought it under government inspection, and use of the grammar school was ratified under the 1860 Charity Commission Scheme, which allowed the master and mistress to occupy the grammar master's house. (fn. 580) In the 1850s-60s rectors additionally ran 'encouraging' evening classes for young men and (sometimes) girls, but discontinued them following the 1870 Education Act. (fn. 581)
In the mid 1860s the National school taught 63 children from poor labouring families, but received mixed reports. (fn. 582) Improvement followed, and by 1893 there was accommodation for 161 and an average attendance of 80. (fn. 583) In 1911 (under the long-serving William Herman) the school was 'amongst the foremost in the county', although relatively few children qualified for grammar-school entrance and there was still no playground. The school became a primary under the 1944 Education Act, teaching a broad curriculum which in summer included cultivation of allotments. Aided status was acquired in 1954 when there were c.75–85 pupils divided into infants and juniors, over half of them the children of service personnel at RAF Benson. (fn. 584) New classrooms were added in 1999, (fn. 585) and the school continued as a smaller than average' primary in 2013. By then around a quarter of pupils were from RAF families, leading to above-average turnover. (fn. 586)
OTHER CHARITIES AND POOR RELIEF
Small bequests to the poor were common from the late 16th century to the early 18th, given sometimes in bread or clothing, and ranging mostly from a few shillings to £5. (fn. 587) The ploughwright Thomas Willis (d. 1617) left a house and smith's forge, the proceeds to be divided between the poor and the church, (fn. 588) while the rector William Pritchard (d. 1629) left £5, a distribution in bread, 305. to the almsmen, and 25. 6d. to every poor householder applying at church. (fn. 589) Two other small bequests came from almsmen, (fn. 590) and a public appeal followed a major village fire in 1755, local contributors including the rector and Sir Hildebrand Jacob of Westcourt. (fn. 591)
Only two bequests comprised endowments: a £10 gift from one of the Weedon family in the 16th or 17th century, and £4 left by the yeoman William Headach (d. 1687). (fn. 592) In the mid 18th century both charities were neglected, but following reinvestment they yielded £1-£2 a year. From the late 18th century to the 20th the money was distributed at Christmas in clothing, fuel, or bread, topped up in the earlier period by offertory money (fn. 593)
Otherwise poor relief in the 18th and 19th centuries came chiefly from poor rates. (fn. 594) Expenditure rose sharply from only £82 in 1776 to £503 in 1803, when 29 adults and 21 children (around a tenth of the population) received permanent outdoor relief, and Ewelme's 85. rate was amongst the highest in the hundred. (fn. 595) Payments included weekly allowances, paupers' rents, and occasional nursing, and in 1786 the remains of Ewelme manor house were adapted to house pauper families. Roundsmen were introduced about the same time. (fn. 596) By 1813 total expenditure was over £900, second only to Benson; thereafter costs fell and, despite occasional peaks, were back to £376 by 1834. (fn. 597)
The following year Ewelme became part of Wallingford Poor Law Union, whose workhouse accommodated two Ewelme people in 1861. (fn. 598) A 'flourishing' Friendly Society was based at the Greyhound Inn in 1869, (fn. 599) and in the early 20th century there were long-established coal and clothing clubs, a nursing and maternity benefit society, and a soup kitchen run from the rectory house, where children could collect a can of soup twice a week. (fn. 600) The Weedon charity yielded £1.65 a year in 1979, (fn. 601) but later lapsed.
RELIGIOUS HISTORY
Ewelme had an independent church from the Middle Ages, served mostly by resident rectors or chaplains, and closely associated from the 1440s with the newly founded almshouse. From 1629 to 1871 the rectory was annexed to the regius professorship of divinity in Oxford University, with pastoral care devolving primarily on resident curates; thereafter rectors were appointed in the usual way, latterly with responsibility for several neighbouring parishes. Nonconformity was virtually non-existent until the 1820s-40s, when Wesleyan and (later) Primitive Methodists established chapels which continued into the 20th century.
CHURCH ORIGINS AND PAROCHIAL ORGANIZATION
In the late Anglo-Saxon period Ewelme was probably subject to Benson, (fn. 602) but an independent church existed by the 1180s when it had its own rector, glebe, and tithes, (fn. 603) and probably (as in the 14th century) baptismal and burial rights. (fn. 604) Most likely it was founded in the 11th or 12th century by one of the Despenser family, which retained the advowson and whose manor house may have stood close by. (fn. 605) The benefice remained a rectory in Aston deanery, until combined in 1985 with those of Brightwell Baldwin and Cuxham-with-Easington. (fn. 606) The dedication in the 1340s–60s was to All Saints, (fn. 607) but was changed to St Mary the Virgin before 1478, perhaps following mid 15th-century rebuilding. (fn. 608)
Advowson
The advowson descended with the Despensers' manor, passing to the Bacons, Burghershes, Chaucers, and de la Poles. (fn. 609) The Crown presented in the 1360s during John de Burghersh's minority, (fn. 610) and during the 16th century after the manor came into royal hands. (fn. 611) Other presentations were made by Charles Brandon (as lord) in the 1530s, (fn. 612) and by Henry Parry and John King (under one-off Crown grants) in 1554 and 1606. (fn. 613)
In 1605 James I annexed the rectory and a canonry in Christ Church to the regius professorship of divinity in Oxford University, an arrangement confirmed by Act of Parliament in 1712. (fn. 614) Implementation was delayed until the existing rectors death in 1629, (fn. 615) but from then until 1871 (except during the Interregnum) all of Ewelme's rectors were regius professors appointed by the Crown. (fn. 616) The connection was ended by an Act of 1871, which restored the advowson to the Crown acting on the prime ministers recommendation. (fn. 617) From 1985 presentations to the united benefice were made alternately by the patrons of Brightwell Baldwin and Cuxham-with-Easington (acting jointly), and by the Crown. (fn. 618)
Glebe and Tithes
The church had at least 8 a. of glebe in the 1180s, when a local landholder attempted to give it to Osney abbey with two thirds of his demesne tithes. Both land and tithes were restored to the rector, the former for a 2s. quitrent to the abbey which apparently lapsed soon after. (fn. 619) In 1254 the benefice was valued at up to £10 135. 4d. a year, and in 1291 at £12: poorer than several nearby churches, but well above the value of many others. (fn. 620) In 1380 the rector undertook not to lease the endowment, (fn. 621) but it was sometimes leased in the early 16th century when the rectors income totalled £22, from which he paid the curates stipend. (fn. 622)
By 1712 the rectory's annexation to the regius professorship was causing difficulty in collecting tithes, one motive for securing the 1712 Act. (fn. 623) From the 1740s cash payments were periodically negotiated with individual farmers, and by 1771 tithe income yielded C.£460 a year, including £30 small tithes. (fn. 624) At tithe commutation in 1839–40 the rector received an annual tithe-rent of £705, from which outgoings in 1851 totalled £399. (fn. 625) The glebe still reportedly included 4–6 a. of open-field land in 1806, (fn. 626) but by 1839–40 there was only 3 a. surrounding the rectory house, some of it acquired piecemeal since the mid 18th century (fn. 627) Part adjoining the road to the south included cottages, which the rector replaced in 1786 with new cottages across the road. (fn. 628) In 1867 the rector bought a further plot with a mortgage from Queen Anne's Bounty, securing the whole of the small island of land on which the rectory house stood. (fn. 629)
By 1868 gross income was £550, and in 1911 £359 net. (fn. 630) The 3-a. glebe and cottage was sold with the rectory house in 1926, (fn. 631) and in 1945 the rector was receiving £510 under the Tithe Act, along with £10 in fees and offerings and £40 as almshouse chaplain. Outgoings reduced his income to £474 net. (fn. 632)
Rectory House
A rectory house adjoined the churchyard by the 1440s (fn. 633) and probably from the church's foundation. In the early 16th century it was 'ruinous', (fn. 634) but in 1629 it had a wainscoted parlour, and in 1665 seven hearths, making it the third largest house in the parish. (fn. 635) The existing brick-built house (fn. 636) reflects rebuilding during the later 18th century. The main garden front (facing south-west across the valley) is of three storeys and five bays, with a hipped, double-pitched tile roof behind a parapet; the central doorway opens to an entrance hall and main staircase, flanked by two main rooms at the front and two at the back. Symmetrically arranged sash-windows light each floor. The house's north-western part was reportedly built as a kitchen and scullery by the rector Edward Bentham in the 1760s-70s, and the adjoining front room, hall, and main stair by his successor Benjamin Wheeler. John Randolph rebuilt the house's south-eastern end in 1784, apparently creating the unified main front, and in 1791–2 added a servants' hall and dairy at the rear. New servants' accommodation was created in the roof in 1821–2, when the kitchen was probably moved to the back north-east room (part of the former servants' hall), and its predecessor became a dining room. (fn. 637) A new servants' hall, dairy, and larder were added at the north-east corner in 1872, replacing earlier buildings. (fn. 638) In 1926 the house included a drawing and dining room, a study, a wine cellar, and extensive services. (fn. 639)
Outbuildings north-west of the house included an L-shaped tithe barn, replaced in the 1820s by stabling and a coach house closing the yard's north side. (fn. 640) Other 19th-century buildings included piggeries and poultry houses. (fn. 641) The grounds were reorganized as the site was expanded: after 1786 a kitchen garden was created on the site of former cottages with a pleasure ground further east, (fn. 642) and by 1926 the grounds included orchards and shrubberies, a tennis court, and a walled kitchen garden. (fn. 643) The main approach, formerly through the yard on the north, was replaced in the 1780s by a carriageway running up the slope from the south, but was restored to the north in the 1820s-30s. (fn. 644)
In 1926 the house was sold to fund the building of a successor north of Parsons Lane, (fn. 645) still occupied by the priest-in-charge in 2015. The older houses main range was extended north-westwards soon after its sale, with a slightly lower block designed probably by W.D. Caroe. (fn. 646)
PASTORAL CARE AND RELIGIOUS LIFE
The Middle Ages
Several of Ewelme's earliest recorded rectors (fn. 647) were relatives of the patrons, amongst them Thomas son of Thurstan Despenser in the 1180s–90s and Ralph Despenser in the 1230s. (fn. 648) The Bloets (holding the manor in custody) presented Ralph Bloet c.1209–19, (fn. 649) and in 1258–9 the bishop rejected a Despenser candidate who was under age. (fn. 650) Some 13th-century rectors were licensed pluralists (fn. 651) or university graduates, (fn. 652) and in the early 13th century a vicar was briefly installed while Ralph Bloet studied music on the bishops orders. (fn. 653) Others probably resided, and may have had assistants. (fn. 654)
Robert Bacon (whose family acquired the manor) was rector from 1291 to 1312, (fn. 655) but most 14th- and early 15th-century incumbencies were much shorter, and from 1361 to 1366 there were five Crown presentations. (fn. 656) A few rectors were university-educated, among them John Came (rector 1328–35), who was licensed to study in 1329 and 1335, (fn. 657) and Alan Avenell (1350–61), who moved to Ewelme from Wiltshire. (fn. 658) Few, however, are known pluralists, and many probably resided, particularly as their patrons were based in Ewelme. (fn. 659) John son of Robert of Shiplake (rector 1335–43) was involved in land disputes in Shiplake and Hambleden, (fn. 660) and some others may have been from local families. (fn. 661) Geoffrey Prentys (1415–20) acted as a feoffee for Thomas Chaucer, (fn. 662) and so too did John Seynesbury (d. 1454), who was rector 'by long continuance' before becoming first master of the almshouse. (fn. 663) His memorial brass survives in the church.
Lay piety is hinted at sporadically. In 1237 Sir Henry of Ewelme and his wife received permission for a private chapel and chantry in their house (without font or bells), (fn. 664) while William Wace (d. before 1309) was buried in the parish church with a memorial offering 100 days' dispensation from canonical penance to those praying for his soul. (fn. 665) Sir Gilbert Wace (d. c.1409) planned a chantry in Ewelme church, but probably established it in Dorchester abbey (fn. 666) In the 1340s the church possessed a missal or psalter in which important parish events were recorded, including parishioners' deaths and, in 1343, the departure of a group of local people on a pilgrimage to Santiago de Compostela in Spain. (fn. 667) A spring in the village had alleged healing properties (particularly for eyes) in the early 19th century, perhaps recalling a medieval tradition. (fn. 668)
From the 1430s-40s Ewelme's religious life was transformed by foundation of the almshouse and associated rebuilding of the church, (fn. 669) while the de la Poles also established a richly furnished private chapel in their manor house. (fn. 670) The church's new south-east chapel was reserved for the almsmen, who were bound to an intensive daily round of prayers and masses led by the master of the almshouse. Neither he nor the grammar teacher were to undertake parish duties, but the expanded clerical establishment and regular devotions must have impacted on ordinary parishioners, and on special feast days the master was to say matins and evensong in the chancel alongside the rector. (fn. 671) Thenceforth all the de la Poles' presentees (unlike Seynesbury) were university-educated, (fn. 672) and though some held other benefices they were probably regularly at Ewelme, where at least two were buried. (fn. 673) Crown presentees in the early 16th century may have had looser ties, and in the 1520s the non-resident Thomas Leson (1513–33) leased the rectory estate and employed a curate. (fn. 674) His successor Brian Carter (presented by Charles Brandon) was presumably related to Brandons treasurer Thomas Carter, the lessee of Swyncombe manor. (fn. 675)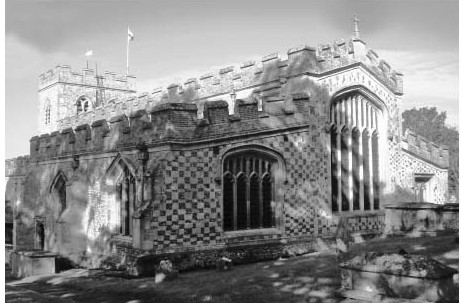 Reformation to Restoration
The Reformation presumably ended the devotions in St John's chapel, and chantries in the parish church were suppressed, amongst them a 20-year obit endowed by Thomas Broke (d. 1518) with lands worth 225. a year. (fn. 676) Some of the rich church vestments listed in 1552 were possibly also removed, along with church fittings. (fn. 677) The brief restoration of Catholicism under Mary I may have caused the expulsion of the rector John Spitavius, who was deprived a few months into her reign. If so his successor Alexander Bolton proved more flexible, subscribing to the Elizabethan religious settlement and retaining his post until 1574, when he was removed for negligence or non-residence. (fn. 678) Bolton was also master of the almshouse. (fn. 679)
A few parishioners' wills in the late 1550s-60s contained mildly Catholic invocations, (fn. 680) but only one recusant was fined in the early 17th century (fn. 681) and none later. Gifts of money, grain, or sheep towards the church's upkeep suggest continued lay involvement, (fn. 682) and bequests were made towards the 'fetching home of the great bell' in 1554, and for a new bell wheel in 1583. (fn. 683) A silver-gilt chalice hallmarked 1561 was perhaps another gift. (fn. 684) Amongst local gentry, Edward Ashfield (d. 1578) supported both the Catholic Mary I and the Protestant Elizabeth, and in 1564 was reported to be 'indifferent' in religion. (fn. 685)
From 1574 to 1629 virtually all of Ewelme's rectors were Crown presentees with university connections, (fn. 686) a pattern which persisted after James I annexed the rectory to the regius professorship of divinity (fn. 687) Most were pluralists with varied positions and responsibilities, (fn. 688) while the first to hold as regius professor, John Prideaux (1629–42) and Robert Sanderson (1642–8 and 1660-1), became bishops of Worcester and Lincoln. All were theologically orthodox, although Prideaux and Sanderson had Calvinist leanings typical of the early 17th-century university. (fn. 689) William Pritchard (rector 1606–29) witnessed several Ewelme wills and may have introduced a new pulpit, (fn. 690) but more commonly the cure was served by stipendiary chaplains or 'ministers' named in wills and parish registers, of whom Francis Griffin (mentioned c. 1599) styled himself 'vicar'. (fn. 691) By then some better-off parishioners were acquiring bibles and prayer books. (fn. 692)
As a Royalist and episcopalian Sanderson was deprived in 1648, (fn. 693) to be replaced before 1652 by Richard Seager, in 1656 by John Conant of Exeter College, Oxford, and in 1659 by Thomas Cole, principal of St Mary Hall. (fn. 694) Cole was himself deprived at the Restoration, when Sanderson was briefly reinstated until his appointment as bishop of Lincoln the following year. (fn. 695)
1660–1871
Ewelme's 18 rectors between 1661 and 1871 held the benefice as regius professors, and lived mostly in Oxford. Richard Allestree (rector 1663–79) was provost of Eton College, and seven others became bishops or archbishops, of whom John Randolph (1783–1807) and Charles Lloyd (1822–9) retained the professorship and rectory after becoming bishop of Oxford. Most professed a mainstream Anglican orthodoxy, though from the early 18th century a few were more Whiggish in their politics if not in their religion. (fn. 696)
In their absence the parish was served by resident curates. William Howell (d. 1714) served as curate and schoolmaster from 1689, living in Ewelme despite becoming vicar of Pyrton in 1702. A High Church Tory praised by Thomas Hearne, he wrote popular devotional works, witnessed local wills, and acquired land in the parish. (fn. 697) Other long-serving curates included John Leaves (mentioned c. 1728–49) (fn. 698) and Benjamin Pritchard (c. 1748–77), a Ewelme man apparently succeeded by his son Henry (fn. 699) Harry Hillier (d. 1765) apparently replaced or assisted him in the 1750s–60s. (fn. 700)
By then Ewelme's rectors were taking an intermittent interest in the parish. Both Edward Bentham (rector 1763–76) and Benjamin Wheeler (1776–83) rebuilt parts of the rectory house, where they probably retired during vacations, and Wheeler was the only 18th-century rector buried in the church. (fn. 701) John Randolph spent 4–5 months a year at Ewelme, where he pursued his botanical interests and took a close interest in the village's history and welfare, drawing up a detailed list of its inhabitants. His long-term curate John Halse lived in a rent-free house provided by Randolph, and later (after Randolph became bishop) in the rectory house, where he received an allowance for its upkeep on top of his £80 stipend. (fn. 702) He appears to have been a sympathetic pastor, taking up the cause of a Ewelme school proprietress accused of adultery (fn. 703)
The attentions of resident curates ensured that the church was well served, with (by the 1750s) two Sunday services including one sermon, weekday prayers on Wednesdays, Fridays and holy days, and communion five times a year. (fn. 704) In 1787 the parish was 'in excellent order', although Randolph complained of absenteeism amongst the 'lowest rank', which he attributed to lack of a 'proper sense of religion'. (fn. 705) Dissent seems to have been negligible before the 19th century. A single Quaker (the wife of a 'poor man) was reported in 1738, (fn. 706) and in the 1760s-80s a Roman Catholic family (the Howses) had a visiting priest from outside the parish. (fn. 707) Otherwise the only recorded Dissenter was Sir Hildebrand Jacob of Westcourt. (fn. 708) Anglican support was reflected in gifts of plate, some by members of the Eyre family (fn. 709) and an early 18th-century embellishment of the chancel was undertaken by leading parishioners including Mr Eyre and Monoux Cope of Westcourt. Cope left the parish with his share unpaid, however, and in the 1740s the parish was still unable to pay the workmen. (fn. 710) A £50 bequest by the prosperous farmer John Lane (d. 1790) was invested and used for repewing in 1832, (fn. 711) while a west-gallery band is suggested by theft of a bassoon and clarinet in 1797. (fn. 712)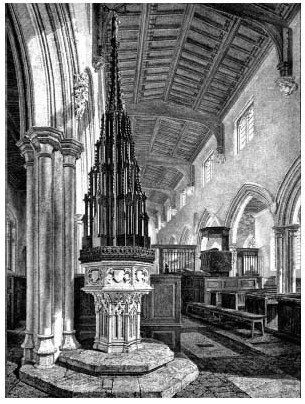 Nineteenth-century rectors continued the earlier pattern, residing during vacations and employing curates, (fn. 713) who for several years after Randolphs departure lived elsewhere and had to be sent for when needed. (fn. 714) Resident curates included Glyd White (c.1817–50), T.H. Gillam (1850–62), and F.H.J. Brigstocke (c.1866–71). (fn. 715) Of the rectors, Edward Burton (1829–36) and Renn Dickson Hampden (1836–47) both refurbished the church, and Hampden introduced an organ; his changes suggest High Church sympathies, despite the liberal religious views for which he was attacked within the university (fn. 716) At Ewelme he somehow offended the Franklins as serving churchwardens, prompting a long-term refusal to appoint a peoples warden. The problem continued under William Jacobson (1848–65), whose 'timidity' was criticized by the bishop. (fn. 717)
By 1866 both Sunday services included sermons, and there were daily prayers in winter and additional services during Advent. Communion was administered at least monthly by the 1850s. (fn. 718) Rectors still complained of absence through 'neglect', (fn. 719) but congregations of nearly 300 were reported in the 1830s-50s, with c.50–75 communicants. A fall to 150–200 by 1866 is unexplained, but was still thought a 'fair proportion by the incoming rector Robert Payne Smith (1865–71). (fn. 720) Rectors or curates established a lending library, Sunday schools, and winter evening classes, (fn. 721) and though the bishop complained c.1855 that children from local villages were poorly prepared for confirmation, those from Ewelme (under Gillam) seemed 'best'. Even so the curate in 1864 'brought remarkably few candidates', (fn. 722) while 'farming lads and boys' seated in the chancel caused 'distressing' disorder during services. (fn. 723)
Protestant Dissent was still virtually non-existent c.1801, when there was only 'a Methodist or two' who attended the Wallingford meeting house. (fn. 724) A labourer's cottage was licensed for worship in 1819, (fn. 725) however, and in 1826 a brick-built Wesleyan chapel for 160 was erected at the bottom of Parson's Lane, attached to the recently formed Watlington circuit. (fn. 726) Local Primitive Methodist activity followed from 1833, culminating in a 'powerful love feast' at Ewelme in 1835, (fn. 727) and in 1849 a purpose-built chapel with 60 free and 39 other sittings was built south of the village street. (fn. 728) Anglican clergy maintained that 'avowed' Dissenters comprised only a few families of small tradespeople and one farmer, although in 1854 Jacobson admitted that many parishioners (including some communicants) attended both church and chapel, and in 1866 Payne Smith reported that the 'peasantry' included 'a good many who are neither one thing nor the other'. (fn. 729) Certainly in 1851 the Wesleyan and Primitive Methodist chapels claimed average attendance of 70 and 60 respectively, which together was well over half the number attending the parish church. The Primitive Methodist return was signed by the minister in Wallingford, while the steward of the Wesleyan chapel was the 29-year-old Ewelme machine-maker James White. (fn. 730)
Since 1871
Following Payne Smith's promotion as dean of Canterbury in 1871 the rectory was separated from the regius professorship, restoring the advowson to the Crown. (fn. 731) The first appointee was the experienced country parson William Wigan Harvey (rector 1871–83), whose nomination by Gladstone proved controversial: Harvey was a Cambridge graduate whereas the Act demanded a member of Oxford University, and Gladstone was widely criticized for flouting the legislation. (fn. 732) Harvey nevertheless proved a conscientious incumbent, introducing daily matins and evensong with a short daily lecture, reordering the chancel seating so that he could properly oversee the choir (which had previously sung from the west gallery), and catechizing regularly. Resident curates included his son, who ran bible classes. Attendance increased 'perceptibly', although habitual absence remained 'considerable', and in 1881 (when surplices were introduced for the choir) Harvey estimated that perhaps 15 per cent of the population were Dissenters. (fn. 733) Early friction over his innovations prompted several refusals to serve as churchwarden, (fn. 734) but relations evidently improved despite a later altercation with the querulous lawyer George Eyre (d. 1885). (fn. 735) Harvey's immediate successors mostly resided and served for ten years or more. (fn. 736) Henry Kingdon Simcox (1889–1901) helped acquire a new burial ground north of Parson's Lane in 1895, (fn. 737) pressed for almshouse reform, (fn. 738) and held weekly services at Cottesmore Farm for parishioners living nearby (fn. 739) C.T. Cruttwell (1901-11) and A.T Humphreys (1923–45) oversaw church restorations, (fn. 740) and Cruttwell (who spent part of each year at Peterborough cathedral) (fn. 741) ended Harvey's segregation of the sexes in church, under which men sat on the north and women on the south. (fn. 742) Parishioners continued to support church improvements, and work in 1949–50 was supported by the Friends of Ewelme Church. (fn. 743) From 1958 the benefice was held in plurality with that of Britwell Salome and Britwell Prior, (fn. 744) and from 1979 the rector had responsibility for Brightwell Baldwin and Cuxham-with-Easington, an arrangement formalized in 1985. (fn. 745) In 2013 the priest-in-charge still lived in Ewelme, and there were regular Sunday services including a monthly children's service. The bell ringers and choir met weekly, and the community aimed to be 'traditional rather than traditionalist'. (fn. 746) By then both the Wesleyan and Primitive Methodist chapels had closed, the former (unused by c.1914) serving as a store and post office until its sale in 1963. (fn. 747) The latter closed in 1932, and was subsequently demolished. (fn. 748)
CHURCH ARCHITECTURE
The present-day church is largely the result of rebuildings by the Chaucers and (particularly) the de la Polesbetween the 1420s and 1470s. Though constructed mainly of flint and stone it incorporates brick in its embattled parapet, and in its wide double-aisled design shows marked East Anglian influences. Both aisles run through to a broad east end, and the chancel and clerestoreyed nave are separated by a medieval screen with no chancel arch, creating a light and spacious interior (Figs 53, 60–1). (fn. 749) In particular there are marked similarities with the de la Poles' church at Wingfield (Suffolk), remodelled during the 1460s. (fn. 750) The structure is not, however, as unified as sometimes claimed, and embodies traces of earlier work, most obviously the squat west tower.
The 12th-century church may have comprised an aisleless, towerless nave with a shorter and narrower chancel than later. If so the chancel was probably extended eastwards during the 13th century, its south-east corner marked by an angle buttress whose footings survive. The existing tower (partly rebuilt in 1792) (fn. 751) was apparently added in the later 14th century, and until then the thick western wall may have supported only a bellcote. The south aisle was most likely built by Thomas Chaucer in the late 14th or early 15th century, and has traces of a former south buttress embedded in its west wall, placing the window slightly off centre. Any evidence for an early north aisle was destroyed during 15th-century rebuilding.
The de la Poles' mid 15th-century changes began probably with addition of the south-east chapel (Plate 15), (fn. 752) built for the newly planned almshouse, and presumably complete by 1438 when Thomas and Maud Chaucer's tomb was resited there. (fn. 753) The tomb is encased in purbeck marble, inlaid with enamelled heraldic shields and brass effigies of Chaucer and his wife; the chapel too (including surviving glass and floor tiles) features heraldic devices celebrating the Chaucer, Burghersh, and de la Pole lineage. (fn. 754) The chapel was dedicated to St John the Baptist from the outset, (fn. 755) but its mural decoration (restored in the 19th century) (fn. 756) is dominated by the IHS monogram for Jesus, repeated on shields in the lavish timber roof with its carved angels. The south windows, with their distinctive pointed heads, may have been self-consciously modelled on those in the earlier south aisle, (fn. 757) though it seems more likely that the aisle was itself refenestrated when the chapel was built. Two figurative statue brackets flanking the tower arch (and marking the approach from the almshouses) may represent almsmen with their beads. (fn. 758)
Around the same time the chancel was broadened to the full width of the nave, its external east wall rebuilt in a chequer pattern to match the new chapel. The clerestory, north arcade, north chapel, and rood screen seem stylistically of a piece, and most likely reflect work between the 1440s and Alice de la Pole's death in 1475, although externally the clerestory's north wall switches from chalk clunch to flint halfway along, suggesting more than one phase. (fn. 759) North and south porches were probably added around the same time, (fn. 760) and the vestry (north of the chancel) is of similar or slightly later date, although it has been remodelled using old materials. (fn. 761) A blocked opening in the nave's north wall probably gave access to the rood loft from an external stair.
The high-quality oak screen (incorporating wrought-iron uprights) spans the church in three sections, and originally had polychrome decoration. (fn. 762) The octagonal font, with its spectacular multi-tiered oak canopy (Fig. 61), is of similar date. (fn. 763) Alice's alabaster tomb (Plate 15) stands between the south-east chapel and the chancel, ranking 'amongst the most important surviving late-medieval funerary monuments in England'. (fn. 764) Made probably by a London workshop in the early 1470s it features an elaborate canopy decorated with angels bearing heraldic shields, a carved effigy, and (underneath) an unusual carved cadaver, the only surviving female example in England. A vertical joint in the chest and irregularities in its decoration suggest that it has been shortened to fit, following either a miscalculation (fn. 765) or an early decision to move it from elsewhere in the chapel. Iron hooks and eyes imply that it was originally concealed by hangings, to be revealed on special occasions. (fn. 766) A later monument to John de la Pole (d. 1492) survived in the church in the 1540s. (fn. 767)
Thereafter the church saw chiefly repairs and refurnishings, (fn. 768) including removal of the rood loft at the Reformation. A high wooden pulpit with a sounding board and hour glass was installed in the early 17th century, (fn. 769) and early 18th-century work in the chancel included wainscoting and installation of a painted and gilded wooden altarpiece. (fn. 770) Galleries removed or altered in the 19th century (fn. 771) were presumably 17th- or 18th-century additions, and a clock by Joseph Stockford of Thame was installed in 1770. (fn. 772) The towers upper part was rebuilt in 1792–5 and the bellframe replaced, (fn. 773) while the chancel was re-roofed in 1812 and part of the nave roof in 1826. (fn. 774) A major re-ordering by the rector Edward Burton in 1832 (fn. 775) included introduction of a new pulpit, reading desk, and neo-gothic stone reredos, repewing of church and chancel (with all seats facing the pulpit), (fn. 776) removal of a 'rude' north gallery, and rebuilding of the north porch, while surviving fragments of medieval glass were gathered in St John's chapel. (fn. 777) His successor Renn Dickson Hampden introduced a west organ (by Messrs Smith of London) in 1840, furnished the sanctuary with carpets and candlesticks, had biblical inscriptions painted around the chancel's east window, and installed stone-carved angels into the arcade arches above the screen, which he substantially lowered in 1843–4. A contemporary restoration of St John's chapel was carried out by John Kidd as master of the almshouse, and around the same time the church's west door was moved to the almshouse entrance and replaced by a replica. (fn. 778) Heating (generating Tittle heat but ... foul smoke in plenty') was introduced in 1862, (fn. 779) and in 1876 W.W. Harvey replaced Burton's chancel seats with choir seating; (fn. 780) six years later he moved the organ to the north chapel, removing parts of the organ- and ringers' lofts to reveal the long-concealed west window, and donating a new east window (by Clayton & Bell) in memory of his daughter. (fn. 781) St John's chapel was further refurbished in 1873 and 1901, (fn. 782) and in 1904 a new altar and reredos were installed there to designs by J.N. Comper. (fn. 783)
The medievalscreenwas restored to its original height in 1924, the brown 19th-century paint havingbeen removed in 1909. (fn. 784) The roofs of St John's chapel and the north and south aisles were restored in 1937–8 following damage by deathwatch beetle; (fn. 785) the nave and chancel roofs followed in 1949–50 as part of a wider restoration, which included a new electric clock mechanism, removal of a plain 19th-century screen across the tower arch, and installation of a steel bell frame. Electric lighting was introduced in 1933, and improved heating in 1945. A controversial plan to remove the 19th-century pulpit was defeated in 1981, following local opposition and expert advice. (fn. 786)
Besides the Chaucer and de la Pole tombs, the church retains an unusual number of 15th- and 16th-century memorial brasses to local gentry, royal servants, rectors, and masters of the almshouse. (fn. 787) Later tablets commemorate rectors, schoolmasters, and prominent local families, and a war memorial tablet was placed in the south aisle in 1920. The earliest surviving bell may be 16th-century, the remaining five (by various foundries) dating from 1631, 1702, 1782, 1840, and 1950. The saunce is probably early 18th-century (fn. 788)
LOCAL GOVERNMENT
MANOR COURTS AND OFFICERS
In the 1270s tenants of the Despenser, Wace, Montsorel, and Pipard fees owed suit at (presumably) separate manor courts, while two Pipard subtenants attended the abbot of Bec's court at Swyncombe. The earl of Oxford's free tenants (including Adam Despenser) owed suit at the three-weekly hundred court, along with William de Montsorel. (fn. 789) A court baron for the united Ewelme manor continued into the 17th century, meeting twice a year to grant copyholds and receive entry fines and heriots. (fn. 790) It probably lapsed following the Crowns sale of Ewelme manor in 1627. (fn. 791)
Leet jurisdiction was reserved to the hundred court, whose administration became closely linked with that of the honor of Wallingford. (fn. 792) By the 15th century annual views of frankpledge for the honor were held at various places including Ewelme, where tithingmen from several surrounding parishes made their presentments. (fn. 793) Officers for Ewelme itself in the 1520–30s included two tithingmen and two constables and aletasters, who paid 5s. 6d. certainty money and reported misdemeanours concerning watercourses, mill tolls, and brewing and baking. (fn. 794) The pattern continued after the honor of Ewelme superseded that of Wallingford in 1540, (fn. 795) typical business in the early 18th century (when Ewelme still had two tithingmen and two constables) including upkeep of ditches, lanes, and commons. (fn. 796) Following the honors sale to the earl of Macclesfield in 1821 (fn. 797) the courts and payments became increasingly contested; nonetheless the Ewelme view continued until 1847, collecting the ancient sum of 5s. 6d. along with fines for minor encroachments on the common, and electing tithingmen, constables, and a hayward. (fn. 798) Courts in the 17th and 18th centuries still met in the surviving part of the manor house, (fn. 799) which was presumably the venue for earlier views; 19th-century courts met possibly at one of the pubs.
PARISH GOVERNMENT AND OFFICERS
Ewelme had two churchwardens by 1530, (fn. 800) two overseers of the poor by 1603, (fn. 801) and a parish clerk by 1649, (fn. 802) while constables' accounts survive from 1692. (fn. 803) A common herdsman or cowkeeper was mentioned from 1721, when rent from a former warren was diverted towards his income, (fn. 804) and in the later 18th century a field keeper (with counterparts in Benson and Berrick Salome) oversaw grazing in the shared common fields. (fn. 805) All or most of those officers were appointed presumably by the vestry (mentioned in 1749), (fn. 806) although decisions about cropping were made at less formal meetings, with decisions subsequently recorded in the vestry book. (fn. 807)
The churchwardens' income came chiefly from rates, supplemented by rents totalling just over £3 in 1681. (fn. 808) Their land (c.2 a.) was exchanged at inclosure in 1863 and sold in 1965–6. (fn. 809) Expenditure included general upkeep, ringers' fees, the clerk's salary, and destroying vermin, and in the 18th and early 19th century the wardens administered charitable bequests for the poor and church. (fn. 810) Disputes with rectors in the 1840s and 1870s prompted occasional refusals to serve. (fn. 811) The overseers raised rates for poor relief and occasionally paid the cowkeeper, (fn. 812) while the constables, though still essentially manorial officers, undertook the usual parish and peacekeeping functions, including occasional relief of travellers, and repair of the pound and (probably) stocks. (fn. 813) The office lapsed during the 19th century, and in 1883 the parish resolved to appoint a village carpenter as constable at 205. a year from the poor rate. (fn. 814) A surveyor of highways existed by 1863, when (at inclosure) he received a £2 rent charge towards road repair. (fn. 815)
A parish council of six succeeded the vestry in 1894 and continued in 2013, together with a single churchwarden. (fn. 816) The parish became part of Wallingford Poor Law Union in 1834, of Crowmarsh Rural District in 1894, and of Bullingdon Rural District in 1932, joining the new South Oxfordshire District in 1974. (fn. 817)