Pages 21-68
A History of the County of Oxford: Volume 18. Originally published by Boydell & Brewer for the Institute of Historical Research, Woodbridge, Suffolk, 2016.
This free content was digitised by double rekeying and sponsored by Victoria County History Oxfordshire. All rights reserved.
BENSON
The large and thriving village of Benson - by far the most populous settlement in Ewelme hundred - lies in the clay vale close to the River Thames. (fn. 1) Originating as an important royal estate-centre in the mid-to-late Anglo-Saxon period, in the 18th century it became a coaching stop on the London road, with a relatively broad range of trades and a diverse social structure. Until the 20th century it nevertheless remained predominantly agricultural, bordered until 1863 by its large open fields, and governed by the usual rural institutions of manor and parish. Its late 20th-century development was influenced by the establishment of a wartime military airfield which, with RAF Brize Norton, developed into one of Oxfordshire's two main military air stations. The extended airfield now occupies much of the former farmland between Benson and Ewelme.
At approaching 3,000 a. the surrounding ancient parish was large, encompassing the small outlying hamlets of Fifield, Preston Crowmarsh, Rokemarsh, and most of Roke. (fn. 2) All are included in the following account.
PARISH BOUNDARIES
What became Benson parish emerged gradually during the 10th and 11th centuries, as the piecemeal break-up of the Benson royal estate (which extended across the Chilterns) created the later pattern of manors and parishes. (fn. 3) Benson, Ewelme, and Berrick Salome formed separate lordships by 1086, but their earlier interconnection was reflected in a shared open-field system which continued until 1863 (Fig. 4). (fn. 4) Consequently their mutual boundaries were indistinct, definable only by the scattered open-field strips belonging to their respective manors and owing tithe to their respective churches (see Plate 7 and Table 3). (fn. 5) A more clearly defined boundary along Love and Potters Lanes separated a core area of Ewelme known as the 'home parish', an arrangement established by the 18th century and possibly from the Middle Ages. (fn. 6) In the north, the hamlet of Roke became divided amongst all three parishes, reflecting manorial divisions established by the 13th century, while three cottages in Berrick Salome village similarly remained part of Benson. (fn. 7)
Benson's boundaries elsewhere were more clearly defined. On much of the west they followed the 11th-century shire boundary along the Thames, (fn. 8) taking in islands near Benson lock, while the north-west boundary with Warborough (mapped in 1606) divided fields and commons, following in part a straight (and possibly pre-Roman) lane to Ladybrook copse. (fn. 9) Warborough nevertheless remained closely associated with Benson, containing much of the manor's medieval demesne. (fn. 10) The main southern boundary was probably established by 1066 when Crowmarsh Gifford formed a separate estate, and in part follows indentations suggesting that it cuts through formerly shared open fields. (fn. 11) Irregular boundaries in the south-east brought in Oakley wood, the medieval Turner's Court, and a sliver of common pasture at Harcourt or Hartocke Hill, confirmed as belonging to Benson in 1594. (fn. 12) Benson also (like most neighbouring parishes) retained small pieces of detached meadow in Drayton St Leonard. (fn. 13)
An independent manor at Fifield formed a detached part of Dorchester hundred until the 19th century, reflecting its pre-Conquest connection with the bishop of Lincoln's Dorchester estate. (fn. 14) By the early 17th century it included a clearly delineated block of old inclosures totalling 139 a., although as it also contained open-field strips its early boundaries may have been less distinct. For ecclesiastical and civil purposes it belonged to Benson parish throughout, and was counted as part of Ewelme hundred from c.1882. (fn. 15)
Benson's boundaries were rationalized at inclosure in 1863, creating a parish of 2,920 acres. Ten scattered detached areas in the north and north-east (totalling 160 a.) reflected earlier complexities. Changes in 1882 reduced the detached areas to five (total 154 a.), whose removal in 1932 (alongside other alterations) left Benson with 2,748 acres. The projection at Harcourt Hill was transferred to Nuffield at the same time. (fn. 16) The changes left Roke still divided between Benson and Berrick Salome, until in 1992 Rokemarsh and the whole of Roke were transferred to Berrick, and Turners Court to Nuffield. Other rationalizations were made around Oakley wood, Potters Lane, and in the north-west, and in 2011 the parish covered 2,431 a. (984 ha). (fn. 17)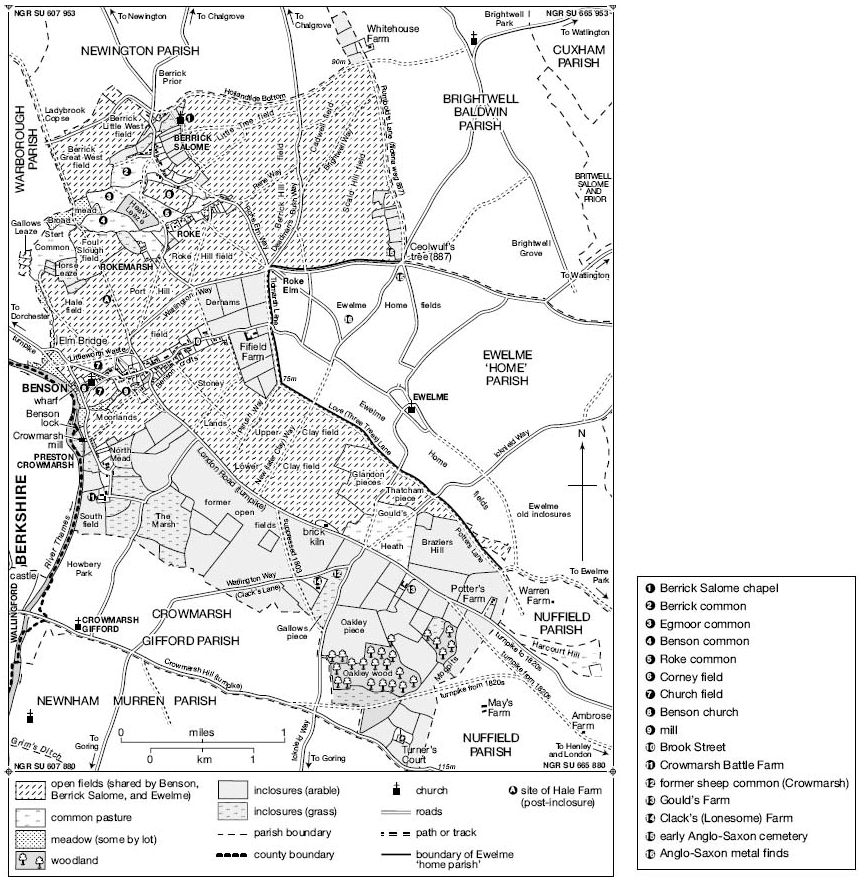 LANDSCAPE
Most of the parish (including Benson itself) occupies open and low-lying agricultural land on the Thames floodplain, rising eastwards, in some places quite steeply, from c.45 m. by the river to over 100 m. near Potters Farm, Turners Court, and (within the former shared fields) north-east of Berrick Salome. The geology is mostly gravel rising onto chalk, while a narrow strip of riverside alluvium provided a few small meadows. North of Roke the alluvium spreads further, underlying the large former commons from which Rokemarsh is named. Crowmarsh, by the River Thames, recalls another low-lying common further south, although there the settlement itself rests (like Benson) on riverside gravel.
Until 1863 the rest of the parish was mostly taken up by the shared open fields, with contrasting areas of 17th-century inclosure at Crowmarsh, and of probably medieval inclosure interspersed with woodland on the slightly higher ground in the south-east. Field names reflected the terrain and the soils' varying quality, with hill-names predominating north-east of Berrick, clay-names in the south close to Ewelme, and Moorlands marking a small low-lying field next to Crowmarsh. Streams are plentiful, that from Ewelme (emptying into the Thames through Benson village) now partly culverted, but still flowing open alongside Brook Street. Others crossed the former Roke commons, (fn. 18) and occasional riverside flooding continued in the mid 20th century. (fn. 19)
COMMUNICATIONS
Roads
Until 1932 the main Dorchester-Henley road (turnpiked in 1736) ran through Benson village, continuing eastwards to London, and westwards (via Oxford or Abingdon) to Wales and the Midlands. (fn. 20) Roads north-eastwards link with neighbouring villages and the former market town of Watlington, (fn. 21) while Wallingford, across the river, is accessible via the early river crossing at Shillingford, (fn. 22) and southwards via the medieval bridge from Crowmarsh Gifford. No early river crossings are known at Benson itself, though by the 1760s a ferry ran from just south of Preston Crowmarsh mill, (fn. 23) supplemented in the late 19th and early 20th centuries by others at the lock and near the village. The lock ferry continued until the 1960s, to be replaced in the 1980s by a footbridge across the weir. (fn. 24)
Most of the roads are of medieval or earlier origin, but with some changes in their alignments. The Roman road from Dorchester to Henley may have run a few hundred metres north of its modern and medieval counterpart, skirting Benson's northernmost edge to continue along Love Lane, while the Shillingford crossing (established in the Anglo-Saxon period) was preceded by a Roman ford a little further west. North of Benson, a partly surviving track past Hale Farm and Ladybrook copse may mark another early route connecting with the Roman road from Dorchester to Fleet Marston (Bucks.), and seems to align with the top of the former Henley/London road. (fn. 25) A lost Roman road running down Tidmarsh Lane to Silchester has also been suggested, although the name apparently derives from the local Tidmarsh family rather than from Tidmarsh in Berkshire. (fn. 26) Part of the pre-Roman Icknield Way cuts across the parish's south-eastern edge following the Chiltern scarp, and Rumbold's Lane (running southwards along the Brightwell Baldwin boundary) was a 'fielden way' in 887. (fn. 27) Most other major routes were established by the 17th or 18th centuries, (fn. 28) while yeldenbrigge (now Elm Bridge), where the Henley road crosses the Warborough boundary brook, was mentioned in 1301. (fn. 29)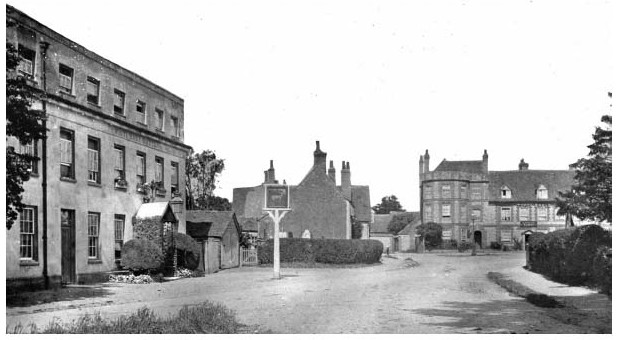 Inclosure in 1863 saw suppression of several field tracks and re-routing or straightening of others, (fn. 30) while the Henley turnpike road near Potters Farm was diverted c.1827, linking it with a re-routed turnpike to Wallingford as part of wider road improvements. (fn. 31) The route was disturnpiked in 1873. (fn. 32) A Benson bypass running from near Elm Bridge to the Henley/ London road was opened in 1932 (Fig. 6), and ten years later (when the London road was severed by the airfield) was replaced by a new, more westerly road to Crowmarsh Gifford, connecting with the Henley road along Crowmarsh Hill. (fn. 33) A section bypassing Crowmarsh Gifford village was added in the later 20th century, and as part of the A4074 remained the principal route towards Henley and Reading in 2015. The truncated old London road survives as a minor metalled road, and the 1932 bypass as St Helens Avenue.
Coaching, Carriers, and Post
Commercial coaching between London and Oxford was established by the 1660s, with services running via Stokenchurch or Benson. (fn. 34) Benson's leading inns were being refurbished by c.1700, (fn. 35) and by the mid 18th century the village (midway between Henley and Oxford) was a chief stopping point for connections, refreshments, and changing horses. (fn. 36) Coach-building developed, (fn. 37) and by the 1790s at least eight long-distance services passed through twice daily, together with mail coaches and 'several' daily services from Oxford. (fn. 38) Opening of the GWR's London-Bristol railway line in 1839–41 had immediate repercussions, however, leading by 1850 to 'the entire discontinuance of 30 coaches that formerly changed horses there daily', and causing unemployment in the village. (fn. 39)
A Benson carrier died in 1695, (fn. 40) and for 'many years' until 1775 John Parker of Benson operated stage wagons and carts from Abingdon to London. (fn. 41) London carrier services continued intermittently from the 1840s (when Roke had its own carrier) to 1890s, alongside services to Oxford, Abingdon, and (sometimes) Wallingford and Reading. By the 1920s carriers ran to Wallingford only. Motorized bus services from Oxford and Wallingford were established by 1920, and by 1939 were extended to Henley and Reading. (fn. 42) Even so in 1965 nearly 70 per cent of the working population relied on car travel. (fn. 43)
A post office was established by 1809, with letters delivered in the 1840s through Wallingford. (fn. 44) By 1869 it was also a money-order and government annuity and insurance office and a post office savings bank, and by 1876 a telegraph office. (fn. 45) Sited then near Mill Lane, it moved before 1899 to a site further along High Street, (fn. 46) and in 2010 (following a brief closure) to a pavilion behind the village hall. (fn. 47)
River and Railways
During the earlier Middle Ages Benson may have benefited from a well-documented river trade between the upper Thames and London, its right to salt tolls (recorded from the 1260s) perhaps reflecting a pre-Conquest trade in salt shipped downriver from Bampton. (fn. 48) From the later Middle Ages large-scale commercial navigation this far upstream largely ceased until the Thames's re-opening to Oxford from the 1630s; (fn. 49) by the 18th century, however, barges carrying agricultural and other goods passed regularly through Benson lock, (fn. 50) and a wharf west of the church existed by 1717. (fn. 51) Even so some London imports were still carted overland from Henley in the 1780s, (fn. 52) and in the 1750s Benson's wharf house was decayed and the profits minimal. (fn. 53) By the 1830s the wharf dealt predominantly in coal, and so continued until the mid 1930s, after which it was redeveloped for pleasure traffic. (fn. 54)
Benson lock, associated with the nearby mill at Preston Crowmarsh, existed presumably from the Middle Ages, and was perhaps the derelict weir associated with a mill c.1375. (fn. 55) From the 1580s both lock and weir were mentioned frequently, and in 1788 the flash lock, with a winch on the Benson bank, was replaced by a gated pound lock on the Berkshire side. Even so neglectful keepers (including millers) caused occasional delays to traffic in the 1790s–1850s. The lock was rebuilt in 1870, when pleasure boats were superseding commercial vessels, and in 1913 the keeper's house was replaced. (fn. 56)
Early railway links left Benson stranded, and plans in the 1860s for a GWR branch to Watlington via Benson were abandoned because of rival schemes. A station at Wallingford (c.3 km from Benson) was opened in 1866, however, and another at Watlington (with a line running eastwards to Princes Risborough) in 1872. In the 1890s an omnibus ran twice daily to Wallingford from Benson's Crown Inn, connecting with London trains, and both lines still transported livestock and agricultural produce in the 1930s, bringing in coal and coke, fertilizer, cattle feed, and road stone. Passenger services ended in the late 1950s, and the stations were closed in 1965 and 1961 respectively (fn. 57) Plans c.1898 for a Didcot-Watlington light railway across part of the parish came to nothing. (fn. 58)
POPULATION
Benson In 1086 Benson manor had 66 recorded tenants, although many probably lived outside the later parish in Warborough, Nuffield, Nettlebed, or Holcombe. (fn. 59) Some of the 135 or so tenants listed in 1279 (excluding institutions) probably also lived elsewhere, including Nettlebed: certainly not all of the numerous freeholders were necessarily resident, although few are expressly known to have held land in other places. (fn. 60) Early 14th-century taxation lists confirm that Benson was amongst the larger villages in the hundred, but not exceptionally so: 24 people paid tax in 1306 and 26 in 1327, compared with 23 in Warborough, 27 in Ewelme, and as many as 80 in Chalgrove. (fn. 61) In 1377, following the Black Death, 206 people aged over 14 paid poll tax in Benson and Nettlebed combined, of whom 150 or more were probably from Benson. If so the village may have had a total population of c.270–325 and c.60–80 houses, although Warborough remained of comparable size, and Chalgrove larger. (fn. 62) Sixteenth-century taxation lists suggest a similar ranking, with 26 Benson householders paying tax in 1524 and 8 in 1581, behind Chalgrove in both years. (fn. 63)
From the late 16th century Benson's population rose in line with national trends, particularly after 1700 as coaching boosted its economy. (fn. 64) Fifty three householders paid hearth tax in 1662, (fn. 65) and 268 'conformists' (probably adult inhabitants) were noted in 1676, making Benson marginally the largest settlement in the hundred. (fn. 66) That position was cemented during the 18th century, which saw the parish's total population (most of it in Benson) rise to 811 in 193 houses by 1801, easily outstripping its closest contender Warborough. By 1831 there were 1,266 people and over 220 houses, and though the demise of coaching and agricultural depression saw a fall to 965 by 1901 (when 27 houses were vacant), small-scale growth returned in the earlier 20th century and accelerated from the 1950s, reflecting the RAF presence and village expansion. By 1931 the parish population was 1,264, rising to 2,274 in 1951, and to 4,603 (in 1,315 households) in 1971. Reductions at RAF Benson contributed to slight falls in the 1970s–80s, but population by 2011 totalled 4,754 (1,620 households). (fn. 67)
Hamlets Benson's hamlets had much smaller populations. The largest (Preston Crowmarsh) had 13 recorded tenants in 1086 and 25 in 1279, (fn. 68) but the Black Death left at least five holdings vacant in the 1350s, (fn. 69) and in 1377 only 40 people aged over 14 paid poll tax. (fn. 70) Seven householders were taxed in 1524, (fn. 71) and in the 1630s there were at least nine houses besides the manor house. (fn. 72) The estate was later reorganized as two inclosed farms, though in the 1840s the hamlet still contained 19 houses accommodating 93 people. (fn. 73) Fifield had up to 19 tenant households in 1279, (fn. 74) but may have been substantially depopulated during the later Middle Ages: a map of 1638 showed only the manor house, although several other houses were still counted as part of Fifield in 1662. (fn. 75) By 1811 the population comprised only the 16 inhabitants of Fifield Manor. (fn. 76)
Tenants at Roke were mentioned frequently from the 13th century, (fn. 77) and the total of six households taxed in 1662 must represent a substantial under-assessment. (fn. 78) By 1841 Roke had 40 houses and neighbouring Rokemarsh 21, accommodating a combined population of 270. Over all, some 462 people (37 per cent of the parish total) then lived in the hamlets or outlying farms. (fn. 79)
SETTLEMENT AND BUILDINGS
Prehistoric to Roman
Finds and occupation evidence fit a general pattern for this part of the Upper Thames valley, which saw intensive activity from the Palaeolithic onwards. (fn. 80) Excavated Neolithic settlement by the river (close to Benson church) was probably occupied by part of a wider pastoralist population responsible for the area's numerous monument complexes, which included a cursus and a possible oval barrow within the modern Benson airfield. The same riverside site saw successive Bronze-Age and Iron-Age settlement subsisting on mixed farming, with comparable occupation further north near the Berrick–Warborough boundary. (fn. 81) Finds suggest similar early settlement around Littleworth, and possibly south of Crowmarsh Battle Farm. (fn. 82)
Roman rural settlement seems to have been widespread, focused on low-status farming communities set within a managed landscape of fields, enclosures, and drainage ditches. A 1st-century site on the modern village's southern edge proved relatively short-lived and saw successive reorganizations, but occupation sites on the Berrick-Warborough boundary continued into the late 4th or early 5th century, and included corn-drying kilns. Further Roman settlement probably lay around the eastern end of modern Brook Street close to an area called Blacklands, (fn. 83) while coin finds and a possible Roman enclosure have been noted on slightly higher ground near Gould's Grove, close to the Roman road. (fn. 84)
The Development of Benson
Anglo-Saxon Benson (fn. 85) Benson village occupies a gravel island by a bend in the Thames, 5 km east of Dorchester and 2.5 km north-east of the 9th-century fortified burh at Wallingford. Written sources suggest that by the late 8th century it formed an important royal estate centre with a significant strategic role in the contested border zone between Mercia and Wessex. Bishop Forthhere of Sherborne may have witnessed a royal grant there between 727 and 736, (fn. 86) and in 779 King Offa of Mercia reportedly recovered Benson from Wessex during a military campaign. (fn. 87) The evidence is not contemporary and may not be wholly reliable, but subsequent land-grants confirm its 9th-and 10th-century status as an important West Saxon royal possession with a large dependent territory. (fn. 88) The Anglo-Saxon Chronicle's account of a West Saxon victory at Benson in 571, though probably largely mythic, similarly reflects the area's importance when the Chronicle was being compiled in the late 9th century. (fn. 89) A key factor in Benson's early emergence as a royal centre was presumably its proximity to the former Roman town of Dorchester, where King Cynegils of Wessex was baptized c.635 in the presence of his overlord King Oswald of Northumbria, and which subsequently became the area's chief ecclesiastical focus. (fn. 90)
Archaeology confirms an early-to-mid Anglo-Saxon presence in Benson, with possible foci in the south-west near St Helen's Avenue, and further east around Brook Street. The excavated St Helen's Avenue site (100 m. south of Benson church) revealed 6th-to 8th-century occupation including sunken-featured buildings, and a comparable site may be recalled in the place name Littleworth, for a fringe area on the village's northern edge. (fn. 91) Finds suggested only modest rural settlement, however, and no archaeological confirmation has yet been found for a royal residence or high-status focus, despite recent speculation regarding an excavated feature south of Benson church, (fn. 92) and despite earlier claims for an enclosure (now under housing) between the church and the river, where finds of bones and weapons were reported in the 18th century. (fn. 93) A late Anglo-Saxon royal residence may, however, have lain outside the main estate centre near Newington, where a site called Kingsbury ('king's burh or fortified enclosure') belonged to the royal estate until c.1155, and included a walled curia. (fn. 94) Firm evidence for an early church at Benson is similarly lacking, although in the medieval period Benson claimed residual parochial rights over much of the former royal estate, suggesting a pre-Conquest church of above average status. (fn. 95) Recent work also suggests that Benson's topography may preserve traces of late Anglo-Saxon grid planning, of a type lately proposed for many other sites during the period. (fn. 96) The place name Bensington (gradually shortened to Benson from the 16th century) (fn. 97) means either 'the tūn of Banesa's folk' (suggesting an early established Anglo-Saxon settlement), or, more likely, 'Banesa's tūn'. (fn. 98) If the latter, Banesa's identity and date remain problematic, unless he was an unrecorded royal tenant.
Benson itself was set within a wider landscape shaped by the royal estate, with the putative king's burh and a dependent farm or berewic to the north, the likely hundredal meeting place to the north-east, and a possible trading or tax collection area suggested by coin and metal finds on the edge of Ewelme parish. (fn. 99) To the west, Warborough ('watch hill') may have fulfilled a protective function for the royal centre, (fn. 100) while undated burials reported at Gallows Leaze, on the Warborough–Benson boundary, may reflect an Anglo-Saxon execution cemetery. (fn. 101) Over all, what constituted 'Benson' in the 8th or 9th century probably encompassed a complex extending way beyond the modern village.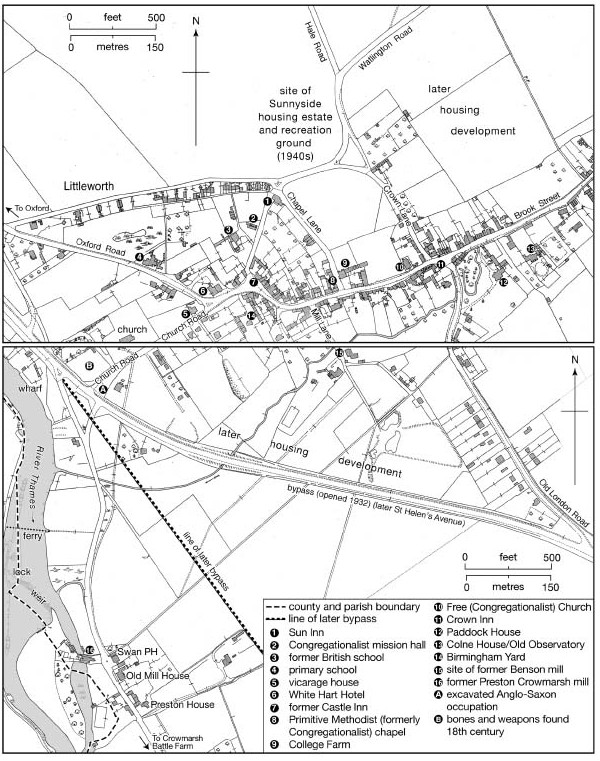 Medieval and Later Development In 1086 Benson remained the most valuable royal estate in Oxfordshire, (fn. 102) but despite its early importance it failed to develop urban characteristics, overshadowed at first, perhaps, by the important ecclesiastical centre at Dorchester, and from the 9th century by the new royal burh at Wallingford and other emerging market centres. (fn. 103) How late any royal residence was maintained is unknown: no late-Saxon or post-Conquest kings are known to have stayed there, (fn. 104) and from the mid 13th century the manor was frequently held by high-status non-resident lords whose local power-base was Wallingford castle. (fn. 105) A broadening of Benson's main street at what is now Castle Square (where there is a pronounced dog-leg) (fn. 106) may hint at a small pre-or post-Conquest market area, but no market grants are recorded, and by the 13th century Benson was a predominantly agricultural village, albeit with a relatively broad range of crafts. (fn. 107)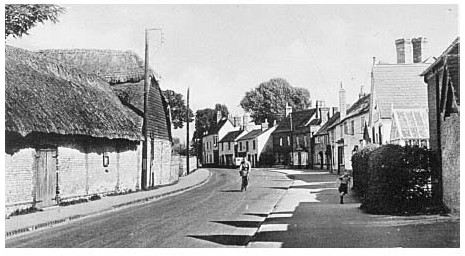 Evidence for Benson's medieval topography (the church apart) is mostly lacking, (fn. 108) but the main elements were established by 1638 when it was partly mapped. (fn. 109) As later, the London road dog-legged through the densely built-up village centre past the White Hart and Red Lion inns, continuing down Mill Lane. An alternative route ran down the later London road a little further east, adopted as the turnpike road in 1736. (fn. 110) Church Way (so called by 1788) (fn. 111) ran westwards past the church to Crowmarsh Lane and the river, while modern Chapel Lane (already partly built on) (fn. 112) ran northwards to the open fields. Late-medieval buildings survive near the parallel Crown Lane (named from an 18th-century inn), on High Street, and possibly near the top of Old London Road, while 16th-century buildings in the village centre include part of the large former farm complex at College Farm. (fn. 113) Brook Street, running alongside the stream from Ewelme, may have also been partly built up in the Middle Ages: Exeter College's farmstead at its eastern end (near Fifield) existed probably by the 1480s, (fn. 114) and in the mid 18th century several houses lined its north side, with a few others south of the brook. Littleworth waste, a strip of land on Benson's northern edge, had cottages on its southern side by 1708, although most existing buildings there are later. (fn. 115) A village pound reportedly stood at Littleworth's eastern end, with the stocks nearby. (fn. 116)
Eighteenth-century rebuilding and refronting altered the village's appearance but not its basic layout, the rising population being apparently accommodated through subdivision, increased infill, and (by the 1840s) the development of a few cottage rows and yards. (fn. 117) The mid-to-late 19th century saw some small-scale new building at Oxford Road (site of the new village schools), Littleworth, and the area in between, but in the 1930s the built-up area remained little expanded, interspersed with several large open spaces (including allotment gardens) in and around the village, and with a few larger houses (chiefly but not exclusively along Brook Street) still occupying their own grounds as in the 1840s. Small-scale expansion along the Old London Road and near Hale Farm began before the Second World War, but only in the 1960s–70s was there substantial growth, with intensive housing development on the village's northern fringe and in the angle between the Old London Road and St Helen's Avenue. The northern development incorporated playing fields and a new school, and a large village hall was opened nearby in 1988. Changes within the older village included demolition of College Farm's street-side barns c.1962 and their replacement by a nondescript row of shops, set back behind a featureless parking area. Later proposals prompted local protests and, eventually, creation of a conservation area in 1995, retaining much of Benson's historic character. The waterfront was developed for recreation from the 1940s, when the former wharf was bought for conversion into a bathing and boating station and Rivermead gardens were laid out by the parish council. By the 1980s there was a cruiser station, marina, and caravan park, largely separated from the village by the busy A4074. (fn. 118)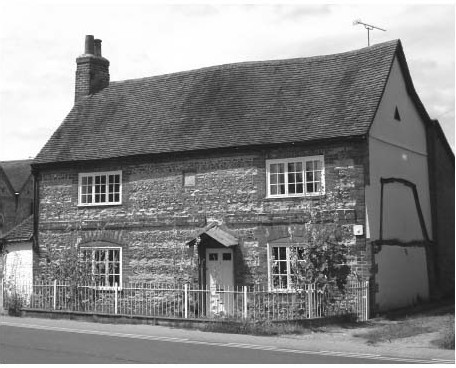 Twelve street lamps were erected by subscription in 1887 to mark Queen Victoria's Diamond Jubilee, (fn. 119) and piped water and electricity (generated initially at Crowmarsh mill) were available from the 1920s, although many houses remained unconnected until considerably later. Mains drainage followed in the mid 1950s. (fn. 120)
Benson's Built Character (fn. 121)
The village's most distinctive buildings are those reflecting its prosperous coaching era (c.1690–1830), featuring red, glazed, and grey/blue brick (sometimes elaborately patterned), red-tiled roofs, and (sometimes) stone dressings. Timber framing also continued into the 16th and 17th centuries, while many lesser buildings are of poor-quality local stone rubble or clunch (now usually rendered), sometimes combined with brick dressings and flint, and sometimes thatched. The better-quality bricks were almost certainly imported, despite the establishment of a small-scale brickworks at Beggarsbush Hill (by the turnpike road) by the 1780s. (fn. 122)
One of the village's few surviving medieval houses is 1 Brook Street at the bottom of Crown Lane, a small cruck-framed dwelling of relatively primitive construction encased in banded clunch rubble and brick in 1747. The structure retains smoke blackening from an open hearth, and remains of a cross passage. (fn. 123) The slightness of its timbers (replicated in re-used medieval fragments in the loft of 20 Old London Road) has prompted speculation that good building timber was in short supply in medieval Benson; (fn. 124) high-quality local building stone was also largely lacking, however, and many of the villages medieval houses may similarly have been timber-framed. If so their loss presumably reflects large-scale rebuilding during Benson's later periods of prosperity. Sixteenth- and 17th-century timber buildings (all box-framed) include Brook Cottage, and College, Castle, and Brook Farmhouses, of which College Farm (now rendered) passed to Magdalen College, Oxford, with a substantial freehold in 1569–70, (fn. 125) and subsequently acquired a timber-framed parlour and chamber wing. Its large adjacent barns fronted the main street, (fn. 126) and similar farmyards formerly adjoined most other large farmhouses in the village, reflecting the prosperity of Benson's emerging yeoman farmers. (fn. 127)
An Exeter College tenant was required to erect a chimney in 1553, (fn. 128) and chambers over former open halls are documented from the 1580s. (fn. 129) Inserted brick chimneys at 28 High Street and College Farm culminate in diamond-shaped stacks intended for show, while surviving internal decoration includes an early 17th-century painted frieze and false painted graining around the doorway at Brook Farmhouse, superseding the painted cloths mentioned in an unidentified house in 1588. (fn. 130) Up-to-date lobby-entrance plans (grouped around central stacks) were being introduced by the later 17th century, while the former farmhouse at 74–76 Brook Street incorporates end-stacks and a central stair tower facing the road, flanked by outshuts which probably provided cool storage. The house's end walls are of stone rubble, which thenceforth became more common. (fn. 131) Seventeenth-century probate documents point to adoption of parlours and increasingly elaborate furnishings by better-off yeomen and gentry, (fn. 132) of whom some occupied houses taxed in 1662 on between six and eleven hearths. Nevertheless a fifth of householders in the 1660s still had only two hearths, while 38 per cent had only one. (fn. 133)
The partly timber-framed Red Lion inn was successively remodelled from c. 1680–90, beginning with a fashionable brick-and-stone east front, and culminating by 1752 in a gently curving 'brick showpiece' along High Street, featuring sash windows, a parapet, and blue/grey headers with red dressings (Plate 11). The Crown was refronted in brick and stone in 1709, while the King's Arms was adapted from two former cottages before 1727 and remodelled in phases, acquiring a striking semi-circular brick-built corner tower (Fig. 5) which, between 1750 and 1779, prompted its renaming as the Castle Inn. Rounded corners facilitated access to the rear stable yard. (fn. 134) Several private houses acquired similarly fashionable frontages alongside more humble rebuildings in stone and thatch, while in the late 18th and early 19th centuries compact villa-style dwellings in their own grounds were built for aspiring gentleman farmers or tradesmen. Of those, Paddock House south of Brook Street (grey and red brick with a Welsh slate roof) was owned in 1841 by the farmer Edward Shrubb, while Kingsford House and Colne House belonged to the prominent Powell family, coachmakers, innkeepers, and landlords. The latter passed through marriage to the lawyer Henry Corsellis, whose relative Nicholas (a surgeon) occupied another villa off Brook Street. (fn. 135) The final inn refurbishment was that of the White Hart (Fig. 5), remodelled in the 1830s with a grand three-storeyed stuccoed front of eight bays, a delicate ironwork porch, and a (now lost) carved hart facing the street. (fn. 136)
Labourers' accommodation was increased partly by subdivision during the late 18th and 19th centuries, though some small cottage rows were built on High and Brook Streets, and from the 1770s to 1870s Littleworth was built up piecemeal with cottages and cottage terraces, of which several bear initialled datestones and may have been speculative developments. Some are remodellings of earlier buildings, and variously feature stone or clunch, brick, thatch, tile, and Welsh slate. (fn. 137) Additional cottages were created in Birmingham Yard south of Castle Square, adjoining small-scale industrial premises including a wheelwrights' and smithy. (fn. 138) New 19th-century institutional buildings included the National and British schools (1851), new vicarage house (1869–70), and Congregationalist Free Church (1879), all of brick or flint. A timber and corrugated-iron Congregationalist hall was built on Watlington Road before 1903. (fn. 139)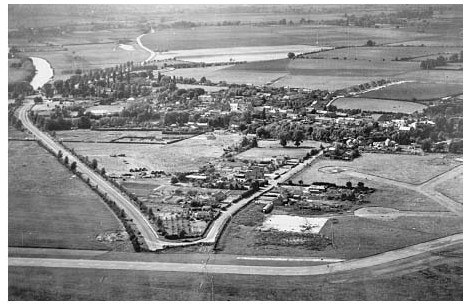 Modest red-brick terraces at 5–11 Brook Street and on Chapel Lane are dated 1905 and 1911, and in the early 20th century the pioneering meteorologist W.H. Dines (d. 1927) built a small (now-demolished) observatory next to Colne House. Otherwise there was little new building until the 1930s, when the parish's first council houses (featuring period designs and 'Tudor' half-timbering) were built near Hale Farm. More standard post-war designs (by Harry Smith of Oxford) followed at Sunnyside, grouped around a new recreation ground. Private development accelerated from the 1960s, with new housing built around St Helen's Avenue from 1958, at Blacklands and Westfield Road from c.1966, and off Brook Street (partly replacing demolished buildings) from 1965 and in the 1970s. Much is in standard 1960s style, though some later designs attempted, with varying success, to echo traditional materials and features. (fn. 140) As elsewhere, some surviving agricultural buildings were converted into houses. (fn. 141)
The Development of RAF Benson (fn. 142)
A grass airfield on farmland between Benson and Ewelme was constructed in 1937–9 as part of the RAF's pre-war expansion programme, equipped at first with four C-type hangars and small domestic and workshop blocks. Bomber squadrons (flying Fairey Battles) moved in briefly from April 1939, followed by the King's Flight and (during 1940–1) by No. 12 Operational Training Unit. The airfield's most crucial wartime contribution, however, was in aerial reconnaissance, heralded by the arrival in 1940 of No. 1 Photographic Reconnaissance Unit. Throughout the war the PRU and its successors (flying Spitfires and Mosquitoes) provided crucial strategic information, processed at the Old Mansion in Cottesmore (in Ewelme parish) before transfer to Danesfield House (Bucks.). Notable successes included location of the Bismarck and Turpitz battleships, identification of V1 and V2 sites at Peenemünde, photographs of the Ruhr dams before and after the Dambusters' raid, and surveying of D-Day landing sites. Extended hard runways were constructed in 1942, providing for heavier aircraft but cutting off the old London road, which Royal Engineers based at Howbery Park replaced with the current road to Crowmarsh Gifford.
The King's Flight (disbanded in 1942) was reformed at Benson in 1946, and in 1953 the newly expanded station (with an additional south runway) (fn. 143) assumed a role within Transport Command, ferrying aircraft across the world. Its transport function was adapted to medium-range operations in 1961, bringing in new Argosy squadrons. Changes from the 1970s maintained a high level of activity, bringing in a succession of squadrons and units including (in 1983) the Andover Training Flight, and in 1992 (on the closure of RAF Abingdon) the Oxford and London University Air Squadrons. From 1990 the station was developed as a major helicopter base, operating Wessexes and (later) Pumas and Merlins: in 2013 it remained a front-line support helicopter base within Joint Helicopter Command, accommodating four helicopter squadrons, several other units, and some 2,000 service personnel and civil servants, alongside a similar number of dependants and civilian staff. The King's (later Queens) Flight remained until 1995, when it was transferred to RAF Northolt. As the station's role expanded so too did its facilities, including the development of a large domestic area (begun by the early 1950s and greatly expanded from the 1970s) east of Green (formerly Clay) Lane near Ewelme, with its own school, church, and recreational facilities set within a fenced compound. (fn. 144) A replica of the Benson Spitfire which photographed the Ruhr dams after the raid was placed outside the station's main gate in 1989. (fn. 145)
Hamlets and Outlying Settlement (fn. 146)
Settlements at Preston Crowmarsh and probably Fifield existed before the Norman Conquest, (fn. 147) and by the 13th century there was settlement at Roke and at some other outlying sites. Preston Crowmarsh, close to the river, developed on the north-western edge of the 'marsh [or common] frequented by crows' from which it and Crowmarsh Gifford are named, its medieval fields extending beyond the common towards Oakley wood. (fn. 148) The apparently interchangeable names Crowmarsh Battle and Prestecromerse (priests' Crowmarsh) were established by c.1300, (fn. 149) reflecting the manor's ownership by Battle abbey (Sussex); both remained in use, but from the 17th century the form Preston Crowmarsh became increasingly common. (fn. 150) The present hamlet comprises Crowmarsh Battle Farm (on the site of the abbey's medieval manor house) and houses further north along Crowmarsh Lane, whose curving line near Lower Farm formerly continued north-eastwards towards Benson. It was apparently truncated during 17th-century inclosure, leaving a sharp angle in the modern road. (fn. 151)
The hamlet's layout was broadly established by 1638 and probably from the Middle Ages, with tenant housing perhaps intentionally separated from the manorial site. (fn. 152) Lower Farm became a significant focus following its sale in 1617, and by the late 18th century included a new farmhouse set back from the lane, with farm buildings and cottages to its south. (fn. 153) Several other cottages were rebuilt or remodelled during the same period, (fn. 154) but there was little infill until the early 20th century when a few houses were built west of the lane to Crowmarsh Battle Farm. (fn. 155) A cluster of houses at the hamlet's northern end lay outside Crowmarsh Battle manor, (fn. 156) but like the nearby mill may occupy medieval sites. They include the former Swan pub (part-dated 1730) (fn. 157) and the 18th-century Old Mill House, while the larger Mill Cottages and Preston House replaced former yards and malthouses in the early 20th century. (fn. 158)
Fifield (meaning 'five hides') formed a separate 5-hide estate before 1066, when there was probably a tenanted house on or near the site of the present Fifield Manor. (fn. 159) Domesday Book mentioned no other tenants, but a parochial chapel probably near Fifield Manor existed in 1163, and by the 1270s there were up to 19 households. (fn. 160) Their location is unclear, though poor-quality earthworks have been noted east of the house. (fn. 161) By 1638 late medieval shrinkage had left Fifield Manor isolated within an island of old inclosures; (fn. 162) early 17th-century deeds still mentioned houses and tofts belonging to its estate, however, and seven houses were taxed under Fifield in 1662. (fn. 163) Possibly those included cottages straggling eastwards over the Ewelme boundary, or lying elsewhere within the parish. (fn. 164) By the 1830s Fifield comprised only Fifield Manor and its surrounding closes, together with a newly built lodge fronting Ewelme road. (fn. 165)
Roke and Rokemarsh developed along a spring line on the southern edge of low-lying commons stretching up to Berrick. (fn. 166) The place name originated as '(le) oak', where habitation was mentioned frequently from the late 13th century. (fn. 167) Possibly the name referred to the later 'Roke Elm' at or near the putative hundredal meeting site, (fn. 168) although that lay some distance south of the modern hamlet. By the 1470s Roke had taken its later linear form, with houses arranged along the southern side of the stream marking the commons edge. (fn. 169) Its regularity suggests a degree of planning, and its division amongst several manors and parishes may indicate an early (and possibly pre-Conquest) origin. (fn. 170) Rokemarsh, a more haphazard cluster of houses to the south-west, may have developed slightly later, though there were buildings there by 1638 and the hamlet was separately noted on 18th-century maps. (fn. 171) Loss of some dwellings during the 20th century was counterbalanced by small-scale rebuilding and infilling, and in 2015 the hamlets' over-all shapes remained little altered. (fn. 172)
A few other outlying sites are recorded from the Middle Ages, some of them possibly survivals from an earlier and more dispersed settlement pattern. The 13th-century bynames 'of Mogpits', 'of Grendon', and 'of Oakley' suggest habitation on the parish's south-eastern edge towards Nuffield and Ewelme, (fn. 173) and substantial inclosed freeholds there called Turner's, Potter's, and Gould's (formerly Goul's or Gull's) were established by the 14th or 15th centuries, probably already with their own farmsteads. (fn. 174) Clack's (formerly Lonesome) Farm was established between 1638 and 1767, superseding a nearby sheephouse. (fn. 175) A brick kiln and adjacent cottages (including a pub) were built on the London road west of Gould's Heath before the 1780s, (fn. 176) and following inclosure in 1863 Hale Farm was built on former open-field land south-west of Rokemarsh. (fn. 177) Outlying 20th-century development included a few houses along the old London road and the Farm Training Colony at Turner's Court, where new housing was built following the school's closure in 1991. (fn. 178)
Buildings in the Hamlets
The hamlets' buildings comprise cottages and a few larger farmhouses constructed of similar materials to those in Benson. Fifield House and Crowmarsh Battle Farm (both former manor houses) are discussed below, together with the outlying Turner's Court. (fn. 179) Otherwise the earliest known domestic building is Russetts at Roke, which incorporates a thatched and cruck-framed structure (possibly a former detached kitchen) dendrodated to 1468, and a storeyed box-framed cross-wing of 1550, the two now linked by a central bay which perhaps replaced an open hall. The box-framing is infilled with painted brick, and the rest encased in stone rubble. (fn. 180) Other larger farmhouses include the probably 17th-century Roke Farm (an L-shaped building combining timber framing, brick, clunch rubble, and a plain-tile roof), while The Cottage in Roke is a smaller dwelling of painted limestone rubble with brick stacks, whose attic storey retains fragments of early 18th-century decorative wall painting and devotional texts, executed in rustic style. (fn. 181) As at Benson, 17th-century inventories show a few leading yeomen occupying wellfurnished houses with parlours, (fn. 182) although in the 1660s few houses were taxed on more than 1 or 2 hearths. (fn. 183)
Among later buildings, Lower Farm in Preston Crowmarsh (rebuilt in the 18th century and remodelled in the 19th) has a rendered front and a hipped slate roof, while the Old Mill House to the north (occupied with the mill by 1841) was remodelled in the late 18th or early 19th century, and has a symmetrical five-bay brick front with banded decoration, 16-pane sash windows, and a moulded timber cornice. (fn. 184) The 19th century saw little new building in either Roke or Preston Crowmarsh, (fn. 185) and 20th-century additions were chiefly confined to small-scale infill in mostly unsympathetic styles. Exceptions include the striking Mill Cottages and Preston House at Preston Crowmarsh's northern end, built by George Faber (later Lord Wittenham) of Howbery Park for his estate workers and bailiff in the early 20th century, (fn. 186) in an idealized vernacular featuring brick and flint dressings, leaded casements, and hipped tiled roofs with decorative brick chimneys. New buildings on the old London road included a thatched 'Keep the Countryside Beautiful' Roadhouse and petrol station built in the 1930s, and the large brick and mock timber-framed London Road Inn at Beggarsbush Hill. Both were demolished in 1942 following (respectively) the airfield's expansion and a fire, although the inn was later rebuilt on a smaller scale. (fn. 187) Surviving agricultural buildings include important farmyard complexes (now converted to other uses) at Crowmarsh Battle Farm and Fifield Manor. (fn. 188)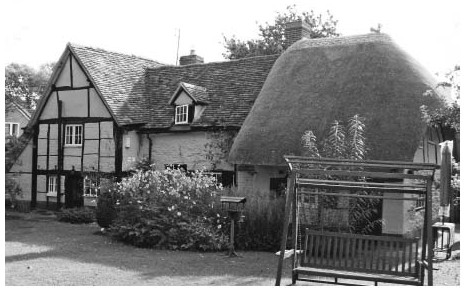 MANORS AND ESTATES
Throughout the Middle Ages much of Benson parish belonged to the large royal manor of Benson, which derived from a larger pre-Conquest royal estate. Exceptions were the small independent manors of Fifield and Crowmarsh Battle, created before 1086, while parts of Roke (along with neighbouring Berrick Salome) belonged to Chalgrove manor from the 11th or 12th century. (fn. 189)
Benson manor's predominance was undermined, however, by its substantial number of free tenancies, reflecting its status as ancient royal demesne. (fn. 190) By the 17th century most Benson holdings owed only small quitrents, while several freeholds and leaseholds had developed into substantial subsidiary estates. (fn. 191) Fragmentation was accelerated by the manor's sale to non-resident owners in 1628, and though it continued as a legal entity, claiming quitrents, suit of court, and rights over commons, landownership was dominated by an increasingly complex pattern of freeholds, leaseholds, and subtenancies. By the 1840s there were over a hundred separate owners and, though many were cottagers or other small freeholders, a few leading proprietors had estates of 100 a. or more. In particular the local Newton family owned over 800 a. in all, besides farming the still-separate Crowmarsh Battle estate. Institutional owners included Magdalen and Exeter Colleges, Oxford, with 94 a. and 60 a. respectively, while Lincoln and St John's Colleges owned small parcels attached to neighbouring estates. Christ Church, Oxford, held 17½ a. as appropriated glebe. (fn. 192)
BENSON MANOR
The Manor's Extent
The territory dependent on Benson before the Norman Conquest stretched across the Chilterns to Henley, and may originally have encompassed much of the 4½ Chiltern hundreds. (fn. 193) By the 11th century its fragmentation through piecemeal land grants was well advanced, (fn. 194) though in the 1780s the manor still claimed residual quitrents from Checkendon in Langtree hundred and from Henley and Rotherfield Greys in Binfield hundred, while a perambulation in the 1820s included waste along the length of the Dorchester–Henley road. Within Ewelme hundred, quitrents remained due from Nettlebed, Nuffield, Holcombe (in Newington parish), Warborough, Shillingford, and Roke, and in 1826 jurors alleged that the whole of Nettlebed parish remained within the manors jurisdiction. (fn. 195) Earlier jurors had found the manor so intermixed 'amongst adjacent manors of other lords' that they were unable to 'discern or distinguish [its] certain bounds or limits'. (fn. 196)
The estate's core was nevertheless substantially reduced by the later Middle Ages. In 1086 (when rated at 11¾ hides) it probably still encompassed Benson, Warborough, Shillingford, Nettlebed, part of Nuffield (excluding Gangsdown), and part of Holcombe, together with Henley-on-Thames and Wyfold in Checkendon, while other outliers included ½ hide of waste in 'fern field' (Verneveld), possibly in Swyncombe. (fn. 197) Three hides held by prominent royal servants imply continuing fragmentation, (fn. 198) and Nettlebed, Wyfold, Henley, parts of Shillingford, and Huntercombe in Nuffield were all detached over the following 150 years, alongside numerous smaller-scale grants in various parishes. (fn. 199) In 1279 Henley, Nettlebed, Huntercombe, Wyfold, Preston Crowmarsh, Warborough, Shillingford, and Up Holcombe were still claimed as 'hamlets' and were counted, with Benson itself, as ancient royal demesne. (fn. 200) Most, however, were already effectively independent, and only Warborough and Shillingford (which contained most of the Benson demesne and copyhold land) remained an integral part of the manor into the 16th and 17th centuries, prompting prolonged conflict over manorial rights with other landowners. (fn. 201) In the 19th century the manor retained a 169-a. farm in Warborough and 49 a. in Benson, (fn. 202) along with courts, quitrents, and other manorial rights. Surviving Warborough and Shillingford copyholds were conveyed through the Benson manor court until the 1920s, when the courts and lordship lapsed. (fn. 203)
Ownership to 1628
In the later Anglo-Saxon period direct control seems to have remained with successive kings of Wessex or Mercia, as political authority switched back and forth. Recorded 9th- to 11th-century land grants were made by Æthelred of Mercia (with King Alfred's agreement), Æthelred II, and Queen Ælgifu, (fn. 204) followed by post-Conquest grants by William I, Stephen, and Matilda. (fn. 205)
From the 12th century all or part of the manor was sometimes leased, and from the 13th and 14th centuries it was regularly granted to royal favourites or family members, usually for a limited term. Twelfth-century lessees included Geoffrey de Ivoi (d. 1178), William of Waltham (1189), Richard son of Renfridus (1190), William d'Aubigny, earl of Arundel (1191), and William de Sancte Marie de Ecclesia (1194–6), who mostly paid £57 8s. a year. At other times the manor was run directly through Crown officers. (fn. 206) In 1199 King John granted the manors of Benson and Henley as a knight's fee to the Norman lord Robert de Harcourt, who forfeited his English estates in 1204; (fn. 207) both manors were briefly restored to John de Harcourt in 1217–18, but in 1219 Henry III gave them at pleasure to the alien royal favourite Engelard de Cigogné (Cigony). (fn. 208) He retained them until his death c.1244 when they were given to the king's brother Richard (d. 1272), earl of Cornwall, becoming part of the honor of Wallingford. (fn. 209) Soon afterwards Richard leased the Benson rents and demesne to a group of free tenants for a fixed annual sum, reserving his woods, the lordship, and manorial and hundredal jurisdiction. Their payment was reduced in 1278 after some Warborough lands were given to the chapel of St Nicholas in Wallingford castle, but otherwise the arrangement continued until 143 8. (fn. 210)
Both honor and lordship reverted to the Crown in 1300 following the death of Richards son Edmund, earl of Cornwall. (fn. 211) In 1302 the manor (but not the honor) was granted to Roger Bigod (d. 1306), earl of Norfolk, and in 1309 both were granted to the king's favourite Piers Gaveston (d. 1312), earl of Cornwall. (fn. 212) Queen Isabella held them in dower from 1317–24 and 1326–30, (fn. 213) following which Edward III bestowed them on his younger brother John of Eltham (d. 1336), earl of Cornwall. (fn. 214) The honor was annexed in 1337 to the newly created duchy of Cornwall, which Edward III settled on his son Edward, the Black Prince, and on future heirs to the throne; thereafter until 1540 Benson belonged both to the honor of Wallingford and to the duchy, generally reverting to the king during periods when there was no male heir. (fn. 215) On the Black Princes death in 1376 Benson revenues were settled on his widow Joan as dower, (fn. 216) and on her death in 1385 Benson and Nettlebed manors were granted for life to Richard II's chamber knight Sir John Salisbury (executed 1387). (fn. 217) Henry V's widow Catherine (d. 1437) received Benson and other local properties in dower in 1423, (fn. 218) and in 1488 revenues from Benson and three other manors were granted to a doctor for attendance on Prince Arthur. (fn. 219) Otherwise both manor and honor were administered through local Crown officers. (fn. 220)
In 1540 the honor was separated from the duchy and absorbed into the newly created honor of Ewelme. (fn. 221) Benson remained in royal hands until 1628 when, having formed part of the Prince of Wales's endowment from 1619–25, it was sold as part of an extensive disposal of Crown lands. (fn. 222)
Ownership from 1628
The purchasers in 1628 were a group of leading London citizens acting for the City, (fn. 223) who in 1630 sold Benson to the London merchant and future lord mayor Christopher Clitherow (knighted 1636, d. 1641). Clitherow's son Christopher (as executor) sold the manor in 1651 to his fellow London merchant John Highlord, who the following year sold it to the elder Christopher's son-in-law William Paul (d. 1665), a future bishop of Oxford. James and John Clitherow and Thomas Cory, in whose name courts were held, were trustees only. A fee farm rent of £28 145. 1½d. remained payable to the Crown under the 1628 sale, but like several similar rents was later sold. (fn. 224)
The manor passed successively to Paul's sons Christopher (d. 1671), of the Inner Temple, and James (d. 1693), of Bray (Berks.). (fn. 225) Thereafter it descended with the Pauls' recently acquired manor of Rotherfield Greys, (fn. 226) passing to James's son William (d. 1711) and granddaughter Catherine (d. 1753), who married Sir William Stapleton (d. 1740), Bt, and (later) the Revd Matthew Dutton. (fn. 227) Both manors descended to her and William's son Sir Thomas Stapleton (d. 1781), Bt, and to Thomas's son Thomas (d. 1831), Bt, who became Lord le Despenser. Transactions, however, were sometimes in the name of the elder Thomas's widow Mary (d. 1835), who was succeeded by her and Thomas's unmarried daughters Maria (d. 1858) and Catherine (d. 1863), holding in common. All of the Stapleton owners lived at Rotherfield, although their stewards still held manor courts at Benson. Catherine was followed by Lord le Despenser's son Sir Francis Jarvis Stapleton, Bt, and in 1874 by Francis's son Francis George Stapleton (d. 1899). His nephew Sir Miles Talbot Stapleton was lord in 1926 when the surviving copyholds (all in Warborough) were extinguished. (fn. 228)
FIFIELD MANOR
By 1086 a 5-hide estate at Fifield belonged to the bishop of Lincoln's large Dorchester manor, having presumably been granted to one of his predecessors before the Conquest. The tenants were probably Rainald and Vitalis, who jointly held 5 hides of the bishop at an unspecified location. (fn. 229) By the early 13th century the manor was held as a knight's fee by members of the de Hoyville family, including Richard (d. c.1212), (fn. 230) Geoffrey (fl. 1228), (fn. 231) Sir Hugh (fl. 1260), (fn. 232) and Sir Philip (fl. 1279), who owed scutage and suit at the Dorchester hundred court. (fn. 233) The bishops over-lordship was still mentioned in 1396, (fn. 234) and the estate was called a manor into the 18th century, long after it became a single farm. (fn. 235) Annual quitrents of 29s. 4d. to Benson manor remained due in the 1780s. (fn. 236)
Philips successors included William (fl. 1316–27), Richard (fl. 1346), (fn. 237) and John de Hoyvile, who in 1360 sold the manor to John Bernard of Wooburn (Bucks.). (fn. 238) From 1379 the owner was John James (d. 1396) of Wallingford, a landowner and MP succeeded by his son Robert (d. 1432), sheriff of Oxfordshire and Berkshire. Fifield passed with Boarstall manor (Bucks.) to Roberts daughter Christine Rede (d. 1435) and grandson Sir Edmund Rede (d. 1489), who left it to John Rede, then a minor; it reverted to the main Boarstall line, however, passing before 1560 to the Dynhams as the Redes' descendants through marriage. (fn. 239) They and probably the Redes and Jameses leased the estate (reckoned at some 790 a.) to resident farmers, including (from 1575 to 1685) successive members of the Stampe family. (fn. 240)
The manor was included in the Dynhams' transactions with Alexander Denton (d. 1577) and his son Thomas, who secured it in 1596, and in 1623 sold it to the Abingdon lawyer John Blackmail (d. 1625), owner of Preston Crowmarsh. (fn. 241) Blacknail's daughter Mary married Ralph (later Sir Ralph) Verney of Middle Claydon (Bucks.), who suffered serious losses during the Civil War, and sold most of Fifield in 1662 to the Wallingford maltster Richard Sayer or Sawyer. (fn. 242) Sawyer's grandson sold it in 1708 to Richard Wise (d. 1740) of Benson, gentleman, who moved to Fifield Manor soon after; in 1724, however, he sold the estate to his creditor George Lewin (d. 1743) of London, who later mortgaged it. Wise's son John (then living in Bloomsbury) re-purchased the freehold in 1747, (fn. 243) the house having been briefly occupied by Hatton Tash (d. 1725) presumably as lessee. (fn. 244)
John Wise moved to Fifield after 1754 (fn. 245) and died there in 1776, leaving the estate to his wife Anna (d. 1779) and then to his nephew John Boote of Stonehouse (Glos.). (fn. 246) From 1777 both house and land were let to the Bonners as tenant farmers, while ownership passed to Bootes daughter Frances, who married Edward Harrington of London. In 1818 she sold the estate to Thomas Newton (d. 1842) of Crowmarsh Battle Farm, whose son Robert Aldworth Newton moved to Fifield c.1827. (fn. 247) By 1841 Robert's combined Benson lands, still focused on Fifield Farm, totalled 398 a., excluding 100 a. of leasehold. (fn. 248) Following Robert's death in 1879 the land was leased and the house occupied by his daughter Emma, who continued as tenant after the estate was sold piecemeal in 1900. The occupant in 1939 (Mrs A.G. Wainwright) was still called lady of the manor, but by 1948 the house was held with only 4 acres. (fn. 249)
Fifield House or Manor
Though heavily remodelled in the 18th and 19th centuries, Fifield Manor retains a medieval core. (fn. 250) In its present form it comprises a thick-walled east-west range parallel to the street, with projecting service ranges to the south, and two large courtyards of former farm buildings to the west. The main north front, remodelled by Robert Newton in the earlier 19th century, (fn. 251) has a grand stuccoed façade of eight bays and three storeys, entered through a central colonnaded entrance porch which opens externally onto a balustraded terrace. Tall sash windows light the ground and first-floor rooms, and smaller sashes the upper floor, while the four central bays are marked by brackets under the eaves cornice and by bracketed cornices over the first-floor windows.
The house's western part may have begun as a medieval upper hall accessed from a projecting stair turret at the rear: rooms under the hall were mentioned in 1609, (fn. 252) and the present upper west room retains an early 14th-century traceried window (partly reconstructed), (fn. 253) with evidence of another stair. A medieval private chapel (recalled in the adjacent field-name Chapel close) may have formerly stood beyond the hall or physically within the house, whose westernmost ground-floor room contained a recessed wall painting of the Devil destroyed in the 19th century. (fn. 254) The house's eastern part may have contained a storeyed chamber block with ground-floor service rooms, whose two-centred arched doorways (one of which survives) led to a narrow bay containing a cellar and, probably, more stairs. A detached kitchen beyond survived in the 17th century. (fn. 255) The Ewelme stream flows through the curtilage on the north, but no trace of a moat survives on the other sides.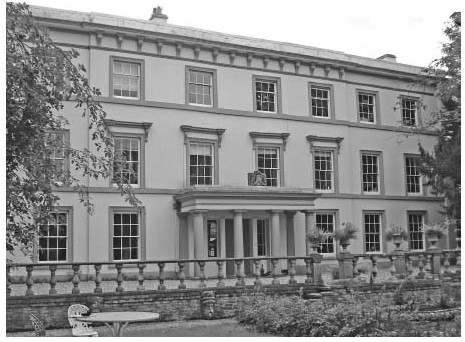 By 1612 the hall contained wainscoting, glazed windows, and a fireplace. (fn. 256) Remodelling before 1685 saw the ground-floor rooms converted to kitchen, ceiled hall, and parlour, all with chambers above, and in the 1660s the house was taxed on four hearths, implying some upstairs heating. The old detached kitchen stored 'lumber' and had a granary above, other outbuildings including a buttery and milk-house. (fn. 257) Eighteenth-century panelling in the entrance hall and ground-floor west room reflects remodelling probably by the Wises, (fn. 258) who added a rear service wing, while Newton's remodellings included addition of the house's third storey, creation of the new entrance front, insertion in the former hall of an open-well staircase with cast-iron balustrade, and addition of a south-west domestic block parallel to the main range. An ornamental fountain was added at the front in 1849. (fn. 259) Major renovations to the house and gardens were carried out from the 1980s, and a new brick, flint, and timber range was added at the rear in 2000. (fn. 260)
Farm buildings in the 1630s included a dovecot to the south and barns to the west and south-west. (fn. 261) The present clunch-built rectangular dovecot was altered for the Wises in 1767, (fn. 262) its upper part rebuilt in flint, and the interior re-lined in brick. Robert Newton rebuilt the farmyard on an imposing scale in 1825–7, creating a courtyard flanked by cattle sheds, a stable block, and four large brick-built barns with vitrified headers, all closely reminiscent of the layout at the Newtons' Crowmarsh Battle Farm. (fn. 263) The farmyard became separated during the earlier 20th century, and was converted to other uses from the 1990s. (fn. 264)
PRESTON CROWMARSH (CROWMARSH BATTLE) MANOR
A 5-hide estate at Preston Crowmarsh was granted to Harold Godwinson before 1066, rejoining Benson manor on Harold's accession as king. William I gave it to Battle abbey (Sussex), (fn. 265) which retained it until the abbey's dissolution in 1538. (fn. 266) In 1279 the estate included a 240-a. demesne and 9½ tenanted yardlands, perhaps 520 a. in all, and had its own manor court. (fn. 267)
In 1540 the Crown sold the manor to Sir Thomas Pope, who returned it in exchange five years later. (fn. 268) In 1590 it was sold via agents to William Spencer (d. 1609) of Yarnton, (fn. 269) whose heirs sold it in 1617 to Thomas Freeman, lessee of the manor house and farm. Freeman sold it in 1619 to John Blackmail of Abingdon, and it descended with Fifield until 1664 when Sir Ralph Verney sold it to a Clerkenwell brewer, Henry Knight or Brothers. (fn. 270) In 1696 it was bought by Thomas Cowslad of Newbury, whose son William sold it in 1742 (as a manor) to the Southwark brewer Ralph Thrale (d. 1758) with five houses, a dovecot, and 490 acres. (fn. 271) Ownership passed thereafter to Ralphs son Henry (d. 1781) and granddaughter Hester Maria (d. 1857), later Viscountess Keith, followed by her nephew Bertie Mostyn (d. 1876) and daughter Georgina Augusta Osborne Elphinstone (d. 1892). (fn. 272) Under Augustas will the estate was offered for sale in 1893 as a 433-a. farm, (fn. 273) but passed instead to her relative the dowager marchioness of Lansdowne (d. 1895), succeeded by the 5th marquis. He sold it in 1909–10 to the farmer F.P Chamberlain (the tenant since 1894), (fn. 274) whose family still farmed there in 2015. Earlier owners were non-resident, and from the 16th to 19th centuries the manor house, demesne, and later the whole estate were leased to prominent local farmers including the Freemans, Stampes, Symeses, Lovegroves, and (from c.1796) the Newtons. (fn. 275) Manor courts in the 1590s–1610s were held in the Stampes' or Freemans' names. (fn. 276)
A smaller estate focused on Lower Farm (fn. 277) may have originated with Thomas Freeman's sale of 62 a. to Anthony Phelp (alias Janes) of Preston Crowmarsh in 1617. (fn. 278) The Phelps remained at Lower Farm in 1724, (fn. 279) but by the 1780s the estate was owned with Fifield and let to Philip Padbury, until sold to the Newtons c.1799. (fn. 280) They ran it with Crowmarsh Battle farm, and in the early 20th century the land passed to the Chamberlains. (fn. 281)
Manor House (Crowmarsh Battle Farm)
A manorial complex on the site of Crowmarsh Battle Farm may have existed by 1086, and in the 14th century included a hall, great chamber, chapel, bakery, and numerous farm buildings including stables, an oxhouse, and a pigsty. A tile-coped wall with a south gate enclosed the curtilage. (fn. 282) The premises accommodated abbey officers or bailiffs until 1362, when the buildings were presumably let with the demesne. (fn. 283)
The existing two-storeyed farmhouse, rendered save for a clunch-and-brick west front towards the farmyard, reflects successive remodellings from the 17th to 19th centuries, but contains hints of an earlier house. (fn. 284) The roof includes numerous re-used medieval timbers, some of them smoke-blackened, and the large central brick-built stack may have originally been an insertion into a north-south timber-framed open hall. (fn. 285) Remnants of a possible west-east cross passage towards the house's southern end may also hint at a medieval plan. The brick-and-clunch west front was built probably in the late 17th century, perhaps by the tenant Bartholomew Symes, whose initials (with the date 1684) formerly appeared on the adjacent brick-built dovecot. (fn. 286) Sash windows were inserted a few decades later, and the range extended at the north end. The house's current appearance dates primarily from a remodelling c.1820, presumably for the prominent tenant farmer Thomas Newton (d. 1842): the eastern front was substantially rebuilt with new windows and a projecting wing, a new main staircase was inserted, and (then or earlier) the roofs were reconstructed, combining softwood with the re-used timbers. Piecemeal 19th-century additions on the north include a larder, scullery and dairy mentioned in 1893. (fn. 287)
The farmyard lay south-west of the house by the 1620s, flanked by barns and stables and including a predecessor of the present dovecot. (fn. 288) The farm buildings were rebuilt on a grand courtyard plan c.1790–1820 presumably for Newton, the barns and shelter-sheds predominantly timber-framed, and the stables of brick-and-flint, while a timber granary dated 1800 is raised on staddle-stones. All were converted to commercial use c.1998–9. (fn. 289)
TURNER'S COURT MANOR
An inclosed estate near the Benson–Nuffield boundary existed by 1316, when Robert Breton gave Tornorleslonde and Tornorescrofte to William Marshall, lord of Crowmarsh Gifford. (fn. 290) An associated house called Turners Court existed possibly by the 1330s and certainly by the 1550s, (fn. 291) when the estate was usually called a manor. (fn. 292) Ownership passed to the royal administrator John de Alveton (d. 1361), whose goods at Turners were posthumously seized by the Black Prince. (fn. 293) By 1409 the estate belonged to Thomas Chaucer, (fn. 294) and though formerly held of Benson (fn. 295) it became associated until the 17th century with Chaucer's neighbouring manor of Ewelme, passing in 1501 to the Crown, and from 1525–34 to Charles Brandon, duke of Suffolk. (fn. 296) By then it was regularly let to resident yeomen on 21- or 31-year leases at £5 3s. 11d. rent, 16th-century tenants including Richard Dewbury (by 1515), (fn. 297) John Collins (d. 1559), (fn. 298) Stephen Smith (d. 1606), (fn. 299) and Stephen's son Richard. In 1609 it comprised 300 a. of mostly inclosed land in Benson, Nuffield, and Newnham Murren, occupied with the house and farm buildings. (fn. 300)
In 1628 the Crown sold Turner's with Benson manor to representatives of the City of London, (fn. 301) who sold it to John Wise of Nuffield. Richard Wise (owner of Fifield manor) sold it in 1712 to Richard Jennings (d. 1718) of Badgemore near Henley, whose brother William (d. 1732) left it to his sister Margaret Sharpe. Following family disputes she and her son sold it in 1736 to the London brewer William Hucks (d. 1740), who had interests in Wallingford and Ewelme; (fn. 302) the Huckses retained it until 1814 when Robert Hucks (declared a lunatic in 1792) was succeeded by his niece Ann Noyes (d. 1841), who left her Oxfordshire properties to her cousin G.H. Gibbs (d. 1842). (fn. 303) None of the post-1628 owners resided, and both house and land were let to resident farmers including the Hardings, Harfords or Harwards, and Greenwoods. (fn. 304) By 1841 the estate covered c.444 a. in Benson (55 a.), Nuffield (67½ a.), and Newnham Murren, held with 67 a. of additional woodland. (fn. 305)
In 1878 Gibbs's son sold the estate to the resident farmer W.H. Deane, who in 1897 sold it to the farmer William Purves (d. 1906). In 1911 it was bought by the Christian Service Union, which opened the Wallingford Farm Training Colony there the following year. By 1941 the farm covered 850 a., but piecemeal sales followed and in 1993, after the School's closure, the remaining land and buildings were sold. (fn. 306)
Turner's Court itself was in 1628 a Tow old timber building' of four bays, tiled, with an orchard, garden, barns, stables, and malfhouse. (fn. 307) In 1662 it had five hearths, (fn. 308) and in 1706 included a hall, parlour, kitchen, best and maid's chambers, cellars, and outbuildings. (fn. 309) Extensive Farm School buildings were erected to the east and south from 1912 (Fig. 15), but were mostly replaced by upmarket housing in the 1990s. (fn. 310) The much-altered former farmhouse (brick and render with some oak beams and an inglenook fireplace) (fn. 311) was demolished.
MONASTIC AND COLLEGE ESTATES
Several religious houses acquired land in Benson manor during the Middle Ages, though only a few minor holdings (Fifield and the rectory excepted) lay within the parish. (fn. 312) Dorchester abbey held 12 a. there as lessee in 1279, (fn. 313) and a grant to it in 1324 may have included property at Benson or Roke, where the abbey owned 8s. 6d. rents in 1535. (fn. 314) Osney abbey received a 245. prebend in Benson manor from King Stephen c.1140, but exchanged it soon after for land at Warborough and Holcombe (in Newington parish). (fn. 315) Small parcels held by Littlemore priory and Godstow abbey in 1279 were most likely in Brightwell Baldwin and Shillingford, (fn. 316) while weirs or fisheries held by Wallingford priory, the bishop of Lincoln, and Canterbury cathedral priory lay all or partly in the Shillingford–Dorchester stretch of the Thames or in Newington. (fn. 317)
Magdalen College, Oxford, acquired premises in Roke in 1485–9 as part of Chalgrove manor, (fn. 318) and subsequently expanded its holdings. In 1569–70 it acquired an apparently substantial estate from John Marmion of Ewelme, who had inherited from his wife Cecily Slythurst: a 16th-century fine estimated it at over 400 a. including six houses, two tofts, and two dovecots, although the acreages were probably inflated, and not all necessarily lay in Benson. (fn. 319) By the 18th century the holding was focused on College Farm north of High Street, and totalled c.70 a.; (fn. 320) another 34 a. was separately leased, (fn. 321) and in 1833 the colleges combined Benson and Berrick Salome estate covered 312 a. (109 a. in Benson, 193 a. in Berrick, and 10 a. in Ewelme or Warborough). (fn. 322) Another 231 a. was added from the Fifield estate in 1900–1, (fn. 323) but the colleges Benson holdings (including College Farm) were mostly sold to the tenant in 1920–2, and Roke farm (192 a.) in 1986. (fn. 324)
Exeter College, Oxford, acquired a freehold at Benson in 1486 from Robert Bray of Henley, built up piecemeal by the Brays and their ancestors the Meriets. (fn. 325) In 1606 (when it owed quitrent to Benson and Ewelme manors) the estate was reckoned at 63 a., and was focused (as later) on a farmstead on the site of Brookside, at Brook Streets eastern end. (fn. 326) The farm was leased throughout, and sold in 1878. (fn. 327)
RECTORY ESTATE
Between 1140 and 1142 Empress Matilda granted Benson church (with its tithes and a yardland of glebe) to Dorchester abbey, which informally appropriated the revenues. (fn. 328) In 1542 (following the abbeys dissolution) the Crown granted the rectory estate to Oxford cathedral, and in 1546 to its successor, Christ Church College, (fn. 329) which leased it to local gentry and farmers including, for much of the 18th century, the Wises of Fifield, and in the 19th century the Newtons. (fn. 330) The rectorial glebe then comprised only 17½ a., although the great tithes were valued in 1771 at over £630 a year gross. (fn. 331) A 'barn and other houses' mentioned in 1544 (fn. 332) stood probably on the north side of Castle Square, where the estate retained a farmyard, barn, and stabling in the 19th century. (fn. 333)
In 1841–2 Christ Church was awarded an annual rent charge of £1,046 in lieu of great tithes, and at inclosure in 1863 it received allotments totalling c.19 acres, (fn. 334) sold in 1919. (fn. 335) Tithe rents totalling £102 were conveyed to the vicar in 1927. (fn. 336)
ECONOMIC HISTORY
Benson remained predominantly agricultural until recent times, though by the 13th century, like some other large vale villages, it also had a relatively wide range of trades and crafts. During the 18th century coaching briefly expanded its non-agricultural trades, although in 1841 nearly half the population (including 155 agricultural labourers) were still directly involved in farming. Lesser activities included small-scale mineral extraction and (briefly) brickmaking and lime-burning. (fn. 337) The village retained a broad range of shops and services in the early 21st century, though by the 1960s most inhabitants worked elsewhere.
THE AGRICULTURAL LANDSCAPE (FIG. 4)
Open Fields
Until inclosure in 1863 Benson's landscape was dominated by the vast open fields shared by Benson, Ewelme, and Berrick Salome, which in 1788 covered c.1,950 a. from Berricks northern boundary down to Goulds Heath. (fn. 338) The fields' medieval extent was greater, including much of the 500-a. manor of Crowmarsh Battle (inclosed in the 17th century) south of the London road. (fn. 339) Probably the fields were created during the early-to-mid 11th century: before Ewelme and Berrick Salomes separation from Benson, but after Berrick Priors detachment c.1017–35, since Berrick Prior had no stake in them. (fn. 340) By 1300 they had apparently reached their full extent. (fn. 341) Warborough's fields were separate by the 12th century, although the concentration there of Benson's medieval demesne points to their earlier intermingling as part of the large Benson estate. (fn. 342)
Some medieval land grants mentioned Berricks west field and Benson's west, east, and south fields, (fn. 343) but by the 15th century the fields were heavily subdivided, (fn. 344) and in the 18th comprised 16 fields of greatly varying size (c.20 a. to 243 a.). Most contained land belonging to all three parishes, although Berricks strips showed some limited concentration in the northern fields, and Ewelme's in the north-east and south-east (Table 3 and Plate 7), perhaps reflecting a planned allocation at an early date. (fn. 345) In addition Ewelme had its own independently organized 'home fields. (fn. 346) In the 18th century a third of the land was theoretically divided between wheat and barley, a third planted with beans, and a third left fallow, although actual rotations were more varied. (fn. 347) Earlier arrangements are unrecorded, but as farmers held land in widely differing combinations of fields (fn. 348) rotation must always have been complex. A few field and furlong names reflected the arable's varying quality, as with Stoney and Clay fields (between Ewelme and the London road), or the smaller Foul Slough and Moorlands fields (both bordering areas of common). (fn. 349) In 1839 the soils were described as a Tight and fertile loam resting on gravel or clay'. (fn. 350)
Preston Crowmarsh's medieval fields may have been separately organized, since they were apparently inclosed independently of the larger field system. (fn. 351) Middle field, Stoneland, and South field were mentioned in 1391–2, (fn. 352) and a map of 1638 suggests that the fields had formerly covered much of the estate's central area. (fn. 353)
Common Pastures and Meadows
Table 3 The distribution of shared open-field land titheable to Benson, Berrick Salome, and Ewelme, 1788 (fields listed topographically from north).
Field (see Fig. 4)
acreage
% titheable to Benson
% titheable to Berrick Salome
% titheable to Ewelme
Berrick Great West
95 a.
34
63
3
Berrick Little West
26 a.
34
59
7
Corney
20 a.
0
100
0
Little Tree
108 a.
33
59
8
Cadwell
145 a.
33
19
48
Foul Slough
73 a.
97
3
0
Port Hill
163 a.
84
14
2
Roke Hill
122 a.
56
27
17
Berrick Hill
199 a.
47
32
21
Scald Hill
243 a.
27
14
59
Hale
149 a.
100
0
0
Church
53 a.
100
0
0
Moorlands
64 a.
100
0
0
Stoneylands
182 a.
89
3
8
Upper Clay
151 a.
49
7
44
Lower Clay
156 a.
64
3
33
Source: Ch. Ch. Arch., T.viii.b.71.
Commons totalling 220 a. were also shared, though custom limited grazing in some to particular settlements. The largest (100 a. combined) lay between Roke and Berrick Salome, divided into Benson, Egmoor, Berrick, and Rowe or Rokemarsh commons. Inhabitants of Benson, Fifield, Roke, Berrick Salome, and Ewelme claimed rights there, while nearby Sterte common (32 a.) was open to Benson and Fifield inhabitants and to some from Roke and Ewelme. Goulds Heath and Harcourt Hill in the south-east (87 a. in all) were reserved for Benson, Fifield, and some Ewelme tenants. (fn. 354) Most farms carried specified rights in particular commons, (fn. 355) and in the 1790s tenants of Fifield farm and Magdalen Colleges Benson farm were each obliged to provide a bull and a boar to service the herd. (fn. 356) Additional grazing was available in Lammas grounds particularly at Berrick, (fn. 357) and all three parishes shared grazing in the arable or 'intercommoning' fields after harvest. (fn. 358) Preston Crowmarsh's medieval tenants had pasture rights in Heycroft and in the marsh near Crowmarsh Battle farm, and could fold sheep in the manors sheep pasture. (fn. 359)
Shared meadows totalling c.65 a. lay mostly along the Thames and western boundary stream. Additional parcels lay at Woodford mead in Drayton St Leonard, (fn. 360) and many holdings carried rights in Warborough or Shillingford meadows. (fn. 361) Benson's Woodford and possibly Winch meads included lot meadow (re-allocated annually) into the early 19th century, (fn. 362) but small private plots existed from the Middle Ages, fetching fairly low rents of up to 5½d. an acre in the 1270s. (fn. 363) Grassland on the higher ground around Turners apparently also produced hay in the 1350s. (fn. 364)
Woodland
In 1086 woodland attached to Benson manor yielded (with its meadows, pastures, and fisheries) the very large sum of £18 155. 5d. a year. (fn. 365) Much of it probably lay outside the modern parish on the Chiltern uplands: woods there worth £4 a year remained attached to Benson in the 1430s, (fn. 366) although most were apparently separated through piecemeal grants before the later 13th century. Some small parcels of woodland occupied by Benson freeholders in the 1270s may have similarly lain outside the parish, while medieval pannage rights may have also been largely exercised on the uplands. (fn. 367)
By the 17th century Benson's remaining woodland was concentrated on higher ground in the parish's south-east corner. The Turner's Court estate was 'well-wooded' with oak and elm in 1628, although 240 oaks sold chiefly to local buyers may have come partly from attached woods in Newnham Murren. (fn. 368) Oakley and Mogpits woods covered c.96 a., and may have once included the adjoining Oakley closes (c. 60 a.), which were largely arable by the 1260s. (fn. 369) By the 17th century the woods included oak, ash, elm, and coppice, and were divided between Fifield (and later Crowmarsh Battle) manor and May's farm in Nuffield, whose owners sometimes leased them. (fn. 370) Their area remained largely unaltered until the late 20th century, when Oakley wood was substantially reduced partly for quarrying. (fn. 371) Woodlands furlong in Berrick Hill field may recall additional medieval woodland further north, (fn. 372) although the area around Roke (meaning 'at the oak') was presumably largely open by the 13th century. (fn. 373)
Poorer inhabitants obtained fuel from hedgerows, commons, and furze grounds such as Gould's Heath, where the manor court banned use of wheeled carts in the 18th century. (fn. 374) In an attempt to maintain supplies, Magdalen and Exeter College tenants were required to plant oak, ash, or elm trees around their curtilages as part of their rent. (fn. 375)
Early Inclosure
By the 18th century inclosures totalling some 1,500 a. were concentrated in Preston Crowmarsh, around Fifield Farm, and in the Chiltern foothills towards Nuffield, (fn. 376) where the combination of woodland and outlying medieval farms created an early-inclosed landscape reminiscent of the Chiltern uplands. (fn. 377) The island of old inclosures at Fifield (139 a. bounded by Braze and Tidmarsh Lanes) existed by the 1630s, (fn. 378) having possibly formed part of the manors medieval demesne. So too did closes around Crowmarsh Battle Farm, where Sir Ralph Verney carried out further inclosure in the 1650s–60s before selling the estate for profit. Residual common rights there were extinguished by agreement, (fn. 379) and Crowmarsh's open fields (already held mostly in large parcels) were subsequently thrown into larger closes, creating by the 1780s two wholly inclosed large farms. (fn. 380) Inclosures elsewhere included the Lammas grounds near Berrick, small closes around the outlying Whitehouse Farm, and Rumbold's closes along the Berrick-Brightwell Baldwin boundary. Consolidated blocks in the open fields included Great and Little Glandon pieces (c.48 a.) near Goulds Heath, (fn. 381) and were probably partly of late medieval origin. (fn. 382)
MEDIEVAL TENANT AND DEMESNE FARMING
Little is known of how Benson's large Anglo-Saxon estate was run, though charters and place names reflect its varied resources, (fn. 383) and a gift in 887 of six men and their families 'who formerly belonged to the royal vill' suggests slaves or tied estate workers settled on the demesne. (fn. 384) In 1086, when Benson manor still contained land in several parishes, the demesne had five slaves or servi running eight ploughteams, while 61 tenants (32 villani and 29 bordars) held another 24 ploughteams in total. Twenty years earlier the manor had reportedly supported 50 ploughteams, of which some had perhaps become separated through subsequent land grants. The manors other assets reflected its continuing importance as the most valuable royal estate in Oxfordshire, yielding £85 a year including income from meadows, pastures, fisheries and woods (£18 15s.), mills (40s.), church-scot (11s.), and cornrent (£30). By contrast the smaller Crowmarsh Battle manor contained only 6 ploughlands and 4 plough-teams, though it had risen in value from £6 to £8, with half run as demesne and half shared by 4 villani and 7 bordars. Fifield manor may have been entirely demesne, and like the other manors probably pursued grain-based mixed farming. (fn. 385)
By the 1270s tenant landholding in Benson parish was dominated by free tenure, (fn. 386) with over 75 yardlands and 215 a. held by c.78 free tenants and sokemen or by their equally numerous subtenants. By contrast only 19½ yardlands and 47 a. were held by 55 customary villeins or cottagers, all but ten of them on Crowmarsh Battle and Fifield manors. The preponderance of sokemen reflected Benson manors status as ancient royal demesne, (fn. 387) although a higher proportion of customary tenants was recorded on the manors holdings in neighbouring Warborough, where most of Benson's demesne farm lay (fn. 388) The freeholdings' sizes varied from the odd acre to substantial estates, the sokeman Walter Morgan holding nearly 6 yardlands in four parcels, and partly subletting them. Mostly he paid money rent and hidage, although his largest holding also owed light labour services. The parish's villein tenants mostly held ½ yardlands (c.12½ a.) for rent and services, rents at Fifield being slightly higher and services lighter than on Benson or Crowmarsh Battle manors. (fn. 389)
Early 14th-century tax assessments confirm that Benson was among the hundred's larger and more prosperous places, though not exceptionally so. The village's total assessed wealth in 1327 was nearly £79, with individual inhabitants taxed on goods worth between 105. and £15. Preston Crowmarsh (taxed on £22), with its small population of cottagers and villein half-yardlanders, had a much flatter social profile, save for Battle abbey's demesne farm where goods worth £13 were taxed in 1306. (fn. 390) Shared tenancies suggest pressure on land, and some cottagers had under 3 acres. (fn. 391)
Benson manor's demesne (254 a. in 1279) (fn. 392) was restocked in 1178–9, when the manor returned to royal control after a long lease. Over the next thirty years it was variously kept in hand or let with the manor for £57 8s., increased to £100 from the early 13th century. (fn. 393) Around 1244 Richard of Cornwall leased it with the manors rents to a group of 25 leading Benson and Warborough freeholders for £80 a year, retaining only his woods and the profits from manor courts and the Chiltern hundreds; the rent was reduced to £40 (later £39 2s. 11d.) from 1278 following the separation of some lands in Warborough, but otherwise the arrangement continued until 1438, with successive groups of tenants answering for the rent in common. (fn. 394) Battle abbeys Preston Crowmarsh demesne (240 a. in 1279) was directly farmed until 1362, partly through tenant services and partly through retained estate workers including a carter, shepherd, dairyman, swineherd, and two ploughmen. (fn. 395) Fifield manor presumably had a demesne in 1279 when, excluding cottage holdings, only 5½ of its 20 yardlands were tenanted. (fn. 396)
Farming on the demesnes was predominantly cereal-based, with some significant dairying and sheep rearing. Stock on the Benson demesne in 1178–9 included 40 oxen (suggesting 5 ploughteams), 198 sheep, and 8 cattle, (fn. 397) while in the earlier 14th century Battle abbeys demesne supported up to 124 sheep, 53 pigs, a few chickens and geese, and (in 1322–3) a stock of bees. Its profits from wool and dairying were never large, however, and up to 78 per cent of its Crowmarsh income (rents included) derived from corn sales, principally wheat and barley. Most was carted overland to Henley, with additional sales at Wallingford, Reading, and Newbury, while some produce (including dredge, oats, and peas) was consumed on the manor. (fn. 398) Tenant farming was presumably similar, with villeins at Preston Crowmarsh enjoying pannage rights for their pigs and folding for up to 16 sheep per yardland. (fn. 399)
The Black Death led to long-term population decline, perhaps especially at Fifield and Preston Crowmarsh where some holdings remained vacant in the 1350s. (fn. 400) Battle abbeys profits from corn sales more than halved, prompting it to lease its manor first for £22, and in the 1380s for £10, under a third of its 1320s value. A brief return to direct management in 1391–2 was not repeated. (fn. 401) The Crowns profits from Benson manor were theoretically protected by its £39 rent, but in 1438 the lessees claimed that the manor yielded only £24 a year and were distrained for non-payment. Land values had fallen, the demesne mill was disused, and some free tenants had allegedly departed rather than pay the ancient rents. (fn. 402) Income remained below the ancient rent in the 1480s and 1530s, when a new rental was drawn up. (fn. 403)
As elsewhere such difficulties allowed tenants to accumulate larger holdings on better terms. At Roke a Magdalen College tenant in 1503 occupied four formerly separate holdings comprising nearly three yardlands, (fn. 404) while lessees of the former Preston Crowmarsh demesne (who from the 1490s included the prominent Freemans) may have undertaken some piecemeal inclosure for grazing. (fn. 405) The parish's south-eastern part already included substantial inclosed farms at Turners Court, Potters Farm, and Gould's, (fn. 406) which were presumably well placed to benefit from sheep- or cattle-rearing alongside crop cultivation.
FARMS AND FARMING 1500–1800
In the 1530s rents from Benson manor totalled £36 105. ½d., including c.£10 quitrents from former dependencies across the Chilterns, and c.£3 from neighbouring parishes. In Benson and Roke around 20 free tenants (not all of them resident) held a total of 336 a. and 1½ yardlands for quitrents totalling slightly under £10. The former demesne lands (mostly in Warborough but including some open-field land in Benson) yielded £11 from eleven tenants, and Benson's few customary holdings (1½ yardlands and c.42 a.) 40s. 6d. from seven tenants. (fn. 407) All the rents were far below the holdings' true values, supplemented by sporadic entry fines and by heriots or reliefs. The pattern remained largely unaltered in 1606, when the former demesne was occupied as copyholds granted for three lives. (fn. 408) Outside Benson manor, a mixture of leaseholders and copyholders occupied varied holdings under the other chief landowners. (fn. 409) Taxation lists suggest that the parish was amongst the hundred's more prosperous places, with 33 taxpayers from Benson and Crowmarsh Battle paying a total of £7 4s.10d. in 1524. (fn. 410)
Inhabitants' individual holdings varied considerably, the largest being the former demesne farms of Crowmarsh Battle (c.260 a.) and Fifield (nominally 790 a.), together with the long-established Turners Court farm (c. 300a.). All were leased to prominent yeomen such as the Freemans, Stampes, and Smiths, (fn. 411) the last of whom were Benson's wealthiest taxpayers from the 1570s to 1620s. (fn. 412) Prominent freeholders on Benson manor included the Arnolds, Penneys, and Quelches, each with over 40 a. of mostly open-field land and associated commons, while Thomas Freeman held at least 120 acres. (fn. 413) Seventeenth-century probate inventories confirm the presence of a few substantial farmers amongst a broader band of middling ones, those with goods worth over £100 (much of it in farm stock) including members of the Freeman, Arnold, Merryweather, Stampe, Waterer, Prickett, and Arnett families. Some of the Barretts (tenants of Exeter Colleges farm and Roke farm) left up to £490, and William Harding (d. 1706) of Turners Court £558, while in 1685 Edmund Stampe of Fifield Farm left an exceptional £932. Most farming was, however, much smaller-scale. Surviving inventories show a median value of c.£37, while a Roke smallholder in 1638 left goods worth under £7. (fn. 414)
Traditional sheep-corn farming was combined with small-scale dairying and cheese-making typical of the area. (fn. 415) The chief cash-crops were wheat and barley (some of it malted), (fn. 416) with some rye, maslin, oats, and peas, while many larger farmers owned over 100 sheep and some cattle, pigs, and draught horses. Edmund Stampe (with 210 a. under crop) had a flock of 220, with 15 cows and (exceptionally) 128 pigs, and like several poorer inhabitants kept bees and poultry. (fn. 417) The Arnolds, who held a fishery, owned nets and a boat. (fn. 418) Lesser crops included apples (sometimes for cider) (fn. 419) and hemp, and several poorer inhabitants span linen or wool. Markets listed in 1628 included Wallingford, Abingdon, Reading, and Henley, where Thomas Harding was owed money for corn in 1727. (fn. 420)
Despite a reduction in sheep numbers (fn. 421) the 18th century saw little change in Benson's farming, which in the 1780s was dominated by seven or eight large farmers including the Bonners of Fifield farm, the Harfords of Turner's Court, and the Lovegroves of Preston Crowmarsh (the last two farms wholly inclosed). (fn. 422) Fallows were planted with clover and turnips and grazed by cattle and sheep, (fn. 423) with penalties for over-pasturing and over-cultivation, (fn. 424) while new fertilizers included rags (brought from London) and potash. (fn. 425) Nevertheless in the 1830s the open fields were 'much racked', partly through poor management and partly through over-grazing by farmers from neighbouring parishes. (fn. 426) Most land was by then effectively freehold or let at commercial rates, although Magdalen College continued to lease some of its farms for large entry fines and low rents (reckoned partly in corn) until the 1850s. (fn. 427) Remaining 'base' (i.e. copyhold) tenures on Benson manor were confirmed by the manor court in 1778. (fn. 428)
FARMS AND FARMING SINCE 1800
Around 1796 Crowmarsh Battle was taken by the incomer Thomas Newton (c.1772–1842), (fn. 429) whose family dominated Benson farming throughout the 19th century. By 1841 his sons William, Robert Aldworth, and Thomas farmed over 1,630 a. between them from Crowmarsh Battle, Fifield Manor, and Gould's Grove, while six other resident farmers occupied over 100 a. each, amongst them Thomas Weller of Roke farm (c.220 a.), Walter Shrubb of College Farm (c.276 a.), and Thomas Greenwood of Turner's Court (over 400 a.). Over 72 per cent of the parish was arable, split between open fields and incisures, while a fifth (including the commons) was grass, 3 per cent woodland, and 2 per cent orchards, gardens, or yards. (fn. 430) Sheep-corn husbandry continued, with Newton keeping over 1,200 sheep in several small flocks. (fn. 431)
Newton's intensive farming won praise from the agriculturalist Arthur Young, (fn. 432) but his persistent attempts to force an inclosure in 1807 and again from 1827 provoked strong opposition from proprietors, farmers, and clergy, who complained of the risks and expenditure, limited benefits for smaller farmers, and detrimental effects on smallholders and the poor. More populist unrest erupted in November 1830, when a crowd of several hundred confronted Newton and his son over inclosure and (possibly) wages and smashed local threshing machines, some of which belonged to other farmers. (fn. 433) Opposition was compounded by low corn prices, which saw even Newton seeking allowances for his lease of the tithes and complaining of tenants' arrears. (fn. 434) By the 1840s attitudes to inclosure were changing, (fn. 435) and an Act was agreed in 1853, with inclosure completed ten years later. Land was allocated to 79 proprietors from the three parishes, the Newtons receiving 750 a. in all. Some cottagers received small parcels in lieu of furze-gathering or grazing rights, but only 10 a. was set aside as allotments for the labouring poor. (fn. 436)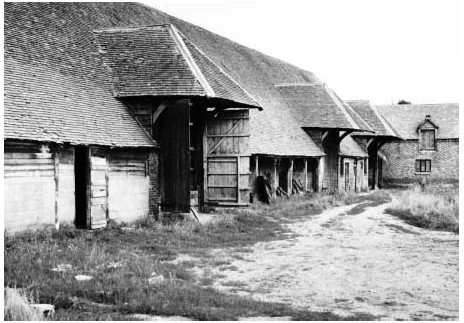 The 200-a. Hale farm (north-west of Benson village) was established soon after inclosure, but otherwise the farming structure remained little altered. In 1881 the Newtons still worked 1,500 a. and employed 86 men and boys, their closest rivals being John Frampton of Newberys Farm on Brook Street (634 a.), William Deane of Turners Court (412 a.), and Sophia Weller of Roke Farm (300 a.). (fn. 437) The Newtons' hegemony was ended by c.1900, when Crowmarsh was mostly farmed by F.P. Chamberlain, Gould's by the Roadnights, and Fifield by A.D. Wells and others. (fn. 438) Five farms then exceeded 300 a. and four were 50–300 a., while twenty smaller holdings included a dozen under 5 acres. (fn. 439) By then agricultural depression was again causing difficulties. In 1888 the tithe payers unsuccessfully demanded abatements, (fn. 440) and rents at Crowmarsh Battle were reduced by 30 per cent before 1893. (fn. 441)
Mixed farming continued into the 20th century, though as corn prices fell the proportion of arable dropped steadily from 81 per cent in 1866 to under 40 per cent by 1930. The chief crops remained wheat and barley, followed by oats, fodder crops, and (until the 1880s) beans. As elsewhere sheep numbers fell markedly, from over 3,500 in 1889 to only 99 by 1930; in part the decline reflected a shift to artificial manure (some of it locally produced), although in 1941–2 sheep were re-introduced on one farm to help restore its exhausted soils. Numbers of beef and dairy cattle increased from 87 to 286 over the same period, alongside pig-farming and (by 1930) large-scale poultry rearing. By the early 1940s the parish was 64 per cent arable and 35 per cent grass, supporting c.560 cattle, 196 sheep (all on one holding), 100 pigs, and over 5,000 poultry (850 at Oakley Wood poultry farm). Some 417 a. were under wheat and 578 a. under barley, with 505 a. of oats. The largest holdings (excluding the 847-a. Turner's Court farm training school) were WA. Bennett's combined Cedars and Potter's farms (389 a.) and F.P. Chamberlain's Crowmarsh Battle farm (529 a.), which was mostly arable but had 17 cattle and 1,042 poultry. Three other farms (including Hale and Roke) were over 100 a., while 13 holdings (including some small dairy operations) remained under 20 acres. Most large farmers had tractors, and there were 67 labourers. (fn. 442)
By 1960 arable (producing chiefly barley) was back to 73 per cent, and there were 180 cattle and 440 pigs. Three decades later wheat was outstripping barley, and the pigs had been replaced by 280 sheep. There were then just two large farms, with another seven (including several smallholdings) under 120 acres. (fn. 443) The largest remained Philip Chamberlains Crowmarsh Battle farm, which by 2007 covered 3,700 a. (1,500 ha.) and grew chiefly wheat, alongside oilseed rape and some beans, oats, barley, and protein peas. A 60-ha. outdoor pig-unit was separately managed. The farm was a showcase for LEAF (Linking Environment and Farming), and advanced technology allowed it to be run by just three people. (fn. 444)
TRADES, CRAFTS, SHOPS, AND INNS
Thirteenth-century occupational surnames included Merchant, Soaper, Barber, Cook, Cooper, Croc (or potter), Bodekin (dagger maker?), Cotel (cutler?), Lorimer (metal-worker), Smith, and Miller, suggesting (as at Warborough) a relatively broad range of non-agricultural trades which probably served neighbouring settlements. (fn. 445) Brewing was also common. (fn. 446) From the 17th century butchers, bakers, blacksmiths, wheelwrights, carpenters, shoemakers, and tailors were recorded frequently (some of the craftsmen and tailors in the hamlets), (fn. 447) and there was briefly some small-scale cloth-working, with one or two weavers and clothworkers (including successive members of Prickett family) noted at Roke and Preston Crowmarsh. (fn. 448) A glazier mentioned in 1635 and bricklayers from the 1670s reflected changing architectural styles, (fn. 449) while leatherworkers included a few saddlers, collar-makers, and glovers, (fn. 450) and (in 1718) a tanner convicted of passing off deerskins as sheepskins. (fn. 451) Even so Benson's inhabitants turned for some goods to Dorchester, Wallingford, Chalgrove, or Nettlebed, (fn. 452) and none of the parish's craftsmen was particularly wealthy. Some 17th-century farmers malted barley on-site, and there were a few specialist maltsters, although over-all production seems to have been relatively small-scale. (fn. 453) Inhabitants' ancient freedoms from tolls and other dues throughout England (as tenants of ancient demesne) were ratified in 1588. (fn. 454)
Inns existed by the 1590s, (fn. 455) and by 1638 both the Red Lion and White Hart occupied their later sites. (fn. 456) Coaching was sufficiently lucrative by 1700 to prompt ongoing remodelling of the principal inns, (fn. 457) in particular the Red Lion (run successively by the Quelches, Bartholomews, and Kemps), the Crown (run by the Pleasants and Costards), the White Hart (run by the Turners and Shrubbs), (fn. 458) and from the 1720s the newly opened King's Arms, renamed the Castle before 1779. That last inn was acquired in 1750 by the Benson coachmaster Edward Bigg (d. 1761), whose son continued the coaching business, but apparently left others to run the inn itself; he also farmed (like several other Benson innholders) on a sizeable scale. (fn. 459) Coaching presumably also employed significant numbers of ostlers, grooms, and servants and brought additional custom to the village's blacksmiths, wheelwrights, and harness-makers: the Padbury family of harness-makers expanded into coach building around the mid 18th century, (fn. 460) and another coachmaker (William Coles) was established by 1785, followed by others as coaching expanded. (fn. 461) Other tradesmen may have benefited indirectly, among them a grocer, tallow chandler, soap boiler and spirit merchant (d. 1780) who imported tallow from London, (fn. 462) a chairmaker mentioned in 1774, (fn. 463) and other grocers recorded from the 1770s. (fn. 464) Benson also had a resident surgeon and apothecary (fn. 465) and in 1826 a clockmaker, (fn. 466) though it lacked the range of services and shops found in larger coaching centres such as Henley.
By 1801 an estimated 39 per cent of the population was employed in non-agricultural activities, (fn. 467) and in 1841 farmers, farm labourers, and three corn or horse dealers accounted for slightly under half of those in work. The rest (excluding 7 per cent with private means) included 55 mostly female domestic servants (12 per cent, including seven nurses), 18 people in building trades (4.5 per cent), and 10 shoemakers (2.5 per cent, some in the hamlets), while shopkeepers and craftsmen included butchers, bakers, grocers, drapers, tailors, blacksmiths, wheelwrights, and one each of coopers, saddlers, harness makers, and sawyers. A few women worked as dressmakers, milliners, or laundresses, and Preston Crowmarsh had two basket-makers. Specialist maltings were run by James Tubb (from a prominent Warborough family) at Preston Crowmarsh, and by James Burgis (maltster and corn dealer) in Benson. Coach-building still employed 25 people, half a dozen at Albert Baileys yards near Castle Square and others possibly at Richard Archers premises at Littleworth. (fn. 468) The retired coachmaker and landowner Thomas Powell lived in some style at Kingsford House. (fn. 469)
The Red Lion closed as an inn in the early 19th century (leaving a pub of the same name opposite), (fn. 470) and with the collapse of coaching in the 1840s not only the villages inns but its economy as a whole suffered significant decline, bringing poverty and unemployment. (fn. 471) Some coach-makers reportedly turned to railway-carriage manufacture, (fn. 472) but only John Bailey continued in the 1880s, and thereafter coach-building disappeared. (fn. 473) Late 19th-century Benson nevertheless retained a relatively wide range of shops and trades serving the surrounding area, including food suppliers, clothing and boot suppliers, blacksmiths, wheelwrights, and several beer retailers. Small-scale malting continued, and four coal merchants listed in 1876 reflect the renewed importance of the riverside wharf. (fn. 474)
The villages role as a service centre continued through the 20th century, reflected in an above-average number of shops focused mainly on High Street. In 1939 there were still butchers, grocers, drapers, a newsagent and hairdresser, several builders, six pubs or inns, and a chimney sweep, together with Weedon Brothers' coal business, an agricultural machine owner, a blacksmith, a horse slaughterers' and scrap-metal business, and a dairy. The growth of motoring and tourism was reflected in three motor garages and several roadside cafes (one by the river and the rest on the London road), while the Crown, Castle, and White Hart inns had found new roles as hotels, supplemented by the Old London Road Inn at Beggarsbush Hill. (fn. 475) The village retained its range of shops and amenities in the early 21st century, but by 1965 motor transport meant that three quarters of the working population were employed outside the village, many in Oxford (29 per cent) and Wallingford (18 per cent), with others in Reading, London, or the atomic research laboratories at Harwell and Culham. (fn. 476) Within the hamlets, Roke and Rokemarsh retained a shop and a handful of rural trades beyond the First World War, and both (like Preston Crowmarsh) still had their own pub, of which Roke's continued in the early 21st century. (fn. 477) Benson's Crown Inn still offered accommodation in 2014, but the Castle closed in 1986, and the White Hart c.1988. (fn. 478)
QUARRYING AND BRICKMAKING
Small-scale mineral extraction began early. 'Chalk-pit way' (mentioned in 996) lay possibly north-east of Berrick Salome, (fn. 479) while the name Mogpits (for an area near Oakley wood) was recorded in the 13th century (fn. 480) Manorial gravel pits north of Benson village were recalled in the field-name Gravel Pit furlong, (fn. 481) and in 1624 a lease of Preston Crowmarsh reserved gravel rights there to the lord. (fn. 482) Piecemeal extraction continued throughout the 19th and 20th centuries, much of it around the village and near Oakley wood, (fn. 483) while in 1800 the churchwardens bought 11 loads of 'Roke stones' for repairs. (fn. 484)
A Benson brickmaker was mentioned in 1704, (fn. 485) and a small brickworks at Beggarsbush Hill by the London road, established by 1788, (fn. 486) continued under the King and Clark families during the 1840s–70s. (fn. 487) The bricks produced seem to have been relatively low-quality, and were probably used locally. (fn. 488) By 1877 the site was a lime-works, which continued in the 1930s but had apparently closed by 1941. (fn. 489)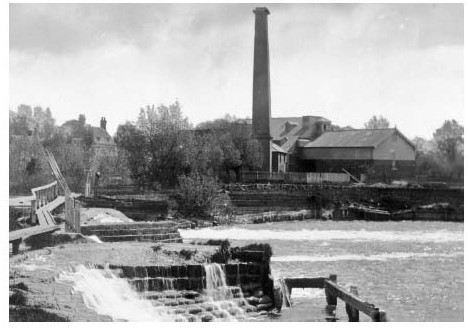 MILLS
Benson manor included two corn mills in 1086, (fn. 490) both of them possibly within the modern parish. A Benson mill attached to Chalgrove manor was given to Abingdon abbey by Peter Boterel in the 1150s–60s, but though the grant was confirmed in 1232 no abbey mill was mentioned later. (fn. 491)
From the mid 13th century a mill called Quatie was let with Benson's demesne to groups of tenants, but was abandoned before 1438, leaving a fishery which (by the 1530s) owed 335. 4d. quitrent. (fn. 492) A second 13th-century mill, held for 55. a year, was possibly that called Withgenemulle, which descended with Fifield manor from the 14th century and was sold to the Waterers in 1618. (fn. 493) Probably those two mills occupied the sites of the 17th- and 18th-century mills at Preston Crowmarsh and Mill Lane, which in the 1780s owed those same ancient quitrents. (fn. 494) One or both could have been in Warborough or Shillingford, however, where a weir called Wythegeyt was mentioned in the 14th century. (fn. 495)
Both corn mills continued into the late 19th century, (fn. 496) when the Mill Lane mill was demolished after a fire. (fn. 497) Crowmarsh mill (where William Littleboy employed ten men and two boys in 1881) became a flockand hair-manufacturing mill from c.1903 to 1906, owned by John Wigglesworth, (fn. 498) and from c.1925–32 the Wallingford & District Electrical Supply Co. generated electricity there for parishes in Crowmarsh Rural District. (fn. 499) It became a private house c.1932, (fn. 500) and by 2013 the wheel had gone. The 18th-century Mill Lane millers house remained. (fn. 501)
SOCIAL HISTORY
SOCIAL CHARACTER AND THE LIFE OF THE COMMUNITY
The Middle Ages
Late Anglo-Saxon Benson was an important royal estate centre, almost certainly with an associated royal residence. Its far-flung estate accommodated demesne workers, villani, and other dependants, (fn. 502) and royal officials were probably numerous, including several settled before 1086 on land hived off from the main complex. (fn. 503) Its decline as a royal centre may have begun with the foundation of the royal burh at Wallingford in the 9th century, (fn. 504) and though King Stephen visited with his army during the 12th-century Anarchy, (fn. 505) no later kings are known to have stayed in Benson. Any royal residence was presumably abandoned, the manor itself being used for intermittent grants to royal kinsmen and favourites. (fn. 506)
Benson's status as ancient royal demesne was nevertheless reflected in its medieval social structure, which by the 1270s was dominated by free 'sokemen' – a term rarely used in Oxfordshire even on royal manors. (fn. 507) Not all of them had large landholdings, and some (like unfree villeins) owed light labour services as well as rents. Nevertheless they were aware of their legal privileges, and sometimes invoked their special status in land disputes. (fn. 508) The manors 'base' or customary tenants (concentrated in Warborough with just a few in Benson) also claimed legal privileges, (fn. 509) but were considerably less free, owing labour services, payments for the right to marry, and heriot or relief (later a quarter of their rent) when tenancies passed to an heir. Widows enjoyed life tenure, but unusually tenancies passed by custom to the youngest son. (fn. 510) Benson's outlying hamlets had more conventional social structures dominated by unfree peasants, while all the settlements (Benson included) had a substratum of poorer cottagers, labourers, and servants. (fn. 511) Benson (with Warborough and Shillingford) was further distinguished by a relatively high proportion of craftsmen and traders, and of migrants from neighbouring parishes. (fn. 512)
Some sokemen were substantial people enmeshed in a complex pattern of land tenure, (fn. 513) which was reflected in a lively land market. (fn. 514) The Rastwolds (established by 1206) remained prominent throughout the Middle Ages, witnessing land grants with neighbours such as the Salemans, Cotels, Palmers, and Ravenings, serving in local royal administration, and acquiring Crowmarsh Gifford manor. (fn. 515) One of their 13th-century holdings had 21 subtenants, (fn. 516) and a relative was among the group of prominent freeholders who rented the manor and demesne from the earl of Cornwall from c.1244. (fn. 517) Another Rastwold (assessed on goods worth £4) was among Benson's better-off taxpayers in 1327, although six other inhabitants paid more, and one (Elias of Pishill) was assessed on £15. Surprisingly the Crowmarsh half-yardlander John at Forthey was assessed on £5, suggesting that wealth was not entirely tied to legal status or nominal size of holding. (fn. 518)
Despite the Crown's limited presence, royal and honorial officers retained influence through manor courts and rent collection. The steward and constable of Wallingford sought arrears from the Benson demesne lessees on the Black Prince's behalf in 1351, (fn. 519) while in 1389 the Benson freeholder William Shaldeston (as bailiff of Benson manor) was in dispute with the Crown's manorial steward John Rede and his fellow tenant Sir Hugh Wolf. (fn. 520) A later William Shaldeston accounted for the Crown's manorial revenues after the demesne lease ended in 1438. (fn. 521) Lesser royal officials mentioned from the 13th century included a Benson man given custody of the king's swans in 1377, (fn. 522) while Benson landholders such as John de Alveton and the Jameses (though resident elsewhere) were deeply involved in local administration. (fn. 523) Crown interference included forced grain purchases and forced accommodation of the king's men (both recorded at Preston Crowmarsh), (fn. 524) while local conflict occasionally arose with the powerful lords to whom the Crown granted Benson manor, in particular Engelard de Cigogné (d. c.1244). (fn. 525)
As elsewhere the Black Death weakened manorial authority, prompting Battle abbeys withdrawal from direct management at Preston Crowmarsh and, in the 15th century, the freeing of some at least of its customary tenants. (fn. 526) On Benson manor, too, several customary holdings passed to freeholders before 1438, after tenants refused to pay pre-Black Death rents. (fn. 527) Established families such as the Cotels, Salemans, Palmers and Wolfriches remained in the 1370s, but already relative newcomers such as the Shaldestons, Wolfs, Everards, and (by the 1430s) the Merryweathers featured prominently amongst leading tenants. By the 16th century none of the prominent 13th-century families remained in either Benson or Preston Crowmarsh. (fn. 528)
The parish's scattered settlement probably militated against a fully shared identity, despite the common focus of Benson village and church. Roke and Crowmarsh formed distinct communities reinforced by their separate lordships, (fn. 529) and ecclesiastically and socially many Roke tenants probably looked (as later) to Berrick or Ewelme. (fn. 530) The medieval bynames 'of Mogpits' and 'of Oakley' suggest a separate identity amongst those living in the Chiltern foothills, (fn. 531) and in the 1550s a tenant of Turner's Court made bequests not only to Benson church (where he was buried), but to those of Nuffield, Crowmarsh Gifford, and Newnham Murren. (fn. 532) Prominent families such as the Rastwolds looked also to Dorchester, where Ralph Rastwold (d. 1383) donated an inscribed bell to the abbey. (fn. 533)
1550–1800
The Crown's sale of Benson manor in 1628 (fn. 534) probably had limited local impact. The new lords were non-resident and, though manor courts continued, most land in Benson was already effectively freehold, leaving farmers and landholders relatively free of manorial interference. (fn. 535) By the late 18th century (when the Stapletons reasserted some of their ancient manorial rights) most of the former quitrents were long in arrears, and attempts to gather them met with mixed results. (fn. 536) Long before then Benson was emerging as a classic 'open' parish, reflected in its increasingly fragmented land ownership, its largely independent body of farmers, traders and craftsmen, its self-governance through the vestry, and its social and commercial links across a wide area, which from the late 17th century were reinforced by coaching.
As elsewhere the period saw the emergence of larger farms and prosperous yeoman farmers, including successive tenants of Fifield Manor, Turner's Court, and Crowmarsh Battle Farm. (fn. 537) Such people occupied increasingly comfortable and well-furnished houses, employed farm labour and domestic servants, and exercised influence through the vestry and through parish and manorial offices. (fn. 538) Thomas Freeman (fl. 1604–20) held manor courts for Preston Crowmarsh in his own name and, like some of his descendants, called himself gentleman. A namesake in 1662 occupied a Benson house with two halls and a parlour, its furnishings including cupboards, books, and a looking glass. (fn. 539) Gentry families such as the Machens were considerably wealthier, and though some still farmed on a large scale others (like John Wise in 1692) mostly leased their land. (fn. 540) Other of the village's more substantial inhabitants were those associated with coaching, primarily the innkeepers but also, by the 18th century, leading coach-masters and coach builders. (fn. 541) More traditional craftsmen were generally less wealthy, (fn. 542) while a Benson labourer in 1651 left possessions worth under £3. (fn. 543)
Some lesser inhabitants moved between villages regularly in the late 16th century, (fn. 544) and a Welsh immigrant was mentioned in 1555. (fn. 545) By contrast prominent farming families such as the Merryweathers, Barretts, and Gibbses frequently stayed in Benson for several generations. (fn. 546) Seventeenth-century wills suggest widespread social and trade links in Berkshire and south-east Oxfordshire, as well as over the Chilterns around Henley, Wycombe, and London. (fn. 547) Coaching extended such contacts and brought a constant stream of visitors, increasing the villages appeal to the prosperous outsiders who, by the 1760s, were being targeted by advertisements for brick-built houses close to the river and the London road. (fn. 548) One such was George Davis of Goulds Grove (who moved from Ducklington in 1785), (fn. 549) and while Benson could never compete with major coaching centres such as Henley, through its inns, services, and buildings it nonetheless met the needs of a sophisticated coaching clientele. Inns provided not only food and lodging but venues for local societies and meetings, (fn. 550) and in 1765 the White Hart kennelled some of the duke of Marlborough's foxhounds. (fn. 551)
Communal entertainment is poorly documented, though rogation week festivities were mentioned in 1609, (fn. 552) a midsummer church ale in 1623, (fn. 553) and cricket from 1778. (fn. 554) Hunting and shooting (overseen in the 18th century by numerous gamekeepers) were popular with landowners, prompting occasional poaching. (fn. 555) Public morality was enforced in the 17th century by the Church courts and to a lesser extent by manor courts, which in 1635 ordered the reinstatement of Preston Crowmarsh's stocks. (fn. 556) More serious misdemeanours (including occasional thefts, assaults, and arson) (fn. 557) went before the magistrates, and in 1756 Benson participated in a subscription anti-crime scheme. (fn. 558) Roke's early association with Protestant Dissent reflected its peripheral location between Benson and Berrick, (fn. 559) although the hamlet also housed some of the parish's most prosperous and prominent farmers. (fn. 560) Its Michaelmas village feast (mentioned in the 1860s) may have been long established. (fn. 561)
During the Civil War Benson suffered the disruption typical of the area, accentuated by its position on the London–Oxford road and its proximity to the Royalist garrison at Wallingford. (fn. 562) Charles I held a court at Benson in November 1642, probably in the Red Lion or White Hart, (fn. 563) and Royalist troops were quartered in the parish during 1643, evidently bringing disease. (fn. 564) Grain for Oxford was requisitioned from Benson and neighbouring villages the following year, when the parish also hosted Parliamentary Commissioners negotiating with the king. (fn. 565) Inhabitants' allegiances are generally unrecorded, though John Machen was in arms for the king at Wallingford and Oxford, (fn. 566) and the moderate Parliamentarian Ralph Verney (non-resident lord of Preston Crowmarsh) spent ten years in exile, his consequent financial difficulties contributing to the inclosure and sale of his Crowmarsh estate. (fn. 567) Most Benson voters in the 1690s were Tories, though the controversial poll of 1754 was more divided. (fn. 568)
Since 1800
Early 19th-century Benson remained a predominantly agricultural parish, though with a sizeable body of craftsmen, shopkeepers, and others associated with coaching. (fn. 569) Its open character and alleged roughness were criticized in 1832 by the curate C.H. Cox, who claimed that the population was 'principally of the lower class, postboys, horsekeepers, et id omni genus, whose morals are not bettered by the existence of fourteen beershops and public houses ... or the leniency of a distant magistracy, and over whom the clergyman alone has any control'. (fn. 570) In fact the largest single group in the 1840s–50s was still agricultural labourers, while the village also contained nearly thirty people of independent means, some very substantial farmers, a solicitor, excise officer, and bookseller, and nearly fifty domestic servants employed by the parish's better-off inhabitants. Over two thirds of the population still came from Benson or contiguous parishes, with a smattering (c.3 per cent) from Wallingford. Others were from a range of places in Oxfordshire, Berkshire, Buckinghamshire, and further afield, including a few (c.2 per cent) from London and Middesex. (fn. 571) The proportion of children was reportedly 'very large, few of the poorer families having less than seven to ten'. (fn. 572)
Social conflict erupted during the Swing Riots of 1830, when several hundred labourers (some of them possibly outsiders) gathered at Thomas Newton's Crowmarsh Battle Farm and subsequently smashed threshing machines. Opposition to Newton's protracted inclosure campaigns was not predominantly class-based, however, with fellow farmers and local clergy repeatedly condemning his 'avarice' and 'continual warfare with his neighbours', and occasionally raising the likely impact on smallholders and the poor. (fn. 573) Gradually attitudes shifted: the long-term opponent George Eyre decided by 1842 that inclosure was 'highly beneficial', while the curate G.L. Parsons claimed that it would promote 'moral improvement', the traditional common-field system tempting 'farmers to encroach on and to act unfairly by each other, and ... the poor to steal and do injury with impunity'. (fn. 574) In reality inclosure probably increased the poverty of the labouring population in a parish still suffering from the end of coaching, even though by mid century Anglican clergy were reporting harmonious social relations and a 'moral condition ... above average'. (fn. 575) Concerns remained about Roke, which was viewed as a hotbed of Dissent and acquired a reputation for roughness. (fn. 576) Agricultural trade union activity in Benson was mentioned in 1873, (fn. 577) and the prominent socialist Joseph Lane was born to a Benson cordwainer in 1851. (fn. 578)
A Friendly Society was founded in 1831, open to 'labourers, servants, mechanics, manufacturers, tradesmen, and other industrial classes' from Benson and neighbouring places. Club feast days (ending with a banquet and fair at the Three Horseshoes and later at the Crown) were sometimes raucous affairs, provoking police intervention in 1890. As a dividing rather than permanent society the club was controversially closed in 1892, to be succeeded until 1895 by a Benson Benefit Society based at the National School. (fn. 579) Thame brass band played at the 1839 club feast, but from the 1880s a Benson band and the Berrick and Roke Temperance band (started in 1882) were mentioned regularly. (fn. 580) Wider social activities included sporting events, fundraising concerts in the National schools, horticultural and other shows (many of them held in the grounds of Colne House), and celebrations of national events such as Empire Day, all encouraged by the vicar and the village élite. (fn. 581) Leading families such as the Powells, Shrubbs, and Newtons were commemorated in the parish church, where the Newtons built a family vault, (fn. 582) although a few other leading farmers and tradesmen were Dissenters. (fn. 583) Parish government was dominated as earlier by prominent farmers, tradesmen, gentry, and professionals. (fn. 584)
By the early 20th century there were attempts to develop riverside tourism, exploiting Benson's setting and its continuing range of facilities. (fn. 585) An advertisement for the Crown (aimed at visitors to Oxford, Reading, and Henley) called it 'an old-fashioned hostelry in one of the most healthy and picturesque villages on the Thames', and listed fishing, access to pleasure steamers and electric launches, provision for motorists, and nearby hunting, shooting, and golf. (fn. 586) By the 1930s tourist buses stopped regularly at the Roundhouse Tea Room in Castle Square, (fn. 587) while a 1950s guide book complimented the new landing stage and riverside pleasure gardens. (fn. 588) Even so tourism remained relatively small-scale. Farming continued, but by the First World War falling agricultural employment was already changing the parish's character. (fn. 589) Thereafter private motor transport opened the village to a diverse range of incomers working elsewhere, attracted by affordable housing in an above-average sized village: by 1965 c.36 per cent of families in Benson and Preston Crowmarsh had arrived within the last fifteen years, albeit from within a fairly small area. (fn. 590) Late 20th-century expansion altered Benson's character further, threatening but never fully undermining its village status. Surveyed in 1992, most residents still enjoyed the feeling of living within a village community, and wished to limit further growth. (fn. 591)
A First World War memorial near Castle Square (recording 45 names) was unveiled in 1920, (fn. 592) and during the Second World War the adjacent airfield (opened in 1939) played a key role in reconnaissance operations. (fn. 593) Some RAF personnel were billeted around Benson, Preston Crowmarsh, and at Fifield Manor, while the airfield itself (patrolled with help from the local Home Guard) experienced losses in action and suffered occasional raids, with 27 Service casualties buried in the cemetery opposite the church. Pill boxes were constructed along the Thames, and the parish briefly accommodated refugees and evacuees. (fn. 594) The RAF stations post-war expansion boosted the population and initially helped to maintain local trades and services, including cafes and pubs. Gradually, however, it became more self-contained, and in 1977 reportedly had a very limited impact on village life. (fn. 595) Station commanders continued to seek dialogue with the community, and in 2013 an RAF banner was hung in the church. (fn. 596)
Clubs and facilities expanded with the village, those in the 1920s including a village hall opened in 1923, a Women's Institute (founded 1926), a scout group, a choral society, a county council library, and football, cricket, and swimming clubs. Facilities at Rivermead gardens (by the former wharf) were developed from 1943, and playing fields at Sunnyside on the villages northern edge were opened by the parish council in 1953, replacing a 4-a. recreation ground laid out at inclosure but bisected by the 1942 bypass. A nursing association proposed in 1905 continued in 1927, and doctors from Dorchester held daily surgeries in Benson from c.1924 until 1953, when the village acquired a resident GP. A purpose-built surgery on Mill Lane followed in 1958. (fn. 597) By 1977 over 30 local organizations included youth and sports clubs, an over-6os club, and the Bensington Society, formed in 1972 to promote 'public interest in Benson's history, architecture, and amenities'. (fn. 598) A purpose-built day centre opened in 1982, a new village hall at Sunnyside in 1988, and a sports pavilion in 1996. (fn. 599)
Social facilities in the hamlets were largely confined to public houses, of which the Swan at Preston Crowmarsh (opened by 1786) closed in 1961, and the Horse and Harrow at Rokemarsh (opened by 1876) in 1990. (fn. 600) Roke lost its shop and a long-standing beerhouse by the 1960s, (fn. 601) though the Home Sweet Home pub (so called by 1853) (fn. 602) remained in 2015. So too did the Benson and Roke Band, whose corrugated-iron hall in Roke (erected in 1923) was rebuilt in 2001. Boundary changes in 1992 cemented Roke and Rokemarsh's long-standing social connections with Berrick, whose facilities they shared, although many inhabitants worked outside the parish. (fn. 603) Roke feast, which c.1900 featured swingboats, side shows, and donkey rides, ended in the early 20th century. (fn. 604)
EDUCATION
A Benson schoolmaster was mentioned in 1733, (fn. 605) and in 1808 three small unendowed schools taught a total of 60 children English language, the catechism, and (in one) writing and arithmetic. By 1815 there were four such schools all run by elderly people, and a blacksmith taught the Anglican Sunday school. (fn. 606) An Anglican day school supported by voluntary subscriptions (teaching boys and a few girls for 1d. a week) was started in 1822, in opposition to an apparently Dissenting school set up by a Wallingford man. That closed soon after, but by 1850 the Anglican school had over 100 pupils, accommodated in an 'old stable with a cottage attached' which was rented for £12 a year. (fn. 607) The Tower class' reportedly welcomed such initiatives, and suggestions were made for a National school to serve Benson and surrounding parishes. (fn. 608) Funding, however, remained difficult in an increasingly impoverished village with no major landowners. (fn. 609)
The clergy's desire for a National school was fuelled partly by growing Dissent. A Nonconformist Sunday school had c.60 pupils by 1808, (fn. 610) and by 1849 the curate believed that parish education was 'chiefly in [Dissenters'] hands', prompting him to seek support from Christ Church, Oxford, and to raise further funding himself. (fn. 611) A site on Oxford Road was given by Sir Francis Jarvis Stapleton, and a large brick-built school with accommodation for 170, designed by George Wyatt, was erected in 1851, with an adjacent master's house. The £550 cost was met from subscriptions, modest grants from Christ Church, Exeter, and Magdalen Colleges, and a £180 government grant. (fn. 612) The same year a Dissenting British school was built 'in opposition' on land conveyed by the coach-builder Albert Bailey, with accommodation (by 1868) for 150. (fn. 613)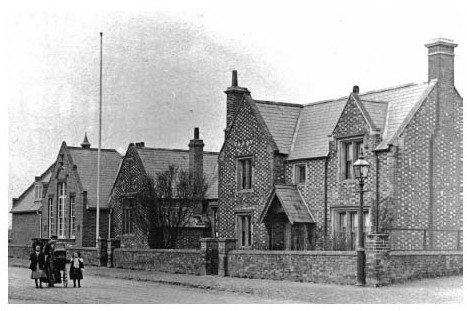 Both schools (teaching boys and girls) continued until 1900, with the British school increasingly attracting larger numbers drawn partly from surrounding parishes. In 1877 its average attendance was 128 compared with 65 at the National school, rising to 154 (compared with 74) by 1892–3. (fn. 614) A separate Anglican infant school had 70 pupils in 1854, (fn. 615) and by 1862 there was an affiliated infant school at Roke, supported partly from church rents but closed by 1879. (fn. 616) As in most places school attendance dipped at harvest times and at traditional holidays such as Roke's village feast. (fn. 617) Anglican evening classes at Benson and Roke met with 'varying success', partly through competition from rival Dissenting classes. (fn. 618)
A voluntary rate agreed in 1881 was shared between both schools, (fn. 619) but in 1900 the British school was forced to close following government demands for building improvements, and the managers' subsequent failure (faced with opposition from the National school) to win support for a School Board. (fn. 620) Pupils were transferred to the National school, which was extended in 1901 with provision for Nonconformist religious instruction. (fn. 621) By 1928 it taught 242 pupils aged 5–14, becoming a Church of England (Controlled) primary school under the 1944 Education Act. Overcrowding was mitigated by extensions in the 1950S–60S, and in 1972 a separate infant school under shared management was opened on Westfield Road, to be recombined in 2004. (fn. 622)
A county-council primary school on the RAF station opened in 1952 and was subsequently extended, (fn. 623) catering predominantly for children of RAF personnel, but remaining open to others from the area. Both primary schools continued in 2015, when the village school also taught Service children. (fn. 624) Older pupils attended schools in Wallingford, Berinsfield, or Oxford, and there was private pre-school provision in Benson. (fn. 625)
CHARITIES AND POOR RELIEF
Despite one-off bequests to the poor, (fn. 626) Benson parish acquired only two endowed charities before the 19th century. John Blackmail (d. 1625), non-resident owner of Fifield and Preston Crowmarsh, charged 205. on an estate at Wasing (Berks.), of which 3s. 4d. went to the vicar in return for administering the charity, with the rest distributed in alms on St Thomas's day (21 December). John Merryweather (d. 1633) of Twerton near Bath left £200 to purchase land, the annual profits to be distributed in clothing amongst the poor of Benson and Wokingham (Berks.). Both gifts benefited the entire parish and were sometimes combined, providing clothes for 14 people in 1753, although Blackmail's gift was temporarily lost c.1790– 1823. (fn. 627) In addition Roke's inhabitants shared in John Wall's Chalgrove and Berrick Salome charity, (fn. 628) and in 1679 Francis Bisley (formerly of Roke) left 12 a. for the benefit of poor Quakers belonging to the Warborough or Henley meetings. (fn. 629) Poor householders also benefited from commons and furze-cutting rights. (fn. 630)
In 1813 the charities yielded under £6, and as elsewhere the bulk of the parish's mounting poor relief came from compulsory rates. In line with national trends expenditure rose from £170 in the 1770s to £681 in 1803 and £1,719 in 1821, the figures (partly reflecting Benson's size) being generally amongst the highest in Ewelme hundred. Costs per head of population were slightly less exceptional, but even so the number of people receiving temporary relief rose from 30 to perhaps 174 between 1803 and 1815, notwithstanding a fall from 80 to 63 for those on permanent relief. (fn. 631) Parish cottages on Brook Street (part of the church estate) were called a 'workhouse' by 1797, (fn. 632) although as no workhouse was mentioned in Parliamentary reports they were perhaps used primarily for pauper accommodation. Costs fell slightly during the 1820s, but by 1831 again exceeded £1,600, reflecting continuing agricultural difficulties. (fn. 633)
Primary responsibility passed in 1835 to the new Wallingford Poor Law Union, whose workhouse accommodated seven Benson people in 1851. (fn. 634) The former Benson workhouse was let to the farmer Robert Newton for conversion into six cottages. (fn. 635) Complaints about Benson's high poor rates persisted, (fn. 636) and as earlier the vestry challenged removal orders, set rates, and nominated overseers, who were often supplemented by a paid assistant overseer. (fn. 637) In 1856 it also provided a pall for the poor. (fn. 638) New bread charities were established by the London-based coachmaker Thomas Smith (d. 1812) and by Robert Newton (d. 1879), who each left stock producing c.£5 a year, (fn. 639) while in 1905 Mary Ann Corsellis (née Powell), widow of a Benson solicitor, left £200 to fund a clothing charity to be known as Powell's Gift. (fn. 640) Other initiatives included the Friendly Society started in 1831, (fn. 641) a soup kitchen committee mentioned 1884–95, and coal and clothing clubs mentioned c.1862–1929. (fn. 642) The charities were reorganized under a 1924 Charity Commission Scheme, (fn. 643) and in 1979 the combined Bensington Charities (registered in 1974) produced £31 a year. They were de-registered in 2012 after remaining funds were used up. (fn. 644)
THE WALLINGFORD FARM TRAINING SCHOOL (TURNER'S COURT) (fn. 645)
The residential Wallingford Farm Training Colony (fn. 646) at Turner's Court farm was set up in 1912 by the Christian Service Union, a philanthropic body with Nonconformist connections which already ran three similar schemes in other counties. The intention (exploiting the farm's 500 a.) was to provide training in agriculture and forestry to 'unemployable' men and youths sent mostly by Boards of Guardians, and to find them work in Britain or the colonies. The first 80 inmates (from the CSU's colony at Lingfield in Surrey) arrived during 1912, lodged in temporary accommodation, and by the following year the first two 3-storey accommodation blocks (designed by T. Phillips Figgis) were complete, with an on-site electricity plant and water supply. Management was by a resident Superintendent or Warden assisted by unpaid resident 'Brothers' drawn from varying backgrounds, overseen by a local CSU Committee. Numbers of trainees soon exceeded 100, reaching over 200 in the 1920s (following a fall during the First World War), and 300 in the mid 1930s, when there were 31 Brothers and additional domestic staff. By then most men were found jobs in England, although until the 1920s a substantial proportion were still sent overseas. Conditions were basic with a strong religious emphasis on Sundays, and in the 1920s there were occasional complaints about food, sanitation, medical care, punishments, and general management.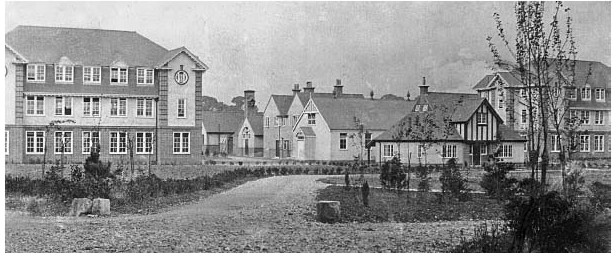 During the 1930s the school (despite recurrent financial problems) expanded its facilities and farming, building a sanatorium, swimming pool, cinema, and new assembly hall, and acquiring 380 a. from Mays and Warren Hill farms. Changing government legislation gradually altered its role, however. From 1930 referrals came from county councils, which increasingly nominated 'homeless, deprived and maladjusted boys' in their care. Adult colonists were gradually phased out, so that by 1941 most boys arrived aged 14–18 and received 1–4 years' training. Farm work (including forestry and market gardening) still predominated, but non-agricultural trades and crafts were introduced after the First World War and gradually expanded. Staffing became more professionalized, with amateur Brothers replaced by better-trained welfare officers, and semi-formal government inspections also increased. Even so numbers fell from 270 after the Second World War to c.130 in the mid 1950s, when financial difficulties, changing approaches, and lack of investment threatened the school's future.
The wardenship of R.P. Menday (1955–67) saw some resurgence, and in 1963 the school (with other remaining CSU institutions) became self-managing, still catering for 'troubled' boys in local authority care including many from London. Around 700 a. of agricultural land was sold in 1959 to help fund renovations and a broadened curriculum, and in 1968 there were 168 trainees. Numbers fell sharply during the 1970S–80S, however, reflecting rising costs and a national shift towards less institutionalized 'community homes'. By the mid 1980s farm work was overshadowed by other training including vehicle maintenance and catering, and in 1991 (when there were barely 25 trainees) the school was closed. The site was sold for housing development in 1993 and the main school buildings demolished, leaving the assembly hall with its clock tower (converted into two private houses), Hunt House, and some staff cottages. The Turners Court Youth Trust, a grant-giving charity supporting children and young adults with emotional and behavioural difficulties, was founded shortly after the school's closure, dispensing nearly £20,000 in 2009–10. (fn. 647)
RELIGIOUS HISTORY
Benson probably had an important pre-Conquest church, but in the 12th century the benefice was given to Dorchester abbey and became an impoverished chapelry and (later) perpetual curacy, albeit with full parochial rights. Post-Reformation incumbents were often resident, but turnover was high, and from the 17th century Protestant Dissent became prominent: by 1861 there were five meeting houses at Benson and Roke combined, and Dissent remained a feature throughout the 20th century. The church living became a vicarage in 1866.
CHURCH ORIGINS AND PAROCHIAL ORGANIZATION
Origins, Status, and Advowson
Given Dorchester's ecclesiastical importance (fn. 648) an early minster at Benson seems unlikely, and the significance of the church's unusual dedication to St Helen, cited sometimes as evidence of early origins, remains unclear. (fn. 649) Nevertheless circumstantial evidence points to a pre-Conquest church of above average status, which possessed church scot (fn. 650) and exercised parochial rights over Benson's royal territory. Warborough, Nettlebed, and Henley-on-Thames (12 miles away across the Chilterns) were still claimed as former dependencies in 1279, and Warborough and Nettlebed as late as 1394. (fn. 651) The antiquity of such arrangements is uncertain, and possibly Benson's ecclesiastical jurisdiction was wrested from Dorchester at a relatively late stage between the 8th and 10th centuries, as Benson emerged as a royal estate centre. (fn. 652)
The founding of churches on newly created manors (fn. 653) substantially eroded Benson's jurisdiction before 1140–2, when Empress Matilda gave its church to Dorchester abbey. (fn. 654) By the 13th century (though never formally appropriated) it had become one of the abbey's cluster of local chapels, (fn. 655) which remained largely exempt from the bishop's jurisdiction and were served by canons or stipendiary chaplains whom the abbey appointed. After the Reformation the living remained a poorly endowed perpetual curacy in the peculiar of Dorchester, its revenues and advowson transferred to Christ Church, Oxford, in 1546. (fn. 656) Nevertheless it exercised full parochial rights including baptism and burial, (fn. 657) while its large residual parish included Fifield, Preston Crowmarsh, and much of Roke. Parish registers survive from the 1560s, (fn. 658) and from the 16th century the perpetual curate was sometimes called 'vicar'. (fn. 659)
Following the peculiar's dissolution in 1846 the living was transferred to Cuddesdon rural deanery, (fn. 660) and in 1866 it formally became a vicarage. (fn. 661) Proposed parish reorganizations came to nothing, (fn. 662) and the ecclesiastical parish as defined at inclosure in 1863 remained substantially unaltered until 1985, when minor adjustments were made to coincide with the civil boundaries. (fn. 663) In 2014 the living remained a vicarage in Aston and Cuddesdon deanery, served by a resident vicar, and still in Christ Church's gift. (fn. 664)
A chapel at Fifield, endowed with ½ yardland, was given to Dorchester abbey with the mother church, but was not mentioned after 1163. (fn. 665) Possibly it survived as a private chapel attached to Fifield manor house, recalled in 1638 in the name of the adjacent Chapel Close. (fn. 666)
Glebe, Tithes, and Stipends
If Benson church had a substantial early endowment it was lost by 1140–2, when the church was granted to Dorchester abbey with only a yardland and the tithes. (fn. 667) During the Middle Ages its revenues were subsumed in those of the abbey's other chapels, (fn. 668) and by 1535 were let for £22. (fn. 669) Glebe granted to Christ Church in 1546 covered only 17½ a., although by 1771 the college's rectorial tithes were worth over £600 a year gross, reflecting the parish's size and substantial arable acreage. (fn. 670)
The abbey and (later) Christ Church paid the curate up to £6 a year in the earlier 16th century, (fn. 671) increased to £13 65. 8d. before 1649. (fn. 672) In 1616 the curate's only land (excluding a house) was 2¼ a. between the churchyard and the river, where his successors erected a small wharf. By the 1750s the living was apparently exonerated from first fruits and tenths, and curates received small tithes, Easter dues, and some surplice fees, bringing their income to a meagre £40 or so. (fn. 673) A £200 augmentation by Queen Anne's Bounty in 1758 (matching a grant from Christ Church) was used to buy c.19 a. at Blewbury (Berks.), (fn. 674) and by 1800 the curate received over £100 including rents (c.£25), tithes (c.£50), and the Christ Church stipend. Even so the tithes were costly to collect with up to half offset by high poor rates, while Easter dues lapsed by c.1810. (fn. 675)
At tithe commutation in 1841–2 the perpetual curate received an annual rent charge of £157 10s., (fn. 676) and from c.1860 Christ Church's stipend was increased by £30, bringing his gross income to £259 (£180 clear). (fn. 677) The Blewbury land was sold in 1894 and the wharf in 1897, (fn. 678) and in 1927 Christ Church augmented the vicarage with tithe-rents totalling £102. (fn. 679) By 1939 the vicar's net income was c.£400 a year. (fn. 680)
Vicarage House
A vicarage house mentioned in 1549 (fn. 681) may have pre-dated the Reformation, and presumably occupied the site of its 19th-century successor just east of the church. (fn. 682) Many 17th- and 18th-century incumbents lived there, (fn. 683) but by the 1840s–60s it was considered old, damp, and inadequate, with a small low kitchen, no china or water closets, no waiting space for poor visitors, and only one servant's bedroom. Its floor-level (1½ ft below the road surface) suggests considerable antiquity. (fn. 684) The services were improved by the incumbent c.1849, (fn. 685) and in 1869– 70 the whole house was rebuilt to designs by Charles Buckeridge, funded by mortgage and partly re-using old materials. Faced in flint with brick dressings and mullioned stone windows, the new, gothic-influenced house provided more spacious and appropriate accommodation, including drawing and dining rooms with moulded wooden cornices, a study, and servants' rooms. (fn. 686)
Improvements were made in 1924, but in 1969 the house was sold and replaced by Churchfield north-west of the churchyard. That was superseded in 1985 by a smaller house on Church Road, (fn. 687) still occupied by the vicar in 2013.
Church Estate
An estate of c.57 a. (including two houses and a forge) was said in 1618 to have been used for church repair 'since time out of mind', (fn. 688) having presumably been donated by one or more parishioners at unknown dates. Thenceforth it was vested in feoffees who passed the rent to the churchwardens, its application overseen by the vestry and perpetual curate. (fn. 689) The endowment precluded the need for church rates, and though Christ Church remained liable for the chancel the estate may occasionally have underwritten chancel as well as church repairs. (fn. 690) At inclosure the feoffees received c.41 a. for the estate, (fn. 691) which in 1882 was vested in the vicar and churchwardens, accumulated rents having been invested with the Official Trustee of Charitable Funds. (fn. 692) Following some exchanges the land was sold in 1920 and the proceeds invested in War Stock, yielding c.£53 a year towards church upkeep. (fn. 693)
PASTORAL CARE AND RELIGIOUS LIFE
The Middle Ages
Nothing is known of the canons or stipendiary chaplains who served Benson church from the 1140s to the early 16th century, appointed presumably by Dorchester abbey. Several of the abbey's parishes suffered occasional neglect, (fn. 694) but the church's 13th- and 14th-century remodelling indicates active lay involvement, (fn. 695) and stylistic similarities with some other Dorchester chapels (fn. 696) may reflect the abbey's patronage. The curate in 1501 was possibly a university graduate, (fn. 697) and in the 1520s–50s the long-serving Harry ap Iven witnessed parishioners' wills and probably resided. (fn. 698) Early 16th-century parishioners made small bequests to Benson church and to the 'mother church' of Dorchester, (fn. 699) and bells mentioned in 1553 (fn. 700) suggest further local patronage. The only plate listed at the Reformation was a silver chalice, (fn. 701) though the church presumably had additional furnishings including vestments.
The Reformation to 1820 (fn. 702)
Dorchester abbeys suppression and the church's transfer to Christ Church must have exacerbated the upheavals of the Reformation, despite ap Iven's continued presence over thirty years. Edward Sibley, recorded as 'vicar' c.1549–60, may have been installed over ap Iven's head, (fn. 703) and disruption continued in the 1570s when former chantry lands in Benson were sold by the Crown. (fn. 704) Sibley's successor Thomas Angrom (d. 1561/2) was a reformer who, like his successors, accepted the Elizabethan religious settlement, (fn. 705) and parishioners' wills suggest that religious change was swiftly enforced. Virtually no Catholic recusancy was recorded later. (fn. 706)
From the 1580s nearly all of Benson's incumbents were Christ Church men, of whom most (reflecting the benefice's poverty) were near the start of their careers. Arthur Laurence (curate 1588–91) moved to a London living, (fn. 707) though his successor William Cox remained until his death in 1618, serving the parish conscientiously and transcribing the parish registers. (fn. 708) James Whitehall (curate 1618–21) was deprived through insanity, (fn. 709) and though John Hurlocke or Shurlocke (1621–29) resided, his incumbency was marred by accusations that he had fathered a child with a local woman, possibly his predecessor's daughter. (fn. 710) Disciplining of parishioners was mostly confined to routine cases of sexual misconduct or working on Sundays or holidays, although a handful of people were presented for failing to attend communion at Easter. By the 1620s the chancel was also in serious disrepair, reflecting neglect by Christ Church or its lessee. A midsummer church ale was mentioned in 1623. (fn. 711)
Richard Gardiner (1629–32) was a High Church Royalist, and as a cathedral canon and chaplain to Charles I may have employed curates. (fn. 712) His religious views were shared by Thomas Terrent (1632–9) (fn. 713) and Andrew Pauling (minister by 1642), who was apparently removed during the Interregnum. (fn. 714) Christ Church nonetheless appointed incumbents throughout the 1650s, amongst them Thomas Vincent (in 1650), the staunchly Laudian Robert South (1658), and Arthur Stratton (1659). (fn. 715) Pauling was reinstated in 1660 and remained at Benson until 1664, when he moved to a Northamptonshire benefice. (fn. 716) Thereafter the parish enjoyed greater stability under John Bruch (1664–98) and Anthony Reade (1698–1714). The former lived in Benson until his death, and though Reade (as a canon of Exeter) may have resided elsewhere, his initials appear on a silver paten given in 1705. (fn. 717)
Protestant Dissent became increasingly evident from the Restoration. In the 1660s–80s at least half a dozen parishioners refused to attend church or communion or to have their children baptized, (fn. 718) and in 1676 Bruch reported twelve Dissenters (probably an underestimate) compared with 268 conformists. (fn. 719) Many were Quakers associated with the Warborough meeting (established in 1668), who were especially strong at Roke: from 1699 to 1727 the Warborough women's meeting met there regularly at Mary Tutty's house (registered formally in 1713), while the men's meeting rotated between Warborough, Roke, and Turville Heath (Bucks.). (fn. 720) Some members were of moderate means, (fn. 721) and in 1679 land at Roke was bequeathed for the benefit of poor Quakers. (fn. 722) A separate house there was registered for Baptists in 1739, and continued as a chapel into the 20th century. (fn. 723) Dissent in Benson itself gained hold before 1781, when Ann Prickett's house was licensed probably for Calvinist Methodists or Congregationalists, who continued to gain strength. (fn. 724)
The pattern of Anglican provision remained largely unaltered to the 1780s, with most incumbents (still Christ Church men) signing churchwardens' accounts and parish registers and presumably residing at least occasionally. Several stayed for only a few years, notable exceptions including Edward Smallwell (1720–30), Abraham Gregory (1736–45), and Samuel Long (1754–79), who employed a curate during periods of absence in the late 1770s. (fn. 725) By contemporary standards church life was reasonably vibrant. Henry Cremer (curate 1714–20) 'beautified' the church in 1717, (fn. 726) and further improvements were carried out in the 1720s and 1735, when there was a west gallery band. (fn. 727) A silver tankard flagon was donated c.1754, (fn. 728) and from 1765 to 1781 the curates, churchwardens, and leading parishioners were intermittently engaged with rebuilding the church tower and replacing its bells. (fn. 729) As in the early 19th century there were probably two Sunday services and a single sermon, with communion four times a year. (fn. 730) The bishop remained excluded from churches in Dorchester peculiar, although from 1758 the benefices augmentation gave him limited authority at Benson, where he held confirmations in 1790. (fn. 731)
By then the parish was suffering from absenteeism under William Judgson (1779–1820), who lived mostly in Shropshire. At Benson he employed successive curates including his nephew W.G. Judgson, of whom most occupied the vicarage house and received moderate stipends of £50–£75. Many were conscientious and apparently liked, overseeing major church repairs, establishment of a Sunday school, and (in 1817) installation of an organ. Few stayed long, however, and at times there was no clergyman resident, (fn. 732) encouraging further Dissent. In Benson a Calvinist group derived apparently from the earlier meeting at Ann Prickett's house, and associated with the Countess of Huntingdon's Connexion, met at adapted premises on Chapel Lane from 1794, served at first by the Wallingford ministers Joseph Griffiths, James Raban, and George Lee. (fn. 733) By 1808 the group had c.40 adherents, a large Sunday school, and (in 1814) two resident teachers both 'in trade', (fn. 734) and in 1834 it was re-established (still on Chapel Lane) as a Congregationalist branch church under the resident minister William Oram (d. 1849). (fn. 735) A short-lived Baptist splinter group seems to have been established in Benson by 1790, (fn. 736) and Roke Baptist chapel continued, (fn. 737) while the Warborough Quaker meeting retained a few Roke or Benson members into the 19th century. (fn. 738) Early 19th-century curates nevertheless alleged that Dissent was not increasing. (fn. 739)
Religious Life Since 1820
Judgson's successors were mostly resident, but improvement was not immediate. C.H. Cox (curate 1828–34) reported that Benson's clergy were viewed 'in no friendly light', and his disparaging view of the 'lower-class' population probably did little to improve relations. (fn. 740) George Lodowick Parsons (1835–48) won the bishop's praise as a good and active man [though] rather inclining to Tractarianism', and increased communion to eight times a year, adding weekday prayers and a second Sunday sermon. (fn. 741) By 1854 (under Samuel Hay Cooke) there were three Sunday services and monthly communion, although Cooke was then non-resident and employed two curates, while the bishop found local candidates for confirmation ill prepared. (fn. 742) Further improvement came under J.M. Collyns (1858–67), who by the 1860s reported positive feelings towards the Church and donated a silver chalice and paten. (fn. 743) By then congregations (including children) numbered c.300 out of a population of nearly 1,200, with up to 60 communicants at the chief festivals. (fn. 744)
Dissent remained 'rife' amongst 'tradespeople', and was cited by curates (along with widespread absence from church and the village's large number of pubs) as one their chief difficulties. (fn. 745) Roke Baptist chapel (then served from Wallingford) attracted over 80 worshippers by 1851, while Benson's Congregationalist chapel on Chapel Lane had 70–80 attendees and a dozen Sunday school pupils. A Benson Baptist chapel, opened in 1845 in a room adjoining the Sun Inn, had 100 sittings and a congregation of 35, while a Wesleyan Methodist chapel at the top of London Road (opened in 1843) had 92 sittings and an average evening attendance of 48, bringing the overall number of Nonconformist worshippers to nearly 250. The Wesleyan and Congregationalist returns were signed respectively by a Benson land surveyor and by the Benson maltster and corn dealer James Burgis, while that for Benson Baptist chapel was signed by a Chalgrove baker and grocer. (fn. 746) Primitive Methodists were established in Benson by 1861, (fn. 747) meeting until the 1890s at 17 Brook Street (Chapel House). (fn. 748)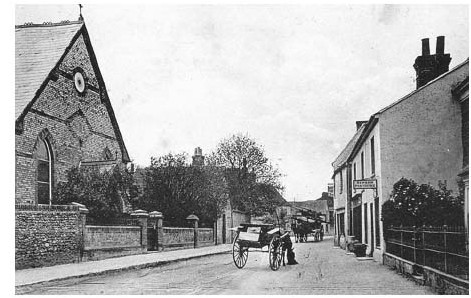 Anglican curates reacted to Dissent by pressing for a National school and improved church accommodation, (fn. 749) while parochial reorganization was proposed to tackle their perceived lack of influence at Roke, which the bishop characterized as 'Dissenting, Baptist, and much influenced by Wallingford revival meetings'. A curate jointly funded from Benson, Chalgrove, and the Diocesan Spiritual Help Society was appointed to serve both Roke and Berrick Salome, and in 1853 Christ Church (at Cooke's instigation) bought land at Roke for a proposed new district church. (fn. 750) Meanwhile the vicar of Chalgrove pressed repeatedly for Roke's inclusion in a proposed new parish of Berrick Salome. (fn. 751) Nothing was done, however, and Collyns's successors George Croke Robinson (1867–78), G.H. Whitaker (1878–81), and John Edward Field (1881–1923) all complained that Dissent remained strong. Robinson estimated that a third of the population (including two farmers and 4–5 shopkeepers) were Dissenters, and admitted that 200 parishioners went 'nowhere as far as I know', while church capacity was thought too small, and in 1875 labourers' attendance was declining. Bible classes, church improvements, and occasional missions slowly increased support, and Field instituted Sunday cottage-services at Roke. (fn. 752)
Benson's Baptist chapel closed probably by 1862, (fn. 753) but worship at Roke Baptist chapel remained vibrant, (fn. 754) and in 1879 the Benson Congregationalist meeting was reconstituted as a Free Church, with a new and imposing 200-seat chapel on High Street. (fn. 755) The original Congregationalist meeting house on Chapel Lane was taken over first by the Wesleyans, who gave it up c.1895, (fn. 756) and in 1897 by the Primitive Methodists, who remained there into the 20th century. (fn. 757) Continuing denominational rivalry was reflected by the presence until 1900 of separate Anglican and Nonconformist schools, (fn. 758) although in 1863 Nonconformists helped raise funds for a churchyard extension. (fn. 759) A 'tin tabernacle' on Watlington Road was built before 1903 to accommodate the Free Church's Sunday school and church club, (fn. 760) continuing in use until c.1963. (fn. 761)
All but two of Benson's 20th-century vicars stayed for ten years or more, serving the parish in person. (fn. 762) At first a moderately high-church tone persisted: Robinson had pressed for the choir be surpliced, and Field occasionally used incense, besides moving choir and organ closer together and introducing harvest thanksgiving and a weekly children's service. (fn. 763) A radical reordering of the church interior from 1971–8 (carried out partly by parishioners under the architects direction) reflected more inclusive forms of worship, (fn. 764) and in 2014 (when there were 101 on the electoral role) Sunday morning services were followed by refreshments in the adjoining parish room, with a monthly Eucharist for families accompanied by the church orchestra. (fn. 765) A privately run Gospel Mission Hall in Crown Lane functioned 1932– 57, (fn. 766) but the Primitive Methodist chapel on Chapel Lane closed in 1946 and was converted into shops, (fn. 767) while Roke Baptist chapel closed in the 1950s following the deaths of its last supporters, and was demolished in 1966. (fn. 768) Benson Free or Congregationalist Church declined to join the new United Reformed Church in 1972, and closed in 2009 when the congregation numbered only two. It subsequently became a private house. (fn. 769) CHURCH ARCHITECTURE
Despite its probable pre-Conquest origins, the present Benson church is of no great size or quality, comprising a west tower rebuilt in the 18th century, a heavily remodelled aisled and clerestoreyed nave, and a chancel and adjoining vestry rebuilt in 1861–2. (fn. 770) The nave's rubble and flint walling is concealed by render, and the chancel is of flint with stone dressings, replacing a flint predecessor. (fn. 771) The part-classical tower is ashlar-faced.
The plain tub font is 12th- or 13th-century, and in the 1840s the medieval chancel retained a 12th-century doorway and side windows. (fn. 772) Otherwise the earliest surviving fabric (the chancel's rebuilt Norman doorway apart) is a late 12th- or early 13th-century window reset in the south aisle's east wall c.1861. (fn. 773) The four-bayed nave (truncated internally by insertion of the 18th-century tower) acquired side aisles in the 13th century, the date of the existing arcades with their cylindrical piers, of which some have stiff-leafed capitals. The chancel arch is of similar date, its imposts recut later. Fourteenth-century refenestration included a Decorated east window and others in the north and south aisles, of which the surviving south windows (with ogee tracery) were restored in 1841–2. (fn. 774) A west tower existed probably by the 15th century, and in 1553 contained four bells. (fn. 775) The low-pitched nave roof, with decorative trusses resting on carved wooden corbels, is possibly 16th-century, although the north aisles flimsier roof (divided into panels by moulded rails featuring carved bosses and a Tudor rose) may be later.
In the 1620s the chancel was 'ready to fall', although the church was in good repair by 1669. (fn. 776) Small clerestory windows on the south may have been inserted c.1628 when the roof was re-leaded, lighting galleries or a pulpit. (fn. 777) Repairs in 1716–17 included whitewashing of walls and painting of the Commandments and images of Moses and Aaron over the chancel arch, which still had a screen between chancel and nave. Panelling and a plaster ceiling in the chancel (which in the 1860s cut off the east window) dated probably from around the same period, along, perhaps, with 'a choice bit of blasphemy' painted at the chancel's east end. (fn. 778) A west gallery was installed in 1722, (fn. 779) and a new pulpit, reading desk, and pews c.1725. (fn. 780) A small private gallery followed in 1787, (fn. 781) and dormers in the north aisle before 1803. (fn. 782)
In 1765 the vestry voted to rebuild the 'ruinous' tower and expand the ring of bells, the cost to be met from the church estate. Funding difficulties nevertheless delayed the work's completion until 1781. The new tower's lower two stages (designed probably by John Townesend of Oxford) are framed by massive corner buttresses, and feature circular lunettes and plain, round-headed doorways and west window. The taller upper stage was added by Townesend's son Stephen in classical-gothic style, featuring battlements, corner pinnacles, and pointed bell-openings with Y-tracery. (fn. 783) A ring of eight bells by Thomas Janaway of Chelsea was installed on the tower's completion, (fn. 784) and a clock by John Thwaites of London in 1795. (fn. 785)
An architect's report in 1806 found the church's side walls dangerously decayed, and in 1808–9 the north aisle was substantially rebuilt by John Philips of Wallingford, and the galleries were reordered. Funds were loaned by a parishioner for reimbursement from the church estate. (fn. 786) An organ was installed in the west gallery in 1817, (fn. 787) and in 1841–2 the south aisle was renovated and an early 19th-century battlemented porch replaced. (fn. 788) The church was repewed, replastered, and repaved in 1853, and in 1856 (following the organ's removal to the north aisle) the west gallery was refurbished for seating, two side galleries having apparently been demolished. (fn. 789) The chancel remained dilapidated until 1861–2 when, after Christ Church agreed to meet the cost, it was rebuilt to designs by Charles Buckeridge, partly re-using old materials. The new structure reflected Ecclesiological principles, with its fine timber roof and choir stalls, tiled steps ascending towards the altar, and new east window of triple lancets. An adjoining north chancel aisle (separated by oak screens and the organ) was added as a vestry, and the west gallery was removed. (fn. 790) Stained glass by Clayton and Bell was inserted in the chancel in 1868, the east window (in memory of Thomas Powell) designed by F.R. Pickersgill. (fn. 791)
Later changes were more cosmetic. Heating was installed in 1884, two bells were recast in 1852 and 1922, and in 1903 the organ's replacement involved alteration to chancel seating and screens. (fn. 792) The porch was restored and the south door replaced c.1923 in memory of the vicar J.E. Field, (fn. 793) commemorative stained glass by H.A. Nicholson was installed in 1936 and 1951 (the latter as a war memorial), and the 19th-century iron chandeliers were electrified. The interior was reordered in 1971–8, when the chancel became a chapel for weekday services, and a new altar was introduced west of the chancel arch, standing on a large multi-purpose platform. Choir stalls were removed and pews reordered, the tower's ground floor (closed off by glazed doors) became a choir vestry, and the font was moved from the south door to the north aisle's east end, in front of a new timber screen. The roofs were repainted. Major renovations in 1997–9 included an added parish room on the north-west (designed by David Birkett), and in 2008–9 the bells were rehung in a new frame. The 18th-century clock mechanism was replaced in 1977, and the clock face restored in 2012. The churchyard was extended in 1863–4, and a new cemetery across the road opened in 1935, acquiring a lychgate in 2002 to mark Queen Elizabeth II's golden jubilee. (fn. 794)
LOCAL GOVERNMENT
MANOR COURTS AND OFFICERS
Benson manors court or 'hallmoot' was mentioned in Henry II's reign, (fn. 795) when (as later) sessions were probably held every three weeks for tenants in Benson and other parishes. By the 13th century the tithingmen of Benson, Warborough, Shillingford, and (probably) Nettlebed all made presentments there, court business including debt and trespass cases, brewing offences, blocked ditches, and collection of manorial dues. A separate view of frankpledge was attended annually by the tithingmen of Benson, Warborough, Shillingford, Nettlebed, Up Holcombe (in Newington), and Northfield End in Henley, who reported similar offences including assault and excessive mill tolls, and paid certainty money. By the 16th century the courts baron met possibly only twice a year but, with the views, fulfilled similar functions to earlier, including (in 1545) fining three men for illegal card games. By then Benson had two constables and two tithingmen who doubled as ale tasters, together with two or more affeerers. (fn. 796)
Courts continued following the manors sale in 1628, meeting usually once or twice a year and dealing with copyholds (mostly in Warborough), encroachments, and (until c.1700) field orders. (fn. 797) Leet jurisdiction (including collection of certainty money) was retained by the Crown, (fn. 798) until in 1778 a court of survey held by the Stapletons re-asserted their right to a twice-yearly view of frankpledge and to jurisdiction over the manors ancient members of Warborough, Shillingford, Nettlebed, and Northfield End. (fn. 799) Thereafter irregular courts leet or views were held alongside the more regular courts baron, appointing officers for all those places and dealing with encroachments, quitrents, and (until inclosure) field regulation. Courts met at leading Benson inns, with occasional sessions at Warborough or Shillingford, while Benson officers appointed at the view included two constables, two tithingmen, and a hayward. No views were recorded after 1842, but nominal courts to ratify copyhold transfers continued until copyholds abolition in the 1920s. (fn. 800)
Separate courts and views for Crowmarsh Battle manor reflected privileges granted by William I, and in the 14th century met at least twice a year. (fn. 801) In the 1630s an annual view and court baron dealt with copyholds, blocked ditches, field orders, and (in 1635) repair of the stocks, electing a constable, tithingman, and two affeerers. (fn. 802) Most such offices probably lapsed soon after, when the manor was inclosed. (fn. 803) Lords of Fifield owed suit to Dorchester hundreds three-weekly court in 1279, though in the 1620s the lord claimed his own court leet and court baron, perhaps reflecting earlier practice. (fn. 804) Roke tenants presumably attended the relevant manor courts at Benson, Ewelme, or Chalgrove, and by the 16th century Roke's tithingman attended the Ewelme view of frankpledge. (fn. 805) In 1564 a lessee of Turners Court was to entertain the queens officers if they came to hold courts or make a survey, though none are recorded. (fn. 806)
PARISH GOVERNMENT AND OFFICERS
Benson's vestry (mentioned intermittently from the early 17th century) (fn. 807) appointed the usual parish officers, including (by the 1550s) two churchwardens and a parish clerk, by 1635 two overseers of the poor, and occasionally two sidesmen. (fn. 808) Other officers included constables for Benson and Crowmarsh Battle (mentioned sporadically from the 1660s), (fn. 809) surveyors of highways, (fn. 810) a cowherd, (fn. 811) and field keepers overseeing the shared fields. (fn. 812) As elsewhere the vestry passed accounts, and oversaw poor relief and church repairs; by the time of the earliest surviving vestry book in 1842 it also set rates, nominated constables and overseers to the magistrates, and regulated footpaths, appointing separate waywardens for Benson and Preston Crowmarsh. Meetings were sometimes held several times a year, usually in the vestry room or major inns and later in the National school. Minutes were occasionally signed by over 20 people, but more commonly by only a handful of leading inhabitants including the curate and parish officers. (fn. 813) By 1849 the constables were assisted by a resident police constable, and a police sergeant lived in Roke in 1903. (fn. 814)
Parish property comprised the 57-a. church estate (including cottages on Brook Street), which was managed by feoffees overseen by the vestry and perpetual curate. (fn. 815) An additional 10 a. of poor allotments and a 4-a. recreation ground were vested in the churchwardens and overseers at inclosure in 1863, although allotment wardens were already being appointed by 1854. (fn. 816) A parish fire engine (bought in 1744) was housed by 1820 in a shed on a plot of parish land adjoining the White Hart (Fig. 5). The vestry appointed local men to maintain it, and from 1892 retained a brigade of eight volunteers at 55. a week. The engine was used in neighbouring villages as well as Benson, but in 1928 it was retired and moved to barns at Crowmarsh Battle, where it was rescued for renovation in the 1980s. (fn. 817) In 1907 the engine house doubled as a mortuary. (fn. 818)
Under the 1894 Local Government Act the vestry was succeeded by a parish council with reduced powers, which in 2015 retained responsibility for the parish and youth halls, allotments, and recreational areas. The parish itself was transferred in 1894 from Wallingford Poor Law Union and Rural Sanitary District to the new Crowmarsh Rural District, passing to Bullingdon Rural District in 1932 and to the new South Oxfordshire District in 1974. Two churchwardens continued in 2014. (fn. 819)