Pages 282-293
A History of the County of Oxford: Volume 5, Bullingdon Hundred. Originally published by Victoria County History, London, 1957.
This free content was digitised by double rekeying. All rights reserved.
STANTON ST. JOHN
Stanton St. John lies north-east by east of Oxford, the nearest boundary of the parish being three miles, and the village itself four and a half miles, from the centre of the city. The parish is bounded to the east by Waterperry, to the south by Forest Hill with Shotover, to the west and northwest by Beckley and Stowood, and to the north by Horton cum Studley; for a short distance in the north-east it touches the county boundary between Oxfordshire and Buckinghamshire. The area of the parish was 2,731 acres from 1881, when the first reliable estimate was made, (fn. 1) until 1932 when 3 acres were added to it from Horton cum Studley parish. (fn. 2) In 1949 the parish was reduced to 2,700 acres by the transfer of Minchincourt Farm to Forest Hill with Shotover. (fn. 3)
Geographically the parish falls into well-marked divisions. Its western half is open upland, mainly between the 300-ft. and 400-ft. contours, but dropping below 300 ft. in the south-west and rising above 400 ft. in the north-west. This hilly country is a promontory of Corallian Beds, and consists principally of Calcareous Grit Sands with Wheatley Limestone capping the hills. (fn. 4) To its east lies a narrow strip of Arngrove stone which, beginning just north of Woodperry, broadens out to form a stony plateau around Stanton Great Wood. (fn. 5) East again, the ground falls away to between 200 and 300 ft., and this is an area of Oxford Clay. (fn. 6) There are four main watercourses in the parish. Bayswater Brook forms the southern boundary for some distance; Waterperry Brook runs through the north of the parish, turns south at Menmarsh, and joins Moorbirge Brook (called 'le More' in 1400), (fn. 7) which then runs along the eastern boundary. Danes Brook forms the boundary of the parish for a short distance at its north-east corner, and crosses the fields that were once Menmarsh Common to join Woodperry Brook just above its confluence with Moorbirge Brook.
The principal roads are three: Islip–Forest Hill, crossing the parish from north-west to south-east, and traditionally known as the London Way; Headington–Oakley from the bridge over Bayswater Brook in the south-west, through the village itself and thence eastward; Headington–Studley, branching off the last-mentioned and then going by New Inn and Woodperry and for some distance forming the parish boundary. In the 18th and early 19th centuries the inhabitants of Stanton and Woodperry were repeatedly ordered by Quarter Sessions to maintain the second and third of these in repair. (fn. 8) The nearest railway station to Stanton is three miles away at Wheatley, on the Oxford to Princes Risborough branch line. Stanton is served, however, by several buses a day on the Oxford to Little Milton route.
The village of Stanton St. John stands on the rising ground to the west of Stanton Great Wood, just above the 300-ft. contour, and between two springs which feed the Moorbirge Brook. The name Stanton is derived from the Old English stan-tun, 'the homestead of stony ground'. (fn. 9) The centre of the village lies a little to the north-east of the London Way, at the junction of the Headington–Oakley road with a road which runs southwards and meets London Way some three-quarters of a mile out of Forest Hill. The parish church, the Rectory, and Rectory Farm lie in the south-western angle, and Manor Farm and Stanton House in the northern angle of the junction. The Mill-house lies a quarter of a mile from the centre of the village on the south side of the Oakley road, and the majority of the houses and cottages of Stanton line this road and the road going south to the London Way. The Methodist chapel was on the north side of the Oakley road, about half-way to the mill. There are two inns in the village, the 'George' and the 'Star', the former at the southern end of the village on London Way, and the latter only a few houses above it. The 'White Horse', mentioned in the inclosure award of 1778, really belonged to Forest Hill village, though it was in fact just within Stanton parish until 1948. (fn. 10) A fourth inn, the 'Chequers', which lay between the 'Star' and the church, was pulled down about 1890. (fn. 11) The village school, a 19th-century building, is set back from the London Way, opposite the 'George'.
Woodperry House and Farm are a short distance to the south of the Headington–Studley road, and half a mile north of Stanton village, from which they may be reached by a footpath. 'Woodperry' is derived from the O.E. wudu-pyrige, 'the pear-tree near the wood', (fn. 12) and it is interesting to note that in the 17th century part of the farm-land was called Peeretree Lane Ground. (fn. 13) Woodperry village has disappeared. The taxation assessments of the 14th century indicate that it was only a third of the size of Stanton; (fn. 14) but though there is a tradition (fn. 15) that the village was destroyed by fire and abandoned in the 15th century, the evidence of the court rolls is that a community was still living at Woodperry in the 1540's. (fn. 16) In 1716 Hearne noted that Woodperry was 'formerly a town', and that the foundations of buildings were often discovered. (fn. 17) One of the closes near Woodperry House—possibly the one later called Engine Ground—was significantly named Town Close in the early 17th century. (fn. 18) In 1838 excavations revealed the site of Woodperry church, (fn. 19) and it was thought that the medieval village had occupied much of Upper Ashen Close (see map on p. 287). Excavations begun in 1953 have shown that while there are clear indications of Roman occupation up to 300 yds. east of the church site, the medieval village is unlikely to have extended for more than 100 yds. in the same direction. Medieval material has been found up to 50 yds. to the north and south of the church. A hollow which runs east-west through the village site appears to indicate the line of the street. (fn. 20) In 1628 there were 'houses and buildings' in Coleman's Close, (fn. 21) the next field eastwards from Ashen Close on the south side of the Studley road. Woodperry Green adjoins both Ashen and Coleman's Closes. (fn. 22)
Another lost hamlet is Stowford. The present-day Stowford Farm may mark its site. The fields here on either side of the road are shown on an 18thcentury map as Stafford Grove, Stafford Close, and Stafford Lane Furlong. (fn. 23) The first record of the hamlet occurs in the Hundred Rolls of 1279, where Robert Bastard is stated to hold a messuage and a hide of land there, while St. Bartholomew's Hospital, Oxford, had 2 messuages and a virgate, and Walter of Stowford had a messuage and ½ a virgate. (fn. 24) It is mentioned among the county's vills in 1316 (fn. 25) and in 14th-century tax assessment lists, (fn. 26) but no further record has been found.
There are three outlying farms in the parish of Stanton, besides Stowford Farm and Woodperry Farm. Breach Farm lies to the south-east of Stanton village, in the south-west corner of the Breach Grounds—the name indicates a clearing or assart— which skirt the south side of Stanton Great Wood. Moco Farm is on the opposite side of the parish just within its northern boundary, on the edge of Studley Wood. Menmarsh Farm is on the eastern bank of Woodperry brook, to the north-east of Stanton village. Minchincourt Farm, immediately adjoining Forest Hill village, was in Stanton parish until 1948.
There are several interesting buildings in Stanton village. Manor Farm is of 16th–17th-century date, with two stories and an attic; it has an old tile roof and some original windows. This was the capital messuage of the manor: there is evidence that John White, New College's farmer, occupied it and carried out extensive repairs in 1660. (fn. 27) John White's birthplace, close to Manor Farm, is an attractive L-shaped building of 16th-century date, with excellent contemporary windows. The Mill House of 16th–17th-century origin, has a timber-framed upper story and a roof of stone slates. The George Inn is a 17th-century house, with walls of colourwashed rubble, two gables, one timber-framed, and good windows. Manor and Rectory Farms have ancient barns. The Rectory, a handsome building of ashlar, is of late-18th-century date. The former parsonage house is described in a terrier of 1685; (fn. 28) it survived until about 1842. (fn. 29) In Woodperry are Woodperry House, a large symmetrical composition of two stories and attic, which was built in about 1730 for John Morse, a London banker; (fn. 30) and Woodperry Farm, an 18th-century building with a hipped old tile roof, and a barn of probably 18th-century date, which replaced an earlier one.
The history of Stanton St. John has not been remarkable. Its population, though of course increasing since medieval times, has probably not been subject to sudden or striking fluctuations. At the time of the Domesday survey there were 8 serfs on the demesne, 16 villeins, and 8 bordars. At its hamlet of Woodperry there were 4 serfs, 5 villeins, and 2 bordars. (fn. 31) The taxation assessments of 1316 and 1327 show 35 and 43 names respectively. (fn. 32) The poll tax receipts of 1377 give a total of 91 men and women over the age of 14 in the parish; (fn. 33) three hundred years later, Compton's census listed 66 conformists. (fn. 34) In 1738 the rector's return stated that there were 70 houses, tenements, and cottages. (fn. 35) The precise figures in 19th-century Census Reports show a steady rise from 349 in 1801 to 555 in 1851, and thereafter an overall decline until in 1901 the figure stood at 452. (fn. 36) In 1951 the population was 440. (fn. 37)
The village has been associated with a number of notable men. There were many distinguished incumbents of the parish church. (fn. 38) But Stanton's greatest worthy stood in a more intimate relationship with the parish than any of these. John White (1575–1648), (fn. 39) the Puritan 'patriarch of Dorchester', Fellow of New College, and prime mover in the foundation of Massachusetts, was born at Stanton, the son of a New College tenant-farmer. His younger contemporary, John Milton, had strong family ties with the village. His great-grandfather Henry Milton, and his grandfather Richard Milton had both lived at Stanton. Richard, a staunch Roman Catholic, was twice fined for recusancy in 1601, and disinherited his son, John Milton the elder, because he conformed to the established religion. (fn. 40) It was from Forest Hill nearby that John's son, the poet, took his first wife, the daughter of Richard Powell, (fn. 41) whose lands included a holding at Stanton. (fn. 42) Yet another contemporary, Henry Ireton, Cromwell's son-in-law, is said to have lived in the parish for a while, and to have left a trace of his name in Irondon Hill, (fn. 43) which, however, already bore that name about 1620. (fn. 44) In the middle of May, 1643, a troop of royalist horse which had been posted at Stanton was reported to have gone to the general muster of the king's army at Culham. A month later the royalists were back in the village, anticipating the advance of the Earl of Essex from Thame. After Essex's repulse at Islip, and the royalist victory at Chalgrove, the garrisons of Stanton and neighbouring villages joined Prince Rupert's army in his operations in Buckinghamshire. A small force, however, was left at Woodperry. In March 1644 part of the queen's troops from Abingdon were quartered at Stanton. From its position Stanton must inevitably have seen further military activity during the final siege of Oxford, and parliamentary forces are known to have been in the village in 1646. (fn. 45) Two bodies dug up at Bayard's Watering Place in Hearne's time were supposed, he tells us, to be two of the Scots 'that were drove along the Road in the Rebellion, and many of them knock'd on the Head like Dogs'. (fn. 46) But dramatic episodes of this kind are less typical of Stanton's history than the routine of village and manorial life as it appears in the progress notes of Warden Woodward. (fn. 47) The most alarming event in the more recent history of the village was the disastrous fire of 1793, when nearly all the cottages, barns, and stables are said to have been destroyed, (fn. 48) and Stanton came near to sharing the traditional fate of Woodperry.
Manors.
In 1086 Ilbert de Lacy held 10 hides in STANTON of Odo of Bayeux. (fn. 49) He is also entered in Domesday Book as holding of Odo two other tenements in Stanton each assessed at one hide. These later became attached to Forest Hill, and their descent is traced in the history of that parish. (fn. 50) Ilbert de Lacy's Stanton lands were forfeited by his son Robert when he was expelled the country by Henry I in 1100 (fn. 51) and were probably detached from the Honor of Pontefract about this time. They do not appear among the Honor's fees in Oxfordshire in the early 13th century. (fn. 52) Ilbert's Domesday holding of ten hides had passed to the St. John family by 1149 (fn. 53) and possibly by 1135. (fn. 54) His two smaller holdings had very probably been given to Robert d'Oilly. (fn. 55) The connexion of Stanton with the St. John family was to last for over two centuries and to give the place the name by which it is still known.
In a deed of 1149 John de St. John implied that his son Thomas was his heir, (fn. 56) and by 1168 this Thomas was holding the Stanton property. (fn. 57) He had two brothers, Roger and William, (fn. 58) the first of whom succeeded him by 1176. (fn. 59) Roger married Cecily, daughter of Reynold de Lucy, (fn. 60) and by an alleged deed of 1193 Adam Clemens granted them the manors of Stanton and Barton, with the church of Stanton, which Roger had lately granted to Clemens, to hold in tail male with remainder to the right heirs of Roger; this deed, however, is only known in a 15th-century exemplification, and was probably a forgery. (fn. 61) There must have been other landlords beside the St. Johns in Stanton: in 1135–7, for instance, Adela, widow of Henry I, had granted a hide there to the Eynsham Abbey, (fn. 62) and St. Frideswide's also owned a hide in Stanton—indeed, if the cartulary of the latter hous is to be believed, the manor itself once belonged to the monastery. (fn. 63) However that may be, in 1195–6 their hide of land, known as Olaveshide, was quitclaimed to Roger de St. John. (fn. 64)
Roger died in or before 1214, and his son John being under age, his wardship was granted to Geoffrey de Lucy. (fn. 65) John must have reached his majority at any rate by 1217; he married a wife named Emma, by whom he had a son, Roger. (fn. 66) Like his father, Roger succeeded as a minor: indeed as John was dead by January 1230, Roger cannot have been more than eight or nine years old. (fn. 67) His wardship went to Geoffrey le Despenser, (fn. 68) who also married Emma, John's widow. (fn. 69) Emma, long surviving her first husband, as late as 1254–5 had lands in Stanton, perhaps her dower, worth £20 a year. (fn. 70) Roger came of age in 1242–3, fought in the baronial wars against the king, and was killed at Evesham. (fn. 71) As a result, his lands escheated, and Stanton was granted in the autumn of 1265 to Roger de Leyburn. (fn. 72) Roger de St. John's son John presumably recovered his inheritance under the Dictum of Kenilworth; certainly he held inter alia the manor of Stanton in chief of the king at the time of his death. (fn. 73)
John de St. John had died by 1316, and was succeeded by his son, another John, (fn. 74) who in 1317 granted the manor for life to Gilbert de Middleton (fn. 75) and received from him a regrant for his life. (fn. 76) Three years later a settlement was made by which on Gilbert's death the manor would revert to John's eldest son John and his wife Katherine, daughter of Geoffrey de Say, for their lives. (fn. 77) John, the father, had died by 1322, (fn. 78) and ten years later, when Gilbert died, (fn. 79) John's widow Margery and her second husband, John de Ifelde, obtained a third of the manor in dower. (fn. 80) John de St. John, the son, and Katherine presumably received the rest, and by a new settlement in 1342 they arranged that it should pass to the heirs of their bodies. (fn. 81) They had at least two sons, Roger and William, and possibly a third, Nicholas. After John's death in 1349, (fn. 82) Katherine held part of the manor in dower, but by 1354 she had settled her estate upon Margaret, daughter of Roger de St. John, and her husband Sir Nicholas de Lovaygne, (fn. 83) to whom Roger himself and Peter son of William de St. John surrendered their claims. (fn. 84) Through this marriage settlement the long connexion of the St. Johns with Stanton came to an end.
In 1370 Nicholas de Lovaygne obtained a licence to grant the manor to a group of feoffees headed by William of Wykeham, (fn. 85) so that these feoffees might regrant the manor to him and to Margaret, with remainders to Margaret's sons by her first husband, Henry de Beaumont. (fn. 86) For reasons unknown, the children of Margaret's first marriage did not, in fact, enjoy their remainders. Although Nicholas was dead by 1376, (fn. 87) Margaret lived on until 1398, (fn. 88) and on her death the manor descended to her (fn. 89) daughter by Nicholas, Margaret wife of Philip Seyntclere, knight. In 1400 Philip and Margaret settled the manor on themselves for life with remainders to the heirs male of Margaret or, in default, her right heirs. (fn. 90) Philip and Margaret both died in 1408, (fn. 91) and their son John being a minor, the manor was occupied until his death in 1418 by John Pelham. John Seyntclere's brother Thomas, who then succeeded, was also a minor, and John Wilcotes (or Willicotes) apparently had his wardship. (fn. 92)
The descent of the manor during the next 60 years is confused. There was a long triangular struggle for it between (1) Seyntclere and his descendants, (2) the St. Johns who claimed to descend from Nicholas, alleged by them to have been the third son of the John de St. John who died in 1349; this claim later descended by marriage to the Lydyards, and (3) the Chamberleyns, descended from Margaret Seyntclere (d. 1408) by her first husband, and basing their claim on the settlement of 1400.
After he had come of age, Thomas Seyntclere granted the manor in or before 1425 to feoffees, (fn. 93) and, since he had omitted to obtain a licence to do so, it was for some time taken into the king's hand. (fn. 94) In 1428 it was said to be held by John Seyntclere, but this was probably an error for Thomas, who, after obtaining the king's pardon, (fn. 95) had doubtless had the manor resettled upon himself. (fn. 96) There then began a lawsuit between Thomas Seyntclere and Thomas St. John, which makes it clear that for some years back the two families had alternately entered upon the manor. (fn. 97) The suit seems to have terminated in St. John's favour, (fn. 98) and in 1439, four years after Seyntclere's death, the survivors of the latter's feoffees of 1425 released all actions against John Lydyard and his wife Clemence, who was Thomas de St. John's granddaughter and had evidently succeeded to his claim to the manor; (fn. 99) in the same year Lydyard also obtained an exemplification of the proceedings in the St. John-Seyntclere case. (fn. 100) Nevertheless, it seems likely that at some later date the decision in St. John's favour was reversed, for in 1451 William Lovell, Richard Harcourt, and John Gage, and their respective wives, Elizabeth, Edith, and Eleanor, daughters and coheirs of Thomas Seyntclere, granted the manor to feoffees, headed by Sir John Lovell. (fn. 101) Against the feoffees and others, and the original grantors and their wives, Thomas son of John Lydyard recovered the manor in 1459. (fn. 102)
It would seem, however, that Lydyard's recovery was designed to ratify a title that he had already, in fact, transferred to the Chamberleyns. As early as 1435 Richard Chamberleyn, the son of Margaret Seyntclere by her first marriage, had brought a suit against John and Clemence Lydyard: (fn. 103) this Richard's son William had brought to a successful conclusion. (fn. 104) William being under age and his lands in the king's custody, in 1456 the manor was committed to William Bedston. (fn. 105) In 1476–7, after William's death, it was settled on his brother, Richard, and Sibyl, Richard's wife, by fine between these two and Joan Chamberleyn, William's relict. (fn. 106) Joan Chamberleyn was a sister of Thomas Lydyard, (fn. 107) but trouble between the two families apparently continued. Lydyard, however, in 1476, released his right in the manor to Richard Chamberleyn, (fn. 108) and a claim he made to hold a quarter of the manor was adjudged against him. (fn. 109) There is evidence, indeed, that the whole Lydyard claim was forged and that Nicholas St. John was not a son of John St. John. (fn. 110)
Richard Chamberleyn held the manor at the time of his death in 1496, his son and heir Edward being at that time still a minor. (fn. 111) In 1526 Edward, by then knighted, conveyed it to Robert Dormer, (fn. 112) and in the same year his right in the manor was transferred to a group of feoffees, headed by John Newdegate and John Baldwyn, who were to hold to Dormer's use. (fn. 113) In 1529 there were successive sales by Dormer to John Williams, and by Williams to a group which included the Archbishop of Canterbury and the Bishop of Chichester, (fn. 114) and which was also enfeoffed by the survivors of the feoffees of 1526. (fn. 115) This last group, simply intermediaries, granted the manor to the Warden and Scholars of New College, Oxford, in whose hands it subsequently remained. (fn. 116)
In Domesday Book Roger d'Ivry held WOODPERRY of Odo of Bayeux, the holding being assessed at 4 hides, (fn. 117) the overlordship passed with that of the d'Ivry lands to the St. Valery family and thence to Richard, Earl of Cornwall. (fn. 118) In 1166–7 Gilbert 'de Almaria' paid a fine of 20s. for Pery (i.e. Woodperry), (fn. 119) with which the Aumery or Damory family were thereafter connected for some 200 years. In 1223–4 Robert Damory obtained a knight's fee in Woodperry by fine with Alexander de Burton and Emma his wife. (fn. 120) Robert died in 1236, (fn. 121) and was succeeded by his son Roger. Roger was still alive in 1281, (fn. 122) and from him the property presumably descended through his son Robert, who died in 1285, to Robert's son Richard. (fn. 123) This Richard was bracketed with John de St. John in 1316 as lords of the vill of 'Stanton cum Wodepurye et Stoford'. (fn. 124) In the following year he obtained a grant of free warren in his demesne lands, in which Woodperry was included. (fn. 125) His son Richard Damory became heavily indebted to Edward III, and in 1354 was forced to enfeoff the king of his demesne lands. (fn. 126) In 1358, however, the manor of Woodperry, which Richard held for his life, was granted in reversion to Sir John Chandos, if Chandos should survive Richard, (fn. 127) and in 1360 Richard surrendered his estate to Chandos, who obtained a grant of the manor in fee. (fn. 128)
From the death of John Chandos in 1370 the descent of Woodperry manor is confused. He left as heirs (fn. 129) two sisters, Elizabeth and Eleanor, and a third sister's daughter, Isabel. (fn. 130) Of these, Elizabeth granted her portion of the manor to feoffees in 1379, (fn. 131) who subsequently passed it on in 1391 to Roger Collyng, who had married Eleanor; (fn. 132) meantime Collyng and his wife had conceded Eleanor's share to their son Roger and another. (fn. 133) What happened to Isabel's share is not known, nor how the manor passed, as it apparently did, into the hands of William Willicotes. It is true that Willicotes's inquisition post mortem in 1410–11 mentions only a messuage, lands, and rents in Woodperry, and does not specify that he held the manor, (fn. 134) but the inquisition on his daughter, Elizabeth Blaket, taken in 1445–6, makes it clear that the life-interest that she held in the manor had descended to her from her father. (fn. 135) The reversion belonged to Willicotes's right heirs.
In 1449 this large group of heirs of John Chandos's heirs female leased the manor for eight years to Edmund Hampden, and John Weston; (fn. 136) but as to the subsequent transference of title there is little evidence. By 1485–6 the manor was said to have been held by Robert Brome (Browne or Broun). (fn. 137) A deed of 1456–7 shows him in process of acquiring ¼ of 1/5 of the manor: (fn. 138) whether he did indeed acquire the other shares, or whether the title of manor came to attach to what he had secured, is a matter for speculation.
In 1532 John Brome was in possession (fn. 139) and in 1557 he (by then Sir John Brome) bargained and sold, (fn. 140) and later the same year granted (fn. 141) to New College the rectory—later referred to as the rectory and manor of Woodperry.
Economic and Social History.
The earliest court roll of Stanton is of 1472. There are others from the reigns of Richard III, Henry VII, and Elizabeth I, but a regular series only begins under James I, running thence to 1775. (fn. 142) No manorial accounts appear to survive, but there is a terrier of 1472, a perambulation of 1488, (fn. 143) and a number of 17th-and 18th-century terriers. It is thus possible to reconstruct the topography of the manor. (fn. 144)
The terriers of 1472 and 1630 (fn. 145) indicate that there were six principal free-holdings: (1) a messuage, 2 yardlands and meadow in 'Stoueard' in the southwestern corner of the manor, which descended through John and Henry of Stowford, John Landrein and others to Oriel College, (fn. 146) by whom it was held in both 1472 and 1630; (2) Bennettes close, adjacent to (1) and containing half a yardland; in 1472 it was held by Thomas Lydyard, in 1476–7 by the heirs of John Meneyngsherde and by John Martin, its descent from whom to Corpus Christi College, who held it in 1630, may be traced in Corpus Christi deeds; (3) Minchincourt, adjoining Forest Hill, held in 1472 by Littlemore Priory, and in 1630 by Sir Thomas Denton, whose tenant was Richard Powell; (fn. 147) (4) The Vent close and 7 acres of meadow in Hillsden, held in 1472 by Richard Foster, and in 1630 by Charles Holloway, who was New College's legal adviser; (5) A messuage, yardland, pasture, and croft, held in 1472 by Sir Edmonde Reede, and in 1630 by Mrs. Mary Burnett; (6) 3 messuages, 4 yardlands, meadow and pasture and lands in the open fields, held in 1472 by Robert Brome, and in 1574–5 by Sir Christopher Brome, but not mentioned in 1630.
Of land held at the lord's will, the 1472 terrier lists 19 consolidated holdings, totalling 37¼ yardlands and 2 roods belonging to two cottages. It also described 40 furlongs of land held at will, totalling 556 acres. In addition there is mentioned a close called the Breach (30 a.); two meadows, 'Brode Mede' (160 a.) and Hillsden (18 a.); and two woods, Horley and Great Wood, of 40 acres each.
No records of the medieval manor of Woodperry appear to have survived, and it is probable that for many years before it came to New College it was a reputed manor only. Under New College much of it was let out on long leases, and a great part was so closely intermixed with Stanton lands as to make separate administration impossible. The Stanton court roll of 1629, describing the lands of Richard Gardiner, says 'ac iacent infra manerium predictum videlicet inter terras domini predicti manerii ex australi ac terras quondam Roberti Browne modo vero domini predicti manerii sed parcellam manerii sui de Woodperrie'. (fn. 148)
According to the Hundred Rolls (fn. 149) and the inquisition post mortem of 1316 on John de St. John, (fn. 150) the manor of Stanton St. John had two water-mills. They rendered 22s. in 1279. By the end of the 15th century, however, there seems to have been one only, held in 1472 by Thomas Miller, before 1479 by William Miller, in 1479 by Martin Davy and then by John Cartright, in 1480 by Thomas Adampys, in 1490 by Richard Mason and then by Thomas Shepard or Miller; in 1575–6 it was held by Hugh Wise. (fn. 151) A special terrier of the mill was made in 1629, and shows it to have consisted of a water-mill, mill-house, and dwelling-house, cottage, two closes and 4 acres in the open field, and to have been in the tenure of George Hobbes; (fn. 152) a Hobbes was also miller in 1660. (fn. 153) The inclosure award map of 1778 shows that there was a windmill on Hawkhill Common, near the road from Stanton to Bayswater Bridge. (fn. 154) By 1856 the fields formed by the inclosure of Hawkhill furlong and Sandlands furlong and of part of Long Sheepbridge furlong were known as Windmill Hill and Windmill Close respectively. (fn. 155)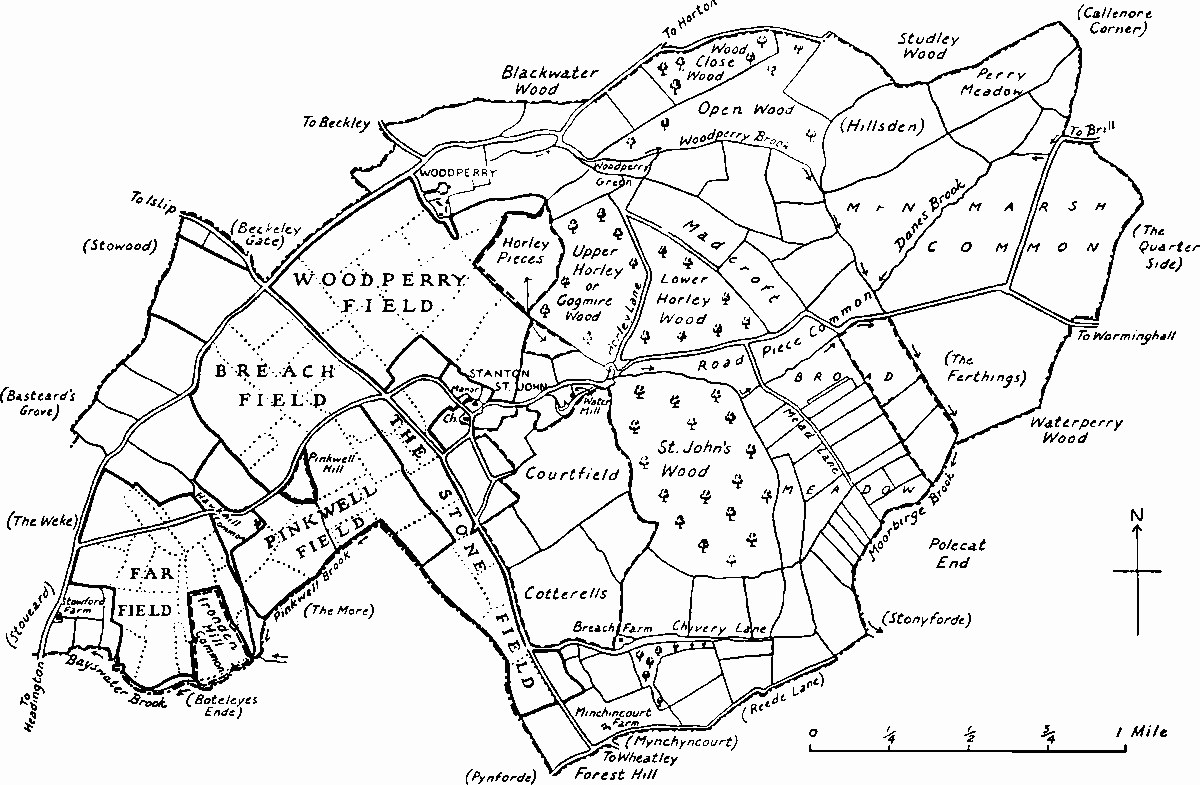 Note: The names in brackets are those places mentioned in the perambulation of 1488 (New College Archives)
The map (fn. 156) is a reconstruction of the topography of the parish as it was in the early 18th century, and is based mainly though not entirely upon the evidence of a group of terriers compiled between 1706 and 1734 which cover nearly the whole of the area under survey. (fn. 157) It will be seen that the map reflects the geological and geographical division (fn. 158) of the parish into distinct western and eastern halves, the higher ground of the former being dominated by the arable land of the common fields, and the latter, the lower ground on the Oxford Clay, containing the greater part of the meadow and pasture of the parish, as well as extensive tracts of common and woodland.
There were four common fields in 1706 belonging to Stanton village, the Stone Field, Pinkwell Field, Breach Field, and the Far Field, made up of about 60 furlongs. (fn. 159) The northern half of the Stone had been a separate field called the Worthy in 1631, when Breach Field and the Far Field were known as Heath Field and West Field. (fn. 160) The greater part of the southernmost furlong of the Stone, Mill Furlong, formed part of the lands of Minchincourt farm. Botley Brake Furlong in the Far Field belonged to Oriel College. Although Burnham's Furze was included in the Far Field in the terrier of 1706, it is unlikely to have been all arable, for the inclosure award reveals that the poor of the parish had been accustomed to cut furze for fuel there. (fn. 161) Woodperry Field differed from the Stanton fields in that although it was called a common field by the terrier of 1766, which enumerated its furlongs, (fn. 162) it was not made up of the scattered holdings of numerous tenants, but formed a compact part of the estate attached to Woodperry House. This no doubt accounts for the comparative regularity of the boundaries of its furlongs as shown on the inclosure map. Three of the Stanton fields were about the same size (c. 120 a.), and the fourth, Breach Field, was smaller (c. 90 a.). In contrast, Woodperry Field was nearly 200 acres in 1773, and had been larger. It is possible that it had been two separate fields at the time when Woodperry village was still inhabited, and perhaps for some time afterwards. (fn. 163)
Much of the pasture and meadow seems to have been inclosed by the 15th century, for both Hillsden and the Broad Meadow were said to be hedged about in the terrier of 1472. (fn. 164) The pasture and meadow inclosed by 1706 fall into four main groups, with a few scattered outliers. Around Woodperry House was a number of inclosures, some like Ralph's Close of early origin, others taken in from Woodperry Field, and a fringe of closes on the northern boundary of the parish cut out of the woods and waste ground along the border of Beckley parish. Secondly there was the Madcroft group of meadows lying in the angle of Woodperry and Moorbirge brooks. From the eastern end of Open Wood up into the north-east corner of the parish stretched the third group, Ramsden Close, Hillsden and Perry Meadows, and Bullford's Grounds. (fn. 165) Finally, the Broad Meadow lay between Stanton Great Wood and Menmarsh Common, and contained three main subdivisions. Immediately under the woodside were the St. John's Meadows or 'Syngetts', a strip of meadow divided into a larger number of small parcels held by the copyholders of Stanton. Next to the east was a broader stretch of meadow divided into comparatively large fields, and lastly, on the edge of Menmarsh Common, the meadows belonging to the Manor farm. (fn. 166) The total area of meadow and pasture, excluding Stafford, the Breach, and Minchincourt Farms, was about 600 acres.
Four large woods survived of the very extensive tract of woodland which had once crossed the parish from north to south. (fn. 167) Timber played an important part in the economy of the manor, (fn. 168) and there seems to have been little change in the extent of woodland from the early 17th century until the 19th century, despite considerable felling at the time of the Civil War. (fn. 169) The present Stanton Little Wood, or Wood Close Wood as it was called, is a remnant of a much larger wood which included Open Wood, and probably Ramsden Close, Wood Close, and Coleman's Close, and which must have been about 160 acres in extent. This was no doubt the Perry Wood of medieval records. (fn. 170) In 1706 Wood Close (c. 30 a.), was bordered to the south by Open Wood (80 a.). The latter, as its name suggests, was probably an area of rough grazing with scattered trees. In 1845 the Bursar of New College noted on his map that Open Wood was not a wood at all, and by 1856 it had been inclosed and divided into three parts. (fn. 171) South of Open Wood and only separated from it by Woodperry Green, lay the two Horley or Hocley Woods, which were divided from each other by Horley Lane. The wood west of the lane was called Upper Horley in the 17th century, (fn. 172) but was later known as Gogmire Wood. It was still standing, some 70 acres in extent, in 1856, but it has since completely disappeared, though its outline is still preserved by the two large fields west of Holly Wood and the lane. Lower Horley, or Holly Wood, covering about 60 acres to the east of the lane, has survived almost entire. South of the Horley woods, and separated from them by the Road Piece Common, lay the largest of the woods, St. John's, Sidley, or Great Wood, which has lost little of its 150 acres since the 18th century. It was divided into a number of coppices in the 17th century, (fn. 173) no doubt to facilitate the regular rotation of thinning, clearing, and coppicing. (fn. 174) In 1778 a small wood was still standing to the south of Great Wood, on the land of Minchincourt farm. The total area of woodland in 1706 was about 380 acres.
The largest common, Menmarsh, occupied an area of some 300 acres and afforded grazing for large flocks of sheep. (fn. 175) It lay between Moorbirge Brook, Hillsden Meadows, and Bullford's Grounds, and was originally part of a much larger expanse of common which extended eastwards into Waterperry parish and the Quarters, but which had been much reduced by inclosure towards the end of the 16th century. (fn. 176) The inclosure map of 1778 shows that plans had already been made for the division of the common into large fields, and for turning Danes Brook from its old sinuous course into the straight channel in which it now runs from Bullford's Grounds to its confluence with Moorbirge Brook. By 1780 these plans had been carried out. (fn. 177) The maps of 1845 and 1856 show further changes, notably the splitting up of the first large inclosures into smaller fields, and the building of two new farms, Menmarsh and Moco, the latter in the Hillsdens.
The Road Piece Common, called the Rode in the 17th century, (fn. 178) covered 50 acres, and formed a long narrow strip between Horley Woods and the Madcroft meadows on the north, and Great Wood and Moorbirge Brook on the south. It was only divided from Menmarsh Common, of which it was a pointed salient, by Woodperry Brook. Woodperry Green, between Open Wood and Horley Woods, was much smaller (c. 15 a.) and lay immediately to the east of the probable site of Woodperry village. (fn. 179) The whole of the Road Piece and part of Woodperry Green were inclosed at the end of the 18th century. In the western part of the parish there were two small commons, Hawkhill (8 a.), where the windmill stood, and the Common Grove (25 a.). Both were inclosed after the Act of 1777. (fn. 180) The total area of common land in the parish in 1706 was nearly 400 acres.
Whereas it was only by the inclosure award that the tenants of lands in the common fields of Stanton were able to unite their scattered holdings, the map shows that in 1706 the lands of Manor farm had already been brought together into three large fields (fn. 181) and a number of closes. The process of building this compact holding seems to have taken place after 1472, when the fields which later belonged solely to Manor farm were listed among the furlongs of the common fields, and to have been completed by 1620. (fn. 182) From the map it looks as if Manor farm worked a three-field system of its own, but in the absence of manorial accounts we cannot be certain that this was so. The three large fields were Horley Pieces, Court Field, and Coterells. Horley Pieces, lying immediately to the west of Gogmire Wood, covered 34 acres, or 38 including Vent Hill, a detached parcel of the field south of the wood. Court Field, in the angle of Mill Lane and the road to Forest Hill, was estimated to contain 76 acres about 1620. By 1713, however, it had lost 23 acres to new inclosures; 10 acres to the Vineyard, and 13 to Mill Field. The latter continued to be counted as part of Court Field, the terrier of 1734 giving their combined acreage as about 60. The third field, Coterells, lying south of Court Field, was consistently returned as 54 acres. Court Field and Coterells with the adjacent closes, Green Close, the Vineyard, and Hill Crofts, formed a compact block of land, only separated from the farm itself by the village street and its line of cottages and gardens. Though the meadows of Manor farm lay some distance away, they were in one block of 36 acres on the west bank of the Moorbirge Brook. The two remaining 'severall groundes' of Manor farm were Pinkwell Hill, between Pinkwell Field and the Headington road, and Irondon Hill, bounded on the south by Bayswater Brook and on all other sides by the furlongs of the Far Field. Both were rough grazing and furze. (fn. 183)
Stafford, or Stowford farm, in the south-west corner of the parish, with a number of closes, was held by Oriel College, and one close adjoining these lands by Corpus Christi College. (fn. 184) To the Breach farm belonged some 60 acres of inclosed land along the south side of Great Wood, containing arable and pasture, and 8 acres of meadow and a detached meadow, the Hay (16 a.), lying north of the Road Piece at its eastern end. (fn. 185) The lands of Minchincourt farm stretched from Mill furlong, at the southern end of the Stone, to the Moorbirge Brook where they ended in Lusher's Meadow. They had been inclosed by 1630. (fn. 186)
The common fields of Stanton and Woodperry were inclosed by an award dated 1778. (fn. 187) The principal allotments were made to William Ledwell (fn. 188) (373 a.), James Hargreaves (146 a.), New College (187 a.), Oriel College (34 a.), and the Rector of Stanton St. John (274 a.). (fn. 189)
Churches.
Before 1090 Ilbert de Lacy, lord of Stanton, had endowed the church of St. Clement in Pontefact castle (Yorks.) with two-thirds of the demesne tithes of Stanton. (fn. 190) This grant was confirmed by his grandson Ilbert de Lacy in 1137–9. (fn. 191) but there is no evidence that St. Clement's ever possessed these tithes. Between 1135 and 1150 John de St. John, then lord of Stanton, granted the parish church to Eynsham Abbey. (fn. 192) It held the advowson until 1537, but never appropriated the church. The abbey was paid a pension by the rector; in 1197–8 it was 1 mark; (fn. 193) in the 13th century it was raised to 20s.; (fn. 194) and there is continuous evidence of its payment down to 1535. (fn. 195) Before its dissolution in 1539 Eynsham had been selling its property; in 1538 it sold the advowson of Stanton St. John, and, it is said, the rectory for £44 3s. 2¾d. to John Longland, Bishop of Lincoln. (fn. 196) He granted the advowson to New College, (fn. 197) the patron in 1953.
In the Middle Ages Stanton was not a very valuable rectory; in 1254 it was worth 5 marks, (fn. 198) and in 1291 £6 13s. 4d., (fn. 199) but by 1535 its net value had risen to £16 9s. 4d. (fn. 200) At the beginning of the 18th century the value was about £100; (fn. 201) it had increased by 1808 to £300. (fn. 202) In 1953 the net value of the benefice was £400. (fn. 203)
Besides the rectory estate, the rector was entitled to all the tithes. In one or two cases they had been commuted; (fn. 204) from Minchincourt farm, for example, he received a modus of £4 for tithes. (fn. 205) When the parish was inclosed in 1778, the rector was allotted 274 acres of land. (fn. 206) These consisted of nearly all of Pinkwell Field opposite the Rectory, bounded by the Headington road on the north-west and the parish boundary on the south-east; Jackson's Grove (12 a.) on the former Rector's Mead; Jericho (10 a.); and Rector's Close (24 a.). (fn. 207)
Between 1221 and 1228 Matthew de Bixtrop, who held what was later Minchincourt farm of John de St. John, (fn. 208) received permission from Eynsham and John the Rector of Stanton to build a chapel in his curia at Forest Hill and to have a perpetual chaplain there. (fn. 209) Careful arrangements were made to safeguard the rights of the church of Stanton; it was to keep all tithes and have sole power to administer the sacraments; Matthew and his household were permitted to attend services in the chapel, but his tenants were to attend the church. In return, he gave the church four acres of land. Minchincourt farm-house and part of its land remained in Stanton parish until 1949 although lying in Forest Hill village. (fn. 210)
Woodperry in the early Middle Ages was a separate parish. (fn. 211) There may have been a church there in Norman times, though there is no record of the history of the advowson before 1296. By then the church had been appropriated to Littlemore Priory, which was accused by the bishop of neglecting services there. (fn. 212) By 1452, Woodperry had become a part of the 'parish of Stanton and Woodperry'. (fn. 213) Witnesses in a tithe suit in 1581 remembered that it had once been a separate parish. (fn. 214) The living was a very poor one. In 1254 it was valued at 1 mark, (fn. 215) and was by far the poorest church in the deanery; it was not included in the valuation of 1291, and in 1341 it was said to be taxed at 13s. 4d. (fn. 216) Two-thirds of the demesne tithes, originally given away by his father, were granted by Henry d'Oilly to Oseney Abbey. (fn. 217) In 1291 the abbot was receiving 6s. 8d. for them; (fn. 218) in 1507–8 they were being farmed out for 10s., (fn. 219) but by 1535 they were valueless. (fn. 220)
Although Woodperry had ceased to be a separate parish, its lay rectory continued. In 1526 it was granted to his new Oxford college by Wolsey; (fn. 221) by 1554 it was in the hands of Sir John Brome of Holton; (fn. 222) and in 1556–7 the Bromes sold it to New College, (fn. 223) who still hold it. The estate consisted of 2 acres of arable and 1 acre of thorns and bushes. (fn. 224) The lessee of the rectory during the 16th century was evidently entitled to part of the tithes from Woodperry, but by the end of the century the Rector of Stanton was attempting to collect all the tithes. (fn. 225) The tithe suit of 1581, in which the annual perambulation of the parish is described, may have settled the matter. By the early 18th century the Rector of Stanton was said to be receiving the tithes from the whole parish, (fn. 226) but in the Inclosure Act, when the tithes of Stanton were commuted, Woodperry was stated to be free from tithes. (fn. 227)
Several of Stanton's medieval rectors (fn. 228) appear to have been non-resident. (fn. 229) In 1520 the rector was resident and was charged with having a woman in his house. (fn. 230) John London, (fn. 231) Warden of New College, who was rector in 1526, had a curate whom he paid £5 6s. 8d. a year. (fn. 232) After London's deprivation, the church was held for about 100 years by successive wardens of New College, among them Thomas Whyte, Martin Culpepper, and Arthur Lake, later Bishop of Bath and Wells. (fn. 233) Robert Pinck, the last warden to be rector (1620–43), is well known as a devoted royalist who suffered imprisonment by the parliamentarians. In his will he left £110 to the poor of Stanton St. John. (fn. 234) His successors were always fellows of the college. Notable among them were John Maylard, one of the many fellows expelled by the parliamentary visitors in 1648. (fn. 235) He retired to a comfortable house at Stanton (fn. 236) for which he returned eight hearths in 1665, (fn. 237) and is buried in the church. (fn. 238) Another fellow, Lawrence Squibb (1680–1710), who also lived and was buried at Stanton, left £50 to the church. The Recorder of Oxford declared that though he was a non-juror 'he was one of the best of men both in his private character and function'. An attempt to deprive him of his living failed. (fn. 239) A distinguished fellow to be rector was Robert Holmes (1782–1805), Professor of Poetry in Oxford and a well-known commentator on the Old Testament. (fn. 240)
Some of the 18th-century rectors lived in the parish, others in Oxford. Stephen Wheatland (1724– 64), for instance, whose wife came from a local family and was a benefactress, (fn. 241) is known to have lived for part of the year in the parsonage house, (fn. 242) but after his death there was only a curate, a Fellow of New College, who received a stipend of £20 a year, later raised to £40. (fn. 243) After the inclosure in 1778, the parsonage was let as a farm-house (fn. 244) but during the early 19th century the rectors again started to reside. (fn. 245) There are signs of neglect at the end of the 17th century followed by an increasing interest. In 1685 it was reported that no litany was held on Wednesday or Friday, (fn. 246) and that the fabric needed repair. But in 1694 William Finch, a man of means, gave £5 to beautify and adorn the church. (fn. 247)
Throughout the 18th century services were held more frequently in Stanton than in many Oxfordshire parishes. There were two each Sunday, and the number of communicants varied between 10 and 20. (fn. 248) There were occasional disputes about pews: in 1722 the archdeacon appropriated a pew, claimed by Mrs. Martha Eldridge, to the tenants of John Tubb, and it was complained that 'some person . . . presumed to sett a lock on the door leading to the said seats' so as to keep Mrs. Eldridge out. (fn. 249) In 1822 a man was presented for using a seat 'in order to molest another person', and John and Elizabeth Minchin were presented for using the pew belonging to the inhabitants of Minchincourt Farm. (fn. 250)
The parish was not noticeably affected by the 19th-century religious revival. By 1866 communion services were being held about ten times a year, and the congregation, including many who lived in Forest Hill, was about 100. Its size was said to vary according to the weather and the occupation of labourers at different seasons; impediments to churchgoing were 'the old Adam; and the evil examples of former generations'. (fn. 251)
An unusually large number of parishioners had inscriptions in the church, many of them churchwardens: the Coxes for example, the Grants, Tubbs, Jacksons, and Coghills, and there is one to Matthew Hiatt, baker (d. 1749). (fn. 252)
In 1581 it was said that services had been held and sacraments administered in Woodperry church as long as it had stood. (fn. 253) There is a tradition that the north aisle of Stanton church was built by the parishioners of Woodperry for their own use in the 15th century, after the destruction of their own church by fire. (fn. 254)
The parish church of ST. JOHN consists of nave, chancel, north and south aisles, and a west tower. Of the 12th- and 13th-century building only the north arcade has survived. The chancel was rebuilt early in the 14th century and has an interesting geometric east window.
The south aisle, with arcade and clerestory, is in the late-14th-century style, with the clerestory windows placed over the piers. The north aisle was rewindowed in the 15th century, retaining one late14th-century window to the north-west. The lofty west tower was built in the 15th century.
The chancel, the north and south sides of which are in two divisions separated by buttresses of two stages, has lancet windows with trefoil heads, the dripstones in the interior terminating in carved heads. On the south-west is a small door and one window wider than the others. The east window contains some unusual triangular tracery of foliated lozenge shape, formed by intersecting straight lines. The door and lower part of the stairs to the rood loft remain on the north side of the chancel arch, which was rebuilt in about 1700.
Little of the glass is ancient. In the westernmost window on the north side are the arms of Robert Pinck, D.D., Warden of New College (1617–47); opposite on the south are some medieval roundels of oak-leaf pattern, with figures carrying a shrine and a late-13th-century shield of Clare. (fn. 255) On the north wall are the reset remains of a 14th-century tomb, of which only the crocketed head is intact; there is no trace of an effigy, and the suggestion has been made that what remains was, in fact, an Easter Sepulchre. On the south is a plain piscina.
There is some documentary evidence of restoration. Skelton, writing in 1823, spoke of recent alterations, (fn. 256) and in 1867–8, an appeal for subscriptions having been made, (fn. 257) the east wall was rebuilt on new foundations, and the black and white tiles, removed from New College chapel in 1839, were 'adapted' for the east end. (fn. 258) There had evidently been trouble with the east wall before, as in 1726 the churchwardens were required to show why the great wall, described as in ruinous condition, should not be repaired. (fn. 259) In 1809 the chancel was again under repair. (fn. 260)
When Thomas Hearne visited the church in 1716, he commented bluntly, 'there is nothing of antiquity in it'. (fn. 261) That is true in so far as no monuments of medieval date exist. The following wall monuments may, however, be noted: William Pudsey, gentleman (d. 1659), Frances Squibb (d. 1695), Mrs. Anne Mann, sister of John White, esquire (d. 1703), Lawrence Squibb, Fellow of New College and Rector of Stanton (d. 1710), Thomas Pemberton (d. 1714), Margaret Pemberton (d. 1728), John Mather (d. 1739), Margaret Wheatland (d. 1741). (fn. 262)
At the west end of the nave there are four benches, carved with paired human poppy heads and grotesque animals. The benches are of late medieval date, and it is possible that they were originally in the chancel. At the east end of the north aisle is a 15th-century parclose screen; another is in the tower. The font is of plain octagonal form, the pulpit Jacobean. Over the chancel arch are the Georgian royal arms, signed by 'Seargeant, Painter, Sept. 1801'. In 1801 the churchwardens paid 'Mr. Sergeant's bill for whiting and painting the church', amounting to £12 16s. 8d. Set on either side of the central grating at the east end of the nave is a much worn series of medieval floor tiles, red inlaid with cream, of a type common in the Oxford region. There are five bells; in the 19th century there was said still to be in existence a receipt for the bells upon their removal by the parliamentary army to Boarstall or Brill during the Civil War. (fn. 263)
The Edwardian inventory of church goods (1552) listed a silver chalice, six pairs of vestments, three pairs of old vestments, three copes, three linen hangings for the high altar, three for other altars, four bells and a sanctus bell (the niche for this remains on the eastern gable of the nave), a 'burying' bell and a 'sacrying' bell, a pyx of ivory, and a pair of organs. (fn. 264) Post-Reformation plate includes a chalice and cover of 1577.
The clock on the tower was given by Mrs. Jane Yerke in 1730. (fn. 265) In 1773, Thomas Nicholls, rector, gave a gallery for the use of the singers and school children, but this has been removed.
The parish registers date from 1654 for baptisms and burials and 1660 for marriages. The parish records also include rate books from 1751, churchwardens' disbursements from 1788, and appointments of churchwardens from 1727.
In about 1838 the site of Woodperry church was excavated and some traces of church and churchyard were found; these included a Norman arch or doorway. (fn. 266) In excavations on the same site in 1953, fragments of 13th-century ridge tiles and floor tiles were found, together with a number of limestone roof slates. (fn. 267) A witness in the tithe suit of 1581, who was reputed to be 100 years old, had seen Woodperry church walls standing and had one of its monuments in his house. The rood had been taken to Stanton and the images of St. John and St. Mary to Beckley. (fn. 268)
Nonconformity.
Ambrose and John Edwards were returned as recusants in 1577. John was imprisoned for his religious convictions in 1592. 'Anne Lovelace gent.' was also listed as a recusant in 1577. (fn. 269) In the 17th century Milton's grandfather and his family were recusants (fn. 270) as well as the Stacey family and Thomas Bennett, (fn. 271) but the parish returned no nonconformists in 1676, (fn. 272) nor do the episcopal visitations of the 18th century suggest that dissenters ever numbered more than a very few. (fn. 273) In 1844, however, Mary Baker of Abingdon sold to the Revd. Isaac Hedges of Oxford and other trustees a small plot of ground to be the site of a Primitive Methodist church. (fn. 274) This chapel continued in use until after 1851 but had disappeared by 1887. The congregation in 1851 numbered between 50 and 80. (fn. 275)
Schools.
Dame Elizabeth Holford, by will dated 1717, left £500 to be set at interest until it had accumulated to £750, then to be laid out in land for the endowment of one or more charity schools for boys and girls from the parish and from Forest Hill, and for the clothing of six boys and six girls from these parishes, to be called Lady Holford's scholars. By Chancery decree of 1759 trustees were appointed to find a master of the free school at a salary of £20, and to apply £100 to a school building. The school and master's residence were built on a site given by New College in 1767. (fn. 276) In 1825 the school had 50 pupils, 30 from Stanton St. John and 20 from Forest Hill. They were taught reading, writing, and accounts, and could stay until 14 years of age, but few did. (fn. 277) By 1833 there were 60 pupils, some of whom were paid for by their parents. (fn. 278) In 1851 the bequest was worth £46 a year, (fn. 279) and in 1874 £400 which had accumulated from the charity was spent on building a new school. The master was paid £30 a year. In 1895 120 children received instruction. (fn. 280) By 1952, when the school was a Church of England primary school, there was an attendance of 79. (fn. 281)
Charities.
There are four parish charities, excluding Lady Holford's. Robert Pinck, D.D., Warden of New College and Rector of Stanton, by will dated 1647, bequeathed £110 to be used for apprenticing children of the parish to tradesmen outside the parish. Some time before 1732 about 5 acres of Oakley (Bucks.) was purchased with the money. (fn. 282) In 1825 an apprentice was said to be bound every year or so, often with help from the rates as the Charity income was insufficient.
Lawrence Squibb, Rector of Stanton, by will proved 1710, left £50 to provide Bibles, PrayerBooks, and improving literature, as well as medicine for the sick. The rector was said to distribute books and medical assistance in 1825.
Margaret Wheatland, wife of Stephen Wheatland, rector, by will dated 1740, bequeathed after the death of her husband £800 of which half the income was to provide education for ten poor children and half, after other life-interests, to be given in weekly gifts to the poor. By Chancery decree of 1769 £200 was assigned to school purposes at Beckley (fn. 283) and £600, after the life-interests, for weekly gifts of bread, which were duly being made at Stanton in 1825.
Mary Mather, by will dated 1766, left £50 Stock in trust for the distribution of bread to the poor on 14 November. This was being done in 1825. (fn. 284)
Thomas Nicholls, rector, wrote to the Bishop of Oxford in 1768, claiming that he had put the charities on a better footing since he came to the parish.
At the inclosure of 1778 part of the Common Grove was allotted to the rector in trust for the poor to compensate them for the furze they had cut there and in Burnham's Furze. There is no late trace of this trust. (fn. 285)