Pages 312-323
A History of the County of Oxford: Volume 6. Originally published by Victoria County History, London, 1959.
This free content was digitised by double rekeying. All rights reserved.
STOKE LYNE
This large parish, said to be ten miles in circumference in the 18th century, (fn. 1) once stretched right from Fritwell on the west to Fringford on the east, with Bicester four miles to the south-east as its nearest market-town, but in 1948 it lost to Ardley 685 acres, including its hamlet of Fewcot, and has since comprised 3,216 acres. (fn. 2) The parish is well watered by a number of streams: one, the Ockley Brook, forms the boundary with Northamptonshire in the north; a small stream divides Stoke Lyne from Tusmore Park; another stream, the Bure, (fn. 3) flowing south-east from Bainton Spinney, marks the southern boundary for a short way; while the Birne, (fn. 4) a small tributary of the Great Ouse, demarcates the parish for a stretch on the north-east. Round Hill, a tumulus, stands on the northern boundary. (fn. 5)
The parish lies mostly on the Great Oolite belt which crosses the county, (fn. 6) but there are small areas of Cornbrash. On the eastern boundary the land is low-lying and liable to flooding, but the rest of the parish is upland, nearly 400 feet above sea-level. In Domesday Book woodland (3×2 furlongs) is recorded; (fn. 7) in 1279 12 acres of wood and 4 of spinney are mentioned; (fn. 8) and in the late 18th and 19th centuries it was the coverts in the parish which helped to make it a well-known hunting district. Stoke and Little Stoke Woods lie on either side of Swift's House (see below), and Sycamore Grove, Stoke Bushes, and Bainton Copse are others. Three hundred oaks, felled in the First World War, were planted in this last copse in 1792 by Joseph Bullock of Caversfield. (fn. 9)
The parish is crossed by the main roads from Oxford to Brackley and from Bicester to Banbury. They intersect at Baynard's Green, the modern name for the historic Bayard's Green (see below). The nearest railway stations lie over the borders at Somerton, 4½ miles distant, and at Bicester. (fn. 10)
The mother village of Stoke Lyne is centrally placed and lies in the valley of the Bure stream, but at an early date colonizing settlements were made at Bainton, or 'Bada's farm', on the southern boundary, and at Fewcot, close to two springs in the extreme west of the parish. Its name means 'few cottages' (O.E. feawe cotu). (fn. 11) The name Stoke was derived from the Old English stoc meaning 'cattle-farm'. (fn. 12) It was once called Stoke Insula or Stoke de Lisle after the medieval lords of the manor; but after it passed into the Lynde or Lyne family in the 15th century the suffix Lyne came into use. (fn. 13)
Both Stoke and Bainton must have been fair-sized villages in the 14th century. (fn. 14) Indeed Stoke may have been once larger than it was in the 17th century, when traces of decayed houses gave rise to the erroneous belief that the place had once been a markettown. (fn. 15) As the number of houses listed for the hearth tax and by 18th-century vicars may relate to the hamlets as well as to Stoke Lyne, it is impossible to be precise about its size or the number of its substantial houses. Altogether, besides the manor-house of Stoke, there were 2 large houses of 7 and 8 hearths and 5 small farm-houses besides one-hearth dwellings listed in 1665. (fn. 16) In the mid-18th century some 40 or so houses were recorded, (fn. 17)
In 1797 Davis's map shows that most of the village of Stoke lay north of the church on what once may have been an open green. (fn. 18) In 1881 the stocks were still standing there, with the public house to the south; Church Farm, the smithy, the post office, and the school, built in 1858 at the expense of Sir Henry Peyton, lay south of the church. (fn. 19) Much of the village had already been rebuilt in consequence of a fire in 1851 which destroyed about 25 thatched cottages. (fn. 20) Some of those who were rendered homeless built themselves cottages in Stratton Lane, and in 1860 the lord of the manor, on whose land they had squatted, went to law. The 'Stoke Lyne Ejectment Trials' resulted in a verdict in the lord's favour, but with damages of 1s. (fn. 21) The 'Royal George' was opened between 1851 and 1864 and was later named the 'Peyton Arms'. (fn. 22) A large vicarage was built in 1872. (fn. 23)
The manor-house, the home of the Lynes, Holts, and Pettys, had become a ruin by 1808 (fn. 24) and was pulled down. In Ralph Holt's day in the 1660's it was a substantial house which was taxed on ten hearths. (fn. 25) It is thought to have been built by William Lyne in the 15th century; traces of its site could still be seen south of the church at the end of the 19th century. (fn. 26) It is memorable as the home of Charnel Petty, a cousin of Anthony Wood, who was a frequent visitor. The antiquary was there for a week in 1658, when he rode about the country making notes on monuments and arms, and again in 1659, (fn. 27)
The only trace today of the former hamlet of Bainton is four farm-houses and a cottage. (fn. 28) The sometime manor house is the present Bainton Manor Farm, a late 16th-century or early 17th-century house. (fn. 29) It is built of coursed rubble, with ashlar quoins, on a double rectangular plan; it has a valley roof covered in stone slates. At the end of the 19th century Blomfield noted the remains of a fine avenue of elm trees which had once led up to it. (fn. 30) It is likely that John Marsh of Bainton lived there in the early 16th century. He is known to have been a man of means, who willed that there should be six priests at his burial in Stoke Lyne church and that each should have 6d. apiece and the poor 40s. (fn. 31) In the 18th century the Pettys of Bainton may have occupied it. In 1783 John Warde, a celebrated rider to hounds, was using it as a hunting-box, and he and Joseph Bullock of Caversfield, who had bought the manor, co-operated in building stables and kennels. In 1800 Sir Thomas Mostyn, who later built Swift's House, was living there. (fn. 32) An obelisk erected in the early 19th century over the burial-place of a noted foxhound commemorates the days when the Bicester kennels were at Bainton. (fn. 33)
Fewcot, on the other hand, still flourished in 1955, and retained a number of its 17th-century houses and cottages of coursed rubble. Fewcot Farm is built on a T-shaped plan and has contemporary chimney shafts of brick set diagonally. A cottage has similar chimneys, a thatched roof, and staircase projection. Manor Farm is also rubble-built, but on a rectangular plan. Its roof is of stone and Welsh slate. It has casement windows. (fn. 34) The 'White Lion', which was not used as an inn until about 1891, is a similar house. The vicarage, first used as such in the early 20th century, (fn. 35) was once two ancient cottages which have been modernized and partly rebuilt.
The chief mansion in the parish is now Swift's House, the home since 1830 of the Peyton family. (fn. 36) The present house was built in about 1800 by Sir Thomas Mostyn on the site of an inn owned by one Swift on the Bicester–Aynho turnpike. (fn. 37) It is a threestory house of stucco with a Welsh slate roof; there is a contemporary plaster frieze of some distinction in the drawing-room. (fn. 38) It is possible that Swift's Inn is to be identified with a 17th-century inn, described in 1634–5 as a messuage in Bainton. It was bought in about 1616 by a certain John Manning. It was then called the 'Woolsack' and had long been used as an inn, but the new owner renamed it the 'White Horse'. (fn. 39)
The parish may have been the scene of a 6thcentury battle. It has been suggested that an unidentified wood in Stoke Lyne, called 'Fethelee' in 1198, gave its name to the battle of Fethanleag, fought in 584 between Ceawlin, king of the West Saxons, and the Britons. (fn. 40) On the other hand this region seems to have been already sparsely settled by the Saxons and it has been argued that Ceawlin's campaign was more likely to have been fought in the Severn valley. (fn. 41)
The open character of the country also seems to have led to its use for tournaments in the Middle Ages. Davis's map of 1797 marks the high ground in the north of the parish on the Northamptonshire border and the western boundary of Tusmore as Bayard's Green (i.e. horse's green). (fn. 42) The green is traditionally supposed to have been the site of the tournaments ordered to be held at Brackley in the 13th century. (fn. 43) It begins about six miles to the southwest of Brackley and it may be that all this area, if not used for the actual tournament, served as a camping-ground for horses and men. The green seems to have been well known in the 17th century and to have covered a larger area. (fn. 44) Richard Symonds speaks of it as if it partly lay east of Brackley: in 1644, he says, Charles I's army en route for Brackley from Buckingham came to a 'large greene or downe called Bayard's Greene, where often is horse-raceing, six myle long'. (fn. 45) There are 18th-century references to it as lying on the northern boundary of Cottisford and Mixbury. (fn. 46) It therefore seems as if it once lay on both sides of the Brackley road and extended from Brackley southwards towards Stoke Lyne.
In view of the extent of the former Bayard's Green it is impossible to say with certainty how much of the Civil War took place in Stoke Lyne parish. There are references to a military rendezvous on the green in 1644 (fn. 47) and to the king's engineers and horse being encamped there before the Battle of Naseby. (fn. 48)
In the 19th century the parish was a noted hunting centre. John Warde of Bainton was the founder in the late 18th century of the celebrated Bicester pack, (fn. 49) and in about 1800 Sir Thomas Mostyn established himself and his hounds at Swift's House. (fn. 50) He was later followed by the Peytons, another noted hunting family. (fn. 51) Sir Henry Peyton (d. 1854), his son Sir Henry, and Major-General Sir Thomas Peyton, the 5th baronet, were also well known in the parish and outside as gentlemen coach-drivers. The elder Sir Henry and his four-in-hand coach were described by Thackeray in The Four Georges. He kept an average of ten greys in his stables at Swift's House and was a familiar figure on the Oxfordshire roads. (fn. 52)
The villagers also had their amusements and Stoke Lyne men had a morris-dancing team in the 19th century, which was well known locally. (fn. 53)
Manors.
Before the Conquest Stoke Lyne was one of the two Oxfordshire manors held by Tostig, Earl of Northumbria, (fn. 54) who was killed at Stamford Bridge in 1066. By 1086, assessed at 10½ hides, it was held by Walter Giffard, (fn. 55) a cousin of William I and shortly to become Earl of Buckingham. With his nine other Oxfordshire manors, Stoke Lyne formed part of his honor of Giffard, of which the caput was Long Crendon (Bucks.). On Walter's death in 1102 his property descended to his son Walter Giffard, with whom the male line of the Giffards ended in 1164. (fn. 56) The Giffard lands were inherited by Richard de Clare, Earl of Pembroke, the conqueror of Ireland, who was descended from a sister of the first Walter Giffard. His lands followed the descent of the earldom of Pembroke until the death of the last Marshal earl in 1245. (fn. 57) The Pembroke lands were divided among five coheiresses, and the overlordship of Stoke Lyne went to the earls of Gloucester, descended from Gilbert de Clare (d. 1230), the husband of Isabel Marshal. (fn. 58) When the last Clare earl was killed at Bannockburn in 1314, and his estate divided among his three sisters, Stoke Lyne was not mentioned. (fn. 59) From then it was held directly of the king by the earls of Oxford, as part of their honor of Whitchurch (Bucks.), until at least the 16th century. (fn. 60)
In 1086 the under-tenant was Hugh de Bolebec, who probably came from Bolbec in Normandy, where he was also a tenant of Walter Giffard. (fn. 61) He held seven of Walter Giffard's ten Oxfordshire manors, and was himself tenant-in-chief of another Oxfordshire manor, Rycote in Great Haseley. (fn. 62) About 1166 his grandson Hugh de Bolebec, the son of Walter de Bolebec, owed the service of 20 knights to the honor of Giffard, in which Stoke Lyne was included. (fn. 63) The male line of the family ended with Hugh's son Walter; and half of the family estates, including Stoke Lyne, descended through Isabel de Bolebec, Walter's sister and coheiress, who had married Robert de Vere, 3rd Earl of Oxford, to the earls of Oxford. (fn. 64) They were thus mesne tenants throughout the 13th century, and became tenantsin-chief only in the 14th century.
By the end of the 12th century Stoke Lyne had been divided into two manors. One, later known as COKEFELDISPLACE, was held as ½ knight's fee by Robert de Tinchebray, who took his name from Tinchebrai in Normandy. He was of the Norman family of Peverel, and may have been a knight of Hugh de Bolebec. (fn. 65) He was apparently alive during Stephen's reign, but was dead by 1191, (fn. 66) and Lucy his daughter (fn. 67) inherited Stoke Lyne and other lands. In 1194 her cousin Robert Peverel of Sampford Peverel (Devon), the son of William Peverel, her father's first cousin, claimed she was illegitimate and tried to get possession of her property. (fn. 68)
Lucy, who kept Stoke Lyne, was by this time the widow of Adam de Cokefield of Feltwell (Norf.), an important East Anglian landowner. Their son Adam was dead by 1212, leaving his son a minor. (fn. 69) After this there was further subinfeudation of the manor, and by 1255 it was being held of Robert de Cokefield, who was probably Adam's son. (fn. 70) Robert was himself holding of the Earl of Oxford, who held of the Earl of Gloucester, the tenant-in-chief. Robert's heir was probably another Adam de Cokefield, but it is not known if he succeeded. Adam's son was Robert (II) de Cokefield of Feltwell, who was holding in 1279. (fn. 71) He died in 1297, leaving as heiress his sister Joan. (fn. 72) She was married three times and it was she who was lady of Stoke Lyne in 1316. (fn. 73) In 1346 a ½ fee was said to be held of a Robert de Cokefield, (fn. 74) but the branch of the family in Stoke Lyne seems to have died out.
In the early 13th century the Cokefields' undertenants at Stoke Lyne were a family of Eyville, which held land in several counties. (fn. 75) In 1243 Robert d'Eyville was tenant, in 1255 Denise d'Eyville held it of Robert de Cokefield in dower, and in 1262 Thomas d'Eyville (de Everus) was tenant. (fn. 76) In 1265 the under-tenant was John de Cokefield, member of another branch of the De Cokefield family. (fn. 77) He was one of Edward I's knights, a cousin of Robert de Cokefield, and a prominent landowner with land in Nottinghamshire and Suffolk. (fn. 78) The manor was seized after the Barons' War by the Earl of Gloucester, but as John de Cokefield had not opposed the king it was soon restored. (fn. 79) He died in 1310 or 1311. (fn. 80) His widow continued to hold land in Stoke Lyne on which she was assessed in 1327, but her son Sir John de Cokefield, who had been in debt for £60 to Sir Richard Damory, (fn. 81) had already sold him the manor in 1321. Into the 15th century it retained the name 'Cokefeldisplace'. (fn. 82)
Unlike the Cokefields, the De Lisles, who held the other manor, known as STOKE INSULA or STOKE DE LISLE, were primarily an Oxfordshire family. They first appear in Stoke round 1185, when Otwel de Lisle granted land to the Templars. (fn. 83) In 1198 he was at law with Lucy de Cokefield about lands in Stoke, and his name frequently occurs as a witness to local charters until as late as 1216. (fn. 84) By his wife Adelize he had two sons, and after his death one, Robert, appears to have held of the other, Otwel. (fn. 85) It may have been Otwel's son Robert who was mesne tenant in the 1250's, and whose land was temporarily seized by the Earl of Gloucester in 1265. (fn. 86) Robert was mesne tenant in 1279 and 1285. (fn. 87)
The under-tenants probably descended from the first Otwel's younger son Robert, who held the manor in 1236, and who was dead by 1241, when his son Giles was a minor in the custody of Walter de Raleigh, Bishop of Norwich. (fn. 88) Giles was in possession by 1253, when he made an agreement with Robert de Lisle as to their tenurial relationship with the Earl of Oxford, (fn. 89) but seems to have been dead by 1260. (fn. 90) His son and heir, a minor, later became Sir Giles de Lisle, a prominent local knight, who held Stoke in 1279 and 1285. (fn. 91) He seems to have had only three daughters, (fn. 92) and to have granted his Stoke manor during his lifetime to Richard Damory, (fn. 93) who was soon also to acquire the De Cokefield manor.
The Damorys were an important Oxfordshire family, who lived at Bucknell. (fn. 94) Sir Richard died in 1330 and his widow held at least part of Stoke until her death in 1354. (fn. 95) Their son Richard, who was heavily in debt to the king, then enfeoffed Sir John Chandos with his Oxfordshire lands in payment of a debt of £2,000 to the king, and was granted them back for life. (fn. 96) He died in 1375, his heirs being the sisters of Sir John Chandos. (fn. 97) Stoke is not mentioned in his inquisition post mortem, and it is uncertain when it passed to Sir Robert Bardolf of Mapledurham, who was in possession at his death in 1395. (fn. 98) He too was the last of a prominent Oxfordshire family. (fn. 99) His wife Amice, the daughter of Sir Alan de Buxhull, was the widow of Sir John Beverley, who had been granted the Damory manor of Bucknell by the king, (fn. 100) and Stoke may have come to Sir Robert Bardolf in the same way. Amice Bardolf, who lived at Mapledurham, held Stoke Lyne for life; (fn. 101) she died in 1416, leaving £5 to be distributed to her poor tenants of Stoke and Mapledurham. (fn. 102) Stoke manor then passed with Mapledurham to her nephew William Lynde, the son of Roger Lynde (d. 1407), her sister's husband. (fn. 103)
The Lyndes were to hold Stoke Lyne for 100 years. William Lynde died in 1438, (fn. 104) and his son Thomas in 1485. (fn. 105) In the time of Thomas's son John (d. 1519), the last member of the family, much of the family property was dispersed. (fn. 106) He left five daughters and Stoke Lyne went to the second daughter, Elizabeth, the wife of Robert Holt. (fn. 107) Robert Holt was probably dead by 1558, (fn. 108) and his son William, who married Catherine Dormer of Olney (Bucks.), died in 1583. (fn. 109) He was succeeded by his son Thomas (probably died 1608), and by his grandson Ralph (d. 1634), (fn. 110) who married Helen, the daughter of Walter Jones of Chastleton. Soon after his father's death Ralph was involved in financial difficulties and borrowed £925 from his wife's family. Later, in 1617, he sold his growing timber, said to be worth at least £2,000, and demised the manor and rectory to the Joneses for a term of years to pay off his debts. The deed was to be annulled if Holt managed to pay his debts otherwise. In 1620 he was at law with his father-in-law, who he claimed had only lent him money to get possession of the estate. (fn. 111) Ralph Holt died in 1633 leaving a son Thomas, (fn. 112) who married Susan, a daughter of Charnell Petty of Tetsworth, and died young in 1644, leaving a son Ralph, then aged six. (fn. 113) On the death of Ralph Holt, senior, Charnell Petty came to live in Stoke, and later acted as guardian to his grandson and was buried in the church in 1662. (fn. 114) Ralph Holt, junior, became High Sheriff of Oxfordshire in 1678, and held the manor until his death in 1702. (fn. 115) He was succeeded by his son Charles, the last of the male line of the family, who probably held the manor until his death in 1731. (fn. 116) His daughter Susannah was his heir. She married Lt.-Col. Newsham Peers of Alveston (Warws.), (fn. 117) who was holding the manor in the 1730's. (fn. 118) He was killed in 1743 at the Battle of Dettingen. (fn. 119) He and his wife left no children, and for the next few years the descent of the manor cannot be traced.
By 1756 George Vernon, who in 1777 was created Earl of Shipbrook, had an interest in Stoke Lyne, for he was one of the patrons of the vicarage. (fn. 120) He held the whole manor by 1774, (fn. 121) and on his death without children in 1783 his widow continued to hold it until her death in 1808. (fn. 122) The manor descended to her cousin's husband, Major Thomas Rea Cole of Twickenham (Mdx.), and his grandson sold it in the 1850's to Sir Henry Peyton, Bt. (fn. 123) The Peytons, who earlier in the century had bought Swift's House, were a prominent Cambridgeshire family. (fn. 124) In 1955 Sir Algernon Peyton, 7th Bt., was lord.
The small manor of BAINTON has always been closely connected with land in Buckinghamshire. In 1086 it was rated at 2½ hides and held by Ghilo, the brother of Anscul de Picquigny, a former sheriff of Buckinghamshire, whose son William held Great Hampden (Bucks.). (fn. 125) Bainton followed the descent of Great Hampden and not that of Ghilo's other lands, and during the 13th century was held in chief by the De Hamden or De Hameldon family, ancestors of the 17th-century John Hampden. (fn. 126) In 1255 Bainton was held of Alexander de Hameldon (d. 1264); in 1279 of another Alexander de Hameldon; and in 1329 of Edmund de Hameldon, a member of a younger branch of the family, (fn. 127) and the last recorded overlord.
In 1086 the tenant of Bainton was Erchenbald, (fn. 128) and by the end of the 12th century the Carbonel family, which also held Addington and Beachampton (Bucks.). The first Carbonel known to be connected with Bainton was Richard, who was dead by 1198, when his widow Maud, remarried to Geoffrey de Upton, claimed her property against her brother-inlaw, Hamon Carbonel. (fn. 129) As lord of Beachampton Harnon was a knight of the honor of Wallingford, and evidently Richard's brother and heir. Among other things, he granted Maud a third of Bainton, including the capital messuage.
Hamon Carbonel was alive in 1210, but dead by 1212, having left as his heir a minor. (fn. 130) His son Peter had succeeded by 1236 and was holding Bainton in 1255. (fn. 131) John Carbonel, a minor in 1265, held Bainton in 1279 from Alexander de Hameldon by the service of castle guard at Windsor. (fn. 132) It is not clear where he lived, but he was evidently a prominent man in the region—a knight and a frequent witness to charters. (fn. 133) His name is found as late as 1287, but he may have died in that year, when the manor was in the hands of Philip de Willoughby, a king's clerk, (fn. 134) probably on account of the minority of the heir. The latter, Peter Carbonel, seems to have still been a minor in 1300. (fn. 135) He was lord of Bainton in 1316 and is known to have added to his Buckinghamshire property (fn. 136) and to have died in 1329. (fn. 137) His wife Isabel was still alive in 1346, (fn. 138) but by 1353 she and her son John were both dead, (fn. 139) and with him the male line of the Carbonels came to an end.
From this point the descent of Bainton is confused. In 1364 it was held for their lives by John Kentwood and Alice his wife; (fn. 140) she may have been the widow of John Carbonel and Kentwood her second husband. By a series of transactions the Kentwoods acquired the whole manor, perhaps from three Carbonel heiresses: a half from Nicholas Baron and Alice his wife in 1364, a quarter from Roger Smale and Joan his wife in 1368, and a quarter from Henry de Merston and Isabel his wife in 1376. (fn. 141) John Kentwood died around 1392, but Alice was still alive in 1404. (fn. 142)
On the death of the Kentwoods, half of Bainton was to go to William de Barton, probably owner of the property in Buckingham called Bartons. (fn. 143) He died in 1389, and his right descended to his younger son, John de Barton (d. 1434). (fn. 144) At his death John held all Bainton, which he had settled on his wife Isabel with provision that on her death half was to go to his sister and heiress, Isabel Ampcotes, and half to Thomas Dodds, clerk, John Arderne, and Thomas More. (fn. 145) John de Barton's widow was not given possession until 1439. (fn. 146) At this time Isabel Ampcotes was suing Dodds and More for her property, (fn. 147) and for the next twenty years Bainton was the subject of a series of legal transactions, especially between John Wellysbourne and Thomas More, both knights of the shire for Buckinghamshire, and Thomas Fowler, fishmonger of London. (fn. 148) In 1471 it came into the hands of Sir Edmund Rede of Boarstall and Checkendon, (fn. 149) who had acquired much property in Oxfordshire and held an important position in the county. (fn. 150) He died in 1489, leaving Bainton by his will to a younger son Alan. (fn. 151) Alan Rede's son Kenelm was holding Bainton in 1517 and in 1525, when he was leasing it to John Marshe. (fn. 152) He may have been dead by 1530, when Leonard Rede sold it to two land speculators—Edmund Peckham, cofferer to the king, and John Williams, later Lord Williams of Thame. (fn. 153)
The next notice of the manor occurs in 1562, when John Denton of Ambrosden and Bicester settled it on his eldest son John on his marriage to Theodora Blundell, the daughter of a London merchant. This son died young and his wife, who later married a Champneys, held the manor for life. After John Denton's death in 1576, Bainton was inherited by his son and heir Edward, who in 1586 settled it on his son-in-law Edward Smythe of Stoke Prior (Worcs.). (fn. 154)
The Smythes, whose interests were in Worcestershire, soon sold Bainton, which was the subject of complicated legal and financial transactions during the 17th century. In 1613 Edward Ewer of Bucknell sold Bainton to Sir William Cope of Hanwell for £5,300, but leased it back from him for a term of years for £400 a year. In 1619 he was suing Cope in Chancery for part of the purchase price. (fn. 155) In 1628 there was a further series of transactions between the two families by which the Ewers recovered Bainton. (fn. 156) In that year Edward Ewer alleged that he paid Sir William Cope £2,150 for a part of the manor (he had already paid £1,200 for another part) and Francis Ewer paid £350 to Richard and John Cope for that part of the manor which Sir William had leased to his son John in 1616. (fn. 157) In 1632 it was settled on Francis Ewer on his marriage to Jane Savage. (fn. 158) The family was, however, in serious financial difficulties, and in 1637 Bainton was sold to George Shiers, (fn. 159) a Londoner and since 1614 lord of Slyfield manor in Great Bookham (Surr.). (fn. 160) He died in 1642, leaving Bainton to his son Edward Shiers of Hadham (Herts.). (fn. 161) Bainton passed in 1683 to his nephew Sir George Shiers, Bt., (fn. 162) who died childless in 1685, leaving his property to his mother Elizabeth Shiers, well known as a benefactress of Exeter College. (fn. 163) Bainton, however, seems to have been sold in 1690, before her death in 1700. (fn. 164) The manor is mentioned in 18th-century fines, (fn. 165) and in 1775 was bought from a Miss Hervey by Joseph Bullock, the lord of Caversfield manor. (fn. 166) In the 19th century it descended in the Bullock-Marsham family, (fn. 167) but the manor did not consist of the whole township, and manorial rights probably lapsed.
Lesser Estates.
In addition to Notley Abbey, the appropriator of the church, three religious houses held estates in Fewcot. The largest estate belonged to the Cistercian Abbey of Woburn (Beds.) and consisted of 2 carucates given by Hugh de Bolebec. (fn. 168) In the 13th century the abbey held at least part of this land in demesne: its sheep are mentioned in 1224; (fn. 169) in 1279 the names of two tenants are given; (fn. 170) and in 1291 the land was valued at £1 15s. 6d., which came from rents and sheep and cattle. (fn. 171) In 1535 the value of the grange, which was partly rented and partly farmed, was £2 13s. 8d., from which a payment of 6s. 8d. was made to Oxford castle. (fn. 172)
The Preceptory of Sandford, belonging first to the Templars and then to the Hospitallers, held a virgate, given in the late 12th century by Otwel de Lisle. (fn. 173) In 1185 this was held freely for 4s. a year, (fn. 174) and in 1279 Agnes le Templer held it in the same way. (fn. 175) The tenant of 1513 held a toft, a small close, and a virgate of customary land with appurtenances, for a rent of 4s., and did suit of court at the Hospitallers' manor of Merton. (fn. 176)
Yet another estate was recorded in 1279, when the Templar Commandery of Hogshaw (Bucks.) (fn. 177) had 2 virgates and 6 acres, rented by 2 free tenants. (fn. 178) No later record of this land has been found.
Economic History.
At the time of Domesday Book, although Stoke manor was stated to have land for 14 ploughs, it had 17 teams at work, 4 of them in demesne and 13 outside. There were also 12 acres of meadow, 10 of pasture, and a wood (2× 3 furls.). The estate was valued as before the Conquest at £12. (fn. 179) Three virgates in Stoke belonged to the Tusmore estate. (fn. 180) A second estate at Bainton was valued at £2. It had 3 plough-lands, but only 2 plough-teams, one of which was in demesne. There were 4 acres of meadow. (fn. 181)
The population was relatively large: in Stoke there were 34 villeins (villani) and 9 bordars, with 2 serfs in demesne, (fn. 182) and in Bainton there were 1 villein and 2 bordars. (fn. 183) By 1279 there had been some notable changes: (fn. 184) population had increased, the tenurial pattern had become more complex, and a new hamlet had been colonized. There were now 3 manors, 4 lesser estates, and about 35 recorded households in Stoke, 17 in Bainton, and 9 in Fewcot, the new settlement. The De Lisles had 14 villein (nativi) tenants, of which 6 held a virgate each and one a half-virgate. They paid 5s. a virgate rent, worked at will, and paid fines when their sons left the manor. There were 6 cotlanders, who each paid 2s. 6d. rent, and owed works and other services at will. A smith held 2 acres for 14d.
The De Cokefield tenants were mostly designated as servi; 2 virgaters and 2 half-virgaters each owed 5s. and 4s. rent a year respectively, and 9 cotlanders each paid 2s. 6d. rent. Both classes owed works and tallage and had to pay fines at will if their sons left the manor. There were also 2 cottagers in Stoke, each holding 2 acres for 1s. a year.
Among the new class of free tenants in Stoke, six in all, some owed special services: one held a cotland of Giles de Lisle for rent and suit of court every three weeks; another held a water-mill for 10s.; a third, a tenant of the De Cokefields, held 2 acres for 2s. rent and suit of court.
On the small Carbonel manor in Bainton a carucate was held in demesne by John Carbonel, who had 8 villein virgaters, each owing 4s. 4d. a year rent, works, and tallage, and owed fines at will if their sons left the manor. A further 3½ virgates were held of John de Cokefield's fee of Stoke'. The next most im portant landowner in Bainton was Otwel Purcel with 9 virgates. He was a free tenant of Giles de Lisle, and his lands were leased to 2 free tenants and to 3 women members of the Purcel family, perhaps Otwel's daughters, who leased their land to others. (fn. 185)
In Fewcot the De Lisles had two virgaters and the De Cokefields four. It is noteworthy that in this comparatively recently developed land four religious houses held small properties.
Early 14th-century tax assessments show that the parish was taxed at £6 15s. 7d. in 1316, (fn. 186) the highest rate for any rural parish in the hundred. Thirty people were assessed in Stoke, 18 in Bainton, and 8 in Fewcot. The last was clearly relatively poor, even in proportion to its numbers, and Stoke and Bainton paid by far the highest contributions. The tenants of the three manors were assessed most highly, but there were a number of others assessed at relatively large sums—an indication of a thriving community.
Fewcot, which never formed a separate manor, but appears to have had its own field system, is mentioned first in the late 12th century, when Otwel de Lisle gave a virgate there to the Templars. (fn. 187) It is probable that Fewcot land in the west of the parish was being cleared during the earlier part of the century or in the late 11th century. Early 13th-century field names such as 'Levrichesbreche', 'Pesebreche', and 'Alfledesbreche' are suggestive of the work of colonization and reclamation of uncultivated land. (fn. 188) A grant of 40½ acres at this date by a Fewcot tenant throws some light on the layout of these fields. (fn. 189) Eighteen acres lay in East Field, which abutted on Buckingham Way (the modern road to Caversham) to the east of the hamlet, and 22½ in North Field. From references to Croughton Way, Brackley Way, and Souldern Way as boundaries of furlongs in the North Field, it seems evident that by this time the field stretched up to the parish's northern boundary. With a few exceptions all the land granted lay in ½-acre strips. The charter also indicates that separate meadowland existed, that there was a mill, and that sheepfarming was practised. (fn. 190) For the last the undrained upland nature of the country, continually emphasized in the field names (e.g. Wellmore, Westmore, Labrodemore, Turresmore), was more suited than for arable farming. Indeed, in 1224 the Abbot of Woburn was accused by Robert de Lisle of overburdening the common pasture of Fewcot and Stoke with his animals. It was agreed that the abbot should have pasture for 180 sheep only, unless he acquired further tenements with appurtenant pasture rights in the townships. (fn. 191)
In the early 16th century Stoke, Bainton, and Fewcot were still assessed separately for the subsidy, but since the 14th century, wealth had become concentrated in fewer hands. In 1524 there were 8 persons assessed at Stoke, 5 at Bainton, and 3 at Fewcot. (fn. 192) There is evidence too that all three places were affected by other changes common to the age: by the change from arable to pasture, and by the movement towards the accumulation or consolidation of farms. A tenant of the Lyndes in Fewcot had, for instance, converted 20 acres of arable into pasture; (fn. 193) in Stoke two farms, one of 60 and one of 36 acres, had been consolidated; (fn. 194) and John Marsh, the richest Bainton inhabitant, (fn. 195) also had a farm in Stratton Audley. (fn. 196)
The extensive common pasture known as Bayard's Green was still probably largely devoted to sheep. Early in the 17th century, when the boundary between Stoke Lyne and Tusmore was in dispute, Thomas Pigot of Tusmore claimed the right to keep 400 sheep there. (fn. 197) A lawsuit of 1616 shows that Bayard's Green also supported another profitable animal, the rabbit, besides being a source of turf. The lord of the manor was accused of encroaching on the green by digging turf and building a house there with a rabbit 'warren and 300 burrows'. (fn. 198)
The timber here and elsewhere in the parish was also valuable, particularly at this period, when there was a scarcity in the county. In 1620 it was alleged in a Chancery suit that Ralph Holt had growing timber worth at least £2,000 on his Stoke Lyne manor. (fn. 199)
The conversion from arable to pasture proceeded so rapidly in Bainton manor that by the mid-17th century all its land had been turned into meadow and pasture and the village had been depopulated. (fn. 200) Apart from three small closes (30 a.) next to Hethe Brede the 1,000 acres of the manor were divided into large fields ranging from 50 acres (Crabtree Close) to 300 acres (Great Dry Leyes and also 'the grounds up to London Highway'). The whole manor was let for over £300. It would be tempting to attribute the very small numbers of 20 and 12 householders listed in 1662 and 1665 to this depopulation were it not for the fact that the 166 adults recorded in 1676 in the Compton Census make it probable that the hearthtax returns are an unreliable guide for the population of a village. (fn. 201)
By 1775 the lands of Bainton manor had been partly sold. The estate which Joseph Bullock of Caversfield bought consisted of one large farm. (fn. 202) In the next few years he 'laid out a great sum of money' on improving the land and buildings, and he at once raised the rent from £105 to £140. Among other things, he planted the 'great heath' with sainfoin seed; (fn. 203) he 'quicked', ditched, and fenced the field next to Bucknell; he divided the 'moor' with a ditch, making one side into a meadow and planting the other side with trees; he cleaned out the two fishponds and stocked them with carp and tench. (fn. 204) His was probably not the only inclosure, for Davis's map of 1797 shows that the great open spaces of the 17th century had been replaced by moderately small fields of arable and pasture. (fn. 205) By 1850 there were only about 350 acres, divided into two farms, still belonging to the manor. Of the two other large farms, one was owned by William Mansfield, the tenant of one of the manor farms. By this time the land was mostly arable, there being 537 acres of arable, 188 acres of pasture, and 15 acres of wood. (fn. 206)
Fewcot, on the other hand, remained primarily an open-field township until the parliamentary inclosure of 1794. (fn. 207) Some 1,711 acres, or about half the land in the two townships of Stoke and Fewcot, was then uninclosed. Of this about 900 acres was taken up by the common pasture of Bayard's Green, part belonging to Fewcot and part to Stoke; there were about 100 acres of cow-pasture, the Stoke one considerably larger than the Fewcot one; and nearly 700 acres of arable. Almost all of it, 26 yardlands, was in Fewcot. The Fewcot field system, in the absence of maps, cannot be worked out, but field names indicate that the medieval fields had been subdivided and replaced by Home Field, Bonners Field, Hill Field, Middle Quarter, and Fewcot Clay Field. The award records old inclosures in the north-west of the parish.
Of the 1,700 approximate acres inclosed in 1794, the main allotments were 491 acres in lieu of tithes; (fn. 208) over 400 acres to the Countess of Shipbrook for the manor and nearly 300 acres to William Fermor of Tusmore; 200 acres to William Ellis; and about 100 acres to Thomas Stuchbury and William Hopcraft, two local freeholders.
The effect of inclosure is not easy to define. Arthur Young stated about fifteen years later that the value of the land had trebled in rent and produce, and noted the absence of dairies. (fn. 209) In 1786, before inclosure, the manor, which included slightly over half the parish, was divided into five farms, and there were ten or eleven others of about 100 acres or more in size. In 1816 the manor still consisted of five farms, but by 1832 there were only two, (fn. 210) and there was a tendency in the 19th century for farms in the rest of the parish to increase in size. In 1850, for example, one consisted of 850 acres, there were four of 300 acres and over, and four more of 150 and over. (fn. 211) In the 18th century the owners of several of the freehold properties lived in the parish: of the seven 40shilling freeholders of 1754 (excluding the vicar), four were resident. (fn. 212) In 1832, to take one 19thcentury example, eight freeholders lived on their own land. (fn. 213) Of these, only two had holdings of more than a few acres: William Mansfield, who owned land himself and was also the tenant of Hethe Brede farm in Bainton, (fn. 214) and the Stuchbury family, who had been in the parish since the 17th century. (fn. 215)
Before the 19th century there is little record of village crafts. In 1811 there were only two out of 77 families not engaged in agriculture. (fn. 216) By 1831 there were nine in retail trade, (fn. 217) and in 1851 there were two carpenters, a smith, (fn. 218) a wheelwright, a grocer, and a baker in Stoke, and a blacksmith and a maltster in Fewcot. (fn. 219) There were also many cottage lacemakers—32 in Stoke and two in Fewcot.
During the first half of the 19th century there was a rapid increase in the parish's population. The upward trend may have already begun in the late 18th century. Incumbents had returned 40 or so houses in the mid-18th century, (fn. 220) but in 1801 the population was officially returned as 334. It rose to 593 in 1831 and to 631 in 1851. Thereafter, as a result of the agricultural depression, it declined to 409 in 1901, and 20th-century mechanization and the boundary changes of 1948, when Fewcot hamlet was transferred to Ardley, were responsible for the low figure of 124 in 1951. (fn. 221) Evidence for the relative size of Stoke and its hamlets is unsatisfactory in the modern period before 1821, the first year in which their inhabitants were listed separately. Stoke then remained the largest settlement, with 303 persons, but Bainton, which had been larger than Fewcot in the Middle Ages, was now far outdistanced by it. The latter had 148 inhabitants compared with Bainton's 58, and increased rapidly to 220 in the next two decades. (fn. 222)
Churches.
The earliest reference to Stoke church occurs in the mid-12th century, when it was granted to Notley Abbey (Bucks.) by Walter Giffard, the overlord of the manor, and his wife. (fn. 223) He founded this abbey—one of the few houses of Arrouasian canons in England—some time before 1164, the year of his death. (fn. 224)
By the Giffards' charter, Notley was granted not only the advowson but the demesne tithes of Stoke Lyne and its chapel of Hardwick; (fn. 225) it was after this that Hardwick became a separate parish. By the early 13th century the abbey had appropriated Stoke church. (fn. 226) The living was one of the richest in Bicester deanery: in 1254 it was valued at £10 13s. 4d., in 1291 at £13 6s. 8d., and in 1535 it was let for £12 0s. 8d. (fn. 227)
Notley Abbey surrendered to the Crown in 1538. (fn. 228) In 1542 much of its property, including the rectories of Stoke Lyne and Caversham, was among the extensive grants of monastic lands made to Christ Church, the cathedral church of the new see of Oxford. (fn. 229) When the college was refounded in 1547, the rectory was not among its endowments. By 1552 it was in the hands of Sir John Williams of Thame, who had already acquired Bainton manor, and Sir Richard Lee. These two profiteers in monastic lands sold it to Edward Love, (fn. 230) who had been Notley Abbey's tenant, and was the richest man in the parish. (fn. 231) He died in 1557 and is commemorated by a brass in the church. (fn. 232) In 1566–7 Edward Love of Aynho (Northants) sold the rectory to William Holt, the lord of Stoke Lyne manor, (fn. 233) perhaps as part of the marriage settlement between his daughter Ann and Thomas Holt. (fn. 234)
From then the advowson and rectory descended with the manor until 1796, when Joseph Bullock, lord of the manor and patron of Caversfield (Bucks.), bought the advowson from the Countess of Shipbrook for £700. (fn. 235) The lay rectory continued to follow the descent of Stoke Lyne manor, (fn. 236) but the advowson followed that of Caversfield. (fn. 237) About 1870 the livings of Caversfield and Stoke Lyne were united; in 1902 they were separated, (fn. 238) but the advowson of Stoke remained with the Wyndhams, patrons of Caversfield. In 1933 the livings of Stoke Lyne and Ardley were united. (fn. 239) Since then Col. the Hon. E. H. Wyndham has had the right to present for two turns, and the patron of Ardley for one.
In the Middle Ages the rectory's endowment consisted of the great tithes; (fn. 240) but the small tithes and 2 virgates in Fewcot, (fn. 241) which belonged to the vicarage, were also held by Notley Abbey (see below). The tithes of Fewcot and Stoke Lyne were commuted at the inclosure award in 1794 for 491 acres of land. (fn. 242) The Countess of Shipbrook received 264 acres, mostly in Bayard's Green, for rectorial tithes. In 1850 the tithes of Bainton were commuted for £290, £233 of which went to the lay rector. (fn. 243)
The history of Bainton's tithes goes back to the late 12th century, when St. Frideswide's had a claim, to part of the tithes on the Carbonel demesne. (fn. 244) This led to a dispute with Notley Abbey, which collected the tithes on the rest of the parish. Around 1200 a composition was made: St. Frideswide's gave up its claim in return for a pension of 2s. a year from Notley. (fn. 245) This sum was confirmed in 1344, but by 1480 St. Frideswide's was receiving 4s. a year from Notley. (fn. 246) Later this pension went to Wolsey's college in Oxford and in 1532 was granted to Henry VIII's college. (fn. 247)
Chancery cases in the 1620's show how complicated the administration of tithes could be. (fn. 248) Ralph Holt, the lay rector, who seems to have wanted to regain possession, was said to have leased them in 1614 to Sir William Cope for 80 years at £20 a year. In 1619 Cope leased part of them for three years to Nathaniel Palmer and Richard Marrott for £90. They in turn sublet them to Edward Ewer, the tenant of Bainton manor, while a certain Mr. Nayler was the actual occupier.
In the early 13th century a vicarage in Stoke Lyne said to be worth 5 marks was ordained by the bishop. (fn. 249) The vicar was to have the altar offerings and the small tithes from the whole parish, plus all tithes from 6 virgates in Fewcot; he was also to have a house and ½ hide of land. There is no record of the abbey ever presenting a vicar. The Notley canons probably either served the church themselves—their power to do so was confirmed by the pope in 1402 (fn. 250) —or hired a curate. They had a poor reputation as patrons: in 1345, for example, an inquiry was made by the Bishop of Lincoln as to the rights by which the canons held so many churches in proprios usus and omitted to provide them with vicars; in 1493 their churches were found to be ruinous and badly served; in 1530 the chancel and roof at Stoke Lyne were found to be dilapidated. (fn. 251) At that time the curate was being hired by the lessee of the rectory and was receiving £5 6s. 8d. (fn. 252) The practice of having curates continued until the end of the 16th century. (fn. 253)
When in the early 17th century the vicarage was revived, there was trouble between the lay rector and the vicar. There is a reference in a Chancery suit, which Thomas Dennis (vicar 1622–42) brought against Ralph Holt, to the original ordination of the vicarage and the vicar's right to have part of the great tithes of Fewcot, which were being refused him. (fn. 254) Dennis probably won his case, for when the tithes of Stoke Lyne and Fewcot were commuted in 1793, the vicar was stated to be entitled to all the small tithes and to the great tithes on six closes in Fewcot (18 acres in all) and on 6 yardlands in the common fields of Fewcot. (fn. 255) Before inclosure he seems to have had no glebe, but he was then awarded 227 acres of land, which have been sold, and a rentcharge of £3 13s. 9d.; (fn. 256) in 1850 he was awarded £57 a year in place of the small tithes at Bainton. (fn. 257) In 1707 the living was valued at £37 8s. 10d. and by 1809 was worth at least £150. (fn. 258)
The 17th-century vicars seem to have lived in the parish, but George Fletcher (1706–34), a pluralist, was the last to do so. (fn. 259) At about this time the dilapidated vicarage, which probably stood on the north side of the churchyard, was pulled down. (fn. 260) From this time the church was either served by a curate, (fn. 261) or by the vicar, who lived in the neighbourhood and always held another cure. (fn. 262) The curate received £25 a year. Two services were held and one sermon preached on Sundays, and the sacrament was administered four times a year. (fn. 263) During most of the 19th century the living was held with Caversfield by members of the Marsham family, the patrons, Charles Marsham being vicar from 1812 to 1867. (fn. 264)
In the middle of the century Stoke Lyne was known as a 'bad' parish. (fn. 265) Marsham, though kindly and constant in visiting his parishes, was inefficient and incapable of keeping abreast of the times. He did not see the necessity of a day school; he only held one service on Sundays, alternatively in the morning and afternoon; nor would he hire a curate until he was an old man. Services then became more frequent, and music was introduced. (fn. 266) During the century the number of communicants rose from about 20 to 50 in 1878; (fn. 267) there was then a steady congregation of 130 to 150, while some parishioners went to church at Ardley. (fn. 268)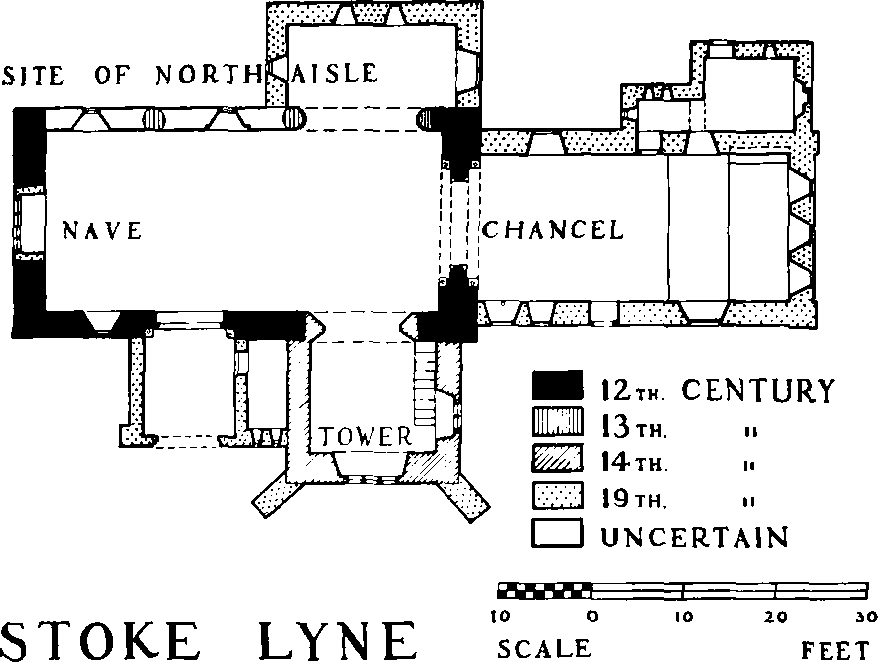 In about 1870 the parish was united with Caversfield, Bishop Wilberforce consenting reluctantly on condition that a vicarage was built in Stoke Lyne. It was built in 1872 at a cost of £2,500. (fn. 269)
For most of the century Fewcot people had a bad reputation as churchgoers: Bishop Wilberforce (1845–69) considered the hamlet 'quite heathen'. (fn. 270) Its distance from the parish church was in part responsible and had always been a problem. In the 16th century many had gone to Ardley church, which was nearer. One parishioner who was cited to the archdeacon's court for doing so was told to go to Stoke Lyne at least once a month. (fn. 271) In 1846 the Rector of Ardley offered to make it part of his parish if £10 were paid to him from the vicarage of Stoke Lyne, but the patron Dr. Marsham refused the offer. However, the Rector of Ardley's sister-in-law, Miss Anne Hind (d. 1870), determined that Fewcot should be better served, and left £2,000 for the curacy of Fewcot as well as £1,000 for the vicarage house of Stoke Lyne. (fn. 272) A church built at Fewcot was consecrated in 1871, but continued as a chapel of Stoke Lyne. In 1907 Fewcot was formed into a separate ecclesiastical parish, and the living became a perpetual curacy in the gift of the Vicar of Stoke Lyne. (fn. 273) In 1921 it was united to Ardley. (fn. 274)
The church of ST. PETER comprises a chancel, nave, and north and south transepts, with a tower over the south transept. The nave and chancel were built in the 12th century, and both the chancel arch and the fine south doorway are Romanesque work of this period. Over the doorway there is a niche containing a contemporary statue of a seated figure, probably St. Peter. There is a 19th-century porch.
The south transept was added early in the 14th century and forms the lower stage of the tower. This is lighted by a three-light window with reticulated tracery, and has an embattled parapet and a pyramidal roof. Its repair or alteration in 1658 is recorded by an inscription on the exterior.
The church once had a northern aisle. Christopher Pettie is said to have been buried in it in 1651, (fn. 275) but it had been destroyed by the early 19th century with the exception of the eastern bay, which was reconstructed to form a quasi-transept. The blocked-up arches of the arcade can still be seen in the north wall of the nave.
Repairs in 1757 included repointing the tower, plastering the roof, and walling up one of the doors. (fn. 276) By the mid-19th century the church was in a dilapidated condition: the chancel walls and roof were in need of repair, the floors were uneven, and the walls green with damp. (fn. 277) In 1868–9 the church was re stored at a cost of £2,130; the architect was H. Woodyer, the builder C. Chappel. (fn. 278) The chancel was rebuilt on the old foundations: the three Romanesque windows at the east end were copied from the originals, but the circular window above them was a new feature. The stained glass was given by Lady (Algernon) Peyton in 1873. The walls of the nave were repaired and a new west window built. The tower was raised and buttressed and battlements were added. The porch was rebuilt, a vestry added, and the church reseated. (fn. 279)
In 1951 the chancel was again restored and refurnished by Sir Algernon and Lady Peyton. The Victorian reredos was removed, and a new altar and altar rails of unstained oak installed. The whole effect of the white-washed interior is one of extreme simplicity and beauty.
The round font is medieval. Ten pews were installed in 1654, but the other existing ones are modern. (fn. 280) In 1873 Lady Peyton also gave an organ, and electric light was installed in 1949, the brackets being made at the local forge.
There is a fine brass to Edward Love (d. 1557) and his wife Alice (d. 1535/6); (fn. 281) and an altar-tomb with brass to William Holt (d. 1582/3) and his wife Katherine Dormer. There is a monument to Ralph Holt (d. 1702) and his two wives; and inscriptions to Charnell Pettie (d. 1661/2) and to Susanna Holt (d. 1704), wife of the Revd. Edmund Major. There are two Peyton tablets. Those to Elinor Pettie (d. 1662/3), Christopher Pettie (d. 1651), Charles Holt (d. 1731), Eustace Pettie (d. 1735), George Fletcher, vicar (d. 1734), could not be traced in 1956. (fn. 282) The coats of arms seen by Rawlinson in a window in about 1718 were also no longer there. (fn. 283)
Stoke Lyne is not included on the chantry commissioners' usual list, but there was a light at the Reformation which was supported by land worth 1s. 6d. a year and three animals, given by Thomas Grevell, gent. (fn. 284)
In 1955 the only valuable pieces of plate were a silver chalice and paten cover of 1637. (fn. 285) There were three bells, none earlier than 1812. (fn. 286)
The registers date from 1665, but the volume for 1753–1813 is missing; Rawlinson mentioned an earlier one which was already lost. (fn. 287)
The church of ALL SAINTS at Fewcot was built in 1870 at a cost of about £900, and consecrated in 1871; the architect was H. Woodyer. (fn. 288) It is a simple building consisting of a nave and apsidal chancel, and an open west turret containing a bell. The register dates from 1908.
Nonconformity.
A few Roman Catholics have been recorded in the parish since the Reformation: one in 1676, two (a yeoman and his son) in 1706, (fn. 289) and in 1738 a tradesman. (fn. 290) A few Roman Catholics continued in the parish through the late 18th and most of the 19th centuries. (fn. 291)
No record of Protestant dissent in the 17th and 18th centuries has been found. In 1838 the Methodists opened a meeting-place in a labourer's house. Although a congregation of about 70 was reported in 1851, (fn. 292) when it belonged to the Brackley Circuit, the incumbent stated in the 1860's that there were not more than fifteen 'thorough-going' dissenters. (fn. 293)
Schools.
In 1815 31 children were taught at two small schools at their parents' expense, but a free school was much needed for the remaining 74 children. One of these schools was said to have existed for 25 years, but no schools had been recorded by the incumbent in 1808. (fn. 294) In 1819 there were three schools for 18 children; in 1833 one day school with 20 pupils supported by the vicar and the parents; and in 1850 a school kept by an old blind man, and two dame schools. (fn. 295) It was probably these last three schools which were said in 1854 to be supported by Lady Peyton and the vicar and to have a total attendance of 40. (fn. 296)
A Church of England School was built in 1864 by Sir Henry Peyton, and was subsequently largely supported by the Peyton family. (fn. 297) The average attendance was 28 in 1871 and 50 in 1889 and 1906. (fn. 298) After the school's reorganization as a junior school in 1930, the senior pupils were transferred to Fritwell. It was given aided status in 1952, and the number of pupils was 24 in 1954. (fn. 299)
In 1854 Fewcot children were attending Ardley school, to which the Vicar of Stoke Lyne subscribed £2 a year. (fn. 300) Miss Anne Hind (fn. 301) is said to have founded a school in Fewcot, apparently in the 1870's, (fn. 302) but it was not until 1886 that a National school with accommodation for 50 children was opened. (fn. 303) The average attendance was 33 in 1889, but the school appears to have closed by 1903. (fn. 304)
Charities.
None Known.