Pages 5-16
A History of the County of Oxford: Volume 7, Dorchester and Thame Hundreds. Originally published by Victoria County History, London, 1962.
This free content was digitised by double rekeying. All rights reserved.
CHISLEHAMPTON
Since 1932 Chislehampton has been part of the large civil parish of Stadhampton, (fn. 1) but for the greater part of its history it has been a small independent parish and township, which contained 939 acres in 1881. (fn. 2) Chislehampton appears not to have acquired full parochial status until 1763. (fn. 3)
The ancient parish, lying some 5½ miles southeast of Oxford, has no natural boundaries except on the east where the River Thame divided it from Stadhampton. Its southern and eastern parts are low-lying, but northwards the ground rises fairly steeply from 175 feet at Chislehampton Bridge to 290 feet at Hill Farm in the north-west corner. (fn. 4) The parish lies mainly on Kimmeridge Clay, with an outcrop of Gault and a small deposit of Plateau Gravel on the high ground to the north-west. (fn. 5) Leland's description of the land between Haseley and Chislehampton as 'fruitful of corn and grass, but barren of wood' could also have been applied to Chislehampton itself in the 16th century. (fn. 6) It ceased to be quite as true a picture after 1694 when Great Copse was first planted. (fn. 7) This wood covered 22.1 acres in 1743 and 23 acres in the 20th century. (fn. 8) Until recently, when some of the trees were cut down, it was notable for the largest rookery in the British Isles.
The layout of the roads is much the same as in the 17th and 18th centuries. The principal road runs southwards from Oxford and crosses the Thame by Chislehampton Bridge: it is shown as a gated track on a map of 1628 and the bridge is called Doyley Bridge. (fn. 9) In 1664 John Doyley was licensed to inclose part of this road so as to enlarge his mansion provided he made another highway through his lands, and the new 'Oxford Lane', hedged as far as Gotham Hill ground, is shown on an estate map of 1743. (fn. 10) The inhabitants were bound to keep it in repair. (fn. 11) The road to Abingdon, 'Abingdon Lane', is also shown on the map of 1628 and in 1743 it was hedged and gated at both ends.
Chislehampton Bridge is now 178 feet long and has eight arches and five stone pillars. About 40 feet to the south there is a subsidiary bridge of one arch, which spans a small tributary of the Thame. (fn. 12) The main bridge over the Thame has been of importance from an early date. In 1444 the 'good men' of Chislehampton were granted pontage for five years to be applied by the survey and control of Drew Barentine and Richard Quatremain. (fn. 13) In 1500 the bridge was described by John Leland. He wrote that he rode over three little bridges of wood and then over a 'great bridge' over the Thame. There were 'five great pillars of stone, upon the which was laid a timber bridge'. (fn. 14) As the masonry in the north-east side of the existing bridge seems to date from the late 16th century the timber structure was probably replaced by a stone bridge at that date. (fn. 15) Repairs have been frequent: in 1690, for example, John Saunders was employed as mason and repaired it with freestone from Headington Quarry; (fn. 16) in 1702 Richard Darling underbuilt one of the main arches at a cost of £14; (fn. 17) in 1714 John Saunders was again employed at a cost of about £18. (fn. 18) Further work was done at intervals in the following centuries. A John Saunders executed some substantial repairs in 1762. He let cramps into the sixth and seventh arches and rebuilt the west side for a length of 36 feet; (fn. 19) in 1800 work costing over £43 was done; (fn. 20) in 1823 John Turrill, mason, who was regularly employed until at least 1830, submitted an estimate of over £70 for repairs; (fn. 21) and in 1849 George Wyatt of Oxford repaired it at a cost of £234. (fn. 22) The firm of Richard Wyatt and Son had already been at work on the bridge in 1821. (fn. 23) 'Extensive repairs' were again necessary in 1877 when the county surveyor reported that the masonry was 'in a very critical state'. (fn. 24) In about 1899 the bridge was widened by some 9 feet with steel troughing which was shored up with timber in the middle of the spans in 1938; the stonework was repaired in 1938 and 1941. (fn. 25)
The siting of the village was evidently dictated by the river crossing: it lies just to the north of it. It was once probably even more of a riverside village than it is now for the first element in its name is derived from the Old English ceosel, cisel meaning 'gravel, shingle', (fn. 26) and its only surviving medieval building, Camoise Court Farm, stands on gravel beside the Thame. (fn. 27) The original manor-house and church, moreover, lay close to the river before they were rebuilt at a higher level. (fn. 28) The earliest known form of the name, found in 1147, is 'Chiselentona', but 'Chislehampton' occurs in the late 12th century. The colloquial name is 'Chisleton'.
The medieval village was never large and some early inclosure had perhaps reduced its size by the 17th century. (fn. 29) An estate map of 1628 marks only the old Doyley mansion and dove-cot, the medieval church, and three farmhouses. (fn. 30) These were no doubt the principal houses but there must have been many more for thirteen householders were listed for the hearth tax of 1662 of which five were substantial farmhouses taxed on three or four hearths. (fn. 31) The green and the pound are shown on the 1628 map at the junction of Abingdon Lane and Oxford Lane. (fn. 32) Several of these 17th-century dwellings remain. They are timber-framed and have red brick fillings. Many are thatched.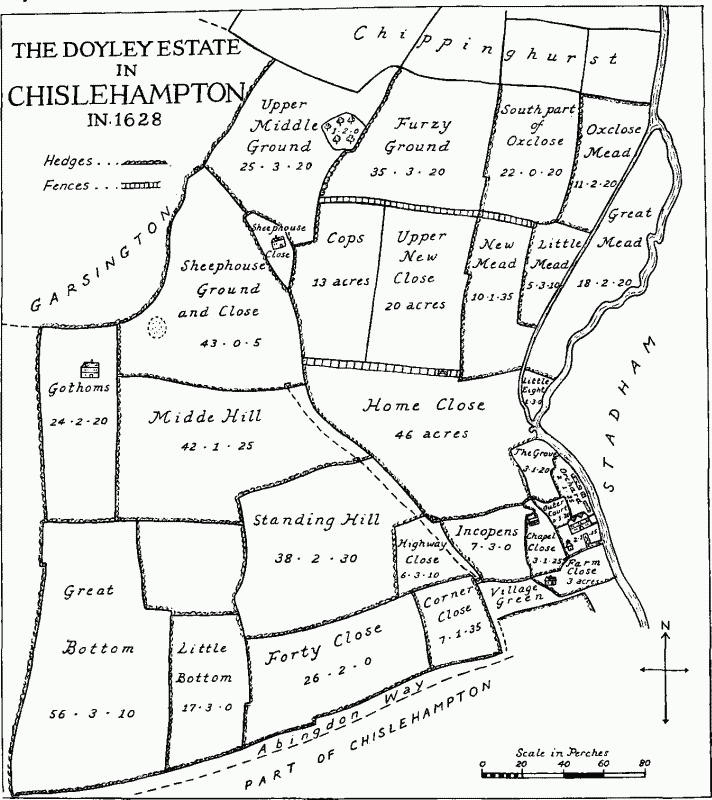 A survey of the Doyley estate in Chislehampton made in 1746 gives a more detailed picture of the village. (fn. 33) The manor-house, its outhouses, and its grounds occupied 10½ acres. There were five farmhouses of which two were newly built. Of the old farmhouses, Camoise Court Farm and its outbuildings was in very bad repair, and a brick and timber farmhouse and another stone and thatched one were in 'midling' repair. There were also twelve cottages and a good new brick house and malthouse barn, stable, and close. The last is likely to be the present Coach and Horses Inn, a picturesque public house by the bridge, although the interior of the house is probably earlier than the outside.
Soon after this report the Doyley estate was sold to Charles Peers and a period of building activity followed: the present Georgian church was built in 1763 by Peers and its churchyard was laid out; (fn. 34) the old Doyley mansion was pulled down and replaced by Chislehampton House, and Church Farm, a twostoried house with attics of chequer brick, was probably built. Little change, however, seems to have taken place in the size of the village: the Census of 1811 recorded 21 houses. (fn. 35) The peak of 28 houses recorded in 1851 was not reached again until the mid-20th century. In 1931, the last census to give figures for Chislehampton alone, there were 27 houses, but there have been additions since. (fn. 36) Early19th-century building included Marylands Farm, a pleasant building of red brick (now roughcast) with wide eaves and a slate roof, and the lodge to the Peers park. In the 20th century six well-designed brick houses have been put up by Mr. Peers and Mr. Chaundy of Camoise Court Farm. (fn. 37)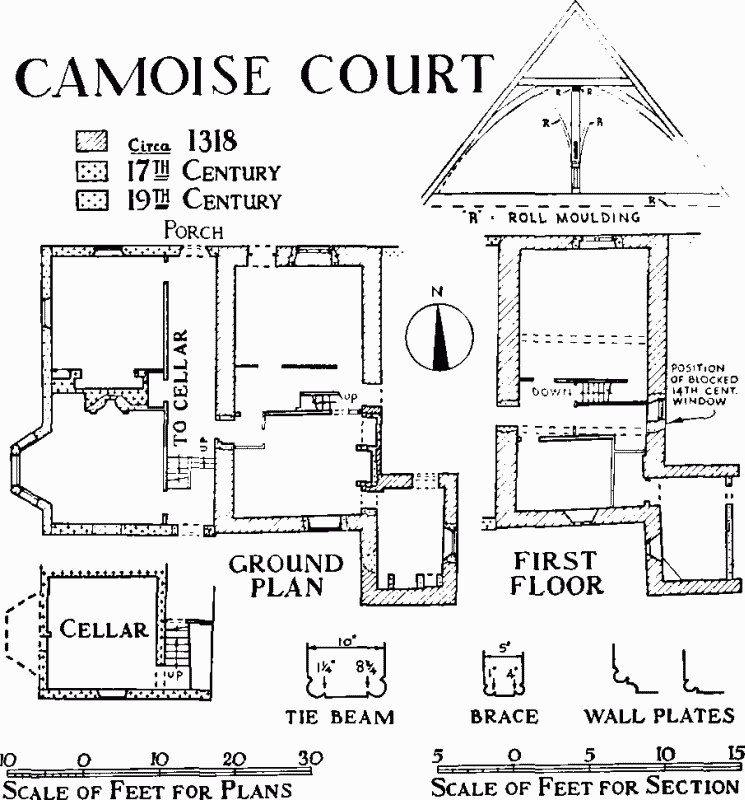 There are two houses of special architectural interest: Camoise Court Farm and the manor-house. Camoise Court Farm is the oldest house in the village. It lies on the Thame 200 yards west by south of Chislehampton Bridge, and incorporates part of a 14th-century house that was once the property of Sir Richard de Louches of Great Milton. (fn. 38) He was licensed to crenellate his Chislehampton house in 1318. (fn. 39) Later the property passed, as did the Great Milton lands, to the famous Sir Thomas Camoys and so acquired its name. The central block of the present farmhouse is the medieval part, (fn. 40) and there are traces of the medieval moat. The house is built of coursed rubble on a north and south axis with gables at each end; it has a square projection at the southeast angle, which is thought to have been the garderobe; its walls are of medieval thickness. At present there are two stories and attics, but the original house appears to have consisted of a low groundfloor room and a solar above that was open to the roof; a possible hall, west of it, perhaps of timber, has been re-placed. The original wall-plate with roll-mouldings is visible and there is a deeply splayed window of 14th-century date about 8 feet from the ground in the south wall. It is of two trefoiled ogeeheaded lights. A window of the same date and on the same level but in the east wall was recently covered up. The chamfered entrance to what seems to have been a garderobe also remains. The 14th-century gable above the room contains a cradle roof of three bays of which the two king-posts and curved braces with roll-moulding can be seen.
A straight joint on the north front, to the west of the 14th-century opening (two original jambs remain), marks the building of two stories and an attic, probably in the early 17th century, to the west of the central block. It was built of coursed rubble to match the old house, but the west side was rebuilt in brick in about 1880. An early-17th-century brick fireplace was discovered in 1956. In the early 19th century a new entrance to the house was made —a Doric porch with fluted columns under a flat roof.
The great house, 'Chisleton' House, is a handsome red-brick mansion standing in its own park on a slight eminence overlooking the Thame. It was built, probably between 1766 and 1768, by Samuel Dowbiggin of London, a member of the Joiners' Company. (fn. 41) The designs for the house are dated 1766 and the date 1768 can be seen on the rain-water heads of cast lead. (fn. 42) Dowbiggin's employer was Charles Peers, who had bought the estate in 1748. (fn. 43) The building is rectangular in plan, and has three stories and a basement. Built of locally made red brick, (fn. 44) it has an ashlar base, chamfered stone quoins and a stone entablature with bracketed cornice, and a hipped roof covered in slates. All the windows have moulded stone architraves. The west front has a slightly projecting feature of four Ionic pilasters, a low parapet and coping and central pediment with a cartouche of the Peers arms and flanking palms carved in a stone tympanum. The house is entered by steps and through an entrance porch with Doric columns in antis added about 1820. An elevation of the east front by Dowbiggin shows balustrades and balls instead of the present plain parapet. That the architect's design was carried out is proved by an old water-colour showing the balustrades. The south front has twin three-sided bays of two stories; the ground-floor windows were altered in the early 19th century when the sills were brought down to floor level.
The interior of the house is interesting: an entrance hall and top-lit staircase hall are run together as a single unit, an unusual feature for the period. The staircase, which is of the cantilevered kind, has delicately turned balusters and handrail and a particularly elegant curve. (fn. 45) The balustrading is continued round the hall on the upper floors forming galleries with the rooms opening off them. Some of the early-18th-century furniture that belonged to Sir Charles Peers, a one-time Lord Mayor of London and the father of the builder, (fn. 46) has been preserved. There is also a collection of armorial china, specially dispatched from Canton for Sir Charles in 1731. (fn. 47)
From the ground floor of the plain east front central steps descend to a wide flat terrace with an orangery to the north. There are the remains of a small formal landscape garden: on the axis of the house there is a short avenue of elms, formerly continued on the west side of the house, which is crossed by another path running from the entrance to the walled kitchen garden towards a statue at its north end. The orangery was built in 1790. (fn. 48) It is fivesided with uprights of cast iron and an umbrella roof. The glass consists of small panes. The lodge in the park, standing near the bridge, dates from about the same period or a little later. It has one story and attics, but the two dormer windows are lunetteshaped. The slate roof has wide eaves. The stables lie to the north of the house and the kitchen garden, on the east side near the river, marks the site of the Doyleys' house. This house may have been built at the end of the 16th century when the Doyleys lived in the parish. Sir John Doyley, sheriff in 1585, who was buried in Stadhampton church in 1623, is the most likely builder of the house. (fn. 49) An estate map of 1628 shows its east front as a four-gabled building with a central porte-cochère. (fn. 50) It faces the river, has an orchard in front and an outer court. Behind the house is a dove-house and the medieval church. According to tradition the mansion was partly destroyed in the Civil War, but in 1665 it was still a substantial house for which sixteen hearths were returned for the hearth tax. (fn. 51) An estate map of Stadhampton of 1741–2 has a drawing of the west front of the house, (fn. 52) which shows a two-storied building of eight bays and E-shaped in plan. The short gabled wings at each end are of one bay, and there is a central projection of two bays, flanked by two tall chimneys. A map of 1743 (fn. 53) drawn for Sir Thomas Doyley depicts a facade with four gables and a large stable-yard kind of entrance. It shows formal gardens laid out by the river and Great Orchard Yard, the outer court of 1628. The house has two stories and attics and an irregular arrangement of windows. A survey of the estate made about the same time describes it as 'a very old inconvenient building part brick, part stone'. (fn. 54) The surveyor added that the outbuildings were ruinous and that they and the house would 'scarce pay for pulling down and yet were not good enough to keep up'. There was a good new-built double dove-house of brick and a large walled garden. The coppice called Home Ground was 'laid out into walks as a pleasure ground' with ash trees. Part of the house was then occupied by a farmer. Nothing now remains of this mansion, except the bricks in the walls of the present kitchen garden.
Because of the strategic importance of its bridge in the battle for Oxford, Chislehampton was in the centre of the fighting during much of the Civil War. The only alternative route across the Thame was at Wheatley Bridge. By March 1643 both bridges had been provided with gates and there was no passage for man or horse 'but on market days and sometimes in the day time'. (fn. 55) The king's forces made great preparation there to prevent parliamentary forces crossing. (fn. 56) On 13 June 1643 the bridge was said to be down, though passable on horseback. (fn. 57) But a few days later Prince Rupert crossed over it with 1,700 men and returned the same way after his victory at Chalgrove on 18 June. (fn. 58) Shortly afterwards the bridge was reported to have been broken down by Royalist forces, which stationed between 60 and 100 men on Chislehampton Hill to command the passage of the Thame. A watch was constantly kept on the bridge by a guard of about 40 men of the forces stationed at Abingdon. (fn. 59)
Manors.
Chislehampton is not mentioned by name in the Domesday survey, but the greater part of it is undoubtedly represented by 'Hunesworde' entered in Dorchester hundred, where 5 hides were held of the king by William FitzAnsculf. (fn. 60) William's widespread fief, later known as the honor of Dudley, (fn. 61) included Handsworth (Staffs.) and a scribal error must account for the appearance of this place-name in the Oxfordshire Domesday. (fn. 62) The overlordship of the fee in CHISLEHAMPTON, which was not named as a manor until the 15th century, passed with the honor of Dudley to the Paynel family and from them to the Somery family. (fn. 63) From 1220 to about 1270, however, Chislehampton was part of the dower of Ida Longespee, the widow of Ralph (II) de Somery (d. 1220). (fn. 64) She married William de Beauchamp as her second husband (fn. 65) and in 1235 he held the Somerys' knight's fee in Chislehampton of the honor of Paynel. (fn. 66) After Ida's death in about 1270 (fn. 67) the fee reverted to Roger (I) de Somery, who died in or before 1273. (fn. 68) The male line of the De Somerys died out in 1322 on the death of John de Somery, grandson of Roger (I) de Somery. (fn. 69) John's widow Lucy de Somery was assigned Chislehampton and Ditton in Stoke Poges (Bucks.), said to be together worth £4, as dower (fn. 70) and apparently held them and other estates until her death some time before 1327. (fn. 71) According to a settlement made in 1323, Joan de Botetourt, the sister and one of the coheiresses of John de Somery, had been given the reversion of Chislehampton, (fn. 72) but there is no further mention of the overlordship, which may have lapsed. (fn. 73)
At the time of Domesday, the tenant of William FitzAnsculf in Chislehampton and Stoke Poges was a certain Walter, (fn. 74) whose descendants took their name from Stoke. According to a lawsuit in 1207, a mesne tenancy had been created in Chislehampton by the time of Henry I, when Hugh de Stokes gave the fee of Chislehampton to his younger son Alfred. (fn. 75) The mesne tenancy passed to Hugh's son Richard de Stokes and to his grandson Robert, who in 1207 tried to obtain the fee in demesne from Alfred's son Hugh de Chislehampton. (fn. 76) He lost his case, however, for his heirs were mesne tenants at the end of the 13th century. Richard de Stokes, his son, succeeded him, (fn. 77) but had died by 1254 when his daughter and heir, Amice, was in the custody of Sir Humbert Poges. (fn. 78) Sir Humbert's son Robert Poges is said to have married her before 1269, (fn. 79) and he was returned in 1273 as the De Somerys' tenant at Chislehampton. (fn. 80) He was still the mesne tenant in 1322, (fn. 81) but Chislehampton was not mentioned in his inquisition post mortem in 1330 (fn. 82) and nothing more is heard of his family there.
Alfred, the demesne tenant in Henry I's time, was followed by 1192 by his son Hugh de Chislehampton, (fn. 83) the defendant in the 1207 case. (fn. 84) In 1235 William de Chislehampton, presumably his son, was the tenant. (fn. 85) William was possibly succeeded by a Hugh de Chislehampton and his wife Rose, who occur in 1242, (fn. 86) but Laurence de Chislehampton was in possession some time before 1271, when he was said to have already granted a messuage and 2 carucates in Chislehampton to Dorchester Abbey. (fn. 87) At that time he was heavily in debt to the Jews, but the king ordered that no distraint should be made on his estate of Chislehampton (fn. 88) and he was returned as tenant under Robert Poges in 1279. (fn. 89) He was killed in 1283 (fn. 90) and his son William de Chislehampton succeeded him and held the estate until it was bought in 1315 by Robert de Harewedon. (fn. 91) Harewedon was a Chancery clerk, closely associated with Hugh Despenser, (fn. 92) and had already contributed to the tax assessment of 1306 in Chislehampton. (fn. 93) Later in 1315 he made a settlement with other members of his family, (fn. 94) whereby he was to hold the Chislehampton property for life with remainders to his nephew Robert, son of Henry de Harewedon and his heirs, and after to Robert's brother Henry. (fn. 95) Robert de Harewedon was returned as lord of Chislehampton in 1316, (fn. 96) but had died by December 1318. (fn. 97) His nephew Robert evidently succeeded him, for he contributed to the tax of 1327. (fn. 98) Either Robert or his son, another Robert de Harewedon, (fn. 99) held the fee in 1346, (fn. 100) but nothing more is heard of it (fn. 101) until 1410, when a 'Beek', perhaps Richard Beke (d. 1418), who left money to Chislehampton chapel, bought it from a certain Hamden. (fn. 102) In 1423 John Beke was described as 'gentleman, of Chislehampton', (fn. 103) and the same or a son was returned in 1428 as holding immediately the lands 'formerly of Robert de Harewedon' by service of 1 knight's fee. (fn. 104) John Beke married Elizabeth, the sister of Richard Quatremain of Rycote, (fn. 105) and must have been dead by 1466. His brother-inlaw Richard Quatremain was one of the feoffees, who in that year settled Chislehampton manor on John Beke's youngest daughter Sybil and her second husband Robert Poyntz. (fn. 106) In 1489 Sybil made another settlement of the manor on herself and her third husband Robert Restwold for life, with remainder to her cousin William Danvers, (fn. 107) a grandson of Maud, another sister of Richard Quatremain. (fn. 108) By 1500 William Danvers had obtained Chislehampton manor (fn. 109) and died in possession in 1504, leaving it to his wife Anne for life and then to his third son William. (fn. 110) The widowed Anne did not die until 1531, (fn. 111) but her son William covenanted 'to estate' Thomas Doyley of Hambleden (Bucks.) in Chislehampton manor as early as 1524. (fn. 112) By 1536 the manor seems to have been finally released to the Doyleys. (fn. 113)
Thomas Doyley died in 1545 (fn. 114) and was succeeded by his son John, who like his cousin and colleague Sir John Williams of Thame founded a fortune in dealings in monastic property. (fn. 115) On his death in 1569, Doyley left Chislehampton to his wife Frances for life, afterwards to his son Robert, and to his other heirs male. (fn. 116) Frances was persuaded to demise the manor for £300 a year to her younger son John, shortly after he had succeeded to his brother's estates in 1577, and on her death in 1601 he entered into full possession, (fn. 117) though various charges on the manor involved him in a lawsuit with his brother Henry. (fn. 118) In 1605 John settled the manor after his death partly on Martha, the wife of his son Cope Doyley, and partly on his own wife Ursula. (fn. 119) Sir John died in 1623 (fn. 120) and, though Ursula lived at Chislehampton until her death in 1635, (fn. 121) their son Sir Cope Doyley settled it in 1628 as jointure when his son John married Mary Shirley. (fn. 122) John, a sheriff and Member of Parliament for Oxfordshire, succeeded his father in 1633. (fn. 123) His widow held the manor as dower for a short time after his death in 1660, (fn. 124) but by 1664 it was held by their son John (d. 1709), (fn. 125) who became a baronet in 1666. Sir John's son, another Sir John, held it until his death in 1746. (fn. 126) In 1748 his son Sir Thomas Doyley sought to revive the declining fortunes of the family by selling Chislehampton to Charles Peers of Olney (Bucks.), the son of Sir Charles Peers, a former lord mayor of London. (fn. 127) The Doyleys were also lords of Camoys manor, the second Chislehampton manor, and apparently sold it also to Charles Peers. (fn. 128) Henceforth the combined manors were known as Chislehampton manor.
The combined manor has remained in the hands of the Peers family until the present day (1958), descending from Charles Peers (d. 1781) (fn. 129) to his elder son Robert (d. 1818) and his grandson Charles, who died childless in 1853. (fn. 130) The heir was then John Peers, another grandson of the elder Charles Peers, being the son of his second son John (d. 1835), for many years incumbent of Stadhampton and Chislehampton. In 1855 the younger John was succeeded by his son John Witherington Peers (d. 1876), Vicar of Tetsworth, and he by a son of the same name, who died unmarried in 1891. This last was followed by his brother, the Revd. William Henry Peers, who died in 1921, and he by his son Sir Charles Reed Peers (d. 1952), (fn. 131) the father of the present lord of the manor, C. J. Peers, Esq.
In the Middle Ages the estate, later known as CAMOYS or CHISLEHAMPTON manor, formed part of a ½ knight's fee held in Chislehampton and Little Milton of the Bishop of Lincoln's Dorchester manor. Like the main estate, it was not mentioned by name in the Domesday survey, but it is likely that the 2 hides held in 1086 of the bishop's Dorchester manor by a certain James represents the later fee and manor. (fn. 132) The overlordship which is last recorded in 1618 followed the descent of the bishop's Dorchester manor. (fn. 133)
In the 12th century the Cardunville family were the bishop's mesne tenants: in 1163 Ernald de Cardunville gave 1 virgate there to Dorchester Abbey (fn. 134) and in 1166 he was returned as the tenant of a ½-fee of the Bishop of Lincoln. (fn. 135) Adam de Cardunville, presumably his son, held the ½-fee by 1191. (fn. 136) Adam died before 1210 when William de Boveneye obtained the grant of the wardship and marriage of his heirs. (fn. 137) William, therefore, was returned about this time as holding a ½ knight's fee of the Bishop of Lincoln on behalf of the Cardunville heir, of which ¼-fee was apparently in Little Milton. (fn. 138) The estate was clearly the ½-fee held by James de Cardunville in Chislehampton and Little Milton in a list of the bishop's knights made after 1225. (fn. 139) James died soon after, presumably without heirs, for the estate appears to have escheated to the bishop. In 1225 a certain Alice, claiming to be the widow of James, brought a plea of dower against the bishop (fn. 140) for ⅓ of 2 carucates and appurtenances in Chislehampton and ⅓ of land in Milton. She lost her case, for the bishop maintained successfully that she had never been married or dowered at the church door, but only in James's house when he was mortally ill. (fn. 141)
There is no further record of the ½-fee either in Chislehampton or Milton until 1279, when it was held by Laurence de Louches. (fn. 142) A Laurence de Louches, the same or his son, held the ½-fee of the bishop in 1305. (fn. 143) The De Louches family of Chislehampton and Little Milton was closely connected with the De Louches family holding in Baldon St. Lawrence, Wheatley, and Great Milton. (fn. 144) Sir Richard de Louches, who was one of the lords of Great Milton, had a grant of free warren in his demesne lands, including Chislehampton, in 1318. (fn. 145) In 1322 his estate was in the king's hands because of his support of the Despensers, but he recovered it in the same year. (fn. 146) Though his son John succeeded in 1327 to most of his lands, (fn. 147) Elena de Louches, Richard's wife, paid a tax on her Chislehampton land in 1327, (fn. 148) which she presumably held as dower. By 1346 John had obtained the ¼-fee in Chislehampton formerly held by Laurence de Louches. (fn. 149) In 1353, designating himself John de Louches of Milton, he settled the manor after his death on his son William and William's wife Elizabeth and their heirs. (fn. 150) Both John and William had died by 1367, when Elizabeth de Louches, William's daughter, held his land in Great Milton. (fn. 151) She brought Chislehampton to the Camoys family by her marriage with Thomas lord Camoys (d. 1421), (fn. 152) and in 1416 her son Sir Richard Camoys put it in trust for his wife Joan Poynings. (fn. 153) On his death shortly after, it was released to Joan with remainders to their sons, John, Ralph, and Hugh. (fn. 154) By 1421 Hugh was the sole survivor. (fn. 155) He died in 1426, still under age, and his sisters, Margaret wife of Ralph Radmylde of Sussex and Eleanor wife of Sir Roger Lewknor of Trotton (Suss.), were his heirs. (fn. 156)
The Radmylde moiety was held by Ralph Radmylde, who survived his wife, and on his death in 1443 (fn. 157) he was succeeded by his son Robert (d. 1457). (fn. 158) Robert's heir was his only son William, then a minor, and the estate seems to have been put in trust. (fn. 159) William died without legitimate children in 1499, (fn. 160) when his aunts, Margaret and Isabella Radmylde, were his heirs. (fn. 161) It is probable, however, that by this time some arrangement had been made with the Lewknors, as was the case with other Radmylde manors, (fn. 162) and that the Radmylde moiety had been taken over by them.
Sir Roger Lewknor, the husband of the coheir in 1426, died possessed of his moiety of the Camoys lands in 1478. (fn. 163) His heir was his son Sir Thomas Lewknor, who was an influential supporter of the Lancastrians in Sussex. (fn. 164) Before Sir Thomas's death in 1484 his estates were taken into the king's hands for high treason, but his son Sir Roger Lewknor was allowed to hold them during his father's lifetime. (fn. 165) In 1498 Sir Roger leased for 60 years 'a certain manor or farm called Cames' in Chislehampton to John Wilmott, a member of the rising class of Oxfordshire yeomen. (fn. 166) Later Sir Roger granted the manor to Edmund Dudley for life and on Dudley's attainder in 1510 the manor again came into the king's hands. (fn. 167) Sir Roger, however, recovered it, for in 1541–2 he granted the reversion of certain estates, including the Chislehampton one, to Sir William Barentine of Haseley, who had married his daughter Jane, widow of Sir Arthur Poole. (fn. 168) On Sir Roger's death in 1543 his heirs disputed the arrangement made with Sir William Barentine and an Act was required to settle Sir Roger's estates. (fn. 169) Sir William Barentine (d. 1550) secured the Chislehampton property for himself with remainder to his son Drew. (fn. 170) Drew Barentine held the manor by 1567, (fn. 171) but it seems to have come eventually to a descendant of Sir William Barentine's daughter Mary, who with her sister Margaret is said ultimately to have succeeded to the Barentine estates. (fn. 172) Mary had married Anthony Huddleston of Millom (Cumb.) (fn. 173) and it may be that the marriage of a Frances Huddleston to Sir Michael Molyns of Clapcot (Berks.) (fn. 174) accounts for Camoys manor passing to the Molyns family. In 1615 Sir Michael died possessed of 'Chislehampton manor' and a capital messuage called Camoys court (said to be in Dorchester parish) with appurtenances in Chislehampton. (fn. 175) His son and heir, significantly called Barentine, had been succeeded in other lands by his own son Sir Michael Molyns by 1631. (fn. 176) From this point the descent of Camoys manor is not clear, but it eventually came to the Doyleys, who held the Beke manor in Chislehampton. Sir John Doyley is said to have purchased a farm in the parish about 1673–4, (fn. 177) and the Camoys lands were evidently included in the estates sold to Charles Peers in 1748. (fn. 178)
Other Estates.
The Bishop of Lincoln held some land in Chislehampton in demesne. His estate was probably included under his 90-hide Dorchester estate in Domesday Book, but there is no specific mention of it until the 13th century when it comprised some 10 virgates let to various tenants. (fn. 179) This property followed the descent of his Dorchester manor and was one of the estates surrendered to the king by Henry Holbeach, Bishop of Lincoln. (fn. 180) It passed, like other members of the Dorchester manor, to the Norreys family and later to the Earls of Abingdon. (fn. 181) In the 18th and early 19th centuries the Peers family, lords of the other Chislehampton manor, paid a freehold rent of £5 12s. 8d. to the earls of Abingdon for the Chislehampton estate. (fn. 182) When the Abingdon estates were broken up, (fn. 183) they probably purchased this rent charge.
Some time before 1271 Laurence de Chislehampton, lord of Chislehampton, granted 2 carucates and a messuage, practically the whole of his Chislehampton fee, to the Abbot of Dorchester, who gave them to Geoffrey de Lewknor. (fn. 184) In 1269 Geoffrey de Lewknor had obtained a confirmation from Master Moses, a Jew of Oxford, of his right to a meadow in Chislehampton, (fn. 185) a transaction which was possibly connected with the debts of Laurence of Chislehampton to the Jews. (fn. 186) Geoffrey de Lewknor was still tenant in 1279; (fn. 187) in 1315 John de Lewknor sold his holding of 7 messuages and 9 virgates to Robert de Harewedon, who was buying up other property in Chislehampton. (fn. 188) There is no further reference to the Abbot of Dorchester's overlordship. (fn. 189)
Economic and Social History. (fn. 190)
Chislehampton does not appear as an entity in Domesday Book. It was apparently partly surveyed under William FitzAnsculf's fee of 'Hunesworde', (fn. 191) and the remainder, which was a part of the Bishop of Lincoln's Dorchester manor, was not surveyed separately, but was included in the survey of his 59¾-hide demesne. On the FitzAnsculf fee in 1086 there was land for 5 ploughs: there were 2 in demesne and 8 villani had 1½ between them. There were 20 acres of meadow and a mill rendering 8s. The total value was £4, the same as in pre-Conquest times. (fn. 192)
A survey of the bishop's demesne in his Dorchester manor, made in the second quarter of the 13th century, records 10 virgaters at Chislehampton, each of whom paid 5s. 6d. rent. A virgater owed 3 plough services and had to cut hay with 1 man for 3 days until the ninth hour and to gather and cart it until the task was finished. He had to mow for 3 days with 2 men and for ¼-day with 1 man at his own expense, and was to be present for 2 of the bishop's autumn boon-works with all his family and tenants, except his wife. He had to carry corn with one cart until it was all carried and take it to Oxford and Wallingford whence, if the bishop wished, it could be shipped to London. He was also to carry the bishop's provisions to Oxford, Wallingford, and to all the nearer episcopal manors, and was to be allowed food when the bishop was there. When necessary he was to go to Oxford and Wallingford for the bishop's provisions and to carry corn to Kirtlington cum equo et sacco suo. He was to carry timber to the bishop's grange from any place where it could be acquired, as well as 1½ cartloads of wood, towards the cost of which he was to give 2d. Whenever the bishop came on the feast of St. Martin or Hock Day he was to provide forage, half hay and half straw, for one of the bishop's horses. He owed merchet, heriot, leirwite, a fine on his father's death, and aids when called for by the bishop. (fn. 193)
In 1279 there were still 10 virgaters, but the rent of a virgate had fallen to 5s. and the services, where they can be compared, seem to have changed slightly. Each virgater who had a plough was to plough 2 acres of the lord's demesne. He had to cut and carry hay until the task was done; to find 2 men to mow for 3 days without food and for 2 days with food provided by the bishop; and to carry hay and corn until it was all carried. He was not to marry his daughter, nor to sell his ox or foal, without licence. He was to carry corn to Fingest (Bucks.), which was part of Dorchester manor, and to the markets at Oxford and Wallingford, and either to cart wood or to pay 4d. (fn. 194)
On the former FitzAnsculf fee Geoffrey de Lewknor had at this time 2 carucates and 5 tenants, who held 5 virgates in villeinage and paid 25s. rent with all customary services, while Laurence de Chislehampton held 1 messuage, a virgate, and part of the River Thame by 'Sepwas' weir. Lawrence de Louches also held part of the river, a messuage, and 1 virgate (the later Camoise farm). (fn. 195)
In 1306 16 persons were taxed in the parish, but all except one were assessed at the low rate of 2s. and under. (fn. 196) The 1344 assessment of £3 0s. 3d. was the fourth highest in the hundred and may be compared with that of £1 17s. 9d. for Stadhampton, which had a slightly larger population. (fn. 197)
An account for the period 31 January–10 June 1322 has survived for that part of Chislehampton which belonged to the Louches fee (i.e. Camoys manor), then in the king's hand. (fn. 198) The assize rents and farm of the mill amounted to £1 18s. 2d. and the stock was sold for nearly £60. The livestock fetched over £18 and included 5 cart horses, a bull, and 14 oxen. The grain and bean crops were sold for £26 4s., while two iron-shod carts realized 20s., two dung carts 5s., and two ploughs with their equipment 10s. The fish in the stewpond were valued at £4. A century later (1443) this estate was worth £5 6s. 8d. a year and included 80 acres of arable valued at 4d. an acre, 10 acres of meadow at 1s. 4d., and 60 of land at 6d. an acre. The free tenants paid 6s. 8d. a year and the assize rents amounted to £1 2s. 8d. (fn. 199) In 1422 the rents of the other chief estate in Chislehampton, the Beke manor, (fn. 200) amounted to £7 5s. 10d.; crops of wheat, rye, barley and pulse were grown, and some wheat and barley was sold at Oxford and Watlington. The sale of stock produced £10 15s. 3d. and included 9 oxen, cows, calves, pigs, hens, and a boar. (fn. 201)
There was some engrossment of holdings during the early Tudor period. In 1517 William Cottesmore held two farms, one called le pasture of Chessyllyngton, as trustee of John Wilmott, whose father seems to have combined them. (fn. 202) A further indication of the increasing concentration of wealth is the small number of nine contributors to the subsidy of 1524 and the amalgamation of virgates in the Dorchester manor: in 1551 four copyholders held its 10 virgates. (fn. 203) At this date the rents of this estate amounted to £5 9s. 8d. or about 11s. a virgate. With each yardland went the right to pasture 30 sheep, 2 beasts, and 4 horses, a total of 360 animals. There were 203 trees recorded. (fn. 204)
The earliest map of Chislehampton, dated 1638, shows that the Doyley lands (i.e. the former FitzAnsculf lands) that lay to the north of Abingdon Lane and comprised 507 acres in Chislehampton and 149 in Chippinghurst were inclosed. (fn. 205) In 1694 Sir John Doyley altered some of the inclosed fields so as to make two new closes of 46 acres together and a coppice of 13 acres. (fn. 206) The southern part of the parish, comprising the Camoys lands, was inclosed very possibly after they had been acquired by the Doyleys about the 1670's when Stadhampton was inclosed. (fn. 207) John Doyley is said, about 1673, to have divided a common meadow with a fence, to have diverted the ancient way to it, and to have taken its first mowth, which the Shirley family claimed to have enjoyed for 100 years as an appurtenance of a yardland in Toot Baldon. (fn. 208) The proposal made by Charles Peers in 1743 that local inquiry should be made as to whether 'Sheephouse Leaze' had ever formed part of the common field suggests also that inclosure was of a comparatively recent date. It was supposed presumably that there were old men alive who would remember the layout of the pre-inclosure fields. (fn. 209)
In 1746 when Thomas Browne made his survey the whole of Chislehampton, together with part of Chippinghurst in Cuddesdon, formed a compact estate 'all entirely together and within a hedge'. It comprised 1,027 acres, its gross annual value was £1,284 (£1,149 7s. net), and its estimated worth £29,000. (fn. 210) There were 9 tenants of more than 40 acres; the remaining 2 held less than 10 acres apiece. The largest farm was that of Henry Swell, an 'extraordinary good tenant', who occupied 192 acres (later 233) and whose farmhouse was 'new built all of stone and tiled'. Camoise Court farm, with 188 acres in the south of the parish, was leased to Jonathan Betteridge, 'a slovenly bad husband'. The buildings were in a bad state, two of the barns needed to be pulled down, and £200 was the estimated cost of the necessary repairs. Another tenant farmed 86 acres, lived in part of Chislehampton Hall, as the great house was called, and occupied a stable, cowhouse, and hogyard there. There were twelve cottages, a dove-house well stocked with pigeons and let for £5 a year, and a kiln which provided bricks for the estate from clay dug in the neighbouring ground. There were 635 acres of pasture, 86 of meadow, and 258 of arable. (fn. 211) The preponderance of grass probably continued throughout the century, for the amount of good grass under dairy at Chislehampton was the chief comment made by Arthur Young. (fn. 212) The meadow and pasture was leased in 1748 for between £1 10s. and £1 17s. 6d. an acre, the arable for between 17s. 6d. and £1 an acre. (fn. 213) Some farms were entirely pasture and only Camoise Court had appreciably more arable than grazing land. (fn. 214) This farm also carried a large amount of livestock, and in 1776 there were 136 beasts, including 18 cows, 38 ewes and lambs, 24 wethers, 3 rams, and 20 hogs. (fn. 215) It had probably recovered from its former neglected state, for in 1774 the lessee, Paul Smith, had agreed to repair the house and barns, being allowed rough timber for the purpose. In 1776 it was leased to Thomas Cooper at an increased rent. The tenant was to pay £5 for every acre of grass ploughed without the lord's consent and to permit entry on the Lady Day before the expiration of the lease for the ploughing up as a regular summer fallow of a quarter of the arable land. He had also to bring back every year from Shillingford for the lord three wagon loads of coal, each of 1¼ cauldrons, at his own expense. (fn. 216)
There were only 30 acres of woodland in the 18th century, (fn. 217) but it was of considerable value. Most of it lay in the Great Coppice which John Doyley had made in 1694. In 1746 this coppice consisted of 22 acres well planted with ash stems and laid out as a pleasure ground, the underwood being worth about £150. (fn. 218) Contemporary plans show that it was divided into 32 plots with intervening walks. These were cut in intervals between 1748 and 1764, either for the lord's use, or for sale. As many as 500 poles might be cut from a single plot and sold for 6d. to 2s. each. (fn. 219) There were also two much smaller coppices and a number of other trees. (fn. 220) When cutting hedges the tenants had to preserve all oak, ash, and elm trees. (fn. 221) Browne valued the timber on the estate at £1,000, but two years later (1748) another surveyor considered it to be worth £2,316. (fn. 222)
In 1703 the fishing rights in the Thame from Wickham's Weir in Cuddesdon parish (fn. 223) to the hedge dividing the parish from Drayton field, a distance of over 2 miles, passed with the manor. (fn. 224) Browne noted that the fishery was said to be worth £10 a year, but declared that on account of the weirs the expenses on such large estates were always greater than the profits. (fn. 225) In 1781 the fishery was leased to William Wigginton for £9 a year, the lord and his friends having liberty to fish. The lord was to be supplied with eels of a good size at 7d. a pound, and other fish at market price. (fn. 226)
Between 1795 and 1817 the Court of Sewers made assessments on 48 acres of meadow, valued at either 35s. or 40s. an acre, which were liable to floods. The court ordered the erection of a sluice near the weir, and in 1800 the new gates were found to be of a proper width and the masons were completing their work. At this time, too, the river bed was cleansed throughout the parish. (fn. 227)
As in the county generally, the trend during the 19th century was towards the formation of larger farms. In 1886 there were five, two of which, Marylands and Camoise Court, contained more than 300 acres each. The total acreage of the estate was 897 and the gross estimated rental £1,649 5s. 7d. (fn. 228) The chief crops were wheat, barley, oats, and beans, but much of the land was pasture. (fn. 229) On that account the severe drought of 1893 was a serious matter, for the tenants had no grass for cattle grazing and none to mow for the winter feed. (fn. 230) In 1927 the estate was still in the possession of a single owner. There were four tenant farmers, three of whom farmed more than 100 acres each. The principal tenant farmed Church, Lower, and Hill farms, totalling 302 acres. (fn. 231) The income from the estate was £1,396. (fn. 232) In 1959 the process of amalgamation had been carried still further and the parish was farmed by Mr. Peers and two other farmers.
Chislehampton, despite its greater area, has always been less populous than neighbouring Stadhampton. The 1524 subsidy roll listed only 9 persons there, as against 24 in Stadhampton, (fn. 233) and in 1676 there were 53 adults, compared with 85 in the other parish. (fn. 234) There is no accurate assessment of population until 1801 when the Census recorded 128 inhabitants. Numbers rose during the early 19th century to a peak of 153 in 1841, but thereafter declined to 85 in 1901. This trend has been reversed during the 20th century and the number of inhabitants rose from 136 in 1931 to 153 in 1951. (fn. 235)
Church.
Chislehampton church in the Middle Ages was a chapelry of Dorchester and probably had the same original status as the five other chapels, including Stadhampton, confirmed to Dorchester in the papal bull of 1146. Little is known, however, of the early history of the church and as in the postReformation period Chislehampton was regarded as a chapelry of Stadhampton, it has been found convenient to combine its history with that of Stadhampton. (fn. 236)
The present church at Chislehampton, dedicated to ST. KATHERINE, is a small 18th-century structure of stone, built by Charles Peers, the lord of the manor. It is a single rectangular room without structural division between nave and chancel, but the importance of the altar is emphasized by a recess in the east wall. The exterior is ornamented by carved stone urns and at the west end there is a clock-turret surmounted by a weather-vane pierced with the name of St. Katherine. There are three large round-headed windows on the south side, but none on the north or at the ends. Samuel Dowbiggin, the London architect who built Chislehampton House, may possibly have been employed to design the church. (fn. 237) The new building replaced a medieval chapel dedicated to St. Mary, which was first mentioned in 1146 and was situated by the river, close to the old manor-house. (fn. 238) Seventeenth-century presentments (1623–1706) record that the chapel was in a good state of repair, (fn. 239) but in 1763 when Peers petitioned the peculiar court of Dorchester for permission to pull it down he described it as being in 'so ruinous and decayed a condition that the inhabitants cannot assemble for worship without manifest hazard (to) their lives.' (fn. 240) The new church was erected out of the old materials about 200 yards west of the original church and had a churchyard attached; previously burials had taken place at Stadhampton. (fn. 241) It was consecrated by the Bishop of Oxford in 1763. (fn. 242)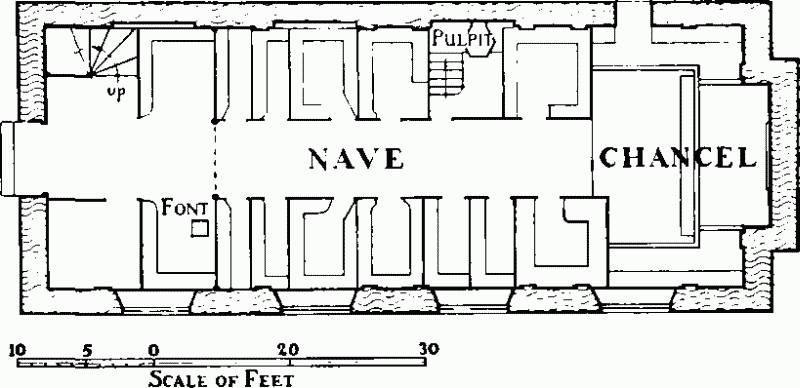 In 1846 this 18th-century church was characteristically described by J. H. Parker, a Gothic revivalist, as being in spite of its neat and trim appearance 'a sad instance of departure from all the proprieties of church architecture'. Its bell-turret was said to be 'such as is usually placed on stables'. (fn. 243) The church was renovated in 1882 and in 1894 the bell-turret was restored and the roof raised at a cost of £165, (fn. 244) but these restorations did not destroy its character and it remains one of the few complete Georgian churches in the county. The interior has preserved its Georgian woodwork, high box pews, western gallery, altar rails, and carved altar-piece with the Lord's prayer, the Creed, and the Decalogue. The altar rails are returned westwards on either side, with seats for children behind. It is not known whether they were intended for use by communicants. (fn. 245) The elaborately carved pulpit is Jacobean and must have come from the old church, but it is reached by a Georgian staircase and has the 18th-century reading-desk and clerk's seat below it. The font is contemporary with the church building and a space on the opposite side of the aisle has been left where the christening party might stand. (fn. 246)
In 1952 an appeal was made for £3,000 to restore the church and verses in aid of the appeal were composed by John Betjeman. By 1954 the extensive repairs advised by the architect, Oswald Brakspear, were completed. All the windows were releaded and one of the angleposts of the bell-turret was renewed. The exterior and interior plaster was renewed and the whole redecorated. The clock face which carries the date 1762 was painted light blue and gold by John Piper. The rafters of the roof, exposed in the 19th century, were again concealed by a coved plaster ceiling. (fn. 247) Concealed electric lighting was inserted in the pews in 1956, (fn. 248) but the church is still lit mainly by candle light: there are three hanging brass candelabra, of which one is dated 1899, and wall brackets given by Sir Charles Peers some time after 1908. (fn. 249)
There are a number of memorials to the Peers family. They include one to Charles Peers, Esq. (d. 1781), the builder of the church, and to his three wives, two of whom were buried in the family vault in the church. The arms and crest of Peers are depicted on the monument. There are tablets to Robert Peers (d. 1818), son and heir of Charles and Katherine Peers; to Charles Peers, D.C.L. (d. 1853), heir of Robert; to John Witherington Peers (d. 1876), for 34 years Vicar of Tetsworth; to John Witherington Peers, who died at Wendover in 1891; and one designed by Frederick Etchells to Sir Charles Reed Peers (d. 1952), surveyor of Westminster Abbey, and his wife (d. 1953). (fn. 250) Sir Charles was buried in the Islip Chapel, Westminster Abbey, and his wife in Chislehampton churchyard.
A tablet commemorates those who died in the two world wars. The only stained glass in the church is the Peers arms and crest, executed by Kaye & Pemberton in 1953 for the patron and lord of the manor, Mr. Charles Peers.
The church is notable for its fine service of silvergilt comprising a pair of chalices with paten covers, a pair of enormous tankard flagons, an almsplate, and a small salver, all with inscriptions surrounding coats of arms. On the drum of each flagon is engraved the arms of Peers surmounted by a crest; the inscription on one denoting that it was the gift of the French church, and on the other of the Dutch church in London, to Sir Charles Peers in 1716. Both flagons are also inscribed to the effect that they were presented by the son and surviving family of the late Sir Charles Peers to St. Katherine's Church on Easter Day, 1767, and the names of all these descendants living at that date are inscribed on the base of each vessel. The rest of the plate was given by Katherine Peers, the wife of Charles Peers (d. 1781). It is dated 1749 and must have been given to the old church soon after the family's arrival in the parish. (fn. 251)
The registers date from 1763. Previously entries for Chislehampton were made in the Stadhampton register (1556–1762), (fn. 252) of which John Bilstone made two copies for the new Chislehampton church. (fn. 253)
There are two bells, neither of great antiquity. The old church also had two bells in 1553. (fn. 254)
The churchyard is entered by a contemporary stone gateway. (fn. 255)
Nonconformity.
See under Stadhampton, below, p. 91.
Schools.
See under Stadhampton, below, p. 92.
Charities.
None known.