Pages 16-43
A History of the County of Oxford: Volume 8, Lewknor and Pyrton Hundreds. Originally published by Victoria County History, London, 1964.
This free content was digitised by double rekeying. All rights reserved.
ASTON ROWANT
The ancient parish of Aston Rowant was exceptionally large for an Oxfordshire parish: it included most of the modern parish of Stokenchurch and must have covered an area of about 7,298 acres. (fn. 1) It stretched for about 6 miles from the northern end of Lewknor hundred to the hundred's southern boundary with Buckinghamshire, and contained the hamlets of Copcourt, Chalford, and Kingston Stert in the north; Aston Rowant itself and the large village of Kingston Blount in the centre; and the hill village of Stokenchurch and its hamlets at Beacon's Bottom and Water End in the south. (fn. 2) In 1895 Stokenchurch, which was a separate civil parish by this time, was transferred to Buckinghamshire. (fn. 3) Thus Aston Rowant's southern boundary, although still the county boundary, now runs to the north of Stokenchurch, and its area has been reduced to 2,924 acres. (fn. 4) Its only natural boundaries are the small streams in the north and east, whose courses are followed as they flow northwards to the Thame. One of these is the Holbrook which is frequently referred to in 16th- and 17th-century deeds, and in which the lords of Aston manor had fishing rights. (fn. 5)
To the north of Aston the land is mostly within the 200–300 ft contour, but Prospect Hill (or Briar's Hill as it was called in the 19th century) in the extreme north-west of the modern parish rises to 300 feet. This landmark, which was planted with Douglas firs by 1878, (fn. 6) may well be the Old English 'Trendle' or 'Trindhulle' meaning Roundhill, recorded in the 13th century. (fn. 7) In the south the crest of the Chiltern ridge rises to 800 feet near Hill Farm. (fn. 8) Part of Aston Hill was given to the National Trust in 1956 and 70 acres on Beacon Hill were made a Nature Reserve in 1958. (fn. 9) The northern triangle of the parish lies on the Gault, the centre is mostly on the Lower Greensand, and the Upper fields and hill slopes on Chalk. (fn. 10)
The road system has seen a number of changes. The main London road forms a short part of Aston's western boundary; it was known as via regis or 'London Weye' in the Middle Ages (fn. 11) and became a turnpike in 1718. (fn. 12) At that time it passed the present Warren Farm which was the 'Drum and Plough' inn in the 18th century, (fn. 13) but in 1824 this route was 'found inconvenient' and was diverted to the west so as to be more 'commodious to the public'. (fn. 14) The new turnpike, which was disturnpiked in 1877, (fn. 15) and the old turnpike are shown on an estate map of 1828. (fn. 16) An important minor road in the 18th century, but now no longer used, branched off the main road south of Tetsworth, ran through Copcourt, along Copcourt Church Way to Aston, and then joined the highway at the foot of Aston (i.e. Stokenchurch) Hill. (fn. 17) Copcourt Church Way had been made by order of the Bishop of Oxford in 1620; (fn. 18) Chalford
Church Way running from Chalford Green to Aston may have been laid out at the same time. Both the Icknield Way (Akemannestrete in 1298 and Hacknall Way in 1768), at the foot of the Chilterns, and the Lower Icknield Way to the north were well-defined roads in the 18th century, but are now grass tracks. (fn. 19) In 1958 there were three chief lines of communication, all partly ancient ones: a minor road from Postcombe to Sydenham, which has always linked the hamlets of Chalford and Kingston Stert; (fn. 20) another minor road from Kingston Stert by Kingston Blount to the Stokenchurch road; and the road from the 'Lambert Arms' on the London road to Chinnor, which links all the villages at the foot of the Chilterns. The last used to pass close to Aston House and the village, but it was straightened, probably shortly after 1768, and made to run further to the south. (fn. 21) The Kingston road was also diverted: it used to enter the village from Stokenchurch close by Kingston House, but in 1835 it was made to pass west of the 'Red Lion' so as to bypass the big house, and was then continued in a straight line to Kingston Stert instead of along Pleck Lane, its former route. (fn. 22)
A new 'Drum and Plough' had been opened at the junction of the new turnpike with the Icknield Way, (fn. 23) but was supplanted in about 1834 by the 'Lambert Arms', which was built at the junction of the Lewknor-Chinnor road with the turnpike at a point once known as Aston Cross. (fn. 24) Its ornamental style of building is an early example of neo-Tudor. It became an important stopping place for the London traffic and a traveller on the 'Mazeppa' coach in about 1840 said that after descending the steep hill they stopped there for a glass of 'excellent Marlow beer'. (fn. 25) The railway brought about the inn's temporary eclipse, but with the growth of motorized road traffic it became once again a busy centre both for travellers and the parish, and an adjoining hall has been built. (fn. 26)
A single-line railway from Princes Risborough to Watlington was constructed in 1872 and was taken over by the Great Western in 1884. (fn. 27) It used to follow the line of the Icknield Way. It had a halt at Kingston Blount and a station at Aston Rowant that achieved fame in the 1950's by being used in the films 'My Brother Jonathan' and 'The Captive Heart'. (fn. 28) The line was closed for passenger traffic in June 1957, by British Railways. (fn. 29)
Aston Rowant village takes its name from the Rohant family, lords of the manor in the 14th century. (fn. 30) Its earlier name was Aston St. Helen or Elene, presumably from the family of John de St. Helen, who held Crowell in 1293. (fn. 31) The village grew up beside a stream with its open fields stretching to both north and south, and in the Middle Ages was the largest of the settlements in its enormous parish. (fn. 32) But it declined in importance: by the second half of the 17th century it seems to have had a smaller number of houses than Kingston, although some of its houses were more substantial. There was the manor-house of John Clerke Esq.; there was Richard Crooke's house with 13 hearths, John Thompson's with 9, Robert Hester's with 6, and the vicar's with 4, and 3 more farmhouses with 3 to 5 hearths. (fn. 33) In 1738 it had 23 dwellings and in the 1820's there were 4 farms, the Chequers inn and 16 or 17 houses and cottages beside the manor-house. (fn. 34) There was much rebuilding in the first half of the 19th century and in 1860 there were 16 cottages, some of them described as 'rustic double cottages',13 tenements of which 6 were built of brick, the 'Chequers' and Aston Lower Farm (sometimes called Aston Green Farm and now Home Farm). (fn. 35) The layout of the 18th-century and early19th-century village can be seen in two estate maps of Aston manor made respectively in 1768 and 1828, as well as in the inclosure map of 1835. (fn. 36) The old village was concentrated more in Church Lane round its imposing church and less round the green than is the present one. The 'Chequers' and a farmhouse both lay in the lane, on the opposite side to the church. Maps and documents show that as population expanded at the end of the 18th century houses were built along Copcourt Church Way, a continuation of Church Lane, as far as the Lower Icknield Way. Indeed, in 1767 the cottages at Penn, adjoining Penn furlong (see map) were numerous enough to merit being called the 'Place or hamlet called Penn'. (fn. 37) Houses for the poor were also built about this time on the waste near Brookfurlong. (fn. 38)
The oldest of the surviving houses are still (1958) in Church Lane: flint and brick are the prevailing building materials and thatch is still commonly used for the roofs. The 19th-century Vicarage, Home Farm, the village shop, and most of the cottages and houses now lie scattered round the green just to the east of Aston House and the church. The green itself (1a. 3r.) was allotted by the inclosure commissioners in 1835 to Sir John Lambert and has since been private property; it survived proposals to enclose it in 1951. (fn. 39)
The Vicarage (no longer used as such) is a substantial house of two stories. The 17th-century house was let after 1761 by the non-resident vicars, and was rebuilt by the Revd. John Holland in about 1808. (fn. 40) It was twice enlarged at the end of the 19th century, first in 1874 by the architect E. G. Bruton and then in 1878 by Arthur Vernon of High Wycombe. (fn. 41) Chequer brick and slates were used for the new building, which retains several characteristic Regency features, such as its doorway with radiating fanlight. Home Farm seems to have been rebuilt by General Caillaud a little earlier: it has a stone inscribed I. Siarey, the builder's name, and the date 1794. Chequer brick was used for this house too.
The farm buildings include the fine 16th-century barn of weather-boarding on a flint base, perhaps built at the same time as the earlier farmhouse shown on the map of 1768 as an L-shaped building with a formal garden laid out behind it. (fn. 42) The cottages on the green now (1958) all date from the 18th or 19th centuries. Judging from interior details the picturesque 'House on the Green', built of flint and red brick, was built at the same date as the new Home Farm, and the three gabled cottages near by are also of the 18th century. Two groups, each of four cottages, were put up in the 19th century. They are built in 'Gothic' style of red brick and flint and have yellow brick surrounds to the windows; their roofs are of slate. Another 19th-century addition was the school, opened in 1844 in a lane to the north of the green. (fn. 43) Twentieth-century development has taken place outside the village: there are fourteen detached houses, mostly built between 1931 and 1956, along the road leading to the Oxford road. (fn. 44)
The manor-house with its park and gardens was once 'one of the remarkable seats of the county' as Brewer put it in his Guide of 1819, but the sale of the estate in 1951 was followed by the conversion of the garden into a market-garden, and of the mansion into a store for Grass Products Ltd., a Wheatley grass-drying firm. (fn. 45) The lords of Aston or their tenants were often resident, and the history of the manor-house may go back to 1352, when four stonemasons and three carpenters, engaged on the construction of a chapel for a Thomas Crok (or Cok) were excused from service overseas. (fn. 46) This house may still have been standing in 1610 when Sir William Willoughby purchased the lease of the manor-house from Augustine (II) Belson, (fn. 47) who had been living there since 1584. (fn. 48) The use of certain rooms was reserved in 1610 to Augustine and his wife, and the account of these indicates that the house was built on the medieval pattern round a courtyard and with an outside gallery. It was of two stories and included a parlour, an old kitchen, a new kitchen, larder house, 'sinke' house, slatter house, work house, and straw house. Most of these buildings had either chambers, a study, or cockloft above them. It is likely that John Clerke, who acquired the manor in 1647, rebuilt the house: (fn. 49) it was at all events a mansion of some pretensions in the second half of the 17th century. John Clerke, junior, returned 20 hearths for the hearth tax of 1665 (fn. 50) and Robert Plot writing in 1677 said, 'For garden walks I think one of the largest I met with was at the worshipful Mr. Clerke's'. (fn. 51) The 17th-century house seems to have been greatly enlarged at some date before 1768. An estate map of that year depicts it with a most irregular ground-plan. (fn. 52) A narrow rectangular building with two projecting wings, presumably the 17thcentury mansion or a part of it, has a square building with angle-projections added on to the south-west end. The formal garden, neatly divided into six compartments, and an orchard lie to the east, and the whole is inclosed by a wall and partly by water. A moated farmhouse, standing beside the Kingston road in Little Toms meadow, provided a pleasant view to the south. The creation of an extensive park and its landscaping must have been the work of General Caillaud who bought the property in 1769 and died at Aston in 1812. (fn. 53) Some of the later alterations have been sketched in red ink on the map of 1768, but full details of the reconstructed house and its surroundings can be seen on a later estate map of 1828: Little Toms meadow and Great Toms, formerly divided by a hedge, have been united and converted into park land covering 32 acres and planted with groups of trees; the grounds also included the 'new meadow' west of the Church Way, the moors to the east, and inclosed meadow in Kingston Blount township. The straightening of the Kingston road to the south and Church Lane to the west was a part of the new scheme: the moated house has been pulled down and an ornamental water (2¼ a.) with an island in the middle of it now flows over its site and a new farmhouse has been built on the Kingston road; (fn. 54) the mansion-house appears to have been added to and the gardens made less formal. Haseley stone with dressings of Bath stone was used for the 18th-and 19th-century house which, until it was gutted by fire in 1957, had a fine staircase and picture gallery. (fn. 55) House and gardens together covered about 11 acres in 1828 and with its outbuildings, plantations, park, cottages, and woods amounted to 121 acres, and this had been increased to 161 acres by 1939. (fn. 56) As a part of the labour of improving the amenities of his estate General Caillaud pulled down the old 'Poorshouses' in the churchyard and built new ones farther away. (fn. 57)
Kingston Blount has for many centuries been a more populous village than the mother village of Aston. (fn. 58) The name means the king's 'tun' or vill, and no doubt derives from a period before the Conquest when it was probably a royal vill. (fn. 59) It acquired its second name of Blount from the family name of the lords of the manor from 1237 until the early 15th century. Later it was sometimes called Kingston Yorke or Kingston Hungerford after families holding the manor in the 15th and 16th centuries. (fn. 60) It stands near the eastern boundary of the parish between the ancient trackways called the Icknield Way and the Lower Icknield Way, and is one of the string of villages that sprang up on the spring line below the Chiltern hills. (fn. 61) It probably once had a large green, but Kingston Green now consists only of a small piece of rough grass on the west side of the village. This was the common land that was left uninclosed by the inclosure award of 1835. (fn. 62) The village is built round a square of which the LewknorChinnor and the Sydenham-Stokenchurch roads form two sides. The 'Red Lion' recorded in 1833 once stood at the junction of these two roads. (fn. 63) The village expanded considerably in the 18th and 19th centuries and in 1852 was described in Gardner's Directory as 'large and respectable'. (fn. 64) In 1958 it had three shops, a post office, three public houses—the 'Royal Oak', the 'Cherry Tree', and the 'Shoulder of Mutton'—a youth club, and a sports field.
Many of the old timber-framed houses with tiled or thatched roofs survive. There must have been at least two manor-houses in Kingston, but their site is not known. The manor-house of Narnett's fee is mentioned in 1631, when Robert Chapman, gent., was living there. (fn. 65) He sold it to Andrew Crooke, and it was for this house presumably that Andrew Crooke returned four hearths for the tax of 1665. (fn. 66) There are two records of the Blounts' medieval manorhouse. In 1300 Hugh le Blount impleaded the tenant, William, Bishop of Wells, for pulling down a chapel, worth 8 marks, a kitchen and bakehouse, each worth 100s., (fn. 67) and in 1317 he and his wife Nicola were living there when they undertook a journey to London at the expense of John de Stonor with whom they had legal business to transact. (fn. 68) It is possible that 'Moat Manor' represents one of the manor-houses. It is a timber-framed building with brick and flint filling; is L-shaped and has an overhanging upper story on the north side; the west gable-end has herring-bone brick filling and consists of three stories, whereas the rest of the house is of two stories. In the 19th century the house was divided into three cottages. Another 16th-century house is 'Old Croft' near Pleck Lane. It is a timberframed structure with brick filling, some of the bricks being arranged in herring-bone pattern, and with shingled tiles covering part of the front. The house has a central chimney-stack with a group of four brick shafts. In the High Street there are several 16th- and 17th-century cottages: some are built of brick and flint, others are timber-framed with brick filling, and many have fine box hedges which add to their attractive appearance. 'Lavengro', a twostoried house, once two cottages and used in the 1940's as a butcher's house and shop, is an interesting example. Its centre block consists of 17th-century timber-framing with filling of colour-washed brick; its 16th-century east wing is also timber-framed, but is filled with herring-bone brick and is lower in height; and its 18th-century west end is constructed of chequer brick. Until just recently the east wing had contemporary leaded casement windows and panelled shutters; it retains stone fireplaces on both floors. There is a central chimneystack with a group of square shafts.
Eighteenth- and early-19th-century prosperity is reflected in the buildings. The Cherry Tree public house, for example, which was licensed at least by 1794, (fn. 69) if not earlier, is a late-18th-century house of two stories constructed of chequer brick; it has offset eaves of denticulated brick, a slate roof, sash windows, and a six-panelled doorway. The door is in the angle formed by the main building and its wing projects to the north-west. Another 18th-century building is a chequer-brick cottage of two stories lying next to the school. It has eaves of denticulated brick, flanking chimneys, casement windows of three lights and a plain central door with a brick panel above. Town Farm, once owned by the Belsons and known as Belson Farm in 1832, (fn. 70) also dates from the 18th century.
The chief 19th-century additions to the village were the Methodist chapel (1859), the Congregational chapel (1861), the Anglican chapel (1877), and the school. (fn. 71) Outside the village John Brown built Kingston House in 1855. (fn. 72)
In the 20th century a number of council houses have also been built on the outskirts of the village. Five pairs were built before the Second World War and twenty red-brick ones were erected in 1953–5. (fn. 73)
One of Kingston's hamlets, Kingston Stert, lies 1¾ miles to the north of the village and in 1958 consisted only of a few cottages and of Kingston Villa. The name Stert is said to mean 'a tongue of land', (fn. 74) and the place, it seems, developed in the 17th century when Kingston was itself expanding. Stert was mentioned in 1645, and occurs in the register in 1696, when it was the home of Thomas Munday, a substantial yeoman farmer. (fn. 75) It had a public house, the 'Barley Mow', in 1881, (fn. 76) but this no longer exists. Kingston's other hamlet of Linley, or Kingston Lilly, (fn. 77) as it was sometimes called, has long been a 'deserted' hamlet and its precise site has not yet been discovered, although it is likely to have been on the hill near Gurdon's Farm (Stokenchurch). In the 13th century it had its own chapel, and the Prior of Wallingford Priory held 2 virgates of land there to support the serving of a chantry in the chapel three times a week. (fn. 78)
Chalford and Copcourt were two other hamlets in the parish, each of which had their separate field systems and manors. Chalford grew up on chalk ground at a spot where the Holbrook was easily fordable. It had seven houses in 1738 (fn. 79) and now consists of a few cottages and two farmhouses. The smaller farmhouse, Chalford Green Farm, dates from the 17th century and was probably Richard Cossen's house in 1665; (fn. 80) the larger Manor Farm goes back to 1613 when William Hester, the younger, married Dorothy Clarke. It was built for him by his father William Hester, gent., who undertook to erect a house of four bays and an adjoining barn of four bays. (fn. 81) The family were lessees of the manor in the 16th century. (fn. 82) Later the house appears to have been occupied by Robert Munday, who was rated on six hearths for his Chalford house in 1665. (fn. 83) It is a timber-framed building of four bays with chequer brick filling and is mainly of two stories with a row of dormer attics, but its north gable-end is of one story. The whole house stands on a rubble-stone base. At its north end there is a massive chimneystack of brick with three chimneys set diagonally. Inside, the house retains its original timber beams and until about 1926, when it was sold to the United States, there was some contemporary panelling. The house and outbuildings, including an ancient weather-boarded barn of four bays with a halfhipped roof, are surrounded on three sides by water. The mill-house that once stood close by has been taken down, but the mill-sluice and part of the millstream remain. This house was connected with the disaster of 1582 when the plague was brought by a visitor from Norfolk and seven of the villagers died in consequence. (fn. 84)
To the north of Chalford lay Copcourt, a small hamlet, consisting today of two farmhouses and a few cottages. Only one of the farmhouses, Copcourt Manor, is in Aston; the other has always been in Lewknor. (fn. 85) The name Cobicote or Copcote means in Old English 'the cottage under the hill', (fn. 86) and the present manor-house lies beneath a low hill which protects it from the prevailing south-west wind. From at least 1279 until 1620 the Cripps or Crispe family were farmers here, (fn. 87) and their house must have been on the site of the present house. They are said to be the ancestors of the late Sir Stafford Cripps. (fn. 88) The present house dates from the late 18th century when it was still a farmhouse, but it was completely modernized between 1789 and 1950. Its Elizabethan fireplace and panelling were introduced from East House, Pinner (Middlesex), by the present owner, E. B. Montesole, Esq. The moat, crossed by three 18th-century bridges, is a survival from the ancient building, but the wrought-iron gates are a recent addition of Venetian origin. (fn. 89) A medieval stone bastion is the remains of the drawbridge of the medieval house. The farm-buildings include two timber-framed barns dating from the 16th, 17th, and 18th centuries. Both have brick filling; one is tiled and has a dovecot; the other is thatched. Two dovecots, it may be noted, belonged to the manor in 1575. (fn. 90) There is also an 18th-century square granary of double boarding; it stands on straddle stones and has 1765 R.C. carved on a beam.
The only other outlying farmhouse of interest is Warren Farm: it was the 'Drum and Plough' on the old London road before the new turnpike was made. (fn. 91) It is an 18th-century house of flint with brick facings and has ancient wooden barns adjoining. The place now belongs to the Manor Charitable Trust and is used as a week-end house for boys from the east end of London, and for summer camps for 40 or more boys. Sir Edward Cadogan acts as Warden. (fn. 92)
The parish has played no prominent part in national events. It may be significant of local feeling that in 1557 its bell-ringers were put in the stocks by Sir Henry Bedingfield for ringing to welcome Princess Elizabeth on her journey from High Wycombe to Rycote. (fn. 93) In the 17th century both royalist and parliamentary troops probably made levies on the inhabitants: a royalist troop at Aston was reported to have 'fetched away a gentleman's coach' and to have taken horses from the country round about. (fn. 94) In July 1643 a great body of the king's horse were under Aston and Kingston Hills, and there was a parliamentary garrison uncomfortably near at Thame. (fn. 95)
Manors.
In the mid-11th century ASTON (fn. 96) belonged to the bishopric of Winchester, since in 1055 Archbishop Stigand, then Bishop of Winchester, made an unfulfilled promise to grant it to Abingdon Abbey (Berks.), lord of the adjoining land at Lewknor. (fn. 97) Immediately before the Conquest, however, Aston was held freely by a certain Wulfstan. Afterwards it was given to Miles Crispin, and in 1086 his land there was assessed at 20 hides. (fn. 98) Miles died in 1107 and his widow Maud, the daughter of Robert d'Oilly, and her lands were given in marriage to Brian FitzCount by Henry I. During FitzCount's tenure part of the estate, the later Chalford manor, was granted to Wallingford Priory. (fn. 99) After 1153 and when Stephen was still king, both FitzCount and his wife, who had been zealous supporters of Maud, entered religious houses, and King Stephen gave the Aston estates to Henry, Duke of Normandy, later King Henry II. (fn. 100) Aston thus became part of the honor of of Wallingford and eventually of the honor of Ewelme. (fn. 101)
In 1154 Henry granted Aston to Riulf de Sessuns, but by 1161 Riulf's lands were held at farm by Hugh de la Mare, who was returned in 1166 as holding Kingston Blount, a part of Aston parish. (fn. 102) In 1173 the king granted lands worth £24 4s. in Aston and £6 in Thenford (Northants.) to Alan FitzAmfrey (i.e. Amfrey son of Roland) in exchange for Crowmarsh. (fn. 103) Alan had died by 1187, when his lands were again in the king's hands, and the Steward of the honor of Wallingford accounted for them in that year and in 1188. (fn. 104) A nephew Alan, the son of a brother Roland, (fn. 105) succeeded. He was in possession of the Aston lands of Alan FitzAmfrey at least by 1194, (fn. 106) and in 1196 he held 1¼ fees of Wallingford honor, presumably Aston and Thenford. (fn. 107) By 1201 he had lost Thenford and Aston Rowant counted as ½-fee. (fn. 108) He must have died in 1211 or 1212, for in 1212 John Marshall had custody of his ½-fee and of his young son and heir, Roland. (fn. 109) Roland was still a minor in 1219, when he was in the custody of Henry Foliot of Fritwell, but he was in possession in 1228. (fn. 110) He died in 1247, (fn. 111) and his son Alan succeeded. Alan, described as Alan son of Roland of Aston, was granted free warren in all his demesne lands in 1257 (fn. 112) and in 1279 he held Aston manor and the hamlets of Stokenchurch and Copcourt for ½-fee, besides certain rents in Chalford and an estate at Wormsley in Stokenchurch. (fn. 113) He was still alive in 1295 and in possession of Aston with Stokenchurch and of estates in Leicestershire. (fn. 114) Alan's three sons succeeded in turn: Roland FitzAlan had died before 1300 when John FitzAlan held the ½-fee, and in 1316 Henry his brother was lord. (fn. 115) At his death in 1318 Henry FitzAlan was seised of various Devonshire estates held of Hugh de Courtenay as well as Aston manor, for which he owed suit of court at Wallingford, ward, relief and marriage, and one foot soldier to defend Wallingford castle in time of war. (fn. 116) Henry's son Roger, known as Sir Roger Rohant, married Eleanor the daughter of Richard Lovel of Wincanton (Som.), and in 1326 entailed Aston manor on his heirs male. (fn. 117) He was still alive in 1340 when he again put the manor in trust. (fn. 118) In 1360 a Lady Eleanor Rohant, presumably his widow, was administering the estate. (fn. 119) Rohant's property passed to his daughter Eleanor and her husband Thomas Champernowne. Eleanor also had died by 1369, when Thomas Champernowne, lord of Modbury (Devon), quitclaimed his rights in certain of Eleanor's estates to Richard Champernowne their son, (fn. 120) described elsewhere as great-grandson of Richard Lovel. (fn. 121) Aston Rowant was not mentioned among them, so it is possible that Richard had been in possession of it since his mother's death. The Champernownes were Devonshire gentry and served the king as sheriffs and commissioners in the 14th and 15th centuries. (fn. 122) Richard (I) had died by 1377 having settled Aston Rowant on his son Richard, a minor, the son of his second wife Katherine Daubeny. (fn. 123) Sir Richard (II) Champernowne died in 1420, leaving as his heir a son Hugh, aged two; (fn. 124) his wife Isabel was assigned dower in his Devonshire and Oxfordshire property, though certain estates were in the king's hands. (fn. 125) Richard's elder brother Alexander, a son of Richard (I) Champernowne by his first wife, unsuccessfully disputed his nephew's claim to succeed. (fn. 126) Alexander, who was married to the heiress of Bere Ferrers manor in Devon, was the son of the elder Richard Champernowne by his first wife, Alice Astley. It is difficult to see upon what grounds Alexander disputed the descent of Aston to Hugh, for, on his own showing, the elder Richard had devised Aston to the younger Richard and the heirs of his body.
Hugh Champernowne, the FitzAlan heir mentioned in 1428, served the king in Devon, like his predecessors, as commissioner in 1456 and 1458. (fn. 127) He was dead by 1462 when his wife Joan also died. (fn. 128) He was succeeded by his son William, who died in 1464, and his grandson John, born in 1458. (fn. 129) John Champernowne settled Aston Rowant on his son Philip and Philip's wife Katherine Carew and they were seised of the manor, worth £32, before his death in 1503. (fn. 130) In 1505 John's widow Margaret, daughter of Sir Philip Courtenay, and her second husband John West sued for dower of 1/6th of the manor, and lands in Aston, Chalford, Copcourt, and Stokenchurch. (fn. 131) The Champernownes were obviously more attached to their Devonshire estates than to those in Oxfordshire and in 1528 Philip Champernowne, who had been Sheriff of Devon in the preceding year, conveyed Aston with appurtenances in Stokenchurch, Chalford, Copcourt, and 'Oxlades' to Henry Courtenay, Earl of Devon and Marquess of Exeter, his mother's brother-in-law. (fn. 132) Courtenay immediately exchanged it with Sir Thomas Unton of Wadley (Berks.) for land in Surrey. (fn. 133) Sir Thomas died in 1533 and was succeeded by his son Alexander, who, dying in 1547, left the manor to his eldest son Edward. (fn. 134) The Untons were a new family, but connected by marriage with England's leading families, particularly with that of Thomas Seymour, Duke of Somerset and Lord Protector. They held or rented numerous manors in Oxfordshire and other counties. (fn. 135) When Sir Edward Unton's son Edward married Katharine Hastings, daughter of Sir George Hastings, later 4th Earl of Huntingdon, the elder Sir Edward settled Aston manor and Chequers in Stokenchurch on his son and his wife. (fn. 136) Colonel Edward Unton succeeded in 1582. (fn. 137) He lived at Wadley and in 1584 leased the manor-house of Aston Rowant to Robert Belson for 57 years at a rent of £27 9s. a year, with various lands in Aston and Stokenchurch. (fn. 138) Colonel Unton died about 1589, (fn. 139) and his brother Henry had succeeded by 1590. (fn. 140) When Henry, a friend of the Hattons and a noted diplomat, died in 1596, (fn. 141) the male line became extinct; his heirs were his widow Dorothy, daughter of Sir Thomas Wroughton of Broad Hinton (Wilts.), his sister Cecily, wife of John Wentworth, and his three nieces Elizabeth, Anne, and Mary Knightly, the daughters of his sister Ann, late wife of Valentine Knightly of Fawley (Bucks.). (fn. 142) Cecily and the daughters of Ann succeeded to Aston Rowant, (fn. 143) but Henry Unton had died heavily in debt: he owed at least £23,000 and had personal property worth only £5,000; he had already mortgaged the manor to Walter Dennys of Wotton Underwood and at his death it was said that both Stokenchurch and Aston Rowant had been assigned to Sir Henry Poole and Nicholas Payne. (fn. 144) The manor was therefore sold to John Rotherham, Esq., of Great Marlow (Bucks.). (fn. 145) He settled it in 1600 for 25 years on Sir William Willoughby, the son of his sister Margaret. (fn. 146) William, having repurchased the lease of the manorhouse held by Augustine (II) Belson, granted the manor to his son Rotherham Willoughby, but Rotherham predeceased his father in 1613, leaving a child William, who succeeded his grandfather in 1615. (fn. 147)
William Willoughby still held the manor as late as 1630, when he and his wife Elizabeth conveyed it to Henry Lee of London. (fn. 148) Lee died holding Aston and Stokenchurch in 1632 and leaving a young son Henry as heir. (fn. 149) Henry Lee, junior, had died by 1642 when his father's six sisters quitclaimed their rights in the manor to various trustees, (fn. 150) who had sold 4/6ths of the manor by 1647 to John Clerke of Lincoln's Inn and his son John. (fn. 151) Rebecca, the sister of either Henry Lee (I) or his son, had married John Clerke, senior. (fn. 152) In 1651 the Clerkes acquired another 1/6th of the manor; in 1655 the estate was settled on John Clerke, junior (d. 1683), when he married Judith Rye, and in 1662 he obtained complete possession of all portions of the manor. (fn. 153) In 1670 Aston was the marriage portion of his second wife Ann Lane, grandchild of John Lane of London; in 1707 John (III) Clerke settled the manor on his wife Mary Harrison; he died in 1719 leaving an infant son John (IV) Clerke, who later in 1739 mortgaged Aston and Stokenchurch manors for £5,000 and in 1743 for £8,400. (fn. 154) After his death at Aston House in 1764 his son John (V) Clerke sold the manor in 1769 for £16,000 to Brig. General John Caillaud. (fn. 155) John Caillaud had had a distinguished military career in India and when he retired in 1775 he settled at Aston. (fn. 156) In 1800 he mortgaged the manor for £8,000 to Isaac Bargrave of Eastry Court (Kent), and before his death in 1812 he conveyed the encumbered estate to trustees. (fn. 157) The estate was sold in 1819 to Philip Thomas Wykeham of Tythrop House and Aston Rowant, and in about 1822 to Sir Francis Desanges. (fn. 158) In 1828 Sir Henry Lambert, Bt., obtained it with the manorial rights. (fn. 159) He had married Anna Maria Foley, a descendant of John Clerke (d. 1764), lord of the manor in the 18th century. (fn. 160) After Sir Henry's death in 1858, Aston manor was sold to Thomas Taylor, of 'The Limes' in Standish-with-Langtree (Lancs.) and of Wigan, a cotton-spinner. (fn. 161) He also bought other neighbouring property. (fn. 162) Taylor lived in Aston Rowant House apparently until 1889, when the estate and manor were offered for sale by his creditors. (fn. 163) Sir William C. Plowden, K.C.S.I., a distinguished former member of the Bengal Civil Service, was lord of the manor in 1903; (fn. 164) Charles Vincent Sale (High Sheriff in 1925) by 1920, (fn. 165) and Edward Hayes Dashwood by 1935. (fn. 166) On Dashwood's death in 1950 the estate was split up and manorial rights lapsed.
In the 13th century a John Milksop (Milesop or Milckesop) held 1 virgate in Aston of a Geoffrey de Pockele, paying 4s. scutage, while Geoffrey acquitted the service to the chief lords of 'Hucham'. (fn. 167) It is not possible to trace the descent of this land in the next two centuries, but by the 16th century there was a manor of MILKSOPPES which was held by the Pigotts of Aston Rowant. (fn. 168) They apparently sold it to Sir William Willoughby, lord of Aston Rowant, who died possessed of it in 1615. (fn. 169) There is no further reference to it and the manor was probably absorbed into the main manor of Aston Rowant.
In 1352 a Thomas Crok was building a chapel on his ASTON ROWANT manor. (fn. 170) He or a son died in 1371 on the king's service in Brittany and his land in Aston Rowant was then said to consist of 12 acres held by knight service of Edward, Prince of Wales, as of the honor of Wallingford, and of another 40 acres which the chaplain of Aston Rowant held of him for life. His heir was his father's brother, Peter Crok. (fn. 171) It has not been possible to trace this small holding further, but the 17th-century Crokes (or Crookes), tenants of a messuage and large house in Aston Rowant, may have had some connexion with the medieval family. (fn. 172)
In 1086 COPCOURT must have been one of the 2-hide estates called the 'other Cote' which Miles Crispin held. It was probably the one which he held in demesne, (fn. 173) since Copcourt, it seems, was held in demesne by his successors. It formed part of the ½-fee held in Aston and followed the descent of the main manor there until at least the early 15th century. (fn. 174) It was therefore held of the honor of Wallingford. (fn. 175)
A William Crispe held a virgate in Copcourt of the lords of Aston as early as 1279 (fn. 176) and it was probably this estate which developed into the later-16thcentury Copcourt manor. A Henry Cripps, senior, and Henry Cripps, junior, probably descendants of William Crispe, are recorded at the beginning of the 14th century; (fn. 177) by 1427 Henry Cripps, the younger, had died leaving a widow Joan, who granted all his lands in Kingsey, Towersey, and Tythrop (Bucks.) to John Cottesmore and Peter Fettiplace. (fn. 178) A John Cripps, possibly Henry's son, was 'lord of divers places in Copcote' in 1441. (fn. 179) By 1527 Christopher Crispe (or Cripps), gentleman, John Cripps's grandson, held in Copcourt; (fn. 180) in 1575 Christopher's seventh son, Henry Crispe, was lord. (fn. 181) By 1612 the manor was held by Nicholas Crispe, (fn. 182) who with his wife Susanna and a Charnell Crispe, probably their heir, alienated it to Sir Richard Wenman of Thame Park in 1620. (fn. 183)
It is not known when CHALFORD became a separate manor. It was not mentioned by name in Domesday Book and was then certainly included in Aston Rowant estate. (fn. 184) Like Aston it was a member of the honor of Wallingford. When Brian FitzCount and his wife Maud d'Oilly, widow of Miles Crispin, held Aston Rowant in the early 12th century they granted the hamlet of Chalford with 4 hides of land to the Prior of Wallingford in free alms. (fn. 185) Later in the 12th century the prior acquired 10 acres of the demesne land of Aston Rowant in Chalford from Alan FitzAmfrey, (fn. 186) lord of Aston, and by 1279, when he was returned as holding in chief of the Earl of Cornwall, (fn. 187) he had also obtained the land of a William of Chalford. (fn. 188) In 1316 he was again returned as lord of Chalford, (fn. 189) and in 1324 was granted protection in a number of manors including Chalford and Stokenchurch. (fn. 190) The priory leased the manor in the later Middle Ages: in 1360 to Lady Eleanor Rohant at a rent of £60 a year (fn. 191) and in 1473 to William and Agnes Hester and their son Henry for 30 years at a yearly rent of 100s. (fn. 192) This lease was renewed later in 1497 when William Hester and his son Richard were granted the manor on a 50-year lease. (fn. 193) On the dissolution of Wallingford Priory in 1528, the manor was given to Cardinal Wolsey to endow his Oxford college. (fn. 194) On his fall Chalford must have reverted to the Crown, for in 1531 the king granted it to St. Albans Abbey. (fn. 195) When that house was dissolved in 1539, Chalford was granted to Bartholomew Pigott of Aston Rowant, (fn. 196) who had conveyed it by 1544, without royal permission, to Sir John Williams, later Lord Williams of Thame, the master of the king's jewel house. (fn. 197) Lord Williams died in possession of the manor, (fn. 198) and Chalford went to Sir Henry Norreys by right of his wife Margaret (or Margery), Lord Williams's daughter. (fn. 199) In 1561 they alienated the manor to Richard Belson of Kingston Blount and his wife Elizabeth. (fn. 200) The Belsons had been in the parish since the 15th century at least when Thomas Belson, yeoman, had held land under John Champernowne, lord of Aston Rowant. (fn. 201) Richard died in 1569 at Kingston Blount, leaving a widow and four sons. (fn. 202) His heir Bartholomew was a minor and died in 1575; his second son Augustine, also a minor, succeeded. (fn. 203) In 1586 Augustine and his wife Mary conveyed Chalford manor to Henry Unton, lord of Aston, (fn. 204) who conveyed it in 1589 to William Hester of Aston. Hester was presumably the tenant and a descendant of the William Hester who acquired a 50-year lease in 1497. (fn. 205) In 1608 Hester settled Chalford on Sarah Andrewes, the wife of his son Robert, (fn. 206) and after William Hester's death in 1618, (fn. 207) Robert and Sarah with John Hester the younger conveyed the estate to William Nelson and Bartholomew Pigott. (fn. 208) In 1634 it was conveyed to John Stone of Ridgemont (Beds.) and his son Richard. (fn. 209)
On Richard Stone's death in 1661, Chalford passed to his son John, who married Catherine Carleton, eventual heiress to Brightwell Baldwin. (fn. 210) John was succeeded by his sons Carleton (d. 1708) and John (d. 1732), both of whom died childless. A cousin Francis Lowe of Clifton (Bucks.), a grandson of Dorothy, daughter of Richard Stone and Frances Lowe of Clifton, then obtained the estates. (fn. 211) Lowe's heir, on his death in 1754, was his daughter Catherine, who married in 1774 William, son of William Lowndes of Astwood Bury (Bucks.). On this marriage Lowndes changed his name to Lowndes-Stone in accordance with his father-in-law's will. The heir of Catherine and William (d. 1733) was their son William (d. 1830), who was followed by his son William Francis (d. 1858). (fn. 212) At some unknown date the manor was incorporated in Thame Park estate with which it descended until 1917, (fn. 213) when it was sold to E. J. Browning, Esq., who in 1938 sold it to E. B. Montesole, Esq., the present owner. (fn. 214)
In Domesday Book there were two estates in Kingston, both held by Miles Crispin. (fn. 215) The overlordship of both descended with his other lands to the honor of Wallingford and its successor, the honor of Ewelme. (fn. 216) Miles's estate in Kingston, assessed at 7 hides, probably represented KINGSTON MANOR, which from the 12th to the 17th centuries was usually held for ¼-fee. (fn. 217) By 1166 it was held by Hugh de la Mare, almost certainly a descendant of William de la Mare, the Domesday Book holder of Beversbrook in Hilmarton (Wilts.). (fn. 218) Henry II conferred on Hugh, in gratitude for his services to the Empress Maud, the manor of Didcot (Berks.), to be held for ½-fee. (fn. 219) Kingston clearly represented the ¼-fee held by Hugh in 1166 of the honor of Wallingford, (fn. 220) and Didcot and Kingston the ¾–-fee of 1196, when Hugh had been succeeded by Geoffrey de la Mare. (fn. 221) Geoffrey, a knight, was presumably his son; (fn. 222) he was alive in 1212, (fn. 223) but had been succeeded by 1219 by his son Hugh. (fn. 224) Hugh, who was also a knight, held Kingston in 1235 (fn. 225) and died probably in 1237. (fn. 226)
His heiress was his daughter Ellen, the wife of Sir Andrew le Blount, son of Robert le Blount, a London alderman. Sir Andrew was a man of some substance, for he inherited the family's Essex property, (fn. 227) as well as Penkridge (Staffs.) from his uncle Henry de London, Archbishop of Dublin. (fn. 228) Emma, Hugh de la Mare's widow, and Ellen's mother, released all her rights in Kingston manor to her daughter and her husband. (fn. 229) Andrew died in 1259 (fn. 230) and in the same year his widow paid 200 marks for the custody of his lands and heirs, saving to the king the marriage of the heirs. (fn. 231) By 1261 she had married without license David de Offington, a yeoman of Bishop Wingham of London, (fn. 232) and later a supporter of Simon de Montfort. (fn. 233) She was pardoned and in 1279 her husband held Kingston by the courtesy of England (fn. 234) and continued to do so until 1297. (fn. 235) He was dead by 1300 and the manor returned to the Le Blounts.
Andrew le Blount's eldest son Robert, also a supporter of Simon de Montfort, (fn. 236) probably died early, and was succeeded by his brother Sir Hugh le Blount, who held Kingston by 1300, (fn. 237) and in 1305 was given free warren in his demesne lands, including Kingston. (fn. 238) On his death, probably in 1327, he was buried in Aston Rowant church, where his brass once was. (fn. 239) Hugh le Blount made two marriages. His eldest son by the first was another Hugh, who was dead by 1315, when his widow Margery released her dower rights in Kingston and Didcot to her father-in-law. (fn. 240) Her eldest son Hugh III (d. 1361) inherited the family lands in Essex and Staffordshire, (fn. 241) but in 1327 Hugh (I) had settled Kingston on Margery for life, and then on her younger sons Robert and Nicholas. (fn. 242) However, on his death Kingston was held by his widow Nicola, who married as her second husband John de Alveton, (fn. 243) who served as Sheriff and Escheator of Oxfordshire and bought up other land in the county. (fn. 244) In 1337 Hugh III released his rights in Kingston to the Alvetons, (fn. 245) and later Joan, the widow of Robert le Blount, released her rights. (fn. 246) By 1345 the Alvetons were in possession of the manor and settled its succession on their son John and his wife Margaret. (fn. 247) However, the younger John died before his father, and on the death of John de Alveton in 1361 the male line of the family came to an end. (fn. 248) His heiress was his daughter Margaret, the wife of Sir Thomas de Williamscote of Kiddington. (fn. 249)
In 1362 the Williamscotes sold Kingston as well as other Oxfordshire land to Sir Thomas le Blount the elder, (fn. 250) who had fought at Crecy and was knighted in 1347. He was almost certainly the son of Hugh I and Nicola, (fn. 251) and so recovered one of his family's alienated manors. He granted Kingston for life to Margaret, the widow of the younger John de Alveton, who had married as her second husband Sir William de Lucy, a Wiltshire knight, (fn. 252) but Sir Thomas was in possession of it by 1390, (fn. 253) and in 1394 he leased it for seven years at £20 to his eldest son Sir Thomas le Blount. (fn. 254) The younger Sir Thomas, who was a knight of Richard II, was executed at Oxford in 1400 for his part in the conspiracy to assassinate Henry IV at Christmas 1399, (fn. 255) and after his death the manor was returned to his father. (fn. 256) The elder Sir Thomas was dead by 1407 and Kingston was inherited by his youngest son John, the last member of the family. In that year he settled it on himself and his heirs with remainder to John Chiltern of Bridport (Dors.), who was to pay his executors £100. (fn. 257) John le Blount was evidently dead by 1421 when Chiltern, with Edmund and Elizabeth Dauntsey, sold the manor to Nicholas Wotton. (fn. 258)
Nicholas Wotton, M.P., of Ramsbury (Wilts.), was a lawyer who acquired a large landed estate in Wiltshire: he had died by 1454. (fn. 259) Kingston was inherited by his daughter and coheiress Agnes, the wife of William Yorke of East Hagbourne (Berks.). (fn. 260) William Yorke died in 1476 (fn. 261) and was succeeded by his son John, who died in 1513 or 1514 (fn. 262) and then by his grandson Thomas Yorke, upon whose death in 1542 the male line of the family came to an end. (fn. 263) One of Yorke's sisters, Eleanor, had married Robert Hungerford of Cadenham in Bremhill (Wilts.), (fn. 264) and Kingston thus came into the Hungerford family, which for a time gave the village its name. Kingston descended to the Hungerfords' son Robert (d. 1558), and then to Robert's son Walter, who died holding it in 1601. (fn. 265) Walter's son John Hungerford sold the manor in 1610 for £8,200 to Robert Chapman of Gray's Inn. (fn. 266) Chapman may have been acting on behalf of Sir William Willoughby, lord of Aston Rowant, who died in 1615 holding Kingston manor. (fn. 267) However, in 1613 he had pledged it to Nicholas Pigott of Aston Rowant as security for a loan of £700, (fn. 268) and since the manor was not redeemed it passed to the Pigotts. In 1619 John Pigott, Nicholas's son and heir, leased it for 999 years to his brother Bartholomew Pigott of London, (fn. 269) who was holding it in 1626. (fn. 270)
After this the descent of the manor cannot be traced until 1756 when Joseph Wingrave of Stokenchurch, formerly a London winecooper, sold it to Thomas Blackall of Great Haseley. (fn. 271) By this time most of the land had been sold. Blackall bought up much property in Oxfordshire, including Great Milton manor, and Kingston descended with this until 1829, (fn. 272) when Walter Long, the Blackalls' heir, sold it, with about 165 acres, for £5,950 to John Brown. (fn. 273) Brown had married Mary Elizabeth Clerke, the daughter and heiress of Richard Clerke (d. 1820) and Lady Mary Foley. The family had long been associated with the parish, for they held Stokenchurch manor and they had been lords of Aston Rowant until Richard Clerke's half-brother John (d. 1792) had sold it. (fn. 274) On John Brown's death in 1870 he was succeeded by his son, Arthur Henry Clerke Brown (d. 1889), and by his grandson Henry Clerke Brown (d. 1919). The latter's son, John Clerke-Brown, the principal landowner in Kingston, (fn. 275) was lord of the manor in 1958.
Miles Crispin's other Domesday estate in Kingston was assessed at 5 hides and was held of him by Humphrey, (fn. 276) who was also his tenant at Brinkworth (Wilts.). (fn. 277) This estate, lying partly in Kingston and partly in Linley, (fn. 278) was held for 1 fee, (fn. 279) and was one of the 3 fees held in 1166 by Gilbert de Bellewe of the honor of Wallingford. (fn. 280) It descended to Geoffrey de Bella Aqua, who died in about 1200. (fn. 281)
Geoffrey, who also held Fleet Marston (Bucks.), had two daughters, between whom his lands were divided. Miles Nernuit, or Narnett, the son of his daughter Maud, obtained half of the fee in Kingston, (fn. 282) and this ½-fee, known as NARNETT'S FEE, descended in the Narnett family with Pitstone Neyrnut manor (Bucks.) (fn. 283) In 1279 and 1300 John Narnett was holding in Kingston and Linley, (fn. 284) but no later record of the family has been found in Kingston, and in the 15th century it died out in the male line. (fn. 285) In 1428 the ½-fee in Kingston was said to be held of John Narnett's heirs. (fn. 286) Narnett's fee, also known as Kingston Narnett, formed a separate tithing at the courts of the honors of Wallingford and Ewelme until the 19th century, (fn. 287) but the descent of the property has not been traced. In the 17th century the manor-house of Narnett's fee in Kingston belonged to Christopher Petty of Tetsworth, who sold it to Andrew Crooke (d. 1631), a Kingston freeholder. (fn. 288)
Geoffrey de Bella Aqua's other daughter Alice (fn. 289) sold in 1223 her ½-fee in Kingston and Linley, together with her half of Fleet Marston (Bucks.), to Ralph de Verney. (fn. 290) The property was known as VERNEY'S FEE and descended in the Verney family of Fleet Marston probably until about 1375. (fn. 291) In 1378 it was sold to John James of Wallingford, (fn. 292) who in 1394 was granted free warren in his demesne lands including those in Kingston, (fn. 293) and who died in 1396 holding land there which was inherited by his son Robert James. (fn. 294) In 1424 the Verney estate was sold by Thomas Chaucer and other feoffees to Nicholas Wotton, (fn. 295) who had just acquired Kingston manor. Although the land thus became united to the manor lands, it remained a separate tithing, sometimes known as 'Kingston Varney' or 'Kingston Lilly', (fn. 296) at the honor courts until the 18th century. (fn. 297)
Lesser Estate.
By the 13th century Thame Abbey held land in Kingston. Towards the end of the century Thomas North of Kingston held a free hide of the abbey doing the service customary for 1/5-fee on condition that the abbey was responsible for this service to Edmund, Earl of Cornwall, the holder of Wallingford honor. (fn. 298) This was possibly the hide held in 1279 by Thomas de Kingston. (fn. 299) Another tenant of the abbey was Guy de Crowell, its falconer, to whom in 1274 it granted a house and land for £2 a year. (fn. 300) Its Kingston rents were increased in 1276 by a grant of 50s. rent from Mary de Hortimer. (fn. 301) In 1542 Thame's Kingston property, valued at £4 0s. 5d. in 1535, (fn. 302) formed part of the endowment of the new see of Oxford, (fn. 303) and in 1546 it was granted to Christ Church, the bishop's cathedral. (fn. 304)
Economic and Social History.
The area of Aston and Kingston was favourable for early settlement. The three springs rising in the two vills and flowing northwards into the Holbrook provided a good water supply; the soil in the plain consisting of both chalk and clay was highly productive and the slopes of the Chilterns provided beech woods for feeding pigs, and ample brushwood, and building timber. There are indications that the advantages of the site were appreciated in pre-Roman times, (fn. 305) but the continuous life of the villages probably dates from the early Anglo-Saxon period. Aston or the 'East Tun' (fn. 306) grew up at the source of one of the streams and was so named perhaps to distinguish it from 'West Tun' (now South Weston), lying 2 miles to the west. Kingston (Chingestone) or the 'King's Tun' developed at the source of the other two streams and beside an ancient road connecting all the vills at the foot of the Chilterns. Both villages are likely to have been originally the centres of an important royal estate, but before the time of Domesday both had been alienated. In 1065 Aston, by then in the hands of a Saxon freeman Ulstan who had a tenant Aluric with 1 virgate, was worth £15. (fn. 307) This valuable estate included the territory of Stokenchurch, later to become a separate parish, (fn. 308) and of Chalford and Copcourt, hamlets of Aston that may have been already in existence. In 1086, when the estate belonged to Miles Crispin, it was assessed at 20 hides. For so extensive a property the assessment of 20 hides is low and may be explained by beneficial hidation, by the large amount of waste land, or possibly by devastation by the northern insurgents. (fn. 309) There was said to be land for 33 ploughs, and 20 acres of meadow were recorded. The demesne was comparatively very small, having only 3 plough-teams worked by 6 serfs. As 26 villani, 3 bordars, and 15 free tenants owned another 30 plough-teams, all the available land was presumably being cultivated. (fn. 310) The number of free tenants is exceptionally large, only eight others being recorded in the county, and may perhaps be attributed both to the vill's early connexion with the Anglo-Saxon kings, and to the wooded nature of some of the terrain which was more suitable for isolated holdings than for open-field cultivation by villani.
Kingston, also in Miles Crispin's hands, had only 19 tenants compared with Aston's 50. It was divided into two manors. On the one assessed at 7 hides there were 2 ploughs in demesne worked by 6 serfs, and 4 villani and 1 bordar had 2 ploughs. Sixteen acres of meadow were also recorded. Here the land appears to have been only partly cultivated as there were 2 plough-lands in excess of plough-teams. Its value had risen from £6 to £7, whereas at Aston there had been a rise of 25 per cent. On the 5-hide estate which a certain Humphrey held of Miles Crispin the amount of plough-land is not stated, but there was 1 plough in demesne, and 7 villeins and 1 bordar had 4 ploughs; in contrast with most vills in this part of Oxfordshire the pre-Conquest value of £5 had not altered. (fn. 311)
It is not until the end of the 12th century that the parish's three hamlets first occur in the records, but their Old English names suggest that they may have been of far older origin. Chalford, the largest settlement, is first mentioned in 1185, and Copcourt in 1199. (fn. 312) Both were offshoots of Aston. The first reference to the third hamlet Linley, or Lilley, occurs in 1200, when Geoffrey de la Mare was accused of taking the pigs belonging to the men of Samson de la Pomereia. They were feeding on Samson's common at 'Hotelee' and in 'Lillee' or 'Linleia' at Kingston. The case was heard in the king's court and the lawful men of Kingston and Linley were summoned to make a reasonable division. (fn. 313) The site of this hamlet has long been lost, but there is no doubt that it lay in the woodland above Kingston Hill. The name of the place means 'clearing in the wood where flax is grown', and it was almostcertainly settled from Kingston with which it is always connected. (fn. 314) At the time of this boundary dispute Linley must already have been a sizeable community for it appears in the list of vills taxed for the carucage of 1220. Kingston and Linley together paid 22s., being the tax on 11 carucates. Aston and its hamlets were taxed on 63 carucates and a 'part'. (fn. 315) This great extent is accounted for by the inclusion of part of Stokenchurch.
By the time of the survey of 1279 the land of Aston had become completely manorialized. It was part of a large manor which included the hamlets of Stokenchurch, Copcourt, and Chalford. There were 21 unfree and 19 free tenants recorded in Aston and its two hamlets of Copcourt and Chalford, which were divided between two lords. (fn. 316) Aston was the larger settlement. The lord, Alan fitz Rohant, had 12 virgates (3 hides) in demesne, 30 acres of meadow and pasture, and 52 acres of woodland. One virgater and 6 half-virgaters held 4 virgates between them for a rent of 20s. a virgate or works, and there were 4 cottars with a cottage and 2 or 3 acres each, paying varying rents and light hay-making dues. Ten free tenants together held 10 virgates, six for varying rents only and three others for about 6s. a virgate and light services. Nicholas the smith, listed as a free virgater and as a cottager, paid a low rent of 2s. 7d. for his virgate, but had to plough and reap 1 acre, make shares for 2 of the lord's ploughs with the lord's iron and steel, and shoe 1 cart horse with his own iron. Villein services differed from those exacted on the flat clay lands of Ploughley hundred: in the hill parishes of the Chilterns there was greater emphasis on carrying and harvesting dues. The villein virgater carried wood and corn until dinner-time. He ploughed 1 acre for winter-sowing and another of the fallow, and reaped 1 acre. The place of woods in the village economy is shown by the virgater's dues of ½d. pannage for a pig under 1 year and 1d. for other pigs. Other dues were 1s. 1d. aid on St. Andrew's Day (30 Nov.), a toll when he brewed ale for sale, and a cock and three hens for church scot. Two cottagers owed light hay-making and harvest service and three free tenants ploughed like the unfree tenant, but reaped 2 acres and carted 9 loads of hay. (fn. 317)
There were 13 virgates at Copcourt, where the average rent was about 5s. a virgate. The hamlet was entirely in the hands of prosperous tenants, undoubtedly freemen who had accumulated holdings. One, John son of Adam, was perhaps the lord of Wormsley. There was only 1 single-virgate holding; three tenants held 2 or 3 virgates each; the fifth held 5 virgates. Two tenants paid light labour dues as at Aston, but the rest owed only rent, two of them to Elias de Wheatfield, with forinsec dues to the lord of Aston. (fn. 318) Chalford was a larger hamlet with at least 16 virgates and another 10 acres, once William of Chalford's, which had been alienated from Aston demesne. Wallingford Priory held the whole hamlet, but no mention is made of a demesne farm, although villein works were recorded. Four virgaters, 2 halfvirgaters, and 3 cottagers paid 4s. rent and 1s. 8d. aid at Christmas, in proportion to their holding, and hoed with 1 man for 3 days, reaped with 2 men for 2 days at their own expense, and mowed for 3 days with 1 man at the lord's. Another 2 virgaters owed only rent as did the 5 free tenants who held a virgate or less each for varying sums. One held the watermill and a ½–virgate for 7s. and forinsec service to the lord of Aston. (fn. 319)
In Kingston and Linley in 1279 there was a total of 30 recorded villeins and 5 free tenants, some of whom were certainly non-resident and others who were tenants in Aston also. Between them they had about 30 virgates. There was one large estate in Kingston, Hugh le Blount's, with a demesne of 24 virgates (6 hides). Customary tenants comprised 5 virgaters and 7 half-virgaters, who paid high rents of 20s. a virgate. There were 3 cottars. The survey does not mention any labour dues, but it is hard to believe that none were exacted for so large a demesne. One free tenant held 1 hide for 12s. rent, 10s. scutage, and suit at Wallingford honor court; another held 2 virgates for 25s. and suit of court. Linley was divided between two estates. John de Narnet had 2 virgates in demesne; his villein tenants, 3 virgaters and 3 half-virgaters, paid rent at the rate of 16s. 4d. a virgate; there were 2 cottars. No services were recorded again. The free tenants, one of them the Prior of Wallingford, held 3½ virgates between them. These three also held on Ralf de Verney's estate in Linley and Ralf's other 2 free tenants held land also at Kingston. There were 4 virgates, 2 acres in their hands. They paid rent, except for the prior, who for his 2 virgates had to sing mass 3 times a week in Linley chapel and pay forinsec service. Ralf de Verney had 2 virgates in demesne. His one villein virgater owed 4s. rent and 6s. aid at Christmas and also performed labour dues. The light his services throw on his status is of interest: he ploughed and sowed an acre if he possessed a whole plough-team; he hoed and harrowed one day each with 1 man and reaped 3 days with 2 men at his own expenses; and carried the lord's corn with 1 man and a horse and cart. For this last service he received his meal and a sheaf of corn in the evening from the last cart. He also carried to Fleet Marston (Bucks.), when necessary. Every Christmas he carted ½-qr. of corn to the mill, and he paid 2 white loaves, 3 gallons of ale, a cock and 2 hens at the same season. Pannage was exacted for all his pigs save the sow. He had also to make the lord's essoins (i.e. excuses) at Wallingford honor court, when so ordered. Three ½-virgaters paid smaller rents and with the virgates had to mow the lord's meadow. Each man was given a loaf and they shared a sheep worth 1s., and flour and salt. Three cottars paid rents (1s. and 3s.) and did light hay-making and reaping services. (fn. 320)
Meadows and pastures along the banks of the streams and on the hill slopes seem to have been plentiful: in the mid-13th century the lord of Aston agreed to let the tenants of the Abbot of Abingdon in Studdridge (Lewknor) and their successors have common rights in part of Aston pasture. (fn. 321) Meadowland was less highly valued than in many Oxfordshire parishes: in 1295 on Aston manor it was worth 20d. an acre, and in an extent of 1318 it was valued at 18d. an acre. (fn. 322) At Aston as in Kingston some at least of the meadow was distributed by lot: there is mention in 1288 of rods of meadow being so assigned in Linley Mead in Kingston, and the name Long Dole for a Linley meadow is further evidence of the custom. (fn. 323)
There is no early record of the arrangement of the arable fields, but later developments make it certain that Kingston and Aston had separate field systems, and that Copcourt and Chalford may also have each had their own fields or a joint field system. (fn. 324) An East and West Field at Kingston was recorded in 1298, (fn. 325) but this is difficult to reconcile with the postmedieval divisions (fn. 326) and there may possibly have been a third field, both in Kingston and in Aston. (fn. 327)
In the 14th century the tax lists supply some evidence for the development of the hamlets. At first sight it is remarkable that in 1306 Kingston Blount had more contributors than Aston had and that its total contribution was higher. This apparent change in the relative importance of the vills seems to have been owing to the inclusion of Linley in Kingston, whereas Aston's hamlets were of sufficient importance to be listed separately. (fn. 328) In 1306 there were 21 contributors at Kingston and 16 at Aston; in 1327, 14 compared with 11 at Aston, 9 at Chalford, and 4 at Copcourt. (fn. 329) Wealth was unevenly distributed: apart from the knightly class there was a prosperous group of small tenants that had far more land than the average peasant. This class was more numerous at Kingston, Chalford, and Copcourt than at Aston, which as the hundred rolls of 1279 also show seems to have been organized more in accordance with the classic manorial pattern than were the other vills. There were 9, for example, who paid 2s. to 8s. at Kingston, while at Aston only 4 paid as much as 2s. (fn. 330) The relative wealth of the two townships is emphasized in later tax lists after the reassessment of 1334, when Kingston's total tax (£2 16s. 7d.) was not much more than half that of Aston together with its two hamlets (£7 14s. 4d., 18s. 11d., and £1 2s. 9d.). (fn. 331)
The best evidence for the distribution of population at this time is the poll tax of 1377, although one cannot put too much reliance on it as there may have been more evasion at one place than another and, moreover, it is not certain that the return is complete. It gives 115 persons over 14 at Aston, 26 at Chalford, and 72 at Kingston. (fn. 332) The inhabitants of Copcourt were presumably included in the returns for Chalford and those of Linley in those of Kingston.
In the 15th and 16th centuries there is a little evidence for a definite movement towards inclosure and for the increasing wealth of a few families of yeomen farmers and of gentry. It is likely that Copcourt and part of Chalford's fields were inclosed at this period. It may be that the suit of 1488 over the breaking into a close at Copcourt is relevant: it was alleged that the hay was mowed and crops worth £20 carried off. (fn. 333) This close may have been no more than one of the usual small hay-closes commonly found round open-field villages, but inclosure, at all events, was probably not long delayed. Copcourt was described at the award of 1835 as 'an ancient inclosed farm', (fn. 334) and its position at the extremity of the parish and its proximity to that part of Chalford liberty which was also an ancient inclosure point to early inclosure. Among the few records of Chalford's early agricultural history is one that relates to another forcible entry into an inclosure. The Prior of Wallingford complained in 1333 that Sir Roger Rohant, the lord of Aston, and others had broken into his close there, burned his houses, taken away his cattle worth £50, and impounded his plough-cattle until he paid a fine of £5. (fn. 335) At this time the priory had a bailiff at Chalford, but by 1360 it was leasing the manor to the Rohants. (fn. 336) The probability, however, is that extensive inclosures were not made until the 16th century. The initiative may have come from the Hester family. A Robert Hester appears on the subsidy list of 1523 as a Chalford landowner, (fn. 337) and as Robert Hester, his son presumably, was tenant by 1577 of the neighbouring farm of Sydenham Grange, which had long been an inclosed sheep farm, (fn. 338) it is likely that his Chalford land was contiguous and that he laid it down to pasture.
Land at the southern end of the parish was also being inclosed. Some of the closes at Linley and on the slopes of the Chilterns that are first recorded at this time may date from a much earlier period, (fn. 339) but there are indications that the process of clearance of the woodland was at least still going on. In 1604 Pigott's closes on Aston Hill are mentioned; they consisted of 60 acres of woody close, arable, and pasture, lying between Red Lane and the lord's waste. (fn. 340) In 1616 Walter's closes adjoining woodland on the hill are recorded, and later evidence reveals that these were arable closes; an extent of 1618 mentions eleven closes belonging to Kingston manor, and in 1631 there is reference to two other closes, Lillies by name, on Kingston Hill. (fn. 341) In a list of ten closes at Aston that had once belonged to Nicholas Pigott (fl. 1617) the names Bank Croft Furlong and Verne Furlong show that parts of the open fields had been inclosed, as well as the waste and the woodland. (fn. 342) Other large closes such as 'Inland', the 'Moor', and the 'Park', recorded in 1584, (fn. 343) may have been recent inclosures, but their position and their names make it perhaps more probable that they were demesne land inclosed in the Middle Ages. (fn. 344)
It is not without significance that many of these closes were in the hands of the most prosperous yeoman farmers and of the gentry such as the Pigotts and Belsons. (fn. 345) In 1523–4 out of a total tax of £7 2s. 7d. at Aston, £6 3s. 6d. was paid by Richard Pigott and Eleanor and Robert Belson; at Kingston two Belsons and Margaret Cornish paid £2 9s. out of a total of £2 17s. 4d. (fn. 346) Some 50 years later a Robert Belson was still the principal landowner and a Pigott along with John Whytton and Henry Cripps, both gentlemen, were among the most substantial contributors. (fn. 347) The descendants of the last soon moved to the Cotswolds where they were well-known woolmen, (fn. 348) and it is worthy of note that the inquest in 1616 on Robert Belson's descendant Augustine (II) Belson shows that he had been active in inclosing land from the waste both in Aston and in Stokenchurch. (fn. 349) Some of these inclosures from the waste may have been seven large closes above Warren Wood on Aston Hill shown in a map of 1768. (fn. 350)
Evidence for 17th- and 18th-century farming practice comes mainly from the map of Aston manor of 1768, and from leases. From these a pretty clear picture of the arrangement of the fields for at least Aston, Chalford, and Copcourt can be obtained. Tenants of Aston manor held open-field land in both Aston and in Chalford liberty, and the openfield land of Chalford was clearly by this time regarded as a part of Aston Lower Field. When furlongs are enumerated in the leases they are arranged under the two main headings of Lower Field (i.e. the land to the north of Aston village) and Upper or South Field (sometimes also called Malthouse Field). In leases, sometimes but not always, the furlongs are divided in these fields into smaller fields: Upper Field consisted of Malthouse, Oxford, Warren, and Hester's Fields as a rule, (fn. 351) although one lease of 1760 lists the furlongs in South Field according to their position above or below the Icknield Way, and those in East Field (a division of South Field), also according to their position either near or above the Icknield Way. (fn. 352) In Lower Field the small fields were West Field, Lower Middle Field, Sandy Field, Little Field or Sparrow Bush Field, and Mead Field. (fn. 353) Two of these fields lie north of the boundary between Chalford liberty and Aston; two lie to the south, and it is likely that Lower Middle Field, which is mainly in Chalford but which stretches across the boundary of the liberty, may once have had a corresponding Upper Middle Field in Aston. (fn. 354) The map shows that there were a number of large inclosures, both arable and pasture, and leases give their acreage. Arable closes called Inlands and Little London, for instance, amounted in 1698 to 66 acres, pasture in Inlands to 12 acres, and a lease of 1746 mentions a close, the lower part of the Warren of 61 acres. (fn. 355) Most of the arable, however, was still in the open fields and the strips still showed comparatively little sign of consolidation. One feature was the widely spread balks of common pasture which were scattered about within the furlongs. An extent of 1618 gives details for Combe furlong at that date: it mentions 9 acres of pasture and 5 of arable there, (fn. 356) and a picture of the distribution of pasture balks in Aston field can be obtained from an estate map and schedule of 1828. (fn. 357)
Kingston's arable was likewise in open-field furlongs, although no accurate record of their distribution has been recorded. There were two main fields in the 17th century, Kingston Upper and Lower Fields, which were divided into smaller fields: (fn. 358) in 1829 into Lower, Middle, and North fields in Lower Field; and North, Middle, and South fields in Upper Field. (fn. 359) Balks of common pasture in Kingston fields were also mentioned. (fn. 360) In 1647 the owner of 5 acres was entitled to common for 8 sheep in Kingston Blount fields and common pastures, and a cottager had pasture for 1 cow and 10 sheep in cowlease and other common fields. (fn. 361) There were inclosures by the 17th century in the Moors between Kingston and Aston, where the two Lower Moors and Upper Moorlands were recorded. In 1649 a plot in Kingston Middle Field was said to be 'late converted into an orchard'. (fn. 362) Other documents also indicate the continued importance of meadow and pasture in the economy. About 70 acres and more of titheable meadow in the parish were specified in a glebe terrier of 1685, (fn. 363) and leases forbade the conversion of grass to tillage or else charged £5 additional rent for every acre ploughed up. (fn. 364) It may be noted that it was the practice at least sometimes to take a second hay crop: there is a record of the 'first crop' of Copcourt mead being taken in 1618. (fn. 365)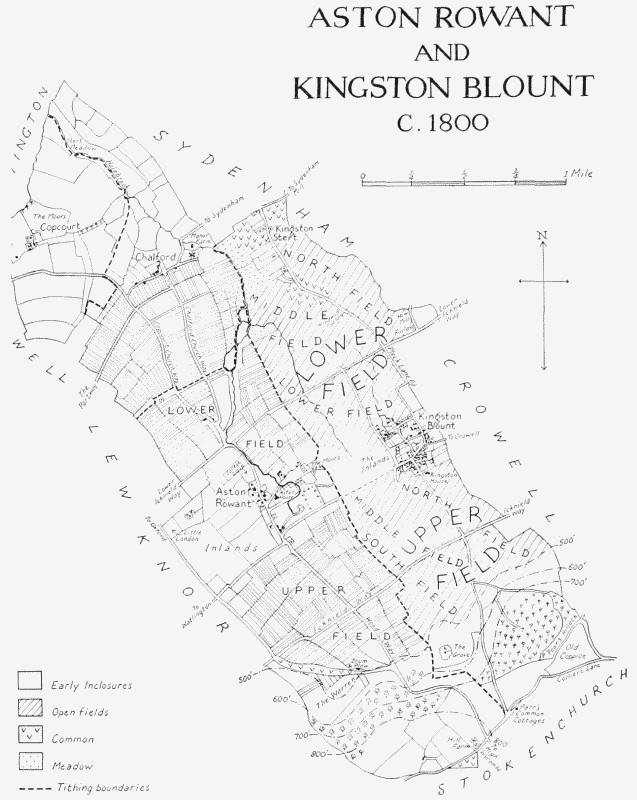 Among the crops grown in the 16th and 17th centuries, besides the main crops of wheat, barley, and oats, were flax, hemp, hops, beans, vetch, and peas. (fn. 366) A lease of the farm of Aston Rowant manor in 1610 permitted the tenant to sow peas, beans, and barley in the spring on any of the premises except the fallow. (fn. 367) Wheat as in the 18th century was doubtless the main crop. Arthur Young, writing at the turn of the 18th century, commented that Aston fields produced above 5 quarters of wheat per acre, whereas the south Oxfordshire average was 3 quarters. (fn. 368) He makes no mention of any special rotation and it may therefore be supposed that the common practice of the neighbourhood was followed. (fn. 369)
The district was not without enterprising farmers. Young noted that rag manure was used in Crowell and its use in Aston also is proved by other evidence. (fn. 370) In a lease of 1717 a yeoman tenant was to have 1 ton of rags every year from Hambleden Wharf, as well as cartloads of dung from Aston Rowant yards for the first two years, (fn. 371) and the fortunes of the Hill family were established by the carriage of local hay and straw to London livery stables. (fn. 372) Mr. Good of Kingston Stert, furthermore, was amongst the first farmers in the county to own a threshing machine. (fn. 373)
The trend towards larger farms and the accumulation of capital in fewer hands which has been noted in the 16th century continued to make steady progress. By 1700 the 1,010 strips in Aston field (mostly ½-acre to 5-acre strips) were farmed by 17 men of whom 5 had large holdings of 114 to 203 strips and 4 had 58 to 91 strips. (fn. 374) Robert Hester farmed and owned 99 strips, but nearly all the rest of the land was owned by 4 landowners. Of these John Clerke, lord of the manor, held nearly a third of the strips. (fn. 375) In 1769 the Aston Rowant estate included 4 farms, 2 in the village with 175 acres and 287 acres, one on the Hill of 77 acres, called Warren farm (later Upper Hill farm), the other lower down (known later as the Drum and Plough, Lower Hill, or Warren farm) of 112 acres. The 287-acre farm in the village incorporated a farm of 71 acres. Rents ranged from £47 to £150. (fn. 376) General Caillaud bought out some smallholdings in the 1770's and 1780's and still further increased his estate. (fn. 377) The lists of ratepayers found in the churchwardens' accounts give the same picture of capital accumulation. (fn. 378) A rate levied in 1797 was paid in spite of rising population by 45 ratepayers, instead of the 88 who paid a similar rate in 1731. (fn. 379) Even in Kingston where smallholders predominated two farmers were respectively paying rents of £98 and £132, compared with the majority of ratepayers who paid £10 and under. (fn. 380) Land-tax returns show that the process was continued into the 19th century and at an accelerated pace. (fn. 381)
At Kingston the number of small property owners, assessed at under £2, declined in the period 1786–1832 from 48 to twelve. Property owners assessed at over £2 also declined from 12 in 1786 to 4 in 1832. The number of tenants remained fairly steady over the same period, i.e. about 7 cottagers, 2 to 3 smallholders, and 5 or 6 tenant farmers. The small owner, in fact, whether he occupied or leased his land was being bought out by the large landowner, in this case the Browns, and both tenant and owneroccupied farms were being increased in size. (fn. 382) There was a similar trend at Aston after 1800, when there was a marked decline in the number of landowners assessed at under £2, i.e. from 14 in 1786 to 6 in 1832. Tenants also fluctuated between 18 in 1786 and 10 in 1832. The large landowner, however, was always a constant figure in this part of the parish. In 1786 all but £16 of Aston's total assessment of £159 was provided by 7 landowners of whom General Caillaud, lord of Aston, was by far the largest, paying well over one-third of the total. In 1832, his successor Sir John Lambert paid over a half. (fn. 383)
It was evidently the number of small landowners at Kingston that delayed inclosure of the common fields of Aston and Kingston. It finally came in 1832–5, (fn. 384) after the holdings ranging from ¼-acre to 58 acres of some 23 farmers had been bought up. Some 72 acres were sold before 1816, but most of the selling (260 a.) took place in 1824–6 and immediately before the award, mainly to Sir John Lambert, who bought out 7 smallholders, and John Brown, who bought out about 10, as well as to Samuel Turner and Henry Alexander Brown. (fn. 385) At inclosure Sir John Lambert, lord of Aston Rowant, received over 480 acres mainly in Aston, including 92 acres for rectorial tithe and 8 acres for manorial rights, equal to onethird of the commons and waste. John Brown, lord of Kingston Blount, was allotted about 300 acres for his own and his wife's property, which included only 1 a. 2 r. 30 p. for a third of the waste of Kingston Blount; his brother Henry Alexander Brown, who had bought 'The Grove' in 1824 (i.e. Walter's closes), (fn. 386) received about 145 acres. Samuel Turner, who was in the act of buying up Chinnor, received 106 acres for the rectorial tithes of Kingston Blount and 75 acres for his other property. Another allottee, Thomas Parker, received 130 acres. (fn. 387) There were nine small allotments of 25 acres to ¼-acre, of which two went to Thomas Filbee and Henry Hill, who had also bought up small properties before inclosure. Other allottees, like Watkins and Rixon, were survivors of the many yeoman families that had at one time flourished in the parish. (fn. 388) The total acreage allotted was 1,151 acres in the open fields and 365 acres of common and waste, including the common woodland. (fn. 389)
As in Chinnor woods there were customary rights in Kingston woods known as hillworks ('hillwerkes'). (fn. 390) Their history, as at Chinnor, must go back to the Middle Ages, but the first notice of the custom here occurs in the 16th century, when in 1579 hillwork was synonymous with 'hegging wood'. (fn. 391) In 1610 six cartloads of estovers in Kingston were to be taken in the 'hillworks'; (fn. 392) about the same date 5 acres of land carried with it the right to half a load of 'hillworks' every two years; (fn. 393) and there are frequent other 17thand 18th-century records of leases of 'hillworks'. (fn. 394) The right must have been once enjoyed by all tenants, but by the 18th century it was appropriated to the poor, as at Chinnor. The Act of 1832 preserved this customary right to take brushwood or fuel from the 'poor's hillock' ('hillock' being a corruption of hillwork). (fn. 395) In 1835 the award allotted 12 a. 3 r. 24 p. to the lord of the manor so that they might continue to be used for the purpose. (fn. 396) In 1864 the Poor Common or 'hillock' was bought by John Brown, the squire, from the trustees of the poor of Kingston Blount and the right to cut wood was extinguished in return for 4 acres of land, thereafter used for allotment gardens. (fn. 397)
Copcourt had long been entirely inclosed and consisted in the 1830s of two large dairy farms of which one was in Aston and the other in Lewknor parish. (fn. 398) In 1840 there were 99 acres of arable and 178 of meadow in the Aston part of Copcourt. (fn. 399) Chalford also had long been partly inclosed and the process was completed in 1858. (fn. 400) Before complete inclosure it was divided into two farms, Manor farm (258 a.) and Chalford Green farm (191 a.), with 274 acres of inclosed meadow between them and 186 acres of arable, mostly in the open fields. (fn. 401) By the award in 1858 all but about 2 acres of the 254 allotted went to the landlord, William Lowndes Stone. (fn. 402)
In the later 19th century most of the parish formed part of two or three landed estates, belonging to Taylor, Wykeham-Musgrave, and Clerke Brown. Few small farmers survived into the 1850s. Lambert's Aston estate comprised 954 acres with a yearly value of £1,766. There were four farms on it, but they were let as two to tenant farmers, one with 560 acres in Lower Field farm (352 a.) and Woodway farm (208 a.); the other had 184 acres in Upper and Lower Hill farms (c. 80 a. and 103 a.). (fn. 403) In 1860 Thomas Taylor paid £33,549 for these farms together with Aston village (fn. 404) and settled down at Aston House. By 1871 he had nearly 600 acres of estate in hand, including Home (i.e. Lower Field) farm. (fn. 405) At the time of his death in 1889 his other property was let as three farms. (fn. 406) At Kingston the greater part of the land had been held by the Browns since 1824. (fn. 407) In 1851 there had been six farms: two were of under 100 acres, but Henry Alexander Brown's farm at 'The Grove' was 255 acres. Copcourt and Chalford at this date were still divided into three large farms of over 200 acres. (fn. 408)
In the 20th century the break-up of two of the larger estates brought some changes in ownership, but few in the size of farms. By 1912 Sir William Plowden, Taylor's successor at Aston Rowant, held only about half the village, including Home farm. (fn. 409) The Wykeham-Musgrave farms in Copcourt and Chalford came under separate ownership after 1917; by 1939 there were only two farms, both over 150 acres, in this part of the parish. (fn. 410) The Clerke Browns, however, still remained the predominant landowners in Kingston, where most of the land was farmed from 'The Grove' and Lower farms, both over 200 acres. (fn. 411) There were still two smallholders with about 50 acres each in 1939. (fn. 412)
In 1859 the Aston Rowant estate was described as 'one of the richest corn-growing vales in Oxfordshire'; only about 70 to 80 acres of the four farms were laid down to grass at this time. (fn. 413) Considerably more—over 200 acres—was described as pasture in 1889, mainly because of the enlarging of Aston Rowant Park by Thomas Taylor. (fn. 414) Nothing is known about the proportion of pasture at Kingston Blount, but there is no reason to suppose that the land was not mainly arable as at Aston.
In 1914 the parish had a high percentage of land under wheat. (fn. 415) The grass on the chalk was said to be poor, (fn. 416) but the water-meadows in Aston were good. (fn. 417) Chalford and Copcourt farms continued to be largely pasture, and were described in 1917 as freehold dairy-farms while Manor farm was said to be 'wellwatered pasture and sound arable'. (fn. 418) As in Chinnor, watercress has proved a marketable produce in the 20th century and its cultivation was encouraged by the advent of the railway. (fn. 419) One of the most valuable assets of the parish has continued to be the woods. In 1769 86 acres of Aston Warren woods were valued at £1,381, including 36 acres worth £25 an acre; the timber 'at the Town' (i.e. in Aston House grounds) was valued at £651. An old orchard was used as a nursery for raising trees. (fn. 420) The woodland all became privately owned after inclosure and more attention was paid to planting. (fn. 421) In 1852 the parish was said to include 320 acres of unrated woodland; (fn. 422) in 1859 the Aston estate had 130 acres; in 1871 225 acres of wood, including the Poor's Hillock, were unrated and by 1925 there were 242 acres of woodland on Aston and Kingston hills. (fn. 423)
The introduction of mechanized farming has considerably reduced the number of persons employed in agriculture in the parish, and today (1958) many of the inhabitants are retired persons or are engaged in work outside their villages. The evidence for the occupations of the villagers in the past, apart from work in the fields, is fragmentary. There is mention of a 13th-century goldsmith, and later of a mason, a tanner, a cordwainer, and a tailor. (fn. 424) The woodland must have provided a variety of tasks and its influence on the economy is reflected in the names of many of the witnesses to charters. There was, for example, Geoffrey the Woodward or Forester (possibly two different men) of Aston, a substantial man as his contribution to the subsidy of 1306 proves, and John the Woodward. (fn. 425) Millers there must have been from early times at Chalford water-mill and at Kingston. Both were presented in 1341 for exacting excessive toll; in 1542 there were three Kingston millers and one was also a brewer. (fn. 426) Apart from a tailor recorded in 1629, and in 1682 a maltster, a vagrant woman who was a bottomer of chairs, and a shoemaker who was also a 'practicioner in physics', (fn. 427) there is no further information about tradesmen or craftsmen until the 18th century. It then appears that Kingston Blount, which was on the highway and more centrally situated than Aston was, and where there was much freehold property, was favoured by the non-agriculturalists. The following trades commonly occur: lacemaker, collarmaker, carpenter, and shoemaker. A chemist is recorded in 1713, (fn. 428) a maltster, two tailors, father and son, a wheelwright, and brickmakers and a brick-kiln between 1729 and 1739. (fn. 429) Stephen Day, son of a vicar of Aston, was a distiller using the spring at Kingston Stert, and his son Stephen was a calenderer and clothmaker. (fn. 430) Chalk pits are frequently mentioned, (fn. 431) but some at least of the chalk was dug for use in Stokenchurch brickkiln belonging to the Clerkes. (fn. 432)
A full picture is provided by the census of 1851. It fully establishes Kingston Blount's country-town character: not far short of half those at work were employed in various trades, 48 as against 71 farm labourers. The list of tradesmen includes 5 smiths, 6 wheelwrights and carpenters, 6 bricklayers and builders, 8 grocers, butchers, and bakers, 4 shoemakers and tailors, 6 seamstresses and laundresses, 29 lacemakers, 3 chair-turners, a wine merchant, a corndealer, and a brewer-maltster. Nearby Kingston Stert also had a beer retailer. There were four Kingston carriers, one of whom went to London three times a week. Aston, on the other hand, had only four persons occupied in crafts, its innkeeper, schoolmaster, and schoolmistress, and a commercial clerk. There were 25 lacemakers, but these were mostly married women or young girls. (fn. 433)
By this time the population of the parish had reached its peak and the differences in development between the villages, which was already marked in the 16th century, had become still more apparent. The first reliable evidence for the number of inhabitants comes from the Compton Census of 1676: it records 290 persons of sixteen and over. (fn. 434) The return made by the vicar in 1738 gives precise details of the number of dwellings and puts beyond dispute the rapid growth of Kingston compared with Aston. There were 23 houses at Aston, 9 at Chalford, 4 at Copcourt, 49 at Kingston and 7 at Kingston Stert, making 92 in all. (fn. 435) The record is particularly interesting when compared with the returns for the hearth tax of 1662: then 24 householders were listed at Aston, 19 at Kingston, and 6 at Chalford. (fn. 436) The explanation may be that the tradesmen at Kingston were more skilful at evasion or more probably there were a greater number of persons who had houses worth less than 20s. a year, or were classed as too poor to contribute.
The prolonged war and the social changes at the turn of the 18th century led to a sharp increase in population from 787 in 1811 to 946 in 1831. After a slight decline numbers touched 900 again in 1851. (fn. 437) By this date Copcourt was a 'deserted' hamlet with 1 agricultural labourer and 1 servant at work; at Chalford there were 13 labourers and 4 servants; on Aston Hill a gamekeeper, a shepherd, and 3 labourers; at Aston itself 44 labourers including children and 32 indoor and outdoor servants; and at Kingston 71 labourers and 48 tradesmen and craftsmen. (fn. 438) After 1851 population fell slowly until the agricultural depression of the 1870's produced an abrupt drop from 840 in 1871 to 640 in 1881. (fn. 439) In the 20th century the population has continued to decline to 532 in 1911 and 496 in 1951. (fn. 440)
Parish Government.
Apart from the record of a few 14th- and 15th-century courts for view of frankpledge, held by the steward of Wallingford honor, no medieval records of manorial courts have survived. (fn. 441) Records of Aston Rowant court baron survice for some years in the late 16th century. (fn. 442) The September court of 1583 appointed 'le hogherd' to keep pigs all the year round in Aston commons, regulated the times for pasturing sheep, and fixed shares for paying the hayward at 8d. a virgate. (fn. 443) Court barons were also held in the 17th and 18th centuries, but only notes of Stokenchurch business have survived. (fn. 444) In 1780 General Caillaud's court baron met at the 'Drum and Plough' and made presentments of the inclosing of part of the manor's waste for gardens, and arranged to perambulate the manor. (fn. 445) In 1830 the court of William Francis Stone, Esq., was held at Chalford manor-house for ascertaining the manor boundaries. (fn. 446) Courts of Ewelme honor (the successor of Wallingford) were held into the 19th century and courts for the Stokenchurch division often met in Aston Rowant. (fn. 447)
Local government, however, was mainly conducted through the vestry. There were two churchwardens: from 1739 to 1756 the churchwarden nominated by the vicar rendered the Aston accounts, and the churchwarden elected by the parish, Kingston's accounts. A change in the method of election appears to have taken place at the end of this period, for after a gap of four years in the accounts one churchwarden was chosen for each village. (fn. 448) From 1733 rates were collected every two years. The rate was usually 1d.–3d. in the pound, but rose to 4d. or 6d. when money was needed for repairs to the church or its property (e.g. 1733–4, 1739–40, 1779–80, and 1797–8). The sums raised at Aston were nearly double those raised at Kingston, but expenses were also heavier at Aston and on several occasions could only be met by a contribution from the balance in hand at Kingston. (fn. 449) After 1815 a simplification in accounting was introduced: a disbursement account was kept and the rates collected from the three liberties of Aston, Kingston, and Chalford were amalgamated, and accounted for by both churchwardens. The rates were supplemented with the income received from the church lands which amounted to £5 a year in the 1820's compared with £2 8s. in 1733. (fn. 450) Five or six parishioners usually attended the vestry meeting. The vicar was not always present. In 1813 there was an unusually big attendance of twelve to discuss the opening of a school. (fn. 451)
An overseer for each of the three liberties was elected at the Easter vestry meeting, and their election was later confirmed by two J.P.'s, who verified the accounts. A rota of 7 or 8 of the principal farmers served as overseers at Aston and Kingston, and members of Chalford's two farming families, the Whites and the Stephens, served alternately. A uniform rate was levied for the whole parish, but each overseer kept separate accounts. (fn. 452)
The strain of prolonged war and the rapid increase of population in the second half of the 18th century created problems of an unprecedented nature at the beginning of the 19th century. When the hearth tax was levied in 1665 four of the householders of Aston and one each at Kingston and Chalford were discharged on account of poverty, but these figures give no information about the very poor who were exempted from the tax. (fn. 453) It is known that by 1770 cottages, then belonging to the overseers, had been built on the waste to house the poor: four families were living in them, (fn. 454) and by 1776 the official figure for expenditure on the poor was £90 at Aston, £60 at Chalford, and £50 at Kingston, where the inhabitants were less dependent on agriculture. (fn. 455) The rate rose from 4s. in the pound in 1798 to 11s. in 1830, but with a sharp temporary rise between 1799 and 1802. There was an exceptionally high rate of 12s. 6d. in 1800, when a total sum of £1,795 was spent: of this Aston paid about £80 more than Kingston, despite its far smaller population. (fn. 456) The size of the problem in this parish is further demonstrated by the fact that in 1803 when there are official figures of poor relief for the whole county the rate at Aston was nearly a third more than the county average. In that year 84 men and women were receiving parish relief and 140 children were being maintained. (fn. 457) The disbursements made by the overseers were of the usual kind. Money was paid out for nursing the sick and for the apothecary's bills, particularly when there were cases of smallpox; for children's clothes; for rent, coal, and wood for the indigent; for funerals and occasionally for transport. During 1800, 'the year of great scarcity', £45 was spent on weekly payments to widows and others who were in need of regular support. Two-thirds of the expenditure, however, was as a general rule on weekly payments to widows and others for this purpose. Lack of employment for the able-bodied was the chief trouble: it was partly met by the roundsmen system. In 1797 £18 was paid to roundsmen in Kingston, of whom some were sent to work in Chalford, and the Aston overseers subsidized twelve employers of roundsmen. In 1813 the overseers provided half the pay for the 'rounds boys'.
The overseers were also responsible for the upkeep of the 'College houses' or 'Poors House', and for the pest house. In 1839 they delegated the repair of the latter. It was apparently being used as an extra dwelling and the parish meeting agreed that Thomas White of Chalford should hold in his possession that part in which Thomas Wiggins lived at a rent of 1s., and should undertake the repair of the whole house. (fn. 458)
Some administrative changes are shown in the rate books (1821–35). Two overseers and two churchwardens were jointly responsible at this period for the accounts; the rates were levied eight times a year instead of irregularly; and after the new valuation in 1833 the rate-payers of the three liberties were amalgamated into one alphabetical list. It should be noted, however, that even before the amalgamation the total sum raised had always been divided according to need. Aston's rich ratepayers, for example, had paid £20 to £60 a year from their balance to Kingston between 1808 and 1814. Chalford's nearly always had a surplus and in 1805 more than half the sum raised was handed over. In that year Kingston made an attempt to increase her total by levying a rate on 93 inhabitants instead of on the usual 27 or so. This experiment only gained a few pounds and was not repeated. In fact Kingston traders and farmers were evidently doing badly in the early 19th century, for a 4s. rate produced only £172 in 1829 compared with £207 in 1798. (fn. 459)
Churches.
The early history of Aston, which seems to have been a royal estate, and the position of Aston as head of a deanery make it likely that there was a very early church. There can be little doubt that it was in existence at the time of Domesday, at the latest. It may have been given to Wallingford Priory in the early 12th century by Maud, the daughter of Robert d'Oilly, who had founded the priory. (fn. 460) She is known to have given Chalford manor in Aston to Wallingford, (fn. 461) and although no grant of the church has survived it was certainly in the possession of the priory by the early 13th century. The priory had appropriated the church and ordained a vicarage before 1219. (fn. 462) By this time, too, the dependent chapelry at Stokenchurch was in existence. (fn. 463)
The priory normally presented to the vicarage. When in 1360 it leased the rectory with Chalford manor to Lady Eleanor Rohant the advowson was excepted. (fn. 464) In 1369 the Pope provided, as he may have done again in 1371, on the vicar's resignation while at the papal court. (fn. 465) Although the advowson was leased in 1473 with Chalford manor for 30 years, Wallingford is recorded as presenting until 1510. (fn. 466) In that year the presentation was granted to Isabel Pigott and her son Richard, members of a local family, and in 1520 to William Young, Esq. After the dissolution of Wallingford, the priory and its possessions, including the advowson of Aston, were granted in 1528 to Cardinal Wolsey for his Oxford college. (fn. 467) On Wolsey's fall they reverted to the Crown, which in 1531 granted the advowson, but not the rectory, to St. Albans Abbey, of which Wallingford had been a cell. (fn. 468) On the dissolution of St. Albans in 1539 the Crown kept the advowson. (fn. 469) Presentations were made by the Lord Chancellor until 1855, when Aston was one of several livings exchanged with the Bishop of Oxford. (fn. 470) In 1948 the livings of Aston and Crowell were united. (fn. 471) The bishop and Mr. W. H. Wykeham-Musgrave present alternately to the new joint rectory.
In the Middle Ages the rectory consisted of the tithes of Aston, Kingston, and part of Chalford, and probably of some land. It had been leased by Wallingford Priory to the Hester family, (fn. 472) and the descent of the rectory after the dissolution of Wallingford probably followed that of Chalford manor until the death of Bartholomew Belson in 1575, (fn. 473) and perhaps until the mid-17th century. (fn. 474) From 1684 to 1741 the rectory was in the possession of the Pryce family of Worminghall (Bucks.). (fn. 475) By the early 18th century the tithes of Kingston and Aston were held separately. (fn. 476) In 1786 Aston rectory belonged to Thomas Blackall and followed the descent of Great Milton manor until at least 1829. (fn. 477) In 1835 Sir Henry Lambert, lord of Aston manor, held the tithes of Aston, and Samuel Turner those of Kingston, while those of Chalford belonged to the various owners of the land. (fn. 478) In 1954 no lay rector was known. (fn. 479)
The rectory was one of the richer ones in Aston deanery, being valued at £20 in 1254 and at £21 6s. 8d. in 1291, plus the pension to Bec Abbey. (fn. 480) In 1523, its value, with the manor of Chalford, was £33 0s. 9d. (fn. 481) By the early 18th century the rectory was said to be worth over £500 a year. (fn. 482) At the inclosure award of 1835 the rectorial tithes of Aston were commuted for 90 acres and those of Kingston for 108 acres. (fn. 483) The tithes of Chalford were commuted in 1840: Sir Henry Lambert received a rent charge of £90 7s. for the tithes of 256 acres; William Stone, who owned Manor farm, received £72; and there were two small charges. (fn. 484)
When the vicarage was ordained after the appropriation of the church the priory apparently received the glebe, since no church lands were specifically assigned to the vicar. (fn. 485) An early-13thcentury grant to Wallingford of 6½ acres of arable and a rood of meadow in 'Winterdole,' once held by John the vicar, is recorded and the rectorial glebe is mentioned in 1341, but no further record has been found. (fn. 486)
Probably before 1087 Miles Crispin made a grant of tithes to Bec, which included the small tithes of his demesne in Aston and Kingston and also of the mill in Aston. (fn. 487) In the 13th century these tithes were collected by the custodian of Bec's manor of Bledlow (Bucks.). (fn. 488) In 1291 they were valued at £3 13s. 4d. and were still received by Bec in the 15th century. (fn. 489) When the abbey lost its English property some, including the tithes of Aston, were granted to the Duke of Bedford. (fn. 490)
Before the vicarage was ordained the vicar seems to have received the income from the church and paid the priory a pension of £3 and 1 besant. (fn. 491) According to the ordination, made between 1216 and 1219, the vicar was to receive the oblations and small tithes of Aston and Stokenchurch, and all the tithes of 8 virgates in Copcourt in Aston parish. In return he was to be responsible for services in both the church and chapel. (fn. 492) In 1254 the vicarage was valued at £1 6s. 8d., in 1291 at £4 6s. 8d., and in 1535 at £16 18s. 11d. (fn. 493) At that time it was a wellendowed vicarage, but since the vicar had a few years previously been paying £6 a year each to curates at Aston and Stokenchurch, his profit was not great. (fn. 494) By the 16th century the vicar also paid a pension of 5s. to Wallingford, the origin of which has not been found. (fn. 495)
The earliest terriers of the vicarage, dating from the 1680's, show that the vicar still received his income from the same sources. (fn. 496) He had all the church fees and small tithes in Aston, Kingston, Chalford, and Stokenchurch; all the tithes from 8 yardlands in Copcourt; and some meadow tithes. For some of his tithes he received a payment in cash, but most were still paid in kind. He claimed that before the Civil War he used to receive 6 loads of the largest billets from the woods known as Fastwoods, but that since the war the owner, John Clerke, had refused to pay. By the early 19th century more money payments had been introduced, especially in Stokenchurch, where 3½d. per acre in place of all vicarial tithes was paid. The rise in prices is shown by the tithe on a cow, which had risen from 3d. in 1685 to 5s. 3d. in 1802. (fn. 497) In 1808 the value of the living was about £148. (fn. 498)
By the inclosure award of 1835 the vicar's tithes in Aston and Kingston were commuted for 63 acres; in 1840 the tithes on Copcourt farm were commuted for a rent charge of £72 10s. and his share of the Chalford tithes for £12 12s. (fn. 499) This last amount would have been larger had it not been for a modus of £2 4s., which he received from Manor farm in Chalford. In 1855 the value of the vicarage was about £190. (fn. 500) It was augmented in 1909 by a grant of £44 from the Ecclesiastical Commissioners. (fn. 501)
Before the inclosure award the vicar's only glebe, apart from his garden, was an acre in Kingston Upper Field called Vicar's Acre. This, together with a 'very ruinous and decayed cottage' at Stokenchurch, was sold in 1800. (fn. 502) The glebe which the vicar owned in the 19th century dated from the inclosure, when he was given 48 acres, known as Glebe farm, in Kingston Stert (for the tithes of Kingston) and 15 acres in the Lower Field of Aston (for the tithes of Aston). (fn. 503) This land, which formed more than half the value of the living, was sold in 1920. (fn. 504)
According to the terms of the ordination of the vicarage the vicar was supposed to reside and serve the church in person. (fn. 505) He was also responsible for services at Stokenchurch, and probably also for those in the chapel at Linley, which is mentioned in 1279. (fn. 506) Medieval vicars were not outstanding: there was one 13th-century graduate, Richard de Belvero, presented in 1260–1; (fn. 507) another may have been involved in the scandal of 1294, when certain persons who had fled to the church for sanctuary were chained up. Sir Alan son of Roland, who had been excommunicated for this crime was absolved and those who had done the chaining were cited to appear before the bishop. (fn. 508) Some vicars served as feoffees in local land transactions; (fn. 509) and in 1459 Thomas Pigott, a member of a prominent local family, was given the cure. There is evidence that there was some neglect: in the 1520's the parish was served by a curate; no distributions were made to the poor, the churchyard was not well fenced, and the churchwardens were behind in their accounts. In addition the chancel, Wallingford's responsibility, was ruinous. (fn. 510) However, soon afterwards Nicholas Astley (1520–55), who acted as steward to Sir Adrian Fortescue, was living in Aston, for he frequently served as a witness to local wills and was accused by some of his parishioners of usury and illegal trade in grain. (fn. 511)
Post-Reformation vicars were usually resident until the mid-18th century. John Salter (1555–73), who had probably been a monk of St. Albans and never seems to have married, lived in the parish and was buried in the chancel. (fn. 512) He was followed by Richard Larke (1573–81), a Fellow of Magdalen College, who was appointed on the recommendation of the zealous Protestant Laurence Humphrey. (fn. 513) Ralph Skinner (1629–48), vicar under Charles I, evidently lived in one of the best houses in the village: it had six rooms—parlour, hall, kitchen, three bedrooms, and a buttery. (fn. 514) During the Commonwealth period there was probably a minister with Presbyterian views, for at the Restoration he gave up the living. (fn. 515) In the 18th century Matthew Hawes (1723–61) reported that he resided constantly in the Vicarage; he held two Sunday services at Aston in the summer and one in winter, as the short afternoons made it impossible to get back in time from Stokenchurch where he had also to perform the duty; the children were catechized in Lent, and the sacrament was administered five times a year to about 50 communicants. (fn. 516) But in 1761 the new vicar John Newborough (1761–95), who lived at Thame where he also held the living, appointed a curate to take charge of the parish, and during the following decades there was only one Sunday service and the number of communion services was reduced to three a year. (fn. 517) The churchwardens considered the parish neglected, and presented the vicar for his non-residence and for the lack of prayers on Sunday afternoons and on saints' days, especially Good Friday. (fn. 518)
During the long incumbency of John Holland (1795–1844), who came to live in the parish after rebuilding at great expense the Vicarage, by then 'very ancient' and in a bad state, (fn. 519) more frequent services were held. When there was a sermon the congregation was said to reach three hundred. (fn. 520) In the last year of his life he had as curate Alexander Penrose Forbes, a noted High Church theologian, later Bishop of Brechin. (fn. 521) But by the 1850's the number of communicants had fallen to some 35, and the congregation was also said to be falling owing to the influence of dissent. (fn. 522)
By the 1870's there was a renewal of church life. Weekly communion was given and the number of communicants had increased to about 100; the congregations were also growing larger; and the vicar held evening schools and Bible classes. (fn. 523) In 1877 he was helped by the building of the Anglican chapel at Kingston Blount, where dissent was strongest. (fn. 524) It is still a chapel of Aston Rowant.
From at least the early 13th century until the 19th century Stokenchurch was a chapelry of Aston Rowant and named after the same saints, Peter and Paul. Although administratively annexed to Aston, Stokenchurch had an independent ecclesiastical life, for by the early 13th century it had its own churchyard. (fn. 525) The rectorial tithes of Stokenchurch, like those of Aston, belonged in the Middle Ages to Wallingford Priory, and these, with a tenement called Prior's Grove, are said to have been considered a manor. After the dissolution of Wallingford, the rectory came into the possession of Sir William Spencer (d. 1609), who in his will left instructions for its sale. (fn. 526) After this there was no single lay rector, but the tithes were split up among many owners, each landowner usually having the tithes on his own land. (fn. 527) This was still the unusual situation in 1844 when the tithes were commuted. (fn. 528) The vicarial tithes, until the 19th century, belonged to the Vicar of Aston. (fn. 529)
Since Stokenchurch was a chapelry, arrangements for the repair of the church fabric were unusual. The owners of the rectorial tithes were responsible, with the lay rectors of Aston, for the repair of Aston chancel, but not for the repair of Aston nave. (fn. 530) On the other hand the chancel of Stokenchurch was repaired by the parishioners and not the lay rectors of Stokenchurch, although some of the parishioners objected to contributing. (fn. 531) Aston had some church lands, (fn. 532) and for the repair and decoration of Stokenchurch church there were also two houses called Church Houses, one of which was ruinous in the 16th century, (fn. 533) and several acres of land. According to Thomas Delafield, in the 18th century this land was 'perverted and shamefully abused', the income being used for communion bread and wine, for ale for the bell-ringers, and for the upkeep of the roads. (fn. 534)
By the early-13th-century ordination of Aston vicarage, the Vicar of Aston was responsible for services at Stokenchurch, (fn. 535) and the curate of Stokenchurch was chosen and paid by him. (fn. 536) By the 16th century, and probably before, Stokenchurch had been provided with its own curate and had its own churchwardens, (fn. 537) and thus matters continued. In 1680 or 1681 the parishioners petitioned the bishop, saying that for at least 60 years the parish had had its own curate, but that now the Vicar of Aston, Thomas Reynolds, refused to provide one unless the parishioners paid him £10 a year, a condition they considered 'new and unusual, hard and unreasonable'. For the last four Sundays, although he had promised to send someone to read the service, there had been no service. If he tried to serve both parishes himself, they foresaw that he would 'starve both his flock at home and us also'. (fn. 538) Soon after they were given their own curate, John Day, who is said to have excluded the vicar. (fn. 539) In 1702 he became Vicar of Aston and was visited there by Rawlinson, who described him as 'very communicative'. (fn. 540) In the 18th century Stokenchurch ceased having its own curate and was served by either the Vicar or the curate of Aston. Thus only Sunday afternoon services were held (fn. 541) until the 19th century, when it again had its own curate, in 1834 a member of the Fane family of Wormsley. (fn. 542)
In the 18th century there was some confusion about the status of Stokenchurch. Delafield wrote of it as separated from Aston, (fn. 543) and sometimes it is called a parish church, sometimes a chapel, and its wardens sometimes churchwardens and sometimes chapel wardens. (fn. 544) Its registers date from 1707, but were evidently kept before then. (fn. 545) Although registered for marriages in 1837, this merely confirmed a longstanding arrangement. (fn. 546) The Vicar of Aston wanted Stokenchurch 'regularly separated' from Aston, and in 1844 it was made into a separate benefice. (fn. 547)
The church of ST. PETER AND ST. PAUL is a comparatively large building of flint with stone dressings. It comprises a nave with chapels on the north and south sides, a chancel, a south porch, and west tower. (fn. 548) The north and south walls of the nave date from the late 11th or early 12th century. One deeply splayed Romanesque window, nearly above the south doorway, is in its original position. A similar one, now in the north wall of the north aisle, together with a plain Romanesque doorway, were moved from their original position in a part of the north wall of the nave that was demolished in 1874. They are now exactly opposite their former position.
In the early 13th century a new doorway, with plain chamfered jambs and pointed arch, was made in the south wall of the nave. The chancel was rebuilt towards the end of the century and retains the two simple two-light windows of the period. To this period also belongs the font, supported on eight detached shafts of Purbeck marble; the basin is decorated with an arcade of recessed lancets. (fn. 549)
Considerable changes were made in the 14th century, the main ones being the erection of a threestoried tower at the west end, and the construction of the north and south chapels or aisles. Both were of two bays, the third bay of the north arcade being added in the 19th century. A south porch with a marble stoup was added, a window was inserted in the south wall of the nave at the west end, and two Decorated tomb recesses were made in the north chapel. A part of the stairs of the medieval rood loft remains.
During the 15th century the nave was made lighter by the insertion of a window in the north wall, and the clerestory was built. This entailed a new roof of lower pitch than the original one.
Beyond the fact that the chancel was reported out of repair in about 1520, (fn. 550) almost nothing is known of the state of the fabric until the early 18th century, when some repairs to the church may be indicated by a churchwardens' inscription, dated 1702, which Rawlinson found on the partition between the church and the chancel. (fn. 551) Perhaps the west gallery which was certainly in existence by 1732 was erected then. (fn. 552) It was doubtless for the singers and their accompanists; a bass-viol is mentioned in the 18th-century churchwardens' accounts. (fn. 553) The churchwardens also spent £3 7s. 6d. on painting the king's arms in 1732 and £12 2s. in the same year for mending the church leads. (fn. 554) Richard Belson had a private pew put up for his family near the pulpit in 1739. (fn. 555) But it is evident from the archdeacon's report of 1759 that the church, like others at this time, was somewhat neglected. (fn. 556) Weeds and rubbish were to be cleared from the foot of the walls, the walls were to be pointed where necessary, parts of the pavement and of the woodwork were to be repaired, a new door into the church was to be made on the south side and the steps up to the pulpit were to be made 'more convenient and decent'. Later in the century, in 1784, the chancel was being repaired and Mr. Chapman's bill of £2 6s. for 'new painting' three verses, paid in 1790, may mark the completion of the work. The tower already had its clock, for £2 was paid in 1792 for winding it and in 1812 it was repaired by J. Tomlinson for £7 10s. (fn. 557)
The collapse of part of the medieval parapet of the tower and consequent damage to the roof led to the decision by a vestry meeting in 1811 to commission Isaac Stone of Thame to do the necessary repairs. His estimate and the itemized bill for the repairs done have survived. (fn. 558) He undertook to 'take down the spire, stone work forming the base of a spire on the top of the tower, the parapet walls and the walls of the tower as far down as the bottom of the tower windows', and to rebuild the upper stage of the tower, using the best of the old material. The old weathercock was to be refixed. Stone's bill amounted to £415 5s. 4d. He made a new oak roof covered with lead, and a new parapet and pinnacles of stone. The reconstructed tower is shown in Buckler's drawing of 1822. (fn. 559) Bills, now in the church chest, show that various other restoration work was done at the same time. Croxford received over £16, for example, for work on the bells and other repairs to the ironwork; Thomas Simons, glazier, received £3 2s. 9d. for new leading quarries of glass, and Waklen, the carpenter, £38 12s. 11d. The last made window shutters for the tower windows, repaired the bell frame, and rehung two of the bells. Some years later, in 1819–20, Cooper's bill for 'writing on the church' came to £4 15s. This was presumably for more texts or for the Lord's Prayer and Commandments. In 1829 John Brown was granted licence to appropriate the private gallery that he had built; it was at the east end of the church and adjoined the chancel. (fn. 560)
Further repairs were carried out in 1831, when the medieval roof was replaced by a flat ceiled one. (fn. 561) The carved corbels which supported the principals of the earlier roof remain between the windows of the clerestory.
A bequest of £300, free of legacy duty, bequeathed in 1843 by John Holland, Vicar of Aston, for 'the alteration and improvements required in the interior of the church . . . or in extending the north aisle', was used in 'new pewing' the nave, south and north transepts, restoring all the windows, and in other alterations and improvements. At the same time the chancel underwent 'a complete renovation' at the expense of the lay impropriators. A robing room was built at the vicar's expense. The church was reopened on 6 January 1850 by the bishop. (fn. 562) Six years later, in 1856, a new east window was inserted. It is said to have been copied from a design in Bloxham's Architecture. (fn. 563) When Parker described the church in 1846 he noted that although the church was 'Decorated' in character the tracery had been removed from nearly all the windows. (fn. 564)
In 1874 an organ was erected in the north aisle, which was extended at the west end for the purpose. The Decorated west window of the north chapel and the Romanesque window and door in the north wall of the nave were moved to their present position in the north wall of the aisle. (fn. 565)
A more thorough restoration was carried out by E. G. Bruton in 1884. The builders were Silver Sons & Filewood. Their total bill came to £779 odd, but details of only about £210 worth of work have survived. This included the rebuilding of the south wall of the south aisle and repairing its roof; the repairing of the exterior stonework (i.e. the window labels, the plinths and strings of the north and south side of the church); building a new buttress to the north aisle; refacing parts of the walls with flint; and repairing the roof. The tracery was restored to the windows; the west gallery was demolished and the seats were rearranged. (fn. 566) The old altar slab with its original consecration crosses was discovered at this time and replaced in its original position. In 1931 it was placed on stone pillars, when the chancel (rededicated in 1932) was refurnished by the Revd. T. D. Hickes as a memorial to Frances and Mary Hickes. New oak altar rails were made and curtains were hung on the east wall. (fn. 567) In 1952 a wooden screen between the tower and the nave was erected to the memory of Aileen Stammers; a prayer desk was presented as a memorial to Dr. Guy Spencer Grist (d. 1953); and a faculty was obtained to install electric light in 1954.
The matrix of a 14th-century brass to Sir Hugh le Blount (d. 1314) commemorates his burial at the foot of the chancel step. (fn. 568) Monumental brasses of the 14th and 15th centuries commemorate the burial in the nave of Isabel (d. 1367), wife of Richard Crawford; of Ralph (d. 1437/8) and Isabella (d. 1445) Coppyn; of a man (d. 1470) and his wife and five daughters, whose names are lost, but who can be identified from their coat of arms as members of the Alyson family; (fn. 569) and of Eleanor Eggerley (d. 1508). (fn. 570) These brasses have either disappeared or are entirely concealed by pews, or are to be found, without inscriptions, on the south wall of the nave or in the north aisle.
The only medieval tomb, a 13th-century one carved with a floriated cross, is in the chancel. Lady Cecile Hobbee's monument is in the north chapel. She was the wife of Sir Edward Hobbee (Hoby) of Bisham and widow of John Wentworth, and her monument displays the arms of Wentworth and of Unton, for she was a daughter of Sir Edward Unton. (fn. 571) She died in 1618. There are memorials in the south chapel to the Thornehill family and two brasses to Frances Thornehill (d. 1640), wife of Richard Thornehill, and to her mother Jane (d. 1643), wife of Gregory Cole, Esq. There is also a ledger stone to Henry Lee (d. 1632), (fn. 572) and two in the nave and chancel, one to Andrew Crooke, citizen and stationer of London (d. 1675), and the other to Matthew Hawes, vicar for 38 years (d. 1761). Rawlinson noted a ledger stone to William Stevens (d. 1714), the son-in-law of Robert Hester, and a tablet recording that John Cowper gave 40s. to the poor of Aston in 1614. (fn. 573) These have disappeared.
Nineteenth- and 20th-century memorials include tablets to members of the Caillaud, Clerke, and Lambert families, who were successively lords of the manor, and to their relatives. (fn. 574) There are marble inscriptions in the old vestry to Mary (d. 1808) and her husband Brig.-Gen. John Caillaud (d. 1812); in the nave to Richard Clerke, Esq., of Kingston (d. 1820), to his wife, the Hon. Mary Clerke (d. 1844), and to his grandson John Clerke Brown (d. 1833); to Susan Henrietta (d. 1826), daughter of Capt. Reuben Caillaud Mangin, by H. Hopper; to Elizabeth Catherine (d. 1835), daughter of Capt. Mangin, by Hopper; to Magdalene Mangin (d. 1840) also by Hopper; to Rear-Admiral Reuben Caillaud Mangin (d. 1846) by Bedford of Oxford St., London; to Cranley Lancelot Kerby (d. 1857), Rector of Stoke Talmage, and to his wife Mary; and in the south aisle to Sir Henry John Lambert, Bt. (d. 1858), of Aston House, by T. Gaffin of Regent St., London. There is a marble monument in the chancel to John Holland (d. 1844), Vicar of Aston, and to his wife Catherine Mary (d. 1848) by Denman of Regent St., and a tablet in the old vestry to their daughter Catherine Anne (d. 1843) also by Denman. A tablet erected in about 1908 commemorates the births and deaths of the eleven children of Sir Henry J. Lambert, Bt. They died between 1856 and 1924. There is a bronze tablet to Cmd. Charles F. Ballard, R.N., torpedoed in H.M.S. Formidable in 1915; a tablet in the chancel to Thomas Hickes, vicar 1919–48; a tablet to Edward Hayes Dashwood (d. 1950), lord of Aston Rowant manor; and a war memorial tablet erected in 1956 to the dead of both World Wars.
Some of the painted glass with which the windows of the medieval church were filled has also survived. In the east window of the north aisle are three 14thcentury quatrefoils with a figure of Christ, and foliage and architectural fragments in grisaille. In the Perpendicular window of the nave are 15thcentury fragments including the figure of an angel playing a harp and of Christ seated at a table. (fn. 575)
The coats of arms in the windows of the north chapel recorded by Rawlinson have disappeared. (fn. 576)
A faculty was granted in 1908 permitting Mrs. William Lambert to have the east window of the chancel filled with painted glass as a memorial to her family and also the centre window of the north aisle, (fn. 577) the children of the parish collecting the money in this case. Clayton & Bell designed both windows.
The inventory of church goods made in 1553 is surprisingly meagre. There were four great bells, a sanctus bell, and a hand bell; a tablecloth and two towels and one chalice without a cover. (fn. 578)
The church now (1958) possesses no early silver: it has a silver chalice of 1841, a paten with foot of 1844, and a plate of 1843. (fn. 579)
There is a ring of five bells and a sanctus bell. The third is a medieval bell, inscribed 'Sancte Johannes Ora pro nobis' and cast by Roger Landen in about 1450; the second, treble, and tenor were cast by Ellis Knight (I) in 1625; the fourth was recast by John Warner & Sons in 1873. (fn. 580) Records of other bells have survived. A small bell was cast in the 18th century and inscribed 'Simon Gupper, C.W. 1730', (fn. 581) and another was cast in the same year by Edward Hemins of Bicester. (fn. 582)
The registers date from 1554, with a gap between 1573 and 1580, and the 'bishop's transcripts', which contain some information not in the original registers, from 1639. There are churchwardens' accounts from 1731 onwards. (fn. 583)
The chapel of ST. JOHN in Kingston Blount, built of red brick with a roof of Broseley tiles and consisting originally of chancel, nave, north porch, and central bell-cot, was consecrated in 1877. The architect was E. A. (later Sir Aston) Webb, the builder James Holland. (fn. 584) Its site was given by A. H. Clerke Brown, the lord of the manor, and it was built with money given by various parishioners, including Clerke Brown, Henry Hamp, and William Fletcher, and by the Oxford Diocesan and London Church Building Societies. (fn. 585) Gifts for the furnishing of the church included candlesticks, an altar table and altar cloth, and the bell. (fn. 586) Henry Hamp gave the painted glass in the three-light east window. (fn. 587) In 1887 the south transept was added at his expense; Webb was again the architect. (fn. 588) The church was lit by oil lamps until 1945, when electricity was installed. (fn. 589)
A tablet in the church commemorates the gift by Henry Hamp of £1,000 in trust for the endowment of the church and of the performance of divine service. He also left a bequest in his will of £200 towards the fabric. There is a memorial lancet window, with painted glass, and an inscription below it to Alexander Penrose Forbes (d. 1875), curate of the parish in 1844 and later Bishop of Brechin (Forfar), who gave £500 to the church.
In the churchyard is a cross erected in 1921 as a war memorial.
Roman Catholicism.
In the late 16th and 17th centuries there were two prominent Roman Catholic families of gentry in the parish, the Belsons and the Pigotts. The 16th-century Augustine (I) Belson of Stokenchurch, the first of the Aston branch of the family, was the son of William Belson of Brill and his wife Anne, the daughter of Walter Curson of Waterperry. (fn. 590) He was thus related on his mother's side to one of the leading Roman Catholic families in the county, and to Thomas Belson of Brill, who was martyred at Oxford in 1589. (fn. 591) Augustine's children intermarried with other Roman Catholic families and Anne Tempest of County Durham, the wife of his son and heir Robert Belson, was fined for recusancy in 1577 and again in 1620. (fn. 592) Augustine II (d. 1616), the son and heir of Robert and Anne, and his wife Mildred were also recusants. (fn. 593)
Another branch of the Belson family lived at Kingston Blount, but no member of it was listed as a recusant, and it may have conformed. (fn. 594)
The Aston Belsons appear to have been related by marriage to their neighbours the Pigotts: Julian, the widow of Bartholomew Pigott, who was listed as a recusant in 1577 was probably the sister-in-law of Robert Belson. (fn. 595) Another member of the family, Nicholas Pigott of Stokenchurch, in Aston parish, was reported in 1592 to be among the recusants in the county remaining at liberty. (fn. 596) Later, Margaret and Elizabeth Pigott, his wife and daughter-in-law, were fined. (fn. 597) The Willoughbys, lords of Aston and Kingston manors, may also have been Roman Catholics. They had business dealings with the Pigotts, and John Willoughby was granted a pass in 1614 to travel abroad provided he did not go to Rome. (fn. 598)
Between 1592 and 1622 six women members of lesser Aston families were fined. (fn. 599)
After the removal of the Belsons of Aston to Brill in about 1614, (fn. 600) Roman Catholicism probably declined. The Compton Census of 1676 recorded none; (fn. 601) the Vicar of Aston reported in 1706 that Maurice Belson was a 'reputed papist', (fn. 602) and in 18th-century visitation returns, a farmer's wife was reported in 1768 and two servants in 1823. (fn. 603)
Protestant Nonconformity.
After the Restoration there was a strong nonconformist element in Kingston. When the Baptist Berkshire Association met at Tetsworth in 1653 Kingston was represented. (fn. 604) In 1669 meetings were being held at Kingston in the houses of Richard Chitch, John North, and Mrs. Mary North; the congregation, allegedly 30 or 40 in number, was reported to consist of Presbyterians, Independents, Quakers, and Sabbatarians. (fn. 605) The Compton Census recorded only fourteen dissenters, (fn. 606) but these were parishioners and the meetings at Kingston were presumably attended by outsiders as well. Chitch and North were the preachers, together with Ralph Button, an ejected canon of Christ Church and a distinguished Congregationalist, (fn. 607) and 'one Belcher'. Belcher was perhaps the Anabaptist John Belchior (or Belcher) of Haseley, who had preached against the Restoration at Oxford in 1660. (fn. 608) The last two were described as 'foreigners', who 'under pretence of receiving the rent come hither to teach'. (fn. 609)
Chitch's house was still being used as a conventicle, and had been so for the last twenty years, when in 1682 the vicar, Thomas Reynolds, reported to the bishop on his difficulties with the Anabaptists. (fn. 610) One of the churchwardens, who was also the constable, had been expelled for not receiving communion, but the dissenting element in the parish was strong enough to choose as his successor Chitch's son-in-law John Munday, a smith, who was an infrequent churchgoer and not a communicant. The leader of the nonconformist group was still Richard Chitch; others included his son John, a maltster, and another member of the family; William Turner, their 'speaker'; 'Mr. William Stafford . . . a great Oliverian' and an officer under the Commonwealth, who believed that anyone who worshipped in church was a 'barbarian'; and Thomas Bonnot, a shoemaker and 'practitioner in physic', who promised to come to church; John North, a 'stubborn and resolute separatist', was still alive, and his son John said he could not go to church while his father lived. The vicar questioned them on their reasons for not attending church. He found that the older members were the most resolute dissenters and some of the younger were afraid of their fathers. He finally arranged for four of the chief offenders to be presented at Quarter Sessions for non-attendance, but he thought there would be great difficulty in breaking the 'dissenting knot' because of the 'advice and support' the group got from John Clerke, the lord of the manor.
During the following decades the community declined and by 1738 there were only two Anabaptists left. (fn. 611) In his return of 1759 the vicar made no mention of nonconformists; in 1768 there was one Anabaptist; (fn. 612) at the beginning of the 19th century there was a revival: as late as 1811 the vicar reported that there were no dissenters, (fn. 613) but from 1814 onwards he said there were a few, whom he called Methodists, who met at each others' houses or at the chapel in Chinnor. (fn. 614) This was the beginning of the Congregational or Independent congregation, said to have been founded in 1817. (fn. 615) Their meeting-house, which was in existence by 1820, (fn. 616) was built on land given by the minister of Chinnor, John Paul. (fn. 617) The congregation evidently throve, for in 1834 the vicar reported that one farming family, the Mundays, and very many of the poorer classes were dissenters. (fn. 618) The congregation evidently continued to be closely connected with that of Chinnor. Of thirteen new trustees appointed in 1844, only three lived in Kingston, and most of the rest in Chinnor or its hamlets. (fn. 619) They included the schoolmaster of Chinnor, three farmers, and several tradesmen or craftsmen. The 1851 census gives the average attendance at the Independent chapel as 106 in the afternoon and 25 in the evening in addition to about 30 children attending Sunday school. The chapel was still being served from Chinnor. (fn. 620) In the early 1860's a new chapel was built on ground offered by the lord of the manor in exchange for the old site. (fn. 621) The chapel then built still exists as a branch church of Chinnor (1958). (fn. 622)
In 1847 two labourers' houses, one in Aston and one in Kingston, were registered for worship. (fn. 623) These belonged to the Mormonites, whose 'Apostolic Baptist chapel' in Aston had just been built in 1851. Their average attendance was 12 in the afternoon and 26 in the evening. (fn. 624) In 1854 the vicar confirmed that there were only a few Mormonites in the parish, but nevertheless attributed the decrease in his congregations to their 'sad influence'. (fn. 625) The Mormonite meeting-house was still open in 1860, but by 1866 was no longer mentioned. (fn. 626)
By 1860 there was a Primitive Methodist chapel in Kingston. (fn. 627) It belonged to the Primitive Methodists until their union with the Wesleyans in 1932, (fn. 628) and is the present Methodist chapel. It is on the Thame and Watlington circuit, has eleven active members, and is visited by the minister of Watlington. (fn. 629)
Schools.
A Sunday school had been set up shortly before 1787 and by 1802 there were two Sunday schools. (fn. 630) The vicar and a few parishioners supported them in 1815, one with 12 children was at Aston Rowant, the other with 30 children was at Kingston Blount. (fn. 631) By 1818 the dissenters had set up another Sunday school. There were 100 children in the three schools in 1818 and 140 in 1833. (fn. 632) No mention was made of the dissenters' school in 1834, when there were two Church Sunday schools with 100 children. (fn. 633)
General Caillaud, the squire, supported a voluntary charity school for girls in 1771 and 1784. (fn. 634) It was said not to exist by 1787 but apparently was restarted, for later overseers' accounts record payments for charity scholars and schooling. (fn. 635) It may have been the day-school mentioned in 1808. (fn. 636) At a vestry meeting at Easter 1813 it was unanimously decided that a school supported by the parish should be established as soon as a proper house could be procured. The teacher was to be allowed £20 out of the poor rates. (fn. 637) By 1818, however, there were said to be only three lacemaking schools, where girls were also taught to read. There was no instruction for boys. (fn. 638) The lacemaking schools still existed in 1833, but by that time three day-schools had been started. One was a National school, apparently started for girls only and supported by Lady Lambert: in 1833 it had 27 girls and it seems that 12 boys also attended it. Two other schools had 30 children. The children began school when they were 6 years old, the boys leaving at 10 years of age and the girls at 13 years. (fn. 639) The National school had a continuous history, for the present school behind Aston Green was built in 1844 as a National Mixed school on land given by Sir Henry Lambert, lord of the manor, and others. (fn. 640) There were 50 scholars in 1853 and 60 from 1871 to 1894, including children from Crowell. (fn. 641) The school was enlarged in 1891 and 90 children attended in 1903. (fn. 642) In 1931 it was recorganized as a junior school for children under 11 years; the seniors were sent by bus to Chinnor. It became a controlled Church of England school in 1951 and in 1955 was attended by 23 children. (fn. 643)
There was an infant school in Kingston Blount by 1881, and it was attended by 33 children in 1894. (fn. 644) There is no record of it after 1903.
There were two short-lived other schools in the 19th century: a private school for 20 children in 1871 (fn. 645) and a night school in 1867. (fn. 646)
Charities.
Captain Peter Crispe of Copcourt, by will proved 1607, left £50, the interest on which was to be paid yearly to the poor of Aston and Copcourt. (fn. 647) By about 1823 the charity had become available to the whole parish, and in 1955 was being distributed in doles of 8s. 8d. (fn. 648)
Early in the 17th century three charities were founded. Agnes Whitmell, widow, of Copcourt, a Hester by birth, left £2 by will, proved 1610, to the poor of Aston; William Lynke of Aston, by will proved 1612, left £5; and John and Joan Cowper of Chalford soon afterwards left £2 to the poor of Aston and Chalford. (fn. 649) By the early 19th century these charities were said to be obsolete. (fn. 650)
Thomas Westbrooke, a Horspath shepherd, who founded charities in several other parishes, by will proved in 1632, left £15 to the poor of Aston. (fn. 651) In 1634 his executors bought a yearly rent charge of 15s. on land in Littlemore. (fn. 652) The rent charge had been reduced to 10s. by 1895. (fn. 653) It was redeemed for £20 in 1918 (fn. 654) and yielded 10s. in 1955 when it was distributed in 5s. doles. (fn. 655)
By the early 18th century there were 5 acres called Church Lands, partly in Aston and partly in Kingston, the rent from which (about £2 10s.) was used for the upkeep of the church. (fn. 656) This land is the same as the 3½ acres which in about 1823 were yielding £5 rent a year. The rent was then 'considered as being applicable' to the repairs of the church and of some tenements used to house parish paupers. In 1770 General Caillaud gave the churchwardens the 'Poor's Houses' built at the corner of the churchyard to replace others, standing round the churchyard and called the 'college houses'. (fn. 657) In 1924 approximately the same sum arising in the form of rent was spent on church expenses. (fn. 658) The state of the charity in 1955 was not known.
Francis Wastie in 1781 founded a charity by which 5s. was paid yearly to two widows, one from Aston and one from Kingston. (fn. 659) In 1807 the vicar acknowledged the receipt from Francis Wastie of £5, being a legacy to the parish under the will of his father Francis. The testator had stipulated that the money should be invested and the interest paid to poor widows. It was also stated that the payment should be charged upon the elder Wastie's land in the parish. (fn. 660) These two statements seem incompatible. About 1823 the money was thought to be charged on 17 acres and a cottage in the parish and was then being given away on St. Valentine's day. (fn. 661) The charity, still known as Widows' Half Crowns or Wastie's Charity, was being distributed in 1955 according to the original design. (fn. 662)
By 1786 6s. 4d. and by 1823 10s. was being distributed about Christmas to the poor of Chalford. (fn. 663) This was the rent of land known as the Half Acre Baulk. (fn. 664) The origin of the charity is unknown; it was still in existence in 1939. (fn. 665) The Chalford poor also had by 1840 nearly an acre of land called the Poor's Allotment, which in 1871 was rented for £2 6s. (fn. 666)
Mary Elizabeth James (d. 1819) of Aston, by will dated 1809, left to the poor the residue of her personal estate. By a decree made in 1820, after an action in Chancery following her death, the net sum of £1,163 was invested in stock, and it was further provided that the distribution was to be in clothes and money at Christmas among poor parishioners and one Mary West, a non-parishioner. (fn. 667) The money was held by trustees, and distributions, beginning in 1821, were made to families in Aston, and its hamlets, and to some who had left the parish. Each family received between 1s. and 2s. for each member, and until 1845 the churchwardens added the income from a number of other charities to bring the total amount up to about £50 a year. Afterwards the interest from James's charity, which amounted to about £35 a year, was distributed separately. In 1846, for example, 167 families shared in it, receiving 1s. 7d. for each member; in 1875 115 families with 360 members received 2s. for each member. (fn. 668) In 1955 the interest amounted to £29 and was distributed in doles of 10s. to 43 persons. (fn. 669)
By 1786 an estate in Kingston was subject to a rent charge of £1, said to have been the gift of Andrew Crooke, whose dates are unknown. (fn. 670) The money was held separately then and in 1955 distributed annually to 6 poor men of Kingston in doles of 3s. 4d. (fn. 671)
By 1738 the poor of Kingston were receiving the interest on £20, (fn. 672) but the origin of the charity is unknown. In about 1823 the capital was held by William Watkins of Kingston, and the interest, at 4 per cent., was regularly distributed to the poor in January with other charities. (fn. 673) It was still being distributed in doles in 1955. (fn. 674) In 1786 a charity for the poor of Kingston, founded by Edward Bradford, is recorded. (fn. 675) It consisted of a rent charge of £15s. and was almost certainly the same as the £1 5s. which was being paid in the early 19th century out of certain woodlands belonging to the Earl of Macclesfield. (fn. 676) This charity, which was alternatively called Lydall's rent charge, was also being distributed in doles in 1955. (fn. 677)