Pages 139-150
A History of the County of Oxford: Volume 9, Bloxham Hundred. Originally published by Victoria County History, London, 1969.
This free content was digitised by double rekeying. All rights reserved.
SHENINGTON
Shenington lies 6 miles north-west of Banbury on the border of the county. The parish covers an area of 1,628 a. (fn. 1) and its modern boundaries are the same as those of the ancient parish, which was a detached part of Tewkesbury hundred (Glos.) until 1844, when it was transferred to Oxfordshire. (fn. 2) The origin of the place-name is uncertain. Its earliest form was Shenedon and the first element may be Sciena, whose burial mound may have been Shenlow Hill. Alternatively the name may mean beautiful hill (scenan dune). (fn. 3) The Sor Brook divides Shenington from Alkerton, while a small tributary, Shenington Brook, defines almost the whole southern boundary. The western boundary follows the Edgehill escarpment. Shenington's land is a watershed of both the Severn and the Thames, for another of its streams flows into the Stour and eventually into the Severn. The parish lives mostly between the 500 and 625 ft. contour line, but Shenlow Hill, notable for its wide views of eight counties, rises to 740 ft.; Rough Hill rises to over 700 ft. in the south-west, while part of Edgehill is also within the parish. Shenington's soil of red loam lies on Middle Lias rock. (fn. 4) The flat rolling land in the northwest was used as an airfield during the Second World War and one of the earliest jet bombers was stationed there. The airfield has since been converted into a course for go-karting and a gliding club has its headquarters at Sugarswell Farm. (fn. 5)
There are fine examples of strip-lynchets in Shenington which were probably open-field selions. (fn. 6) There is no natural woodland and none has been planted. The parish is in the area of the Warwickshire Hunt, and in 1763 was advertised as open and fine sporting country. (fn. 7)
A turnpike from Banbury and Edgehill ran just outside the parish and a branch-road went to Alkerton, Shenington, and Tysoe (Warws.). The village remains secluded and connected with its neighbours by minor roads only.
The village crowns the hill at a height of 576 ft. and faces Alkerton on the opposite slope of the Sor Brook valley. It lies close to the boundary. A map of 1732 shows that its dwellings were then grouped irregularly round a green and the parish church, which lay just off the green to the south-east. Rattlecom Lane, Stockin Way, and Stratford Way branched out from the village and passed through the surrounding open fields. The water-mill and the miller's house lay on Shenington Brook in the southeast corner of the parish. (fn. 8)
In 1551 there were said to be about 112 communicants, in 1603 80 communicants, and in 1676 110 adults in the parish. (fn. 9) In 1712 there were said to be about 280 inhabitants and 60 houses. (fn. 10) Only 42 houses had been listed in 1672 (fn. 11) and it may be that the expansion of population noted in the 18th century (fn. 12) began at an earlier date. Numbers rose rapidly from 332 in 1811 to 463 in 1841, but declined thereafter to 205 in 1931. (fn. 13) The downward trend was reversed slightly by the expansion of industrial Banbury, and in 1961 there were 233 inhabitants. (fn. 14)
In 1672 2 houses were assessed on 6 hearths, 1 on 5 hearths, and 7 on 3 or 4 hearths. Thirty-two were assessed on 2 hearths or less. (fn. 15) The two 6-hearth houses belonged to the families of Owen and Pettifer and were possibly the two manor-houses. (fn. 16) Many of the houses and cottages, built of the local ironstone rubble or ashlar, survive and preserve such characteristic features as stone chimney stacks with moulded shafts, mullioned or transomed windows of stone or wood with square moulded labels, thatched roofs, and square stair-case projections. Of the 17th-century farm-houses Mill Farm, which stands on the south side of the churchyard, is notable. It is built of iron-stone ashlar, of 3 stories with cellars, and is still used as a farm-house. It retains many of its original stone mullioned windows of 2 and 3 lights with square labels. The Goodwin manor-house, which later passed to the Sadlers, can be identified with the largely 18th- and 19thcentury house immediately east of the church. (fn. 17) The 'Bell', the only surviving inn, was rebuilt in 1700. It has a stone inscribed with this date and the initials 'E.S.E.'. In 1727 there were two inns and in 1755 three. (fn. 18) In the early 19th century the house on the south side of the green was the 'Red Lion'. (fn. 19)
Much damage was done, particularly to the cottages, by a fire in 1721. (fn. 20) Among the victims of the fire was the rectory-house, which was later rebuilt. It is a 2-story structure of ironstone ashlar with a stone slate roof in which are 3 small attic dormers. The adjoining stabling and coach-house with thatched roof and stone mullioned windows are survivals from the earlier house. Among the cottages Mizpah Cottage in Church Lane has a plaque inscribed 'This house was burnt May 13th 1721'. It was rebuilt and bears the initials 'L.J.A.' in an oval wreathed cartouche. A cottage lying south-west of the 'Bell' is distinguished by having a panel with the arms of the Masons' Company of London. Two houses on the green, 'Longwalls' and 'The Limes', appear to have been built or rebuilt in the 18th century as 'gentlemen's residences'; 'The Limes' may probably be identified with a large mansion house sold in 1763 with stabling for 10 horses, a summer-house, orchards, woods, and fish ponds. (fn. 21)
In the 19th and 20th centuries there has been some new building and modernization. The plain red brick Primitive Methodist chapel was erected in the early 19th century at the bottom of the hill outside the village; the school, built in 1871, was enlarged in 1905. (fn. 22) New houses were built in 1965 on the Shenington Building estate. At that time the village had two general stores, a butcher's shop, a post office, and a petrol station.
There are 4 outlying farms of which one, Sugarswell ('robber's spring'), stands on the site of an early hamlet inhabited from at least the late 12th century. (fn. 23)
The village acquired notoriety in 1810 when a prize fight was arranged by Morant Gale of Upton (Warws.) between Molyneaux, a Negro pugilist, and the English champion, Thomas Cribb. The ring was in Shenington Hollow, well away from the vigilant watch of the Gloucestershire J.P.s, and the match was fought on 3 December. (fn. 24)
Manors.
In pre-Conquest times Shenington was attached to the lordship of Tewkesbury (Glos.), which on the eve of the Conquest was held by Brictric, son of Algar, a prominent Anglo-Saxon thegn. (fn. 25) After the Conquest his lands, the later honor of Gloucester, were granted to Queen Maud (d. 1083), and in 1086 they were amongst her former possessions then held by the king. (fn. 26) SHENINGTON, assessed at 10 hides, was farmed for the king by Robert d'Oilly. (fn. 27) About 1087, however, William II gave Gloucester honor to Robert FitzHamon as a reward for his services and the overlordship of Shenington henceforth followed the descent of the honor. (fn. 28) Shenington, held as 1 fee, was among the lands confiscated on Prince John's rebellion in 1194 and was in the king's hands until 1197. (fn. 29) It presumably passed later with the honor to Geoffrey de Mandeville, and then to the Clares, Earls of Gloucester and Hertford. On Richard de Clare's death in 1262 Shenington was given in dower to his relict Maud (d. by 1289). (fn. 30) When the honor of Gloucester was divided in 1314 between the three sisters of Gilbert de Clare, the overlordship of Shenington appears to have been divided between two of them, Margaret and Eleanor. In 1347 Hugh de Audley, Earl of Gloucester, who had married Margaret, held the overlordship of 3/5 fee. Their heir was Margaret, the wife of Ralph, Earl of Stafford; Margaret's son Hugh, Earl of Stafford, died possessed of it in 1386. (fn. 31) The family held the overlordship of this part of the fee in the 15th century. In 1393 Anne, Countess of Stafford, was granted dower in it, (fn. 32) and her son Humphrey, Earl of Stafford and Duke of Buckingham, held it at his death in 1460. (fn. 33)
The other 2/5 fee was held of Eleanor le Despenser, the wife of Hugh le Despenser, the younger. (fn. 34) The connexion with this family continued at least until 1420 when Lord Abergavenny, heir of Isabel le Despenser (d. 1439), was overlord of a half of 1/5 part of a Shenington manor. (fn. 35)
The Sor family were under-tenants of the whole fee in the 12th century. Robert Sor (fl. 1132), a follower of Robert, Earl of Gloucester, probably held the manor as he did the church; he was succeeded by his son Odo and in 1166 Jordan Sor was a prominent tenant of Gloucester honor, holding in all 15 fees. (fn. 36) Jordan was succeeded by John Sor, whose land was taken into the king's hands for his share in John's rebellion in 1194, but was later restored; he is recorded as holding Shenington until about 1203. (fn. 37) His heir was probably a minor (fn. 38) and may perhaps be identified with the Robert le Sor, whose property in Warwickshire and Gloucestershire was restored in 1217 after the Barons' War. (fn. 39) A John Sor was recorded in 1233 (fn. 40) but he was dead by 1241 when Wentliana his relict, was granted a third of Shenington manor in dower. (fn. 41) His son and heir, William Sor, was then a ward of Wentliana's second husband Nicholas, son of Roger, but by 1255 he had entered his estates, and was returned in 1263 as holding 14½ fees of the earl in Shenington and elsewhere. (fn. 42) By 1280 he had been succeeded by John Sor, who was appointed as assessor and tax collector in Gloucestershire in 1295. (fn. 43) By 1303, however, Shenington had been divided into fifths, probably between coheirs, and was held by Robert Wykeham (d. 1327) and his wife Elizabeth, daughter of John Sor (Lazore), Henry Huse (Heuse) and his wife Margery, William de Esthall and his wife Ela, William de Staur and his wife Imeyne, (fn. 44) and Symunda the daughter of John le Sor. (fn. 45) Simon Sor was a lord of the vill in 1316 and in 1346 John Sor held 1/5 fee. (fn. 46) There is no later record of this family's connexion with Shenington and their ⅓ fee appears to have passed to their under-tenants.
Sir John Walton (de Wauton), lord of Alkerton (d. 1277), (fn. 47) was evidently tenant of this land, for Isabel, his relict, and her second husband Henry le Foun were in 1278 granted a house and 4 yardlands in Shenington together with other of Sir John's property, and in 1292 conveyed Isabel's dower in it to Sir John's daughter and heir Maud Walton and her first husband Sir John de Stradling. (fn. 48) Maud's second husband, Sir John L'Estrange, died in 1309 holding Shenington of the heirs of John Sor (d. by 1303) for 1d. a year. (fn. 49) The manor then followed the descent of the L'Estranges' manor in Alkerton until at least the mid-16th century. (fn. 50) In 1542 Shenington, like Alkerton, was sold to Robert Hopper of Henley. (fn. 51) Before 1601, however, Shenington had passed out of the Hopper family, for it was conveyed at that date by William Hawkins, his wife Katherine, and son Thomas, to Richard Goodwin. (fn. 52) Richard was a younger son of Thomas Goodwin of Alkerton; on his death in 1637 the manor passed to his son John, who settled it on his son Richard in 1686. (fn. 53) Richard's son, John, who had moved to Sutton Coldfield (Warws.), mortgaged Shenington in 1729. (fn. 54) This manor then passed to his daughter Ann Osborn, widow, and in 1775 was sold by her to William Sadler. (fn. 55) By 1780 it had passed from the Sadler family, like their Sugarswell manor, (fn. 56) to Oriel College, Oxford, for the college was said to be lord of all Shenington manor. (fn. 57)
A second SHENINGTON MANOR evidently developed from the one-fifth fee held in 1316 by Sir Thomas Hasting. (fn. 58) He was lord of Chebsey (Staffs.) and Leamington Hastings (Warws.), and the third husband of Maud Walton. (fn. 59) In 1347 he was recorded as holding one-fifth fee in his own right as well as the one-fifth fee which he held with his wife. (fn. 60) He was dead by 1348 and his own fifth descended to his son Sir John (d. by 1359) and grandson Sir John (d. 1362). On the latter's death his lands were inherited by his daughters Maud and Joan. (fn. 61) Maud married Ralph of Stafford of Grafton Manor (Worcs.), who was returned as tenant of one-fifth fee in 1393 and 1403. (fn. 62) He died in 1410 and his Shenington land evidently followed the descent of his manor of Leamington Hastings, passing to his son Humphrey (d. 1418), grandson Humphrey, and to Humphrey's son Sir Humphrey, whose lands were confiscated after his attainder in 1485. (fn. 63) The property was restored in 1514 to his son Sir Humphrey Stafford, (fn. 64) whose grandson, another Sir Humphrey, sold Shenington to Oriel College, Oxford, about 1565. (fn. 65)
Joan, the other daughter of Sir John Hasting (d. 1362), married first John de Salisbury, who was executed in 1388. (fn. 66) On Joan's death in 1420 she was said to hold a moiety of a fifth of Shenington manor. (fn. 67) The property is not recorded again, but it may have descended like Joan's share of Leamington Hastings and eventually have reverted to Sir Humphrey Stafford in 1514 and have been included in the manor granted to Oriel College. (fn. 68)
A third manor, SUGARSWELL, was first recorded in 1258 when it was held by William Sutton, nephew of Henry Lexington, Bishop of Lincoln. (fn. 69) The manor followed the descent of the lay manor of Horley and Hornton until at least 1316 when Sir Richard Sutton held 1/5 fee in Shenington. (fn. 70) There is no further record of the Sutton connexion with Sugarswell. The under-tenants appear to have been John of Sugarswell (Shokereswell) and his wife Alice, who in 1299 acknowledged the right of John de Dunheved to land in Sugarswell and Tysoe (Warws.). (fn. 71) Dunheved's son John apparently sold the estate to John Pecche, who held houses in Sugarswell in 1318. (fn. 72) Sir John Pecche, probably a son, died in 1376, leaving a son John (III) who was a minor. (fn. 73) John (III) died in 1387 holding the 1/5 fee. (fn. 74) This evidently passed like his Warwickshire manors to his daughter Margaret and her husband Sir William de Montfort (d. 1452) of Coleshill (Warws.), (fn. 75) and thence to their son Sir Baldwin de Montfort (d. by 1461), and grandson Sir Simon de Montfort. Simon supported Perkin Warbeck's insurrection and was hanged in 1495, his estates reverting to the Crown. (fn. 76) The king granted 'Shenington' manor (i.e. Sugarswell) to Gerald, Earl of Kildare, and Elizabeth St. John, his second wife, in 1496. (fn. 77) Sir Gerald died in 1513, his wife in 1516, and their eldest son Henry also in 1516. The manor was then held by Henry's brothers Sir Thomas (d. 1531) and Sir James FitzGerald. (fn. 78) Sir James was accused of complicity in the rebellion of his nephew in 1534 and was hanged in 1536. (fn. 79) The manor reverted to the Crown; in 1541 it was leased to Nicholas Dorell, (fn. 80) and later granted to John Cockes and John Bassett, who in 1550 were licensed to grant it to William Button. (fn. 81) Button's chief holdings were in Wiltshire and in 1555 he granted his Shenington manor, which included land in Sugarswell and Shenington, to Richard Wiggett (Wygatt, Wigate) of Shenington. (fn. 82) Wiggett, who was called yeoman or husbandman, died in 1570 holding the manor in chief. (fn. 83) In 1575 Thomas Clarke, grandson of Wiggett's sister and heir Agnes, was granted the freedom of the manor. (fn. 84) His right was disputed by John, son of William Wiggett, an uncle of Richard Wiggett. In 1578 John Wiggett was said to be heir to the manor (fn. 85) and in 1579 he granted it to Tristram Holcombe, who was licensed to alienate it in the same year. (fn. 86) The manor eventually came into the possession of Richard Braughton of Seaton (Rut.), who sold it in 1608 to a Thomas Gardner. (fn. 87) There was a lawsuit in 1609 over the conditions of the conveyance. By 1616 Calybut Downing held the manor with land in Shenington. (fn. 88) His son was the eminent divine Calybut Downing (d. 1644), (fn. 89) whose daughters Elizabeth and Ann sold their moiety of the manor in 1653 to John Goodwin. (fn. 90) Sugarswell then descended with the Goodwins' other Shenington manor and in 1732, for example, was described as 'the manor of Sugarswell within the manor of Shenington'. (fn. 91) In 1780 Edward Sadler was described as lord of such part of Shenington as lay within Sugarswell Closes. (fn. 92) Presumably his rights were purchased with Sugarswell by Oriel College at that date. (fn. 93) The descent of the other moiety has not been established. (fn. 94)
A fourth SHENINGTON MANOR, probably originating in the 1/5 fee of Robert Wykeham and his wife Elizabeth or in that of William de Esthall and his wife Ela, (fn. 95) was recorded in the 15th century. In 1393 1/5 fee, held under the Countess of Stafford, was said to have been previously held by a Lambert de la More, (fn. 96) and in 1411 John More granted half the manor to Henry Vyall (Vyale, Vielle), presumably the man recorded as escheator in Somerset until c. 1421. (fn. 97) Vyall seems to have been succeeded by William Vyall (fl. 1434–53), whose son James was in possession of a Shenington manor in 1488. (fn. 98) A moiety of this Shenington manor was granted to Oriel College in 1503. (fn. 99) The descent of the other half is not known.
The Wykehams and Esthalls were recorded as holding 1/5 fee in 1303 and as lords in 1316. (fn. 100) No later reference to the Esthall holding has been found, but Robert Wykeham's son Robert was holding in 1346 and John Wykeham (fl. 1360) was described as of Shenington. (fn. 101)
Local Government.
Records have survived of some views of frankpledge held between 1483 and 1540, and of the courts baron of Oriel College, Oxford, between 1693 and 1718. (fn. 102) It may be noted that college tenants not only owed suit to that court but paid 'frithsilver' to Tewkesbury court, presumably the hundred court. (fn. 103)
The records of the vestry perished in the fire of 1721 (fn. 104) but the period 1777–1832 is fairly well documented. (fn. 105) Two overseers were appointed yearly, each accounting for 6 months. In Shenington, as elsewhere, expenditure on the poor began to increase rapidly in the late 18th century; in 1775–6 £87 was spent, and by 1802–3 the sum was £163, all of which went on out-relief; the rate was then 3s. 10½d. in the pound. (fn. 106) In 1810–11 over £364 was spent; this included the constable's charges and the county rate, and regular weekly relief accounted for £277. In 1817–18 the figure was nearly £650 of which £374 was spent on the weekly list; the cost of weekly relief rose to £536 in 1820–21, although total expenditure had fallen slightly. In the following year the dole may have been reduced; although the number receiving weekly relief changed little, the total expenditure was only £379 and it remained at a lower level of c. £300 until the 1834 Act reduced it still further. (fn. 107) Shenington became part of the Banbury Union; by 1851–2 only £118 was spent on the poor, and the rate in the pound was 1s. 1½d. (fn. 108)
In 1799 there were c. 16 people on weekly relief ranging from 1s. 4d. to 3s. 6d. By 1817–18 the number 'on the list' had reached 32, and 14s. a week was paid to a man and his wife. The roundsman system, in use by 1799, when there were about four roundsmen each week in the winter months, had by 1820 been largely replaced by labour on the roads with payment for so many days of unemployment. In the bad years there were sometimes 12 roundsmen even in summer, working 7 days a week. The overseers made the usual payments for clothes, fuel, apprenticing of orphans, and medical care, and built 7 parish houses which were let at sums varying from £1 6s. to as little as 8s. 9d. where an occupant was sick. (fn. 109)
The overseers paid the constable's account, and the constable also received the county rate and after 1824–5 'bridge money' amounting to £8 14s. The overseers also paid the mole-catcher, were responsible for the militia, and for settlement and removal. To cover expenses, except those for journeys and meetings, the overseers were allowed £6 10s. yearly from 1821.
Economic History.
Shenington was a 10hide estate but by 1086 3 hides, perhaps the demesne, were exempt from geld and royal service. On the demesne were 4 ploughs worked by 12 serfs and a mill worth 3s. a year. There may have been more than 4 ploughlands in demesne for the 17 tenants had as many as 8 ploughs and presumably ploughed some of the demesne. The tenants included 5 radknights, 8 villani and 4 bordars. (fn. 110) The drastic fall in the value of Shenington from £20 before the Conquest to £8 in 1086 may have been a result of Brictric's forfeiture. (fn. 111)
Details for only one small estate have survived for the 12th and 13th centuries. In 1195 Robert le Puhier's land was in royal hands and the farm for three-quarters of the year was £1 4s. 10d.; grain sold fetched £3 3s. and oxen £2 2s. (fn. 112)
Although Sugarswell was well-established as a separate hamlet by 1318, (fn. 113) it was not large enough to appear separately in 14th-century tax assessments. In 1327 of the 24 Shenington inhabitants assessed three-quarters paid less than 2s. Two men, neither of them manorial lords, paid over 4s. (fn. 114) The total assessment of £2 0s. 8d. suggests that Shenington was fairly prosperous. (fn. 115)
Nothing more is known of Shenington until the beginning of the 17th century, except that there was no dominant inclosing landlord in the parish. Only around Sugarswell Farm in the north of the parish did early inclosure of any importance take place; much had been inclosed by 1609 and probably earlier, (fn. 116) and in 1780 Edward Sadler of Sugarswell alone had 71 a. of old inclosure out of a total of 194 a. in Shenington, and there was evidently little inclosed land elsewhere in the parish. (fn. 117)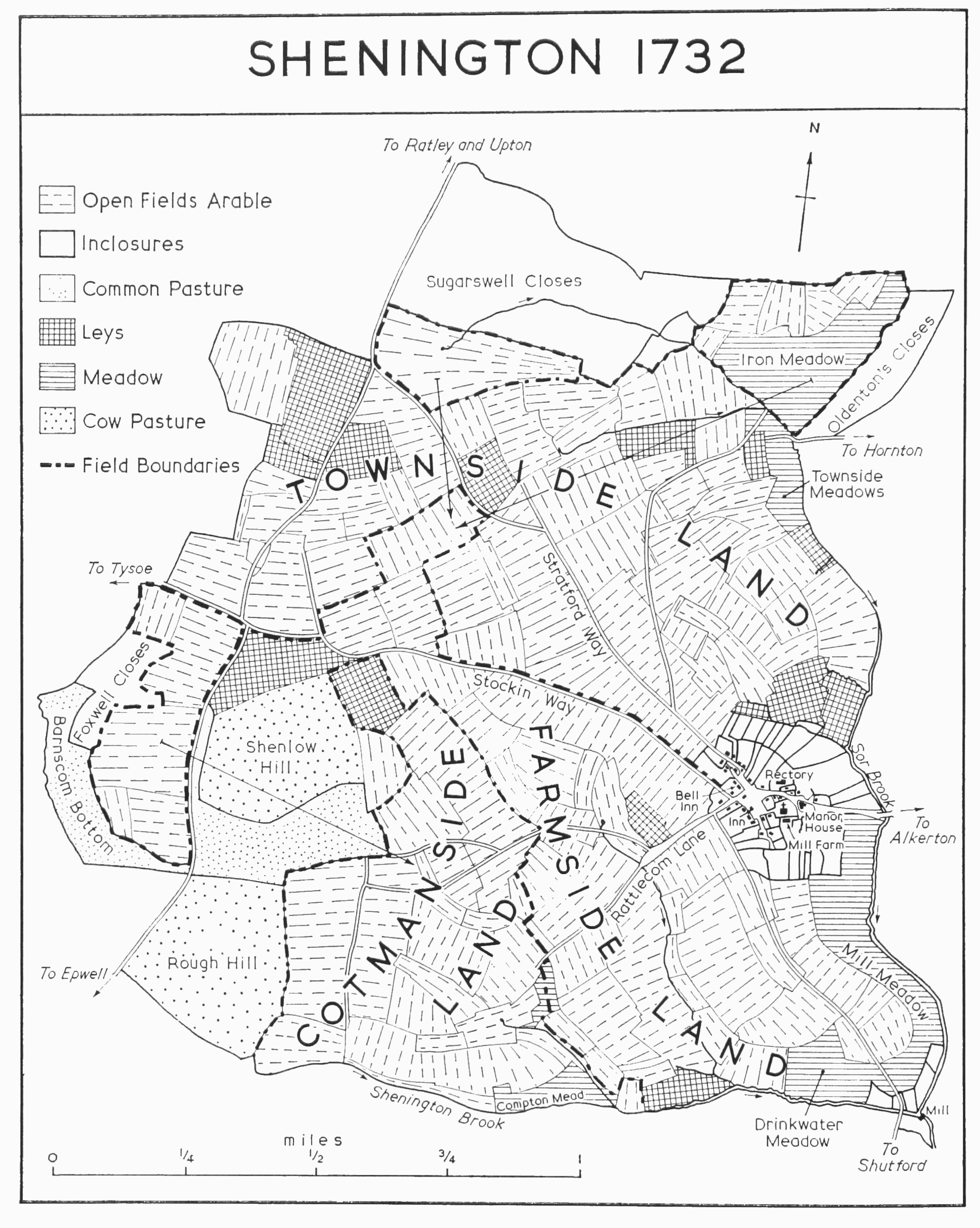 From the 16th century Oriel College began to accumulate land in Shenington but kept none in hand. By 1619 there were 20 tenants of the college manor, holding about 16½ yardlands, 4 cottages and other small parcels of land, and the mill. Six tenants held by lease and the rest by copy. (fn. 118) Leases show that the college used the manor as a source of grain by exacting it from their lessees. In 1569, for example, a house and yardland in Shenington was leased for 60 years at 16s. a year but in 1628, when it was again leased, the rent was 10s. 8d., 1 peck of wheat, and 4 bushels 1 peck of malt. (fn. 119) Another lease of ¾ yardland which had been for 7s. 6d. in 1569 was renewed in 1627 for 6s. 8d. and 2 bushels, ½ peck of wheat, and 2½ bushels of malt. (fn. 120) Copyhold land was taken for three lives, each life to enjoy sole use, although the first taker had the right to surrender the copy if he so wished. (fn. 121) In 1699 it was said that the custom was to hold for one life in possession and two lives in reversion, and the executor to hold the customary premises for one year. (fn. 122) The land was handed over 'by the rod' in open court by the steward. (fn. 123) Court records survive for 1693 to 1718 and in these courts heriots were taken regularly. (fn. 124) The heriot was usually a horse or mare, i.e. the best animal, for a yardland or more, but other possessions might be taken, as in 1693 when the heriot from a cottager was a table worth 1s. 6d. (fn. 125) Rents were low: in 1619 a yardland was rented at 16s. and a cottage at 2s. to 3s. a year, and late-17thcentury courts specified a 'customary rent', which evidently had changed little from the early 17th century. (fn. 126) On the other hand heavy fines were sometimes taken: £80 for the reversion of 3 yardlands in 1693, and £100 in another case; for 1½ yardland in 1699, however, it was only £15, while no fine was taken for a cottage. (fn. 127) Sub-letting of premises could be done with licence from the court: in 1713 the tenant of 4 yardlands paid 10s. for licence to sub-let for 50 years. (fn. 128)
Yeomen and husbandmen maintained a vigorous hold on the parish under this system, although the hearth tax returns of 1672 suggest that many had only a modest standard of living. Ten householders were assessed on 3 to 6 hearths, 8 on 2 hearths, and 24 on only 1 hearth each; 16 of these were discharged on account of poverty. (fn. 129) The land tax of 1724 indicates the distribution of wealth: John Goodwin, lord of Sugarswell, and the rector each paid about a sixth of the total land tax of £41, while 9 other contributors were assessed at between £1 and £4 and 9 between £1 and 4d. (fn. 130) Probably the largest farm in the parish was the Goodwins' Sugarswell farm, which had 5 yardlands (i.e. 150 a.) of arable, meadow, and pasture in 1687, as well as Sugarswell Closes. (fn. 131)
The size of holdings in the open field is given in a survey of 1732 when there were 26 tenants holding 26¼ yardlands of college customary or leasehold land, 21¾ yardlands of free land, and 76 a. of common, apart from Sugarswell. Six of the farms, consisting of 100 to 163 a were comparatively large for that date; 9 were of 20 a. to 73 a. and 10 of under 20 a. (fn. 132) Much land was still copyhold and in 1737 Oriel College tenants included 3 leaseholders, 6 copyholders, and 6 cottagers, paying a total rent of £23 5s., of which the copyholders paid some £14 12s. for 20¼ yardlands in the open fields and 8 cottages. The land was valued at £10 a yardland. At inclosure in 1780 there had been a slight increase in the number of larger farms: there were 5 farms of 100 to 216 a., and the holdings of under 20 a. had decreased to five. (fn. 133) Oriel College had by this time increased the amount of its leasehold and there were 7 leasehold estates. A survey of the parish made for the inclosure commissioners shows that the college possessed 1,481 a., of which 739 a. were freehold and 527 a. copyhold and leasehold, and Edward Sadler had 48 a. in the open fields besides his 71 a. of old inclosure. The total annual value of this 1,601 a., presumably the whole parish, was c. £1,032. (fn. 134)
The open fields extended over most of the parish, particularly to the south and west. Fieldnames compounded with 'stocking', i.e. clearing, which are found near Shenlow Hill indicate the piecemeal clearing by which the hill land was added to the open field: by the 18th century the open field extended right up the hilly sides of the valley to the foot of Shenlow Hill. In 1732 Shenington Field was divided into three, Townside, Farmside, and Cotmanside, which may have represented the three original fields; each was in turn divided into four parts for cropping. (fn. 135) The system of cropping, however, was complicated and shows the extent to which flexibility could be introduced into open-field farming if the small farmer was willing. Three-quarters of both Townside and Farmside were ploughed and sowed each year with wheat, pease, and barley, and a quarter was fallow, or used, if so desired, as a pease 'hitch'. Cotmanside had one quarter sowed with wheat and another with barley; the rest was either fallow or 'hitch'. Thus, by this system one quarter of the land normally grew wheat, another barley, while pulses could be grown on a sixth to a half of the arable; the fallow could be omitted altogether if so desired. (fn. 136)
A certain amount of the parish was laid down in 'leys', (fn. 137) which were interspersed with the arable strips. This method of farming was characteristic of north Oxfordshire parishes. Shenington New House, for example, had some 17½ leys attached to its holding in the common fields in 1657, (fn. 138) and in 1732 the leys lying in furlongs were shown on the map. (fn. 139) Grazing ground was provided on Rough Hill, and at Barnscom and Shenlow: Rough Hill and Shenlow were cow-pasture each year and were broken about 12 May, while Barnscom was fallow for sheep every other year. The Hill ground near Iron Meadow was allotted in proportion to the number of yardlands every other year. (fn. 140) In 1732 the stint of common was 2 cows and 28 sheep a yardland, but in 1760 there were also said to be 2 horse commons to the yardland. (fn. 141) There was much meadow land available by Alkerton Brook: Iron Meadow, Drinkwater Meadow, Comptons Mead, Townside Meadow, and Mill Meadow were recorded in 1732. (fn. 142) Some of them were certainly lot meadows, for in 1692 one yardland included ½ a. of lot grass in 'Oxleasur' and 'Harticum', in 1708 another holding had 1½ a. of lot meadow, part of it adjoining Sugarswell, and in 1732 Mill Meadow was shown divided into lots. (fn. 143) Other valuable rights were held over the furze and fern in the parish: a yardland holding in 1692 had a small plot of fern at Rough Hill and another of furze and thorns in Shenlow. (fn. 144) Coles Furze and Syms Furze are shown on the 1732 map. (fn. 145)
Holdings in the open field were not consolidated but lay in scattered parcels of single acres, butts, leys, and hades right up to the date of inclosure: in 1692, for instance, one yardland lay in 67 pieces, and in 1732 two yardlands were distributed in some 114 different pieces. (fn. 146) A farm of 209 a. in 1763, which had recently been two farms, had only 20 inclosed acres lying in two parcels. (fn. 147)
From the early 18th century, however, Oriel College had been preparing for inclosure, and specified in their leases that the lessee must assent if the college was at any time minded to inclose. (fn. 148) During the 18th century Oriel also acquired more leaseholds. In 1760, when a survey was made, there were 8 leaseholders, 6 copyholders, and 8 cottagers, and details were given of 'improved rents' which, for example, were as much as £53 for 4½ yardlands compared with the earlier rent of £3 4s. It was said that if the land were inclosed it could be let at 15s. an acre a year instead of £10 a yardland; (fn. 149) since in 1732 there were almost 30 a. to the average yardland in Shenington, this would be a significant increase. (fn. 150) In the award of 1780 (fn. 151) 1,434 a. were inclosed, of which 1,034 a. were open field and 400 a. were waste and common. (fn. 152) The chief proprietors, Oriel College, William Harrison, and Edward Sadler, lord of Sugarswell, received 673 a., 187 a., and 146 a. respectively. Three others received 47 a., 36 a., and 28 a., whilst the remaining 8 received less than 15 a. each.
The changed appearance of the parish is shown by a map of 1781, made when the land had been grouped into consolidated farms. (fn. 153) It is difficult to judge the average size of holdings from one estate alone, but surveys of the Oriel copyhold and leasehold estates (699 a.) in the early 19th century suggest that the small tenant was gradually being eliminated, especially after the Napoleonic Wars. In 1813 there were still 7 holdings of under 1 a. and 9 holdings of 3 a. to 45 a., but in 1831 the 11 tenants of the estate each held over 20 a. (fn. 154) The rise in value forecast at the time of inclosure took place over the subsequent 30 years and in 1813 699 a. held by Oriel College were valued at £1,563, far more than the total value of the parish in 1780; this may have been artificially inflated by the war, for in 1831 the estate was valued at £1,040, still, however, a considerable increase. (fn. 155) The rise was partly due to more exacting leases and stricter farm management. By 1813 there were 15 leaseholders on the college estate (fn. 156) and leases of the early 19th century show that entry fines were increased: a yardland which paid only £9 in 1718 paid £90 for an entry fine in 1820. (fn. 157) In the mid-19th century the college began to introduce rack-rents: a holding which paid £11 rent in 1836, with a fine of £160, paid a rack-rent of £140 in 1854. (fn. 158) By 1881 there were only 11 a. of copyhold and the rest of the estate (839 a.) was let out at rack-rents. (fn. 159)
College policy to a certain extent dictated the type of farming in the parish. Leases, for example, still included the providing of grain and malt for the college: amounts of 216 and 180 gallons of wheat are recorded. (fn. 160) College leases from the 1820s demanded a sum of £50 a year for every acre of meadow and pasture ground converted into tillage; the premises were to be managed in a husbandlike manner, i.e. no meadow was to be mown more than once a year, and all dung, soil, and compost was to be used on the farm. (fn. 161) In 1854 an Oriel lease of Rough Hill farm (81 a.) claimed that most of the farm was of a high quality and easy cultivation, although it needed better drainage. The land was divided between wheat (26 a.), vetches and fallow (12 a.), clover (7 a.), fallow (11 a.), and 'old lay' (9 a.); in the following year 25 a. was under barley. (fn. 162)
By the mid-19th century there were about 12 farms in the parish or about half the number before inclosure. (fn. 163) Seven were of between 100 a. and 210 a., the remainder were between 30 and 80 a. and there was one smallholding of 7 a. The two largest farms employed 10 and 9 labourers. (fn. 164) In 1914 the parish contained much excellent cornland and the crops were wheat (20 per cent.), barley (21 per cent.), and oats (13 per cent.), with some roots: swedes and turnips (8 per cent.), mangolds (2 per cent.), and potatoes (1 per cent.). By this time 51 per cent. of the cultivated area of the parish was pasture. (fn. 165) In 1900 sheep flocks were common and dairy farming almost non-existent. Milk was used mainly for butter-making. A 7-course rotation was used. (fn. 166) During the Second World War the emphasis naturally shifted to arable and the first combined harvester to be used in Shenington was on Sugarswell farm in 1940. Some good farming land was taken for an airfield. (fn. 167) After the war there was a return to pasture farming. In 1962 Sugarswell farm (350 a.) was chiefly devoted to the production of beef cattle, seven-eighths of the produce being sent to Tipton (Staffs.) and only a small proportion to Banbury. Mill farm (160 a.), Lower farm (57 a.), and Rectory farm (200 a.) concentrated on grazing and dairy farming, while Oriel farm (180 a.) kept mainly pedigree Wessex Saddle Back pigs and had only 60 a. of arable; these farms mainly used Banbury for their market. (fn. 168)
Perhaps because of its distance from Banbury Shenington supported a flourishing community of craftsmen and shopkeepers in the 19th century: in 1851 there were 4 carpenters, 2 blacksmiths, a wheelwright, a basket-maker, 2 shoemakers, a dressmaker, a milliner, 3 grocers, a maltster, a beerseller, and 2 butchers. (fn. 169) In 1869 among others a pig-dealer and a haulier and in 1895 a cattle-dealer were recorded. (fn. 170) Shenington also had a number of masons: in 1851 9 men were engaged as stonemasons, stone-cutters, or carvers; in 1864 2 masons and a stone-mason and in 1869 one stone-mason were recorded. (fn. 171) A blacksmith survived into the 1920s. (fn. 172) There was a surgeon in the village in 1895. (fn. 173).
Shenington mill descended with the manor from 1086. (fn. 174) Its ownership was divided similarly into fifths and by the 17th century four-fifths evidently belonged to Oriel College and one-fifth to the Goodwins' manor. (fn. 175) This must have been the reason for the later claim that one-fifth of Shenington mill was free land, by contrast with college customary land. (fn. 176) It was a water corn-mill. At the end of the 15th century the miller was regularly presented in the courts leet for taking excessive tolls. (fn. 177) Seventeenth-century courts record its tenure by the Grimes family, customary tenants; in the 19th century it was held by lease and in 1808 the tenant paid 15s. a year rent and an entry fine of £80. (fn. 178) In 1855 the mill worked with two pairs of stones and depended for its water on a few uncertain springs, sufficient for grinding wheat for a short period only each year. It was valued at £54 10s. a year and its fall in value was blamed at that time on competition from steam mills and farmers' hand mills. (fn. 179) Leases of the mill survive up to 1875 but it probably ceased to operate soon afterwards and was not marked on the Ordnance Survey map of 1882. (fn. 180)
Church.
Shenington was included in Worcester Diocese until it was transferred in 1541 to the newly created Gloucester Diocese. In 1837 it was restored to Worcester Diocese. (fn. 181) In 1900 Shenington was united with Alkerton and became part of Oxford Diocese. (fn. 182)
The church was in existence by the first quarter of the 12th century when Robert Sor gave the advowson to Tewkesbury Abbey. (fn. 183) Within a few years the grant was confirmed by Robert's son Odo and Simon, Bishop of Worcester. (fn. 184) The abbey did not always present; (fn. 185) at least one papal provision was made, for in 1310 Odo, son of John Colonna, was provided. (fn. 186) On Odo's death the Pope granted to his brother, Cardinal Peter Colonna, a faculty to present. (fn. 187)
On the eve of the Dissolution, in 1534, Tewkesbury granted away one turn of the advowson, (fn. 188) probably on condition that, if necessary, it would be used to provide one of the monks with a benefice. In 1544 the advowson, which had reverted to the Crown, was granted to Richard Andrews and George Lysle, (fn. 189) but by 1551 it had come into the possession of the Sheldon family of Beoley (Worcs.); (fn. 190) William Sheldon presented in 1560 and in 1567 (fn. 191) and Thomas Sheldon in 1577. (fn. 192)
The Sheldon family were Roman Catholics from the time of Ralph Sheldon (1537–1613) and so disqualified from exercising their patronage, although they held the advowson until the mid-18th century. (fn. 193) The first turn was granted to Anne Dochin, who presented in 1615. In 1642 John Keyte and Thomas Child presented, (fn. 194) but the bishop at first refused to institute their nominee, having been warned against it by William, Lord Saye and Sele, who seems to have questioned their right to present. (fn. 195) Child, a member of the famous banking firm, made another presentation in 1658. (fn. 196) In 1677, Sheldon Beeby, presumably a Protestant relation of the Sheldons, presented. (fn. 197) In 1717 George Carter presented, and in 1720 Oxford University presented under the Act of 1606 regulating presentations by recusants. (fn. 198) By 1738 George Lee, Earl of Lichfield (d. 1742/3), had acquired an interest in the advowson. (fn. 199) The Lee family were recorded as patrons in 1743, 1750, and 1779. (fn. 200) Robert Child, however, presented in 1772 (fn. 201) and his trustees were patrons in 1801. (fn. 202) The whole of his estate was left by will to his grand-daughter, Sarah Sophia, who married George, Earl of Jersey, and the advowson of Shenington thereafter followed the descent of Alkerton. (fn. 203)
Shenington was valued at £12 6s. 8d. in 1291 (fn. 204) and £15 3s. 4d. in 1535. (fn. 205) In 1650 it was worth £80, (fn. 206) by 1738 £120, (fn. 207) and by 1779 c. £160. (fn. 208) In 1835 the benefice was valued at £332, (fn. 209) but in 1900 only £220. (fn. 210) In 1920 it was worth £325 with Alkerton annexed. (fn. 211) At inclosure in 1780 the rector was allotted c. 188 a. for tithes. (fn. 212) Details of the small tithes were given in 1721: tithe lambs and tithe eggs were taken in kind, but tithe of sheep, milk cows, colts, sucking pigs, and fruit was commuted. (fn. 213) Easter offerings were then charged at the rate of 2d. a head for adults, and by 1828 at 4d. a house. (fn. 214) In 1613 the glebe comprised 2 yardlands and 2 closes. (fn. 215) At inclosure the rector was awarded c. 43 a. for glebe. (fn. 216) In 1807, when the rectory estate was leased separately from the rectory-house, it comprised c. 212 a., a farmhouse, and other buildings. (fn. 217) Most of the glebe was sold in 1920 for £9,000; in 1963 c. 11 a. remained. (fn. 218)
An annual pension of 13s. 4d. paid to Tewkesbury Abbey (fn. 219) passed with the advowson in 1544 to Richard Andrews and George Lysle. (fn. 220)
On several occasions Tewkesbury Abbey presented incumbents who were in minor orders only, (fn. 221) and non-residence was common throughout the Middle Ages. A case of non-residence in 1286 resulted from the intrusion, when the rector was still alive, of Robert of Lechlade who already held St. Peter's, Bristol. (fn. 222) One rector, a papal chaplain, was not only non-resident in 1309 but was eventually deprived, and it does not seem likely that Odo Colonna, who held three prebends and one other benefice, was even resident in England. (fn. 223) At least two medieval rectors were granted long-term study leave. (fn. 224) It is not surprising to find that in 1317 the Dean of Worcester was charged with the discovery and punishment of those guilty of concealing the tithes, goods, and other profits of Shenington church. (fn. 225)
Several of the 16th-century rectors appear to have been non-resident also, for the parish was being served by curates; there was a curate in 1532, (fn. 226) who was still serving there in 1540 and 1544, and in 1545 a parishioner left 10s. for him to say a trental. In 1548 another curate was condemned as contumacious. (fn. 227) It is possible that Roger Hughes, presented in 1544, who was certainly non-resident, was also a pluralist since a man of this name was presented to Portishead (Som.) in 1543. (fn. 228)
The incumbent in 1560 was deprived for refusal to conform to the Elizabethan Settlement; in 1551 his replies to visitation articles had been only satisfactory (mediocriter). (fn. 229) At that time there were 112 communicants in the parish. (fn. 230) The next incumbent, although resident, was described in 1563 as 'a drunkard and a swearer', who said the services so indistinctly that the congregation could neither understand nor join in the responses; he was declared contumacious in 1566 and resigned the following year. (fn. 231) His successor, although perfect in scripture, was a pluralist and neglected the church building and goods. (fn. 232) The next incumbent, neither a graduate nor a preacher in 1584, had taken a degree by 1593; (fn. 233) his incumbency saw a fall in the number of communicants to eighty. (fn. 234) In 1615 he was succeeded by another non-resident incumbent. (fn. 235)
Nothing is known of the church life of Shenington in the 17th century, except that during the Interregnum it was served by a curate because the minister was aged. (fn. 236) For much of the 18th and 19th centuries Shenington was almost a family living. Edward Hughes held it from 1721 to 1735, another Edward Hughes from 1772 to 1801, then Robert Edward Hughes from 1801 to 1846 when his son of the same name was instituted. (fn. 237) In 1796 a relation was made assistant curate. (fn. 238) In the period 1738–72 Dormer Sheldon was rector. He held the living with another benefice and with a private chaplaincy. (fn. 239) There were frequent changes of curates, as many as three between 1739 and 1743. (fn. 240) R. E. Hughes also held Broughton after 1814. In 1835 he was instituted to Alkerton and until 1869 the livings were held jointly. (fn. 241) On the death of the second R. E. Hughes in 1869 the patron, Lord Jersey, attempted to unite the two livings. The disputes which followed and the later history of the livings after their union in 1900 are described under Alkerton. (fn. 242)
Two customs connected with Shenington church should, however, be mentioned here. One is the strewing of grass in the church for three weeks at Whitsun; the other is the Oddfellows or Amicable service which since 1841 has taken place every Trinity Monday. (fn. 243) The strewing of grass, brought from Shipton, is mentioned in 1720, and a visitor remarked on the custom in 1778. (fn. 244)
The church of HOLY TRINITY comprises a nave, chancel, south aisle, and western tower. (fn. 245) The earliest part of the church is the former chancel arch, enriched with chevron and cable mouldings, which dates from the 12th century; at the restoration of 1879 it was removed to its present position between the organ chamber and the chancel. (fn. 246) The south aisle was built in the 13th century. The dividing arches of the Early English arcade are supported on octagonal shafts with capitals decorated with stiff-leaf foliage. In the early 14th century windows were inserted in the chancel walls, a rood-screen was erected, and a canopied piscina, a locker, and one stone seat were installed. The south aisle was rebuilt in its present form, with Decorated windows and ashlar-faced walls. Also in the 14th century the nave was heightened and clerestory windows were inserted on the south side. A south porch was added in the 15th century. The west tower cannot be earlier than the late 15th century and the architectural details, in particular the belfry windows, might suggest an even later date. A bequest of 1504 'for the making of the steeple of Shenington' probably dates the work precisely. (fn. 247)
The medieval church contained a side altar dedicated to Our Lady. (fn. 248)
Box pews were installed in the late-17th or early18th century. (fn. 249) In 1720–21 the roof of the tower was new-leaded, but it is clear that the fabric of the church was in general disrepair at that time. By will proved in 1734 Samuel Davenport, wharfinger of London, left £100 for repairing, rebuilding, or finishing the church. (fn. 250) In 1739 fairly extensive repairs to the nave and south aisle, including the rebuilding of a side wall, were carried out. (fn. 251) It seems from the large plumber's and carpenter's bills and the references to timber and lead that the work was chiefly connected with roofs. (fn. 252) In 1742 Oriel College was asked to give timber for the erection of a gallery for 'a company of singers'. (fn. 253) Before the end of the century the north walls of the nave and chancel and the east end of the chancel were rebuilt in 'a bald and tasteless style'. (fn. 254)
In 1840 a new church door was put in. In 1867 the west gallery was removed, 'four new windows' were inserted (apparently those now in the north wall of the nave), and the exterior of the church was stuccoed. (fn. 255) Restoration was carried out in 1879 by the architect J. L. Pearson, with G. Bartlett of Bloxham as builder. (fn. 256) A new chancel arch was built in the 'Early English' style and in the course of this work the upper doorway of the rood-loft staircase, which was in perfect condition in 1841, (fn. 257) was obliterated. A vestry was built in the Decorated style, its window partly a copy of the east window of the chancel. The east window itself was altered and placed higher in the wall. The west window of the south aisle and another window were entirely renewed and were copied exactly from the original windows. New bases were put to all the pillars. The whole church was re-roofed in oak. It was presumably in the course of this work that all '18th-century ugliness' was replaced by work in the Gothic style. The old box-pews were replaced by pitch pine open benches and the 14th-century rood-loft which formed the back of one of the box-pews in 1841 (fn. 258) was presumably destroyed. Oak choir stalls, pulpit, and lectern were installed and a reredos erected. The chancel and the aisles of the nave were tiled. A new font, made before 1821, was removed from the chancel to the west end of the south aisle. (fn. 259) New heating apparatus was installed.
In 1948 the church acquired electric light. (fn. 260)
The earliest monumental inscriptions are to Mary Goodwin (d. 1666/7), and to Robert (d. 1699) and Elizabeth Pettifer (d. 1713), who did 'much good to their relations and the poor'. The tablet to the Pettifers was put up in 1716 by Samuel Davenport (d. 1734), whose own bequest to the parish was commemorated by the churchwardens in 1739. There is a tablet to Arthur Blythman, rector for 57 years (1869–1926), and a memorial window to R. E. Hughes (rector 1801–46).
In the external wall of the south aisle is a medieval sculpture representing a man and an ox. Stained glass windows, designed by Jones & Willis of Birmingham, were erected in 1909, 1920, and 1921. (fn. 261)
The church possesses a silver Elizabethan chalice and paten cover, both hall-marked 1576. (fn. 262)
The five bells were all cast in 1678 by Henry Bagley and were hung on a frame of 1615. They were rehung c. 1926. (fn. 263) A clock was placed in the tower before 1720. (fn. 264)
The registers of baptisms and burials are complete from 1721 and the register of marriages from 1753. (fn. 265)
Nonconformity.
A group of 6 Protestant nonconformists was recorded in 1676. (fn. 266) These may all have been Quakers, for the registers of the Banbury Division give 6 family names for Shenington in the late 17th century and 7 in the 18th century. (fn. 267) There was no meeting-house, and Shenington Friends seem to have attended the one at Shutford. (fn. 268)
In 1815 a Shenington blacksmith certified to the Bishop of Gloucester that his shop was used for a dissenting meeting and in 1818 and 1819 a Methodist minister of Banbury sent in certificates first for the blacksmith's shop and then for a chapel. (fn. 269) The chapel lay just on the Shenington side of the stream separating the villages of Shenington and Alkerton, and in 1851 was being shared by Independents and Primitive Methodists, the former having a congregation of 55, the latter of 80. (fn. 270) These figures probably included people from neighbouring villages. By 1869 the chapel was described as Primitive Methodist only. (fn. 271) In 1878 the rector found the dissenters still numerous and the Primitive Methodists 'very consequential and self-opinionated'. (fn. 272) The chapel was in use in 1962. (fn. 273)
Schools.
'School-house close' in Shenington was mentioned in 1732, but no further evidence of a school before the 19th century has been found. (fn. 274) In 1819 a school was reported to which 'all the poor' sent their children. It was supported by voluntary subscriptions and was on the National plan. This school, which was also attended by children from Alkerton, was thought to be adequate for the needs of the population. (fn. 275) In 1833 it had 27 boys and 41 girl pupils, and was described as a day and Sunday school. (fn. 276) In 1871 a National Church of England school was built. Boys, girls, and infants were taught in one room and by one teacher who was appointed by the incumbent and churchwardens. A Sunday school was held and night school twice a week. Children's payments supplemented the parliamentary grant, subscriptions, and a small endowment. There was accommodation for 78, and an average attendance of 40 (fn. 277) rising to 47 by 1896. (fn. 278) The number of children attending school had increased to 100 by 1903 and in 1905 the school was enlarged. (fn. 279) In 1962 Shenington school had aided status and there were 37 children on the roll. (fn. 280)
Charities.
One J. Davenport of London (d. 1734) gave £120, by will, for the poor. The bequest was partly lost through unsecured loans, but the rector, said in 1828 that his father, when rector, recovered some and invested £119 8s. In 1828 the rector received a dividend of £3 11s. 7d. which was distributed by him and the churchwardens. Samuel Davenport left £220, a bequest commemorated by a tablet put up in the church in 1739. No later information has been found.
One J. Ward, by will dated 1812, gave £40 to the minister and churchwardens, half for bread for the aged poor and half in cash to the same and to fatherless children in distress. In 1828 it was reported that the executor regularly paid interest to the churchwardens. (fn. 281)