Pages 85-102
A History of the County of Oxford: Volume 9, Bloxham Hundred. Originally published by Victoria County History, London, 1969.
This free content was digitised by double rekeying. All rights reserved.
BROUGHTON
Broughton parish (2,083 a.) lies some 2¼ miles south-west of Banbury and includes the townships of Broughton (975 a.) and North Newington (1,108 a.). (fn. 1) In 1592 Broughton was the larger township, containing 1,442 a.; (fn. 2) the present boundary between the townships dates from at least 1805. (fn. 3) The parish is bounded on the west, south, and north-east, by the Sor Brook and one of its feeders; on the north-west the boundary follows Padsdon Bottom and Padsdon Springs as far as Wroxton mill. (fn. 4) On the western boundary is an ancient ford over the Sor Brook, Haeslford, which occurs in a charter of 956. (fn. 5) There is an Iron Age fortification, known as Castle Bank, but otherwise there is no evidence of early settlement in the parish. (fn. 6) Roman coins and the remains of a Romano-British settlement have been found just beyond its boundaries, while the Roman road from Alcester may have skirted it on the south. (fn. 7)
In the valley of the Sor Brook the land is liable to flooding, but in the centre of the parish, at Claydon Hill (566 ft.) and Welshcroft Hill, and in the northwest and north-east, it rises to 500 ft. and over. The soil is red Marlstone overlain by Upper Lias clays, with Northampton Sands and Inferior Oolite Limestone on the hills. (fn. 8) Marl from the limestone quarries no doubt supplied the fuller's earth for Broughton's fulling-mills. (fn. 9) The Marlstone, apart from providing good corn-growing land, and plentiful building-stone, (fn. 10) lends colour to the landscape. Although the landscape retains an upland character, hedging of fields after inclosure in the 17th and 19th centuries, the creation of a park (58 a.) in the 18th century, and the making of coverts in the late 18th and 19th centuries (fn. 11) have diversified it. Ridge and furrow is visible on the high ground near Woad Mill Farm and elsewhere in the parish.
A secondary road from Banbury to Shipston runs through Broughton village, where it is crossed by a minor road from Bodicote to North Newington; it appears on a map of 1675 and was turnpiked in the 18th century. (fn. 12) The turnpike was altered in 1835 after the purchase of an acre of land, Lower Bretch, south of North Newington; part of the original route by Pike Farm is now a footpath. (fn. 13) Broughton toll-gate stood near the Bretch inclosure about a mile from the castle. (fn. 14) Another route which has lost its importance was the old Saltway from Droitwich to London which ran through North Newington and followed Crouch Lane, a name of British origin, at the foot of Crouch Hill. (fn. 15)
The parish roads probably carried much traffic in the Middle Ages: there were markets at Banbury and Chipping Camden (Glos.) and North Newington chapel seems to have had local importance as a pilgrim centre. (fn. 16) From the 17th century onwards growth of population and trade, and of Broughton's industries — fulling, dyeing, and later paper-making — added to the volume of traffic. (fn. 17) Especially at North Newington there were important wagoner's inns: in 1782 and 1783 the 'Roebuck' and the 'Three Lions' were licensed, (fn. 18) along with the 'Twisleton Arms' in Broughton village. (fn. 19) The 'Roebuck' and the 'Saye and Sele Arms' (successor to the 'Twisleton Arms') have obtained a new lease of life from modern motor traffic. North Newington contains another inn, 'The Bakers' Arms'.
Broughton village lies in the south-east corner of the parish. (fn. 20) Its name (O. E. Broctun) means 'the inclosure or farm by the brook'. (fn. 21) The field name 'Chadwell', (fn. 22) which seems to be one of many invocations of St. Chad, Bishop of the Mercians (d. 672), perhaps provides additional support for the antiquity of the settlement.
The medieval castle and church lie close together on gently rising ground on the northern bank of the Sor Brook near its confluence with two small feeders. Nearby stood Broughton mill. In 1685 Broughton village comprised 19 houses standing in their own gardens and orchards. Most were grouped in Church Lane or spread out along both sides of the Banbury road between the mill and Danvers farm. Four of the houses, including 2 isolated fulling-mills on the Sor Brook, were right off the road. (fn. 23) In the 1660s the Danverses' house and one other had been taxed on 4 hearths and there were 3 other farm- or millhouses with 3 hearths each. (fn. 24) The village expanded from the late 17th century to the 1820s, especially in the last decade of the 17th century and in the later 18th century. (fn. 25) In 1738 the rector said that there were 30 houses (fn. 26) and in 1805 that there were c. 37 families. (fn. 27) In 1827 Broughton contained 26 cottages, 5 farm-houses, a mill, and the rectory, and there were 2 isolated mill-houses. (fn. 28) Population was, however, then declining. It had reached its 19th-century peak in 1821, earlier in fact than in most Oxfordshire villages, and it fell fairly steadily to 132 in 1911, when it began to rise again. (fn. 29) In 1961 it was 158 (fn. 30) but subsequently increased as commuters settled in the village.
Apart from the castle (fn. 31) the most imposing house in Broughton is the rectory-house. This house was originally built in 1694 by the rector John Knight on a new site. (fn. 32) It seems that the medieval rectory stood on rather lower ground, for remains of a 14th-century building were found there in the 19th century. In 1665 it was taxed on 7 hearths. (fn. 33) The medieval window now in the rectory out-buildings was placed there when the tithe barn was pulled down in the early 19th century. (fn. 34) Knight's house, of 2 builds, had five bays, two stories, and cellars, and still stands, though considerably enlarged in 1820 and 1842. The earlier work of 1820 involved the building of the bay-windowed drawing-room or west portion of the house with its wide-eaved roof after a design by S. P. Cockerell. New offices and kitchens and the upper coach house were designed by H. J. Underwood of Oxford in 1842. (fn. 35) The house retains its original 17th-century wainscoting, which Hannah Knight, the rector's relict undertook not to remove. (fn. 36) Most of the other houses in the village street date from the 19th century. They are built of local stone and in the Gothic style: Rectory Farm replaced the old farm-house in 1807–8; in 1841 twelve old cottages were pulled down and replaced by three new blocks, each block containing four tenements; in 1859 the almshouses were built by Elizabeth Bradford Wyatt; in 1864 the house opposite the 'Saye and Sele Arms' was built; in 1877 a Gothic lodge to the castle and in 1882 a brick Sunday school (now closed) were constructed, (fn. 37) and in 1892 the mill was converted into a dwelling-house. (fn. 38) This part of the village, which includes the 'Saye and Sele Arms', built in the 17th–18th centuries, remained substantially unaffected by modern developments, apart from the introduction of electricity in 1954. In 1816 many trees were planted in 'Townside' (fn. 39) which was notable for its trees in 1963.
A number of outlying farms in Broughton township were built after inclosure in the 17th century. They are Rectory Farm, Broughton Grange, Broughton Grounds Farm, and Pike Farm.
There has been considerable new building by Banbury R.D.C. and by private builders on the north side of Broughton. Since 1960, when there were only 48 dwellings, (fn. 40) the village has more than doubled in size.
North Newington hamlet is sited by a spring at a height of c. 400 ft. (fn. 41) Its position on the old Saltway and on the Banbury-Shutford road via Shutford bridge were factors in its growth. Non-agricultural work was available not only in Newington papermill but also in the weaving industry of Banbury and Shutford, with the result that by the early 18th century Newington's population was larger than Broughton's. (fn. 42) It reached a peak figure of 448 in 1841 and thereafter decreased to 265 by 1961. (fn. 43)
The village is irregular in shape; its houses lie chiefly on the Banbury-Shutford road (Main Street) and in Park Lane, which leads to Park Farm, probably the site of a medieval manor-house. A 14thcentury doorway, now bricked up, visible in a cottage wall on Park Lane, most probably was part of the chapel of St. John: (fn. 44) it appears to be in its original position. Until the mid-19th century the remains of a medieval cross stood in Main Street. (fn. 45) In 1805 this part of the village was compact, since the west end of Main Street abutted on the green, where there had been very little encroachment. (fn. 46) After inclosure housing developed westwards along the WroxtonBanbury road and the green disappeared. To the east of the village, south of Park Farm, a former lane and possibly buildings, which must have disappeared before 1805, (fn. 47) are shown by field markings.
In 1665 Newington contained William Dalby's manor-house, taxed on 8 hearths, 6 farms of 2 or 4 hearths, and 6 smaller houses. In 1662 17 houses were taxed. (fn. 48) The present Park Farm, which lies outside the village, is perhaps identifiable with Dalby's manor-house. A moat is shown just to the north of it on a map of 1805. (fn. 49) In 1852 Park Farm was described as an ancient mansion called St. John's in the Wood. The house was later largely rebuilt, but retains a well-preserved 17th-century dovecot, built of ironstone rubble, circular in plan, with a moulded coved stone cornice. (fn. 50) Another 17th-century house, much altered, is the large house in Main Street, once an inn. (fn. 51) It is a 2-storied building of 5 bays, with cellars and attics. It has a central stone chimney-stack and a number of its original stone-mullioned windows. In 1883 it was used as a tenement house for labourers. (fn. 52)
In the early 19th century, when the population was expanding, the hamlet contained 65 houses, besides the 'Roebuck', a smithy, a malthouse, and 4 cottages and a shop belonging to the North Newington timber company. There were 8 farm-houses, of which 4 lay outside the hamlet; the paper-mill and house belonging to it were also outside. (fn. 53)
In 1963, although many of the stone houses survive, a few of them with thatch, there are new houses of red-brick in the main street, and slate roofs are predominant. Council houses have been built at the west end of the village, and there has been in-filling on Park Lane and School Lane.
Although the connexion of the parish with the families of Wykeham and Fiennes has brought it into touch with great national events, (fn. 54) the impact of these events on the parishioners is largely unknown. That families might be divided in their loyalties, however, is illustrated by the case of John French of Broughton who in 1644 supplied malt to the royalist army at Oxford while his son John was physician to Sir Thomas Fairfax's army. (fn. 55)
Manors.
Before the Conquest BROUGHTON was held by Turgot the lageman of Lincoln, who had estates in Yorkshire, Nottinghamshire, and Lincolnshire. Turgot's lands passed after the Conquest to Robert de Todeni and his son Berenger, and in 1086 Berenger held an estate assessed at 20 hides in Broughton which probably included North Newington. (fn. 56) The overlordship of Broughton evidently descended with the de Todeni lands to Berenger's niece. Cecily of Belvoir, daughter of Adeliz de Todeni and Roger Bigod, who married William (I) d'Aubigny. (fn. 57) In the early 13th century Broughton and North Newington were held as three fees of the honor of Mortain of William (III) d'Aubigny of Belvoir (d. 1236). (fn. 58) The overlordship of the manors should have descended through Isabel, daughter of William (IV) d'Aubigny (d. 1242), to the de Ros family, (fn. 59) but their connexion with the lordship of Belvoir appears to have been lost in the later 13th century.
It seems that thereafter the mesne lords became overlords and that, in the early 14th century, the overlordship was transferred, not without difficulty, to Thomas, Earl of Lancaster; it was then deemed part of the duchy until the early 17th century. In 1224 the mesne lord of Broughton and North Newington was Richard of Waterville, (fn. 60) lord of Naburn (E. R. Yorks.) and North Dalton (E. R. Yorks.), manors which also had been held by the Saxon Turgot. (fn. 61) Richard undertook to provide additional service from his Yorkshire demesnes, that is to say the balance required to make up his three small fees in Broughton and North Newington to full knight's fees — implementum quod deest ad tria feoda parva de Moretoing' adfacienda tria magna feoda. (fn. 62) The mesne lordship of Broughton followed the descent of Naburn, which by 1242 (fn. 63) was held by the Palmes family, until in 1318 William de Palmes quitclaimed the homage and service of the tenant of Broughton to Thomas, Earl of Lancaster. (fn. 64) The earl had already in 1315 claimed the wardship of the heir of Broughton and had taken possession of the manor. He held it until his execution in 1322, despite the claims of Robert of Wykeham, who actually held the manor for a week in 1315, before the earl seized it. Wykeham again took possession for a short while after the earl's death, until Broughton was taken into the king's hands. It was then found that the tenants of Broughton held of Robert in socage. (fn. 65) In 1331 Robert of Wykeham was again said to be overlord. Nevertheless, Earl Thomas's nephew Henry, Duke of Lancaster, was overlord of Broughton and North Newington at his death in 1361, (fn. 66) and thereafter the manors were consistently said to be held of the Duchy of Lancaster. (fn. 67)
In 1086 Broughton was held of Berenger de Todeni by Robert, Reynold, and Gilbert; it is not known whether any of these men were ancestors of the later demesne tenants, who took their name from the manor. (fn. 68) Ralph of Broughton was dead by 1224 when his heir, John, was in the custody of Richard of Waterville, who by 1230 had transferred his ward to the keeping of Michael Belet, (fn. 69) the founder of Wroxton Priory. (fn. 70) The heir, John of Broughton, was holding the manor in 1242–3, (fn. 71) and another John (d. 1315) was granted free warren at Broughton in 1301. (fn. 72) This John, a knight of Edward I, probably built the original castle; he served overseas and against the Scots, and may have died at Broughton, (fn. 73) for he is not known to have held other property, and an early 14th-century effigy in the church is almost certainly his. Coats of arms on this tomb show that he was allied with many important families, such as the Seagraves, lords of North Newington and many other manors, and with the Ardens of Drayton. (fn. 74) His son John came of age by 1327, (fn. 75) made a settlement of Broughton manor in 1333, (fn. 76) gave a rent in the manor to Wroxton Priory in 1340, (fn. 77) and was still alive in 1346. (fn. 78)
It is uncertain when the Broughtons became lords of North Newington. Late in the 12th century NEWINGTON was held by William Clement, lord also of Balscott in Wroxton and of Dunchurch (Warws.). (fn. 79) He left two daughters as his heirs, Christine and Alice. Christine and her husband, Avenel Butler, sent the child Alice to a convent and later persuaded her to become a nun, thus acquiring all the property. (fn. 80) When Alice came of age she repudiated her vows, married, and demanded half her father's inheritance. The lawsuit dragged on from 1201 to 1220, first against Avenel Butler and later against his son Jordan, who refused to restore the property on the plea that Alice was an excommunicated nun. (fn. 81) Eventually in 1220 Alice quitclaimed to Jordan Butler her inheritance in 2 fees and 4 hides of land in Newington, except for 20 a., in return for land in Wroxton. (fn. 82) Christine, daughter and heir of Jordan Butler, married John de Dunheved, who was returned in 1242 as one of the lords of the 3 fees in Broughton and Newington. (fn. 83) After 1244 there is no record of the family's connexion with these fees. (fn. 84) By the end of the century 2 fees in Newington had passed to John of Seagrave, who was granted free warren in his demesnes there in 1299. (fn. 85) Seagrave, one of Edward I's leading commanders, died in 1325. Although his grandson John was said to be lord of Newington in 1346, (fn. 86) the manor had probably already passed to the Broughtons. No further trace of the Seagrave's manor has been found and the property appears to have been divided earlier in the century. Perhaps a part was given in dower, for in 1316 John of Broughton was said to have been lord of both Broughton and Newington, (fn. 87) and the Seagrave arms on the earliest Broughton family tomb in Broughton Church imply that the families were allied. Newington was included in the settlement of the property of John of Broughton's son in 1333. (fn. 88) The two manors thereafter followed the same descent.
John of Broughton (d. post 1346) was succeeded by his son Sir Thomas by 1356. (fn. 89) Thomas was a knight of the shire for Oxfordshire in 1370 and 1372, (fn. 90) and died before 1377 without male heirs. It is likely that Margery, wife of Edmund Waldyff of Mollington in Cropredy, (fn. 91) and Joan, wife of John of Compton of Milcombe (fn. 92) in Bloxham, were Thomas's daughters and coheirs. By a series of deeds between 1377 and 1385 their husbands conveyed to a group of feoffees the manors of Broughton and North Newington except lands held in dower by Elizabeth, wife of Roger de la Chambre, relict of William of Adderbury and probably also of Sir Thomas of Broughton. (fn. 93) In 1392 the feoffees conveyed twothirds of the manors and the reversion of the remaining third after Elizabeth de la Chambre's death to William of Wykeham, Bishop of Winchester, for life. After the bishop's death the property was to pass to Thomas, the son of William Perrot and Alice, the bishop's niece. He took the bishop's surname of Wykeham, (fn. 94) and had obtained possession of Broughton and North Newington by 1402, (fn. 95) two years before the bishop's death. On his own death in 1443, after being many times knight of the shire and sheriff, he was succeeded by his son William Wykeham, also a knight of shire and sheriff. (fn. 96) In 1448 William and his wife Joan settled the manors on themselves for life and then on Sir William Fiennes, husband of their daughter Margaret. (fn. 97) William Wykeham died in 1457; (fn. 98) Sir William Fiennes, who became Lord Saye and Sele in 1450, (fn. 99) was killed on the Yorkist side at Barnet in 1471, and Margaret held the manors until her death in 1477 when her heir, her grandson Richard Fiennes, de jure Lord Saye and Sele, was a minor. (fn. 100) During Richard's minority Broughton was placed in the custody of Sir Richard Harcourt, his maternal grandfather. (fn. 101) Richard died in 1501, leaving an infant son Edward as his heir, (fn. 102) and in 1502 a third part of Broughton and North Newington was assigned in dower to his relict Elizabeth (fn. 103) who survived until 1527. Edward Fiennes came of age c. 1521 and died in 1528 leaving his relict Margaret a life interest in Broughton and Newington, though her possession of the former was conditional on her not remarrying. (fn. 104) Margaret remarried before 1539; (fn. 105) Edward's son and heir Richard Fiennes came of age in 1541 and held Broughton until his death in 1573, while his mother retained a life interest. (fn. 106) In 1573 Margaret was still alive and holding North Newington. (fn. 107) Richard's son and successor, Richard, settled North Newington on his second wife Elizabeth, relict of William Paulet, in 1587, and in 1600 settled Broughton on his son William and William's wife Elizabeth, daughter of John Temple of Stowe (Bucks.). (fn. 108) In 1603 Richard obtained a patent confirming to him and the heirs of his body the Barony of Saye and Sele. (fn. 109) At his death in 1612 or 1613 he was succeeded by his son William, who was created Viscount Saye and Sele in 1624. (fn. 110) He died at Broughton in 1662 and was succeeded by his son James who died in 1674 leaving two daughters as coheirs. (fn. 111) The barony then fell into abeyance while the viscounty and apparently the manor passed to James's nephew William Fiennes (d. 1696) and then to his son Nathaniel, who died unmarried in 1710. (fn. 112) In 1710 the viscounty passed to Lawrence Fiennes, Nathaniel's cousin, (fn. 113) but the manor thereafter seems to have followed the descent of the Barony of Saye and Sele, the abeyance of which terminated in 1715 by the death of one of the coheirs; (fn. 114) Cecil, daughter and heir of John Twisleton of Barley Hall (W. R. Yorks.) and his third wife Elizabeth, daughter and coheir of James, Viscount Saye and Sele (d. 1674), became Baroness Saye and Sele. (fn. 115) She married first George Twisleton of Woodhall (W. R. Yorks.) by whom she had a son Fiennes Twisleton, Lord Saye and Sele, who succeeded her on her death in 1723. He died in 1730 and was succeeded by his son John (d. 1763) and grandson Thomas Twisleton (d. 1788). The manors of Broughton and North Newington have continued to follow the descent of the barony. (fn. 116)
Lt.-Col. Ivo Murray Twisleton-Wykeham-Fiennes, Lord Saye and Sele, and brother of the previous baron, was lord of the manors in 1965.
Castle.
Broughton Castle, probably begun by Sir John of Broughton (d. 1315), (fn. 117) is a notable example of a medieval fortified manor-house with 16th-century additions. It was built of stone from the local quarries. (fn. 118) It consisted of an exceptionally large hall (54½ ft. x 28¾ ft.), (fn. 119) flanked at one end by the lord's private apartments and at the other by the kitchen and other offices. The hall was much altered in the 16th century when its original timber roof was replaced by an upper floor, but surviving buttresses indicate that it was of four bays, lit by traceried windows, portions of which can still be seen built into both walls. The entrance appears to have been in the second bay from the west, where one jamb of the south doorway can be seen in the exterior wall. The lower doorways in the west wall, blocked in the 16th century, led to the buttery, pantry, and kitchen; those above them, also blocked, presumably gave access to a gallery, but the original arrangement cannot be fully reconstructed. At the other end windows with richly moulded jambs flanked the dais. The block to the east of the hall retains its medieval arrangements to a greater extent than any other part of the house. It is remarkable for a series of vaulted rooms and connecting passageways. The north passage led to a newel staircase mounting to the Great Chamber and further on, on the ground floor, to its undercroft, now used as the dining-room. Both the passage and the undercroft have vaulted roofs. From the south side of the hall another vaulted passage extends eastwards to the straight chapel stair and the south-east projection. The chapel is a rare example of an untouched 14th-century private chapel and can, perhaps, be exactly dated by the licence granted in 1331 to John de Broughton for divine service in his oratory at Broughton. (fn. 120) The chapel retains its original stone altar slab supported on stone brackets, and its only loss is the glass that once filled its lofty threelight east window. A blocked entrance in the south wall presumably led from the upper chamber to a gallery, and a squint still enables the altar to be seen from this upper chamber.
Bishop William of Wykeham bought the manor in 1377 and may have been responsible for some minor alterations to the castle. He may also have reconstructed the gatehouse, for the inner arch, the staircase turret, and the upper story all appear to date from the later 14th century. The gatehouse has no portcullis, but was provided with cross arrowslits and two pairs of gates. The existing outer gates are dated 1617 and have wheels inset for raising a drawbridge. The building was repaired in 1655 by William Fiennes (d. 1662) whose initials W. F. appear on the battlements. In 1406 Sir Thomas Wykeham was given licence to crenellate his house, (fn. 121) and was probably responsible for building a battlemented wall, of which a portion remains to the south-west of the gatehouse. He may also have built the stable which adjoins the gatehouse to the east, as it is lighted by windows with Perpendicular tracery of the second quarter of the 15th century. His alterations to the house seem to have been comparatively slight: he appears to have filled in the two arches which span the space between the south end of the chapel and the south-east projection and inserted two Perpendicular windows in the upper chamber above the arches. Neither the Wykeham descendants nor Richard Fiennes, who succeeded in 1528, had the desire or the necessary means to make further large-scale alterations, and were evidently well satisfied with what Leland described as a 'fair manor place'. (fn. 122) It was not until the mid16th century that Richard Fiennes, Lord Saye and Sele (d. 1573), transformed the ancient house into an Elizabethan mansion. Fiennes undertook his building operations while still a young man in 1554.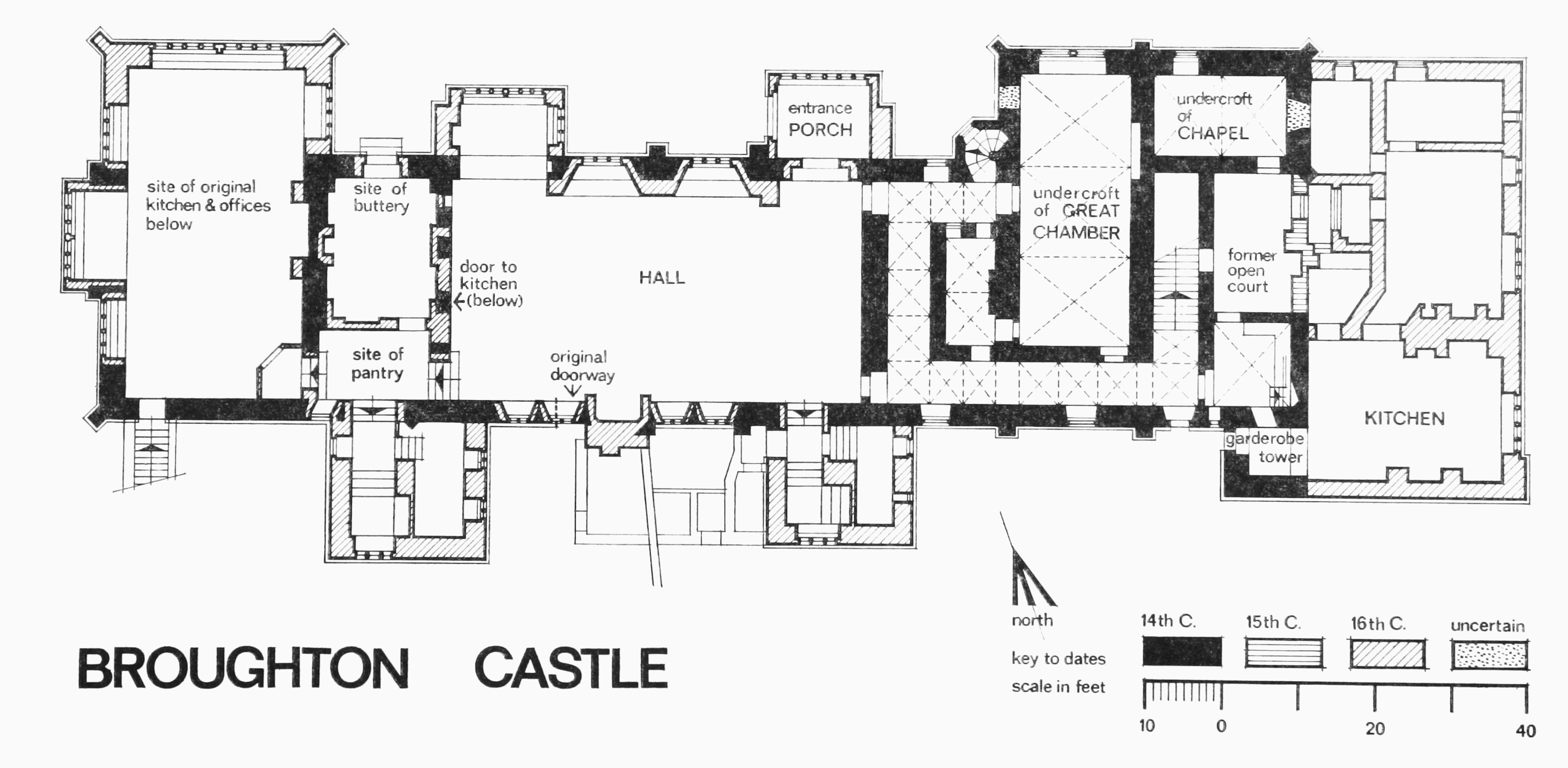 The alterations he made can be dated so exactly for two reasons: first there is the date 1554 on the chimney-shaft over the oriel window on the north front; secondly there is the evidence of the heraldry on the chimney-piece of the bedroom at the east end of the gallery which indicates that the room must have been built before 1556, the date of Richard Fienne's marriage. The heraldry in question consists of the crest of Danvers and the arms of Neville (i.e. the families of Richard's mother and his stepfather), whereas one would expect that the arms of Fermor would have been portrayed had the chimneypiece been made after 1556. Furthermore, the architectural details of the oriel are in the short-lived Italianate style of the 1550s which was inspired by French examples. Similar details are found at Broughton round the opening at the top of the eastern staircase and in the projecting sills on the inner side of the window in the second-floor room at the east end of the gallery. These sills rest on consoles or brackets of classical character. Moreover in the room known as the Star Chamber there is a chimney-piece surmounted by a plaster relief. The subject is a scene of Dryads dancing round an oak, identified by the inscription 'QUERCUM ERISICHTONIAM DRYADES CINXERE CHOREIS' as an illustration of Ovid, Metamorphoses VIII, 746. A relief representing the same scene formerly formed part of the decoration of the Galerie Francois I at Fontainebleau, and is known from an engraving by Boyvin. These features suggest that Richard Fiennes must have employed some of the craftsmen who executed similar work in England at Nonsuch (Surrey), Somerset House, Lacock Abbey (Wilts.) and Longleat (Wilts.). A further modernization of the house was carried on by Richard Fiennes (d. 1612 or 1613) after his father's death in 1573. The later work was in the usual Flemish Renaissance style of the late Elizabethan architecture.
The work carried out by the two men amounted to an almost complete remodelling of the principal rooms apart from the chapel. The medieval hall was given a flat ceiling and new windows; two floors were constructed above it and new staircases were made by adding two gabled projections on the south front. These staircases were themselves designed in accordance with the new square plan with wide treads and frequent landings. The south-west staircase rises to the Council Chamber in the top story, where William, Lord Saye and Sele, and his anti-royalist friends schemed against the government. The kitchen, buttery, and pantry were moved from the west end to buildings on the south side of the castle and the old screens passage of the medieval hall was done away with. Two symmetrical bay windows were added to the north front, the easternmost of which contains an entrance doorway in its west side. This arrangement of the entrance was unusual at this date though it later became common and is found at nearby Chastleton. Above the hall on the first floor there is a long gallery which evidently dates from this period, though its interior was remodelled in the 18th century. This appears to be the extent of the alterations carried out by the first Richard Fiennes by about 1570. In about 1598 his son Richard transformed the medieval west end, creating a range of two stories which balances the medieval east wing. This range contains little more than two great rooms, one on each floor. Each room is lit by mullioned and transomed windows of ample size. The ground-floor room (intended as a dining-room) is lined with contemporary wainscoting of unusually elaborate character. The plaster ceiling is correspondingly rich and ornate. The chimney-piece (14 ft. wide ü 6 ft. high) has above it a seascape painting in oils by Jan Pieters representing Charles II's departure from Scheveningen on his return to England in 1660. There is also an elaborate interior porch with a cartouche of the Fiennes quarterings and the motto Quod olim fuit meminisse minime juvat. The motto is reputed to have been added by William Fiennes (d. 1662) after the restoration of Charles II when he was doubtless anxious to obliterate the memories of his Parliamentarian past. The White Room above has a plaster ceiling decorated with roundels of heraldic birds and beasts and shields of arms. At the south end is a lozenge with the date 1599 on it while at the north end another lozenge has the initials R.E.F. for Richard Fiennes and Elizabeth, his second wife. The room lacks original woodwork of any kind and was, perhaps, never completed. Until the end of the 17th century there was much painted glass in the windows, but it was removed to Belvedere House (Kent) in about 1830. (fn. 123) The two doorcases in the Elizabethan style date from the 19th century.
Since about 1600 very little has been done structurally to the house. It suffered in the Civil War when it was besieged, (fn. 124) and among the minor repairs done afterwards were those to the gateway already mentioned. Later at the time of James Fiennes's death in 1674, the house, park, and gardens were described by Celia Fiennes as 'much left to decay and ruin'. (fn. 125) For the hearth tax of 1665 it had been assessed on 26 hearths, 1 fewer than Shirburn Castle and 8 fewer than Wroxton. (fn. 126) During most of the 18th century the Twisletons resided, (fn. 127) and to them must be attributed the Georgian Gothic decoration of the Library and the Gallery. But in the early 19th century the house was leased (fn. 128) and Brewer noted in 1819 that the rooms were 'daily dilapidating from misuse'. (fn. 129) It was not until 1848 that the owners again took up residence at Broughton. In the 1850s Frederick TwisletonWykeham-Fiennes employed Sir Gilbert Scott to carry out a careful restoration of the castle, (fn. 130) but leased it again a few years before his death in 1887. It remained in the occupation of tenants (fn. 131) until 1912, since when it has been the residence of successive Lords Saye and Sele. Grants for the restoration of the house and gatehouse were made by the Historic Buildings Council in 1955 and 1962. (fn. 132) Among the contents of the house that are of special historical importance is the diary of Celia Fiennes. In the hall are some fine 19th-century examples of the furnishing fabrics of the Shutford plush industry.
At the end of the 16th century the castle was used by Richard Fiennes to house prisoners suspected of Roman Catholic and Spanish sympathies. His own family, in order to prevent any intercourse with prisoners, was removed by the Queen's orders to the rectory, but Fiennes petitioned that the prisoners might ride in the park with him for the sake of their health. (fn. 133) In 1604 and 1619 James I was a visitor; (fn. 134) later the castle was made a centre of the opposition to the king and his son by William Fiennes (d. 1662), 'Old Subtlety' as he was nicknamed. (fn. 135) After his imprisonment in the Fleet for his attacks on the policy of James I he was confined at and within 4 miles of Broughton in 1622; in 1623 he was allowed a radius of 20 miles. (fn. 136) During Charles I's reign his active opposition to the king led Clarendon to describe him as 'the pilot that steered all those vessels which were freighted with sedition to destroy the government'. (fn. 137) Hampden, Pym, St. John, Nathaniel Fiennes, the Earls of Bedford, Essex, and Warwick, and Lord Holland were all visitors. It was at Broughton that William Fiennes (d. 1662) assembled a group of noblemen to arrange for their emigration to the New World. The founding of Saybrook (Connecticut) was the result. (fn. 138) When the Civil War broke out William Fiennes raised a regiment and garrisoned his house. According to tradition the regiment slept at Broughton on the eve of Edgehill. He and his sons fought there. He strongly disapproved of the execution of Charles I and lived in retirement at Broughton during the Interregnum. His second son Nathaniel Fiennes, M.P. for Banbury in 1640, became a colonel in the Parliamentary army and later played a prominent part in public affairs. (fn. 139) After the Restoration the Fiennes family continued to be active in the government of the country and James Fiennes (d. 1674) became a Privy Councillor and Lord Lieutenant of Oxfordshire. (fn. 140) In the late 19th century there were many royal and other distinguished visitors to Broughton, when Lord and Lady Algernon Lennox were the tenants. Among them was Lord Wolseley who was at Broughton in 1884 when ordered to take command of the Egyptian campaign. (fn. 141)
Local Government.
Broughton and North Newington were separately organized for poor law purposes from at least 1776. (fn. 142) At Broughton the cost of poor relief rose in the later 18th century. In 1776 £67 was spent; between 1783 and 1785 average expenditure was £96 and in 1802–3 £239 was spent, of which £176 was to provide out-relief for 20 adults and 46 children. This sum was raised by a rate of 3s. 4½d. in the pound. (fn. 143) In 1827 the rector and others successfully challenged the existing valuation; a new valuation brought in only £73 by a rate of 1s., compared with £86 on the old system. (fn. 144) After the Poor Law Act of 1834 the cost of poor relief fell from £228 in 1834–5 to £1787 in the following year. (fn. 145) Broughton became part of the Banbury Union; in 1851–2 expenditure was £79, raised by a rate of 11d. in the pound. (fn. 146)
Broughton's surveyors' accounts (1823–9) show that there were 2 surveyors. Levies for repair of the highways were 3d. or 6d. a year, which raised sums varying from £20 to £43 a year from about 14 contributors. (fn. 147)
At North Newington expenditure on poor relief almost trebled between 1776 and 1803. In 1776 £91 was spent. Between 1783 and 1785 there was an unaccountable fall in expenditure to an average £42; within 8 years, however, expenditure rose to £276. The rate was 5s. 6d., one of the highest in Bloxham hundred. At that time £203 was spent on out-relief; 15 adults, of whom 10 were able-bodied, and 7 children received permanent relief, while 7 adults received occasional relief. (fn. 148) It may be that North Newington's many small freeholders suffered more than larger landowners from the Napoleonic wars and that the weaving industry was also affected. By 1834–5 expenditure on the poor was down to £119 and the following year to £38. (fn. 149) North Newington became part of the Banbury Union; in 1851–2 expenditure was £180, raised at a rate of 1s. 11¼d. (fn. 150)
Economic history.
In 1086 the vill was assessed at 20 hides, which suggests that it was an ancient economic unit. It was under-cultivated, however, since only 10 ploughs were kept, although there was land for 16 ploughs. As 8 ploughs were in demesne, it seems that the lords held half the potential and three-quarters of the actual arable in their own hands. It is likely that the demesne farm of the pre-Conquest tenant Turgot was not divided when it came into possession of three Norman undertenants, for their holding was described as a single unit. There were 2 mills rendering 16s., and 37 a. of meadow. In 1086 the estate was valued at £20 compared with its pre-Conquest valuation of £16. The recorded population of 4 villani and 10 bordars held 2 ploughs; there were 4 serfs. (fn. 151)
Broughton does not appear in the Hundred Rolls, nor are there any early extents. Tax assessments of the early 14th century show that the peasant community was poor compared with those in other parts of the county, for example in the Thames valley. All but 8 of the 48 assessed for the 1327 tax paid under 2s. and half paid less than 1s. (fn. 152) The relative prosperity of Broughton and North Newington is not illustrated by early records, but Broughton had the larger acreage and in the late 15th century was valued at £20, while North Newington manor was valued at £10. (fn. 153) In the 1540s Broughton was stated to be worth c. £35 a year and North Newington c. £25. (fn. 154)
Except in the Fiennes family there seems to have been no marked concentration of wealth in the parish in 1523 but there were several fairly substantial small farmers. There were 52 contributors to the first subsidy of that year, 47 to the second. About a third paid between 2s. and 4s. 6d., that is were assessed on at least £4 worth of goods. Another third were assessed at 4d. and were either landless labourers or owned very few goods. Predominating over all were Sir Edward Fiennes and his mother, Elizabeth West, who paid between them the equivalent of the total contribution of the others and were the only persons assessed on lands. (fn. 155)
In 1444 the whole parish was included in a survey of the Wykeham estate. In general the survey shows that demesne farming in Broughton had declined, to the advantage of the small farmer. The demesne seems originally to have contained at least 21 yardlands (11½ in Broughton, 9½ in Newington) and a rabbit warren. In 1444 all except the warren and some meadow was leased to customary tenants; 22 tenants in Broughton and 12 in Newington held between ¼ and 1 yardland of demesne in addition to their customary tenements. The lord's farm equipment was also leased and 8 Broughton tenants held 6 carts and 8 ploughs formerly in demesne. Another unusual feature of the leases was that with one exception (where 10s. was paid for a yardland) tenants gave grain, not money, for demesne holdings, usually at the rate of 6 qr. for ½ yardland, as well as a cart-load and a sack of straw. (fn. 156)
There were only 5 free yardlands in Broughton and 6 in Newington, compared with 24½ customary yardlands in Broughton and 27 in Newington. They were held by 8 free and some 53 customary tenants, of whom as many as 37 lived in Broughton township itself. Tenants of free holdings held either by socage or knight service and rents varied from 1 lb. of pepper for a free yardland in Newington to 6s. 8d. for one in Broughton or 1s. 4d. for a croft held in socage. Two of the free tenants had substantial holdings of 3 and 5 yardlands respectively but the others held only 1 yardland or a toft or croft. The usual rent was c. 16s. for a yardland. Servile works were not mentioned and must have been commuted at an earlier date. Nevertheless, a contemporary court roll shows that the obligations of villein status were still insisted on, and two nativi who had left the manor were ordered to be at the next court. The distribution of customary land differed markedly in Broughton and Newington. In Broughton there had been little engrossment: only one tenant had as much as 2½ yardlands, the standard holding of customary land being ½ or 1 yardland, while 10 cottar-tenants held still less. In Newington, on the other hand, 8 tenants held between 2 and 4 yardlands each and 5 had 1 yardland only of customary land. (fn. 157)
The townships had separate fields. Some ordinances of 1441 include an order that no animals were to be allowed into ploughed land by night or day; at Broughton tenants had to keep the lord's pinfold in repair, and at Newington tenants were ordered to make a common pinfold. It was also laid down at Newington that none was to trespass in or make a road over the lord's warren or to break into a close of the lord or a tenant. All tenants of the manor had to scythe the lord's meadow. The grain rents show that muslin, dredge, and barley were the chief crops grown by the tenants, wheat being mentioned in only one instance. (fn. 158) Some land was laid down to leys, a common practice in north Oxfordshire. (fn. 159) There is little evidence for early consolidation of holdings: as late as the 16th century the glebe lay in scattered parcels of 1 a. or 2 a. and in lands and butts. (fn. 160) The yardland in Broughton contained c. 24 a. (fn. 161)
The pattern of farming established by the mid15th century and practised throughout most of the 16th century was radically altered between 1589 and 1607 when Sir Richard Faiennes turned to largescale farming, inclosed Broughton, and laid down much of the parish to pasture. About 500 a. of tenant land and some 12 tenements and 5 cottages were affected. (fn. 162) Sir Richard recorded in 1607 that he had taken over 3 yardlands of glebe in Broughton in exchange for 4 yardlands in Banbury and had resumed 9 yardlands of demesne in exchange for land in Bodicote. Other tenants had been persuaded to inclose: 50 a. of the parsonage, for example, once lying in common, were measured into 3 closes by 1607, and a few small tenants gave up their land altogether in return for common rights. At North Newington Sir Richard was only able to inclose 4 yardlands, which he had bought from a previous tenant. (fn. 163) After these changes Broughton manor, of which 1,295 a. were now in demesne, became the Fienneses' largest demesne farm in Oxfordshire. In North Newington they had only 217 a. in demesne. (fn. 164)
The object of inclosure was undoubtedly to convert land to pasture for sheep and cattle. In 1607 one tenant had none of his 60 a. of closes under the plough; and there were then only 4 or 5 ploughteams in the whole of Broughton township. (fn. 165) A survey of the demesne in 1592 records the changes in detail: 3 fields, about one-twelfth of the demesne, were arable, while the rest was meadow and pasture. The demesne estate was divided into some 20 closes. Some were exceptionally large, for example Stanwell pasture and meadow (171 a.), and Copthorn pasture (24 a.). There were only 146 a. of tenants' closes and houses in this township. (fn. 166) Over fourfifths (172 a.) of the demesne in Newington was pasture which was described in 1600 as on the 'east of the new hedge parting the great pasture' and worth £80 a year. (fn. 167) Newington, however, remained largely uninclosed. In 1592 the township, apart from the demesne, consisted of 22 a. of tenants' closes, 38 a. of meadow, and 449 a. of arable open field. In 1600 there were 23 yardlands in the common fields. (fn. 168) In 1607 it was recorded that the lord and tenants had 9 or 10 ploughs between them. (fn. 169) Despite the amount of open-field arable, however, many sheep were kept: one shepherd who died in 1637 had a flock worth £50. (fn. 170) Edward Broughton (d. 1613) was perhaps characteristic of Newington husbandmen with small mixed farms. At his death he had chattels worth £111 and carried, compared with many a south Oxfordshire farmer of the same class, a comparatively large amount of stock. He had a flock of 80 sheep, 8 horses, and a mare, and 7 'beasts', accounting for over a third of the total value of his inventory. (fn. 171)
The effect of inclosure on the status of the villagers was marked. In return for the tenants' cooperation Sir Richard Fiennes substituted leasehold tenure for copyhold, at least at North Newington where he gave them 'all' leases. (fn. 172) He probably created a number of small freeholds also, for 7 people were said to hold land in chief in North Newington in the late 16th century. (fn. 173) Richard claimed that these changes were all to the benefit of the tenants and instanced increases in value by 1607 of three or four times the old value of 1589: e.g. one 60 a. holding had increased from £10 to £30 and the parsonage holding (50 a.) from £20 to £40. (fn. 174) Furthermore, he claimed that individual tenants 'now lived well' and 'brought up and bestowed their children well', and described Newington as a village where all had been tenants-at-will and 'lived poorly' but 'now live all welthily'. (fn. 175) The local farmer prospered still further in the later 17th century when Sir Richard's successors, unable to continue with large-scale demesne farming, because, no doubt, of their losses incurred during the Civil War, leased much of their estate.
Late-17th-century rent rolls show that the Fienneses by then drew mainly rents from Broughton, which was still, however, their most valuable possession in north Oxfordshire. (fn. 176) In 1688, for example, they received £1,452 from their property in the parish. (fn. 177) There were about 29 tenants on their rent rolls who had taken over much of the demesne land: a map of 1685 shows the various closes named after these tenants. (fn. 178) Rents for a house and close varied from 10s. to £1, but individual rents for closes were often high: £92 10s. for a 'bargain' in Newington and £58 for Chadwell Great Ground. (fn. 179) If Quaker opinion was typical of local feeling, William Fiennes, lord of Broughton at this time, was regarded as a grasping landlord. He is described in a Quaker pamphlet as 'one who would lay field to field and house to house, till there be no place for the poor'. (fn. 180)
An examination of inventories and wills made between the late 16th and early 18th century throws light on the status of the local husbandmen and yeomen. The value of the inventories ranged from £12 to £281, but the average yeoman's was well below £100: eight of the Newington farmers were worth between £33 and £68. (fn. 181) Richard Claridge (d. 1570), for instance, a husbandman of Newington, was probably the man assessed in 1546 on £10 worth of goods. His goods and chattels were worth £33 when he died; he was a carpenter as well, since he left 140 boards to one son and 200 to another. (fn. 182) Edward Tustian (d. 1622) of Newington is an example of a small husbandman, worth only some £14; he had corn in the barn and house (£1) and a crop on the ground (£1), a cow, three store pigs, and 6s. 8d. worth of hemp and yarn. (fn. 183) A similar small husbandman of Broughton was worth £15 in 1613 and his agricultural wealth was in 2 cows (£5) and 2 store pigs and poultry (7s. 8d.). (fn. 184) The miller of Broughton, on the other hand, was worth £85 in 1664, of which £35 was owed to him on bonds, while over a quarter of his wealth (c. £24) was in horses, cows, pigs, hay, and bees. (fn. 185) Samuel French (d. 1662), yeoman of Broughton, who was worth £281, was exceptional. He held a lease of Banbury Castle and Castle Orchard worth £150, which accounts for the high value of the property listed in his inventory. His actual wealth in grain and stock was £55 and included 2 yardlands of wheat and peas. (fn. 186)
Pasture farming continued to be the chief basis of wealth in the parish, and field names such as Dairy Ground, New Close Pasture, and Grazing Ground indicate the importance of cattle and sheep in the economy. (fn. 187) A tithe case of 1697 shows that of 977 a. half was pasture, a quarter meadow, and a third arable. (fn. 188) The Fienneses were receiving a considerable sum from cattle on their manors in north Oxfordshire, (fn. 189) while their tenants were keeping a large proportion of their land under pasture. William Dalby (d. 1684) was probably the largest tenantfarmer in the parish: he leased the Newington demesne closes (fn. 190) and in 1694 was worth £847, of which nearly half was in stock and a quarter in crops. His flock of 295 sheep was given an exceptionally high valuation of £212 and his herd of 150 cows and yearlings was worth £167. (fn. 191)
Even so arable land may have increased in importance in the course of the 17th century. In 1656 85 a. of the Bretch were tillage and by 1674 the deer park and warren were ploughed. (fn. 192) The Fienneses received considerable sums from crops: £320, for instance, in 1684 in four inclosures. (fn. 193) Between 1693 and 1695 tenant-farmers were said to have ploughed their closes for three years in succession and to have grazed others for one year and ploughed for two, or vice versa. (fn. 194) Inventories of local farmers indicate that the usual north Oxfordshire crops were grown, i.e. wheat, barley, and peas. (fn. 195) William Dalby also had oats in his rickyard, where he had £90 worth of grain, including wheat and barley, and another Newington farmer had rye listed in his inventory. (fn. 196) In the 18th century there was a tendency to convert to arable since there were then better profits for corn. To guard against the exhaustion of the soil and a diminution of stock leases often contained a clause similar to that found in a lease of a 220 a. farm in 1778, which specified that about a third of the farm was not to be ploughed and that £5 a year was to be paid for every acre of ancient meadow or pasture ploughed up without leave. (fn. 197) New crops such as flax, hops, sainfoin, clover, and woad were being grown.
In the 18th century tenant-farming predominated, the greater part of the parish still being owned by the Saye and Sele family. (fn. 198) In Broughton itself there were only three 40s. freeholds in 1754; in Newington, always a more independent village, there were 10. (fn. 199) Late-18th-century land taxes show that there were c. 14 other landowners in the parish besides Lord Saye and Sele, but only two or three were owner-occupiers. (fn. 200)
In 1778 farmers anxious to inclose North Newington Field met in Banbury. Disputes over tithe prevented agreement and in 1783 the attempt to inclose was abandoned (fn. 201) until the opening years of the 19th century. The inclosure award of 1805 dealt with 513 a. of common and waste. (fn. 202) Gregory, Lord Saye and Sele, as lord of the manor, received c. 2 a. for rights in the waste but had no other land in the open fields. The largest allotments were to Francis, Earl of Guilford (146 a.), to the rector (100 a.), and Mary Long (99 a.). Six allotments of 14 to 29 a. were made, and there were three of under 1 a. (fn. 203)
Throughout the 19th century the Saye and Sele family remained the chief landowners: in 1831 Gregory, Lord Saye and Sele, and Fiennes Trotman paid three-quarters of the land tax for the parish, the only other landowner of any size being the rector, who was assessed at £15 on house and land. (fn. 204) At this time there were c. 20 tenants holding land, 6 of them with rentals of over £100. (fn. 205) The small tenant farmer, however, disappeared in the course of the century. In 1851 3 farmers were recorded in Broughton and 6 in Newington. Of these, 3 had between 80 a. and 100 a., but there were 4 with 250 to 330 a., and almost a third of the total farmland (884 a.) was concentrated in the hands of one farmer, employing 41 labourers. (fn. 206) The labouring population at Broughton and Newington mostly lived in tied cottages, and benefited from the low rentals at which Lord Saye and Sele let them: 19 out of 21 cottages belonged to him in Broughton and were let at £2 10s. a year. It is noteworthy that at Newington the 17th-century tradition of independence persisted and over half of the 64 or so cottages there were owner-occupied. (fn. 207)
There is some evidence for rural distress. Between 1841 and 1851 the population dropped from 629 to 550, partly as a result of emigration; (fn. 208) later, however, agricultural depression and increasing population produced such bad overcrowding in the cottages that the rector urged that legislation should be introduced to prevent it. (fn. 209)
Both arable and pasture farming were practised in the 19th and 20th centuries, though there was perhaps a slight preference for corn growing in the early 19th century: in 1827 one farmer followed a 4-course rotation and his land in that year was divided between barley, fallow, wheat, and turnips; (fn. 210) woad was also still grown in the parish at this time. (fn. 211) Broughton Great Ground (190 a.) was mown for the last time in 1848. (fn. 212) There was a grazier living in the parish in 1851, (fn. 213) and the slump in corn prices in the 1870s undoubtedly encouraged the retention of permanent pasture. Before the First World War the highest rent was paid for land under grass; (fn. 214) about half the parish was then under permanent pasture and the other half was devoted to wheat and barley. (fn. 215) The farmland in the parish was particularly valuable and farms in North Newington, which were let for 24s.–35s. an acre, were among the most highly rented farms in Oxfordshire. (fn. 216) The area was described in the 1940s as the best land in the county. (fn. 217) In 1961 farming was still mixed. Leys farming was common and most farmers kept sheep and cattle. The chief crops were wheat and barley and there were very few root crops. (fn. 218)
By this date most of the inhabitants were employed in Banbury. (fn. 219) Both villages, however, have always had a non-agricultural aspect because of the mills. (fn. 220) Apart from the fullers, dyers, and paper- and bonemanufacturers and their employees, there are occasional references in the records to other craftsmen. In the 19th-century parish register the following occur: a stocking weaver, numerous carpenters, shoemakers, and maltsters, and two stone-masons. (fn. 221) A saddler's business recorded in 1920 was still in existence in North Newington in 1965. (fn. 222)
Mills.
Two mills were recorded in 1086 and by 1444 there were 3 on the Wykeham estate alone, one of which was a fulling-mill. (fn. 223) By the 17th century there were 2 fulling-mills in the parish and a paper-mill. At a later date there were mills making dyestuffs and bone manure. (fn. 224)
The best documented of the mills is Hazelford mill in Broughton township. Probably built on the site of one of the Domesday mills, it was held with 1 a. of land in 1444 by Thomas Hazelford as part of a knight's fee. The rent to the Wykehams was 13s. 4d. (fn. 225) In the late 16th and 17th centuries it was held by the Fiennes-Trotman family, lords of Shelswell manor, under their relatives the Fienneses of Broughton, and was leased to various tenants. (fn. 226) It was known then and as late as 1797 as Hazelford or Upper Fulling mill, (fn. 227) although by 1792 it had already been converted to a paper-mill and had been leased to George King. (fn. 228) It was closed soon after 1851. (fn. 229)
A second Broughton fulling-mill was working on the Sor Brook in the late 17th century; it is shown on an estate map of 1685, and is mentioned in 1687 in the estate accounts of the Fiennes family. (fn. 230) The fulling-mills undoubtedly owed their existence to the flourishing state of the textile industry in the county, stimulated by an improvement in road transport and the proximity of Banbury, itself a flourishing centre of the industry. Plush-weaving at nearby Shutford was certainly in existence by 1747 and the connexion between Shutford and Broughton remained close until the mid-19th century. (fn. 231) By 1827 Lower Fulling Mill had a dye works attached to it and was dyeing cloth for Shutford. (fn. 232) The property consisted of shearing-houses, woadhouses, store-houses, and closes with racks for drying. (fn. 233) According to local tradition the woad was milled by horse power at Woad Mill Farm, which lies at some distance from the stream; the woad plant was certainly cultivated in the parish in the 19th century. (fn. 234) Lower Fulling Mill was evidently a prosperous concern. It was rated at over £54 in 1827 and in the 1860s the rental was about £155 compared with £60 paid for North Newington paper-mill and £135 for the corn-mill discussed below. (fn. 235) John Hutchings was the miller in 1852 and he was said to be able to produce very fine colours because of the excellent quality of the water; he dyed cloth for royal liveries, for the hangings of the new Palace of Westminster, and for policemen's uniforms. (fn. 236) The 1851 Census shows that, as was so often the case, dyeing was combined with farming. The dyer had a farm of 80 a., but he employed 12 labourers, more than enough for a farm of 300 a. In addition the Census recorded a dyer journeyman at Broughton. (fn. 237) The fulling and dyeing works seem to have come to an end in the early 20th century. (fn. 238)
A third mill in Broughton, close to the village, was used as a corn-mill. Its location suggests that it was an early manorial mill. In the mid-17th century its miller, Roger Jakeman (d. 1669), was a man of substance; he left chattels worth £85, of which £35 were in bonds. (fn. 239) Broughton mill was rebuilt in 1700 and was pulled down in 1892, (fn. 240) although the millhouse remains.
North Newington also had a water-mill named 'Collesmille' in 1444. (fn. 241) It was recorded as a papermill in 1684. (fn. 242) It is possible that the Fienneses had converted it into a paper-mill long before the late 16th century and that Shakespeare had it in mind when he wrote Henry the Sixth. In that play Jack Cade taunts Lord Saye with building a paper-mill 'contrary to the king, his crown and dignity'; it is not known that the Fienneses had a paper-mill at any time on their Kentish property. (fn. 243)
Between 1687 and 1689 Nathaniel and Michael Hutton rented the Newington mill in succession. (fn. 244) The Huttons were connected with the family of that name who were paper-makers of Deddington. In fact Michael Hutton may have been identical with Michael Hutton of Deddington, paper-maker, who died in 1716. (fn. 245) William Elkins was described in 1753 as a paper-maker of North Newington in the Banbury marriage register; in 1760 John Jones occupied the paper-mill and its closes; (fn. 246) in 1801 the death of John Gauthern, paper-moulder of North Newington, was recorded, (fn. 247) and in 1816 William Emberlin occurs as a paper-manufacturer there. Since at least 1805 Thomas Cobb had been the owner. (fn. 248) When the mill was put up for action in 1833 there were 4 engines for rags, a paper-making machine, and steam-drying apparatus. (fn. 249) The 1851 Census recorded 2 paper-makers, one employing 5 men, and another two. (fn. 250) Mrs. Rebecca Sellers, whose family had been tenants of Hazelford papermill, (fn. 251) was described as a paper-maker at North Newington mill between 1854 and 1869. (fn. 252) The present mill-building was constructed c. 1870. The mill-house was enlarged and reconstructed about that time by William Sellers. (fn. 253) The earlier mill is shown by some stones in one wall near the tail-race. (fn. 254) By 1887 Alfred Sellers, an artificial manure manufacturer, had converted the mill into a bonefactory, (fn. 255) which had ceased to work by 1920. (fn. 256) It has subsequently been used as a water-corn-mill. (fn. 257) The wheel, of pitch-back type, is still in operation and some apparatus, consisting of adjustable wooden slats formerly used for paper-drying, has been preserved in its original position in a long drying shed (80 ft. x 18 ft.).
The written evidence for Broughton church begins in 1224, the date of the first known presentation, (fn. 259) but the font suggests that a church was in existence there c. 1100. (fn. 260) The rectory was never appropriated.
The advowson belonged to the lords of Broughton manor from at least 1230. (fn. 261) In 1317 during the minority of John of Broughton, there was a dispute over the advowson closely connected with that over the manor in 1315; (fn. 262) Thomas, Earl of Lancaster, won the right to present. (fn. 263) The advowson then followed the descent of the manor until after 1710 the manor passed to the Twisleton family, while the advowson was apparently retained by the Fiennes family; in 1732, for instance, Lawrence, Viscount Saye and Sele, presented. (fn. 264) The Twisletons later claimed the advowson and between 1766 and 1771 the living was vacant while the case was tried. (fn. 265) Judgement was given in their favour in 1771, but by 1806 they had sold the advowson to Charles Wyatt (d. 1821), a Banbury banker. (fn. 266) It continued to be held by the Wyatt family, two members of which were also rectors, and by their cousins the Bradfords, (fn. 267) until the Revd. B. W. Bradford (d. 1947) left it to his nephew, Lt.-Col. Charles J. Bradford of Adderbury. In 1950 the latter transferred it to Lord Saye and Sele, who was patron in 1963. (fn. 268)
The medieval rectory, consisting of the tithes of Broughton and North Newington, as well as some glebe, was a moderately valuable one, although perhaps not so 'abounding in revenues' as it was said to be in 1400. (fn. 269) It was valued at £10 (or £12) in 1254; and at £13 6s. 8d. in 1291, together with a pension of 10s. to the Abbess of Winchester (fn. 270) (probably of Nunnaminster), the origin of which has not been found. The pension was still being paid in 1428, but was not mentioned in 1535, when the value of the rectory was £18 16s. (fn. 271)
By the early 17th century the living was said to be worth £100 (fn. 272) but its subsequent value was affected by a prescriptive modus of £40 agreed with the lord when he inclosed a large part of his demesne. By 1697, however, when much of that land was no longer in demesne, the rector, John Knight, sued 13 of William Fiennes's Broughton tenants for tithes in kind, claiming that the modus was invalid. The court found in his favour but confirmed several customary moduses for small tithes, among them 3d. for a milk cow, 1½d. for a dry cow pastured in tithable lands, and 1 lb. in 30 for tithe wool. (fn. 273) The rectory was valued in 1697 at £140 a year. (fn. 274) In the 1770s, when it was proposed to inclose Newington, the rector refused the farmers' offer of a seventh of the land and insisted on getting more than he had at Tadmarton (of which he was also rector), and on getting a fifth of the arable and a ninth of the greensward. (fn. 275) Inclosure was postponed and in 1783 the next rector leased the open-field tithes of Newington to farmers there for 12 years at £3 a yardland. (fn. 276)
When North Newington was inclosed in 1805 all the tithes in the parish were commuted for land, the rector receiving what he had asked for in Newington (100 a.), mostly for the tithes of open-field land, and 192 a. in Broughton for those of inclosed lands. (fn. 277) To this land was added the ancient glebe, first mentioned in 1341, (fn. 278) and which before inclosure in the 16th century had consisted of 3 yardlands with commons for 6 horses, 6 'beasts', and 60 sheep. (fn. 279) At the inclosure it was apparently exchanged for 28 a. (fn. 280)
In the 19th century the endowment of the rectory was therefore entirely in land: Tithe farm in Newington (c. 100 a.) and Rectory farm in Broughton (c. 232 a.). (fn. 281) By 1807 the rectory was worth £500 a year and it was thought that improvements would increase its value to £700. (fn. 282) Although its value fluctuated with that of land, it remained comparatively rich. (fn. 283) In 1943 and 1944 most of the land was sold. (fn. 284)
In 1356 a chantry was founded in Broughton church by Sir Thomas of Broughton for the souls of his family. It was to be served by a canon of Wroxton and was being so served in 1457. (fn. 285)
The medieval church had numerous lights for which bequests were left. In wills dated between 1527 and 1545, besides the light on the high altar the following lights are mentioned: the High Rood light, the Sepulchre light, the Five light, the Trinity light, St. George's light and the Twelve light. An obit supported by lands worth 8d. a year was also recorded. (fn. 286)
One of the medieval rectors, Ralph de Bereford (1317–62), came of a knightly family and was probably related to the Broughtons. (fn. 287) His successor, Roger Gledston (1369–?1399) a Newington man, was wealthy enough to give Wroxton Priory a house and yardland and to enlarge his own rectory-house. (fn. 288) With Master John of Wykeham (1399–1415) (fn. 289) the parish began to have rectors who were university graduates but who were, at the same time, pluralists and often non-resident. One was dispensed to hold Broughton in plurality with a Norfolk rectory in return for repairing the churches and rectoryhouses of both parishes. (fn. 290) His successor, Thomas Broke, not only paid him to resign but in return for his presentation paid the patron's debts. (fn. 291) He was excommunicated for simony but in 1446 received papal absolution on condition that he spent a year's income from the church on its fabric. (fn. 292) The rector in 1518 and 1520 lived on another cure in Derbyshire; (fn. 293) he was charged with failing to maintain a lamp, to pay the deacon who served Broughton and to keep a bull and a boar for the use of the parish. (fn. 294) His successor paid a curate and also leased the living. (fn. 295) The curate, Richard Crowley, (fn. 296) was involved in a tithe dispute with a parishioner who accused him of favouring the supremacy of Rome and commanding his congregation to offer alms on 'relics' Sunday. (fn. 297) These charges were denied.
Although several members of the Fiennes family were Puritans in the early 17th century and William Fiennes (d. 1662) was described by Clarendon as 'the oracle of those who were called Puritans in the worst sense' (fn. 298) it is not clear to what extent Puritanism affected Broughton parish generally. John Crayker, rector 1583–96, was a 'good preacher'. (fn. 299) His successor was deprived in 1605, perhaps for refusing to conform with standard Church practices and Crayker, then Rector of Tadmarton, was reinstated. (fn. 300) Ralph Taylor (1615–46), a 'faithful pastor' was shown much kindness by Nathaniel Fiennes, a strong Puritan. (fn. 301) John Taylor, his successor, was chaplain to Lord Saye and Sele, was made Fellow of Lincoln College, Oxford, in 1648 on a special order from the London Committee, and in 1654 was put on a commission to eject unfit ministers in Oxfordshire. (fn. 302) After the ejection of the next incumbent, Nathaniel Coney, in 1662 (fn. 303) no evidence has been found of Puritan leanings among the rectors of Broughton. Richard White (1662–83) was a countryman and farmed his own glebe. He was not, however, without intellectual interests, for at his death he left £14 worth of books out of goods valued at £97. (fn. 304)
In the later 17th and 18th centuries the Fienneses sometimes presented their relatives to the living. Of those relatives one, Beaumont Percival, memorable for the account Celia Fiennes wrote of his Hawarden (Flints.) living, was only at Broughton for a few years, (fn. 305) but John Knight (1692–1704) who married a grand-daughter of William Fiennes (d. 1662), spent much of his life in Oxfordshire, being formerly Vicar of Banbury. (fn. 306) He rebuilt the rectoryhouse on coming to Broughton. (fn. 307) prosecuted both Protestant and Quaker farmers for non-payment of tithes, was also 'a good scholar, very loyal, and of a good name and esteem', and strenuus schismaticorum et sacrilegorum impugnator. He was a noted preacher, (fn. 308) which was of particular importance in Broughton, 'the genius of this neighbourhood, relishing nothing but sermons'. (fn. 309)
Eighteenth-century rectors served for long periods, were resident, and closely connected with the castle. John Eddowes (1732–66) held regular services: 2 on Sundays with 2 sermons in summer and 1 in winter, administered the sacrament 4 times a year to between 15 and 20 communicants, and catechized. (fn. 310) In his dotage he was helped by a curate. (fn. 311) Similar services were held during the rest of the century, but a later return adds that there were prayers on Wednesdays and Fridays in Lent and daily in Passion Week and that Lewis's Exposition (fn. 312) was used in catechizing the children. (fn. 313) At the beginning of the 19th century the rectors did not reside. The parish was cared for by a resident curate, with whom the parishioners were 'particularly well pleased', and it was said that 'no parish has greater pains taken with it or the duty done more conscientiously than at Broughton'. (fn. 314)
In the early 19th century because of the distance from the church, some Newington people, although not nonconformists, attended the Methodist chapel, and some of the aged and infirm as well as a few 'rich reprobates', attended no church. (fn. 315) The latter were probably Newington farmers, who had long been in disagreement with the rectors over tithes and who in their 'haggling manner' tried to beat one rector down from £3 to 5s. a yardland when he offered to lease the tithes to them. (fn. 316)
For nearly a hundred years the parish was connected with the Wyatts, father and son holding the living and also being patrons. The rise in standards of living and the size of clerical families had made the rectory too small and one of C. F. Wyatt's (rector 1819–70) first acts was to enlarge it. (fn. 317) Bishop Wilberforce, who held a conference in 1867 at Broughton, did not estimate Wyatt's spiritual influence very highly: he noted that he was 'a man more to cast up accounts, but anxious to have good curates'. (fn. 318) Nevertheless, he eventually increased the number of communions to one a month, had a large Sunday school, opened an evening school in 1853, and reported increasing congregations which by the 1860s reached 300. (fn. 319) In 1870 he resigned in favour of his son, C. F. Wyatt, who was a local antiquary, did much research into the history of the parish, (fn. 320) and was largely responsible for the restoration of the church. He was succeeded by his cousin B. Wyatt Bradford, who had already been curate since 1900. (fn. 321) The parish in 1963 had a resident rector: since 1946 the living has been held with Tadmarton. (fn. 322)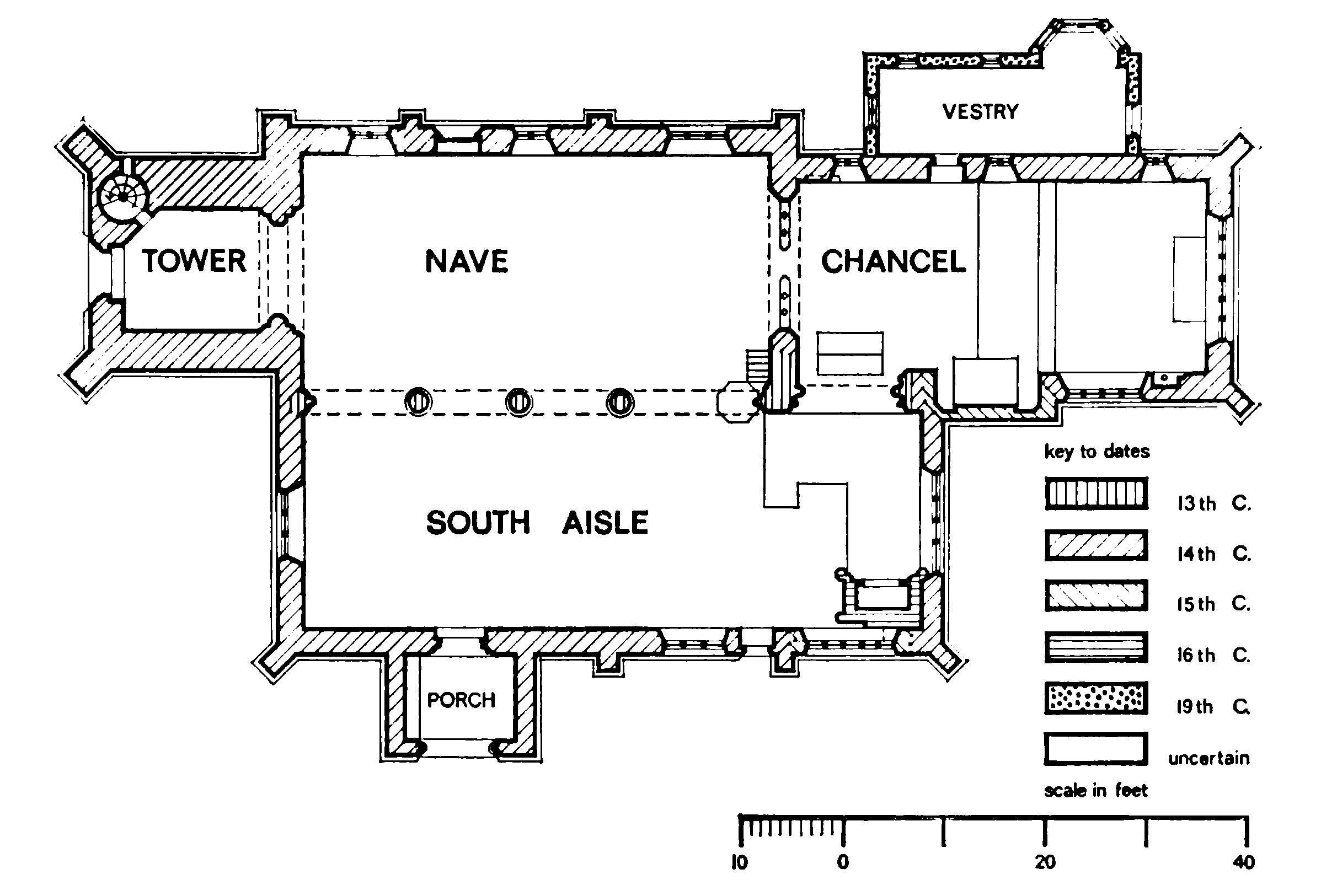 The church of ST. MARY consists of a chancel, nave, south aisle, and western tower surmounted by a broach spire. (fn. 323) It dates almost entirely from the 14th century and contains some excellent work of that period. The circular font with its cablemoulding (fn. 324) is the only evidence of a previous 12thcentury church, but the arcade of 4 arches which separates the nave from the south aisle appears to date from the mid-13th century, and indicates the addition of a south aisle at that time. Some fragments of 13th-century roll-mouldings were discovered during the 19th-century restoration and are preserved in the vestry. The existing nave, south aisle, and tower were probably built during the lifetime of Sir John of Broughton (d. 1315), and may be compared with contemporary work in other north Oxfordshire churches, notably Bloxham. There is a straight joint in the masonry between the tower and the body of the church, but this is probably to be regarded as a structural expedient to avoid the dangers of unequal settlement, rather than as evidence of any difference of date. The chancel is slightly more advanced in architectural character, and was evidently rebuilt at a slightly later date than the nave, probably in c. 1320–30. It is separated from the nave by a contemporary stone screen.
Towards the end of the 14th century the walls of the south aisle were raised and clerestory windows were added. The original parapet and corbel table were re-used. When in the 15th century it was decided to add a nave clerestory, this heightening of the aisle walls made it necessary to raise the nave walls to an unusual height so that the nave clerestory might rise above the aisle roof. The main timbers of the existing low-pitched roof date from this rebuilding, though the roof has been frequently repaired, notably in 1684. (fn. 325) Another 15th-century addition to the church was the large 5-light window in the south wall of the south aisle.
Apart from the repair of the nave roof in 1684 few details have survived before the 19th century of any alterations to the fabric. It may, however, be noted that the altar rails were erected in 1637, the re-opening of the blocked west window of the south aisle was ordered in 1756, the south aisle clerestory was restored in 1819, and the spire was partly rebuilt in 1823. (fn. 326) A small-scale general restoration took place in 1825. (fn. 327) In 1858 Gilbert Scott restored the sedilia and piscina, which had been walled-up until 1846 and whose tracery had been broken into a 'thousand atoms'. (fn. 328) Finally, between 1877 and 1880, a complete restoration was carried out by Sir Gilbert Scott and his son G. G. Scott. (fn. 329) An open timber roof in the Gothic style (builder, Davis of Banbury) replaced the flat (probably 18th-century) chancel roof of deal, the pitch being the same as that of the original medieval one; (fn. 330) the nave roof was rebuilt, some of the original 15th-century beams being retained; the south clerestory wall was rebuilt from the window sills upwards; and the south aisle roof was entirely renewed and so constructed that it cleared the hood-mould and rear arch of the east window, which the original 14thcentury roof had not done. The mutilated east window of the chancel was restored to its supposed original height and new tracery in the Decorated style was inserted. (fn. 331) The alterations also included the installation of a new pulpit in the Gothic style, replacing one made in 1741. (fn. 332)
Twentieth-century changes include the installation in 1908 of new heating apparatus and of electric light in 1939 and 1954. (fn. 333) In 1906 the floor of the chancel was raised by two steps to its original level and a reredos was erected. The tower and spire were repaired in 1960. In 1944 a tapestry reredos, the work of Marion, Lady Saye and Sele, was placed over the altar in the south aisle. (fn. 334)
In 1959 the 12th-century font was restored to its former position beside the westernmost pillar of the north nave arcade, its base and a draining hole in the ground having been found during recent restoration work. (fn. 335)
The church was richly furnished with wall paintings. At the restoration of 1878 many of these were uncovered, and others were discovered in 1938. The whole of the north wall of the chancel appears to have been painted with scenes from the life and death of the Virgin, attributed by E. W. Tristram to c. 1340. It seems probable that Sir Thomas of Broughton was the benefactor. His beneficence to the church was once commemorated in the glass of the east window of the south aisle as follows: Multimodis ornamentis hanc ecclesiam adornavit. (fn. 336) Besides the chancel murals there was a Doom over the chancel arch, a crucifixion on the pier beside the font, and a St. Christopher on the north wall of the nave.
The church was also once notable for its heraldic glass. Richard Lee noted 52 coats-of-arms in 1611 in the east window of the south aisle. (fn. 337) Among the coats was that of the Wykehams. (fn. 338) In 1963 only 3 circular panels of Elizabethan date survive in the cinquefoils of the tracery. Each has a quartered shield, including an achievement of Fiennes, wrongly reset. (fn. 339)
There are several examples of the work of Victorian glass-painters: a window of Munich glass was placed at the west end of the south aisle in 1862–6; the south window of the chancel was designed by G. G. Scott the younger and executed in 1870 by Burlison & Grylls (London); in 1871 the southeast window of the south aisle was made by Bowers & Westlake; in 1878 Clayton & Bell executed the glass in the east window of the chancel, and in 1880 another window in the south aisle was made by C. E. Kempe. (fn. 340)
The church has some notable monuments, of which 3 are medieval. They were considerably damaged, presumably during the Civil War, and were so zealously restored in 1846 that identification has been rendered difficult. The architect then employed was T. L. Donaldson, and 4 men were engaged on the 'reparations' during 4 months. (fn. 341)
The earliest monument is that of a cross-legged knight lying in an elaborately canopied recess in the south aisle. The knight's shield is charged with the arms of Broughton, and there are 13 shields surmounting the tomb. This is almost certainly the tomb of Sir John of Broughton (d. 1315). D. T. Powell, who wrote a careful description of the tomb in 1805, noted that it retained much of its original painting and gilding, and that most of the coats-of-arms could be deciphered. (fn. 342) The existing coats were painted in 1846 and are identical with Dugdale's drawings of c. 1636. (fn. 343)
A second effigy of a knight, probably representing the founder's son John of Broughton (d. c. 1350) or his grandson Thomas of Broughton (d. c. 1375), wears plate armour of the time of Edward II or Edward III, and carries an uncharged shield. In c. 1800 this effigy was placed on a table tomb of 15th-century date. (fn. 344) The tomb bears the arms of Fiennes but it has not been discovered for whom it was made. In a canopied recess in the chancel there are 2 fine alabaster effigies of a knight and his wife. In 1805 they were lying on the ground sadly 'hacked and broke'. (fn. 345) The canopy of the chantry has been destroyed, but stone panelling of mid-15thcentury workmanship remains. This tomb is likely to be that of Sir Thomas Wykeham (d. 1443) and his wife. A fourth tomb, surmounted by muzzled bears supporting uncharged shields, may have been intended for Edward Fiennes (d. 1528). It was evidently unfinished and when the tomb was opened in the 19th century it was found to be empty. (fn. 346) William, Viscount Saye and Sele (d. 1662), and his wife Elizabeth (d. 1648) are commemorated by a marble table-tomb in the chancel. There are also numerous 17th-century and 18th-century inscriptions to other members of the Fiennes family, including Lawrence, Viscount Saye and Sele (d. 1742). There is a memorial to Charles Wyatt (d. 1821).
The following rectors are buried in the church: Robert Harrison (d. 1780), Rector of Broughton and Tadmarton; John Knight (d. 1715); Richard Crosse (d. 1732); and John March (d. 1806).
There is a brass to Philippa Byshopsden (d. 1414), daughter and coheir of William Wilcotts and sister of the wife of Sir Thomas Wykeham. (fn. 347)
The church is not mentioned in the Edwardian inventory of 1552. In 1963 its most valuable possession was a large silver standing cup with cover, given in 1662, as the inscription testifies, by James, Viscount Saye and Sele (d. 1674). It is surmounted by the arms of Fiennes. There are 2 silver patens of 1686 and 1760, a silver chalice of 1783, and another presented in 1849. (fn. 348)
The tower has 5 bells, an additional clock bell, and a sanctus bell; all date from the 19th century. (fn. 349) A clock was installed in the tower before 1788. (fn. 350)
The registers are complete from 1683. (fn. 351)
A chapel dedicated to St. John the Baptist existed in 1331 when John of Broughton endowed it with 3 houses, 2 yardlands, and 16 a. in North Newington to found a daily chantry for himself and his wife Margaret. (fn. 352) It probably stood in what is now Park Lane in Newington. (fn. 353) It never became parochial despite an attempt to that end made with papal intervention in 1400. (fn. 354) At about the time that that attempt was made, and perhaps in compensation for the failure, the Pope granted indulgences to those who left goods to the chapel and released penance to those who visited it. (fn. 355) In consequence the chapel became something of a place of pilgrimage and in the early 16th century the curate of Broughton was accused of saying Mass for pilgrims on Midsummer Day there instead of in Broughton church. (fn. 356) In 1521 there was a brotherhood of St. John the Baptist attached to the chapel, with two keepers or wardens. (fn. 357) The chapel is not known to have survived the Reformation.
Nonconformity.
Roman Catholicism barely survived in this strongly Protestant parish. Apart from those recusants imprisoned in the castle between 1589 and 1593 (fn. 358) the only other references are reports that 2 papists were living in the parish in 1768 and 1811. (fn. 359)
Until the 19th century Quakers were the only nonconformists in the parish. The opposition of William Fiennes, Viscount Saye and Sele (d. 1662), whose violent attitude to the Quakers is revealed in his two pamphlets, Folly and Madnesse Made Manifest (1659) and The Quakers' Reply Manifested to be Railing (1660), prevented the growth of a strong community in Broughton itself. (fn. 360) Fiennes went so far as to evict two Quakers from his Broughton cottages; (fn. 361) he also gave information which led to the imprisonment of one of them, William Potter, after a meeting in Broughton. (fn. 362) Potter moved to Tadmarton and played a leading part in establishing Quakerism there. (fn. 363) Only 5 Broughton families are recorded in 17th-century Quaker registers. In the 18th century numbers dwindled to 2 families and in the 19th century none is recorded. (fn. 364)
At North Newington, however, where there were many freeholders, Quakerism was stronger. Nathaniel Ball, a freeholder, (fn. 365) was particularly prominent. Until 1698 his house was used for meetings and it was there that Bray D'Oyley of Adderbury, one of the most influential Quakers in north Oxfordshire, was arrested in 1666. (fn. 366) Ball was imprisoned at least twice in the 1660s and again in 1678; he regularly suffered distraint for non-payment of tithes. (fn. 367) He was appointed by the Quarterly Meeting of the Banbury Division to carry out responsible tasks for the Oxfordshire Quakers. (fn. 368) The Quarterly Meeting was held at North Newington in 1683 and 1685 and occasionally the Monthly Meeting of Banbury Division was also held there. (fn. 369) In 1698, however, Ball was disgraced for scandalous drunkenness; (fn. 370) about the same time another North Newington Quaker achieved notoriety for interpreting literally St. Matthew's Gospel (xix. 12) and so castrating himself 'for the Kingdom of Heaven's sake'. (fn. 371) There were c. 12 families of Quakers in the hamlet in the 17th century. (fn. 372) In the 18th century, although the Fardons, Thompsons, and Graftons, all yeomen farmers, were constantly in trouble over tithes, Quaker affairs were less dramatic. (fn. 373) Fardon's house was licensed for meetings in 1731 (fn. 374) but normally the Newington Quakers attended the Banbury meeting. In 1738 the rector reported that 9 families went there; thirty years later the reduction in numbers was attributed to the lack of a meeting-house. (fn. 375) In 1784 only 6 Quaker families lived in the whole parish. (fn. 376) The 19th-century registers give only 2 names for North Newington. (fn. 377) Most of the 15 Quakers reported by the rector in 1811 must have been at the North Newington boarding school, (fn. 378) for a private census of North Newington inhabitants in 1820 listed only five, forming one family. (fn. 379)
Methodism, too, had more success in North Newington than in Broughton; the rector attributed the growth of dissent to the hamlet's remoteness from the parish church. (fn. 380) A meeting-house in John Tysoe's house at Newington was registered in 1805 and the signatories' names suggest that they were Methodists. (fn. 381) In 1811 8 or 10 enrolled Methodists were meeting on a Newington farm, served occasionally by licensed travelling teachers. (fn. 382) In 1814 there were said to be 20 Methodists and in 1817 10 or 12 Methodist families. (fn. 383) In 1820, however, a private census listed 14 Methodists and 15 Calvinists. (fn. 384) No further reference to Methodists has been found.
Independents, probably the 'Calvinists' of the census, became predominant. In 1832 the minister of the Independent Church at Banbury registered a private house as a meeting-house and in 1837 a chapel was built at North Newington. (fn. 385) At the 1851 census there were congregations of 80 and 93 (including children), presumably gathered from neighbouring villages as well. (fn. 386) The rector's estimate of 30 must have applied to the congregation drawn from his parish alone. (fn. 387) The chapel was rebuilt in 1876. (fn. 388) North Newington members, however, appear to have been decreasing, for in 1866 there were an estimated 20 dissenters, and in 1878 only 3 or 4 families of them in the parish. (fn. 389) By 1963 the chapel was disused.
Schools.
In 1818 it was observed that the parish poor were without sufficient means of education. At that date there was a Sunday school at Broughton supported by private subscription. It was attended by c. 40 children in 1818 and 1833. A room for this school was built in 1836 at a cost of £150 and by 1866 the numbers attending had doubled. (fn. 390) There has never been a day school in Broughton village. (fn. 391)
At North Newington, apart from a private boarding school kept by a Quaker, recorded in 1808, (fn. 392) there seems to have been no school until 1814 when a Sunday school, supported by voluntary subscriptions, was started. In 1832 it was attended by 63 children and had a lending library attached. (fn. 393) There was also in 1832 a school for 12 boys and 6 girls who attended at their parents' expense. (fn. 394) In 1853 a school with a master's house attached was built at North Newington. (fn. 395) The site was purchased in 1861 by the trustees of the Saye and Sele charity, which thereafter supported a schoolmaster and paid for repairs to the school. (fn. 396) In 1866 80 children were attending. Evening classes were held in the winter months until in 1878 they were discontinued because of the school-master's ill-health. (fn. 397) At that date there were 5 voluntary instructors, but no pupil teachers; religious instruction was also given. (fn. 398) Between 1892 and 1901–2 attendance varied from 85 to 73. (fn. 399) The school was enlarged in 1911. (fn. 400) In 1944 it was recognized as a Junior Primary school, retaining its status as a Church school. In 1962 it had a roll of 66. (fn. 401) In 1963 it was still receiving £15 from the Saye and Sele charity. (fn. 402)
Charities.
At an unknown date an unknown donor gave 1 a. of land in Horley to the poor of Broughton parish. (fn. 403) In 1738 the land was being let for £17s. a year. (fn. 404) By 1823 it had become customary for the churchwardens to demand the rent of £2 2s. every two or three years and to distribute it equally between the poor of the two townships. (fn. 405) In 1871 the rent was £3. (fn. 406) In 1926 £12 was disbursed in 40 cash payments. In 1932 the rent was £1 and the balance in hand was £23. (fn. 407)
Christabella, Viscountess Saye and Sele, by will dated 1787, left in trust the residue of her estate, of which part was to benefit the poor of North Newington. The amount due to the trust was settled in Chancery in 1803, and the annual share of income for the township was £80. Half of this was spent in apprenticing two legitimate boys at £20 each, and £40 was given away at Christmas to the unrelieved poor. The trustees were somewhat negligent in their management so that large sums accumulated; the balance was distributed in 1824 and the proportion received by North Newington was £68 6s. (fn. 408) The charity was regulated by a Scheme in 1850, by which any interest not used for apprenticeships was to go to a school account; North Newington school was still receiving support from the charity in 1963. (fn. 409) A further change in 1897 allowed the £40 to be spent on apprenticing an unspecified number of deserving children or giving them outfits on entering service or trade. (fn. 410) In 1931 the trustees were enabled to pay instruction fees and travelling expenses of persons under the age of 21, or to help them in any way to earn their living. (fn. 411) In 1949 £24 was spent on outfits for three girls and £5 on tools. (fn. 412) The scheme of 1850 reduced the £40 originally given away to the poor to £25, but it was later increased to £30. (fn. 413)
In 1859 Elizabeth Bradford Wyatt conveyed in trust 4 cottages and c. ½ a. in Broughton village for the housing of poor and aged agricultural labourers, their relicts, or spinster daughters, who had resided in the parish for 21 years, were of good character, and were communicants of the Church of England. (fn. 414) An endowment of £500 for the maintenance of the cottages was probably given at the same date. In 1920 the stock was £716 and the income £16 a year. Because of difficulties in finding qualified occupants for the cottages the Charity Commissioners reduced the qualifications to 10-year residence and 'membership' of the Church of England. Between 1941 and 1950 £300 had accumulated and was invested, bringing the stock to c. £1,050. (fn. 415) From 1951 to 1959 the occupiers paid a yearly contribution totalling c. £40. (fn. 416)