Pages 112-119
A History of the County of Rutland: Volume 2. Originally published by Victoria County History, London, 1935.
This free content was digitised by double rekeying. All rights reserved.
BURLEY
Burgelai (xi cent.); Burgle, Burgel, Burgeleia (xii cent.); Burlee (xiii cent.); Boroughle, Burle, Burleigh, Burley (xiv cent.).
Burley parish lies to the north-east of Oakham and contains about 3,051 acres. There is a gentle slope down from north to south, and over half the acreage is grassland.
A large part of the parish is occupied by Burley Park with Burley Wood, which comprises about 500 acres, to the south, part of the wood being in Exton parish. In 1207 there was a dispute between Henry de Armenters and Earl David as to these woods and in the boundary set out in the agreement regarding them (fn. 1) there is reference to a green ditch next to 'Altiechestouwe' towards the north. This may refer to Alstoe, from which the hundred takes its name, Alstoe Mount being near the northern boundary of the parish.
Alsthorpe was once a hamlet separate from Burley, but the name is now lost. (fn. 2) Even in 1652, when Alsthorpe manor was regularly included in conveyances of Burley manor, the locality seems to have disappeared under that name, and the land belonging is probably identifiable with Ostroppe field and Farre Ostroppe Close mentioned in a sale of the manor in that year. (fn. 3) Chapel farm probably shows the site of Alsthorpe, for in 1312 there was a chapel which Nicholas de Segrave endowed with land at Alsthorpe.
The village of Burley stands along the highroad from Oakham to Stretton on a hill which rises abruptly from the vale of Catmose and commands a very extensive view. It is mainly grouped round a green on the side of the road. It was described by White in 1862 as a small neat village on a pleasant eminence. (fn. 4) Burley appears once to have been a flourishing town. In 1375 it was destroyed by fire, and in order to restore its fortunes the king granted to Thomas le Despenser a yearly fair on the Vigil and Feast of the Exaltation of the Holy Cross. (fn. 5)
Burley-on-the-Hill and its surroundings combine to form the lordliest residence in the county. The only house and lay-out that could vie with it was Normanton Park, now pulled down; but even this, although a fine mansion, lacked the commanding position that helps to give Burley its pre-eminence. Sir John Harington entertained James I in April 1603 at his house at Burley when the king was on his way southward to receive the crown. Sir John provided him with sport by hunting hares on Empingham Heath and engaged 'a hundred high men that seemed like the Patagones [Patagonians] huge long fellows of twelve or fourteen feet high.' The king wondered what they were, but coming nearer they proved to be a company of poor suitors on high stilts preferring a petition against Lady Hatton. The king spent two nights at Burghley, near Stamford, and returned to Burley (co. Rutland). On the way he had a fall from his horse, of which he made light, but was so bruised that he had to continue his journey by coach. (fn. 6) The present house replaces a great predecessor which was erected by the princely George Villiers, Duke of Buckingham, the 'Steenie' of James I. It was here that he entertained royalty more than once, (fn. 7) Ben Jonson's masque of the 'Gipsies' being presented by a company of distinguished amateurs on one occasion, while on another occurred the well-known incident of introducing to their majesties the dwarf, Geoffrey Hudson, in a cold baked pie. Hudson was then a child of nine and had attained a height of only a foot and a half. (fn. 8)
Buckingham bought the estate from the Haringtons of Exton, and built a great mansion on the brow of the hill close to the church. There is not much definite information as to this structure, but Evelyn, who passed by it in August 1654, after it suffered from fire in the Civil War, remarks that it was 'worthily reckon'd among the noblest seates in England.' There is a plan of it in the John Thorpe collection at the Soane Museum (fn. 9) entitled in pencil 'Duke of Buckingham at Burghley,' which appears to be a sketch of what was proposed for the mansion. There are no dimensions given, nor is there any scale of feet, but if, as appears probable, it is drawn at 20 ft. to the inch, the house would have been some 340 ft. long by 320 ft. wide, built round a courtyard 170 ft. square. The disposition of the rooms indicates a fairly late date in the Jacobean period, and as the masque of the 'Gipsies' was presented in 1621, that year may be taken as approximately the date of the old house, the royal visit being perhaps an august house-warming. But the house had not a long life, for in 1645, being held by the Parliamentary forces during the Civil War, and finding it necessary to abandon the place, 'they set fire to the House and Furniture, and left it. Yet the stables' scaped the effect of their malice, which remain to this day [1684] the noblest (or at least equal to any) Building of this Kind in England.' (fn. 10) Wright thought so highly of the building as to give an illustration of it, and his opinion was supported by Thomas Fuller, who says in his Worthies that Buckingham's house was 'superior to all for the Stable; where horses (if their pabulum so plenty as their stabulum stately) were the best accommodated in England.'
Little more can be learnt of the house itself, but the escape of the stables affected the lay-out of the present buildings. Buckingham's mansion stood on the brow of the hill, and the ruins must have been a conspicuous object for miles around. There is a tradition that when Daniel Finch, the 2nd Earl of Nottingham, towards the close of the 17th century, was journeying to Yorkshire with a view to purchasing an estate of the Duke of Buckingham, he passed near Burley-on-the-Hill, and was so struck by its commanding position that he bought this estate in preference to the other. Whether or not this was the reason, the fact remains that he did buy the Rutland property, and proceeded to build the present house.
Judging by a small original survey of the site published in Miss Pearl Finch's History of Burley-on-theHill, the old house, with a large outer court on its east side, stretched its length along the edge of the hill, with the stables at some considerable distance to the north. The survey shows the position and shape of the 'old house,' which it is difficult to reconcile with Thorpe's plan; but as to the actual position there cannot be much doubt, and it is practically certain that the new house was built on the site of its predecessor. Its general lay-out followed a type prevalent at the period, the principal mansion being supported on either hand by an outlying building containing respectively the kitchens and laundry, and connected with it by a colonnade. But here at Burley, in addition to the usual colonnade, there is a second one on each side extending for a length of 300 ft. up to the old stables, and another block built to match it 500 ft. away on the opposite side of the vast entrance court. The stable block has changed somewhat in appearance owing to a fire which occurred in 1705 and to certain alterations thereby entailed; but it still retains some of its stateliness, for the ground floor is vaulted in a plain manner, and some of the vaulting is carried on columns. The inclusion of this famous building in the new lay-out accounts for the inordinate length of the connecting colonnade.
The mansion itself is a simple and dignified building of stone, strictly symmetrical in plan, but rather lacking in architectural attraction. It was built between 1694 and 1702, but there is no record as to who was the architect. There are many letters to and from Lord Nottingham about the operations, and many of the building accounts have been preserved, much of which information is printed in Miss Pearl Finch's History. Below the south front and extending a long distance to the west is a wide terrace, lordly in its dimensions. The view from it is of great extent, and even greater is that from the roof of the house, where vast distances can be seen on every side over the five counties of Rutland, Northampton, Huntingdon, Lincoln and Leicester. The interior of the house corresponds with the grandeur of the exterior. The rooms are all large and lofty; indeed, the absence of smaller rooms does not make for homeliness. But the effect is stately. A fire which occurred in 1908 destroyed the interior west of the central hall and saloon, but the fine staircase, of which the walls and ceiling were painted by Lanscroon after the fashion of Verrio and Laguerre, was fortunately undamaged, and many of the rooms still retain woodwork in the handsome large panels of the time of William and Mary. There are many pictures, including some interesting family portraits, and there is a large amount of good tapestry well displayed on the lofty walls; the rooms are replete with ancient furniture, among which some beds of state and a number of cabinets are particularly worthy of notice. The reinstatement of the rooms destroyed by the fire has been skilfully carried out, and the whole place is a fine example of the stately mansions of which England can at present boast the possession to a greater degree than other countries. The park is surrounded by a stone wall for nearly six miles, and is covered with oaks, elms and beech trees of great value.
In Burley Wood is a curious little house known as the Hermitage, designed and built by Lord Winchilsea in 1807 as a summer-house. It is roughly built of wood and thatched with reeds, and consists of two rooms, one of which has a primitive fireplace. Another summer-house called Simon's Hut was blown down in 1922. (fn. 11)
Place-names which occur in the records are Goddemade, (fn. 12) Eggwonge, the Shirewood, Powers Close, Boddilie meadow, Starr Close, Ladie Close, and Drie Close. (fn. 13)
In 1652 there were a wind grist mill near Langham Gapps and a malt mill at the 'Townes end.' (fn. 14)
Manors
Before the Conquest Ulf held BURLEY. In 1086 Geoffrey held it of Gilbert de Gant or Ghent. Ulf is no doubt to be identified with the Ulf who preceded Gilbert de Gant in his manor of Folkingham (co. Linc.), and with Ulf Fensic who was Gilbert's 'antecessor' in this and many other counties. (fn. 15) The overlordship followed the descent of the barony of Gant. Gilbert was succeeded by his son Walter (d. 1138), and he by his son Gilbert (d. 1156), Earl of Lincoln in right of his wife. He left a daughter Alice, who married Simon de St. Liz, Earl of Huntingdon. (fn. 16) On the death of Alice without issue the overlordship went to her uncle Robert de Gant (d. c. 1162). His son Gilbert (d. 1241) was followed by his son Gilbert (d. 1274), and he by another Gilbert who died without issue in 1297, and the overlordship passed to the heirs of his three sisters. (fn. 17) Burley was held of the honour of Gant in 1457. (fn. 18)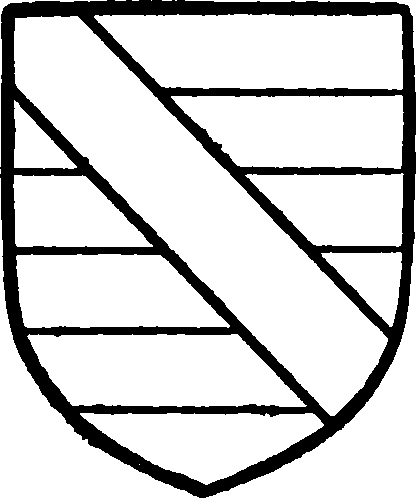 Geoffrey, who held the subtenancy of Burley in 1086, also held Kislingbury (co. Northants) of Gilbert de Gant, (fn. 19) and both these manors we find, in the 12th century, in the family of Armenters or Ermenters. It is possible therefore that Geoffrey may have been the same as or the father of Geoffrey de Armenters who gave tithes from Stow and Kislingbury to St. Andrew's Priory, Northampton. In the middle of the 12th century his son John de Armenters held Stow of the fee of Gilbert de Gant, (fn. 20) and died without issue. He seems to have been succeeded by his nephew Sir David son of Henry de Armenters who gave the church of Burley to the nuns of Nuneaton (co. Warw.). (fn. 21) This grant was confirmed by his overlord, Simon, Earl of Huntingdon, and by Henry son and successor of David de Armenters. (fn. 22) Henry de Armenters had succeeded David before 1196, when he held two knights' fees in the county of Rutland and paid scutage of 40s. (fn. 23) In 1206 Henry paid 5 marks for having judgment against David, Earl of Huntingdon, about the boundary between his vill of Burley and the Earl's vill of Exton. (fn. 24) The dispute seems to have related to that part of the wood of Burley lying outside Henry's park.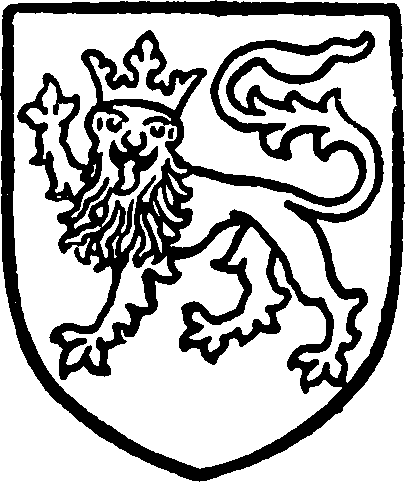 Geoffrey son of Henry had probably succeeded by 1218, when he acquired land in Burley from Robert son of Ralph. (fn. 25) In 1228 Geoffrey and his heirs were exempted from serving on assizes and juries. (fn. 26) In 1230 he was one of the commissioners on the Assize of Arms for Rutland, (fn. 27) and held many other local appointments. (fn. 28) He paid 4 marks in 1235–6 for 2 fees of the honour of Gant in Rutland. (fn. 29) His son John by his first wife Juliana, daughter of Gilbert de Gant, his paramount lord, (fn. 30) had respite from becoming a knight in 1253. (fn. 31) Both this John and his brother Henry died without issue and their half-sister Alice, daughter of Geoffrey de Armenters by a second wife, daughter of Peter Picot, became heiress of the Armenters estates. Her custody was given in 1256 to her overlord, Gilbert de Gant. (fn. 32) Alice, widow of Henry de Armenters, is mentioned in 1266. (fn. 33) The heiress Alice had married Gerard de Lisle before 1275–6. (fn. 34) Gerard had quittance of general summons in the counties of Northampton, Rutland and Norfolk in 1285, (fn. 35) and was dead by 1288. (fn. 36) Alice, who survived him, married Sir Nicholas de Segrave. In 1293 another Alice, widow of John de Armenters, who was then wife of Thomas Malekake, claimed dower in Burley. (fn. 37) Nicholas de Segrave held half a fee there in 1305, (fn. 38) and in 1312–13 the manor was settled on Nicholas and Alice and their issue male, with remainder in default to John de Lisle, third son of the heiress Alice. (fn. 39) Nicholas de Segrave was still in possession of the manor in 1316, (fn. 40) and died in 1322, (fn. 41) when John de Lisle succeeded. He and his brother Sir Warin were partisans of Thomas, Earl of Lancaster, Sir Warin being hanged at Pontefract in 1322. John forfeited his lands, and Burley was given into the custody of Edmund de Assheby. (fn. 42) He appears to have regained his manors by 1327, for he then complained that Edmund and others had taken away stock and felled timber on several of his estates, including Burley. (fn. 43) He, as Sir John de Lisle of Burley, settled land in Burley and Alsthorp in 1346 on himself and his wife Margaret and their issue, with remainder to Henry son of John de Lisle. (fn. 44) It would appear that this line of the Lisle family died out, for in 1363 Warin, son of Sir Gerard de Lisle, released the manor to the king in order that it might be granted to Anne, widow of Edward le Despenser. (fn. 45) This Warin was grandson of Sir Warin de Lisle, brother of John. (fn. 46) In 1364 Anne endowed a chaplain with certain rents from Burley, to pray daily in the church of Burley for the souls of the king, Queen Philippa, and Anne, and for John de Lisle and Henry de Lisle. In the following year she settled half the manor of Burley on herself for life, with remainder to her second son Sir Thomas le Despenser. (fn. 47) In 1369 Sir Thomas, the king's kinsman, was in possession of the whole manor, (fn. 48) and in 1375 he had a grant of a court leet and view of frankpledge and a fair at Burley, and quittance of suit of counties and hundreds for his men of the manor. The reason for this grant was that the vill of Burley having been destroyed by fire, and the inhabitants being so impoverished by excessive amercements for suits of hundreds and other demands by the sheriff, they threatened to abandon their holdings unless some assistance was given them. (fn. 49)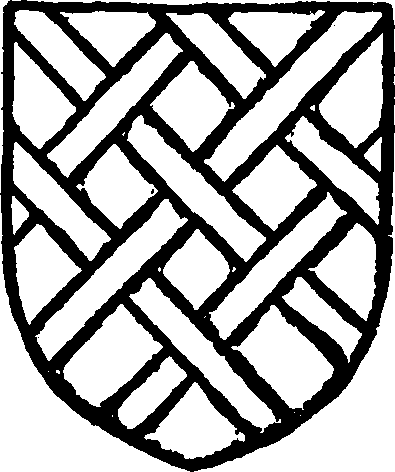 In 1379 Sir Thomas granted Burley manor to trustees, two of whom were his brother Henry, Bishop of Norwich, and his nephew Hugh le Despenser. (fn. 50) Thomas died without issue in 1381, (fn. 51) when at the outbreak of the Peasants' Revolt Henry, Bishop of Norwich, was at Burley. (fn. 52) It has been stated that Burley manor belonged to him, (fn. 53) but he probably held it only as a trustee for Sir Thomas, and the manor actually passed to Hugh le Despenser, younger son of Edward, brother of Sir Thomas. Hugh sold it in 1383 to Sir Robert de Plessington, (fn. 54) chief baron of the Exchequer. (fn. 55) He died in 1394, and Burley manor passed to his son Sir Robert, (fn. 56) who was succeeded in 1405 by a son Robert, then a child of eleven. (fn. 57) Wardship of his lands was granted to Queen Joan and dower was assigned to his widow Isabel. (fn. 58) Robert de Plessington died in 1407 while still a minor, and his brother Henry succeeded. (fn. 59) Isabel died in 1411 holding a third of the manor. (fn. 60) Henry died in 1452, his son William being a minor. (fn. 61) The custody was granted to Edmund, Duke of Somerset, and a third of the manor was granted as dower to Henry's widow Isabel. William de Plessington died without issue in 1457, when Burley passed to his cousin Isabel, wife of John Fraunceys, daughter of John de Plessington, brother of Sir Henry. (fn. 62) In 1461 Isabel and her husband granted an annual rent of 20 marks from the manor to Fulk Stafford and his wife Margaret. (fn. 63) By Sir John Fraunceys Isabel had three daughters, Joan, Alice and Joan. (fn. 64) The elder Joan married firstly — Palmer, and secondly William Nevill of Rolleston (co. Notts). Alice married firstly John Worseley, and secondly William Staveley of Bygnell (co. Oxon), and the younger Joan married Thomas Sapcote. After the death of Sir John Fraunceys, Isabel married Sir Richard Sapcote, who died in 1543 and was buried in the College of Fotheringhay. (fn. 65) She died 26 October 1492, (fn. 66) and her lands were divided among her three daughters. (fn. 67) By partition Burley manor was assigned to Thomas Sapcote and Joan, except the Great Wood, which was to be divided equally between the three sisters. (fn. 68) Thomas and Joan spent £300 and more on building and repairs at Burley, but they seem to have had some difficulty in getting their estate in the manor confirmed by the arbitrators who made the partition. (fn. 69) Sir Edward Sapcote, son and successor of Thomas and Joan, died in 1547, having settled Burley manor in 1527 on his wife Joan, who survived him. He had no children and his heirs were his sister Dorothy, wife of John Durant of Cottesmore, and his nephews, Thomas Wake son of another sister Isabel, and Robert son of Anne Brooksby, a third sister. (fn. 70) John Durant and Dorothy settled Dorothy's share of the manor upon themselves and John's heirs in 1548. (fn. 71) Robert Brooksby obtained licence in 1550 to enter on his share of the manor, and he settled it on himself and his wife Dorothy and their children. (fn. 72) Thomas Wake sold his third in 1549 to Sir John Harington, (fn. 73) who died seised of it in 1553. Sir John was succeeded by his son James, (fn. 74) who obtained a further conveyance of this third of the manor from Thomas Wake in 1554. (fn. 75) Dorothy Durant survived both her husband, who died in 1558, and her son William, who died in the following year. (fn. 76) In 1573 John Durant, son of William, sold his third to Sir James Harington, (fn. 77) who had already acquired the other third from Robert Brooksby and Dorothy in 1561–2. (fn. 78) Sir James made a settlement of Burley and other manors in 1572 on the occasion of the marriage of his son John with Anne, daughter and heir of Robert Kelway, of Shellingford (co. Berks). (fn. 79) Sir James died in 1592, when his son Sir John succeeded. Sir John had been knighted in 1584 and was M.P. for Rutland in 1571, 1593, 1597–8 and 1601. He served as High Sheriff of Rutland in 1594–5, 1598–9 and 1602–3, and at the Coronation in that year was created Baron Harington of Exton. He was entrusted with the care and upbringing of the Princess Elizabeth. Having accompanied her to Heidelberg on her marriage to the Elector Palatine Frederick V, he died of fever at Worms in August, 1613. (fn. 80) Anne, his widow, survived until May 1620, but his son and successor John survived him less than a year, being buried at Exton in February 1614. His heirs were his sisters Lucy, wife of Edward, Earl of Bedford, and Frances, wife of Sir Robert Chichester. Burley appears to have been assigned to Lucy, and she and her husband conveyed it in 1620 and 1621 to George Villiers, Marquess of Buckingham, (fn. 81) the favourite of James I. Villiers was created Earl of Coventry and Duke of Buckingham on 18 May 1623, and was assassinated at Portsmouth in 1628. His second but first surviving son, George Villiers, succeeded to Burley. During the Commonwealth his lands were confiscated and granted in 1650 to Thomas, Lord Fairfax. In 1652 Burley was sold by the trustees for forfeited estates to Oliver Cromwell. (fn. 82) The Duke of Buckingham married Mary daughter of Lord Fairfax in 1657, and at the Restoration his lands were restored. (fn. 83) He died in April 1687, and in 1689 a bill was passed for the sale of his estates for payment of his debts. (fn. 84) Burley was sold to Heneage Finch, first Earl of Nottingham, a noted constitutional lawyer, who was successively Solicitor-General, Lord Keeper and Lord Chancellor. He was one of the prosecuting counsel in the trial of the regicides in October 1660 and he was councillor to Queen Catherine. He died in December 1682, when his eldest son, Daniel, succeeded. (fn. 85)
Daniel was a steady supporter of James II and was one of the last of the English statesmen to accept the Revolution Settlement. Having done so, he became a trusted servant and minister of the new sovereigns. He held office under Queen Anne and George I, but retired from politics soon after the accession of George I, and from that time lived principally at Burley. He died in January 1730, shortly after succeeding to the Earldom of Winchilsea, on the death of John, fifth Earl, in September 1729. (fn. 86) The Earl had a numerous family and there is still extant a letter written from Burley by him to Lord Bruce in 1705 requesting him that he will 'christen' his little girl, his twenty-fifth child. (fn. 87)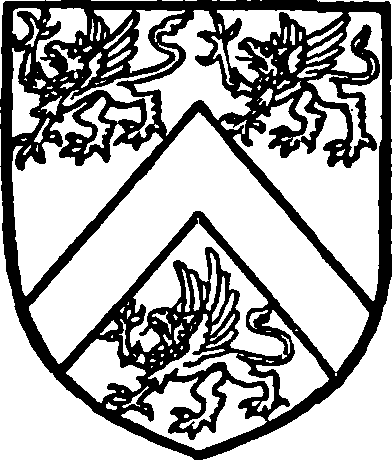 Daniel, second but first surviving son, succeeded. He held various public offices and was First Lord of the Admiralty in 1742–4 and again in 1757, and one of the Regents of the Realm in 1743. He died in his 81st year in 1769. (fn. 88) His nephew George, son of William Finch, succeeded. He died unmarried in 1826, when the titles went to his cousin George William Finch Hatton, but Burley passed to George Finch. By his second wife, Lady Louisa Elizabeth Somerset, daughter of the sixth Duke of Beaufort, George had a son George Henry, who succeeded him at Burley in 1870. He was a Privy Councillor, County Councillor and M.P. for Rutland. On his death in May 1907 he was succeeded by his son by his first wife, Alan George Finch. He died in 1914 and Burley then passed to its present owner, his halfbrother, Mr. Wilfred Henry Montgomery Finch. (fn. 89)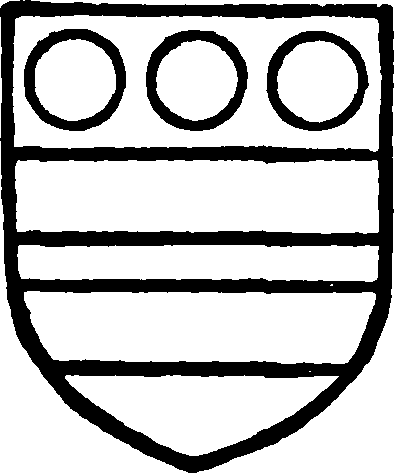 Before the Conquest Lewric held a carucate of land in ALSTHORPE (Alestanestorp, xi cent.; Alstantorp, Alesthorp, xiii cent.; Asthorp, Alsthorp, xiv cent.; Aylesthorpe, xvi cent.; Awsthorp, Ostroppe, Awlestrop, Aulestropp, xvii cent.; Austroppe, Alstroppe, Alsthorpe, xviii and xix cent.). In 1086 Oger, son of Ungemar, held of the king 2 ploughs and 16 acres of meadow. (fn. 90) From the subsequent connexion of this estate with the Wake family it is possible to identify Oger, son of Ungemar, who does not occur elsewhere in the survey under this name, with the well-known Oger the Breton, lord of Bourne (co. Lincs), whose lands after the death or forfeiture of his son Roger were granted to Baldwin Fitz Gilbert de Clare, from whom they subsequently came to the Wakes. (fn. 91) Alsthorpe evidently passed with the rest of Oger's land, for the demesne pasture there was granted by Emma, daughter of Baldwin Fitz Gilbert, and her husband Hugh Wake to the monastery of Bourne, which had been founded in 1138 by her father. (fn. 92) The abbot's estate at Alsthorpe was returned in 1275 as one carucate of land. (fn. 93) In 1327 the land was leased by the abbot to Richard Hudde of Kilpsham, who was accused of wasting and destroying the land to the disinheritance of the abbot. (fn. 94) It is not known when the abbot sold this estate, but no land in Alsthorpe was held by the abbey at the Dissolution. (fn. 95)
Other land in Alsthorpe was held under the Wakes by the Danesys. Peter Danesy held half a fee of the barony of Hugh Wake in 1235, (fn. 96) and in 1257 Simon Danesy granted land in Alsthorpe, for the health of his soul and that of Mary his wife and his children, ancestors and successors, to the priory of Nuneaton in Warwickshire. This gift comprised 3 messuages with crofts and 3 virgates of land formerly held by Ralph Malet, Robert Sharp and Thomas son of Gunhilda. (fn. 97) The grant was confirmed by Baldwin Wake and witnessed by Anketin de Martivall, sheriff of Rutland, so that the date may be placed as 1257. (fn. 98) This estate was returned as a carucate of land in 1275–6. (fn. 99)
The nuns of Nuneaton held the rectory and advowson of Burley, and their land at Alsthorpe, called Alsthorpeland, was often farmed out with the tithes. In 1425 the nuns acquired of William Dawson, vicar of Burley, a messuage and garden in Burley and a carucate of arable land in the field of Alnesford containing 60 acres, without licence of the king. (fn. 100) They leased their estate in Alsthorpe in 1486 to Thomas Sapcote and Lady Isabel Sapcote, widow, for 20 years at a rent of 6s. 8d., 8 measures of oats and one carucate of good dry hay. In 1486 the prioress sued Thomas for the rent and arrears amounting to £12. (fn. 101) The lease appears to have been renewed to the Sapcotes, for Edward Sapcote was tenant in 1551. (fn. 102)
The nuns' estates at Alsthorpe and in Burley were granted in 1551 to Sir Thomas and George Tresham, (fn. 103) who sold it with the rectory and advowson to Sir John Harington. Alsthorpeland from that time descended with Burley manor. It is mentioned for the last time as a separate estate in 1616. (fn. 104)
The land given by Simon Danesy to the nuns of Nuneaton did not apparently include the whole of the estate held in Alsthorpe by that family, for in 1305 William Danesy, Adam de Jernemuth (Yarmouth) and J. de Boroughlee (Burley) were returned as holding half a knight's fee there. (fn. 105) In 1355–6 William son of Ralph de Alsthorpe, perpetual vicar of Burley, and his sister Agnes were lords of Alsthorpe as successors to Simon Danesy and Anketin de Martivall, and they confirmed to the house of Nuneaton the gifts made by Simon for the health of their souls and the soul of William de Barrowden, late vicar of Burley. (fn. 106) Later Alsthorpe was held by Thomas de Jernemuth, Thomas Piers and John de Lisle, and by their heirs in 1428. (fn. 107)
The estate held by John de Lisle had been held with the manor at least as early as 1313, when Nicholas de Segrave held land and rent in Alsthorpe of Thomas de Wake for 1/12 of a knight's fee. (fn. 108) It was included in the settlement of the manor in 1345 on John de Lisle and his wife Margaret, (fn. 109) and Thomas le Despenser held the hamlet of Alsthorpe with Burley manor in 1375. (fn. 110) It passed with Burley to the Plessingtons and later owners of Burley manor (q.v.). In 1620 and later it is called the manor of Alsthorpe. (fn. 111)
The estate held in 1305 by Adam de Jernemuth (Yarmouth) probably remained in this family till 1362. Walter de Jernemuth and his wife Isabel acquired a bovate and 23 acres in Cottesmore and Alsthorpe in 1320 from Robert Oldeware and Agnes his wife, and 12 acres in Alsthorpe at the same time from the same grantors. (fn. 112) In 1324 Robert and Agnes conveyed the reversion of another holding in Alsthorpe to John de Cottesmore and Christine his wife. (fn. 113) In 1343 Walter de Jernemuth gave two messuages and land in Alsthorpe to Katherine de Jernemuth in tail, with remainder in default to her brother Edmund. (fn. 114) Probably Katherine became the wife of Edmund de Brus, for in 1345 Edmund and his wife Katherine conveyed 2 messuages and land in Alsthorpe held in right of Katherine to Thomas, son of Walter de Jernemuth of Cottesmore, and Elizabeth his wife. (fn. 115) In 1362 Thomas de Jernemuth of Cottesmore and Joan his wife sold 'the manor of Allesthorp for 100 marks to Thomas son of Lawrence de Flete.' (fn. 116)
Other land in Alsthorpe, including a plot or toft and two virgates, was held until a year before his death in 1353 by John de Segrave. He gave it to William son of Ralph de Borughle (Burley), chaplain, for his life, with reversion to the heirs of John. This land was held of the heir of Sir Thomas Wake of Liddell by service of doing suit at his court of Bourne and at the county and hundred courts. It is mentioned in the inquisition taken on John de Segrave's death that the land had greatly depreciated in value, owing to the pestilence. (fn. 117) John's heir was his daughter Elizabeth, wife of John son of John de Mowbray of Axholme. Elizabeth died in 1375 and her eldest son John died without issue in February 1381–2. Thomas, the second son, was created Duke of Norfolk in 1397 and died in 1400. His widow Elizabeth married as a fourth husband Sir Robert Goushill of Haveringham, and in 1403 she, as widow of Sir Robert, obtained livery of a toft and two virgates in Alsthorpe, as dower of the lands of Thomas, Duke of Norfolk, her late husband. (fn. 118)
It may have been the same estate which was conveyed in 1480 by John Durant of Cottesmore to trustees as land in Alsthorpe, which he held of the manor of Bourne. On his death in 1497 the land passed to his son Thomas. (fn. 119) In 1531 the estate is called the manor of Alsthorpe in a conveyance by Thomas Durant to Sir Richard Sacheverell, Sir John Villiers and others. (fn. 120) John Durant of Cottesmore, son of Thomas (fn. 121) by his marriage with Dorothy daughter of Thomas Sapcote, acquired a third of the manor of Burley (q.v.) and land in Alsthorpe, to which no doubt the other land in Alsthorpe held by the Durants ultimately became annexed.
Church
The church of the HOLY CROSS consists of chancel 39 ft. by 13 ft. 6 in., with north and south aisles respectively 10 ft. 6 in. and 11 ft. 3 in. wide, clearstoried nave 44 ft. 9 in. by 17 ft., north and south aisles respectively 8 ft. and 7 ft. wide, north porch, and west tower 8 ft. 6 in. square, all these measurements being internal. The width across chancel and aisles is 40 ft. and across nave and aisles 37 ft. There is a covered passage from the east end of the south chancel aisle to Burley House.
Though much restored and in part rebuilt, the church retains a considerable amount of old work, the two eastern bays of the nave and the west end of the chancel representing the extent of the original 12thcentury building. Towards the end of the same century (c. 1190) a north aisle was thrown out and an extra bay added at the west end, increasing the nave to its present length. This is shown by a break in the north arcade between the second and third bays from the east, where there is a masonry pier with a respond on each side, representing the position of the early west wall, which probably was not interfered with till the work was completed. In the 13th century a south aisle was added, the new arcade being spaced without regard to that opposite, and the chancel seems to have been rebuilt and aisles added at the same time. Modern alterations, however, have destroyed definite evidence of the nature of the early changes east of the nave, but the arches dividing the aisles of the nave from the chancel aisles are of 13th-century date, and before the last restoration the two westernmost arches on either side of the chancel are said to have been of the same period. (fn. 122) The tower was added in the 14th century.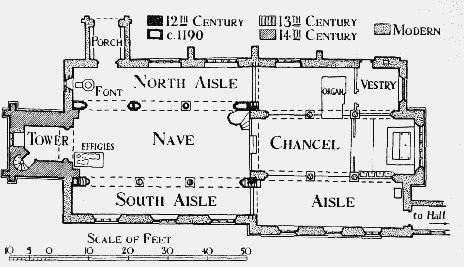 The church was extensively restored or altered about 1796, (fn. 123) when square-headed windows were inserted and changes and additions made to the fabric in the classic style of the day. (fn. 124) The interior was filled with box pews and there was a large family pew in the chancel; with the exception of that of the nave all the roofs were ceiled. The building remained in this condition (fn. 125) till 1869–70, when it was very thoroughly restored by J. L. Pearson, the east end being almost entirely rebuilt, new windows inserted throughout, the walling in parts reconstructed, and a new porch built. Externally, with the exception of the tower, the church has the appearance of a modern building, a lancet at the west end of the north aisle being the only original window remaining.
The chancel and its aisles are under a single widespreading eaved roof. The roof of the nave is behind plain parapets, but those of the aisles are eaved. All the roofs are covered with modern red tiles. The walls generally are of grey ashlar, or where modern (fn. 126) of coursed yellow stone: they are plastered internally.
The east end of the chancel stands in front of the aisles about 4 ft. and the lower part of the wall appears to be old. The east window is of five lights with geometrical tracery. The chancel arcades consist of three pointed arches of two chamfered orders on cylindrical piers with moulded capitals and bases in the style of the 13th century, and the arch to the nave, which is moulded, springs from corbelled wall shafts. The 13th-century arch dividing the south aisle from that of the nave is of two chamfered orders, springing from half-octagonal moulded corbels with nail-head enrichment, and the corresponding arch on the north side is probably of the same date, but the corbels are much restored and are without nail-head.
The late 12th-century north arcade consists of three semicircular arches of two chamfered orders with hood-moulds on each side, the two easternmost arches springing from a cylindrical pier and half-round responds, and the western one from similar but slightly smaller responds, all with moulded bases (fn. 127) and carved capitals varying in detail. The outer order of each arch is square: the inner orders are chamfered, the chamfer being hollow in the two outer and straight in the middle arch. The capitals have square abaci and angle volutes carved with leaf patterns, and between the volutes of the capital of the pier are spandrels carved with foliage. The hood-moulds rest on the abaci. The capitals in the western bay differ in some respects from the others, the abaci having bevelled angles.
The 13th-century south arcade is of three pointed arches of two chamfered orders on cylindrical piers and half-round responds with well-defined waterholding bases and moulded capitals, in two of which (fn. 128) the nail-head ornament occurs. The hood-moulds have head-stops, but are on the nave side only.
The clearstory has four modern square-headed windows on each side. The north doorway is modern, in the style of the 13th century. No ancient ritual arrangements remain in any part of the church. (fn. 129)
The tower is of three stages marked by strings, with moulded plinth, and pairs of buttresses of six stages at the angles. (fn. 130) There is a vice in the south- west angle. Except for a modern two-light window with Decorated tracery the two lower stages are blank, but the lofty bell-chamber stage has tall, pointed transomed windows of two cinquefoiled lights, the openings below the transoms having quatrefoil cusping. The hood-moulds have head-stops. The tower terminates with a battlemented parapet, below which is a hollow moulding enriched with flowers and animals' heads. There are gargoyles at the angles. The arch to the nave consists of a widely chamfered inner order on half-round responds with moulded capitals and bases, and three outer chamfered orders (fn. 131) on moulded imposts, below which the jambs are square. The tower was restored in 1913.
The font consists of a beautiful 15th-century octagonal bowl, carved on seven sides with elaborate Perpendicular tracery, and having a hollow moulding below the rim enriched with four-leaved flowers and with heads at the angles, on a modern stem and base. The oak pulpit, fittings, and all the roofs are modern.
On the floor at the west end of the nave are the mutilated alabaster effigies of an unidentified man and wife, apparently of late 15th or early 16th century date. (fn. 132)
At the east end of the south aisle of the chancel is a monument to Lady Charlotte Finch, (fn. 133) with kneeling figure by Chantrey, and in the south nave aisle a memorial to six men of the parish who fell in the war 1914–19. (fn. 134) The tower contains one bell, cast by Alexander Rigby of Stamford in 1705. (fn. 135)
The plate consists of two cups, a salver-shaped paten, a flagon, and an almsdish, all by John Bodington of London, 1697–8, the three latter pieces inscribed 'Burley in Rutland.' (fn. 136)
The earlier registers have been bound together in two volumes; the first volume contains entries from October 1577 to November 1803, and the second from July 1804 to November 1812. (fn. 137)
Advowson
The church of Burley was given to the monastery of Nuneaton by David de Armenters, lord of Burley, at the request of Richard, Bishop of Winchester (1174–1188), and Herbert, Archdeacon of Canterbury, and the gift was confirmed by Earl Simon, David's overlord, by Henry de Armenters son of David, (fn. 138) and by Geoffrey de Armenters, in 1246. (fn. 139) Later confirmations were made by the bishops of Lincoln, and in 1283 the bishop confirmed the appropriation of the church to the nuns, reserving the right to make provision for a vicar. (fn. 140) Pope Boniface VIII also confirmed the appropriation. (fn. 141)
The nuns leased the tithes, tithe barn and their land in Alsthorpe from time to time, frequently to the vicars of Burley. (fn. 142) In 1451 Thomas Hudde, the vicar, had a lease of the tithes, undertaking to entertain the council of the house of Nuneaton with their servants when they came to Burley at the feast of the Exaltation of the Holy Cross to receive oblations. Thomas also became responsible for repairs of the tithe barn. (fn. 143) In other leases made to the vicars of Burley the repairs of the house, chancel and chapel of the Holy Cross were part of the lessees' liability. (fn. 144)
In 1389 some disagreement arose between William Daweson, the vicar, and the convent as to the oblations presented by the faithful at the Image of the Crucifix on the north side of the church, and about the houses in the rectory. It was then agreed that the nuns, as rectors of the church, should receive all oblations at the feasts of the Invention and Exaltation of the Holy Cross, and for 7½ days before and 6½ days following each of these feasts, while the vicar should have the oblations during the remainder of the year. The nuns were to have the site of the rectory and barn with free ingress and egress. (fn. 145)
In 1551 the rectory, advowson, tithes and tithe barn were granted to Sir Thomas Tresham and George Tresham, (fn. 146) but they must have been sold very shortly afterwards to Sir John Harington, for at his death in 1553 they are returned among his possessions, (fn. 147) and the advowson and rectory subsequently descended with the manor.
As mentioned above, Anne widow of Edward le Despenser founded a chantry for one priest in the church of Burley to pray daily for the souls of the king and queen, of Anne and other owners of the manor. The estate of John Rageley as chaplain of this chantry was ratified by the king in 1399 and 1400. (fn. 148) When the chantries were suppressed by Edward VI this chantry was returned by the commissioners sent to survey the chantry property, as having been founded by Lady Elizabeth Sapcote for the maintenance of a priest to sing mass. This may refer to a refoundation of Anne le Despenser's chantry, but there does not appear to have been any Lady Elizabeth Sapcote connected with Burley. The chantry priest had a pension of 110s. yearly out of the lands of the monastery of Pipewell (co. Northants), from which 3s. 4d. was distributed in alms to the poor on the obit of Lady Sapcote. (fn. 149)
In 1313–14 Nicholas de Segrave obtained licence to grant land in Alsthorpe, Burley and Cottesmore to a chaplain in the chapel of Alsthorpe. (fn. 150) This is the only reference to this chapel which has been found.
Charity
This parish receives a sum of £10 per annum from Lady Ann Harington's charity, which is distributed among 23 poor inhabitants in gifts of coal.