Pages 151-155
A History of the County of Rutland: Volume 2. Originally published by Victoria County History, London, 1935.
This free content was digitised by double rekeying. All rights reserved.
TEIGH
Tie (xi cent.); Thy, Tye (xiii cent.); Thye, Teye, Ty (xiv cent.); Tyghe (xv cent.); Tygh, Teigh (xvi cent.).
Teigh is on the Leicestershire border of the county; Edmondthorpe Mere marks the northern limit of the county and parish and with the exception of a short distance on the south-west a stream forms the parish boundary on all other sides. The parish comprises 1,288½ acres of loam soil, about two-thirds of which are laid down in grass. The land falls from north to south and good views of open country can be obtained from the village. Remains of a disused canal pass through the parish from Whissendine to Ashwell. It was intended to serve Oakham, but, taking advantage of the levels, it passed under Market Overton Hill towards Ashwell. Tradition says that only one barge with coal passed up to Ashwell, for the canal was finished about 1849, at the time the Midland Railway was built, and was bought up by the railway company. The nearest railway station is at Ashwell.
Teigh village lies to the west of and adjacent to the road from Oakham to Wymondham. Three lanes lead into the village street, which runs parallel to the Oakham road. The village forms the shape of the letter E with the centre arm prolonged into the high road. The church and rectory are in the southern lane. The cottages and farm houses are mostly of stone with slate or tiled roofs. Teigh Lodge lies some distance to the west in an isolated situation.
Lewis mentions a strong petrifying spring, and states that fossil fish have been found in the blue rock which is quarried for the roads. (fn. 1) Place-names which occur in the records are Sowyt Flet, Southleche, Rotemor and Tyflet. (fn. 2)
John Banton, a poet, who was buried in 1848 in Teigh churchyard, was son of a labourer of Teigh. He was schoolmaster there for many years, and his verses indicate the possession of a vivid imagination and an excellent knowledge of the classics. (fn. 3)
Manor
Before the Conquest Godwin held Teigh. He was succeeded here, as in all his Lincolnshire manors, by Robert Malet. (fn. 4) Teigh manor was afterwards held as threequarters of a knight's fee of the Honour of Leicester. (fn. 5)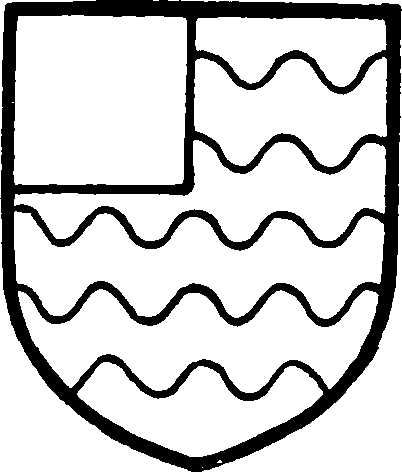 The date at which the Folevilles of Ashby Foleville (co. Leic.) became possessed of Teigh is not definitely known, but there are two charters in the Woodford Chartulary showing William de Foleville acquiring land in Teigh. Neither charter is dated. By one William obtained a virgate of land in the vill of Teigh from Roger son of Hardechyn, and by the other 3 acres of meadow in Teigh near the field of Ashwell from Henry son of Herbert. (fn. 6) This was probably the William de Foleville who in 1210–12 held threequarters of a fee in Rutland and three-quarters of a fee in Leicestershire of the Honour of Leicester. (fn. 7) William sided with the rebellious barons in 1216, forfeiting his lands, which were granted to William de Cantilupe. (fn. 8) He was imprisoned, but restored by Henry III in 1217 on condition that he should render faithful service in future and marry the daughter of Eustace de Es. (fn. 9) He served the king after this time in various capacities in Leicestershire, such as justice of assize, collector of aids, etc. (fn. 10) Sir William as patron of Teigh in 1239 presented his son John de Foleville to the church. (fn. 11) The date of Sir William's death is not known. Wright states that he presented to the church of Teigh in 1248–9. (fn. 12) His son and successor, Eustace de Foleville, was in 1248 concerned in the death of William le Venur, and it was ordered that he should be taken and detained in the king's prison at Warwick. (fn. 13) In 1258 he was one of the knights of Leicestershire commissioned to inquire as to trespasses and excesses in the county, in pursuance of an ordinance made in the Parliament at Oxford. (fn. 14) Later he sided with Simon de Montfort, and was among the 'disinherited' in 1265, when his land in Teigh was valued at 100s. (fn. 15) He was in the Isle of Axholme with Simon de Montfort the younger, but was in 1266 bound to Edward the king's son, to appear before the king and answer for his misdeeds, (fn. 16) and was pardoned on 28 June 1267 on condition that he would stand by the award of Kenilworth. (fn. 17) Eustace was murdered in his house at Ashby about 1274. (fn. 18) He was succeeded by William de Foleville, who was dead before 1282, when his widow Lady Joan de Foleville was in controversy with Edmund, Earl of Lancaster, the king's brother, as to the presentation to Teigh, which she claimed as guardian of Alice, daughter and heir of William de Foleville. (fn. 19) It would seem that Alice died without issue, for by 1297–8 John son of Eustace de Foleville her uncle was lord of Teigh. (fn. 20) He was engaged in 1299 in the defence of Edinburgh Castle, (fn. 21) and served as M.P. for the counties of Leicester and Rutland in several Parliaments between 1299 and 1306. (fn. 22) In 1302–3 John, who was afterwards knighted, acquired of his niece Joan, daughter of Alexander Lucas, burgess of Stamford, a messuage and land in Teigh which Eustace de Foleville had given to his daughter Amice, late the wife of Geoffrey de Milton and mother of Joan. (fn. 23) Alice, daughter of Robert Burstall, also gave to John a meadow in the fields of Teigh in Rotemore, called Burstall Meadow, which she had of the gift of Robert de Burstall, her brother. (fn. 24) John was accused in 1304 by two of his neighbours of assaulting them in their houses and carrying away or destroying their charters. (fn. 25) He served as a justice in 1309, (fn. 26) but died before June 1310. (fn. 27) His son John did homage and obtained livery of his lands in the following month, dower being reserved to Alice, widow of the elder John. (fn. 28) John de Foleville settled the manor of Ashby Foleville in 1315 on himself and his wife Mabel in tail, but Teigh was excepted from the settlement, being then held in dower by John's mother Alice. (fn. 29) In 1326 Thomas le Blount was appointed by the king to pursue and arrest John de Foleville, Roger la Zouche, and Robert Lovet, parson of Ashwell, and to imprison them. (fn. 30) John's crime is not known, but it probably had something to do with the murder of Roger Beler, the king's chief justice, in that year. (fn. 31) This crime was perpetrated by Ralph son of Roger la Zouche of Lubbesthorpe (co. Leic.), Eustace de Foleville, Robert and Walter de Foleville, his brothers, Richard de Foleville, parson of Teigh, and others, who, irritated by some threat made by Beler, waylaid and murdered him in a valley near Reresby. (fn. 32) These brothers were sons of John de Foleville, and Richard, the parson, appears to have been their uncle. They all fled and were outlawed, but in 1328 the sheriff of Lincoln was ordered to supersede the outlawry as the king willed that the indictment should be determined before him. (fn. 33) They were all pardoned, (fn. 34) but this does not seem to have been the end of the matter, for in 1328 Robert de Foleville was complaining that he had been assaulted at Newbold-by-Ashby by Ralph Beler of Kettleby, who had carried away his goods. (fn. 35) In 1329 the four brothers Robert, Walter, Eustace and Lawrence de Foleville were in rebellion, (fn. 36) and in 1330 Roger de Wendesley was ordered to arrest them and Richard de Foleville. (fn. 37) The brothers seem to have terrorised the country round Ashby, though their brother was on the commission of the peace. In 1331 Robert de Colville, lord of Castle Bytham, with others, came to Eustace's house at Teigh and attempted to take him, and several lives were lost in the ensuing affray. (fn. 38) Again, in 1333 and 1334 Eustace was accused of abduction and murder, (fn. 39) and in 1340 Thomas Wake of Lydell and Robert de Colville were appointed to take Richard de Foleville, 'a person notoriously suspected,' and to imprison him in the Tower of London. (fn. 40) Richard's fate is revealed in a penance imposed in 1343 upon Sir Robert de Colville, formerly on the commission of peace, 'who in discharge of his office laid hands on Richard de Folevyle, rector of Ty, a man guilty of homicide, and other crimes, who when the under-sheriff came to take him, shot at the people in the churchyard, killing a man and wounding many, on which the said knight coming to the help of the under-sheriff, duly required Richard and his accomplices to leave the church, and, on their refusal, broke open the door, seized the said priest and cut off his head in the public street.' (fn. 41) Eustace still continued his evil practices, and in 1346, 'emboldened by the King's passing to parts beyond seas,' broke into the manor of Joan, widow of Ralph Bassett of Drayton, at Gouteby (co. Leic.). (fn. 42)
Sir John was on a commission of the peace in 1329, (fn. 43) and in 1336 he was exempted from being put on assizes, etc., or appointed to public office against his will. (fn. 44) He presented to the church in 1341. (fn. 45) In 1342–3 John de Foleville, lord of Ashby, conveyed to William de Kaythorp, parson of Ashby, his manor of Teigh, with the advowson and all the lands which Lady Alice de Foleville, his mother, held as dower. (fn. 46) John de Foleville served on a commission of oyer and terminer in 1343 (fn. 47) and may have been the John de Foleville who in 1347, in consideration of his good service, obtained exemption from service in public offices against his will. (fn. 48) He had three sons: John, who paid relief to Henry, Earl of Leicester, for his land in Teigh in 1349, (fn. 49) Geoffrey and Christopher. John had a son John, Geoffrey had a daughter Mabel, who married John de Woodford, and Christopher had a daughter Elizabeth, wife of Sir Hugh Browe. John succeeded his father as the eldest son. According to the Woodford chronicler, he married 'an old ancient lady of Yorkshire that was the wife of the Lord Marmion, (fn. 50) and he might dispend yearly by her 700 marks, and they kept a worthy household and a great at Ashby Foleville.' (fn. 51) The conveyance of Teigh made in 1343 by John de Foleville, the father, appears to have been for the purpose of entailing it upon his sons in succession, for in 1363 the trustee, William de Kaythorpe, granted it to Geoffrey de Foleville, the second son, and Isabel his wife and their issue. (fn. 52) The eldest son, Sir John, was probably still alive at this date, (fn. 53) and was possibly still living when in 1368 John, son of Sir John de Foleville of Ashby, obtained protection while on the king's service in Ireland. (fn. 54) This John probably predeceased his father. The Woodford chronicler gives a long account of the way in which Mabel daughter of Geoffrey was defrauded of the manor of Teigh by her uncles, Sir John and Christopher, and Margaret wife of the latter. In spite of the entail, Sir John gave the manor of Teigh for their lives to Christopher and Margaret, who had been a servant to Sir John and 'well beloved with him.' (fn. 55) 'The same Dame Margaret, after the decease of Sir Christopher her husband, was in household with Sir John de Foleville . . . and was mickel cherished with him in household at Ashby till he was dead, and there she imagined false deeds and let write them and ensealed them with his hand when he was dead, for she had the seal of his arms and all his deeds and evidences that belonged to all the lordships that Foleville were ever enheryte in England. And the said Dame Margaret . . . made a false deed and said how Sir John Foleville . . . should let make a state by his feoffees to his brother, Sir Christopher, and to his heirs between him and Margaret begotten: . . . and all that was false that she said, and yet she occupied such a false estate by maintenance of one called Lawrence Hawberk that wedded her after . . . and therefore I suppose verily that she be in Hell. Nevertheless she delivered and made confession ere she died that she had made false deeds and disinherited the right heirs of Sir Geoffrey Foleville . . . and she delivered these deeds to the good Abbot of Croxton . . . who made the said deeds be delivered ... to Mabel of Woodford and to Sir Robert of Woodford, true heirs lineal to the manors of Ashby Foleville and . . . Teigh Foleville . . . and the abbot said in faith that Dame Margaret . . . said these words kneeling on both her knees asking her mercy and forgiveness of the wrongs and disherisons that lay on her.' (fn. 56)
It is doubtful whether there was any truth in this story beyond the fact that Sir John granted the manor for life to Christopher and Margaret, and in 1362 Lawrence Hawberk of Claxton released the reversion of the manor and advowson of Teigh after Margaret's death to Geoffrey de Foleville. (fn. 57) In 1363 two settlements were made on Geoffrey and Isabel and their issue, one, as mentioned above, by his father's trustee. (fn. 58) Geoffrey died before 1374, when his widow Isabel obtained from John, King of Castile and Duke of Lancaster, the lands in Teigh and the marriage of her daughter Mabel. (fn. 59) In 1375 Isabel leased to Lawrence Hawberk and Margaret all lands in Teigh which she held during the nonage of Mabel. (fn. 60) The manor appears to have passed to Elizabeth, daughter of Margaret by her first husband, Sir Christopher Foleville, in 1390 in a perfectly legitimate fashion, when Mabel, then wife of John de Woodford, conveyed it and the advowson to Elizabeth and her husband, Sir Hugh Browe, to be held at a rent of a rose by Sir Hugh and Elizabeth and the issue of Elizabeth, with reversion in default to John and Mabel and Mabel's heirs. (fn. 61) Sir Hugh Browe came from Cheshire and was knight of the shire for Rutland in 1388 and 1390, (fn. 62) and justice of the peace 1389 and 1390, (fn. 63) though he had been exempted in 1386 from such services against his will. (fn. 64)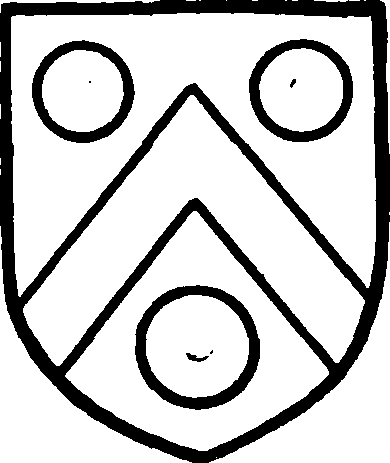 He was succeeded before 1428 by his son Robert Browe of Woodhead, 'cousin and heir of Sir Christopher Foleville.' (fn. 65) John Browe of Teigh who appears with Robert in the list of 1434 of persons who should take the oath not to maintain peacebreakers (fn. 66) is said by the Woodford chronicler to have been the son of Robert, and was living at the time of the writing of the chronicle. (fn. 67) Teigh passed to Robert's daughter Anne, wife of John Heliwell, lord of Whissendine (q.v.). (fn. 68) By his marriage with Margaret, daughter and heir of John Heliwell, apparently son of the abovenamed John, the manor of Teigh passed to Thomas Sherard of Stapleford, (fn. 69) who died seised of it in 1538. (fn. 70)
In 1498 Thomas Morton and Margaret his wife, the heiress of the Woodfords, revived the claim to the manor which had been set out at such length by her uncle Robert, son of Ralph Woodford. (fn. 71) Her claim, which was partly founded on the allegation that Hugh and Elizabeth Browe died without issue, (fn. 72) was unsuccessful, and Teigh descended in the Sherard family, afterwards Earls of Harborough, (fn. 73) following the descent of the manor of Heliwell in Whissendine (q.v.). The manor house at Teigh was probably usually leased during the Sherard ownership of the manor. After the death of Francis Sherard in 1595 his widow Anne wished to occupy the manor house. John Manhood, the tenant, who had a lease of the manor house for 40 years, objected to being turned out, to the extent of threatening to damage the house, windows, etc., if he were disturbed. (fn. 74)
Robert Sherard, fourth Earl of Harborough, was rector of Teigh from 1743 to 1773. His son Philip, the fifth Earl, was born at Teigh 10 October 1767. (fn. 75) Robert, the sixth and last Earl of Harborough, died without issue in 1859.
In accordance with his will, the manor was settled in 1861 on his relatives, Edward Sherard Calcraft Kennedy and Emma Sarah Calcraft Kennedy, who sold the manor and advowson to Richard Thompson of Stamford. Richard Thompson conveyed the advowson to Rev. Alfred Ryle Newby, and died in 1882, leaving the manor to his two sons William Thompson and Richard Phillips Thompson, Daniel John Evans and his nephew James Eastwick, in trust for sale. In 1888 the trustees sold the manor to Daniel John Evans, who died in 1902, having appointed his three sons, Frank Gwynne Evans, Richard Gwynne Evans and Arthur Evans, trustees for sale. They sold it in 1903 to Harry Simpson Gee (d. 1924), who left it to his son, Mr. George Cecil Gorham Gee, the present owner, in tail. (fn. 76)
Church
The church of the HOLY TRINITY was rebuilt in 1782 in the Gothic style of the day (fn. 77) by the fourth Earl of Harborough (rector 1743–73), the west tower, which is of 14th-century date, being alone retained. On plan the building is a rectangle measuring internally 45 ft. by 24 ft., and is faced with ashlar, with chamfered plinth and lowpitched leaded roof behind battlemented parapets. The east end is gabled and there are pairs of two-stage buttresses at the angles, and a band of geometrical ornament below the parapets. The entrance is at the west end through the tower, the bottom stage of which forms a porch. The east window is of four lights with Decorated tracery, and the three pointed windows on each side of the nave are of three lights, but the mullions and tracery date only from 1911. (fn. 78) With this exception the 18th-century interior remains substantially unchanged and affords a curious and interesting example of both ritual and seating arrangements. The walls and ceiling are plastered, the latter slightly curved, with moulded ribs and three circular panels, the middle one containing the royal arms and the others the Harborough arms (west) and crest (east), the latter dated 1782. The pews are in three ascending tiers, facing north and south, as in a college chapel, but stop 9 ft. from the east end. The west wall is occupied by three blind pointed arches, the middle one painted to represent a window with trees and plants visible beyond. At a considerable elevation above the west doorway, in the middle arch, is a wooden canopied pulpit projecting balconywise, and on either side, at a lower level, are the reading-desk and clerk's desk. The latter are approached by stone steps in the wall, on either side the entrance, and access to the pulpit is by wooden steps from the reading-desk, on the north side. The whole forms a pseudo-Gothic composition of more interest than beauty. The Lord's Prayer and the Creed are painted on the wall on either side.
The flagged floor is raised one step at the east end, where a small communion table is enclosed by an iron railing.
The tower is of four stages with pairs of angle buttresses, but the lower portion only is ancient; it is of ironstone rubble with moulded plinth. The upper part was rebuilt in 1792 (fn. 79) in two stages, the bell-chamber windows being re-used and new windows introduced below. (fn. 80) The old windows are of two trefoiled lights with quatrefoil in the head, and the tower terminates in an 18th-century battlemented parapet with angle pinnacles surmounted by vanes. Immediately below the parapet is a band of ornament similar to that of the nave. The buttresses stop at the third stage. There is a vice at the south-west angle. The pointed west doorway belongs to the 18th-century alterations, when the lower stage was lined internally with ashlar to form a circular vestibule, with domed plaster ceiling. The upper part of the 14th-century arch to the nave, of three chamfered orders, is visible in the ringing chamber.
A stone font of nondescript character, which stands on the north side of the altar, was carved in 1845 (fn. 81) by the rector. (fn. 82) There is also a portable ewer-shaped font of mahogany, lined with lead and ornamented with brass, which rests on a brass arm fitted into a socket attached to the communion rail. The altarpiece, a painting of the Lord's Supper, is attributed to Otto van Veen (1556–1634). (fn. 83)
At the west end is an armorial slab to the Rev. John Smith, rector (d. 1737). Two medieval grave slabs with undated inscriptions, mentioned by Wright, (fn. 84) have disappeared, as has also a brass plate to James Adamson, rector (1630–61). (fn. 85)
There are three bells, the first and second by Thomas Eayre of Kettering, 1746, and the tenor, a medieval bell inscribed 'In noie ihs Maria.' (fn. 86)
The plate consists of a cup and cover paten of 1661–2, given in 1662 by Richard Moudie, rector, and a paten of 1826–7 given in 1828 by Thomas Wingfield, rector. There are also two pewter plates. (fn. 87)
The registers before 1812 are as follows: (i) all entries 1572–1738; (ii) 1739–65; (iii) 1777–1812; (iv) marriages 1789–1812. (fn. 88)
Advowson
The earliest recorded presentation to the church of Teigh was made in 1239 by Sir William de Foleville. (fn. 89) The advowson descended with the manor until the death of the last Earl of Harborough in 1859. It was then in 1861 sold by his legatees to Richard Thompson, who granted it to the Rev. Alfred Ryle Newby, who was incumbent until his death in 1913. In the following year his widow presented, but sold the advowson to Col. Rt. Hon. John Gretton, M.P., who is now patron.
There are no charities in this parish.