Pages 175-179
A History of the County of Rutland: Volume 2. Originally published by Victoria County History, London, 1935.
This free content was digitised by double rekeying. All rights reserved.
BISBROOKE
Bitlesbroch (xi cent.); Butlesbrok, Bitlesbrok (xiii cent.); Bissebrok, Bytlesbrok, Butlisbroke, Bisbrok (xiv cent.); Pysbroke (xv cent.).
The parish of Bisbrooke, containing a little more than 1,144 acres, lies near the borders of Northamptonshire on the ridge of a hill between two brooks. The village, which is sheltered from the north by this ridge, is situated about half a mile south of the Uppingham and Peterborough road, a mile east from Uppingham station and two and a half north-west from Seaton station on the London Midland and Scottish Railway. The ground rises again to the south-west of the village, but the height varies very little, nearly the whole of the parish being between 300 and 400 ft. above the Ordnance datum. The highest point, about 419 ft., is reached on the Uppingham and Peterborough road, rather more than half a mile west of Bisbrooke Hall, which stands in the northern part of the parish, closer to Glaston than Bisbrooke. The Manor House stands at the western end of the village of Bisbrooke. The church is on the eastern side. The soil, on the whole, is light, the subsoil being for the most part Upper Lias, Lower Oolite occurring in the north and west. The land is mostly pasture. The population in 1921 was 137.
Manor
Two hides and one virgate in Bisbrooke were held by Robert of the Countess Judith in 1086, and had been held by Edward with sac and soc in the reign of the Confessor. (fn. 1) The overlordship followed throughout the descent of the Honour of Huntingdon. (fn. 2)
Robert, the tenant at the time of the Domesday Survey, was probably Robert de Buci, whose lands in Northamptonshire and Leicestershire were afterwards given (presumably by the first Simon de St. Liz, Earl of Huntingdon) to Robert the son of Viel Palfrey. (fn. 3) Robert was tenant of Bisbrooke early in the reign of Henry I, and was still living in 1144, when he granted a charter to the Prior of Daventry. This charter was afterwards confirmed by his son Simon and witnessed by another son Jordan, together with Simon's wife Julian and their sons Richard, Henry and Simon. (fn. 4) In 1159 Simon, called Simon de Foxton, from his manor in Leicestershire, accounted for his debt of 100s. in Lincolnshire. (fn. 5) Richard de Foxton succeeded Simon between 1180 and 1186, (fn. 6) and about 1189 he confirmed to Daventry the grants of his father Simon and his grandfather Robert. (fn. 7) He was succeeded by his son, another Richard, who confirmed to Daventry the gifts of Robert son of Viel his greatgrandfather, Simon his grandfather and Richard his father. He died before 1224, leaving a widow Amabel, and two daughters, Amis or Amy, and Beatrice. Amis married Alan Basset of Luffenham, and they appear to have had two daughters, Agnes and Joan; but, according to the Pipewell Cartulary, Agnes was sole heir of her grandfather. Agnes was first married to William de Meynell; (fn. 8) in 1251 she and her husband granted lands and a mill in Bisbrooke to Richard, son of Ernis de Seaton, in return for a grant for the life of Agnes of two messuages which Alan Basset had formerly held. They were again dealing with lands here in 1254. (fn. 9) Agnes married as her second husband Ralf de St. Lo, but she seems to have died childless. Her interest in Bisbrooke passed to her sister Joan, who married William de Gumley, and the representatives of Beatrice de Foxton, mentioned above, who married, firstly, Henry, son of Fulk de Oiry, and, secondly, Richard, son of Hubert de Middleton. (fn. 10)
In 12612 the Prior of Daventry called on Ralf de St. Lo and Agnes his wife, William de Gumley (co. Leic.) and Joan his wife, and John de Middleton, to acquit him of the services demanded by Balliol, the chief lord, for lands in Foxton. (fn. 11) John de Middleton (Midlington), son of Richard and Beatrice de Middleton, was succeeded before 1305 by William de Middleton, (fn. 12) presumably his brother, who may possibly be identified with the William, son of Richard de Middleton, who settled certain rents in Foxton and a mill in Bisbrooke on himself and his wife Rose in 1307. (fn. 13) Thomas de Middleton, probably the son of William, was in possession of Bisbrooke in 1316; (fn. 14) he died before 1325, leaving as his heir a son Thomas, then under age and in the wardship of John of Britanny, Earl of Richmond. (fn. 15) This Thomas died before 1343, and the wardship of his son and heir William belonged in that year to the Countess of Pembroke. (fn. 16) It is probable that William died during his minority; he was succeeded by his brother John, described as 'son and heir of Thomas de Middleton,' who granted the manor of Bisbrooke in fee to John de Wempton, who enfeoffed Sir William Burton of Tolthorpe. Sir William granted it in 1362 to Sir Richard de Bayeux and Robert his son, in exchange for certain lands in Arkesden, Essex. (fn. 17) Robert afterwards regranted it to Sir William Burton and John de Wempton, apparently for the purpose of a marriage settlement on his son Robert and Alice sister of John de Middleton previously mentioned. Alice survived her husband, and on her death in 1380 the manor was taken into the king's hands; but it was afterwards restored, the inquisition finding that it ought to belong to John de Wempton, the surviving trustee, of whom Alice had held it by rent of a rose. (fn. 18) Her heir was her son John, then aged fourteen; he died in 1397, leaving a son John aged seven. (fn. 19) The wardship was granted on 4 October 1397 to Henry Mulsho and Thomas Englysshe. (fn. 20)
John Bayeux proved his age in 1413. (fn. 21) Margaret, widow of John Bayeux, died in 1468, leaving a daughter Margaret aged 22 years, (fn. 22) who apparently married Robert Stanhope. (fn. 23) Robert Stanhope and Margaret his wife dealt with a reputed manor of Bisbrooke by fine in 1478; they quitclaimed it from themselves and the heirs of Margaret to Robert Haus and others, and the heirs of Robert Haus, presumably for the purpose of a settlement. (fn. 24) The manor formerly belonging to the Middletons is said, however, to have been granted shortly afterwards to the College of King Edward IV at Fotheringhay.
In July 1547 Edward VI, 'in fulfilment of his father's will . . . and in consideration of the manor of Tryng' (co. Herts), granted to Sir Richard Lee the manor of Bisbrooke and all the king's lands there 'which belonged to the late College of Fotheringhay and were granted to the King's father by deed dated 24 January 1547.' (fn. 25) In February 1548 Sir Richard obtained a licence to settle the property on Anthony Andrewes and Dorothy his wife and their heirs. (fn. 26)
Anthony Andrewes died 6 December 1557, leaving as his heir his son Edward, then aged twelve and a half. (fn. 27) By his will he devised his lands in Bisbrooke, after the death of his wife Dorothy, who survived him, to his second son Anthony and his heirs, charged with an annuity of 10 to his youngest son Fabian to be paid by Anthony 'if Fabian should live till the land came to Anthony.' (fn. 28) Fabian survived his brother, who died 22 July 1589; and the question then arose whether the annuity should be payable by the heirs or determined by the death of Anthony; the Court of Wards decided in favour of Fabian in Michaelmas term 1590. (fn. 29)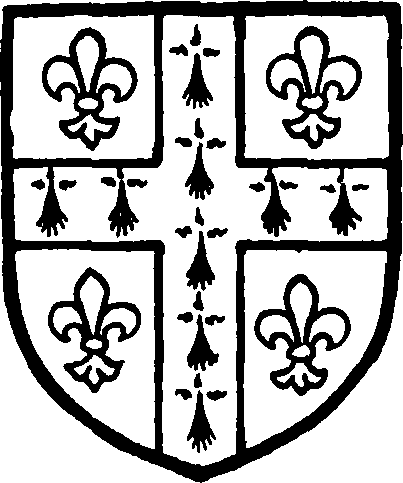 Anthony's heir was his son, a third Anthony, aged thirteen at the time of his father's death; but the manor of Bisbrooke had been granted in April 1589 to George Sheffield and other trustees for ten years, for the payment of an annuity of 70 to Christopher, Alice and Ursula Hoddesdon. (fn. 30) Moreover, in 1586 the elder Anthony seems to have promised an annuity of 20 to William Gate, citizen and barber surgeon of London, who subsequently brought an action against Sheffield to recover his money, alleging that the annuity had been granted in return for a sum of 100. Sheffield replied that the original contract 'was usurious, and by reason of the corruption thereof void'; but admitted that he had advised Andrewes to enter into reasonable composition because he 'was not able to procure such suertyes for his baile as the lawe doth require.' A fresh agreement was accordingly made in March 15889 at Sheffield's house in Seaton by which 125 was to be paid to Gate by the following Michaelmas term. In the meantime Anthony Andrewes died (1589), a prisoner for debt 'at the suit of the complaynant and one Jeffraye Willcockes'; and George Sheffield, on the plea that he was 'avoyded of the possession' of certain lands which he had agreed to buy from Andrewes in order to pay Gate, declared that he was no longer bound to pay. (fn. 31)
The third Anthony Andrewes died at Bisbrooke on 8 February 1615, leaving as his heir his daughter Margaret, then aged nearly thirteen and a half, (fn. 32) who afterwards married Roger Dale. (fn. 33) By a fine levied in her lifetime, but not recorded until 1624, she, with Edward Andrewes and Judith his wife, made a settlement of the manor and advowson. (fn. 34) She died in 1622, 'being aged 20 years 11 months,' and was succeeded by her cousin Edward Andrewes (the son of Edward, brother of Anthony Andrewes her grandfather), who was of full age at the time of her death. (fn. 35)
Edward Andrewes was holding Bisbrooke in 1639, (fn. 36) and in the following year he, and presumably his second wife, Mary, conveyed the manor and advowson to John Savage. (fn. 37) During the Civil War he supported the king, but left his quarters in November 1645, probably after the king's quarrel with Prince Rupert, at Newark, and took the negative oath before the Committee of Nottinghamshire, but was prevented by sickness from coming to London to compound. His composition was fixed at 283 in June 1646, and his estate was ordered to be discharged on 22 July, though apparently this order had not taken effect before the middle of the following November. In March 1648 his estate was again sequestered, (fn. 38) and it was probably owing to his losses during this period that he was forced to sell it, as it seems to have been acquired during the Commonwealth by Sir George Manners, whose heirs, including John, Earl of Rutland, were dealing with it in the summer of 1661, apparently for a settlement. (fn. 39) The manor and rectory have since followed the descent of the earldom and dukedom, the Duke of Rutland being now lord of the manor. (fn. 40)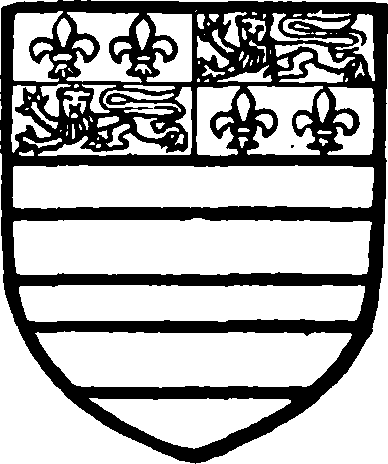 The NEVILLE HOLDING may perhaps be traced to a freehold worth 5, the Michaelmas rent being 12s., which was held in 1265 by Sir Stephen de Neville. (fn. 41) Its origin may possibly be found in the settlement of two messuages and a carucate of land by William and Agnes de Meynell on Alice de Keneton and the heirs of her body; (fn. 42) but the evidence is insufficient to establish this identification. During the Barons' War, Sir Stephen's land was seized by his brother Sir Peter, but it was restored in 1265. (fn. 43) Sir Stephen was still living in 1280, when he was a coroner in Leicestershire, (fn. 44) but he appears to have died before April 1303, when his son John was named as one of the heirs of Thomas de Neville in case Theobald, son of Peter, was barred by his father's outlawry. (fn. 45)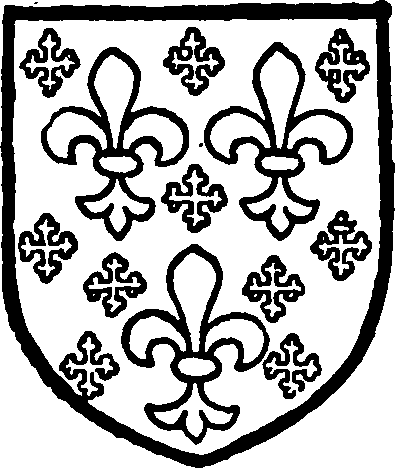 John de Neville, described as of Wimeswould, held in Bisbrooke in 1305 and in 1316. (fn. 46) His son Stephen was still living in 1328, when he settled two messuages, two and a half bovates of land and three acres of pasture with 14s. yearly rent in Bisbrooke on his son, another William, William's wife Julian and their issue, with remainder to the right heirs of William. (fn. 47) Three messuages, two and a half virgates of land and one acre were held at this time by Richard, vicar of Bisbrooke, for life, and the reversion of this property was settled in the same way. (fn. 48) Richard Neville, who held in Bisbrooke in 1379, was presumably the heir of William, though his land was extended at no more than 40s. yearly. (fn. 49) He died before Trinity term 1396, when his executor, Richard Middleton, brought an action of debt against Sir Henry de Neville. (fn. 50) After this date the descent of the freehold becomes obscure.
In 1433 John Oudeby and Agnes his wife dealt by fine with three messuages and 40 acres of land in Bisbrooke, (fn. 51) and, according to Nichols, Oudeby succeeded the Nevilles in Wimeswould, which manor passed through his heirs general to co-heirs married to Bocland and Coulson. (fn. 52) There seems, however, to be no trace of either of these families in Bisbrooke. On the other hand, in the pedigree which is stated by Nichols to have been compiled from the Chetwynd MSS. Sir Robert Neville, who married Joan daughter and heir of John de Nowers, was descended directly from Stephen de Neville. (fn. 53) It seems clear, at least, that Sir Robert was seised at his death of the lands in Prestwold (co. Leic.) which had formerly belonged to the Nevilles of Wimeswould. (fn. 54) His heir was his son John, who was succeeded in Gayhurst (co. Bucks) by his brother Robert. Mary Neville, the greatgranddaughter of this Robert, became the heir to his property in Gayhurst on the death of her brother Francis in 1581; and her granddaughter Mary Mulsho brought the estate to Sir Everard Digby in marriage in 1596. (fn. 55) The Digbys held lands in Bisbrooke in the 17th century, (fn. 56) but it is not easy to identify them with the Neville freehold; and the family certainly had an interest in the parish long before the marriage to Mary Mulsho. As early as 1493 Sir John Digby had acquired from William Lewen and Alice his wife a messuage, 40 acres of land, 4 acres of meadow and 6 acres of pasture, which may possibly have been the property of John Oudeby. (fn. 57) These tenements followed the descent of the manor of South Luffenham (fn. 58) (q.v.).
In 1536 Richard Chesilden of Great Weldon (co. Northants) died seised of a messuage with two acres of land and one of meadow in Bisbrooke, which had been settled upon his parents, Richard and Joan Chesilden, by John Bygge. His heir was his son John, then aged eight. (fn. 59) Early in the reign of Elizabeth a John Chesilden married Elizabeth Neville of Gayhurst. (fn. 60) Her son, Edward Chesilden, and his wife Bridget, dealt with tenements in Bisbrooke by fine about 1623, conveying them to Everard Falkener. (fn. 61) This was probably for the purpose of a lease, as a fresh lease for 99 years from 5 October 1632, 'if Everard Falkener, Lyon Falkener and Anthony Falkener, son of Lyon aforesaid, or a survivor should live so long,' was made early in 1633. (fn. 62) These tenements subsequently followed the descent of the Chesilden property in Preston and Uppingham (fn. 63) (q.v.).
A mill in Bisbrooke was granted, together with a bovate and 12 acres of land, 2 messuages and pasture, by William de Meynell and Agnes his wife to Richard son of Hervey [Ernis] de Seaton in 1251, in exchange for two messuages in Bisbrooke, formerly held by Alan Basset for the life of Agnes. (fn. 64) In 1307 Bisbrooke mill was settled by Thomas son of Hasculf de Neville on William son of Richard de Middleton and Rose, William's wife, and their heirs. (fn. 65) Presumably the property afterwards followed the descent of the manor, but no further mention of it occurs, and the site of the mill appears to be now unknown.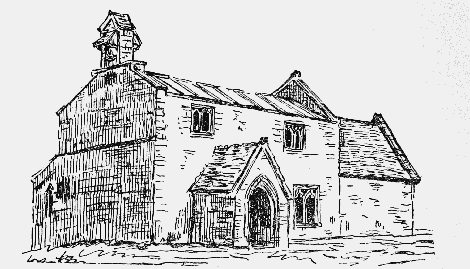 Church
The church of ST. JOHN THE BAPTIST was rebuilt in 1871 and, though incorporating a little old work from the structure then pulled down, is a modern building in the style of the 14th century. The old church consisted of a chancel, clearstoried nave of three bays, north aisle, and south porch, and had a bell-cote over the west gable. It appears to have been mainly of 13th-century date, but new windows had been inserted in the 14th century, and ten years before its demolition the building was described as being in a very neglected state. (fn. 66)
The present church consists of chancel 19 ft. 6 in. by 15 ft., with north vestry, clearstoried nave of three bays, 36 ft. by 15 ft., north and south aisles 8 ft. wide, and tower 8 ft. square at the west end of the south aisle, all these measurements being internal. The width across nave and aisles is 35 ft. 6 in. The lower stage of the tower forms a porch, with doorway on the north side. The vestry is a continuation of the north aisle and covers the chancel half its length.
The building is of coursed ironstone rubble, lined internally with dressed stone. The chancel and nave have stone-slated eaved roofs, the aisles being leaded behind plain parapets. The tower is of four stages with pairs of buttresses at the angles, pointed bell-chamber windows of two trefoiled lights and battlemented parapet. It was designed to carry a spire.
The font and pulpit and all the fittings are modern. A few early 19th-century floor slabs from the old church are under the tower, and in the north aisle is a memorial to three men of the parish who fell in the war of 191419. There are two medieval coffin lids near the entrance to the churchyard.
The tower contains one bell, cast by Taylor and Co., of Loughborough, in 1871. (fn. 67)
The silver plate consists of a 17th-century cup, goblet shape, the marks on which are indistinct, and a paten of 16389. (fn. 68) There is also a pewter plate, or almsdish.
The registers begin in 1665.
Advowson
Robert, the son of Viel Palfrey, granted the church of Bisbrooke in 1110 to Osbert, Prior of Daventry, and the monks there, (fn. 69) and his gift was confirmed before 1113 by Simon, Earl of Huntingdon, and his wife Maud. (fn. 70) Robert, however, seems afterwards to have resumed possession of the church but, repenting, restored it finally to the priory in 1144 in the presence of Alexander, Bishop of Lincoln. (fn. 71)
The advowson remained in the possession of the priory until its dissolution in 1525, (fn. 72) when it was granted to Wolsey, (fn. 73) who bestowed it upon his new college in Oxford. (fn. 74) After his fall, however, the Crown appears to have taken possession again, and in 1539 Lawrence Hodgeson, Henry Sapcotte and Miles Parkyns presented to the church. (fn. 75) Edward VI granted the advowson in 1549 to Edward Mountagu and others, (fn. 76) from whom it was acquired before 1552 by Anthony Andrewes. (fn. 77) It subsequently followed the same descent as the manor. (fn. 78) John Brockett, who had the wardship of Anthony Andrewes, (fn. 79) presented in 1598; John Greene, clerk, presented for one turn in 1627 and Lady Grace Manners in 1644, when the manor was still in the possession of Edward Andrewes. The living is now a discharged vicarage in the gift of the Duke of Rutland.
In 1575 the vicarage was pulled down, and it was said that 'Mr. Andrewe's Court was part of the vicarage ground, so if it continues still they think they shall not know the vicarage ground.' (fn. 80)
Simon Palmer, the vicar of Bisbrooke (157578), seems to have been quarrelsome, and in 1578 he and 'his wife Ellen did lay in the church from Christmas until Candlemas Day last and abused that place too shamefully to be writed.' It appears, however, that later vicars were non-resident for want of a house. In 1595 'Mr. John Ridgley would not receive the Communion when the minister did minister it unto him, unless they received it sitting.' (fn. 81)
There are no charities in this parish.