Pages 127-134
A History of the County of Shropshire: Volume 10, Munslow Hundred (Part), the Liberty and Borough of Wenlock. Originally published by Victoria County History, London, 1998.
This free content was digitised by double rekeying. All rights reserved.
EASTHOPE
Easthope parish is a single township of 331 ha. (817 a.) (fn. 1) 7 km. south-west of Much Wenlock. It is bounded westwards by Plaish (fn. 2) brook, also called Rey brook (fn. 3) and Hughley brook; (fn. 4) a tributary forms part of the southern boundary. Elsewhere the boundaries mostly follow unbroken lines, probably fixed in the 13th century by division among townships of formerly shared woods and pastures: the boundary between Easthope and Patton (in Stanton Long) crosses Natal common and by 1332 Easthope wood was separated from Hughley manor by a ditch, and Easthope from Presthope (in Much Wenlock) by a hedge. (fn. 5)
Wenlock Edge bisects the parish. Beneath its escarpment, facing north-west, the land slopes down to Plaish brook. The rest of the parish, named in relation to Westhope and Middlehope, occupies a broad-headed valley (OE. hop), (fn. 6) called Knaves Dale in the 18th century, (fn. 7) which lies between the dip slope of the Edge and a parallel ridge to the south-east. Two streams, the north-eastern called Natal brook in 1509, (fn. 8) drain the valley and meet, as Brockton brook, to cut the south-eastern ridge at the parish boundary before descending to the Corve.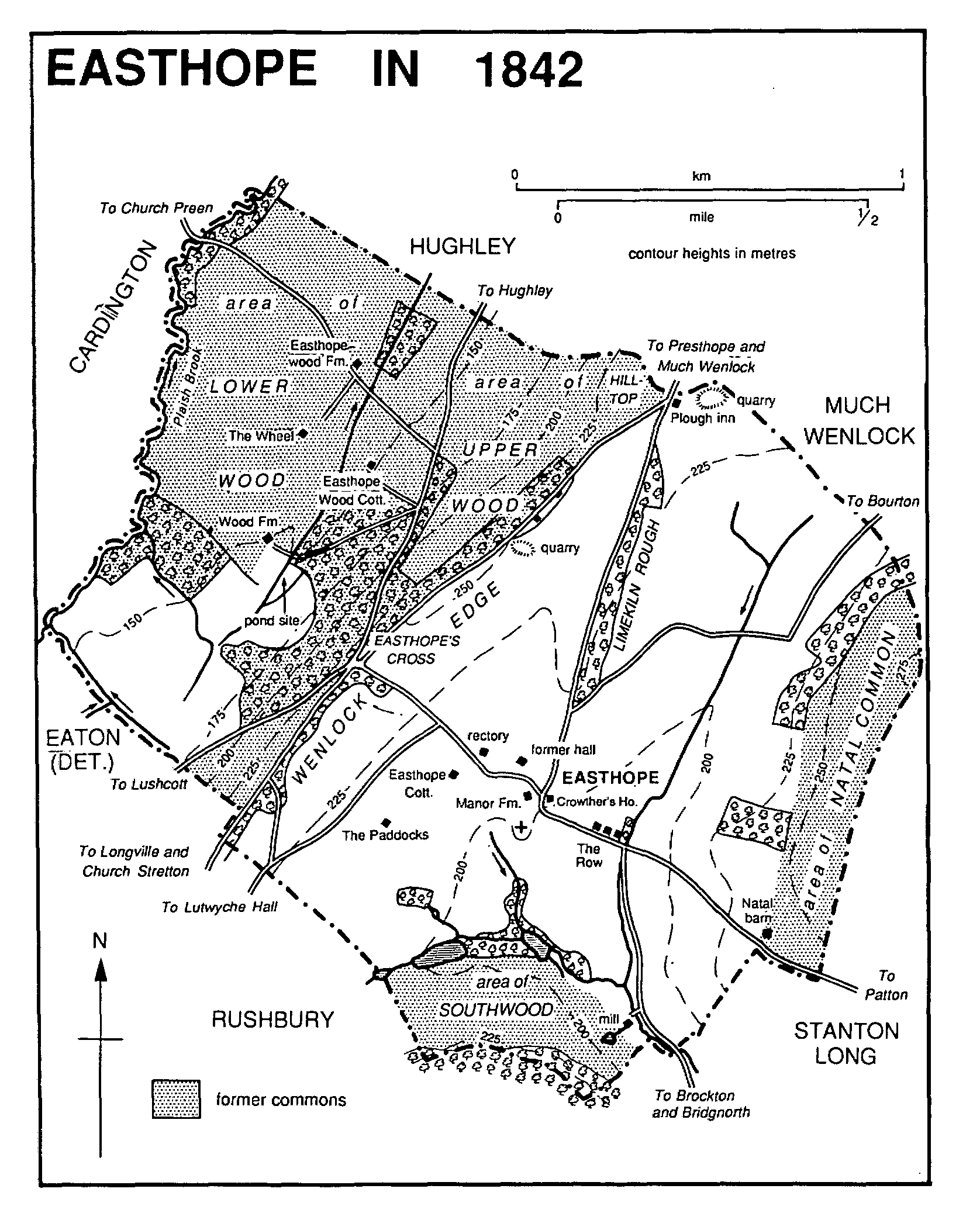 The rock below and at the base of Wenlock Edge is Wenlock Shale. (fn. 9) The soils there are poorly drained. (fn. 10) The top of the Edge is formed by a band of Wenlock Limestone. On the dip slope the rock is mainly Lower Ludlow Shale, with a narrow outcrop of Wenlock Limestone extending from the village northwards to Hilltop. The higher part of Natal common consists of Aymestry Group limestone. Boulder clay overlies most of that and the shale.
Apart from a neolithic stone axe found just south of the village, (fn. 11) direct evidence of prehistoric or Romano-British activity is lacking. In 1086 the recorded population consisted of four demesne servi, a villanus, and five bordars. (fn. 12) By 1306 there were 16 tenants, (fn. 13) and a similar number was recorded in 1383 and 1493. (fn. 14) There were five taxpayers in 1525. (fn. 15) Nine households paid hearth tax in 1672 (fn. 16) and there were c. 50 adults in 1676. (fn. 17) By 1801, however, the total population was only 85. It was 109 in 1811, and until the 1960s remained about 100. (fn. 18) By 1991, however, it had fallen to 74. (fn. 19)
By the 16th century, and still in the 20th, the principal houses, some stone and others timber framed, (fn. 20) stood close to the north side of the church, just below the head of the valley. They fronted a north-westward lane from Patton to Easthope's Cross (a junction on Wenlock Edge). The mill was lower down the valley. In addition there was dispersed settlement between the Upper and Lower woods, beside a stream that ran at the foot of the Edge: Wood Farm probably existed by the late 16th century, (fn. 21) the timber framed Easthope Wood Cottage (later Hollybank Villa) was evidently built before 1700, (fn. 22) and a house at what was later called the Wheel was standing in 1732. By then a cottage also stood on the edge of Natal common. (fn. 23) Two roadside cottages stood by 1833 on the road along the Edge, next to a quarry and limekiln. (fn. 24) The Plough inn (later Hilltop Farm) and Easthopewood Farm were built in isolated positions between 1732 and 1833. (fn. 25) By the early 19th century Easthope had begun to take on the character of an estate village dependent on Lutwyche Hall (in Rushbury), (fn. 26) and the few changes were mostly in the nature of estate improvements. In the village three pairs of cottages, the Row, were built c. 1794, (fn. 27) Ivy Cottage and Sniper's House in the mid 19th century, (fn. 28) and Allenby and Birdwood cottages c. 1920. (fn. 29) Towards Lutwyche Hall a pair of cottages was built at the Paddocks c. 1800, (fn. 30) a gate lodge by 1851, (fn. 31) and the Pheasantry bungalow c. 1920. (fn. 32) There has been little new building since then.
The road from Much Wenlock to Church Stretton ran along the Edge. (fn. 33) From Easthope's Cross a lane descended south-west to Lushcott (in Eaton-under-Heywood) and another, called 'Colway' or 'Calloweie', (fn. 34) north-east to Hughley; from the latter a lane leading north-westwards, perhaps the 'Preen way' mentioned in 1576, went through Easthope wood. (fn. 35) A south-eastward lane from the Edge road at Easthope's Cross reached Patton by way of Natal common; (fn. 36) Easthope village used it to reach Easthope wood. (fn. 37) That lane was joined at the village by others from Brockton and Bourton, the latter called Easthope's way in 1332, (fn. 38) and by a lane from the Edge road at Hilltop. The route from Easthope's Cross to Brockton was part of the road from Church Stretton via Longville to Bridgnorth by the mid 18th century. (fn. 39) The Edge road was turnpiked from Much Wenlock to Church Stretton in 1765. (fn. 40) It was disturnpiked in 1867 (fn. 41) and was a main road by 1889. (fn. 42) From Easthope's Cross the road via Easthope and Brockton was turnpiked to Weston in 1839 (fn. 43) and disturnpiked in 1872. (fn. 44) With the branches from Easthope's Cross to Lushcott and from Hilltop to Easthope, they were the parish's principal roads in 1990.
The railway from Much Wenlock to Craven Arms, beside and below the road along the Edge, opened in 1867, (fn. 45) with a halt for Easthope opened in 1936. That closed in 1951 and the line in 1963. (fn. 46)
There was a sub post office from the 1850s (fn. 47) to the 1950s (fn. 48) or later, and a resident police constable from the 1860s (fn. 49) to c. 1920. (fn. 50)
The Plough inn stood on the turnpike road at Hilltop by 1841. (fn. 51) The sign moved to Presthope c. 1862. It returned to Hilltop in the early 20th century, but to a house outside Easthope parish. (fn. 52) The Lutwyche Club was built in the early 1920s, (fn. 53) and St. Philip's Sunday school was sometimes used as a parish room by 1929. (fn. 54) The county library started a voluntary book centre at Easthope in that year. (fn. 55) There was a cricket club in 1926, (fn. 56) and a youth hostel at Manor Farm until c. 1936. (fn. 57) The club house and the parish room closed before 1952. (fn. 58)
MANOR AND OTHER ESTATES.
One of the estates 'by the river Corve' given to St. Mildburg by her half-brothers Merchelm and Mildfrith before 704 may have been EASTHOPE, for in 901 Aethelraed, ealdorman of Mercia, and his wife Aethelflaed received three manentes there from the church of Wenlock. (fn. 59) The manor belonged in 1066 to two free men, Earnwig (Ernu) and Wulfric (Uluric). In 1086 it was held of Roger of Montgomery, earl of Shrewsbury and tenant in chief, by the sheriff Reynold of Bailleul; (fn. 60) after Earl Robert's forfeiture in 1102 it was evidently held in chief by Reynold's successors in the shrieval estates (fn. 61) and thus had come to William FitzAlan by 1166. (fn. 62) The FitzAlans remained overlords until the later 16th century (fn. 63) and in 1581 Easthope was said to be held of Sir Rowland Hayward's manor of Acton Round, (fn. 64) which Hayward had bought from Henry FitzAlan, earl of Arundel. (fn. 65) Before 1615, however, Easthope was said to be held of Thomas Howard, earl of Suffolk. (fn. 66)
The terre tenant in 1086 was Fulcher. (fn. 67) Easthope was held in 1166 by Roger of Easthope (fl. 1154). (fn. 68) Thomas of Easthope was lord in 1242 (fn. 69) and his son (fn. 70) John of Easthope by 1255. (fn. 71) That or another John (d. c. 1306) (fn. 72) was succeeded by Thomas of Easthope (d. 1348 × 1349), (fn. 73) perhaps a grandson. (fn. 74) Thomas's son John was lord in 1357 (fn. 75) and died c. 1383, (fn. 76) leaving his relict Edith, (fn. 77) who held the manor in 1405 and 1414, (fn. 78) though their son John Easthope was named as lord in 1396 and 1412. (fn. 79) He may have been the John Easthope who was lord in 1431 and 1440. (fn. 80) Another John Easthope had the manor in 1483; (fn. 81) his relict quitclaimed it to their son Edward in 1489. (fn. 82) Henry and Nicholas Warley acquired it in 1493 from Thomas Janyns and William Adams. (fn. 83) In 1497 Henry conveyed his interest to Nicholas (fn. 84) (d. 1524), from whom it descended to his son Bartholomew (fn. 85) (d. 1554), whose sister and heir Frances was the wife of Nicholas Crosthwaite. (fn. 86) Crosthwaite sold the manor in 1566 to Thomas Ludlow. (fn. 87) It then descended with the Moorhouse (in Shipton) (fn. 88) until 1745, when Samuel Edwards's trustees sold it to William Lutwyche, (fn. 89) after which it descended with Lutwyche (in Rushbury) (fn. 90) except for 125 a., which descended with Wilderhope (in Rushbury) to Mrs. C. E. M. Boodé, (fn. 91) who conveyed them to M. G. Benson of Lutwyche in 1851, perhaps by exchange. (fn. 92)
About 1557 (fn. 93) the Crosthwaites had sold off most of the manorial estate to the tenants. (fn. 94) The chief house and demesne lands were bought in 1557 by the tenant, William Ball (d. 1605). (fn. 95) By c. 1610 they had passed to Thomas Ball (fn. 96) (d. 1641), who left them to his widow Eleanor (d. 1647) with remainder to their son William (fn. 97) (d. 1665). William left the estate to his widow Mary (d. 1691) with remainder to his brother-in-law Thomas Mason (d. 1705). (fn. 98) Mason's son Charles (fn. 99) sold it in 1702 to Samuel Edwards, (fn. 100) who acquired the manor in 1721, (fn. 101) with which Ball's farm (fn. 102) was thus reunited. The chief house of the manor, mentioned in 1306 (fn. 103) and owned since the 16th century by the Ball family, may therefore have been the farmhouse that a Mr. Corfield held of the manorial estate in 1732; at that time the only other large holding on the manorial estate was attached to Manor Farm, (fn. 104) the former freehold of the Fewtrells. (fn. 105) Corfield's house (fn. 106) included part of a timber framed hall of c. 1431 with a box framed cross wing of c. 1454. It may have been the 'Hall house, now used by farmers' mentioned in 1793. (fn. 107) About 1800 it was converted to a malthouse and cased in brick, probably to serve the new Easthope Cottage, (fn. 108) to which it remained a farm building in 1990.
Edward Fewtrell bought his farm from the Crosthwaites, (fn. 109) and in 1588 Roger Fewtrell sold 'Dyke's house' to his brother John (fl. 1593). (fn. 110) John's son Edward (fl. 1640) was the owner c. 1610. (fn. 111) John Fewtrell (fl. 1661, d. 1690) (fn. 112) owned two farms and a cottage in Easthope, one of which was MANOR FARM. (fn. 113) In 1712 his grandchildren Samuel Fewtrell and Mary Harris (fn. 114) conveyed the farms and cottage to William Russell of Enchmarsh. (fn. 115) By 1732 the farms had been reunited with the manor. (fn. 116) Manor Farm has an east-west timber framed range that included a late medieval open hall. A two storeyed box framed cross wing was built at the east end, perhaps c. 1600; it has a contemporary plaster ceiling by craftsmen whose work has been found in several other Shropshire houses. (fn. 117) It may have been then that an upper floor and central stack were inserted in the medieval hall. (fn. 118)
In 1566 Edward Lutwyche bought land at Easthope from Nicholas Crosthwaite and Ralph Warley (fn. 119) to add to that acquired from the Crosthwaites by his father Richard. (fn. 120) It probably followed the descent of Lutwyche (in Rushbury) and was thus reunited to the Easthope manorial estate in 1745. (fn. 121)
John Harriots (d. 1572) of Chorley bought a house and land from the Crosthwaites, (fn. 122) to which his son Robert succeeded. (fn. 123) Robert settled it in 1601 on his son John (fn. 124) (d. 1650) and the farm later belonged to John's great-grandson Robert Harriots (fn. 125) (d. 1699). His representatives sold it to the Lutwyche estate in 1721. (fn. 126) The Harriots family probably owned a house on the site, which the Lutwyches owned in 1732, of the later Easthope Cottage. (fn. 127) Easthope Cottage was built c. 1800 in polite style, presumably by Thomas Langton (d. 1805), (fn. 128) the first lord of the manor to live at Easthope (fn. 129) since the Middle Ages.
Edward Crowther, also a purchaser from the Crosthwaites, (fn. 130) was succeeded before 1593 by his son Edward (fl. 1620). (fn. 131) George Crowther was in possession of that estate in 1641, (fn. 132) and Simon Crowther (d. 1676) in 1658. (fn. 133) It descended from father to son through George (d. 1705), (fn. 134) Edward (d. 1729), (fn. 135) John (d. 1776), John (d. 1801), and William, who sold it to Moses Benson's trustees in 1810, (fn. 136) thus reuniting it to the manorial estate. Crowther's House (later Cottage) had a late medieval north-south cruck framed open hall of two bays with a contemporary cruck framed 1½ storeyed solar cross wing on the north. The hall was later divided into two floors and two units, with a central stack dated 1658. (fn. 137) The southern unit was later demolished, apparently in the 19th century. (fn. 138)
In 1938 Maj. G. R. Benson sold the western part of the Easthope manorial estate in separate lots, (fn. 139) and Accumulated Investments Ltd. sold the rest to the tenants in 1952. (fn. 140)
ECONOMIC HISTORY.
Wenlock Edge marked the western limit of Easthope's open fields in the Middle Ages. Easthope common wood, comprising Upper wood and Lower wood, lay on and below the Edge, Natal common, used for pasture by 1424, on the ridge between Easthope and Patton, and Southwood common, still a wood in 1469, (fn. 141) on the slopes of Mogg Forest bordering Brockton and Lutwyche. (fn. 142) In the 15th century several of the tenants pastured small herds of swine in the woods. (fn. 143) Easthope also had grazing rights next to Easthope wood in Hughley's Over field after harvest, while Hughley had rights in the wood. (fn. 144)
The manor was worth 15s. in 1066; it was found waste c. 1070, but by 1086 had risen in value to 20s. There was one ploughteam in demesne and one between a single villanus and five bordars, with capacity for two more teams. (fn. 145) Assarting was reported in the early 13th century, (fn. 146) and by the late 14th the land cleared below the Edge was divided into four small and equal leaseholds. (fn. 147) The demesne included 80 a. arable in the early 14th century and small amounts of meadow and woodland. Outside the demesne were 2 freeholders, 9 villeins, and 5 other tenants. The freeholders and villeins occupied a ½ virgate each, except for one villein with a nook (¼ virgate). All owed cash rents except for one freeholder who rendered 1 lb. of cumin. The manor yielded £3 8s. 7d. a year c. 1306. (fn. 148) Later devastated by murrain, Easthope had no sheep in 1340. (fn. 149) By 1383 the number of tenants was similar to that of eighty years earlier, but holdings were more varied in size and rents higher; there was a mixture of copyholds and leaseholds; and the demesne remained in hand. By 1483 the demesne was at farm. Outside it were 1 freeholder, 2 leaseholders, and 11 tenants at will; rents ranging from 2s. to 26s. 8d. indicate a wide diversity of holdings. A three-course rotation seems to have been practised in the open fields: the winter and Lent fields were mentioned in March 1498. (fn. 150)
In the open fields consolidation of holdings by exchange, followed by inclosure, was in progress in the late 16th century after the manorial estate was broken up, (fn. 151) and there was no openfield land by 1732. (fn. 152) In 1736 the parish was mainly arable but with a 'good deal' of pasture. (fn. 153) About 1558 part of each common had been divided among the purchasers of the manorial estate, (fn. 154) and by 1593 more of Natal common had been partitioned between the commoners. (fn. 155) Pieces of Easthope wood were inclosed for coppicing in the 16th and 17th centuries (fn. 156) and it was fenced off from Hughley c. 1628. (fn. 157) Assarting in the wood was associated with dispersed settle ment there. (fn. 158) Nevertheless considerable areas of the commons were open in the 1730s. (fn. 159) Fifty years later all that remained open was part of Southwood, though tenants' cattle could 'by mere indulgence' graze in the Lower wood. (fn. 160)
In the late 18th century the farms needed much 'new modelling' (fn. 161) and in 1794, when the lord of the manor was proposing great improvements, the main farms were using a rotation of fallow, wheat, barley, oats, and clover ley. (fn. 162) Henry Wadlow, who occupied more than half of the parish 1809-c. 1834, was a successful racehorse breeder and trainer but left his land exhausted, and in 1844 the parish was thought ill cultivated. There were then equal amounts of arable and grass, the latter mostly east of the Edge. The soil was better there and a four- or five-course 'turnip and barley shift' suited it. Below the Edge a rotation of fallow, wheat, and oats suited the thin undrained soil; (fn. 163) underdraining was carried out there later in the century. (fn. 164)
In 1845 there were four main farms: Easthope Cottage and Manor farms east of the Edge, and Wood and Easthopewood farms below it. (fn. 165) Their composition later changed markedly. (fn. 166) Easthope Cottage (which had had 339 a. in 1845) had no farm land from the 1870s to the 1920s, (fn. 167) and by 1882 some of its former land had been taken into the grounds of Lutwyche Hall. (fn. 168) In the later 19th century grass reached four times the acreage of arable, and kept that proportion in the 20th. Dairying grew at the expense of beef cattle and sheep. (fn. 169) The parish's woods varied little in extent after the early 19th century. (fn. 170) In the early 20th much of Easthope wood, between the Edge road and the railway, was felled and planted with conifers. (fn. 171) A commercial sawmill was set up c. 1920 at the Lutwyche estate yard in Easthope village; it made fencing and gates (fn. 172) and was linked by a tramway to Mogg Forest (in Rushbury), (fn. 173) but it closed before 1929. (fn. 174) Flat coppice and Natal plantation were later cleared. (fn. 175) More of Easthope wood was cleared for conifers c. 1960, but in the 1980s the National Trust began to replace them with hardwoods. (fn. 176)
Easthope mill, mentioned in 1306, (fn. 177) used both steam and water power by 1891. (fn. 178) It served several nearby parishes until closure c. 1930. (fn. 179)
Table VII Easthope: Land use, livestock, and crops
1867
1891
1938
1965
Percentage of grassland
60
83
85
81
                     arable
40
17
15
19
Percentage of cattle
12
25
29
27
                     sheep
78
65
68
58
                     pigs
10
10
3
15
Percentage of wheat
47
39
50
27
                     barley
37
15
22
38
                     oats
16
46
27
26
                     mixed corn & rye
0
0
1
9
Percentage of agricultural land growing roots and vegetables
14
6
4
1
Sources: P.R.O., MAF 68/143, no. 15; /1340, no. 5; /3880, Salop. no. 223; /4945, no. 223.
Edward Lutwyche created a fishpond next to Robert Harriots's land c. 1591. (fn. 180) It was probably that above Easthope mill mapped in 1732, (fn. 181) which had two smaller ponds linked to it; all were fish pools in 1845. (fn. 182) Another pond, perhaps the fishpond called Easthope's pool in 1559, (fn. 183) lay near Lower wood before 1576 (fn. 184) and was presumably that controlled by a sluice on the stream at Wood Farm, mapped in 1732. (fn. 185)
Thomas le Tyler was a tenant in 1413, and clay was being dug for tiles in 1497. (fn. 186) Wenlock limestone was quarried by the 1730s (fn. 187) and occasionally until the early 20th century. (fn. 188) Some of the stone went for iron smelting in the late 18th century, (fn. 189) but the workings did not expand as at Presthope nearby. (fn. 190) Associated kilns (fn. 191) had closed by the 1880s. (fn. 192) In 1806 there was a colliery at a smallholding (fn. 193) below the Edge, (fn. 194) later called the Wheel. (fn. 195) The associated house was standing by 1732, (fn. 196) and next to it in 1845 was Pit meadow. (fn. 197)
LOCAL GOVERNMENT.
Manor court rolls or drafts survive for many dates between 1383 and 1538. (fn. 198) Courts seem to have ceased when the manorial estate was dispersed c. 1558, (fn. 199) and by 1565 Rowland Hayward treated Easthope's inhabitants as subject to his manor of Acton Round, (fn. 200) which he had bought from the earl of Arundel, Easthope's overlord. (fn. 201) In 1732 a pinfold, probably that mentioned in 1503, (fn. 202) stood opposite the junction of the lanes from Natal common and Brockton. (fn. 203)
The parish was in Church Stretton poor-law union 1836-1930, (fn. 204) Church Stretton highway district 1863-95, (fn. 205) Church Stretton rural sanitary district 1872-94, and Church Stretton rural district 1894-1934. In 1934 it passed to Bridgnorth rural district and in 1974 to Bridgnorth district. (fn. 206) In 1970 a joint parish council was formed for Easthope, Shipton, and Stanton Long C.P.s. (fn. 207)
CHURCH.
Parts of the church may be 12th century, (fn. 208) and the living, mentioned c. 1240, (fn. 209) is a rectory. In 1927 it was united to that of Stanton Long. (fn. 210) By 1260 the advowson descended with the manor (fn. 211) and it usually did so, (fn. 212) save during the years 1559-66 when Ralph Warley (1559-63) and Thomas Ludlow (from 1563) were patrons. (fn. 213) From 1927 it was a turn of the united benefice, and in consequence of the break-up of the manorial estate (from 1938) the turn descended with Larden Hall (in Shipton) from 1948. (fn. 214)
The rectory was worth under £4 gross in 1291 (fn. 215) and £3 6s. 8d. in 1535. (fn. 216) By 1243 most of Easthope's grain tithes belonged to the rector of Cound, (fn. 217) whose Easthope 'portion' was valued at 3s. in 1291 (fn. 218) and commuted by 1535 to a pension of 3s. 4d., (fn. 219) still payable in 1793. (fn. 220) The glebe was c. 32 a. in 1607 (fn. 221) and 36½ a. in 1845. (fn. 222) The living was worth £30 c. 1708 (fn. 223) but by 1785 had £25 from glebe and £37 from tithes. (fn. 224) Queen Anne's Bounty gave £200 in 1792, (fn. 225) to make the rector's gross income £133 by 1835. (fn. 226) In 1845 the tithes were commuted to £97 10s. 6d. (fn. 227) In 1887 the glebe (46 a.), which had been increased with land in Clun parish, was worth £44 a year. (fn. 228)
The parsonage, mentioned in 1589, (fn. 229) was in good repair in 1716 (fn. 230) but by 1793 seemed 'little better than a cottage'. (fn. 231) Deemed unfit in 1835 (fn. 232) but 'neat' in 1851, (fn. 233) it was much enlarged c. 1859. (fn. 234) It was the benefice house for Stanton Long with Easthope from c. 1927 (fn. 235) until the last incumbent left in 1975. (fn. 236)
Several pre-Reformation rectors bore local surnames, (fn. 237) and from the 16th century, or earlier, until c. 1772 the incumbents seem to have done the duty in person, (fn. 238) whether they lived in the parish or not. Thomas Adney, 1639-c. 1651, (fn. 239) signed the Presbyterian 'testimony' of 1648. (fn. 240) Curates were employed from c. 1772, (fn. 241) when the incumbent was also rector of Hughley. (fn. 242) Easthope parsonage was let by 1785, (fn. 243) and by 1793 no rector had resided for many years. (fn. 244) The incumbent 1780-1820 (fn. 245) was buried at Church Stretton; (fn. 246) he was assistant curate there until 1808 (fn. 247) and then perpetual curate of Leebotwood. (fn. 248) His curates for Easthope (fn. 249) also lived outside the parish; (fn. 250) from c. 1780 to c. 1800 the church was served weekly from Cressage, (fn. 251) over 10 km. away. Edward Homfray, 1820-5, (fn. 252) kept the living warm for R. L. Benson, (fn. 253) the patron's son, (fn. 254) who served as his curate (fn. 255) and succeeded him. (fn. 256) Benson was nonresident from 1829. (fn. 257) His curate, (fn. 258) and successor in 1831, (fn. 259) was perpetual curate of Church Preen. (fn. 260) By 1839 he did not live at Easthope, but had no curate until 1840 (fn. 261) and died c. 1843. (fn. 262) The curate lived in the rectory from c. 1840 (fn. 263) and the rectors returned to live there before 1851. (fn. 264)
The small parish church of ST. PETER, so dedicated by 1741 (fn. 265) but called St. John the Baptist in 1557, (fn. 266) consisted of undivided chancel and nave with south porch and west bell turret, all rendered externally. (fn. 267) A narrow splayed light in the nave north wall may have been 12th-century. Until 1928 the font was circular and tub shaped. (fn. 268) Otherwise there were no datable features earlier than the 14th-century east and south windows of the chancel. Square-headed windows in the nave were evidently much later. The roofs were of trussed rafter construction. Edward Ball of London, a native of the parish, gave the pulpit and nave pews in 1623. In 1662 the rector gave a decorative iron bracket for a preaching glass. The communion rails, on three sides of the table, (fn. 269) were made in the early 18th century, as were two sanctuary chairs, one dated 1713. William Lutwyche had a west gallery built c. 1742. (fn. 270) In 1860 the church was re-roofed and an open timber truss, serving as a chancel screen, was put up. (fn. 271) Stained glass was placed in the chancel south window c. 1872, and glass by C. E. Kempe in the east window in 1887. (fn. 272) In the 19th century the communion rails were altered to span the chancel. In 1928 fire nearly destroyed the church; parts of the walls remained (fn. 273) and the communion rail, sanctuary chairs, and preaching-glass bracket were saved. The church was rebuilt to its former appearance, with a north vestry added, and dedicated in 1929. The interior, however, was altered; the font was reconstructed (fn. 274) in plain octagonal form, the gallery was omitted, benches replaced the pews, a carved stone and alabaster pulpit was provided, and a light gothic chancel screen of wood was inserted in 1931. (fn. 275) In 1933 (fn. 276) glass by W. E. Tower was put in the chancel windows.
In 1961 the plate consisted of a chalice of 1640 or 1642, an unmarked cover paten, and a paten of 1698. (fn. 277) One bell was given by Richard Lutwyche in 1584; another was made by Richard Oldfield in 1638; the third (replacing a medieval bell) (fn. 278) was by Thomas Rudhall, 1764. (fn. 279) In 1920 they were recast and two new ones added; a sixth was added in 1921. (fn. 280) The peal was destroyed in the fire and replaced by eight new bells. (fn. 281) The registers begin in 1624 and are complete. (fn. 282)
NONCONFORMITY.
Easthope was in the Hopton Bank Primitive Methodist circuit from 1831 but the society, with only four members, ceased next year. Preaching was briefly revived in 1835. (fn. 283)
EDUCATION.
A private school mentioned in 1663 (fn. 284) had closed by 1719. (fn. 285) From 1844 children attended Brockton National school. (fn. 286) St. Philip's Sunday school was built in 1867 at Mrs. Charlotte Benson's expense; the school was apparently still held there in 1941 (fn. 287) but it became a private house c. 1951. (fn. 288)
CHARITIES FOR THE POOR.
None known.