Pages 180-186
A History of the County of Shropshire: Volume 10, Munslow Hundred (Part), the Liberty and Borough of Wenlock. Originally published by Victoria County History, London, 1998.
This free content was digitised by double rekeying. All rights reserved.
TUGFORD
A quiet rural parish on the eastern side of Corve Dale, c. 13 km. north-east of Ludlow, Tugford is shaped like a ragged ellipse. (fn. 1) A detachment (c. 7 a.) in Abdon village (fn. 2) was transferred to Abdon civil parish in 1884, (fn. 3) leaving Tugford C.P. with 1,346 a. (fn. 4) (545 ha.), the area treated in this article. In 1967 the parish absorbed most of Holdgate C.P. and a small part of Munslow C.P. (fn. 5) In 1987 it was absorbed by Abdon C.P. (fn. 6)
By the mid 17th century the parish was bounded north and east by fences, ditches, and other artificial features, probably made through former woods and wastes. South and west, however, the boundary followed streams. (fn. 7) East of Tugford village the land rises steeply at the edge of the Clee plateau; westwards it descends gently to the Corve and is drained by its tributaries. The parish lies mostly on the Ledbury Group of the Downton Series of the Lower Old Red Sandstone. At the edge of the Clee plateau is an overlying stratum of the Ditton Series, including bands of 'Psammosteus' Limestone. (fn. 8) A drift of head covers most of the parish, and alluvium borders Trow brook and the Corve. (fn. 9) The soils are mostly sandy or silt loams, freely drained except in the area of Balaam's heath, (fn. 10) where dhu stone boulders also have impeded the plough, and in boggy areas near the streams. (fn. 11)
Tugford and Baucott had chapels in the early 12th century, (fn. 12) presumably for existing settlements. In the 13th century Great Tugford was distinct from Little Tugford. (fn. 13) Little Tugford was probably Nether (or Lower) Tugford, apparently at or near Hall yards (fn. 14) midway between Great Tugford and Baucott. (fn. 15) It was still represented at the manor court in the later 16th century, (fn. 16) but by 1631 the last house was only a memory. (fn. 17)
Great (or Church or Over) Tugford (fn. 18) lay at the lower end of a steep-sided valley cut through the western escarpment of the Clee plateau by Tugford brook, a tributary of the Corve. The houses, church, and mill stood together on converging lanes that led south to a crossing of the brook, presumably the ford from which the village was named. (fn. 19) There were six taxpayers in 1327 (fn. 20) and in 1631 six farmhouses; other houses were the rectory, the miller's house, and two cottages. (fn. 21) The village's appearance did not change markedly thereafter, though farm amalgamations c. 1800 reduced two of the farmhouses to cottages and did away with another. (fn. 22) Only a pair of cottages was added in the later 19th century (fn. 23) and a bungalow in the 20th.
Baucott lay on the western side of the parish. Its clay subsoil was well suited to the construction of cattle ponds, (fn. 24) several of which remained in 1990. It had three taxpayers in 1327 (fn. 25) and four farmhouses in 1631, (fn. 26) grouped along a lane; (fn. 27) two of them were abandoned in the earlier 19th century after farm amalgamations. (fn. 28) A pair of cottages in Sandy Lane was the only later addition at Baucott. (fn. 29)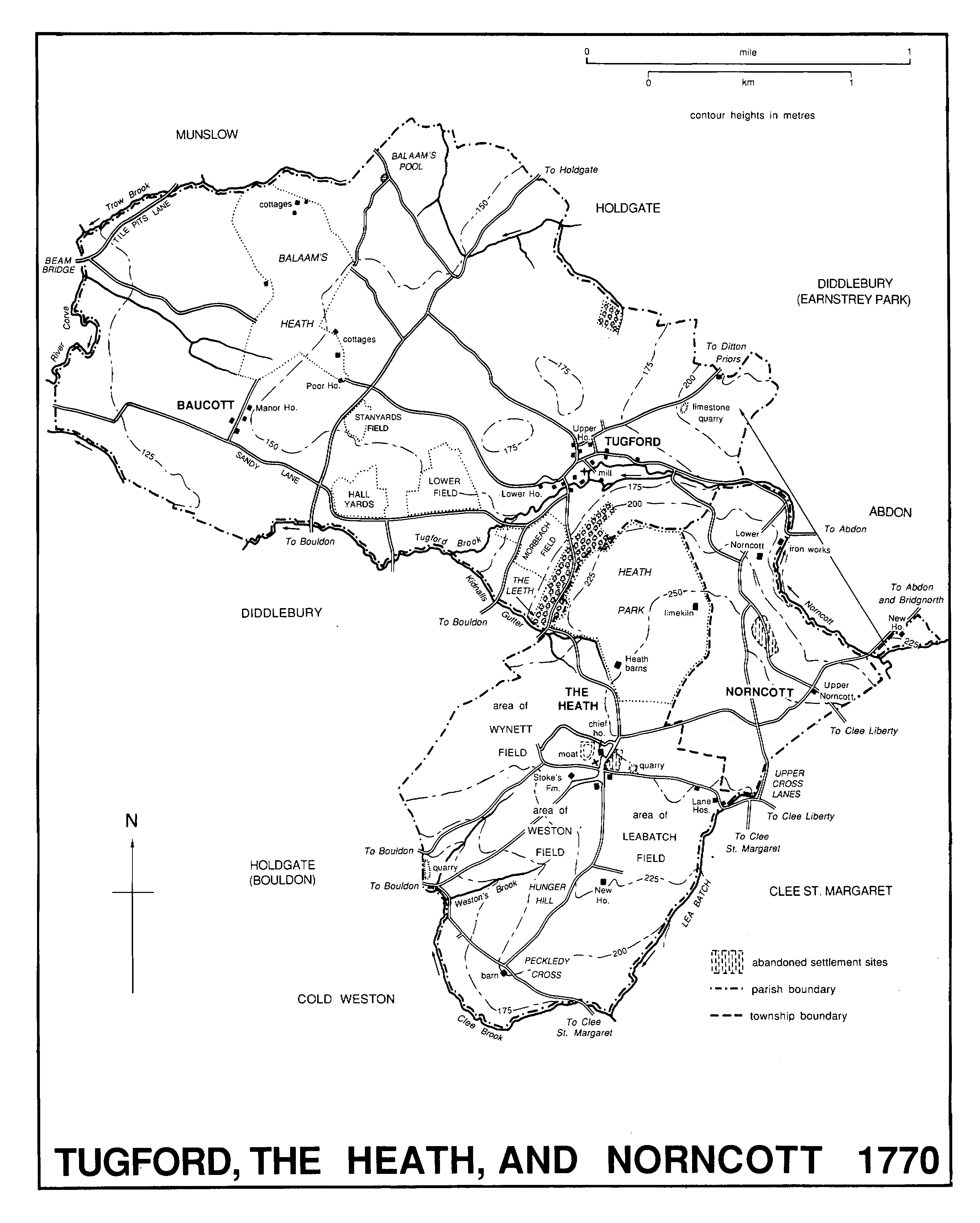 In the mid 17th century most of the parish's farmhouses had three, sometimes two, ground-floor rooms, with chambers over. The houses of the largest farms on the manorial estate had four downstairs rooms: hall, parlour, buttery, and kitchen. One small farm had lofts rather than chambers, (fn. 30) and some of the houses seem to have had earlier open halls. (fn. 31) All were probably timber framed. Some were later cased in stone or extended but none was rebuilt, and most of the houses remaining in 1990 were timber framed.
In 1676 the parish had 103 adult inhabitants. (fn. 32) The population was 165 in 1801, but it was 197 ten years later and remained at that level until the 1830s, since when it has tended to fall; it was 86 in 1961. (fn. 33) There were at least two cottages on Balaam's heath in 1680, (fn. 34) c. 10 on or near it in 1770, (fn. 35) and 18 in 1851, (fn. 36) but only four in 1989. (fn. 37)
A supposed Roman road, believed to run from Greensforge (Staffs.) to central Wales, entered the parish by a ford on Trow brook and crossed its north-western extremity as what was called Tile Pits Lane, (fn. 38) and left by Beam bridge on the Corve. (fn. 39) It was said to be the Bridgnorth-Munslow road c. 1575. (fn. 40) From Tugford village early roads led to Bridgnorth via Ditton Priors, to Ludlow via Bouldon, and to nearby Abdon, Holdgate, the Heath, and Clee St. Margaret (via Lower Norncott). Part of the last-named route was probably the route of the commoners or 'strakers' from Tugford to Clee common or 'liberty'. West of the parish the road from Much Wenlock to Ludlow was accessible over Beam bridge or via Broadstone 2 km. north-east. In 1990 there were no classified roads and the parish was little frequented. (fn. 41)
In the early 18th century wakes were held on the Sunday after St. Catherine's day. (fn. 42) No public house is known to have existed, but there was a village hall from the 1920s to the 1950s. (fn. 43) Mary Sargeon, a 'wise woman', died at Balaam's Heath in 1832, aged 101. (fn. 44)
MANORS AND OTHER ESTATES.
In 1066 TUGFORD manor belonged to Alwine (Elwin). (fn. 45) Warin the bald (d. c. 1085) (fn. 46) gave it to the church of St. Peter, Shrewsbury, (fn. 47) and it belonged to Shrewsbury abbey until 1540, when the abbey surrendered to the Crown. (fn. 48) Rowland Hayward (kt. 1570) (fn. 49) bought it from the Crown in 1554. (fn. 50) He died in 1593 leaving the manor to trustees, (fn. 51) who held it in 1598; (fn. 52) his son George (kt. 1604) (fn. 53) was in possession by 1609. (fn. 54) At George's death in 1615 it passed to his brother John (kt. 1619), (fn. 55) who sold it in 1623 to William Craven, (fn. 56) created Baron Craven in 1627. (fn. 57) Parliament confiscated Craven's estates in 1651 (fn. 58) and sold Tugford in 1653 to Richard Sheppard of Baucott, Lewis Edwards, and Ralph Accom; (fn. 59) Accom conveyed his interest to Sheppard and Edwards the same year, and Sheppard still owned a portion in 1655. (fn. 60) Craven (cr. earl of Craven 1665) (fn. 61) regained the manor at the Restoration in 1660. (fn. 62) The earl died unmarried in 1697 and the earldom of Craven then became extinct but the manor and the barony passed to his cousin William Craven (d. 1711), whose eventual successor, William Craven, Baron Craven, was created earl of Craven in 1801. The manor descended with the barony (and from 1801 the earldom) of Craven (fn. 63) until 1853, when the Revd. R. N. Pemberton's trustees bought it and conveyed it to C. O. Childe-Pemberton of Millichope (in Munslow), (fn. 64) and it remained with the Millichope estate in 1990. (fn. 65)
William Burley (d. 1458) of Broncroft (in Diddlebury) (fn. 66) held freehold estates in Baucott and Tugford of Shrewsbury abbey. One farm followed the descent of Broncroft (fn. 67) until after 1770, when B. R. Barneby owned 46 a. in the parish. (fn. 68) By 1810 the farm had been broken up; Benjamin Blockley then owned the house, known as POOR HOUSE c. 1900, and 8 a. (fn. 69)
From William Burley the reputed manor of BAUCOTT followed the descent of Brockton (fn. 70) until the 1550s. By 1555 Nicholas Gravenor had bought one moiety, which his son Edward sold to the lord of Tugford in 1588. (fn. 71) John de Vere, earl of Oxford, sold the other moiety in 1552 to John Stringfellow in fee farm. (fn. 72) Stringfellow sold it in 1553 to John Sheppard (d. c. 1568). (fn. 73) By 1608 it belonged to Thomas Sheppard (d. 1638) (fn. 74) and by 1655 to his son Isaac (d. 1667), (fn. 75) who was succeeded by his son Richard (d. 1682). (fn. 76) By 1685 (fn. 77) it belonged to Richard's daughter Mary (d. 1705) and her husband Henry More (d. 1689) of Millichope. It passed to their son Thomas and descended thereafter with Millichope. (fn. 78) Baucott was joined to Tugford's manorial estate when the Revd. R. N. Pemberton's trustees bought that in 1853, (fn. 79) making C. O. Childe-Pemberton virtually the parish's sole landowner by 1856. (fn. 80)
The chief house of Baucott, probably mid 16th-century and known by 1990 as Manor House Farm, has a box framed north-south range parallel with the road; it may have included an open hall. In 1652 Isaac Sheppard (fn. 81) added a two storeyed stone wing in the middle of the range, towards the road; the timber framed range was cased in stone about the same time. (fn. 82)
ECONOMIC HISTORY.
Tugford and Baucott each had its own set of open fields by the late Middle Ages. (fn. 83) Field names indicate former woodland on the high ground north and east of Tugford, (fn. 84) and Leeth common (15 a. in 1652) (fn. 85) lay on the escarpment south of the village. (fn. 86) Many 'moor' and 'marsh' names occur on the low lying north and west sides of the parish, (fn. 87) and Balaam's heath was a large common north of Baucott. (fn. 88) Some farms in Tugford also had, as strakers, common of pasture on Brown Clee. (fn. 89) By the 16th century, and until the 18th, cattle were more important than sheep to many, perhaps most, farmers, (fn. 90) and a butcher lived at Nether Tugford in 1560. (fn. 91)
In 1341 it was said that the land was untilled, and that six tenants had resorted to begging; (fn. 92) the statement may indicate economic collapse. By c. 1490 Shrewsbury abbey had 12 tenants at Tugford and 3 at Baucott. (fn. 93) In 1540 the farmers held by copy or at will. (fn. 94) Between the late 16th and mid 17th century all received leases, usually for three lives. (fn. 95) In 1631 Tugford had six farms between 55 a. and 138 a., and one of 22 a.; Baucott had three, between 64 a. and 139 a. (fn. 96)
By 1600 there had been much piecemeal inclosure of arable, pasture, and meadows. (fn. 97) Nevertheless in the 1650s Tugford had over 150 a. of open-field arable in Street, Willsmore, Morbeach, Buffe (i.e. Above) town, and Neath town fields. Baucott had some open arable in Gey field, (fn. 98) but its Little and Brunslow fields (fn. 99) had been inclosed for some time. (fn. 100) Grazing on Balaam's heath was unstinted in 1652, but only named leaseholders were allowed on Leeth common, with no more than four beasts each. (fn. 101) By 1770 the only remaining open arable was 36 a. at Tugford in Stanyard, Morbeach, and Lower fields. (fn. 102) Balaam's heath was much reduced on its east side between the mid 17th century (fn. 103) and the late 18th, and Leeth common, open in 1680, (fn. 104) was inclosed for coppicing before 1770. Little other woodland remained. (fn. 105)
Between the late 18th and early 19th century the agricultural landscape was rapidly modernized. Tugford's common of pasture on Brown Clee was extinguished by inclosure in 1813, (fn. 106) and in 1815 Balaam's heath (91 a.) was inclosed by agreement. (fn. 107) Farms were enlarged by amalgamation, the last open-field arable was inclosed, and dispersed parcels were exchanged and consolidated. (fn. 108) Much draining was carried out. In 1839 there were roughly equal amounts of arable and grass. The better arable, about a third, was on the higher ground, 'very fair turnip and barley land'; a rotation of wheat, barley, turnips, and clover (two years) suited it. The rest, stiffer and colder, required a rotation of wheat, oats (or beans), and dead fallow but produced fair crops. The grassland was 'indifferent' or 'very bad'. (fn. 109) Some isolated barns were built at or near Balaam's Heath in the earlier 19th century. From the mid 19th to the early 20th century arable was increasingly converted to pasture, but the balance was later redressed, especially for growing barley. Sheep overtook cattle as the main livestock before the late 19th century. (fn. 110) Nevertheless the Shirley family of Baucott were celebrated breeders of Hereford cattle in the later 19th and early 20th. (fn. 111)
Table XI Tugford: Land use, livestock, and crops
1867
1891
1938
1965
Percentage of grassland
73
76
91
60
                      arable
27
24
9
40
Percentage of cattle
17
18
15
16
                      sheep
79
79
84
84
                      pigs
4
3
1
0
Percentage of wheat
49
37
47
40
                      barley
0
37
19
49
                      oats
40
26
34
11
                      mixed corn & rye
11
0
0
0
Percentage of agricultural land growing roots and vegetables
9
8
2
4
Sources: P.R.O., MAF 68/143, no. 21; /1340, no. 7; /3880, Salop. no. 119; /4945, no. 119.
A mill, mentioned in 1086, (fn. 112) stood by 1770 near the church on a leat from Tugford brook (fn. 113) and closed c. 1900. (fn. 114) The derelict waterworks, buildings of c. 1800, and machinery remained in 1990.
Field names indicate pre-19th-century charcoal and lime burning east of Tugford, quarrying north-west, and tile making next to Trow brook. (fn. 115) Weavers were mentioned in the 17th and 18th centuries, (fn. 116) and a tow dresser in 1752, (fn. 117) but no such occupations were mentioned in 1841. (fn. 118) Two small quarries remained in use along Sandy Lane in the late 19th century. (fn. 119)
LOCAL GOVERNMENT.
Tugford presented at the court leet of Castle Holdgate barony in 1537. (fn. 120)
By the mid 16th century the manor of Tugford had a biannual court baron with view of frankpledge. At that time separate presentments were made by Nether Tugford, Over Tugford, and Baucott, and separate constables were elected for each. The court then also exercised baron and leet jurisdiction outside the parish: in Broadstone (in Munslow), Burley (in Culmington), the Heath (in Stoke St. Milborough), Stanton Long, and Cold Weston. By the later 17th century it elected one constable for Tugford township, apparently the whole parish, and in 1662 two highway surveyors for the 'manor'. The courts, annual by 1660, were held regularly until 1808 or later. They were by then concerned with regulating the remaining wastes and electing constables for Tugford, Broadstone, Burley, and Cold Weston townships. Court rolls survive for most years 1556-98 and 1660-1808. (fn. 121)
In the 16th and early 17th century Tugford was subject to the swainmote of Clee chase. (fn. 122)
The parish was in Ludlow poor-law union 1836-1930, (fn. 123) Ludlow highway district 1863-95, (fn. 124) Ludlow rural sanitary district 1872-94, and Ludlow rural district 1894-1974, and in South Shropshire district from 1974. (fn. 125)
CHURCH.
About 1138 the bishop of Hereford ordered Tugford and Baucott chapels to be counted as one ('pro una capella computari') (fn. 126) and no later reference to Baucott chapel is known. The abbot of Shrewsbury conveyed the advowson of Tugford to the bishop of Hereford in 1283, (fn. 127) and the living was a rectory in 1291. (fn. 128) In 1554 Rowland Hayward bought the advowson from the Crown (fn. 129) but probably in error, (fn. 130) for the patronage continued to be exercised by the bishop. (fn. 131) The living was united to that of Holdgate in 1831, separated from it in 1861, and joined to it again in 1926. (fn. 132)
The rectory was taxed in 1291 on a net annual value of £5 6s. 8d., of which £2 was said in 1341 to come from altar dues and £1 6s. 8d. from glebe. (fn. 133) By 1148 (fn. 134) and until 1419 (fn. 135) or later Shrewsbury abbey received a pension of 2s. from Tugford. In 1535 the rector's net income was only £4 6s. 2d. (fn. 136) It was estimated at £100 in 1793, of which c. £85 came from letting the tithes. (fn. 137) In 1839 the glebe (19 a.), (fn. 138) though improved by exchange and consolidation in 1825, (fn. 139) yielded only c. £1 rent. (fn. 140) The tithes were commuted to £182 10s. in 1842. (fn. 141) The small rectory house, perhaps dating from the 16th century, was a single range built of stone rubble, (fn. 142) which the rector enlarged with a parallel range c. 1822. (fn. 143) The house was sold with the glebe in 1930. (fn. 144)
Before the Reformation one rector, (fn. 145) Stephen of Thanet, was or had been a household clerk of Bishop Swinfield; (fn. 146) another was a canon of Hereford; (fn. 147) another had leave of absence in 1319. (fn. 148) The rectors normally resided in the 16th and early 17th century. (fn. 149) In 1617 the pluralist rector of Holdgate, (fn. 150) a prebendary of Hereford, (fn. 151) acquired the living; his successor at Tugford held the deaconry of Holdgate (fn. 152) and in 1639 an assistant curate was employed. (fn. 153) Hugh Pugh, rector 1665-1723, (fn. 154) resided (fn. 155) but by 1743 and until 1860 his successors were, or became, pluralists; (fn. 156) they employed curates at Tugford from c. 1731 until 1811 (fn. 157) and are assumed or known (fn. 158) to have been absentees until then. Only from 1758 to 1766 did the rector reside and have no curate. (fn. 159) There were two services every Sunday in 1716 (fn. 160) and 1793. (fn. 161)
The rectors usually resided 1811-1926, (fn. 162) with a curate only 1831-61 during the union with Holdgate; (fn. 163) in 1839 the rector was 'chiefly occupied in hunting'. (fn. 164) Under Richard Woodhouse, rector 1861-1918, (fn. 165) the church band was discontinued (fn. 166) and in 1869 choir stalls were provided. (fn. 167) R. H. Jeffrey, rector 1918-26, was also vicar of Shipton and, until 1920, sequestrator of Acton Round. He published Village Sermons on Some Strange Texts in 1921. (fn. 168)
The small parish church of ST. CATHERINE, so dedicated by 1733, (fn. 169) and probably by the 16th century, (fn. 170) consists of chancel and nave without structural division, and south porch and west tower. (fn. 171) The walls are of coursed rubble and the roofs tiled. The nave seems to be early 12th-century; there is a narrow splayed north window. A blocked north doorway and, within, small sheela-na-gigs either side of the south doorway, may also be of that period. The chancel seems to have been wholly rebuilt, perhaps about 1200; a north lancet remains from that period. The chancel, which is longer than the nave, has an external string course all round it; the floriated tympanum, perhaps 11th-century, of the former priest's doorway was cut down from round to pointed shape and re-used. Two external tomb recesses, north and south, are slightly later, for that on the north interrupts the string course. The south doorway of the nave, and perhaps the font, are roughly contemporary with the chancel.
The tower was added in the 13th century; the lower stage has lancets, a west doorway, and an arch to the nave. In the earlier 14th century large windows were inserted in the chancel, and its east wall was rebuilt; other windows were provided on the south side of the nave. Much medieval glass, perhaps of that period, remained in 1733. The main panels of the east window depicted the Crucifixion, the Resurrection, and Christ in Glory. (fn. 172) In the late 13th or early 14th century the chancel received a conjoined pair of external tomb recesses on the north. West of the priest's doorway is a rectangular low-side window of unknown date. A wooden screen evidently divided nave and chancel in the 15th century; tracery from such a screen is re-used in the west gallery; and in the nave, next to the junction with the chancel, a blocked rectangular opening in the south wall may have lit stairs to a rood loft. A plain beam spanning the chancel farther east may once have been part of the screen. A few fragments of medieval stained glass survive in the east window tracery.
The upper stages of the tower were rebuilt in 1720. (fn. 173) The porch was standing by 1721. (fn. 174) The gallery was built before 1790; (fn. 175) its dormer was removed after 1949. (fn. 176) The communion rail is dated 1716. A 'great pew' was mentioned in 1733. (fn. 177) In 1793 the chancel had two pews, the nave two pews and twenty benches; (fn. 178) and plain early benches remain, the rest being 19th-century copies. In the 19th century a separate wooden lectern, reading desk, pulpit, and (in 1869) (fn. 179) choir stalls were also provided. The barrelled plaster ceiling and the west gallery with its four-sided music stand have been allowed to remain.
A bier is dated 1617. The five bells are dated 1636-95. (fn. 180) A chancel chair is perhaps early 18th-century. Royal arms repainted 1732-3 (fn. 181) had gone by 1990. So had a silver chalice and tankard recorded in 1793; (fn. 182) by 1961 the only plate was 19th-century. (fn. 183) In the early 19th century the registers dated from 1594 (fn. 184) but by 1870 only from 1754; (fn. 185) transcripts survive for 1638-9 and from 1661 onwards. (fn. 186)
NONCONFORMITY.
Members of the Turner family were Baptists in the 1670s (fn. 187) and John Edwards and his wife were recusants in 1684 (fn. 188) but no dissenters were reported in 1716. (fn. 189) A Balaam's Heath society of Primitive Methodists with 13 members was on the Hopton Bank circuit by 1832 (fn. 190) and the Much Wenlock circuit in 1847. (fn. 191)
EDUCATION.
A schoolmistress was mentioned in 1719 (fn. 192) but there was no school in 1835. (fn. 193) By 1885 the children attended Munslow school. (fn. 194)
CHARITIES FOR THE POOR.
A poor's stock managed in 1695 (fn. 195) had gone by 1787. (fn. 196) Robert Ellis of Earnstrey Park, (fn. 197) by will dated in or before 1652, gave a 10s. rent charge in Llanwyddelan parish (Mont.); still received in 1820, it afterwards lapsed. (fn. 198) Thomas Clinton, by will dated 1815, gave £100 stock for 10 widows, (fn. 199) which yielded £3 a year in 1975. (fn. 200)