Pages 213-220
A History of the County of Shropshire: Volume 10, Munslow Hundred (Part), the Liberty and Borough of Wenlock. Originally published by Victoria County History, London, 1998.
This free content was digitised by double rekeying. All rights reserved.
BADGER
Badger is a small rural parish on the Shropshire-Staffordshire boundary. In the Middle Ages (perhaps from the 12th century) and until 1905 it formed, with the adjoining parish of Beckbury, a detached part of Hereford diocese. (fn. 1)
Parish and manor, roughly rectangular, are conterminous. (fn. 2) On the west and south-west Badger is bounded by the meandering river Worfe, (fn. 3) also known in the 19th century as Cosford brook; (fn. 4) on the east and south it is bounded by a tributary called the Batch, Heath (fn. 5) or Snowdon brook, or the Mert. (fn. 6) Badger's northern boundary, with Beckbury, follows field edges and ditches and required clarification in 1229. (fn. 7) The boundary did not alter after the early 19th century and the 374-ha. (924-a.) parish (fn. 8) extends c. 2.5 km. from west to east and c. 2 km. from north to south. From over 90 m. in the north-west, high ground perhaps referred to in the name Badger (which probably means 'Baecg's ridge tip'), (fn. 9) the land falls steeply west to the river and more gradually to the south and east. (fn. 10)
The western half of Badger lies mainly on Upper Mottled Sandstone, the eastern on boulder clay and sand and gravel. A small area of peat lies in the extreme north-east. (fn. 11)
From Badger village minor roads run north to Beckbury, south to Ackleton, east to Pattingham (Staffs.), and south-west to Stableford. Stableford bridge was rebuilt in 1834-5 to Francis Halley's design. (fn. 12) In 1757 a road also ran west from Badger and over a bridge to join the Wellington-Worcester road; (fn. 13) by 1808 the road was no more. (fn. 14)
There were 4 bordars in 1086. (fn. 15) In 1642 the Protestation was taken by 25 men in the parish. (fn. 16) In the 1670s the parish had an adult population of c. 45 in seven houses; only the manor house was taxed on more than one hearth. (fn. 17) In 1801 the parish had 88 inhabitants. By 1811 the population had risen to 123, and slow increase brought it to 178 in 1861. Numbers then gradually fell, to 88 in 1951, though rising again to 114 by 1981. (fn. 18)
The medieval village was probably small and surrounded by open fields; there were large woods to the west and north and an extensive tract of heath along the eastern side of the parish. (fn. 19) The settlement pattern changed little between the 18th and 20th centuries and had probably been much the same in the Middle Ages. (fn. 20) Manor house, church, and rectory stood together in the southern half of the parish, with the village's few other houses a little farther south along the Stableford-Pattingham road. Some of the older ones are timber framed with brick nogging. There were few outlying houses. Badger Heath Farm, centre of the Heath copyhold estate enfranchised in 1662, stands in the south-east corner of the parish. (fn. 21) Badger Farm, a large improved set of buildings north of the village, was built c. 1810. (fn. 22) In the late 1970s a small sewage works opened on the north bank of the Upper Pool in Badger Dingle; effluent was pumped for further treatment in the Ackleton works in Worfield parish. (fn. 23) The village was made a conservation area in 1981. (fn. 24)
In 1835 there was a parish lending library provided by the lady of the manor. It was probably due to the lord of the manor's influence that there was no public house in the parish in the 19th and 20th centuries. (fn. 25)
In the later 18th and in the 19th century Badger Dingle, south of the village, was a much admired picturesque attraction. (fn. 26) The steepsided dell or batch, 1 km. long, cut through the Red Sandstone by Snowdon brook, was improved c. 1780 by I. H. Browne, lord of the manor, to a design by William Emes (d. 1803), probably in conjunction with his pupil, partner, and successor John Webb (d. 1828). (fn. 27) Two miles of walks were laid out on the north side of the renamed 'Dingle', with a connecting walk to Badger Hall near its east end; the latter walk ran under the public road to Pattingham. A 'chase' looped north-east from the west end of the Dingle to complete the circuit. Forming the west end of the Upper pool, a dam, probably with the cascades found later, was built across the brook.
Alpine plants, American rhododendrons, azaleas, and camelias were planted in the Dingle, and tulip trees and magnolias in the shrubbery along the hall walk. A summer house or banqueting room with a basement kitchen, possibly designed by James Wyatt, (fn. 28) was built where walk and Dingle met. In the early 19th century it was known as the Doric Temple, later as the bird house. (fn. 29) A boathouse c. 150 m. to the west was probably also an original feature. A rock-cut icehouse mid way along the Dingle may have been incorporated in the design. A rotunda was built near the west end of the Dingle.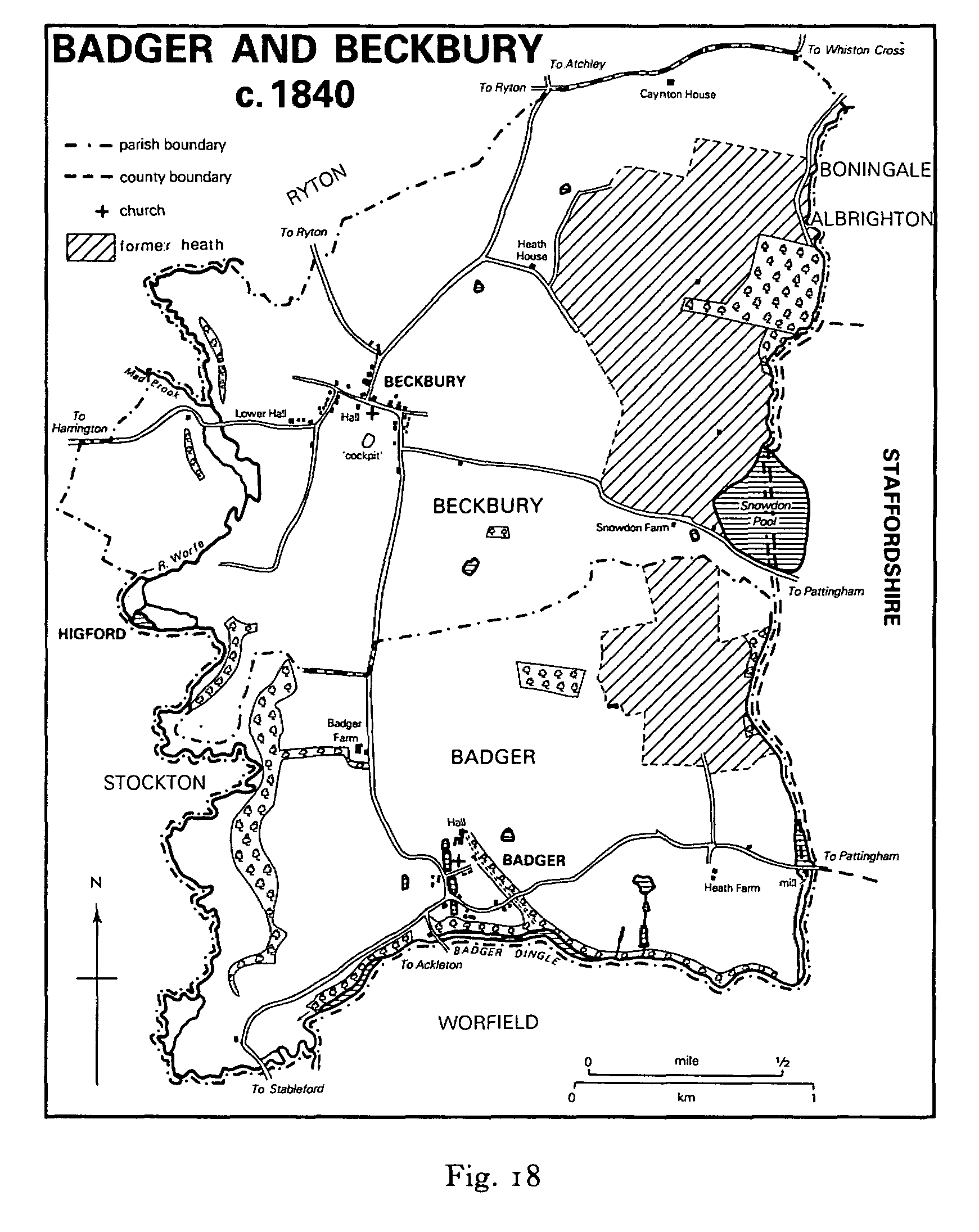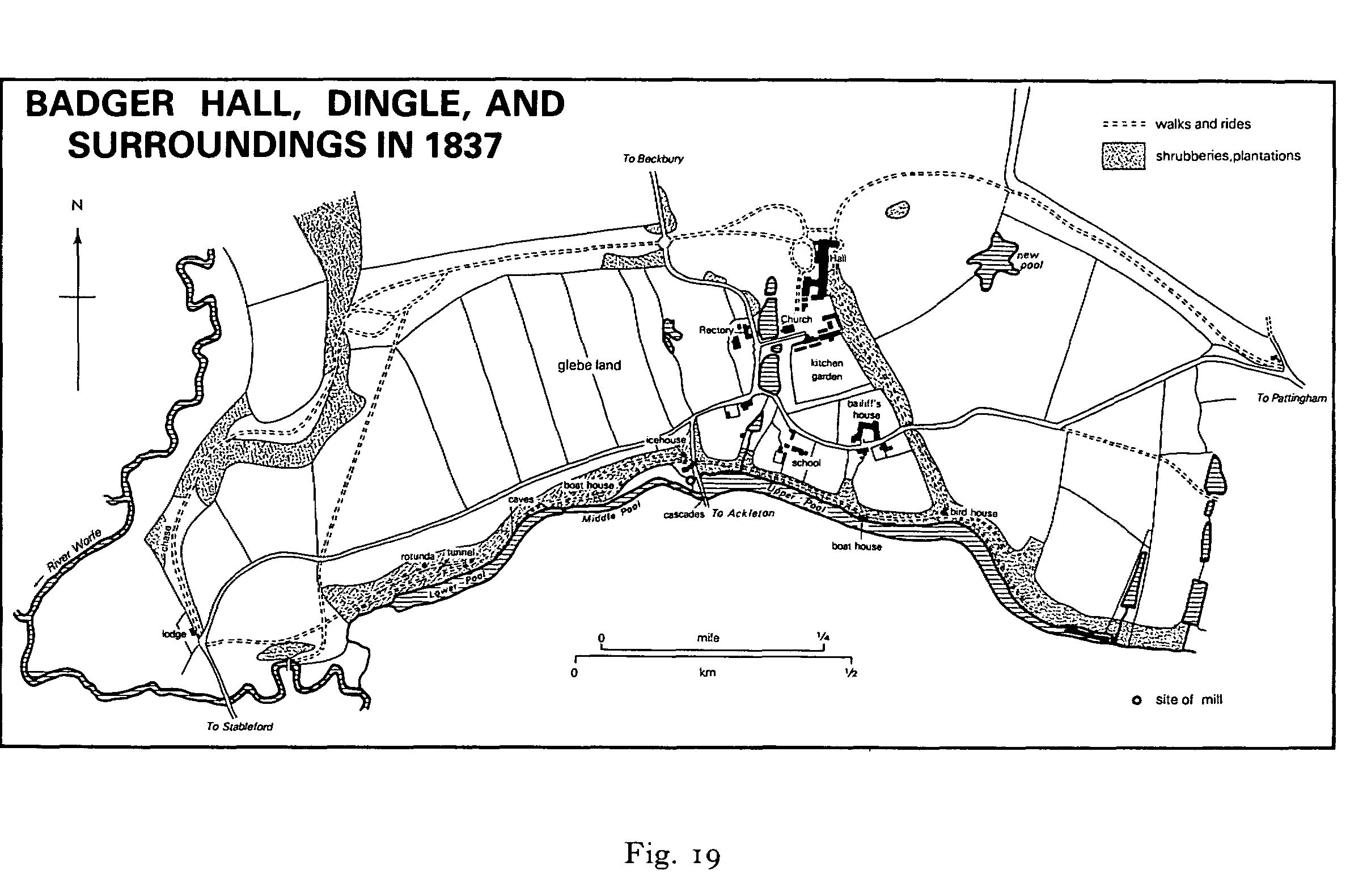 In 1828 the dam burst after a storm, and c. 40 men from the Brownes' coalfield manor of Malinslee (in Dawley) spent nine weeks reconstructing the Dingle. In the mid 19th century other alterations were made: the original boathouse was replaced or supplemented by ones on the Middle and Upper pools; a pond was made north of Upper pool to provide a waterfall down the Dingle's side; and various walls, caves, and gateways were made in the side of the Dingle. Badger mill on the north side of the main dam, built probably in the 1830s, was perhaps designed as a scenic addition to the Dingle; a rock cut path, with a bridge over the main Dingle path, led down to it from the road to the north. Initially the Dingle was private, but by 1851 it was open to the public and visited by workers' outings from the Wolverhampton and Birmingham areas. (fn. 30) The Dingle was well maintained until the later 1930s but by the 1970s was overgrown, its buildings in disrepair. (fn. 31)
MANOR AND OTHER ESTATES.
In 1066 Bruning (Bruniht) held BADGER. In 1086 Roger of Montgomery, earl of Shrewsbury, held it in chief and Osbern fitz Richard, baron of Richard's Castle, held it of him. (fn. 32) Earl Roger's son Earl Robert forfeited his lordship in 1102 (fn. 33) and the baron of Richard's Castle was evidently tenant in chief thereafter until the early 15th century or later. (fn. 34)
By the mid 1170s Guy le Strange (d. c. 1179), of Alveley, held Badger immediately under Osbern fitz Hugh, baron of Richard's Castle, probably for 4s. a year. (fn. 35) After the death of Guy's son Ralph in 1195, that lordship was divided among Ralph's sisters and coheirs Margaret Noel, Gillian of Wappenbury, and Maud of Sutton. (fn. 36) It was acquired in the later 13th century by the terre tenant; the barony of Richard's Castle belonged then to the Mortimers and later to their coheirs the Talbots and the Cornwalls. (fn. 37) A baron of Richard's Castle may have interposed another lord between himself and the Stranges or their coheirs, (fn. 38) for possibly in 1211-12, and certainly by 1274, Badger and Romsley (in Alveley) were held as 1 knight's fee under the baron by the Poer family (who had held Romsley of the baron probably since 1165 or earlier) and in 1307 by Leo of Romsley who had evidently succeeded to their mesne lordship. (fn. 39) Ives of Romsley had the mesne lordship in 1348 (fn. 40) but its later descent has not been traced.
By Richard I's reign the terre tenant of Badger held his manor of the prior of Wenlock for 20s. a year and evidently suit of court, an arrangement confirmed in the mid 1220s by Prior Humbert. (fn. 41)
Robert was terre tenant in 1086 (fn. 42) as was William of Badger in the mid 12th century. (fn. 43) William sold the manor to Philip son of Stephen, later known as Philip of Badger (d. c. 1196). (fn. 44) Son then followed father, the following, usually called 'of Badger', being lords: Philip's son Roger (d. 1220 X 1225), (fn. 45) Thomas (d. by 1246), Philip (d. c. 1258), (fn. 46) Philip (d. c. 1291), (fn. 47) Thomas (d. by 1316), and Philip (d. 1345). (fn. 48) The estate belonged to Philip's son and heir William in 1347 (fn. 49) but not in 1349 at William's death without issue. (fn. 50) By 1361 it belonged to John of Badger, (fn. 51) Philip's brother, (fn. 52) and John's widow Alice had it from c. 1366 (fn. 53) until her death in 1404. Under a settlement of 1361 Badger was then shared by William's coheirs Catherine Sevile, Elizabeth Maundevile, Elizabeth Fraunceys, Catherine Mercher, and Margaret Overton. (fn. 54) Catherine Sevile's husband Thomas may have had a share in 1413, when he nominated the rector, (fn. 55) but in 1430 the rector was nominated by Roger Elmbridge. (fn. 56) Roger is said to have been the husband of Alice's granddaughter Elizabeth Coleson, and the Elmbridges' daughter Alice is said to have married Richard Petit. (fn. 57) In 1435 Roger quitclaimed his interest in Badger to Richard, (fn. 58) who nominated the rector in 1435, had a moiety of the manor in 1437, and was living in 1447. (fn. 59) Roger Elmbridge's brother John quitclaimed his interest in Badger to Richard in 1440. (fn. 60) Richard's son Robert (fl. 1465-6) was succeeded by his brother John (d. 1501), whose son Thomas died seised of the manor in 1504. (fn. 61) Thomas was succeeded by 1495 by his brother Henry (fl. 1507-8) and he by his daughter Dorothy who married first her stepbrother John Kynnersley (d. 1514-15), of Loxley (Staffs.), and secondly Thomas Nowell of Pelsall (Staffs.). (fn. 62) In 1560 Dorothy, then a widow, and her son James Nowell conveyed the manor to her son Thomas Kynnersley (fn. 63) (fl. 1577), from whom it passed from father to son, the following being lords: (fn. 64) Anthony (d. 1621), Francis (d. 1633), a magistrate, (fn. 65) Thomas (d. 1680), sheriff of Staffordshire 1646-7 (fn. 66) and of Shropshire 1654, Thomas (d. 1689), and John, sheriff 1721. John (d.s.p. 1750) was succeeded by his brother Clement (d. unmarried 1758) of Uttoxeter (Staffs.). In 1774 Clement Kynnersley of Loxley, grandson of John and Clement's nephew, sold the manor, with the Badger estate also including lands in Beckbury and Ackleton, to Isaac Hawkins Browne of Foston (Derb.). (fn. 67)
Browne, sheriff in 1783 and M.P. for Bridgnorth 1784-1812, was an essayist and editor of the poems of his father and namesake (d. 1760). He died childless in 1818 (fn. 68) leaving a life interest in Badger to his wife Elizabeth (d. 1839), with remainder to his cousin's son R. H. Cheney (d. 1866) who was succeeded by his brother Edward. On Edward's death in 1884 the estate passed to his nephew Col. Alfred Capel Cure of Blake Hall, Ongar (Essex). (fn. 69) Capel Cure died in 1896 and was followed by his nephew Francis Capel Cure (d. 1933). In 1937 the estate passed from Francis's widow to his nephew G. N. Capel Cure of Blake Hall. By 1953 Capel Cure had disposed of Badger Hall and estate to John Swire & Sons. (fn. 70) Sir Adrian Swire was lord of the manor in 1985. (fn. 71)
About 1719 John Kynnersley demolished the timber framed moated house just west of the church, although part of the moat remained, probably as a garden canal, until c. 1780. Kynnersley built a new house just to the north; (fn. 72) it was occupied by the ironmaster William Ferriday (d. 1801) from c. 1761 to 1775 (fn. 73) and in his day was approached along an avenue of elms. (fn. 74) In 1761 the Hall had six ground floor rooms: at the front the hall was flanked by a drawing room and common parlour, to the rear were a best parlour, smoking room, and kitchen. (fn. 75) Service buildings, perhaps of 1698, stood to the south (fn. 76) and were retained when, in 1779-83, James Wyatt extended and remodelled the Hall for I. H. Browne. A large new block of eight bays and three storeys was built on the north end of the old Hall. It was principally of brick (made on site) with stone quoins. New rooms included a museum, library, and conservatory, and fine plasterwork by Joseph Rose of London included a frieze depicting classical gods and heroes and Shakespearean characters. (fn. 77) In 1783 Browne commissioned chiaroscuro paintings from Robert Smirke (d. 1845) for the library and dining room. (fn. 78) The Hall was further enlarged in the later 19th century. At the north entrance rooms were added on two storeys, a carriage entrance and conservatory were added to the east side of them, and additional service rooms were built on the south side of the house. A chapel was added in 1886. (fn. 79) Swire & Sons demolished most of Badger Hall c. 1953 but the service range of c. 1700 was refurbished as a private house in the early 1980s. (fn. 80)
In 1781 and 1785 William Emes, the designer of Badger Dingle, submitted estimates for landscaping around the Hall. (fn. 81) It included levelling the ground and making ha-has, planting a shrubbery east of the Hall and around the stables and clumps of trees elsewhere, altering the approach roads, and making walks, including one (called the 'pleasure ground' in 1837) (fn. 82) to the Dingle. Perhaps also at that time the pools (fn. 83) west and south-west of the church were enlarged; they drained into the Dingle. In the early 19th century extensive parkland around the Hall was crossed by numerous walks and rides. (fn. 84) George Cooke, head gardener, made changes to the grounds c. 1850. (fn. 85)
An icehouse, used until the 1930s, stood 0.5 km. south-west of the Hall, in the Dingle. Ice was got from a specially dug pool east of the Hall. (fn. 86)
In 1662 the Badger Heath farm copyhold estate, in the south-western part of the parish, was enfranchised. It was then owned by Francis Taylor of Wootton (in Quatt) and occupied by Richard Taylor. After enfranchisement £2 a year, twice yearly suit of court, and a £5 relief on the death of each freehold tenant were due to the lord of the manor in lieu of chief rents, heriots, and all other services. (fn. 87) Francis Taylor died in 1689 and THE HEATH passed to his brother Richard (d. 1697), who left the estate to his wife Margaret (d. 1698) for life and then to their son William. William (d. 1713) was succeeded by his son Richard, and Richard (d. 1741) by his son Richard. In 1748 the Heath comprised 180 a. (fn. 88) The younger Richard died in 1757 and the estate passed to his nephew William Taylor (fn. 89) who sold it to Joseph Green in 1796. The Heath then consisted of 184 a. in Badger and 16 a. in Ackleton. (fn. 90) The Greens probably owned the Heath until the 1870s, when it was sold to A. S. Trevor. (fn. 91) By 1910 the Heath estate had been sold to the lord of the manor. (fn. 92) Badger Heath Farm is a 2½ storeyed T plan stone house of c. 1600, much extended in the 18th, 19th, and 20th centuries.
Wenlock priory received a pension of 3s. 4d. from the rector of Badger from the 12th century (fn. 93) and a 'free' or assize rent of £1 perhaps representing the annual rent for Badger due from the lord of the manor c. 1258. In 1544 the Crown sold pension and rent to Robert Brooke, the purchaser of Madeley manor (the former priory's nearest demesne manor, where they had been payable). (fn. 94) They descended with Madeley (after 1763 with the Slaughter share) until 1782 or later. (fn. 95)
ECONOMIC HISTORY.
In 1086 there was enough land for two ploughteams; one belonged to the demesne, the other to four bordars. (fn. 96) The presence of bordars and the existence of enough woodland for 30 swine suggest an estate still under development. In 1291 the manor consisted of a house and 4½ virgates, also defined as 1 carucate, 8 a. of wood, and 4 a. of meadow. (fn. 97) As on other manors subject to Wenlock priory's lordship terciary was exacted: in 1502 the priory was entitled to 3 qr. of wheat and 3 of oats on a lessee's death. (fn. 98)
In the 17th and 18th centuries the medieval landscape of Badger was transformed. Until then open fields had probably lain east, west, and north of the Hall. (fn. 99) By 1662, when three leet or open fields were mentioned, Batch and Middle fields and Uppsfield, inclosure had begun. (fn. 100) In that year waste amounting to 176 a., probably of heath (fn. 101) along the east side of the parish, was divided. By 1689 the part of Badger heath belonging to the manor was kept free of gorse and furze. (fn. 102) An eighth of the heath was allotted to the newly enfranchised Heath estate, whose owner was allowed to make ditches from Snowdon pool and streams to bring water to his land on Sundays. (fn. 103) The Heath estate, 50 per cent arable, 36 per cent pasture, 8 per cent meadow, and 3 per cent woodland in 1748, had then only 3 per cent heath. (fn. 104) In the 1730s it had been stated that there were no commons in the parish, (fn. 105) and the division of 1662 may have put an end to them. Two woods survived in 1752: Badger wood along the west side of the parish and Beckbury wood straddling the northern boundary; both had gone by 1808. (fn. 106)
In 1594 copyholders had held in yardlands or half-yardlands since time immemorial. (fn. 107) In 1615 a demesne ploughteam consisted of 6 oxen. (fn. 108) Some hemp was grown in the later 17th century. (fn. 109) In the late 18th century the welfare of labouring families was promoted by the generosity of I. H. Browne, who gave allowances for coal and to the sick and aged. (fn. 110)
In 1801 94 a. of wheat, 92 a. of barley, 8 a. of oats, and 124 a. of turnips were grown in the parish. (fn. 111) In 1837 66 per cent of the land was arable, 26 per cent pasture and 8 per cent under woods and plantations. (fn. 112) In the late 19th and early 20th century the proportion of grassland gradually increased, with sheep the commonest livestock. Wheat and barley were grown in roughly equal, but declining, proportions as more oats were grown. Turnips and later sugar beet were usually grown on some scale. (fn. 113)
Table XII Badger: Land use, livestock, and crops

| | | | | |
| --- | --- | --- | --- | --- |
| | | | | |
| | 1867 | 1891 | 1938 | 1965 |
| Percentage of grassland | 48 | 58 | 60 | 42 |
|                      arable | 52 | 42 | 40 | 58 |
| Percentage of cattle | 3 | 7 | 24 | 25 |
|                      sheep | 88 | 87 | 72 | 62 |
|                      pigs | 9 | 6 | 4 | 13 |
| Percentage of wheat | 54 | 40 | 32 | 14 |
|                      barley | 45 | 41 | 34 | 75 |
|                      oats | 0 | 19 | 34 | 0 |
|                      mixed corn & rye | 1 | 0 | 0 | 11 |
| Percentage of agricultural land growing roots and vegetables | 20 | 16 | 14 | 29 |
Sources: P.R.O., MAF 68/143, no. 9; 11340, no. 12; /3880, Salop, no. 176; /4945, no. 176.
There was a water mill at Badger by the early 13th century. A rent of 10s. issuing from it was granted to Wenlock priory kitchen by Roger of Badger (d. by c. 1225) (fn. 114) and was bought from the Crown in 1828 by Mrs. I. H. Browne. (fn. 115) Badger water mill or mills were mentioned in the mid 17th and mid 18th centuries. (fn. 116) The principal or sole mill stood in Badger Dingle by the Ackleton road. That was apparently pulled down before 1811 for when Badger Heath mill, east of Heath Farm, was rebuilt in 1811, it was said to be the only mill in the parish; it was demolished 1948-50. The mill pool was used to wash sheep and had a great local reputation as a source of eels. (fn. 117) Another mill built in Badger Dingle, probably in the 1830s, was perhaps intended as a picturesque feature. (fn. 118)
In 1834 stone was got from the church quarry to rebuild Stableford bridge. (fn. 119) The same quarry was perhaps also the source of roadstone used locally. (fn. 120) Gravel was dug in the parish. (fn. 121)
LOCAL GOVERNMENT.
Rolls for Badger manor court survive for various years between 1350 and 1532. They include presentments from Ackleton (in Worfield). (fn. 122) A court baron held in October 1774 for I. H. Browne, the new lord, was probably the first for many years. (fn. 123)
In 1642 one man was perhaps both churchwarden and parish constable. (fn. 124) In the 1660s and later three parish offices, those of churchwarden, overseer of the poor and highway surveyor, and constable, were served in rotation by the occupants of certain houses. A separate highway surveyor was probably appointed from 1692. (fn. 125) In the 1680s Badger had a pound and stocks. (fn. 126)
In 1740 £5 12s. was expended on the poor in cash, corn, rent, and burial expenses. Between 1812 and 1815 over £80 a year was paid as out relief, but expenditure then fell rapidly and between 1818 and 1836 the largest annual expenditure was £32 6s., in 1822-3. In 1830-1, as an exceptional measure, the poor were paid for picking and breaking stones. (fn. 127)
Badger was in Shifnal poor-law union 1836- 1930, (fn. 128) Bridgnorth highway district 1863-95, (fn. 129) Shifnal rural sanitary district 1872-94, Shifnal rural district 1894-1974, and Bridgnorth district from 1974. (fn. 130)
CHURCH.
There was a priest, and so presumably a church, at Badger by c. 1174, and the living was called a rectory in 1246. (fn. 131) In the Middle Ages the lord of the manor had the right to nominate a new incumbent to the prior of Wenlock (or to the Crown during its seizure of the alien priory in the 14th century) and the prior presented him to the bishop. (fn. 132) Prior Humbald granted the right of nomination to the lord 1155 × 1175, and the parson (persona) or clerk was to pay the priory 3s. 4d. a year. (fn. 133) At the Dissolution that pension was paid at Madeley, where dues from Beckbury and Badger were collected by c. 1523. The lord of Madeley bought it in 1544 and it was paid to his successors until the late 18th century or later. (fn. 134) After the Dissolution each new rector was usually nominated by the lord of the manor and presented by the Crown (as successor to the priory's rights). In 1941 the lord chancellor was patron on the nomination of G. N. Capel Cure, but by 1964 the lord chancellor alone was mentioned. (fn. 135) From 1956 the living was held in plurality with those of Beckbury (where a new house was built) and Ryton. (fn. 136)
The church was worth less than £4 a year in 1291, £3 6s. 8d. in 1379, and £4 11s. 2d. in 1535. (fn. 137) In the late 16th century the glebe comprised 8 a. of arable, a little grazing, and common for c. 40 sheep. Besides the tithes the rector had 8s. from a house occupied by Humphrey Blakeman. (fn. 138) In 1615 the rector had 19 a. of glebe and rent from ½ yardland; Blakeman's cottage was uninhabited and decayed. (fn. 139) How hay and corn tithes were then paid is unknown but most other tithes, and Easter offerings, were rendered in cash. Poultry tithes were paid in eggs. (fn. 140) About 1708 the living was worth £39. (fn. 141) In 1774 I. H. Browne rented the tithes for £80. (fn. 142) The rector exchanged part of his ancient glebe with Clement Kynnersley for other land in 1771. (fn. 143) About 1805 the living was said to be worth £400. (fn. 144) In 1837, when the tithes were commuted to £254 10s., there were 25 a. of glebe in a block west of the church. (fn. 145) The living was worth £292 10s. in 1851, £254 in 1879, and £175 in 1900. (fn. 146)
About 1700 the parsonage was a house of three bays with 2½-bayed barn. (fn. 147) The absentee rectors of the 18th century left the house in disrepair and it was substantially renovated and enlarged in 1795 when William Smith became rector. (fn. 148) In 1838 a new house, designed by Francis Halley, was built on the site of the old one, south-west of the church. (fn. 149) It was sold with 7 a. in 1944. (fn. 150)
If Roger, clerk of Badger (fl. c. 1174 and c. 1211), was the incumbent, he is the first known. (fn. 151) Philip of Badger, presented in 1291, was the lord of the manor's son, and John of Beckbury, 1344-9, was a son of the lord of Beckbury. (fn. 152) Roger Hondeslowe, rector for 40 years from 1368, was latterly also rector of Hope Bowdler. (fn. 153)
In 1614 the king presented Richard Froysall to the living without the lord of the manor's nomination. Francis Kynnersley vigorously opposed Froysall, attempting to prevent his entering the church. Ordering the parishioners not to attend services, Kynnersley deprived Froysall of his tithes and dues and planted trees on his glebe; he threatened to cut off the rector's head and throw it in Badger pool; and finally he had Froysall gaoled in Shrewsbury. Froysall's supporters seized a team of Kynnersley's oxen to try to make him restore Froysall's rights. (fn. 154)
John London, 1622-41, is the first known graduate rector. Like most of his 17th- and 18th-century successors he was a pluralist, being rector of Wheathill from 1624. (fn. 155) Benjamin Taylor, rector 1677-1704 and vicar of Madeley 1672-1704, was a son of Richard Taylor of the Heath; (fn. 156) he employed a curate. (fn. 157) Communion was normally celebrated four times a year in the late 17th century and five in the 18th century. Thomas Green, rector of Badger and of Beckbury 1705-24, lived in Beckbury in 1716. He then conducted two Sunday services in Badger, one with a sermon. (fn. 158) R. C. Hartshorne, rector 1724-52 and rector of Broseley from 1727, was succeeded by his son Thomas, rector 1753-79. (fn. 159) Between 1780 and 1795 the living was one of several held by Dr. James Chelsum (d. 1801), author of sermons, of a work on mezzotint engraving, and of criticism of Gibbon's Decline and Fall. (fn. 160)
By arrangement with the patron Chelsum resigned to make way for William Smith, probably the first resident for over a century. (fn. 161) I. H. Browne (d. 1818) left Smith the right to nominate the next rector; in 1820 Smith sold the turn to Browne's widow Elizabeth (d. 1839) for £1,200. (fn. 162) When Smith died in 1837, three years after the church's rebuilding, he was said never to have been more than two Sundays absent from Badger. (fn. 163) T. F. Boddington, rector 1838- 71, lived at Shifnal in 1851. On Census Sunday 1851 morning service was attended by 70 adults, evening service by 75; 48 children were at both. Many Worfield parishioners attended Badger church in the 1840s and 1850s. (fn. 164)
The church of ST. GILES, so known by c. 1740, (fn. 165) was rebuilt in 1833-4. The old church comprised chancel, nave, and west tower; the body of the church measured 51 by 21 ft. (fn. 166) Men and women may have sat separately in 1662. (fn. 167) In 1713 John Kynnersley refurbished the interior; he railed round the communion table, improved the seating, and gave fittings including a communion set. (fn. 168) Nave and chancel were of Old Red Sandstone, (fn. 169) and the chancel seems to have been slightly longer than the nave. Windows, at least on the north and west, were late- or post-medieval. By 1805 heavy buttresses supported the south wall. The entrance then, as perhaps long before, was in the west wall of the tower. A west gallery, used by I. H. Browne's tenants and servants, was enlarged in 1809. (fn. 170)
In 1833-4 the dilapidated nave and chancel and the upper part of the tower were rebuilt at the expense of Mr. Green of the Heath (£100) and Mrs. I. H. Browne (£1,100). Designed by Francis Halley of Shifnal, the church consisted of a broad undivided nave and chancel in an early gothic style, with a thin pinnacled and crenellated west tower. (fn. 171) In 1851 there were 40 free and 118 rented adult seats and 60 for children. (fn. 172) Heating was installed in 1847. (fn. 173) A small north chapel for use by the Badger Hall family and a south porch, designed by F. Francis of London, were added in 1886-7. At the same time the gallery was removed and the nave repewed. (fn. 174) Preserved from the old church is a 15th-century wooden screen which separated nave and chancel in 1823 (fn. 175) but screened the north chapel in 1985. Also kept were three 17th-century bells. (fn. 176) There are several notable monuments, including one by Chantrey. (fn. 177)
A tall headless cross, probably 14th- or 15thcentury, was moved to the churchyard from 'the road' before 1789. (fn. 178) The churchyard was extended in 1853 and 1904. (fn. 179)
The registers begin in 1713 and are complete. (fn. 180)
NONCONFORMITY.
None known.
EDUCATION.
In 1819 there were two schools in the parish. (fn. 181) One had 8-12 pupils, the other, supported by Mrs. I. H. Browne, had 22. The latter was probably the private school, with teacher's house, in existence in 1837. (fn. 182) It had c. 50 pupils in 1851 but was limited to 30 by 1905 and to 25 by 1913. Owned and supported by the lord of the manor until 1933, (fn. 183) it was called a church school in 1876. That year three quarters of the school's income came from voluntary contributions, the rest from school pence, though the patron paid some expenses; attendance averaged 25. (fn. 184) By 1885 pupils above infant age left for Beckbury National school or Burnhill Green school. (fn. 185)
Attendance averaged 15 in 1900 and 20 in 1913. (fn. 186) Emma Grainger, mistress since 1891, and Francis Capel Cure, the school's patron, both died in 1933, (fn. 187) and the school closed. The roll was then c. 20. Girls were taught needlework, but the school was not under inspection and fees were still paid, 1d. a week for Badger children, 2d. for others; only slates were used for writing and arithmetic. After it closed pupils went to Beckbury or Worfield C.E. schools. (fn. 188)
CHARITIES FOR THE POOR. R. C.
Hartshorne (d. 1752), rector, gave £5 in his lifetime and £5 by will. His son Thomas, also rector, gave £10 in 1779, shortly before he died. In 1783 the £20 was given to I. H. Browne, who charged one of his houses in Badger with £1 a year, which in 1820 was distributed annually. (fn. 189)
Bequests by William Smith (d. 1837), rector, Harriet Margaret Pigot (d. 1852), sister of R. H. Cheney, lord of the manor, and T. F. Boddington (d. 1871), rector, yielded £3 6s. a year in 1885. (fn. 190)
In 1975 the Badger charities yielded £4 a year. (fn. 191)