Pages 233-240
A History of the County of Shropshire: Volume 10, Munslow Hundred (Part), the Liberty and Borough of Wenlock. Originally published by Victoria County History, London, 1998.
This free content was digitised by double rekeying. All rights reserved.
Caughley
Caughley, part of the medieval parish of Holy Trinity, Much Wenlock, lay 2 km. east of Barrow and contained 821 a. (332 ha.) in 1883. (fn. 1) Caughley's demesne was in Barrow parish by 1649, (fn. 2) and by 1838 the perpetual curate of Barrow was owed customary payments from Caughley (18s.) and Swinney (8s.). (fn. 3) In 1934 the Caughley detachment of Barrow civil parish was transferred to Linley C.P., itself absorbed by Barrow C.P. in 1966. (fn. 4) The township (fn. 5) was roughly triangular, bounded on the east by the Severn and on the south-west largely by Dean brook. (fn. 6) To the north Caughley's irregular boundary followed no natural feature or field edges and may have marked the former northern boundary of Caughley wood. The township at its longest extended c. 2 km. from north-west to south-east and from north-east to south-west. The land, highest (c. 150 m.) in the west, falls south-eastwards to c. 40 m. where Caughley's southern boundary reaches the Severn. (fn. 7) The geology is mixed: in the east are the Upper Coal Measures, containing siltstones, mudstones, and some Spirorbis limestone, all of the Coalport Formation, and marls of the Hadley Formation; to the west the Lower Coal Measures outcrop and are partly overlain by boulder clay. A broad band of terrace gravels stretches along the Severn. (fn. 8)
Caughley, perhaps 'daw wood', (fn. 9) existed by 901 when the minster at Much Wenlock acquired property there (fn. 10) but was unmentioned in Domesday Book. (fn. 11) Swinney was mentioned as a residence in 1199 (fn. 12) but may then have been long established (fn. 13) like Caughley, mentioned in 1221. (fn. 14) In the late 13th century Little Caughley was mentioned along with Caughley and Swinney. (fn. 15) Inett, whose name suggests an origin as an assart farm, was probably also established by the 13th century. (fn. 16)
It seems that the only nucleated settlement was the hamlet of Darley straddling the southwest boundary of the township: its field was mentioned in 1341. (fn. 17) Largely bounded by woodland in 1618, Darley then apparently comprised three houses in Caughley township and two in Willey. (fn. 18) By 1609 there were several cottages east of Darley in former common woodland, inclosed c. 1590. Cottages at Little Caughley in 1609 (fn. 19) were perhaps on the site of the 13th-century hamlet, and by 1693 a woodland clearing had expanded outwards from some of them (fn. 20) to cover c. 21 a. by the late 18th century. (fn. 21) In 1714 the Browne estate had 13 houses or cottages, including Caughley Hall and Inett. (fn. 22) By 1780 there were 6 dwellings at Darley, irregularly scattered around a few acres of common, and others at Little Caughley. (fn. 23)
In the late 18th century, as later, the main farms were Caughley, Swinney, and Inett, those at Caughley and Swinney adjoining the halls, while coal mines flanked a newly built porcelain factory whose saggar works stood east of Darley. A few buildings, one or two of them perhaps alehouses or warehouses, stood along the river bank. (fn. 24) The clearing by the river at the end of the road from the Dean (in Willey) was known by 1752 as Roving, and the Rovings public house was open there in the early 19th century. (fn. 25)
There were some changes between 1780 and 1795: the saggar works closed, Inett Farm was rebuilt south of its previous position, (fn. 26) and Caughley Place was built north-east of the porcelain factory for its managing partner Thomas Turner. Reputedly designed by one of Turner's French employees, (fn. 27) Caughley Place was in the mid 18th-century French style with a projecting bow (fn. 28) and a tall central feature surmounted by a mansard gable. It was perhaps demolished with the factory c. 1821. (fn. 29) Swinney and Caughley halls were both demolished after those estates were sold to George Forester and his trustees in 1790 and 1822. (fn. 30)
Between the earlier 19th and the later 20th century there was little change. The riverside area lost importance after the railway arrived in 1862, and between 1882 and 1901 the cleared area around Little Caughley reverted to woodland. (fn. 31) In 1931 the township's population was 48. (fn. 32) By the early 1980s settlement comprised Caughley, Swinney, and Inett farmhouses together with a few isolated cottages; Darley was no longer recognizable as a hamlet.
In 1609 a north-south road from Rowton and Swinbatch in Broseley crossed Caughley township via Caughley Hall. It was crossed near the Hall by another running west from Swinney and forking at Inett: north-west towards Broseley and south-west towards the Dean and thence to Bridgnorth. (fn. 33) By 1790 there had been changes: the road to Broseley from Inett then left the Dean road a little farther west than it previously had. The road from Swinney then also had a branch south-east from near Caughley Hall to the Rovings by the Severn, while the road south from Caughley Hall had apparently lost importance. (fn. 34) In the 19th century the western part of the road to the Dean was straightened. (fn. 35)
Tarbatch dingle railway, built in the early 18th century from Broseley, terminated at Willey wharf on the Severn east of Swinney. By 1882 the western end of the line in Broseley was at Upper Riddings Farm, whence a branch ran south-east to Turnersyard colliery in the township. That line closed between 1901 and 1925. (fn. 36) In the later 18th century other lines linked coal pits in the centre of the township with the Severn. (fn. 37) In 1822 there were 80 tons of jenny rails and sleepers at Caughley colliery that were 'nearly new'. (fn. 38)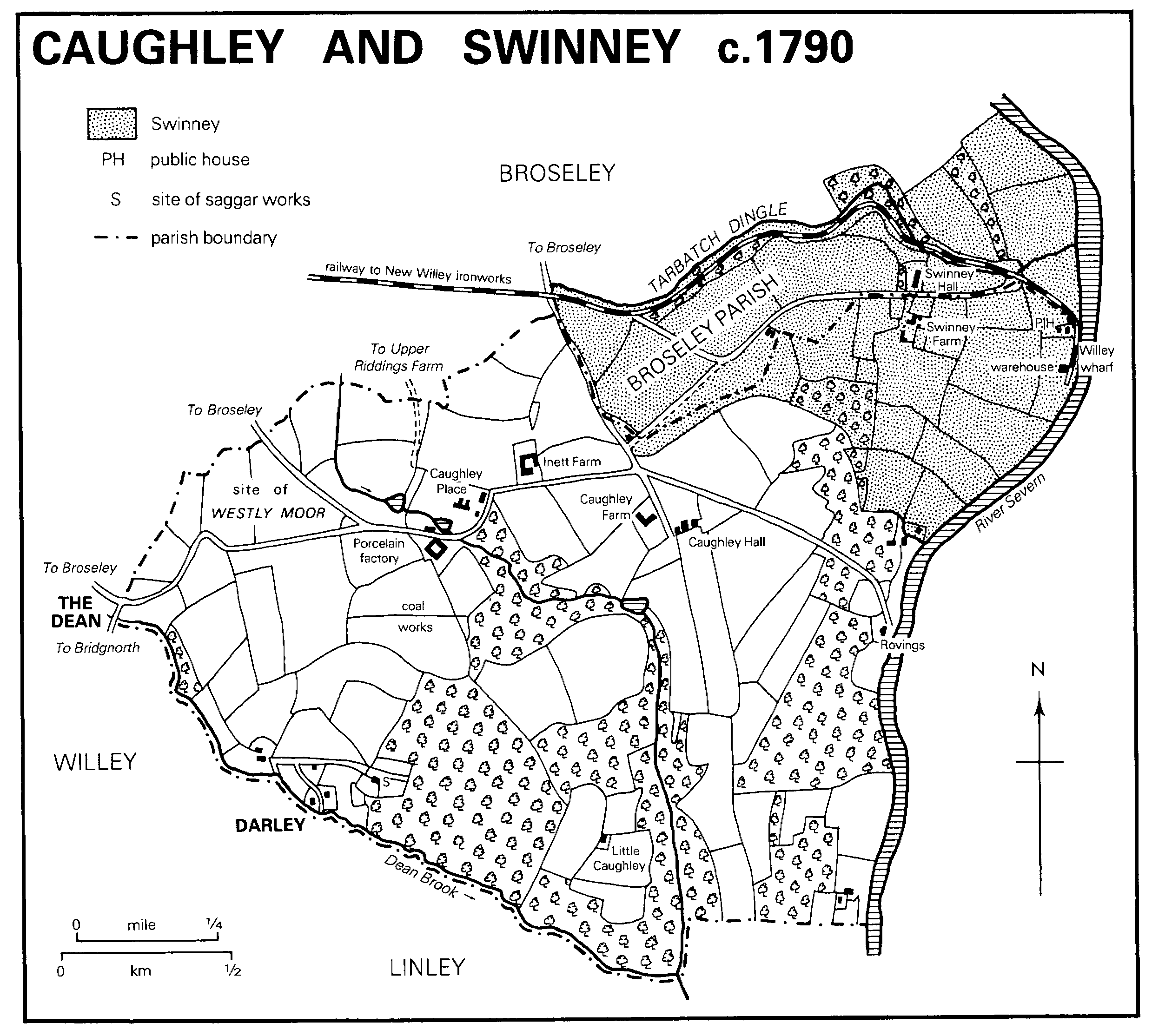 For much of the 18th and 19th centuries Willey wharf was an important outlet for Broseley's industrial products, particularly those of the New Willey Co. from which it presumably took its name. (fn. 39) A public house and warehouse served the wharf in the late 18th century. There was perhaps also a wharf at the Rovings 1 km. south. Along the Severn bank ran the Coalbrookdale-Bewdley tow path, made c. 1800. (fn. 40) The wharves' importance probably declined rapidly after 1862 when the Severn Valley line of the West Midland Railway (later G.W.R.) opened along the river bank.
Manors And Other Estates.
Aethelraed, ealdorman of Mercia, and his wife Aethelflaed gave three manentes at Caughley to the church of Wenlock in 901. (fn. 41) In the 13th century Wenlock priory (the Cluniac refoundation of the Saxon minster) was overlord of estates there which it acquired in demesne during that century and held until it surrendered to the Crown in 1540. (fn. 42)
In 1255 Ralph of Caughley (fl. 1274) (fn. 43) held a carucate in Caughley of the prior of Wenlock for 40s. a year and suit to the prior's court. (fn. 44) In 1296 Philip of Caughley and Margery of Presthope held what was evidently that estate-a house, 4 virgates, and 10 a. of wood-for 40s. a year and suit to Bourton hundred. (fn. 45) In 1299 they were licensed to grant their property to Wenlock priory. (fn. 46)
In 1290 Nicholas Brisebon of Montgomery held 1 carucate, described as the manor of Caughley, of the prior of Wenlock and was licensed to grant it to the priory. (fn. 47) It must have been that carucate, worth 12s. a year, which the priory owned in 1291. Besides that carucate the priory was said in 1291 to have 20s. annual rent from Caughley property: (fn. 48) that figure (evidently mis-stated) must have included the rent due from the Caughleys' carucate.
Another estate in Caughley was held in 1221 by Walter the smith and his wife Agnes. (fn. 49) It may have been the house and virgate, held of Wenlock priory, that Walter the goldsmith conveyed to the priory in 1342. (fn. 50)
Wenlock priory's Caughley demesne consisted in 1369 of a house and 2 carucates. (fn. 51) In 1540, shortly after the priory's surrender, Thomas Lokier, a Bristol merchant, bought the chief house and demesne lands of Caughley manor from the Crown. Lokier sold the estate to the tenant John Munslow in 1541. (fn. 52) In 1564 Munslow conveyed the manor to William Bentley of Bridgnorth, who sold it in 1567 to John Dudley. Dudley sold it in 1569 to Richard Onslow (d. 1571), the solicitor general. (fn. 53) In 1584 Onslow's son and heir Edward sold the manor to Thomas Owen, a London lawyer, who sold it in 1586 to John Dawes (d. 1595) of Shrewsbury. (fn. 54) The manor remained with his relict Margaret, who married Thomas Jewkes. In 1632 she settled the chief house and certain lands on her grandson John Dawes, to whom the rest of her Caughley estate passed at her death in 1634. (fn. 55) Dawes (d. 1680) (fn. 56) left the manor to his grandson Ralph Browne (d. 1707), (fn. 57) who left it to his son Edward (d. 1740), (fn. 58) husband of Laconia (née Berkeley), supposed original of Sylvia in Farquhar's The Recruiting Officer (1706). (fn. 59) After Edward Browne's death the manor may have passed first to his eldest son Ralph (d. 1763), but Ralph's brother Edward had it at his death in 1751 (fn. 60) and left it to his widow Jane (d. 1779); (fn. 61) she left it to their grandnephew R. B. Wylde (d. 1810) who added the name Browne on inheriting. Wylde Browne's son T. W. Wylde Browne, of Glazeley, succeeded; his trustees sold the manor to George Forester's trustees in 1823, (fn. 62) and thereafter it was part of the Willey estate. (fn. 63)
In 1609 Caughley Hall stood on the site of the later Caughley Farm. It had a central range with cross wings and was of two storeys with attics covered by a slated or tiled roof. (fn. 64) There was probably a nearby dovehouse in or before the late 17th century. (fn. 65) In 1672 the Hall was taxed on 13 hearths. (fn. 66) Ralph Browne built a new Hall in the early 1680s (fn. 67) a little east of the old. It was rebuilt or greatly enlarged c. 1790 as a plain building of seven bays and three storeys, with a central entrance facing south. An adjoining coach house and stables, with pedimented front and gothick windows, faced west. All were demolished in 1833. (fn. 68) Caughley Farm is an early 19th-century brick building slightly in the Tudor style and incorporating probably older stonework.
The Sandfords owned property in Caughley from the 13th to the 16th century. About 1221 Ralph of Sandford unjustly disseised Walter the smith and his wife Agnes of their free tenement in Caughley, and Wenlock priory's tenant Ralph of Caughley also owed Ralph of Sandford's son Richard (d. 1249) 8s. rent for land in Caughley. (fn. 69) Richard Sandford of Sandford had land at Caughley in 1497 (fn. 70) and his son Hugh (d. 1530) held it of the prior of Wenlock. The estate then included the houses and land called INETT. It passed to Hugh Sandford's son Richard (d. c. 1532) and then to Richard's son George who, in 1552, sold it to Richard Moreton (fl. 1578) of Haughton (in Shifnal). (fn. 71)
In 1623 Humphrey Briggs, husband of Moreton's granddaughter Anne, sold Inett and the rest of his Caughley estate to Francis Billingsley, Francis Adams, and John Huxley, (fn. 72) presumably interested in the minerals. (fn. 73) By 1651 the Dawes family had bought the property and added it to the manorial estate. (fn. 74) Inett Farm, 'lately erected' in 1683, (fn. 75) was demolished c. 1790 and a plain brick house of three bays and three storeys was built just to the south. (fn. 76)
Several possible medieval holders of the freehold or reputed manor (fn. 77) of SWINNEY are known. (fn. 78) By 1446 four virgates at Swinney belonged to Richard Lacon, lord of Willey. (fn. 79) The estate presumably descended with Willey until 1618 when Sir Francis Lacon conveyed it to Sir Francis Newport, who sold it immediately to Sir Edward Bromley (fn. 80) (d. 1626), a baron of the Exchequer. (fn. 81) Bromley's purchase included other premises in Broseley, probably High or Upper Riddings and part of The Woodhouse. (fn. 82) He bought other parts of the Woodhouse (which were part of the Broseley 'socage land' in 1421) from William Whitmore, probably in 1621. (fn. 83) The estate, which by 1641 evidently also included Lower Riddings in Broseley (part of the 'Priory land'), (fn. 84) remained with Sir Edward's widow Margaret in 1656 but by 1657 had passed to John Bromley (fn. 85) (d. 1674) of Worcester, his heir. John's successor was his grandnephew William Bromley (d. 1707) of Holt (Worcs.). William was succeeded by his cousin William Bromley (d. 1769) of Abberley (Worcs.), who left the whole estate to his son Robert. Robert Bromley sold Swinney and Upper Riddings to George Forester in 1790, having sold Lower Riddings in 1788 to John Guest. Guest sold Lower Riddings in 1789 to Daniel Onions, from whom Forester bought it in 1790. (fn. 86)
In 1687 Swinney Hall was on the Caughley side of the parish boundary, Swinney Farm on the Broseley side. (fn. 87) By 1790 the names seem to have been reversed. (fn. 88) The Swinney Hall then in Broseley parish, perhaps the earlier Farm, was probably demolished soon after George Forester bought the estate in 1790. (fn. 89) Swinney Farm, perhaps the earlier Hall, comprises two ranges: one, timber framed and with a large stone end stack, is perhaps 17th-century, the other, of brick with plat bands, is c. 1700. Upper Riddings stands inside Broseley's southern boundary and is 18th-century and later. Lower Riddings, a 1½ storeyed building just south-east, is 17thcentury and later.
Wenlock priory, as appropriator of Holy Trinity, Much Wenlock, (fn. 90) owned the Tithes. From 1540 the tithes of Caughley's demesnes, later called the manor, descended with that estate (fn. 91) and in 1809 the demesnes were described as tithe free. (fn. 92) The rest of the impropriate tithes, including Swinney's, descended after 1540 with those of Barrow. (fn. 93)
Economic History.
Agriculture.
It seems likely that the three Caughley manentes of 901 were represented by the 13th-century estates at Caughley (2 carucates) and Swinney (4 virgates). (fn. 94) In 1290, when land in Caughley was granted to the priory, it was agreed that the villeins' status should remain unchanged. (fn. 95) In 1321 Wenlock priory had a bailiff for Caughley. (fn. 96)
Despite the disafforestation of Caughley and Little Caughley from Shirlett forest in the 13th century, (fn. 97) much of Caughley remained wooded. Over 90 pigs were pannaged in Caughley wood in 1380, (fn. 98) and in 1532 the right to take wood from Caughley between Michaelmas and Lady Day was included in a lease of Shirlett smithy to Thomas Munslow, later, if not then, lessee of Caughley manor. (fn. 99) About 1590, soon after his purchase of Caughley, John Dawes inclosed much of Caughley wood, c. 100 a. between Darley and Little Caughley. That large area of common woodland adjoined Rudge wood in Willey and they had been intercommoned at the time of the Dissolution. Dawes also inclosed a second common, Westly moor, to the northwest. John Weld disputed those inclosures after he had bought Marsh manor in 1620, claiming, in part successfully, rights of lordship over the inclosed areas. (fn. 100) John Slaney, Weld's predecessor as lord of Marsh, had apparently also inclosed a part of Caughley wood. As late as 1722 rival claims of the lords of Caughley and Marsh led to litigation. (fn. 101) By c. 1650 the Dawes family had also considerably extended the Caughley estate by purchase, (fn. 102) and in 1693 the lordship of Caughley totalled 647 a. including 52 a. of Caughley wood. (fn. 103)
No large areas of open field land are known, although the field of Darley was noted in 1341, (fn. 104) and there were 'furlongs' south-east of Caughley Hall in 1609 and at Little Caughley in 1780. (fn. 105) The main concentration of arable land in 1795 was in the north-west. When George Forester's trustees bought Caughley manor in 1823 the 701-a. estate included 215 a. in hand and the 216-a. Hall farm, while in 1832 Inett farm covered 248 a. (fn. 106) In the late 19th and early 20th century there was a pheasantry at Caughley Farm. (fn. 107)
Swinney extended to at least 4 virgates in 1446, (fn. 108) and to c. 248 a. in the 1790s. (fn. 109) In 1794 the farm was said to be undergoing 'much improvement'. (fn. 110) In 1910 Swinney farm comprised 89 a., much of its land having apparently been transferred to Inett farm, then 353 a. (fn. 111)
Industry.
Coal, ironstone, and limestone were probably all mined in Caughley in the 16th century and used in the ironworks there. John Dawes and John Weld, lords of Caughley and Marsh, defined their mining rights in Caughley c. 1650. (fn. 112) How much mining was then actually going on, however, is unknown. Larger scale coal mining perhaps began in the north in the earlier 18th century after the opening of pits at Rowton and Gitchfield in Broseley. (fn. 113) Some of the coal was carried west by crickers (packhorse drivers). (fn. 114) By 1752 there were pits around Swinney. (fn. 115) Exploitation in the later 18th and early 19th century was haphazard and centred on 200 a. north-east and south-west of the porcelain factory and bounded by faults. Coal was carried to the Severn. The clod or furnace coal was of variable quality but local ironworks used it if other supplies were short. A little ironstone was probably got with the coal. (fn. 116) Between 1823 and 1825 Robert Evans & Son took a lease of the Caughley coalworks. In 1825 both the Caughley and the Swinney coalworks were taken over by John Onions and Thomas Rose, still lessees in 1834. (fn. 117) Small scale digging continued around the site of the porcelain factory and north of Inett Farm, and in 1910 Broseley Tileries Co. Ltd. held the lease. Extraction continued until 1927 or later. (fn. 118) There was some opencast mining around Turnersyard colliery by the National Coal Board after the Second World War. From 1955 Coalmoor Refractories (Horsehay) Ltd. and its subsidiary Prestage & Broseley Tileries Ltd. got high quality alumina fireclay there; extraction continued in the earlier 1980s. (fn. 119)
Walter the smith lived in Caughley in 1221, though he may not have been an iron smith. (fn. 120) Thomas Munslow, lessee of Inett from 1524, (fn. 121) had an ironworks at Caughley by c. 1523. (fn. 122) Munslow, a furnace technologist who worked at several ironworks in the county, (fn. 123) probably used foreign expertise; a Frenchman, John Morell (d. 1556) of Caughley wood, was the 'founder' and chief workman at Munslow's 'smithy'. (fn. 124) In 1541 the works was leased to Reynold and Thomas Ridley of Caughley for 21 years: for £13 6s. 8d. a year they enjoyed the same rights as Munslow had. The works then comprised an 'ironhouse' and an 'iron mill called an iron smythe place'. The Ridleys' forge was probably still working in 1568 when another ironworks was probably run by the 40-year old John Munslow who had liberty to dig ironstone in Shirlett. (fn. 125) He was presumably the tenant, and from 1541 to 1564 the owner, of the Caughley demesnes (fn. 126) and a kinsman of Thomas Munslow. (fn. 127) But the location of his works, even its parish, is unknown.
About 1590 John Dawes, lord of Caughley, (fn. 128) built an iron smithy in Caughley wood to use the coal and ironstone there. It was leased to others and probably short lived. (fn. 129)
Benjamin Ball leased a warehouse and land at Willey wharf in 1816, (fn. 130) and between 1817 and 1838 he leased the Swinney iron foundry there from the Willey estate. (fn. 131) It stood beside the railway from Willey ironworks, on the site of the public house of 1790. (fn. 132) Possibly he was the Benjamin Ball who managed the Barnett's Leasow furnaces in Broseley from c. 1821. (fn. 133)
Inferior limestone was got in the early 19th century and burnt for local agricultural use. (fn. 134) It was also used for a cottage limewash known as 'Lord Forester's livery'. (fn. 135)
There was probably a pottery at Caughley from c. 1750; (fn. 136) a 62-year lease of it is said to have been taken in 1754 by Ambrose Gallimore, a native of the Staffordshire Potteries. Traditional coarse and slip coated wares were made. About 1772 Gallimore was joined by Thomas Turner, (fn. 137) a former apprentice at the Worcester Porcelain Manufactory. Turner was the creative force, but Gallimore retained an interest in 1787. (fn. 138) The two- and three-storeyed Salopian China Manufactory, (fn. 139) was built south-west of Inett Farm, and porcelain was produced by 1775. Saggars were made, presumably from local refractory clay, (fn. 140) at a works to the south, (fn. 141) and coal was got from adjacent mines. Soapstone came from Cardington as well as from the Lizard (Cornw.), and china clay was presumably also brought from Devon or Cornwall. (fn. 142) Grinding was done in mills at the Smithies (in Willey) and Calcutts (in Broseley). The Salopian China Warehouse opened in London in 1783. (fn. 143) The works employed c. 100 in 1793. There were three kilns in 1795, but the saggar works had apparently been demolished. (fn. 144)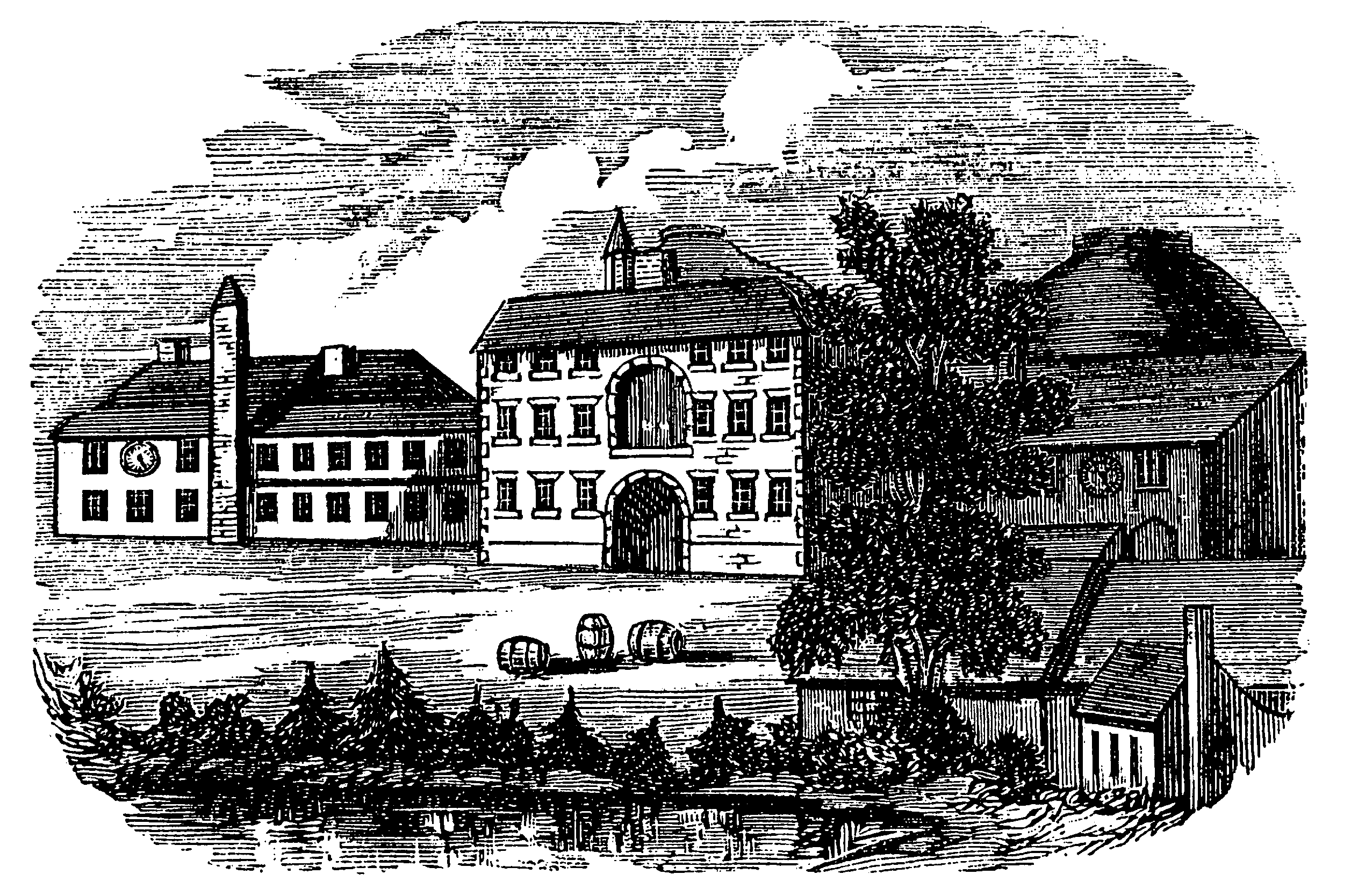 From the beginning production concentrated on transfer printed imitation Chinese porcelain table wares. Turner had learned transfer printing at Worcester, and in 1775 Robert Hancock, then the most celebrated engraver for porcelain, joined Caughley from Worcester. 'Salopian' china enjoyed aristocratic patronage yet undersold Worcester. From c. 1780 there was much French influence on style and design, and gilt began to be used on its own for decoration. Those changes reflect the work of the decorating establishment of Humphrey and Robert Chamberlain at Worcester, and increasingly from the 1780s Caughley porcelain was sent away for decoration.
In the 1790s the Chamberlains began to produce their own porcelain, and it was perhaps that, together with the establishment (1795-6) (fn. 145) and growth of the Coalport porcelain works, and perhaps Turner's ill health, that led in 1799 to his sale of the Caughley lease, works, and stock. (fn. 146) The buyers were the Coalport partners Edward Blakeway and Richard and John Rose, the last named a native of Barrow and former Caughley apprentice. Caughley continued to make porcelain, much for decoration and finishing at Coalport, until 1814 when the two works were bought by John Rose. He closed Caughley, and by 1821 (fn. 147) most of the factory had been taken down and the materials taken to Coalport for re-use. Two brick cottages, derelict in the early 1980s, may have been made from parts of the works left behind. (fn. 148) Among Rose's apprentices at Caughley was probably T. M. Randall, a native of Caughley who later had his own porcelain works in Madeley. (fn. 149)
LOCAL GOVERNMENT.
Caughley seems to have been subject to the prior of Wenlock's Broseley manor court in 1379. (fn. 150) That Broseley estate was later absorbed by the priory's manor of Marsh. (fn. 151) There is no evidence of a separate court being held for Caughley, and in 1568 Caughley was stated to be in Marsh manor; in the earlier 17th century the lord of Marsh claimed suit to his court leet and baron from Caughley and at least part of Swinney. (fn. 152)
Roger Halghton of Swinney owed suit at Willey court baron in 1438, and Swinney was said to be in Willey manor in 1573. (fn. 153)
Caughley was absorbed by Linley civil parish in 1934 and thus remained in the Barrow ward of Wenlock borough. On the borough's dissolution in 1966 Caughley, like the rest of Linley C.P., was absorbed by Barrow C.P. and so was in Bridgnorth rural district 1966-74 and Bridgnorth district thereafter. (fn. 154)
NONCONFORMITY.
A papist in Barrow parish in 1676 was perhaps one of the Brownes of Caughley. (fn. 155)
CHARITIES FOR THE POOR.
Barrow parish charities (fn. 156) presumably applied to Caughley.