Pages 293-300
A History of the County of Shropshire: Volume 10, Munslow Hundred (Part), the Liberty and Borough of Wenlock. Originally published by Victoria County History, London, 1998.
This free content was digitised by double rekeying. All rights reserved.
DEUXHILL
Deuxhill is 6.5 km. south-south-west of Bridgnorth. (fn. 1) The parish, conterminous with the manor (fn. 2) within boundaries recorded in 1838, is small (199 ha., 493 a.) and roughly lozenge shaped, somewhat irregular on the west. Crunells brook (a tributary of Borle brook) and its tributary Horsford brook define parts of the western and south-western boundaries and other tributaries of the Borle the north-eastern one. The southernmost part of the south-eastern boundary is marked by the parish's principal road. (fn. 3)
The name of the parish and the hamlet which crowns a hill at the centre are taken from the hill (138 m.), called after one Deowuc. (fn. 4) The hill forms the end of a spur of high land running down from the neighbourhood of Eudon Coppice 1.5 km. to the north-west; the hill is made more prominent by a saddle of lower land between it and the rest of the spur. The highest land is on the western edge where the road to Middleton Scriven crosses the spur of high land and the parish boundary at 139 m.; in the east and south-east, where streams drain out of the parish, the land falls below 91 m. The hill-top hamlet site and part of the northern extremity of the parish stand on an outlier of the coal measures to the east, beyond the Devonian Old Red Sandstone that underlies the rest of the parish and most of south-east Shropshire. (fn. 5)
The principal and only classified road through the parish runs south from Bridgnorth to Cleobury Mortimer crossing Crunells brook (fn. 6) by Horsford bridge, maintained by the county from 1820; (fn. 7) it was a turnpike 1762–1877. (fn. 8) A road runs west to Middleton Scriven; out of it a way north towards Eudon George and Chetton is a green lane as far as Tedstill and perhaps was so by the early 19th century. (fn. 9)
In 1793 there were 6 houses in the parish and there had been two or three more within memory. (fn. 10) Later there were never more than 8 or 9; a cottage on the Middleton Scriven boundary in the earlier 19th century had gone by 1883. (fn. 11) In 1985 the hamlet comprised Hall Farm, Church Farm, a cottage, and the fragments of the ruined church. It was the only settlement apart from five dwellings to the south along the Cleobury Mortimer road, including Horsford Mill and Old School House (1879), (fn. 12) the latter apparently the parish's newest house.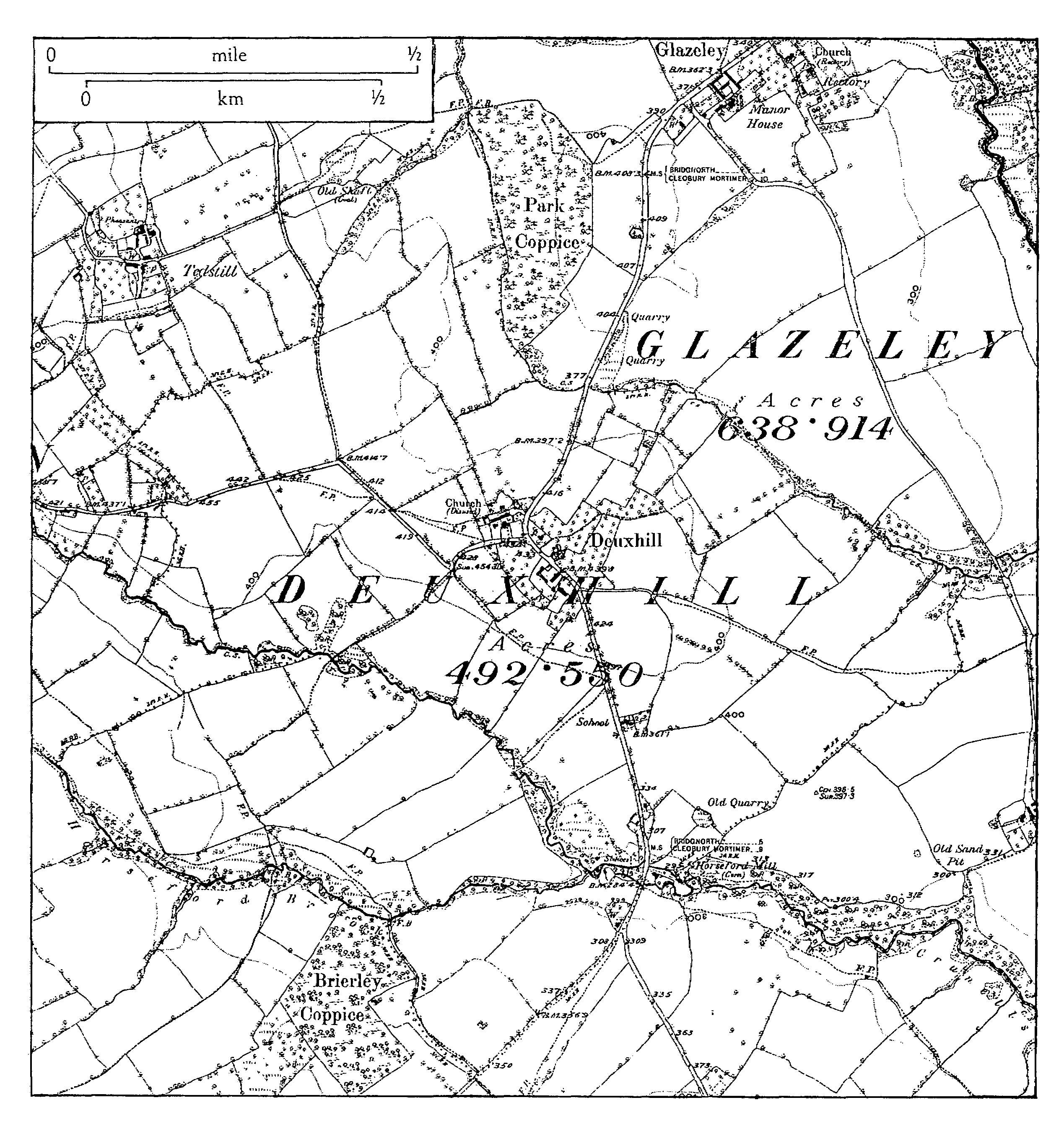 The recorded population was 4 in 1086. (fn. 13) In 1793 there were 22 inhabitants. (fn. 14) In the 19th and 20th centuries the population never varied much from a mean of 39, with a maximum of 55 (1831) and minimum of 19 (1981). Tending to increase up to 1901 (54), it fell thereafter. (fn. 15)
An ale-house was licensed in 1810. (fn. 16) There was no wake, (fn. 17) and in the 19th century few social activities were organized independently of those at the school or in neighbouring parishes (fn. 18) and nearby Bridgnorth. (fn. 19) In 1928, however, the county library opened a book centre, (fn. 20) and in 1963 the newly closed school was bought as a village hall for the surrounding district. (fn. 21)
MANOR.
In 1066 St. Mildburg's church at Much Wenlock held DEUXHILL. Eardington (also held by the church in 1066) (fn. 22) and Deuxhill were probably the lands 'in the place called Chelmarsh' given to Mildburg before 704 by her half-brothers Merchelm and Mildfrith; (fn. 23) Chelmarsh, if reduced by their gift, yet remained a valuable royal estate (fn. 24) which in time became the earl of Mercia's. (fn. 25) St. Mildburg's church, refounded as the Cluniac priory of Wenlock c. 1080, (fn. 26) held Deuxhill as a demesne manor until its surrender in 1540. (fn. 27)
In 1543 James Leveson of Wolverhampton, a merchant of the staple, bought an estate in Deuxhill from the Crown (fn. 28) only to sell it a few weeks later to Thomas Grey of Whittington (Staffs.). Grey died in 1559–60 leaving a son John who came of age in 1561. (fn. 29) In 1586 John Grey, then of Enville (Staffs.), conveyed his Deuxhill property to his younger brother George, of Wolverhampton, and his wife Joyce (née Leveson). George Grey's purchase of other lands in Deuxhill from Sir John Lyttelton (d. 1590) probably brought the whole township or manor into his hands. In 1606 Grey sold the manor to John Sotherton of Glazeley, (fn. 30) a baron of the Exchequer, (fn. 31) and in 1611 Sotherton sold it to Thomas Hassold of Clerkenwell (Mdx.). (fn. 32)
The manor remained in the Hassold (or Hassall) family for over a century. After Edward Hassold's death in 1656 it seems to have passed to his widow Anne, probably the owner in 1672. Their son Timothy, born in 1657, evidently inherited. He died in 1710 and after the death of his widow Honor, c. 1721, the manor came to their surviving children Honor and Eliza, whose trustees sold it in 1728, either to the London glassman William Bowles (fn. 33) or to George Rider of Quatt who sold it on to Bowles, lord in the 1730s. (fn. 34) Bowles had bought the Burford estate, of which Deuxhill then became an outlier; he died childless in 1748 (fn. 35) leaving the estate to his brother Humphry. Humphry (d. 1784) or his son George, who lived mainly at Wanstead Grove (Essex), (fn. 36) sold Deuxhill to John Lewis of Quatt, agent for the Dudmaston estate, and to another Mr. Lewis, a Bridgnorth attorney. The latter was bought out by John Lewis who by 1793 owned the whole parish except the rector's glebe and was lord of the manor. (fn. 37) John Lewis died in 1804, (fn. 38) and George Lewis was probably lord in 1805. (fn. 39)
Some time after 1805 the Lewis estate, consisting of one farm, (fn. 40) seems to have been split into two, the lordship of the manor apparently descending with Church farm. (fn. 41) By 1838 Church farm (224 a.) had been sold and belonged to Miss Sarah Pass (d. 1844), of the Square, Bridgnorth; (fn. 42) Mrs. Mary Deeton, of the same address, subsequently owned it. She died in 1860, (fn. 43) and Thomas Walker, of Studley Castle and Berkswell (Warws.), owned Church farm by 1863; he was described as lord of the manor in 1870, and from his time until 1919 the farm was part of the Middleton Scriven estate. (fn. 44) Walker died in 1887, (fn. 45) and by 1891 William Bunney (d. 1899), of Meole Brace, was lord. Bunney's trustees owned the manor in 1917, when it was last recorded, (fn. 46) and F. W. E. Bunney offered the farm (208 a.) for sale when the Middleton Scriven estate was broken up in 1919. (fn. 47)
Church Farm was probably where John Lewis lived in the 1790s and then called Deuxhill Hall; (fn. 48) it descended with the manor in the 19th and early 20th century. It is a 'handsome Georgian farmhouse' of brick with stone quoins and hipped roof. (fn. 49)
Hall farm (231 a.), with some smaller holdings, belonged to T. S. and R. H. Heptinstall and the Revd. A. B. Haden in 1838. (fn. 50) Haden (d. 1863) alone was named as owner in the 1850s and early 1860s, (fn. 51) but by 1910 the 232 a. belonged to Agnes C. Hepinstall of Clevedon (Som.). (fn. 52)
Hall Farm, probably the original manor house, (fn. 53) is a 17th-century timber framed house, close panelled. Once a lobby-entrance type, perhaps contrived by adding to a pre-existing building (surviving at the house's north-west corner), the house was later extended on the east, and the south (parlour) wing is much altered. The west wall has been rebuilt in stone and brick. (fn. 54)
The two farms continued to be differently owned in the 20th century; neither was invariably owner occupied. By the 1980s a couple of other farms extended into the parish. (fn. 55)
ECONOMIC HISTORY.
The manor, ½ hide, was worth 10s. in 1066 and 20s. in 1086. At the latter date there was 1 ploughteam on the demesne, and 2 bordars and a cottar had another team. There was also 1 servus in the manor. (fn. 56)
Rent from the priory's Deuxhill demesnes may have been owed at Ditton Priors in the late 14th century, (fn. 57) but in time Deuxhill may have become a separate bailiwick for in 1540 rents from other priory properties both near (the Pickthorn property and a weir at Quatt) and far (fn. 58) were owed to the Crown's minister there. (fn. 59)
There were freehold estates within the manor, but by the early 16th century Wenlock priory had probably acquired most of them (fn. 60) and probably owned most of the land in the parish apart from the rector's glebe. Nevertheless at least one hereditary estate seems to have survived: in 1540 John Pakington owed 3s. 4d. chief rent for a Deuxhill property (fn. 61) that he had acquired with the neighbouring manors of Glazeley and Wadeley in the later 1520s. (fn. 62)
For much of its recorded history since the early 16th century the manor evidently consisted of two substantial farms and some smaller holdings. In 1540 two copyhold farms and a copyhold cottage tenement were held of the priory; each was held for two named lives and had been granted at dates between 1506 or 1507 and 1532. Heriot and terciary were then, (fn. 63) and long had been, exacted from such tenants by the priory: in 1379, (fn. 64) when Agnes of Deuxhill died, her prosperous peasant farm owed a heriot of 1 ox and, as terciary at either a third or a half (fn. 65) of the live and dead stock, 2 more oxen, 1 cow, 1 bullock, 6 ewes, 2 geese, 18s. 10d., shares of a salted ox and a salted hog, shares of corn in the barn and in the ground, 1 bu. of wheat, 2 bu. of beans, 1¼ qr. of peas, 1½ bu. of barley malt, 2 beehives, and 3 hens and a capon. Actually the priory took the cattle and sheep, 10 qr. of wheat (6 of them in lieu of the corn in the ground), and 3 qr. of oats, remitting the rest to Agnes's widower.
The west side of the manor, broken by the steep sided valleys of Crunells and Horsford brooks, probably consisted of rough pasture (perhaps once partly wooded) and meadow. (fn. 66) The open fields were on the east side of the manor. (fn. 67) Ridge and Reany piece, north of the hamlet, indicated the location of one, bounded on the east and north with rough moors, possibly once wooded; (fn. 68) the names and former shapes of fields south-east of the hamlet probably indicate the whereabouts of another that may have been called, in Shropshire fashion, the field towards Wadeley. (fn. 69) Probably between those two fields, where the glebe later lay, there was other open field land where inclosure was in progress by c. 1590: Parson's close, part of the glebe, had been all or mostly inclosed from an open field but still contained five ridges 'not being divided or mered from the residue of the said close' and which were claimed by the lord of the manor. (fn. 70)
There were no wood sales from the manor in 1540, (fn. 71) and any woodland that existed earlier may have been cleared by then. By the early 19th century there was very little wood, apparently only ¼ a. of managed woodland in 1838, but there were then woods in the Crunells brook valley which, with others along Horsford brook and here and there on the parish boundary, amounted to perhaps 8 scattered acres of spinneys in the 20th century. In the 19th and earlier 20th century the two farms had over 9 a. of orchards in the hamlet, but in the mid 20th century they were grubbed out. (fn. 72)
The land was said to be mostly arable in the 1730s. In the mid 18th century there were still two farmers and a few cottagers, (fn. 73) but by 1793 the farms had been made into one of 470 a. let for £300; one farmhouse, inhabited by a workman and probably Hall Farm, then looked ruinous. (fn. 74) Division of the Lewis estate after 1805 separated the two farms again, (fn. 75) although in the mid 19th century their tenants were members of the same family, the Birkins. (fn. 76) In 1838, on land admittedly stiff and wet, farming was said to be slovenly; 233 a. were then arable, 205 a. pasture, and 45 a. meadow, and the usual four-year course, very similar to what had been followed over forty years earlier, was fallow, wheat, oats or clover (the latter partly mown, partly pastured), and oats or peas. (fn. 77)
Table XVII Deuxhill: Land use, Livestock, and crops
1867
1891
1938
1962
Percentage of grassland
62
77
81
56
arable
38
23
19
44
Percentage of cattle
14
39
25
19
sheep
69
47
72
80
pigs
17
14
3
0
Percentage of wheat
54
44
53
56
barley
23
22
0
26
oats
23
33
47
18
mixed corn & rye
0
0
0
0
Percentage of agricultural land growing roots and vegetables
8
7
5
3
Sources: P.R.O., MAF 68/143, no. 9; /1340, no. 13; /3880, Salop. no. 198; /4792, no. 198. Deuxhill's returns were grossed with Glazeley's after 1962.
In the later 19th century pastoral farming increased, with an emphasis on oats rather than wheat on the diminishing arable acreage and on cattle rather than sheep on the pastures; pig keeping fell steadily. (fn. 78) By 1905 permanent grass occupied 363 a., arable land only 101 a.; the proportions were similar on Church farm, a dairy and rearing farm, in 1919 (fn. 79) and on Hall farm, a stock raising farm, in 1940. By 1951, however, nearly 40 per cent of Hall farm was under the plough (fn. 80) as arable farming revived in the mid century. Wheat (well suited to the heavy land) and barley became the main crops; on the grass there were more sheep, though in the 1980s there were dairy heifers on the parish's farms, in winter taken in to prevent poaching of the pastures.
By 1808 Horsford mill stood on Crunells brook, where it flowed out of the parish. (fn. 81) In the earlier 19th century, as well as the leat from the confluence of Crunells and Horsford brooks, there was a small pond and dam (fn. 82) higher up Crunells brook, and there may once have been 'water works' higher up Horsford brook. The mill was owned with Hall farm until some time between c. 1910 and 1940. A corn mill, it probably ceased working soon after 1900, but c. 1910 the Winwoods, the last millers, still occupied the c. 9 a. that had been let with it, and they may have worked them as a smallholding as late as 1929. (fn. 83)
In the 1730s it was recalled that 'formerly there was coal got' behind the church, evidently in Coalpit moors near the northern corner of the parish. The coal, however, proved very sulphurous, and the work was stopped 'upon account of the water'. (fn. 84)
There is an old quarry north-east of Horsford mill, and a nearby field was one of two in the parish called Limekiln leasow; the other was beside the road from Deuxhill to Middleton Scriven. (fn. 85)
LOCAL GOVERNMENT.
Deuxhill owed suit to the prior of Wenlock's court of Bourton hundred from 1198 to 1763 (fn. 86) or later. (fn. 87) There is evidence of Deuxhill manor court being held in the earlier 16th, and perhaps even the late 15th, century: it probably sat only occasionally, to renew copyholds and exact terciary and heriot. Perquisites of a Deuxhill court held in Ditton Priors in May 1540 amounted to 14s. in heriot and 46s. in terciary. (fn. 88)
Deuxhill was excluded from the municipal (though not the parliamentary) borough of Wenlock in 1836. The county magistrates then assigned it to the Bridgnorth petty sessional division of Brimstree hundred, evidently in ignorance of its whereabouts, but by January 1837 it was in the Chelmarsh division of Stottesdon hundred. (fn. 89)
Expenditure on 'occasional' relief of the poor was £3 a year 1812–14. It averaged £5 13s. a year 1814–17 and £24 19s. in 1818–19. Fluctuating somewhat in the 1820s and earlier 1830s, expenditure then averaged £16 3s., lowest (£8 3s.) in 1827 and highest (£28) in 1831. (fn. 90)
Deuxhill was in Bridgnorth poor-law union 1836–1930, (fn. 91) Bridgnorth highway district 1863– 95, (fn. 92) Bridgnorth rural sanitary district 1872–94, Bridgnorth rural district 1894–1974, and Bridgnorth district from 1974. (fn. 93) The civil parish had a joint parish council with Billingsley, Glazeley, and Middleton Scriven C.P.s by 1967. (fn. 94)
CHURCH.
In the early 12th century Deuxhill was subject to a church at Glazeley, an estate which, like Deuxhill, may once have been a member of Chelmarsh since it lay between Chelmarsh and Deuxhill. Wenlock priory had probably founded a manorial chapel at Deuxhill by c. 1115 when it secured its independence from Glazeley church; some 12th-century fabric seems to have survived to the 19th century. (fn. 95) As the chaplain's tithes were not appropriated to the priory his benefice became a rectory, but because the parish was small the rectory was united during the Middle Ages with the rectorial chaplaincy of Middleton Priors, (fn. 96) on the nearest part of the priory's estate.
The advowson of the united rectory belonged to Wenlock priory. (fn. 97) Like the priory's other patronage it was exercised by the Crown during the Hundred Years' War (fn. 98) until denization in 1395 (fn. 99) permitted the priory to resume its advowsons. (fn. 100) Deuxhill and Middleton Priors were still united in 1505, but in 1515 Peter Griffith was instituted as rector of Deuxhill alone, (fn. 101) and in 1521 the rector of Neenton was instituted to the adjoining Middleton Priors. The bishop was probably planning a measure of pastoral reorganization, for in 1530, when the rector of Glazeley (the nearest church to Deuxhill) resigned, the bishop sequestrated it and committed it to Griffith, (fn. 102) who, by 1535, was rector of both churches. (fn. 103) Wenlock priory evidently relinquished the advowson of Deuxhill, which by 1538 was united to Glazeley in the patronage of John Pakington, (fn. 104) who had recently acquired the manor and advowson of Glazeley and a small estate in Deuxhill. (fn. 105) The advowson of the united rectories (fn. 106) then descended with Glazeley manor until shortly after c. 1910, (fn. 107) although occasionally others acquired turns to present kinsmen. (fn. 108) Deuxhill with Glazeley was held with Chetton rectory (in the same patronage) 1716–50, but the informal union was interrupted, perhaps inadvertently, 1750–7; in 1759, however, a permanent union was made. (fn. 109) Three or four years after the death (1908) of the Bridgnorth carpet manufacturer T. M. Southwell his trustees sold the Glazeley estate, but they retained the advowson of Chetton with Glazeley and Deuxhill until R. B. Southwell, rector, died in 1953; it then passed to Lancing College (Suss.). From c. 1975 the Woodard Schools (Southern Division) Ltd. held it on the college's behalf. By 1985 a rector living at Sidbury held the united living in plurality with those of Billingsley with Sidbury, of Chelmarsh, and of Middleton Scriven, the patrons presenting jointly. (fn. 110)
Some medieval rectors bore local names. (fn. 111) Gilbert of Reigate (instituted in 1290) may have been a graduate, (fn. 112) but no other medieval rector of Deuxhill is known to have been. Hamon of Sandwich (1295) was much involved in ecclesiastical business, but his later career foundered through his neglect of his livings. (fn. 113) It may have been hard to achieve residence at Deuxhill. (fn. 114) During the Crown's exercise of the patronage one rector (instituted in 1358) was certainly a royal clerk (fn. 115) and others may have been: William of Burstall, rector 1349–58, may be the man who was master of the Rolls in the 1370s. (fn. 116) After the priory resumed its patronage Richard de Arderne became rector in 1399; he was also vicar of Ditton Priors and held other local livings. (fn. 117)
In 1291 Deuxhill and Middleton Priors together were worth less than £4 a year. (fn. 118) In 1535 Deuxhill and Glazeley were worth £4 5s. 4d. a year exclusive of an 8s. pension owed by the rector of Deuxhill to Wenlock priory; (fn. 119) about that time the tithes were leased and payment of the pension fell to the rector's tenant. (fn. 120) By the mid 18th century Deuxhill and Glazeley together were worth less than £50 a year clear, insufficient to maintain a priest: thence the union with Chetton. (fn. 121)
In 1793 the rectory of Deuxhill had a barn and 17 a. of glebe 'lying well together' north of the hamlet and immediately east of the Bridgnorth road; it was worth £20 a year but was then in hand. The tithes were let for £35. (fn. 122) All the tithes belonged to the rector and in 1838 were commuted to £77 17s., including those of the glebe. (fn. 123) The rector's income from Deuxhill in 1851 was £108. (fn. 124) Deuxhill had more glebe than the other livings in the united benefice in 1887, (fn. 125) but no rectory house is recorded there, and most post-medieval rectors apparently lived at Glazeley (fn. 126) or, later, at Chetton. (fn. 127)
In 1553 Deuxhill and Glazeley shared a communion set. (fn. 128) Communion was celebrated six times a year in 1719, (fn. 129) presumably alternately in the two churches: that was the practice in 1793 when there were four celebrations a year (at the 'usual times'), two in Glazeley and two in Deuxhill. There were then very few communicants in Deuxhill, where the rector read morning service every other Sunday. (fn. 130) In 1851 the church had 93 sittings, 40 of them free. On Census Sunday that year the afternoon service was attended by 30 adults; the Sunday school was attended by 26 children, many from other parishes. (fn. 131)
The rubble stone church, of unknown dedication, (fn. 132) having lost its chancel by the 16th century, comprised in the 19th a nave and a south porch; an aisle mentioned in 1793 and 1856 (fn. 133) was probably not structural. (fn. 134) The church was said in 1759 to be very ruinous but in 1793 and 1870 seems to have been in reasonable repair. (fn. 135) After 1875, however, parishioners resorted to the new church at Glazeley and their own, disused, was pulled down in 1886. (fn. 136)
In the 14th century, as in the following five centuries, the living was too poor to maintain the chancel effectively and the parishioners were too few to look after the nave properly. In 1318 an indulgence of 30 days was offered to all contributing to the repair and upkeep of the church and its bell turret (campanile). (fn. 137) As at Middleton Priors, however, the chancel was pulled down; that was done before the insertion of a late medieval window in the wall blocking a round chancel arch. (fn. 138)
A timber south porch seems to have been built in 1661 with the lady of the manor's aid, (fn. 139) and tablets were put up to commemorate Nathaniel Worthington (d. 1730), members of the Corfield family who died between 1730 and 1770, and the lord of the manor John Lewis (d. 1804) and his widow Frances (d. 1809). (fn. 140)
In 1793 an unrailed communion table stood against the east end of the aisle; there were also 9 irregular pews and 'a kind of pulpit', but no reading desk. The floor was then very bad, (fn. 141) but in 1837 the interior was described as 'very neat'. (fn. 142) The bell turret, which had had two bells (one broken) in the 1730s, contained one in 1851. (fn. 143) A font and clock were mentioned in 1856, when the church was said to be in 'good repair'. (fn. 144) The west end was lit by a single small window in the west wall, and the south wall contained just one square window. Only the north wall, buttressed at the west end, contained more than one window: it had three, probably all medieval. The westernmost one, 14th-century, in a short stretch of the wall, was all that survived in the 1980s. Wall footings then indicated the extent of the churchyard.
A single register was kept for Deuxhill and Glazeley. The earliest surviving volume covers the years 1655–68 and 1694–1720. The second begins in 1736, and the registers are complete thereafter. (fn. 145)
NONCONFORMITY.
In 1672 Anne Hassold's house was licensed for Presbyterian worship, (fn. 146) and David Jenks, ejected from Bryngwyn (Radnors.) in 1661 but with local connexions, (fn. 147) was licensed to conduct Presbyterian worship. Shortly afterwards, however, Jenks was licensed in Shrewsbury (fn. 148) where he normally lived, (fn. 149) and in 1676 no dissenter was recorded in Deuxhill. (fn. 150)
EDUCATION.
In 1819 c. 5 pupils were taught in an unendowed day school at their parents' expense, but children of the poor, paying 1d. a week, could go c. 3 miles to a school 'on the new system' (fn. 151) in a neighbouring parish. A school, called a day and Sunday school in 1835 when there were 27 boys and 24 girls, was supported partly by the minister then and partly by subscribers in 1856 and 1871. (fn. 152) Like its successor it took most of its pupils from surrounding parishes.
Deuxhill was one of six parishes included in the united district of Chetton school board, (fn. 153) formed compulsorily in 1878. In 1879 one of the board's two schools (fn. 154) was built, centrally in the district, at Deuxhill; it opened in 1880 with 66 places in a schoolroom and classroom. (fn. 155) Inspected in its first year, (fn. 156) the school earned government grant, and from 1893 a drawing grant too. (fn. 157) Attendance was often high, (fn. 158) strikingly so (fn. 159) by the standards of rural schools; it averaged 59 in 1885. (fn. 160) As early as 1881 there were summonses for irregular attendance. (fn. 161) Fees were abolished in 1891. (fn. 162) The school, though a board school, was closely associated with the church and even had annual diocesan scripture examinations 1881–1904. (fn. 163) It was enlarged for 78 in 1895, (fn. 164) but in 1901 some pupils were transferred to the board's Chetton Down school. (fn. 165) In 1907–8 the school was enlarged for 100 and improved. (fn. 166) Attendance averaged 68 in 1896, 87 in 1905, and 96 in 1913. (fn. 167) Gardening was taught from c. 1916. (fn. 168)
The roll was 65 in 1924, 84 in 1933, and 70 in 1939 including 15 evacuees, 12 of them, with a teacher, from Liverpool. A teacher and 20 Wallasey evacuees were admitted in 1941. All evacuees had left by 1943. Building and facilities were improved in the 1940s, and in 1947 Deuxhill and Chetton Down schools were reorganized: Deuxhill temporarily became a senior and infant school, taking 16 senior pupils from Chetton Down and sending 11 juniors there. That year senior girls began attending Bridgnorth domestic science centre, and next year pupils aged 13–14 transferred to St. Mary's C.E. school, Bridgnorth. In 1950 there were 12 pupils aged 11–12 and 10 infants. When 11-yearolds went to St. Mary's in 1952 Deuxhill took 6 juniors from Chetton Down and became a primary school. The roll was 20 in 1952 but 14 by 1961 when the school closed, pupils transferring to Down County Primary school. (fn. 169)
County-council evening classes in wood carving (1895–8) and bee keeping, horticulture, and ambulance (1899–1902) were usually well attended (fn. 170) but those in drawing and elementary subjects (1904–6, 1926) less so. (fn. 171)
CHARITIES FOR THE POOR.
Deuxhill, with Chetton and Glazeley parishes, shared in two of the three charities united in 1914 and known informally as the Chetton Ecclesiastical Charities. The combined annual income was £6 c. 1975: £4 from the charity left by Archdeacon Vickers (d. 1851) and £2 from Anne Vickers's charity, established 1864. Deuxhill was also one of seven parishes benefiting from the Glazeley and District Nursing Association, whose income of £70 was applicable, under a Scheme of 1975, to the relief of sick, disabled, or handicapped people. (fn. 172)