Pages 354-364
A History of the County of Shropshire: Volume 10, Munslow Hundred (Part), the Liberty and Borough of Wenlock. Originally published by Victoria County History, London, 1998.
This free content was digitised by double rekeying. All rights reserved.
MONKHOPTON
Monkhopton village is 6.5 km. south of Much Wenlock. The townships that eventually formed Monkhopton parish were incorporated in Much Wenlock parish in the Middle Ages, having apparently been taken by Wenlock priory from neighbouring parishes such as Stanton Long (or Patton) (fn. 1) and possibly Ditton Priors. (fn. 2) Monk Hall and Weston, accounted separate townships in 1256, were one by 1522, (fn. 3) but by 1680 Monk Hall was included in Monkhopton township and the part of Oxenbold township that was not in Stanton Long parish was linked with Weston township. (fn. 4) Monkhopton parish came into existence between the 1550s and 1642, (fn. 5) perhaps in the earlier 17th century, (fn. 6) but no benefice was endowed until the mid 18th century. (fn. 7) The earliest certain evidence of the area of the parish is provided by the 1841 merger and commutation of the tithes of Little Hudwick, Monk Hall, Monkhopton, part of Oxenbold, and Weston; (fn. 8) that area was duly taken as the civil parish, which comprised 2,258 a. (914 ha.) until 1883 when Skimblescott (111 a., 45 ha.), a detachment of Shipton C.P., was added on the west. (fn. 9)
The parish, irregular in shape, (fn. 10) lies on and beneath the northern slope of the Clee Hills plateau and thus at the northern end of Corve Dale. In 1841 the parish's northern boundary towards the east followed brooks, but elsewhere, near Monk Hall and Weston, its angled line followed field edges. The eastern boundary followed both streams and artificial features, including the Monkhopton-Middleton road. The southern boundary, with Ditton Priors, broadly followed the edge of the Clee Hills plateau but in places was determined by fields; (fn. 11) it bore little resemblance to the corresponding part of the boundary of Much Wenlock parish, described in 1332, which followed roads and watercourses. (fn. 12) The western boundary followed Oxenbold brook as far north as Pool bridge, whence it took a tortuous course around fields.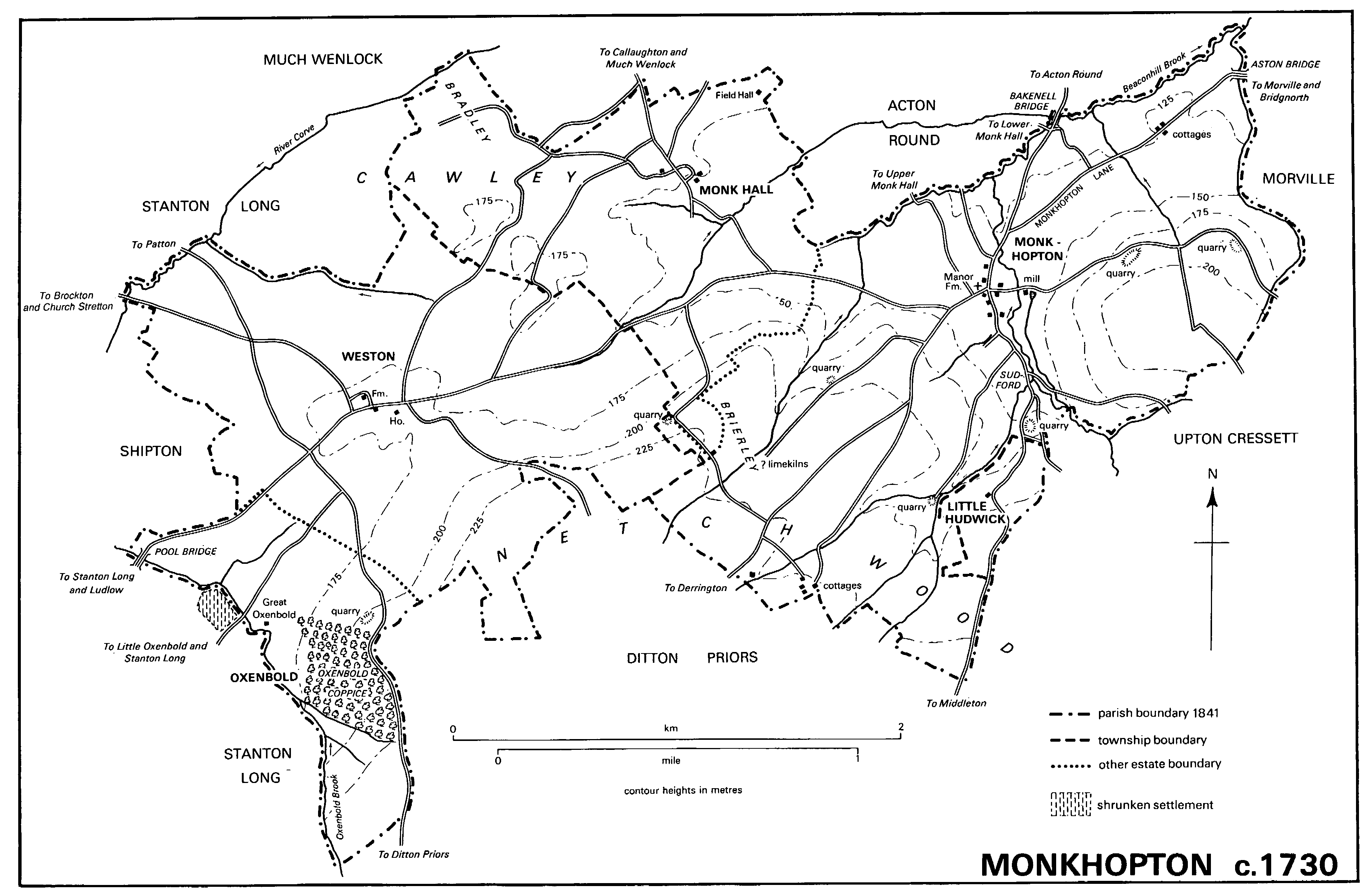 The parish lies on strata of the Lower Old Red Sandstone, tilted down to the south-east. The northern and western parts are on the Ledbury Group of the Downton Series, consisting of red marls with sandstone bands; the other, higher, parts are on the Ditton Series, comprising red marls with sandstones, cornstone conglomerates, and cornstones. At the junction of the two series are narrow bands of 'Psammosteus' Limestones. (fn. 13) The soils are red-brown loams, mostly well drained. (fn. 14)
The land rises to a steep southern escarpment, which ascends to plateaux at Highclear and Netchwood; the name Netchwood perhaps derives from OE. 'atten ecg' ('at the edge'). (fn. 15) The eastern half of the parish, including Monkhopton village and Monk Hall, drains north by Beaconhill brook (called Hopton brook in 1628) (fn. 16) and its tributaries. Weston and Oxenbold drain north-west towards the Corve.
Evidence for prehistoric occupation is confined to a Neolithic flint axe found near Woolshope (fn. 17) and small flints found near there and at Monkhopton village. A sherd of Samian ware found near Woolshope suggests a Roman presence nearby. (fn. 18)
By the Middle Ages almost all settlement was on the lower land. Hopton village (by 1292 Monkhopton) was probably settled well before the Conquest: its name (from OE. hop, 'valley') (fn. 19) describes its situation at the foot of converging valleys in the escarpment. (fn. 20) Twenty-eight men of Monkhopton township took the Protestation in 1642. (fn. 21) In 1731 five farmhouses (not counting the mill) stood within 150 m. of the church, near the junction of the main road with the road to Middleton and Ditton. (fn. 22) In the 1830s, however, the village was reduced and settlement became less compact, three farmsteads being demolished in favour of isolated ones in the fields, (fn. 23) though their loss was compensated by the building of a teacher's house and a vicarage in the 1840s. (fn. 24) The village was probably less frequented from the 1840s when the main road was diverted. (fn. 25) The village changed little thereafter. From the early 20th century it was supplied with spring water by a private scheme using a wind pump at Highclear. Thence a supply was laid to four council houses (fn. 26) for farm workers built near the main road east of Monkhopton c. 1945: six more were added in 1955. The three Vicarage Bungalows, privately built at the north end of the village, were completed in 1963. (fn. 27)
In 1731 there were few cottages outside Monkhopton village. (fn. 28) Three on the main road near Aston bridge were perhaps those recorded in 1667. (fn. 29) The rest were near the southern boundary of Monkhopton township, one at the edge of Brierley, the others at the margin of Netchwood. By 1817 there were four more roadside cottages between Monkhopton and Aston bridge and six between Monkhopton and Weston. (fn. 30) Most of them disappeared between 1841 and 1882, (fn. 31) the parish having lost a third of its population 1831-71. (fn. 32)
Monk Hall, called Far Monk Hall in 1817, (fn. 33) stands 1.5 km. north-west of Monkhopton village. It is the most southerly of a group of settlements of that name, the rest being in Acton Round parish. The name, recorded as 'Muggehal' in 1182 and 'Mughale' in 1227, (fn. 34) and possibly as 'Buchehale' in 1086, (fn. 35) derives from OE. halh, denoting the valley around which the settlements lay. (fn. 36) Probably they were always small and scattered. In 1545 there were two farms at Monk Hall in Monkhopton, (fn. 37) one of them called Harper's Monk Hall by 1361. (fn. 38) There may once have been a third, for in 1731 there was an isolated house called Field Hall (fn. 39) between Monk Hall and Upper Monk Hall (in Acton Round); it stood until the early 20th century. (fn. 40) Four Monkhopton parishioners in Monk Hall took the 1642 Protestation. (fn. 41) The two farmhouses stood on opposite sides of the lane in 1731. (fn. 42) The eastern remained as Monk Hall in 1990. It was two storeyed, probably 17th-century and timber framed, but later cased in brick, and much altered in the mid 20th century. A cottage on its west side was demolished before 1841. By then amalgamation of the farms had reduced the western farmhouse to a cottage, (fn. 43) there in 1990.
West of the prior of Wenlock's house at Great Oxenbold there are earthworks in Stanton Long parish indicating an abandoned street and house sites. (fn. 44) In 1642 seven men in Great Oxenbold took the Protestation. (fn. 45) Great Oxenbold was the only farm in the Monkhopton part of Oxenbold by 1747 (fn. 46) and the only house there by 1841. (fn. 47)
Weston, mentioned c. 1230 (fn. 48) and presumably named before the Conquest from its geographical relationship to Hopton (which had Aston Eyre a similar distance to the east), stood on a knoll on the main road with at least five houses in 1545. (fn. 49) Ten men of Weston took the Protestation in 1642, (fn. 50) and in 1747 there were three farms. Between 1783 and 1841 the farms were reduced to two, later called Weston House farm and Weston farm, with houses on opposite sides of the road; the third farmhouse served thereafter as cottages. (fn. 51) A few other houses were added in the 20th century, including four council houses in 1946. (fn. 52)
The parish as a whole had 212 inhabitants in 1801. The total was only 168 by 1821, but by 1831 stood at 208. Thereafter it tended to fall, markedly so in the 1860s and 1890s, reaching 140 in 1921. Population rose in the 1940s and 1950s, to 206 by 1961, but fell somewhat in the 1970s, to stand at 179 in 1991. (fn. 53)
A supposed Roman road, believed to run from Greensforge (Staffs.) to central Wales, crossed the parish from east to west. (fn. 54) It was the Bridgnorth-Munslow road c. 1575. (fn. 55) By the early 18th century, as the Bridgnorth-Ludlow road, it entered the parish over Aston bridge (mentioned in 1522) (fn. 56) and curved south to pass through Monkhopton village before resuming its Roman alignment. (fn. 57) It then passed through Weston hamlet and left the parish by Pool bridge, (fn. 58) mentioned in 1747. (fn. 59) At Monkhopton it was called Monkhopton Lane. (fn. 60) In 1839 the road was turnpiked from Morville to Shipton (fn. 61) and by 1841 had been straightened by the building of two long new stretches, one west of Aston Eyre and passing south of Aston bridge, the other passing north of Monkhopton village. (fn. 62) Disturnpiked in 1872, it became a main road in 1878. (fn. 63)
From Weston a north-westward branch of the Bridgnorth-Ludlow road ran through Brockton to Church Stretton. (fn. 64) Turnpiked to Easthope's Cross with the main road in 1839, it was likewise disturnpiked in 1872. (fn. 65) Near Weston a northward branch from it ran to Patton, (fn. 66) perhaps the 'Patton way' mentioned in 1332. (fn. 67) In 1256 there was a highway from Weston to Much Wenlock. (fn. 68) One such road seems to have run north-east by way of Monk Hall, Upper Monk Hall (in Acton Round), Spoonhill wood, and Callaughton (in Much Wenlock); (fn. 69) another appears to have run directly from Weston to Upper Monk Hall. (fn. 70) There was also a lane from Weston to Netchwood, (fn. 71) possibly the way from Weston to Ditton Priors that passed near Brierley in 1262 (fn. 72) and perhaps the Wood Lane mentioned in 1747. (fn. 73) On the Bridgnorth-Ludlow road between Weston and Pool bridge a more direct lane to Ditton branched south and skirted the probable eastern edge of the park at Great Oxenbold. (fn. 74)
North of Monkhopton a branch from the Bridgnorth-Ludlow road led north over Beaconhill brook to Acton Round, by a bridge called Baknall (later Bakenell) bridge in 1540, (fn. 75) and to Lower Monk Hall (in Acton Round). (fn. 76) Another ran south from Monkhopton through Sudford (perhaps 'south ford') and by Little Hudwick and Middleton to Ditton Priors. (fn. 77) A road from Much Wenlock to Ditton, which branched south from the Much Wenlock to Weston road at Upper Monk Hall, seems to have entered Monkhopton village on the west side of the church; it ran thence south-west to Ditton by Netchwood and Derrington. (fn. 78)
The late 20th-century metalled roads were the main road, the branches from Monkhopton to Acton Round, Bourton, and Ditton (one by Little Hudwick, the other by Netchwood), and those from Weston to Easthope's Cross and to Netchwood.
On a Sunday in 1547 Richard Lawley directed a communis ludus at Monkhopton; (fn. 79) whatever its nature, the event was evidently unusual, and it seems that the inhabitants were always too few and dispersed for organized social activities. There was one alehouse in 1667 and 1790; (fn. 80) Richard Davis kept an inn in 1763. (fn. 81) By 1839 the Wenlock Arms, formerly a farm called Brook House, stood on the main road east of Monkhopton village; (fn. 82) it closed c. 1860 and reverted to its original name. (fn. 83) In 1906 the parish joined the Diocese of Hereford Circulating Parish Library and c. 1927 was provided with a county library centre. (fn. 84) In the mid 20th century parishioners found social opportunities in Morville, Bridgnorth, and other nearby places. (fn. 85)
MANORS AND OTHER ESTATES.
In 1066 Eadric (Edric) and Siward held OXENBOLD as two manors and were free. In 1086 Roger of Montgomery, earl of Shrewsbury, held the manor in chief, and Helgot held of him. (fn. 86) Thereafter the tenancy in chief is presumed to have followed the descent of Castle Holdgate until 1256. (fn. 87)
The terre tenancy belonged to Robert de Girros (d. 1190 × 1191) (fn. 88) and descended to another Robert de Girros, (fn. 89) presumably his son. Robert gave Oxenbold manor to Wenlock priory in 1244 to support three monks, (fn. 90) and in 1256 William Mauduit, lord of Castle Holdgate, relinquished his overlordship to the priory. (fn. 91) In 1522 the priory leased the demesnes at Oxenbold to William Lee as the 'manor' of Oxenbold; the manor to which they belonged was soon renamed Shipton (Shipton having become one of its constituents by 1344) (fn. 92) and in 1540 passed to the Crown. (fn. 93)
In 1544 the Crown sold part of the former manor of Oxenbold, under that name, to John Jennyns to hold in chief by knight service. He sold it a few weeks later to Thomas Bromley (kt. by 1546). (fn. 94) At Bromley's death in 1555 Oxenbold passed to his daughter Margaret and her husband Richard Newport (fn. 95) (kt. 1560, d. 1570). On Lady Newport's death in 1598 it passed to their son Francis (kt. 1603) (fn. 96) and thereafter followed the descent of Harley. (fn. 97) In 1919 Lord Barnard sold Great Oxenbold farm (220 a., including 91 a. in Stanton Long parish) and Great Oxenbold coppice (61 a.). The farm was sold to Herbert Barker, in whose family it remained in 1990, and the coppice to R. Groom, Sons & Co., (fn. 98) Wellington timber merchants. (fn. 99) The rest of Oxenbold manorial estate seems to have been sold about that time to sitting tenants. (fn. 100)
In 1205 the canons of Holdgate were said to be tenants in part of the manorial estate. (fn. 101)
Buildings at Great Oxenbold incorporate considerable remains of a medieval house, but their interpretation is uncertain. (fn. 102) The earliest fabric may be that of the main rubble-built east-west block, which apparently dates from the 1240s. (fn. 103) Sited on a gentle slope, it may represent an open hall and was built on a solid earth-filled plinth, in part of which was a cellar. Lit originally by two pairs of lights in each wall, the main block was entered near the east end by a north doorway set above ground level, over the cellar, and reached by external steps. A vice in a turret at the north-east angle of the block led down to the cellar. In the 13th century a building was added to the east end and blocked the windows there. It too was built on a solid platform and had lancet windows north and south; access was by a doorway in the east wall of the main block. (fn. 104) A later piscina and aumbry within the east block indicate eventual use as a chapel. In the 14th or 15th century a broad external doorway to the cellar was made, directly underneath the doorway of the main block and partly below ground level. The main doorway was apparently reached then by retractable wooden steps pivoted at the top on a horizontal beam, which lay parallel to the threshold and revolved at either end in stone sockets, one of which remained in situ in 1990. Prior Gosnell had the 'great hall' paved in 1521-2 and glazed in 1522-3. In 1522-3 he provided a chimney for the kitchen, (fn. 105) evidently a detached building. The main block seems to have been reroofed in the earlier 16th century. (fn. 106) Both blocks were divided into two storeys, perhaps by that time; the vice of the main block was built up to reach the first floor; and the chapel block's original floor was lowered by excavation. At about the same time an axial stack was inserted in the main block, dividing it into two compartments, and a single-storeyed extension was built along the south side of the chapel block. A single roof was then placed over the chapel block and its extension.
The architectural evidence suggests that the main block at Great Oxenbold was built by Prior Humbert (or Imbert) shortly after he acquired the manor; his park was licensed in 1251. (fn. 107) Humbert was a royal servant and an ambitious builder. (fn. 108) He entertained the king at the priory in the 1230s and 1240s (fn. 109) and may afterwards have wished for a retreat fit to receive important guests: Bishop Swinfield stayed at Oxenbold in 1290. (fn. 110)
In or after 1066 Almaer (Elmer) held BUCHEHALE, and by 1086 William Pantulf held it of Roger of Montgomery, earl of Shrewsbury. (fn. 111) Since 'Buchehale' was in Patton hundred it was possibly the later Monk Hall ('Muggehal' in 1182), (fn. 112) part of which, like most of Patton hundred, was in the liberty of Wenlock by 1255. (fn. 113) A resemblance between the name 'Buchehale' (1086) and those of 'Bacundale' (1380), 'Baknall' (1540), and 'Bakenell' (1910), which were on the boundary between Monkhopton and the part of Monk Hall in Acton Round, may nevertheless be fortuitous. (fn. 114) In 1255 two thirds of Monk Hall belonged, as did some manors in south Shropshire, formerly Pantulf's, to John FitzAlan; they were part of FitzAlan's manor of Acton Round. The rest belonged in 1255 to Wenlock priory. (fn. 115)
Wenlock priory's demesne manor of Weston included Monkhopton and Monk Hall by 1255 (fn. 116) and by 1334 was treated as a member of Oxenbold. (fn. 117) In 1545 the Crown sold the five farms then in Weston to Thomas Ireland. (fn. 118) He conveyed them that year to Thomas Bromley, (fn. 119) who added them to his Oxenbold manorial estate.
In 1545 the Crown sold HOPTON and MONK HALL, formerly members of Oxenbold, to the brothers Richard and Thomas Lawley to hold in chief by knight service as one manor; (fn. 120) later deeds usually described it as two. Richard died in sole possession in 1569. (fn. 121) The manor then descended with Bourton (in Much Wenlock) until the death of Beilby Richard Lawley, Lord Wenlock, in 1880. (fn. 122) By 1885 it had passed to Wenlock's second son R. T. Lawley, (fn. 123) 4th baron 1912. The manor descended with the barony until the death in 1932 of Arthur Lawley, the last baron, (fn. 124) from whom it passed to his sister Mrs. Caroline Elizabeth Molyneux (d. 1934) and then to a nephew Yvo Richard Vesey, Viscount De Vesci. (fn. 125) De Vesci sold the estate in 1947 to Lt.-Col. H. R. ('Peter') Marsh, who passed it in 1968 to his son J. R. N. Marsh, owner in 1990. (fn. 126) Manor Farm (renamed St. Peter's House c. 1989) is presumed to have been the chief house. It has a timber framed gable dated 1715, perhaps of an added wing, but was otherwise thoroughly remodelled in brick and stone in the 19th century, probably by Sir Francis Lawley (d. 1851).
In 1634 Ferrars Gresley sold a freehold estate in Monkhopton to William Barklam of Woolstaston. It was absorbed by the manorial estate in 1738 when Thomas Barklam sold it to Sir Robert Lawley. (fn. 127)
Francis Canning severed LITTLE HUDWICK from Ditton Priors manorial estate in 1730 by selling it to Hugh Lowe of Meadowley (in Morville). (fn. 128) In 1807 George Lowe sold it to Edward Palmer, (fn. 129) who sold it to Benjamin Tipton, his wife's brother-in-law, in 1811. (fn. 130) Tipton's daughter and son-in-law Elizabeth and Edward Farmer sold it to Sir Francis Lawley in 1847, (fn. 131) and Little Hudwick was thus added to the Hopton and Monk Hall manorial estate.
In the Middle Ages the RECTORIAL TITHES of the area which became the parish of Monkhopton, with the possible exception of those of Little Hudwick, belonged to the church of Holy Trinity, Much Wenlock, appropriated to Wenlock priory. (fn. 132)
In 1548 the Crown sold the great tithes of Monkhopton, Weston, and Monk Hall to Sir Thomas Palmer (fn. 133) but in 1553 resumed them on his attainder for high treason. (fn. 134) In 1608 James I sold them to Francis Phelipps and Richard Moore, who immediately resold them to John Lutwyche. (fn. 135) They descended thereafter with Shipton manor (fn. 136) until 1783, when Thomas Mytton sold them to Benjamin Mountford. (fn. 137) They yielded c. £60 a year in 1793. (fn. 138) By 1841 those tithes had been divided. Mountford's son Richard had sold part in 1834 to William Butcher, (fn. 139) whose brother John owned that part in 1841. The rest were in the hands of Richard's widow Mary, his daughter Alice Palmer, and his granddaughter's husband Edward Farmer. (fn. 140)
From 1544 those great tithes of Oxenbold that were formerly the priory's (and thus within the later parish of Monkhopton) apparently descended with Oxenbold manor and belonged in 1841 to the duke of Cleveland. (fn. 141)
At commutation in 1841 the impropriate tithes were merged in the freehold lands wherever possible, the rest, variously owned, being commuted to £115 18s. (fn. 142)
ECONOMIC HISTORY.
In 1086 Oxenbold manor was worth only 8s. and rated at 1 hide. The demesne had an oxman and ½ ploughteam; a villanus, a bordar, and a Frenchman had 1½ ploughteam, but there was said to be land for 4 teams. (fn. 143) In Oxenbold township Robert de Girros had a park by 1244, (fn. 144) and in 1251 Wenlock priory was licensed to inclose a new one. (fn. 145) Oxenbold manor lay in Clee chase, then held by Walter of Clifford, (fn. 146) who allowed the area of the new park to be disafforested. (fn. 147) At the same time William of Corfield's son Roger exchanged the pasture rights that he had enjoyed in the old park for new ones (excluding swine and goats) over the manor's fallow lands outside the prior's woods and meadows. (fn. 148)
The prior's park probably included the southward projection of the parish, on the slopes south-east of Great Oxenbold; the projection's eastern boundary was marked in 1987 by a ditch and the remains of an internal bank, c. 1.5 m. high in places. The park evidently included woodland, for in 1431 swine were being pannaged there, (fn. 149) and in 1817 a large part of the supposed area was covered by Oxenbold coppice. (fn. 150)
It seems that in the Middle Ages open-field arable was virtually confined to land below 200 m., roughly the northern and western sides of the 19th-century parish, where the main settlements also stood. Weston had its own three fields, (fn. 151) of which the Lower field was mentioned in 1566; (fn. 152) so presumably did Monk Hall, where inclosures called Weston field were mapped in 1731, and Monkhopton. Above 200 m. much woodland and pasture adjoined Ditton Priors and Upton Cressett, which probably intercommoned them until boundaries were defined. Each main settlement had its own meadows: Monkhopton's, for example, were concentrated immediately northwest of the village, bordering a tributary of Beaconhill brook, and Monk Hall's were immediately south and west of the farmsteads. (fn. 153)
In the 13th century the area ploughed and grazed was being extended. Assarting was mentioned at Weston in 1262, (fn. 154) and 'new' land was recorded there in 1322. (fn. 155) The Middle Ages saw much clearance of woodland on the high ground towards Upton Cressett, for arable, and at Netchwood, towards Ditton Priors, apparently for pasture. The New Leasow, some 75 a. of pasture on high ground below Netchwood, was also presumably reclaimed from woodland. The names Brierley (recorded 1262) (fn. 156) and Cawley, for large areas towards the Ditton Priors and Stanton Long parish boundaries, probably denoted other woods, as did the Brydleys and the Stockings at Weston. (fn. 157) By 1322 Brierley and Cawley were arable areas outside the open fields. (fn. 158) There were evidently extensive pastures at Oxenbold c. 1327, when Philip de Cheyne had at least 400 sheep there. (fn. 159) The manor's meadow lands, probably restricted to the proximity of water, barely sufficed by 1390 to sustain its working animals. (fn. 160)
In the open fields mixed husbandry was practised. A three-course rotation was followed in the later 14th century, (fn. 161) and tenants were penalized for failing to fence the growing crops, for allowing their animals into the common fields thus fenced, and for unauthorized grazing of the fallows. (fn. 162) At his death in late February 1379 Richard of Weston, one of the prior's customary tenants there, had stores of oats, vetches, and wheat (bladum), and livestock including an ox, a bullock, a ram or boar (hogetus), a mare and foal, and poultry. Other animals were presumably slaughtered earlier that winter. Richard's buildings included a granary and a barn; (fn. 163) in 1404 a tenant elsewhere had a covered sheepfold, and another in 1449 had a wainhouse. (fn. 164)
In the early 14th century the usual open-field holding seems to have been a virgate or half-virgate, held by copy for life and subject to the usual exactions of 'varneth', heriot, and terciary. (fn. 165) Most labour services may have been commuted by then, (fn. 166) but carrying services (averagium) persisted. (fn. 167) Free tenants were recorded by 1369. (fn. 168) There was at least one isolated arable farm, called the 'Brochous' in 1322 and comprising a ¼-virgate at the 'Broks'. (fn. 169) It was presumably represented in 1987 by Brook House (a 26-a. farm in 1841) (fn. 170) near Beaconhill brook north-east of Monkhopton village. In the early 16th century the vicar of Stanton Long reported that at Great Oxenbold 'the prior of Wenlock doth keep husbandry . . . now better than I knew before'. (fn. 171)
In 1545, (fn. 172) and still in 1731, Monkhopton village had six farms including the mill, (fn. 173) and Monk Hall had two. (fn. 174) Weston had five farms, occupied as four, in 1545. (fn. 175) Little Hudwick consisted of one farm in 1730. (fn. 176) At Weston the farms had been reduced to three by 1747 and there was only one at Great Oxenbold, about half of which lay in Stanton Long parish. (fn. 177) The Monkhopton farms and three of those at Weston were copyholds in 1545, but the Monk Hall farms were leaseholds for long terms of years granted by the priory in 1518 and 1534. (fn. 178) Great Oxenbold, too, was subject to a long lease of 1536. (fn. 179)
Inclosure of open-field arable at Weston was reported in 1517. (fn. 180) By the mid 18th century the whole parish was inclosed. (fn. 181) It was noted in 1793 that some former smallholdings had been absorbed by other farms, and their houses reduced to labourers' cottages. The labourers, unless they kept a pig, lived mainly on bread and potatoes. (fn. 182) Between 1834 and 1841 the six farms of Monkhopton village were reduced to two, later called Manor farm (then rebuilt) and Home farm, and three new farms were created, with houses set amidst their fields: Highclear, Netchwood, and Woolshope. By 1841 the parish's Monk Hall farms had been amalgamated. Field boundaries on the Lawley estate were extensively altered before 1834 and the woods had been taken into the lord's hand by 1841. (fn. 183) Many of the changes were among Sir Francis Lawley's rapid and thorough estate improvements begun after 1834, which required new buildings, draining, and the introduction of more efficient husbandry. (fn. 184) At Weston two of the farms were amalgamated before 1834 as the later Weston House, and the third, later called Weston (or Little Weston) farm, had been sold. (fn. 185) The woodland at Oxenbold and Weston had all been taken in hand by 1911. (fn. 186)
Table XXII Monkhopton: Land Use, Livestock, and Crops

| | | | | |
| --- | --- | --- | --- | --- |
| | | | | |
| | 1867 | 1891 | 1938 | 1965 |
| Percentage of grassland | 56 | 78 | 90 | 66 |
| arable | 44 | 22 | 10 | 34 |
| Percentage of cattle | 12 | 30 | 23 | 14 |
| sheep | 80 | 61 | 71 | 81 |
| pigs | 8 | 9 | 6 | 5 |
| Percentage of wheat | 42 | 28 | 45 | 61 |
| barley | 19 | 37 | 4 | 29 |
| oats | 39 | 35 | 51 | 7 |
| mixed corn & rye | 0 | 0 | 0 | 3 |
| Percentage of agricultural land growing roots and vegetables | 11 | 7 | 2 | 3 |
Sources: P.R.O., MAF 68/143, no. 10; /1340, no. 13; /3880, Salop. no. 204; /4945, no. 204.
About 1730 the parish was said to contain as much arable as pasture, (fn. 187) and in 1841 there were equal acreages of arable and grass on the Lawley estate. (fn. 188) In 1793 the soil was 'cold, wet, and stiff'. A rotation of wheat, oats, clover, and fallow was usual, though clover was sometimes followed by oats again. Bad roads made it very difficult to carry manure to outlying land, which was therefore not ploughed. (fn. 189) In the parish as a whole grass exceeded arable by 5 to 4 in 1867 and most of the arable was turned over to grass during the late 19th and early 20th century. (fn. 190) During that period sheep were the predominant livestock but cattle were increasingly kept, especially for beef. In 1801 the main cereal crops had been wheat and oats. The same was true in 1867, but the proportion of barley was then also considerable and by 1891 had doubled, mainly at the expense of wheat. By 1938, however, barley growing had dwindled greatly, its former proportion of cereal acreage having been taken over equally by wheat and oats. In the mid 20th century there was a move towards arable, especially for wheat and to a lesser extent barley. On the grassland, which remained predominant, more sheep and fewer cattle were kept.
A mill of Oxenbold manor was mentioned in 1291. (fn. 191) By 1731 Monkhopton mill stood in the village on a leat on the east side of Beaconhill brook. (fn. 192) It continued working until c. 1950. (fn. 193)
In the mid 19th century there were small and scattered quarries for limestone and cornstone, (fn. 194) evidently not continuously worked; only two quarrymen lived in the parish in 1841. (fn. 195) Stone from the parish was used for road mending in the early 18th century, (fn. 196) and was evidently burnt for lime before 1731, when Limekiln leasow was recorded near Netchwood; (fn. 197) there were no commercial limeburners in 1841. (fn. 198) Clay, perhaps for brick making, was dug before 1883 in the northeast corner of the parish. (fn. 199)
In 1841 the parish included a shoemaker, a cooper, and a blacksmith. (fn. 200) The smithy, built c. 1763, (fn. 201) was at the northern entrance to Monkhopton village in the 1840s (fn. 202) and moved before 1883 to a site on the main road east of the village. (fn. 203) In 1987 it was a garage and general store.
LOCAL GOVERNMENT.
Weston, a separate manor including Monk Hall and Monkhopton in 1255, (fn. 204) was part of Oxenbold by 1334. (fn. 205) Before 1544 Oxenbold manor also included parts of Shipton and Stanton Long parishes. Records of its manor court survive for 1333-4, 1344-5, 1379-80, 1403-4, 1411-12, 1420-1, 1431, 1449, 1522, and 1566. (fn. 206) In the 14th century the court seems to have met four times a year, but in the 15th century sometimes only once or twice. The meeting place in May 1540 was at Oxenbold. (fn. 207) Officers included a bailiff, (fn. 208) aletasters, a woodward, and, for each of the townships, one or more constables. The business was mainly that of a court baron but breaches of the assize of bread and of ale were also dealt with.
Leet jurisdiction was granted to the lord of Oxenbold in 1544 (fn. 209) and to the lords of Hopton and Monk Hall in 1545. (fn. 210) In the early 18th century the division between the manors coincided with that between two of Wenlock borough's townships, Oxenbold (or Weston and Oxenbold) and Monkhopton, each of which had a constable (fn. 211) and a highway surveyor. (fn. 212) There was a pinfold near Monkhopton church in 1731. (fn. 213) In the period 1821-43 an Oxenbold court was being summoned every three years in October. (fn. 214)
In 1714 the parish had two overseers of the poor (fn. 215) but in the 19th century only one; in 1828-9 he was a small farmer and administered the rates personally. (fn. 216) Expenditure on the poor 1775-6 was £30, but in 1802-3 was £97 or about 6s. per head of population. Fourteen adults and four children then received regular relief. In the peak year 1814-15 expenditure per head was about 8s. and 29 adults had regular relief. (fn. 217) By the early 1820s expenditure had fallen markedly but thereafter rose to another peak, c. 9s. per head, in 1828-9, (fn. 218) presumably related to the parish's large but short-lived population rise of the 1820s. (fn. 219)
The civil parish (enlarged in 1883 by the addition of Skimblescott) (fn. 220) was in Bridgnorth poor-law union 1836-1930, (fn. 221) Bridgnorth rural sanitary district 1872-94, Bridgnorth rural district 1894-1974, and Bridgnorth district from 1974. (fn. 222) The parish, which ceased to be in Wenlock municipal borough in 1889, (fn. 223) probably remained a highway authority until 1895. (fn. 224)
CHURCH.
The earliest fabric of Monkhopton church is 12th-century and a chaplain was mentioned c. 1180. (fn. 225)
By 1331, and probably long before, the chapel depended on Holy Trinity church, Much Wenlock, (fn. 226) to whose parish Weston, Monkhopton, and (since 1244) part of Oxenbold belonged, (fn. 227) their tithes having presumably been annexed to Holy Trinity after Wenlock priory acquired lands there. (fn. 228) The whole of Oxenbold had probably paid tithe to the rector of Stanton Long, who was suing the prior for tithes in 1270, (fn. 229) and part of Oxenbold remained in Stanton Long. Monk Hall was probably always in Holy Trinity parish until parts were included in Acton Round and Monkhopton parishes when they were formed in post-medieval times. (fn. 230) From 1274 the inhabitants of Monkhopton, Weston, and Monk Hall had to pay the vicar of Much Wenlock an annual amount of grain and money called 'shrift corn' for their confessions. (fn. 231) Wenlock priory, as appropriator of Holy Trinity, Much Wenlock, received dues worth 73s. 4d. from Monkhopton chapel in 1369. (fn. 232) The chapel had no burial rights in the 1550s: they belonged to Holy Trinity, Much Wenlock. (fn. 233) In the 16th and 17th centuries Oxenbold and Weston often, perhaps usually, buried at Stanton Long. (fn. 234) By 1701, however, Monkhopton church had burial rights and marriages were solemnized there. (fn. 235) Little Hudwick was part of the parish by 1718. (fn. 236)
The chaplain or curate in 1587 received a stipend of £5 13s. 4d., (fn. 237) but from whom is not known; in 1694 the inhabitants paid it, (fn. 238) and c. 1730 they 'hired' the minister. (fn. 239) Following the first of several benefactions from Queen Anne's Bounty in 1747 (fn. 240) the living became a perpetual curacy, in Sir Robert Lawley's gift by 1759; the advowson descended thereafter with Hopton and Monk Hall manor. (fn. 241) Occasionally by 1820 and regularly from 1869 the curates were styled vicars. (fn. 242) In 1927 the vicarage was united with Upton Cressett rectory and the patrons presented alternately. (fn. 243) From 1955 the bishop allowed the united benefice to be held in plurality with those of Ditton Priors and Neenton, and from 1958 presentation to all three was ordered to be exercised in a series of four turns by the respective patrons. (fn. 244) In 1962, however, the patronage rights were suspended and the vicar of Acton Round and of Morville with Aston Eyre was appointed curate-in-charge of Upton Cressett with Monkhopton. (fn. 245) Monkhopton and Upton Cressett ecclesiastical parishes were united as Upton Cressett with Monkhopton in 1970, with one church at Monkhopton. (fn. 246) From the late 1970s that parish, with that of Morville with Aston Eyre, was in the pastoral care of a non-stipendiary minister living in Bridgnorth.
The curacy had no endowment until the 18th century and no glebe house in 1716. (fn. 247) By 1793, however, the minister had £11 6s. from tithe. (fn. 248) Queen Anne's Bounty made grants in 1747, 1769, 1786, 1809, and 1825, (fn. 249) and the curate's net income was £56 by 1835. (fn. 250) Glebe was bought at Clee Stanton in 1782 (fn. 251) and there was glebe worth £25 a year by 1842; (fn. 252) it included 7½ a. at Clee Stanton, (fn. 253) which were sold in 1863. (fn. 254) In 1887 the glebe comprised 20 a., mostly at Redmarley D'Abitot (Worcs., later Glos.) and Stottesdon. (fn. 255) In the later 18th century the parishioners were contributing to the curate's stipend by unlawful annual payments out of church rates. (fn. 256) In 1844 two benefactions from Sir Francis Lawley, matched by Queen Anne's Bounty, increased the stipend by £33, (fn. 257) and in 1845 the payments from rates were stopped. (fn. 258) About 1840 Sir Francis built a large house in spacious grounds for his nephew, the new perpetual curate. (fn. 259) It remained Sir Francis's property and in 1869, when a non-resident vicar was appointed, became a private house. (fn. 260) A resident vicar was appointed in 1877 and the diocese then provided a smaller house in the village, used as a vicarage until 1954 and during 1960-2. (fn. 261)
The curate resided in 1587 (fn. 262) but by the later 17th century the poverty of the curacy was such that it was often, perhaps regularly, filled by non-resident pluralists. William Hotchkiss (d. 1674), John Farmer (fl. 1677), and Richard Ellis (fl. 1685) were ministers of Acton Round, and the curacy seems to have been held continuously by ministers of Acton Round from 1726 to 1798, (fn. 263) two of whom lived at Cleobury Mortimer. (fn. 264) The minister of Upton Cressett held the curacy c. 1698-1719 and the vicar of Stanton Long 1719-26. (fn. 265) From 1810 to 1841 it was held by the assistant curate (from 1835 the vicar) of Much Wenlock. (fn. 266) The first resident minister in modern times was R. W. Dayrell, the patron's nephew, instituted in 1841. (fn. 267) Except for the period 1869-77 the incumbent was normally resident until 1954, (fn. 268) though Samuel Boot abandoned the parish in 1880 and resigned in 1884, (fn. 269) and S. G. Hayward held successive livings in plurality with Monkhopton 1887-1927. (fn. 270) Since 1955, except during 1960-2, the cure has been exercised by non-residents. (fn. 271) Until 1841 services were often taken by assistant clergy, (fn. 272) who were themselves frequently incumbents or assistant curates of nearby parishes. (fn. 273)
In 1716 there was an afternoon service every other Sunday and communion three or four times a year. (fn. 274) In the mid 18th century, however, services were irregular and infrequent until the parishioners began to supplement the minister's stipend. (fn. 275) In 1793 there was a service every Sunday and communion four times a year. (fn. 276) Communion was celebrated five times 1830-1 (fn. 277) and six times 1863-4. (fn. 278) In 1851 congregations averaged 30 morning and afternoon. (fn. 279) In the late 19th century there were two services every Sunday, and monthly communion. Easter communicants averaged c. 22. (fn. 280) The vicar adopted the surplice in 1894. (fn. 281) In 1987 services were much less frequent but congregations of c. 20 were usual. (fn. 282)
The small church of ST. PETER, so dedicated by 1546, (fn. 283) is built of sandstone rubble with ashlar quoins and consists of chancel, with north organ chamber, and nave, with south porch, north vestry, and west bell turret. (fn. 284) The small churchyard is rectangular.
Chancel and nave were built in the 12th century. Surviving features of that period are a splayed window on the north side of the chancel, two similar windows in the nave on the north and south sides, and the south doorway of the nave, which has a chevron-moulded arch. In 1795 the doorway also had a tympanum with geometrical carving. The south window of the chancel has three orders of heavy 12th-century moulding internally, a chain between two rows of chevrons. The arch, perhaps originally that of a doorway, was evidently introduced from elsewhere before 1793. (fn. 285) A priest's doorway, its hoodmould decorated with dog tooth, was inserted on the south side of the chancel in the earlier 13th century, and in the late 13th or early 14th century a two-light traceried window was inserted in the nave's south wall near the east end. In 1795 the chancel's east window had remains of painted glass representing the Crucifixion, and above the chancel arch was a painted wooden canopy, perhaps medieval and designed for a statue. The nave roof, apparently medieval, is of three bays, the trusses having collar beams and arched braces.
About 1840 the church was restored throughout at Sir Francis Lawley's expense. (fn. 286) The nave's 12th-century windows were blocked; three new windows were inserted on the north side and one on the south, all copied from the medieval traceried window in the south wall. An embattled brick or stone turret replaced the former timber framed west bell turret and was supported by a brick wall built across the nave near the west end. A new porch was made. Medieval mouldings were extensively renewed and the whole exterior was rendered, with incised lines to imitate ashlar joints.
Later in the 19th century, perhaps in 1885, a new three-light east window was inserted and a vestry was added on the north side of the chancel. (fn. 287) The plain hexagonal font, benches, wooden chancel screen, and brass and wood communion rail are all 19th-century.
The vestry became an organ chamber, perhaps in 1911. (fn. 288) In the 20th century the blocked 12th-century north window of the nave was opened up and fitted with heraldic glass in memory of R. T. Lawley, Lord Wenlock (d. 1918). A new north vestry at the west end of the nave was dedicated in 1938. At the same time the chancel was furnished with an 'English' altar. (fn. 289) A plain oak pulpit was given c. 1946 by Lady De Vesci (fn. 290) and the former pulpit was given to Linley church. (fn. 291)
A brass commemorating Jane Cressett (d. 1640) and signed by Francis Grigs was removed to Monkhopton from Upton Cressett church before 1970 and hangs in the nave. About the same time four panels of 16th- or 17th-century German or Flemish glass depicting Passion scenes were taken from the east window of Upton Cressett church and inserted in the west window at Monkhopton. (fn. 292)
In 1552 the church had two bells in what was called a steeple, (fn. 293) presumably the timber-clad west bell turret recorded in 1789. (fn. 294) One of two bells in 1915 was dated 1727. (fn. 295) By 1961 the plate included a chalice and paten of 1575, a pewter plate of 1721, and a chalice and paten of 1911; (fn. 296) a paten hallmarked for 1781 evidently came from another church. (fn. 297)
The registers survive from 1698 and there are transcripts 1638-9 and from 1660. (fn. 298)
NONCONFORMITY.
Henry Maurice, an Independent minister, preached at 'Hopton', probably Monkhopton, on 18 August 1672, (fn. 299) but no other reference to Dissent is known.
EDUCATION.
P. B. Lawley-Thompson, Lord Wenlock, built a National school and teacher's house in 1849; the schoolroom had 48 places. Wenlock's family supported the school until 1905 or later. (fn. 300) The school was under inspection from c. 1877. (fn. 301) The roll was c. 40 in 1851, and attendance averaged 21 in 1875, 48 in 1885, and 31 in 1913. (fn. 302)
By 1953 senior girls attended weekly domestic science classes in Bridgnorth. (fn. 303) The school became aided in 1954, (fn. 304) and next year 11-year-old pupils went to St. Mary's C.E. (Aided) school, Bridgnorth. (fn. 305) The roll was 29 in 1957. (fn. 306) Closure, periodically threatened from 1959, was resisted by the headmistress, (fn. 307) and a class was accommodated in the teacher's house 1962-4 until a new demountable classroom was added. (fn. 308) The roll was 42 in 1979 (fn. 309) but only 27 in 1983 when the school closed: the building reverted to Lord Wenlock's heirs and the pupils went to Morville and Ditton Priors C.E. (Controlled) Primary schools. (fn. 310)
CHARITIES FOR THE POOR.
None known.