Pages 380-393
A History of the County of Shropshire: Volume 10, Munslow Hundred (Part), the Liberty and Borough of Wenlock. Originally published by Victoria County History, London, 1998.
This free content was digitised by double rekeying. All rights reserved.
STOKE ST. MILBOROUGH
Stoke St. Milborough village is 9 km. northeast of Ludlow. (fn. 1) The parish was Wenlock borough's most southerly detachment. Wholly agricultural and little frequented, it comprises Stoke village and a scattering of farms and ancient hamlets, and the main part was divided into the townships of Stoke, Downton, and Stanton.
A detached part of the parish 3 km. to the north comprised the Heath and Norncott and constituted the Heath civil parish from 1884. The Scirmidge was an extra-parochial place, amounting to less than 1 a., where Cold Weston, Hopton Cangeford, and Stoke St. Milborough parishes met. The origin of its extra-parochial status is unknown, but in the 1780s and 1790s the stone cottage at the Scirmidge seems to have been the home of a midwife to whom women resorted (or were sent) to be delivered of illegitimate children, who thus had no settlement in the surrounding parishes. (fn. 2) It seems to have been annexed to Stoke St. Milborough civil parish in 1868. (fn. 3) This article treats the large, nearly rectangular area (4,990 a., 2,019 ha.) that constituted Stoke St. Milborough C.P. from 1884. (fn. 4)
The eastern half of the parish is occupied by the rising slopes, which reach 500 and 400 m. respectively, of the Brown and Titterstone Clees and of the high ground between them; the north-west quarter by the rising slopes, which reach 300 m., of Weston hill and the Thrift. The streams thus drain south-west. An east-west ridge divides them into a northern system converging on Ledwyche brook and a southern one converging on Dogditch brook.
Most of the parish lies on the Ditton Series of the Lower Old Red Sandstone. (fn. 5) On Brown Clee that is overlain by Lower Old Red Sandstone of the Clee Group, which is covered at the summit by the Middle and Lower Coal Measures, capped by dolerite. Narrow bands of the Upper and Lower Abdon limestones occur on the lower slopes of Brown Clee and on Weston hill. The parish's south-western quarter lies on the Ledbury Group of the Downton Series of Lower Old Red Sandstone. Narrow bands of 'Psammosteus' Limestones occur where that series meets the overlying Ditton Series, around the base of Titterstone Clee and along the south side of the parish's east-west watershed. The soils are mainly red-brown loams, with alluvium in the lower lying south-west. (fn. 6)
Clee Burf and Titterstone Clee were each crowned in the Iron Age by a fortified enclosure of unknown purpose, each formed by a single earth and rubble rampart. (fn. 7) The rampart of Clee Burf was badly damaged by coal digging before 1841, (fn. 8) and both have since been nearly destroyed by quarrying. A few isolated finds of prehistoric artefacts (fn. 9) are the only other evidence of human activity in the parish before the Anglo-Saxon period.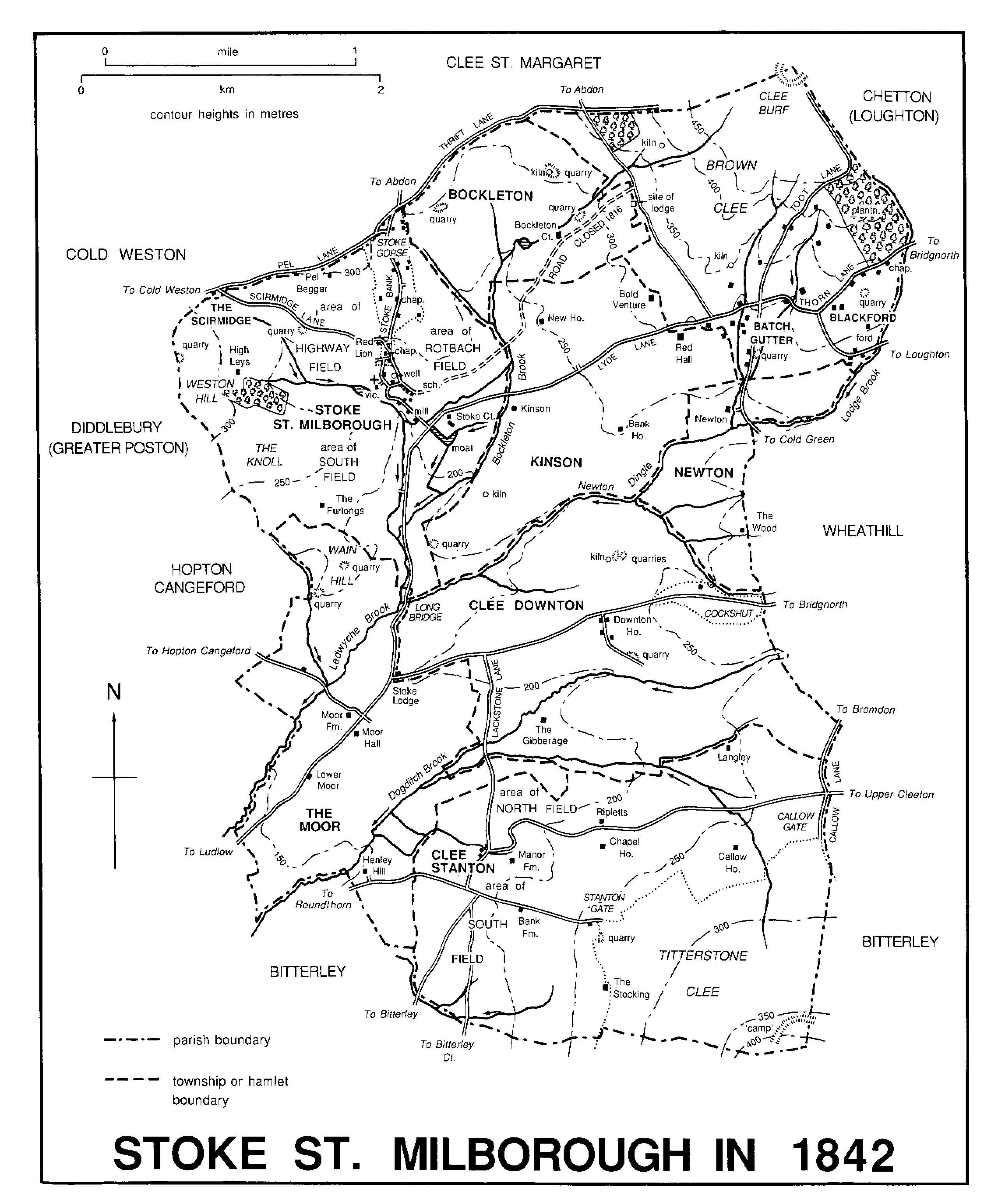 Except in the south-west quarter the parish boundaries are straight or gently sinuous and tend to follow high ground; they were probably defined mostly in the 13th century across wastes previously intercommoned with neighbouring townships. Brown Clee's upper slopes, however, were not so divided until the 17th century, (fn. 10) and the township divisions across Titterstone Clee common were presumably late too. In the low lying south-west the parish boundary is angular and so may have been defined by fields.
Stoke and Stanton manors were settled by 1086, though Stanton had only one recorded inhabitant. (fn. 11) Other tun names, Downton, Kinson ('Ekinestaneston'), and Newton, all recorded by 1255, (fn. 12) were given to what were presumably subsidiary settlements. The Moor, cultivated by 1291, (fn. 13) may have been reclaimed from marshy waste. Earthworks at Kinson, (fn. 14) Newton, the Moor, (fn. 15) and Stanton (fn. 16) indicate hamlets there; Bockleton and Downton were probably hamlets too. Like Stoke, each hamlet stood just below the head of a valley except for Downton and the Moor, which stood on the central watershed. The hamlets probably shrank in the earlier 14th century; 11 farms in the parish were abandoned by 1340. (fn. 17)
When recovery came (fn. 18) settlement did not return to the old hamlets; indeed conversion of open-field arable to inclosed pasture c. 1500 caused further shrinkage at Bockleton, Downton, Kinson, the Moor, Newton, and Stanton. (fn. 19) In the whole parish, however, the number of households increased from c. 33 in 1524 (fn. 20) to over 43 by 1672, (fn. 21) and 218 adults and children were listed for the 1660 poll tax. (fn. 22) Much of the new settlement took the form of single farmhouses, away from the old hamlets and in new fields. (fn. 23) In addition, seven cottages were reported on the wastes of Stoke manor in 1654; a group at Blackford, on Brown Clee, existed in 1752. (fn. 24) There were 89 households by 1801 (fn. 25) but, of the ancient settlements, only Stoke was a village; in 1815 Stoke had 16 houses (9 of them cottages), while Downton and Stanton had 4 houses each, the Moor 3, Kinson 2, and Bockleton and Newton one. (fn. 26) The older houses in Stoke village are mostly built of rubble. Elsewhere in the parish some are of rubble, some are timber framed.
In 1815 there were 11 cottages on Stoke Gorse and 24 on Brown Clee, (fn. 27) grouped at Mount Flirt, Blackford, and Batch Gutter; many were less than 25 years old. (fn. 28) The parish's population grew rapidly and stood at 554 in 1821; it then remained steady until 1871 or later. (fn. 29) In 1841 the cottagers on Brown Clee were mostly farm labourers, colliers, and widows. (fn. 30) Between 1871, when the population was 548, and 1891 there was a steep decline; cottages on Brown Clee diminished from 43 in 1871 to 30 (6 of them empty) by 1891. (fn. 31) There was another steep fall in population in the mid 20th century, to 215 by 1971. (fn. 32) By 1991 it had risen again to 300, (fn. 33) chiefly increased by commuters and the retired. Without much new building, houses were made by converting old buildings like Stoke school and mill and Stanton Methodist chapel, and especially by restoring cottages on Brown Clee. (fn. 34)
The Bridgnorth-Ludlow road crossed the parish from east to south-west. A turnpike road 1756-1873, declared a main road in 1878, (fn. 35) it was the parish's only classified road in 1992. A ridgeway called Thrift (or Frith) Lane (fn. 36) ran north-east, along or parallel to the parish's northern boundary, to Brown Clee; near Pel Beggar it was called Pel Lane. (fn. 37) In the early 17th century it was the Cold Weston strakers' route to Brown Clee. (fn. 38)
Neither of those roads served Stoke village directly, and both may therefore have been more ancient. (fn. 39) The village was connected to the Bridgnorth-Ludlow road by two lanes. One led south towards Ludlow. (fn. 40) The other ran east through Kinson and via Lydall (or Lyde) Lane (fn. 41) towards Bridgnorth; (fn. 42) near Blackford it was called Thorn Lane. (fn. 43) Stoke village was joined to Thrift Lane by the westward Scirmidge Lane and the northward Stoke Bank, (fn. 44) which crossed Stoke Gorse common and also led, across Thrift Lane, to Clee St. Margaret and Abdon. From Stoke a north-eastward lane, accessible also from Kinson, led through Bockleton to Brown Clee common; it was stopped up in 1816 after the common was inclosed. (fn. 45)
A lane crossing Lydall Lane led from Newton to the summit of Clee Burf, climbing the hill as Toot Lane. (fn. 46) By the early 19th century it was the route from the Batch Gutter cottages up to the coal pits. (fn. 47)
From the Bridgnorth-Ludlow road Lackstone (or Hackston) Lane led south to Stanton hamlet and on through Bitterley to Ludlow. (fn. 48) Just south of Stanton it was crossed by a lane from Roundthorn, on the turnpike road, to Stanton gate, the hamlet's main point of access to Titterstone Clee common. Ludlow could be reached from Stanton via Roundthorn, but the most direct route was south by a lane through Bitterley. An eastward lane from Stanton led to Upper Cleeton. (fn. 49)
St. Mildburg's (or St. Milburgha's) well, a spring with an old stone basin, on the east side of Stoke village, was mentioned in 1321. (fn. 50) It was later a common clothes-washing place. Stories of a miraculous origin were recorded in the mid 19th century, when the water was said to be good for sore eyes. It was 'covered in and altered' c. 1873 and altered again in 1906. (fn. 51) By 1945 its water was piped to six houses. (fn. 52)
A play was performed at Stoke Gorse in 1615. (fn. 53) The parish wake was traditionally on the Sunday after 25 June, the reputed anniversary of St. Mildburg's death; (fn. 54) by the 1730s it was the Sunday after Midsummer Day (24 June). (fn. 55) It was customary then to deck the graves with evergreens (fn. 56) and make merry in the churchyard, a practice suppressed c. 1820. (fn. 57) By 1790 the parish had an alehouse, (fn. 58) probably that which stood in 1813 on the south side of Scirmidge Lane at the edge of Stoke Gorse. (fn. 59) Called the Red Lion by 1851, it closed in the 1860s and was later called Upper House. Oddfellows were said to have met there, and later a Men's Friendly Society. (fn. 60) At Clee Downton the Holly Bush inn had opened by 1851, when a Friendly Benefit Society met there; (fn. 61) it too seems to have closed in the 1860s. (fn. 62) Stoke village had a variety of social organizations and events in the early 20th century, many of which used the school. (fn. 63) The parish belonged 1900-6 to the Diocese of Hereford Circulating Library and from 1926 had a county library book centre. (fn. 64) In 1922 an army hut was re-erected near Kinson as the parish hall. (fn. 65) Organized social activities dwindled after the Second World War, but by the 1980s newcomers had revived them. (fn. 66) Clee Stanton people, however, were attracted to Bitterley rather than Stoke. (fn. 67)
Sir Thomas Littleton (1647-1710), speaker of the House of Commons 1698-1700, (fn. 68) was a native of the parish. (fn. 69)
MANORS AND OTHER ESTATES.
Stoke St. Milborough was probably part of lands about the Clee hills said to have been given to St. Mildburg before 704 by her half-brothers Merchelm and Mildfrith. (fn. 70) In 1086 the manor rightfully belonged to Wenlock priory but had been given by Earl Roger to his chaplains. (fn. 71) It was restored to the priory, (fn. 72) which held it until 1540. (fn. 73)
The Crown granted the manor to the see of Canterbury in 1542 (fn. 74) but resumed it in 1559 (fn. 75) and sold it in 1574 to John Smith of Little Baddow (Essex) in fee farm. (fn. 76) Smith (kt. 1576) (fn. 77) and his brother Clement sold the manor in 1584 to Oliver Briggs (fn. 78) (d. 1596). Briggs was succeeded by his son Humphrey, who bought Abdon manor in 1598. (fn. 79) Stoke manor thereafter descended with Abdon (fn. 80) until 1873, when G. R. C. Herbert, earl of Pembroke and Montgomery, sold it to G. R. Hamilton-Russell, Viscount Boyne (fn. 81) (d. 1907). Boyne left all his Shropshire estate, including Stoke manor, to his second surviving son F. G. Hamilton-Russell, who was still lord in 1917. The manorial title was not sold with his Stoke St. Milborough estate in 1919 and has not been traced since. (fn. 82)
In 1581 Sir John and Clement Smith sold the chief house, Stoke Court, and the demesne lands to Thomas Littleton and Rowland Bishop. (fn. 83) Littleton was in sole possession of Stoke Court at his death in 1622 (fn. 84) and was succeeded by his son Adam (fn. 85) (cr. bt. 1642), after whose death in 1647 (fn. 86) it belonged to his son Sir Thomas Littleton (or Poyntz). (fn. 87) In 1652 Sir Thomas sold the estate to Henry Bernard, who sold it in 1671 to George Lee (fn. 88) (d. 1673) of the Moor. (fn. 89) Lee's heir was his daughter Mary, who afterwards married John Conyers (d. 1725). Their son Edward sold Stoke Court to William Hall in 1727. (fn. 90) Hall (d. by 1732) was succeeded by his sister Elizabeth, wife of Wredenhall Pearce of Downton Hall. On her death in 1762 the estate passed to their son William, who took the additional surname Hall. The estate, a reputed manor by 1772, passed on his death to his brother Charles Pearce Hall, who died childless in 1795. It then passed to the representatives of their three sisters. The estate was partitioned in 1809 and Stoke Court was allotted to the representatives of Ann Thomson (formerly Pearce). They sold it in 1813 to John Wall (d. 1817), who became vicar of Stoke St. Milborough that year. Wall's trustees conveyed it in 1825 to William Bright, who immediately vested part, including Stoke Court, in a trustee. In 1834 the trustee sold it back to Wall's trustees, who conveyed it in 1839 to Wall's widow Elizabeth (d. 1843). She was succeeded by her son C. L. Wall, who sold the estate and reputed manor (740 a.) to Lord Boyne (d. 1872) in 1867. (fn. 91) At the sale of F. G. Hamilton-Russell's Stoke St. Milborough estate in 1919 Stoke Court was bought by J. B. Whiteman, (fn. 92) in whose family it remained in 1992.
The medieval house, called the Court by 1322, (fn. 93) is reputed to have stood within a rectangular moat, (fn. 94) substantial parts of which remain. A later house, north of the moat, dates from c. 1600 and its original two storeyed stone range contains a hall and parlour with a stack in each gable end. The main doorway has a carved stone surround and the parlour, formerly wainscotted, (fn. 95) has a carved wooden overmantel of c. 1600. (fn. 96) The former moat, fed from Bockleton brook, may have become a garden feature at that time; near or within it is a mount. In the later 18th century the front of the house was faced in brick.
In 1799 Joseph Owen of Albrighton married Ann Corne, who had inherited Bold Venture farm and Upper House, Kinson. (fn. 97) Owen bought the Brookhouse, Kinson, in 1808 (fn. 98) and Lower House farm, Clee Downton, (fn. 99) and died in 1816 leaving the whole to his son F. C. Owen (d. 1819), whose coheirs were his brothers George Owen (d. 1830), Herbert Owen, and Edmund Hemming Owen. E. H. Owen bought part of the Stoke Court estate in 1825 (fn. 100) and in the 1840s built a villa on it, (fn. 101) STOKE ST. MILBOROUGH LODGE. He had bought Herbert's share of their father's estate in 1832 and bought another farm at Clee Downton in 1843. (fn. 102) He sold the whole estate (633 a.) to Lord Boyne in 1867. (fn. 103)
In 1580 Sir John and Clement Smith sold a chief house at THE MOOR to William Adams. (fn. 104) It passed to Richard Adams, whose son William died in 1637. (fn. 105) The estate then seems to have passed to William's widow Elizabeth, who married George Lucy (d. 1658) of Middleton Higford (fn. 106) and died in 1667. Her heir was her daughter Elizabeth Lucy, wife of George Lee (d. 1673). (fn. 107) Lee bought Stoke Court, and the Moor seems to have descended with it until 1809 (fn. 108) when, on the partition of the Stoke Court estate, Upper and Lower Moor farms were allotted to Catherine, daughter of Thomas and Catherine Browne (née Pearce), and her husband Lt.-Col. John Edwards (fn. 109) (cr. bt. 1838), who survived her and died in 1850. (fn. 110) The estate then passed to their nephew Thomas Browne Browne (formerly Jones) who sold it (299 a.) to Lord Boyne in 1867. (fn. 111) Upper Moor (later Moor) Farm was probably the estate's chief house (fn. 112) and dates from c. 1600. It has a two storeyed hall range with a contemporary 2½ storeyed cross wing at each end. The lower end of the hall range has a through passage; the upper end has a large axial stack serving both the hall and the great parlour in the adjoining cross wing, which had a little parlour too. The lower cross wing seems to have contained a kitchen and dairy and has a lateral stack. In 1667 a drawing room and a study were mentioned. (fn. 113)
Edward Bishop (d. 1625) (fn. 114) owned MOOR HALL and was succeeded by his son George (d. 1668), (fn. 115) whose son the Revd. William sold it in 1710 to William Lucas (d. 1731). (fn. 116) Lucas's widow Margaret and son William succeeded; on William's death in 1760 (fn. 117) his interest passed to his brother John. In 1763 Margaret and John sold the estate to John's brother Benjamin (d. by 1793). John Lucas sold it in 1793 to William Walcot of Bitterley (d. 1807), who was succeeded by his son William (d. 1860), from whose coheirs Lord Boyne bought it (349 a.) in 1871. (fn. 118) The house, a stuccoed villa, was probably built by William Walcot c. 1793. (fn. 119)
In 1581 Sir John Smith sold an estate at Clee Downton to Thomas Wall, (fn. 120) which remained with Wall's descendants until 1869. It was called 'the farm in Clee Downton' by 1766, (fn. 121) Downton House by 1815, and EAST FARM by 1919. (fn. 122) To it were added Kitchen's (or Clee Downton, later West) farm, part in 1772 and the rest in 1800, (fn. 123) and the Gibberage farm in 1812. The whole estate, including the Knapp farm (80 a.) in Wheathill, descended to Martha Wall, who sold it (454 a.) to Lord Boyne in 1869. (fn. 124) East Farm is a two storeyed stone range of two units with axial stack, and was probably built in the 16th or 17th century. Projecting wings were added later to front and rear, so making a cruciform plan. (fn. 125)
John Smith sold BOCKLETON to John Jenkes in 1576. In 1608 Jenkes settled it on his son-in-law Charles Foxe of Greete, who sold it in 1633 to Samuel Martyn, John Clarke, and Bryan Wotton, all of the Charterhouse, London. In 1647 Clarke, the foundation's former receiver, conveyed Bockleton to the governors. (fn. 126) The Charterhouse sold it c. 1800 to Samuel Sneade, rector of Bedstone, who sold it in 1806 to Robert Tench. Tench sold it in 1811 to William Smith of Maerdynewydd (in Llancarfan, Glam.). (fn. 127) Smith died in 1819 leaving the estate to Mary, daughter of his servants John and Anna Smith, who married John Patrick and died in 1857. The Patricks' son W. S. Patrick sold the estate and reputed manor (439 a.) to Lord Boyne in 1874. (fn. 128) Bockleton Court seems to have been built c. 1500 as a two storeyed timber framed farmhouse, jettied on three sides. In the earlier 17th century it was extended, heightened, and reroofed, and the front cased in stone. At the same time two three storeyed gabled projections were added at the front, one of them incorporating a porch. (fn. 129)
In 1579 Sir John Smith sold NEWTON to Edward Hopton of Bitterley. (fn. 130) Hopton's son Thomas sold it c. 1605 to George Bishop, a London stationer. In 1607 Bishop leased it to the Stationers' Company for 500 years after the deaths of himself and his wife, at a peppercorn rent, the company to pay annual sums out of the profits to Christ's Hospital, to preachers at Paul's Cross, and in loans to young freemen of the company. When he died c. 1610 his widow conveyed her life interest to the company. (fn. 131) Benjamin Robinson, who may have bought the estate in 1774, (fn. 132) sold it c. 1789. (fn. 133) George Creighton acquired Newton and left it to his nephew George Creighton, who left it to his son John. John Creighton's trustees sold it in 1846 to Benjamin Pitt of Ludlow (d. 1853), who left it to his son Thomas. Thomas Pitt sold Newton farm (133 a.) to Lord Boyne in 1875. (fn. 134) The house includes a two storeyed stone range of two units with end stacks and an integral byre at the south end. The house's upper floor gave access to the byre's so that cattle could be fed from above. The byre also had a central through passage for feeding. The house was later extended north by another bay and east to add a kitchen. (fn. 135)
In 1796 THE SCIRMIDGE, consisting of a house and garden, was conveyed by Thomas Burton to his daughter and son-in-law Rachel and Thomas Powell. The Powells sold it in 1812 to Thomas Wheelwright, whose mortgagee sold it in 1866 to Thomas Millichap. Lord Boyne bought it from him in 1868. (fn. 136)
Lord Boyne (d. 1907) (fn. 137) thus owned almost the whole parish outside Clee Stanton. He left the estate to his son, F. G. Hamilton-Russell, (fn. 138) who sold it in separate lots in 1919. (fn. 139)
CLEE STANTON, probably another part of the lands said to have been given to St. Mildburg around the Clee hills, (fn. 140) belonged to the church of Wenlock in 1066 and to Wenlock priory in 1086. (fn. 141) It was subinfeudated by c. 1200 when Ives de Clinton (fl. 1194) (fn. 142) was lord. Clinton's son Hugh succeeded by 1203. (fn. 143) Philip de Clinton (fl. 1274) had the manor by 1255, (fn. 144) Ives de Clinton (fl. 1301) by 1291, (fn. 145) and John de Clinton (fl. 1341) by 1316. (fn. 146) He or his son of that name had it in 1348, (fn. 147) but by 1352 it belonged to John Bryce (d. 1377). (fn. 148) John Rowsley (fl. 1435) was lord by 1431, and had a son John. (fn. 149) Henry Rowsley (fl. 1492) was lord by 1489 (fn. 150) and John Rowsley c. 1497. (fn. 151) That John or a namesake, lord in 1541, died in 1561 and was succeeded by his daughter Maud, who afterwards married William Knyfton. (fn. 152) Maud and William sold the manor in 1591 to Thomas Littleton of Stoke Court and Edward Sheppard of Tugford (fl. 1608) as tenants in common. (fn. 153)
Sheppard's son Edward, of Abcott, conveyed his moiety in 1614 to John Sheppard of Hilluppencott (d. 1631), who was succeeded by his grandson John Sheppard. That John sold his moiety in 1650 to John Sheppard of Crowleasows, (fn. 154) his cousin. (fn. 155) Littleton's grandson Sir Thomas Littleton (or Poyntz) (fn. 156) sold his moiety in 1653 to Henry Bernard, who bought John Sheppard's share in 1662. (fn. 157)
Bernard (kt. 1677) died in 1680. (fn. 158) The manor passed to his daughter Elizabeth and her husband James Brydges, Lord Chandos (d. 1714), and in 1715 she sold it to their daughter's brother-in-law Humphrey Walcot (d. 1743) of Bitterley. (fn. 159) Walcot's widow Anna (d. 1755) succeeded, (fn. 160) followed by their son the Revd. Humphrey Walcot. In 1768 Walcot's trustees (fn. 161) sold it to William Pearce Hall. (fn. 162) Hall's heir was his daughter Catherine (d. 1808), wife of C. W. Boughton-Rouse (later Rouse-Boughton, cr. bt. 1791, succ. as 9th bt. 1794, d. 1821), lord by 1793. (fn. 163) The manor is presumed to have descended with the baronetcies: (fn. 164) Mary F. Rouse-Boughton (d. 1991), (fn. 165) only child of the last baronet (d. 1963), (fn. 166) claimed to be lady of the manor in 1970. (fn. 167) The manorial estate, two small farms (90 a.) in 1815, had three farms (138 a.) by 1842, and four (608 a.) by 1911. (fn. 168) Langley farm was sold in 1919 and the rest in separate lots in 1920. (fn. 169)
In 1589 William Knyfton sold the chief house and demesne lands, then called WALKER'S FARM or the farm of Clee Stanton, to Richard Walker. House and land descended in the Walker family until 1830 when Robert Head bought them. In 1839 Head settled them on George Bradley (d. 1868) and his wife Sarah (d. 1864). The Bradleys' representatives sold the estate to the lord of the manor in 1869. (fn. 170) The house, later called Manor Farm, was probably on or near the site of the medieval chief house: Gatehouse meadow (fn. 171) adjoined it on the west. Manor Farm is a mid 18th-century red brick farmhouse with a symmetrical three bayed main block and a lower, narrower service wing. It stands on a plinth of re-used rubble which includes ashlar blocks. The joinery, of oak, includes panelled doors and a staircase.
The appropriated RECTORY seems to have descended with Stoke St. Milborough manor until 1650 (fn. 172) when Sir Humphrey Briggs sold the rectorial tithes to Edward Baldwin. (fn. 173) During the 1650s Baldwin sold portions of them to the freeholders (fn. 174) and by c. 1764 there were 18 impropriators. (fn. 175) In 1842 those rectorial tithes that had not passed to the vicar were merged in the freeholds, except those of Sir John Edwards, which were commuted to £30 2s. (fn. 176)
ECONOMIC HISTORY.
By 1086 the land immediately surrounding Stoke St. Milborough and some of the other settlements was evidently arable; Stoke manor had 11 ploughteams and Clee Stanton one. (fn. 177) The outer and higher parts of the parish, which had presumably been covered with ancient woodland, (fn. 178) may have been partly cleared and settled; the presence of bordars on Stoke manor suggests that possibility. (fn. 179) Nevertheless 19 more teams could have been employed in Stoke manor and 6 in Stanton.
By the early 13th century increased grazing, inclosure, and reclamation of woods and wastes brought neighbouring lords into conflict. In 1231 the prior of Wenlock disputed the boundary between Stoke and Wheathill manors with Walter Haket, (fn. 180) and in 1232 the prior, in return for accepting Walter of Clifford's right to enforce the conservation laws of Clee chase within Stoke manor, was allowed to inclose any part of the manor's woods as ox pasture and, for himself and the manorial tenants, to graze freely over the uninclosed parts of Brown Clee. (fn. 181) The names Newton (recorded in 1255) and the Moor (1292) (fn. 182) suggest reclaimed areas, presumably during the period of comparatively unregulated clearance that seems to have preceded the agreement of 1232. The field name Stocking, found in Downton, Kinson, and Stanton townships, indicates woodland clearance there too. (fn. 183)
Wool and woollen cloth seem to have been important products of the parish in the 14th century. Walter the fuller was mentioned in 1322, and a weaver in 1334; (fn. 184) in 1345 cloths made in Stoke manor had to be taken to the prior's fulling mill. (fn. 185) In 1377 the lord of Stanton had 300 sheep and lambs, though he also had 15 oxen and two ploughs and grew wheat and oats. (fn. 186) In Stoke manor the prior's demesnes included 6 carucates of arable in 1291, valued at a mark each, and the manor was worth £21 14s. 8d. a year gross. (fn. 187) In 1340 it was alleged that the parish's crops had been devastated by storms, that flocks had dwindled, and that 11 tenants had abandoned their holdings, which lay fallow. (fn. 188) In 1369 the manor was worth only £9 4s. 6d. and the demesne arable had been reduced to 3 carucates, worth only 10s. each; (fn. 189) they were worth 3s. each ten years later. (fn. 190) There was evidently a recovery during the 15th century, for by 1535 the manor's gross rental was £22 10s. 8d. (fn. 191) By that time the prior's demesnes, which had only 2 virgates of arable, were leased to a farmer. (fn. 192)
The open fields of Stoke village, of which there were three in 1321, (fn. 193) were Rotbach (east, near 'Brodward' brook), Highway (north-west), and South fields in 1607, with stinted common grazing at the Over Knoll (on Weston hill), on Stoke Gorse, and on Brown Clee. (fn. 194) Stanton's open fields included North (or Cross) and South fields in 1620, (fn. 195) with common grazing on Titterstone Clee. (fn. 196) The parish's other hamlets presumably had open fields too, and grazing on Brown Clee; Downton also had grazing on Cockshut common. (fn. 197)
In the early 16th century farmers in Bockleton, Downton, Kinson, the Moor, Newton, and Stanton were converting arable to inclosed pasture, (fn. 198) and in 1581 the lord of Stoke reserved the right to let parts of the commons in severalty for pasture; (fn. 199) the Knoll waste had been inclosed and divided by 1654. (fn. 200) All the land of Bockleton and Newton hamlets may have been inclosed early (by 1655 at Bockleton); (fn. 201) they had one tenant each in the early 16th century. (fn. 202) Other hamlets, where agreement between tenants was necessary, may not have been fully inclosed before the late 18th century, by gradual exchange and consolidation of open-field lands; (fn. 203) only part of Stoke's South field was open in 1654. (fn. 204)
Inclosure was accompanied, from the 16th century if not earlier, by the formation of many outlying farms, probably on inclosed wastes at first, then on land severed from the open fields. Those established before 1700 included High Leys at Stoke; (fn. 205) Red Hall and Bold Venture at Kinson; (fn. 206) the Gibberage at Downton; (fn. 207) and Henley Hill at the Moor. (fn. 208) The process was continuing c. 1750 when a house was first built on land at Ripletts in Stanton township. (fn. 209)
In the later 17th and earlier 18th century the farms were much concerned with livestock; each usually had a herd of cattle and a less valuable flock of sheep. Some small farmers kept mainly sheep. Each farm usually had a significant cereal acreage too. (fn. 210) Stoke Court had an attached malthouse, perhaps built in the 17th century, (fn. 211) and c. 1720 another was built at Lower House, Stanton, where hops were grown. (fn. 212) In May 1708 Bockleton Court, an exceptionally large and compact farm (c. 250 a.), (fn. 213) had 45 cattle (excluding oxen) and c. 400 sheep, produced cheese in commercial quantities, and had a malt mill. (fn. 214)
Large areas of common grazing remained, especially on the Clees; in 1777 Bockleton Court was summering more than 300 sheep on Brown Clee. (fn. 215) Animals were evidently wintered on the farms. In 1813 Stoke Gorse, Cockshut common, and Stoke common (part of Brown Clee) were inclosed, (fn. 216) but Titterstone Clee (2,208 a.) remained common. Though inclosed in 1813, 80 a. of the former Stoke common on Brown Clee were registered as a common in 1968. (fn. 217)
Little barley was grown by the 1790s, when a frequently used rotation was fallow, wheat, oats (two years), long ley, and oats (two years); there was some use of peas and turnips by 1801. (fn. 218) Since the parish was not controlled by any large estate before the late 19th century, improvements were not concerted. At Bockleton Court a meadow was 'part watered' by 1777; in 1805 the wet parts of the farm were being drained and much of its permanent grass could be 'floated' through recently dug channels; and the farm's field boundaries were regularized between the 1770s and 1840s. (fn. 219) Pel Beggar farm was claimed in 1819 to be 'lately much improved'. (fn. 220) On the Stoke Lodge estate (633 a.), formed in the earlier 19th century, only Bold Venture farm could boast any modern buildings in 1866. (fn. 221) There was no marked tendency in the 19th century for farms to be permanently enlarged, or for their field boundaries to be rationalized. (fn. 222) John Patrick of Bockleton Court, however, held a group of farms (800 a.) in 1851, within which labourers occupied the former farmhouses at Newton, Red Hall, and Bold Venture. (fn. 223) The number of lesser smallholdings (6-20 a.) increased in the earlier 19th century; in the later 19th century greater smallholdings (21-40 a.) increased in number, while cottage holdings (1-5 a.) decreased markedly. (fn. 224) A few smallholdings survived in the 1980s. (fn. 225)
Table XXIV Stoke St. Milborough: Land use, livestock, and crops

| | | | | |
| --- | --- | --- | --- | --- |
| | | | | |
| | 1867 | 1891 | 1938a | 1965a |
| Percentage of grassland | 74 | 86 | 96 | 87 |
|                      arable | 26 | 14 | 4 | 13 |
| Percentage of cattle | 19 | 23 | 19 | 15 |
|                      sheep | 75 | 72 | 77 | 81 |
|                      pigs | 6 | 5 | 4 | 4 |
| Percentage of wheat | 46 | 30 | 28 | 29 |
|                      barley | 28 | 24 | 7 | 56 |
|                      oats | 26 | 45 | 64 | 13 |
|                      mixed corn & rye | 0 | 1 | 1 | 2 |
| Percentage of agricultural land growing roots and vegetables | 6 | 3 | 1 | 3 |
a Excluding the Heath and Norncott.
Sources: P.R.O., MAF 68/143, no. 21; /1340, nos. 7-8; /3880, Salop. no. 117; /4945, no. 117.
In 1840 there was about half as much arable as grass. (fn. 226) During the later 19th century the proportion fell to a sixth and in the early 20th century to a twentieth, mostly growing oats. It did not increase until the Second World War, when pastures were ploughed to provide more rotation grass and fodder crops. In 1919 there were a few mixed farms; most, however, were for rearing cattle and sheep, and some were suited to dairying or feeding. (fn. 227) Dairying gradually superseded beef production, especially after the Second World War. Barley was the chief cereal crop by 1965.
There was a mill at Stoke by 1334. (fn. 228) By the 19th century its pond was fed by a leat from Bockleton brook and by water from the Stoke Court moat. (fn. 229) The mill was re-equipped in 1871 (fn. 230) and served a large area in 1919. (fn. 231) It was working in 1929 but had closed by 1953. (fn. 232) A mill at the Moor was mentioned in 1321. (fn. 233)
The site of the prior's fulling mill mentioned in 1345 (fn. 234) is unknown, but fulling mills were listed among the appurtenances of Stoke Court in 1652. (fn. 235)
In 1581 the lord of Stoke reserved to himself any mines on the waste, (fn. 236) and in 1637 he had mines of ironstone and limestone, which he was alleged to let to poor people at dear rates. (fn. 237)
The only coal and ironstone within the parish boundary were at its northern tip, on Clee Burf; (fn. 238) there were disused shafts there in 1883. (fn. 239) Close by, in Loughton township (in Chetton), there was a group of active pits in 1813, (fn. 240) and some Stoke parishioners evidently worked there; in 1793 five householders were colliers or miners. Many of the farm labourers also worked then as colliers or 'limers', or kept horses to carry lime and coal; their condition was better than that of the ordinary farm hands, some of whom needed constant poor relief. (fn. 241) Coal and ironstone mining on Brown Clee declined in the later 19th century. (fn. 242) Six coal miners lived in the parish in 1861 but none in 1871. (fn. 243)
Limestone was being quarried in Stoke manor in 1637. (fn. 244) Any commercial working is likely to have been at the parish's two concentrations of quarries and kilns around the bases of Brown Clee and Titterstone Clee; (fn. 245) there were limekilns at Bockleton before 1655 (fn. 246) and field names indicate limeburning in Stanton township too. (fn. 247) Isolated kilns such as that at the Moor, still in use c. 1900, (fn. 248) may have been worked by farmers to supply themselves. (fn. 249) A lime maker who lived at Batch Gutter in 1841 was described in 1851 as a retired labourer, (fn. 250) and Richard Childs of Green Tump was a collier, smallholder, and limeburner in the 1840s. (fn. 251) They were among the last to burn lime for a living.
Several stone masons lived in the parish near Brown Clee during the 19th century, (fn. 252) and a few of the many small sandstone quarries remained in use until c. 1900. (fn. 253) On Clee Burf a small roadstone quarry opened in the early 20th century and extended into the parish, but it closed c. 1939. (fn. 254)
LOCAL GOVERNMENT.
Records of Stoke manor court survive for 1334, 1345, 1379-80, 1403-4, 1411-12, 1420, 1431, and 1449, (fn. 255) and an estreat for 1565. (fn. 256) In the 14th and early 15th century courts were held thrice yearly. The business was usually that of a court baron, but breaches of the assize of ale were also heard. Two reeves, two aletasters, and a hayward were elected. In the mid 15th century courts may have been less frequent, and in 1581 the lord reserved the right to hold his court once a year in the hall of Stoke Court. (fn. 257) In 1811 the court baron was amercing unlicensed cottagers. (fn. 258) A court baron for Stanton was mentioned in 1678. (fn. 259)
In the early 17th century Stoke and Stanton manors comprised three constablewicks within Bourton hundred: Stoke (including Bockleton, Kinson, and Newton), Downton (including the Moor), and Stanton. By the later 17th century Stanton, Downton, and the Moor formed a single constablewick. (fn. 260)
The inhabitants of Stoke manor were also subject, in the 16th century, to the swainmote of Clee chase. (fn. 261) One of the four chasekeepers' lodges (fn. 262) stood in 1655 at the edge of the common, near the main point of access from Stoke village, (fn. 263) but had gone by 1777. (fn. 264) It was said that in the late 17th century, after the swainmote lapsed, cottagers on the wastes of Stoke manor used to owe suit and amercements to the manor court of Earnstrey Park, and after 1709 to that of Abdon; if so, they had ceased to do so by 1744. (fn. 265) Bourton hundred amerced two of them in 1670, (fn. 266) but in the 1690s failed to establish a new claim to the suit of all cottagers on the wastes of Stoke manor. (fn. 267)
The parish was divided into three highway townships by 1724: Stoke (including Bockleton, Kinson, and Newton), Downton (including the Moor), and Stanton. Each had its own surveyor and rates. (fn. 268) Those divisions remained in the 1850s. (fn. 269) For poor-law purposes there were no divisions in the 18th and early 19th century. (fn. 270) The vestry arranged to send paupers to workhouses at Madeley (from 1774) and Church Stretton (from 1783) and planned its own workhouse in 1784. (fn. 271) From 1786, however, and still in 1793, the master of Ludlow workhouse was paid to take in paupers from the parish and give out-relief. (fn. 272) By 1812 the overseers had resumed relief. (fn. 273)
The parish was in Ludlow poor-law union 1836-1930, (fn. 274) Ludlow highway district 1863- 95, (fn. 275) Ludlow rural sanitary district 1872-94, Ludlow rural district 1894-1974, and South Shropshire district from 1974. (fn. 276) From 1953 the civil parish had a joint council with Hopton Cangeford. (fn. 277)
CHURCH.
There was a church at Stoke c. 1200, and it seems to have incorporated vestiges of an earlier one. (fn. 278) In 1291 the rector owed an annual portion to Wenlock priory. (fn. 279) In 1344 the rectory was appropriated to the priory and a vicarage ordained. (fn. 280)
The advowson of the rectory, and of the vicarage from 1344, belonged to Wenlock priory by 1272 and descended with Stoke manor until 1575, (fn. 281) except that it was in the king's hands by 1342 and until the priory's denization in 1395, (fn. 282) and was not held by the see of Canterbury 1542-59. (fn. 283) In 1575 John Smith sold the advowson to Richard Hopton, still patron in 1588; (fn. 284) George Hopton was patron in 1621. (fn. 285) The advowson passed to Charles Foxe of Greete, who sold it in 1631 to Adam Littleton of Stoke Court; (fn. 286) Littleton's mother-in-law Jane Docwra had presented in 1630. (fn. 287) It seems to have descended with Stoke Court (fn. 288) until 1819 when the trustees of John Wall, former patron and vicar, sold it to George Morgan (d. 1866). (fn. 289) Morgan presented himself as vicar, as did the next two patrons, George de Gruchy (d. 1893) and T. J. Smith (d. 1901), the latter through an intermediary. (fn. 290)
In 1903 Smith's widow transferred the advowson to Sir C. H. Rouse-Boughton. In 1908 Sir W. St. A. Rouse-Boughton transferred it to the vicar's father-in-law, the Revd. Daniel Vawdrey (d. 1934), whose daughter Mrs. C. M. Chandos Burton inherited it. (fn. 291) The patronage was suspended 1954-7 after which the benefice was held in plurality with that of Abdon with Clee St. Margaret and that of Cold Weston. In 1962 Mrs. Burton gave the advowson to the diocesan patronage board. (fn. 292) From the next vacancy, in 1972, the parish was served by priests or curates in charge until 1983 when the united benefice of Bitterley with Middleton, Hopton Cangeford, Stoke St. Milborough with the Heath, Clee St. Margaret, and Cold Weston was formed, with the diocesan patronage board as one of the joint patrons. The ecclesiastical parish of Stoke St. Milborough with the Heath absorbed that of Hopton Cangeford in 1985. (fn. 293)
In 1291 the rectory was valued at £13 13s. 4d. a year, of which £3 was payable annually to Wenlock priory. (fn. 294) In 1344, when the rectory was appropriated, the small tithes and oblations were assigned to the vicarage, together with the former rectory house and some land at Stoke St. Milborough and the Heath; the vicar was to pay 6s. 8d. a year to Hereford cathedral choristers. (fn. 295) The vicarage was worth £6 13s. 4d. in 1370 (fn. 296) and 1535; in 1535 glebe yielded 10s. a year and tithes the rest. (fn. 297) By 1793 the vicar had some of the great tithes and let all his tithes for £105 a year. The glebe was let for £63; that at the Heath formed Peckledy farm. (fn. 298) In 1810 there were 77½ a. (fn. 299) The vicar's net income in 1835 was £474. (fn. 300) Between 1841 and 1846 his tithes, a payment for hay tithes called hay silver, and other moduses were commuted to £423 19s. 8d. (fn. 301) In 1887 his glebe was let for £75 a year. (fn. 302) Peckledy was sold in 1921. (fn. 303)
In 1607 the vicarage house had three bays, containing 'house', parlour, and kitchen. A combined barn and cowhouse, of three bays, stood nearby with garden, fold, and 'pool yard'. (fn. 304) The house, of sandstone rubble, was built or greatly altered, probably in 1764, for John Pearce. (fn. 305) The main staircase is of that period, and the grounds were also improved then. (fn. 306) In the early 19th century the building was heightened, remodelled, and stuccoed to create a polite villa of three bays and 2½ storeys; that was probably c. 1813, when the vicar resumed residence. (fn. 307) In 1827 a south wing contained the kitchens and other offices, with stables, coach house, and beast house nearby. The wing and outbuildings were demolished shortly afterwards and replaced by an east wing with nearby stables and coach house; the garden and drive were then laid out with shrubberies, fountain, and grotto. (fn. 308) Lawns led down to a large fishpond, apparently an ornamental feature of the 18th or early 19th century. (fn. 309) The incumbents stopped living there in 1972. (fn. 310)
In 1344 the rector was assisted by a resident chaplain Henry of Larden, (fn. 311) perhaps related to a previous rector Richard of Larden (fl. 1312- 28). (fn. 312) Another chaplain was assisting the vicar in 1348. (fn. 313) From 1534 or earlier vicars were usually resident. (fn. 314) Notable exceptions were Roger Stedman, 1588-1630, who lived at Munslow, (fn. 315) and John Phillipps, 1772-1812, who lived at Eaton Bishop (Herefs.); (fn. 316) both employed resident curates. (fn. 317) In 1719 there was a morning and evening service every Sunday, and communion monthly from Easter to November as well as at festivals. (fn. 318) By 1793, however, no Sunday evening congregation could be 'procured', probably because the parish had many small remote settlements. Communion was then celebrated only six times a year, with 30 or 40 communicants at Easter. Evening prayer was limited to Lent and Wake Sunday in late June. (fn. 319) By 1851 Evening prayer was weekly but few attended. (fn. 320) Cottage services in the early 20th century reached some of the remoter inhabitants, and the church sustained a Sunday school, choir, and men's bible class. (fn. 321) In 1992 there was communion or Evensong every week and a monthly family service. (fn. 322)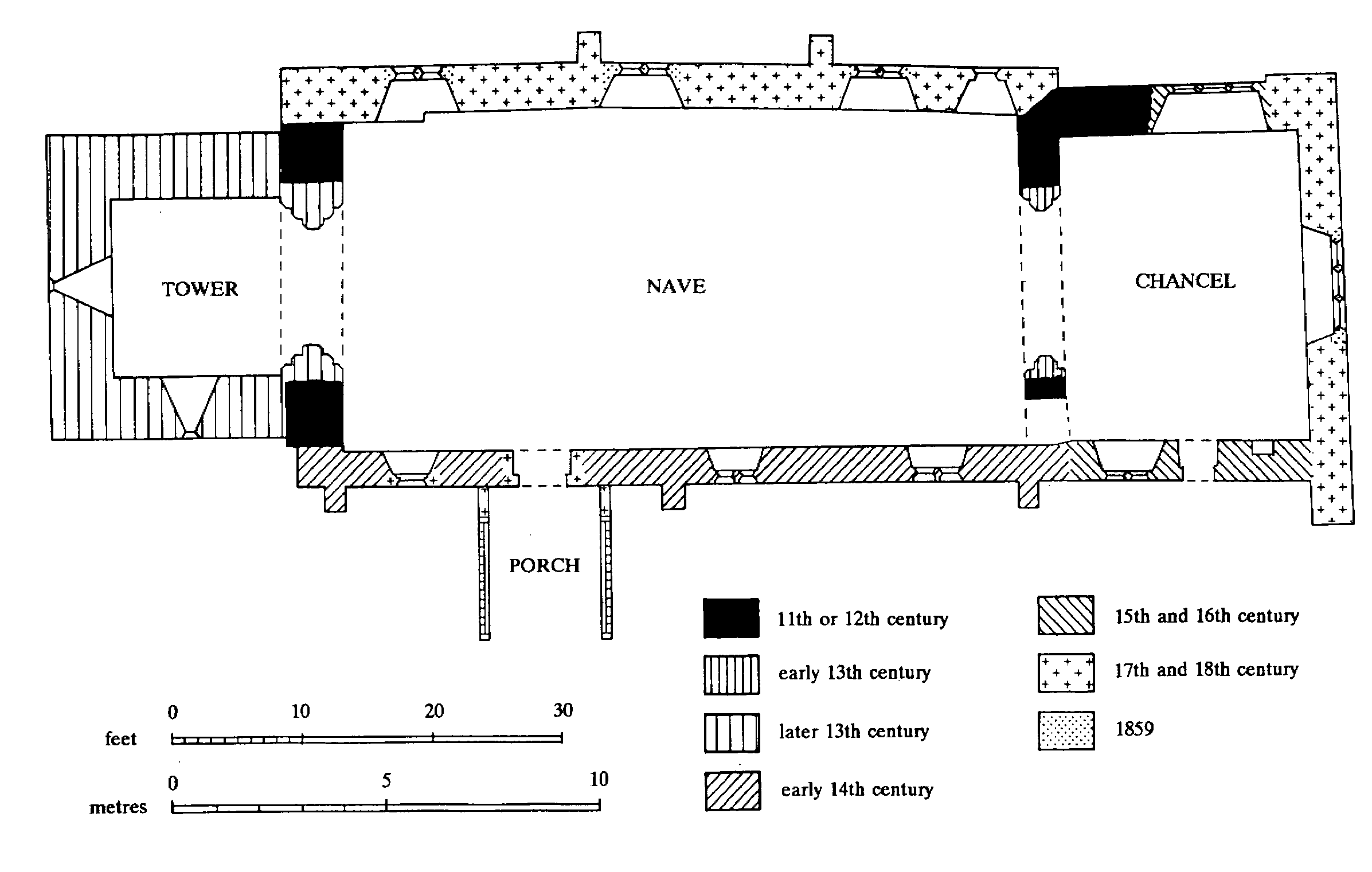 The church of ST. MILBOROUGH, so dedicated by 1740 (fn. 323) and perhaps by the 1270s, (fn. 324) is built of rubble with ashlar dressings and has a chancel, nave with south porch, and west tower. (fn. 325) The fabric shows signs of several partial rebuildings, not all of them datable or clearly defined.
The corners of an earlier and narrower nave survive in the angles between the tower and the west wall of the nave. The thick north wall of the chancel, which is aligned on the north-west corner of the earlier nave, is probably late 11thor 12th-century. The chancel arch has early 13th-century capitals but may have been cut into an older wall. A low tower was added in the later 13th century. Its corbel table, which survives on all four sides, suggests that it may have had a pyramidal roof. The nave was probably widened in the early 14th century, the apparent date of its south windows; the south wall of the chancel is later, and has a mid 14th-century window, perhaps reset. In the 15th century the tower was heightened by one stage and a new window was put into the north wall of the chancel; indulgence was offered in 1424 to those who contributed to repair of the church fabric. (fn. 326) There was formerly a rood screen and loft, which was perhaps reached by a wooden stair in the opening south of the chancel arch. Traces of medieval painting remain over the arch.
There were extensive repairs and alterations c. 1700. The north wall of the nave and the top of the tower (fn. 327) were rebuilt, a new south doorway was put in, and the roof was renewed. (fn. 328) The cruck framed porch appears to be later but may be nearly contemporary. The west gallery and the south lancet that lighted the space under it may also have been of that time. In the 17th or 18th century the east wall of the chancel was rebuilt, perhaps farther west than its medieval predecessor. By the late 18th century the communion table was railed on three sides and the chancel contained wall monuments to the Botterell, Lee, Lucy, and Wall families. George II's arms, painted on canvas by James Smallwood in 1741, replaced cast iron arms apparently purporting to be those of William III. (fn. 329) Four Commandment tables on sheet zinc were set up in the earlier 19th century. (fn. 330)
There was a general restoration in 1859 when the gallery, box pews, and Commandment tables were removed; a window, with glass by David Evans, (fn. 331) was put into the east wall of the chancel; choir stalls and a straight communion rail were made; and new windows of 14th-century character were put into the north wall of the nave. Some of that work, including the raised floor of the chancel, was removed at a further general restoration in 1911.
One bell (1622) was by William Clibury of Wellington, the other three (1637) by Thomas Clibury. (fn. 332) There was a silver paten of 1720 and an undated 18th-century silver chalice and paten. (fn. 333) The registers begin in 1654, earlier registers (since 1588) having been lost since the early 19th century. (fn. 334)
The churchyard, roughly rectangular, was extended north in 1898 and 1962. (fn. 335)
In 1719 there were two chapels, each with a monthly service. (fn. 336) That at the Heath survives; (fn. 337) the other, at Clee Stanton in Chapel yard, was later converted to a house and demolished by 1830. (fn. 338)
NONCONFORMITY.
The Parrs were Baptists in the 1670s and 1680s. (fn. 339) Chapel House, Clee Stanton, so called by 1815, may have been an early meeting place. (fn. 340)
In Stoke village Wesleyan Methodists were preaching by 1834 (fn. 341) and licensed a new chapel in 1842. In 1851 attendance averaged 30 in the afternoon and 15 in the evening. (fn. 342) The chapel closed in 1922 (fn. 343) when one at Stanton opened. Wesleyans had begun to meet at Stanton in 1841. (fn. 344) In 1851 they had a separate room attached to a house, and on Census Sunday there were 50 worshippers in the afternoon and 20 in the evening. (fn. 345) The room closed in 1922 when a disused brick Wesleyan chapel from Leamoor Common (in Wistanstow) was re-erected near Stanton Farm. (fn. 346) It seated 60 (fn. 347) but closed in 1970. (fn. 348)
Edward Bytheway's house was licensed for Primitive Methodist worship in 1822. (fn. 349) It may have been at Shortwood, near Blackford, where he had bought land in 1815 and had a house by 1842. (fn. 350) In 1823, however, a new chapel seating 75 was built next to a pair of cottages at Blackford. On Census Sunday 1851 10 people attended in the morning, 60 in the afternoon, and 30 in the evening. (fn. 351) Known as the iron chapel in 1851, it closed in 1869 when a new stone chapel was built nearby, (fn. 352) which had a fortnightly service in 1992. (fn. 353) Stoke was put on the Hopton Bank Primitive Methodist preaching plan in 1835 (fn. 354) and a chapel there was licensed in 1842. In 1851 attendance averaged 40 in the afternoon and 50 in the evening. (fn. 355) Perhaps rebuilt in the 1870s, (fn. 356) it closed in 1972. (fn. 357)
EDUCATION.
A schoolhouse was built in Stoke St. Milborough village c. 1760 by subscribers. (fn. 358) The master received a £5 rent charge given c. 1760 by Mrs. Elizabeth Pearce and another of £3 paid from c. 1754 by successive vicars. (fn. 359) By 1793 only the latter sum was paid. The curate, then master, taught poor children chosen by the vicar and churchwardens, and c. 20 paying pupils. (fn. 360) The £3 salary lapsed before 1819, when there were six pupils, (fn. 361) and the school had closed by 1820. (fn. 362) It was revived before 1835, when 21 fee-paying children were taught, and was a National school in 1851. (fn. 363) It was taught 'under great difficulties' by a 'village dame' and her daughter. (fn. 364)
A new school was built by subscription in 1856. (fn. 365) A stone building with gothic details, designed by James Cranston, it comprised a schoolroom and classroom; the schoolroom was enlarged c. 1870. (fn. 366) School pence varied between 1d. and 2d. according to writing proficiency. (fn. 367) Some pupils travelled from outlying hills. (fn. 368) Children from the upper part of Blackford went to school at Loughton, (fn. 369) and others, from Clee Stanton, went to Bitterley. (fn. 370)
In the later 1930s the master and his wife produced school meals. (fn. 371) Attendance averaged c. 67 in 1885 and c. 77 in 1909. (fn. 372) The roll fell to c. 47 in 1916, and to c. 42 in 1939. (fn. 373) In 1941 the school admitted 15 evacuees from Liverpool. (fn. 374) Senior pupils received no practical instruction, except gardening c. 1914- 45. (fn. 375) In 1950, when the roll was 26, children aged 14, and in 1952 those aged 12, transferred to Burwarton C.E. school. (fn. 376) The building was much improved after the school became Aided in 1955. (fn. 377) In 1958 pupils aged 11 transferred to Ludlow C.E. Modern school. (fn. 378) In 1968 the roll was 18 (fn. 379) and the school closed in 1969. (fn. 380)
A small private school is said to have been kept at Blackford in the earlier 19th century. (fn. 381)
Evening classes in mathematics, drawing, and horticulture were held in 1893-4 and free but ill attended continuation evening classes 1893-9. (fn. 382)
CHARITY FOR THE POOR.
In 1846 George Morgan, vicar, gave £400 to endow monthly bread doles. (fn. 383) The income, estimated at £10-£25 in 1965, (fn. 384) was still designated for bread in 1975. (fn. 385)