Pages 399-447
A History of the County of Shropshire: Volume 10, Munslow Hundred (Part), the Liberty and Borough of Wenlock. Originally published by Victoria County History, London, 1998.
This free content was digitised by double rekeying. All rights reserved.
MUCH WENLOCK
Communications, p. 401. Growth of Settlement, p. 403. Social and Cultural Activities, p. 413. Manors and Other Estates, p. 416. Economic History, p. 422. Local Government, p. 433. Public Services, p. 435. Churches, p. 436. Roman Catholicism, p. 443. Protestant Nonconformity, p. 443. Education, p. 444. Charities for the Poor, p. 446.
Centred on a very small market town, 18 km. south-east of Shrewsbury and 11 km. north-west of Bridgnorth, Much Wenlock parish is rural in character. (fn. 1) Formerly the administrative centre of an ancient borough, (fn. 2) the town has not grown much since the 17th century and, though it has not stagnated, Much Wenlock has given nostalgic visitors the impression that it 'belongs in spirit wholly to the past'. (fn. 3)
The parish of c. 1831, the subject of this article, was aligned south-west to north-east. It was the remnant of a much larger parish, from which chapelries had been lost when severed to become distinct parishes. (fn. 4) The parish boundary of c. 1831 enclosed 8,770 a. (fn. 5) (3,590 ha.) and seven townships: Atterley and Walton; Bourton; Callaughton; Farley, Wyke, and Bradley; Harley (part), Wigwig, and Homer; Presthope; and Much Wenlock. (fn. 6) That part of the parish in Harley, Wigwig, and Homer township included 20 small detachments intermingled with Harley parish, (fn. 7) to which the detachments, 111 a. (45 ha.), were transferred in 1883, when Much Wenlock gained c. 1 a. from Benthall civil parish; (fn. 8) there were no changes thereafter.
The townships approximated to drainage basins. Harley brook enters the Severn at Sheinton. Farley brook, rising at Westwood and there called the Rhe in the 16th century, (fn. 9) flows through the town to the Severn at Buildwas. Wyke's Arnegreave brook (fn. 10) flows through Hunger Dale to the Severn. Callaughton drains, by means of Callaughton brook and its tributaries, towards Mor brook, as do Atterley and Walton by means of Beggarhill and Walton brooks respectively. Presthope and Bourton drain through several streams to the Corve.
The parish lies on sedimentary strata tilted slightly down from north-west to south-east. (fn. 11) On the north-west the Wenlock Limestone outcrops as Wenlock Edge, a continuous ridge parallel to the parish boundary in the townships of Presthope, Much Wenlock, and Farley, Wyke, and Bradley; there is a smaller outcrop immediately north of the town. The deep overlying Lower Ludlow Shales form both the extensive lower ground immediately east of Wenlock Edge and the upward slope of the Downs towards Shirlett, and thus cover most of the remaining parts of the townships just mentioned. There is a drift deposit of boulder clay over much of the Lower Ludlow Shales. The shales are overlain by the Aymestry Group (siltstones and limestone), which outcrops as a watershed east of, and parallel to, Wenlock Edge; it thus broadly divides Atterley and Walton, Bourton, and Callaughton townships from the rest of the parish. South-east of the watershed, on the south-facing slopes of those townships, the strata overlying the Aymestry Group appear successively from north-west to south-east. They are the Upper Ludlow Shales, which occur in Bourton and Much Wenlock townships; the shallow Temeside Shales around Walton; and the Ledbury Group (marls with sandstone bands) in Atterley, Callaughton, and Bradeley. Homer and Wigwig, isolated west of and below Wenlock Edge, lie over Wenlock Shale, covered with drift deposits of boulder clay and sand and gravel and, at the foot of the Edge, a head of sandy, silty clay. The parish's soils, mainly acid loams, (fn. 12) were mostly graded 2 and 3 in the 1970s, grade 3 predominating north of the town. (fn. 13)
Finds of Neolithic and Bronze Age implements (fn. 14) indicate early settlement and long-distance contacts, and it appears that the area enjoyed some prosperity in the Roman period. A bronze brooch (fn. 15) and a hoard of more than 3,000 coins, apparently deposited in the late 3rd century, (fn. 16) have been found on the southeastern slope of Henmoor hill near Westwood Farm. The land attached to a villa (fn. 17) at Yarchester (in Harley) presumably included the neighbouring part of Wigwig called Harchester. (fn. 18) There may have been a pre-Christian religious site at Much Wenlock. Its Christian holy wells (fn. 19) may represent a former pagan water cult, (fn. 20) and a Romano-British sculpture of a Celtic deity was stored with medieval sculpture fragments on the site of Wenlock priory in 1911. (fn. 21)
A room (believed to be of Romano-British type) (fn. 22) on the site of the priory church (fn. 23) seems to have been part of a continuous range, possibly also Romano-British. (fn. 24) The room's eastward orientation, and the veneration implied when a medieval church was built centrally over it, support the suggestion that it was used by Romano-British Christians within the large house that the range would imply. (fn. 25) If there was a large Romano-British house, it could have been the centre of the estate that was conveyed to St. Mildburg in the late 7th century under the name 'Wininicas'. (fn. 26) Burials provisionally dated to the 3rd-5th and 5th-7th centuries have been found south of Barrow Street; (fn. 27) an unfurnished grave, oriented east-west and aligned upon a pot and two bowls that may have been Romano-British, was found in 1855 in the centre of the priory's Lady chapel; (fn. 28) and a sherd of Samian pottery of the 1st or 2nd century was found in 1993 in excavations immediately south of the Raven inn in Barrow Street. (fn. 29)
St. Mildburg's well was mentioned in Barrow Street in the 13th century (fn. 30) and was said c. 1730 to be 'in a little narrow lane turning out of Barrow Street'. (fn. 31) It was possibly that mapped in 1882 as 'St. Milburga's well' (fn. 32) in the lane once called Rowsell (later St. Milburga's Row); (fn. 33) the well-head may be partly medieval. (fn. 34) In 1897, however, the traditional name of that well was said to be Wimperis well. (fn. 35) Another well in Barrow Street (fn. 36) has a medieval roof (fn. 37) and is named 'St. Milburga's well' on a stone placed over it in 1897. (fn. 38) St. Mildburg's well was venerated at Rogationtide by the monks of Wenlock in the early 16th century. (fn. 39) St. Owen's well (fn. 40) was mentioned in Mardol Lane in 1546. (fn. 41) Steps led down to the spring. Closed in the 19th century, it was reopened and restored in 1897. (fn. 42) It seems likely that the dedicatee was St. Ouen (d. 684), adviser to St. Baldhild, foundress of the convent at Chelles (Seine-et-Marne) (fn. 43) in which St. Mildburg was probably educated. (fn. 44) It was reported in 1905 that on Maundy Thursday young men used to carry branches round the town, stopping at St. Mildburg's well, where girls would throw in pins and wish for sweethearts while the youths drank beer brewed from water off the church roof. The well water was also believed to cure sore eyes, (fn. 45) as was that of the Shady well, which stood in 1897 among bushes by Shadwell quarry near the railway. (fn. 46)
James I was said to have stayed at the Talbot and touched for the King's Evil. (fn. 47) Charles I, en route from Shrewsbury to Bridgnorth, reached Much Wenlock on 12 October 1642 (fn. 48) and is said to have slept at Ashfield Hall. (fn. 49) Royalist cavalry under Sir William Vaughan was reported to have beaten Parliamentarian cavalry at Much Wenlock on 9 May 1645. (fn. 50) Later that year the rearguard of the royal army, going to Bridgnorth, spent the night of 30 September at Much Wenlock. (fn. 51) Thomas Smalman, a Royalist officer, was said to have escaped his enemies by leaping on horseback over a precipice near Stretton Westwood, called Major Smallman's Leap by the 1830s. (fn. 52) Ann ('Nanny') Morgan (d. 1857) (fn. 53) of Westwood was feared as a witch; after she was killed by a lodger her books and papers were burnt on the mayor's order. (fn. 54) In 1949 local people participated in the filming in south Shropshire of Gone to Earth, (fn. 55) directed by Michael Powell and Emeric Pressburger, (fn. 56) an event vividly remembered in Much Wenlock 40 years later.
Distinguished natives include Walter of Wenlock, abbot of Westminster 1283-1307, (fn. 57) and John Bill (1576-1630), one of the king's printers 1617-30. (fn. 58) Dr. William Penny Brookes (1809- 95), a native and lifelong resident, campaigned for compulsory physical education in schools and contributed to the international Olympic movement. (fn. 59) In Much Wenlock he was a leading figure in the formation of the gas, railway, and market companies and of the library and museum. (fn. 60) W. W. Hull (1794-1873), liturgical writer and hymnologist, lived at Tickwood Hall from 1846, (fn. 61) and the novelist and poet Mary Webb (1881-1927), née Meredith, lived at the Grange 1882-96. (fn. 62)
COMMUNICATIONS.
One of the principal medieval roads from London to Shrewsbury, by Worcester and Bridgnorth, crossed the parish and passed the edge of the town. (fn. 63) The Bridgnorth-Shrewsbury section was also part of the Bristol-Chester road c. 1360 (fn. 64) and in 1480, (fn. 65) and may have been the Bridgnorth-Shrewsbury route used in 1102. (fn. 66) It crossed Wenlock Edge at Harley hill (called Wenlock Pitch in 1675), (fn. 67) which was already noted c. 1190 as a difficult gradient. (fn. 68) It was probably in the early Middle Ages, when the town came into existence, (fn. 69) that the road, as it approached from Shrewsbury, was diverted into the main street. Thereafter the ancient continuation to Bridgnorth had the appearance of a side road until the earlier 20th century, when a remodelling of the junction, next to the Gaskell Arms, restored its priority. (fn. 70) The Bridgnorth-Shrewsbury road had presumably been eclipsed as a London-Shrewsbury route in 1726, when the Shifnal-Wellington- Shrewsbury road was turnpiked, (fn. 71) but it remained the principal Bath-Worcester- Shrewsbury road (fn. 72) and was turnpiked in 1752. (fn. 73)
Other early thoroughfares radiated from Much Wenlock market place. One of them ran north along Sheinton Street to Lawleys Cross (fn. 74) and thence (fn. 75) over the Severn by Buildwas bridge to Little Wenlock, Madeley, and Shifnal. (fn. 76) It was turnpiked to Strethill Farm (in Madeley) in 1756. (fn. 77)
The Iron Bridge, opened in 1780, provided a Bridgnorth-Shrewsbury route that passed through Broseley instead of by Much Wenlock. (fn. 78) The Much Wenlock trustees, however, anticipated the bridge in 1779 (fn. 79) by turnpiking the lane from their Buildwas bridge road at Gleedon hill through Sheinton to the road between Much Wenlock and Shrewsbury at Cressage; (fn. 80) that route avoided Harley hill but without diverting Shrewsbury traffic from Much Wenlock. The ensuing rivalry between the Iron Bridge and Much Wenlock coaching routes was not resolved before coaching itself declined. (fn. 81)
An early road ran east from the market place along Barrow Street to the Marsh (in Barrow), whence two branches led to Broseley, one through Posenhall and the main one through Barrow. Another branch led from the Marsh through Hangstree Gate (in Barrow) to Swinney ferry on the Severn near Caughley, (fn. 82) and another, the way to Aldenham in 1262, (fn. 83) led from the Marsh through Shirlett to Bridgnorth. (fn. 84)
The route from Much Wenlock to Broseley via Posenhall was turnpiked in 1756. At the same time the Marsh-Bridgnorth road was turnpiked, not on its earlier line but through Hangstree Gate and Willey to the Broseley-Bridgnorth road. (fn. 85) Before 1808 the turnpiked route between the Marsh and Willey was altered to go through Barrow. (fn. 86) By 1827 the section of that road between Barrow and Nordley common was disturnpiked. The Barrow-Broseley road, however, was by then newly turnpiked and thus provided an alternative turnpike from Much Wenlock to Broseley. (fn. 87)
An early road led south-west from the market place along Spittle Street to Bourton (fn. 88) and thence ran the length of Corve Dale. It was the road to Ludlow by the 13th century. (fn. 89) It was called St. Mildburg Way south of Bourton in 1332, (fn. 90) perhaps from the monks' annual Whitsun procession into the countryside, carrying St. Mildburg's relics. (fn. 91) In Much Wenlock it was called Bourton Lane by 1736. (fn. 92) In 1756 it was turnpiked as far as the borough boundary at Beambridge (in Munslow). (fn. 93)
Parallel roads, mentioned in 1262, (fn. 94) led southwest along Wenlock Edge to Presthope from the road between Much Wenlock and Shrewsbury at the Bank. Called Upper and Lower Green Lane, (fn. 95) they converged on Presthope common, whence a road continued along the Edge (fn. 96) past Easthope. (fn. 97) In 1765 the Lower Green Lane was turnpiked to Presthope with its continuation thence to the Shrewsbury-Ludlow turnpike at Church Stretton. (fn. 98)
Settlements not on the main thoroughfares were mostly served by their own lanes from the town centre. The way to Wyke and Bradley was called Wyke (or Bradley) Lane in 1652. (fn. 99) Atterley and Walton were reached by Atterley Way. (fn. 100) St. Mary Way (fn. 101) or Mary Lane (fn. 102) (later St. Mary's Lane and Racecourse Road), continued by Callaughton Lane, (fn. 103) led to Callaughton. (fn. 104) In 1715 there was a 'church way' from Wigwig to Much Wenlock; (fn. 105) but by 1847 the usual road to Wigwig was over Homer common from the Buildwas bridge road. (fn. 106) In the 18th century Bradeley was accessible through Bourton. (fn. 107)
Other lanes helped to link settlements to outlying resources. Westwood common was reached from Much Wenlock by Westwood Lane, mentioned in 1554, (fn. 108) and from Bourton over Henmoor hill. Bourton (fn. 109) and Callaughton (fn. 110) were linked to Spoonhill wood, Atterley and Walton to Shirlett (in Barrow), (fn. 111) and Wyke to Tickwood. (fn. 112)
The parish's turnpike roads were disturnpiked in 1867 except for the Bridgnorth-Shrewsbury road, which was disturnpiked in 1875 (fn. 113) and declared a main road in 1878. (fn. 114) Within the civil parish and beyond the town's streets the rest, except the Posenhall and Sheinton roads, were declared main in 1889; (fn. 115) where they formed streets they were declared main in 1893. (fn. 116) Only the Bridgnorth-Shrewsbury road was a Ministry of Transport class A road. (fn. 117)
In 1862 (fn. 118) the locally promoted Much Wenlock & Severn Junction Railway Co. opened a singletrack line from Much Wenlock to the Severn Valley Railway at Buildwas, with a short spur beyond it to the Severn. (fn. 119) From Buildwas Much Wenlock limestone could be carried on the Severn Valley line towards iron works in the west midlands (fn. 120) or by river to local ironworks.
Meanwhile in 1861 the Wenlock Railway Co., also promoted locally, (fn. 121) was incorporated to extend the line at both ends: (fn. 122) northwards across the Severn to Coalbrookdale, whence the G.W.R. would continue it to a junction (in Madeley) with its own Madeley branch and with the Wellington & Severn Junction Railway, and southwards through Presthope to Craven Arms (in Stokesay) via a junction with the Shrewsbury & Hereford Railway at Marsh Farm (in Wistanstow). (fn. 123) The extensions would not only ease the transport of local limestone to the east Shropshire coalfield but also, it was claimed, connect Much Wenlock with South Wales, Staffordshire, and Birmingham. (fn. 124) The extensions opened in 1864, but the southward line reached only to Presthope until its continuation to Marsh Farm opened in 1867. (fn. 125)
There were stations at Much Wenlock and Presthope. (fn. 126) Lack of a direct connexion with the eastern part of the coalfield, (fn. 127) and a falling demand for fluxing limestone, (fn. 128) prevented the line from fulfilling its promoters' highest hopes. In 1896 ownership passed to the G.W.R. To meet road competition halts were added at Farley (1934) and Westwood (1935). Passenger services ceased between Much Wenlock and Craven Arms in 1951 and between Much Wenlock and Buildwas in 1962. Freight services between Buildwas and Longville (in Eaton-under-Heywood) ended in 1963 when the line closed. (fn. 129)
GROWTH OF SETTLEMENT.
Much Wenlock was the parish's only large settlement. Elsewhere only Bourton and Callaughton, and later Farley and Homer, ever comprised more than a handful of dwellings; several settlements shrank after the 17th century. In the 16th century settlements were usually nucleated but with outlying farms or cottages, especially near large woods, and were normally sited between 135 m. and 185 m. and near streams; they often avoided the highest and lowest ground. The two main periods of post-medieval cottage building on common wastes were in the 17th and in the late 18th and 19th centuries. Farley, Homer, and Wenlock Bank were settled almost entirely in that way.
Much Wenlock Town.
The three main streets from the Middle Ages onwards were Spittle (fn. 130) (later High (fn. 131) or Hospital) Street, Barrow (fn. 132) (formerly Southpool) (fn. 133) Street, and Wilmore (fn. 134) (continued northwards as Sheinton) (fn. 135) Street. They formed a T, its junction at an entrance (the 'churchyard stile') (fn. 136) to Holy Trinity churchyard; the main streets seem unrelated to the site of the 11th-century priory. (fn. 137) It is likely that before the Conquest the people of the district were using worship at Holy Trinity as an opportunity for weekly trade; Sunday was market day until 1224. (fn. 138) The building of permanent shops on the approaches to the churchyard set the medieval street pattern and made the beginnings of a town.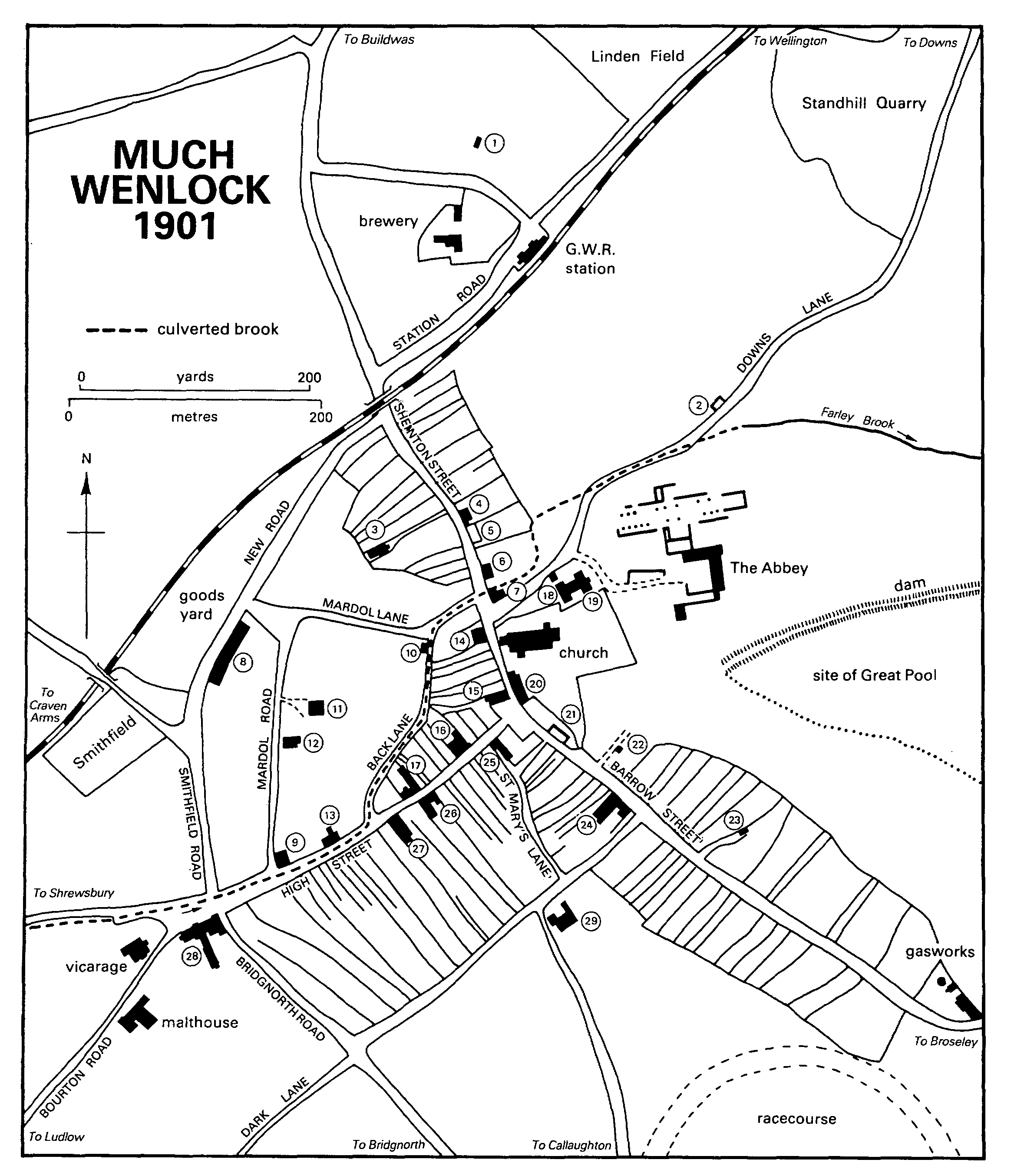 Encroachment of marketing on the churchyard was apparently followed by the demarcation (fn. 139) of distinct market places, the Bull Ring to the north (fn. 140) and the junction of Barrow and Wilmore streets to the west. The latter space seems to have been cigar shaped, (fn. 141) but by the early 16th century had been narrowed by buildings that encroached on its east side: (fn. 142) a house was built c. 1421 on part of the horse market, then in the king's highway, (fn. 143) and other encroachments included the almshouses (by 1485) (fn. 144) and guildhall (begun c. 1540). (fn. 145) The Bull Ring was likewise narrowed in the 15th or 16th century by encroachment of a row of houses on the south side and, it seems likely, of houses on the north. The principal market place in 1558 was 'at the churchyard stile' before the 'court hall' (guildhall); (fn. 146) the pavement next to the hall was the 'heart of the market' in 1624; (fn. 147) and in 1671 the 'market house' and adjoining street were the site of the corn market. (fn. 148) At that time the markets and fairs were small by Shropshire standards (fn. 149) and presumably took up little room.
The borough guildhall (fn. 150) had been built c. 1540 by the carpenter Richard Dawley (fn. 151) over a ground floor then open on all sides and which served as a covered market. In 1577 the building was extended north over the nearby stone gaol by the addition of a smaller second chamber (fn. 152) partly supported, like the main hall, on posts. About 1707 the posts under the east and south sides of the building were replaced in brick; (fn. 153) under the main hall those brick supports, in their turn, were replaced c. 1719 (fn. 154) by a blind brick arcade (pierced by windows) along the east side and, on the south side, by a brick wall with an arch through it. (fn. 155) In 1868 the building was extended south by the addition of a first-floor retiring room, built over a passageway that preserved the site and function of the 'churchyard stile'. (fn. 156) The east arcade was later extended north to enclose the basement of the smaller (or council) chamber. The large (or court) room displays the royal arms (1589) on wood, a board commemorating 'this work' in 1678, (fn. 157) and a board of that date with Latin motto, (fn. 158) none necessarily in its original setting.
The manor's many bordars in 1086 (fn. 159) probably included town dwellers. (fn. 160) By 1247 Much Wenlock town was called a borough. There were 8 free men, 39 burgesses, and a number of customary tenants (vilani). (fn. 161) There were 32 taxpayers in 1327, (fn. 162) about the same number as in Newport and Wellington. (fn. 163) In the 19th century long plots ran back from the main streets; (fn. 164) they were the remains of medieval burgages. A plot in Southpool Street measured 45 by 174 ft. in 1442. (fn. 165) If the traditional siting of St. John's hospital (fn. 166) marked the town's western limit, Spittle Street had no houses west of the junction with Back Lane in the early 13th century. Expansion seems to have paused there. Remains of late medieval houses farther west, (fn. 167) however, indicate that by c. 1500 the south side of Spittle Street was built up as far as the Bridgnorth- Shrewsbury road; west of the traditional hospital site the street is both wider and on a different alignment. The 19th-century pattern of house plots (fn. 168) suggests that by c. 1500 Barrow and Sheinton streets were built up for as great a length as Spittle Street. Barrow Street, however, seems to have had none of the medieval town's named halls. (fn. 169) The plots in Barrow Street east of the Raven are especially uniform and may therefore represent a discrete scheme of planned expansion; (fn. 170) pottery unearthed near its east end suggests that it was built up by 1300. (fn. 171) Medieval lanes off the main streets included Mary Lane, (fn. 172) Mardol Lane, (fn. 173) 'Revelone', (fn. 174) and 'Wyvelleslone'. (fn. 175)
The later medieval houses, of which there are many vestiges, (fn. 176) sometimes stood parallel to the street. They were timber framed, of good quality, and usually began as open halls. Other plans occurred. A 15th-century house in Spittle Street (fn. 177) may have had shops beneath a first-floor hall; a 13th-century house in Sheinton Street had a service wing parallel to the street and a hall at right angles to it. (fn. 178) In the centre, where there was probably pressure on frontage space and a consequent subdivision of plots, no. 23 Barrow Street, built c. 1330, (fn. 179) and Brook House Farm, Sheinton Street, also had only a short wing parallel to the street, the main hall being at right-angles down the plot. (fn. 180) Among the more important medieval houses were Abbot's Hall (fn. 181) (later the Talbot), (fn. 182) Ashfield Hall, (fn. 183) Rindleford Hall (probably the later Gaskell Arms), (fn. 184) and Spittle Hall, (fn. 185) all in Spittle Street; Basford Hall, (fn. 186) probably in the Bull Ring; (fn. 187) and Bastard's Hall (fn. 188) (unusual in being a stone house) (fn. 189) and Doggyns Hall (fn. 190) in Sheinton Street. Shops (selde) were mentioned in 1329, (fn. 191) and two late medieval terraces of uniform cottages or shops are known: one in Barrow Street (fn. 192) and a probable one in the Bull Ring, (fn. 193) both fronting medieval market places.
By 1284 a weeping cross, (fn. 194) called Jilote cross in 1322 (fn. 195) and later Hamon Weal's cross (then made of wood), stood in Callaughton Lane; it was gone by 1556. (fn. 196) The Spital cross was mentioned in the 1520s. (fn. 197)
In 1524 Much Wenlock township had 58 taxpayers, perhaps representing a population of 200-400. (fn. 198) By 1642, when 206 took the Protestation, the total may be estimated at 600-700. (fn. 199) By 1695 it had grown to 1,138. (fn. 200) The town's great population increase in the 16th and 17th centuries, and the success of its diverse trades, (fn. 201) were reflected by the adaptation and replacement of old houses and by the building of cottages at the ends of the main streets, in back lanes, (fn. 202) and in clusters outside the town.
By the early 18th century most houses other than cottages had four to eight rooms, with two to four chambers, and were necessarily two storeyed. (fn. 203) Several 17th-century staircases survive. (fn. 204) About a fifth of houses had more than eight rooms, and at least a tenth had acquired garrets by insertion of a second floor. Barrow Street, wide and away from the open sewer, then contained houses larger than average, though it never became socially exclusive. (fn. 205) The White Hart in Spittle Street, (fn. 206) held by John Raynolds, had seven ground-floor rooms, six chambers, and four garrets. It was also called Reynolds Tenement (and later Raynalds Mansion). Formerly a 15th-century hall, it had been enlarged by 1682. (fn. 207) Though it was one of the town's largest timber framed houses and had one of the more elaborate facades, its size and embellishments did not rival those of the greater houses in Bridgnorth, Ludlow, or Shrewsbury. The decorative timbering, if of 1682, is a crude and late example of a style already abandoned in more fashionable towns.
By the early 18th century there were many cottages at the north end of Sheinton Street (fn. 208) and the west end of Spittle Street. Most had at least two rooms; single storeyed cottages were evidently being converted by the insertion of attic floors. (fn. 209) Other groups of cottages were at Westwood common and the Bank. Westwood had 22 cottages in 1736 (fn. 210) and 29 in 1841, when nearly all inhabitants were farm labourers. (fn. 211) At New Town at the Bank, west of the medieval town, cottages clustered around quarries and junctions on the Shrewsbury road, whence lanes branched up to Wenlock Edge. (fn. 212) In 1736 there were 49 cottages at New Town, 9 in Bourton Lane, and 8 in nearby Westwood Lane. (fn. 213) Agricultural labour and lime burning were the commonest trades among a variety there in 1841. (fn. 214)
During the 18th century the town's economy stagnated (fn. 215) and its population stopped increasing. (fn. 216) Visitors were contemptuous. In 1735 it was called 'a very paltry, dirty town'. (fn. 217) In 1769 it had 'two ill-built streets, and standing low, is so dirty, that strangers, by way of derision, call it Muck Wenlock'. (fn. 218) The houses were then mostly old, timber framed, and thatched. Many incorporated limestone rubble or were clad with it, and some cottages were wholly of rubble. A few houses still had roofs of 'slate', (fn. 219) probably the flaggy calcareous sandstone called Harnage slate, a fine local material once used to sumptuous effect on the prior's lodging but old fashioned by 1769. (fn. 220) Some brick and tile had begun to be used, but a row (fn. 221) of three 'handsome well-built' houses with shops, of brick with stone dressings, tiled roof, and sash windows, erected in Barrow Street after 1736, was conspicuously modern in 1769. (fn. 222) No improvement was detectable in 1793, (fn. 223) when the town seemed 'sunk'. (fn. 224)
The parish's population, 1,981 in 1801, increased by 22 per cent to 2,424 by 1831 (having grown 10 per cent in the 1820s alone), (fn. 225) a rate of growth not equalled thereafter. (fn. 226) The stimulus presumably came from limestone quarrying, itself linked to the then buoyant iron trade. (fn. 227) There was much refurbishment and new building on existing sites in the early 19th century, especially in the town centre. By 1817 (fn. 228) Robert Tovey had built a 'fancy villa' in the 'cottage style', Hoarley Grange (fn. 229) (later the Grange), southwest of the town, and in 1823 Wenlock Villa (later Maryway House) was built in St. Mary's Lane. (fn. 230) By 1837 the town was 'far from deserving the reproach which has been heaped upon it'. (fn. 231)
The parish's population grew little after 1831, however, and between 1871 and 1921 fell 21 per cent (from 2,531 to 1,991), (fn. 232) probably a reflection of agricultural and industrial recession. (fn. 233) One visitor claimed 'a more somnolent habitation we never saw'. (fn. 234) Among the few later 19th-century houses in the town were Mardol House, a detached villa off Fox Lane, built c. 1870 for a local ironmonger, (fn. 235) and Mardol Terrace, 12 brick cottages built in New Road in 1870. (fn. 236) By 1900 the town's lack of modern development was being commended by admirers of the quaint and 'historical', (fn. 237) and in the 1980s Much Wenlock was prominent among Shropshire towns for its surviving wealth of medieval domestic timber framing.
Between 1921 and 1951 the parish's population increased 19 per cent to 2,369. (fn. 238) The borough council's Wenlock district committee completed the town's first 16 council houses, the Crescent, in 1927, (fn. 239) and 98 more had been built by 1939; (fn. 240) a further 38 were finished in 1947 (fn. 241) but many more were needed. (fn. 242) The population grew only 9 per cent (to 2,578) 1951-91 but much new building reduced its density. (fn. 243) Eighty council houses and flats were completed at Much Wenlock between 1953 and 1964, (fn. 244) some designed for old people. (fn. 245) Bridgnorth rural district council completed High Causeway (43 houses) in 1972; (fn. 246) the few other council houses provided after 1970 (fn. 247) were for the old. (fn. 248) Large-scale private building at Much Wenlock began in the early 1960s with Oakfield Park (59 houses), (fn. 249) then Walton Hills (50 houses); (fn. 250) Swan Meadow (26 houses) and Sytche Close (13 houses) followed in the 1970s. (fn. 251) Twentieth-century housing estates were all at the edges of the town; the picturesque street frontages were preserved, and in 1970 the town centre was designated a conservation area. (fn. 252)
The Monastic Precinct. (fn. 253)
The priory's main gateway faced the Bull Ring. (fn. 254) The Abbey Gate inhabited in 1662 (fn. 255) may have been that part of the gateway remaining in 1775 (fn. 256) and the northfacing gateway mapped in 1820 at the eastern end of the Bull Ring. (fn. 257) A 'singular building . . . apparently one of the fortified gates of the priory close' fell down c. 1845. (fn. 258) In Wilmore Street, (fn. 259) probably near the priory gateway, the almonry remained in 1785. (fn. 260) It was perhaps part of the large building that was nearly opposite the house called the Priory (fn. 261) and was demolished in or after 1847. (fn. 262) A plain square medieval tower, mentioned in 1550 (fn. 263) and used as a pigeon house by 1700, (fn. 264) stands c. 12 m. south-west of the main gateway, to which it was formerly connected by an intervening range. (fn. 265) It was a corner tower in the monastic precinct wall (fn. 266) and probably dates from the mid 13th century. (fn. 267) The wall was mentioned c. 1200. (fn. 268)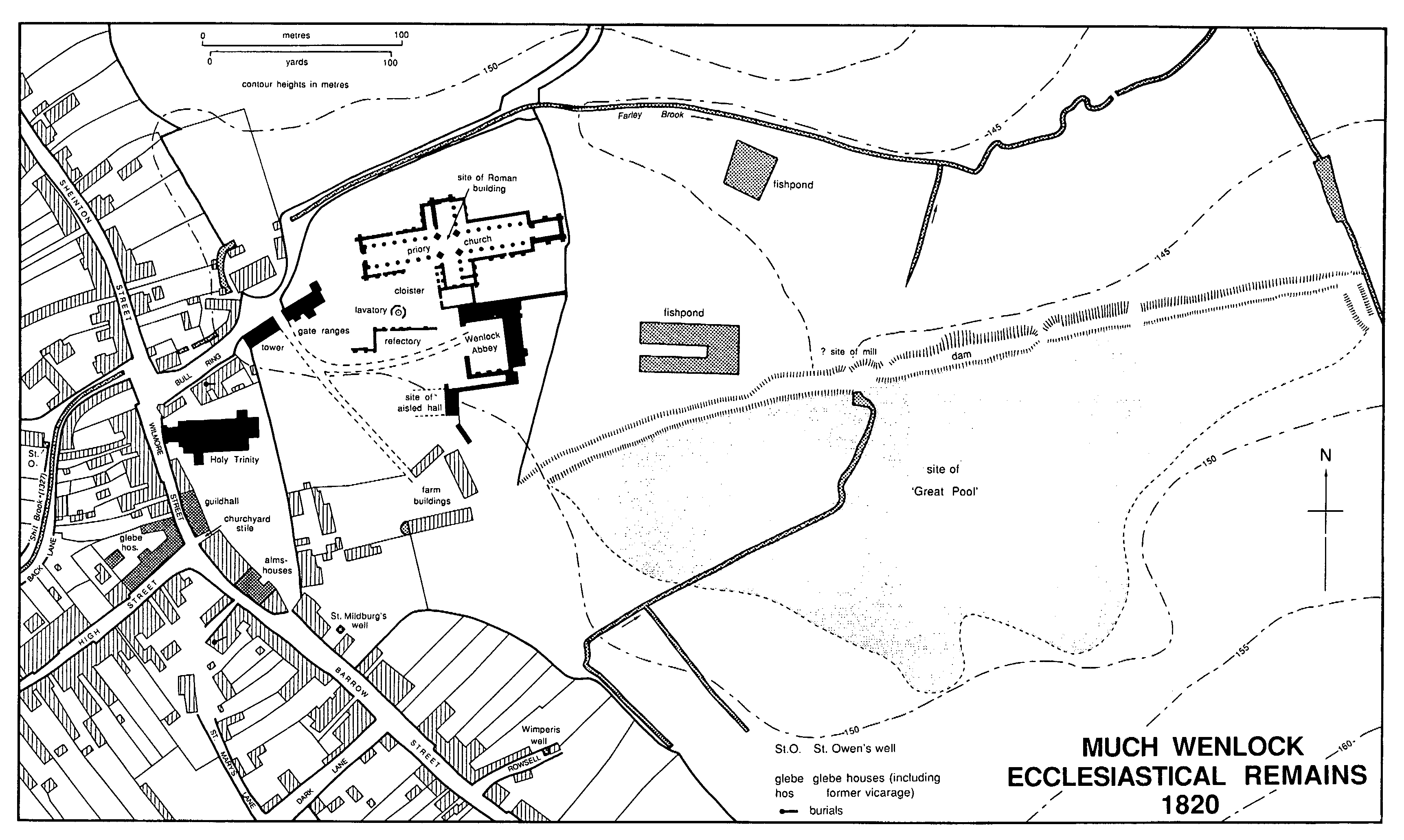 The 11th-century priory church stood close to the northern edge of the monastic precinct. (fn. 269) It is not clear whether it was built before the Conquest as a new minster church, (fn. 270) perhaps with the assistance of Earl Leofric (d. 1057), (fn. 271) or after. (fn. 272) The new church was built over earlier walls, (fn. 273) which seem to have belonged to a Christian building and are suspected by some archaeologists to be of Romano-British origin; (fn. 274) the earlier building had perhaps been one of the churches (by then abandoned) of St. Mildburg's double monastery. (fn. 275) The new church was aisled and had triple apses at the east end. The length of the nave is not known but its plan may have been followed in the 13th-century rebuilding. It has been inferred that, unlike the major Cluniac monastic churches in England, it did not have transepts, but the position of the chapter house, south of the centre of the east wall of the cloister, suggests that there was a range of substance between it and the south aisle. The chapter house, which has a square east end, is of the later 12th century and its inner walls are richly decorated with rows of intersecting blind arches. The re-used shafting and springing for the three bayed vault is also 12th-century but appears to have been added after the decoration of the walls. The 12th-century dormitory range stood south of the chapter house and ended at the reredorter. An elaborate free-standing lavatory in the south-west corner of the cloister garth appears to be of two dates: an early central column which supported a spouted system was encircled by later masonry, faced in part with late 12th-century sculptural panels on which rested a circular trough.
The rebuilding of the priory church was begun in the late 12th century and probably completed, at the west end, c. 1240. It has an aisled nave of eight bays and a presbytery of the same length but only seven bays. Both transepts had eastern aisles of three bays. To the west of the south transept, and opening from it, was a narrow room arcaded to the cloister, which may have been a library, sacristy, (fn. 276) or vestry. (fn. 277) A wider room to the west of the north transept had an undercroft beneath, and it has been suggested that it was a vestry over a bone hole. The west range of the cloister survives only at foundation level, but above the three western bays of the south aisle of the nave there is a vaulted room which was presumably a chapel for the early prior's lodging in the adjacent range.
The 13th-century vaulted refectory was on the south side of the cloister. Its lack of alignment with the other claustral buildings, in which respect it resembled the 12th-century refectory of Worcester cathedral priory, (fn. 278) and its closer relationship to the parish church's alignment, have given rise to the suggestion that it may preserve elements of the plan of St. Mildburg's Medieval and later changes obscure the source of the monastery's original water supply. Almost certainly it could not have been Farley brook, flowing round the north side of the precinct and in medieval times known, where it ran through the town, as Shit brook. So water was probably supplied from the south. Three nearby springs are contained within medieval stonework, and two were named after 7th-century saints connected with the beginning of the claustral life at Wenlock.
The churchyard was perhaps separated from the priory precinct c. 1100 when Holy Trinity became the parish church. The Bull Ring and Wilmore Street with the north end of Barrow Street were market places encroaching on the churchyard and later themselves encroached upon by buildings. The house known after the Dissolution as Wenlock Abbey consisted of the prior's lodging (east range) and the north range adjoining; the farm buildings to the south adjoining may represent the priory's home farm.
The alignment of the refectory, different from that of the priory church and cloister, is somewhat nearer to that of Holy Trinity. If the 7th-century double monastery had two churches of which Holy Trinity represents one, the refectory may have been built on the site of the other.
For burials in Barrow Street see the introduction of this article, for those near the Bull Ring see the account of growth of settlement. monastery. (fn. 279) A building surviving c. 1101 only a 'stone's throw' from Holy Trinity was then believed to be St. Mildburg's oratory (oratorium), (fn. 280) a cell (cubiculum) in which she had slept and prayed, within or near her monastery. (fn. 281)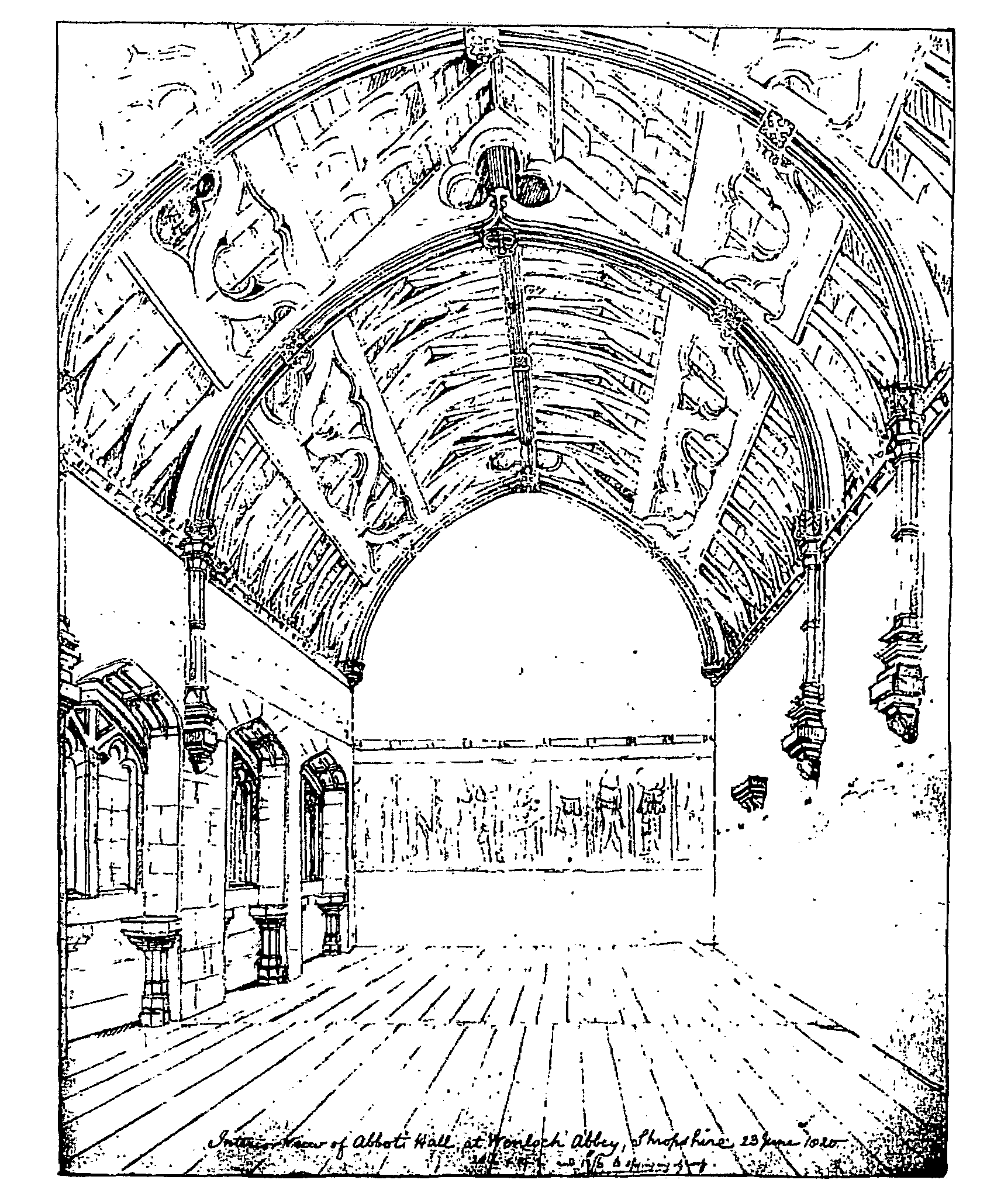 Adjacent to the south west corner of the reredorter is the two storeyed service block for an aisled hall of c. 1250 which stood to the west. (fn. 282) It may have been the infirmary. That use has also been suggested for a 12th-century building which abutted the south side of the chapter house and ran for some distance to the east. The two storeyed range of lodgings at rightangles to its east end also has some 12th-century fabric; the doorway of the firstfloor hall was originally round headed, and the same wall has a blocked round headed opening in the next room south. The hall had a central open hearth supported from the ground floor by a stone column. The range was remodelled c. 1425 (fn. 283) and later, and provides four rooms on each floor. Each room has a fireplace and some have garderobes. The northern room on the ground floor is a chapel. A stone gallery of two storeys with continuous fenestration was built along the west side of the range and gave access to the first-floor rooms. (fn. 284) Wall paintings visible in the early 19th century on the south wall of the first-floor hall (fn. 285) were perhaps those said in 1786 to be of the Seven Champions and 'over the cloister'. (fn. 286) The east end of the church required considerable repair in the time of Prior Richard Wenlock (c. 1486-1521). He added or rebuilt the Lady chapel and added flying buttresses to the presbytery.
The priory's 'grange' (fn. 287) and other working buildings seem to have stood south-west of its church and claustral ranges, and due south of the main gateway. (fn. 288)
Between 1540 and the early 18th century the monastic buildings, except the prior's lodging, were robbed for their materials. Sir Watkin Williams Wynn (d. 1749) halted the spoliation (fn. 289) and subsequent losses have been small. (fn. 290) In Herefordshire John Leland was told that the body of St. Mildburg's father Merewalh was found 'in a wall' in the 'old church of Wenlock', but Leominster priory (Herefs.) (fn. 291) and Repton church (Derb.) (fn. 292) were also reputed to have his remains.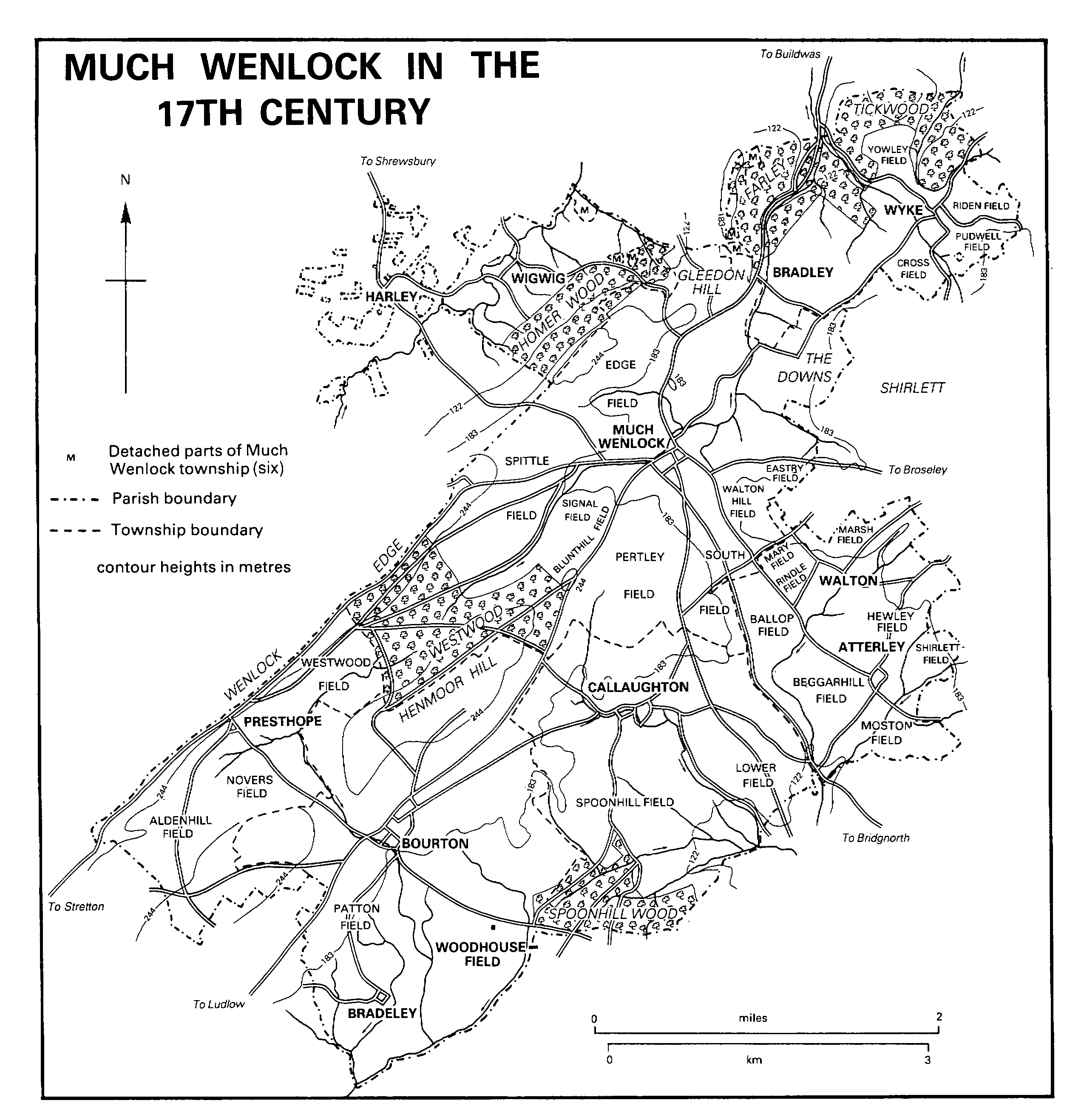 Rural settlements. (fn. 293)
Bourton was the largest of the parish's outlying settlements. Its name indicates that in the Anglo-Saxon period it occupied or adjoined a burh ('fortified place'), (fn. 294) perhaps on the high ground occupied by the medieval chapel (fn. 295) and chief house. (fn. 296) The manor had a recorded population of 12 in 1086, (fn. 297) probably representing a total population of c. 50-60. The township had 6 taxpayers in 1327 (fn. 298) and 14 in 1524. (fn. 299) By 1642, when 48 took the Protestation, (fn. 300) the township's total population may have been above 150. It was 181 in 1695 (fn. 301) and about the same in 1841 (fn. 302) and 1881. (fn. 303) In the 18th century the village's farms and cottages stood both on the high ground and either side of the brook that ran below it. (fn. 304) By the late 19th century there were few houses on the high ground and the surroundings of Lord Wenlock's house, the Cottage, were correspondingly more spacious and private, (fn. 305) but the settlement pattern in 1986 had otherwise changed little in two centuries.
Bourton township included two other ancient settlements, Bradeley and Woodhousefield. The former was mentioned in 1194. (fn. 306) Its mill became disused in the 15th century. (fn. 307) In 1642 the Protestation was taken by six inhabitants, (fn. 308) but there were only three houses in the 18th century. (fn. 309) One of them was uninhabited by 1841, (fn. 310) and only a single farm remained forty years later. (fn. 311) Woodhousefield was a moated house near Spoonhill wood. (fn. 312) Later re-sited outside the moat, it stood alone (fn. 313) until the 19th century when a few cottages were added. (fn. 314)
Callaughton, mentioned in 1224, (fn. 315) had 10 taxpayers, four more than Bourton, in 1327 (fn. 316) and 13, one fewer, in 1524. (fn. 317) Earthworks east of the mill (fn. 318) suggest houses abandoned, perhaps in the later Middle Ages. Callaughton grew less markedly than Bourton in the 16th and 17th centuries. The 1642 Protestation was taken by 28, (fn. 319) probably representing a township population of c. 100, and in 1695 there were 92 inhabitants, (fn. 320) presumably including some at Spoonhill and Beggarhill Brook. In the late 18th century the village and its mill stood in a hollow about the Callaughton brook. (fn. 321) It had 17 houses in 1841 and c. 120 inhabitants. (fn. 322) In 1881, though 15 houses remained, only 75 people lived there. (fn. 323) In 1986 the settlement pattern had hardly changed since the 18th century.
Callaughton township had two large outlying houses, Spoonhill, built in the 16th century, (fn. 324) and Beggarhill Brook Farm (formerly Bradley's Tenement), standing by 1695. (fn. 325) Except for associated cottages they remained isolated.
Atterley and Walton were treated as one township for some purposes by 1524. Together they then had nine taxpayers, (fn. 326) probably representing a population fewer than 60. The total had increased markedly by 1642, when 33 took the Protestation, (fn. 327) and stood at 104 in 1695. (fn. 328) Cottages at the edge of Shirlett may have housed at least some of the additional people. Ballop mill closed in the 18th century (fn. 329) and by 1841 the population was down to 58. (fn. 330) In 1986 Atterley and Walton each consisted of little more than a farmhouse.
Atterley, mentioned in 1255, (fn. 331) had 11 householders in 1635 (fn. 332) and 14 manorial suitors in 1775. (fn. 333) In 1722 Atterley hamlet consisted of four farm houses and two cottages, grouped above a hollow watered by Beggarhill brook; in isolated positions at the edge of the township, next to Shirlett, were six cottages. (fn. 334) Farm amalgamations reduced the hamlet to three farmhouses by 1847 (fn. 335) and two by 1882. (fn. 336) Four of the cottages were standing in 1925. (fn. 337) Of the two farmhouses one had been empty for some years by 1986.
Walton, whose name suggests a pre-Conquest settlement, (fn. 338) was mentioned in 1255. (fn. 339) Walton had seven householders in 1635 (fn. 340) and eight manorial suitors in 1775. (fn. 341) In 1722 the hamlet consisted of four farmhouses and two cottages, fronting a lane that descended to Walton brook; there were also two isolated cottages at the edge of Shirlett. (fn. 342) Hummocks and protruding masonry in pasture immediately south of Walton Farm may mark the sites of houses abandoned before the 17th century. Amalgamations reduced the hamlet to two farms and two cottages by 1841, (fn. 343) and by 1882 to one farm and a cottage, (fn. 344) which both remained in 1986. The cottages by Shirlett were gone before 1847. (fn. 345)
Wyke and Bradley were treated as one township for some purposes by 1524 when there were eight taxpayers. (fn. 346) Only at Wyke was there a nucleated settlement, and that was eclipsed from the late 18th century by a cluster of new cottages at Farley.
Wyke, mentioned in 1221, (fn. 347) stood on a spur between two brooks. It had four farmhouses in 1611 and in 1820. (fn. 348) By 1849, however, amalgamation had reduced the hamlet to two farmhouses and five cottages, (fn. 349) of which all but one cottage remained in 1986. The outlying Newhouse and Wood House were probably established in the Middle Ages. (fn. 350) By 1796 an isolated holding called the Vineyards (probably the Wyniattes of 1592) (fn. 351) lay at the north-east edge of the township. (fn. 352) There were two cottages there in 1841, (fn. 353) next to a limestone quarry. (fn. 354)
Bradley, mentioned in 1255, (fn. 355) had two farms from the 16th century to the 19th, (fn. 356) on opposite sides of Farley brook. (fn. 357) A few cottages were built on Farley common in the 17th century. (fn. 358)
The population of Wyke and Bradley township rose 1695-1841, from 81 to 150. (fn. 359) New housing was almost all at Farley, which had 15 houses in 1841 (fn. 360) and 19 in 1881, (fn. 361) mostly along the margin between the Buildwas road and the brook. (fn. 362) Farley emerged as a settlement (called New Farley in 1811) (fn. 363) because of an extension of limestone quarrying nearby in the late 18th and 19th centuries. (fn. 364) Farley's single largest occupation in 1841 was that of road wagoner, presumably for hauling stone to the Severn; there was work for four blacksmiths and two wheelwrights. (fn. 365) In 1983 Farley had 10 occupied houses. (fn. 366)
Wigwig township comprised few houses until the 17th century, when cottages began to proliferate on Homer common. In 1086 Wigwig manor had seven recorded inhabitants. (fn. 367) Wigwig had two farms and a mill in 1540 (fn. 368) and two ratepayers in 1632. (fn. 369) By 1841, and in 1986, Wigwig consisted of the former mill house and, close together on a spur above Wigwig brook, two farmhouses. (fn. 370)
On Homer common, still called Homer wood in the early 17th century, there were three unlicensed cottages in 1636. (fn. 371) By 1671 there were 12 (fn. 372) and in 1675 a number of 'extravagant and idle persons', some of them strangers, had recently settled on the common and were 'daily' making new inclosures. (fn. 373) By 1708 there were 23 cottages, (fn. 374) and traditions of a rapid settlement by 'gypsies' remained c. 1900. (fn. 375) There was little further growth, however, before the end of the 18th century. (fn. 376) There were 28 dwellings in 1841 (fn. 377) and 40 by 1881. (fn. 378) The 19th-century growth was connected with an extension of quarrying nearby; (fn. 379) most of the inhabitants in 1841 were farm labourers or quarrymen. (fn. 380) Homer was nicknamed 'Donkeyland' from the animals kept. (fn. 381) By 1945 only c. 30 houses remained, (fn. 382) but Homer was later a favoured setting for new private houses, many of them bought by commuters, (fn. 383) and by 1983 there were about 80 homes, (fn. 384) old and new.
Presthope, mentioned in 1167, (fn. 385) had five taxpayers in 1327 (fn. 386) and four in 1524. (fn. 387) There were 57 inhabitants in 1695. (fn. 388) In the 18th century the few farms were spaced along the upper dip slope behind Wenlock Edge, at the head of a valley (OE. hop) (fn. 389) that descended to Bourton. (fn. 390) Thirteen cottages were built c. 1800 on the small common, (fn. 391) presumably for limestone workers; (fn. 392) they included a row known as the Five Chimneys. (fn. 393) In the later 19th and earlier 20th century Presthope had thus some focus as a settlement, and its own railway station. All coherence, however, was lost in the 1960s and 1970s. The station closed in 1963. (fn. 394) The Five Chimneys were demolished in the 1960s (fn. 395) and the ancient farmhouses were abandoned (fn. 396) as quarrying advanced. (fn. 397) Afterwards there remained only Black Barn Farm, near Bourton, the Plough (later the Wenlock Edge) inn at the Easthope boundary, and two cottages. (fn. 398)
SOCIAL AND CULTURAL ACTIVITIES.
All the townships had alesellers in the 17th century. Much Wenlock township had 21 in 1614; (fn. 399) even Wyke had three in 1621 (fn. 400) and Homer two in 1681. (fn. 401) In Much Wenlock township 41 licences were granted in 1800. (fn. 402) Uproarious drinking was a favourite amusement of the younger gentry and farmers in the earlier 19th century. (fn. 403) By mid century, however, the town's licensed houses had diminished by half. (fn. 404) Twelve were listed in 1879 (fn. 405) and eight in 1984. (fn. 406) Outside the town there were no alehouses by 1793. (fn. 407) Those that opened later were mostly near quarries. At Presthope an alehouse opened c. 1800. (fn. 408) The Plough inn, licensed there from 1862, (fn. 409) moved to Hilltop in the early 20th century (fn. 410) and remained, as the Wenlock Edge inn, in 1990. There were two public houses at Farley in 1841 (fn. 411) and one in 1901; the Rock House had opened next to Bradley Rock quarry in 1834 (fn. 412) and remained in 1986. At Bourton the Talbot, open by 1841, had gone by 1882. (fn. 413)
By the 18th century the town's principal inns were the Swan & Falcon, (fn. 414) the Talbot, (fn. 415) and the White Hart (fn. 416) in Spittle Street, and the Fox and the Raven in Barrow Street. (fn. 417) The county quarter sessions met by adjournment at the Talbot in 1697, (fn. 418) and 'regular courts' sat at the Raven in 1803. (fn. 419) The George & Dragon (fn. 420) in Spittle Street had a 'market room'. (fn. 421) Locals assumed that a gentleman would stay at the Swan & Falcon or the Raven, though the latter had little to offer the refined guest in 1793. (fn. 422) By 1769 (apparently between 1714 and c. 1730) (fn. 423) the White Hart (later the Wynnstay Arms) (fn. 424) sign had moved west to the Bridgnorth-Shrewsbury road, (fn. 425) turnpiked in 1752, (fn. 426) and there took most of the coaching trade. (fn. 427) In or before 1805 the Fox (later the Wheatland Fox) had moved to the west end of High Street, (fn. 428) probably with the same object. The Stork hotel opened in Wilmore Street c. 1860 (fn. 429) and was the nearest inn to the railway station. The Swan & Falcon closed c. 1920, (fn. 430) but the other principal inns remained in 1986.
By 1900 the Gaskell (formerly Wynnstay) Arms, the Raven, and the Stork had assembly rooms. (fn. 431) The Stork Room was still used for social events c. 1960. (fn. 432) The guildhall and, from 1900, (fn. 433) the Corn Exchange were public halls, and in 1921 the Market Hall was converted into a Memorial Hall, little used by 1963. (fn. 434) In 1983 the former National school became the Priory Hall. (fn. 435) In the early 20th century fun fairs, circuses, and small events were held on the 'fair' field north of Ashfield Hall. (fn. 436)
Late night playing of knucklebones was a nuisance at Much Wenlock in 1420, (fn. 437) and gaming was commonplace at alehouses in the early 17th century. (fn. 438) In the early 18th century there was a bowling green at the Blue Bridge. (fn. 439) Cock fighting was carefully arranged; (fn. 440) fights were held at the Shoulder of Mutton, Barrow Street, (fn. 441) and elsewhere, (fn. 442) and in the early 19th century a main of cocks regularly accompanied the races. (fn. 443)
Minstrels (ystriones) performed for the abbot of Westminster at Much Wenlock in 1290, (fn. 444) and professional entertainers in the 16th and 17th centuries included Robert Eyr, a minstrel buried in 1593, (fn. 445) and William Aldersene, a wandering minstrel whose son was born at Bourton in 1614. (fn. 446) Abraham Lloyd, a fiddler, lived in the parish in 1649. (fn. 447) By 1880, and until the 1930s or later, local morris men, usually quarrymen, entertained the district at Christmas in order to supplement their wages. (fn. 448)
Before the mid 18th century the larger social gatherings had been incidental to more serious occasions: church festivals, (fn. 449) livestock fairs, local-government and law sittings, rent audits, and harvests. By 1733 there was also a two-day flat race meeting in July (fn. 450) on Westwood common. (fn. 451) About 1770 the course was a straight mile. (fn. 452) The common was inclosed in 1814 (fn. 453) and the races were revived in 1820 (fn. 454) as a one-day meeting. (fn. 455) The elliptical course ran a mile over fields south of the town; (fn. 456) a permanent grandstand and enclosure were provided c. 1870, (fn. 457) but the last meeting was in 1876. (fn. 458) A separate steeplechase meeting was held there 1872-1939. (fn. 459)
By the early 17th century the annual bailiff's feast marked his successor's election. (fn. 460) It continued, as the mayoral banquet, until c. 1936 (fn. 461) and was revived as a dinner-dance or charity ball after the Second World War. (fn. 462) The races were followed by a ball in the 19th century, (fn. 463) and another annual ball was mentioned 1835 and 1853. (fn. 464) A 'jubilee', perhaps annual, (fn. 465) took place on Trinity Sunday 1810. (fn. 466) In the later 19th century the May fair was an annual pleasure fair. (fn. 467)
The Much Wenlock Friendly Society, formed in 1757, flourished in 1823. (fn. 468) The Royal Society began in 1770 and still existed in 1814. In 1802-3 there were four societies, with 310 members. (fn. 469) The Wenlock Improved Provident Society, formed in 1818, (fn. 470) survived until 1883. (fn. 471) The Waterloo Benevolent Society, started in 1835, was still active in 1856. The Fountain of Friendship lodge of Odd Fellows (Manchester Unity) began in 1841; (fn. 472) by 1897 the Gaskell Club was formed by secession from it. (fn. 473) In 1901 the Loyal St. Milburga Odd Fellows' lodge (Manchester Unity) was established; (fn. 474) it had 50 members in 1906. The Albert Edward court of Foresters, begun in 1862, had 281 members in 1906 and c. 100 in 1984. (fn. 475) In 1907 a Much Wenlock Medical Aid Society served the town and an area 3 miles around. (fn. 476)
The Wenlock Loyal Volunteers were recruited in 1799 and served until 1802. They had Broseley, Madeley, and Wenlock divisions. The corps was re-formed in 1803, with an establishment of officers and 320 privates, in four divisions. (fn. 477) It became part of the local militia in 1808 and was disbanded in 1816. (fn. 478) An Air Training Corps squadron was formed in 1941, (fn. 479) and a Royal Observer Corps branch by 1966. (fn. 480)
In the earlier 19th century there were occasional theatrical performances in the town, (fn. 481) and amateur musical concerts. (fn. 482) There was nevertheless a want of polite society. The nearest great house was at Willey. (fn. 483) In 1848 a lady resident noted that Much Wenlock 'if possible is duller than ever, for I hear of no visiting whatever'; the town recalled Goldsmith's Deserted Village. (fn. 484)
A small theological library, left by a vicar for the clergy's use, had been taken over in 1798 by the Associates of Dr. Bray as a parochial lending library and remained in 1835. (fn. 485) In 1841 (fn. 486) the brothers W. P. and A. G. Brookes (fn. 487) began the Wenlock Agricultural Reading Society for farmers and the lower classes. It formed a small museum and a library, which had c. 1,500 volumes by 1851. (fn. 488) Few working men subscribed. In 1852 the society moved to a new stone building in Hospital Street, designed by S. Pountney Smith. The arcaded Corn Market occupied the ground floor and a library, reading room, and museum the first. (fn. 489) The building was enlarged c. 1856 by addition of a working men's library and reading room on the ground floor and a combined museum and classroom on the first. (fn. 490) In 1858 the lending library had 87 subscribers, the reading room 40. The working men's branch had 30 members. (fn. 491) The society's philharmonic class was formed by 1855 (fn. 492) and met weekly to practise singing. (fn. 493) W. P. Brookes founded a boys' drum and fife band (fn. 494) before 1860. (fn. 495)
The society's most successful class was the Olympian (later the Wenlock Olympian Society). (fn. 496) It had 305 subscribers in 1858. (fn. 497) Its annual games were held from 1850 to 1931 and intermittently from the end of the Second World War. (fn. 498) By 1875 the society used the 7-a. Linden Field, which included a bowling green, cricket pitch, and running track. (fn. 499) C. G. Milnes Gaskell leased it to the borough council in 1898 as a park and recreation ground for the parish, (fn. 500) and his widow gave it to the council in 1935. (fn. 501) In 1973 it was merged with the adjoining William Brookes school's playing field and swimming pool, for joint school and public use. (fn. 502) A sports hall was added in 1975. (fn. 503) By 1984 the Olympian Society's activities included not only athletics but also mountaineering and hill climbing, five-a-side football, short tennis, an annual arts festival (begun 1979), and an annual art, handicraft, and produce show. (fn. 504)
The reading society was defunct by 1900, when its building (then called the Corn Exchange) and the contents were vested in the borough council. Most of the books were afterwards sold or lost; c. 740 remained in 1986. The museum remained until the 1920s. (fn. 505) It was revived in 1968 and moved in 1970 to the former Memorial Hall, where it passed to the county council in 1974. (fn. 506)
In other ways too the reading society's aims survived its demise. There was a commercial circulating library in 1902 (fn. 507) and the county library opened a 'centre' in the parish room c. 1927. (fn. 508) It became a part-time branch library in 1955 (fn. 509) and moved to the Corn Exchange in 1962. (fn. 510) A lending library in Homer school house was mentioned in 1902, (fn. 511) and a county library centre opened at Bourton in 1928. (fn. 512)
In 1900 a working men's club was formed at the Corn Exchange. (fn. 513) It lapsed in the 1950s, was revived, (fn. 514) but by 1960 was failing again. (fn. 515) Its role may have passed to the local British Legion branch, formed in 1931, (fn. 516) which had a hall in Smithfield Road. Part of the hall, used also by other organizations, was converted c. 1980 for the Royal British Legion Club. (fn. 517) In 1903 J. H. A. Whitley built a working men's club and reading room at Bourton, attached to his house. (fn. 518) The club room had closed by 1985. (fn. 519) The Callaughton mission room was also used as a club room in 1964. (fn. 520)
A town brass band began in 1900 (fn. 521) and survived until the Second World War. (fn. 522) A choral society was formed in 1902, (fn. 523) and men's and women's choirs flourished in 1985. (fn. 524) A Literary and Debating Society was formed in 1906, (fn. 525) but in 1930 the Social and Literary Society failed for lack of support; cinema, wireless, and the county library were blamed. (fn. 526) In the earlier 20th century films were shown in the Corn Exchange, (fn. 527) and in 1935 the Wenlock Cinema opened in the Memorial Hall. (fn. 528) It closed in 1961. (fn. 529)
There had been a cricket team by 1841, (fn. 530) and in 1902 there were also clubs for bowls, football, and tennis. A Bourton cricket club began in 1902. (fn. 531) The Ancient Order of Foresters held annual sports at Much Wenlock before the First World War. (fn. 532) A golf club, with a nine-hole course on the north side of the town, flourished c. 1907-c. 1920. (fn. 533) A horticultural society that expired c. 1890 was revived in 1909 (fn. 534) and held annual shows before the First World War, but was defunct by 1922. (fn. 535) Bourton had a flower show with rural sports by 1903. (fn. 536)
In the mid 20th century Much Wenlock had sports and gardening clubs and branches of the usual women's, welfare, and youth organizations. (fn. 537) Within Wenlock borough's civic society a Much Wenlock group was formed in 1960 (fn. 538) and revived in 1984 as the Much Wenlock and District Society. (fn. 539) In 1959 the vicar began the Wenlock Herald, a monthly newspaper with emphasis on the churches, which later became a free magazine. (fn. 540) An annual 'charter day fair' began in 1971 and regularly attracted 2,000- 3,000 visitors, (fn. 541) but it expired before 1986. (fn. 542)
MANORS AND OTHER ESTATES.
The earliest estates of St. Mildburg's church formerly belonged to the ruling house of the people called the West 'Hani' or West 'Hecani'. (fn. 543) In the late 7th century their ruler Merewalh sold to Aethelheah, abbot of Iken (Suff.), an estate of 97 manentes at 'Wininicas', which Aethelheah and Abbess Liobsynd afterwards governed. Before 690 Merewalh's daughter Mildburg gave 60 manentes at 'Homtun' to the abbot and abbess in exchange for 'Wininicas'. (fn. 544) In 1066 MUCH WENLOCK (assumed to be included in 'Wininicas') belonged to the church of St. Mildburg and before 1086 passed to its successor the Cluniac priory of Wenlock, (fn. 545) which surrendered to the Crown in 1540. (fn. 546)
In 1545 Thomas Lawley (d. 1559) bought the priory site and demesne lands in Much Wenlock from the royal physician Agostino Agostini, (fn. 547) who had bought them from the Crown earlier that year. (fn. 548) Thomas, descended from a long line of Much Wenlock freeholders, was younger brother of Richard Lawley of Spoonhill, the purchaser of Bourton and Callaughton. (fn. 549) Thomas lived at the priory in buildings that included the prior's lodging. (fn. 550) That house probably passed from his widow to his son Thomas in 1571, (fn. 551) was then called the Abbey, (fn. 552) and was afterwards regarded as Much Wenlock manor house. (fn. 553)
In 1600 the Crown sold the manor to Thomas and his brother Robert, (fn. 554) who at the same time together bought almost the whole estate of the former service of Our Lady in the parish church. (fn. 555) Thomas, in sole possession by 1614, (fn. 556) died in 1622 and was succeeded by his son Sir Edward (fn. 557) (d. 1623), whose daughter and heir Ursula (fn. 558) married Sir Roger Bertie. She died (as Lady Penruddock) c. 1681 and was succeeded by her son Robert Bertie (d. 1698), who left the manor to Thomas Gage, (fn. 559) son of his half-sister Elizabeth (née Penruddock). Gage (cr. Viscount Gage 1720), (fn. 560) sold the manor in 1714 to Sir John Wynn, (fn. 561) a kinsman of the Berties. Wynn died in 1719, leaving the manor to his cousin Watkin Williams (2nd bt. 1740, d. 1749), who then added the surname Wynn. The manor descended with the Williams Wynn baronetcy (fn. 562) until 1858 when it was bought by Sir Watkin's niece's husband, James Milnes Gaskell (fn. 563) of Thornes House (Yorks. W.R.). (fn. 564) The Abbey had become a decayed farmhouse, (fn. 565) but Gaskell (d. 1873), followed by his son C. G. Milnes Gaskell (fn. 566) (d. 1919), restored it as a gentleman's country house. (fn. 567) There C. G. Milnes Gaskell and his wife Lady Catherine received guests who included Thomas Hardy, Henry James, Sir H. M. Stanley, and Philip Webb. (fn. 568) Lady Catherine (d. 1935) owned the manor from 1919 and their daughter Mrs. Mary Ward succeeded her. (fn. 569) In 1953 Mrs. Ward settled the estate in trust for the children of her niece Mrs. Mary Juliana Motley (b. 1906). (fn. 570) Nothing was known of the manorial lordship in 1985. (fn. 571) In 1983 the Abbey was bought by Louis de Wet, a painter, and his wife Gabrielle Drake, an actress. (fn. 572) He began an extensive internal restoration and redecoration. (fn. 573)
William Ashfield was living at Much Wenlock in 1396. (fn. 574) John Ashfield (d. 1506), who held five messuages and 70 a. of arable there, was succeeded by his son Christopher; they also held Bradeley, (fn. 575) with which their Much Wenlock estate thereafter descended. (fn. 576) William Ashfield's house in Spittle Street, mentioned in 1421, (fn. 577) was presumably Ashfield Hall, parts of which date from the 15th century or earlier; (fn. 578) it later belonged, like Ashfield's estate, to the Lawleys of Spoonhill. (fn. 579) Dr. W. P. Brookes bought it c. 1853. (fn. 580)
The Almoner's Ground in Much Wenlock township, (fn. 581) appropriated to the priory's almonry, (fn. 582) belonged to the Crown in 1576, (fn. 583) but by 1634 Silvanus Lacon held it of the king in socage. (fn. 584) James Lacon sold it in 1720 to Samuel Edwards (d. 1738), (fn. 585) whose trustees sold it in 1745 to Thomas More. More's son-in-law Col. (later Gen.) Dudley Ackland sold the estate (117 a. including Coates farm) in 1790 to George Forester. (fn. 586)
A freehold said in 1714 to belong to the relict of Thomas Sprott (fn. 587) seems to have descended with the Marsh chief house (in Barrow). Comprising 85 a. in 1808, (fn. 588) it was acquired before 1848 by the Foresters. (fn. 589)
Lord Forester owned only 194 a. of land in Much Wenlock township in 1848, but in 1858 he bought 827 a. more, over half of the Much Wenlock manorial estate, from Sir Watkin Williams Wynn by agreement with J. M. Gaskell, who was buying the lordship of the manor and the rest of the estate. (fn. 590) Much of the Forester estate in Much Wenlock township was sold in the 20th century. (fn. 591)
An estate in Much Wenlock belonging to Richard Wenlock (born c. 1304) passed to his daughter Joan and her husband Nicholas Wyvell. Wyvell's grandson in the male line, Sir John Wenlock, owned the estate in 1448, when it comprised 16 messuages and 80 a. Wenlock (cr. Baron Wenlock of Someries 1461) died in 1471 when the estate passed to his kinsman and heir Thomas Lawley (fl. 1477). (fn. 592) It subsequently descended to Thomas's great-grandson (fn. 593) Richard Lawley, whose younger brother Thomas bought the priory site. (fn. 594) Before buying Callaughton and building Spoonhill in the mid 16th century, (fn. 595) the Lawleys may have lived in Rindleford Hall in Spittle Street, a house that belonged to the Lawleys of Spoonhill in 1700 and was also called Sir Thomas Lawley's Hall. (fn. 596) By c. 1730 the White Hart was said to have been built on its site. (fn. 597) If so, it was evidently the later White Hart, which became the Gaskell Arms, (fn. 598) parts of which date from the 16th century.
Callaughton is presumed to have been part of Much Wenlock manor in 1086 (fn. 599) and was so in 1255. (fn. 600) As one of the manor's rural townships, it was probably subject to a leet in the priory liberty. (fn. 601) Some time before 1540 Callaughton acquired a court baron. (fn. 602) Richard Lawley bought Callaughton from the Crown in 1543. (fn. 603) It descended thereafter with Bourton (fn. 604) but remained a separate manor. (fn. 605) The chief house was let to the Francis family from the 15th century to the 18th. (fn. 606) Meanwhile Richard Lawley is presumed to have built Spoonhill House, in Callaughton township; his widow was living at Spoonhill in 1569. (fn. 607) The Lawleys seem rarely to have lived there after the mid 17th century (fn. 608) when Sir Francis bought Canwell Priory (Staffs.). (fn. 609) The west-facing house was of stone with tiled roofs and some timber framing. (fn. 610) It had eight hearths in 1672. (fn. 611) Sir Robert demolished it in the 1730s. (fn. 612) At that time an avenue, the Walk, extended c. 200 m. east from the house, and a chain of large ponds lay along a stream c. 300 m. to the south-west. (fn. 613)
By 1272 William, son of Hugh of Clun and later apparently a clerk of Walter of Wenlock, abbot of Westminster, had a freehold at Bourton, (fn. 614) and in 1290 he sold a freehold at Spoonhill, in Callaughton or Bourton, to the abbot's mother Agnes Spicer (fl. 1298) of Much Wenlock. (fn. 615)
Atterley and Wenlock Walton are believed to have been in Much Wenlock manor in 1086, (fn. 616) in which they lay in 1255. (fn. 617) Walton was in Marsh manor by 1322, (fn. 618) and Atterley and Walton were in Marsh grange in 1369. (fn. 619) They continued in Marsh manor immediately after the Dissolution. (fn. 620) In 1544 William Whorwood, the attorney general, bought much of both townships, together with the manorial rights, from the Crown. (fn. 621) The rights descended thereafter with those of Barrow, (fn. 622) with which Atterley and Walton formed a single manor by the later 16th century. (fn. 623)
Atterley House, the chief house, (fn. 624) is a late 16th- or early 17th-century timber framed house consisting of a central range and two rear cross wings. By 1986 it had been empty some years.
Before the Reformation Our Lady's service in the parish church owned an estate in Walton; (fn. 625) in the early 18th century the estate allegedly had manorial rights including a court. (fn. 626) In 1599 two London speculators bought it from the Crown to hold in socage; they sold it that year to Lancelot Taylor of Walton. (fn. 627) In 1733 Thomas Creswell sold it to George Weld of Willey, (fn. 628) whose descendant Cecil Weld-Forester exchanged it (112 a.) in 1814 with the manorial estate for other land, some in Walton. (fn. 629) The chief house, (fn. 630) known as Walton Farm in 1986, and its buildings are in mid 18th-century brick.
In the 13th and 14th centuries the Burnells, priory tenants in Benthall, held 24 a. in Atterley of the priory. (fn. 631) Lawrence Benthall claimed in 1636 that some of Walter Acton's lands in Atterley were subject to Benthall manor, (fn. 632) and Benthall's successor Elizabeth Browne had interests in Atterley in 1737. (fn. 633)
In 1602 Sir Thomas Whorwood, lord of the manor, sold a freehold estate in Atterley to Ralph Deyos, clerk, of Acton Round; (fn. 634) it comprised 119 a. in 1773. (fn. 635) Most of it belonged by 1814 to Cecil Weld-Forester, who then exchanged it with the manorial estate for other land, some in Walton. (fn. 636) In 1819 George Forester's trustees bought the rest from Francis Ash, descendant of Ralph Deyos. (fn. 637)
In 1610 Whorwood sold a freehold in Walton to Bryan Richards, a Bridgnorth mercer. Richards's descendants sold it back to the manorial estate in 1739. (fn. 638)
In 1847 Sir John Acton owned all Atterley and Walton except for 73 a., mostly Lord Forester's. (fn. 639) Forester acquired the manorial estate c. 1855 (fn. 640) and C. T. Weld-Forester, the 5th baron, owned virtually all the land in those townships in 1910. (fn. 641)
WYKE and BRADLEY (also called Bradley under Down or Buttermilk Bradley) (fn. 642) were presumably part of Much Wenlock manor in 1086 (fn. 643) and were so in 1255. (fn. 644) They were probably in Bradley manor by 1321 and therefore in Marsh manor by 1390. (fn. 645) At least some of Farley was in Much Wenlock manor in 1431, (fn. 646) and Much Wenlock township had rights in Farley wood in the 16th century. (fn. 647) In 1554, however, Farley was reckoned in Marsh manor. (fn. 648) Farley was considered part of Bradley in the 17th century. (fn. 649)
After the Dissolution the lords of Marsh manor divided up Wyke and Bradley into small estates, which were mostly reunited by the Lords Forester in the 19th and 20th centuries.
In 1611 John Slaney, lord of Marsh, sold a freehold in Wyke to Lucy Bowdler, with remainder to her son by her first marriage, Michael Stephens. It remained in the Stephens family until sold as Wyke farm (90 a.) to Dr. Townshend Forester in 1820. (fn. 650) Wyke (or Lower Wyke) Farm (fn. 651) is a timber framed T shaped house of the earlier 17th century, cased in brick before 1700.
In 1592 Hampden Powlett, lord of Marsh, created four 4,000-year leaseholds in Wyke. Edward Alcox's was held by his descendants until 1666; John Chilton bought an assignment from their successors in 1670, and in 1820 Chilton's descendant Richard Jabet assigned it to Dr. Forester as Wood House and Lower House farms (130 a.). (fn. 652) Wood House, dated c. 1605, (fn. 653) is a T shaped timber framed building later cased in stone.
Another of the leaseholds in Wyke was granted to William Powlett and others, who assigned it in 1598 to Ralph Littlehales. The presumed farmhouse in Wyke, which belonged to Ralph's great-grandson Richard Littlehales in 1688, was later called the Stone House, Upper Farm, or Manor Farm. (fn. 654) A mid 17th-century timber framed building, with a stair turret added c. 1700, (fn. 655) it was rebuilt with stone in the earlier 18th century.
A third leasehold at Wyke, probably Newhouse farm, was granted to Richard Adams; he assigned it in 1606 to Robert Phillips, who assigned it in 1610 to Richard Littlehales. Newhouse, a timber framed 17th-century building, was rebuilt in brick in the early 19th century.
Both of those leaseholds held by the Littlehales family eventually descended to Charles Littlehales; he assigned Newhouse farm (103 a.) to Charles Guest in 1813 (fn. 656) and the rest (220 a.) to Dr. Forester in 1820. (fn. 657)
Forester's acquisitions of 1820 in Wyke created the TICKWOOD ESTATE on which, by 1828, (fn. 658) he had built a brick mansion of two storeys and three bays, Tickwood House (later Hall). (fn. 659) He acquired Newhouse farm from Guest in 1828 (fn. 660) and added it to the estate. In 1839 Forester conveyed the Tickwood estate to his nephew J. G. W. Weld-Forester, Lord Forester, (fn. 661) lord of Marsh, and its 4,000-year leases thus terminated. Tickwood Hall remained part of the Forester estate in 1910 (fn. 662) but was sold before 1941 to Capt. E. H. Villiers. (fn. 663) John R. S. Dugdale (kt. and d. 1994) bought it in 1956. (fn. 664) There were 284 a. attached in 1975. The house was extended in the mid 19th century and a servants' wing added in the 20th. (fn. 665)
The fourth lease of 1592 at Wyke, to William Powlett and others, was assigned by them to John Wossolde in 1594. In 1627 Richard Littlehales held it (fn. 666) and in 1657 his widow's husband Rowland Habberley. In 1674 Samuel Bowdler bought it. (fn. 667) It passed to his descendants through the Sprott, Ashwood, and Hawley families (fn. 668) until 1845 when Sir Joseph Henry Hawley (fn. 669) sold it (112 a.) to Lord Forester. (fn. 670)
About 1576 Stephen Hadnall, lord of Marsh, sold lands in Wyke to Lawrence Benthall, (fn. 671) lord of Benthall, who died in 1603 holding them of the king in socage as of Bourton hundred. (fn. 672) In 1737 his successor at Benthall, Elizabeth Browne, had interests in Wyke, (fn. 673) but by 1848 the Benthall family's lands at Wyke had passed to the Forester estate, which then comprised 679 a. in Wyke and Farley. (fn. 674)
In 1592 Hampden Powlett leased two farms in Bradley and Farley, with other premises, for 4,000 years to William Powlett and others. The estate eventually passed to Thomas Stephens (d. 1747), whose executrix assigned it in 1750 to John Windsor. In 1773 Windsor's widow Sarah assigned Bradley farm to Thomas Pitt, whose son Francis assigned it in 1827 to Abraham Darby (IV); (fn. 675) it comprised 142 a. in 1848. (fn. 676) The timber framed house was built in the 17th century and cased in stone c. 1800. In 1777 Sarah Windsor assigned Farley farm (fn. 677) to the ironmaster Richard Reynolds; it was augmented by 38 a. at the inclosure of Farley common in 1818 (fn. 678) and comprised 102 a. in 1848. (fn. 679) In 1774 she assigned Birdbach (or Farley) mills to William Jeffreys, and his grandson's widow assigned them to Thomas Harper in 1824. (fn. 680) In 1858 Harper's son Caleb bought the woodland (fn. 681) that Cecil Weld-Forester had received at the inclosure of Farley common (fn. 682) and in 1889 and 1891 acquired the Darby and Reynolds leaseholds. (fn. 683) He died in 1905 leaving more than 260 a. in Bradley and Farley to his nephew R. H. Trevor (fn. 684) (d. 1916), who left the estate in trust for his son Hubert (d. 1918) and widow Edith Mary, who married Edward Williamson. (fn. 685) Lord Forester bought it in 1930. (fn. 686)
PRESTHOPE, the 'priests' valley', probably belonged to the pre-Conquest minster at Much Wenlock (fn. 687) and was presumably in Much Wenlock manor in 1086. (fn. 688)
By 1167 part of Presthope was subinfeudated. Ralph of Presthope and his son Roger (fl. c. 1200-c. 1230) were presumably lords of that part, for Roger's son Ralph (fl. c. 1245-1262) certainly was. (fn. 689) John of Presthope (fl. 1272) may have been the lord of that name mentioned in 1316 and 1331. John's son Thomas (fn. 690) was probably the Thomas of Presthope named as lord in 1348, (fn. 691) from whom the manor passed in or before 1377 to Philip of Willey (fl. 1370-1402). (fn. 692) Philip's sister and coheir Margaret is said to have married Roger Wolryche (d. 1392 × 1402) (fn. 693) and the manor is presumed to have descended through their son William (fl. 1402-31), (fn. 694) his son Andrew (fn. 695) (fl. 1470), and his son Thomas (d. by 1507), to Thomas's son Humphrey (d. 1533), (fn. 696) lord in 1522. (fn. 697) The manor passed to Humphrey's son John (d. 1537) and to John's widow Mary, who married Richard Dauntsey and died in 1549. Her son William Wolryche (d. 1566) succeeded to the estate, followed by his widow Dorothy (fn. 698) (d. c. 1604), who married Jerome Corbet. (fn. 699) The estate had passed by 1604 to her son Francis Wolryche (fn. 700) (d. 1614), who was followed by his son Thomas (cr. bt. 1641, d. 1668). Sir Thomas left the estate to a younger son John (d. 1685) and thereafter to John's son Thomas (3rd bt. 1689, d. 1701). That Sir Thomas's son Sir John (fn. 701) sold the Presthope estate in 1716 to Richard Newport, earl of Bradford, who sold it in 1718 to Samuel Edwards of Frodesley (d. 1738). (fn. 702) Edwards left Presthope to trustees for the repayment of debts, with remainder to his son Godolphin. (fn. 703) In 1746 the manor, but not the chief house, was bought from Godolphin Edwards by Bradford's son-inlaw Orlando Bridgeman (fn. 704) (4th bt. 1747, d. 1764); Bridgeman's son Sir Henry sold it in 1790 to John Wheeler of Upton Magna, an ironmaster (fn. 705) who had bought the chief house from the Edwards trustees in 1787. (fn. 706) Wheeler went bankrupt c. 1804; in 1815 his assignees sold the manor to Ralph Benson (d. 1845), and it thereafter descended with Lutwyche. (fn. 707) R. B. Benson sold Lea farm (245 a.) c. 1909. (fn. 708) G. R. Benson sold 361 a. in 1938 (fn. 709) and Accumulated Investments Ltd., his successors at Lutwyche, sold 124 a. in 1952. (fn. 710) Nothing was known of any manorial rights in 1987. (fn. 711)
The chief house, (fn. 712) a 'substantial' stone house in 1802, (fn. 713) was the Plough inn from 1862 and later Plough Farm; (fn. 714) it was demolished c. 1974. (fn. 715)
The part of Presthope not subinfeudated by the priory was evidently in Marsh manor before the Dissolution, (fn. 716) and appears to have remained with the lord of Marsh afterwards. Presthope presented at Marsh manor court in 1548, (fn. 717) and in 1578 Stephen Hadnall, lord of Marsh, sold to John Ball the younger the freehold of Presthope lands (fn. 718) of which Ball's family had been copyholders. (fn. 719) In 1639 Ball's son John bought a Presthope freehold from John Lee, (fn. 720) to whom it had descended from Edward More of Larden (fl. 1543). (fn. 721) The Balls' Presthope estate remained with them in 1710 (fn. 722) but had been alienated by 1783. (fn. 723)
The small manor of PETELIE, which belonged to Wenlock priory in 1086 (fn. 724) and was called a vill c. 1102, (fn. 725) is probably to be located near Perkley, a farm in Much Wenlock township towards Callaughton. An assart in 'Purteley' was mentioned in the late 12th century. (fn. 726) There was an open field called 'Putlee' in 1221, (fn. 727) 'Pertley' in 1736. (fn. 728) Petelie was probably absorbed by Much Wenlock manor before 1255. (fn. 729)
BOURTON was perhaps one of the estates 'by the Corve' which St. Mildburg's half brothers gave to her before 704: (fn. 730) it belonged to St. Mildburg's church in 1066. Aelfric (Aluric) was then the tenant, and by 1086 his son Eadric (Edric) of Wenlock (fn. 731) had succeeded. (fn. 732) Before 1255 Wenlock priory resumed the demesne lordship, (fn. 733) though Eadric's descendants may have retained land at Bradeley as late as 1281. (fn. 734) The tenants c. 1302 were William Glazier (le verrour) and his wife, (fn. 735) possible relatives of Walter of Wenlock, abbot of Westminster. (fn. 736) Bourton had a court baron by 1333. (fn. 737)
In 1543 Richard Lawley of Tipton (Staffs.), the purchaser of Callaughton, (fn. 738) bought most of Bourton from the Crown. (fn. 739) In 1545 he bought more land in Bourton with the reputed manor of Bradeley. (fn. 740) At his death in 1569 he held Bourton in chief by knight service. (fn. 741) It then passed successively to his son Francis (d. 1583), and to Francis's son Richard (d. 1624), from whom the manor passed to Richard's brother Thomas (cr. bt. 1641, d. 1646). (fn. 742) Thereafter it descended from father to son until 1834, the following being lords: (fn. 743) Sir Francis (d. 1696), Sir Thomas (d. 1729), Sir Robert (d. 1779), (fn. 744) Sir Robert (d. 1793), (fn. 745) and Sir Robert (cr. Baron Wenlock 1831, d. 1834). (fn. 746) The manor passed successively to Lord Wenlock's brothers Sir Francis Lawley (fn. 747) (d. 1851) and Paul Beilby Lawley-Thompson, Baron Wenlock (d. 1852). (fn. 748) Lord Wenlock was succeeded by his son Beilby Richard Lawley, 2nd baron (d. 1880), (fn. 749) whose son Beilby, 3rd baron, (fn. 750) sold the manor in 1901 to J. H. A. Whitley (d. 1940). (fn. 751) His widow Mrs. S. I. B. Whitley died as lady of the manor in 1941, (fn. 752) leaving a life interest to her niece the Hon. Mrs. H. E. D. Field, who relinquished it in 1972. The estate then passed in accordance with Mrs. Whitley's will to Capt. R. M. Micklethwait, the owner in 1986. (fn. 753) After the Second World War some of the farms were sold. (fn. 754) Nothing was known of the manorial lordship by 1986. (fn. 755)
The court, Eadric of Wenlock's manor house, was mentioned in 1086 (fn. 756) and the name Bourton suggests that it was or had been fortified. (fn. 757) By 1550 and in 1695 the demesne had two houses, one on the site of the modern Grange, the other next to it. (fn. 758) Only the Grange, the manor's home farm by 1906, (fn. 759) remained in 1847. (fn. 760) It is a 19th-century brick house, perhaps one of those rebuilt by Sir Francis Lawley. (fn. 761)
By 1819 the Lawleys lived occasionally at Bourton Cottage near the church. (fn. 762) In 1874 Norman Shaw greatly enlarged it in a Tudor style, mainly in stone, and it was later named Bourton Manor. The interior was redecorated about the time of Whitley's purchase in 1901. (fn. 763)
In 1522 William Gatacre held an estate at WOODHOUSEFIELD of Wenlock priory; (fn. 764) it was between Bourton and Acton Round. In 1608 William Gatacre of Gatacre conveyed the freehold to Richard Acton of Aldenham, who conveyed it to his brother Walter in 1628. (fn. 765) The Actons had it in 1747, (fn. 766) but it passed before 1795 to John Cleobury, (fn. 767) who still owned it (130 a.) in 1808. (fn. 768) By 1848 Woodhousefield belonged to Sir Francis Lawley and was reckoned part of Bourton township. (fn. 769) In 1980 there were remains of a rectangular moat at the homestead site. (fn. 770) An inclosed pasture at Woodhousefield, in Acton Round township in 1523, (fn. 771) was let by Wenlock priory in 1536 as a copyhold of Marsh manor. (fn. 772) It was presumably the freehold at Woodhousefield, within Marsh leet jurisdiction, held in 1634 by Thomas Lawley. (fn. 773)
BRADELEY, formerly Goose (or West) Bradeley, was held of Wenlock priory in 1255 by Robert de Beysin, lord of Broseley, (fn. 774) though descendants of Eadric of Wenlock, lord of Bourton in 1086, seem to have had an interest there in the late 13th century. (fn. 775) John Easthope, lord of Easthope, had property in West Bradeley in 1427, which his feoffees conveyed in 1440 to John Ashfield of Much Wenlock. (fn. 776) In 1443 Ashfield (d. c. 1455) held the reputed manor of Bradeley, (fn. 777) and John Ashfield (d. 1506) held it of John Harewell, lord of Broseley. Ashfield was succeeded by his son Christopher, (fn. 778) who sold Bradeley to John Leveson in 1544. (fn. 779) A year later Leveson sold it to Richard Lawley, purchaser of Bourton and Callaughton. (fn. 780) The estate descended thereafter with Bourton. (fn. 781) A connexion with Broseley remained in 1620. (fn. 782) Still reputed a manor in 1799, (fn. 783) Bradeley seems later to have been absorbed into Bourton manor. (fn. 784)
In 1281 a rent of 24s. in Bradeley was given to Limebrook priory (Herefs.) by Sir Reynold of Lee, (fn. 785) and the priory seems to have retained it until its surrender in 1539. (fn. 786)
In 1066 WIGWIG, which evidently included Homer, was held by Aelmer (or Elmar). Turold of Verley held it of Earl Roger by 1086 (fn. 787) and presumably held it in chief after Earl Robert's forfeiture in 1102. (fn. 788) Between 1108 and 1121 Turold's son Robert gave Wigwig to Shrewsbury abbey, (fn. 789) and before 1187 (fn. 790) the abbey conveyed it to Wenlock priory. The vill was a member of Much Wenlock manor by 1255 (fn. 791) but by 1345 was part of Marsh manor. (fn. 792) By 1369 it was reckoned in Bradley manor, (fn. 793) and thus by 1390 was in Marsh manor again. (fn. 794) In 1847 Lord Forester, lord of Marsh, owned 54 a. in Homer, (fn. 795) and in 1920 the 6th Lord Forester sold 68 a. there in small lots. (fn. 796) The 7th Lord Forester sold manorial rights in Homer c. 1956 to E. W. Hill. (fn. 797)
In 1545 the Crown sold the farm held by Joan Sprott at Wigwig to George Tresham and Edmund Twynyho. (fn. 798) By 1584 Richard Sprott owned it. (fn. 799) Called the Pall in 1624, (fn. 800) it had a chief house known in 1670 as Wigwig Hall (or Farm). (fn. 801) William Icke of Leegomery bought nearly all the estate over the period 1692-1706 (fn. 802) and the Ickes' estate at Wigwig comprised 85 a. in 1801. (fn. 803) It passed c. 1850 to the Meire family, (fn. 804) which owned it as Mill farm in 1910. (fn. 805) Lord Forester was the owner in 1986. (fn. 806) By 1847 the late 18th-century mill house was also the farm house. (fn. 807) The site of Wigwig Hall is unknown.
In 1545 Tresham and Twynyho also bought the farm held by Thomas Taylor in Wigwig. (fn. 808) It passed to Thomas Harnage (d. c. 1562) of Belswardine, (fn. 809) and by 1808 the Harnages' estate included New House (or Wigwig) farm, (fn. 810) Red House farm at Wigwig, and Homer farm. (fn. 811) Red House farm belonged to the Revd. Samuel Minton by 1847 (fn. 812) and passed to R. F. M. Wood before 1910. (fn. 813) In 1888 Sir Henry George Harnage's trustees had sold the rest to Wood, (fn. 814) who sold the whole (292 a.) in 1919. (fn. 815) The estate's later descent has not been traced.
The RECTORY was formally appropriated to Wenlock priory 1186 X 1198. (fn. 816) From 1274 its income consisted mainly of corn tithes. (fn. 817) It was valued at £34 13s. 4d. in 1291, (fn. 818) £35. 4s. in 1535, (fn. 819) and c. £100 in 1587. (fn. 820) In the late 16th and early 17th century the Crown sold the rectorial tithes of the townships separately, often to speculators from whom local landowners soon bought them. (fn. 821) At commutation between 1847 and 1849 they were deemed to consist of corn and grain tithes only, except in Farley, Wyke, and Bradley, where they also included hay tithes. (fn. 822) The former priory's reputed desmesne lands, all in Much Wenlock and Callaughton, were declared prescriptively tithe free. There were then 15 impropriators, of whom Sir John Dalberg-Acton, Lord Forester, and Sir Francis Lawley had tithes from their property alone, whilst Sir George Harnage and Sir Watkin Williams Wynn also had tithes from other people's. The owners of the Harnage, Lawley and Williams Wynn estates merged their tithes in their freeholds, and the rest of the tithes were commuted to £329 10s. 7d.
ECONOMIC HISTORY.
Outside the town agriculture has been the main economic activity in the parish. Limestone was plentiful and quarrying the parish's most enduring industry from medieval times. The town, endowed with markets and fairs by the 12th and 13th centuries, had some concentration of manufactures, crafts, trades, and eventually professions, and it thus came to fill the modest role of supplier of goods and services to a small agricultural area.
Agriculture.
Names like Atterley, Bradeley, Bradley, Farley, and 'Petelie' suggest woodland clearance, probably in Anglo-Saxon times. Much Wenlock manor had woodland for 300 swine in 1086 (fn. 823) but then included places outside the parish. (fn. 824) Other woods belonged to Wigwig and 'Petelie'; the latter's included a hay. (fn. 825) In the 13th century assarting was reported in Atterley, Callaughton, Walton, Much Wenlock, and Wigwig. (fn. 826)
The later medieval woods separated townships (fn. 827) and were presumably intercommoned until boundaries were fixed. Westwood covered at least 350 a. of high ground between Much Wenlock, Bourton, Callaughton, Presthope, and Hughley (fn. 828) but by 1235 had long been reduced to underwood and thorns. (fn. 829) Presthope used woods adjoining Harley, (fn. 830) and Bourton shared Spoonhill wood with Callaughton and Acton Round; Acton Round's boundary within it was defined in 1256. (fn. 831) Peat was dug at Spoonhill in the early 15th century. (fn. 832) Homer wood, between Much Wenlock and Wigwig, was probably the wood for 50 swine attributed to Wigwig in 1086. (fn. 833) By the 16th century it included 23 a. of 'thin-set trees with small oaks'. Farley wood was between Bradley, Buildwas, and Much Wenlock. Poorly managed by the 16th century, it then had 20 a. of hazel and thorn, with old pollard oaks, 'part timber cropped and stubbed'. (fn. 834) Homer and Farley woods included areas of common waste. (fn. 835) At Wyke woodland adjoined Benthall and Buildwas; by 1332 a ditch divided the priory's wood from Buildwas abbey's. (fn. 836) Lawleys cross, at the parish boundary in 1542, (fn. 837) stood on the Wenlock-Buildwas road (fn. 838) and was said to mark the end of the prior's estate. (fn. 839) By the 16th century Wyke monopolized Arnegreave and Tickwood coppice woods (fn. 840) and Thorlyes, Tickwood bank, and Nathole woods. (fn. 841) Oak and ash grew in Arnegreave and Tickwood, (fn. 842) and elm, holly, and lime in Thorlyes. (fn. 843) Thorlyes and Tickwood bank were partly waste. (fn. 844) Atterley and Walton depended on rights in Shirlett, (fn. 845) outside the parish, (fn. 846) where Much Wenlock (fn. 847) and Wyke (fn. 848) also had rights. Bourton men made unlawful depredations in Shirlett. (fn. 849)
Almost the only permanent common pastures were in woodlands and former woodlands. Westwood was the largest. Much Wenlock, (fn. 850) Atterley, (fn. 851) Callaughton, (fn. 852) and Wyke (fn. 853) townships, and presumably the others too, had common meadows. By the 16th century, however, many meadows and pastures were held in severalty. (fn. 854)
Open-field arable lay around the chief settlements in the later Middle Ages. Much Wenlock town had four large fields: (fn. 855) Spittle, (fn. 856) Edge (or West) (fn. 857), South, (fn. 858) and Pertley. (fn. 859) Smaller fields included Blunthill, Knightstree (or Eastry), (fn. 860) Signal, and Walton Hill. (fn. 861) At Wyke there were Cross, Pudwell, Riden, and Yowley fields. (fn. 862) Atterley's fields were Beggarhill, Hewley, Moston, and Shirlett, (fn. 863) and Walton had Mary (or Little) (fn. 864) field, Marsh, (fn. 865) Ballop, and Rindle (fn. 866) fields. (fn. 867) The fields at Presthope were Aldenhill, Westwood, and Novers. (fn. 868) At Bourton there were Harp, Patton, and Routhers fields. (fn. 869) Bradeley had a field towards Patton. (fn. 870) There were 'common' fields in Bradley. (fn. 871) Callaughton had Spoonhill, Lower, and Pertley fields, (fn. 872) the latter shared with Much Wenlock. An open field at Wigwig was mentioned in 1262. (fn. 873)
By the late 13th century Wenlock priory's large manor of Much Wenlock was divided into separately run estates. Bradley and Wyke, with Benthall and Posenhall, seem to have been managed as one estate, called Bradley; (fn. 874) by 1369, with Wigwig and Harley added, it was called Bradley grange. (fn. 875) Atterley and Walton, with Barrow, were apparently administered together by 1291 as Marsh, (fn. 876) called Marsh grange by 1369. The granges' revenues consisted mostly of rents from free tenants. (fn. 877) Between 1379 and 1390, perhaps in response to agricultural recession, Marsh grange absorbed that of Bradley. (fn. 878) In 1291 Callaughton's revenues had long been assigned to the priory kitchen. (fn. 879)
In 1086 Much Wenlock manor, which then included (outside the later parish) Barrow, Benthall, Posenhall, and perhaps other places, (fn. 880) had 46 bordars in a recorded population of 58. It was an unusually high proportion, and there were only 9 villani. (fn. 881) Many of the bordars were probably small tenants who also worked on the demesnes and as servants in the monastery; others perhaps occupied marginal lands. (fn. 882) In 1247 the prior's immediate tenants in Much Wenlock township were 8 free men and 39 burgesses, all owing cash rents. Beneath them were undertenants and villeins. Though able to plead in the king's court, the free men and burgesses owed terciary and, in one case, labour services. (fn. 883) Most townships in the 13th and 14th centuries had free tenants paying cash rents; at Bourton neifs too paid cash in 1369. (fn. 884) By the early 16th century tenants were usually leaseholders for terms of years or copyholders for lives; in the town there were also tenants at will. (fn. 885)
In the later Middle Ages mixed farming was usual. (fn. 886) Winter corn, lent grain, and fallow were rotated in the open fields. (fn. 887) On the priory demesnes, and probably elsewhere, livestock was also important. In 1291 the prior had 25 cows, 19 mares, and 976 sheep for wool, of which 209 were breeding ewes, (fn. 888) and a Callaughton tenant had at least 70 sheep in 1274. (fn. 889) A tenant at Atterley paid for 19 swine in the lord's wood in 1431. (fn. 890) In Wyke and Bradley the seven farms c. 1580 had common stints totalling 36 oxen, 54 kine, 460 sheep, and 17 horses. (fn. 891) Some commoners of Wyke in 1587 forged neighbours' earmarks, (fn. 892) and in 1584 foreign pigs, bullocks, and sheep were pastured in Farley wood. (fn. 893)
Adam atte (or de la) Home of Much Wenlock (fl. 1338-45) was a merchant who bought wool from Wales and the Marches and exported it through London and Hull. (fn. 894) He evidently invested in land; his son Richard del Home (fl. 1354) and grandson Peter del Home (fl. 1373) owned land in several townships in Much Wenlock and Shipton parishes. (fn. 895)
In the general economic crises of the earlier 14th century the parish's arable and meadow fell sharply in value and, at least in Bradley grange and Bourton, in extent. By 1341 bad weather and sheep disease were afflicting the parish. (fn. 896) Wenlock priory had let out some of its demesne by 1390, (fn. 897) and by 1540 the only demesne in hand was c. 460 a. in Much Wenlock township, whose pasture (some of it former arable) (fn. 898) and meadow were inclosed. The parish's agricultural value in 1540 had increased since the 14th century. (fn. 899)
In the later Middle Ages some isolated farms were formed, both by inclosure of open-field arable and presumably, as the names suggest, by assarting. Newhouse and Wood House near Wyke existed by 1540 (fn. 900) and probably by 1477. (fn. 901) John Oswald, presumably of Wood House, (fn. 902) was accused in 1517 of inclosing arable at Bradley to make pasture. William Wilcokes was similarly accused in Bourton. (fn. 903) Wood House was wholly inclosed by 1592. (fn. 904) Woodhousefield, next to Spoonhill wood near Bourton, had inclosed pastures by 1536. (fn. 905)
In the late 16th and earlier 17th century agriculture was evidently thriving, for many farmhouses were then wholly rebuilt. (fn. 906) Most of their timber frames were later cased in brick or stone.
In the 17th and 18th centuries inclosure was completed and estates were consolidated by exchanges, such as those at Wyke c. 1600 (fn. 907) and at Atterley in 1724. (fn. 908) Bourton and Bradeley, under single ownership, were wholly inclosed by 1731. (fn. 909) Atterley and Walton, with three substantial freeholders, still had much open-field land in 1722, (fn. 910) as did Callaughton in 1748. (fn. 911) In Much Wenlock township, with many freeholders and some large estates, the parish's last open-field land, 551 a., had to await inclosure by Act of Parliament in 1777. (fn. 912)
The Atterley and Walton commoners' rights in Shirlett were extinguished in 1775 by Act of Parliament. (fn. 913) Two large commons then remained: Westwood (327 a.), which Much Wenlock, Presthope, (fn. 914) and Callaughton (fn. 915) manors still intercommoned, was inclosed in 1814 (fn. 916) and Farley (58 a., including 19 a. of wood) in 1818. (fn. 917) Presthope common, probably the 'green' grazed by oxen in 1584, (fn. 918) consisted of 14 a. next to Wenlock Edge in 1769 (fn. 919) and was inclosed by 1846. (fn. 920) By 1986 the only common left in the parish (fn. 921) was the remnant, 2.3 ha., of Homer common. (fn. 922)
Isolated farms were created in the later 17th or earlier 18th century. The Downs, mentioned in 1714, (fn. 923) was formed after 1647 (fn. 924) from demesne lands in Much Wenlock township. Coates farm, mentioned in 1724, (fn. 925) was created after 1634 from part of the Almoner's Ground. (fn. 926)
Copyholds seem to have been replaced in the earlier 17th century, sometimes by freeholds, (fn. 927) but usually by leaseholds. (fn. 928) A late survival in 1641 was the Lewes family's copyhold in Atterley, granted in 1597. (fn. 929) By the early 17th century leases were usually for three lives. (fn. 930) The Lawleys continued to grant such leases until the later 18th century, (fn. 931) but on other estates the policy changed in the early 18th century. On the Much Wenlock manorial estate tenancies at will were substituted for expiring leases after Robert Bertie died in 1698. (fn. 932) In 1726, however, Watkin Williams began to offer 99-year chattel leases; many were made in the late 1720s (fn. 933) and some presumably lasted until the 1820s. By contrast the Actons' policy in the mid 18th century was to grant 21-year leases at high rents. (fn. 934) By the early 18th century holdings could be accumulations of tenancies and undertenancies, not all held of one landlord; they might also have undertenants and be part freehold. (fn. 935)
Cereals remained the basic produce in the 17th and 18th centuries, (fn. 936) with wheat and springsown mixed grains the usual crops. Oats and barley were grown, with some peas, vetches, and beans. Most cereal farmers kept horses, and a minority kept oxen or bullocks too; some, however, had no plough beasts and presumably used their neighbours'.
On Much Wenlock manorial estate in 1714 permanent pasture, including Westwood common, accounted for half of all agricultural land; a sixth of the rest was meadow. (fn. 937) In the 17th and 18th centuries most farmers in the parish had cattle, particularly cows; herds of adult cows or heifers averaged about four, and the largest known comprised 17. Commercial cheese making, however, was rarer than around the nearby east Shropshire coalfield. (fn. 938) Hay was the usual winter fodder, and clover hay was mentioned in 1671. (fn. 939) There were some cattle dealers: in the early 17th century Thomas Chirbury, Thomas Cliveley, and Lewis Heighway were frequent buyers at Shrewsbury fairs. (fn. 940) Sheep were often kept, more so than near the coalfield and in larger flocks, averaging c. 35; the largest known flock had 147. (fn. 941) Some farmers had fairly small flocks of sheep without cattle.
Farmhouses stood in all the main streets of the town in the early 18th century. (fn. 942) Several had only a barn as an outbuilding. A stable was not unusual, sometimes combined with the barn. Cow or beast houses were rare and carthouses unusual.
Farms were of all sizes, and outside the town several exceeded 100 a. in the early 18th century. (fn. 943) Tradesmen usually occupied the smallest: for example in February 1663 a Much Wenlock shoemaker had 2 a. of corn, small stores of corn, vetches, peas, and hay, 2 cows, and 9 sheep. (fn. 944) In July 1731 one of the largest holdings, at Presthope, comprised 74 a. under crops, 71 cattle, 147 sheep, 11 horses, 36 swine, and poultry; there were 80 cheeses in store. (fn. 945)
In the 18th century larger farms absorbed smaller ones. On the Wynn estate, holdings over 25 a. fell from sixteen in 1714 (fn. 946) to nine by 1808, increasing greatly in size. (fn. 947) Plans to reduce the number of farms had existed by 1769, in expectation of Much Wenlock's inclosure Act. (fn. 948) In Callaughton amalgamation reduced the ten holdings of 1783 (fn. 949) to six by 1799. (fn. 950) In Atterley and Walton the Actons' farms over 25 a. fell from four to three between 1724 (fn. 951) and 1808. (fn. 952) After the inclosure of Westwood common in 1814, (fn. 953) however, some new farms were created there: Lower Westwood on the Williams Wynn estate and Westwood and Westwood Cottage (later Cottage farm) on the Lawley estate. (fn. 954) More large farms were created during the century, including Black Barn in Presthope, Perkley and Walton Grange in Much Wenlock, Callaughton farm, and Callaughton House. (fn. 955)
Near the town in the 19th and the early 20th century there were smallholdings (fn. 956) on land unsuitable for larger farms. (fn. 957) Until after 1945 several of the urban smallholders were cowkeepers (fn. 958) supplying milk locally. A small early 19th-century cowhouse and dairy was standing in 1987 at 24 Barrow Street. (fn. 959) In 1960 the parish's smaller farms produced milk and eggs, while many of the larger were concerned with grain, roots, and beef cattle. Much of the milk was then sent to London. (fn. 960) In the 20th century farm sizes continued to increase. (fn. 961)
Increased cereal production, one of the objects of 18th-century improvements, was stimulated by high prices and rents during the Napoleonic wars. (fn. 962) In 1793 arable predominated over grass. There were some grazing farms, but mixed husbandry was more common. (fn. 963) In 1801 wheat far exceeded barley and oats as the main cash crop. (fn. 964) In Presthope arable increased from 38 per cent of agricultural land in 1802 (fn. 965) to 60 per cent by 1820. (fn. 966) In Much Wenlock township arable formed 60 per cent of the manorial estate's farmland by 1813. (fn. 967) Pasture was ploughed up 'indiscriminately', and the arable over-cropped. After the wars much arable was returned to pasture and slowly recovered fertility. It was then ready to be ploughed again, (fn. 968) and in the late 1840s arable formed 60 per cent of the land on farms over 25 a. (fn. 969) A ten-year depression, a 'frightful ordeal', lasted until the mid 1850s. (fn. 970) The result seems to have been a new move towards livestock. In 1867 grass exceeded arable by 3 to 2, and it predominated increasingly until the Second World War. In 1965 grass still occupied nearly 60 per cent of agricultural land. (fn. 971) Before the development of motor transport dairy farming was limited by distribution difficulties, and beef rearing predominated, usually of Herefords. 'High' feeding in covered yards was widely practised by 1906; the high pitched 'Cundy' roof of spaced wooden boards, combining ventilation with shelter, was much favoured. (fn. 972)
Table XXV Much Wenlock: Land use, livestock, and crops

| | | | | |
| --- | --- | --- | --- | --- |
| | | | | |
| | 1867 | 1891 | 1938 | 1965 |
| Percentage of grassland | 61 | 73 | 81 | 59 |
|                      arable | 39 | 27 | 19 | 41 |
| Percentage of cattle | 13 | 21 | 23 | 29 |
|                      sheep | 75 | 72 | 64 | 63 |
|                      pigs | 12 | 7 | 13 | 8 |
| Percentage of wheat | 51 | 34 | 54 | 43 |
|                      barley | 38 | 38 | 9 | 51 |
|                      oats | 11 | 28 | 35 | 6 |
|                      mixed corn & rye | 0 | 0 | 2 | 0 |
| Percentage of agricultural land growing roots and vegetables | 8 | 6 | 5 | 4 |
Sources: P.R.O., MAF 68/143, no. 15; /1340, no. 5; /3880, Salop. no. 265; /4945, no. 265.
Notable herds of cattle in the 20th century included Herefords at Callaughton farm (fn. 973) (later at Callaughton House), (fn. 974) Ayrshires at the Downs, (fn. 975) and Jerseys at Tickwood Hall. (fn. 976) At Callaughton the Milners bred nationally reputed shire horses. (fn. 977) In the century from 1867 sheep became relatively less important than cattle. (fn. 978) The Shropshire Down was considered the best breed for the Wenlock area by 1851 (fn. 979) and in 1906, (fn. 980) but it was less popular later. In 1883 there were flocks of Shropshires at Bourton Grange and Callaughton farms (fn. 981) but none by 1920. (fn. 982)
Practice varied considerably in the 19th and 20th centuries. (fn. 983) In Presthope, for example, arable continued to predominate over grass c. 1890. (fn. 984) A diversity of aims, methods, and resources accentuated differences between neighbouring farms, not always reflected in their arable-grass ratios. In Presthope in 1938 Plough farm (63 per cent grass in 1934) was a stock rearing enterprise, but Lower Presthope (70 per cent grass) was called a mixed farm and Black Barn (43 per cent grass) a stock and grain farm. (fn. 985)
The Wenlock Farmers' Club, begun in 1842, was the foremost in Shropshire. Its members were informed, articulate, and independent. (fn. 986) In the later 19th century farmers' interests were espoused politically by the 2nd and 3rd Lords Wenlock and C. G. Milnes Gaskell. (fn. 987) In 1884, however, Gaskell's wife could still dream of a social order in which farming families had few aspirations; agricultural depression, she believed, was linked with the farmer's taste for culture and recreation. (fn. 988) In 1906 local farmers were judged to have survived the depression well, and without complete sacrifice of social pleasures. Tradesmen were prepared to give them long term credit, and J. H. A. Whitley failed to convince his tenants of the alternative merits of co-operative bulk buying for ready money. (fn. 989)
Wheat and barley were the predominant cash crops in 1867, but wheat lost ground to oats in the late 19th century. In 1906 a five-course rotation was usual: turnips; swedes, mangolds, or potatoes; barley; clover or mixed seeds for two years; and wheat or oats. Barley was then thought too speculative for extensive sowing, and gave way to wheat before 1939. By 1965, however, barley had overtaken wheat, mainly at the expense of oats. (fn. 990) In 1960 most of the grain went to Liverpool and Manchester. (fn. 991)
Quarries.
On Wenlock Edge Silurian limestone (fn. 992) lies near the surface in abundance and has been quarried for building, iron fluxing, aggregate, and conversion to lime for building, tanning, and agriculture.
In the Middle Ages the stone was used in the priory and nearby churches. (fn. 993) One early source was Standhill, (fn. 994) immediately north of the town. (fn. 995) There was also a cluster of quarries immediately west of the town, near the Bank. (fn. 996) In 1399-1400 quantities of building lime were supplied to Caus castle c. 30 km. away, (fn. 997) and 16 loads for Shrewsbury school in 1594. (fn. 998) Much Wenlock was 'famous' for limestone by 1607, (fn. 999) and quarries and kilns were scattered all over the Edge. (fn. 1000) There were also two kilns at Wyke in 1523. (fn. 1001) There were self-employed lime 'carriers' (perhaps producers as well as distributors) in the 16th and 17th centuries, (fn. 1002) and several lime burners flourished in the earlier 18th century. (fn. 1003) Unauthorized digging on the commons (fn. 1004) and the erection of noxious kilns (fn. 1005) were penalized, and in 1778 the Williams Wynn estate required royalties on lime burnt and the reinstatement of land after digging. (fn. 1006) On that estate 13 lime burners produced 3,503 wagon loads in 1789-90. (fn. 1007) Agricultural tenants were allowed to get stone and make lime for their own use. (fn. 1008)
In the early 18th century Abraham Darby (I) bought Wenlock stone for iron smelting. (fn. 1009) As the local iron industry expanded, quarries between the town and the Severn were acquired by ironmasters operating in the southern part of the coalfield. The Wenlock-Buildwas road led to a wharf on the Severn downstream of Buildwas bridge, (fn. 1010) whence supplies were carried down river towards the ironworks. The ironmaster Richard Reynolds bought Farley farm in 1777. (fn. 1011) In 1780 William Ferriday and his partners at Lightmoor took a 21-year lease of stone near Gleedon hill and the Coalbrookdale Co. took a similar lease of a quarry nearby. Both paid royalties, and the Coalbrookdale Co. undertook to get at least 1,500 tons a year. (fn. 1012) In 1789-90 the Lightmoor Co. paid royalties on 1,200 tons. (fn. 1013) Joseph and Richard Jesson and Richard Wright took a lease of stone under Wyke farm in 1797, (fn. 1014) presumably for the Wrens Nest works. (fn. 1015) By 1800 Alexander Brodie occupied nearby quarries to supply his Calcutts works. (fn. 1016) In 1800 William Reynolds and his partners took a lease of stone under 61 a. at Tickwood and Wyke, (fn. 1017) whence a railway was built north-east, (fn. 1018) probably to a Severnside wharf on the Buildwas-Benthall boundary. (fn. 1019) John Wheeler's purchases at Presthope in 1787 and 1790 (fn. 1020) were presumably intended to yield fluxing stone.
In the early 19th century the Madeley Wood Co. succeeded to the Wenlock quarries of Richard and William Reynolds and the Coalbrookdale Co., (fn. 1021) and between 1824 and 1833 (fn. 1022) built a railway north from Gleedon hill to a Severnside wharf about 1½ km. above Buildwas bridge. (fn. 1023) The Wyke railway had gone by 1833. (fn. 1024) Thomas and William Botfield bought quarries on Gleedon hill in 1826, (fn. 1025) and in 1839, with their nephew Beriah, bought the former Coalbrookdale Co. site nearby. (fn. 1026) Abraham Darby (IV) bought Bradley farm in 1827, (fn. 1027) and Bradley Rock quarry became the sole source for Dawley Castle and Lightmoor. (fn. 1028) In 1831 the parish's quarries employed c. 130 men. (fn. 1029) In 1849 Francis and John Yates of Ironbridge (fn. 1030) took a 14-year lease of a new quarry in Windmill Hill field, later called Shadwell Rock; they expected to get at least 9,000 tons a year. (fn. 1031)
It was mainly to improve transport of limestone to the Severn, and of coal thence to the Wenlock kilns, (fn. 1032) that a railway was opened from Buildwas to Much Wenlock in 1862 and extended to Presthope in 1864. (fn. 1033) It immediately stimulated quarrying, especially south of the town where the industry was less developed.
The South Wales & Cannock Chase Coal & Coke Co. became lessees of Shadwell Rock. (fn. 1034) The fluxing stone, c. 22,500 tons in 1873, was all sent beyond Stourbridge (Worcs.). Bradley Rock was then yielding c. 20,000 tons a year for the Coalbrookdale Co. At Westwood the Madeley Wood Co. was getting 8,000-9,000 tons a year for Blists Hill. (fn. 1035)
At Presthope Lord Granville, a principal shareholder in the Lilleshall Co., (fn. 1036) took a lease of limestone under 28½ a. in 1862, (fn. 1037) and in 1864 William Field, a Shrewsbury merchant and railway contractor, (fn. 1038) took a lease of the stone under an adjoining 10 a., (fn. 1039) to supply ironworks in Shropshire and Staffordshire. By 1873 neither quarry had been profitable and Field's had closed; (fn. 1040) Granville's rent was halved in 1876. (fn. 1041) Lack of direct rail access to the eastern part of the coalfield made Presthope stone uncompetitive with imports from north Wales. (fn. 1042)
The late 19th-century decline of Shropshire's iron industry (fn. 1043) further curtailed demand for Wenlock stone. The Coalbrookdale Co. sold Bradley Rock in 1889, (fn. 1044) Gleedon Hill quarries closed between 1882 and 1901, (fn. 1045) and Shadwell Rock closed c. 1911. (fn. 1046) The Lilleshall Co. (which succeeded to Granville's lease) (fn. 1047) had its rent reduced twice (fn. 1048) but closed its quarry c. 1915. (fn. 1049)
During the iron industry's prosperity lime for agriculture and building continued to be pro duced by small operators (fn. 1050) as well as at the iron companies' quarries, (fn. 1051) and that trade managed to survive the iron industry's decline. (fn. 1052)
In the mid 20th century, and especially after 1945, limestone quarrying revived to supply the construction industry with aggregates, while improvements in road transport eased distribution. Crushing plant was installed and, for agriculture, ground limestone supplanted the more expensive burnt lime. Quarries were opened or revived at Farley and Shadwell, north of the town, and Lea, Knowle, Coates, and Hayes on the road from Presthope to Much Wenlock. Demand increased after the designation of Dawley new town in 1963, and the old Lilleshall Co. quarry reopened c. 1966. Annual production in the parish, 600,000 tonnes in 1970, had doubled by 1974 but fell to 800,000 tonnes by 1980. In 1977 c. 80 per cent went for aggregate and c. 8 per cent for agricultural lime. About 10 per cent went for concrete and concrete goods, and on the Presthope to Much Wenlock road there were three works making concrete products. The quarries sent about half of their output to Staffordshire and the west midland conurbation; about a fifth was used in Telford and the rest elsewhere in Shropshire. Wenlock was the main source of agricultural lime for 30 miles around. The limestone industry was believed to account directly for about a third of all jobs in the Much Wenlock area. (fn. 1053)
In 1978 the county council decided that, for environmental reasons, quarrying on Wenlock Edge should cease when existing sites were worked out. (fn. 1054) By 1984, however, the council accepted that new starts might be needed to provide jobs or if other Shropshire sources of comparable stone proved inadequate. (fn. 1055)
Prospectors failed to find useful quantities of other minerals. James Miner, of Derbyshire, had permission in 1397 to mine copper and silver on Wenlock priory's demesnes, (fn. 1056) but there were no such mines in 1540. (fn. 1057) In the later 16th century Robert Acton paid for rights to ironstone in Presthope. (fn. 1058) John Wase of Broseley agreed in 1733 to extract coal from the Lawleys' estate. (fn. 1059)
Elsewhere Coalpit leasow lay near Downs Farm in 1848 and Coalpit meadow near Perkley. (fn. 1060)
Markets And Fairs.
In 1138 King Stephen granted Wenlock priory a three-day fair 23-5 June. (fn. 1061) Before 1224 weekly markets were held at Much Wenlock on Sundays. In that year Henry III granted the priory instead a weekly Monday market, (fn. 1062) apparently of little account by the 1550s. (fn. 1063) In 1468 the rights were vested in the borough corporation, (fn. 1064) and in 1873 in the local board of health. (fn. 1065) The corporation resumed them at the board's dissolution in 1889 (fn. 1066) and they passed in 1966 to the rural borough council. (fn. 1067)
In 1631 a fair on 5-7 October was granted. (fn. 1068) In the 1630s additional fairs were occasionally held outside the appointed dates. (fn. 1069) Two more fairs were granted in 1720, on 1 May and 23 November. (fn. 1070) The calendar reform of 1752 shifted the fair days to 12 May, 5 July, 17 October, and 4 December. (fn. 1071) Another fair, on the second Monday (later the second Tuesday) in March, (fn. 1072) was added in the 1820s. (fn. 1073) The July fair ceased in the 1840s. (fn. 1074)
Until 1852 the only covered area was under the guildhall, for butter (fn. 1075) and corn. (fn. 1076) The covered Corn Market, 'long wanted', (fn. 1077) was then opened in Hospital Street by subscription. (fn. 1078) In 1879 the local board built the Market Hall at the corner of Hospital and Sheinton streets, on the site of the glebe houses; (fn. 1079) it was designed by S. Pountney Smith in a 'half-timbered' style (fn. 1080) to match the nearby guildhall. There was an open market space in front, and the board provided another small market place, the Square, on the opposite corner of Hospital Street. (fn. 1081) About that time the Corn Market was renamed the Corn Exchange. (fn. 1082) The Market Hall closed c. 1920, (fn. 1083) allegedly with the connivance of shopkeepers. (fn. 1084) In 1938, however, weekly auctions of farm produce were being held at the Fox. (fn. 1085) In 1960 the borough council opened a small general market at the Corn Exchange, (fn. 1086) which later occupied additional space under the guildhall.
The ancient fairs were of only local impor tance in the 1630s, when sellers came almost exclusively from within the borough; buyers came from a slightly wider area, including Bridgnorth, Wistanstow, and Wrockwardine. The greatest trade was at the June fair, where cattle and horses preponderated, but sales rarely exceeded 20 animals. Sheep appeared mainly in October. (fn. 1087) In 1769 they appeared at all fairs, especially in July; swine appeared especially in October. (fn. 1088) In the late 18th century the October fair attracted Leicestershire and Northamptonshire graziers buying oxen. (fn. 1089) By 1835 the May fair was a hiring fair, (fn. 1090) and by 1868 had become a pleasure fair, (fn. 1091) held mainly in Barrow and High streets. (fn. 1092)
In 1862 the corporation substituted new livestock fairs, on the Monday after the first Shrewsbury fair in alternate months. (fn. 1093) That year the new Wenlock Smithfield Co. opened a railside smithfield in Powke Lane managed by a firm of auctioneers; street sales of livestock ceased. (fn. 1094) There were fortnightly sales of fatstock and stores, and occasional horse sales by the 1880s; (fn. 1095) people attended from as far as Birmingham, Wolverhampton, and West Bromwich. (fn. 1096) Seventeen sales took place in 1890; in Shropshire only Cleobury Mortimer had fewer. (fn. 1097) The company sold the smithfield to the auctioneer in 1890. (fn. 1098) In 1925-6 c. 9,600 animals passed through but by 1939 sales were almost non-existent. That year, however, Much Wenlock was designated a fatstock grading centre and survived solely as a fatstock market. In 1950 some 9,800 animals were sold, from upper Ape Dale and part of upper Corve Dale. (fn. 1099) As road transport developed, however, producers preferred larger centres, and the smithfield closed in 1954. (fn. 1100)
Manufactures, Crafts, And Professions.
Sparse early references to crafts and trades suggest that the ubiquitous cloth and leather trades were among the first to be established locally. A William Weaver (le webbe) and Walter Shearer (le sherar) lived in Much Wenlock manor in 1327. (fn. 1101) Adam Tailor (le tailur) lived at Much Wenlock in the late 13th century, (fn. 1102) and a tailor was mentioned in Much Wenlock township in 1413. (fn. 1103) Plentiful lime and bark encouraged tanning. Ithenard the tanner held 3 a. in Much Wenlock in 1221, (fn. 1104) and Alexander, John, Roger, and Thomas le Barker were mentioned in the manor in 1345. (fn. 1105) Specialized leather craft is indicated by the presence of Hugh Glover (cirothecarius) in the manor in 1327. (fn. 1106) A shoemaker was mentioned in 1448. (fn. 1107)
From the 16th century evidence is more abundant for the leather and cloth trades and for a wider variety of other trades and manufactures. Generations of the Bradeley (fn. 1108) and Morrall (fn. 1109) families were involved in tanning in the 16th and 17th centuries. Richard Bradeley lived at Presthope in 1588, (fn. 1110) but Ralph was in Barrow Street by 1605. (fn. 1111) Christopher Morrall (d. 1594) also lived in Barrow Street, (fn. 1112) where a tannery was held by Josiah Morrall (d. 1694). (fn. 1113) By 1717 the tannery was held of the Morralls by Thomas Mason (d. 1732). (fn. 1114) After him came Thomas Mason (d. 1757), (fn. 1115) Richard Corbett (d. 1770), (fn. 1116) and probably Thomas Corbet (fl. 1785-1805). (fn. 1117)
A tannery on the north side of Spittle Street, leased to Edward Hancocks in 1684, (fn. 1118) passed to Anne Hancocks (d. 1710). (fn. 1119) It was held in 1714 by Humphrey Hinton and Richard Parsons (fn. 1120) and by John Hinton 1769-85. (fn. 1121) It had probably closed by 1800, by which time a new tannery had opened at the north end of Sheinton Street, (fn. 1122) occupied by Edward Howells. (fn. 1123) In 1808 Howells also held the Barrow Street tanyard. (fn. 1124) In 1830 he left the Sheinton Street premises to his nephew George Adney (d. 1875), whose son Thomas continued the business (fn. 1125) until c. 1890. (fn. 1126) The Barrow Street site, (fn. 1127) also held by George, closed before 1872. (fn. 1128)
There were many shoemakers in the parish in the 16th century and at least four glovers 1558- 1608. (fn. 1129) John How (fl. 1600) (fn. 1130) and Joseph Crowther (d. 1667) (fn. 1131) were saddlers. Such trades, like tanning, long survived. William James was a glover in 1774, (fn. 1132) but none was recorded c. 1798 or later. (fn. 1133) There were 25 shoemakers living in the town in 1841 and one each living in Atterley, Bourton, and Farley. (fn. 1134) Saddlers too were found in the 19th century: there were at least three c. 1851. (fn. 1135)
Cloth was the town's chief manufacture in the 16th century (fn. 1136) and also a significant trade. A haberdasher was mentioned in 1586 (fn. 1137) and mercers from 1592 onwards; (fn. 1138) there were at least four mercers in 1661, (fn. 1139) and another issued one of the town's 17th-century tokens. (fn. 1140) The parish had many tailors in the 16th century (fn. 1141) and two cappers were mentioned in the late 16th century, (fn. 1142) a hatter in 1616, (fn. 1143) and a feltmaker in 1661. (fn. 1144) Weavers were mentioned in the later 18th century. (fn. 1145) In 1841 fifteen men of the town, and three of Bourton, worked at tailoring. There remained two 'clothmakers' living in High Street and a wool carder in Barrow Street. There was also a weaver living at Westwood, and ten people worked as drapers, including two living at Atterley. (fn. 1146)
Fulling was found outside the town: it had ceased at Wigwig mill by 1695, (fn. 1147) but walkmills in Wyke and Bradley township were mentioned in 1743. (fn. 1148)
The building trades seem to have flourished before and after the Dissolution. William the carpenter was mentioned in 1386, (fn. 1149) and under Prior Singer (d. 1521) Walter Wilcock was carpenter to Wenlock priory, (fn. 1150) and Clement Mason was mason there. (fn. 1151) Richard Dawley, who framed the borough's 'court house' (the guildhall) 1539-40, (fn. 1152) and his family were carpenters until 1636 (fn. 1153) or later. Walter Hancox (d. 1599), mason, architect, and sculptor, enjoyed a regional reputation. (fn. 1154)
Thomas Simons was a pewterer in 1578, (fn. 1155) and John Bridde was a nailer in the late 16th century. (fn. 1156) Nailing continued in a small way into the 19th century: (fn. 1157) in 1808 Randle Peck owned two nail shops, (fn. 1158) and in 1841 five people living in Sheinton Street worked at nailing. (fn. 1159) The trade had ceased by 1900. (fn. 1160) Needle making is believed to have spread to Much Wenlock from the west midlands in the 17th century. (fn. 1161) Adam Clun (d. 1642) was one of the earliest makers. (fn. 1162) Moses Meredith was one by 1654 (fn. 1163) and lived in Barrow Street. (fn. 1164) John Meredith (d. 1713) (fn. 1165) followed the same trade. (fn. 1166) Meanwhile Michael Adams (d. c. 1684) made needles at Walton. (fn. 1167) There was a needle mill at Bradley in 1763, (fn. 1168) and Thomas Cliveley was a needle maker in 1782, (fn. 1169) but the trade was not mentioned c. 1798 (fn. 1170) or later. (fn. 1171) Richard Byrd (fl. 1642-59) was a clockmaker, (fn. 1172) and Edward Jeffries made clocks and watches in 1778. (fn. 1173) There were two watchmakers c. 1798. (fn. 1174) Farley had a plating forge in 1777, (fn. 1175) together with a frying-pan shop by 1790. (fn. 1176) There was a pump maker living at Wenlock Bank in 1841. (fn. 1177)
Paper manufacture was carried on outside the town, where water power was available. In 1635 a paper mill stood beyond two pastures north-east of the Abbey. (fn. 1178) It was probably the same as Masons (or Mayres) mill, whose occupant Francis Selman made paper c. 1702. (fn. 1179) John Clarke of Wyke was a paper maker in 1661, (fn. 1180) perhaps at the Farley paper mill mentioned 1733-43. (fn. 1181)
The town had at least four malthouses in 1714 (fn. 1182) and 11 in 1808. (fn. 1183) In 1769 Thomas Littlehales, in the Bull Ring, was making c. 2,000 bushels a season. (fn. 1184) Six maltsters were recorded in 1842 (fn. 1185) but by 1900 only one. (fn. 1186) Richard Canlin (d. 1757) (fn. 1187) and his descendants were maltsters in High Street until the 1840s (fn. 1188) and had another malthouse in Bourton Lane by 1797, (fn. 1189) which William Canlin (d. 1864) left to his nephew Richard Cooper (fn. 1190) (d. 1891). (fn. 1191) Cooper's executors let it to C. E. Ainsworth c. 1892, (fn. 1192) and it closed c. 1911. (fn. 1193) Ralph Patson was brewer to Wenlock priory in 1539, (fn. 1194) but large scale commercial brewing did not begin until George Lloyd bought the former Sheinton Street tannery in 1894 (fn. 1195) and converted it to the Wheatland Brewery. (fn. 1196) It closed c. 1924. (fn. 1197)
Clay tobacco pipes were being made by Robert Lumas and Samuel Deacon in the mid 1650s; Deacon lived in Spittle Street, (fn. 1198) and the town had many pipemakers in the later 17th and earlier 18th century, (fn. 1199) though John Kidson (d. c. 1726) worked at Wyke. (fn. 1200) In 1675 pipes were the town's chief manufacture, (fn. 1201) and there was still a pipemaker's shop in Mary Lane in 1769; (fn. 1202) later, however, the trade centred on Broseley. (fn. 1203)
Early brickmaking is indicated by the names Brick yard near Atterley, (fn. 1204) Brick leasow near Bourton, (fn. 1205) and Brickkiln piece near Presthope. (fn. 1206) William Fletcher (fl. 1777) was a brickmaker. (fn. 1207) A small brick and drainpipe works opened at Woodhousefield by 1841 (fn. 1208) and closed c. 1903. (fn. 1209) By 1974 (fn. 1210) A. & J. Mucklow Ltd. made bricks and concrete blocks at Presthope, and in 1979 employed c. 60 there and at its Coates quarry works. (fn. 1211)
About 1800 the main surviving industries were tanning and malting which, like the smaller scale nailmaking, were carried on mainly in the town. Weavers, tailors, drapers, shoemakers, and saddlers, crafts and trades associated with cloth and leather, were found in the parish too. Some compensation for the loss of other urban manufactures, clay pipes, needles, and clocks and watches, can be discerned in the growth of professions and services concentrated in the town. There had been surgeons and apothecaries since the early 18th century. (fn. 1212) By 1798 there were two attorneys, (fn. 1213) and in 1828 a partnership of three. (fn. 1214) In 1811 there was a bank belonging to Richard Collins, Francis Pitt, and Edward Howells, (fn. 1215) and in 1822 (fn. 1216) C. & J. H. Cooper of Bridgnorth (fn. 1217) opened a bank in Barrow Street, (fn. 1218) which moved to Hospital Street in 1876. (fn. 1219) The Wenlock Franchise Savings Bank, in existence by 1826, (fn. 1220) took a lease of premises in the Bull Ring in 1829. (fn. 1221) It had, together with the Ironbridge branch, (fn. 1222) 1,909 investors in 1850 (fn. 1223) but closed c. 1870. (fn. 1224) Coopers' bank became, in due course (1914), a branch of the Midland Bank, (fn. 1225) and branches of Lloyds Bank and of a precursor of Barclays were established in 1889 and c. 1907 respectively. (fn. 1226)
A printing press was set up in Wilmore Street by Thomas Lawley in 1835. (fn. 1227) William Lawley ran it until c. 1898, when it passed to A. E. Trevor, (fn. 1228) and it closed c. 1903. (fn. 1229) T. H. Thompson was a stationer and printer in 1903. (fn. 1230) About 1950 the Old Mint Press moved to Smithfield Road from Shrewsbury. (fn. 1231)
Mills.
In 1086 Much Wenlock manor had two mills 'serving the monks' and there was another at Bourton. (fn. 1232) By 1400 there were at least eight mills in the parish. After 1600 the number declined, and only three survived until the early 20th century.
In 1540 the mill on the Much Wenlock demesne (fn. 1233) stood at the Great pool, (fn. 1234) which was retained by a dam over 400 m. long on a tributary of Farley brook. (fn. 1235) The manor also included Green mill, mentioned in the 13th century, (fn. 1236) perhaps that serving the town in 1535. (fn. 1237) Green mill stood in 1553 (fn. 1238) at the site on Farley brook later called Wenlock (fn. 1239) (or the Town, or Downs) (fn. 1240) mill, c. 1 km. downstream of the priory. Downs mill, worked until the early 20th century, (fn. 1241) may have been the 'lower' mill of 1321. (fn. 1242)
Also at Much Wenlock was Masons mill, mentioned in 1534 (fn. 1243) and comprising a pair of mills in 1583. (fn. 1244) In the earlier 16th century it was held by the Mayre family with the Almoners barn (fn. 1245) and may therefore have been the same as the Mayres (or Mayors) mill mentioned 1522- 1731: (fn. 1246) that was separated from the barn by the Almoners croft (fn. 1247) north-east of the priory. (fn. 1248) No mill worked there by the 1840s. (fn. 1249)
There was a windmill at Much Wenlock by 1321. (fn. 1250) One stood c. 1 km. north of the town in 1714. (fn. 1251) Still working in 1815, (fn. 1252) it was wrecked by lightning c. 1850. (fn. 1253) The 18th-century stone tower stood in 1986. The mill may have been the malt mill mentioned 1622-47. (fn. 1254)
Farley (formerly Birdbach) mill on Farley brook (fn. 1255) was mentioned in 1321. (fn. 1256) In 1774 it consisted of two mills. (fn. 1257) They were rebuilt in 1791-2, one with a 28-ft. overshot wheel. (fn. 1258) By 1844 they used both water and steam power. (fn. 1259) Still working in 1925, (fn. 1260) they had closed by 1953. (fn. 1261)
Just downstream of Farley mills were three mill ponds in 1849, all belonging to Jeremiah Aston, (fn. 1262) a miller in 1841. (fn. 1263) Unoccupied mills remained at two of them in 1849. (fn. 1264) The pond nearest to Farley mills was perhaps that of the paper mill, later a plating forge, (fn. 1265) mentioned 1733-77 (fn. 1266) and assigned to Richard Reynolds of Ketley in 1777. (fn. 1267) The other two mills were presumably those owned in 1799 by Serjant Roden of Benthall, (fn. 1268) one of which was called the Upper mill in 1806, (fn. 1269) and probably those sold in 1826, one of which was then newly built. (fn. 1270)
Bradley mill, mentioned in 1412, (fn. 1271) was also called Samsons (or Nether Masons) mill in the 16th century. (fn. 1272) In 1598 Thomas Lawley bought the residue of a 4,000-year lease. (fn. 1273) His successor in title, Sir Watkin Williams Wynn, (fn. 1274) had a mill in 1808, (fn. 1275) possibly the same, but it became derelict c. 1820. (fn. 1276) It stood on Farley brook near Lawleys Cross. (fn. 1277) Samsons mill was held by the Mayres in the mid 16th century (fn. 1278) and so may have been the Mairs (or Mayrs) mill in Wyke and Bradley township in the 18th. (fn. 1279)
In 1321 Walton township included Ballop mill (fn. 1280) on Walton brook below a sluice visible in 1882. (fn. 1281) By 1339 it was a freehold of William de Walleye. (fn. 1282) In 1542 Edward Twynyho, a speculator, sold it to Richard Dawley. (fn. 1283) Lancelot Taylor acquired it by marriage to Dawley's great-granddaughter in 1593, (fn. 1284) and from 1599 it descended with Taylor's chief house. (fn. 1285) The mill seems to have closed c. 1760. (fn. 1286)
In 1329 Adam de Aynho gave a freehold water mill in Callaughton to Wenlock priory. (fn. 1287) The Crown sold it to Richard Lawley in 1543 (fn. 1288) and it became part of the Callaughton estate. (fn. 1289) The mill stood on Callaughton brook (fn. 1290) and closed in the later 1920s. (fn. 1291)
Bourton had a mill by 1086. (fn. 1292) Richard Lawley bought it from the Crown in 1543 (fn. 1293) and it presumably became part of the Bourton estate. (fn. 1294) It seems to have closed before 1653, (fn. 1295) perhaps superseded by a windmill on Henmoor hill (fn. 1296) standing c. 1717. (fn. 1297) Two large ponds remaining in 1731 (fn. 1298) were dry by 1795; (fn. 1299) the upper was flooded again before 1882, (fn. 1300) apparently to power a saw mill. (fn. 1301)
Bradeley mill farther downstream (fn. 1302) was in complete decay in 1421, and by 1427 the 'mill land' was let at a reduced rent. (fn. 1303) A Mill hill between Bradeley and Patton was mentioned in 1307. (fn. 1304)
Wigwig mill on Harley brook (fn. 1305) was mentioned in 1291. (fn. 1306) After the Dissolution it seems to have descended with Mill farm. (fn. 1307) It consisted in 1670 of two mills, presumably in one building. (fn. 1308) It was a fulling mill, perhaps in the 17th century, (fn. 1309) but in 1695 was a corn mill. (fn. 1310) It seems to have closed in the earlier 19th century. (fn. 1311)
LOCAL GOVERNMENT.
Much Wenlock manor had great (leet) and small (baron) courts, probably by 1272. (fn. 1312) Their jurisdiction embraced the township of Much Wenlock and perhaps other areas too, and the great court's leet jurisdiction may have extended farther. Other manors had, or came under, other small courts: Bourton had one, (fn. 1313) Bradley had one for the estates within Bradley grange (fn. 1314) (including, by 1369, Bradley, Wyke, part of Harley, and Wigwig), (fn. 1315) and Marsh (in Barrow) had a court for the estates of Marsh grange (including Atterley and Walton). (fn. 1316) Between 1379 and 1390 Marsh's court absorbed Bradley's, perhaps for economic reasons, (fn. 1317) and by 1540 it seems to have had jurisdiction over the demesne part of Presthope. (fn. 1318) Bradeley presumably came under the lord of Broseley's court baron by the 15th century (fn. 1319) and Callaughton, some time before 1540, acquired its own court baron. (fn. 1320) The subinfeudated part of Presthope had a court baron in 1697. (fn. 1321)
Records of Bourton manor court survive for 1333-4, 1344-5, 1379-80, 1404, 1420-1, 1431, and 1449 and of Much Wenlock small court for those dates and 1403, 1411-12, 1432, and 1450. (fn. 1322) In the 14th century Bourton manor court seems to have been held two or three times a year; in the 15th and the early 16th century it usually met only once a year. (fn. 1323) It dealt mainly with agricultural matters but also amerced breaches of the assize of ale. Trespasses in Spoonhill wood were presented there in the 16th century, (fn. 1324) and in 1522 Patton (in Stanton Long) elected to appear thenceforth at Bourton's court baron instead of Oxenbold's. (fn. 1325)
Much Wenlock small court usually met on Saturday. It was held only four times 1344-5, but 15 times 1379-80, 17 times 1403-4, 13 times 1420-1, and eight times 1449-50. The court had much more commercial than agrarian business.
Records of Much Wenlock's great court survive for 1344-5, 1379-80, 1403-4, 1412, 1420-1, 1431, and 1449-50. In the 14th and 15th centuries it met twice yearly to deal with breaches of the peace and of the assize of bread and of ale and with nuisances and trespasses. Officers included two constables in 1404 and two aletasters in 1344. (fn. 1326)
By 1247 the town had a distinct class of burgesses paying a uniform rent of 1s. (fn. 1327) The burgesses enjoyed trading privileges, for in 1333 a mercer of Willey paid the prior an annual tenser rent to live in the liberty and trade in the town. (fn. 1328) Although the town had no autonomy, the freemen and burgesses were able in 1247 to assert their interests so far as to secure, from a jury summoned under royal writ, a verdict defining their tenurial obligations in the face of the prior's arbitrary exactions. (fn. 1329)
After 1468 the small court of Much Wenlock manor probably lost much of its commercial business to the borough bailiff's court, (fn. 1330) and by 1550 the manor's small and great courts were united. Rolls survive for 1550, 1554, and 1719- 33, (fn. 1331) an estreat of fines for 1614, (fn. 1332) and many other records 1722-1857. (fn. 1333) In 1614 the manor court was still punishing affrays and minor bloodsheds. By 1719, however, it had virtually ceased to deal with public order offences (fn. 1334) or assize breaches. The biannual meetings were mainly concerned with abuses of the open fields, commons, streets, watercourses, and weights and measures, and routine amercements of tanners, shoemakers, unlicensed cottagers, and keepers of unringed pigs. Unusually, scolds were fined in 1730. (fn. 1335) Meetings were in the guildhall by 1786. (fn. 1336) Until the later 1790s manorial officers included two clerks of the market, a searcher and sealer of leather, and a pig ringer. (fn. 1337) Two constables were appointed until 1857 (fn. 1338) or later. The manorial lock-up was at a house in Sheinton Street, (fn. 1339) later called retrospectively the 'old gaol'. (fn. 1340)
Soon after William Whorwood bought the manorial rights over Atterley and Walton in 1544, (fn. 1341) he withdrew those townships from Marsh manor and placed them, with Barrow, under a new court. (fn. 1342) Rolls survive for 1626, 1717, 1740, 1765, and 1786, (fn. 1343) and many other records 1676-1836. (fn. 1344) The court was peripatetic at first (fn. 1345) but from the 17th century usually met at Atterley. (fn. 1346)
In each township the main manorial officer was the constable. Bourton, Callaughton, (fn. 1347) and Much Wenlock (fn. 1348) had two each, the other townships one. (fn. 1349) In the 17th century the constables of Wyke and Bradley, Atterley, and Walton were appointed from the principal houses in rotation. (fn. 1350) In 1719 the Much Wenlock constables' duties included repairing the gates of the open fields. (fn. 1351) In 1730 they had a 'grublestool' (cucking stool). (fn. 1352) Each township was expected to have stocks, archery butts, and a pound, and in the 17th century several did. (fn. 1353) An old pound remained at Presthope in 1882. (fn. 1354) Much Wenlock pound in Victoria Road (fn. 1355) remained in 1986.
In 1775 the vestry met monthly after evensong to fix the poor rate. The Easter Monday vestry appointed churchwardens and nominated overseers. Other, mostly poor-law, business was discussed at special meetings after morning service or on Monday afternoon. (fn. 1356) A poor-law committee was elected in 1786. (fn. 1357) From the early 19th century the vestry normally met on weekdays. (fn. 1358)
In 1712-13 expenditure on the poor was £112, including monthly pay to 31 people. By 1731 the parish rented a workhouse, (fn. 1359) managed by trustees. It was a stone building (fn. 1360) on the north side of Downs Lane. (fn. 1361) In 1731-2 it cost £31 to run, generating only 15s. 3d. income. Monthly outrelief, for c. 8 children, cost £17 19s., and £46 3s. was given out as 'necessity money'. (fn. 1362)
Average annual expenditure on the poor rose from £80 c. 1760 to £350 c. 1790. (fn. 1363) Some years all the poor were farmed, (fn. 1364) but often a salaried assistant overseer was resident workhouse master. (fn. 1365) In 1781 the vestry considered establishing a 'manufactory' at the house. A vestryman had to visit daily and the overseers at least thrice weekly. The vestry had begun renting a house for poor families in 1777, (fn. 1366) and a house at the Bank was repaired for the parish in 1813. (fn. 1367) From 1780 the vestry subscribed to the Salop Infirmary, and in 1788 an apothecary was retained for the workhouse. The house had room for Morville paupers taken in in 1787. (fn. 1368) In 1793 all 27 inmates were women or children. Older children were usually apprenticed in Lancashire cotton mills. (fn. 1369)
In 1802-3 the workhouse had only nine inmates, but by 1812-13 there were 38 adults besides children. During the same period regular outrelief to adults also increased. (fn. 1370) From 1826 the vestry retained a surgeon to attend all the poor, except midwifery cases, within 5 miles of the town. (fn. 1371) In 1834 the house contained 6 men, 6 women, and 8 children; the men worked at roadmending. (fn. 1372) Weekly out-relief was 1s. 6d. a head and each workhouse inmate cost 5s. a week. About 300 families a year received out-relief, which was withheld from able-bodied men: instead they too were sometimes paid for roadmending. (fn. 1373) In 1836 the parish became part of Madeley poor-law union, (fn. 1374) and the workhouse soon closed. (fn. 1375)
By the 1720s Much Wenlock township had two highway surveyors, the other townships one each. The borough magistrates appointed them annually. (fn. 1376) In 1730 the Much Wenlock township surveyors were liable to amercement in the manor court. (fn. 1377) The vestry began to nominate the surveyors for that township in 1822 (fn. 1378) and by 1840 appointed a salaried highway surveyor for it. (fn. 1379)
During an epidemic of 'malignant disease' in 1845 the vestry established a temporary board of health. (fn. 1380) The parish was in Madeley rural sanitary district 1872-3, (fn. 1381) but in 1873 a local board of health for the parish was formed, (fn. 1382) with an urban sanitary authority's powers. (fn. 1383) Its elliptical seal, 31 mm. X 25 mm., bore the town's rebus (WEN and a fetterlock) and was inscribed (Roman) MUCH WENLOCK LOCAL GOVERNMENT BOARD at the circumference. (fn. 1384) From 1873 the board appointed the highway surveyor. (fn. 1385) In 1889 the board was abolished, its powers passing to the Wenlock district committee of the borough council, sanitary authority for the borough's Wenlock ward, which coincided with Much Wenlock civil parish. (fn. 1386) In 1888 the vestry had appointed the local board as the civil parish's burial board, (fn. 1387) but in 1890, after the local board had been dissolved, the vestry appointed a burial board that was differently constituted. (fn. 1388)
By 1900 the vestry met only twice yearly, once to nominate overseers and once, at Easter, to appoint churchwardens, sidesmen, and the burial board and to receive the wardens' and board's accounts. (fn. 1389) The borough council was empowered to appoint parish overseers and assistant overseers in 1923 (shortly before those offices were abolished everywhere). (fn. 1390) After the vestry relinquished the burial board's powers to the borough council in 1948, (fn. 1391) its only function was to elect churchwardens. (fn. 1392)
When the municipal borough was dissolved in 1966 the civil parish was constituted a rural borough (fn. 1393) and put in Bridgnorth rural district. (fn. 1394) When Bridgnorth district absorbed the rural district in 1974, the rural borough council became a town council with a town mayor. (fn. 1395)
PUBLIC SERVICES.
In 1403 St. Mildburg's well was a public water supply. (fn. 1396) In the 17th and 18th centuries there were common wells at Atterley, (fn. 1397) Homer, (fn. 1398) and Wyke, (fn. 1399) and presumably throughout the parish. In 1900-1 the borough council provided the town with mains water from a borehole near the railway station via a reservoir. (fn. 1400) A second borehole, near the gasworks, was added in 1925. (fn. 1401) In Bourton and Callaughton the landlord provided mains water by 1906 (fn. 1402) and still in 1986. (fn. 1403) The rest of the parish had no piped supply until after 1945. (fn. 1404)
The brook flowing through the town was called 'Schitterbrok' by 1321 (fn. 1405) and was the main sewer (fn. 1406) until the 20th century. By 1849 a sewer laid along part of Barrow Street discharged into it, (fn. 1407) and in 1866 an improved sewerage scheme was prepared. (fn. 1408) Mapped as an open watercourse in the 1840s, the brook had been culverted through the town by 1882. (fn. 1409) In 1913 the borough council sewered the town (fn. 1410) to new disposal works near Downs mill. (fn. 1411) The rest of the parish was without main drainage until after 1945. (fn. 1412)
By 1790 the town was served by a local penny post operating from Shifnal and by 1834 from Ironbridge. (fn. 1413) The town has had only a sub post office since. At Bourton a sub post office opened before 1870. (fn. 1414)
By 1808 the parish maintained a fire engine, (fn. 1415) and did so until c. 1880. (fn. 1416) In 1901-2 Wenlock district committee formed a fire brigade. (fn. 1417) It passed to the National Fire Service in 1941 and to the county council in 1948. (fn. 1418) The fire station was then in Bridgnorth Road. (fn. 1419) A newly built station opened in Smithfield Road in 1956. (fn. 1420)
The parish was policed under the watch committee of the borough's Wenlock ward 1836-40 and thereafter by the county constabulary. (fn. 1421) In 1856 there was one officer, stationed under the guildhall. (fn. 1422) In 1865 (fn. 1423) a newly built police station opened in Sheinton Street; it was replaced by one in Smithfield Road in 1966. (fn. 1424)
In 1840 the borough council adopted the Lighting and Watching Act, 1833, (fn. 1425) for the town only, (fn. 1426) and by 1846 the streets were gas-lit. (fn. 1427) In 1856 the Wenlock Gas Co. was formed under the chairmanship of Dr. W. P. Brookes, and a works site in Barrow Street was bought in 1857. (fn. 1428) The company was wound up in 1890 (fn. 1429) and the undertaking sold to the tenant William Lawley. (fn. 1430) It was bought in 1900 by the borough council, (fn. 1431) which sold it in 1937 to the Iron Bridge & District Gas Co. Ltd., a subsidiary of the Severn Valley Gas Corporation Ltd. (fn. 1432) The works closed in the 1950s. (fn. 1433) Electric street lighting was introduced in 1945. (fn. 1434)
The burial board's cemetery in Bridgnorth Road, consecrated with a chapel in 1891, (fn. 1435) was extended in 1943 (fn. 1436) and 1975. (fn. 1437)
In 1901 the district committee opened an isolation hospital in a rented cottage at Bell Hole. (fn. 1438) North of the town the Lady Forester Memorial Hospital, built and endowed under the will of Lady Forester (d. 1893), opened with 16 beds in 1903; it was designed by E. B. I'Anson. (fn. 1439) It passed to the National Health Service in 1948. (fn. 1440)
CHURCHES.
If St. Mildburg's double monastery (fn. 1441) had two churches, Mildburg (fl. 727) was presumably buried in the women's. (fn. 1442) The alleged discovery of her bones in Holy Trinity church in 1101 (fn. 1443) seems, however, to be contradicted by reports that her remains were known at Much Wenlock c. 1031 (fn. 1444) and that a reliquary, though empty of recognizable relics, was extant c. 1080. (fn. 1445) Whatever the truth about St. Mildburg's remains, Holy Trinity may have been the survivor of a pair of churches and was presumably the minster that existed in 901 (fn. 1446) and probably came to be served by secular priests; (fn. 1447) Holy Trinity was called a minster c. 1101. (fn. 1448) It may have become redundant in the 11th century when a new minster church was built north-east of it; (fn. 1449) St. Mildburg's nunnery was said to be deserted by c. 1080, (fn. 1450) and in 1101 Holy Trinity was dilapidated and under repair. (fn. 1451) The reconstitution of the new minster as a Cluniac priory probably led in the early 12th century to the reinstatement of Holy Trinity as a parish church (fn. 1452) and to its complete rebuilding.
About 1110 (fn. 1453) Richard of Beaumais, bishop of London and justiciar of Shropshire, declared the priory's estates to be one parish, a ruling confirmed by the bishop of Hereford c. 1190 and by the king in 1348. (fn. 1454) Wigwig, which may have been in Cound parish c. 1110, (fn. 1455) was probably included in that of Much Wenlock by 1187. (fn. 1456) In the early 14th century Holy Trinity parish was in practice less extensive than the priory estate, though it included what later became the parishes of Acton Round, Barrow, Benthall, Broseley, Hughley, Linley, Monkhopton, Shipton, and Willey, the chapelry of Bourton, and the extra-parochial Posenhall. (fn. 1457) Afterwards those places became ecclesiastically separate in varying degrees and by 1716 the parishioners believed Holy Trinity to have only one dependent chapel, Bourton. (fn. 1458) Much Wenlock and Bourton benefices were united in 1926 and the ecclesiastical parish was renamed Much Wenlock with Bourton. (fn. 1459) Over the period 1969-76 the vicar was put in charge of the benefices of Hughley with Church Preen, Harley, Kenley, Stanton Long with Easthope, and Shipton. (fn. 1460) In 1981 they and Much Wenlock with Bourton were united to form Wenlock united benefice; the constituent ecclesiastical parishes remained distinct. A team ministry of rector and two vicars was set up, with the vicar of Much Wenlock with Bourton as first rector. The advowson of the rectory was vested in a board comprising the patrons of the constituent livings and chaired by the bishop. Future team vicars were to be appointed by the bishop and rector jointly. Much Wenlock vicarage became the rectory house. (fn. 1461)
After the formal appropriation of the rectory between 1186 and 1198 a vicarage was established. The advowson of the vicarage descended with the rectory, passing in 1540 to the Crown, (fn. 1462) which sold it to Henry Bromley with the rectorial tithes of Much Wenlock township in 1590; (fn. 1463) Bromley's cousin was the wife of Thomas Lawley (d. 1622), (fn. 1464) to whom the advowson (by 1616) and the tithes passed. (fn. 1465) Lawley's successors as lords of the manor and impropriators of Much Wenlock thereafter owned the advowson. (fn. 1466) In 1705 the patron, a papist, (fn. 1467) presented Hugh Pugh, (fn. 1468) rector of Tugford. (fn. 1469) The parishioners petitioned against his institution, (fn. 1470) and in 1706 the bishop collated their nominee instead. (fn. 1471)
A minimum income of £13 13s. 4d. was intended for the vicar by an agreement of 1274. He was assigned the small tithes of the townships that became the modern parish, and all the tithes of Benthall and Linley. The hay tithes of Much Wenlock township were excluded, and all tithes from the priory's demesne. He was to receive 30 thraves of wheat and oats from Bourton and a customary corn payment from Monkhopton. Fees and offerings were assigned as well as 'shrift corn' payable at confessions. His glebe was to be property in Much Wenlock worth 13s. a year and 30 a. in Benthall; (fn. 1472) there was a vicarage house by 1300. (fn. 1473) In 1284 the bishop added pensions of 2s. each from the chaplains of Acton Round, Barrow, and Shipton. (fn. 1474) In 1379, however, the vicar's income was only £10. (fn. 1475) By 1535 tithes from Sutton, near Shrewsbury, had been added, bringing his net income to £12 9s. 8d. (fn. 1476) In 1536 the vicar hoped to supplement that by taking a lease of Bourton rectorial tithes. (fn. 1477)
In the 16th century the glebe in Much Wenlock consisted mainly of houses on the corner of Spittle and Wilmore streets. One housed the vicar, another his curate, and the rest were let. (fn. 1478) The 30 a. in Benthall were seized by the Crown c. 1562 as alleged chantry lands and sold. (fn. 1479) Woodland under Benthall Edge in 1551, anciently called the 'vicar of Wenlock's dole of wood', (fn. 1480) was not mentioned in 1607 or later. The only other glebe was ½ a. in Gleedon Hill field and three small pieces of meadow in Callaughton and Walton; (fn. 1481) the Gleedon hill land included a profitable stone quarry. (fn. 1482) In 1646 George Penruddock, the lady of the manor's husband, (fn. 1483) settled the corn tithes of Much Wenlock township on the living, augmenting it by £40; (fn. 1484) that arrangement presumably ceased at the Restoration. The living was valued at £45 c. 1708. (fn. 1485)
On the eve of commutation the vicarial tithes were deemed (fn. 1486) to consist of small tithes except in Farley, Wyke, and Bradley, where only some of the small tithes and no hay tithes were vicarial. Large acreages were prescriptively free of vicarial tithe in Much Wenlock, Bourton, and Callaughton, and moduses were payable from considerable portions of Atterley, Harley, Homer, and Wigwig. Between 1847 and 1849 the vicar's tithes and moduses were commuted to £342 7s. 2d., to which was added 18s. 5d. from Callaughton in lieu of fees and Easter offerings. (fn. 1487)
The vicar, as patron of Bourton, (fn. 1488) could hold the perpetual curacy himself and did so 1788- 1833 (fn. 1489) and from 1870 until the benefices were united in 1926. (fn. 1490) As patron of Benthall he could also hold that living, and did so 1842-58 and 1899-1902; (fn. 1491) that was hardly profitable, however, for he had to pay a curate to serve Benthall. (fn. 1492)
The vicarage house, which had a study and three chambers in 1664, (fn. 1493) was in good repair in 1716, but the vicar stopped using it about then. (fn. 1494) The glebe houses thereafter decayed and by 1835 there was no fit benefice house. (fn. 1495) Evan Morris, vicar 1786-93, lived elsewhere in the town, (fn. 1496) and by 1845 the patron rented a large house at the west end of High Street to the vicar. (fn. 1497) By the 1870s the glebe houses were mostly untenantable, but they occupied a valuable site and were sold in 1874 for £710, (fn. 1498) presumably to augment the living. The vicars occupied the High Street house until c. 1944 and then lived at Priory Cottage in the Bull Ring until c. 1969 when a vicarage was built in New Road. (fn. 1499)
On the eve of the Reformation the clergy of the parish were well educated and the liturgy was carefully observed. Between 1521 and 1523 the vicar John Bacheler, M.A., was involved in a disputation with Prior Gosnell on Duns Scotus's quaestio 'De sacramento altaris'. (fn. 1500) Thomas Butler, vicar 1524-62, (fn. 1501) owned a copy of the pseudo-Aristotelian Secreta Secretorum (fn. 1502) and kept a journal recording contemporary religious changes. (fn. 1503) Assistant clergy included, besides Our Lady's chaplain, a married deacon or clerk; he instructed schoolboys in plainsong and 'prick song' so that the church was 'well served', (fn. 1504) and bought a processional. (fn. 1505) The boys perhaps used the pre-Reformation west gallery. (fn. 1506) Mass was celebrated daily, but the parishioners communicated only at Easter. (fn. 1507) Pre-Reformation ornaments included a silk banner bearing a representation of the Trinity. (fn. 1508) Church ales were mentioned in 1543. (fn. 1509)
A service of the Blessed Virgin Mary was founded before 1376. (fn. 1510) The Lady chapel's fabric suggests an origin in the late 13th or early 14th century, (fn. 1511) but the service was reconstituted by Sir Edmund Dudley (fn. 1512) (d. c. 1485), (fn. 1513) whose family were patrons of Wenlock's dependent priory at Dudley. (fn. 1514) A guild was mentioned in 1539. (fn. 1515) Two wardens administered its property, (fn. 1516) which lay mainly in Much Wenlock township (fn. 1517) and yielded £6 5s. 10d. a year. In 1548 a stipendiary priest had £3 15s. 10d. a year (fn. 1518) and two houses next to St. Owen's well, (fn. 1519) presumably the two cruck framed bays of c. 1416 standing in 1985. (fn. 1520) Our Lady's priest 1543-6 was William Corfill (or Wenlock), formerly subprior of the monastery, a noted craftsman, organ builder, and bell founder. (fn. 1521) There was a pre-Reformation light of the Holy Trinity endowed with land. (fn. 1522)
Post-Reformation vicars until 1752 probably all resided, (fn. 1523) and most stayed long (fn. 1524) or until death. (fn. 1525) Most were graduates, (fn. 1526) and at least some were Shropshire natives. (fn. 1527) From 1605 the borough corporation paid the vicar 20s. a year to read prayers daily at 6 a.m. (fn. 1528) In 1646 it instituted an annual sermon to be preached three days before the bailiff's election; only burgesses who attended the sermon could vote. (fn. 1529) George Adney, instituted in 1616, (fn. 1530) was a presbyterian minister by 1647 (fn. 1531) and a 'painful, laborious, and most zealous pastor'; he died in office in 1655. (fn. 1532) His successor William Amyes conformed in 1662. (fn. 1533) He owned a valuable collection of books, as did John Parsons (d. c. 1705). (fn. 1534) During Thomas Baker's incumbency, 1706-c. 1752, (fn. 1535) there were two sermons every Sunday and communion monthly and at Easter, Whitsun, and Christmas. (fn. 1536) There was no assistant curate in 1677, (fn. 1537) but one was mentioned in 1716 and 1747. (fn. 1538)
The vicars, pluralists 1752-86 and 1793- 1841, (fn. 1539) were absentees until 1835 (fn. 1540) when the appointment of a resident vicar evoked popular rejoicing. (fn. 1541) In Dr. Maurice Wynn's time (1793- 1835) (fn. 1542) there had been only one Sunday service, but under his successor Edward Tellet there were again two. (fn. 1543) The curates in charge of the parish 1752-86 and 1793-1835 (fn. 1544) were often themselves pluralists. (fn. 1545)
There were psalm singers by 1760, with a salaried master from 1782. Young people were encouraged to join the choir, (fn. 1546) and in the early 19th century the girls wore special gowns. (fn. 1547) Anthems were sung (fn. 1548) and until 1851 (fn. 1549) instruments, including clarinets and a bass viol, accompanied the singers. (fn. 1550) At festivals the church was decked with branches. (fn. 1551)
On Census Sunday 1851 there were 201 adults at morning prayer and 190 at evensong, (fn. 1552) but at Easter 1874 only 66 communicants. (fn. 1553) By the end of F. R. Ellis's incumbency, 1875-1907, there were usually 150-200 Easter communicants, (fn. 1554) but regular communicants averaged c. 25. (fn. 1555) The choir moved to the chancel in 1881 and wore surplices from 1892. (fn. 1556) Dr. E. B. Bartleet, Ellis's successor, had raised the number of confirmed parishioners to c. 500 by 1913, (fn. 1557) but regular communicants did not increase significantly (fn. 1558) until E. W. R. David, vicar 1959-65 (fn. 1559) and an Anglo-Catholic, (fn. 1560) almost doubled them (fn. 1561) and ventured to suggest a daily celebration. (fn. 1562) In 1985 communion was celebrated weekly (fn. 1563) and houseling cloths were still used. (fn. 1564) Curates were employed continuously from the early 19th century until the First World War, but thereafter less regularly. (fn. 1565) In 1985 the clergy were assisted by a deaconess. (fn. 1566)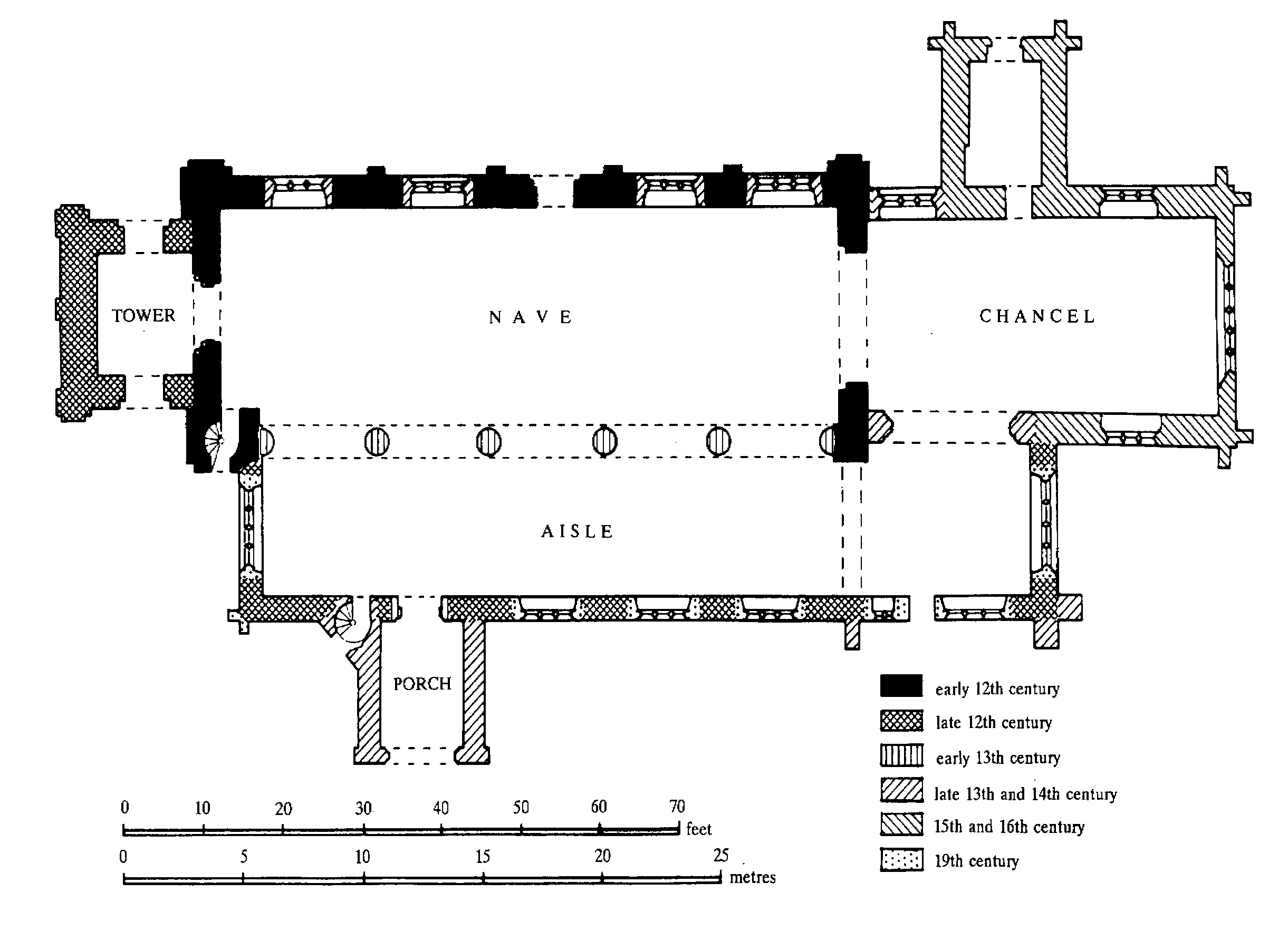 A room in the former savings bank served as a parish room c. 1870-c. 1955. (fn. 1567) It was reinstated in 1961 (fn. 1568) but closed c. 1967 when the building was sold. (fn. 1569)
In the 17th and 18th centuries Wigwig people used Harley church nearby. (fn. 1570) Some winter services were provided in a mission room next to Callaughton mill until c. 1963 and in Homer schoolroom until the 1970s. (fn. 1571)
The spacious parish church of the HOLY TRINITY replaced a church so dedicated by 1101. (fn. 1572) That building had a high altar and an altar of St. George. (fn. 1573) The present church, built mainly of limestone rubble with sandstone dressings, (fn. 1574) has a chancel with north vestry and south Lady chapel, a nave with south aisle and south porch, and a west tower. It began in the early 12th century as an aisleless nave of five bays with a chancel of one bay. The nave had a central north doorway, a larger west doorway, and presumably a south doorway too. The gabled west front, with three tiers of blind arcading above a central window, was more impressive than any of that period now surviving in the county. (fn. 1575) A turret at the south-west angle of the nave gave access, by a doorway in the nave, a spiral stair, and steps in the thickness of the nave west wall, to a doorway high in the east face of that wall. The doorway opened into the space over a flat nave ceiling, (fn. 1576) and a corresponding doorway pierced the nave east wall above the chancel arch. The nave roof was steeply pitched.
A west tower of four stages incorporating a porch with north and south doorways was added in the later 12th century, hiding the west front and filling the space between it and the street; the doorways allowed access between the north and south parts of the churchyard. At the same period a low south aisle and a chapel east of it seem to have been added to the nave and chancel respectively, the nave's south windows being preserved as a clerestory. The aisle roof is presumed to have met the nave wall at a height still marked by a quarter-round corbel. Apparently of the same build as the aisle, the chapel was about the same height as the chancel. Its roof met the chancel south wall on an inserted string course incorporating a corbel.
In the earlier 13th century the present nave arcade was built. It cut into the nave south windows, the remains of which were accordingly blocked. The aisle roof was then made steeply pitched, to meet the nave wall above the arcade. The south doorway of the aisle may also belong to that phase. The door and its fittings are partly medieval but of uncertain date. (fn. 1577) The south doorway of the chapel had 13th-century mouldings and shafts.
In the later 13th or earlier 14th century new arches were built on the chapel's north and west sides. The north arch has an integral niche in its east jamb, which held a statue of the Virgin in 1544, when a screen divided the chapel, then a Lady chapel, from the chancel. (fn. 1578) Soon afterwards the aisle south wall was doubled in height to take three large new windows. The new and higher part of the wall was divided into five equal compartments, corresponding to the nave bays, by four vertical strips of squared blocks, probably for reinforcement. When the wall was raised the aisle roof became almost flat. The chapel received a south window of the same design as those in the aisle and, about the same time, an east window of three lights and intersected tracery.
It may have been about that period that the nave walls were heightened to permit a north clerestory. The new and higher part of the north wall is divided externally by broad vertical strips, similar to those of the aisle, and has a small internally splayed window in each bay. The heightened nave received a new roof. It rose from wall posts resting on stone corbels set internally in the side walls at the level of the former eaves. The corbels have half-octagonal abaci and are mostly in the form of crowned heads, but one of them consists of three human faces.
In the earlier 14th century large north windows with reticulated tracery were inserted in the nave and chancel. A 'high cross' in the nave was mentioned in 1367. (fn. 1579) The large square window high in the east end of the nave's north wall may have been inserted to light it.
A south porch of three storeys was added to the aisle in the 14th century. On the first floor was a living room with an altar, fireplace, large window into the aisle, a squint towards the Lady altar, and possibly a garderobe; the second floor was probably a bedroom. The accommodation was perhaps for Our Lady's priest. On the ground floor were stone seats, and a large stoup was later inserted to the right of the doorway into the aisle.
Later pre-Reformation changes suggest elaboration of the calendar and liturgy and more assistant clergy. (fn. 1580) Side chapels, not architecturally distinct, included those of St. Clement, in the south aisle, and St. James. There was a pulpit in the nave, and nearby a statue of Our Lady of Pity. Elsewhere stood a statue of St. Christopher. (fn. 1581) In the 15th century the chancel was heightened and doubled in length by a lavish extension, which had sedilia on the south and a large aumbry on the north. Statue niches were made either side of the altar and there were spiked brackets on the side walls, probably for suspending a lenten veil. A little later a north vestry or sacristy was added, entered from the chancel. A screen divided chancel from nave. (fn. 1582) At the west end of the nave a gallery was built, reached by a doorway inserted in the stair turret. A crenellated parapet was added to the tower, as was a wooden spire, perhaps the 'steeple' of 1545 (fn. 1583) and certainly standing by 1675. (fn. 1584) A 15th-century panelled chest was observed in 1821. (fn. 1585)
At the Reformation the statues were destroyed, (fn. 1586) the side altars abolished, and most of the plate confiscated. The Lady altar was briefly reinstated under Mary I (fn. 1587) and its chapel was afterwards the 'little chancel'. (fn. 1588) It contained a table in 1793 (fn. 1589) and was used as a court at visitations; there was then a gallery over the archway from the nave. (fn. 1590) The porch roof was lowered and the upper rooms made into one. A new pulpit was made in the later 16th or earlier 17th century. Nave seating in the 16th and 17th centuries consisted of both pews and benches. (fn. 1591) There was also a singers' pew. (fn. 1592) Modest wall monuments were erected, including small brasses to Margaret Deyos (d. 1578), Richard Ridley (d. 1593), John Burd (d. 1600), and Robert Thorne (d. 1646). (fn. 1593) In 1661 or 1662 a gallery was built across the chancel arch, as part of a screen; it contained four private pews in 1778. (fn. 1594) In 1746 there were also seats under that gallery. (fn. 1595) In the chancel the communion table was enclosed on three sides by a rail. (fn. 1596)
In the 16th century rectorial responsibility for chancel repairs was assigned in various ways, (fn. 1597) but by 1745 the impropriator of Much Wenlock township was regarded as having sole responsibility for chancel repairs, (fn. 1598) an arrangement that endured in the 20th century. (fn. 1599)
In 1736 a restoration was planned. (fn. 1600) Those parts of the scheme carried out were probably completed in 1748. (fn. 1601) The church was almost wholly reroofed (fn. 1602) and repewed; (fn. 1603) nave and chancel received plaster ceilings; (fn. 1604) brick parapets were built on the exterior walls; and doors were fitted to the outer archway of the porch. About 1760 a 'Grecian' altarpiece, carrying the Creed, Lord's Prayer, and Commandments, was set up. (fn. 1605) A singers' gallery was built at the west end of the nave c. 1803. (fn. 1606)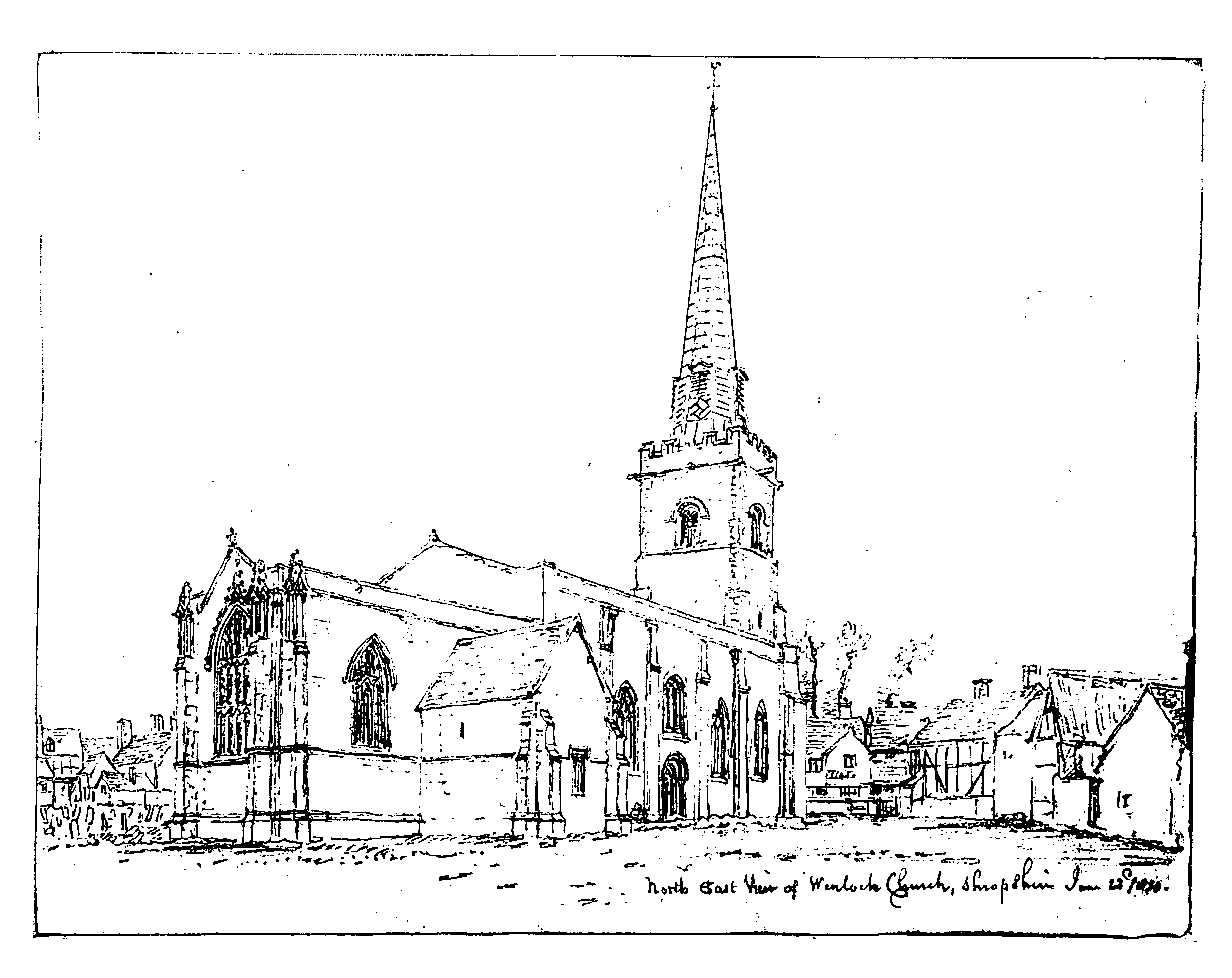 In 1814 the chancel arch gallery was removed. (fn. 1607) The west window of the aisle was replaced in 1843 to a design of S. Pountney Smith. (fn. 1608) In 1851 the church was repewed to Pountney Smith's designs and the west gallery enlarged, (fn. 1609) apparently to provide free sittings; (fn. 1610) shortly afterwards an organ was installed there. (fn. 1611) The south windows of the aisle, designed by a Mr. Hewitt, were inserted 1862-3 (fn. 1612) and fitted with stained glass by Hardman & Co. in 1877; (fn. 1613) in 1866 a south window of similar design was inserted in the former Lady chapel (fn. 1614) and given stained glass. (fn. 1615) In 1877 the Lady chapel received a new east window by Philip Webb. (fn. 1616) The organ was moved there in 1881 and the gallery taken down. (fn. 1617) By 1884 the communion rail had been altered to span the chancel from wall to wall. (fn. 1618) The 18th-century ceilings were removed c. 1900. (fn. 1619) A gothic font in Caen stone, inlaid with ceramic plaques, had been given in 1875; (fn. 1620) it remained in the church after its plain Norman predecessor was brought inside c. 1920. (fn. 1621) The spire was dismantled in 1930. (fn. 1622) In 1958 (fn. 1623) the westernmost north window of the nave received new tracery, (fn. 1624) the original having been lost. The organ was replaced by a smaller instrument in 1961, and in 1973 the Lady chapel was reinstated to designs by J. K. Maggs, with an altar and other new furnishings. (fn. 1625)
The plate consisted in 1552 of a chalice and paten, a pyx, and two crosses. (fn. 1626) Some of the plate was stolen in 1778 (fn. 1627) and a new chalice, two patens, and a ewer were bought in 1780; in 1961 only a silver paten of 1723 and some pewter pieces remained of the pre-1778 plate. (fn. 1628) There were four bells in 1552, including a 'clock' bell. (fn. 1629) By 1654 there were five bells and a chiming clock. (fn. 1630) Six bells by Abraham Rudhall replaced the old ones in 1729, (fn. 1631) and in 1931 two more bells, by Taylor of Loughborough, were given. (fn. 1632) The royal arms of 1801-15, repainted in 1831, are on a large canvas and hang in the aisle.
The late medieval churchyard contained a cross and, near the west end of the church, a charnel house mentioned in 1556. (fn. 1633) Before the Reformation the wardens of Our Lady's service were responsible for fencing part of the churchyard. (fn. 1634) It was enlarged on the east by ¾ a. c. 1850. (fn. 1635) Most of the gravestones were removed c. 1949. (fn. 1636)
The registers begin in 1558 and are complete thereafter. (fn. 1637)
The chapel of the HOLY TRINITY, Bourton, so dedicated by 1897, (fn. 1638) was never assigned a separate district. Bradeley people were baptized there by the 14th century, (fn. 1639) a wedding was allowed in 1538, (fn. 1640) and burials were made by 1673, (fn. 1641) but no baptism or burial registers were kept until 1841 (fn. 1642) and there was no licence for weddings until 1955. (fn. 1643) A service of Our Lady, endowed with land at Bradeley, was said to have existed before the Reformation. (fn. 1644)
A 'parson' was mentioned in 1556, (fn. 1645) but the separate benefice dated from 1770 when endowments of £200 each were provided by the Revd. Francis Southern, Sir Robert Lawley, and Queen Anne's Bounty. In 1771 Queen Anne's Bounty gave £400 more to meet the Southern and Lawley benefactions, (fn. 1646) and that year the living was recorded as a perpetual curacy in the vicar's gift. (fn. 1647) Its value was £40 in 1793. (fn. 1648) Queen Anne's Bounty gave another £200 in 1826. (fn. 1649) In 1851 the endowment included Black House farm (in Bettws-y-crwyn) (fn. 1650) worth £50 a year, while £6 a year came from the Bounty. (fn. 1651) The vicar himself held the curacy 1788-1833 and 1870- 1926. (fn. 1652) R. H. G. More, minister of Shipton, (fn. 1653) served the cure unpaid 1833-69 (fn. 1654) assigning the income to an assistant curate, (fn. 1655) a practice adopted by the vicar after 1870 (fn. 1656) but discontinued before 1898. (fn. 1657)
In 1716 there was a weekly service, with sermon. (fn. 1658) In 1851 there were two Sunday services in summer and one in winter. Morning attendance averaged 95 adults, afternoon 25. (fn. 1659) Congregations at the end of the 19th century 'represented all classes'. (fn. 1660)
The small plain chapel stands on a hill above the village. It is built of sandstone and limestone rubble and has a chancel with north vestry and a nave with south porch, north aisle, and timber-clad west bell turret. (fn. 1661) The nave seems from its south doorway (integral with the nave plinth) to have been built in the 12th century. The plain cylindrical font seems contemporary with it. The upper part of the nave south wall was rebuilt later in the Middle Ages; there was formerly a square-headed window east of the porch. (fn. 1662) The porch is later than the rebuilt south wall. The chancel was heightened, probably in the later Middle Ages; there was a late 13th- or early 14th-century square-headed window, since blocked, in its south wall, and the head of another remains in the east wall over a 19th-century gothic window. In 1844 a Norman aisle was added to the nave at Lady Lawley's expense, (fn. 1663) presumably with the chancel arch and two nave windows, which are in the same style. A north vestry was added to the chancel later in the century.
A large ornate wooden pulpit dates from the later 16th or earlier 17th century, and panels of the same period are used in the 19th-century reading desk, lectern, and dado. The communion rail is earlier 18th-century. There were two bells in 1552; (fn. 1664) four new ones were cast by Thomas Rudhall in 1770. (fn. 1665) The plate consisted in 1961 of a silver chalice, paten, and flagon, all dated 1774, and a silver paten of 1885. (fn. 1666) The funeral hatchment of Lord Wenlock (d. 1834) hangs in the aisle. The pews are of 1844 (fn. 1667) and so, probably, is the west gallery, which has a stair from the aisle. The only stained glass, in the chancel east window, was dedicated in 1955. (fn. 1668) The communion table dates from c. 1972. (fn. 1669)
ROMAN CATHOLICISM.
In the 1590s Elizabeth, wife of Thomas Lawley (d. 1622) of the Abbey, was a recusant. (fn. 1670) Anne Grindle of Wyke was a papist in 1657 (fn. 1671) and the only one in the parish in 1676. (fn. 1672) By 1682 she had been joined at Wyke by Margaret King. (fn. 1673) Thomas Gage, lord of Much Wenlock 1698-1714, (fn. 1674) was also a papist. (fn. 1675) There were a few in the 1750s (fn. 1676) but only one family in 1767 (fn. 1677) and 1793. (fn. 1678)
In the later 18th century the priest of Acton Burnell sometimes baptized at Much Wenlock, (fn. 1679) and a baptism there by the Madeley priest was recorded in 1824. (fn. 1680) From 1849 to 1852 mass was celebrated regularly at Much Wenlock by the Aldenham priest, (fn. 1681) and adult attendances averaged 80 in 1851; (fn. 1682) they presumably included the 32 resident Irish. (fn. 1683) Until the 1940s, however, provision remained intermittent. In 1935 a malthouse in Sheinton Street was adapted as a chapel, (fn. 1684) and in 1955 the church of St. Mary Magdalen was opened in Barrow Street; it is a small brick building with carved stone dressings. The first resident priest came in 1959, and Much Wenlock was separated from Madeley R.C. parish in 1978. (fn. 1685) Two Sisters of St. Louis lived at Much Wenlock 1972-8 and did social work in Telford. (fn. 1686)
PROTESTANT NONCONFORMITY.
Although the borough corporation and the parish church had a puritan complexion in the earlier 17th century, (fn. 1687) only about four dissenters were reported in 1676 (fn. 1688) and three in 1716. (fn. 1689) In 1851, however, protestant nonconformists accounted for a quarter of total adult attendances recorded on Census Sunday. (fn. 1690)
Two houses were licensed for meetings of Independents in 1672: one in Barrow Street (fn. 1691) occupied by Edmund King, (fn. 1692) mercer, (fn. 1693) and another occupied by Henry Maurice, formerly rector of Church Stretton. (fn. 1694) Maurice also preached and taught at King's house. (fn. 1695) Mrs. Margaret Clively's house in Spittle Street (fn. 1696) was licensed for dissenters in 1692. (fn. 1697) Two Anabaptists and a Quaker were the only nonconformists recorded in 1716. (fn. 1698) Several meeting houses were registered in the 1750s: in Powke Lane and at Bradeley in 1754, in Spittle Street in 1755, and in Bourton Lane in 1757. (fn. 1699)
Samuel Sankey's house on Homer common was licensed for Particular Baptists in 1811. (fn. 1700) In the same year dissenters registered a building in Mardol Lane, Much Wenlock. (fn. 1701) By 1843 Baptists worshipped in Much Wenlock, where attendance in 1851 averaged 40. (fn. 1702) They bought land in Mardol Lane in 1846, presumably for a chapel, but sold it again in 1870. (fn. 1703)
There was regular Wesleyan preaching at Much Wenlock by 1813. (fn. 1704) The society had only 10 members in 1815 but in 1819 bought a site in Sheinton Street and by 1825 had built a plain stone chapel there. Wesleyan worship began at Bourton in 1831 and at Homer in 1833. (fn. 1705) On Census Sunday 1851 Sheinton Street chapel was attended by 28 adults in the afternoon and 46 in the evening. (fn. 1706) Another Wesleyan society had been formed at Farley by 1875. (fn. 1707) It was supported by R. H. Trevor (fn. 1708) (d. 1916), grandson of Thomas Harper, (fn. 1709) an original trustee of the Sheinton Street chapel. (fn. 1710) It met in a separate room in a house (fn. 1711) and continued until c. 1938. (fn. 1712)
Hopton Bank Primitive Methodist circuit started a mission to the Much Wenlock area in 1833. (fn. 1713) Regular preaching began at the Presthope and Westwood quarrying settlements, and in 1834 at Much Wenlock. The circuit created a Much Wenlock branch in 1835. (fn. 1714) The mission and the branch were continually troubled by internal wrangling, much of it blamed on Thomas Haynes of Brookhampton (in Holdgate). (fn. 1715) The branch became a separate circuit in 1843 (fn. 1716) but in 1847, its affairs in disorder, (fn. 1717) was absorbed by Wrockwardine Wood circuit. (fn. 1718) The Much Wenlock society used a room on the Bank by 1845, (fn. 1719) and in 1851 on Census Sunday 32 adults attended in the afternoon and 52 in the evening. (fn. 1720) A small brick chapel opened in Mardol Lane in 1862. (fn. 1721) At Stretton Westwood a small brick chapel was built c. 1878; (fn. 1722) it closed c. 1973. (fn. 1723)
Relations between the two Much Wenlock Methodist societies were poor in 1957, (fn. 1724) but in 1960 the Sheinton Street chapel closed and they united. (fn. 1725) In 1993 there were c. 30 members. (fn. 1726)
EDUCATION.
There was a schoolmaster in 1404, (fn. 1727) and schoolboys sang at parish church services, and perhaps in the priory church, in the early 16th century. (fn. 1728) By 1654 the parish maintained a school house, (fn. 1729) apparently let by 1677 as a private grammar school to Robert Ogdon, rector of Broseley and Willey, (fn. 1730) who employed a master. (fn. 1731) The Revd. Francis Southern, by will proved 1778, left endowments for the teaching of 10 poor boys and to buy Bibles and expositions; (fn. 1732) by 1793 his legacy was being applied to the school, then held in the room over the church porch. (fn. 1733) In 1819 the master taught the free boys and 26 paying pupils, employing an usher. (fn. 1734) Still over the porch in 1828, (fn. 1735) the free school moved in the later 1830s to a room at the White Hart. (fn. 1736)
About 1710 the vicar and others built a school east of the churchyard on land belonging to the lord of the manor, (fn. 1737) who was to nominate the master. (fn. 1738) A legacy of Anne Minshall (d. 1752) (fn. 1739) for the education of poor children was applied to the school by 1793 (fn. 1740) but lost by c. 1800, (fn. 1741) and the school had no places for the poor by 1819. (fn. 1742) As a private day school it remained on that site, rented in 1837 and still in 1845 to George Crowther, who also had a boarding school in Sheinton Street (fn. 1743) until 1856 (fn. 1744) or later.
The vestry founded a Sunday school in 1787. (fn. 1745) It closed between 1821 and 1835. (fn. 1746)
The parish had several petty schools in 1793 (fn. 1747) and at least three private schools (in addition to the free school) in the 1830s, four in the 1850s, three in the 1870s, one or more in the 1880s, and two in the 1890s (one still open in 1922); some took boarders. (fn. 1748) The survivor of two later schools, (fn. 1749) Abbey Mews, Bourton Road, closed in 1946. (fn. 1750)
A National school was built c. 1847 on a small site north of the churchyard, let free by the lord of the manor while the school lasted. (fn. 1751) Designed by S. Pountney Smith in local stone with Norman details, the school had two rooms (fn. 1752) and 276 places in mixed and infant departments. (fn. 1753) Southern's endowment reduced poor pupils' fees, (fn. 1754) but normal fees were above average for the area; fees were abolished in 1891. (fn. 1755) The school was earning government grant and training pupil teachers by 1852. In 1853 a commercial school in the town merged with it to 'good effect'. Taught from 1857 by an art master from Coalbrookdale Drawing School (fn. 1756) (the later Art and Scientific Institution), boys were earning drawing grant by 1863. By 1870, and until 1880 or later, girls were examined too, and in 1880 there were as many as 174 examinees, the highest number from any Shropshire school. Between 1861 and 1878 the mixed school was unsurpassed by any known to H.M. Inspector: older pupils stayed on, and 25 of 103 presented in 1867 were in Standards V-VI; 29 of 173 in 1878 were in Standards V-VII. (fn. 1757) Grammar, history, and geography were taught in 1870, gymnastics and drill (at the instigation of Dr. W. P. Brookes, a long-serving manager) (fn. 1758) in 1871, and algebra in 1876. (fn. 1759) In 1870 the greater part of the former savings bank was taken as a teacher's house. (fn. 1760) The school was overcrowded in the 1870s and again, despite the addition c. 1873 of a classroom designed by Pountney Smith, (fn. 1761) from the 1890s. (fn. 1762)
The building was altered in 1894 and improved again in 1900 and 1903. (fn. 1763) Mixed pupils' attendance averaged c. 120 in 1866, c. 183 in 1877, 260 in 1885, 250 in 1900 and 140 in 1910. (fn. 1764) Infant attendance averaged 50 in 1885, and the roll was c. 100 in 1900 and c. 122 in 1910. (fn. 1765) Annual treats at the Abbey (fn. 1766) and Lady Catherine Milnes Gaskell's ha'penny dinners of soup and bread between 1891 and 1912 encouraged attendance. (fn. 1767) The school was understaffed from c. 1895 to 1914, critically so in 1912 and 1914. (fn. 1768)
The buildings were substandard in the 1920s and 1930s. (fn. 1769) Staff changes and admission of c. 50 boys from Dr. Barnardo's home, opened in Corris House, Southfield Road, in 1930, (fn. 1770) created great problems: pupils aged 5-9 were taught in the infant room, the rest in the other two rooms. (fn. 1771) Some evacuees from St. Alban's R.C. school, Liverpool, were accommodated 1939- 42, (fn. 1772) double shifts being worked in 1939-40. (fn. 1773) The parish room and King Street Methodist Sunday school were used 1940-2, (fn. 1774) the parish room again from 1945, and Red House, Linden Avenue, in 1947 to relieve serious overcrowding. (fn. 1775)
Gardening was taught by 1918, (fn. 1776) and from 1936 senior pupils attended a domestic-science and woodwork centre at the Raven Hotel hut in St. Mary's Lane; the woodwork centre, closed in 1940, had reopened by 1947. (fn. 1777) Pupils aged 13 went to Madeley Modern school in 1947, but some returned in 1949 and, with 13-year-olds from Much Wenlock and seven village schools, (fn. 1778) were taught in Station Drive where new H.O.R.S.A. huts provided two classrooms, science, domestic-science, and woodwork rooms. (fn. 1779) The infants' roll was c. 81 in 1920, c. 90 in 1935, c. 111 in 1946, and c. 103 in 1952; the mixed department's roll was c. 170 in 1920, c. 143 (including 33 Barnardo's boys) in 1935, c. 162 in 1945, and c. 215 in 1952. (fn. 1780) The school closed in December 1952, pupils going next month to two new schools. (fn. 1781)
Much Wenlock County Primary school opened in 1953 with 215 pupils in six classes in the extended and adapted H.O.R.S.A. huts. (fn. 1782) Often overcrowded, (fn. 1783) it used nearby youth-club premises from 1971. (fn. 1784) The roll was 253 in 1957 and 225 in 1973. (fn. 1785) The huts were replaced in 1973 by an open-plan school on the S.C.O.L.A. system, opened in Racecourse Lane with 240 places and 213 on roll. (fn. 1786) By 1985 the roll was only 162; (fn. 1787) the Barnardo's home had closed in 1979. (fn. 1788)
Much Wenlock Modern school opened in 1953 with 240 places (fn. 1789) and took seniors from 10 primary schools (fn. 1790) and later from four more. (fn. 1791) Gradually during the 1950s and 1960s numbers rose (to 384 by 1971) and the school was considerably extended. (fn. 1792) As William Brookes school it became comprehensive for pupils aged 11-16 in 1970 (fn. 1793) but acquired a sixth form in 1974. (fn. 1794) The roll was 851 in 1985 but 688 in 1987. (fn. 1795) A swimming pool for local schools and the public was built in 1966, partly by subscription, and a sports hall added in 1975. (fn. 1796)
The only schools outside the town were at Bourton and Homer. An early National school in Shropshire, (fn. 1797) sometimes called Bourton Charity school, was built in 1819 by P. B. Lawley. Owners of the Bourton estate maintained it until 1903, (fn. 1798) meeting deficits in the 1870s. (fn. 1799) The brick-floored schoolroom (fn. 1800) adjoined the teacher's house; (fn. 1801) with a classroom added in 1885 (fn. 1802) the school had 100 places. (fn. 1803) The school earned government grant from 1874 and drawing grant from 1892. (fn. 1804) Despite understaffing (fn. 1805) the school was usually efficient. Grammer, history, and geography were being taught in 1874, English literature, mechanics, and domestic economy in 1879, but only grammar and geography in 1880. (fn. 1806) There was a Standard VI by 1880 and a Standard VII by 1884. (fn. 1807) An assistant teacher was appointed in 1885, (fn. 1808) but the school was inefficient thereafter until 1899. (fn. 1809) In 1893 only two pupils were presented above Standard IV. (fn. 1810) Beilby Lawley, Lord Wenlock (d. 1912), gave annual treats, prizes for attendance, and in the 1890s hot soup in winter. (fn. 1811) Attendance averaged 65 in 1874, (fn. 1812) 55 in 1884, and 73 in 1900. (fn. 1813)
The school building was condemned (fn. 1814) and in 1901 Lord Wenlock built a new brick and tile one nearby; it had 112 places (fn. 1815) in a schoolroom and classroom. (fn. 1816) That year it passed with the Bourton estate to J. H. A. Whitley, who let it to the borough from 1903 at a nominal rent (fn. 1817) and required children from Bourton to attend it rather than Much Wenlock National school. (fn. 1818) The old school became part of the master's house. (fn. 1819) The school earned very good reports 1899-1957 despite frequent changes of assistant teachers, unqualified till 1943. (fn. 1820) Attendance averaged 82 in 1910. (fn. 1821) Gardening was introduced that year, (fn. 1822) and seniors attended the woodwork and domestic-science centre from 1936. (fn. 1823) In 1939 the school admitted 17 Liverpool evacuees and their teacher (fn. 1824) and from the 1940s several Much Wenlock children. (fn. 1825) Thirteen-year-olds went to Much Wenlock C.E. school in 1949 (fn. 1826) and 11year-olds to Much Wenlock Modern school in 1953. (fn. 1827) Attendance averaged c. 52 in 1928, 47 in 1942, and 34 in 1956, but the roll was only 15 in 1967 when the school, aided since 1957, closed. (fn. 1828) Pupils went to Brockton C.E. (Controlled) or Much Wenlock County primary schools. (fn. 1829)
Homer Infant school, with 30 places (fn. 1830) for pupils aged 3-8 years, (fn. 1831) was built by private subscription (fn. 1832) before 1874, (fn. 1833) when it was affiliated to Much Wenlock National school and then called Homer Church Infant school. (fn. 1834) The schoolroom (fn. 1835) was part of the purpose-built stone school house. Pupils played on a patch of common nearby. (fn. 1836) The school was inspected from 1875. (fn. 1837) Fees were introduced in 1876. (fn. 1838) Lady Harnage was a benevolent regular visitor 1874- 1899, (fn. 1839) and the mistresses were efficient from 1888. (fn. 1840) The roll exceeded 19 in 1874 and was 29 in 1890 but only 16 in 1909 and 8 in 1917, when the school closed. (fn. 1841)
Artisans' drawing classes affiliated to Coalbrookdale Drawing School were begun at Much Wenlock National school in 1856, (fn. 1842) and a school of art and science began in the town in 1858, probably over the Corn Market. (fn. 1843) County-council classes in drawing, cookery, dairy instruction, stock management, horticulture, agricultural chemistry, and hygiene were held 1891-1902, evening continuation classes in 1893-4 and 1901-2, (fn. 1844) and a university extension course in 1903-4. (fn. 1845) Attendance at a night school at Bourton for reading, writing, and arithmetic, held in 1903-4, mainly for adults who had failed to acquire a sufficient grounding at elementary school, averaged 12. (fn. 1846)
County-council evening classes were held in the 1920s and 1930s (fn. 1847) at the C.E. school, (fn. 1848) from 1949 in the H.O.R.S.A. huts, (fn. 1849) and from 1953 at the Modern school. (fn. 1850) Student hours increased from c. 3,186 in 1953-4 to c. 8,500 in 1954-5. (fn. 1851)
CHARITIES FOR THE POOR.
St. John's hospital, with a master and brethren, mentioned in 1267, (fn. 1852) supported 'lost and naked beggars'. Impoverished in 1275, (fn. 1853) the hospital had perhaps closed by c. 1328 when Nicholas the chaplain conveyed the freehold of the premises to Wenlock priory. (fn. 1854) The house had given its name to Spittle Street by 1316. (fn. 1855) If, like hospitals elsewhere, St. John's stood at the edge of the town, it may have been at or near Ashfield Hall. (fn. 1856)
Before 1485 the chaplain and wardens of Our Lady's service in the parish church had maintained four almshouses in Barrow Street, on the southern edge of the churchyard. (fn. 1857) That year, however, and in 1488 Hugh Wolmer was maintaining the houses and paying the wardens a nominal rent. His will provided for continuance of the payment, so that the almspeople should say the psalter of Our Lady weekly and pray for the souls of himself and his family. (fn. 1858) The almshouses eventually became private property. From Samuel Bowdler (d. 1704) they descended with Arlescott (in Barrow), to be left by Samuel Yate Sprott (d. 1802) to William Moseley (d. 1869). (fn. 1859) Moseley demolished the houses as unfit c. 1810 and replaced them c. 1819 with a row of four brick cottages in Sheinton Street, which he owned in 1830. He and the Sprotts had nominated the almspeople. For some time widows had been invariably chosen, (fn. 1860) but in earlier times men too had been admitted. (fn. 1861) By 1841 the vicar and churchwardens were the owners. (fn. 1862) The almshouses and residents were maintained by the parish, aided by charitable endowments (fn. 1863) that yielded £1,330 a year in 1975. Eligibility was extended to the whole of Harley civil parish in 1973. (fn. 1864)
Bequests dating from 1587 (fn. 1865) or earlier may have contributed to the poor's stock, which amounted to £72 in 1641 (fn. 1866) and £241 in 1820, when the income, £7 4s., was distributed in bread. (fn. 1867)
John Skett by will dated 1728 left a rent charge of 10s. for bread. (fn. 1868) John Littlehales (d. 1761) (fn. 1869) left a rent charge of 30s. for bread for the aged.
There were many small gifts of money, the interest to be used for bread, clothing, coals, or cash doles. Ten remained in 1985: (i) that of John Morrall (d. 1769) for church attenders; (ii) that of Francis Southern, vicar of Cardington, (fn. 1870) left by will proved 1778, for six widows or old men, church attenders, with preference for his relations; (iii) that of Edward Hughes left by will proved 1859; (iv) that of Richard Patten left by will proved 1860; (v) that of Andrew Dodd, left between 1820 and 1872; (fn. 1871) (vi) that of Anne Cliveley given 1895; (vii) that of Annie Ada Instone left by will proved 1903; (viii) that of Elizabeth, Lady Harnage, left by will proved 1918, for Homer residents; (ix) that of Sophia Wayne, left by will proved 1926, for two old or infirm people; and (x) that of Gertrude Greatrex, left by will proved 1950, for old people.
By 1975 the poor's stock and the 12 foregoing charities were administered jointly, with an income of £44. (fn. 1872)
After the savings bank closed c. 1870, (fn. 1873) the trustees used rent from the building for charitable purposes. (fn. 1874) In 1967 sale of the building endowed the Franchise Savings Bank Fund, whose annual income, £140 in 1975, (fn. 1875) was used to benefit residents of the civil parish. (fn. 1876)
Thomas Cooke, by will proved 1932, left £1,000, (fn. 1877) which yielded £33 in 1975. (fn. 1878)
Lost endowments include £10 from George Carver (d. 1729), perpetual curate of Kenley, (fn. 1879) £5 for bread for widows or widowers from Thomas Baker, vicar 1706-c. 1752, (fn. 1880) and £10 10s. for bread for widows and housekeepers from Mrs. Mary Smyth by will proved 1781. (fn. 1881)