Pages 107-111
A History of the County of Shropshire: Volume 11, Telford. Originally published by Victoria County History, London, 1985.
This free content was digitised by double rekeying. All rights reserved.
GROWTH OF SETTLEMENT.
In 1086 there were 7 villeins in Great Dawley, and only a serf, a villein, and two bordars in Little Dawley. (fn. 1) Sixteen inhabitants of the parish were assessed to the subsidy in 1327. (fn. 2) By the later 17th century Great Dawley was considerably more populous than either of the other townships: 25 householders there paid hearth tax in 1672, compared with c. 15 householders each in Little Dawley and Malinslee. (fn. 3) By 1801 the parish had 3,869 inhabitants, and population rose to a peak of 11,254 in 1871, the largest increases occurring in the 1820s, 1830s, and 1850s. The more heavily industrialized townships of Great Dawley and Malinslee grew faster than Little Dawley: between 1811 and 1831 Little Dawley accounted for only 277 of the parish's increase of 3,813 inhabitants. (fn. 4) The closure of mines and ironworks in the late 19th century led to great poverty (fn. 5) and an exodus in search of work elsewhere. (fn. 6) A drop in population of over 4,000 occurred between 1871 and 1891. (fn. 7) Emigration overseas accounted for part of the reduction: (fn. 8) families were leaving Malinslee for Australia in 1878 (fn. 9) and there was an emigration agent at Dawley Bank in the late 1880s. (fn. 10) Despite a slight increase at the turn of the century, the parish contained only 7,359 inhabitants in 1931, the last censal year before boundary changes occurred. (fn. 11) The population housed in the area of the ancient parish was growing rapidly in the 1970s (fn. 12) following the designation of Dawley (from 1968 Telford) new town in 1963.
The pre-industrial settlement pattern appears to have been one of small hamlets and outlying farmsteads. In Great Dawley a cluster of dwellings probably lay around the church, parsonage, and castle in the Middle Ages. Outlying farms, recorded from the later 16th century, were established at 'Charles Hall' (probably near Dawley Bank), Hinkshay, and Horsehay, (fn. 13) where the surviving farmhouse is partly timber-framed. In Little Dawley there were 8 tenements, a capital messuage called the Ridges (near Lightmoor), and a cottage c. 1580. (fn. 14) Settlement was concentrated in the southern half of the township in the later 18th century. (fn. 15) The nucleus of dwellings lay in Little Dawley village, where several cased timber-framed houses, including one with cruck trusses, survived in 1980. (fn. 16) The scatter of houses across the south-west of the township included Wynne's Coppice, another timber-framed house. (fn. 17) Much woodland survived in the north-west of the township in 1772, but a new farmstead, Woodlands Farm, had been built there by c. 1815. (fn. 18) Malinslee contained six messuages and four cottages in 1406 but may previously have been more extensive: in 1363 seven cottages and a house were said to be in decay. (fn. 19) The pre-industrial settlement pattern may have consisted of scattered dwellings: farms at Dark Lane, Hinkshay, 'Park House', and 'Coppy House', probably individual dwellings, are recorded from the later 17th century. (fn. 20)
Between the 16th and the 19th centuries numerous cottages were built in Dawley as the population of miners and ironworkers grew. Most were built by the labourers themselves along roadsides and on pieces of waste, their tenure ratified by payment of rent to the lord of the manor. (fn. 21) The proliferation of cottages reached its peak in the late 18th and early 19th century, the period of most rapid industrial growth. In 1799 Dawley was described as 'formerly a small village, but . . . now full of cottages from one end to the other'. (fn. 22) Those built at that time were typically of brick and tile, although sandstone raised from the mines was also used. Many had one storey and a half, sometimes with a hipped roof. (fn. 23)
In Great Dawley manor there were 7 cottages in 1567, of which 4 had recently been built; (fn. 24) there were 3 more by 1569, another one by 1572. (fn. 25) The number rose to 56 by 1753, 93 by 1781, (fn. 26) and 'at least 150' by 1812. (fn. 27) The heaviest concentration of cottages was in the northern half of Great Dawley township, where the shallow seams northwest of the Lightmoor fault were mined at an early date around Dawley Bank, Heath Hill, and Dawley Green. At Dawley Green, a piece of waste at a road junction on the crest of a ridge, cottages were being built by the early 17th century. In 1611 a cottage there was leased to a joiner and a piece of ground was leased to a miner as the site for a timber-framed cottage. (fn. 28) Waste land survived there and at Dawley Bank in the mid 18th century, but by the early 19th century c. 60 more cottages had been built, strung out along Dawley Green Lane (later King Street and Bank Road) and the road that later became High Street, the town's commercial centre; little waste remained. (fn. 29)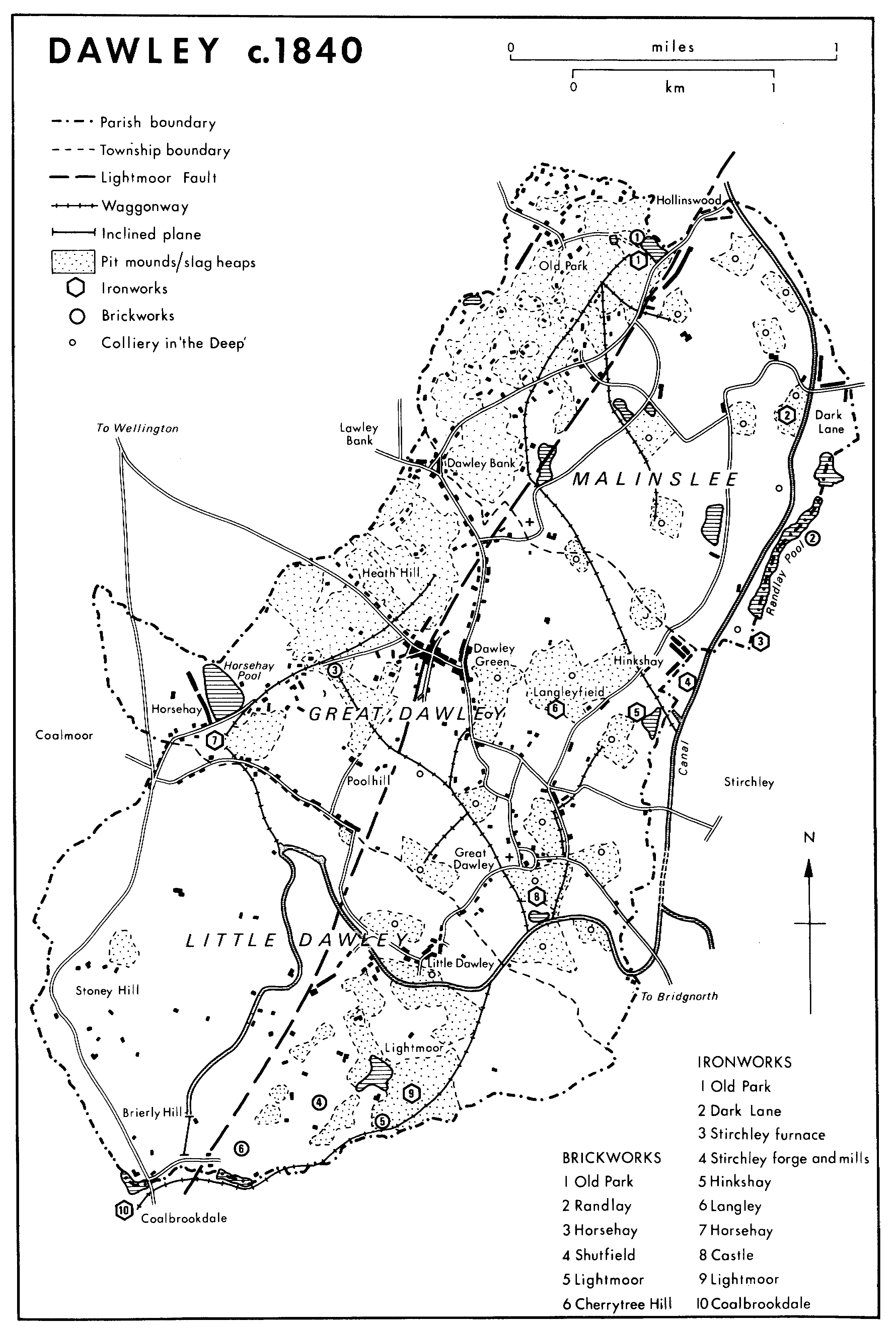 In Little Dawley the illegal building of a cottage was presented in 1592 (fn. 30) and new cottages were being erected on patches of waste by the earlier 18th century. (fn. 31) The township contained 98 cottages in 1838 and 120 in 1851; (fn. 32) they were scattered among the pit mounds and slag heaps of the Lightmoor area and along roadsides, notably along Holywell Lane and Woodhouse Lane. (fn. 33)
In Malinslee there were 7 cottages in 1607 (fn. 34) and 10 by 1700; (fn. 35) they probably represented the beginnings of the large but haphazard scatter of cottages that had grown up by c. 1815 in Old Park, the area of early mining north-west of the Lightmoor fault. (fn. 36)
A contrasting element in the industrial settlement pattern was formed by the rows of cottages put up by the coal and iron masters on their own property. The earliest were at Horsehay and Old Park. Old Row, Horsehay, was a terrace of twenty-five 1½-storeyed brick houses (fn. 37) built in three stages by the Coalbrookdale Co., probably soon after the Horsehay furnaces were built in 1754 and certainly by 1796. (fn. 38) At Old Park 58 cottages were built between c. 1790 and 1797 by I. H. Browne for workmen in the Old Park ironworks and mines; (fn. 39) twenty-four of them, built on the site of Park Farm (demolished c. 1796), (fn. 40) were probably the long terrace near the ironworks, later known as Forge Row. (fn. 41) Further terraces, built between c. 1815 and 1833, (fn. 42) included those on the Botfield freeholds at Hinkshay (a 'double row' of 48 back-to-back cottages, a 'single row' of 21 houses, and the later 'new row' or Ladies' Row of 10 more spacious cottages) (fn. 43) and Dark Lane (over 60 cottages in three long terraces); (fn. 44) and the isolated terrace of Stone Row (6 cottages built of massive sandstone blocks). (fn. 45) Of slightly later date were the Coalbrookdale Co.'s terraces: New Row, at Horsehay, (fn. 46) and Sandy Bank (or Dill Doll) Row, built c. 1840. (fn. 47)
The rapidly increasing demand for housing led to the conversion of former industrial buildings. As early as 1791 a pattern maker's shop at Old Park ironworks was converted into two cottages, (fn. 48) and at Horsehay the former potteries had been divided by 1843 into 24 separate dwellings, (fn. 49) including the Round House, a converted kiln inhabited until c. 1960. (fn. 50)
Cottages frequently had little land attached to them and by the mid 19th century there were extensive areas of garden allotments at Horsehay, Dawley Green, Great Dawley, and Hinkshay, in which cottagers rented unfenced plots. (fn. 51) Many cottages also had separate pigsties and brew houses, making home-cured bacon and homebrewed ale notable components of working-class diet in the 19th century. (fn. 52)
In the isolated industrial communities, scattered throughout the parish by the mid 19th century, shops were rare. Dawley Green, where there were several alehouses (fn. 53) and shops (fn. 54) along the Wellington-Bridgnorth road by c. 1800, had become the parish's commercial centre by the mid 19th century. (fn. 55) Most of the buildings fronting High Street were rebuilt during the early and mid 19th century, and the groups of cottages strung out along the highway coalesced into a continuous street frontage. The development of Chapel Street and Meadow Road, running back from High Street, accompanied the commercial growth of the town at that time. (fn. 56) The town's mid 19thcentury prosperity is reflected in several moderately large detached houses, notably in King Street.
The rate of settlement growth slowed down in the mid 19th century. The main areas of new housing were Langley Terrace (later Crown Street), Langleyfield, built in the 1850s; New Town, off King Street, and St. Luke's Road, Doseley, dating from the 1860s; (fn. 57) and along Wellington Road, Horsehay, developed in the 1870s. (fn. 58) Stagnation followed when the iron and coal industries declined in the 1870s and 1880s. Except for two short terraces, Wilmot Road, Old Park, and Myford Cottages, near Horsehay, both built c. 1903, (fn. 59) there was hardly any new building between 1880 and 1926. (fn. 60) Indeed the drop in population led to the abandonment of some cottages and in 1891 over 18 per cent of the parish's dwellings were unoccupied. The number of houses in the parish fell from 2,255 in 1871 to 1,859 in 1891. (fn. 61) The most notable building dating from the late 19th-century depression was Horsehay Cottage, the home of H. C. Simpson, managing partner of the Horsehay Co., who enlarged an existing cottage into a large villa c. 1896; (fn. 62) a handsome coach house and stable block south of the Cottage was added in the early 20th century.
After the First World War the urban district council tried to tackle the insanitary and overcrowded conditions that characterized a high proportion of Dawley's housing. In 1920 it was estimated that Dawley needed over 240 new houses to alleviate those conditions, (fn. 63) but a major programme of local-authority house building began only in 1927. Between then and 1939 370 houses were built at five sites in the centre of the parish between St. Leonard's church and New Road: 60 in the angle between Finger Road and New Road 1927-30 and 1935-6, 26 at Portley Road 1931-2, 64 at Alma Avenue and Rhodes Avenue (fn. 64) 1933-4, 112 at Ardern Avenue 1936-9, and 48 at Attwood Terrace (fn. 65) 1937-8. (fn. 66) Most were two-storeyed houses in pairs or blocks of four, built to standard government-approved designs in locally produced brick and tile. (fn. 67) Individual houses and small groups of cottages throughout the parish were designated slum-clearance areas under the 1930 Housing Act, their inhabitants moving to the new houses. (fn. 68) In 1936, however, 106 houses in the urban district were still classified as overcrowded. (fn. 69)
Environmental improvements were carried out. The large pit mounds of the Paddock, Portley, and Parish collieries in the centre of the parish were planted with conifers by the U.D.C. from 1928 to c. 1934 and from 1949 to c. 1960. (fn. 70)
Slum clearance and house building resumed after the Second World War and resulted in a major expansion of the central built-up area between Dawley Bank and Little Dawley by 1962. Housing conditions remained poor in many parts of the parish, notably Dawley Bank, Hinkshay, and Crown Street. (fn. 71) Buses were converted as dwellings in the early 1950s, (fn. 72) and after the 1954 Housing Act, under which nearly 500 houses were classified as sub-standard, (fn. 73) the U.D.C. made numerous small clearance and demolition orders. (fn. 74)
The earliest post-war council housing extended existing estates near St. Leonard's church: 40 houses were built at St. Leonard's Place 1946-7, (fn. 75) 50 in Eyton Road and Moor Road 1948-9. (fn. 76) Later council housing was concentrated in two large areas: the 61-a. Manor Farm estate, south-west of New Road, on which c. 350 houses and flats were built 1950-5; (fn. 77) and the Langley Farm estate, east of King Street, on which over 350 houses were built 1957-66. (fn. 78) Smaller projects included the Ley, a pioneering arrangement of 20 old people's bungalows with common room and warden's quarters, built 1956-7. (fn. 79) Although the work was primarily to rehouse local people, the council provided 100 dwellings between 1958 and 1961 for Birmingham overspill population. (fn. 80) Planning permissions for industrial and other developments were held up from 1961, and the U.D.C.'s building programme was curtailed in 1962 until the decision to designate the area part of a new town had been taken. (fn. 81)
Speculative building was negligible until the late 1950s, but by 1963 over 500 houses had been built on private estates, notably either side of Holly Road, north-east of Little Dawley, and on the Wallows Farm estate north of Stirchley Lane. (fn. 82)
Between 1966 and 1974 the U.D.C. started or planned eight more housing schemes (437 dwellings) between Dawley Bank and Trinity Road, Dawley; the biggest of them, 180 dwellings built for Wrekin district council 1975-7, was an extension of the Langley Farm estate eastwards to Malinslee County Primary School. Clearance of older housing continued and was largely completed by the mid 1970s. (fn. 83) Many of the early 19th-century terraces were demolished: Stone Row in 1963, (fn. 84) the Hinkshay rows c. 1968, (fn. 85) Crown Street c. 1970, (fn. 86) Dark Lane rows in 1971, (fn. 87) and Sandy Bank Row in 1976. (fn. 88) Many scattered cottages at Old Park were cleared when the derelict pit mounds there were reclaimed after opencast mining in the 1970s.
As a result of the designation of Dawley new town in 1963 further extensive building took place, particularly in the northern half of the parish. Three housing estates were built by Telford development corporation: Hollinswood, straddling the former boundary with Shifnal parish, containing 1,178 dwellings and completed 1975-7; north-west Dawley, completed in 1977 with 239 dwellings; the Malinslee estate, northeast of St. Leonard's church, where schemes comprising 1,127 dwellings were completed 1977-c. 1980; and the Aqueduct estate, a scheme for 247 dwellings begun in 1977. The corporation remodelled and partly rebuilt the centre of Dawley, around High Street, in the later 1970s, and the northern half of Malinslee township was chosen as the site for Telford's town centre: the first shops opened in 1973. (fn. 89)