Pages 115-125
A History of the County of Shropshire: Volume 11, Telford. Originally published by Victoria County History, London, 1985.
This free content was digitised by double rekeying. All rights reserved.
ECONOMIC HISTORY.
Agriculture.
The element leah, in the township names Dawley and Malinslee and in the minor names Brandlee, Doseley, Langley, and Portley, suggests that the early medieval landscape consisted of clearings in an area of late-surviving woodland. (fn. 1) In Little Dawley the existence of two Domesday bordars with a share in ½ ploughteam (fn. 2) suggests woodland clearance and the continued expansion of cultivation. (fn. 3) Dawley was within the forest of Mount Gilbert until disafforested in 1301. (fn. 4) Assarting continued in the late 13th century (fn. 5) and in Malinslee in the mid 14th century. (fn. 6) Small enclosures continued to be carved out of woodland and waste in Great Dawley in the mid 16th century. (fn. 7)
The largest wooded area, probably the Dawley wood mentioned in 1535, (fn. 8) was in Little Dawley, where there was a league of wood in 1086. (fn. 9) On the evidence of later field names, woodland may have covered most of the township west of Horsehay dingle in the Middle Ages. (fn. 10) The name Pawn Hatchett, near Doseley, (fn. 11) probably records a 'hatch-gate' leading into woodland, (fn. 12) possibly into Frame wood (or Frame rough), a wood near Horsehay in Great Dawley, recorded in 1573 and grubbed up c. 1755. (fn. 13) In 1772 there were still c. 130 a. of woodland in Little Dawley. (fn. 14) In Malinslee the lord's wood, probably 'Lywode' mentioned in 1420, was subject to frequent encroachments, including the felling of much oak timber, in the mid 14th century. (fn. 15) Only a small block of woodland, in the vicinity of the later Wood colliery, remained in the township in 1808. (fn. 16) In the 18th and early 19th century much of the parish's woodland was coppiced to provide charcoal and pit-props for local industry. (fn. 17)
In Great Dawley there were at least two areas of open field. The larger, known simply as 'the common field' in 1612, (fn. 18) lay along the boundary with Little Dawley. That part north-west of the road since called Holly Road was later called Pool Hill field, that part to the south-east of the road Rednall field and Castle field. (fn. 19) Coppy Greave field lay north of Great Dawley village, near the later Portley colliery. Land in Rednall and Coppy Greave fields was inclosed after 1632 and before 1718; (fn. 20) Pool Hill field was inclosed in stages in the early 18th century; a part remaining open c. 1750 had been inclosed by 1767. (fn. 21) The open fields accounted for only a small proportion of the township, a larger acreage probably being held in severalty. On the periphery of the township were a number of hays, large enclosures probably for stock. Horsehay, Smeeth hay, Dawley hay, and Charles hay lay along the north-western edge and Hinkshay in the eastern corner. (fn. 22) By the late 16th century farmsteads had been built at Horsehay, Hinkshay, and possibly Charles hay. (fn. 23) Common waste survived in the mid 18th century on the high land between Dawley Bank and Heath Hill (fn. 24) and may also have survived late near Hinkshay where 'moor' field names were recorded in the 19th century. (fn. 25)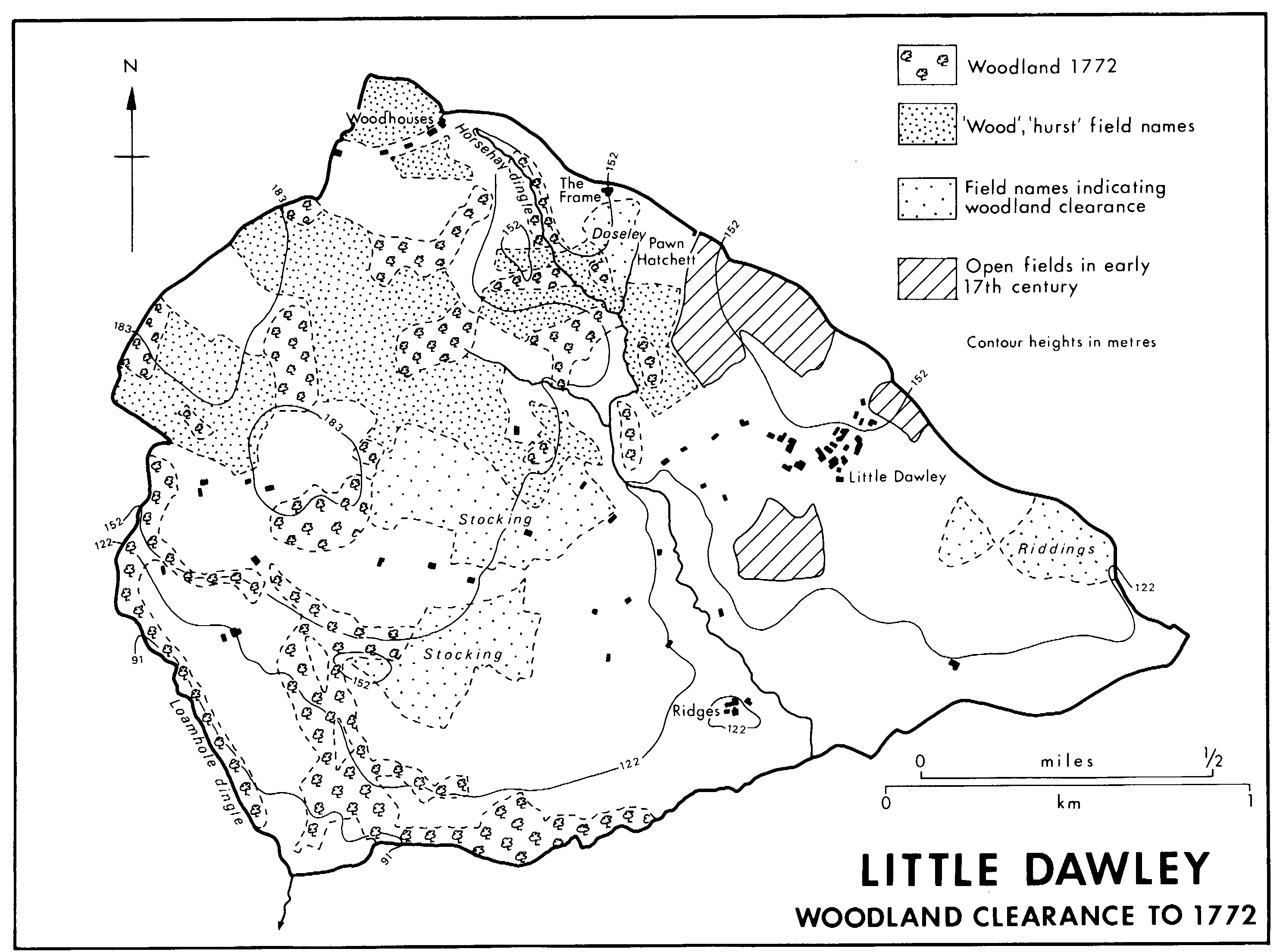 Little Dawley had three open fields in 1616: (fn. 26) Pool Hill and Rednall fields were contiguous to the fields so named in Great Dawley. (fn. 27) Bandrich field probably lay immediately south of Little Dawley village, extending west to Holywell Lane; the field was described as 'over Madeley way' in 1631. (fn. 28) Piecemeal inclosure, sometimes stated to be for pasture, was in progress before 1631. (fn. 29) Part of Pool Hill field, along the township boundary north of the village, remained open in 1772 (fn. 30) but had been inclosed by 1825. (fn. 31) By the mid 18th century the rest of the township was held in severalty in small, irregular enclosures. Waste may have survived late on the glacial sands and gravels in the south and east of the township where 'moor' names are recorded. (fn. 32)
In Malinslee the field name 'Goldiforlong', recorded in 1340, and reference to land in selions in 1345 imply the existence of an open field there in the mid 14th century. There was also a hay called Lyehay, recorded from 1347, and a park recorded from 1506; Old Park, the mining district in the north-west of the township, was named from the latter. (fn. 33)
The small extent of known open arable fields and the late survival of woodland and waste suggest that the parish economy was largely pastoral. Horsehay and Hinkshay ('stallionenclosure'), (fn. 34) perhaps significantly situated on opposite sides of the parish, probably record early-medieval horse rearing. In the mid 14th century horses, goats, pigs, and especially cattle frequently damaged crops in Malinslee, (fn. 35) and the demesne farm of Great Dawley had 20 oxen and 3 cows in 1349. (fn. 36) In the late 17th and early 18th century dairying and cattle rearing seem to have been important; relatively little corn was grown and sheep were less important than in adjacent parishes to the north. Hemp butts, a 'peas croft' (then pasture), and orchards were mentioned in 1631 and later. (fn. 37)
In 1086 there were 7 villeins holding one plough, and another plough in demesne at Great Dawley. (fn. 38) In 1528-9 and 1570-3 there were 9 landed holdings in the manor in addition to the demesne (described as Dawley Castle and two parcels of meadow in 1567) (fn. 39) and cottages. The tenants, called copyholders in 1569, held their farms for life and their tenures were normally renewed. In the 1570s each, except the tenant of Horsehay, held a piece of (often newly inclosed) waste ground at the lord's will. (fn. 40) Hinkshay farm, formerly part of the Stirchley Hall estate, was separated and let on long lease in 1578. Sir George and Sir John Hayward granted further leases for lives between 1611 and 1621. (fn. 41) Plowden Slaney let farms in Great Dawley on 21-year leases in the 1760s. (fn. 42)
In Little Dawley a villein and 2 bordars held ½ plough in 1086, when another ½ plough, a serf, and the woodland were held in demesne. (fn. 43) By c. 1580 all the holdings were let on leases, 7 on leases for lives, 2 for terms of years. (fn. 44) In 1631 there were 7 farms varying in size from 71½ a. to 133 a. and occupying altogether 706 a.; 6 were leased for lives, one for 80 years. There were also 4 small tenancies, 2 of them leased for lives, one at will. The relative size of the holdings did not vary greatly during the 17th and 18th centuries but in the 1630s and 1640s each increased by almost a quarter in size. Leasing for lives and heriots continued in 1730. (fn. 45) but by 1838 all farms in the manor were held on rack rents. (fn. 46)
Part of Malinslee's demesne was leased in 1340, and by 1406 all the manor's demesne was shared between the 6 landed holdings at a total rental of 43s. 2d. (fn. 47) Mid 14th-century tenancies were for life on payment of a heriot and entry fine. Labour services included harrowing and reaping, bringing in the lord's hay, and collecting nuts. (fn. 48) By 1406 there were 4 cottagers and 6 landed tenants, 4 of whom held ½ virgates, 1 held one virgate, and 1 held a messuage called Sayslonde. All except the last, which was held by lease (per cartam), were held by money rent, suit of court, heriot, and 'farfee' - a dropping fine recorded in Malinslee from 1336. (fn. 49) Long leases were granted in the early 17th century, (fn. 50) and by c. 1680 most tenancies had been converted to leaseholds. (fn. 51)
From the later 18th century the growth of mining and the iron industry removed a large acreage from agricultural use. Farming provided employment for a decreasing proportion of the population, and surviving farms geared their production to the needs of the industrial community. By 1905 only 1,547 a. (55 per cent of the parish) were classed as agricultural land, (fn. 52) but as early as 1831 only 29 families (2 per cent of Dawley households) were employed chiefly in farming. (fn. 53)
The demand for horses as draught animals in the collieries and ironworks led to specialization in horse rearing. The Coalbrookdale Co.'s tenant at Horsehay farm in 1759 worked a team of horses as a haulier for the company. (fn. 54) By 1796 the farm was managed by the company, the main crops being oats, hay, and vetches, grown as horse fodder, (fn. 55) and in the mid 19th century the farm supported 30-40 draught horses for the Horsehay ironworks. (fn. 56) Likewise the Botfields' works farm at Malinslee provided fodder and grazing for the collieries' stock, and farm horses were used for hauling iron. (fn. 57) Grassland predominated: in 1801 only 601 a. (21 per cent of the parish) were cultivated, mainly for oats and wheat. (fn. 58) Between 1867 and 1965 the proportion of agricultural land under grass rose from under half to over four fifths; cattle were increasingly kept in preference to sheep or pigs. Of the cereals grown wheat remained the most popular. The amount of vegetables and root crops grown steadily declined. By 1980 virtually all land in Malinslee and Great Dawley was put to non-agricultural uses, and farmland survived only in Little Dawley.
Most holdings remained small, several 19thcentury farms being no more than smallholdings. The largest farms were in Little Dawley where there were 7 holdings, each containing between 80 a. and 179 a., in 1772. (fn. 59) As the extractive industries spread holdings became smaller: in 1871 there were 8 farming households in the township occupying from 7½ a. to 105 a. One man held 10 a. on which he kept three cows. (fn. 60) On the Slaney estate in Great Dawley the largest holding (other Sources: P.R.O., MAF 68/143, no. 14; /1340, no. 6; /3880, Salop. no. 228; /4945, no. 228. than those of the iron-making partnerships) was of 103 a. in 1812, and only 6 of the 18 landed tenants held more than 30 a. (fn. 61) Three householders in the Old Park area of Malinslee described themselves as farmers in 1871, although none held more than 17 a. (fn. 62)
Table IV
Dawley: Land use, livestock, and crops
1867
1891
1938
1965
Percentage of grassland
45
61
89
86
arable
55
39
11
14
Percentage of cattle
12
29
45
62
sheep
53
42
36
25
pigs
35
29
19
13
Percentage of wheat
71
53
63
60
barley
18
26
0
21
oats
11
20
37
15
mixed corn & rye
0
1
0
4
Percentage of agricultural land growing roots and vegetables
15
11
3
2
Mills.
A mill at Malinslee was recorded in 1334 and 1347 (fn. 63) but not thereafter. In the early 17th century farmers in Malinslee took their corn to Eyton upon the Weald Moors mill. (fn. 64) A water corn mill on Horsehay brook, at Horsehay, was recorded from 1573, (fn. 65) and at Ridges, near Lightmoor, a bloom smithy and water mill were recorded in 1631, the mill in 1698 and 1715. (fn. 66) The pools at both places were converted to provide a head of water for the iron furnaces built at those sites in the 1750s. (fn. 67)
There may have been a windmill in the southeast corner of Great Dawley township near a field named Windmill hill, recorded in 1718, (fn. 68) and a 19th-century colliery known as Mill pit. (fn. 69)
There were steam flour mills at Pool Hill and beside the canal near Botany Bay colliery in 1843. (fn. 70) The latter was in existence by 1833. (fn. 71) That at Pool Hill was probably operated in 1852 by Henry Cooke, (fn. 72) recorded as a miller from 1840 to 1868. (fn. 73) A steam mill in Chapel Street, operated by Thomas Jones, was recorded from 1885 to 1905. (fn. 74)
Coal and ironstone.
Nearly the whole parish overlies the Lower and Middle Coal Measures, which contained workable seams of coal and ironstone. The minerals lay near the surface on the high ground along the north-west edge of the parish, west of the Lightmoor fault, and in the south around Lightmoor where the land drops away towards Coalbrookdale. East of the Lightmoor fault in Malinslee and Great Dawley the top of the productive seams lay c. 400 ft. (120 metres) below ground. (fn. 75) Mining was recorded in Dawley from the 16th century but large-scale extraction took place only after the establishment of ironworks in the parish in the 1750s; the deep seams east of the Lightmoor fault were mined only after c. 1800. By 1831 the collieries and ironworks employed 1,379 men and supported over 90 per cent of the parish's families. (fn. 76) Most mines had closed by 1900 but a few small collieries continued to work in the earlier 20th century. Since the Second World War the shallow seams on the west side of the parish have been stripped by opencast methods.
In the 16th century ironstone appears to have been more highly prized than coal. The first evidence of mining was in 1526-9, when Robert Moreton was obtaining ironstone at 'Wodds copy' in Great Dawley, (fn. 77) and in 1569 the ironstone in Great Dawley was farmed out at will for £14 compared with only 20s. for the coal mines, then held by John Boycott under a 21-year lease of 1555-6. (fn. 78) In the early 17th century Sir George Hayward, lord of Great and Little Dawley and Little Wenlock, worked ironstone and coal in his three manors, employing day or weekly labourers in his mines. (fn. 79) There was an ironstone mine on Ridges farm, near Lightmoor, in 1631. By 1666 Richard Walker had taken a lease of the mines in Little Dawley. (fn. 80) In Malinslee the Eytons appear to have exploited the minerals in the early 17th century. (fn. 81) In 1655 Sir Thomas Eyton settled Malinslee on trustees, who were to mine coal and quarry ironstone and use the profits for his younger children. (fn. 82) By c. 1680 the annual value of the mines there was put at c. £200. (fn. 83) After buying the manor in 1701 Isaac Hawkins worked the mines there himself. (fn. 84)
In the early 18th century control of mining in Great and Little Dawley passed to industrialists with interests elsewhere in the coalfield. Richard Hartshorne of Ketley, the leading east Shropshire coal master of the period, (fn. 85) and George Benbow of Malinslee leased the mines in Great Dawley from Robert Slaney in 1710. They agreed to supply coal and ironstone to Slaney's ironworks at Kemberton. (fn. 86) Hartshorne had also rented coal mines in Little Dawley by 1728 (fn. 87) and he renewed the lease of the Great Dawley mines in 1731. (fn. 88) On his death in 1733 the Little Dawley coalworks, valued at £130 a year in 1730, were leased for 99 years to Thomas Barker, (fn. 89) chief North Wales agent to the London Lead Co., which had established a smeltery at Benthall in 1731. (fn. 90)
Early mining was confined to those areas where productive measures lay near the surface and could be worked from open pits or adits. Nevertheless vertical shafts for raising minerals by gins appear to have been in use by 1710. (fn. 91) One of the earliest areas of coalmining may have been at Coalpit Bank on the high ground between Dawley Bank and Heath Hill, (fn. 92) recorded from 1615. (fn. 93) Nearby at Brandlee there were at least five ginpits, apparently operated by charter masters, in 1737. (fn. 94) There were clusters of pits in those places and at Old Park in 1752 (fn. 95) and further pits on the valley sides near Lightmoor by 1772. (fn. 96) Coking took place at the pit head in Great Dawley in the early 18th century. (fn. 97) The small shallow workings in the areas of early mining produced a landscape of confused spoil heaps and almost lunar dereliction, which survived until the 1970s.
The beginning of large-scale mining coincided with the construction of iron furnaces at Horsehay in 1754 and Lightmoor in 1758 and the rise of industrial partnerships that integrated the extraction of coal, ironstone, and clay with the manufacture of iron, bricks, and tiles. Industrial activity in the late 18th and early 19th century was closely related to the pattern of landownership, mineral rights in the three manors being acquired by separate companies. In Great Dawley, after Hartshorne's lease had expired, the mines under Slaney's estate were leased in 1754 for 21 years to Abraham Darby (II). (fn. 98) By extending that lease (fn. 99) and by purchase (fn. 100) the Coalbrookdale Co. retained control over most minerals in Great Dawley throughout the late 18th and 19th century. A separate small royalty in the north-east corner of Great Dawley was acquired in 1826 by the Langley Field Co., in which George Bishton of Neachley and Adam Wright, the Pool Hill ironmaster, were partners. (fn. 101) The collieries, ironworks, and brick yards established there by Bishton and Wright were bought by Beriah Botfield in 1856. (fn. 102)
In Little Dawley Thomas Barker, lessee of the minerals, entered into a partnership with William Ferriday, the mining agent, (fn. 103) in 1733. (fn. 104) By 1793 the lease was vested in Ferriday's nephew William and others, (fn. 105) but the mines were worked by undertenants from the 1750s. In 1753 Ferriday and Barker's brother John leased the minerals to a group of local charter masters: Beriah Botfield, William Gibbons, and Richard Bayley, all of Dawley, and William Baugh of Madeley. (fn. 106) The operations were taken over in 1758 by the Lightmoor Coalworks partnership, of which William Ferriday, William Goodwin of Madeley, and Thomas Botfield were the principal shareholders in 1791. (fn. 107) In 1793 the partners sublet the Lightmoor mines to Francis Homfray and John Addenbrooke, lessees of the Lightmoor ironworks since 1787, who continued to operate the Little Dawley mines until 1822 or later. (fn. 108) On the expiry of the original lease to Barker in 1832 Addenbrooke and his partners renewed the lease for 21 years, (fn. 109) but the Coalbrookdale Co. took a 40-year lease of the Lightmoor works and mineral rights throughout the manor from 1839. (fn. 110)
In Malinslee the mines were operated by the owner, I. H. Browne, (fn. 111) until Thomas Botfield established the Old Park ironworks in 1790, when Browne agreed to supply coal and ironstone to the new works. (fn. 112) In 1797 Botfield took a 21-year renewable lease of the minerals in Malinslee (fn. 113) and, after his death in 1801, the mines there were operated by his sons Thomas (d. 1843), William (d. 1840), and Beriah (d. 1813), and grandson Beriah (d. 1863) until 1856. On Beriah Botfield's failure to agree terms with the lords of the manor the mines were leased in 1856 to the Old Park Iron Co., (fn. 114) which was wound up in 1871, (fn. 115) and in 1874 to the Wellington Iron & Coal Co., (fn. 116) which failed in 1877. (fn. 117) In 1893 the Haybridge Iron Co., which had bought the manor in 1886, leased the mines to Alfred Seymour Jones of Wrexham. (fn. 118)
Mineral production increased rapidly in the later 18th and early 19th century. The annual quantity of coal raised in Little Dawley increased from 4,338 stacks (7,592 tons) (fn. 119) of top and bottom coal and 123 dozens of 'lump' coal, in 1753-4, (fn. 120) to 4,018 stacks (7,032 tons) of furnace coal, 5,733 tons of coal for the Severn trade, and landsale coal to the value of £620 in 1779-80. By 1837-8 the mines there produced 24,695 tons of furnace coal and 6,815 tons of slack. Ironstone production there rose from an annual average of 1,138 dozens (2,504 tons) in the years 1774-80 to 18,069 tons in 1837-8. (fn. 121)
The increase was achieved by the sinking of larger, deeper pits and the use of more sophisticated mining techniques. By 1754 a steam engine was draining the Lightmoor pits, and coal was raised from the shafts by horse-gin. (fn. 122) By the end of the century pits had been sunk to 208 ft. (63 metres) at Old Park, (fn. 123) 463 ft. (141 metres) at Lightmoor, and 348 ft. (106 metres) at Great Dawley. (fn. 124) In 1797 the Old Park collieries consisted of 34 pits, each named after the charter master who operated it. Only two pits had steam engines to raise coals, most possessing a gin or even only a 'turn barrel' or windlass. (fn. 125) Although several such small pits continued to operate in Malinslee until the 1890s (fn. 126) the early 19th century saw the opening of large collieries to exploit the deep seams southeast of the Lightmoor fault. The Coalbrookdale Co. was involved in 'deep work' in Dawley by 1794 (fn. 127) and the earliest known pits 'in the deep' were those at Langley Farm, recorded c. 1800, (fn. 128) and at Langleyfield, recorded from 1803. (fn. 129) The cluster of mines in the south-east corner of Great Dawley were sunk c. 1810 to obtain Clod coal for the Coalbrookdale Co.'s new furnaces at the Castle ironworks. (fn. 130) By 1817 the Botany Bay, Mill, Castle Yard, Barker's Yard, Yew Tree, Deepfield, and Portley pits had been sunk. (fn. 131) In Malinslee expansion across the fault probably took place in the 1820s and early 1830s, (fn. 132) when 11 collieries were opened between Hollinswood and Hinkshay. By 1841 a seam was being worked 754 ft. (230 metres) below the surface at Puddley Hill colliery. (fn. 133)
Those large deep mines rapidly exploited the minerals east of the fault: on the Coalbrookdale Co.'s mines in Great Dawley the Clod coal, the most suitable for use in blast furnaces, (fn. 134) had been exhausted by 1850 and the Double coal by c. 1867. (fn. 135) Annual production in the company's Little Dawley mines in 1861-2 was only 7,574 tons of coal and 4,463 tons of ironstone, (fn. 136) less than a quarter of annual production in the 1830s. The closure of local ironworks between 1876 and 1886 led to the closure of almost all the parish's pits. Moor Farm, Wallows, Little Eyton, Portley, Parish, Southall, and Mill collieries had closed by 1882, (fn. 137) and by 1901 Lawn colliery, Malinslee, was the only shaft east of the fault remaining open. (fn. 138) It closed in 1908. (fn. 139)
The continuing demand for fireclay in the 20th century led to further mining in the shallow seams on the western side of the parish. A drift mine at Coalmoor, near Stoney Hill, opened by 1901 and operated in 1908 by the Coalmoor Sanitary Pipe Co. for coal and fireclay, had closed by 1925. (fn. 140) There were several short-lived mines in the Stoney Hill, Lightmoor, Doseley, Pool Hill, and Old Park areas between the World Wars. (fn. 141) One of the longer-lived was at Brandlee, where a colliery mining coal and fireclay in 1908 (fn. 142) remained open in 1957; it continued as a small private mine after nationalization. (fn. 143)
The coal and fireclay seams in the Lower Coal Measures capping the high ground at Coalmoor and Stoney Hill were stripped by opencast mining in the 1950s, (fn. 144) and unworked coal in the disturbed area of early small-scale workings at Old Park was similarly stripped in the 1970s. (fn. 145)
Iron.
A forge operated by Richard of Dawley was recorded c. 1180. (fn. 146) There was a bloom smithy at the Ridges, near Lightmoor, c. 1580, (fn. 147) and in 1631 Ridges farm, the second largest in Little Dawley, included a 'smithy coppice' as well as the bloom smithy and an ironstone mine. (fn. 148)
The Horsehay iron works was built in 1754 by the Coalbrookdale Co. on the site of a water mill. (fn. 149) Their construction coincided with the company's lease of mines in Great Dawley and Ketley. The first furnace was blown in in 1755, a second in 1757. Pig-iron production averaged c. 90 tons a month in the period 1767-73, but output increased dramatically when the second furnace was rebuilt in 1799 and a third one was brought into blast in 1805. A forge was built at Horsehay c. 1781 and wrought iron was produced by the Wright & Jesson process. In 1817 the works comprised three furnaces, two forges, two rolling mills, and a slitting mill. (fn. 150) The principal customers for both pig and bar iron from Horsehay in the late 18th and early 19th century were the forgeowners and merchants of the Black Country. (fn. 151) After a period of slack management in the early 19th century, production was raised and consumption of raw materials reduced when, from 1830, Alfred and Abraham Darby (IV) took an active interest in the works. Pig production rose to 65 tons weekly from each blast furnace. (fn. 152) A wide variety of iron ware was made in the mid 19th century: the plates for S.S. Great Britain (launched 1843) were rolled at Horsehay (fn. 153) and the Albert Edward Bridge (built across the Severn near Buildwas in 1863) was made there. In 1873 the works was said to produce all kinds of iron 'from a rail bar to a wire rod'. (fn. 154) Annual production of finished bar and plates was c. 15,000 tons in 1870. (fn. 155) In the early 1860s the Horsehay furnaces were blown out, the forges and rolling mills thereafter relying on supplies of pig from the Coalbrookdale Co.'s surviving furnaces at Lightmoor and Dawley Castle. The depression in the iron trade in the 1870s and 1880s eventually led to the closure of the forges and mills at Horsehay in 1886. The works was taken over by the Simpsons, who developed the heavy engineering side of the business. (fn. 156)
The first furnace at Lightmoor was built in 1758 by the Lightmoor Furnace Co., whose principal partners were Richard Syer of Norton, William Ferriday, and the group of charter masters who operated the Lightmoor coalworks. (fn. 157) Initially the main customers were the Knight family's forges in the Stour Valley, (fn. 158) and in 1787 the furnace was leased by the Lightmoor Co. to Francis Homfray and John Homfray (later Addenbrooke), who also had business connexions in the Stour Valley. By the end of the century there were three blast furnaces and a forge at Lightmoor. (fn. 159) The works was taken over in 1839 by the Coalbrookdale Co., which kept two furnaces in blast producing pig for sale and for forging at Horsehay. (fn. 160) The furnaces were blown out in 1883 (fn. 161) and the buildings taken down in the early 1890s. (fn. 162)
The Old Park ironworks was built in 1790 by Thomas Botfield on land leased from I. H. Browne. Forges, mills, and a third blast furnace were soon added to the two original furnaces. (fn. 163) By 1806 it was the largest ironworks in Shropshire and the second largest in Britain, (fn. 164) probably partly as a result of the vigorous management of Gilbert Gilpin, works manager from 1799 (fn. 165) to 1813. (fn. 166) While there he perfected improvements in chain making that led to the widespread adoption of chains in industry. (fn. 167) After leaving Old Park he started his own chain works at Coalport. (fn. 168) As at Horsehay, Old Park's principal markets for pig were the Black Country, Severn Valley, and Lancashire forges. (fn. 169) In 1812 the Botfields' main customers were John Knight of Stourbridge and Daniels & Co. (fn. 170) The Old Park works passed, with the mines in Malinslee, to the Old Park Iron Co. in 1856 and to the Wellington Iron & Coal Co. in 1874. (fn. 171) In the early 1870s the works had four furnaces (two in blast) and three mills and forges. (fn. 172) The works closed in 1877 when the Wellington Iron & Coal Co. failed. (fn. 173)
Two furnaces built on the site of Dawley Castle were brought into blast by the Coalbrookdale Co. in 1810. Like those at Lightmoor, they produced pig for the company's forges at Horsehay and Coalbrookdale. (fn. 174) By the early 1870s, (fn. 175) and possibly by 1852, (fn. 176) only one was in blast, and iron production ceased in 1883. (fn. 177)
More furnaces were built in the 1820s, a period of prosperity in the iron trade. (fn. 178) Langley furnaces, near the site later occupied by Langley Board School, were blown in in 1824 and 1825 by George Bishton and Adam Wright, partners in the Langley Field Co. (fn. 179) The history of the works is not clear: it seems to have been untenanted in 1843; (fn. 180) in 1852 Garbett, Clemson & Co. occupied the works and one furnace appears to have been in blast. (fn. 181) By 1856 Thomas C. Hinde & Co., ironmasters of Pain's Lane, operated the works; (fn. 182) Hinde sold the estate and works to Beriah Botfield the following year. (fn. 183) The furnaces seem to have been blown out by the early 1870s (fn. 184) and no trace of the ironworks survived in 1882. (fn. 185)
The Botfield brothers built further pairs of blast furnaces on their freehold property at Hinkshay c. 1826 and at Dark Lane in the early 1830s, (fn. 186) to supply pig to their Old Park and Stirchley forges. After Beriah Botfield's death in 1863 iron making was carried on at Hinkshay and Dark Lane by his trustees, Leighton & Grenfell, (fn. 187) until 1873 when the works were sold to the Haybridge Iron Co. (fn. 188) In the early 1870s three of the four furnaces remained in blast (fn. 189) but both pairs of furnaces were disused by 1881, although a foundry survived at Dark Lane until c. 1894. (fn. 190)
Several small iron-using industries grew up in Dawley in the mid 19th century. Spade and shovel makers and a chain factory were recorded in the 1850s. James Poole, publican of the New Wicket inn, Malinslee, in the 1850s, made boilers, chains, and nails, and other members of the Poole family were recorded as boiler makers at Malinslee in the 1870s. Those small concerns disappeared on the closure of local ironworks in the late 19th century. (fn. 191)
The Horsehay works was bought in 1886 by the Horsehay Co., a partnership between H. C. Simpson, formerly of Rotherham (Yorks. W.R.), and his brother. The Simpsons expanded the heavy engineering side of the works, concentrating on the manufacture of bridges, roofs, and girders. They employed c. 500 men at the works c. 1900. (fn. 192) The 'Sentinel' steam waggon was developed at Horsehay c. 1900-1903. (fn. 193) By 1913 the Horsehay Co. Ltd. also specialized in making gas plant. (fn. 194) After the Second World War the company was taken over by the Adamson Alliance Co. Ltd. and in 1948 the works was rebuilt to manufacture heavy cranes. (fn. 195) In 1980 Adamson-Butterley Ltd. made many types of heavy machinery, including travelling cranes, bridges, and mining equipment, at Horsehay. (fn. 196)
In 1947 J. C. Hulse & Co. Ltd. established an iron foundry on the site of the former Langleyfield brickworks, for the production of manhole covers, gully gratings, cisterns, and other grey iron castings. (fn. 197) The foundry was extended in 1963 (fn. 198) but closed c. 1976. (fn. 199) From c. 1961 the former Shutfield brickworks at Lightmoor was used by Intermetric Processes Ltd. (later Pressmoor Ltd.), an engineering firm specializing in small steel fabrications. (fn. 200)
Clay industries.
The drift cover of glacial boulder clay and sand was probably used for brick making in many small brick yards before the 19th century. Mid 18th-century cottages at Dawley Green and Dawley Bank were built of bricks made from sand and clay dug near Heath Hill (fn. 201) and by 1754 the Lightmoor Coal Co. had a brickworks, possibly in Brick Kiln leasow near Lightmoor, where there was a brick kiln in 1788. (fn. 202) The clay industries grew in scale in the late 18th and early 19th century as the coal and iron masters built brick, tile, and pottery kilns to use the red clays of the Coalport Beds and the white fireclays of the Middle Coal Measures, which could be raised from their mines. (fn. 203) Small brickworks proliferated: there were two kilns in Little Dawley in 1793 (fn. 204) and three brick yards on the Coalbrookdale Co.'s land around Dawley Green in 1817. (fn. 205) By the mid 19th century, however, the clay industries were concentrated in several large brick and tile works. The industry weathered the late 19th-century industrial depression, specializing in the manufacture of sanitary pipes and fire bricks in the early 20th century.
The Coalbrookdale Co.'s brick and pot works near Horsehay, (fn. 206) primarily making refractory clay vessels for the Wright & Jesson process, (fn. 207) existed by 1796 when new round-ware and dish-moulding houses were added. (fn. 208) By 1801 the pottery was held by Edward Thursfield. (fn. 209) It was recorded in 1817 but had closed by 1843. (fn. 210) Fire bricks were also made at Horsehay in the 1790s (fn. 211) and the works making white bricks east of the pottery continued in operation until after 1882. (fn. 212) The brickworks was taken over c. 1900 by Days' Automatic Waste Water Closet & Sanitary Pipe Syndicate Co. Ltd., a Wolverhampton firm, which made drainpipes, sinks, cattle troughs, and fire bricks from local fireclay. (fn. 213) The works closed c. 1915. (fn. 214)
A group of large brickworks was established in the Lightmoor area in the early 19th century. Shutfield and Cherrytree Hill brickworks had been built by 1825. (fn. 215) From 1838, or earlier, to the 1850s they were operated by successive tenants of Woodlands farm (fn. 216) but were later leased to the Coalbrookdale Co., which also had a works making red bricks at Lightmoor, recorded from 1852. (fn. 217) In 1894 all three works concentrated on tile production, using red clay from the Coalport beds, mined locally, and fireclay from mines in Great Dawley. (fn. 218) Clay mining continued at Lightmoor until the 1930s. (fn. 219) The Cherrytree Hill brickworks closed in the early 20th century (fn. 220) but the other works remained open for some time. The Lightmoor works was taken over by Coalmoor Refractories Ltd. c. 1951, the Shutfield works by an engineering firm c. 1961. (fn. 221)
The Botfields were making bricks at Old Park by 1809, (fn. 222) possibly in the brickworks by the Old Park ironworks, in which fire bricks were made in 1874. (fn. 223) A works making white bricks at Langleyfield colliery opened between 1844 and 1852 and closed between 1901 and 1925. (fn. 224) In the 1870s a brickworks was opened beside the Coalport branch railway, north of Dark Lane. (fn. 225) It was reputedly operated c. 1910 by the Randlay Brick & Tile Co., whose main works was in Stirchley, (fn. 226) and it closed c. 1940. (fn. 227)
In the 20th century production of common bricks and tiles ceased but several specialist works were established. The Coalmoor Sanitary Pipe Co. Ltd. (later the New Coalmoor Sanitary Pipe Co. Ltd.) made sanitary pipes and fire bricks near Woodlands Farm from 1908 to c. 1948 using fireclay mined nearby. (fn. 228) The company was bought c. 1948 by Coalmoor Refractories Ltd., makers of refractory bricks for the steel industry, for which local fireclays were particularly well suited. In 1951 they acquired the Lightmoor brickworks and transferred their brick-making operations there. In 1980 the company employed c. 150 in both the clay-quarrying and brick-making sides of its activities. (fn. 229) In 1928 the Doseley Brick Co. Ltd. (later Doseley Pipe Co. Ltd.), one of the Johnston group of companies, started to make common bricks at Doseley from the clay overburden in the basalt quarry there. The works changed to making salt-glazed stoneware pipes in 1932 and continued to manufacture vitrified clay pipes until c. 1975. (fn. 230) Sommerfeld Flexboard Ltd., formerly of Trench, occupied the premises from c. 1979. (fn. 231)
Quarries.
Limestone quarries and limekilns in Little Dawley were recorded from 1653 to 1728. (fn. 232) Glacial sands were quarried near Moor Farm, Little Dawley, and in Horsehay dingle in the 19th century. Both pits appear to have been deserted by 1900. (fn. 233)
The Upper Coal Measures sandstone was quarried for building stone in Malinslee. Buildings at Old Park furnaces were of stone from a quarry on Spout House farm in 1791, (fn. 234) and the early 19thcentury cottages at Stone Row were built of large sandstone blocks, probably from the nearby quarry recorded in 1856. (fn. 235) Holy Trinity church, Great Dawley, built in 1845 was said in 1851 to be of local sandstone. (fn. 236)
The Little Wenlock basalt, outcropping at Horsehay, was quarried on a larger scale. The 'Black Rock' or 'Dhu Stone' at Doseley in Horsehay dingle, a tourist attraction in the late 18th century on account of its columnar structure, (fn. 237) was worked for roadstone by the Coalbrookdale Co. by 1894, (fn. 238) in a quarry that appears to have been opened by 1817. (fn. 239) The quarry was leased to the Pyx Granite Co. Ltd. of Malvern (Worcs.) in 1912 (fn. 240) and was acquired c. 1920 by Basalts Ltd., one of the Johnston Bros. group, which had opened another, short-lived, basalt quarry (now called Simpson's Pool) west of Horsehay Cottage in 1919. In 1926 Johnston Bros. opened a concrete plant at Doseley, using the basalt as aggregate. Basalt quarrying at Doseley ceased in 1961 when reserves were exhausted. At about the same date the concrete plant was reorganized to make concrete pipes using aggregate from the company's quarries at Leaton (in Wrockwardine). In 1980 Johnston Pipes Ltd. employed c. 100 people at Doseley. (fn. 241)
Other industries.
In the early 20th century the large slag heaps at Horsehay ironworks were removed by the G.W.R. as hardcore for an Oxfordshire railway opened in 1910. (fn. 242) In the 1920s there was a short-lived revival of activity at the disused ironworks when slag was removed for road metal. In 1920 Dawley urban district council took a lease of the Castle slag mound and installed a slag crusher. (fn. 243) The council continued to sell slag from there in 1931. (fn. 244) Tarmac Ltd. acquired the neighbouring Botany Bay slag mound in 1922, (fn. 245) and Waymack Ltd., another tarmacadam manufacturer, was working the slag mound at Old Park in 1927 and 1929. (fn. 246) The industry seems to have come to an end in the early 1930s.
The void left by the closure of mines and ironworks in the late 19th century was not filled until after the Second World War when several new factories, drawing on local labour but not on local raw materials, were opened. The largest were J. A. Harris & Sons (Old Park) Ltd., an engineering works (employing c. 120 in 1980) at Old Park, opened in 1948; Pyjamas Ltd. (later Clifford Williams & Co. Ltd.), a clothing factory opened in 1953 in the former Malinslee C.E. School buildings, employing c. 200 in 1980 in adjacent new premises on Cemetery Road; EverReady Co. (G.B.) Ltd., a dry cell battery factory employing c. 2,000 in 1980, which opened at Hinkshay in 1956; (fn. 247) and Cuxson Gerrard & Co. Ltd., manufacturers of medical and hygienic supplies at Dawley Bank in the 1960s. (fn. 248) In 1977 Telford development corporation built a small industrial estate at Heath Hill. By 1980 it contained 42 workshops housing manufacturing, warehousing, and haulage businesses, including a number of light engineering concerns. (fn. 249)
Other manufacturing industries in Dawley have included Walter Simmonds's football factory in Chapel Street, recorded from 1905 to 1937, (fn. 250) and Mor-Isis Products, an ice-cream factory at Blews Hill from 1953 to c. 1974. (fn. 251)
Market.
Population increase in the late 18th and early 19th century, and the accompanying growth of Dawley Green (later High Street) as the parish's commercial centre resulted in the establishment of a weekly market and annual cattle fair. A market house had been built at the west end of High Street by 1836, (fn. 252) and in 1844 the Saturday market was said to be well attended. (fn. 253) Nevertheless Wellington market continued to attract many inhabitants of Dawley in the 1860s. (fn. 254) A new market hall with an arcaded façade surmounted by a clock was built opposite the earlier one in 1867. (fn. 255) It was managed by the Market Hall Co. Ltd. and traded principally in foodstuffs. (fn. 256)
The market declined and the hall was sold to Lloyds Bank in 1958. (fn. 257) From 1977 an open-air market was held on Fridays in High Street. (fn. 258)
Telford town centre.
Dawley new town's draft master plan of 1964 recommended that the town's commercial and retailing centre should be on the eastern side of Dawley ancient parish, (fn. 259) but the first phase of Telford town centre was opened farther north in 1973 on the site of Malinslee Hall and the ruined chapel. It contained two large supermarkets and 23 other shops, mainly branches of national retailing chains. By 1979 the shopping centre provided employment for 1,200 people. A second phase, intended to provide another 1,000 jobs, was under construction in 1980. The development corporation built three office blocks in the town centre: Malinslee House, St. Leonard's (from 1979 Walker) House, and Darby House. The largest, Malinslee House, was opened in 1976 and contained offices of Wrekin district council (whose headquarters it became), the local police, and the development corporation. (fn. 260)