Pages 179-181
A History of the County of Shropshire: Volume 11, Telford. Originally published by Victoria County History, London, 1985.
This free content was digitised by double rekeying. All rights reserved.
ECONOMIC HISTORY.
In 1086 the manor of Preston contained a demesne ploughteam and two oxherds, and three villeins with a ploughteam; it was assessed at 1 hide. Its value had fallen from 40s. in 1066 to 20s. in 1086, and there was land available for two more ploughteams. (fn. 1)
In the Middle Ages there was open-field land, as suggested by the mention of the 'field of Preston' in 1412. (fn. 2) 'Preston fields' lay north of the village c. 1580 (fn. 3) and there was open-field land there in the late 17th and early 18th century. (fn. 4) Hoo Hall was sold in 1659 with 'all the field land lying in four fields'. (fn. 5) Some 19th-century field boundaries clearly perpetuated strip divisions (fn. 6) and broad curving ridge and furrow survives north of the village, (fn. 7) but the extent of the field land is unknown.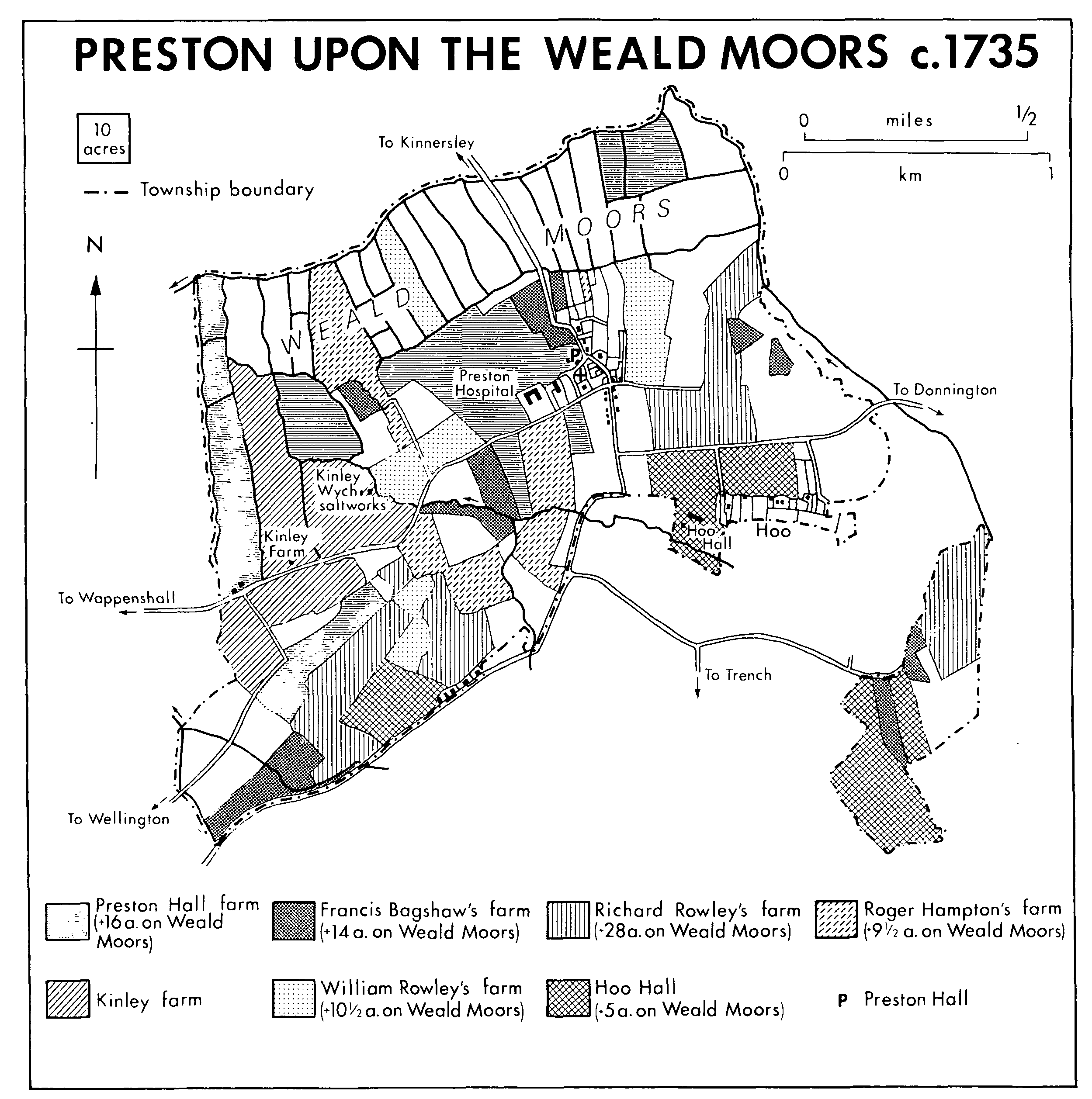 By 1580 most of Preston's Weald Moor boundaries were well defined and there was no intercommoning. Some internal divisions already existed. Wappenshall may have had some detached moorland in Preston township, (fn. 8) possibly the irregular area called Shut moor in 1842. (fn. 9) Part of Hawksmoor was the only part of Preston's moorland available to Preston commoners in 1724. (fn. 10)
By 1724 (fn. 11) the whole parish was divided into farms and smallholdings. The largest was the 193-a. Hall farm, Rowley's farm having 141 a. and Hoo Hall 110 a. Another five farms had 50-100 a., eleven smaller holdings averaging 17 a. each. The regular size and shape of the closes and the division of the farms' lands indicate that a comprehensive inclosure and apportionment of lands had been made. Only Kinley farm was consolidated, its land running down the western edge of the parish. Otherwise the farms had compact groups of closes in three or four areas of the parish: on the central higher ground, in the 'wastes' of the south-west corner of the township, on the Weald Moors, and in the south-east detachment. The preponderance of field names indicating grassland (fn. 12) suggests that pastoral farming predominated at the time of inclosure. Nevertheless in 1682 a farm had c. 10 a. under corn, 17 cattle, and a few pigs and horses, with flax being woven and cheese manufactured in the farmhouse. (fn. 13)
In 1842, apart from one small arable parcel, the Weald Moors were given over to meadow and pasture in about equal proportions. Most of the township south of the moors was arable. The farms were largely those of 1724, although there had been some changes producing rather larger and more compact farms, with fewer of them divided between three or four distinct parts of the parish. (fn. 14)
In 1867 there was still slightly more arable than pasture. (fn. 15) By 1891, however, when sheep andcattle were increasing, there was approximately twice as much pasture as arable, (fn. 16) by 1938 five times as much. (fn. 17) After the Second World War the trend reversed, and in 1981 areas of the Weald Moors were being ploughed.
TABLE VII
Preston Upon The Weald Moors: Land Use, Livestock, And Crops
1867
1891
1938
1965
Percentage of grassland
47
66
83
63
arable
53
34
17
37
Percentage of cattle
25
29
36
75
sheep
59
61
49
0
pigs
16
10
15
25
Percentage of wheat
61
59
74
32
barley
32
33
17
68
oats
7
8
9
0
mixed corn & rye
0
0
0
0
Percentage of agricultural land growing roots and vegetables
23
12
17
18
Sources: P.R.O., MAF 68/143, no. 1; /1340, no. 10; /3880, Salop. no. 130; /4945, no. 130.
Domesday records ½ league of woodland. (fn. 18) It is likely that it was the detached portion of the township, where nearly all the field names indicate woodland; (fn. 19) that portion adjoined the similar woodland detachments of Eyton at Hortonwood and Wrockwardine at Wrockwardine Wood. (fn. 20) In 1616 certain estates in Preston, including Kinley, had pannage rights in the detachment. (fn. 21) By 1724 the detachment had been cleared of woodland and divided into closes. (fn. 22) Kinley farm had no land there, perhaps an indication that the township's inclosure and apportionment took place between those dates.
In 1676 a windmill stood c. 1 km. west of the village, in or near open-field land. (fn. 23)
Salt was produced by two adjacent works at Kingley Wych east of Kinley Farm, exploiting the brine springs, which c. 1800 produced 4-5,000 gallons of brine every 24 hours. (fn. 24) One of the works was owned by the Charltons, the other, the Charity Salt Works, by Preston hospital. Both were first mentioned in 1707, when the latter was owned by Thomas Newport. Little more is known of the Charity works, which probably closed soon after 1736: a very small amount of coal was bought for them that year (fn. 25) but hospital accounts from 1734 included the saltworks without showing any income. (fn. 26)
In 1721 Samuel Stringer surrendered his lease of the Charlton saltworks, and between then and 1730 (fn. 27) they were leased to local mining interests. They were afterwards administered directly by the estate until 1739 when Francis Dorsett began to operate them on his own account, which he did until at least 1760. In 1763 the saltworks were leased to John Briscoe of Wellington, lessee of Kinley farm, and William Ball, described as a salt proprietor of Middlewich (Ches.). The works were redundant by 1799 but a building remained on the site until c. 1960; the brine well was finally filled c. 1970. (fn. 28)
The brine was extracted from a pit, probably by a horse-powered pump; it was stored in cisterns and then boiled in iron pans. Two pans operated in 1721 (fn. 29) using cheap coal from the Wombridge mines. Blood was added to speed evaporation. The salt was moulded and sold retail or wholesale; tolls on the Watling Street turnpike were compounded. In the half year to March 1731, 3,312 bushels of salt were sold, 522 remained in stock. (fn. 30)
Common red bricks were manufactured on the township's southern boundary: a brickworks was noted in 1724. (fn. 31) In 1831 it produced 60,000 bricks and 17,000 tiles, used in the new hospital lodges; (fn. 32) it was reputedly the source of the bricks used in the 1827 additions. The brickworks went out of use in the late 19th century but in 1919 a small beehive kiln remained on the site. (fn. 33)
Sand was extracted north-west of the village before 1887. (fn. 34)