Pages 185-189
A History of the County of Shropshire: Volume 11, Telford. Originally published by Victoria County History, London, 1985.
This free content was digitised by double rekeying. All rights reserved.
MANOR AND OTHER ESTATES.
It is possible that 'Styrcleage', left by Wulfric Spot to Burton abbey in his will of c. 1003, is to be identified with Stirchley, particularly as Longford, with which Stirchley was connected in the 12th century, was also included in Wulfric's gift. (fn. 1) No later connexion with Burton has been found. STIRCHLEY is not mentioned by name in Domesday Book but the later descent of the overlordship of the manor suggests that it was one of the four unnamed berewicks of Longford recorded in 1086. (fn. 2) The Brimpton family, lords of Longford, were recorded as overlords of Stirchley from 1185 to c. 1285 (fn. 3) but no later evidence of the connexion with Longford has been found. By 1375 the overlordship of Stirchley had passed to Richard, earl of Arundel and Surrey, with whose son, Earl Richard (d. 1397), it remained in 1382. (fn. 4)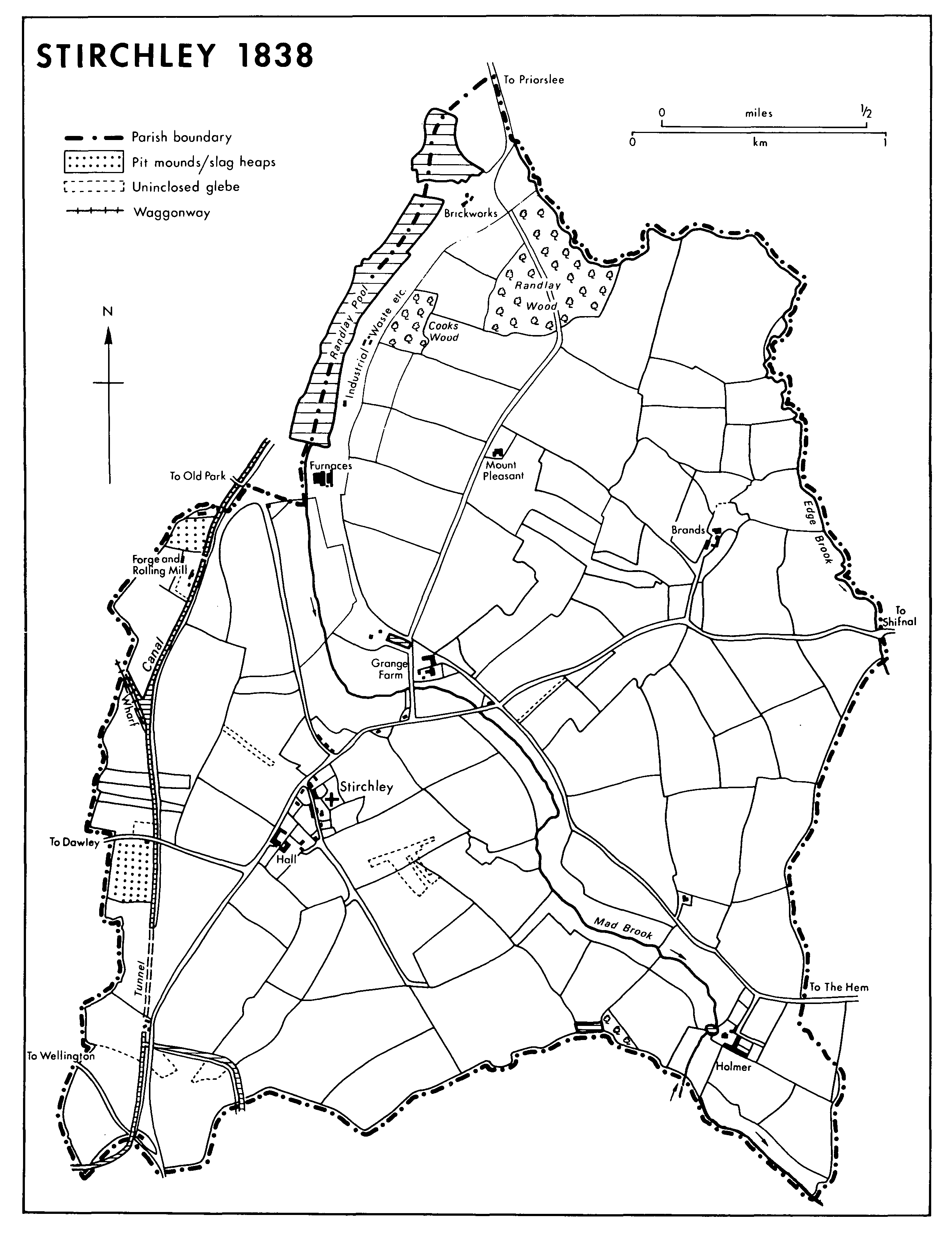 In the late 12th century Stirchley was held of Robert of Brimpton's widow Eve by Bartholomew son of Peter FitzToret. (fn. 5) The mesne lordship passed, presumably by Bartholomew's daughter Joan, wife of Richard Corbet (II) (fl. 1195- 1217), (fn. 6) successively to the Corbet and Burgh families of Wattlesborough. It descended with Wattlesborough (fn. 7) until the partition of Sir John Burgh's estates in 1501, when Stirchley was assigned to his daughter Isabel, wife of Sir John Lingen. A few days later, however, their son John and his cousins John Newport and Thomas Mytton conveyed (inter alia) interest in the wood of Stirchley to their cousin Sir Thomas Leighton of Wattlesborough. (fn. 8)
The undertenant of Stirchley between 1167 and 1180 was Osbert of Stirchley. (fn. 9) He was probably succeeded by Richard of Stirchley, who was recorded from 1203 to 1207 (fn. 10) but was presumably dead by 1208 when the manor was disputed between Osbert, son of William, and Walter of Stirchley. In settlement Stirchley was assigned to Walter for his life with reversion to Osbert and his heirs. It was agreed in 1227 that ½ virgate of land, an assart, and a croft were to pass to Walter's heirs, who would pay a token rent to Osbert in lieu of all services. (fn. 11) Walter died in 1232 and the manor reverted to Osbert (sometimes styled Osbert of Stirchley or parson of Diddlebury). (fn. 12) Osbert granted a plot of land in Stirchley to Wombridge priory, (fn. 13) ½d. rent in the vill to Lilleshall abbey, (fn. 14) and by two separate grants of c. 1243 and 1247 he released the whole manor to Buildwas abbey, (fn. 15) which may have had land at Holmer since the 1220s. (fn. 16) Buildwas continued to hold the manor until its dissolution in 1536. (fn. 17)
By the end of the 15th century most land in Stirchley was in three large holdings, which descended as separate freehold estates after the Dissolution, Grange farm and Holmer farm being the abbey's granges and Stirchley Hall farm being held freely of the abbey. In the 16th and early 17th centuries both the Grange (fn. 18) and the Stirchley Hall estate (fn. 19) were described as manors; the descent of each is treated separately below. Between 1747 and the 1890s the properties were united in the same hands and their owners were styled lords of the manor of Stirchley. (fn. 20) In 1964-5 all three ancient estates were purchased by Dawley development corporation, which thus became owner of almost the entire ancient parish.
STIRCHLEY GRANGE contained 285 a. in the 18th century (fn. 21) but was more extensive before the separation of Brands farm in the mid 17th century. (fn. 22) In 1537 the freehold of the estate was bought, with most of Buildwas abbey's other property, by Edward, Lord Grey of Powis. (fn. 23) Grey settled parts of his estate, including Stirchley Grange, on his illegitimate son Edward Grey of Buildwas, who conveyed them c. 1576 to Sir John Throckmorton, on whose death in 1580 they passed to his son Francis, the Catholic conspirator. (fn. 24) Francis's estates reverted to the Crown on his execution in 1584 and Stirchley Grange was acquired from the Crown c. 1587 by Daniel Rogers, the diplomatist, (fn. 25) on whose death in 1591 they passed to his widow Susan. (fn. 26) Their son, Francis, who held the estate by 1610, (fn. 27) sold it in 1620 to John Careswell of Shifnal. (fn. 28)
The estate had been let on long lease by Buildwas abbey before 1500; in 1534 it was leased in reversion to Richard Cleobury for 95 years. (fn. 29) Cleobury's lease passed to his daughter Margaret, wife of Richard Spenser, and was bought in 1556 by John Forster of Sutton Maddock. The Grange remained in the hands of the Forsters until 1611 or later, despite protracted lawsuits by which the freeholders attempted to gain possession. (fn. 30)
In 1621 John Careswell sold the estate to William Cookes of Snitterfield (Warws.), (fn. 31) with whose descendants it remained until Richard Cookes gave it by his will dated 1725 to his godson the Revd. Richard Phillips. (fn. 32) Phillips sold Grange farm in 1747 to Thomas Clowes, owner of Stirchley Hall, on whose death next year the combined estate passed to his sister Elizabeth, wife of Thomas Hodgetts of Ashwood Lodge (Staffs.). In 1763 Hodgetts devised the estates that his wife had owned to his nephew, the Revd. Samuel Nott, who sold the Stirchley properties to Isaac Hawkins Browne of Foston (Derb.) in 1777. (fn. 33) Browne, M.P. and essayist, died in 1818 (fn. 34) having left the estate to his wife Elizabeth (d. 1839) for her life with reversion to his kinsman Robert Cheney (d. 1820). (fn. 35) By Cheney's will the manor was divided between his children but all shares descended, after the death of his son Edward in 1884, to his grandson Alfred Capel Cure of Badger Hall. (fn. 36) Cure sold the Stirchley estate in 1886 to the Haybridge Iron Co., which later sold Grange farm and Stirchley Hall separately. Grange farm was bought by William Wall in 1896 and changed hands three times between then and its purchase by Dawley development corporation in 1965. (fn. 37)
No remains of the medieval grange buildings survive. Grange farmhouse contains a 17thcentury brick wing with vestiges of stone mullioned windows, to which a cross wing of brick with sandstone quoins was added in the 18th century.
STIRCHLEY HALL farm, a holding of 208 a. in the 18th century, (fn. 38) can be identified with the estate held of Buildwas abbey in the early 15th century by the earl of Arundel and considered in the late 15th and the 16th century to be a member of the Arundels' manor of Dawley. It is not clear how the family came to hold the estate, but it appears to have been acquired by Earl Richard (1330-76), who was overlord of the chief manor. (fn. 39) It is conceivable that the estate represented the holding of 3 messuages and 1½ carucate of land that Walter, son and heir of Walter of Stirchley (life tenant of the manor in the early 13th century), recovered in 1288. (fn. 40) Stirchley Hall descended with the earldom of Arundel until 1560 when it was purchased by Rowland Hayward (kt. 1570). (fn. 41) After his death in 1593 it passed successively to his sons George (kt. 1604, d. 1615) and John (kt. 1619). (fn. 42) Sir John sold the property in 1621 to John Forster of Sutton Maddock, former lessee of Stirchley Grange, and his son Francis. Francis Forster was succeeded by his nephew Francis Forster, who sold Stirchley Hall to Robert Clowes in 1683. (fn. 43) By his will dated 1704 Clowes left the estate to his cousin Thomas Clowes, on whose death in 1740 it descended to his son Thomas, (fn. 44) who purchased Grange farm in 1747 and died without issue in 1748. (fn. 45) Thereafter the estate descended with Grange farm until both properties were bought by the Haybridge Iron Co. in 1886. By 1894 Stirchley Hall had been sold to I. J. Fletcher. He sold it in 1909, and in 1920 it was purchased by J. J. Ward, who sold it to Dawley development corporation in 1964. (fn. 46)
A 'hall of Stirchley' may have existed in the mid 14th century. (fn. 47) The centre of Stirchley Hall's south front represents the 17th-century stone house, which was built or remodelled for M. Forster in 1653 (fn. 48) and then had a three-roomed plan with two storeys, attics, and cellars. It incorporates part of an earlier house, from which the hall ceiling and chimney stack survive. The initials R P on the central boss of the ceiling have been attributed to Roger Poyner, tenant of the house in 1567. (fn. 49) The stack was repaired in 1721 (fn. 50) and the brick western cross wing may have been added about then. Later in the 18th century and early in the 19th century additions were made to the north and at the east end.
HOLMER farm, which included 90 a. in Stirchley parish in the early 19th century, (fn. 51) had been let on long lease by the end of the 15th century (fn. 52) and was bought with Buildwas abbey's other possessions by Edward, Lord Grey of Powis, in 1537. Grey's natural son, Edward Grey, sold it to Francis Newport of High Ercall between 1577 and 1590 (fn. 53) and the property descended with the Newport estates in Shropshire during the 17th and 18th centuries, passing to the earl of Darlington (cr. duke of Cleveland 1833) on the division of the estates in 1808. (fn. 54) It descended to the duke's heirs and was sold by Lord Barnard in 1920. In 1964 the estate was purchased by Dawley development corporation, (fn. 55) and the farmstead was demolished to make way for housing development in the 1970s.
Only two of the late 13th-century undertenancies (fn. 56) in Stirchley manor seem to have been sizeable estates. That of Walter of Stirchley's son and heir Walter, possibly representing the later Stirchley Hall, has already been referred to. The estate of the Perton family, of Perton (Staffs.), (fn. 57) was recorded from c. 1240. (fn. 58) On William of Perton's death c. 1280 it was variously estimated as 59 a. or 1 carucate. (fn. 59) The Pertons were connected with Stirchley as late as 1393 (fn. 60) but definite evidence of their undertenancy there has not been found after the 13th century. Fields named Perton Wood were part of Grange farm in the 18th century, (fn. 61) which perhaps implies that the estate later reverted to Buildwas abbey and was absorbed into its grange.