Pages 296-297
A History of the County of Shropshire: Volume 11, Telford. Originally published by Victoria County History, London, 1985.
This free content was digitised by double rekeying. All rights reserved.
LOCAL GOVERNMENT.
Records of Wombridge court baron survive from 1697, 1708, 1711, 1717, and 1747, the matters dealt with being mainly agricultural. (fn. 1) The manor court also exercised a peculiar probate jurisdiction until 1857. (fn. 2) Priorslee was part of Shifnal manor and parish (fn. 3) and Ketley Bank part of Leegomery manor. (fn. 4)
A lock-up built at Snedshill in 1829 was in use in 1841. Another was built at Oakengates in 1874. (fn. 5) The Priorslee District Association for the Prosecution of Felons, formed between 1879 and 1885, remained in existence until the First World War. (fn. 6)
As in all the coalfield parishes the number of poor rose markedly as economic activity slumped in the early 19th century, (fn. 7) and Wombridge parish expenditure on relief reached a peak in 1817, having doubled since 1816. The number of immigrant workers in Wombridge led to numerous settlement disputes. (fn. 8) Wombridge was included in Wellington poor-law union 1836-1930, and in 1838 the appointment of an assistant overseer was authorized. (fn. 9) Priorslee was in Shifnal union 1836-1930. (fn. 10)
By the early 1890s four fifths of Oakengates town lay in Wombridge parish, one fifth in Shifnal parish. Authorities whose boundaries crossed the town were responsible for sanitary affairs; highway repair; street lighting; weights and measures inspection; magistrates', police, and county court business; and the registration of vital statistics. Properties were variously rated and proposals for a new water supply were held up. Wombridge ratepayers had to deal with sewage and industrial effluent flowing in from Priorslee, and Priorslee children attended Ketley Bank Board School though their parents paid no education rate. The town's principal street, Market Street, was under two highway boards and usually had two different levels; street traders could evade the sanitary inspector's jurisdiction by crossing it. Ten authorities had local government powers in Oakengates, the result of their operations being 'chaos' and the town's reputation for dirt and neglect. (fn. 11)
The creation of Oakengates urban district in 1898 helped to improve municipal government, the U.D. comprising the civil parishes of Wombridge, Priorslee, St. George's, and Wrockwardine Wood. (fn. 12) Nevertheless Oakengates remained under four education authorities until 1903 (fn. 13) and three poor-law unions until 1930. (fn. 14) The urban district council first met at the Coffee Palace but soon moved to rented offices in Market Street. Its offices were in Oxford Street c. 1905-c. 1940, thereafter in Stafford Road. (fn. 15) Wellington U.D. medical officer of health was employed from c. 1966. (fn. 16) Arms were granted to the council in 1960 and included a crest (out of a coronet composed of four laurel leaves set upon a rim or a demi wolf argent collared and lined gold and holding in the forepaws a tower sable the battlements enflamed proper) and the motto Haec sunt nostra robora. (fn. 17)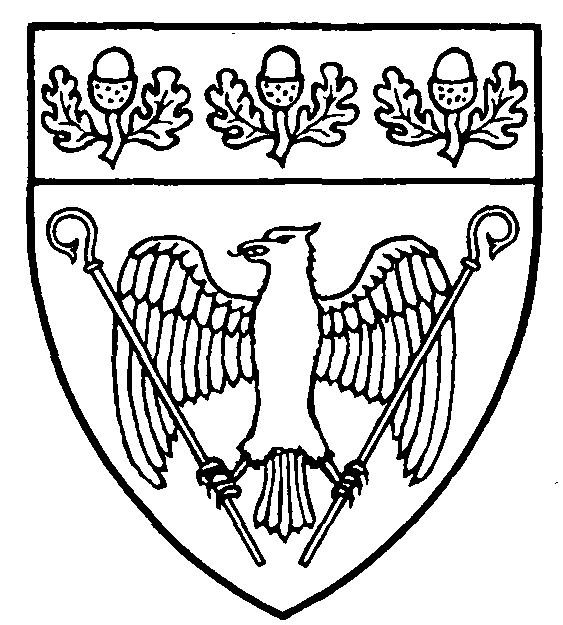 The council's common seal was circular, 56 mm. in diameter, depicting an oak between gates and inscribed (roman) at the circumference THE SEAL OF THE OAKENGATES URBAN DISTRICT COUNCIL. (fn. 18) In the 1960s a new common seal was struck to incorporate the council's arms; it was circular, 50 mm. in diameter, and inscribed (roman) at the circumference OAKENGATES URBAN DISTRICT COUNCIL. (fn. 19) The U.D. was abolished in 1974; thereafter the area, not assigned to any C.P., coincided with three urban wards of the district of the Wrekin, except that the northern part of the former U.D. (Hortonwood) was included with adjoining C.P.s in Hadley ward.
In 1968 Oakengates was included in the designated area of Telford new town. (fn. 20)