Pages 88-91
A History of the County of Shropshire: Volume 11, Telford. Originally published by Victoria County History, London, 1985.
This free content was digitised by double rekeying. All rights reserved.
CHURCH.
There was a church probably by the 12th century. (fn. 1) The living, a rectory when mentioned in the mid 13th century, remained so in 1978 when it was united to two neighbouring livings.
In the later 13th century both the bishop of Hereford and Wenlock priory claimed the advowson. Peter of Langogne was collated before 1268 by his fellow Burgundian, Bishop Peter d'Aigueblanche. (fn. 2) The priory presented its own candidate c. 1278 but Bishop Cantilupe would not admit him. (fn. 3) In 1300, however, Peter of Langogne's successor was instituted on Wenlock's presentation. (fn. 4) The advowson remained with the priory until 1540. (fn. 5) and descended with the manor until 1590 or later. (fn. 6) The Crown presented in 1381 because Wenlock was an alien priory (fn. 7) and in 1571, (fn. 8) presumably because Walter Leveson was a minor. By 1608 the patrons were William Hayward and Maurice Wright, perhaps trustees, who then granted the advowson to Sir George Hayward (fn. 9) (d. 1615). (fn. 10) Sir George's widow was patron (fn. 11) but his brother Sir John held the advowson by 1623 and did not sell it with the manor. (fn. 12) He died without issue in 1636 (fn. 13) and William Hayward (d. 1640), a cousin, (fn. 14) was afterwards patron, succeeded by his son George. (fn. 15) By 1663 William Hayward (d. 1708) was patron. (fn. 16) The advowson descended thereafter with the Haywards' Little Wenlock estate (fn. 17) and was bought by William Forester (d. 1758). (fn. 18)
It again descended with the manor until 1930 when Lord Forester gave a third turn to the vicar of Much Wenlock in exchange for a third turn in the patronage of Broseley with Benthall. (fn. 19) From 1968 the rector also held Coalbrookdale vicarage (fn. 20) and in 1978 both livings were united with Ironbridge, with Lord Forester and the vicar of Much Wenlock among the joint patrons. (fn. 21)
In 1291 the rectory was valued at £4 6s. 8d. (fn. 22) The great tithes were allegedly worth 32s. in 1341, with a high proportion of the rector's income attributed to glebe, small tithes, and oblations. (fn. 23) By 1331, (fn. 24) and until 1608 or later, (fn. 25) the rector owed an annual pension of 20s. to the patron. At first, therefore, the priory seems to have enjoyed much of the rectorial income, without the burden of collection that would have followed appropriation. In 1379 the rectory was worth £5 (fn. 26) and in 1425 less than £6 13s. 4d. (fn. 27) Throughout the 15th century the living was often exempted, on grounds of poverty, from clerical taxes. (fn. 28)
Later the value of the tithes was put higher and was the rector's greatest source of income. The living was reckoned over £50 c. 1708. (fn. 29) In 1819 the tithes alone were worth £505. (fn. 30) In 1632 all were paid in kind except for calves, cows, and lambs. (fn. 31) In 1838 the only tithes not payable in kind were those of hay in Huntington field, customarily commuted; (fn. 32) in 1607 Huntington's inhabitants had yielded the hay of their Tithe meadow in lieu of hay tithes. (fn. 33) In 1722 the rector leased the tithes of wood, bark, and faggots to William Forester. (fn. 34) In 1838 all the tithes were commuted to a rent charge of £551 13s. (fn. 35) The living's value was £550 in 1865. (fn. 36) In 1865 £6 a year from the tithes were intended to be paid to the incumbent of the new Lawley chapel, and in 1867 the parish's northeastern part was taken into Lawley consolidated chapelry (Lichfield diocese). (fn. 37) In 1932 the rector's income was £530. (fn. 38)
By the 17th century the glebe contributed only a slight proportion of the living's value. In addition to the parsonage house it comprised c. 11 a. by 1632. (fn. 39) It was 11 a. in 1818 (fn. 40) but by 1839 was just over 8 a., (fn. 41) of which nearly 5 a. had not been glebe in 1727; (fn. 42) there had been a considerable exchange in 1833. (fn. 43) There were still 8 a. in 1887 (fn. 44) but only 1½ a. by 1929. (fn. 45)
In the 1320s the rector was renting the manor house (fn. 46) but by 1589 there was a parsonage house, (fn. 47) which in 1716 was 'old but well covered'. (fn. 48) In 1713 it had a hall, parlour, kitchen, back kitchen, and buttery on the ground floor, and two rooms above. (fn. 49) In 1980 the Old Rectory, by then a private residence, included a 17th-century hall with a north kitchen and an early 18th-century south parlour. (fn. 50) There were brick additions of 1856 (fn. 51) and later. A new rectory house, completed c. 1958 (fn. 52) just south of the old house, (fn. 53) was sold c. 1973 when the rector moved to Coalbrookdale. (fn. 54)
No pre-Reformation rector is known to have been a graduate, though Thomas Seman received a seven-year licence to study c. 1300. (fn. 55) Richard Fenemor, rector in 1552-3, (fn. 56) was a former monk of Wenlock. By 1555 he was curate of Acton Round. (fn. 57) John Singar, rector, (fn. 58) was living at Bushey (Herts.) c. 1567. (fn. 59) From the late 16th century until the late 19th, as the living became richer, incumbents usually held it until death and there were some long incumbencies.
George Baxter, instituted in 1608, was a graduate and licensed preacher (fn. 60) and a friend of Richard Baxter, (fn. 61) whose convictions he shared. In 1643 the royalist governor of Shrewsbury ordered his arrest (fn. 62) but by 1647 he was Presbyterian minister at Little Wenlock (fn. 63) and was allowed to remain until his death c. 1663. (fn. 64) William Whiston, rector 1690-1713, (fn. 65) was resident at his death (fn. 66) but Thomas Jordan, rector 1713-35, (fn. 67) was believed to be living in Oxford in 1716; he had an assistant curate. There were then two Sunday services, with one sermon in winter and two in summer; communion was held four times a year. (fn. 68) Jordan was succeeded by John Hayward, the patron's brother. (fn. 69) He was perpetual curate of Quatford from c. 1763 (fn. 70) and was buried there in 1786. (fn. 71) An assistant curate was licensed in 1757 (fn. 72) and others were continuously employed thereafter until 1841. (fn. 73) Michael Pye Stephens, rector 1786-1817, (fn. 74) was also rector of Hughley 1777-1803 (fn. 75) and of Sheinton 1803-17. (fn. 76) Related to the Foresters, (fn. 77) he was convivial and fond of field sports. (fn. 78) In 1799 he was living at Barrow. (fn. 79) His curate at Little Wenlock throughout was John Turner. (fn. 80) Turner and his successors lived at the parsonage house. (fn. 81) Dr. Townshend Forester, rector 1818-41, (fn. 82) was presented by his brother. (fn. 83) He was perpetual curate of Benthall 1796-1841, (fn. 84) vicar of St. John in Bedwardine (Worcs.) 1818-41, (fn. 85) and in 1839 lived at Broseley (fn. 86) where he was rector 1799-1841. (fn. 87) Forester's assistant curates at Little Wenlock included G. L. Yate (1818-24), (fn. 88) an Evangelical whose uncle Nathaniel Gilbert had assisted Fletcher at Madeley, (fn. 89) and the antiquary C. H. Hartshorne (fn. 90) (1826-36). (fn. 91)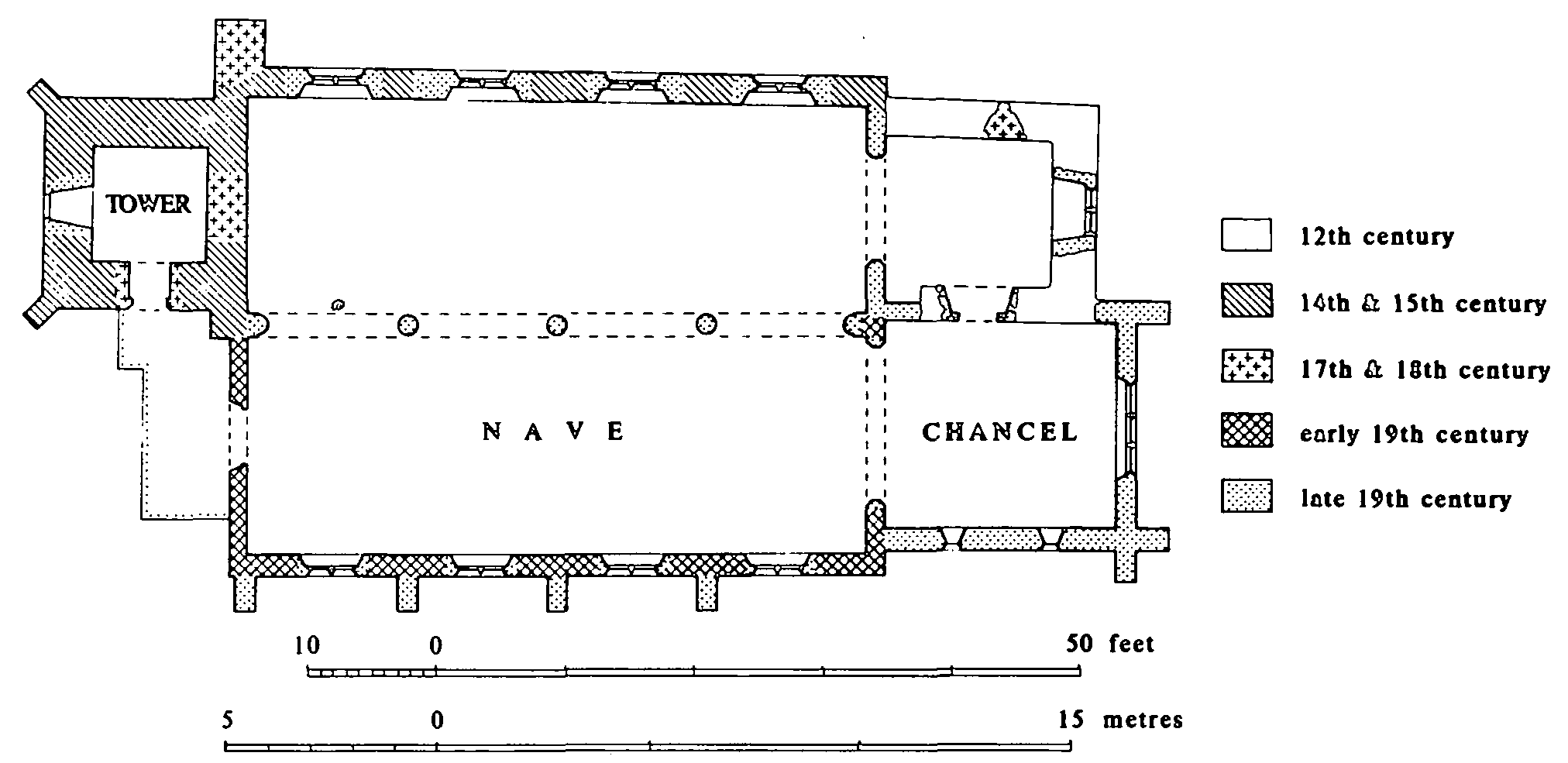 From 1841 to c. 1973 the rectors were resident. George Edmonds, instituted 1841, (fn. 92) had an assistant curate 1846-7 (fn. 93) and for a few months before his death in 1889. (fn. 94) Edmonds was a rich bachelor. (fn. 95) Partly at his own expense he founded the village school (fn. 96) and restored the church. (fn. 97) On Census Sunday 1851 there were 118 adult attenders at the morning service and 67 in the afternoon. (fn. 98) In extreme old age Edmonds was deaf and eccentric and the parish was neglected. (fn. 99) T. A. Nash, rector 1889-98, (fn. 100) an Evangelical of saintly reputation, restored the parish's religious life. He became fatally ill, however, and from 1897 to 1898 employed as assistant curate D. H. S. Cranage, (fn. 101) the antiquary and later dean of Norwich. (fn. 102) J. W. Johnson, rector 1898-1922, (fn. 103) rejected all ritual and, apparently believing in predestination, took little interest in pastoral work. (fn. 104)
In 1980 there was a service every Sunday, alternately in the morning and evening. (fn. 105) Average attendance on ordinary Sundays was c. 20. (fn. 106)
The church of ST. LAWRENCE, so named by 1817, (fn. 107) is built of ashlar, rubble, and red brick and has a chancel with north vestry, nave with north aisle and glazed west porch, and a tower at the west end of the aisle.
The vestry (formerly the chancel), which is exceptionally small internally and has thick walls, has a small blocked window, probably of the 12th century, in the north wall. In the late Middle Ages the chancel's north and south walls were heightened, (fn. 108) its east end was rebuilt, and it received a new roof. The lower part of the north wall of the aisle (formerly the nave) is medieval and has part of a blocked doorway towards its west end. The surviving arch-braced roof of the former nave and most of the windows, which have been replaced, were probably made in the 15th century. The western buttresses of the tower are also of medieval origin but the tower was reconstructed in 1667, when a large buttress was added on the north. In the 18th century a new window was put into the east wall of the chancel and another into the south, (fn. 109) and a west gallery may have been built. (fn. 110) In 1822 a south aisle of brick was added to the nave. (fn. 111) In the period 1875-6 new windows, buttresses, and a porch (extended 1892) (fn. 112) were added to the aisle, and a new brick chancel was built at its east end. The aisle then became the nave, separated from the north aisle by a new arcade of four bays. The old chancel was converted to a baptistery and vestry, connected to the new chancel by making its south window into a doorway, and was provided with a new east window. The north wall of the old nave was rebuilt, with windows to match those on the south. (fn. 113)
The furniture, fittings, and glass date almost entirely from 1876 or later. (fn. 114) A cast-iron grave slab dated 1611, one of the earliest known, (fn. 115) is set in the floor of the old chancel. In 1915 there were five bells, all of 1704 (two recast 1892). (fn. 116) There is a chest dated 1733. In 1961 the communion plate consisted of a silver flagon, chalice, and two patens, all of 1742. (fn. 117) An 18th-century oval stone font (fn. 118) stands in the aisle. The arms of George IV, formerly in the aisle, were stored in the vestry in 1982.
The graveyard, formerly semicircular, (fn. 119) was extended northwards in 1851; it contains several iron slabs of the 18th and early 19th century. In 1944 an additional graveyard off Witchwell Lane was consecrated. (fn. 120)
The registers begin in 1689 (fn. 121) and are complete thereafter.