Pages 26-31
A History of the County of Somerset: Volume 10. Originally published by Boydell & Brewer for Victoria County History, Woodbridge, 2010.
This free content was digitised by double rekeying and sponsored by VCH Somerset. All rights reserved.
LANDOWNERSHIP
THE MANOR of Cary, the head of a barony of the same name, later included Ansford and parts of Pitcombe and may be coterminous with the medieval administrative unit called Caryland. (fn. 1) The Lovels and their heirs, the Seymours and Zouches, held Cary manor for nearly four centuries. The Lovels probably spent some time at Castle Cary where they built a moated manor house. (fn. 2)
There appear to have been early subdivisions within Cary manor. Foxcombe became a separate estate or sub manor probably c. 1100 and unlike most estates in the parish occupied a clearly defined area. By contrast the later rectory estate consisted of tithes and dispersed fields, possibly because land was given to the church at different times. (fn. 3) Clanville was used as a Cary manor dower estate in the 13th century (fn. 4) and became separated from the manor until 1409 when it passed from William Blancpayne to Richard Seymour. (fn. 5) In 1206, Ralph Lovel held a virgate and ferling, evidently distinct from his manorial holding, at Thorn, (fn. 6) an area brought into cultivation relatively late and almost entirely freehold. (fn. 7) In 1351 Sir Richard Lovel held a house and 60 a. at Cockhill, again distinct from his manor. (fn. 8) Some at least of those estates were eventually reabsorbed into the main holding.
Freeholders formed an important element in the pattern of landownership. Three held 2½ virgates in the 13th century, and before the break-up of the manor from the 1680s, a fifth of the parish was freehold. (fn. 9) Most freeholdings lay in the south-west and probably originated in improvement of scrub and marshy land. The sale of manor land from the 1680s resulted in the creation of a few large outlying freehold farms like Lower Clanville, but more small holdings. (fn. 10) By 1810 landownership was fragmented and less than 15 per cent of the parish remained part of the manor. (fn. 11)
CASTLE CARY MANOR
In 1066 Cary was held by Alfsi, a major local landowner who also held Wincanton and Bratton. In 1086 it belonged to Walter of Douai (d. c. 1107) and may already have become the head of a barony. In 1086 two burgesses in Bruton and Ilchester paid rent to Cary manor. Presumably their houses had been granted to Walter by the king. (fn. 12) Walter was succeeded by Ralph Lovel, probably the son or son-in-law of Walter's son Geoffrey, (fn. 13) and Ralph's son Baldwin. Ralph Lovel, successor to the last, held Castle Cary against King Stephen in 1138. In 1147 the castle and possibly the manor were under the control of Henry de Tracy. (fn. 14)
The Lovels recovered the manor and Ralph (d. 1161) was succeeded by Henry (d. 1194), (fn. 15) and Henry's sons Ralph, Henry, and Richard. (fn. 16) Ralph (d. 1207) paid £3 to recover Cary lands held by Vives son of Aaron the Jew against debts. (fn. 17) Henry (d. 1216) held Cary for the service of four knights; two each for Cary and Mortain honors, indicating that the manor had been enlarged. (fn. 18) Henry was followed by Richard Lovel although in 1248–9 Christine Lovel claimed dower. (fn. 19) In 1254 Richard was succeeded by his son Henry (d. 1263), whose widow Eva held a third of Cary barony in dower, and by Henry's son Richard (d. 1264). (fn. 20) Richard's heir was his brother Hugh but his widow Cecily still held Richard's estate in 1280. (fn. 21) Hugh (d. 1291) was followed by Richard, a minor until 1297, (fn. 22) but Hugh's widow Eleanor took the profits of the manor having held it jointly with her husband. (fn. 23) Richard (cr. Lord Lovel 1348) died in 1351, leaving as heir Muriel, daughter of his son James (d. 1348) and wife of Nicholas, Lord Seymour. (fn. 24)
Muriel predeceased Nicholas, who died in 1361, leaving infant sons, Nicholas, who died under age later in 1361, and Richard as heirs to the baronies of Seymour and Lovel. Princess Isabel, eldest daughter of Edward III, held Richard's estate from 1361 to 1376 when he came of age. (fn. 25) Richard, Lord Seymour and Lovel (d. 1401), was survived by his wife Ela (d. 1410) and son Richard (fn. 26) who died in 1409 leaving a posthumous daughter Alice by his second wife Mary who died in childbirth. (fn. 27) Alice was married while a child to William, Lord Zouche (d. 1462) and Castle Cary passed to their son, also William (d. 1468), and his son John, a minor. (fn. 28)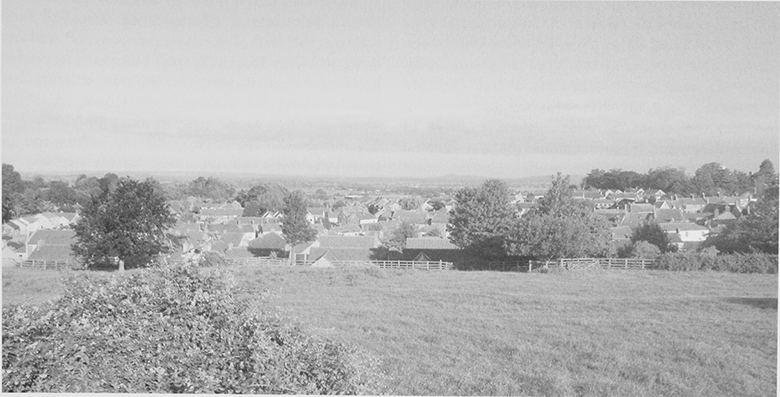 John, Lord Zouche was attainted in 1485 and the manor was granted to Robert Willoughby (d. 1502), created Lord Willoughby de Broke in 1491. Robert was succeeded by his son Robert (d. 1521) whose heirs, all minors, were his granddaughters Elizabeth, Ann, and Blanche, daughters of his dead son Edward. (fn. 29) Their mother Dorothy married William Blount, 4th Lord Mountjoy (d. 1534), who seized the manor, charged with a large debt to the king. (fn. 30) In 1539, following judicial arbitration, the manor was settled on Dorothy for life with remainder to Edward Seymour, earl of Hertford, later duke of Somerset (d. 1552). (fn. 31) After the duke's execution and attainder the manor passed to his son Edward, created earl of Hertford in 1559. In 1612 Edward Seymour secured a release of the manor from Edward Willoughby, great great grandson of Lord Willoughby de Broke, (fn. 32) later unsuccessfully contested by his younger brothers. (fn. 33) Edward Seymour (d. 1621) was followed by his grandson William (d. 1660), created marquess of Hertford in 1641 and duke of Somerset shortly before his death, and William's son, William (d. 1671). John Seymour, uncle and heir to the last, died childless in 1675 when the manor passed to his sister Elizabeth, wife of Thomas Bruce, earl of Ailesbury. Elizabeth sold the manor in 1684 to Anthony Ettrick, his son William, and his son-in-law William Player for £23,000. (fn. 34)
The new owners dismembered the manor, having arranged sales between the contract of 1682 and the 1684 conveyance, selling outlying lands and exchanging parcels with each other. (fn. 35) Player, who bought Cary farm, also bought the fairs and markets, c. 240 a. of poor quality land, and Cary manor land at Hadspen in Pitcombe. (fn. 36) That resulted in some lands being held jointly and some by each alone. (fn. 37) In 1703, following Anthony's death, William Ettrick and William Player divided the manor into Ansford, including Hadspen, and Cary divisions and cast lots for them. Ettrick took Castle Cary and Player took Ansford and thereafter the two men exchanged further land but regarded themselves as joint lords. (fn. 38)
William Player (d. 1723) was succeeded in turn by his sons Arthur (d. 1728) and Thomas. In 1731 Thomas obtained an Act allowing him to sell the estate, except the interests of Arthur's widow Ellen. (fn. 39) William Ettrick (d. 1716) left his mortgaged estates in trust for Rachel, his minor daughter by his second wife Frances Wyndham, with remainder to her older half sister Elizabeth, wife of Philip Boteler. (fn. 40) Rachel (d. 1762) left her share to her servant Ann Powell. Elizabeth Boteler in her will of 1736 gave her reversionary interest to trustees to meet legacies and in 1763 her legatees demanded payment. Elizabeth's heir at law, her kinsman William Ettrick, paid the legacies in 1767 and in 1768 the manor was settled on trustees for him and Ann Powell under a partition agreement. (fn. 41)
In 1768 William Ettrick conveyed his share to Stephen Fox, earl of Ilchester, whose brother Henry, Lord Holland (d. 1774) was Ettrick's tenant of the demesne and chief rents. (fn. 42) The earl had also acquired the Player share from his nephew Revd William Digby who bought them in 1762 and had held courts jointly with Ann Powell. (fn. 43) Those conveyances were later described as 'purported' and the 1768 partition deed claimed that William Ettrick died in 1716 in possession of the whole manor. (fn. 44) In 1770 and 1771 the earl and his relatives sold their interests in the manor to Benjamin and Francis Collins of Salisbury. (fn. 45) Benjamin (d. 1784) and his trustees sold land and put the remaining 440 a. up for sale in 1785 with what was described as three quarters of the lordship and the quit rents, which Benjamin had recovered from Lord Holland. In 1786 the last farms were sold and Sir Richard Colt Hoare bought the Collins' lordship with a few cottages and several rents. (fn. 46)
Ann Powell (d. 1775) left her estate in trust for sale. In 1782 her executor Charles Wray, who had been acting as sole lord of the manor since 1775, (fn. 47) sold her estate to Henry Hoare (d. 1785) (fn. 48) who was succeeded by his grandson Richard (cr. Bt. 1786, d. 1787) and Richard's son Sir Richard Colt Hoare (d. 1838). Thereafter the whole manor, then only 365 a., (fn. 49) descended to Sir Henry Hoare (d. 1841) whose son Sir Hugh (d. 1857) was succeeded by his nephew Sir Henry Ainslie Hoare (d. 1894). Sir Henry Hugh Arthur Hoare (d. 1947), cousin and heir to the last, tried to recover manorial rents in 1904 but in 1918 sold off all the land, notably Manor farm acquired by the Corp family in 1919. Sir Henry and his heirs remained lords of the manor. (fn. 50)
Castle and Manorial Buildings
The motte and bailey castle was probably built in the early 12th century on the site of a later 11th-century ringwork. It was excavated in 1890 to reveal the foundations of a keep 78 ft square, since marked out with pillars, with a small forebuilding and inner and outer baileys. There was evidence of rebuilding, possibly during the civil war in 1130s, and burnt stone may relate to the military actions of 1138 and 1147 when the castle was said to have been levelled. The stone was probably robbed and excavations in 1999 indicated that there had been deliberate ditch filling in the 12th century. (fn. 51)
The medieval manor house lay near Manor Farmhouse (fn. 52) and was moated using water from Park Pond (fn. 53) and perhaps other natural ponds accounting for the irregular shape. The moat, filled in later to create a farm yard and a usable horse pond, (fn. 54) probably also drained an area which was formerly marshy and as such formed a major defence of the castle on all but the east side. The house may have been begun in the 13th century re-using stone from the old keep, but was probably rebuilt at least once. (fn. 55) Richard Lovel held a great feast at Castle Cary in 1328. (fn. 56) The site contained two mills, dovecote, and gardens in 1426 (fn. 57) and was called Manor Place in the 1530s when it was occupied by a servant. (fn. 58) In 1633 the house was described as built 'within the verge of the castle walls' indicating that walling survived. (fn. 59) The late 17th-century house had a cruciform plan and several outbuildings including a large barn. (fn. 60) A detached kitchen was said to have been in existence in the early 19th century near the pond and to have been demolished later. It may be the building to the south–west of the farmhouse in 1839. (fn. 61)
The mansion called Great House with the park formed part of Ann Powell's estate and was sold to Henry Hoare in 1782 although probably then a ruin. (fn. 62) It was demolished before 1808. (fn. 63) There was said to have been an arched gateway with stabling each side and a groined banqueting room used for stores during the Napoleonic wars. (fn. 64) That room was probably the Old Court House used by flax workers in 1770, when it was damaged by fire, and for plays. It was later demolished, supposedly by Sir Richard Colt Hoare. (fn. 65)
Manor Farmhouse, built by Sir Richard Colt Hoare before 1829, was described in 1838 as a small modern house. (fn. 66) It appears to have been built on a rubble platform partly overlying the demolished medieval house. (fn. 67) It is a plain double-pile house with 19thcentury windows in late 17th-century style, and a west wing. Later in the 19th century the farmyard was levelled to form a terrace for new buildings (fn. 68) demolished in the late 1970s for a dairy unit. In the 1990s the farmyard and adjoining cottages were replaced by new housing. (fn. 69)
FOXCOMBE MANOR
Raimer brother of Walter of Douai and Gerard, Walter's steward gave a hide called 'Foxcume', later described as 5 virgates, to Bath priory. (fn. 70) It was presumably held of Castle Cary manor as it was in 1560 and 1682. (fn. 71) In 1268 the priory gave 3 virgates to Luke of Stoke in exchange for a virgate in Clanville to be held of him but which was not recorded again. (fn. 72) Foxcombe probably descended with Luke's estate at neighbouring Galhampton in North Cadbury to Henry Hugyn (d. 1505), his daughter Dorothy (d. by 1535), and her son Thomas who let it for 80 years to William Fry of Membury, Devon, in 1535. William held it in fee as a quarter manor by 1560 (fn. 73) and in 1565 sold it to Robert Sedborough as part of an exchange. (fn. 74) Robert (d. 1593) settled Foxcombe on himself and his wife Frances with remainder in tail male to successive sons but his son Sylvester sold it to Sir Henry Berkeley in 1612. (fn. 75)
Thereafter Foxcombe was held by the Berkeleys with Galhampton and Yarlington and was bought by John Rogers in 1782 (fn. 76) as part of Galhampton manor. The last reference to Foxcombe lordship was in 1808, (fn. 77) when Rogers sold Foxcombe as a single farm (c. 190 a.) to William Dickinson of Kingweston. It descended with Kingweston (fn. 78) until sold in 1927 to William Longman of North Cadbury. (fn. 79)
The manor was territorially distinct from the rest of the parish and had a boundary with gates in 1565. (fn. 80) The house, recorded in 1663, was called Foxcombe Farm in 1782. (fn. 81) It is a 17th-century stone house, originally with three bays and two storeys and attics with ovolomoulded mullioned windows; the fourth bay was added slightly later and to match. A non-domestic rear wing has been incorporated into the house. (fn. 82) Stalls and stables were built in 1808, possibly following a fire in 1804. (fn. 83)
OTHER ESTATES
Lower Clanville
Andrew Russ held the largest farm at Clanville, and also Dimmer Park, as a copyholder of the manor in the 1680s. (fn. 84) He probably bought the freehold of his farm shortly thereafter and as Lower House or Lower Clanville farm it passed before 1721 to John Russ of Clanville (d. c. 1756), who built the house possibly in 1743, his brother Henry (d. c. 1767), and their nephew John Russ (d. c. 1803) who left it to his nephew John Russ Baker who was in America in 1839. (fn. 85) In 1838 trustees sold the farm to Cornelius Wake from whom it was bought in 1860 by Thomas Haine who increased the 62-a. farm to 87½ a. (fn. 86) In 1899 it was sold to Samuel Snook whose family renamed the house Manor Farm (fn. 87) and later Clanville Manor. (fn. 88) The house, in the extreme north-west of the parish, was still occupied by the Snook family in 2002. The farmhouse with two-bay front is now used for bed and breakfast accommodation.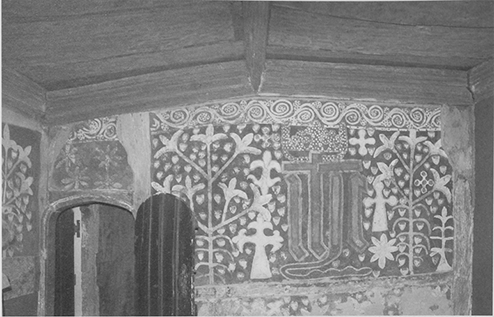 Cockhill
In 1351 Sir Richard held a house and 60 a. at Cockhill, south-west of Castle Cary, of the dean and chapter of Wells by fealty. His successor Nicholas Seymour (d. 1361) was said to hold it of the king by knight service and his son Nicholas, of the prebend of Whitchurch. (fn. 89) Overlordship was not recorded again and the estate was absorbed into Castle Cary manor. (fn. 90)
Lower Cockhill
Lower Cockhill had been a leasehold of Castle Cary manor since 1618. (fn. 91) During the 19th and early 20th centuries it belonged to the Hoares and was farmed by the Allen family with nearly 200 a. (fn. 92) Lower Cockhill farmhouse was probably built in the 18th century but the former service wing to the south is a medieval house, probably dating from the 1430s. (fn. 93) It was ceiled in the 16th century and provided with a room over the entrance, probably an oratory, with an elaborate framed ceiling including a rose boss and fleur de lys and a mural incorporating the IHS monogram. The medieval wing was restored in 1983–5, having been unoccupied for many years, and is now a separate dwelling. A medieval barn was converted to a milking parlour and later became a holiday cottage. (fn. 94)
Higher Cockhill
In 1424 John Cary, clerk (d. 1428), son and heir of William Swyft of Cockhill, gave a tenement and half a virgate at Cockhill, held for life by Walter Michell and his wife Avice, with other land in Castle Cary and Ansford, all held of Castle Cary manor, to trustees. John's heir in 1429 was his aunt Christian, wife of Roger Talley. (fn. 95) Cockhill may be the estate, which Richard Rawlyns held in 1472 in succession to John Cryps and his wife Margaret. (fn. 96) Richard was followed by William Rawlins or Bayly (d. 1516), said to be worth £200 a year, who left his Castle Cary lands to his son-in-law Robert Chicke of Bruton (d. 1542) and Robert's children by Alice (fn. 97) who survived her husband. Her estate, described as Cockhill manor, passed before 1559 to her son William (d. by 1562) and his son Robert Chicke. (fn. 98) Robert and his wife Elizabeth sold off land in 1570 (fn. 99) but retained the main estate until 1581 (fn. 100) or later. Before 1598 (fn. 101) it had been acquired by Edward Davies who in 1603 claimed suit of court to Cockhill from his tenants. In 1612 he bought a roofless tenement called Thorn from Richard Weech, son and heir of John Weech (d. 1579). In 1636 Davies sold his estate to the South family who conveyed it to Matthew Page in 1659. (fn. 102) The Davies family retained a leasehold interest and another Edward Davies was described in 1651 as a decrepit delinquent aged 60, in prison and in debt having surrendered his estate. (fn. 103) Page sold Cockhill in 1661 to trustees for Thomas Craddock (d. 1708) who settled it on his wife Dorothy (d. c. 1719). The last of their children, Robert Craddock, died in 1746 and the estate was subject to litigation. The heir was a great nephew George Craddock, an infant, (fn. 104) probably the Mr Craddock with a substantial estate in 1767. (fn. 105) The Court of Exchequer ordered its sale that year. (fn. 106)
Most of the Craddock estate at Cockhill was acquired by Samuel Burge of Dimmer (fl. 1798) and became known as Higher Cockhill farm (c. 70 a.). Samuel was followed by Mrs Young in 1830 and John Oldest in 1839. (fn. 107) The farm passed through many hands and had been divided by 1891. (fn. 108) The house was rebuilt after a fire c. 1852. (fn. 109)
Dinder Prebend
In 1735 c. 15 a. in Castle Cary near Cockhill was bought for Dinder prebend (fn. 110) and was part of Dinder glebe in 1923. (fn. 111)
Thorn
Thomas and John Gregory (d. 1429) held estates in Castle Cary and in 1469 John's stepson Richard Weston settled land in Thorn on William Weston. (fn. 112) Thorn appears to have descended to Margery Gregory, wife of John Abarrow of North Barrow (d. 1538), (fn. 113) and to John Abarrow (d. 1590). Anthony Abarrow (d. 1637), son of the last, and his son Henry (d. 1671) were among the highest subsidy payers in 1624 and 1641. (fn. 114) Henry's brother Hercules (d. 1675) was followed by Lewis Dinghurst (d. 1676), probably son of Henry's half sister Alice Abarrow (fl. 1641), wife of Lewis Dinghurst (d. 1640). Another son of Alice, Anthony Dinghurst of Clanville (d. 1695), (fn. 115) held 240-a. of freehold land, but no house, at Thorn in 1682. (fn. 116) His grandson Anthony Dinghurst (fl. 1738) (fn. 117) sold Thorn in 1741 but retained the house and land at Clanville. (fn. 118) The new owner Andrew Daubeny therefore built a farmhouse, probably between the 1780s and 1808 in the former Thorn field, (fn. 119) later known as Higher Thorn Farm. Between 1835 and 1839 he was succeeded by James Daubeny. (fn. 120) By 1851 it had been acquired by the tenants, the White family, who owned 268 a. in 1896 and 1910. (fn. 121) In 1920 it was bought by Somerset County Council for smallholdings. (fn. 122)
Robert Sedborough of Galhampton (d. 1593) held estates described as Thorn and Cokehayes manors, (fn. 123) possibly the freehold at Thorn held by John Fry in 1566. (fn. 124) Robert mortgaged his estate in 1581 to James Morren who obtained the freehold before 1602 when he sold it to Wolstone Foster. Charles Kendall bought it from Foster and settled it on his son John in 1624. John (d. 1631) was succeeded by his son John, a minor, who in 1666 conveyed it to Edmund Gregory of Thorn. (fn. 125) Edmund probably inherited Great and Little Thorn, bought by Henry Gregory in 1620 (fn. 126) and 1621, held a small copyhold there, and made further purchases between 1687 and 1693. (fn. 127) Edmund (d. 1697) left his estate to his great-nephew Edmund (fl. 1703), younger son of Lionel Seaman (fn. 128) but by the early 19th century the estate, known as Lower, later Little Thorn farm, (fn. 129) belonged to the Thring family of Alford. (fn. 130) Before the early 20th century the house was divided into four cottages for North Leaze farm, North Cadbury. (fn. 131)