Pages 78-109
A History of the County of Somerset: Volume 4. Originally published by Victoria County History, London, 1978.
This free content was digitised by double rekeying. All rights reserved.
MARTOCK
The ancient parish of Martock, with ten tithings, is one of the largest in the county. It lies 5 miles north of Crewkerne, 3 miles south of Somerton, and 4 miles south-west of Ilchester. Probably in origin a royal Saxon estate, it had its own market and fair from the 13th century and, with the expansion of river traffic, it became a significant trading centre, although constituting a group of individual settlements which looked chiefly to agriculture for their support. In 1633 it was noted as being 'seated in the fattest place of the earth of this county, especially for arable, which makes the inhabitants so fat in their purses'. (fn. 1) With the break-up of the capital manor, which had begun as early as the 13th century, there remained no substantial estate to dominate the parish and thus no resident gentry. The farmers ruled Martock, as a 17th-century writer noted. He described them as 'wealthy and substantial men though none of the best bred, which is the cause their neighbours slander them with the title of clowns; but they care not much for that, knowing they have money in their purses to make them gentlemen when they are fit for that degree'. (fn. 2) With the expansion of the clothing trade in the 18th century and the establishment of a number of manufacturing concerns in the 19th, Martock became and has remained an industrial centre somewhat at variance with its rural environment.
The ancient parish was probably once triangular in shape, bounded by the Yeo (called locally Load river in 1417) (fn. 3) to the north, the Parrett to the southwest, and the Foss Way to the south-east. By the 10th century the north-western extremity had become the parish of Muchelney and the northeastern part of Tintinhull. (fn. 4) Thereafter the parish stretched 5¼ miles from north to south and 3½ miles from east to west, and measured 7,226 a. In 1895 the civil parishes of Ash (comprising the former tithings of Ash, Milton, and Witcombe) of 1,959 a. and Long Load of 1,451 a. were created. (fn. 5)
The highest ground lies in the south part of the parish, rising above 200 ft. at Halletts Hill, and east of the centre, where it climbs to 189 ft. at Ash. The higher areas lie principally on the silts and marls of the Pennard Sands, with some Lower Lias in the north-east and an outcrop of Yeovil Sands between Cripple and Ringwell hills on the south. They were chiefly devoted to arable and constituted the open fields of the various settlements. Between the two higher regions a shallow valley carries Mady mill stream and Hinton Meads brook from east to west to join the river Parrett, and dwellings in this part of Martock are still subject to periodic flooding. The remainder of the parish, beside the Parrett to the west and the Yeo to the north, is alluvium below the 50 ft. contour, and those areas formed the medieval pastures and meadows. (fn. 6) The low-lying ground has always relied much on artificial drainage, a medieval feature being the 'lakes' into which many of the ditches ran, particularly in the north around Long Load.
The principal route through the parish runs from Crewkerne in the south, enters the parish from the Foss Way between Halletts and Ringwell hills, and meanders north through Bower Hinton, Hurst, across Hurst Bow, through Martock, Stapleton, and Long Load, crossing the Yeo at Load Bridge and continuing north to Long Sutton and Somerton. A road from Gawbridge Bow across the Parrett in the west, linking with roads from Kingsbury Episcopi and East Lambrook, runs east through Coat, Stapleton, and Ash to meet the Foss Way at Tintinhull Forts (called Tintinhull Forches in 1692), (fn. 7) continuing to Tintinhull and Yeovil. With East Street, running east from the centre of Martock and then south-east to Cart Gate on the Foss, those roads were adopted by the Martock turnpike trust at its formation in 1760–1. (fn. 8) The link with South Petherton from Carys mill bridge over the Parrett in the south-west to Hurst Bow was similarly adopted in 1802–3. (fn. 9) Turnpike gates towards the west end of Coat and north end of Long Load had been built by 1811, and a toll gate and cottage at the cross-roads south of Long Load by 1815. (fn. 10) The Foss Way, forming the whole of the south-eastern boundary of the parish, was known as the Dyed or Dead Way by 1697. (fn. 11)
There are two major bridges in the parish. Gawbridge Bow occurs in 1243 as Gavelbrig. (fn. 12) During the Civil War it was removed by the Parliamentary forces for military reasons (fn. 13) and between 1648 and 1677 was repeatedly presented, with Load Bridge, as a county bridge requiring repair. (fn. 14) Load Bridge was mentioned in 1338 (fn. 15) and is a late-medieval bridge of five arches. The centre arch has been renewed, probably to repair similar military damage.
A branch of the Bristol and Exeter railway, linking Taunton and Yeovil and passing west-east through the centre of the parish, was completed as far as Martock station in 1849, but was not opened until the line was extended to Hendford near Yeovil in 1853. Both line and station were closed in 1964. (fn. 16)
Martock, the site of the church, was the primary settlement, and the strength both of the capital manor and of ecclesiastical patronage prevented the subsidiary hamlets from acquiring parochial status until the 19th century. The hamlets generally preserve their plans as nucleated or linear settlements surrounded by the former open fields, with a few outlying 19th-century farms built subsequent to inclosure.
LONG LOAD, recorded as Lade in the later 12th century, (fn. 17) developed along a spur above the 50ft. contour on both sides of the main road north to Somerton, the street being built-up for about a mile to the south of Load Bridge. The three former open arable fields were on the higher ground and occupied the whole tithing south of the village. Church Hay field (North field in 1551, Chapelhayfield in 1646) and Littlefield (South field in 1551) lay to the west of the street, and Mare field (East field in 1551, Mearefield in 1646) to the east of it. (fn. 18) The low-lying areas in the north-west of the tithing beside the Yeo were occupied by the three 'moors' or common pastures, Outmoor, Foremoor (both so named in 1551), and Rottenham (Rodenham in 1379, Ratnam in 1556). (fn. 19) Meadow land lay at Barland (Berelond in 1505) and Gosham (so called in 1440) in the north beside the Yeo, and at Mare mead, north-east of Mare field. (fn. 20)
From the church in the centre of the village Load Lane (Churchey Lane in 1507, West drove in 1636) (fn. 21) runs west to Muchelney, formerly giving access to the 'moors' in the north. South of the village Wetmoor Lane (Wottewey in 1388, Whetweys Wey in 1561, Whettens Lane in 1690) (fn. 22) runs west to join Load Lane, serving common pastures outside the tithing, including Wetmoor in the north-west corner of the parish. The southern limit of the tithing is marked by a cross-roads called Yarley Nap in 1811, formerly the site of a toll gate. The road to the west was known as Southay Lane by 1740 and to the east, leading to Milton, as Paynes Lane by 1886. (fn. 23) Both were called Yalwey in 1506 (Yalwaies Waye in 1559, Yollowe Way in 1597). (fn. 24)
The irregular western boundary of the tithing between Load and Wetmoor lanes was probably formed by allotment following inclosure between Martock and Load tithings. (fn. 25) Withybeds lining the north-western boundary of the tithing and surrounding Rottenham were known locally as 'werbers' or 'weerbeares' by the 17th century. (fn. 26)
Stathes or wharves on the Yeo north of the village were mentioned in 1448 and 1552, (fn. 27) and the field name 'Coleplott', sited by the river in 1672, (fn. 28) suggests one of the principal commodities landed. The firm of Stuckey and Bagehot of Langport had a coal-yard north of the river in Long Load's Kingsmoor allotment in 1824, and there was a salthouse there in 1841. (fn. 29) South of the bridge and on the west side of the street stood the Bridgehouse, mentioned in 1379 and held in 1420 by the rent of 1 lb. of wax. (fn. 30) It was occupied by John Bradford, boatman, in 1485–6, and continued to be held by the Bradfords until at least 1668. (fn. 31) By 1776 the site was occupied by a stable and coal barton. (fn. 32) The principal farms all lie along the main street, although settlement on the highway waste along the south side of Load Lane had started by 1647. (fn. 33)
It is noticeable that whereas lias predominates in the older buildings along the northern half of the street, the use of Ham stone increases towards the south. There are several 17th- and 18th-century buildings, mostly on the west side of the street and few of any size, but most of the houses are 19th-century. There are some 18th- and 19th-century buildings in Load Lane, much of which has more recently been developed as a chalet and caravan site.
MILTON tithing, formerly known as Milton Fauconberg or Falconbridge, lies east of Long Load; as 'Middleton' it occurs from 1284–6. (fn. 34) The hamlet is strung out along a lane running north from the Gawbridge-Tintinhull road to a cross-roads. Thence lanes run west to Long Load, east to Witcombe, and north to the former open fields. Former common meadow and pasture, Milton Leaze and Milton mead, lie on the lower ground in the north beside the Yeo. Three open arable fields were mentioned in 1318: West field (North field in 1608, North or Lower field by 1786) lay immediately north of the village, East field (Middlefield in 1786) east of the village, and Rycroft (Highcroft field in 1786) south and south-east of the village. (fn. 35) Fields called Loxhill immediately north of the settlement mark the site of Lockeshull, a hamlet in 1268, and referred to as a manor in 1348. (fn. 36)
Milton and Manor farms, the two principal farms in the tithing, lie at the northern end of the village, and at its southern extremity Court cottage, formerly the manorial chapel, stands next to the old pound and probably adjoins the site of the former manorhouse. Fields in the south of the tithing (and also in the south-west of Ash tithing) called Gildons were evidently once linked with a capital messuage of that name recorded from 1554. (fn. 37) The principal farmhouses are of the 17th century and there are a few smaller 18th- and 19th-century houses.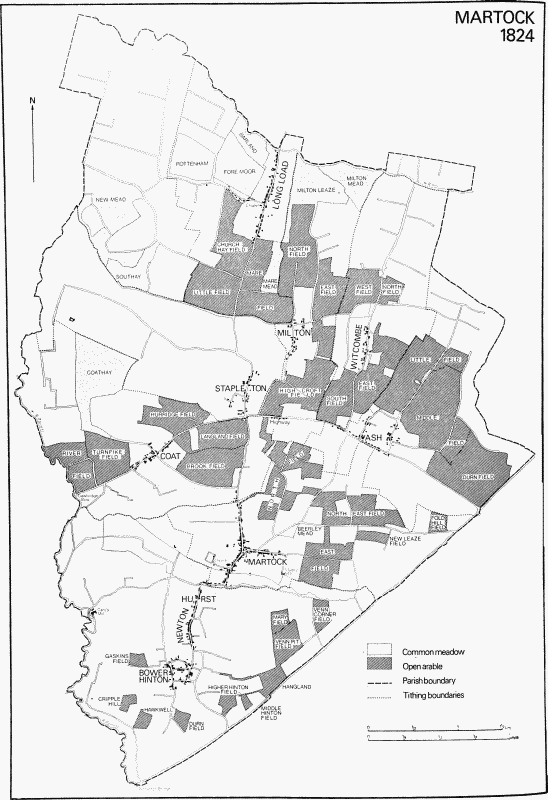 WITCOMBE tithing, east from Milton, occurs in 1243 as 'Wythicumbe', (fn. 38) and like Milton extends north to the Yeo and south to the Gawbridge—Tintinhull road. From this road Witcombe Lane, later Witcombe drove, runs north to the Yeo and over Witcombe bridge to the Martock allotments in Kingsmoor. There was a bridge at Witcombe giving access to Kingsmoor by 1543, and one there and at Milton by the late 16th century, also used by Ash tithing, for which the inhabitants paid rent to the lord of Somerton manor. (fn. 39) Witcombe bridge and its gate continued to be presented at Kingsmoor court until 1757. (fn. 40)
Lanes and droves give access to fields east and west of Witcombe Lane. Meadows and pastures, as at Milton, lie in the north towards the river. Of the four 18th-century open arable fields, West and North fields, on either side of Witcombe Lane north of the village, were probably once a single field in a three-field system; South and East fields occupied the whole tithing east and south of the village. (fn. 41) The village itself lies along Witcombe Lane and is the only area of settlement in the tithing. Witcombe Manor farm, the former manorhouse of Witcombe and Coat, is on the west side of the lane. The principal houses are of 17—th-century origin with stone-mullioned windows and some with thatched roofs. Smaller 18th- and 19—th-century houses are scattered along the main street but there has been almost no modern development.
ASH tithing occupies the north-eastern corner of the ancient parish, extending irregularly south of the Gawbridge-Tintinhull road, and was mentioned as 'Esse' in 1225. (fn. 42) The village lies along and north of the road, although formerly comprising two hamlets on parallel lanes running north. The western settlement represented the manor of Ash Boulogne and the eastern that of Pykesash. Later development has taken place along the main road, linking the two hamlets and extending west to the 19th-century church and school. Apart from one lane running south-west to Martock most of the tracks are field droves. Meadow and pasture land lined the northern and western boundaries in the lower areas of the tithing. The medieval fields lay 'towards Ilchester', 'towards Tintinhull', and 'above the town'. (fn. 43) Littlefield (North field in 1622 and 1704) lay north of the village, Middle field northeast, and Durnfield (East field in 1622 and 1704) to the east. (fn. 44) With the exception of Durnfield farm, a 19th-century creation in the inclosed fields, all the farm-houses lie in the village. Fields called Maynes in the south-east of the tithing, south of the Gawbridge-Tintinhull road, evidently represent lands held by Robert Mayne in the later 14th century and called Ashmaynes in 1563 and 1596. (fn. 45)
There is a scatter of older houses, mostly of the 18th and 19th centuries, along the main road, but the main concentration of early buildings, including perhaps six of the 17th century, is along Burrough Street to the east. There is also an estate of 20th—century houses at the south end of this street, some modern infilling along the main street, particularly on the south side, and a Local Authority estate to the west of the village. Ash House has a main front of c. 1700 with mullioned and transomed windows and is built to an L-shaped plan. It was extended and refitted in the earlier 19th century.
STAPLETON tithing, recorded in 1195, (fn. 46) stretches west from Milton to a stream marking the western boundary of Martock parish, abutting south on Coat and north on Southay Lane. The south-western boundary is formed by the Gawbridge-Tintinhull road, from which at Stapleton Cross (formerly Towns End) the road to Long Load and Somerton runs north through the village. Town Tree Lane runs west, then north-west, formerly served the fields, and from 1239 was a right-of-way to Muchelney abbey. (fn. 47) West Street, so named in 1737, (fn. 48) runs west from the centre of the hamlet to serve fields in that direction.
Open arable was restricted to the higher ground in the eastern half of the tithing: East field lay east of the road to Load in the north-east corner, North field lay west of the road between Southay and Town Tree lanes, and West field was immediately west of the village. (fn. 49) A large area in the south of the tithing called Lords field may represent former demesne arable or possibly a park mentioned in 1670. In the western half of the tithing, towards the Parrett, pastures lay along both sides of Town Tree Lane, and beside the stream forming the western boundary of the parish lay Stapleton mead. (fn. 50) There in the early 19th century Stapleton Mead Farm was built. (fn. 51) Stapleton manor-house lay in the middle of the village, north-west of the junction of the main road and West Street.
The concentration of houses, most of which are small and close to the street, is around the crossroads. A few are of 17th- and 18th-century origin but most were built or remodelled in the 19th century. Stapleton House was built in the late 18th century, perhaps as a farm-house, and enlarged to the west and aggrandized c. 1825.
COAT tithing, mentioned in 1225, (fn. 52) lies south of Stapleton, extending from the Parrett in the west to beyond the Martock-Somerton road in the east. The road to Tintinhull crosses the tithing from Gawbridge to Stapleton Cross, passing through the village, and Coat Road runs south-east from the village cross-roads to the former Martock station. The fourth arm of this cross-roads, Cripple Street, heads north-west towards Coathay, the former common pasture of the tithing, and Coat mead, once common meadow, in the west beside the Parrett. Open arable lay east, north, and west of the village: to the west, and north from Gawbridge, lay River field and Goar or Turnpike field (together called Middle field in 1555), to the north lay Thornhill, to the north-east Hurridge field, and east, and south of the Gawbridge-Tintinhull road, lay Langland (Langland and Down in 1555) and Brook or Lavers fields (Brookfurlong in 1555), (fn. 53) the last two being separated by Dead Brook (so called in 1675). (fn. 54) In the south-west of the tithing beside the Parrett is Sash hill, formerly Says hill, and probably held by John de Say in the 14th century. (fn. 55) The village lies principally along the Gawbridge—Tintinhull road east and west of the cross-roads. All the farms are in the village and the pound lies a little east of the cross-roads on the south side of the main road. A common bakehouse and oven were built to the east of 'the cross' in 1461. (fn. 56)
The village is notable for the number of substantial farm-houses which dominate the southwestern end of the street. Most are of the later 17th or early 18th centuries and several have plans which incorporate rooms additional to the three-roomed type which is traditional in the area. There are also a number of two-storeyed barns with a tall loading bay against one end.
Coat tithing includes the buildings south of Stapleton Cross, comprising four shops in 1824, (fn. 57) and shares with Milton a hamlet called Highway by 1604. (fn. 58) Highway grew up along the side of the Gawbridge-Tintinhull road between Stapleton Cross and Ash and was sometimes called Stapleton Highway. The main settlement of Martock has extended north into Coat to cover the medieval hamlet of Limbury, recorded in the 13th century and as a personal name in 1366, (fn. 59) which lay in the south-east of the tithing, south of Coat Lane and west of North Street. The name survived in fields there in the early 19th century. (fn. 60) The later settlement of the site was due principally to the coming of the railway and the development of an industrial estate around the railway station.
The tithings of HURST, mentioned in 1281, (fn. 61) and BOWER HINTON, which occurs as 'Hanton Mertoc' in 1225 and 'Burhenton' in 1280, (fn. 62) are physically inseparable. Together they occupy the whole southern end of the parish beyond Coat and Martock tithings, from which they are divided by Mady mill stream and Hinton Meads brook. The Foss Way borders the tithings along the south-east and thence the main road through the parish runs north-west, entering Bower Hinton at Jordans Hole (recorded in 1734). (fn. 63) The principal settlement lies along this road and on three lanes running west from it: Blind Lane (so called in 1555), (fn. 64) Middle Street, and Higher Street. A fourth lane runs north along the western edge of the village to form a simple grid pattern. Droves run east and west from the village to serve the former open fields. The main street continues north through Newton and Hurst to Hurst Bow (mentioned in 1727), (fn. 65) spanning Hinton Meads brook. From the bridge a road runs east, leaving the parish by Carys mill bridge over the Parrett. From this road other droves run north-west and south to serve the fields.
The open arable fields lay on the higher ground, Hurst and Bower Hinton evidently sharing one field system. East field (North-east field in 1644, Church Path field in 1758) lay east of Hurst, north of Dimmocks Lane, and north-west of the Foss Way; South field (South-east field in 1644, Middle field in 1758) occupied the area south of Gastons and Dimmocks lanes, bounded by South Leaze drove in the south-west and by the Foss Way; West field (Millfield in 1736) lay west of Hurst and Newton between the road to Carys mill bridge on the north and Gastons Lane on the south. (fn. 66) Common meadow lay on the lower ground, principally at Hinton mead and Ham in the extreme north-west of the tithings beside the Parrett and the brooks. Pasture was shared at Wetmoor and in small areas such as Hills. Inscribed stones formerly marking the ownership and site of strips have been found in areas once part of South field. (fn. 67)
The centre of the original settlement at Bower Hinton apparently lay at the junction of the main street with Blind Lane and Middle Street, marked by a small green and a group of trees known as Park Trees in 1690. The trees belonged to the lord of Martock and are now known as Pair Trees, from which one of the adjacent farms takes its name. (fn. 68) The tithing pound lies opposite the west end of Middle Street and all the farm-houses and farm buildings lie in the village. Sparrow's Electrical Engineering factory, formerly the Somerset Wheel and Wagon Company, lies at the entrance to the village in the south-east.
Between Ralphs Lane in the south and Goggs Pool Lane (Gogs Pool gutter was mentioned in 1752) (fn. 69) and the turning east to Lovers Grove in the north lies the medieval hamlet and tithing of Newton, mentioned in 1327. (fn. 70) This represents early infilling along the main street between Bower Hinton and Hurst with over 40 cottages on equal plots of ½ a. each. (fn. 71) Cottages at Hozen Hole (Ozen Hole in 1555, Osinghole in 1644, Lowzie Hole in 1714), (fn. 72) north of Hurst Bow at the west end of Water Street, were included in Newton tithing by 1555 and may have been built on the waste at a similar date. (fn. 73) There has been a glove factory in this area since the earlier 19th century. (fn. 74) Newton tithing was mortgaged as a unit in 1628 and was mentioned as a topographical area as late as 1827. (fn. 75)
Hurst hamlet lies between Goggs Pool Lane in the south and Hurst Bow in the north, and is restricted to dwellings along the main street. A field west of the settlement called Rack Close and the 'cloth hall' at Hurst Barton support the many references to Hurst clothiers in the 18th and early 19th centuries. That part of Bower Hinton which contains the older houses lies in the south along the main road close to the top of the hill and along Middle and Higher Streets. There are six or seven 17th-century houses, most of which were or still are associated with farms. One, now called Bower House but formerly the Red Lion inn, has plasterwork in a first-floor room dated 1632. In this area there are also a number of other 18th- and 19th-century houses, but the main 19th-century expansion was down the main street to connect with Hurst, houses in the former tithing of Newton being then mostly rebuilt. Most of these houses are smaller and terraced, one notable gap having been filled within recent years. Hurst contains a number of later-17th- and earlier-18th-century houses of traditional plan, some of which have canted baywindows. Most of the street is infilled with smaller houses of the 19th century.
At Cary mill bridge a medieval mill or mills expanded during the 19th century to form the nucleus of an industrial complex called the Parrett Works, used in 1976 principally for warehousing. The surviving buildings are irregularly arranged around several yards with the mill stream at the western edge and are of various dates. Most are of two storeys and probably 19th century. The principal exception is an early-18th-century mill of four storeys which abuts the northern wheel house. Immediately to its south there is a boiler house with a tall square chimney of the later 19th century. To the north of the road there is a short terrace of later—19th-century houses, presumably built for workers.
The tithing of MARTOCK lies east of the centre of the parish, bounded on the north by Coat, Stapleton, Milton, Witcombe, and Ash, and divided from Bower Hinton and Hurst in the south by a stream. The main street runs east from Hurst Bow as Water Street, so called by 1728 from its propensity to flood. (fn. 76) It then turns north as Church Street across Pigs Bow, mentioned in 1729, (fn. 77) to the church and market house, and continues as North Street, so named in 1761. (fn. 78) At the junction of Church and Water streets a lane formerly called Crowdway crosses the stream at Frickers bridge (Friggers Bow in 1811), described as 'new' in 1780, (fn. 79) and heads eastwards towards Stoke sub Hamdon. East Street runs east from the market house through the Green to link up with a network of droves and lanes serving the former open fields. From East Street Summer Lane, so called in 1730, (fn. 80) runs north-east, continuing as Beerly (or Barley) Road to Ash, with further field droves branching from it.
The open-field system was disrupted at an early date by piecemeal inclosure. North field (called West field in 1732 and Steps field, the name of one of its furlongs, in 1785) lay north of the town and west of Beerly Road; North-east field (often called East field or Middle field) lay west of Beerly Road, being divided by Foldhill Lane from East field (formerly South field), which extended south to Madey mill stream. (fn. 81) Common meadow and pasture lay detached in the low-lying area in the north-west of the parish. (fn. 82)
The north end of Church Street has a few substantial houses of the mid 18th to mid 19th century. The south end and the east of Water Street have none earlier than the mid 19th century, but there are one or two earlier houses of a more substantial character at the west end of Water Street. East street has a scatter from the 17th to the 19th century. Those of the 17th century include several of note, including Yew Trees, which has the usual 3-roomed ground plan with a twostoreyed bay-window to the central room. The main area of council housing and other modern development lies north-east along Summer Lane and Beerly Road. In North Street 17th-century houses are limited to an area immediately north of the market house and to two isolated examples, nos. 85–7, 97, 99, further away from the centre, and a farm-house on the west side at the northern limit of Martock tithing. There are no 18th-century buildings of note, but during the 19th century both sides of the frontage from the market house to the stream came to be built up almost continuously, mostly with small houses which form irregular terraces. There is also a group of mid- to late-19th-century houses around the former railway station. Development beyond the station into Coat tithing has largely taken place during the 20th century and some houses and a shopping precinct have been built on fields behind the street frontage. Further building was in progress in 1974.
A small freehold, later a manor, called Fenn or Fenns, first mentioned in 1243, (fn. 83) lay in the extreme south-east of the tithing beside the Foss Way, its name surviving in fields called Venns and Venn bridge.
Licences to sell ale in Long Load manor were granted in 1490, 1556, and 1557, and a victualler occurs at Coat in 1607. (fn. 84) The oldest inn is probably the George in Church Street, mentioned by name in 1631 and possibly referred to in 1617 when the inhabitants petitioned for the closure of all taverns except 'the Inn' and two other alehouses. (fn. 85) Another alehouse licence was requested in 1627, so that the inhabitants could refresh themselves when coming to church from a distance, and the former common bakehouse had become the Bell inn by 1689. (fn. 86) There were 4 licensed victuallers in 1732 and, by 1744, 14, of whom 2 lived at Hurst, 2 at Stapleton, and one at Long Load; in 1748 one lived at Ash. (fn. 87) The White Hart by the market house was recorded by name in 1736, and both it and the George were regularly used by the vestry, friendly societies, and other parochial bodies. (fn. 88) The former Red Lion inn at Bower Hinton was licensed by 1795 and closed c. 1970. (fn. 89) The Freemasons Arms at Ash and the Old Wheelwrights Arms, which became the Crown inn by 1889, at Long Load both occur in 1841, and the Royal Marine at Coat, 'recently' closed in 1973, was mentioned in 1861. (fn. 90) Beer houses listed in 1840 included the Butchers Arms and Farmers Arms in North Street, the Carpenters Arms in East Street, and the Ropers Arms in Water Street. (fn. 91) The Railway Hotel followed the building of the railway in 1849, the Stapleton Cross inn, closed since the Second World War, occurred in 1886, and by 1939 there were the Nags Head and the White Horse both in East Street, and the Bakers Arms in North Street, the last having closed c. 1973. (fn. 92) The present Rose and Crown inn at Bower Hinton was a former beer house.
Martock Friendly Society, known also as the Martock Benefit Society, the Martock Men's Club, or the Old George Club, was established in 1800 and met on Whit Monday, initially at the White Hart, later moving to the George. It was disbanded c. 1912. (fn. 93) A female friendly society meeting at the George was set up in 1806 and was holding its anniversary on Whit Tuesday in 1900. (fn. 94) The Bower Hinton Male Benefit Society met by 1863 on Whit Tuesday and was continuing in 1882. In 1882 a female friendly society met at Bower Hinton on Whit Wednesday. (fn. 95) The Martock Farmers' and Tradesmen's Friendly Society, founded probably in 1853, met at the White Hart in 1863 and 1893. (fn. 96)
The social life of Martock was enlivened by such events as a concert at the school house in 1744 and by visits from travelling players recorded twice in 1773. (fn. 97) There was a music teacher in the parish by 1830 and the Martock Agricultural Society, founded in 1837, held annual ploughing matches. (fn. 98) A New Year tradesmen's ball at the George inn was a regular feature by 1864, in which year Wildman's theatre and the Lyric Opera Company performed at the White Hart assembly rooms. (fn. 99) The Martock brass band and a literary institute had been founded by 1889 and the annual flower show of the Horticultural Society, which still continues, was first held in the same year. (fn. 100) The Martock flower show committee in conjunction with the Countess de Belleroche raised money to build a hangar on Bower Hinton farm in 1911 for D. G. Gilmour, 'the first airman to fly an aeroplane over this part of the country'. (fn. 101) A Constitutional Club was mentioned in 1896, a Conservative Club in 1909, and Short Range Rifle and Liberal clubs in 1910. (fn. 102)
Martock had 136 tax payers in 1327, of whom 22 each came from Bower Hinton and Stapleton, 19 from Coat, 15 from Hurst with Newton, 13 from Martock, 12 each from Milton, Long Load, and Ash, and 9 from Witcombe. (fn. 103) By 1548 there were 903 communicants, and in 1563 the parish included 253 households, of which 24 were at Stapleton and 26 at Long Load. (fn. 104) In 1791 the parish had a population of nearly 2,000 in 377 houses. Of these houses 102 were at Martock, 54 at Hurst, 46 at Long Load, 44 at Coat, and 40 at Bower Hinton. There were 34 in Ash, 22 each in Milton and Stapleton, and 13 in Witcombe. (fn. 105) From 2,102 in 1811 the population rose steadily to 3,154 in 1851 and 3,155 in 1861. Thereafter it fell gradually to 2,571 in 1911, but remained constant at over 2,600 between 1911 and 1931. After the Second World War the total rose only slightly, with 2,846 in 1951 and 2,825 in 1961, before reaching 3,359 in 1971. Individual figures for Ash and Long Load in the 20th century show the former rising to 418 in 1921, falling to 395 in 1961, and rising again to 417 in 1971; and Long Load declining from 217 in 1911 to 186 in 1931, with subsequent increases to 200 in 1961 and to 239 in 1971. (fn. 106)
John de Langton, treasurer of Wells and chancellor of England, returned to the 'court at Martock', now the Treasurer's House, in 1297 to receive the King's seal kept there during his absence. (fn. 107) Robert Patton Adams, born at Martock in 1831, became solicitor-general of Tasmania. (fn. 108) Thomas Farnaby (d. 1647) taught in the parish from 1605 as Thomas 'Bainrafe', an anagram of his surname. He later moved to London and became an educationist of European reputation. (fn. 109)
MANORS.
The manor of MARTOCK was held in 1066 by Queen Edith, wife of Edward the Confessor. After the Conquest it passed to the Crown and in the late 11th or early 12th century it was granted to Eustace, count of Boulogne. (fn. 110) Eustace settled his lands on his daughter Maud, wife of Stephen, later King of England (d. 1154), and the manor passed to her son William, Count of Boulogne (d. 1159). (fn. 111) William granted it to his cousin Pharamus of Boulogne (d. 1183–4), grandson of Eustace's illegitimate son Geoffrey. (fn. 112) Pharamus's daughter Sibyl, wife of Ingram de Fiennes (d. 1189), held it in 1199, and by 1206 it had descended to her son William (I). (fn. 113) Probably on his death and during the minority of his heir it formed part of the dower of Queen Berengaria. (fn. 114) From 1209 it was in the hands of the Crown, but William de Fiennes (II) was given seisin in 1216. (fn. 115) William still held it in 1230 but by 1244 his son Ingram de Fiennes (d. c. 1270) had inherited it. (fn. 116) In 1270 Walter de Fiennes leased it to Eleanor, wife of the Lord Edward, (fn. 117) and in 1275 William de Fiennes (III) made a further lease to Eleanor, then queen. (fn. 118)
William (III) (d. 1302) was succeeded by his son John, who leased the manor for life to Benet de Folsham in 1328. (fn. 119) The manor was confiscated by the Crown in 1337, in consequence of John's connexions with France, and committed to the custody of William Montacute, earl of Salisbury (d. 1344), who received the manor in fee in 1340. (fn. 120) In 1362 William's son, also William (d. 1397), successfully resisted an attempt by Robert de Fiennes, constable of France, to secure the manor and in 1394 granted the reversion to Sir John Beaufort (cr. earl of Somerset 1397, d. 1410). (fn. 121) It was inherited in turn by Beaufort's sons, Henry (d. 1418) and John (cr. duke of Somerset 1443, d. 1444), the latter being succeeded by his daughter Margaret, countess of Richmond. (fn. 122) She was deprived of her lands in 1484, though a life interest was retained by her fourth husband, Thomas Stanley, earl of Derby (d. 1504). The reversion was granted to John, Lord Scrope. (fn. 123) On the accession of Margaret's son as Henry VII her lands were restored to her, and, on her death in 1509, the manor passed to her grandson Henry VIII. (fn. 124)
In 1525 the king granted Martock to his illegitimate son Henry, duke of Richmond (d. 1536), after whose death it reverted to the Crown. (fn. 125) A grant was made in 1539 to Thomas, duke of Norfolk, for life with remainder to Charles Brandon, duke of Suffolk (d. 1545), the latter being succeeded in turn by his sons Henry (d. 1551) and Charles (d. 1551). (fn. 126) The last left three daughters and coheirs, between whose representatives the Suffolk estates were divided in 1563, Martock falling to William Stanley, Lord Monteagle (d. 1581), grandson of Charles. (fn. 127) Monteagle's daughter Elizabeth carried the manor to her husband Edward Parker, Lord Morley (d. 1618), from whom it was seized by the Crown in 1592 for debt. (fn. 128) The reversion, evidently subject to Crown leases, was granted in 1603 to William, Lord Morley and Monteagle (d. 1622), Edward's son, although a further Crown lease for 41 years was made in 1609–10 to James Gilbert. (fn. 129) In 1637 William's son Henry conveyed the manor, apparently in three parts, to William Strode of Barrington, George Strode, and Sir Henry Compton. (fn. 130) Compton conveyed his share to his son-in-law Richard, Viscount Lumley, in 1640. (fn. 131)
After a protracted law suit, Lord Morley agreed in 1642 to repay the purchase money for the manor, believing that he had a buyer in Lord Poulett, but found that 'none will purchase land in such distracted times'. (fn. 132) In 1646 the shares of Compton and Sir George Strode were sequestered but it was discovered in 1652 that William Strode (d. 1666) had been enjoying the profits of the whole manor. (fn. 133) Strode's title passed to his son William (d. 1695), and grandson William (d. 1746), the last selling to Zachary Bayly of Shepton Mallet c. 1724. (fn. 134) Bayly sold the lordship to two brothers, Henry and John Slade of Ash, in 1759. (fn. 135) In 1779 Henry left his share to John who, by will of 1781, gave it to his daughter Ann Slade, lord in 1793. (fn. 136) George Slade occurs as lord in 1798, but by 1811 the manor had evidently been purchased by Robert Goodden of Over Compton (Dors.) (d. 1829), whose family was formerly resident in Martock. (fn. 137) Robert was succeeded by his brother Wyndham Goodden (d. 1839) and subsequently by Wyndham's son John (d. 1883). (fn. 138) On John's death his son J. R. P. Goodden sold the lordship to Walter Leach (d. 1906), whose nephew Robert (d. 1958) was followed by the latter's son, Robert Leach of Largo, Florida, U.S.A., lord in 1974. (fn. 139)
In 1633 Robert Wills of Martock purchased lands from Lord Morley and Monteagle, including the church- or school-house and the moated manorhouse of the former capital manor, which were thereafter known as the manor of MARTOCK. (fn. 140) Wills's son, also Robert, died in 1659, and was succeeded by his sister Alice, wife of John Colston of Hurst, Martock, who settled the estate on their daughter Alice and her husband Robert Merifield of Crewkerne (d. 1686). (fn. 141) Thereafter it passed to Robert's son John (d. 1695), whose widow Joan, married secondly to Robert Knight, still held it in 1730. On her death it was inherited jointly by her two nephews, John son of John and Alice Donne and William son of William and Susanna Merifield. William Merifield sold his half to John Donne (d. 1768) of Crewkerne in 1743, (fn. 142) and James Donne (d. 1783), son of John, ordered in his will that his Martock lands should be sold. (fn. 143) The manor has not been traced thereafter.
The manor-house, dovecot, and garden, valued at 16s. 8d. in 1302, (fn. 144) all lay within the moated area of nearly 2 a. west of the churchyard. By 1506 the pasture within the moat was let and the dovecot was ruinous. (fn. 145) Lord Morley and Monteagle leased the mansion and manor-house, called Court House, to Anthony Parsons of Martock c. 1592, and Parsons assigned it to Francis Dyer of Sharpham Park in 1613. After Dyer's death in 1615 his widow married Barnaby Leigh of Shorwell (I.W.) and the lease was assigned to Edward Cheeke in 1619, and to Bray Vincent (d. 1642), a Martock clothier, in the same year. (fn. 146) In 1633 Vincent occupied a part of the house 'almost all let to ruin'. (fn. 147) The courthouse formerly held by Vincent was mentioned in 1699, and the court-house 'moated round with water' after 1730, (fn. 148) but these references may relate to the small building which stands on the eastern edge of the moated area and bears a stone inscribed 'Robert Wills, 1659'.
'The Manor House' in Church Street, built probably in 1679, was the home of the Goodden family before they acquired the manor in the early 19th century, and was probably so named after its occupants purchased the lordship. It was burnt down in 1879 but rebuilt. (fn. 149)
A chaplain was celebrating in the lord's chapel by 1294. (fn. 150) In 1334 it was licensed for divine service, (fn. 151) and before 1411 rents supported a chantry there. (fn. 152) By 1506 a chantry had been established there for the souls of the second son of Humphrey Stafford, duke of Buckingham, Thomas Stanley, earl of Derby, and for Margaret, countess of Richmond. It was then stated that the 'Chapel Close' had been annexed to the chantry since 1481 to provide wine and wax. (fn. 153) The chaplain in 1548 was paid partly from the manor and partly by the inhabitants in the form of churchyard wheat. (fn. 154) The last incumbent, Stephen Nurse, evidently remained in the parish until his death in 1571. (fn. 155) The chapel, dedicated to the Virgin by 1411 and standing near the manorhouse, was pulled down c. 1541 and sold. By 1595 a building called Stoneheald, later Stonehill or Stoneley, House had been erected there, (fn. 156) its name suggesting the possible re-use of materials from the demolished chapel. The house was last mentioned in 1706. (fn. 157)
The treasurers of Wells cathedral exchanged the church of Evercreech with the bishop of Bath for half the rectory of Martock in 1226. (fn. 158) This they continued to hold until it was transferred in 1849 to the Ecclesiastical (now the Church) Commissioners. (fn. 159) The treasurer's holding was valued at £33 6s. 8d. in 1291 and at £30 17s. 11d. in 1334. (fn. 160) As owner of the greatest portion of the church he was deemed liable to repair the chancel and its ornaments by 1322. (fn. 161)
Before 1535 the estate and tithes had been leased; in 1539 to Christopher Newton of Westminster, assigned before 1568 to one Baily. (fn. 162) A lease was granted to the Crown in 1602, which in turn sub-let to Roger Townsend of London and Humphrey Flint of Cheshunt (Herts.). This lease was assigned in 1624 to Sir William Ashton of St. Martin-in-theFields (Mdx.). He was succeeded by his son William (d. 1651), who left it to his brother Robert Ashton. (fn. 163) It passed from Robert to William Ashton c. 1688, and he held it until the lease expired in 1701. (fn. 164) In 1701 the treasurer, Ralph Barker, leased the estate to his brothers, Francis and Robert Barker of London, who by 1726 had been succeeded by Robert's son and son-in-law, Robert Barker and Francis Hurdd of London. In 1726 Robert Barker sold his half share to Hurdd, who in 1742 granted it to his mortgagees, Elizabeth Hudson and Nathaniel Pix. It was known as the manor of MARTOCK RECTORY by 1741. (fn. 165) From c. 1748 it was held by one Lee, possibly Barnabas Eveleigh Leigh, then lord of Stapleton manor. (fn. 166) A new lease was made to Sarah Hope of Maidstone in 1767 with covenants to repair the chancel of the church and to entertain the treasurer or his agent for two nights and a day every quarter. (fn. 167) A lease was made to Sarah Hope's devisees in 1789, it was held in 1805 by Edward Hill of Whitton in Twickenham (Mdx.), and two leases under similar terms were granted in 1813 and 1821 to the Revd. Elias Taylor of Shapwick. (fn. 168) Taylor (d. 1827) left the estate to his grandson William Robert Warry (d. 1873), whose executors continued to administer the manor until 1883, (fn. 169) when the property reverted to the present lords, the Church Commissioners. (fn. 170)
The rectorial tithes held by the treasurer in 1226 comprised those on hay, cash offerings, cows, wool, lambs, cheese, and eggs at Easter. (fn. 171) In 1334 tithes of corn were valued at £10 13s. 9d., those of milk at £2, and oblations and small tithes (evidently not then appropriated to the vicar) at £12 16s. 8d. (fn. 172) In 1650 the rector's tithe on corn, grain, hemp, and flax produced £245, and that of wool, lambs, and hay £55. From the 16th to the 19th centuries the collection of the treasurer's tithes was leased with the rectorial estate. A tithe rent-charge of £799 15s. was granted to the lessee in 1841. (fn. 173)
There was a parsonage house and a dovecot in 1226. (fn. 174) In 1262 the treasurer purchased a plot of land 80 ft. long and 40 ft. broad on the east side of his 'barton' and in 1293–4 spent money on a 'new hall'. (fn. 175) The chamber over the chief gate was referred to in 1482. (fn. 176) The house, known in the early 19th century as Martock Priory and only recently as the Treasurer's House, was evidently leased with the manor of Martock Rectory and sub-let. It was sold to H. St. George Gray (d. 1963) in 1942, and was left by Mrs. Gray to the National Trust in 1970. (fn. 177) At the centre of the present building are the almost complete hall and cross-wing range of a medieval house. The cross-wing has on its first floor a west window of the later 13th century, which may have lit the solar, whilst the hall is probably that described as 'new' in 1293–4, perhaps the result of a rebuilding or remodelling of an older predecessor. In the late 15th or early 16th century a kitchen range was built alongside, projecting west beyond the solar, and the hall was reroofed. At about the same time the ground floor of the solar range was remodelled, a fire-place being inserted, new windows were put into the west wall, and a gateway was built adjacent to the road. In the post-medieval period the building was sub-divided and additional cottages were built to the north and east. Those to the north, which abutted the hall gable, have now been demolished, and the latter form the kitchens of the reunified house.
The abbey of Mont St. Michel (Manche) had an interest in the rectory from 1156 and established its claim to one half in 1226. (fn. 178) The estate was administered by the abbey's daughter house, Otterton priory (Devon). (fn. 179) In 1414 the property was taken by the Crown as alien and was granted in 1461 to Syon abbey (Mdx.); Syon continued to hold it until the Dissolution. (fn. 180) By 1479 the property was known as the manor of MARTOCK PRIORY. (fn. 181)
A Crown lease of the 'rectory and church', probably half the great tithes, was sold to John Ellis in 1569 and assigned to Leonard Doddington in 1581. (fn. 182) By 1601 Sir Robert Cecil (cr. earl of Salisbury 1605) had bought the fee and in 1602 let the tithes and shares in the tithe barn. (fn. 183) Half the great tithes, held under the Crown, continued in the hands of the earls of Salisbury until 1788 when most were sold off to the owners. (fn. 184) William Wood, a Martock clothier, bought half the tithes on all the arable lands in Stapleton tithing in 1790, and conveyed them to the lords of Stapleton manor in 1797, but most were acquired in smaller lots. (fn. 185) In 1841 15 private owners were awarded rent-charges totalling £182 11s. 10¼ d., the principal owner being William Robert Warry, who received £100 5s. (fn. 186)
The lands of the manor of Martock Priory were probably fragmented at the Dissolution, but property in Coat and Martock formerly of Syon abbey was in 1543 granted by the Crown to Humphrey Collis and sold by him to Richard Buckland of Martock (d. 1557). (fn. 187) These lands passed successively to Richard's nephews John (d. 1563) and Thomas (d. 1584) of West Harptree, and then to Thomas's son Francis (d. 1642). (fn. 188) John Buckland of West Harptree (d. 1678), son of Francis, left his 'manor of Martock' to his daughter Elizabeth (d. 1697), wife of John Bluet (d. c. 1700), who died without issue. (fn. 189) The lands then passed to Buckland's cousin, Charles Buckland of Lewes (Suss.). (fn. 190) The latter's son John died without issue and the property devolved on Maurice Buckland (d. 1710), whose son Maurice held it in 1741. (fn. 191) The estate has not been noted thereafter.
The manor of STAPLETON was probably subinfeudated before the grant of Martock manor to Eustace, count of Boulogne. It was held in the later 12th century by Sir Robert de St. Clare (I), passing in 1195 to his son William, and by 1212 to the latter's brother Geoffrey de St. Clare. (fn. 192) Geoffrey held it by the serjeanty of holding or carrying a towel (manutergium) before the queen at Easter or, later in the 13th century, alternatively of providing a serjeant for the king's army. (fn. 193) By 1308 the towel was to be so held at Easter, Whitsunday, Christmas, and at the Coronation, but by 1336 the tenure was reduced to the petty serjeanty of finding an armed horseman for the king. (fn. 194) From 1359 it was held in chief for ½ knight's fee. (fn. 195)
The manor passed to Geoffrey's son Robert de St. Clare (II) in 1223, and later to Robert (III) (d. 1308). (fn. 196) The latter was succeeded by his grandson Robert (V) (d. 1336), son of Robert (IV), and then by his great-grandson Robert (VI) (d. 1359). (fn. 197)
Robert (VI) was succeeded by his son Richard St. Clare (d. 1362), (fn. 198) who settled the reversion on William Bonville (d. 1408). (fn. 199) Bonville's grandson William, Lord Bonville (d. 1461), inherited it in 1408 and it later passed to his great-granddaughter Cecily, wife successively of Thomas, marquess of Dorset (d. 1501), and Henry, earl of Wiltshire (d. 1523). (fn. 200) Thence it descended in turn to her son and grandson, Thomas, marquess of Dorset (d. 1530), and Henry, duke of Suffolk, until the latter's attainder and execution in 1554. (fn. 201)
The manor was granted in 1563 to William Rosewell (d. 1566), solicitor-general, who was succeeded in turn by his sons Parry (d. 1573) and William (d. 1593). (fn. 202) In 1586 the last mortgaged Stapleton to William Every (I), and in 1594 William Rosewell's widow Ann and her second husband, John Davies, sold it to Every's son and grandson, John and William (II) (d. 1652) of Cothay, Kittisford. (fn. 203) A claim by Sir Henry Rosewell, William's son, was finally released in 1622. (fn. 204) John Every of Cothay (d. 1679), grandson of William (II), left the manor to his sister Ann, wife of John Leigh (d. 1688) of Northcourt, Shorwell (I.W.). (fn. 205) John Leigh was followed by his son John, and by 1743 by Barnabas Eveleigh Leigh, who was succeeded by his uncle, John Leigh (d. 1772). (fn. 206) John's five daughters and coheirs together sold the manor in 1796 to Thomas Richards of Evershot (Dors.) and William Haggett Richards of Kingsbury Episcopi, between whom it was divided. (fn. 207)
Thomas Richards (I) (d. 1827) left his half equally between his sons William (d. 1835) and Thomas (II) (d. 1866). The lands were partitioned in 1857, William's daughter Ellanette, wife of John Glyde of Yeovil, receiving 159 a. and Thomas (II) and his son Thomas (III) 185 a. including Stapleton Mead farm. (fn. 208) William Haggett Richards (d. 1860) of Stapleton House left his half to his three sons E. E., W. H., and J. W. Richards. (fn. 209) The manor is not referred to thereafter.
There was probably a manor-house by the late 13th century, when Robert de St. Clare (III) had a chapel 'in his courtyard', and a garden and dovecot were mentioned in 1308 and 1336. (fn. 210) In 1336 the manor-house complex included two chambers by the chapel on the north side of the hall with a solar next to the chapel, a newly-built house opposite the chambers on the west, a little chamber by the same house on the east, a chamber over the gate on the south, a bakehouse, middlehouse, and dairyhouse, with an oxhouse by the highway. (fn. 211) In 1525 the site of the manor and dovecot with 55½ a. of land were leased to Robert Dyer, and in 1563 John Fanstone took a lease of the court-house, dovecot, and lands of 6½ a., then occupied by John Dyer. (fn. 212) It was probably this court-house that Joan Lavor held in Stapleton manor in 1645, when she surrendered the kitchen, kitchen chamber, and half the northern entry to her son John. A house 'late Lavours called Court House' occurs in 1821. (fn. 213) This site on the north-west corner of Stapleton Street and West Street, (fn. 214) is now a field and probably represents the position of the medieval house.
In the late 13th century the rector of Martock and the abbey of Mont St. Michel held a virgate of arable and 3 a. of meadow of the gift of the 'old' Robert de St. Clare, in return for maintaining a chantry in the chapel of Stapleton. (fn. 215) Robert de St. Clare (V) had licence to hear divine service there in 1334, and in 1525 a customary tenant of the manor supplied wax for use there. (fn. 216) From 1535 the chapel was evidently annexed to Martock vicarage. (fn. 217)
Between 1154 and 1184 Pharamus of Boulogne as lord of Martock manor granted to the Knights Templar lands in Lade (fn. 218) later known as the manor of LONG LOAD. On the suppression of the order the manor was given to the Hospitallers in 1332 and by 1338 was regarded as a member of the preceptory of Temple Combe. (fn. 219) The order was suppressed in 1540 and in 1551 the Crown granted the manor to Winchester college, owners in 1974. (fn. 220)
A ruined house on the property, probably the manor-house, occurs in 1338. (fn. 221) It is not mentioned thereafter.
Richard of Boulogne, probably member of a cadet branch of the principal lords of Martock, held a free tenement at Ash between 1254 and 1286. (fn. 222) Lands there are referred to in 1288–9 as 'Essebolon', (fn. 223) subsequently known as the manor of ASH BOULOGNE, and in 1306 the estate was granted by Pauline of Boulogne to Peter of Boulogne, probably her son. It then comprised a house, two carucates, and rents, (fn. 224) and was evidently held by Peter in 1310. (fn. 225) John of Boulogne occurs in 1318 as holding lands in Milton, (fn. 226) but land in Ash seems to have descended through Peter's daughter Joan to Hugh Paveley by 1388. (fn. 227) In 1421 Richard Paveley recovered dower in Ash Boulogne, (fn. 228) and in 1430 sold the manor to Hugh Kene, his wife Agnes, and their son William. On the death of William in 1467 it passed to his son Anthony Kene. (fn. 229) Later it was acquired by the Hody family, William Hody of Pilsdon (Dors.) (d. 1535) settling it on his son Richard (d. 1536) in 1524. (fn. 230) Thereafter it descended to Richard's son William and, in turn, to William's sons Henry and Richard Hody. (fn. 231) In 1621 Richard's widow Grace and her two daughters sold it to their cousin John Hody, who evidently enfranchised it in the following year. (fn. 232) 'Ash Boulogne', a house with traditional passage-entry plan of the 17th century, remodelled in the 18th century, is said to represent the former manor-house.
Joan widow of Richard Pyke (I) received a life grant of lands in Ash and Loxhill from her son Richard (II) (later Sir Richard) in 1309, (fn. 233) probably part of an estate formerly held by her husband. In 1333 the property comprised 3 houses, a mill, 1½ carucate, and 18 a. of meadow in Ash Boulogne, and in 1348 included the manor of LOXHILL with a carucate. (fn. 234) Sir Richard's son, Richard (III), had succeeded by 1356, and the latter's son, John Pyke, by 1371, the estate being described in 1372 as the manor of ASSHEPYK with its members of Witcombe and Loxhill. (fn. 235) In 1382 John's widow, Isabel (d. 1411), granted a life interest in her lands in Loxhill to her brother-in-law Hugh Pyke, who was holding court for the manor of Ash Boulogne in 1406, and in 1412 Hugh held lands in PYKESASH, thereafter the name of the manor. (fn. 236) He was still holding the manor in 1434, and it was later settled on his son Thomas and the latter's wife Alice. It was held under the principal manor of Martock in 1499 and 1608. (fn. 237)
Alice (d. 1499), married secondly to William Montague, surrendered her interest to her son John Pyke the elder, who granted it to his brother John Pyke the younger in 1496. (fn. 238) Part of the estate was then settled on John Pyke the elder (d. 1520–1) and the whole manor eventually came to his son William (d. 1523) and grandson Robert Pyke (d. 1531). (fn. 239) In 1551 Robert's son Thomas (d. 1555) settled the manor on his daughter Elizabeth and her intended husband Richard Broughton of Basildon (Berks.). (fn. 240) Broughton quitclaimed the manor to John Popham in 1563, and Elizabeth's second husband, James Leigh alias Reynolds, conveyed it to Popham in 1568. (fn. 241) Elizabeth, married thirdly to Anthony Stracheleigh, continued to claim an interest in the estate but Sir John Popham, attorney-general, died seised of the manor in 1607. (fn. 242) His son Francis Popham (d. 1644) was followed successively by his younger son Alexander (d. 1669), and then by Alexander's son Sir Francis (d. 1674). Sir Francis left the manor to his son Alexander Popham of Littlecote in Ramsbury (Wilts.) (d. 1705). The last was succeeded by his uncle Alexander, and later by the latter's son Francis Popham, who in 1727 sold the manor to Andrew Napper of Tintinhull (d. 1770). Andrew's son Edward Berkeley Napier (d. 1799) was followed in turn by his son Gerard Martin Berkeley Napier (d. 1820) and grandson Edward Berkeley Napier. (fn. 243) The last sold it to Augustus Langdon of London in 1835, who conveyed it to John Batten of Yeovil in 1839. (fn. 244) Much of the lands were then enfranchised, although a customary payment of £2, formerly paid to the lord of Pykesash, was still being made to Manor farm in Ash in 1910. (fn. 245) No manor-house has been traced, although the above reference to Manor Farm, a house with traditional plan and passage entry of the 17th century, may indicate that it was the former capital messuage.
Lands in Witcombe were held with the manor of Pykesash by 1316. (fn. 246) John Popham, lord of Pykesash, granted lands in Witcombe to James Leigh alias Reynolds in 1576, and James in 1588 conveyed the manor of WITCOMBE to James Elliott of West Monkton. (fn. 247) John Elliott in 1600 conveyed the manor to John Every and his son William. (fn. 248) Later the manor descended with that of Stapleton.
A second manor of WITCOMBE emerged in the 15th century from the holding of the Witcombe family, who occupied lands in the hamlet from the 13th century. (fn. 249) John Witcombe (d. 1527), son of John, settled the manor on his brother William in 1521, (fn. 250) and William was still granting leases on it in 1550. (fn. 251) Sir Edward Rogers of Cannington purchased lands known as the manor of COAT from William Hody and his son Richard in 1555 and evidently acquired Witcombe at about the same time. At his death in 1568 Sir Edward held the manor or manors of WITCOMBE AND COAT, which passed in turn to his son Sir George (d. 1582) and grandson Edward Rogers (d. 1627). (fn. 252) Edward was succeeded by his son Sir Francis (d. 1638), who settled the estate on his daughter Ann. (fn. 253) She conveyed it to her uncle Henry Rogers in 1663. (fn. 254) Henry died childless in 1672, the manor passing by 1709 to his great-nephew Sir John St. Barbe (d. 1723), (fn. 255) although it was also claimed by Henry's nephew, Alexander Popham, between 1697 and 1703. (fn. 256) Sir John left his estates to his cousin Humphrey Sydenham (d. 1757) of Higher Combe in Dulverton, and Humphrey's widow Grace was granting leases in 1758. (fn. 257) She assigned the manor to her son St. Barbe Sydenham in 1764, and in 1781 he settled it in marriage on his daughter Catherine and Lewis Dymock Grosvenor Tregonwell. In 1811 Tregonwell and his son St. Barbe sold it to Robert Leach (d. 1837) of Witcombe, and Leach's trustees conveyed it to Thomas Coggan of Bower Hinton and his sister-in-law Ann Coggan, widow of a Martock butcher. Thomas died in 1840, leaving his share to Ann, on whose death in 1843 the estate was fragmented. (fn. 258)
The manor-house, occupied in 1672 by John Fry, was sold in 1710 by Sir John St. Barbe to Robert Leach of Thorn Coffin and his son Robert. Robert Leach of Witcombe (d. 1780) left it to his cousin Robert Leach, a cordwainer of Ash, who reunited it with the manor in 1811. (fn. 259) A long 17th-century house, it was known in 1974 as Witcombe Manor Farm.
John le Jew and Joan his wife held lands in Coat in 1290 and John was a free tenant of ½ virgate in Martock manor in 1302. (fn. 260) He received a life grant of lands in Martock from Nicholas le Jew in 1321 and either he or a namesake occurs as a witness in 1332. (fn. 261) By 1336 he had been succeeded by William le Jew, probably his son. His lands were settled on John of Pilsdon (Dors.) for life with remainder to John Jew, son of William, and Alice daughter of John of Pilsdon and their joint issue. (fn. 262) John's successor, also John, occurs from 1378 and held lands in Martock and Coat in 1412. (fn. 263) On John's death c. 1416 his ultimate heir was his daughter Elizabeth (d. 1473), wife successively of Sir John Hody of Stowell (d. 1441–2) and Robert Cappes (will dated 1475). (fn. 264) From Elizabeth the Coat lands passed in turn to her son John Hody (d. 1497) and his son Andrew (d. 1517), who held them of the manor of Says Bonville. (fn. 265) Andrew's son and grandson, William and Richard Hody, sold the estate as the manor of COAT to Sir Edward Rogers in 1555, and it then descended with Rogers's manor of Witcombe. (fn. 266)
John de Say occurs as holding lands in Martock between 1321 and 1343. (fn. 267) His lands apparently descended to Sir Edmund Arundel, probably in right of Arundel's wife Sibyl, daughter of William Montacute, earl of Salisbury. (fn. 268) The Arundels' daughter Elizabeth (d. c. 1385) was married secondly to Sir John de Meriet (d. 1391), and his cousins and coheirs were Elizabeth and Margaret, daughters of Sir William d'Aumale. (fn. 269)
Elizabeth married first Sir John Mautravers (d. 1386) and in 1386 they held half an estate in Martock, Long Load, and 'Hull'. (fn. 270) She was married second to Sir Humphrey Stafford of Southwick (Wilts.) (d. 1413), and in 1391 they held half the manors of Martock and Load called SAYES. (fn. 271) The property continued in the Stafford family until the death of Humphrey Stafford, earl of Devon, in 1469, when it passed to his cousin and coheir Eleanor (d. 1501), wife of Thomas Strangways (d. 1484) of Stinsford (Dors.). (fn. 272) Her son Henry (d. 1504) was succeeded by his son Sir Giles (d. 1547) and great-grandson Sir Giles Strangways (d. 1562). (fn. 273) During the tenure of the last the manor became known as MARTOCK SAYES. (fn. 274) In 1586 Sir Giles's son John sold it to Ralph Hurding of Long Bredy (Dors.), and Ralph's son Henry conveyed it in 1621 to Nicholas Putt of Coombe in Gittisham (Devon). (fn. 275) Nicholas's son William was declared a lunatic in 1662 and the manor passed to his son, Sir Thomas Putt, Bt. (d. 1686). (fn. 276) His son, another Sir Thomas (d. 1721), left his estates to a cousin, Raymundo Putt (d. 1757), and Raymundo's son Thomas held the manor in 1759. (fn. 277) It is not subsequently mentioned.
Margaret, the other daughter of Sir William d'Aumale, married Sir William Bonville, to whom in 1385 Sir John de Meriet granted a house and land in Martock, Load, and 'Hull', (fn. 278) representing the second half of the Say estate. On Bonville's death in 1408 the property was called SAYES PLACE, but was subsequently known from its holders as the manor of SAYS BONVILLE. (fn. 279) It descended with the manor of Stapleton until granted by the Crown to Richard Dennys in 1561. Dennys sold it to Nicholas Halswell (d. 1564) in 1562. (fn. 280) Nicholas's son Robert (d. 1570) was succeeded by Sir Nicholas Halswell, but there is no further reference to the manor until 1694, by which date it had passed to Sir Thomas Putt, who held it with the other half of the Say estate. It may be the 'manor of Long Load' held by Raymundo Putt in 1755, probably purchased by Winchester college in that year. (fn. 281) It is not mentioned thereafter, nor has any reference to a manor-house connected with either half been found.
Lands in Martock were held in 1243 and 1254 by Walter de Fauconberg, who had been succeeded before 1267 by Sir Peter de Fauconberg. (fn. 282) In 1286 Peter held 'the greater part' of the vill of Middleton, known by 1327 as the manor of MILTON FAUCONBERG, later as MILTON FAWCONBRIDGE, and held of the manor of Martock as ½ knight's fee. (fn. 283) Peter had been succeeded before 1309 by William de Fauconberg (d. before 1333), who held the manor jointly with his wife Maud (d. 1349). (fn. 284) It then passed in turn to their son Robert, to Peter de Fauconberg (d. 1349), probably a younger son, and later to a cousin, Thomas Loterel. (fn. 285) By 1385 it was held by Thomas Beaupyne, a Bristol merchant, who then conveyed it to Sir Matthew Gournay (d. 1406). (fn. 286) Matthew's widow Philippe carried it to her third husband Sir John Tiptoft (d. 1443); and on Tiptoft's death it passed to the duchy of Cornwall which had earlier acquired a reversionary interest. (fn. 287) The manor was granted in 1445 to Edmund Beaufort, marquess of Dorset, and his male heirs, but was resumed by the Crown in 1449. (fn. 288) Henry Holand, duke of Exeter, was appointed keeper for ten years in 1450, but it was regained in 1452 by Edmund Beaufort, duke of Somerset (d. 1455). (fn. 289) The manor subsequently passed to the duke's widow in 1456, and in 1457 to her son Henry, duke of Somerset (d. 1464). (fn. 290) On his death Milton was granted to George, duke of Clarence, but, like Stoke sub Hamdon, was reunited with the duchy of Cornwall, though held between 1482 and 1495 by William Herbert, earl of Huntingdon. (fn. 291)
Thereafter the manor was held by the Crown until 1557 when it was granted to Thomas Marrowe. (fn. 292) In the following year Marrowe sold it to Sir Thomas Dyer (d. 1565), whose son Edward was enfranchising lands there in 1570. (fn. 293) Edward still held the manor in 1594–5, but it was regained by the duchy of Cornwall after 1603 'when the tenements were again reduced to copyhold'. (fn. 294) During the Interregnum the manor was sold in 1651 to Richard Bovett of Taunton, reverting to the duchy at the Restoration. (fn. 295) The duchy held the manor in 1974.
There was probably a manor-house by 1287. (fn. 296) In 1545 the manor-house, occupied by Alice, widow of John Witcombe, was leased by the Crown to Paul Gressham. (fn. 297) A house and two closes called 'Guyldons', formerly occupied by William Witcombe, were granted by the Crown to William Beltes and Christopher Draper in 1554. (fn. 298) These were probably sold to Richard Buckland who held a capital messuage called 'Guyldons' at his death in 1557. (fn. 299) Richard left his Martock property to his nephew John Buckland (d. 1563), who settled his lands on himself and his wife Thomasine in 1561. (fn. 300) Thomasine married secondly Thomas Turbeville, from whom Isabel, widow of William Witcombe, was trying to recover her widow's estate in the copyhold in 1568. Turbeville claimed that William Witcombe had forfeited his copy for non-residence and that the property had been assigned by Turbeville to Robert Goodman. (fn. 301) The manor-house is not subsequently mentioned, but may have descended with the rectory lands held by the Buckland family.
In 1287 Peter de Fauconberg had licence to build a chapel and maintain a chaplain in his manor of Milton Fauconberg, 'because of his distance from the church and the floods between'. (fn. 302) The chapel can be identified with Court Cottage, immediately north of the former pound and south of the present village of Milton. It was built in the late 13th century and modified in the 15th century. A floor was subsequently inserted and the building was converted for domestic use, with various modifications of the 16th to 19th centuries. Undulations in the adjacent Court Field may suggest the site of the former manor-house.
Lands in Milton were held with the manor of Yeovilton by William Bonville (cr. Lord Bonville 1449), who settled them on his daughter Elizabeth and her husband William Tailboys (d. 1464). (fn. 303) They later descended with Yeovilton manor, being known as the manor of MILTON by 1516 and the manor of MILTON FAWCONBRIDGE in 1586. (fn. 304) The tenants owed suit of court to Yeovilton in 1674, and the lands totalled 96 a. in 1615 and about 54 a. in 1689. (fn. 305)
Robert de la Fenne, in succession to Hugh de la Fenne his father, held a free tenement at FENNE by 1275 and had the right to stray beasts there. (fn. 306) Robert still held a virgate of land there in 1302, but was evidently dead by 1315 when his daughter Margery's share in the estate was granted by her husband John de Morbathe to their son Henry. (fn. 307) In 1338 Henry and Christine his wife held the lands which later descended to Roger Flemyng and his wife Christine (probably widow of Henry de Morbathe), and to their daughter Joan, wife of Thomas Puf or Pyf. (fn. 308) Thomas and Joan granted them to Hugh and Margery Paveley in 1373, but by 1402 Hugh was dead and Margery had married Roland Rake. (fn. 309) In 1413 Margery Rake, widow, granted her estate to the chapter of Wells for the maintenance of the vicars choral there. In return masses were to be said daily in the cathedral for the souls of her parents and her two husbands. (fn. 310) By 1506 courts for the estate were being held with those for Haythorn, a small estate owned by the vicars in the adjacent parish of Kingsbury Episcopi, and the united properties became known as the manor of FENNS AND HAYTHORN. (fn. 311) During the Interregnum the manor passed into the hands of Ann Popham, but was regained by the vicars at the Restoration. At that time Fenns was extended at 60 a. and Haythorn at 26 a. (fn. 312) The manor passed to the present lords, the Church (formerly the Ecclesiastical) Commissioners, on their establishment in 1857.
Deeds were dated at Fenns from 1275, although a manor-house was not expressly mentioned until 1413. (fn. 313) A close called Hayes on the east side of the manor-house was mentioned in 1737, and its 'former' site was referred to in 1819. (fn. 314) It may, however, have been demolished before 1650 when the court baron was being held in a barn there. (fn. 315)
ECONOMIC HISTORY.
The scattered nature of settlement in the parish created a number of selfcontained communities which, although united in a single ecclesiastical unit until the 19th century, retained much of their individual identity. Agriculture formed the main basis of the economy, supported by a market from the 13th century, until cloth manufacture developed in the 18th century and engineering in the nineteenth. Industrial sites have been restricted to Bower Hinton, Hurst, and Martock, now continuously built up, and to the isolated Parrett Works; the rest of the parish has remained agrarian in character.
Agriculture.
The agrarian pattern of the parish was based partly on its tithings, most of which developed their own field systems, and partly on the manors, of which the largest, Martock, included the tithings of Martock, Bower Hinton, Hurst, Newton, and part of Coat. The development of these individual settlements is described below. Only with the decline or disappearance of the medieval manorial units during the 18th and early 19th centuries is it possible to describe more general developments in farming activity, though Ash, Milton, and Witcombe were united in their claims to pasturage in Kingsmoor, across the Parrett to the north, and one crop, beans, seems to have been characteristic of the whole parish. There was a saying, recorded in the 18th century, 'take a Martock man by the collar and shake him, and you will hear the beans rattle in his belly'. (fn. 316)
Martock. The manor of Martock contained 38 hides in 1086, although it had gelded for only 13 T.R.E., and had land for 40 ploughs. The demesne accounted for 8 hides on which were 3 ploughs, 6 serfs, and 14 coliberts, and the remaining 30 hides were farmed by 65 villeins and 24 bordars with 28 ploughs. Stock included 36 swine and 284 sheep. There were 50 a. of meadow, pasture measuring a square league, and woodland a league long by two furlongs wide. A fishery worth 5s. was later leased with the two mills. (fn. 317) The render of the manor was £70 by tale and it was believed that it would have yielded £5 more if the bishop of Winchester had 'borne witness'. This additional sum probably represented the rectory estate. To the manor had been added 4 hides at Oakley in Chilthorne Domer, although the connexion is not mentioned thereafter. Two hides on this estate paid 50s. to Martock manor and the other two hides 40s. From the former manor were taken away 1¼ hide at Compton Durville in South Petherton and 1½ hide at Westcombland in Buckland St. Mary, (fn. 318) although the latter estate continued to be regarded as part of the hundred and parish until the earlier 19th century. (fn. 319)
While the manor was still in the hands of the Crown Stapleton was probably granted to the St. Clare family, and in the 12th and 13th centuries under the Boulognes and their successors the subinfeudation of Long Load, Ash with Witcombe, and Milton Fauconberg took place.
The issues of the capital manor between Christmas 1205 and Michaelmas 1206 were £24 and the value was £40 a year by 1210–12. (fn. 320) It fell to £26 13s. 4d. in 1244 but, probably because of the market established in 1247, soared to £200 in 1275. (fn. 321) Net income from the manor totalled over £113 in 1293–4. (fn. 322) By 1284–6 5 small freeholds had been created in the manor, 4 of which together rendered 39s., (fn. 323) and by 1302 there were 7 freeholds. In 1302 there were 77 life tenants; 6 men held one virgate each, 3 held ¾, 42 held ½, 3 held ⅓, and 16 held a quarter; and there were 41 cottars. Total rents and works were valued at £73 4s. 6½d. The customary tenants were also obliged to make certain renders: 'Lukefyne', on St. Luke's day, church scot at Michaelmas in wheat, 67 lambs, called 'greslamb' in 1294, (fn. 324) at Midsummer, 112 capons and 100 hens at Martinmas, and 'Scotmust'. Two tenants paid rents in wax and chevage of boys was worth 5s. 6d. The demesne then included 447 a. of arable, 27½ a. of meadow, and two pastures in severalty, and the whole manor was extended at £145 1s. 6½d. (fn. 325)
The manor appears to be undervalued in 1344 at £113 14s. 4¼d. The demesne arable had then shrunk to 277 a., the meadow to 15 a., assized rents had fallen to £48 10s. 2½d., and the value of works had been halved since 1302. The only increase in value was from the farm of demesne meadow and pasture. (fn. 326) A sum of £200 a year charged on the manor as security in 1355 and 1365 (fn. 327) suggests undervaluing in the extents, as do the size of pensions granted from the manor to adherents of the earls of Salisbury between 1366 and 1371. (fn. 328) The stated income from the manor had risen only to £126 17s. 4d. by 1484. (fn. 329)
By 1508 the value of the manor was £181 0s. 8d. net. Assized rents totalled £51 2s. 8½d., with moveable and new rents adding a further £9 8s. 2d. Moveable rents included the earlier customary payments and other rents paid in geese, gloves, pepper, wax, cider, and, for a fishery at 'Bolewere' from Muchelney abbey, 26 sticks of eels. Labour services had all been commuted for money payments of £53 2s. 11d. Seed corn produced by threshing works was known as 'suleacresede' and carriage labour included the conveyance of timber from Westcombland and charcoal thence and from Neroche forest. A distinction between services due from cottars and sub-cottars was also made. (fn. 330)
There was a slight fall in income during the earlier 16th century, the clear value of the manor being given as £159 11s. 7¼d. in the period 1543–6, and the rents and perquisites totalled £174 16s. 3d. in 1555. (fn. 331) There were then in Martock tithing 7 free and 58 customary tenants, in Bower Hinton 1 free and 29 customary, in Hurst 5 free and 23 customary, in Newton 34 customary, and in Coat 1 free and 22 customary (the last including three tenants of Westcombland in Buckland St. Mary). Services due from five free tenants in Martock tithing included scouring the manor's half of Gawbridge pool and the stream to Madey mill, and the maintenance of the highway between Martock and Bower Hinton, but these were no longer performed in 1555.
The manor, excluding commons and wastes, then comprised about 3,160 a. with a further 96 a. at Westcombland. (fn. 332) Most of this land was sold by the Lords Morley and Monteagle in the earlier 17th century, the residue, 710 a. valued at £112, being conveyed with the lordship in 1637. (fn. 333) Subsequent lords enfranchised further lands, particularly William Strode c. 1720, Zachary Bayly c. 1740, and the Slades during the later 18th century. (fn. 334) Shortly before the manor was sold to Bayly there were 87 tenants holding 669 a. and paying rents of £39 2s. 8d. (fn. 335) Towards the end of Bayly's tenure c. 1755 the area had fallen to 156 a. in the hands of 74 tenants rendering lord's rents totalling £17 9s. 2½d. This did not, however, include a further £31 12s. 1d. in quit-rents and £6 0s. 8d. in 'manor' rents. (fn. 336) By 1883 the manor consisted only of the Market House, quit- and lord's rents of £29 11s. 11½d., with the tolls of the market and fair. (fn. 337)
Lands of about 115 a., including the manorand church houses, were bought from Lord Morley and Monteagle by Robert Wills in 1633. (fn. 338) This estate, also known as the manor of Martock, had grown to about 180 a. by 1644 and to about 270 a. by 1730. (fn. 339) Soon after 1730 it was valued at £179 6s. but was subsequently dispersed. (fn. 340)
Fenns, which lay in Martock tithing but evidently enjoyed no common rights over Martock fields, comprised 15 a. of land and 4 a. of meadow in 1275. (fn. 341) In 1444–5 there were 10 tenants paying rents of £9 1s. 6d., (fn. 342) but by 1515–16 rents had fallen to £7 7s. and by 1650 to £6 10s. from 7 copyhold tenants holding 59 a. of pasture. (fn. 343) The rental rose again to £7 7s. in 1658 but had fallen to £6 13s. 8d. by about 1750, when 4 of the tenants were leaseholders. (fn. 344) The area remained the same, being estimated at 56 a. c. 1850. (fn. 345) In 1444–5 the estate included 4 'sesters' in Chestermead at Ilchester for which 4s. a year was paid, but the meadow was under water at the time of mowing. (fn. 346)
Martock manor, comprehending the tithings of Martock, Bower Hinton, Hurst, Newton, and Coat, had three open-field systems. The inclosure of South and East fields in Martock tithing had recently begun in 1555 (fn. 347) and evidently continued during the 17th and 18th centuries. Bower Hinton and Hurst had a common field system by the 15th century, new inclosures in East and West fields were recorded in 1555, and a 'recent' inclosure there was mentioned in 1720. (fn. 348) There were two open fields in Coat called Rogersham and Hetfurlong in 1243. These have not been identified within the three-field system which had developed by 1555. (fn. 349) Meadow land within the manor lay principally in Bower Hinton at Westover and Eastover meads, Averland (Overlands in 1841), and Hinton mead; in Coat at Coat mead and Coat Hay; and for Martock tithing at New mead and Southay, detached in the north-west of the parish, and in Bower (later Bow) and Corn meads, parts of which had been recently inclosed in 1555. Pasture land, other than over the open arable fields, was generally shared with other manors, principally at Wetmoor (Wattemore in 1254), Louseham, and Case. Grazing rights there were also held by Long Load and by Muchelney abbey, and in 1462 rents paid for laying birds' nets within the lord's warren at Wetmoor, Southay, Bower mead, and New mead were divided between the lord of Martock and the abbot of Muchelney. (fn. 350) Similarly Wetmoor and Louseham with the chase of beasts in New mead were leased to the tenants of Coat in 1496, and licences to fish, hawk, and fowl there, were granted to the same tenants in 1541 and 1550. (fn. 351) Parliamentary inclosure within Martock manor began in 1810 at Coat when River field and Turnpike field of 100 a. were allotted, and in 1826 the remaining open fields in Martock, Bower Hinton, Hurst, and Coat, with Wetmoor, Louseham, and Case, were inclosed. They amounted to 596 a. arable, 424 a. meadow, 2 a. pasture, and a further 535 a. at Wetmoor shared between Martock and Muchelney. (fn. 352)
Stapleton. The manor was valued at £40 in 1219, (fn. 353) and by 1308 the estate was worth £21 1s. 8¾d. The demesne included 210 a. of arable, 45 a. of meadow, and two pastures, one 'newly' inclosed, of 25½ a. One freeholder held three ¼-virgate plots, 17 men held one virgate, and six ¼ virgate, and there were 13 cottars. Their works and rents were worth £11 3s. 4¾d. (fn. 354) By 1336 the income from the manor had fallen to £14 17s. 4d., demesne arable had been reduced to 120 a., demesne meadow to 40 a., and the value of works had dropped. (fn. 355) Dower granted in that year included 53 a. of arable in 11 furlongs and 13½ a. of meadow. (fn. 356) By 1359 the manorial value had fallen slightly, but included customary renders similar to those of the main manor of Martock. Thirteen lambs were given at Midsummer, church scot of 21 capons and 43 hens was paid at Martinmas, and 11½ geese at Lammas, worth a total of 14s. 8½d. There were also two withy beds valued at 6s. 8d. (fn. 357) By 1525 the rental of the manor derived from 34 customary tenants had risen to over £30 issuing from 644 a. in Stapleton, with additional lands in Wearne and West Chinnock. Customary works or sums in lieu had lapsed and demesne lands, including the site of the manor-house, had been let. (fn. 358) Among manorial customs in 1565 women with widow's estate who remarried were to retain for each half yardland tenement a chamber within the house, 1 a. each of wheat and beans, ½ a. meadow of the 'second beast acres', common pasture for one beast, and grass for one beast from the common meadow. Apart from the provision of a chamber the quantities were halved for a farthingland tenement. (fn. 359)
The manor was sold for £1,119 in 1563 and in 1654 had a rental of £37 13s. 1d. paid by 47 tenants. (fn. 360) In 1774 the manor had an extent of 842 a. composed of 18 tenements on leases for lives and 20 in hand. (fn. 361) Evidently leases were not being renewed so that a higher value could be placed on the estate when sold in 1796. The area of the property remained the same when partitioned between the two branches of the Richards family, Thomas Richards receiving 432 a. and William Haggett Richards 410 a. (fn. 362) The two estates continued relatively intact until 1868 when the Glydes sold off most of their share. (fn. 363)
Stapleton had open arable in eleven furlongs by 1336. (fn. 364) A three-field system based on the cultivation of wheat and beans was in operation in 1642 and 30 years later the fields were being broken for pasture by agreement between the tenants. (fn. 365) Orders restricting grazing in the stubble fields and common meadow by horses and fowls were made in 1642, sheep were not to feed in the droves or fallow field without a keeper, and pigs were not to wander at large. (fn. 366) After the breach of Stapleton mead in 1674 tenants were only allowed to graze horses there if they had pasture for four beasts. (fn. 367) Parts of Greenmoor were described as lately inclosed in 1642 and 1680, and grass haywards and tenants of beast leazes in the meadow were required to take the preys in 1679. (fn. 368) The remainder of the common fields and meadows were evidently inclosed during the 18th century, with the exception of 33 a. in East field still open in 1774 but probably allotted by 1790. (fn. 369)
Long Load. The manor was described as 10 librates and one virgate in the later 12th century. (fn. 370) In 1338 it was worth £14 5s., and included the demesne of 100 a. arable and 12 a. meadow. Assized rents produced 100s. a year and customary works of the nativi 31s. 8d. (fn. 371) Receipts had risen to £24 3s. 4¼d. by 1426–7 but by 1505 the rental stood at £17 1s. and in 1550–1 the total income from the manor was only £17 6s. 4d. (fn. 372) There were 1 free and 33 customary tenants in 1440, although the number of customary tenants had increased to 48 in 1505, consolidation of holdings again reducing this number to 26 in 1551. (fn. 373) The rental continued relatively stable during the 17th century, though during the Civil War and Interregnum considerable arrears accumulated. (fn. 374)
The pattern of farming was evidently one of gradual encroachment on the commons. The manor included about 145 a. of inclosed lands in 1551, of which 34 a. were then in hand. (fn. 375) By 1815, four years before the parliamentary inclosure, the manor amounted to 355 a., just over half the total area of the tithing, the remainder of which was divided between lands attached to the duchy of Cornwall's estate in Milton (110 a.), freeholders (70 a.), and commons and waste (123 a.). (fn. 376)
Long Load's arable fields continued relatively unchanged at least from the 16th until the early 19th century and had a rotation system based on wheat, beans, and fallow in the 16th and 17th centuries. (fn. 377) In the 17th century the manor court annually granted to the lord the right to certain foreleazes and ridge-ends in Mare field for pasture, and in 1725 grazing in the stubble fields was computed as 3 a. to each horse and 1 a. to 3 sheep or a bullock. (fn. 378) The manor had an ancient right of common over the pastures known as Prestmoor and Wetmoor which divided Martock from Muchelney. In 1254 William de la Lade agreed with Muchelney abbey for his pasture in Wetmoor and the abbey's in Prestmoor, and a similar agreement was made in 1258 between the abbot and the lords of Long Load, when Prestmoor was ditched and thereafter deemed to lie within Muchelney parish. (fn. 379) Long Load also had rights in the adjacent commons of Louseham and Case, the cause of disagreements in 1505, again in 1562, when Winchester college sued the lord of Martock for molesting the tenants, and in 1567 when the Load tenants were excluded from Case. (fn. 380) The three pastures within Long Load tithing, Foremoor, Outmoor, and Rottenham, and the meadows of Barland and Gosham were enjoyed without such external interference. Barland inclosures were being made in 1507, although moves to inclose the other 'moors' in 1674 evidently did not proceed. (fn. 381) In 1552 Outmoor was being pastured by 37 tenants holding 204½ beast leazes. (fn. 382) In 1740 the lord of Martock again excluded Long Load from Wetmoor, impounded cattle, and levied 10s. on each beast 'as an acknowledgement of our being trespassers on the rights of Martock and Muchelney'. An attempt to inclose Wetmoor by Act of Parliament was made by Martock manor tenants in 1766, supported by such Load tenants 'as can keep a large stock and oppress their neighbours'. (fn. 383) In 1776 it was stated that the soil was 'remarkably deep, rich and good'. The arable was 'equal to any in the county', and the meadows were 'very fine', but lay near the river and were subject to floods which rotted the sheep and did the tenants 'a deal of hurt'. Outmoor was inclosed shortly before 1776 when ½ a. was allotted for each beast leaze. (fn. 384) The 3 open fields and Barland and Mare meadows, totalling 278 a., were inclosed in 1819. (fn. 385)
Tenants in 1552 were required to keep their animals in the withy beds until the breach of Outmoor, and in 1553 to keep only 3 sheep for each acre held within the manor between St. Luke's day (18 October) and the Exaltation of the Cross (14 September). In 1556 the driving of cattle over Barland and Rottenham was forbidden, and three years later tenants were allowed winter pasture in both areas according to their holdings, paupers with no land having grazing for a horse or mare. (fn. 386) In 1564 Foremoor was temporarily divided into 2furlong closes to prevent the straying of sheep, and in 1567 tenants were allowed to keep only one gander and not more than 4 geese. (fn. 387) In 1591 pigs were allowed to wander without a keeper only in the 'open season' from the breach of the fields until St. Luke's day, and overcommoning in 1653 incurred a fine of 5s. per bullock. (fn. 388) Strays unclaimed for a year and a day were to be sold by the lord from 1655, and at the breach of Foremoor in 1671 all beasts were to be removed within four hours. (fn. 389)
Ash. Of the two estates in Ash, Ash Boulogne comprised in 1432 7 houses, 2 carucates, 40 a. of meadow, and 20 a. of pasture. (fn. 390) Pykesash in 1309 had a house, 2 virgates of land, and 20 a. of meadow, and was valued at £27 a year in 1499. (fn. 391) By c. 1710 the Pykesash rental stood at £19 12s. 2d. with two bushels of wheat from Jeanes's tenement, and continued thus in 1726. (fn. 392) When Pykesash manor was sold in 1835 it had 431 a. of land, and chief rents of £3 3s. 6d. due from the manor of Witcombe and Coat formed part of its income in 1839. (fn. 393)
Ash had a three-field arable system by 1273. (fn. 394) Lands granted to Robert Mayne towards the south of the tithing were probably inclosed in the 14th century, (fn. 395) but otherwise the medieval field pattern continued relatively intact. Meadow lands at Longmead and Yellowmead, mentioned in 1622, were later consolidated as Ash mead, and both meadow and pasture had evidently been inclosed before the Act which allotted the three arable fields of 284 a. in 1810. (fn. 396)
Witcombe. The hamlet was treated regularly during the 14th century as a member of Pykesash manor, lands there being held directly of the lords of that manor. (fn. 397) During the 13th century, however, a prominent family of freeholders occurs who took their name from the tithing. In 1249 John of Witcombe granted 2¾ virgates to Walter of Witcombe, and in 1263 Pharamus of Witcombe conveyed 2 messuages and ½ virgate to Robert son of the same Walter. (fn. 398) The link with Ash and the use of the forename Pharamus, borne by the lord of Martock manor, Pharamus of Boulogne (d. 1183–4), suggests that the portion of Witcombe attached to Ash Boulogne was subinfeudated by the Boulogne family to a cadet branch which took its name from the holding. (fn. 399) Litigation in 1278 indicates that the estate was fragmented between Pharamus of Witcombe and his cousins, the four sons of Walter of Witcombe. (fn. 400) In 1347 it was claimed that a corrupt taxation assessment on the hamlet, resulting in Witcombe being taxed more heavily than Martock, had caused the depopulation of the tithing, all the inhabitants having left, with the exception of 5 poor men and the mesne tenants. (fn. 401)
Of the 2 manorial estates within Witcombe tithing, that held with Stapleton manor had a rental of £7 a year in 1629, and by 1654 4 freeholders and 13 leaseholders were paying rents of over £9. (fn. 402) The manor of Witcombe and Coat had an income of £25 9s. in 1604–5 derived from 23 tenants, and was stated to be worth £5 10s. 'by office' in 1639. (fn. 403) In 1672 the manor had an area of 494 a., including 40 a. in Ilchester, Broadway, Kingsbury Episcopi, and Crewkerne, held by 22 tenants rendering £22 11s. 9d. Perquisites considerably increased the value of the estate, for the total income in 1678 amounted to £115 15s. 5d. (fn. 404) The manor-house was sold off with 82 a. in 1710 and the manor with a further 116 a. in 1837 for £5,500. (fn. 405)
Witcombe evidently had an open-field system by 1359. Pasture in Oxleaze and meadow in the Hams were mentioned in 1316, as was meadow in Lynhull, now Lionels, in 1359, by which time the inclosure of Hams had begun. (fn. 406) Meadow in Shaldron (then Chaldron) mead was recorded in 1629, when lands in 6 furlongs in West field were listed. (fn. 407) Of 4 open arable fields enumerated in 1710 part were described in 1775 as being inclosed and laid down to pasture, (fn. 408) probably closes north of East field and north-east of the village. The remainder of the four arable fields, totalling 164 a., were inclosed by Act of Parliament in 1810. (fn. 409)
Milton. The manor of Milton Fauconberg did not include the whole tithing of Milton, part of which was held by Richard of Boulogne in 1284–6 with his manor of Ash. (fn. 410) In turn the lords of Milton acquired a house and 20 a. in Long Load from the Crown in 1329, and by 1349 also held a house and a virgate in Ash and other lands in Wearne near Langport. (fn. 411) The manor had an income of £13 13s. 1¾d. in 1442–3 and £21 16s. 6d. by 1456–7. (fn. 412) In the latter year the gross income of £25 1s. 9d. was made up of rents of £20 10s. 10d. (nearly half derived from lands in Long Load, Ash, Gildons, and overland in Milton) and the farm of pasture in 'Northmoor', Whatton, Newmead, 'Westlongedole', and elsewhere. Expenses included the repair of a fishery. (fn. 413) By 1476–7 receipts had risen slightly, due to increased pasture rents. (fn. 414) The value of the manor varied little from that time until the mid 16th century, (fn. 415) but increased fines brought the profit to £24 19s. 6d. in 1544–5. (fn. 416) During Elizabeth I's reign the manor 'was altogether dismembered, the most of the tenements granted in fee simple, the royalties remaining in her Majesty but the most of the rent suspended'. (fn. 417)
In 1610 the manor comprised 476 a. and rents of £24 13s. 8d. (fn. 418) In 1619 that part of Milton held with Yeovilton manor was extended at 96 a. held by 4 tenants paying 77s. 6d. (fn. 419) By 1650 there were 25 copyhold tenants and the rents and royalties, including felons' goods, hawking, and hunting, amounted to £23 7s. 3d. (fn. 420) At this time widows' estate in respect of one yardland consisted of a chamber in the house, 3 a. of wheat, 3 a. of beans, the first shear of 1 a. of meadow, 2 kine leazes in the commons, ⅓ of the fruit of orchards, firing, and running for one pig in the garden. Unlike Stapleton's custom, however, she was to lose her chamber if she remarried. (fn. 421) By 1776 the manor was valued at £454 2s. 3d., in 1784 £528, and by 1798 £598 7s. (fn. 422)
Milton tithing's three-field system, recorded in 1318, survived until the 19th century. (fn. 423) Inclosure of meadow and pasture appears to have taken place east of North field where fields called Newleaze and Hams occur. In the north former areas of meadow called 'Westlongedole' and 'Outmead' and pasture called Northmoor were divided into two triangular areas known as Milton Leaze and Milton mead. (fn. 424) In 1776 it was stated that, as in Ash and Long Load, a three-year arable rotation based on wheat and beans was still followed, and that the tenants never sowed turnips, barley, or clover. The soil was then described as 'fine, rich land', many of the tenants never manured their grounds, and others laid only 3–5 cartloads of dung to the acre. Some having sown wheat never harrowed it until the following spring and then only with a light harrow. The farmers were castigated for mismanagement and not improving the land, they kept few sheep which they never folded, and their oxen were 'poor, stunted things', eight being required to pull a plough normally drawn by six. (fn. 425) The duchy of Cornwall desired inclosure at Milton in 1798 but it was not until 1810 that the three arable fields, comprising 212 a., were inclosed by Act of Parliament. (fn. 426) Milton mead, however, was still divided into dole strips in 1841. (fn. 427)
Ash, Witcombe, and Milton all claimed pasture for sheep and horses in Kingsmoor, across the Parrett to the north. In the mid 16th century access to it was gained by means of Witcombe and Milton bridges, and c. 1583 it was claimed that the lord of Kingsmoor 'hath great wrong offered' him by the grazing of Martock sheep. (fn. 428) The lord of Somerton manor required 38s. 8d. a year for the grazing in 1555, and in 1631 the vicar of Somerton was claiming a proportion of tithe wool from Martock men appropriate to the length of time their beasts were grazing on Kingsmoor. (fn. 429) Suit to Kingsmoor court was paid by the three tithings at least until 1796, (fn. 430) and men from Martock were commonly amerced there during the 18th century for breaking bounds with their sheep. An order to erect a gate at the north end of Witcombe bridge in 1750 took seven years to enforce and between 1757 and 1764 James Williams of Long Load was repeatedly fined for driving his wagons across the moor. Another tenant was fined in 1791 for stocking the moor with 36 sheep above the 159 for which he had grazing rights. (fn. 431) The moor was inclosed in 1806 when 47 a. in a rectangular area opposite Witcombe were allotted to Martock. (fn. 432)
Of the two estates held at one time by John de Say Martock Sayes had a rental of over £8 between 1508–9 and 1521–2. (fn. 433) In 1558 it comprised 91 a. held by 16 tenants paying £8 14s. 6d. No heriots were charged because the manor was 'all demesne land'. The estate lay principally in Long Load and to a lesser extent in Coat, with smaller portions in Martock and Bower Hinton. (fn. 434) Says Bonville in 1525 totalled 70 a. held by 5 tenants at will in Long Load, 1 freehold and 4 copyhold tenants in Coat, and 5 copyhold tenants in Martock, rendering a total of £7 10s. 6d. (fn. 435) In 1775 Raymundo Putt's 'manor of Long Load', evidently derived from lands in both manors, was held by 8 tenants paying £4 12s. (fn. 436)
With the decline, and in some cases disappearance, of the medieval manorial estates a number of larger freeholds were built up during the 18th and early 19th centuries. By 1824 there were three estates in the parish of over 400 a. The largest was that of Robert Goodden, totalling 462 a. and centred on the 'Manor House' and Manor farm in Martock tithing. The Napier estate of 428 a. was based on Pykesash manor, while that of William Cole Wood of 405 a., reflecting its piecemeal acquisition, was distributed throughout the parish. Thomas Richards and John Whitehead Richards between them held 673 a. in Stapleton, but there was no other holding over 250 a. Within individual tithings there were several farms of over 100 a. in extent: 4 in Bower Hinton and Hurst, 2 in Ash, and one each in Coat and Martock. (fn. 437) By 1841 the Goodden, Richards, and Wood holdings had increased, accounting between them for nearly 2,000 a., Ann Coggan and George Slade held 279 a. and 242 a. respectively, and there were a further 6 landowners with over 100 a. (fn. 438)
With the completion of inclosure the usual consolidation of farming units took place from the mid 19th century. In the former open fields 3 new farms were created: Stapleton Mead farm in Stapleton (96 a. in 1868), Hillside (now Hills) farm in Martock (87 a. in 1888, 131 a. in 1900), and Durnfield farm in Ash (38 a. in 1864, 135 a. in 1912). (fn. 439) The larger estates began to be split up and sold, the Goodden lands amounting to 500 a. being dispersed in 1883. (fn. 440) By 1939 there were 14 farms of over 150 a., of which 5 lay at Long Load and 3 at Milton. (fn. 441) In the south of the parish Bower Hinton farm, which had 123 a. in 1889, gradually accumulated lands from the former open fields and comprised 200 a. in 1974. (fn. 442) The crops cultivated during the 19th and earlier 20th centuries, as in the Middle Ages, were generally wheat and beans with some flax, (fn. 443) but an increasing proportion of the land was given over to pasture. In 1841 there were 4,204 a. of meadow and pasture compared with 2,161 a. of arable. (fn. 444) By 1905 the area of permanent grass had grown to 5,332 a. and that of arable shrunk to 1,073 a. (fn. 445) In Long Load the 1905 arable accounted for less than one eighth of the farmland, (fn. 446) and grassland continued to predominate in 1974.
Trade and industry.
As a market town by the 13th century Martock became a trading as well as an agricultural centre. Evidence for medieval occupations is slight. A weaver occurs in 1560, a tailor in 1603, a draper in 1613, and a linen draper in 1654. (fn. 447) Clothmakers, dyers, and sergemakers are often found in the later 17th century, and in the 18th a number of clothiers established family concerns which survived for several generations.
William Cole was described as a clothier from 1728 until his death in 1762, his wife's family, the Hillyards, being linked with fulling interests in Taunton. (fn. 448) His only daughter married William Wood (d. 1801), probably son of a Martock linenclothmaker, and their son, William Cole Wood, became the most prominent tradesman and landowner resident in the parish. (fn. 449) In 1796 he held a workshop and 76 a. of land in Bower Hinton and Hurst, but by 1841 had increased this to 680 a. and shortly before 1849 built Ashfield House. (fn. 450) The Patten family of Hurst and Bower Hinton, occurring as clothiers from 1733, married into the Adams family, also clothiers. (fn. 451) The Hamlyns are recorded as stocking-makers and clothiers in the mid 18th century as were the Palmers and Butlers in the later 18th and early 19th centuries. (fn. 452) In the 18th century these families and others in allied trades formed a merchant class within the parish, marrying within their own ranks, and subsequently involving themselves in more 'respectable' occupations. Thus in the 19th century the Adamses became solicitors and wine merchants, and the Westcotes turned to medicine. Families like the Woods sent their sons to public schools and often left the area. (fn. 453) The commitment to clothing and similar trades was still evident in 1851 when there were 41 dressmakers, 16 tailors, 6 wool-sorters, 7 seamstresses, 5 handloom weavers, 3 staymakers, 2 fellmongers, and 2 wool-staplers. (fn. 454)
A glover was mentioned at Martock in 1655 but glovemakers occur regularly only from the early 19th century. (fn. 455) The parish was linked with Stoke sub Hamdon as a production centre and up to 1826 the two were producing 500 dozen beaver gloves a week. The importation of French gloves, however, reduced the demand and, like Yeovil, Martock turned to making kid gloves. By 1830 the manufacture had been 'much reduced' and a year later production from Martock and Stoke had fallen to 50 dozen a week. (fn. 456) A recovery had evidently taken place by 1851 when there were 567 women in the parish engaged in gloving, a figure which dwarfed that of any other occupation. (fn. 457) Many of these women worked in their own homes but there were always a number of small factories. There were still three of these in 1911, although making mainly silk or fabric gloves, (fn. 458) and in 1974 Burfield and Company, the Martock Glove Company, and Seager Brothers were still operating in the parish.
By 1857 the West of England Engineering and Coker Canvas Company had acquired the old Cary's mill site, renamed the Parrett Works, and were producing mining, horizontal, high-pressure, and condensing engines, traction engines, threshing machines, water wheels, corn-mills, flax and spinning machinery, power looms, and Parsons' patent iron and wooden wheels. (fn. 459) By 1861 the company had been taken over by George Parsons, who exhibited his patent wheels at the International Exhibition of 1862, and subsequently extended the range of products to include yarns and canvas. (fn. 460) A new power-loom shed was opened in 1866. (fn. 461) Economic pressures forced the company to discontinue yarn and canvas making and in 1869 it went into liquidation. (fn. 462) By 1875 the works had been taken over by two firms: William Sibley's West of England Engineering Company, millwrights and iron and brass founders, and G. H. Smith, makers of Napier matting, blind and sash cords, rope and twine. (fn. 463) Sibley's continued there in 1923 but had gone by 1931, leaving Smith's, who were still operating there in 1941. (fn. 464) In 1974 the premises were held by West of England Warehouses and used also by Somervale Foods and Somerset Joinery.
William Sparrow, formerly of the Parrett Works, founded the Somerset Wheel and Wagon Company at Bower Hinton in 1868. (fn. 465) The firm was trading as William Sparrow Limited, agricultural engineers, in 1974. James Paull, formerly a seedsman and corn factor in the parish, had established his sack and oil-covering factory by 1872 and in 1889 specialized in making tents and marquees. (fn. 466) As Yeo Brothers, Paull, and Company the firm was continuing at the Orient Tent Works in 1974. Another prominent business still operating in Martock is Harry Hebditch Limited, founded c. 1907 to make poultry appliances, who in 1974 manufactured a wide range of sheds, greenhouses, garages, and chalets. (fn. 467) Yandle and Sons, timber merchants at Hurst, were wheelwrights at Coat in 1894 and builders and wheelwrights at Hurst by 1906. (fn. 468) Between 1883 and 1917 Martock had its own newspaper, Palmer's Weekly News, established by M. A. Palmer at the Atlas printing office in Water Street. (fn. 469)
The varied nature of trade within the parish is shown by references to a cutler in 1719, a currier in 1720, a tallow-chandler and a roper in 1723, a brush maker in 1728, a stockingmaker in 1738, a staymaker in 1748, a hosier in 1751, a salter in 1755, a peruke maker in 1762, a tobacconist and a collarmaker in 1772, a fellmonger in 1779, a soapboiler in 1792, and a gunsmith in 1794. (fn. 470) An enterprising local clockmaker, Thomas Stocker, started a clock and watch club in 1808. The 21 members met at the George Inn, paying Stocker monthly subscriptions until sufficient money had accumulated for a silver watch at £4 4s. or a clock and case at £5 5s. (fn. 471)
A basket maker was mentioned in 1813 and in 1830 there were 2 rope and twine makers, 2 ironmongers, a tallow chandler, staymaker, 2 maltsters, and 2 straw-hat makers. The professional classes were then represented by 2 attorneys and 5 surgeons. (fn. 472) By 1839 the manufacture of sailcloth, bricks and tiles, and cheese had been introduced, and the growing population found need of a hairdresser, a veterinary surgeon, and a china and glass dealer. (fn. 473) In 1842 there were 7 grocers and drapers, in 1852 an earthenware dealer, and in 1861 an architect and a tinplate worker. (fn. 474) Branches of Stuckey's bank and the London and South Western bank opened in 1863, followed before 1875 by the Wiltshire and Dorset Banking Company. (fn. 475) A herbalist had established himself by 1875, and 2 photographers and a cardboard-box maker by 1894. (fn. 476) There was a jeweller by 1910, a rabbit-skin dealer and a dentist by 1931, and wireless engineers by 1939. (fn. 477)
Although no main road passed through the town, in 1830 carriers connected regularly with Yeovil, Crewkerne, Langport, Taunton, Bridport, and Bristol, and in 1839 5 London coaches ran daily through it. (fn. 478) The opening of the railway in 1849 reduced the demand for coach services and by 1852 these ran only to Yeovil. Although the carriers had then extended their links to Bridgwater and London, (fn. 479) the railway, until 1906 the main route between London, Yeovil, and Taunton, continued as the principal outlet for goods and passengers. As in many rural areas of Somerset, the closure of the railway in 1964 and the dearth of alternative public transport has severely restricted the travel of those without cars.
Market and fair.
Ingram de Fiennes procured a grant of a weekly market on Tuesdays within his manor of Martock in 1247. By 1294 the market and common oven were let at farm for 73s. 4d. and by 1302 the tolls of the market and perquisites of a fair were worth 6s. 8d. (fn. 480) In 1378–9 the tolls were let together with the common oven and office of bedel of the hundred, and by 1506 the tolls were held by the manor bailiff. (fn. 481) A new lease of the tolls of grain and cattle was granted in 1531 and was still held in 1555. (fn. 482) Evidently the market was discontinued during the 17th and earlier 18th centuries until 1753, when the prices charged by hucksters and bakers in the parish decided the vestry on setting up a Wednesday market for the sale of 'corn and other things'. The vestry also agreed to indemnify anyone prosecuted for selling goods in the market and ordered a house to be built at the Cross to keep corn dry on market days. (fn. 483) In 1755 an anonymous message found at the church ordered the vicar to 'see that the market is put up again very soon', and by 1791 the market was being held on Wednesdays and Saturdays. (fn. 484) These were continuing as market days in 1840, principally for the sale of meat, but by 1889 had been changed to the last Monday in every month. (fn. 485) Between 1906 and 1931 the market was replaced by an auction sale every other Tuesday, and from 1931 at least until 1939 this was held on alternate Mondays in a field near the station. (fn. 486)
A fair held on St. Lawrence's day (10 August) was in being by 1302. (fn. 487) A Taunton mercer had a stall at the fair in 1682 (fn. 488) and the tolls continued to be held with the bakehouse during the 18th century, although the market had been discontinued. By 1767 the fair day had been altered to 21 August and was principally used for the sale of pigs and by pedlars. (fn. 489) The fair was for cattle during the 19th century and in 1893 it lasted for two days: the first devoted to the sale of cattle in Mr. Farrant's barton; the second was a pleasure fair in the Market Square and on the Green. (fn. 490) The fair was held on 21 August in 1939 (fn. 491) but does not seem to have survived the Second World War. An unsuccessful attempt to revive it was made in August 1974.
The present market house may be that built by order of the vestry c. 1753, although it was attributed in 1791 to the Slades, who purchased the manor in 1759. In 1791 the butchers' shambles occupied the ground floor with an assembly room above it. (fn. 492) The ownership of the building continued in the lords of the manor until 1883. The tolls of the fair were then sold with the lordship, but the Goodden family retained the market house until 1954 when it was sold to the Parish Council. (fn. 493) The building was restored and reopened in 1960–1. (fn. 494)
Mills.
There were 2 mills within the manor in 1086 paying 35s. (fn. 495) These probably correspond with the 2 long-established mill sites in the parish: Walter's mill, later Cary's mill, and finally the Parrett Works, and Madey mill. The two were let for £12 in 1293–4, and in 1302 they were valued at 60s. (fn. 496) Both were leased to Ralph de Middleney in 1339, (fn. 497) and in 1364 they were let with suit due from the bondsmen of Martock and a fishery. (fn. 498) In 1507 one of the mills, known since 1364 as Walter's mill, possibly after a 13th-century miller, (fn. 499) was let by copyhold for £10 13s. 4d. The other mill, known from the 14th century as Madey mill, was held in 1507 by copy for a rent of £5. (fn. 500) Both mills were in the same occupations in 1537 and both were leased in 1539 to Robert Pullman for £13 a year, the latter still occupying them in 1555. (fn. 501)
Walter's mill was granted by copy to William Gardner in 1592, with the grist and toll of the lord's tenants. (fn. 502) It was enfranchised in 1627, the freehold passing to Sir Thomas Brudenell and Milicent Herenden. (fn. 503) Thereafter the descent is not clear but the mill was tenanted by John Sealy, miller, c. 1704–42, and Thomas Gould, 1750–8, and was described in 1750 as two copyhold water grist mills and a malt mill called Walter's mill. (fn. 504) From c. 1758 it was owned by Thomas Cary and John Bull, and occupied c. 1758–63 by a tenant. Thereafter the Carys occupied the premises themselves until 1789, and again between c. 1794 and 1840. (fn. 505) One of the mills had become a snuff mill by 1811, and in 1838 Henry Cary (d. 1840) was occupying two houses and a warehouse on the site and R. B. Hansford a house and mill. (fn. 506) There were two mills in 1841, the snuff mill occupied by Cary's widow and the other by Thomas Leach. (fn. 507) Cary's mill was unoccupied in 1853, but by 1857 the site had become the Parrett Works. (fn. 508)
By 1592 Madey mill with a horse mill was held by the Gould family (fn. 509) and Barnard Gould was still in occupation when it passed with Martock manor to William Strode in 1637. (fn. 510) It continued in the family for a time, but in 1717 it was let to James Hurd the younger, and was then described as a watermill and malt mill. (fn. 511) Hurd bought the freehold in 1740 and sold it in the same year to Thomas Hopkins, then a Martock huckster and baker. (fn. 512) During the earlier 19th century the Hopkins family became the most prominent milling family in the area, holding not only Madey mill, but also Clapton mills in Crewkerne, Gawbridge mills in Kingsbury Episcopi, and other mills in Stoke sub Hamdon, Merriott, and Hook and Maiden Newton (Dors.). (fn. 513) Thomas Hopkins leased the mill to his son John in 1773 and conveyed it to him in 1778. From John Hopkins (d. 1800) it passed in 1802 to his son Jesse (d. 1848), who built a new dwelling-house with other buildings and installed a steam engine. The premises were left to William Culliford Hopkins of Stoke sub Hamdon and in 1865 were owned by William Hopkins of Gawbridge. The property then comprised a steam and water corn mill, with boiler house, bakehouse, and oven, 3 pairs of stones, a water wheel, and wire and dressing machines. (fn. 514)
The present mill is probably of late-17th-century origin but has been much enlarged on the north and west. The surviving iron wheel, made by Sparrow of Martock, is overshot, the water being conveyed to it by a built-up leat along the valley side, but the arrangement of the mill building suggests that it was designed for an undershot wheel fed at a lower level. The mill-house is c. 1800, presumably built by Jesse Hopkins, and there is a 19th-century granary of three storeys.
There was a windmill in Stapleton manor valued at 5s. in 1308 and at 6s. 8d. in 1336. (fn. 515) It does not appear in extents of 1359 and 1368. (fn. 516)
A windmill near the highway in Long Load manor held with 1 a. of land for 2s. a year was in decay in 1386. The land was then leased with the reversion of a further acre called the 'Shoveledacre'. (fn. 517) Inclosed bondland in the fields called 'Milacre' and 'Sholdacre' was recorded in 1505, (fn. 518) but the mill was not mentioned again and the site has not been traced.
Two fulling mills in Martock manor were described as totally waste by 1506. (fn. 519) They may perhaps be associated with two fields called Dye House lying on either side of Hinton Meads brook immediately south-east of Madey mill. (fn. 520) A house called the Dye House, however, formed part of the manor of Martock Sayes in 1558 (fn. 521) and the fulling mills site may lie elsewhere.
A mill and mill-house, held with a newly-built house and 32 a. of copyhold land, formed part of that manor of Milton which was held with Yeovilton manor. It was occupied by John Casse in 1619, subsequently by Mary Casse, and between 1682 and 1689 by Valentine Cousins and Anne Cooth. (fn. 522) Its site and subsequent history have not been traced.
A close called Windmill of 7¾ a. in Martock was mentioned in 1692 and called formerly Windmill now Fire Beacon in 1816. (fn. 523) This may possibly be identified with fields called Great Beacon and Beacon on the northern boundary of Martock tithing on the west side of Bearly Road (fn. 524) and may indicate a former windmill site.
LOCAL GOVERNMENT.
It may be assumed that the jurisdiction of the capital manor of Martock formerly covered the whole of the ancient parish and also the tithing of Westcombland, reckoned under Coat but locally in Buckland St. Mary. (fn. 525) This was modified by subinfeudation and by 1275 the taking of felons' goods was claimed by the bailiff of Martock and strays were being claimed by the lords of Stapleton, Ash Boulogne, Milton, Long Load, and Fenns. (fn. 526)
No court rolls for the capital manor have been traced. Between 1506 and 1537 3 lawdays and 4 other courts were held each year. (fn. 527) In 1661 courts for the hundred and manor were being held quarterly in the school-house, and suit of court was required of a lessee in 1763. (fn. 528) The court baron and view of frankpledge were referred to in 1844 and there was evidently a court leet held in October until at least 1852. (fn. 529) From the 15th century a salary of £5 a year was paid to the tenant serving as reeve and rent collector, although by 1506 the office was served by the bailiff of the manor. In the same year the hayward of Whaddon was paid for the execution of his office. (fn. 530)
Courts baron for the Wills manor of Martock for 1656–7 have been found. Business was then wholly tenurial. Suit of court was still required of a tenant in 1739. (fn. 531)
A court book for the manor of Martock Rectory covers the years 1742, 1821–80, although the last formal session was held in 1827. Business transacted related only to tenancies and no manorial officers were appointed. (fn. 532) Court rolls for the manor of Martock Priory are extant for 1479, 1482, and 1489; the courts were concerned in some detail with the disrepair of tenements and outbuildings. A reeve, bailiff, and steward were all mentioned, but not apparently appointed by the court. (fn. 533)
Court books for Stapleton manor have been found for 1640–56 and 1665–83, with presentments continuing to 1685. (fn. 534) Sessions, described variously as courts or courts baron, were usually held twice a year in spring and autumn, probably at the Court House. (fn. 535) They were concerned principally with ditch scouring, drove repair, and breaches of grazing and other customs. A hayward was appointed between 1665 and 1682, and grass haywards occur in 1679–80. Two surveyors were occasionally elected (1671–2, 1681).
Court rolls and books for Long Load survive for the years 1379, 1384–8, for many years in the 15th and 16th centuries, and continuously from 1551 to 1923. (fn. 536) Sessions were usually held twice a year until the 17th century and thereafter once a year, being described as courts or courts leet for Hockday and Michaelmas terms, sometimes with view of frankpledge. During the 17th and 18th centuries they were generally called courts, with the addition of a view of frankpledge when officers were appointed. Thereafter they were termed courts leet and courts baron until 1873, and courts baron until 1923. The court was probably held in the priest's house during the 16th century, for it was described as the former court-house in 1607. In 1608 it was suggested that the court be held in 'Mr. Brayne's house'. (fn. 537) The tenants complained in 1740 that they had not had a proper court for years and that the lord of Martock was requiring them to do homage in his court, had leased Long Load's game, and that their ditches and lakes had not been scoured for want of duly appointed officers. (fn. 538) Court business was chiefly concerned with ditch, drove, and drainage work, the maintenance of foot-bridges, repairs to houses, and breach of grazing customs. Manorial officers included a hayward (1379–1923), who by 1608 had the use of the 'hayward's leaze' during his term of office, and after 1774 served as long as the inhabitants wished. There were also two haywards serving for Outmoor in 1565. (fn. 539) A tithingman was appointed between 1413 and 1809, (fn. 540) and a reeve was elected during the years 1442–1507. Two constables were regularly appointed from 1553 to 1809 and made presentments, and a herdsman, elected in 1647 and mentioned in 1671, had to give notice of taking the prey over the commons. Other officers appointed by the courts included overseers to repair banks around the commons (1595), affeerers (1653–70), and viewers (1689).
A single manor court for Ash Boulogne in 1546 was concerned with tenurial business and decayed buildings. (fn. 541) Suit of court was demanded of lessees within the manor of Pykesash until 1704, and of Witcombe and Coat until 1793. (fn. 542) Court records for that manor of Witcombe held with Stapleton manor survive for 1640–3 and 1665, the sessions being termed courts or manor courts baron. (fn. 543)
Court rolls for the manor of Martock Sayes are extant for 1521–3, and 1543–4, the courts being concerned chiefly with the repair of tenements. (fn. 544) Suit of court was required of tenants to the combined manors of Martock Sayes and Says Bonville until at least 1760. (fn. 545)
Court rolls and books for the manor of Milton Falconbridge survive for 1540–1, (fn. 546) and for several years in the 17th century; (fn. 547) from 1670 to 1883 the series is fairly complete. (fn. 548) Courts were held twice yearly by 1456–7 (fn. 549) but only annually in the late 18th and 19th centuries. Two leet lawdays were mentioned in 1476–7 (fn. 550) and courts were usually known in the 16th and 17th centuries as courts, courts baron, or courts leet, sometimes with view of frankpledge. A tithingman and a hayward were regularly appointed from the 17th century, a reeve was elected in 1679, and a grass hayward by 1795. Two grass haywards served between 1802 and 1869, and the last hayward was presented in 1874. Courts were held in John Lavor's house in 1650. (fn. 551)
Court rolls for the manor of Fenns, later Fenns and Haythorn, have been traced for 1506 and 1689– 1865. (fn. 552) Described simply as courts in 1506 and as courts baron from 1689, sessions were evidently held only when required by tenancy changes. In 1650 the court was held in a barn at Fenns, (fn. 553) but by 1785 usually in the common hall of the vicars choral at Wells. No manorial officers were appointed by the courts and, apart from an order to scour ditches in 1506, business was entirely concerned with tenancies.
Churchwardens are mentioned in 1349, posts or sidesmen occur in 1554, and from 1598 there have always been two churchwardens. (fn. 554) Four overseers of the poor occur between 1675 and 1843. There were 5 in 1844 and 8 between 1871 and 1894. (fn. 555) Two waywardens served from 1675, increasing to 3 in 1689, to 6 in 1729–30; they dropped to 4 between 1731 and 1740, and to 3 from 1741. Four were appointed from 1842, one in 1871, and 2 from 1883 to 1894. (fn. 556) Two parish constables were mentioned between 1678 and 1753. In 1844 one paid constable was appointed, with 3 part-time, and between 1854 and 1871 2 paid constables were elected. (fn. 557)
By the later 17th century the 4 overseers were each assigned a particular area of the parish. A 'parish house', rented from the lord by 1680 and repaired for the accommodation of the poor in 1725, may possibly be distinguished from 'the church house', repaired for the same purposes in 1730. (fn. 558) In 1730 the overseers were ordered to 'seize' a house at Highway for the use of the parish, and in 1735 a workhouse was rented, a master appointed, and each overseer was paid £12 towards maintaining the establishment. Paupers refusing to enter the workhouse received no relief, a vestry committee of 6 was ordered to inspect the house weekly, and a doctor was appointed to tend the poor housed there. In 1742 the Nonconformist members of the vestry succeeded in voting its closure, the paupers were farmed out to other households in the parish at up to 18d. each a week, and the beds and cooking utensils distributed to the needy. (fn. 559)
Occupiers of property who became a burden on the rates were required to assign their houses to the parish if they wished to receive relief. Such surrenders were made in 1742 and 1751 and houses were similarly acquired at Load by 1755, in North Street in 1759, and at Ash by 1763. This policy continued into the 19th century, paupers being accommodated whenever a vacancy arose. (fn. 560) Use of the 'parish house' continued, one inmate in 1753 being allowed a pair of shoes if she took another female pauper into bed with her. Orphaned children were sent to Betty Locock's house where a dame school was held. Nine children there contracted smallpox in 1758 and a year later the parish paid for the conversion of her loft to house more. There was insufficient accommodation in the parish in 1786, when the vestry agreed to rent or build another poorhouse. (fn. 561)
Efforts were made to start a workhouse at Hurst in 1760, and near Shepton Mead bridge in 1789. Land was purchased in Water Street in 1796 for the same purpose, but orders for the building to start in 1799 and 1805 may never have taken effect. (fn. 562) In 1824 there were 3 poorhouses in Martock, one in Water Street opposite the present Bridge House, one at the west end of Ash, and a third at Highway. (fn. 563) The parish became part of the Yeovil poor-law union in 1836 and two years later the properties accumulated by the parish were sold: a cottage at Milton, three in Ash, two in Coat, and one in Water Street. (fn. 564) Two further cottages in North Street and one at Coat were ordered to be sold in 1854. (fn. 565)
Badges were introduced in 1722 and poor children were taught to weave dowlas between 1751 and 1768. (fn. 566) In 1842 sums were raised to fit out paupers for emigration to Tasmania and similar subsidies were proposed in 1848. (fn. 567) Officers later appointed by the vestry included a salaried assistant overseer to collect rates (1836–84), between 4 and 6 lighting inspectors (1875–82), and an inspector of waterworks (1890). (fn. 568)
The first fire engine was bought by the vestry in 1755, and a second in 1807, both stored in the Market House in 1891. (fn. 569) A fire brigade, formed in 1874, acquired an outbuilding at Manor Farm in 1930 to house a motor fire engine bought in the previous year. (fn. 570) A playing field south of Water Street at Frickers bridge was bought in 1951, with money given for a War memorial. The field was converted to a public recreation ground in 1954. (fn. 571)
The housing of the poor caused the vestry, and later the parish council, the greatest concern, particularly at Ash. There in the winter of 1863 13 people had to sleep in one room and there was much illness due to unsatisfactory drainage. (fn. 572) In 1906 740 of the 'working classes' occupied 212 houses with only one or two bedrooms each and the cottages, and especially their bedrooms, were 'generally insanitary'. The first council houses in the parish were built at Coat in 1913. (fn. 573)
CHURCH.
Martock church, in the centre of a large pre-Conquest estate, was probably a minster of royal foundation. It was first mentioned in 1156 when it was confirmed as a possession of the abbey of Mont St. Michel (Manche). (fn. 574) The bishop of Winchester, 'having long possessed it', restored it to the abbey in 1176–8, but it was acquired by the bishop of Bath by 1190–1, the abbey receiving pensions in return. (fn. 575) In 1226 the bishop divided the income: half was returned to Mont St. Michel in exchange for the patronage, and the other half was assigned to the treasurer of Wells cathedral, subject to an annual pension to Merton priory (Surr.). (fn. 576)
The bishop of Winchester appointed a vicar before 1176–8, and Mont St. Michel or its daughter house at Otterton (Devon) were patrons thereafter until 1226. (fn. 577) From that date the advowson belonged to the treasurer of Wells or his grantees. (fn. 578) Thomas Owen presented in 1654, (fn. 579) the bishop in 1663, 1696, and 1708, and the chapter of Wells in 1692 during vacancies. (fn. 580) The bishop became patron between 1883 and 1888. (fn. 581)
The vicar's portion was worth £5 in 1291. (fn. 582) It had risen by 1535 to £15 9s. 10½d. net, deductions including the salary of a chaplain at Stapleton. (fn. 583) The vicarage was valued at £80 in 1650 but by the following year stood at £40 when the living was augmented with a further £80, subsequently reduced to £60 between 1655 and 1657. (fn. 584) This augmentation was removed at the Restoration and the value c. 1668 was £50. (fn. 585) The living was again augmented in 1733 with £230 to Martock and £200 to Long Load, private benefactors contributing. A further £200 was added to Long Load in 1789. (fn. 586) By 1831 the net value had risen to £270, but by 1851 the gross income of over £426 was reduced to £199 net. (fn. 587)
Oblations and small tithes were valued at £12 16s. 8d. in 1334, (fn. 588) and had risen to £21 14s. 9d. by 1535, including 2s. from Westcombland in Buckland St. Mary in lieu of tithes. (fn. 589) In 1606 the vicar was receiving tithes of calves, colts, pigs, fruit, and gardens. (fn. 590) During the period 1657–61 tithes were sometimes rendered in kind and sometimes compounded. (fn. 591) Until 1721 they were let, but thereafter the vicar received compositions in cash which amounted to £102 by 1733. In 1763 he was paid 1s. for the fall of a colt, 6d. for the fall of a calf if reared, but a tenth of the price if sold and the left shoulder if killed. He also received 2d. for a cow, 5s. for each acre of potatoes, a tenth of the sale price of turnips, and 1s. for a hogshead of apples, 4 hogsheads in 20 being allowed for fallings and rakings on account of the duty on cider. Moduses were paid for the two mills. In 1764 cow whit was discontinued as the amount was so small, and the charge on apples was varied with the cider duty. (fn. 592) The tithes were valued at £104 in 1823–4, but the tithe of apples alone was worth £334 in 1836. (fn. 593) In 1841 the vicar's tithes were commuted for £316. (fn. 594)
About 24 a. and 5 leazes in Coat Hay were given as glebe by the rector, Ralph Barker (d. 1708), and c. 1720 the glebe was let for c. £25. (fn. 595) A further acre was given by the then rector in 1720, and one Pittard gave Pittard's Close of 2½ a. in 1728. (fn. 596) Some 26 a. in Coat and 2½ leazes in Coat Hay were bought with augmentation money in 1733 and were let in 1764 for £40 10s., of which £20 was devoted to Long Load chapel. (fn. 597) The vicar was allotted 38 a. under inclosure awards of 1819 and 1826. (fn. 598) In 1841 the glebe lands totalled over 77 a., and in 1849 83 a., including the churchyards. (fn. 599) Small sales reduced the glebe to 63 a. in 1889 and 53 a. in 1944, but there were 59 a. in 1974. (fn. 600)
The former vicarage house stands at the corner of Church Street opposite the Church House and immediately west of the Treasurer's House. The vicar's house was described in 1639 as having a hall, hall chamber, and parlour, with two chambers over the parlour, an old kitchen, buttery, old stables, and lands partly walled about. (fn. 601) It has been suggested that the vicar then occupied the Treasurer's House, of which this might be a description. (fn. 602) In 1738 the vicar reserved the parlour and room above for his own use and sub-let the remainder to two other occupiers. (fn. 603) In 1815 the house was tenanted by the daughter of a former vicar, although the incumbent was again resident there by 1824. (fn. 604) The property was sold in 1875 (fn. 605) and was known first as the Old Vicarage and, in 1974, as Pattenden.
A new vicarage house was built west of Church Street and south of the mill brook in 1874, (fn. 606) and was occupied by the vicar in 1974.
John Southwood, vicar by 1532 until 1543, held the vicarage of St. Cuthbert's, Wells, in plurality. (fn. 607) George Spraggett, vicar by 1552, was deprived for being married in 1554, but was subsequently restored. (fn. 608) Thomas Curtis, vicar 1625–45, was fined for adultery and drunkenness by the Court of High Commission in 1639. (fn. 609) Amos Walrond, vicar 1645–7, was ejected by the Presbyterians and became secretary to Lord Hertford at Oxford. (fn. 610) James Stevenson, vicar 1654–62, had fought in Ireland in 1641 and subsequently studied medicine at Leyden. He practised in succession to his son between 1656 and his removal. (fn. 611) Thomas Bowyer, vicar 1708–63, was the first to propose the institution of public infirmaries. (fn. 612) G. W. Saunders, vicar 1917–52, was also treasurer of Wells between 1940 and 1955, and wrote a history of the parish. (fn. 613)
There were three chaplains serving in the parish in 1450 and 1468, (fn. 614) and by 1532 there was a curate and five other priests. (fn. 615) The vicar was required to find two priests in 1548, one in the parish church and one in Stapleton chapel. (fn. 616) There were only 5 communicants in 1776, the small number being attributed to nonconformist influence. (fn. 617) In 1815 the vicar was living at Bath, but there were prayers and a sermon twice on Sundays at Martock and once at Long Load, and prayers at Martock on Wednesdays and Fridays. (fn. 618) By 1827 the vicar was resident and in 1831 was employing two assistant curates. (fn. 619) Holy Communion was administered monthly and on feast days in 1843, (fn. 620) and on Census Sunday in 1851 there were congregations of 475 in the morning and 826 in the afternoon, including Sunday-school pupils. (fn. 621) In 1870 there were monthly celebrations of Holy Communion. (fn. 622)
An organ was first mentioned in 1534, (fn. 623) and in 1591 money was left to the choristers. (fn. 624) There was 'a large pair of organs' in 1644, (fn. 625) but these were evidently destroyed 'in Oliver's time'. In 1742 an 'organistical party' defeated nonconformist opposition to purchase a new instrument rather than repair the old. (fn. 626) The organ was rebuilt in 1798, probably replaced in 1805, and restored in 1930–1. (fn. 627)
In 1325 John de Say gave a toft and 20 a. for a chaplain to celebrate in the church in honour of the Virgin and for the souls of himself and his family. (fn. 628) It was probably this chantry which in 1546 possessed goods valued at 6s. 8d. (fn. 629) At its dissolution in 1548 it had only a tin chalice and ornaments worth 2s. Lands in Wimborne Minster (Dors.), after deductions, then produced £6 3s. 8d. (fn. 630) These lands, with the priest's house in Martock, were granted to Sherborne grammar school (Dors.) in 1550. (fn. 631) The priest's house was in 1974 called the Chantry, on the south side of Church Street behind a 19th-century block, incorporating a chemist's shop. (fn. 632) A short range of building, including one 15th-century open truss in its roof and a 14th-century doorway, may have been the hall of an early house. Beyond and in line with this range there are buildings of the 18th century.
In 1489 the treasurer of Wells granted a lease of 26½ a. to maintain a chaplain celebrating at St. Thomas's altar in the church. In 1548 the clear value of this grant was 53s. 4d. a year, but there was then no chaplain and no goods. (fn. 633) The lands were sold in 1549. (fn. 634)
In 1527 John Witcombe left lands in Martock to build a house for a chantry priest who was to keep an obit in the parish church for the souls of himself and his family. (fn. 635) No subsequent reference to this chantry has been traced.
In the 13th century William Sclavine of Coat was to keep a light burning at night in a mortuary chapel in the church in partial return for a grant of land in Martock from the abbot of Mont St. Michel. (fn. 636) A tenement in Ash was charged in 1349 with maintaining three lamps in the church. (fn. 637) In 1527 John Witcombe left money and cloth for gowns to 'five poor men in the worship of the five wounds of Christ', (fn. 638) and these may be the brethren or brotherhood of Martock church mentioned between 1541 and 1545. (fn. 639) A tenement called 'the brethernehedd land' occurs in 1555. (fn. 640) In 1548 8d. a year was paid from land in Pykesash for a lamp in the church. (fn. 641)
The former school-house, originally the court house, was bought from the trustees of the grammar school by the vicar, E. A. Salmon, in 1871, and conveyed by him to the parish in 1888. (fn. 642) It was later used for parochial meetings and, more recently, to house a branch of the County Library. It was sold in 1975.
The church of ALL SAINTS stands at the centre of Martock tithing west of the Market House. It is built mostly of ashlar and has a chancel with north and south chapels, aisled and clerestoried nave with north and south porches, and west tower. (fn. 643) The mid-13th-century east wall of the chancel is the earliest surviving feature in the building although it may represent the lengthening of an earlier chancel. By the early 14th century there was a south transept, of which only the south wall remains, and the church probably conformed to the common cruciform plan with a central tower. By the later 15th century when the west tower was added, the nave was probably aisled. It then had 4 bays which are reflected in the layout of the south aisle wall. Early in the 16th century the present arcades of 6 bays and the north aisle were built, perhaps following the removal of a central tower, and the clerestoried nave was covered with a richly-carved and painted roof. This is dated 1513 and its maintenance has been a constant burden on the parish since at least 1755. (fn. 644) Also in the early 16th century the east end was reconstructed and the chapels with their two-bay arcades were added. Other structural features of this period include the south porch and a stair turret in the north aisle wall to the rood loft. The east wall of the chancel was rebuilt in 1883. (fn. 645)
In a recess in the south aisle is a female Ham-stone effigy of c. 1315, possibly representing a member of the Fiennes family. (fn. 646) Externally there are traces of 7 scratch or mass dials on the south wall, and one buttress on the north side has footholds cut in it to aid the recovery of fives balls from the leads when the game was played there in the 18th century. (fn. 647) Gateways to the churchyard to the east and southwest are dated 1625 and 1627. There are 8 bells: (i–iv) 1902, J. Warner and Sons, London; (v) 1657, Robert Austen (II); (vi) c. 1500, probably by a Dorset founder; (vii) 1614, Robert Wiseman; (viii) 1877, Llewellins and James, Bristol. (fn. 648) The plate includes a paten and flagon of 1758 by R. Cox and two cups of 1861. (fn. 649) The parish registers date from 1558 and are complete. (fn. 650)
By 1535 the vicar of Martock paid a chaplain to serve Stapleton chapel. (fn. 651) By 1548 a light there was supported by 1 a. of meadow in Stapleton. (fn. 652)
The chapel was said to be annexed to the vicarage in 1625, (fn. 653) although in 1678 John Fanstone of Downton (Wilts.), grandson of a former lessee of Stapleton court-house, conveyed the chapel and its yard with some land to the lord of Stapleton manor. (fn. 654) The chapelry continued to form part of the title of Martock vicarage until 1798, although the chapel had probably then been demolished. (fn. 655)
A chaplain at Long Load occurs in 1418, and another, Thomas Colles, in 1494, (fn. 656) but none was named in 1548. (fn. 657) Chapel and lands were sold in 1549 to a local man, Robert Dyer, probably acting for the inhabitants. (fn. 658) Services were evidently continued, though Dyer's grandson was accused of preventing the minister or reader from conducting them. (fn. 659) By 1607 the chapel was owned by the lords of Long Load manor. (fn. 660)
In 1657–8 there was an attempt to create an independent chapelry, and during the later years of the Interregnum it was served principally by Edward Stacy, but also by itinerant preachers, including an Anabaptist mason, paid by collections among the inhabitants. (fn. 661) From c. 1720 the vicar of Martock held services fortnightly in return for the use of land given by the inhabitants; (fn. 662) and from 1733, after augmentation arranged by the vicar, the assistant curate of Martock held a service every Sunday. (fn. 663) Weekly sermons and quarterly celebrations of the Holy Communion were held in the early 19th century. (fn. 664) On Census Sunday 1851 the afternoon service was attended by a congregation of 113 adults and 47 Sunday-school pupils. (fn. 665)
Long Load was created a separate ecclesiastical parish in 1867. The vicar of Martock was patron and the first perpetual curate was the former assistant curate of Martock. (fn. 666) From 1957 it was held in plurality with Ash, but in 1972 the living was divided, Long Load being joined with Long Sutton. (fn. 667)
The chapel was supported by rents worth 16d. in 1548. (fn. 668) Its income was augmented with £20 a year in 1655, (fn. 669) and with £200 in 1733 and again in 1789. (fn. 670) By 1851 tithes, glebe, and fees produced £47, less than the salary of the curate. (fn. 671) An endowment of £200 from the Common Fund was made in 1873, (fn. 672) and there were still 4 a. of glebe in 1974. (fn. 673)
A church house or priest's house, the responsibility of the tenants of Long Load manor, was ordered to be repaired between 1494 and 1571. (fn. 674) In 1607 it was said to have been once called 'the court house' but was then called the 'priest house'. (fn. 675) It may possibly be the house held by the parish in 1815 which stood on the north side of the chapel yard. (fn. 676) A parsonage house was evidently acquired c. 1852 and was enlarged in 1865. (fn. 677) It was sold after amalgamation with Long Sutton.
By 1418 the chapel was dedicated to the Virgin, but a field called Mawdlyn Forde belonging to it in 1548 suggests a different patron saint. (fn. 678) In 1791 the building was described as small and ruinous. It measured 53 ft. by 17 ft., contained 10 pews and a gallery, and had a wooden turret at its west end with a clock and 2 bells. (fn. 679) It was evidently 'pulled down' in 1796 and presumably rebuilt soon after. (fn. 680) A faculty for demolition was granted in 1854. (fn. 681)
CHRIST CHURCH, Long Load, was completed in 1856 to the designs of C. E. Giles. It is in the Early English style and comprises chancel, nave, south porch, and a turret with a bell. The Jacobean pulpit survives from the former chapels, and a cup and salver dated 1825. (fn. 682) The first baptismal register begins in 1731, its earliest information being drawn from family bibles. Marriage and burial registers survive from 1749. (fn. 683)
A chapel was completed at Ash in 1841, and the three tithings of Ash, Milton, and Witcombe were created a separate ecclesiastical parish in 1845. (fn. 684) The living was held as a vicarage until 1957 and, after being linked with Long Load between then and 1972, it is held with the vicarage at Martock. Initially endowed with 4 a. and £690 in investments, it was augmented with £200 by Queen Anne's Bounty in 1850 and with £250 from the Common Fund in 1873. (fn. 685)
In 1843 two Sunday sermons were normally preached and Holy Communion was administered four times a year. (fn. 686) On Census Sunday 1851 there were congregations of 138 in the morning and 300 in the evening, with a Sunday-school attendance of 62. (fn. 687) Holy Communion was celebrated monthly by 1870. (fn. 688)
The chapel, later church, of the HOLY, ETERNAL, AND UNDIVIDED TRINITY originally comprised a simple rectangular stone building, designed by Sampson Kempthorne, to which a chancel was added in 1889, a porch in 1913, and a western tower as a peace memorial in 1920. (fn. 689) The tower contains 6 bells, 3 by Mears and Stainbank installed in 1921 and 3 acquired in 1946. (fn. 690) The plate is modern, and the registers are complete from 1841. (fn. 691)
NONCONFORMITY.
Thomas Budd, formerly vicar of Montacute and Kingsbury Episcopi, had settled at Ash by 1655 and become a Quaker. There in 1657 he held two meetings in his orchard, the first attended by 700–800 people and the second by c. 200, both addressed by Thomas Salthouse, an itinerant Quaker preacher. The first gathering was broken up by five priests, including the vicar, James Stevenson, with a great company of rude people with long staves and pikes', and the second by soldiers. Budd and Salthouse were both arrested but subsequently released. (fn. 692) Budd was again imprisoned in 1661 for refusing the Oath of Allegiance and died in Ilchester gaol in 1670. (fn. 693) Richard Wall, the vicar, was distraining Quakers' goods for attending a Yeovil meeting in 1670. (fn. 694)
An Anabaptist mason preached at Long Load during the Interregnum. Members of the sect were recorded there c. 1720, and houses in Martock were licensed for their meetings in 1737 and 1747. (fn. 695)
By 1669 there were five Presbyterian preachers in the parish: Henry Butler, ejected from Yeovil, John Dyer, John Bush, ejected from Langport and Huish Episcopi, John Turner, ejected from Cricket Malherbie, and Thomas Grove, ejected from Kilmersdon. (fn. 696) In 1672 James Stevenson, ejected from Martock vicarage in 1662, having preached for a time in Crewkerne, returned to preach in Martock, continuing until his death in 1685. (fn. 697) Another Presbyterian, William Cooper, ejected from St. Olave's, Southwark (Lond.), was licensed to preach in his own house at Long Load in 1672, and two other houses, one at Load, were similarly registered in the same year. (fn. 698) George Bisse, owner of one of the houses, complained that in 1680 he was threatened with arrest and that his house was haunted on Sundays by armed soldiers hoping 'to convict him for a conventicle'. (fn. 699) Thomas Budd from Barrington, probably son of the Quaker, evidently succeeded Stevenson as the principal Presbyterian preacher in the parish. He was ministering in Kingsbury Episcopi by 1681 and in Martock by 1685, (fn. 700) and occurs with three other itinerant Presbyterian ministers in 1690–1. (fn. 701)
It was probably the Presbyterians who licensed Andrew Westcott's house, now the Clerk's House in Pound Lane, in 1699, for in 1701 the 'new-built house in Andrew Westcott's orchard' was registered and subsequently became known as Pound Lane Chapel. (fn. 702) By 1722 this chapel had been endowed with 40s. a year for a teacher or preacher and was probably served by Mr. Hallett, 'a modern Calvinist' and an ordained Presbyterian minister, from 1717 until at least 1735, when he had a congregation of 400. (fn. 703) The congregation was subsequently described as Independent. By 1774 the activities of Lady Huntingdon's preachers in South Petherton had reduced the attendance at Pound Lane to 100 with only 30 communicants. (fn. 704) During the late 18th and early 19th centuries the chapel was attended by people from as far afield as Hardington Mandeville, Isle Abbotts, Pitney, and Donyatt. (fn. 705) George Whitefield preached in the chapel and the Somerset Independents held their annual meetings there in 1797, 1809, and 1825. (fn. 706) In 1851 the chapel, which seated 500, was attended by 150 on Census Sunday morning, (fn. 707) but during the later 19th century many of the remaining members removed to Bower Hinton Chapel, Pound Lane being served first by a preacher of the Particular Baptists and then by a Baptist layman. (fn. 708) Evening services continued to be held until 1905, and morning services until 1908. The chapel was demolished in 1913 and the stone used to repair the wall around the graveyard, which still survives. (fn. 709)
The chapel was 'barn-like' with a steeplythatched roof and square latticed windows, and a gallery supported on wooden pillars ran round three sides. (fn. 710)
Twelve houses were licensed for nonconformist meetings between 1689 and 1700, including dwellings at Hurst, Newton, Coat, and Long Load, and seven by Presbyterians between 1742 and 1755, including two at Load. (fn. 711) Presbyterians in the parish were still said to be numerous in 1776. (fn. 712) The strength of nonconformity is witnessed by the 'dissenting party' voting for the closure of a workhouse in the vestry in 1742. (fn. 713)
Two licences for Methodist groups were issued in 1747 and one in 1752, (fn. 714) and a meeting at Bower Hinton was established by the Revd. Christopher Hull c. 1788, although the register starts two years later. (fn. 715) A former member of Lady Huntingdon's college, he 'preached in barns, cottages, and open air, both here and in the adjacent villages and towns'. The present chapel and manse were built in 1791 and Hull continued as minister until his death in 1814. (fn. 716) In 1824 the minister registered a house in Long Load for worship, and in 1827 a house at Newton was bought to augment the minister's stipend. (fn. 717) The Revd. G. H. Cossins, minister 1830–66, 'a unique and godly man', established the meeting as an Independent (Congregational) chapel. (fn. 718) It was known as the Ebenezer chapel by 1837 and in 1851 the Census Sunday services were attended by 95 in the morning, 150 in the evening, and by 37 Sunday-school pupils. (fn. 719) A schoolroom was built (1866–8), classrooms added and, between 1887 and 1893, the chapel was enlarged. (fn. 720) There were 6 Congregational lay preachers in Martock in 1896. (fn. 721) The name of the chapel was changed to the Martock United Reformed church in 1973.
Of eight houses licensed for nonconformist worship between 1807 and 1835, two were Independent (one at Long Load in 1816), and of the others, two were at Bower Hinton (1815, 1825) and one each at Ash (1827), Coat (1829), and Milton (1835). (fn. 722) Wesleyans occur at Bower Hinton during the years between 1811 and 1828, at Ash between 1811 and 1838, at Martock between 1828 and 1858, and at Coat in 1832. The Ash congregation moved to Long Sutton. (fn. 723) A possible Arminian congregation in 1826, inferred from a reference to a school in that year, has not been traced. (fn. 724)
A Wesleyan chapel was built at Long Load in 1855 and closed in 1960. (fn. 725) Another in North Street, Martock, was built in 1868 and a Sunday school for 31 girls and 34 boys was formed in the following year. A new schoolroom was started in 1876. The present chapel on the same site was built in 1886. (fn. 726)
The Brethren met in the later 19th century at a chapel in Highway on the site of a former poorhouse, and in 1893 built the present Gospel Hall in Church Street. (fn. 727)
EDUCATION.
It is possible that Stephen Nurse (d. 1571), formerly a chantry priest at the manorhouse chapel, may have been responsible for starting a free school in the parish. (fn. 728) John Atkins, formerly of Taunton, was licensed to teach Latin and English in Martock in 1583, and subsequent licences to teach Latin or grammar were granted in 1592 to John Priddell, in 1604 to Simon Sturtevant, in 1605 to Thomas 'Bainrafe', in 1609 to John Gardner, and in 1633 to Thomas Farnham. (fn. 729) Sturtevant and Farnham were both graduates. 'Bainrafe' can be identified as Thomas Farnaby (d. 1647). (fn. 730) The parish house was also known as the school house by 1644, and there was then also a house for a schoolmaster. (fn. 731) In 1646 Charles Darby, the ejected vicar of Montacute, was appointed master and in 1662 became the first master of the grammar school endowed by William Strode. (fn. 732)
There was a teacher of infants at Long Load in 1567. (fn. 733) Elementary education is again recorded in 1612, when Edward Fry was presented for teaching an English school while unlicensed. (fn. 734) Two men were licensed to teach in the parish in 1633 and Thomas Payne, schoolmaster, was mentioned in 1695. (fn. 735) Regular payments to women for schooling pauper children were made by the overseers of the poor during the later 18th century. (fn. 736) In 1818 there were a day-school taught by the parish clerk for 50 boys, paid for by the parents, two Sunday schools on Bell's system for 285 children, and a Dissenting Sunday school in Long Load for 47. (fn. 737) By 1826 the vicar had established a day-school, probably the school which in 1833 had 50 infant pupils and was supported by subscriptions and parental contributions. Also in 1833 there were 2 schools for 80 boys and one for 40 girls, all private, and 4 Sunday schools: 2 run by the Church of England for 300 children, one Independent, and one Arminian, the last 2 having attendances of 50 each. There were also several dame schools for very young children. (fn. 738) There were 4 dame schools by 1846, of which 2 were at Long Load, with 81 paying pupils. (fn. 739) In 1868 there were 14 schools in the parish, including an evening-school. There were then 126 pupils on the books of the evening-school, all over 12, with an average attendance of 80, though girls of school age could spare little time from gloving. (fn. 740)
A National school at Martock was built by public subscription in 1846 on the south side of Church Street. (fn. 741) By 1850 it was run as both a commercial and National school and had 66 boys and 51 girls. (fn. 742) The building could accommodate 236 in 1894, but 183 was the average attendance. (fn. 743) By 1903 attendances had fallen slightly to 172. The two rooms were used almost every night for parochial activities, including band and choir practices, and temperance and friendly-society meetings. (fn. 744) From 1908–9 only boys and infants were taken and numbers fell to 122 in 1914–15 and to 96 in 1934–5. Known as Martock Junior school from 1940, junior boys and infants only were taken from 1945, and junior boys and girls from 1950. A drop in numbers to 77 in 1944–5 was followed by a rise to 106 in 1954–5 and a slight fall to 94 in 1964–5 and to 91 in 1969. (fn. 745)
A schoolhouse at Bower Hinton which was in existence in 1837 was assigned to the vicar and churchwardens in 1872, and became the National school there. (fn. 746) The school was evidently rebuilt c. 1870 with accommodation for 200 pupils. It had average attendances of 125 in 1889, and 128 by 1894. (fn. 747) In 1903 there were 132 children on the books although only 103 attended. There were two rooms, one of which was occupied by the infants. The schoolrooms there were also used for parochial activities. (fn. 748) From 1908–9 only girls and infants were taken, the school being administered with Martock National school, which accommodated the boys. Numbers rose to 140 in 1914–15 and fell to 112 in 1934–5. It became a junior school from 1940 and since 1950 has been given over to infants, being known as the Bower Hinton Infants school. Numbers, which had dropped to 45 in 1944–5, rose rapidly to 72 in 1954–5, 118 in 1964–5, and to 121 in 1969. (fn. 749) A new school was opened in Elmleigh Road in 1975 to replace those at Martock and Bower Hinton.
Ash Sunday school, attended by 121 in 1846, was then receiving a grant from the National Society. (fn. 750) Ash Church of England school was built in 1846 for 90 children and had an average attendance of 80 in 1889. (fn. 751) An infants' department was added in 1892, giving two rooms with accommodation for 112, and, in 1894, an average attendance of 90. (fn. 752) In 1903 there were 88 children on the books and attendances of 70. (fn. 753) Numbers fell gradually to 62 in 1934–5 and it became a junior school from 1943. Thereafter numbers generally continued below 45, but had risen to 53 in 1969. (fn. 754)
In 1836 Samuel Dyer of Long Load, having formerly set aside £300 to augment the salaries of the teachers in Long Load Sunday school, purchased 5½ a. of land in Aller, the income to be devoted by trustees to the same purpose. In 1866 the vicar of Martock, who was from 1867 also vicar of Long Load, and churchwardens became the trustees and the income was then £14. (fn. 755) The Sunday school at Load was attended by 109 pupils in 1846, and a permanent schoolroom was built in 1854. (fn. 756) In 1865 the vicar of Martock proposed that the income should be diverted from the Sunday school to found a day-school, and a Church of England school was evidently started soon after. (fn. 757) Average attendances of 41 in 1889 fell to 26 in 1903. (fn. 758) Subsequently described as a National Voluntary school, attendances remained steady at 36 between 1904–5 and 1914–15. The school took only juniors from 1921 and numbers dropped to 14 in 1934–5, rising to 23 in 1954–5. The school was closed in 1961. (fn. 759)
CHARITIES FOR THE POOR.
John Goodden of Bower Hinton (d. 1722) left by will 11½ a. of arable in Martock fields, the income to be distributed in bread every Sunday to people from Bower Hinton, Hurst, and Martock tithings not in receipt of poorrelief. The charity was to be administered by the vicar and churchwardens and in 1789 the earl of Salisbury granted to them his half of the great tithes payable from the charity lands. The lands were producing £11 a year in 1822, and on the inclosure of Martock fields in 1826 9 a. were allotted to the charity. Money received for lands bought by the railway company was used to acquire additional closes, and in 1867 the charity held 9½ a. let for £26 a year. In 1895 attendance at afternoon service in the parish church was required of all recipients of the bread. (fn. 760) The income stood at £40 in 1962. (fn. 761)
A charity established by the will of Elizabeth Hopkins producing £2 a year for the poor of the parish had been lost by 1822. (fn. 762)
By deed of 1852 Mary Leach (d. 1852) gave £300 in trust to the vicar and churchwardens, payable after the death of herself and her husband (d. 1860), to be divided after the repair of family monuments at Martock, amongst the poor of the parish. Between 1862 and 1865 it produced about £9 a year. (fn. 763) In 1895 the income of £8 15s. 6d. was paid to the church clothing club. In 1976 it was £8.16 which was combined with the Wood charity, called the Martock Charity and Coal Club, and distributed to the poor at Christmas. (fn. 764)
Ann Leaves, by will proved 1876, left £300 to the overseers the income for the poor of Martock, Hurst, and Bower Hinton tithings in coals, clothing, or both. In 1895 the income was £7 11s. 4d., distributed before Christmas in cards for coal or clothing to the value of 2s. 6d. each. The charity was taken over by the parish council in 1906 and, because of war-time rationing, was being distributed in cash in 1947. (fn. 765) The income was £6 17s. 8d. in 1962 and £6.88 in 1976. (fn. 766)
Half an acre of orchard in Bower Hinton was conveyed to the vicar and churchwardens by Mrs. M. A. Wood in 1878 for the general benefit of the church clothing club. In 1895 the charity was worth £1 15s a year, used according to the donor's intentions. (fn. 767) By 1976 the income had shrunk to £0.76 a year and was administered with the Martock Charity and Coal Club. (fn. 768)