Pages 7-12
A History of the County of Somerset: Volume 5. Originally published by Victoria County History, London, 1985.
This free content was digitised by double rekeying. All rights reserved.
WILLITON AND FREEMANORS HUNDRED
The hundred lies near the western end of the county. (fn. 1) It occupies the southern slopes of Exmoor, the southern and eastern parts of the Brendon Hills, part of the broad valley between the Brendons and the Quantock Hills, and the north-western end of the Quantock ridge. Much of the hundred lies on high and often infertile ground where settlements are small and scattered, contrasting with the nucleated villages on the coastal shelf north of the Brendons and the Quantocks and those in the valley between them. Agriculture has long been the predominant activity, but extensive sheep farming made the production of woollen cloth a significant feature of many villages until the earlier 19th century. Iron ore mining on the Brendons made an impact on the area in the later 19th century. Exmoor and the Brendon Hill area became part of the Exmoor National Park created in 1954 and the Quantock Hills were designated an Area of Outstanding Natural Beauty in 1957. (fn. 2)
The Domesday hundreds of Williton and Winsford, including together just over 94½ hides, (fn. 3) were the origin of the later hundreds of Williton and Freemanors. Precise definition of Williton is not possible before the late 13th century, but Maud de Chandos's estate of Stowey and Maurice de Gaunt's holding of East Quantoxhead and Huish in Nettlecombe were in the hundred by 1212, (fn. 4) Huish then forming a single tithing uniting Lodhuish and Beggearn Huish, the latter soon afterwards to be joined with East Quantoxhead. (fn. 5) In 1225 Williton hundred seems to have included Crowcombe, Honibere in Lilstock, East and West Quantoxhead, Raddington, and Stogumber. (fn. 6) Kilve and Skilgate may have been included by 1242–3. (fn. 7) The borough of Watchet and Williton manor presented separately at the eyre in 1225. (fn. 8) Suit to the hundred from part of Crowcombe was withdrawn by Godfrey of Crowcombe before 1247 when he gave half his manor there to the prioress of Studley (Oxon.). (fn. 9)
In 1284–5 Williton hundred comprised Bicknoller, Chipstable, Crowcombe, Elworthy, Halsway in Stogumber, Honibere in Lilstock, Huish Champflower, Kilton, Kilve, Lodhuish in Nettlecombe, East and West Quantoxhead, Raddington, Sampford Brett, Skilgate, Stogumber, Stowey, Syndercombe in Clatworthy, Torweston, Westowe in Lydeard St. Lawrence, and Woodadvent in Nettlecombe. (fn. 10) In 1303 the same parishes and tithings were mentioned except Chipstable, Stogumber, and Raddington. Lilstock was substituted for Honibere. In addition were the tithings of Clatworthy and Nettlecombe and four small detached areas, Almsworthy in Exford, Briddicott in Carhampton, part of Brompton Regis, and Luxborough Piket in Luxborough. (fn. 11) All four detached areas had been part of Carhampton hundred in 1284–5. (fn. 12)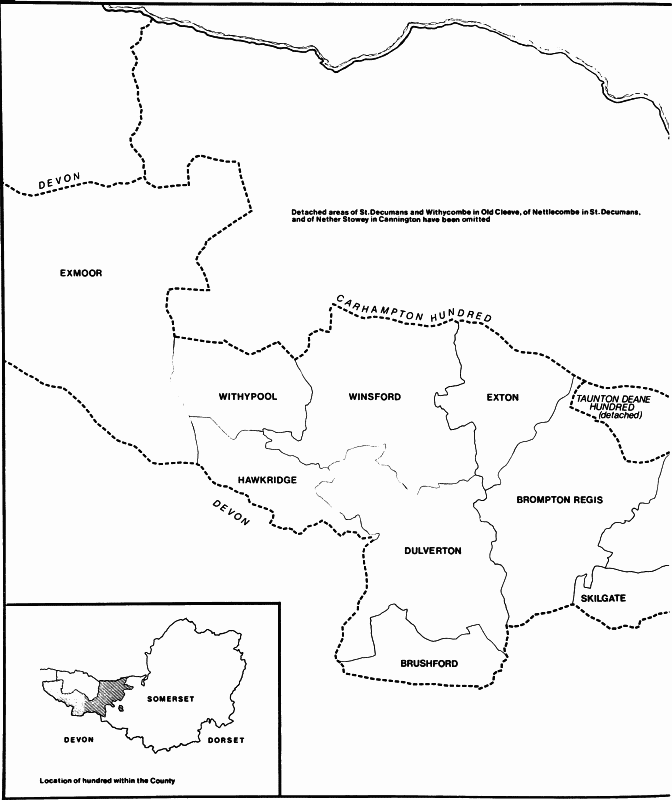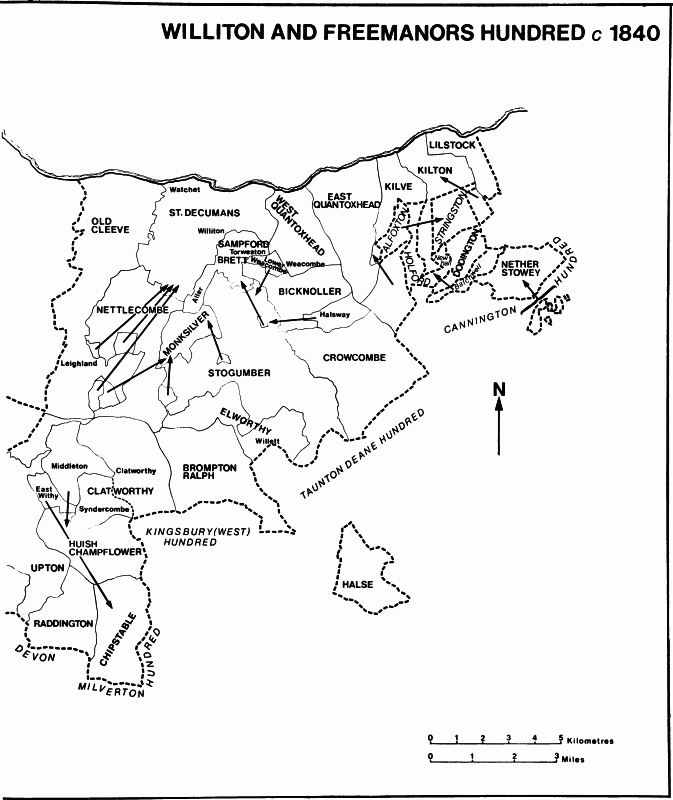 A list of vills purporting to form Williton hundred in 1316 included only Clatworthy, Crowcombe, Nettlecombe, and a part of Stogumber associated with Doniford in St. Decumans parish of those which had previously been within the hundred, but recorded Watchet and Williton, and others which both before and afterwards were described as free manors. (fn. 13) The hundred as constituted for fiscal purposes in 1327 was the same as 1284–5 with the addition of Clatworthy and Nettlecombe, established as part of the hundred since 1303, and Preston in Stogumber. That part of Crowcombe known as Crowcombe Studley was omitted, and Stowey was replaced by the tithing of Bincombe, locally in Over Stowey parish, probably that part of the estate of Stowey not included in the borough of Nether Stowey. (fn. 14) In 1346 (fn. 15) Chipstable and Raddington were again not recorded, as in 1303, but Stogumber was named, together with the four detached areas. In 1428 the hundred was virtually unchanged, but Lodhuish was not named and Williton was included. Subsidy from Almsworthy and Briddicott was to be charged in Carhampton hundred. (fn. 16)
The hundred was combined for fiscal purposes with Freemanors hundred by 1569, when a joint tithing of Chipstable and Raddington was included, (fn. 17) but its constituent parts were separately recorded in 1652. The hundred then comprised all those places named in 1284–5 together with Clatworthy and Nettlecombe, and the tithing of Bincombe instead of Stowey. There were then four additions, Brompton Ralph, Brushford, Dulverton, and Winsford. (fn. 18) The Williton elements in the combined hundred lost Westowe by 1742 (fn. 19) but gained Preston Bowyer in Milverton by c. 1730. (fn. 20) No legal union of the hundreds took place and the two were regarded as separate in 1856. (fn. 21)
Freemanors hundred was formed from a loose association of royal manors which in 1086 were either included in Williton hundred or were themselves described as the hundreds of Brompton Ralph, Brompton Regis, Dulverton, Cleeve, and Winsford. (fn. 22) Courts at Brompton Ralph, (fn. 23) Brompton Regis, (fn. 24) Dulverton, (fn. 25) Exton, (fn. 26) and Old Cleeve (fn. 27) were described as hundred courts during the Middle Ages, and these and other manors sent separate juries to eyres in the 13th century. The hundreds of 'Bruneland' (fn. 28) and Dulverton, and Winsford manor each sent jurors in 1225 (fn. 29) and in 1242–3 the manors of Brompton Regis, 'Bruneland', Brushford, Clatworthy, Cleeve, Crowcombe, Dulverton, Huish Champflower, Nettlecombe, North Newton in North Petherton including Exton, Monksilver, Williton, and Winsford each appeared independently of any hundred. (fn. 30) Exton, North Newton, and detached areas later associated with them were connected until the mid 14th century with the forestership of North Petherton, whose occupants were bailiffs of Williton hundred. (fn. 31) Brompton Ralph, Brushford, Clatworthy, part of Crowcombe, Dulverton, Huish Champflower, Nettlecombe, and Winsford were described as free manors in 1274–6, (fn. 32) and the existence of a bailiff of the free manors in the late 13th century indicates some corporate identity. (fn. 33) Huish Champflower was established as part of Williton hundred by 1284–5, (fn. 34) and Clatworthy and Nettlecombe by 1303. (fn. 35) In 1316 the remaining free manors of the 1242–3 eyre, with the addition of Creech St. Michael, were arranged in two groups: Brompton Ralph, Creech, and the tithing of Preston Bowyer in Milverton which included Monksilver formed a small fiscal group entitled Free Manors; the remainder, with the addition of Clatworthy, the whole of Crowcombe, the joint tithing of Exton and Withypool replacing North Newton, Nettlecombe, a part of Stogumber linked with Doniford in St. Decumans, and Watchet, were said, probably in error, to constitute Williton hundred. (fn. 36) By 1327 those same places, together with Lyng but omitting half of Crowcombe and Watchet borough, were said to constitute Freemanors hundred for fiscal purposes. (fn. 37) In 1334, again for fiscal purposes, the Free Manors were listed together but not specifically described as a hundred. Two additions had then been made to the list of seven years earlier: Creech and Halse, (fn. 38) the latter part of Taunton hundred in 1086, (fn. 39) and in 1327 a free manor. (fn. 40) In 1346 only Exton and North Newton were said to be in the hundred, (fn. 41) and in 1402 the Free Manors were said to constitute Cathanger in Fivehead, Exton, and North Newton. (fn. 42)
Freemanors hundred had an independent existence in 1448 when it was granted away by the Crown with Williton hundred, (fn. 43) but the two were in practice combined by 1569. The Freemanors element then included both Cleeve and Old Cleeve, representing the two tithings in the parish, a tithing of Exton, Withypool, and Hawkridge replacing the former Exton and North Newton tithing, and a joint tithing of Halse and Dodington. (fn. 44) In 1642 the Freemanors element comprised Brompton Ralph, Brompton Regis, Brushford, Cathanger in Fivehead, Dulverton, Exton, Halse and Dodington, Hawkridge, Monksilver and Preston Bowyer, North Newton, Old Cleeve, Watchet, Williton, Winsford, and Withypool, and small areas at Low Ham in High Ham parish and Newhall in Holford. (fn. 45) Cathanger, Low Ham, Newhall, and North Newton were also considered to be part of Exton tithing. (fn. 46) Brompton Ralph, Brushford, Dulverton, and Winsford were said to be in Williton hundred in 1652. (fn. 47)
The two hundreds were effectively combined by 1742, (fn. 48) the only addition since 1642 being Upton tithing, probably formed out of Brompton Regis. (fn. 49) The only change made by 1841 was the inclusion of Exmoor forest. (fn. 50) The detached parts in the parishes of Fivehead, High Ham, and Over Stowey were still considered part of the hundred, the area at Low Ham being defined for the first time as part of the hamlet of Paradise, locally situated in Huish Episcopi parish. An undefined part of Exton was said to be in Carhampton hundred. (fn. 51)
The two hundreds, hitherto held by the Crown, were granted in 1448 (fn. 52) to Sir John Stourton, Lord Stourton (d. 1462), and passed to successive holders of the title. (fn. 53) Edward, Lord Stourton (d. 1720), sold the hundreds to John Gore of Salisbury. (fn. 54) John's son, also John, conveyed them to his sisters in 1725 (fn. 55) and they and their husbands conveyed them to John Glass of London in 1728. (fn. 56) Glass sold the hundreds to Thomas Carew of Crowcombe in 1733, and in 1754 Carew conveyed them to John Perceval, earl of Egmont. (fn. 57) Egmont (d. 1770) was succeeded by his son John (d. 1822) and by John's son, also John. The last died in 1835 and his son Henry, earl of Egmont, sold the hundreds to George Henry Carew of Crowcombe. (fn. 58) George died in 1842 and his heir Thomas G. W. Carew in 1855. (fn. 59) Thomas's brother and executor, John Francis Carew, conveyed them to his nephew G. H. W. Carew in 1856. (fn. 60) No reference to ownership has been found after 1868. (fn. 61)
The sheriff's tourn and hundred court for Williton hundred was held at Williton in 1391, (fn. 62) and a prison there had been mentioned in 1276. (fn. 63) The meeting place for both hundreds was at Stogumber by 1585, (fn. 64) and courts were held at the Red Lion inn there by 1652. (fn. 65) From 1741 until 1868 the hundred court met at Crowcombe. (fn. 66) In the mid 17th century the sheriff's tourn was held twice a year about Easter and Michaelmas, but the three-weekly courts were said to be 'much discontinued'. Each tithing was then represented by its tithingman and its jurors or posts; the tithingman of Torweston came with his rod only and the tithingman of Westowe came with one juror. (fn. 67) Between 1741 and 1743 a hundred court 'for trying actions' was held every three or four weeks. Each session was described as a court baron, and among the parties was the owner of the hundred. (fn. 68) Rolls of the 'court leet and view of frankpledge together with the court baron of the lord of the hundred' record annual meetings of the court for the periods 1761–1835 and 1837–68. (fn. 69)
In the 17th century all tithings except Williton and Watchet borough paid rents called tithing silver or 'certainties'. (fn. 70) The rents were said to be payable in the earlier 18th century (fn. 71) and were recorded in the court rolls until 1791. (fn. 72) The names of the tithingmen were no longer recorded in the rolls after 1842.
The office of bailiff of the hundred of Williton was held by successive foresters of North Petherton from Richard I's time until the 14th century. (fn. 73) A bailiff of the free manors was mentioned in the late 13th century. (fn. 74) A single high constable was in office in 1556 (fn. 75) and 1576 (fn. 76) but there were two by 1626. (fn. 77) At the Michaelmas tourn 1664 two high constables were chosen, one for the eastern and one for the western division, (fn. 78) and two continued to serve until 1868. (fn. 79) A steward of the hundred court at Stogumber was mentioned in 1649, (fn. 80) and a steward presided over the courts until 1868. There was a bailiff in the later 18th and the 19th century, and a keeper for the hundred pound, situated next to the manor pound at Williton. (fn. 81)