Pages 119-131
A History of the County of Somerset: Volume 7, Bruton, Horethorne and Norton Ferris Hundreds. Originally published by Victoria County History, London, 1999.
This free content was digitised by double rekeying. All rights reserved.
HORSINGTON
Most of the ancient parish of Horsington lies south and south-west of the centre of Wincanton and is roughly rectangular in shape, measuring 2 km. from north to south and 5.5 km. from east to west. It includes the villages of Horsington to the south and South Cheriton to the north, 1 km. apart, on a road running roughly north- south through the centre of the parish, and the hamlet of Wilkin Throop near the western boundary. The detached area of Horwood, parts of which were called Frith, (fn. 1) lies c. 4 km. north-east of Horsington church and on the south-eastern edge of Wincanton. Its main part is butterfly-shaped, c. 1.5 km. from north to south and 2.5 km. from east to west; a small part lies further north-west. (fn. 2) There were also some detached fields which were exchanged with Wincanton in 1882 and 1885. In 1886 Horwood (7 houses, 30 persons) was transferred to Stoke Trister. (fn. 3) The ancient parish measured 3,483 a. (fn. 4) The present parish is 1,267 ha. (3,131 a.). (fn. 5)
South Cheriton and Horsington villages lie on a narrow strip of Cornbrash limestone. Eastwards from both villages the land falls below 70 m. (230 ft.) over Oxford Clay, reaching a strip of alluvium along the eastern boundary which is the river Cale. (fn. 6) The large area of marshland so formed, known as Horsington Marsh, is drained by Bow Brook or the river Ladder or Latter (fn. 7) and its tributaries. Further east the New River, recorded in 1771, drains directly into the Cale. (fn. 8) West of the villages the land rises over Forest Marble clay to 185 m. (608 ft.) just west of the boundary at Windmill Hill in Charlton Horethorne. Horwood also lies on Oxford Clay on the south-western slopes of a spur between 70 m. (230 ft.) and 108 m. (354 ft.). (fn. 9)
Two lanes ran south-west from South Cheriton to Charlton Horethorne, although by 1958 the southerly lane was partly a footpath. A lane running south from the latter through Wilkin Throop joins a lane running south-west from Horsington to Stowell. After the inclosure of Horsington marsh in 1771 roads were built across it and Batchpool Lane was improved to link Horsington with the Wincanton-Buckhorn Weston (Dors.) road. (fn. 10) In 1808 the Wincanton- Shaftesbury (Dors.) road at Horwood was diverted and Horwood Lane, a parallel route to Cucklington, was closed in 1819. (fn. 11) In 1824 the main route through South Cheriton and Horsington, known as the higher road to distinguish it from a possible earlier route to the east which partly survives as a lane, was turnpiked by the Blackmore Vale trust to link Castle Cary and Wincanton with Stalbridge (Dors.). (fn. 12) In 1861 the Dorset Central, later Somerset and Dorset Joint, railway was built through the eastern part of the parish linking Wincanton with Temple Combe and Blandford (Dors.). The line closed in 1966. (fn. 13)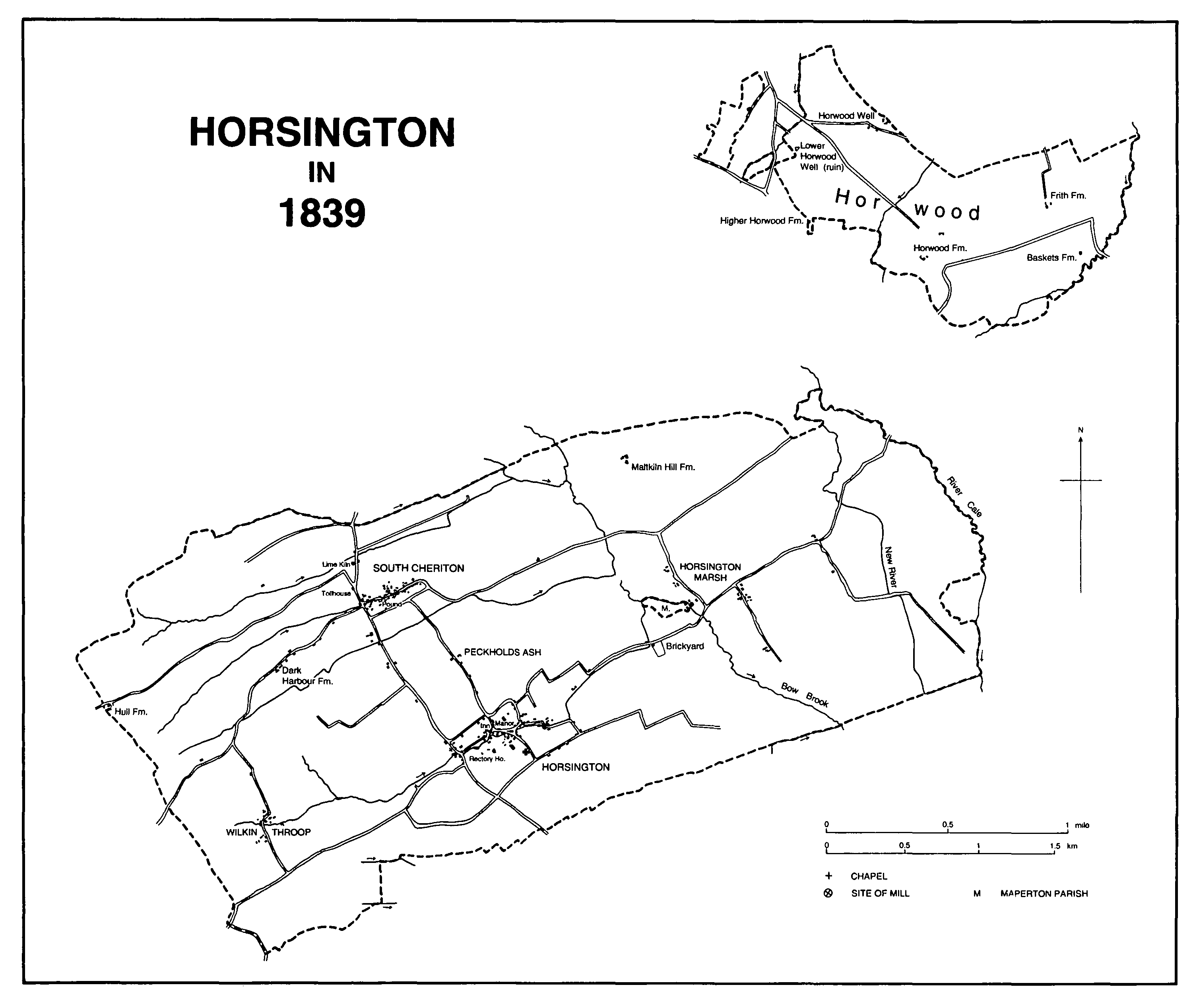 Roman coins found at South Cheriton (fn. 14) may indicate use of the route along the Cornbrash rather than settlement. South Cheriton probably formed a single estate with North Cheriton before the mid 11th century and was known as Little Cheriton in the 16th. (fn. 15) Wilkin Throop, in the west of the parish, probably originated as a Saxon farmstead. (fn. 16) Settlement in the eastern part of the parish on the former marsh consists of single farmsteads and roadside cottages; at Horwood scattered farms. Horsington and South Cheriton originally lay along single streets with associated back lanes both east and west of the main road. Behind Hayes runs parallel with Cheriton Street; Poor or Broadmead and Warren lanes ran parallel with Horsington's main street, south-east of the church. (fn. 17) In 1877 the owner of Horsington House was permitted to close several roads and paths including Poor and Warren lanes to create private grounds. At the same time the main street was widened and realigned when cottages and farm buildings were demolished, especially around the small green at the junction with the lane to the church. (fn. 18)
Most of the older houses in South Cheriton and Horsington villages are of local stone rubble; clay tile often replaced thatch when buildings were raised to two full storeys, although some retain attics in original steep roofs. Rookes House and Old Bailiff's House date from the 18th century. Wilkin Throop has two farmhouses dating from the 18th and 19th centuries and several cottages. Cheriton House dates from the 18th century and has a 3-storeyed, 3-bayed front with central door under an open pediment. Neo-Georgian Stowell Hill House was designed in 1923-4 by Sir Guy Dawber. Gertrude Jekyll drew plans for the garden and Lanning Roper gave advice in 1969. (fn. 19) Many farm buildings have been converted to dwellings and both Horsington and South Cheriton have modern infill within and between them.
A spa was established at the western end of Horwood where two springs produced saline and alkaline water with aperient properties. In 1783 one was said to have been formerly of great repute. (fn. 20) The springs lay a quarter of a mile apart, one east and the other west from the then Wincanton-Shaftesbury road which ran through Wincanton common. The spa seems to have been inspired by French officers then in custody in Wincanton and was promoted by Richard Messiter and William Gapper, possibly supported by Mary Ann Clarke, the duke of York's mistress. Around the lower spring, to the west, buildings including houses and by 1808 a bank, were built to form two blocks linked by a narrow hall or colonnade facing a forecourt and drive. (fn. 21) Horwood Well, now Physicwell, House was built over the upper spring c. 1805. The spa appears to have been still in use in 1811 and its bottled water was sold in London. It had gone out of use by 1819 and the buildings around the lower well were demolished. (fn. 22) Physicwell House, a square building of three bays and two storeys in Doulting stone, has round-headed windows and includes an underground reservoir which supplied a sunken stone bath. In the centre of the house was a pump room with a curved entrance, and a cantilevered stone staircase led to the upper floor. (fn. 23)
A house called the Baytree in South Cheriton, recorded in 1657, may have been an inn. There was an alehouse in the parish in 1673, (fn. 24) and a public house called the Cock had closed by 1734. (fn. 25) Three alehouse licenses were issued in 1755, two for houses in South Cheriton, and two in 1765. (fn. 26) The Half Moon, probably licensed in 1775 and named by 1795, (fn. 27) appears to have moved from its original site in Horsington to the former Steps House between 1851 and 1861. (fn. 28) It was open in 1992. The White Horse, on the main road west of South Cheriton, may have been open by 1841 but was not recorded by name until 1861. (fn. 29) It was open in 1992.
The Victoria Jubilee Unsectarian Temperance Hall was opened at South Cheriton in 1887. (fn. 30) St. Margaret's Hall, near the school between Horsington and South Cheriton, was opened in 1907. (fn. 31)
The Horsington friendly society existed between 1800 and 1824 and the Ten Year friendly society met at the Half Moon in 1850. (fn. 32) A Horsington friendly society, which formerly held a Whit Monday procession, remained in existence in the later 20th century. (fn. 33)
There were 85 taxpayers in the parish in the later 14th century (fn. 34) and 90 families in 1650. (fn. 35) By 1801 the population was 833, rising to a peak of 968 in 1831 but declining to 870 in 1871 and to 734 in 1881. Numbers continued to decline steadily to 554 in 1961 followed by a rapid fall to 443 in 1971 and rises to 484 in 1981 and 536 in 1991. (fn. 36) In the first few months of 1841 16 people emigrated. (fn. 37)
John of Horsington was chancellor of Wells in the mid 14th century. (fn. 38) Sixteen men were fined for involvement in the 1497 rebellion (fn. 39) and Francis Abbot of Horsington was one of the Royalist clubmen c. 1644. (fn. 40)
MANORS AND OTHER ESTATES
In 1066 HORSINGTON was held as two estates in parage: Aldeva held all but a virgate and Saeward the virgate. They were said to have been free to choose their overlord. In 1086 William son of Guy held both estates of the king, and Ralph held 1½ hide in demesne under him. (fn. 41) In 1179 Horsington was said to have been the land of Robert de Boveincourt (fn. 42) and Hawise de Gournay held an estate there in dower from 1180 to 1185 or later. (fn. 43) Henry Newmarch (d. 1198) held the rest of Horsington in 1180. (fn. 44) He was succeeded by his son William (d. s.p. c. 1204) (fn. 45) and by William's brother James who died in 1216 leaving two daughters, Isabel, wife of Ralph Russel, and Hawise, wife successively of John de Boterel and of Nicholas de Moeles. (fn. 46)
The two daughters or their heirs appear to have divided James Newmarch's estate between them, and Horsington manor formed part of Isabel's share. Isabel's son Ralph Russel (d. 1278) was succeeded by his son James (d. c. 1280) and by James's son Ralph, a minor in 1291, who died c. 1295. (fn. 47) Ralph's widow Eleanor held the manor until 1303 or later although Robert Russel (d. 1297), Ralph's uncle, held 1/20 and 1/40 knight's fee there, probably the later Hull manor. (fn. 48)
Robert's brother and heir William Russel died in 1311, and William's son (Sir) Theobald succeeded as a minor. (fn. 49) On Theobald's death in 1340 his son Ralph settled two thirds of the manor on himself and his wife Alice and on their sons Theobald and John, while his mother Eleanor retained one third in dower. (fn. 50) In 1357 Ralph acquired his mother's dower by exchange (fn. 51) and died in 1375 leaving as his heir his son (Sir) Maurice, a minor. Alice, Ralph's widow, then held two thirds of the manor under the settlement of 1340 and one third of the remaining third in dower. (fn. 52)
The settlement of 1340 created a male entail on two thirds of the manor which passed on the death of Alice in 1388 to (Sir) Maurice Russel and after his death c. 1416 to his son Thomas (d. 1431). (fn. 53) Thomas's male heir was Theobald Gorges, grandson of Ralph Russel's brother Theobald, who had taken his mother's name. (fn. 54) The remaining third was divided on the death of Sir Maurice Russel. One third was held in dower by his widow Joan, later wife of Sir John Stradling, until her death in 1457; two thirds descended to their son Theobald and to his posthumous daughter Margery, both of whom died in 1431. Margery's heirs were her aunts, Margaret wife of John Kemys and Isabel, Lady Scrope, then wife of Stephen Hatfield, daughters of Sir Maurice by his first wife. (fn. 55) In practice Joan Stradling seems to have been in possession of the entire third. (fn. 56)
Theobald Gorges, owner of two thirds of the manor, died in 1470 and was succeeded by his son Richard who, shortly before his death in 1481, acquired the remaining third. (fn. 57) The two thirds had been settled in 1480 on Maud, then Richard's wife, and she and her second husband, Sir Henry Roos, probably occupied the whole estate during the minority of her son Marmaduke. In 1502 Marmaduke granted Sir Henry a life estate in the two thirds if he survived Maud, (fn. 58) but Marmaduke died in 1509 and Henry not long afterwards, and on Maud's death in 1512 the whole manor passed to Marmaduke's infant daughters Elizabeth and Maud. (fn. 59)
Elizabeth married Thomas Shirley and died in 1557 leaving a son Francis Shirley (fn. 60) who in 1560 sold his estate to his aunt Maud, wife of Edward Ludlow. (fn. 61) Maud and Edward died in 1562 leaving a son Robert under age. (fn. 62) In 1576 Robert and his wife Dorothy sold the manor to Alice Gawen (fn. 63) who died c. 1598 leaving a son Thomas. (fn. 64) Thomas (d. c. 1604) was succeeded by his son Thomas (d. 1656), (fn. 65) and the latter appears to have settled the manor on his son William before 1649.
The Gawens were Roman Catholics and by 1650 their estate was in the hands of the Treason trustees. (fn. 66) In 1653 they sold it to Walter Barnes and Thomas Freke who in turn by 1656 had sold the capital messuage called Horsington farm and land to Nicholas and James Gouge. (fn. 67) After the Restoration the Gawens seem to have recovered the rest of the estate, and in 1666 William Gawen, his wife, and their son Thomas with Walter Barnes's widow Jane sold what was described as the manor to Thomas Gapper. (fn. 68) In 1708 Gapper devised the estate to his son Abraham who in 1720 sold it to Nathaniel Farewell. Nathaniel sold it in 1751 to Matthew Spencer (d. 1774), and Matthew's widow Elizabeth and son Walter sold it in 1787 to Samuel Bailward. (fn. 69) Samuel (d. 1800) was succeeded in turn by his sons Thomas Shewell Bailward (d. 1842) and John Bailward (d. 1868). (fn. 70) John's son Thomas (d. 1913) was followed by his son John (d. 1946). A trust was established after John's death and the beneficiary, John's nephew James Bailward, in 1978 divided his interest between his son Christopher and trustees for Christopher's children, subject to the life tenancy of John's widow Aline (d. 1983). (fn. 71)
Horsington Manor, a five-bay square, threestoreyed building of rubble with rusticated ashlar dressings, was added in the later 18th century to the south-east end of a two-storeyed, fivebayed farmhouse of a century or more earlier. In 1770 the house was described as 'noble'. In the 19th century a single-storeyed entrance and vestibule, perhaps originally a billiard room, were added in the south-west. (fn. 72) In 1948 most of the earlier range was demolished. (fn. 73) Adjoining stables of the 18th century were altered in the 20th.
The original capital messuage called Horsington farm which had been sold to Nicholas and James Gouge passed to Mary, daughter of William Gouge and wife of Christopher Dodington (d. 1657). Her son George Dodington died in 1695 and was succeeded by his brother William (d. 1708). In 1728 George (d. 1757), son of William, (fn. 74) was succeeded by his nephew Samuel Jackson, son of his sister Margaret. Samuel (d. 1813), who took the name Dodington, was followed by William Dodington Manning, grandson of George's sister Elizabeth, who changed his surname to Dodington but was later known as William Manning Dodington. (fn. 75) William (d. 1853) was succeeded by his nephew Thomas Marriott who added the surname Dodington and died in 1876 leaving a son, also Thomas. (fn. 76) The estate was considerably augmented by the addition of land in the west of the parish (fn. 77) and it came to be known as the Horsington Park or the Horsington House estate. In 1890 Thomas Marriott-Dodington was succeeded by his son Roger who sold the estate in 1919 and 1923, mostly to tenants. (fn. 78) The house and park were bought by Catherine Campbell Noyes, who sold the house in 1939 to Malvern Girls' college. (fn. 79) The house was used as a Dr. Barnardo's Home from 1946 until 1972 (fn. 80) and subsequently it became an hotel.
In 1340 Eleanor, widow of Theobald Russel, was assigned as dower a share of the original capital messuage which comprised a high chamber and a chamber over it on the east side, a kitchen, a bakehouse, and farm buildings. (fn. 81) The Gawens were said to have rebuilt it before 1633, (fn. 82) and the house occupied by the Dodingtons c. 1760 had 45 windows including an east front with 19 windows. (fn. 83) The house was still standing near the green in 1839 and was probably demolished in the late 1870s.
The present Horsington House was built by 1839 (fn. 84) on a site to the south-east and is of Doulting stone with a hipped roof set behind a parapet. It is of three storeys with a five-bayed front and a central pedimented porch with Doric columns. It is surrounded by extensive grounds including lawns to the north and north-east, shrubberies towards the church, and parkland with avenues of trees to the south and west. Lodges dated 1877 and 1885 mark the main entrances to the grounds.
HULL manor was probably formed from the 1/20 and 1/40 knight's fee held by Robert Russel (d. 1297) which descended with Horsington manor until 1431. (fn. 85) In that year, perhaps under a settlement, they passed from Margery Russel to John Haket (d. by 1498), son of Sir Maurice Russel's sister Alice. (fn. 86) John left a daughter Joan (d. 1501), wife of John Gilbert (d. 1499), and Joan was succeeded by her son Robert. (fn. 87) In 1527 the manor was held by Anthony Gilbert (d. 1555) (fn. 88) who was followed by his nephew John Gilbert (d. 1557). (fn. 89) George Gilbert (d. 1593), son of John, was followed by his son Henry who conveyed it to his own brother Maurice in 1596-8. (fn. 90) Most of the estate appears to have been acquired by Edward Hannam. He died in 1609 and was succeeded by his son Thomas, who held it in 1644. (fn. 91) By 1715 it had been bought out of Chancery for John Molins, who still held it in 1739. (fn. 92) By 1765 Samuel Dodington owned it in succession to Molins's widow, and it descended with the Dodington estate. (fn. 93)
HORSINGTON MARSH manor seems to have been an estate sold by Robert Ludlow in 1574 to Matthew Smythe. Matthew died in 1583 leaving a son Hugh, a minor, (fn. 94) and Hugh died in 1627 leaving his son Thomas a minor. (fn. 95) In 1642 Thomas left an infant son Hugh who, with his trustee, sold several estates to tenants in 1657. Lordship was sold with one farm to Morgan Lambert and William Rideout (d. 1670) but was later declared to have been lost. By the later 18th century seven tenements were said to represent the former manor and to own equal shares in its rights. (fn. 96)
Christopher Rideout (d. 1687) held land at Horsington Marsh in 1676, possibly in succession to William Rideout, (fn. 97) which appears to have been divided after his death, half descending to his son Christopher who died in 1693 leaving his eldest son William a minor. William's estate, known as Malkenhill House, later Maltkiln Hill farm, was sold in 1696 to Thomas Hussey. (fn. 98) Thomas bought more land and died c. 1723 leaving the whole to his nephews Thomas (d. c. 1729) and William Hussey. William (d. by 1734) was succeeded by his son Thomas (d. c. 1750) and the latter's son Thomas, who sold it in 1765 to Richard Sly. (fn. 99) Richard by his will dated 1782 left his property to Richard, his illegitimate son. The younger Richard, known as Sly or Gibbs, made further purchases including former manor land. (fn. 100) He died c. 1815 and in 1822 his trustees sold the farm, measuring c. 150 a., to John Bailward and it became part of the Horsington Manor estate. (fn. 101)
WILKIN THROOP was held of Horsington manor and appears to have passed on the death of James Newmarch in 1216 to his daughter Hawise, wife successively of John de Boterel and Nicholas de Moeles. (fn. 102) Hawise's son Roger de Moeles, who succeeded her, died in 1295, and two years later Robert Russel appears to have been lord. Roger's son John (d. 1310) (fn. 103) was followed by John's son Nicholas (d. 1316) and Nicholas by his widow Margaret, (fn. 104) who survived until 1349. Her successors were her granddaughters Muriel, wife of Thomas Courtenay, and Isabel, wife of William de Botreaux. That lordship was last recorded in 1352. (fn. 105)
James Newmarch (d. 1216) granted 1/20 fee, formerly held by Roger Cutard or Scutard, to Thomas Corbet, who gave it to Bruton priory. (fn. 106) The estate, later assessed at 1/16 fee and known in 1405 as East and West Throop, later Wilkin Throop, (fn. 107) passed to the Crown at the Dissolution in 1539 and in 1550 was sold to Sir Maurice Berkeley. (fn. 108) In 1616 his grandson, also Sir Maurice Berkeley, sold it to William Hannam. William (d. 1628) was succeeded by his son James, a minor. (fn. 109) James, possibly son of the last, was succeeded by his son William (d. by 1728) and his granddaughter Mary. Mary married John Wadman and died c. 1762 leaving her land to Peter Martin, son of her sister Ann. (fn. 110) Peter agreed to sell the estate to Thomas Shewell Bailward c. 1800 but remained as tenant. (fn. 111)
In 1297 Robert Michel held of Robert Russel 1/20 fee, possibly in succession to Nicholas Michel. (fn. 112) The land, later described as 1/16 fee, was held by Roger Michel in 1316, by William Hillary in 1337 and probably by 1327, and by Walter Hillary in 1349. (fn. 113)
In 1297 Robert Dunton held 1/30 fee of Robert Russel, (fn. 114) which was said to have been acquired from Sir John of Acton. Robert's son, also Robert, exchanged it with Sir John's son, Sir John (d. 1312). (fn. 115) The fee was not recorded again and may have been shared between Bruton priory and the Michel family.
The further descent of those last two estates is not clear but by 1387 Joan, wife of Thomas Barthe, held land which by 1427 had passed to Thomas Barthe, probably their son. (fn. 116) It seems to have been acquired by Simon Green (d. 1509), who was succeeded in the direct male line by William (d. 1545), (fn. 117) Matthew (d. 1578), Bartholomew (d. 1602), (fn. 118) and John. John may have settled it on his brother James in 1619-20. (fn. 119) Bartholomew described the estate as a quarter of Wilkin Throop manor. (fn. 120) By the mid 18th century it had been acquired by the Spellerberg family, from whom it passed to the Highmores. John Highmore sold it to Thomas Shewell Bailward in 1838 and it became part of the Horsington Manor estate. (fn. 121)
William Carent (d. 1476) held land at Wilkin Throop and was succeeded by his son John. Another William Carent held it c. 1492 (fn. 122) and it probably descended with Toomer in Henstridge until James Carent sold his estates in 1675. (fn. 123)
SOUTH CHERITON was held in 1066 by Alwold, partly as his own land but largely as tenant of Cerne abbey (Dors.). By 1086 the abbey had lost its right of ownership because the entire estate had been regarded as Alwold's and had passed to William son of Guy and his tenant Bernard. (fn. 124) It was held with Horsington manor and was sometimes said to have been held as of North Cheriton manor. (fn. 125) As part of Horsington manor it was divided and sold in the 1650s. (fn. 126)
In 1316 Henry Barber held 1/32 fee at South Cheriton as of Maperton manor. (fn. 127) That was the estate in South Cheriton and Horsington Marsh held at his death in 1549 by Richard Hannam. (fn. 128) Richard's son William (d. 1576) and William's son James (d. 1597) succeeded in turn and James left a son, also James, under age. James the younger was said to hold for a rose rent. (fn. 129) He appears to have sold part of his land in Horsington Marsh to Thomas Gawen; (fn. 130) the remainder may have descended through the Gifford and Buckler families (fn. 131) to Sir Thomas Buckler Lethbridge, who in 1824 sold South Cheriton farm to Thomas Shewell Bailward. The farm became part of the Horsington Manor estate. (fn. 132)
Land belonging to South Cheriton chapel (fn. 133) was said to be held by knight service for 1/10 fee of Horsington manor in the 15th and 16th centuries. (fn. 134) The land passed to the Crown in 1548, was sold to Lawrence Hyde in 1549, and in 1550 was conveyed to the tenant, Elizabeth FitzJames. (fn. 135) Elizabeth died c. 1551 leaving the estate to her nephew. (fn. 136) In 1561 the chapel and its lands were settled on Roger Adams (d. 1589) who in 1565 granted it to his son-in-law Thomas Diggons. Thomas built a house on the site and was probably followed by a son, the Revd. Thomas Diggons (d. 1622), who left the estate, said to be held of the Crown manor of Bulford (Wilts.), (fn. 137) to his wife Anne for life with reversion to Thomas son of Edward Abbot (d. 1635-41). (fn. 138) In 1641 James Knight acquired the messuage called the chapel. (fn. 139) In 1656 Thomas Abbot added land from Horsington manor including Chapple Grounds, probably north of the chapel. (fn. 140) Thomas died in 1709 leaving his estate mainly to his niece Anne and to her son Andrew Thomas (d. 1719). Andrew left an infant son Andrew Abbot Thomas (d. 1745), whose son of the same name died under age in the same year. Anne, Mary, and Christian, aunts and heirs of the younger Andrew Abbot Thomas, sold the estate in 1745 to Anne, widow of William Berkeley Portman. (fn. 141) In 1751 Anne (d. 1752) gave her estates to her second husband Matthew Spencer and after a long dispute with the Portman family they were finally released to Spencer in 1762 and descended with Horsington manor. (fn. 142)
SYLVERS was said to have originated in the grants to Thomas Tragin of two virgates in Horsington and the marsh by William Newmarch (d. c. 1204) and of two virgates in South Cheriton before 1200 by William Frethorn. (fn. 143) In 1453 Thomas Sylver held land in Horsington and South Cheriton manors which Tragin had held of William Newmarch. (fn. 144) It passed to his daughter Elizabeth, wife of Thomas Wickham, and to her son John. (fn. 145) In 1541 John Wickham was said to hold Sylvers by knight service of Horsington manor. (fn. 146) It passed from Cecily, John's widow, who died c. 1587, (fn. 147) to her daughter-in-law Margaret (d. 1629), widow of her son James. Margaret was followed by her grandson, also James, son of her second son Anthony. James died in 1661 and was succeeded in direct male line by Thomas (d. c. 1680), the Revd. Thomas (d. 1725), and the Revd. Thomas Wickham (d. 1753). The last left his estates to his half brother the Revd. Anthony Wickham (d. 1767). Anthony's heirs were his cousins the Revd. John and James Wickham who in 1770 partitioned their inheritance. John died in debt in 1788 and his share was sold to provide for his son Thomas who had been left only a life interest. (fn. 148) James (d. 1791) was succeeded by his son James Anthony but he appears to have left a share of his estate to a younger son, the Revd. Thomas Wickham (d. 1856). (fn. 149) By the early 19th century the Wickham estate lay almost entirely in Wilkin Throop (fn. 150) but it included in Horsington village, north of Horsington Manor, a mansion house which James and his eldest son, also James, sold with some land in 1843. (fn. 151) The house was demolished and the site cleared probably in the 1870s. (fn. 152)
Before 1269 Ralph Russel gave Abbotsbury abbey (Dors.) a rent charge of 10s. which it still held at the Dissolution. (fn. 153) It has not been traced further.
In the early 13th century Ralph Russel and his wife Isabel gave to the canons of Bruton land and common pasture at Horwood which descended with Bruton's Wilkin Throop estate. (fn. 154) Land at Horwood was also given to the Templars and was transferred to the Hospitallers in 1332. (fn. 155)
ECONOMIC HISTORY
In 1086 the combined estates of Horsington and South Cheriton were taxed as 17 hides but had land for 16 ploughteams. Horsington was divided between a demesne holding of just over 4½ hides, tenant farms of just over 5 hides, and a separate dependent estate of 1½ hide. South Cheriton comprised a demesne holding of just under 4 hides and tenant farms amounting to just over 2 hides. The Horsington demesne was worked by 1 team with 4 servi, the smaller Cheriton demesne by 2 teams and 6servi, the separate demesne had 1½ team. The Horsington tenants, with 7½ teams, comprised 12 villani, 10 bordars, and 12 cottars; 5 villani, 4 bordars, and 2 cottars worked the South Cheriton land with 3 teams. The combined estates included 225a. of meadow almost evenly divided between the two main holdings, and pasture measuring 9 furlongs by 5 furlongs (of which there was twice as much in Horsington as in South Cheriton). The marked contrast between the holdings is reflected in the recorded stock: 1 beast, 10 pigs, and 5 sheep in Horsington, together with 2 riding horses, 6 beasts, 12 pigs, and 60 sheep on Ralph's small estate, and 1 riding horse, 22 beasts, 28 pigs, and 3 sheep at South Cheriton. Only South Cheriton had increased in value since 1066. (fn. 156)
In 1086 woodland measured 7 furlongs by 6 on Horsington manor and 7 furlongs square on South Cheriton manor. The Exeter Domesday refers to a further league of woodland in South Cheriton. (fn. 157) In the early 14th century the combined estate had three areas of woodland, one at Hatherleigh in Maperton and others called Horwood and Cheriton wood, the latter also described as a park. (fn. 158) The woods on Horsington manor were valued at 3s. 4d. a year each in 1340, probably for pasture. (fn. 159) Tenants were allowed materials for house repair. In 1562 scrub oaks on two thirds of the 35-a. Cheriton wood were felled and the rest, comprising hazel, ash, withy, maple, and thorn, was coppice or underwood. (fn. 160) In 1592 a tenant of Horsington manor was licensed to fell 24 elm and ash provided 48 were replanted within three years and in 1640 tenants claimed the right to cut spars in the lord's wood and to take furze bushes from the commons. (fn. 161) Horwood was cleared probably by the later 16th century. (fn. 162) The former Cheriton wood, reduced by the 19th century to Great and Little Cheriton woods, comprised 39 a. in 1839 out of a total of 52 a. of woodland. (fn. 163) Timber sales on the Bailward estate between 1899 and 1932 amounted to between £200 and £800 a year. (fn. 164) About 32 a. of oak in Great Cheriton wood was largely cleared after 1948. (fn. 165) Only 9 ha. (22 a.) of woodland was recorded in 1988. (fn. 166)
Marsh land was already being exploited in the late 12th century and a grant of between 1198 and 1204 included the right of the tenant to pasture oxen and cows with the lord's stock and to free grazing for 13 pigs on the demesne woodland at Horwood. A slightly later grant gave the right to pasture oxen, affers, cows, and calves in a wood pasture, 100 sheep and their lambs in common pasture, and 10 pigs in Horwood. Tenants of Bruton priory also had grazing rights at Horwood and owed reaping days and some winter boon days on the Horsington demesne alone. (fn. 167)
In 1219 the Crown valued Horsington and South Cheriton at 50 marks for taxation purposes. (fn. 168) In 1290 Horsington manor produced at least £31 in cash and in 1291 it was let for £50 a year. (fn. 169) In 1315 it was extended at over £47. (fn. 170) In 1340 Horsington manor comprised 1,000 a. of arable, 400 a. of which were fallow and in common in autumn and winter, and 94 a. of meadow in common after mowing. Eleanor Russel's dower estate, probably part of the above, comprised 315 a. of arable in two fields, 32 a. of meadow in three areas, 37 a. of land in two crofts, and common pasture in Horwood and Oxen Leaze. The demesne farm buildings included a new cowshed and barn. Tenants comprised 19 freeholders, 26 neifs each holding ½ virgate, 15 fardellers, and 16 cottagers. Neifs and fardellers owed works which may have been commuted; rents accounted for a quarter of the annual value of c. £40. (fn. 171)
There were probably two open arable fields at Horsington, one north-west of the village, the other probably south-west, and two at South Cheriton, one along the boundary with North Cheriton, the other probably south or west of the village. (fn. 172) Traditional arable cultivation continued into the later 16th century and manorial administration persisted in recording unfree tenants and claiming agricultural services. (fn. 173) In 1535 predial tithes were worth more than five times those of wool and lambs, (fn. 174) but in the late 1540s the arable was said to be so barren that it scarcely produced as much corn as was sown. Some farmers had agreed to inclose their grounds within the open fields, sowing only the fertile areas and resting the remainder, but in September 1547 some who had earlier agreed to inclose broke down the hedges. (fn. 175) In 1562 on the three manors of Horsington, Horsington Marsh, and South Cheriton there were nearly 990 a. of arable, 234 a. of pasture, and 189 a. of meadow. Very little was then in closes, (fn. 176) but by the early 17th century the former common arable fields appear to have been inclosed. (fn. 177) Tenants of Horsington Marsh manor consolidated their in closed holdings by exchanges at the same time, (fn. 178) the seven farms then formed persisting into the early 19th century. (fn. 179)
Three separate farms, the later Basket's, Frith, and Green Frith farms, were formed out of Horwood common in the late 1560s where sheep had formerly grazed at the rate of 30 for each tenement and 20 for each cottage, (fn. 180) but elsewhere common rights to pasture oxen and sheep, to graze geese, and to fish and fowl continued. (fn. 181) By 1662 some of the land was evidently overburdened and grazing on Gear common belonging to Horsington manor was restricted to a total of no more than 287 animals, either rother beasts or sheep in equal numbers. (fn. 182) In 1665 a prosperous yeoman of the parish possessed a horse, 5 dairy cows, a bull, 7 young cattle, 37 sheep, a pig, a cheese loft containing 4 hundred of cheese, and a dairy. (fn. 183)
For much of the 18th century tenants on Horsington Marsh manor lands fed sheep and geese on common called Horsington marsh or Wring marsh all year and cattle in the spring, but after 2 May also entered the adjoining Gear common and Oxen Leaze, hitherto the preserve of Horsington manor. Wring marsh was said to be dry and healthy, the rest deep and miry. (fn. 184) In 1771 those and other small areas of common totalling 577 a. were inclosed and allotted, mainly to Matthew Spencer, Samuel Dodington, and members of the Wickham family. (fn. 185)
Following inclosure and the subsequent purchase of small farms and isolated fields by the Bailwards and the Dodingtons many farms were reorganized and holdings united, with the consequent abandonment of some farmsteads. (fn. 186) By 1839 (fn. 187) the Bailwards held c. 1,350 a. and the Dodingtons nearly 900 a., between them almost two thirds of the parish. Land was mainly under grass (2,914 a.) with only 357 a. of arable, among which, presumably, was the land on which in 1806 one farmer at Wilkin Throop had planted 5 a. of potatoes and 1 a. of York cabbage, and also produced 15 tons of carrots and parsnips. He kept a flock of South Down sheep. (fn. 188)
In 1839 there were 48 holdings of over 10 a., nearly half of them under 50 a. but 10 over 100 a., 3 over 150 a., and one measuring 287 a. (fn. 189) In 1851 there were four farms of over 200 a. and one over 300 a. (fn. 190) The number of small farms remained fairly constant during the later 19th century but the larger farms amalgamated to produce three of over 300 a. in 1871. (fn. 191) In 1875 Thomas Marriott Dodington built the model Horsington Farm, later Manor Farm. (fn. 192)
In such a parish dairying was dominant and one dairyman in 1871 rented 50 cows. In 1891 one of the farms at Wilkin Throop employed a cheesemaker. (fn. 193) Large dairy farms such as Frith had modern farm buildings and commanded rents of 30s. an acre in the early 20th century. (fn. 194) The Bailward estate of over 1,000 a. in 1942 included 6 dairy farms with housing for about 50 cows each, dairy or whey houses, cheese rooms, and piggeries. The Wilkin Throop and Horwood farms were also dairy farms, the latter in 1944 having 65 Guernseys, 110 other cattle, and 500 pigs. (fn. 195) Between the 1960s and 1980 herds of Devon and Guernsey cows were kept on the remaining Bailward estate. (fn. 196) In 1988 66 workers were employed on 29 holdings but 18 were only worked part time. Of the rest 6 were dairy farms, 4 reared cattle, one with sheep, and there was a fruit farm. Only 7 farms were over 50 ha. (123 a.) of which one had over 200 ha. (494 a). Various types of grassland occupied 951.5 ha (2,351 a.) and crops were growing on 132 ha. (326 a.) including 64 ha. (158 a.) of wheat, 16 ha. (39.5 a.) of winter barley, 23.5 ha. (58 a.) of maize, 24 ha. (59 a.) of fodder, 3 ha. (7 a.) of dessert apples, and 0.2 ha. (0.5 a.) of pears. Livestock comprised 1,608 cattle, 763 sheep, 45 poultry, 32 pigs, 16 ducks, and 3 geese. (fn. 197) In 1992 one farm had livery stables.
Tilestones were quarried, probably at Cheriton, in 1587 (fn. 198) and bricks and drainage tiles were being made by 1839 until 1861 or later. (fn. 199) Lime was quarried and burnt at South Cheriton in the 19th century and there were several stone quarries and a sandpit. (fn. 200)
Both linen and woollen cloth was made in the parish by the later 17th century. (fn. 201) There were several yarn bartons, (fn. 202) but the linen trade may have declined from the mid 18th century, (fn. 203) although there was still a wool dealer in business in 1841. (fn. 204) A mercer had a warehouse in South Cheriton in 1706 and a tobacconist is mentioned in 1749. (fn. 205) In 1831 52 families were engaged in trade and manufacture. (fn. 206)
The bank at Horwood spa, which issued notes by 1808, stopped payment in 1810. (fn. 207) A plumber had a workshop in the parish in the early 19th century, and a shop and workshops were recorded in 1839. (fn. 208) There were bakehouses and post offices in Horsington and South Cheriton and a grocer's shop at South Cheriton. (fn. 209) In 1881 22 women made leather gloves but only one in 1891. (fn. 210) Other occupations included a chairmaker in 1821, (fn. 211) a woman barber, a cooper, and a milliner in 1851, a market gardener in 1861, a cabinet maker, railway workers, and a coach builder in 1871, a fish hawker in 1881, a carriage builder and more railway workers in 1891. A sausage casing works and a market garden were also recorded in 1891. (fn. 212) A coach builder remained in business at South Cheriton in 1906 and by 1931 there were two wheelwrights, one of whom was also a coach builder and smith, and a motor and cycle engineer. (fn. 213) In the late 20th century Wilkin Throop House was occupied by Marconi Underwater Systems Ltd.
Mills
In 1086 a mill on Horsington manor paid 42d. (fn. 214) and there was a miller in the parish in the 1240s. (fn. 215) A watermill on the manor in 1315 lacked water in the summer and was not recorded in 1340. (fn. 216) The Hounesmill recorded in the later 16th century (fn. 217) may have been the mill owned by the Dodington family between the 1790s and 1820s, (fn. 218) and may have occupied a site west of Horsington village on the main road where a flour mill stood in the late 19th century. In 1923 it formed part of Manor farm (fn. 219) but was replaced shortly afterwards by the West Country Creamery. It closed before 1987 and was converted to residential use. (fn. 220)
Veles or Veale, Stacey's, or Marsh mill, first recorded in 1317, from the late 16th century was part of Horsington Marsh manor, and in 1657 was sold to the Stacey family. In 1731 Anne Stacey sold it to Nathaniel Farewell. (fn. 221) It descended with Horsington manor to the Bailward family but appears to have gone out of use, probably shortly after the Bailwards acquired it in 1831. It lay on Bow brook a mile NE. of Horsington village. (fn. 222)
There was a watermill on William Hannam's estate at Wilkin throop in 1628. (fn. 223) It was last recorded in the early 18th century. (fn. 224)
LOCAL GOVERNMENT
There were separate tithings of Horsington and Cheriton in 1327 and 1569; (fn. 225) in 1638 Cheriton comprised both North and South Cheriton. (fn. 226) South Cheriton had become a separate tithing by the early 18th century and then included Horwood. (fn. 227) Tithingmen of Horsington were appointed in rotation in the 18th century. (fn. 228)
There are records of manor courts for Horsington for 1403, (fn. 229) 1566-8, 1576, 1582, 1586-9, 1591-2, 1596, 1611-13, 1638-40, 1699, and 1743. From the late 16th century courts were held for Horsington, South Cheriton, and Horwood together although each estate usually had its own jury. (fn. 230) The court in 1403 was concerned mainly with drainage but also with poaching of pheasant and woodcock, pleas between tenants, and illegal commoning, mowing, and tree-felling. (fn. 231) Between 1566 and 1640 the court was concerned mainly with regulating common pasture and maintaining ditches. (fn. 232) The pound was in South Cheriton and was recorded in 1812 and 1839. (fn. 233) A reeve was appointed for Horwood in the early 13th century and a hayward in the later 16th century. (fn. 234) Horsington manor had a woodward in 1562. (fn. 235)
Court records survive for Horsington Marsh manor for 1598, 1602, 1632, and 1644. Courts were not held regularly and were concerned with tenancies and resisting claims by the lords of Horsington manor to regulate grazing, fishing, and fowling in the marsh. (fn. 236)
Two overseers administered poor relief by 1619 and a vestry of 5-10 members was active by 1727. In the 1620s relief was given in kind but by 1630 cash payments were more normal. (fn. 237) By the early 18th century some payments were again made in kind, rents were paid, and later paupers were inoculated and sent to Bath Infirmary. (fn. 238) During periods of distress such as 1820 and the 1840s coal was subsidized and in the 1840s bread was given to pauper children and emigration was encouraged by the vestry. (fn. 239)
In the 1620s poor children occupied the former church house but the parish seems to have surrendered it c. 1631. (fn. 240) In 1712 the parish bought a house in Broadmead, later Poor, Lane, (fn. 241) and in 1828 the overseers also had a house at Horsington hill. (fn. 242) In 1809 the parish bought a house at South Cheriton which was later divided into four dwellings. (fn. 243) By 1837 the parish had 12 freehold tenements. The South Cheriton house was sold in 1837 but in 1839 there were still eight unsold. (fn. 244) Three at Horsington hill were sold in 1855 and five in Poor Lane in 1860, both for the benefit of the village school. (fn. 245)
In 1835 the parish became part of Wincanton poor-law union and in 1894 of Wincanton rural district which was absorbed into Yeovil, later South Somerset, district in 1974. (fn. 246)
CHURCH
A clerk of Horsington was recorded c. 1200 and in the early 13th century, and a rector in 1262. (fn. 247) The living remained a sole rectory until 1976 when it was united with Abbas and Temple Combe. (fn. 248)
The advowson was held with Horsington manor until 1682 although there was some confusion over ownership after the death of Margery Russel in 1431 when patronage was claimed by her mother, her aunts Margaret and Isabel, and Theobald Gorges. (fn. 249) In 1682 Thomas Gapper sold it to the Revd. Thomas Wickham, whose grandfather Thomas Rolt had purchased the next presentation in 1680. (fn. 250) It descended with the Wickham family estate (fn. 251) until 1901 when it was vested in trustees. The Church Trust Fund were joint patrons in 1992. (fn. 252)
The living was valued at £13 6s. 8d. in 1291 (fn. 253) but was claimed to be worth £66 13s. 4d. in 1310. (fn. 254) In 1535 it was assessed at £18 5s. 7d. net (fn. 255) but c. 1670 had a reputed value of £100. (fn. 256) In 1829-31 the average income was £920 gross. (fn. 257) Tithes were valued at £18 7s. gross in 1535. (fn. 258) In 1839 they were commuted for a rent charge of £894 8s. although the rector had wanted more, claiming that he had been underpaid previously. (fn. 259) Glebe land was worth 13s. 4d. in 1535 (fn. 260) and in 1613 was said to extend to 80 a. (fn. 261) Small parcels of land were sold in the 1820s and in 1839 there was nearly 73 a. of glebe. (fn. 262) More land was sold c. 1901 and in 1932, (fn. 263) leaving 32 a. in 1978. (fn. 264)
In 1613 the parsonage house comprised hall, parlour, chamber, buttery, kitchen, and four upper chambers. The site also included a gatehouse, pigeon house, brewhouse, malthouse, courts, and gardens. The house appears to have been enlarged by 1623 when it was described as a mansion with a large entry, two parlours, a porch, and at least five upper chambers. As well as the gatehouse there was a porter's lodge with three upper rooms, a bean garden, and a vine garden. (fn. 265) In 1939 the house was sold and renamed the Grange. (fn. 266) It is a stone and tile building of two storeys with attics. The original five-bayed west front of the 18th century with a central pedimented porch was extended by one bay in 1856. (fn. 267) The house contains an 18th-century staircase. The pigeon house for 700 birds and a barn, described as the tithe barn, survive. In 1939 a new rectory house was built between Horsington and South Cheriton; that was sold c. 1976 and is known as the Old Rectory. (fn. 268)
Several rectors in the 14th century, including John de Godeley, also dean of Wells, (fn. 269) were absentee pluralists and not in priests' orders. (fn. 270) Thomas Mersh, rector 1448-87, was a wealthy pluralist who left money and vestments to the parish church and to the fraternity of St. Mary. (fn. 271) In 1505 there was a light before the High Cross and in 1545 also a Lady light. (fn. 272) In 1548 there was a stock of £3 17s. to maintain lights. (fn. 273)
John FitzJames, rector from 1526 to c. 1548, was resident, at least in the 1530s, but assistant curates served both before and after him. (fn. 274) From 1561 rectors were resident (fn. 275) and David Williams, rector 1632-86, was apparently undisturbed in the Interregnum. (fn. 276) From 1686 until 1897 the living was held successively by nine members of the Wickham family who were normally resident. (fn. 277) The Horsington choristers were recorded in 1783. (fn. 278) There were about 40 communicants c. 1788. (fn. 279) Two services were held on Sundays in 1840. (fn. 280) In 1851 70 people, including the Sunday school children, attended in the morning and 120 in the afternoon. (fn. 281) Communion was celebrated monthly in 1870. (fn. 282) In the 1890s there was a mission room at South Cheriton, possibly used as both a mission and reading room c. 1910. (fn. 283) Three Sunday services were held at Horsington in 1897 and there were usually over 50 Easter communicants in the 20th century. (fn. 284)
The church house west of the cross may have been surrendered c. 1631 to be replaced by a dwelling which was demolished in the later 19th century. (fn. 285)
The cross north of the church dates probably from the 13th century. (fn. 286) It is of Ham stone and has a stepped base and octagonal shaft bearing a figure variously said to be a layman or a friar, under a canopy of skulls and bones. A sundial placed on the top in 1708 fell during the 19th century, damaging the top of the shaft. (fn. 287)
The church of ST. JOHN THE BAPTIST comprises a chancel with south vestry and organ chamber, a nave with north porch and south aisle, and a west tower. The tower may date from the 13th century but has buttresses added in the 15th or the early 16th century and an upper stage of 1738 designed by John Clewett. (fn. 288) The 15th-century window over the west door came from Stowell in 1886. The rest of the church except the early 19th-century porch was rebuilt in 1884-5 by W.J. Willcox of Bath in the Early English style (fn. 289) replacing a building of 1818- 19, described as 'in very poor style'. That church, which had included a gallery and a private pew on the south side of the nave, (fn. 290) had in turn replaced one described as Gothic which had comprised a chancel, galleried nave with small south aisle and porch, and west tower. (fn. 291) The present building retains an early 15th-century front and several 18thcentury monuments. The east window of 1886 and a south window of 1887 are by C. E. Kempe and the tower screen in the Arts and Crafts style, made by members of a woodcarving class at North Curry, was fitted in 1904. (fn. 292)
The plate includes a standing cup and cover of 1614 and two large and one small cup of the 18th century. (fn. 293) Two of the six bells are probably medieval and one, dated 1601, is by Roger Purdue. (fn. 294) The registers date from 1558 are complete. (fn. 295)
A free chapel at South Cheriton was recorded in 1315. (fn. 296) The advowson was usually held by the lords of Horsington (fn. 297) but the bishop collated in 1444 (fn. 298) and the owners of the former Russel manor of North Cheriton also claimed to present. (fn. 299) In 1329 the chapel was said to be worth 20s. a year (fn. 300) and in 1547 the incumbent received 26s. 8d. (fn. 301) The chapel was suppressed in 1548. (fn. 302) The building, described as a messuage, was still standing in 1641, (fn. 303) probably on the north side of Cheriton Street.
NONCONFORMITY
There were recusants in the parish in 1591-3, 1623, and 1629 including Mrs. Gawen and her servants. (fn. 304) Two men were convicted of recusancy in 1675. (fn. 305)
A house in Horsington, where 20 hearers were recorded in 1669, was licensed for Baptist meetings in 1672 (fn. 306) and the congregation is said to have had a continuous history thereafter. (fn. 307) In 1759 a house was licensed for Baptist worship, possibly the new meeting house recorded in 1761. (fn. 308) About 1813 there were at least 34 members. (fn. 309) In 1851 there were three services on Sundays with a total attendance on Census Sunday of 51 in the morning, 62 in the afternoon, and 45 in the evening, the evening congregation sometimes numbering 110 or more. (fn. 310) The chapel closed in the early 1950s (fn. 311) and has been converted to a private house.
Quakers may have been meeting at South Cheriton in 1689. (fn. 312) A house was licensed for Quaker meetings in 1750. (fn. 313) Licences for unspecified denominations were granted in 1699, 1712, and 1731. (fn. 314) There were said to be Presbyterians in the parish c. 1788, but they had no place of worship. (fn. 315)
An Independent meeting at South Cheriton is said to have been established from Temple Combe in 1823. A cottage was converted to a chapel, which was later enlarged. (fn. 316) In 1851 services were held alternately morning and evening with 72 people attending morning service on Census Sunday. (fn. 317) A new chapel was opened in 1886, (fn. 318) and remained open as a United Reformed church in 1992.
Methodism appears to have reached the parish in 1818. (fn. 319) The Wesleyan chapel in South Cheriton was built in 1844 and on Census Sunday 1851 there were three Sunday services attended by 38 children in the morning, 78 adults and children in the afternoon, and 86 adults in the evening. (fn. 320) The building has a gabled front with two lancet windows and a porch added in 1884. It remained open in 1992.
EDUCATION
There was a school in the parish in 1623 and in 1665 Thomas Wickham was licensed to teach grammar. (fn. 321) In 1734 there was a schoolmaster at South Cheriton. (fn. 322) The sum of £5 a year was given under the will of Martha Wickham (d. c. 1737) to teach poor children. In 1818 the scriptures were taught to 80 children and some were instructed in 'habits of industry'. By 1824 a small day school for 12 children, mainly girls, taught reading and sewing and was supported by Martha Wickham's bequest. (fn. 323) The school continued, probably at South Cheriton, until 1851 or later. (fn. 324) From 1903 the charity paid for the repair of school buildings. (fn. 325)
By 1833 there were also a day school with 24 children educated at their parents' expense, a boarding school with 12 boys, (fn. 326) two church Sunday schools with 70 pupils, and an Independent Sunday school for 30 girls with a lending library. (fn. 327) Day schools educated 45 children in 1846 (fn. 328) and a National School was built in 1855 at Peckholds Ash between Horsington and South Cheriton. (fn. 329) It had three classrooms and 98 children in 1903 were taught the usual subjects and also shorthand, cottage gardening, and seed sowing. An evening school and a choral class were also held there. (fn. 330) Numbers fell from 98 in 1935 to 54 in 1945. In 1951 the school adopted voluntary controlled status and had 66 pupils in 1955. In 1992 there were 97 children on the register aged 4-11. (fn. 331)
CHARITIES FOR THE POOR
Before 1633 Edward Loney had given £5 to buy barley for people in need. (fn. 332) Thomas Abbot (d. 1709) (fn. 333) of South Cheriton gave 5 a. of land in North Cheriton, Thomas Rolt and John Brine each gave land in Abbas Combe, and Anne Day and others gave cash. Possibly before 1824 lost principal money from Anne Day and Edward Loney had been made up by payment of 15s. by the overseers until disallowed, but the land was retained. (fn. 334) James Wickham by will dated 1727 gave £100 to buy land for the poor, and his brother John by will of 1748 gave a £5 rent charge on two fields in fulfillment of James's bequest. The money was distributed yearly until 1859 or later but by 1869 had ceased to be paid. The charity appears to have been revived, possibly under a Charity Commission order of 1896. (fn. 335) In 1909 the Abbot, Rolt, Brine, and Wickham charities were joined together under a new Scheme as the United Charities for the general benefit of the poor and by 1992 had an income of over £700. (fn. 336) The Revd. Hill Dawe Wickham by will proved in 1875 left over £100 in stock to provide a distribution in kind to the poor. (fn. 337) The charity was used to buy coal, but in 1992 had an income of only £1. (fn. 338)