Pages 208-232
A History of the County of Somerset: Volume 7, Bruton, Horethorne and Norton Ferris Hundreds. Originally published by Victoria County History, London, 1999.
This free content was digitised by double rekeying. All rights reserved.
WINCANTON
The ancient parish of Wincanton lies in the south-east part of the county and at its centre is the largest town of the district. (fn. 1) The parish is divided between one principal and three smaller areas, and many very small pieces of land consisting of isolated fields, and is highly irregular in shape. In the north and north-west its boundaries interlock with Charlton Musgrove and Shepton Montague in a manner which suggests that, like them, it was formerly part of the royal manor and minster parish of Bruton. Traces of that link were still to be found in the 1080s when a new hundred was created of which Wincanton was the temporary head. (fn. 2) A borough (fn. 3) had been created by the mid 14th century, presumably by the Lovel family. In the northeast of the parish is the site of the small Augustinian priory of Stavordale, (fn. 4) most of whose estates lay in the immediate neighbourhood.
The main part of the parish measured c. 7 km. from north-west to south-east and over 2 km. from east to west at its widest point. The three main detached areas stretched from the town 2 km. north to Roundhill, 2 km. north-west to Cuttlesham, and nearly 4 km. north-east to Stavordale. The distance from Roundhill to Rodgrove, near the southern boundary beyond Marsh, is 8 km. The only natural boundaries were stretches of the river Cale, from which the town derives part of its name. (fn. 5) Part of the Selwood ridge road was the boundary in the extreme north-east.
The parish was said to measure 3,860 a. in 1841. (fn. 6) In 1883 unspecified land was transferred from Charlton Musgrove, Horsington, and Shalford, Stavordale, and the surrounding area (13 houses, 67 people) were added to Charlton Musgrove, and in 1885 unspecified land became part of North Cheriton parish. Slight changes were made to the boundary with Buckhorn Weston in 1966 and small areas transferred from Bratton, Charlton Musgrove, and Holton in 1982. (fn. 7) In 1981 the civil parish measured 1,052 ha. (2,599 a.) but by 1991 the area had increased to 1,149 ha. (2,839 a.) by the addition of land from Bratton Seymour, Charlton Musgrove, and Shepton Montague. (fn. 8)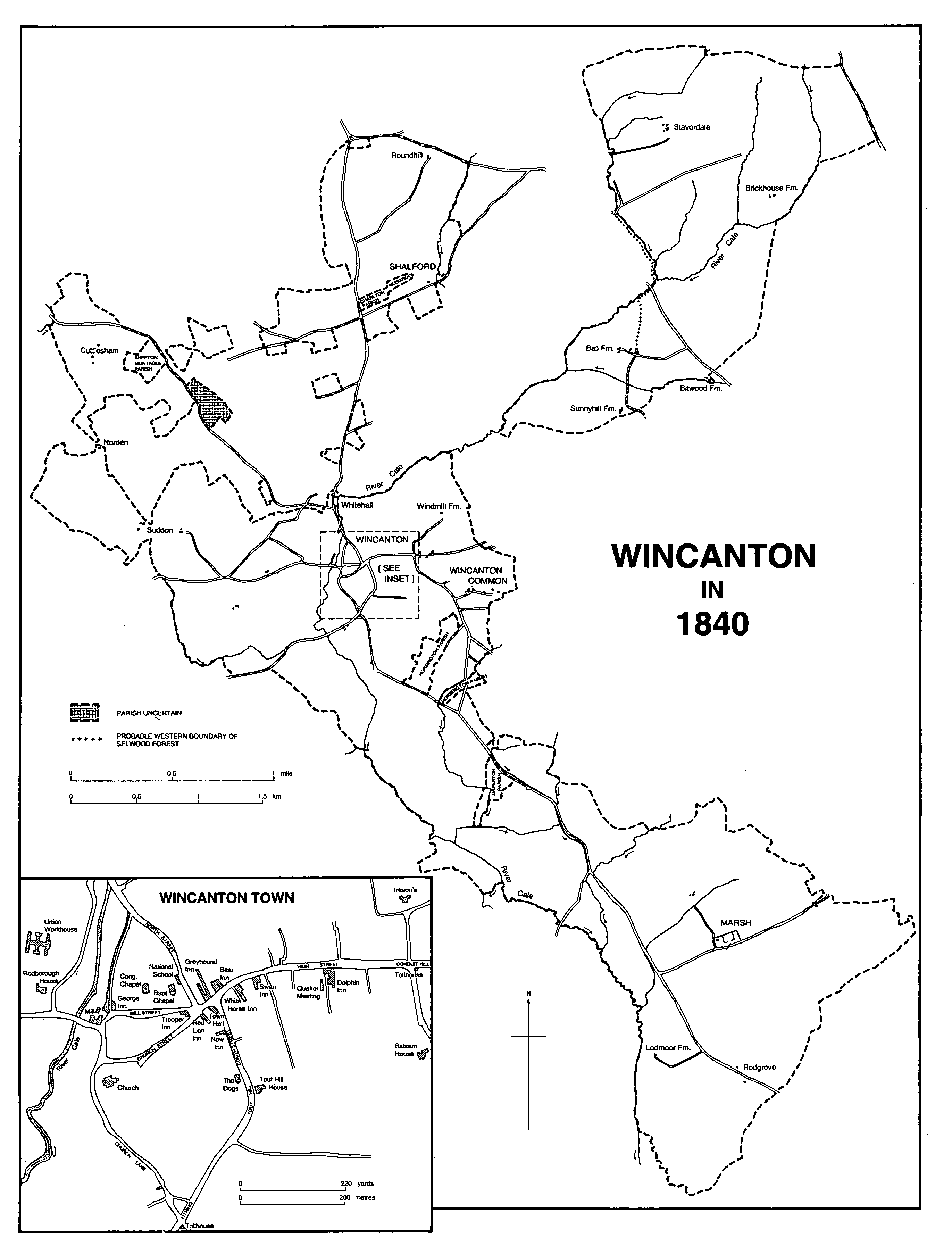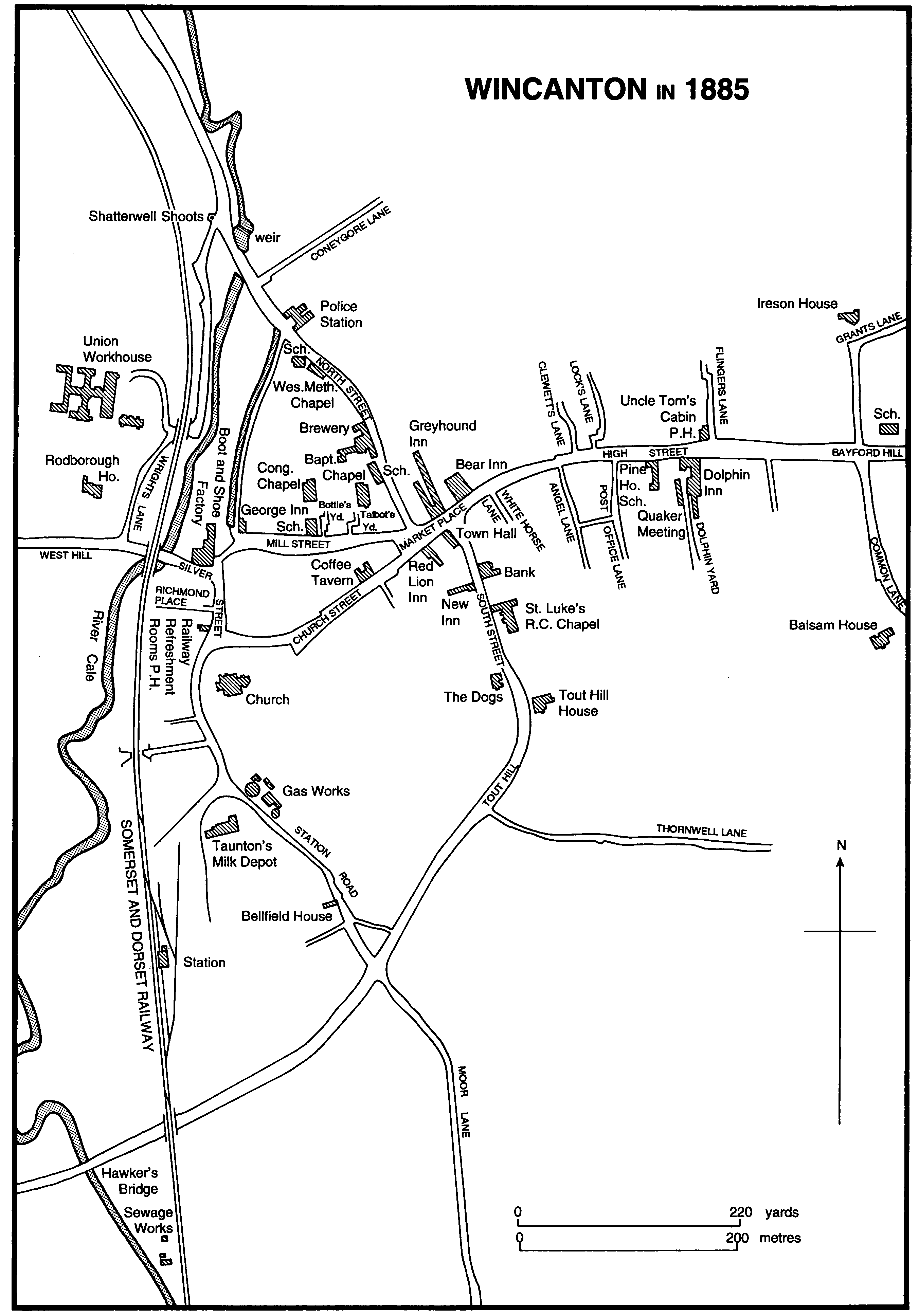 The river Cale rises on the western scarp of the Selwood ridge just above the 180-m. (590ft.) contour and flows first south and then south-west across a broad clay valley, forming the boundary with Charlton Musgrove. It is joined by a stream from Roundhill and then follows the line of the Mere fault where a narrow, steep-sided valley has been formed through a ridge of disjointed outcrops of Forest Marble clay and Cornbrash limestone. Emerging from that valley, the river turns abruptly south and then continues south-east forming a band of alluvium sandwiched between Oxford Clay, eventually joining the river Stour. (fn. 9) Wincanton town, presumably originating around the parish church on roughly level ground beside the Cale, first evidently spread eastwards up the south-western side of Windmill Hill (139 m. (456 ft.)). (fn. 10) The route through the town was described c. 1700 as 'a steep precipice, all rocks', (fn. 11) and part of the hill was quarried from the earlier 18th century until 1900. (fn. 12)
Wincanton lies at the junction of routes from Castle Cary, Bruton, Mere (Wilts.), Sherborne (Dors.), and Yeovil. The east-west route through the town formed part of the main London-Plymouth road by the later 17th century and it was turnpiked by the Wincanton trust together with those to Milborne Port and Castle Cary in 1756. (fn. 13) In 1818 a new road was built across Ball Common, east of the parish, probably continuing through Shalford. It was extended through Roundhill to Bruton in 1831, and North Street was turnpiked in 1818 as part of the road to Shepton Montague. (fn. 14) The roads were disturnpiked in 1874. (fn. 15) Further road improvements, planned in 1937-8 for a western relief road and London-Plymouth road to bypass the town, (fn. 16) were built in 1977. (fn. 17)
From the later 17th century the town was a stage on the London-Plymouth route; a post office was open in the 1670s (fn. 18) and coaching inns were established. (fn. 19) By the 1790s post was dispatched to London six days a week and there was a thrice-weekly coach service to London and Taunton while several waggons went regularly to Bath, London, Sherborne (Dors.), Taunton, and Weymouth (Dors.). (fn. 20) By 1838 eleven coaches passed through daily in addition to the Devonport Mail. (fn. 21) Brown and Brice, carriers, had a yard and in 1839 Robert Whitmash occupied substantial premises west of the church. (fn. 22)
The high bridge or mill bridge was probably built in the Middle Ages below an earlier crossing of the river Cale. Both it and Shatterwell bridge were described as ancient common arched bridges in 1685. (fn. 23) Shatterwell bridge was rebuilt in stone with a segmental arch c. 1771 and the mill bridge was rebuilt in the late 18th or early 19th century with two segmental arches, possibly using the medieval pier. (fn. 24) Akers or Hawkers bridge, of two high arches and a central buttress, in the London-Exeter road, needed partial rebuilding in 1705. (fn. 25) In 1833 it was rebuilt further east by Richard Carver with a single segmental arch flanked by floodwater holes. (fn. 26) The bridge collapsed in 1973 and a new bridge was opened in 1979. (fn. 27)
The Dorset Central Railway line reached Wincanton in 1861. (fn. 28) The station opened in the same year and was one of the first to be lit by gas. In 1862 the company merged with the Somerset Central Railway to became the Somerset and Dorset Railway, controlling a line from Bath to Bournemouth. Goods traffic south of Wincanton ceased in 1965 and to the north in 1966. The line closed to passengers in 1966 (fn. 29) and the track and buildings were removed to make way for housing.
Windmill Hill was the site of a Bronze-Age beaker burial, and contemporary artefacts have been found on the Selwood ridge. (fn. 30) RomanoBritish remains include a villa with tessellated pavement west of the town, another settlement site to the south, and coin hoards. (fn. 31) The motte in Cockroad Wood in the extreme north-east of the parish may be the work of Walter of Douai (d. c. 1107), the Domesday lord, or of his probable successor Ralph Lovel (fl. 1121). (fn. 32) It stands in a strong defensive position with a rectangular bailey on the south, possibly divided, and a triangular bailey on the north-west. (fn. 33)
By the 13th century a hamlet seems to have developed at Shalford, 2 km. north of the town and shared between Wincanton and Charlton Musgrove parishes, and farmsteads had been established at Roundhill and Cuttlesham as well as the priory at Stavordale. (fn. 34) Marsh, in the broad valley south of the town, and Suddon, on the western boundary, were mentioned in the 14th century. (fn. 35)
Wincanton town evidently spread from its riverside site up the hill to the east where a market place was formed and from which radiated High, Mill, South, and Church streets and possibly part of the later Silver Street. A borough had been created by 1345. (fn. 36) During the 17th century houses were built along Shatterwell Lane (later North Street), (fn. 37) on Wincanton Common to the south-east, and possibly in Church Lane (later Station Road). (fn. 38) By 1730 there were courts off High Street used for access to houses with gardens and stables. (fn. 39)
By c. 1840 building had spread to the top of Shatterwell Lane and down Waterside and Silver Street in the west and to the foot of Conduit (later Bayford) Hill in the east, where Coylton Terrace was built c. 1836. (fn. 40) There was also a small area of settlement around the junction of the Tything and Church Lane. (fn. 41) The coming of the railway led to building along Station Road and to Richmond Place and Whitehall at the top of North Street, both demolished in the 1950s. (fn. 42) There was probably no further expansion until the 20th century and some houses on the common seem to have been abandoned; most 19th-century development consisted of rebuilding and the establishment of houses and cottages in yards behind existing frontages (fn. 43) in Flingers Lane, Ireson's Lane, and Bond's, Clewett's, and Dowding's yards, all north of High Street. (fn. 44) By 1871 most streets had similar yards and despite some clearances at the east end of High Street in the 1870s there were at least 50 cottages in back yards in 1891. (fn. 45)
In the 1920s and 1930s the town began to expand again and houses were built west of the river and on an estate at Balsam south of High Street. Balsam continued to expand eastwards in the later 20th century. (fn. 46) In the 1970s houses were built in Shadwell, formerly Union Lane, (fn. 47) Bayford Hill, on the sites of the old yards north of High Street at Carrington Way, and in the late 1980s along the course of the former railway from Waterside to the old station yard. Building south-west of the town has been primarily commercial.
The only houses in the town which certainly predate a fire in 1707 that affected much of the central area (fn. 48) are the medieval no. 7 Church Street, (fn. 49) a 16th-century house, now two dwellings, (fn. 50) and a 17th-century house both in Mill Street, and the mansion called the Dogs. (fn. 51) The new construction after the fire was in stone rubble with ashlar dressings, often rendered and colourwashed, and provided the town with a group of substantial coaching inns around the market place, several of them ascribed to Nathaniel Ireson. Rebuilding in the 19th century was largely in brick.
The former Lamb inn is an L-shaped building of the late 15th or the earlier 16th century, possibly with a first-floor hall. (fn. 52) The Dolphin, dating from the mid 18th century and perhaps by Ireson, has a six-bayed front of two storeys and attics with an adjoining archway for coaches. The 18th-century former Trooper inn has a three-bayed, three-storeyed front topped by a parapet and central pediment dated 1796. The Greyhound, said to be by Ireson, has a fivebayed, three-storeyed front with parapet and central pediment bearing a painted plaque and topped with pineapple finials. A central archway is surmounted by a royal crest commemorating the visit of Queen Victoria as a child. (fn. 53) The White Horse, rebuilt in 1733 (fn. 54) by Ireson, has a three-bayed, three-storeyed front with Egyptian pilasters to the first floor and a wrought iron sign. The former courtyard, with a colonnade of rounded arches supported on Doric columns, has been roofed over.
Among the more important private houses in the town are the Dogs and Tout Hill House. The Dogs, formerly the Great House and the Old House, (fn. 55) takes its name, first recorded in 1805, from the greyhounds, the arms of the Churcheys, placed on the gateposts. They have since been removed. (fn. 56) The building is of two storeys with attics, and probably of the later 17th century. It has a main range and two closelyspaced wings which project towards the street. It is probable that its plan was originally Lshaped and that the northern wing is an addition which may be as late as c. 1700. At that time there was considerable refitting of the interior including a new central staircase and an entrance hall which may have replaced an earlier main entrance on the south through a two-storeyed porch. There are other fittings of the 18th and 19th centuries and the whole appears to have been restored in the early 20th century. At that time a single-storey infill may have been built between the wings. (fn. 57)
Tout Hill House was owned by James Churchey (d. 1631), probably in succession to his father William who held a house at Tout Hill in 1558. (fn. 58) It comprised two burgages and was the dwelling of the Churchey family until the death of Richard in 1697. It was possibly the house where William of Orange stayed in 1688. (fn. 59) It was probably Churchey's Old House which formed part of James Churchey's share of Richard Churchey's estate. (fn. 60) Tout Hill House, in 1992 Our Lady's primary school, was entirely rebuilt shortly before 1796, probably on a site to the south of the original building. Constructed of stone with rusticated quoins under a slate roof, it has two storeys of four bays with attics. The main north entrance has an open pedimented hood over fluted Doric pilasters. A large 18th-century stable block to the east may predate the house and is of rubble under a tiled roof with central pediment.
Dial House, west of the river and with a reset sundial dated 1696, is perhaps a late 17th-century house refronted c. 1800. The adjoining Batch House dates from the 18th century but has a frontage of c. 1830. Balsam House is an early 17th-century stone and rubble house with a tiled roof south-east of the town. Bellfield House in Station Road may date from before the fire of 1707 or immediately after. It is of rubble and tile with an eight-bayed south front of two storeys with two attic dormers. (fn. 61) Rodber House, a five-bayed brick and stone house of two storeys with attics west of the river, is said to be by Ireson but was extensively remodelled in the 19th and 20th centuries. Ireson House east of the town was built c. 1726 but was radically altered c. 1851. The Messiters had a house east of the town built in the 1780s. Known as Hill House, later Sunny Bank House, it was demolished in the later 20th century for a housing estate. (fn. 62)
There were probably three common arable fields; east, west and south of the town. There were common meadows along the river Cale and grazing at Marsh. (fn. 63) Wincanton Common, southeast of the town, and Ball or Bitwood Ball Common, to the north-east, were both inclosed under an Act of 1814. (fn. 64) Marsh park lay south of the present Marsh Lane and land in the east of the parish lay inside Selwood forest. (fn. 65)
Water from Shatterwell, north-west of the town, was believed to have curative properties. The spring was known as eye water, and in the early 18th century a local apothecary established a cold bath there. It appears to have gone out of use by the early 19th century although the name Cold Bath Orchard survived. (fn. 66) In 1865 the basin known as Shatterwell Shoots was built when the railway line was constructed. (fn. 67)
There were two inns in the town in the 1550s; the Crown, probably the later Green Dragon and Crown, (fn. 68) and the Hart, (fn. 69) probably the White Hart recorded in 1678. (fn. 70) Four alehouses were recorded in 1609 but nine innholders and victuallers were in business in 1619. (fn. 71) Ten inns were rated c. 1678 and by 1686 the town had evidently become a significant centre for communications for its inns could provide 54 guest beds and stabling for 254 horses. (fn. 72) Among the early coaching inns were the Angel, recorded c. 1678, (fn. 73) and the Bear (open by 1651). (fn. 74) In the 18th century there were normally 10 licensed inns but 14 were recorded in 1714. (fn. 75) Among the coaching inns the Bear, enlarged in 1720, (fn. 76) was joined by the Rainbow (later the Dolphin) (fn. 77) and the Five Bells (later the Hare and Hounds and, just after the turn of the 19th century, the Trooper). (fn. 78) Lesser inns included the Greyhound, said to have been built in 1760, (fn. 79) the Sun, (fn. 80) the Red Lion, recorded in 1794 and probably the White Lion of 1767, (fn. 81) the Swan, open between c. 1678 and 1843, (fn. 82) and the White Horse, recorded c. 1678, but rebuilt in 1733. (fn. 83) At least 11 beerhouses opened in the 19th century (fn. 84) but several coaching inns closed including the Angel and the Swan. (fn. 85) The 20th century saw a further decline including the closure of the Greyhound. (fn. 86) Three inns, Uncle Tom's Cabin, the Railway inn, and the Railway Refreshment Rooms (now the Miller's inn), opened as a result of the coming of the railway in 1861 (fn. 87) and those survived in business in 1992 together with the Bear, the Dolphin, the Red Lion, the White Horse, the Nog inn in South Street, recorded as the New inn in 1792, (fn. 88) and the George, opened c. 1837. (fn. 89)
The Wincanton Temperance Society, formed in 1844, had a library and held a free night school. The Good Templars, established in 1871, opened a hall in North Street in 1873 where they had a soup kitchen. (fn. 90) The Temperance Coffee House in Mill Street was open in 1843 and another with a news room opened in Clewett's Yard, off High Street, in 1850 and was probably still in business in 1872. (fn. 91) The Wincanton Coffee Tavern in Church Street opened in 1878 in the temperance hotel. (fn. 92)
The Wincanton friendly society was founded in 1773 and met at the Trooper inn. (fn. 93) It was still in existence in 1898 and had a feast on Trinity Monday. (fn. 94) The Wincanton Union society met at the Bear between 1781 and 1813. (fn. 95) A friendly society called the Swan Club was mentioned in 1813. (fn. 96) The Wincanton Septennial friendly society was established by 1842 and also met at the Trooper. It was renewed in 1849 (fn. 97) and had a feast on Easter Monday. (fn. 98) The Wincanton United friendly society was formed in 1836 and met at the National school. (fn. 99)
The freemasons had a lodge at the Bear from 1793 to 1809 and a French lodge was opened in 1810 for the prisoners of war. A lodge was moved from Bourton (Dors.) to Wincanton in 1836 and a masonic hall was opened in 1872. (fn. 100) The Oddfellows had a branch in the town c. 1850 and the Foresters opened a court in 1866 and a junior branch in 1882. (fn. 101) In 1843 the Wincanton Harmonic Society was founded and in 1890 the Wincanton Brass, later Silver, Band. (fn. 102) The Wincanton Field Club was established in 1889 to encourage interest in local archaeology and natural history. (fn. 103) The Tradesmens' or Wincanton Social Club started in 1901. (fn. 104)
A subscription reading room was open in 1861 (fn. 105) and in 1897 there were two circulating libraries. (fn. 106) A public library was opened in 1934; the present building in Carrington Way was opened in 1973. (fn. 107) Sweetman's Monthly Illustrated Journal began in 1871 and closed in 1879. (fn. 108)
There was a theatre in 1790. (fn. 109) During the early 19th century strolling players performed in a barn at Tout Hill and concerts were organized by the French prisoners of war. (fn. 110) Concerts and other entertainments were held at the Town Hall in the late 19th century (fn. 111) and the Deansley Hall was erected in 1920 behind the White Horse. (fn. 112) A roller-skating rink was built in South Street c. 1913, its music powered by a steam engine. (fn. 113) Films were shown in the town in the 1920s and in 1934 the Plaza opened in South Street. It was due to close in 1992. (fn. 114)
Horse races were held near the town by 1765 (fn. 115) but not regularly until the 1890s when the Wincanton Hunt Steeplechase was run on a 1¼-mile course on the west side of the parish near Hatherleigh. Meetings ceased in 1914 but were restarted in 1922 when a grandstand was erected for 5,000 people. (fn. 116) The cricket club was founded in 1883 and the football club in 1890. (fn. 117) The Wincanton and Yeovil, later the East Somerset, Agricultural Society was in existence by 1843 and during the early 20th century held its annual show at Wincanton every third year. (fn. 118) Carnivals were held on 5 November in the 1870s. (fn. 119) They were revived in the 1920s to raise money for the Memorial Hospital. (fn. 120) The last one was said to have been held in 1930. (fn. 121)
There were 280 communicants in 1548 (fn. 122) and c. 175 houses in the borough in the 1660s. (fn. 123) By 1791 there were said to be 383 houses in the parish of which 287 were in the town. (fn. 124) In 1801 the population was 1,772, falling to 1,544 in 1811, excluding 306 prisoners of war and their families. Thereafter the population rose to 2,143 in 1821 and to a peak of 2,488 in 1851; (fn. 125) it declined gradually to 1,711 in 1921. House building in the 1930s, 1970s, and 1980s coincided with an increase of population to 2,047 in 1931, to 2,537 in 1951, to 3,324 in 1981, and to 4,151 in 1991. (fn. 126)
Impressed soldiers were exercised in the parish in 1640 (fn. 127) and Prince Maurice and his regiment of horse were there in 1644. (fn. 128) Eighteen local men were reported as supporters of Monmouth and six rebels were executed in the town in 1685. (fn. 129) In 1688 there was a minor skirmish between soldiers loyal to James II and those accompanying William of Orange. (fn. 130) In 1804 French, and some Spanish, prisoners of war, including many officers and their servants, were lodged in and around the town. By 1806 there were c. 200 prisoners on parole. In 1811 there were 297 prisoners and some wives and children. Some escaped, at least nine married local women, and several more were buried in the churchyard. (fn. 131) They were said to have brought prosperity to the town and their departure in 1812 caused hardship. One Frenchman and at least two Italians, who probably arrived as servants to the prisoners, remained: Gosue Soldini, a barometer maker, and Alberto Bioletti (d. 1869), a hairdresser and jeweller. (fn. 132)
Nathaniel Ireson (1686-1769), mason, architect, and proprietor of a pottery, quarry, and brickyard, moved to Wincanton c. 1726 and is credited with the design of many buildings in the town and elsewhere. (fn. 133) John Ring (1752- 1821), surgeon, was born in Wincanton and was the author of books on vaccination, gout, and Handel, and of a translation of Virgil. (fn. 134) George Deane (d. 1891), educated in Wincanton, was an engineer and Congregational minister who became a geologist and Professor of Mathematics, Hebrew, and Old Testament Exegesis. (fn. 135) George Sweetman (1834-1917), bookseller and local historian, published a monthly journal, helped found the Wincanton Field Club, wrote a history of Wincanton and several pamphlets, and was a strong supporter of the temperance movement and education. (fn. 136)
BOROUGH
A borough was recorded in 1345 (fn. 137) but no charter is known. The borough was held with Wincanton manor by Richard Seymour, Baron Seymour (d. 1401), and his successors until 1659. (fn. 138) The Swanton family had a half share of the borough until 1661 or later (fn. 139) and the Lewis family a half until 1775. (fn. 140)
Burgages were recorded in the 16th and 17th centuries (fn. 141) and in 1558 there were 64½ subject to rent, some of which were decayed, roofless, or in non-domestic use. The borough seems to have comprised the area around Church, High, Mill, and South streets, one property in Shatterwell Lane (later North Street) and possibly another near the mill. A gate was mentioned in 1558. (fn. 142) Burgage rents continued to be levied until the early 18th century or later. (fn. 143) The later borough or town area created for land tax purposes covered a much larger area in the centre of the parish. (fn. 144)
MANORS AND OTHER ESTATES
Before the 11th century Wincanton may have formed part of the royal estate of Bruton. (fn. 145) In 1066 WINCANTON was held by Alfsi and in 1086 by Renewer of Walter of Douai (d. c. 1107). By then half a hide held by Brismar the priest in 1066 had been added to it. (fn. 146) The terre tenancy was probably shortlived. Walter was succeeded probably by Ralph Lovel (fl. 1121) and by Ralph's son Baldwin (d. by 1138). The manor then probably descended through Baldwin's son Ralph (d. c. 1161) and Ralph's son Henry (d. 1197) to Henry's sons Ralph (d. s.p. 1207), Henry (d. s.p. 1216), and Richard, (fn. 147) who held a share by 1239. In that year he bought out claims to what was described as the northern half of the manor from Isabel, wife of Ralph Russel, and Hawise, wife of Nicholas de Moeles, daughters and coheirs of James Newmarch and eventual coheirs of Maud, widow of Ralph Lovel (d. 1207). (fn. 148)
Richard Lovel (d. 1254) was followed by his son Henry (d. 1263) and by Henry's sons Richard (d. 1264) and Hugh (d. 1291). Hugh's holding was reckoned as a fee of his own barony of Castle Cary. (fn. 149) He was succeeded by his son (Sir) Richard, Lord Lovel (d. 1351). Richard's heir was his granddaughter Muriel Lovel (d. by 1361), wife of Nicholas Seymour, Baron Seymour (d. 1361), whose elder son Nicholas died under age later in 1361. (fn. 150) The manor was granted immediately on the death of Nicholas the father to Isabel, the king's daughter, who held it until Muriel's younger son (Sir) Richard Seymour came of age in 1376. Richard, Baron Seymour (d. 1401), was followed by his son, also Richard (d. 1409). Richard's posthumous daughter Alice was married while still a child to William Zouche, Baron Zouche (d. 1462). (fn. 151) Alice's son, also William, died in 1468 leaving a son John under age. (fn. 152) The manor was held in dower by William's widow Catherine and, from her death in 1471, by her second husband Sir Gilbert Debenham (d. 1500). (fn. 153)
John, Baron Zouche (d. 1526), was attainted in 1485 (fn. 154) and the manor was granted to Giles Daubeney, Baron Daubeney (d. 1508), in tail male. In 1538 Giles's son Henry (cr. earl of Bridgwater 1538, d. 1548) made over the manor to Edward Seymour, earl of Hertford, (fn. 155) who held it in 1540, but probably before 1548 it had been acquired by Richard, son of John, Baron Zouche. (fn. 156) In 1551 Richard, then Baron Zouche (d. 1552), settled the manor on his wife and two younger sons, Richard and Charles Zouche, in tail male. (fn. 157)
Robert Kemys bought the manor from Richard and Charles Zouche in 1567 and 1571 respectively, but in the latter year sold half to Nicholas Swanton. (fn. 158) Robert (d. 1587) was succeeded by his son Hugh who in 1588 sold to Matthew Ewens. (fn. 159) Matthew (d. 1598) was followed by his brother Thomas (d. c. 1615) and by Thomas's son Andrew. (fn. 160) In 1617 Andrew sold to Barnaby Lewis. (fn. 161)
Barnaby (d. 1631) was succeeded by his son Barnaby (d. c. 1643) and by his grandson, also Barnaby Lewis (d. c. 1644-6). Benjamin, brother of the last, (fn. 162) was succeeded in the direct male line by William (d. c. 1686), William (d. 1706), and Charles (d. 1739), and by Charles's sister Mary, wife of John Farr. Mary's son John Farr died in 1773 leaving a daughter Theophila (d. 1802) who married John Berkeley Burland (d. 1804). Theophila's eventual heir, her mother's great-nephew the Revd. Harry Farr Yeatman, (fn. 163) sold the lordship and a small amount of land in 1808 to the brothers George and Uriah Messiter. George died in 1834 and was succeeded jointly by his surviving sons George, Henry, Thomas, and John. (fn. 164) Thomas surrendered his interest to his brothers in 1843 and they succeeded to Uriah's share on his death in 1848. John was the sole survivor in 1880. (fn. 165)
Nicholas Swanton, who bought the other half of the manor in 1571, died in 1593 and was followed by his son William (d. c. 1619), and by William's son, also William (d. c. 1638). (fn. 166) A third William and son of the last was forced to compound for his estates c. 1645. In 1659 his uncle Francis and his family sold the estate to James Churchey. (fn. 167) James (d. 1665) was succeeded by his elder son Richard (d. 1697) (fn. 168) and Richard by his youngest son Thomas and his grandson James Churchey. Thomas and James may have held jointly in 1711. James died in 1720 leaving three daughters and Thomas in 1722 leaving an infant daughter who died a few months later. In 1739 James's daughters Frances, Mary, and Catherine conveyed half the manor to Francis Seymour and Sir John Trevelyan. (fn. 169)
Francis (d. 1761) was succeeded in the direct male line by Henry (d. 1805), Henry (d. 1849), and Henry (d. unm. 1877). (fn. 170) In 1847 the estate consisted of a single farm and one house. (fn. 171) In 1883 the entire lordship was said to belong to Thomas Clementina, a Wincanton shopkeeper, but was not recorded again. (fn. 172)
In 1642 William Swanton's house in South Street was described as a capital messuage. (fn. 173)
The manor of MARSH or Lovelismersh (fn. 174) had become a separate estate by 1347 (fn. 175) but continued to be held with Wincanton manor (fn. 176) until the sale of the lordship and Charles Zouche's share of the house and lands to Robert Kemys in 1567 and 1571. (fn. 177) Robert was succeeded in 1587 by his son Hugh (fn. 178) who sold the estate in 1602 to Hugh Watts. (fn. 179) The estate, occasionally called a manor, descended in the Watts and Dalton families like Shanks in Cucklington (fn. 180) and in 1779 was known as Lower Marsh manor. (fn. 181) In 1858 Lower Marsh farm (191 a.) was sold to Edward Richardson and in 1861 most of it passed to the trustees of Edward, Earl Digby (d. 1856). (fn. 182) In 1920 it was sold to the tenant. (fn. 183)
Before 1559 Richard Zouche sold to John Dyer (d. c. 1559) an estate at Marsh which included his half of the court house and land. (fn. 184) From Dyer it descended to his son Lawrence (d. 1578) and to Lawrence's son (Sir) Richard (d. 1605). (fn. 185) The last may have sold land to Hugh Kemys before 1593 (fn. 186) and his son Sir William Dyer sold further land in 1608 to Robert and John Harbin. (fn. 187) Lands, probably part of the former Marsh manor, were held by George Thomas (d. 1681-6) and in turn by his sons George and Morgan (d. by 1695). (fn. 188) In 1695 that estate was settled on one of Morgan's sisters Catherine (d. 1696) and her husband James Wickham (d. 1727). Their nephew and heir Anthony Wickham (d. 1767), a clergyman, left Marsh to his kinsman and another clergyman John Wickham (d. 1788) for life and then to John's son Thomas. (fn. 189) Nathaniel Dalton acquired it c. 1806 and added it to his Marsh estates. (fn. 190)
Richard Lovel had a house at Marsh in 1344 (fn. 191) and a garden and dovecot were mentioned in 1351. (fn. 192) The former 'goodly manor place' was a ruin in 1540 (fn. 193) but there seems to have been a house there in 1569. (fn. 194) Until the 1960s traces of a double moat were visible, the original house probably in a square enclosure which was set within a much larger site, the eastern end of which may have included a fishpond. The western part of the moat was destroyed between 1966 and 1976. (fn. 195)
Robert Kemys had built a house on the south side of his share of the site by 1578. (fn. 196) It was called Court Barton in 1593 and Marsh Court by 1602 but by 1627 was only a cottage. (fn. 197) In 1660 a mansion called Marsh Court was recorded, possibly on the same site; it was still standing in 1698. (fn. 198) Marsh Court Farm occupies a site south of the moat; it is a double-pile building of the 19th century of stone under a tile roof. Another house called Marsh Court, within the western part of the original moated site and belonging to the Wickham estate by 1695, (fn. 199) can probably be dated to 1661 by an ornamental plaster overmantel on the first floor. The house has a long main range of three rooms with two short rear wings and retains most of its original two-light windows with hollow-chamfer mouldings. The interior was refitted in the 19th century.
Marsh park was divided between Richard and Charles Zouche, owners of Marsh manor. Edward, Baron Zouche, nephew and heir of Richard Zouche (d. by 1578), sold his undivided moiety of the park to Robert Kemys, Thomas Rolfe the elder, and Thomas Rolfe the younger. (fn. 200) In 1584 the park was partitioned. Charles Zouche sold his moiety in 1597 to Henry Wade who appears to have divided it and sold shares to Augustine Marvin and William Maton in 1598. (fn. 201) William's quarter was bought by Hugh Watts in 1605. (fn. 202) Marvin acquired the Rolfes' quarter before 1632 when he sold what was described as half to Nicholas Watts. (fn. 203) The whole of the former park descended with the Watts's share of Marsh manor. (fn. 204)
The lodge in the park was recorded in 1584 when it comprised a hall, crosshouse, and dairy, with three chambers above; water was to be supplied in clay pipes. (fn. 205) It was still standing in 1705, probably at the east end of a field called Lodge Park south-east of Marsh Court. (fn. 206)
Before 1243 a priory had been founded at Stavordale, in the north-eastern part of the parish, probably by the Lovel family. Lands were added at Roundhill, Shalford, and elsewhere from the 13th century. (fn. 207) In 1533 the priory and its estates were incorporated into Taunton priory and the house was dissolved in 1539. (fn. 208)
In 1544 the former priory buildings and land called STAVORDALE were sold to John de Vere, earl of Oxford, to be held in chief for 1/20 fee. In the same year he was licensed to alienate and the estate seems to have been settled on Richard Zouche (succ. as Baron Zouche 1550, d. 1552). (fn. 209) In 1551 Zouche settled Stavordale on his younger sons Richard and Charles like Wincanton and Marsh manors. (fn. 210)
In 1570 Richard Zouche the younger sold his share of Stavordale to Nicholas Wilkinson who was succeeded by his brother Paul in 1604. (fn. 211) The immediate descent of both halves is unknown but in 1631 the Crown sold an estate called Stavordale to John and Robert Hunt. (fn. 212) In 1675 Robert sold it to John Ewens, who died before 1685 leaving two daughters, Elizabeth White and Anne, wife of George Harvey. (fn. 213) Elizabeth's share, settled on Walter Barnes, passed to Dorothy Barnes and was sold by her to John Baker in 1704. (fn. 214) Baker and his son, also John, sold to Thomas Penny in 1721. (fn. 215) Anne Harvey's share, several times mortgaged, was sold to Penny in 1725. (fn. 216) In 1732 Penny's sons sold to Francis Burford, and Edward Burford sold in 1785 to Sir Richard Hoare, Bt. (d. 1787). (fn. 217)
Sir Richard Hoare was succeeded in turn by his sons Sir Richard Colt Hoare (d. 1838) and Sir Henry Hoare (d. 1841). Henry's son Sir Hugh (d. 1857) was followed by his nephew Sir Henry Ainslie Hoare (d. 1894) who sold the priory site in 1892 to the Revd. Lewis Leir (d. 1914). (fn. 218) Leir's heirs sold it in 1915 to Mr. F. G. Sage who bought further Hoare lands in 1918 when Sir Henry's cousin and successor Sir Henry Hugh Arthur Hoare sold off the rest of the Stavordale estate. There was no reference to lordship and Mr. Sage's purchases totalled about 100 a. (fn. 219) The former priory site and house were owned in 1994 by (Sir) Cameron Mackintosh.
The former priory buildings were described as a mansion or capital messuage in 1544 and from 1526 or earlier had been in part converted to a private dwelling. (fn. 220) By the later 19th century the former priory church was used as a farmhouse and dairy and the former conventual buildings to the north were used as barns. (fn. 221) In 1904-6 the church and some of the buildings to the north, known as the Prior's Lodgings, were restored and converted to a dwelling, linked to the main building by a wing probably marking the east cloister walk, all the work of T. E. Colcutt. (fn. 222) Internal reconstruction and redecoration completed in 1995 under Keith Leman of Winchester for (Sir) Cameron Mackintosh have enhanced or added decorative features. External work includes the construction of a caretaker's house, a swimming pool, and a lake. (fn. 223)
The choir of four bays and the nave of three, of local stone with Doulting stone dressings, were probably built in the early 15th century. A tower, probably dating from the early 15th century, (fn. 224) formerly stood against the middle bay of the nave on the south side. To the north of the choir is the Jesus chapel, added shortly before 1525 (fn. 225) and still open to its original height with a fan-vaulted ceiling. (fn. 226)
The former Stavordale priory estate at ROUNDHILL was sold in 1544 to William Stourton, Baron Stourton (d. 1548). (fn. 227) Its status as a manor was in dispute but was established before 1556. (fn. 228) Charles, Baron Stourton, son of William, was attainted in 1557 but his mother retained dower. (fn. 229) John Dyer, the tenant, (fn. 230) may have acquired the freehold, which passed to his eldest son Lawrence (d. 1578), while the leasehold interest was retained by his son John (d. 1597), who lived at Roundhill and presumably acquired the freehold on his brother's death. (fn. 231) John was succeeded by his son Francis (d. 1615) who left the manor to his sister Ann, wife of Henry Baynton, already resident at Roundhill. (fn. 232) Henry Baynton was still alive in 1637 but had been succeeded by his son Francis by 1647. (fn. 233)
James Churchey (d. 1677) owned the manor by 1665. (fn. 234) James's son James Lawrence Churchey (d. 1716) was succeeded by his nephew Nathaniel Webb (d. 1732) (fn. 235) and Nathaniel by his son Nathaniel (d. 1782), his grandson Nathaniel (d. 1813), and by Nathaniel's nephew John Jekyll. (fn. 236) In 1831 Jekyll sold the manor with his Barrow estate (fn. 237) to his tenant George Wyndham, when it comprised over 300 a. and was known as Barrow or Roundhill manor. (fn. 238) George is said to have given it to his second son Henry who lived there with his brother George in 1851. Henry was still there in 1861 but sold the estate in 1873. It has since passed through several hands. (fn. 239)
The capital messuage, known as Roundhill Grange, was recorded in the 1530s. (fn. 240) It had eleven hearths in 1665 and another was said to have fallen down. (fn. 241) The present house is said to have been built in 1701 to the south of the old mansion, the remaining parts of which were taken down in 1832, probably when the grounds were altered and new stables built. (fn. 242) The house is of red brick with Doulting stone dressings and has principal fronts of five bays. It is of two storeys and probably had attics in a steeplypitched roof with eaves which were replaced by a low parapet later in the 18th century. In 1775 (fn. 243) a one-bayed addition was made along the south front and, presumably at the same time to maintain the symmetry of the principal fronts, a similar addition was made on the north. The northern extension housed closets. From the time of its construction the southern extension may have been part of a rearrangement which removed the whole of the original end wall and created principal rooms on that side of the house. The interior was altered and redecorated c. 1835 when panelled oak doors of c. 1700, elaborately decorated with marquetry, were reused. Probably at that time single-storeyed kitchens were added to the north and the service court was developed. Further alterations were made to the interior in the later 19th century when the main panelled room on the first floor was rearranged to accommodate two staircases and the roof was reconstructed. Then or early in the 20th century an upper floor was added above the kitchens.
SHALFORD seems to have passed from the Crown in 1544 like Stavordale manor and in 1570 Richard and Charles Zouche were licensed to sell it to John Ewens. In the following year Ewens had licence to sell to Edward Hyne. (fn. 244) Hyne (d. 1611) settled Shalford in 1596 on his second son Edward (d. 1610) for his marriage. In 1611 the heir was the younger Edward's infant son Edward. (fn. 245) In 1663 Edward and his son Edward sold the estate to Thomas Strode, James Churchey (d. 1665), and his son Richard Churchey, retaining a life interest for the elder Edward and securing dower for his widow. (fn. 246) Edward Hyne the elder was dead by 1668 when his widow Jane surrendered her life interest to James Churchey the younger. (fn. 247) Shalford descended like Roundhill (fn. 248) until 1726 when James Lawrence Churchey's trustees sold it to John Paget (d. 1745) of Poyntington (Som. now Dors.), a clergyman, whose son John had married Churchey's niece Elizabeth Webb (d. by 1730). (fn. 249) John Paget the younger (d. 1761) left the estate to his nephew John Paget (d. 1782) of Doulting, a clergyman. (fn. 250) John's daughter Elizabeth died a minor in 1788 and Shalford passed to her sister Sarah (d. 1810), wife of the Revd. Edward Bradford. (fn. 251) Sarah left two children Edward (d. 1822 under age) and Sarah (d. 1879) who married (Sir) William Coles Medlycott in 1830. (fn. 252) Sir William (d. 1882) was succeeded in turn by his sons Sir William Coles Paget Medlycott (d. 1887) and Sir Edward Bradford Medlycott. (fn. 253) In 1901 Sir Edward sold Shalford to Mrs. Winifred Ducat. (fn. 254)
SUDDON manor was recorded in 1344 (fn. 255) and was held with Wincanton manor (fn. 256) until the attainder of John, Baron Zouche, in 1485. In 1486 it was granted to Sir William Willoughby in tail male (fn. 257) and by 1502 seems to have been held by Giles, Baron Daubeney. It may have descended like Wincanton manor to Richard, son of John, Baron Zouche, before 1547 when he sold a moiety of Suddon, no longer called a manor, to George Broughton. (fn. 258) In 1556 Broughton sold to John Dyer (d. c. 1559) whose son Lawrence (d. 1578) appears to have settled it on John's second wife Jane (d. c. 1596) with remainder to her son by her first marriage, John Byfleet. (fn. 259) It may have come into the possession of John Ewens by 1601. (fn. 260) In 1626 John and his son, also John, sold their estate at Suddon to George Harvey, and George, probably George's son, was in possession in 1668. (fn. 261) George Harvey (d. c. 1675) left Suddon to his youngest son Thomas (d. 1698) who left his estate in trust to be sold. In 1698 it was bought by Christopher Farewell of Holbrook and descended with that estate until 1754 when Nathaniel Farewell sold Suddon to William Chaffey and his son, also William. (fn. 262) The younger William was dead by 1790 and his two daughters, Winifred wife of James Wadman and Elizabeth wife of George Tomkins, partitioned the estate. Robert Hooper (d. 1824) bought the Tomkins share in 1798 and the other in 1820 and left Suddon to his wife Mary (d. 1837) for life and then to his daughter Eliza, wife of Robert George Hooper Orchard, a clergyman. Eliza died in 1860 leaving three daughters, Lawra Mary, Elizabeth Agnes, and Xarifa Zara Orchard. They sold their interests to their uncle Robert John Purnell (formerly Hooper). (fn. 263) Robert (d. 1861) was succeeded by his daughter Mary Anne. The estate was sold in 1919. (fn. 264)
There was a house in 1344. (fn. 265) The capital messuage was divided with the estate in the 16th century. (fn. 266) In 1675 it included hall, buttery, and a room called the chapel. (fn. 267) Suddon Grange, formerly Suddon Farm or West Suddon, is of stone rubble under a tiled roof. At the centre of the main range is a small house which was extended westwards c. 1600 by the addition of a room with a compartmented beamed ceiling and an annexe which probably housed a staircase. Then or shortly afterwards an eastern extension was built to provide a kitchen. The central two-storeyed porch was added on the north in the 18th century and in the later 19th century the interior was remodelled. A north-east wing containing service rooms was added in the earlier 20th century. (fn. 268)
The other moiety of the Zouche estate at Suddon was sold by Charles Zouche in 1570 to Jerome Dibben, the tenant, (fn. 269) whose family had acquired Little Suddon, apparently in 1541. (fn. 270) Suddon descended with Dibben's Bratton estate until 1701, (fn. 271) when it was sold to Thomas Gapper. (fn. 272) Thomas, by his will dated 1708, left Suddon to his son Abraham. (fn. 273) By 1766 it had been acquired by Henry Fane who probably held it until the early 19th century when it came into the possession of the Richards family. (fn. 274)
Suddon House, formerly Suddon Farm House, is an 18th-century house of rubble under a tiled roof. It has two storeys and attics and a seven-bayed front. The house was remodelled in the 1920s. A very large single-storeyed extension was added in the later 1980s when it became a home for the elderly. (fn. 275)
In the mid 12th century Henry Lovel gave some land to Bruton priory. (fn. 276) In 1544 the land, comprising a messuage and several closes near Horwood, was granted to John Hippisley and William Rowsewell. (fn. 277) Its later history is unknown although part seems to have been settled by Henry Glynn on his son Robert (d. 1632). (fn. 278)
The order of St. John of Jerusalem held a small estate (c. 12 a.) as part of its manor of Temple Combe. It appears to have been given to the Templars by William de Careville. (fn. 279) In 1543 it was granted to Edward Fiennes, Baron Clinton and Saye, and Robert Tyrwhitt who later sold it to Richard Duke. (fn. 280) The 16d. fee farm was granted to the Pewterers Company in 1550. (fn. 281) Some of the land came into the hands of Thomas Leigh (d. 1589) and his wife Alice (fn. 282) but has not been traced further.
By 1534 any land which had formerly belonged to the benefice of Wincanton had been absorbed into the estate of Stavordale priory as a result of the successive appropriations of the RECTORY and the vicarage. (fn. 283) Tithes remained separate and in 1534 were let for a fee farm rent of £8 to Elizabeth FitzJames. (fn. 284) In 1544 they were sold to William Stourton, Baron Stourton (d. 1548). (fn. 285) William's son Charles was attainted in 1557 and in 1576 the Crown let the forfeited property to Roger Manners for the same fee farm rent. (fn. 286) By 1581 the tithes had passed to John Ewens (d. 1585) who left them to his wife Ancrett. (fn. 287) Their son Alexander with his son Matthew sold them in 1615 to Barnaby Lewis (fn. 288) and they descended with the Lewis share of Wincanton manor (fn. 289) until 1704 when William Lewis sold the tithes of Marsh to James Wickham. (fn. 290)
In 1730 William's son Charles Lewis sold the rest of the tithes, still charged with the fee farm payable to the Crown and the curate's stipend, to William Plucknett. William's son Charles Plucknett (d. 1785) was succeeded by his son William (d. unm. 1786) who conveyed the tithes in trust for his brother James Plucknett, a clergyman, in 1785. James sold them in 1786 to Samuel Farewell (d. 1797), also a clergyman, who sold further individual tithes to landowners. In 1798 Samuel's executors unsuccessfully offered the rest for sale, (fn. 291) but by 1805 they had been sold to Uriah and George Messiter. (fn. 292) In 1839 more tithes were merged with freeholds and the rest were commuted for £490 of which Uriah Messiter received £240 and the four sons of George Messiter (d. 1834) shared a further £240. (fn. 293) The rent charge remained in the Messiter family and the fee farm rent was merged with it in 1874. In 1881 John Messiter, heir to Uriah and George, sold the rent charge to Julia Chafyn Grove who in 1885 settled it in trust for the incumbent. (fn. 294) Meanwhile James Wickham and his heirs had sold tithes to landowners during the 18th century so that Marsh was almost entirely tithe free by 1839. (fn. 295)
ECONOMIC HISTORY
Agriculture
In 1086 the two recorded estates, the later Wincanton manor and the land once held by Brismar the priest, comprised land for 12 plough teams. The demesne farms, assessed together at 2 virgates, had 2 teams and were worked by 4 servi. Twenty-three villani, 15 bordars, and 7 cottars occupied the rest with 10 teams. There were 110 a. of meadow and 30 a. of pasture. The value of the estates had not changed since 1066 and the two together may have paid less geld than their assessment. (fn. 296)
During the 13th century Stavordale priory created estates in the north of the parish at Roundhill, (fn. 297) later described as a grange, (fn. 298) Shalford, (fn. 299) Cuttlesham, (fn. 300) Norden, and part of Bitwood; (fn. 301) it also presumably appropriated the rectory. By 1535 most of the priory lands were farmed: the home farm and the rectory were let to Nicholas FitzJames (fn. 302) and Roundhill to John Dyer. (fn. 303)
Another estate was created at Marsh, in the south of the parish, which seems not to have been recorded in 1086. Part of it had emerged as a separate holding by 1347 (fn. 304) from land which had been common in the 13th century. (fn. 305) A farmstead was established in the late 12th century north-west of the later Marsh Court but was abandoned a century later. (fn. 306) Marsh park, south of the present Marsh Lane, was said to contain 300 a. in 1553. (fn. 307) It was physically divided, probably by 1584, (fn. 308) and was described as disparked in 1598. (fn. 309) From the 16th century more commonable areas were being inclosed and added to farms already created out of the park and tenants were encouraged to improve the land, one in 1578 having a new house, a dairy of six cows, and the obligation to keep the land free of moles. (fn. 310) An estate called Oxenleaze (c. 140 a.), possibly former common land in Marsh manor adjoining Marsh Park and Buckhorn Weston (Dors.) common had been inclosed by 1587. (fn. 311) An estate of roofless land (fn. 312) (c. 70 a.) in Marsh which possibly originated as three uninclosed fields known as Swytherfield, (fn. 313) Whitepitt, and Lodmore, had been divided by the 1620s. (fn. 314)
Grazing rights were significant throughout the parish and were often disputed: in the early 15th century Roundhill tenants were ordered not to sell their common pasture rights to outsiders. (fn. 315) During Edward VI's reign there were disputes between owners and tenants of Roundhill manor and the owner of Stavordale manor over common pasture in the woods for cattle, horses, and pigs, where access had been restricted by woodland clearance and the creation of a deer park. (fn. 316) Inclosure of woodland at Stavordale was still being opposed by the tenants near Barrow Lane in the 1630s. (fn. 317)
In 1086 there was 150 a. of woodland on the two Domesday estates. (fn. 318) At least 180 a. in the parish east of Bitwood and south of the Cale later lay inside Selwood forest and may not have been included in those holdings. (fn. 319) The area was disafforested in 1637 and divided into fields. (fn. 320) In 1280 Cecily Lovel was accused of waste and sale of 100 oaks held in dower but she successfully claimed to have taken only husbote and heybote. (fn. 321) In 1656 three men from Wincanton were partners in buying a wood of birch and ash trees. (fn. 322) In 1765 Cockroad wood provided coppice wood, oak shrouds, and bark. (fn. 323) In 1839 there was 158 a. of woodland including Cockroad on which tithe was paid. (fn. 324) Only 16 a. of woodland was recorded in 1905 (fn. 325) but there was at least 28 ha. (69 a.) in 1988. (fn. 326)
The east field was mentioned in 1404 and east and west fields in the early 17th century. (fn. 327) Little Southerfield and Swytherfield, recorded in 1597 and 1649, may have been part of a south field bordering the marsh. (fn. 328) There were common meadows along the river Cale from Chalvenham, recorded in 1277, (fn. 329) and probably near the town, southwards to Wall mead and Batchpool. By the later 17th century water meadows had been created beside the Cale in the south-west of the parish, (fn. 330) and common rights there for cattle and horses sometimes conflicted with private ownership. Most of the meadows were inclosed piecemeal before the 18th century and c. 26 a. of Batchpool was inclosed under an Act of 1769, (fn. 331) but land at Wall mead and Nether Wall mead was still common in the early 19th century and rights of foreshear remained there in 1888. (fn. 332) There were significant areas of common grazing at Wincanton common, south-east of the town, and at Ball or Bitwood Ball common (150 a.) to the north-east. Attempts to inclose Bitwood had failed in the 17th century; both were inclosed under an Act of 1814. (fn. 333)
Several farms had developed from the former Stavordale and neighbouring estates in the north of the parish by the 18th century including Lower Cuttlesham, (fn. 334) which has a late 18th-century house, and Higher Cuttlesham. (fn. 335) Norden or Norn, south of Cuttlesham, with a house built before 1621, (fn. 336) had fewer than 50 a. and became part of the Holbrook estate before the late 18th century. (fn. 337) Stavordale itself was divided into one large and two small farms in the 1730s when the farmhouses were described as large and their orchards as flourishing. There were well stocked fishponds and a great variety of game on the estate. (fn. 338) The Churchey family estates during the 17th century included Roundhill, half Wincanton manor, and Bitwood (fn. 339) but at various dates between 1661 and 1705 Bitwood was bought by the Leir family (fn. 340) who built Sunny Hill house (fn. 341) in the early 18th century. Bitwood remained in the Leir family until 1920 when their estate of over 950 a. in Wincanton and Charlton Musgrove was broken up and sold. (fn. 342) The former forest land, known as Stavordale farm and later Brickhouse farm, was a cattle and dairy farm in 1755 but also produced hops. (fn. 343) By the early 19th century Oxenlease at Marsh appears to have been absorbed into two farms called Rodgrove. (fn. 344) Lodmore farm, created out of former open fields, was amalgamated with one of the Rodgrove farms, probably between 1851 and 1861 when Lodmore Farm was occupied by a dairyman. (fn. 345) By 1951 the house had gone but the names Lodmore and White Pit survived in field names. (fn. 346)
Dairying and fattening seem to have predominated by the 18th century and a lessee in 1817 was required to improve his grasslands and to lay his arable at Shatterwell to clover or French grass at the end of his 5-year tenancy. (fn. 347) The town was surrounded by orchards, including a cherry orchard, until the 1880s or later. (fn. 348) The proportion of the population involved in agriculture fell in the earlier 19th century to less than one third. (fn. 349)
In 1839 Stavordale (220 a.) and Roundhill (204 a.) farms were the two largest holdings and there were 11 other farms of over 100 a., 11 more over 50 a., the same number of between 25 a. and 50 a., and 23 smaller units. (fn. 350) In 1851 there were 6 farms over 200 a. In the same year 98 labourers were employed on 25 farms, but the number of labourers dropped consistently in every decade to 53 on 20 recorded farms in 1881. (fn. 351) The predominance of grassland may have accounted for the shortage of allotment land in the 1860s. (fn. 352) In 1877 colorado beetle was said to have ravaged potato crops for about 30 years. (fn. 353) Only 29 a. of arable was recorded in 1905 when there was 2,412 a. of grass. (fn. 354)
In 1988 farms based in the parish remained predominantly under grass, with small amounts of spring barley (42 ha.), wheat (32 ha.), winter barley (15.3 ha.), fodder (10.6 ha.), maize (5 ha.), oats (2 ha.), and dessert and cider apples (0.4 ha.). There were 33 holdings, of which 16 were part-time, employing 75 workers; 16 were dairy farms and one reared cattle. There were only two farms with over 100 ha. (247 a.); over half had fewer than 30 ha. (74 a.). (fn. 355)
Trade and industry
The name Rack Haies, recorded in 1558, implies cloth finishing (fn. 356) and there was a shearman in the parish in 1703 and a dyehouse in 1713 (fn. 357) but the most important occupations were wool, silk, and linen weaving. Broadweavers and woollen weavers were at work throughout the 17th century supplying several local clothiers (fn. 358) and in 1685 a worsted weaver, seven other weavers, four feltmakers, and two tailors were, with a cordwainer and a baker, involved in the Monmouth rebellion. (fn. 359) In the early 18th century the town was noted for fine Spanish medley cloth and dowlais. (fn. 360)
A silkweaver was recorded in 1677. (fn. 361) In 1813 a silk mill was put up for sale and in the 1830s there was a silk house in Church Street operated by Messrs. Wilmott. Weaving shops near the mill may also have been for silk. (fn. 362) Silk throwing was said to have employed many women and children (fn. 363) and a silk throwster, a silk winder, and a silk spinner were recorded in 1841 (fn. 364) but both silk house and weaving shops were empty in the 1840s and 1850s. (fn. 365)
The linen industry had been established by the mid 17th century and flaxdressers and linen weavers produced ticking throughout the 18th century using blue and 'half white' yarn. (fn. 366) In 1765 a house near Cockroad wood in the northeast of the parish was said to have rooms for several looms and a spring suitable for a yarn barton. (fn. 367) There were several yarn bartons elsewhere until 1805 or later. Linsey weavers, using a mixture of linen and wool, were said to be poor and were accused of encouraging employees of wool and linen weavers to steal yarn for them. (fn. 368) During the 1770s poor women were taught to weave at parish expense and in 1776 the overseers rented a shop and two looms. (fn. 369) Manufacture of dowlais and ticking was said to employ most of the poor inhabitants in the late 18th century but control of the industry probably lay in the hands of a few linen manufacturers. One family had a 'bookinghouse', a bucking or bleaching house, at Waterside in 1781. (fn. 370) In 1801 there were over 60 weavers, 2 loom makers, flaxdressers, a spinner, and 5 linen manufacturers but by 1811 no linen manufacturers were recorded and only 52 weavers. By 1830 the industry was said to have declined and migrated to the north although two tick manufacturers were still in business and there was a linen weaving shop in Grants Lane. (fn. 371) A few unspecified weavers continued to work in the parish (fn. 372) but in 1861 it was stated that no-one was employed in the manufacture of linen and several people described themselves as former weavers. (fn. 373)
The retail cloth trade also flourished during the 17th and 18th centuries with several mercers and a woollendraper in business in the town. (fn. 374) In 1850 there were six drapers, one of whom had a paisley shawl warehouse. (fn. 375) In 1871 one draper in South Street had six assistants living in. (fn. 376)
There were three carvers in the parish in 1539, (fn. 377) and craftsmen recorded in the 17th and 18th centuries included tanners, (fn. 378) a goldsmith, (fn. 379) a silversmith, (fn. 380) a gunsmith, (fn. 381) a carpenter who had a workshop and a nail shop, (fn. 382) and a cutler. (fn. 383) Brewing and malting were recorded from the 16th century. (fn. 384) Several clockmakers worked in the town during the 18th and 19th centuries including William Cockey (c. 1692-1721), Gosue Soldini (c. 1830-41), Joseph Weare (c. 1814-86), and Weare's sons and grandson. (fn. 385)
Nathaniel Ireson, designer and builder, moved to the town in the late 1720s and opened a pottery at Windmill Hill using clay found on site. The pottery produced Delft wares, similar to those of Bristol, between c. 1730 and 1750. (fn. 386) It was said to have been sold or let to two brothers called Lindsay but to have failed either because they fell into arrears of rent or for want of clay, although good clay remained on the estate in 1890. (fn. 387) Besides tableware the pottery produced ornamental jugs, vases, and scent bottles mainly in powder blue and purple using Chinese style decoration. (fn. 388) An exhibition of Wincanton ware was held locally in 1890 (fn. 389) and the pottery site was excavated in 1916 when a large quantity of waste material was found including handled jars, punch bowls, plates, and culinary bowls. (fn. 390)
A firm of coachbuilders operated in South Street for most of the 19th century and a father and son were coach proprietors in the 1850s. (fn. 391)
By the 1790s the town had a wide variety of businesses including two Staffordshire ware shops, several small manufacturers, professional men including two surgeons and two firms of attorneys. (fn. 392) By 1811 there were a total of 18 druggists, drapers, grocers, and other shopkeepers, 12 carpenters, 9 masons, 9 shoemakers, 8 tailors, 4 attorneys, and 3 writers. (fn. 393) The variety of trades had widened by the 1830s and 1840s and included tinmen, (fn. 394) booksellers, printers, stationers, fishmongers, a toy dealer, china and glass dealers, basketmakers, and chemists. There were also 4 firms of attorneys, 2 banks, 3 surgeons, 2 veterinary surgeons, a stamp (fn. 395) distributor, and 4 auctioneers. (fn. 396) By the mid 19th century Wincanton was well-established as a centre for a wide rural area providing many goods and services, schools, and social functions. In 1850 the shops were described as 'superior' and in addition to inns and beer houses well over a hundred businesses were recorded. (fn. 397) Commercial travellers visited the town and some shops employed travelling salesmen. (fn. 398) The coming of the railway in the 1860s provided employment for large numbers of people, not only temporary construction labour but also station staff and coal dealers. In the later 19th century new occupations and businesses appeared in the town: photographers, gasfitters, florists, fancy bazaars, a registry office for servants, a marine store dealer, a soda water manufacturer, and a sewing machine agent. (fn. 399) Iron founder Thomas Richards made kitchen ranges in the 1870s and invented a circular fronted cooking stove, a warm air stove, and steam operated cheesemaking equipment. (fn. 400) In 1875 the son of a local man who had emigrated to Newfoundland set up the Terra Nova works in the former town mill making boots and shoes for the home market and for export to Newfoundland. The machinery was driven by a waterwheel and included new cutting and stitching machines. (fn. 401) It appears to have closed shortly after 1889 but alternative employment was provided by a glove factory, dairies, and milk depots. (fn. 402)
In the early 19th century there were at least three butter factors sending butter and pork to London. (fn. 403) The railway encouraged the development of bulk milk transport and commercial dairies. About 1890 the West Surrey Central Dairy established a small factory in the White Horse yard but shortly afterwards acquired a large site east of the railway in Station Road. In 1904 a milk drier was installed to produce what was later known as Cow and Gate baby milk. In 1936 a large factory was built. In 1959 Cow and Gate merged with United Dairies to become Unigate and in 1970 a bulk milk reloading station was opened. The dairy, which employed c. 700 people in the later 20th century, closed in 1987 and the site was converted to a commercial centre, retaining some of the original buildings. (fn. 404) Taunton and Co. had a milk depot at the railway station from 1884, possibly the milk or cheese factory recorded in 1891. (fn. 405) It appears to have been taken over by Salisbury, Semley, and Gillingham Dairies Ltd. by 1899 and closed in the 1920s. (fn. 406)
Another major employer in the 20th century was the Wincanton Group which began in 1925 as the Wincanton Transport and Engineering Co. Ltd., a subsidiary of the West Surrey Central Dairy Co. providing milk collecting vehicles. The company later moved into fuel oil delivery, general haulage, and motor engineering. By 1987 the group comprised eight divisions, not all based in Wincanton, employing 5,000 people. (fn. 407) Employment was also provided in the early 20th century by public utilities, (fn. 408) a tent and marquee manufacturer, a dog food producer, and Wincanton Laundry, later the Wincanton, Gillingham, Castle Cary, and Bruton Laundry, which closed in 1972. (fn. 409) In 1990 the town con tinued to provide a wide range of shops and services including a small supermarket and shopping centre at Carrington Way north of High Street, built c. 1983. Several industrial and business parks were established in the 1980s to the south-west of the town and employment was provided by a number of small electronics and engineering firms, a large building company established in 1944, printers and publishers, a toy manufacturer, food processors, a large supermarket, and motor traders. (fn. 410)
A bank was opened in 1792 by Richard Messiter and a carrier, John Whitmash. By the 1800s it was run entirely by the Messiter family, who acted as both bankers and attorneys, but in 1844 it merged with Stuckey's who had opened a branch there in 1835. (fn. 411) Other banks were the Wincanton Bank, run by the bankers of the Horwood Well Bank, who issued their own notes in 1809 but went bankrupt in the following year; (fn. 412) Whitmash and Co., in business between 1810 and 1830, also known as the Yeovil and Wincanton Bank; (fn. 413) the Wincanton and Somerset Bank trading in 1823 and issuing notes in 1825 but bankrupt in 1827; and the Wiltshire and Dorset bank who established an agency in Wincanton in 1865 and opened a branch in 1877. (fn. 414) Both Stuckey's and the Wiltshire and Dorset banks survived to become branches of the Westminster, later National Westminster, and Lloyds banks respectively and in the later 20th century have been joined by a branch of the Midland Bank. (fn. 415) The East Somerset Savings Bank was established in 1818 to benefit Wincanton, Shepton Mallet, Bruton, and Castle Cary. It operated on market day (Wednesday) and still existed in 1875. (fn. 416) In 1895 the It-Rose profit sharing co-operative society was established for men and women in printing, publishing, and manufacturing, excluding alcohol, tobacco, and opium products, to promote their work. They produced a paper, formed an educational fund, and paid interest to their members. (fn. 417)
Markets and fairs
Richard Lovel was granted a Monday market in his manor of Wincanton in 1235. (fn. 418) There is no evidence that one was held and in 1556 the town secured a grant of a Wednesday market and two fairs. The market was vested in a body of trustees. (fn. 419) The market place and shambles were recorded in 1558. (fn. 420) In the early 17th century the market attracted people from South Cadbury and Sutton Montis. (fn. 421) The market charter was renewed in 1705 and by 1707 the trustees employed three inspectors, a register, and two surveyors, and maintained weights and beams, the shambles, and the market house with its bell known as the Ting Tang. Subsequently the market and fairs were let, the tenant being responsible for running the market and providing standings and hurdles in return for receiving all tolls. The trustees, however, controlled weights and measures. (fn. 422)
The farm of the town market and fairs had fallen from about £35 a year in the early 18th century to £20 or less by 1791 when the chief commodities were cheese, butter, pigs, and flax yarn. (fn. 423) An apple market was established by 1724. (fn. 424)
Fixed shambles were replaced in 1788 by trestles and boards of which there were at least 70 by 1824. The market house was for the exclusive use of butter and cheese sellers, and cattle were confined to the present Market Place extending from Angel Lane in the east to the top of Church and Mill streets in the west and the top of South Street. (fn. 425) The general Wednesday market appears to have declined from the mid 19th century. The last cattle market was held in 1865 although pigs seem to have continued to be sold in the Market Place. (fn. 426) A new cattle market had opened at the bottom of the Dolphin Yard, off High Street, by 1871 and by 1873 there was only one butcher's standing in the Market Place. In 1874 standings there were let to a hawker despite protests that it was contrary to the market charter. (fn. 427) The shambles were finally removed in 1879. In 1891 a large cattle show was held attended by 1,330 visitors. (fn. 428)
The Wincanton Market Company was set up in 1901 by a group of farmers to run a cattle and pig market. A site was bought in Station Road as most of the livestock was moved by train. That market, first held on 2 October 1901, appears to have replaced the buildings in Dolphin Yard which were later demolished. It attracted buyers from the Midlands for cattle and fat pigs. In 1962 the market closed, possibly because of the threatened closure of the railway, and the site was sold. (fn. 429) In 1992 a very small Friday street market was held in White Horse Lane.
The Market House stood on pillars in the roadway at the northern end of South Street. In November 1767 it was partially demolished by a mob and had to be taken down. In 1768-9 a new building was erected on church property at the north-west corner of South Street which encroached on the street on the north and east. It incorporated both a room over the stairs and an upper room and in 1791 a lock-up was added. (fn. 430) In 1867 the upper floor was considerably enlarged by extending over and into adjoining premises to provide a concert hall. In 1877 the building was destroyed by a fire but was rebuilt the following year possibly incorporating old stonework. In 1893 the ground floor arcade was filled with doors and windows as it had no market function. A clock tower was incorporated into the new building and was restored in 1978. (fn. 431)
Rooms in the new market house were used as workshops in the 1780s and in the early 19th century by the Volunteers, the French and Spanish prisoners of war, the vestry, and the magistrates. The building therefore came to be known as the Town Hall. (fn. 432)
Two fairs were granted with the market in 1556, one on the Tuesday after Easter, the other on the feast of St. Mary Magdalene (22 July). (fn. 433) In 1706 the second fair was moved to 18 September, changing to the 29th after the alteration in the calendar. (fn. 434) The sheep fair was recorded c. 1710 and the Easter Tuesday fair attracted a dealer from Devon in 1715. (fn. 435) The fairs were farmed with the market but by the 1760s were not very profitable and the farmer regularly had his rent abated. (fn. 436) In the 19th century the fairs were said to be for sheep, cattle, cheese, butter, and pedlary. (fn. 437) By the 1870s only the Michaelmas fair survived, for amusement only, and was last recorded in 1882. (fn. 438)
A fair was held on the waste of Stavordale manor in 1633 and it was later divided with the estate. (fn. 439) It was held on 25 July in the early 18th century, moving to 5 August after the change in the calendar. The fair, known c. 1700 as Stavordale in the wood, was mainly for bullocks and hogs. The old and new Fair Place fields were recorded in 1717. (fn. 440) In 1792 the fair, for cattle, sheep, horses, and cheese, was moved for convenience from the Fair Place field at Stavordale to Wincanton common. In 1793 it lasted two days with many amusements and a ball on the second evening but was discontinued in the early 19th century. (fn. 441) The Stavordale site was marked by the Fair Oak, said in 1890 to have been used to support the scales and standing, and the butter cross, which by 1846 was a tall stone stump set in a plain base. The cross survived in 1885 but has since disappeared. (fn. 442)
Mills
A mill was recorded in 1086; (fn. 443) one mentioned in 1475 was probably on the same site. (fn. 444) By 1567 Alford's mill, named after a tenant, was held with Wincanton manor and in 1571 it was sold to Nicholas Swanton. (fn. 445) It may have descended with the Swantons' moiety of the manor (fn. 446) but by the later 18th century it was in the possession of the Thorn family. (fn. 447) In 1819 the tenant was obliged to buy all his malt and barley from his landlord. (fn. 448) Between 1834 and 1838 the mill was rebuilt, probably with a bakery attached. (fn. 449) Milling may have ceased by 1851 and in the early 1860s the mill was used by a manure manufacturer. (fn. 450) It was known as Old King's mill when it was destroyed by fire in 1868 but by 1902 a steam-powered corn mill had succeeded a boot factory on the site. (fn. 451) Later known either as Town or Orledge's mill, it was powered by gas and diesel and until 1972 animal feed was ground there. The large three-storeyed mill and the mill house, at the western end of Mill Street, were demolished in 1973. (fn. 452) The water mill had been driven by a leat running parallel with the Cale from the weir at Shatterwell. (fn. 453)
There was a mill at Stavordale in 1298, (fn. 454) in the mid 16th century, and in 1634. It appears to have stood beside a leat drawn from the Stane or Stave brook, (fn. 455) where the name Mill Mead survived in the later 19th century. (fn. 456)
There was a windmill in 1592 and the windmill grounds north- east of the town were recorded in 1711 and 1796. (fn. 457)
A horse mill was recorded in 1500 but had probably gone by 1558. (fn. 458)
A steam flour mill was operating in South Street in 1866 but was not recorded again. (fn. 459)
There may have been a fulling mill in the parish in 1280. (fn. 460)
LOCAL GOVERNMENT
Wincanton and Bratton formed a single tithing in the 14th century, (fn. 461) but from 1523-4 the area was divided between Wincanton borough and Wincanton tithing, the latter including Bratton. (fn. 462)
By 1661 a borough lawday court or leet met and elected a constable. 'Burgagers' and residents within the borough therefore claimed exemption from the hundred (fn. 463) and in 1673 the borough constable refused to assist the hundred constable in executing a warrant against a Wincanton resident. (fn. 464) The court leet met in 1712 but had ceased by 1739. (fn. 465) Two borough constables were said to have been appointed in the hundred court between 1839 and 1842. (fn. 466)
Roundhill manor court was held twice a year in 1404-5 and once in 1502-4, 1508, 1513-14, and 1516-23. (fn. 467) In the 16th century tenants of the Marsh estate owed suit at Wincanton. (fn. 468) In 1713 and 1716 a three-week court was held for Wincanton but it is not clear whether this was a borough or a manor court. (fn. 469) By the early 19th century it was said that manor courts were not regularly held. (fn. 470)
There were two churchwardens but there are no accounts earlier than 1801. (fn. 471) During the 17th and 18th centuries the overseers offered the poor cash relief, clothing, furniture, and house rent. (fn. 472) In 1753 a man was given money to buy a horse. (fn. 473) By the 1770s the overseers were paying weavers to teach paupers (fn. 474) and 160 pauper badges were bought in 1801. (fn. 475) A vestry was meeting at the Market House every few months by 1798. It was concerned almost solely with poor relief and appointed a salaried assistant overseer. In 1831 it considered helping people to emigrate. (fn. 476)
In 1694 a large house on Wincanton common was bought for a poorhouse by means of a charitable bequest. (fn. 477) In 1735 the parish bought a house near Wincanton mill, formerly a nonconformist chapel, for a workhouse. (fn. 478) Numbers at the workhouse were deliberately reduced soon after 1743 (fn. 479) but in the 1780s more poorhouse accommodation was made available: an extra house in 1787 and possibly an extension to the first in the following year. (fn. 480) In 1800 paupers were transferred from workhouse to poorhouse, where they had to provide for themselves. (fn. 481) By 1822 the workhouse was derelict but in 1825 it was joined to the house next door and divided into eight dwellings. (fn. 482) It was put up for sale in 1842. (fn. 483)
In 1835 Wincanton became the centre of a poor-law union and the parish poorhouse was used temporarily as the union workhouse. (fn. 484) In 1838 a new union workhouse was opened northwest of the town. (fn. 485) The poorhouse was sold after 1841 (fn. 486) and was demolished. The union workhouse was extended several times. By the early 20th century half the inmates were lunatics. In 1914 the children were transferred to Rock Hill House, North Street, and the workhouse was then known as Town View. Girls were shortly afterwards removed to Linden Cottage. (fn. 487) The boys transferred to Rodber House, later a home for the elderly. In 1973 Town View closed and the elderly inmates were transferred to hospital or to an old people's home. (fn. 488) The building, on a cross-shaped plan with a cross wing at the end of each arm, partly of two and partly of three storeys, (fn. 489) was demolished shortly after 1973 and the site used for housing. (fn. 490)
The court of sewers for the Wincanton Level met in the late 18th and the early 19th century at Wincanton. (fn. 491) Its successor, the Cale and Cary Moor Drainage Board, was disbanded c. 1930. (fn. 492) By 1806 magistrates were meeting at the Town Hall (fn. 493) and the Wincanton County Court District was formed in 1847. (fn. 494) Petty sessions for the Wincanton division and county courts were held at the Town Hall until the early 20th century when they moved to the former Methodist chapel in North Street, where they remained in 1992. (fn. 495) In 1872 Wincanton became the centre of a rural sanitary authority. (fn. 496) Members elected from Wincanton parish formed a parochial committee which took over from the market trustees responsibilities for water supply and sewerage. A similar committee comprising all the members of the parish council continued its work until 1927 or later. (fn. 497) The parish was from 1894 at the heart of the Wincanton rural district, which became part of the Yeovil, later South Somerset, district in 1974. (fn. 498)
Public services
By the 18th century the market trustees provided various public services. By 1711-12 they maintained a conduit in the market place which was supplied by water from Bayford Hill, then known as Conduit Hill. In 1740 the trustees agreed to rent a supply from a new well but it was inadequate and in 1742 they decided to build a reservoir. That supply served the town until 1874 when water was brought from Penselwood. In 1879 the old conduit in the market place was removed. (fn. 499)
Before 1710 the trustees seem to have maintained a fire engine. A second engine and leather buckets were acquired in 1763. (fn. 500) A new engine was bought in 1844 and a new engine house built in 1854 by the trustees. (fn. 501) A brigade was formed in 1885 by voluntary subscription to take over the service from the trustees and a second engine was bought in the following year, operated from premises in Mill Street. (fn. 502) A new brigade was formed by subscription in 1919 (fn. 503) and in 1932 a new fire station was opened. In 1948 the fire service was transferred to the county council and in the late 1980s the appliances were moved to new premises south of the town. (fn. 504)
In 1791 the trustees built a lock-up at the Market House. (fn. 505) A salaried policeman was appointed in 1856 in succession to parish constables, (fn. 506) and a police station was built at Shatterwell. (fn. 507) It was sold in 1973 and replaced by a new station in Carrington Way. (fn. 508)
By 1820 the market trustees were lighting the market place (fn. 509) and paid for the town to be lit by gas from 1836; gas lighting remained in 1939. (fn. 510)
In 1831 the vestry considered matters of public health including the cleaning of privies and checks on water supply, cess pools, slaughterhouses, and other nuisances, and a select vestry was established as a Board of Health. (fn. 511) In 1874 houses were connected to a main sewerage system with a sewage works by the river. (fn. 512) Improvements were made in 1895 and in the early 1900s. (fn. 513)
Wincanton hospital opened in High Street in 1901 and was free for the very poor. As the Wincanton and East Somerset Memorial Hospital it was moved to Pine House, High Street, in 1922 and in 1932 to purpose-built premises in Balsam Fields. The hospital remained open until 1990. (fn. 514) In 1992 the building was the Ridley House day hospital for those with learning difficulties. The Isolation Hospital was built near the workhouse in 1910 and a new block was added in 1915. In 1919 a tuberculosis sanatorium was opened on the site. (fn. 515) In 1952 it became a geriatric hospital known as Verrington. (fn. 516) Following closure of the Memorial Hospital, Verrington became a cottage hospital. (fn. 517)
In 1887 a burial board was appointed (fn. 518) and a cemetery west of the town was opened in 1888. (fn. 519)
CHURCH
There may have been a church in 1066 when Brismar the priest held ½ hide of land, but by 1086 his holding had been added to Wincanton manor. (fn. 520) A vicar was recorded in 1280 (fn. 521) and at some date before 1374 the rectory was appropriated, presumably to Stavordale priory, (fn. 522) and a vicarage ordained. The vicarage itself was appropriated to Stavordale under an agreement of 1374, to take effect on the death or resignation of the then vicar. (fn. 523) The Crown confirmed the appropriation in 1394. (fn. 524) Under the terms of the 1374 agreement the parish was to be served either by a secular chaplain appointed by the priory or, on a temporary basis, by one of the canons. (fn. 525) A parochial chaplain was recorded in 1450 and curates in the 1530s. (fn. 526) After the Dissolution the parish was served by men described either as parochial chaplains or curates who were appointed and paid by the owners or farmers of the tithes. In 1885 those tithes which still constituted the rectory estate were settled in trust for the incumbent, who was thereafter known as rector. Miss Julia Chafyn Grove probably acquired the patronage through her purchase of the rectory in 1881 (fn. 527) and she was patron in 1883 jointly with the Revd. Huyshe Wolcott Yeatman, later bishop of Worcester. In 1918 the bishop gave the advowson to the Dean and Chapter of Wells by exchange and the Chapter was patron in 1992. Since 1980 the living has been held with Penselwood. (fn. 528)
The church was valued at £8 gross in 1291 (fn. 529) and 1535. (fn. 530) The parochial chaplain in the 1540s received £6 and the Crown as rector provided wax. (fn. 531) By the later 16th century the stipend varied between £4 and £9. (fn. 532) In 1733 William Plucknett left £200 to augment the living and with £200 from Queen Anne's Bounty land in Horsington was bought in 1742. (fn. 533) In 1814 Uriah and George Messiter, who paid the curate a salary of £30, gave tithes in the parish to secure a stipend of £20. (fn. 534) In 1815 the living was worth c. £75. (fn. 535) The Horsington glebe was exchanged for 22 a. in Charlton Musgrove in 1819. (fn. 536) By 1831 the average income was £130 gross as a result of further augmentations totalling £1,800 by the Bounty, the Messiters, the incumbent, and others in 1813, 1819, 1824, and 1826 which were all invested in land. (fn. 537) The income was over £300 in the 1890s, but was considered inadequate. (fn. 538) By 1907 the glebe consisted of c. 40 a. mainly in Charlton Musgrove and Stoke Trister, and was sold in 1918. (fn. 539)
There was no benefice house and by the 18th century resident clergy found their own lodging in the town. John Radford, curate c. 1798 to c. 1828, is said to have built Pine House but his successors lived in West Hill House or in North or High streets. (fn. 540) The Revd. Colin Grant-Dalton, rector 1885-96, lived at churchfield, beside the church, (fn. 541) but his successor William Farrer was living at the Dogs in 1907. No. 8 High Street was bought in 1910 and was the rectory house until 1939 when it was replaced by Coylton House, Bayford Hill, the residence of the rector in 1992. (fn. 542) It is a building of c. 1840 in stone with a slate roof.
In 1539 the parishioners complained that John Divale, the curate, was given to dicing, carding, bowling, playing cross waster, and fencing, and that because of his shortcomings they had invited another priest to preach to them. That priest had reforming tendencies to which Divale was violently opposed. (fn. 543) In 1548 there were 280 communicants and there was an endowed obit. (fn. 544) The rood had not been replaced c. 1555. (fn. 545) In 1661 John Sacheverell, curate until the following year, condemned his parishioners for their rowdy behaviour on the anniversary of the Restoration and was burnt in effigy. (fn. 546) His successor Elias Bulgin was curate from 1662 until 1727, but none of his successors served for more than a few years (fn. 547) until John Radford. He held two Sunday and two weekday services (fn. 548) and during his time an organ was bought and singers were trained. (fn. 549) By 1840 communion was celebrated monthly (fn. 550) and in 1851 there were 350 at morning and 600 at afternoon service; 90 Sunday-school children attended each service. (fn. 551) By the late 1880s weekly services were held at the workhouse attended by up to 20 communicants. (fn. 552) In 1896 there were three or four Sunday services, five on feast days, and 168 Easter communicants. (fn. 553)
In 1558 the churchwardens had two burgages called the church house and a half burgage in Mill Street. (fn. 554) The church house, later claimed by the Crown, was granted in 1592 to agents who sold it to John Ewens in 1593. By deeds of 1603 and 1615 the house and c. 3 a. of land were vested in trustees for church maintenance. In 1768-9 the new market house, later the Town Hall, was built on part of the site and the rest was redeveloped in 1879. (fn. 555) The half burgage, said to be for church repairs, (fn. 556) was exchanged in 1817 for land to extend the churchyard. (fn. 557)
The church of ST. PETER AND ST. PAUL, so dedicated by 1500, (fn. 558) is largely of 1887-91. It is built of coursed rubble with ashlar dressings and has a chancel with north vestries and south chapel, a clerestoreyed nave with north aisle and porch, inner and outer south aisles, and a west tower.
The late medieval tower is on the axis of the earlier church whose nave is represented by the inner south aisle. That building also had a chancel of 1748 ending in an apse and aisles with stub porches, probably designed by Nathaniel Ireson. (fn. 559) The nave ceiling was decorated with plaster clouds, angels, and cherub heads. (fn. 560) The arcades of four bays were late medieval but both aisles had been rebuilt, the south in 1735, (fn. 561) the north in or soon after 1835. (fn. 562) Galleries had been built in both aisles c. 1738 (fn. 563) and a west gallery was enlarged in 1828. (fn. 564) The tower was heightened in 1793. (fn. 565) From being described in 1791 as 'plain without, but very handsome within', including a chandelier dated 1700, (fn. 566) it was considered in the 1880s to be the 'ugliest church in the diocese'. (fn. 567)
The church of 1887-91 was designed by J. D. Sedding (fn. 568) in a mixture of 14th- and 15th-century styles. The old south arcade was extended and used as a pattern for the new nave of five bays beyond the line of the former arcade. The old south porch doorway was reused but the eastern part of the church was entirely new. (fn. 569) The new building was consecrated in 1889. (fn. 570) The east window of 1891 is by Clayton and Bell. (fn. 571) The north porch includes a medieval carving, possibly of St. Eligius, found during demolition, (fn. 572) carved biblical scenes, and the arms of Julia Chafyn Grove (d. 1891), who bore much of the cost of rebuilding. (fn. 573) In the churchyard is a statue in memory of Nathaniel Ireson (d. 1769).
There are eight bells, six dated 1793 by Robert and James Wells of Aldbourne (Wilts.). (fn. 574) The plate includes a cup and paten of 1695, dishes of 1712 and 1729, and a silver gilt chalice and paten set with stones and dated 1889. (fn. 575) The registers date from 1636. (fn. 576) In 1653 a parish register was appointed. (fn. 577)
A chapel was said in 1597 to have formerly stood in the churchyard. (fn. 578)
In 1280 the chapel of ST. ANDREW at Marsh was said to have been endowed with lands by Richard Lovel (d. c. 1255) or his grandson Richard (d. 1254). (fn. 579) It was last recorded in 1326 and probably lay within the court of the capital messuage. (fn. 580)
ROMAN CATHOLICISM
Members of the Ewens family were regarded as recusants from the 1590s to 1680. (fn. 581) In the later 19th century mass was said in a room in North Street by priests from Bonham in Stourton (Wilts.). In 1881 the congregation bought Acorn House in South Street for a mission dedicated to St. Luke. In 1882 the Carmelite order took charge and in 1885 a priory was established which in 1891 had 11 men including three students. (fn. 582) From 1899 the priory was a training centre for novices. During the First World War it became a Red Cross hospital. In the 1980s it was a study and retreat house for the order, and in 1993 was the home of four priests who served neighbouring churches. (fn. 583) A chapel, converted from stables in 1882, was replaced by a church, dedicated to St. Luke and St. Teresa, built in 1908 and consecrated in 1913. The church was designed by Canon A. J. C. Scoles in Early English style with sanctuary, choir, nave, three aisles and two west towers. (fn. 584) Part of the site in South Street, known as the Convent of Our Lady, was occupied in 1993 by Sisters of Christian Instruction. (fn. 585)
An Ursuline convent dedicated to St. Joseph was established in North Street in 1891 and additional premises were acquired c. 1910. The sisters left c. 1922. (fn. 586)
PROTESTANT NONCONFORMITY
Two Wincanton men were elders of the Wells and Bruton Presbyterian classis during the Interregnum. (fn. 587) Baptists were meeting in the parish in 1656 (fn. 588) but in 1666 there were no resident nonconformist ministers. (fn. 589) Licences were issued in 1672 for Presbyterians and Baptists and an ejected clergyman was preaching there in the late 1680s. (fn. 590) Further licences for unidentified congregations were granted in 1709, 1720, (fn. 591) 1802, and 1830 in Wincanton (fn. 592) and in 1722 at Cuttlesham. (fn. 593)
The Presbyterian meeting house licensed in 1672 stood south of Silver Street and closed probably c. 1715. (fn. 594) It was replaced by a converted house on the west side of Shatterwell Lane, (fn. 595) and the congregation was said to number 350 between 1717 and 1729. (fn. 596) The meeting house was presumably one of the three licensed in 1752 (fn. 597) and it was still open in 1781 but had closed by the mid 19th century when it was known as the old Presbyterian chapel. (fn. 598) It was demolished in 1872. (fn. 599)
The Baptist meeting house licensed in 1672 was probably short-lived. (fn. 600) A Baptist church was formed in 1829 by members of a breakaway Congregational meeting. (fn. 601) The first chapel, licensed in 1830 and called the Union chapel, (fn. 602) was a galleried building in Oborn's Yard, off the north side of High Street. (fn. 603) In 1832 a new chapel was built in Mill Street which was opened in 1833. (fn. 604) It remained open in 1992. George Day, minister 1829-57, had been a plasterer and is said to have worked at Fonthill Abbey and to have been responsible for the ceiling of the Mill Street chapel. (fn. 605) Attendance in 1851 was 120 adults and 100 children in the morning and 180 in the evening. (fn. 606) The chapel is a rendered building with a slate roof and a Doric porch. It stands in a small burial ground. The Sunday school was built in 1887. (fn. 607) Cottage meetings were held, probably by Baptists, at Whitehall in 1872. (fn. 608) A Particular Baptist meeting was said to have existed in 1890. (fn. 609)
There was a Quaker family in the parish in the later 17th century. (fn. 610) In 1770 the Quakers had a licence for a new building in Coneygore, near Shatterwell, and temporarily for the Black Lion inn. (fn. 611) Friends met at the house of Thomas Bracher, licensed in 1789, and his son James built a meeting house south of High Street in 1832. (fn. 612) In 1851 attendance was four in the morning and five in the afternoon. (fn. 613) The meeting house was rebuilt in brick and tile in 1876 (fn. 614) and remained open in 1992. There is a small burial ground.
A malthouse licensed for worship in 1715 (fn. 615) was probably that on Rockhill in Shatterwell Lane converted to a Congregational meeting house before 1725. By the late 18th century the Rockhill chapel was said to be ruinous and too small for the growing congregation. A converted stable was licensed for Independent worship in 1755. A new Congregational chapel, built in 1799 on a site north of Mill Street, was opened and licensed in 1800 with its own burial ground. The old chapel was sold c. 1800 and was replaced after 1865 by three houses, probably Rockhill Villas. (fn. 616)
In 1826 a breakaway congregation met in Oborn's Yard at the Union chapel. (fn. 617) In 1828 there was a further split and most members became the nucleus of a Baptist congregation in 1829 when the remaining Congregationalists appear to have returned to Mill Street. A meeting house apparently licensed for Congregationalists in 1830 was not recorded again. (fn. 618) The Mill Street congregation was revived under John Drover, minister 1847-92. In 1851 attendance was 105 in the morning and 170 in the evening with 74 children at Sunday school. (fn. 619) In 1859 a school was built in front of the chapel and a new burial ground was provided to the rear. In 1862 the chapel was completely rebuilt internally and in 1866 and 1886 the school was extended. A manse was purchased in 1883. (fn. 620) By 1958 the chapel was unable to support a minister and agreed to dispose of the manse. In 1960 the congregation decided to approach the Methodists with a view to amalgamation and closed their chapel. (fn. 621) The former chapel is built of brick with ashlar dressings. Since 1983 it has been occupied as a social club. (fn. 622) The baptism and burial registers date from 1799. (fn. 623)
Licences for Methodists were issued in 1753 and 1754, and c. 1757 Wincanton with 16 members was part of the Wiltshire circuit. (fn. 624) A Methodist meeting in the later 18th century on Wincanton common was broken up by opponents who had the Riot Act read. (fn. 625) John Wesley preached in a large meeting house in the town in 1762, and returned several times from 1763 until 1770. (fn. 626) The chapel in Oborn's Yard was said to have been used by Wesleyans at some date between 1812 and 1826. (fn. 627) They met in the parish between 1843 and 1846. (fn. 628) Between 1873 and 1877 Wesleyans met in the Good Templars temperance hall, a converted malthouse in North Street. In 1877 they took over an adjoining auction room and converted it to a chapel with schoolroom. (fn. 629) In 1916 a new chapel was built in High Street and the old chapel was occupied by the county court. (fn. 630)
Members of the Countess of Huntingdon's Connexion held services in a yard in Mill Street c. 1770. (fn. 631)
In 1836 there was said to be a small Methodist chapel, probably Primitive Methodist, for about 30 in the post office lane. (fn. 632) Zion Methodist chapel, built at Ball Common in 1845, had a congregation of six for each of the morning and afternoon services and 40 in the evening in 1851 (fn. 633) but was not recorded again.
The Latter Day Saints are said to have been established in Wincanton by a Jewish convert c. 1848. Higher Chapel, probably the Oborn's Yard chapel, was licensed in 1851 and an evening service was held with about 40. (fn. 634) The chapel was said to have been pulled down by the landlord following disturbances. Some Mormons remained in the parish in 1861 but others emigrated to Utah. (fn. 635)
The Swedenborgians held meetings in the 1870s and formed a church in 1882. They met until 1902 in the new Good Templars hall (built 1881) in North Street. A group of Calvinistic Christians met twice each Sunday in a former reading room in the Market Place from 1875 and in a schoolroom in High Street by 1883. They had a small chapel in another former schoolroom in High Street between 1887 and 1902. An unspecified congregation meeting at the east end of the town closed in 1887. (fn. 636) By 1883 the Salvation Army had 50 members but a march in that year was attacked. (fn. 637) The Brethren were meeting in a private house in High Street between 1889 and 1919. In 1895 they held meetings four times a week at the Town Hall. (fn. 638) Between 1923 and 1939 they had a meeting room near the gasworks in Station Road. (fn. 639) The Wincanton Christian Fellowship held their first meeting in 1985 and established a trust in 1986. They met twice on Sundays in a hall at Lambrook House, Church Street. (fn. 640)
EDUCATION
Two men taught in the parish in 1623 (fn. 641) and one in 1663. (fn. 642) There was no free school in 1666 but two people taught reading and sewing to small children. (fn. 643) Elias Bulgin, curate, was licensed to teach a grammar school in 1673. (fn. 644) There was a nonconformist academy in 1802. (fn. 645)
In 1818 there were Sunday schools at the parish church and Congregational chapel with c. 120 and 30-40 children respectively. (fn. 646) The church Sunday school probably had 184 pupils in 1825 (fn. 647) and 135 in 1833. The Congregational Sunday school appears to have reopened in 1827 and had 74 children in 1833 when the Baptist Sunday school, started in 1828, had 96 children and a library. (fn. 648)
There were ten day schools in 1833, seven begun between 1828 and 1833, teaching a total of 168 children at their parents' expense. In 1833 an appeal was launched to provide a National school, (fn. 649) and after a number of difficulties the school was built in North Street in 1838. It was of stone and slate with two classrooms (fn. 650) but was said to be unworthy of the town and to have very few pupils. By 1846 there were 164 children who attended on weekdays and Sundays. A further 52 children attended three dame schools. (fn. 651)
A British school was held at the Baptist chapel in the 1830s but closed when the National school opened. A second British school was established at the Congregational chapel, probably when the schoolroom was built there in 1859. An infants' school was added in 1866 but the school closed c. 1871 when the board school was established. (fn. 652) The premises continued to be used by the Congregational Sunday school until c. 1960. (fn. 653)
A school board was formed in 1871 and opened a school in the former National school buildings with over 200 pupils. The Congregational schoolroom may also have been used. In 1875 there were 206 children on the books. (fn. 654) In 1894 the board raised money for a new school to accommodate 445 children. The former school became a Sunday school but in 1982 it was sold for commercial use. (fn. 655) The new board school opened in South Street in 1897 and in 1903 there were 283 children on the books and an evening continuation school was held. (fn. 656) Average attendance was 199 in 1915 and 292 in 1938. In 1950 the school was divided between junior and senior schools with 311 and 147 children on the books. (fn. 657) In 1958 King Arthur's secondary modern school was opened at West Hill; it became a comprehensive school in 1979 and in 1992 there were 672 children aged 11-16 on the register. (fn. 658) The junior school became the county primary school and had 350 children aged 4-11 on the books in 1992. (fn. 659)
A Roman Catholic school opened in Commerce House, Market Place, and transferred to no.23 North Street in 1885. In 1891 it was taken over by the Ursuline sisters of St. Joseph's convent. (fn. 660) The school moved to Tout Hill in 1897 but returned to nos. 23-5 North Street in 1900. (fn. 661) There were 41 children on the books in 1903 but average attendance had fallen to 18 in 1921 and it closed in 1922. (fn. 662) The Carmelites bought Tout Hill House in 1959 and opened Mount Carmel convent school, an independent primary school which had c. 50 pupils in 1973 when it applied for voluntary aided status. (fn. 663) Our Lady's Roman Catholic V.A. primary school at Tout Hill had 90 children on the books when first listed in 1976, 108 in 1983, and 135 in 1992. (fn. 664)
A school was opened in the union workhouse in 1836 (fn. 665) and two teachers were employed at the new workhouse until 1883 but thereafter only one. The workhouse school was said to lack a regular mistress in the late 1880s and by 1893 the workhouse children attended the board school. (fn. 666)
There were at least ten private boarding schools in the parish in the 19th century and many day schools, several of them short-lived. Various members of the Goodfellow family kept schools for girls between 1822 and 1883, a boy's school in High Street had 15 boarders aged between 9 and 14 in 1851, and a girls' boarding school open between 1852 and 1891 had a kindergarten and dancing school. (fn. 667) The two largest schools were the girls' day and boarding school started c. 1850 in Coylton Terrace and Albert Pearman's boarding and day school for boys. (fn. 668) In 1871 the former had 14 boarders aged 10 to 15 and in 1891 the resident staff included a violin teacher, two music teachers, and an English teacher. (fn. 669) It moved in 1891 to Church Street as Devonshire House (fn. 670) and later as Lambrook House. Boys were taken by 1923 and it continued until 1939 but probably closed shortly afterwards. (fn. 671) Albert Pearman's school was kept at Pine House in High Street from 1861; numbers fluctuated but there were 31 boarders aged 9 to 15 in 1881 with four resident teachers and a pupil teacher and in 1891 Pearman's son taught chemistry. (fn. 672) The school continued under other principals until 1900. (fn. 673) St. Joseph's High school for girls occupied Pine House in 1910 and 1914. By 1919 it was known as the Sacred Heart convent school but closed c. 1922 when the building became a hospital. (fn. 674) A school for girls was kept first at Ireson House and then at Rodber House in the 1930s. (fn. 675)
CHARITIES FOR THE POOR
In 1670 John Thick of Bristol left £50 to be distributed yearly to the poor. In 1694 the capital was used to buy a house on Wincanton common for a poorhouse, subject to a £3 rent charge to be paid to those not receiving parish relief. (fn. 676) In 1608 Thomas Ewens gave to the parish in trust a house in South Street, the profits after his death to be used to relieve the poor. (fn. 677) Known as the Bell, it produced £5 10s. c. 1870. (fn. 678) By 1837 two houses on the common near the poorhouse produced £4 a year for the poor and with the Bell were known as the Poor's Land charity. (fn. 679) By 1892 the houses appear to have been sold and the money invested in land. The charity had also a small inclosure allotment. (fn. 680) In 1910 some land was let as allotment gardens and the rent used to buy coal for the poor. (fn. 681) By 1915 the charity had over £400 in consols in addition to the land. (fn. 682)
Before 1693 John Green gave £30 and Charles Brook, vicar of Calverleigh (Devon), Welch Davie, and John Stacey gave £32 for the poor for annual distributions. The Messiter family were holding the £30 by the 19th century and paid 30s.; the overseers paid a further 32s. to the poor annually, presumably interest on the £32. (fn. 683) On St. Thomas's day 1874 896 lb. of bread was distributed. (fn. 684) The charities were said in 1877 to have all been lost (fn. 685) but in 1915 John Green's charity had £34 4s. invested; distributions were mainly in bread. (fn. 686)
The Revd. Thomas Marriott Dodington by deed of 1858 gave £50 for cash and bread distributions. In 1892 the money was invested and the income provided a bread distribution and cash to a poor person who had not had parish relief for four years and supported at least four legitimate children. (fn. 687)
Charles Thorn by will proved 1830 gave c. £100 to the poor. In 1869 the sum of £2 9s. 7d. was distributed in bread, in 1907 in bread and potatoes. (fn. 688)
In 1908 Charles Blyth, on behalf of his maternal aunts Mary and Ann Davis, left the market trustees (fn. 689) the rent of his house and land at Verrington to provide an almshouse. (fn. 690) In 1915 a scheme, known as the United Charities, brought together the surviving charities, the properties of the market trust and Blyth's bequest to provide medical and nursing care as well as clothing, food, fuel, and other necessaries. With the aid of a bequest from Mr. a'Barrow, two houses known as the Davis Homes were built in South Street c. 1925 for natives of Wincanton or the union district who were over 60, married couples having preference and Roman Catholics being excluded. The bar on Roman Catholics has since been dropped. (fn. 691) In 1990 the Wincanton United Charities had an income of £3,963 for the relief of poverty. (fn. 692)
The Revd. G. T. M. Messiter-Terry, by will dated 1906, left a sum of money to provide a Christmas coal distribution for poor members of the Church of England. In 1990 the income was £66. (fn. 693) In his will dated 1931 Richard Deansley left £1,000 to provide two dowries each year to girls who had been in service and were daughters of labourers or small tradesmen within two miles of Wincanton. Known as the Rachel Deansley dowers charity, it was first paid in 1939 and had an income of £481 in 1990. Under a Scheme of 1978 the money can be used for relieving need. (fn. 694)