Pages 242-247
A History of the County of Somerset: Volume 7, Bruton, Horethorne and Norton Ferris Hundreds. Originally published by Victoria County History, London, 1999.
This free content was digitised by double rekeying. All rights reserved.
BLACKFORD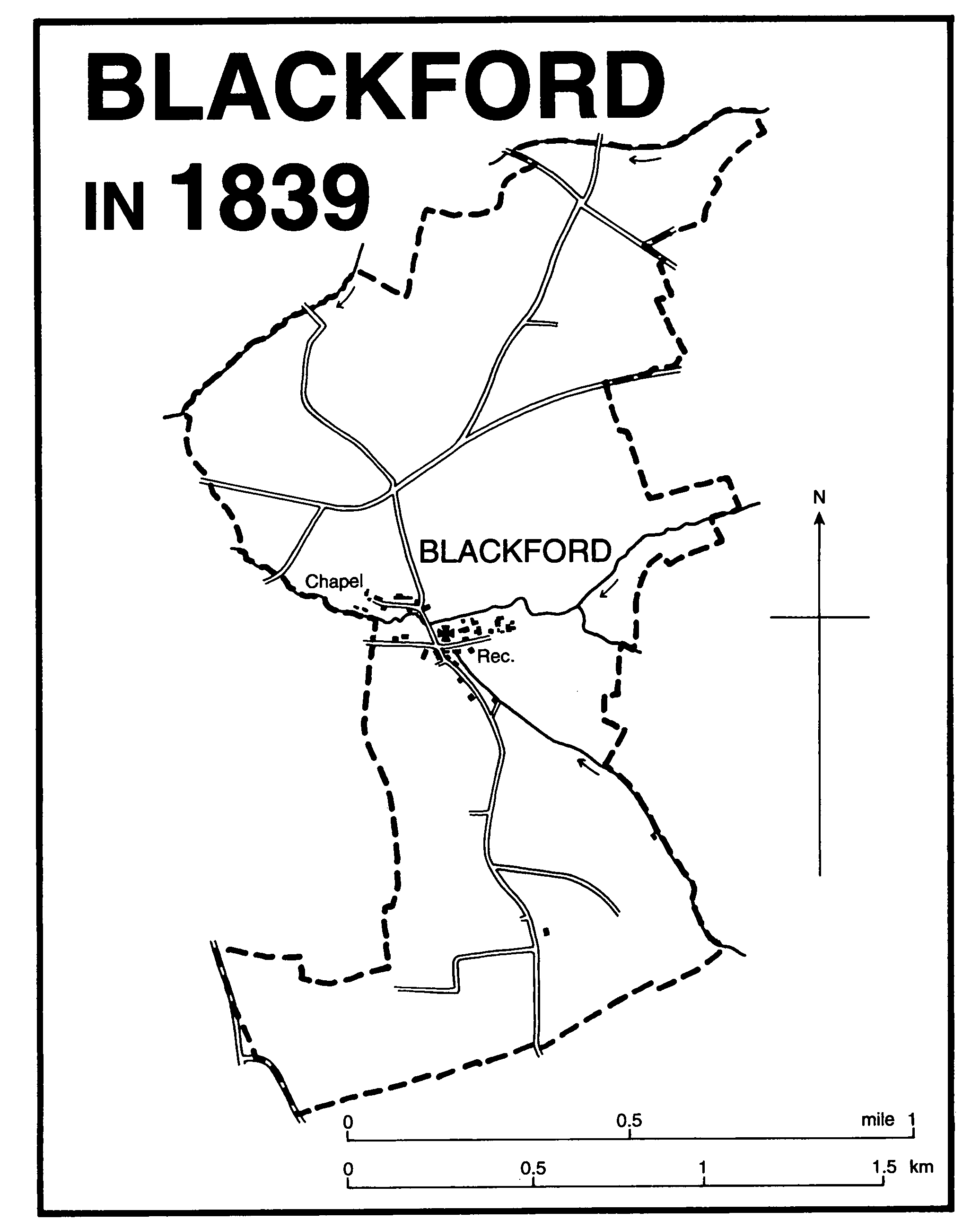 The ancient parish of Blackford is a detached part of Whitley hundred but borders both Charlton Horethorne and Yarlington. (fn. 1) Blackford village, the only settlement, is 6 km. WSW. from Wincanton. The parish is irregular in shape, measuring 3 km. from north to south and 1.3 km. from east to west. In 1838 it comprised 566 a. (fn. 2) In 1885 a detached part of North Cadbury known as Brice fields (no population, no acreage given) was added to the parish. (fn. 3) In 1921 the area was 724 a. (fn. 4) In 1933 the civil parish was absorbed into Compton Pauncefoot civil parish. (fn. 5)
The village lies on Midford Sands in a valley just below the 70-m. (250-ft.) contour, where two streams meet, flowing westwards eventually to the river Cam. To the south the land rises gradually, reaching 170 m. (550 ft.) on the boundary with Charlton Horethorne, on a limestone plateau overlooking Compton Pauncefoot. Spurs to the east, towards Maperton, reach 90 m. (300 ft.), and to the north is a small limestone plateau above 110 m. (377 ft.), followed by a steep slope to the north-west down to a stream which forms the boundary with North Cadbury. (fn. 6)
Two turnpike roads ran through the north part of the parish but avoided the village in the valley below. One, running between Ansford and Sherborne (Dors.), was turnpiked by the Sherborne trust in 1753 and was disturnpiked in 1877. The other, between Wincanton and Ilchester, sharing a common route with the Sherborne road through Blackford Hollow, north-west of the village, was turnpiked in 1756 and disturnpiked in 1877. In 1946 it became the trunk road for the south-west of England and was improved on new alignments in the 1970s. (fn. 7) A road through the centre of the parish linked Charlton Horethorne in the south with Woolston in North Cadbury in the north. By 1839 it crossed a stream by a narrow bridge beside a ford in the centre of the village. A road led west from the village centre to link with the Sherborne turnpike and east to serve the principal farms. The eastward route had been extended to Maperton by 1885. (fn. 8)
Blackford village lies in a narrow east-west valley where Bullens Street and Sparkes Well were named in the 17th century. (fn. 9) The two main farmsteads, East Hall and West Hall, stand next to each other east of the church, the former of the later 17th century, the latter dated 1883. Cottages stand south-east of the church and also along Chapel Lane to the north-west where one is dated 1739.
Blackford wood and East wood were named in 1637, both on the rising ground to the south of the village; a field called Great wood close was arable by 1775. (fn. 10) There were two open arable fields, named from their positions north and south of the village. (fn. 11)
A reading room had been opened in the parish by 1899, (fn. 12) and a new building was erected in 1912. (fn. 13)
In 1801 the population of the parish was 159. With fluctuations it rose to 192 in 1831 but then fell in every decade, reaching 118 in 1891 and the same figure in 1901. By 1931 it had fallen still further, to 80. (fn. 14) In 1994 the population of the ecclesiastical parish was said to be 60. (fn. 15)
William James Peake Mason (d. 1947), of Compton Pauncefoot, was created 1st Baron Blackford in 1935. (fn. 16)
MANORS
In 1066 BLACKFORD was held of the abbot of Glastonbury (fn. 17) and it continued to be so held until 1341 or later. (fn. 18) In 1066 Alnoth held it of the abbot and in 1086 Alwaker. (fn. 19) In 1189 Henry Newmarch (d. 1198) did homage for Blackford and Holton, (fn. 20) and ownership of both estates descended with Horsington to Henry's sons William (d. c. 1204) and James (d. 1216). (fn. 21)
From James Newmarch the holding passed to his daughter Hawise, wife successively of John de Boterel and of Nicholas de Moeles. Nicholas was in possession by 1234 and had died probably by 1260. (fn. 22) He was followed in what by 1284 had become a mesne lordship by his son Roger (d. 1295) and by his grandson John de Moeles. (fn. 23) John died in 1310 (fn. 24) and was succeeded by Nicholas (d. 1315-16) whose heir was his brother Roger Moeles. Roger died in 1316 and his brother John, his heir, in 1337. (fn. 25) On John's death the fee was divided between his two daughters, Muriel, wife of Thomas Courtenay, and Isabel, wife of William Botreaux. (fn. 26) Thomas Courtenay did homage for Blackford, Holton, and Lattiford in 1341, (fn. 27) but in 1361 his fee was identified as Wythele, locally in Holton. (fn. 28) On Thomas Courtenay's death in 1362 it descended to his son Hugh, who died a minor in 1369. Thereafter the family interest seems to have ceased. (fn. 29)
The other half fee passed in 1337 to Isabel, wife of William Botreaux. (fn. 30) and may be the fee, also described as half Blackford manor, held by Reynold Cobham in 1401. (fn. 31) No more is known of that half fee.
In 1284-5 Alina of Blackford held the vill of Blackford of Roger de Moeles. (fn. 32) She may have been the eventual successor to John son of Hamon, who had held land in Charlton Mackrell in the mid 12th century and whose grandsons were Henry (d. c. 1243) and John son of Richard. Henry had five coheirs, John was followed by his son Hamon, known either as Hamon son of John FitzRichard or Hamon of Blackford. (fn. 33) Hamon or another of the same name was in 1316 in possession of a fee (fn. 34) which included land in Woolston in North Cadbury. (fn. 35) He or a namesake was resident at Blackford in 1327, (fn. 36) and in 1351 was owner of a substantial farm later known as East Hall. (fn. 37) Presumably another of the same name sold his interests in Blackford in 1393 to Richard Seymour, Baron Seymour, great grandson of Richard Lovel, tenant in 1351. (fn. 38)
Richard Lovel (cr. Baron Lovel 1348) had held land at Blackford in 1305. (fn. 39) At his death in 1351 he was tenant of what came to be called East Hall and was followed by his daughter Muriel, wife of Nicholas Seymour, Baron Seymour. (fn. 40) Muriel died before her husband, and he and his eldest son, also Nicholas, both died in 1361. (fn. 41) Richard, brother of the last and summoned to Parliament from 1380, bought the lordship in 1393 and died in 1401. (fn. 42) The holding, which from 1408 included the advowson of the rectory, descended from Richard to his son, also Richard, Baron Seymour (d. 1409), and to John, brother of the last. (fn. 43) John died in or before 1418. (fn. 44) His widow Margaret, who married Sir Walter Sandys and afterwards Sir William Cheyne, died in 1443 and was succeeded by (Sir) Thomas Seymour, son of her son John by her first husband and then a minor. (fn. 45)
In 1484 the manor was granted by the Crown to Sir Thomas Everingham with other land formerly belonging to leaders of the rebellion of the duke of Buckingham. (fn. 46) It had evidently been restored to Seymour before his death in 1485 when he was succeeded by his grandson (Sir) William Seymour, a minor. (fn. 47) Sir William died in 1503, and in 1517 after the death of his only child Joan, wife of William Drury, the estate was divided between her cousins John Stawell and Edward Bampfield. (fn. 48) The manor and advowson descended like Durston (fn. 49) probably until the death of John, Baron Stawell, in 1692. Before 1712 the heavily encumbered estate was bought by Francis Bennet, but on his death in 1728 he devised it (fn. 50) to John Stawell's brother William, Baron Stawell (d. 1742), and he in turn to his brother Edward, Baron Stawell (d. 1755). From Edward it passed to his daughter Mary (cr. Baroness Stawell 1760), wife of Henry BilsonLegge. Mary's son Henry, Baron Stawell, was succeeded at his death in 1820 by his daughter Mary, wife of John Dutton, Baron Sherborne. (fn. 51) In 1826 the manor and advowson were sold to John Hubert Hunt. (fn. 52)
John Hunt died without issue in 1830 leaving his estate to Lewis Gooden Senior, who took the additional names of Husey Hunt. (fn. 53) Lewis was succeeded on his death in 1843 by his eldest son Bernard, who also took the name Husey Hunt. He died in 1894 and was followed by his brother James (d. 1897), rector of Blackford and Compton Pauncefoot. (fn. 54) James Hubert Husey Hunt, son of the last, put the estate up for sale in 1911 (fn. 55) but neither the lordship nor the advowson were then sold. By 1923 the lordship had passed to Sir William James Peake Mason, Bt. (cr. Baron Blackford 1935), and at his death in 1947 he was succeeded by his son, the 2nd baron. (fn. 56) No further reference to the lordship has been found.
In the mid 13th century land at Blackford formed part of a fee held of Glastonbury by John de Acton in succession to Geoffrey and Odo of Wanstrow and to John de Aura or of Aller. (fn. 57) In 1337 a fee comprising land in Blackford, Wanstrow, and Stathe was shared by, among others, Emmeline de Clevedon and Odo de Acton, descendants of John of Aller. (fn. 58) John son of Odo de Acton held land in Blackford in 1351 (fn. 59) and in 1361 land called Brice's tenement, presumably named after the Brice family who had occupied land there by 1311, (fn. 60) was held of John de Acton and of the heirs of James de Wilton. (fn. 61) The fee, which continued to include part of Wanstrow, was settled in 1427 by Thomas Bath on John, son of John Rogers. (fn. 62) In 1544 Sir John Rogers held land in the parish. (fn. 63) In 1594 an estate called a quarter of Blackford, Wanstrow, and Shepton manors was owned by Anthony Floyer and his wife Anne, and in 1630 another quarter was held by Thomas White. (fn. 64) Both Floyer and White were coheirs of Dorothy Wadham. (fn. 65)
The estate seems to have passed, perhaps in 1635, to Thomas Baynard or Barnard, and his great-grandson, also Thomas Baynard and then of Wanstrow, had what was described in 1722 as the royalty of Blackford and a farm there. That estate Thomas sold in 1747 to Andrew Bethune. (fn. 66) It passed to Andrew's daughter Catherine and to her husband, George Bethune, clerk, and was held in 1810 by Catherine's son George Maximilian Bethune. (fn. 67) No further trace of the estate has been found.
ECONOMIC HISTORY
In 1086 there was land for 6 ploughteams but the estate was assessed at 4 hides. The demesne holding comprised 2½ hides worked by 5 servi and 3 teams. There were 4 teams on the remaining 1½ hide, divided between 7 villani and 10 bordars. A riding horse, 9 unbroken mares, 30 beasts, 24 swine, and 84 sheep were recorded, together with 115 a. of meadow, 43 a. of pasture, and 47 a. of woodland. The estate had increased in value by a quarter since 1066. (fn. 68)
Land in the parish was part of the estate of Richard Lovel in 1305 and by 1351 he occupied two farms, later East and West Hall. (fn. 69) Hugh Brice had a farm of over 160 a., mostly arable, in 1311. (fn. 70) By 1394 East Hall, which included land at Woolston, either in North Cadbury or Yarlington parish, was let to thirteen tenants, most holding c. 10 a., (fn. 71) and in 1408 30 a. of woodland was mentioned. (fn. 72) By 1486 the Pauncefoot family of Compton held a small farm. (fn. 73)
In 1535 the tithe income from wool and lambs was about a third of the total from arable crops. (fn. 74) Inclosure of the two open arable fields took place in the later 16th and the earlier 17th century. (fn. 75) By 1606 the principal farmers in the parish shared between them two named farms: John Andrews held Higher farm and half of Lower farm, and Richard Perry and Joseph Andrews each had a quarter of Lower farm. (fn. 76) The Andrews family had come to Blackford by 1590 (fn. 77) and they and the Perrys continued to be prominent in the earlier 17th century. (fn. 78) Joan Perry's estate was shared c. 1657 between members of the Dampier family, two of whom divided East Hall farm buildings between them in 1670 and one of whom undertook to build a house which may be the present dwelling. William Dampier (d. 1718) farmed just over 260 a. in the parish and over 118 a. nearby of which 97 a. in the parish was arable. (fn. 79) West Hall comprised 326 a. including land in North Cadbury, Maperton, and Holton and at the same period was occupied by the Sweet family. (fn. 80) Blackford manor was then shared between 6 tenants and comprised a rental of 9s. 6d. for little over 25 a. (fn. 81) The Naish family inherited from the Sweets and with the Dampiers retained the two farms, although by 1782 East Hall was occupied by 'Farmer' Gifford and in 1804 George and Samuel Gifford were farming most of the parish between them. (fn. 82) In 1838 Giffords owned 210 a. based on West Hall and had an interest in the 207 a. farmed from East Hall. There was a third holding of just over 69 a. which later became Valley farm. At that date there was 248 a. of arable and 296 a. of pasture excluding glebe. (fn. 83) The same three holdings remained in the 1880s, but reorganisation of ownership, in part because of the sale of the Compton Pauncefoot estate after 1911, resulted in the formation by 1923 of a fourth farm, evidently at first based on Blackford House. (fn. 84) Dairying had begun by 1841 and a dairy herd was rented out by 1861. (fn. 85)
A linen weaver was living in the parish in the later 17th century. (fn. 86) Three masons and a stone cutter resident in 1841 were presumably employed at the quarries and there were also a glover and a cooper. (fn. 87) There was still one glover in 1861 and in 1881 five. By 1881 there were also a grocer, a wood merchant, a hurdle maker, a baker, and a blacksmith. (fn. 88) Only a blacksmith survived in 1939. (fn. 89)
There were quarries and a marl pit in the parish in 1627, the latter to the north of the village. (fn. 90) Extensive quarries in the south of the parish produced coping stones in the 1740s and extraction continued in the 1780s, but had ceased by the 1840s. (fn. 91)
There was a mill which in 1364 was not grinding and at which in 1535-6 the miller took excessive toll. (fn. 92)
LOCAL GOVERNMENT
In 1569 Blackford was part of a tithing which also included Holton, Wheathill, and Cary Fitzpaine in Charlton Mackrell. (fn. 93) In the 18th century the tithing comprised only Blackford and Holton. (fn. 94)
Proceedings of a court baron for the Stowell manor of Blackford and Woolston survive for 1632 and the homage presented tenants for diverting water. A hayward reported all well. (fn. 95) In the later 18th and the earlier 19th century the overseers paid a mole catcher. (fn. 96)
Two churchwardens and two overseers administered the parish in the early 17th century. A poorhouse was rented in 1608 and one was built between 1613 and 1615. Paupers were given cash, lodging, food, and clothing. (fn. 97) From the end of the 17th century until the 19th only one warden was appointed, and he appears to have conducted the parish meeting in the usual absence of the rector with between three and six other ratepayers present. Highway wardens kept separate accounts from 1686. (fn. 98) By 1796 the overseers were paying rent for a house in Charlton Lane which was probably being used for paupers. (fn. 99) In 1835 the parish became part of Wincanton poor-law union, and in 1894 of Wincanton rural district. As part of the civil parish of Compton Pauncefoot it became in 1974 part of Yeovil (later South Somerset) district. (fn. 100)
CHURCH
The south doorway and font indicate that there was a church in the 12th century. In the late 13th and the 14th century it was described as a chapel, dependent on Maperton, (fn. 101) although its incumbent was called a rector, but in 1415 its status as an independent parish church was established. (fn. 102) It remained a separate living until 1873 when it was united with Compton Pauncefoot. (fn. 103) In 1963 the united benefice was joined with Yarlington, in 1966 with Maperton, North Cadbury, and North Cheriton, and in 1976 became part of the Camelot Parishes team ministry. (fn. 104)
In 1415 the Seymour family successfully claimed the patronage by hereditary right against the rector of Maperton, who may earlier have presented to the living. (fn. 105) The advowson descended with the Seymour estate: in 1440 Sir William Cheyne presented in right of his wife; (fn. 106) in 1445 Sir Christopher Hungerford as guardian of Thomas Seymour, (fn. 107) in 1533 William Stephyn and Edward Herman, who had been granted the advowson by the joint owners. (fn. 108) John Stawell presented in 1570 and 1578, (fn. 109) the Crown in 1620, (fn. 110) and Joseph Parker and George Stawell in 1661. (fn. 111) Successive holders of the manor exercised patronage until 1928 when Selina Frances Husey Hunt conveyed the advowson of the rectory of Compton Pauncefoot and Blackford to the Melanesian Mission Trust (England) Ltd. (fn. 112) which retained its ownership until the creation of the team patronage board in 1976. (fn. 113)
In 1291 the rectory was taxed at £12. (fn. 114) It was valued in 1535 at just over £6 11s. net, (fn. 115) in c. 1670 at £12, (fn. 116) in 1707 at nearly £39 net, (fn. 117) and between 1829 and 1831 averaged £177. (fn. 118) In 1535 the tithes were worth £5 8s. 8d., (fn. 119) in 1707 £27 5s., (fn. 120) and in 1838 were commuted for a rent charge of £156 12s. (fn. 121) Glebe was worth 12s. in 1535 (fn. 122) and in 1606 comprised 34 a., partly in North Cadbury parish and given to the rector in the mid 14th century. (fn. 123) In 1838 there was nearly 25 a. (fn. 124) In 1815 the rectory house was described as unfit and had been so in living memory. (fn. 125) It was being rebuilt in 1827 (fn. 126) and it remained in use until 1979. (fn. 127)
In 1351 the parochial chaplain of Maperton was licensed to say a second mass at Blackford while the rector was absent, and the rector was later licensed to let his benefice to farm for five years. (fn. 128) Barnaby Dicke, rector 1578-1620, was reported for preaching only quarterly (fn. 129) and his successor, William Mullet, in 1635 neither preached nor read a homily. (fn. 130) Rectors seem to have been resident in the early 18th century, (fn. 131) but John Wooll, rector 1796-1833, was successively headmaster of Midhurst grammar school and Rugby school from 1799 until 1828 and employed Thomas Gatehouse of North Cheriton as his curate. (fn. 132) James Senior, rector of both Blackford and Compton Pauncefoot from 1838 and of the united benefice from 1873, lived at Compton and in 1840 held one service each Sunday at Blackford in winter and a second on alternate Sundays in summer. (fn. 133) By 1851 one service was held each Sunday, alternately morning and afternoon, and c. 100 attended. (fn. 134) The rector, who continued to live at Compton Pauncefoot, held morning and afternoon services in 1870 and celebrated communion eight times a year. (fn. 135) Later rectors lived at Blackford until 1979. (fn. 136)
The church of ST. MICHAEL comprises a chancel, nave with south porch, and west tower. The nave is of the 12th century with a contemporary doorway whose inner head was modified in the late 15th century when the door was inserted. The tower is of the 14th century with later pinnacles and the chancel was rebuilt, a rood stair inserted, the north wall re-worked, and the south porch built in the late 15th century, possibly in the 1480s when money was left for church works. (fn. 137) During restoration in the 1840s the walls were found to be decorated with a pattern in red, black, and yellow. (fn. 138) A piscina on the south side of the nave indicates a chapel in front of the original screen. Fragments from an elaborate alabaster screen were found when the rood stair was restored. The early 15th-century heraldic glass in the chancel records the Seymour and Erleigh families. (fn. 139) The pulpit is of the 17th century and formerly had a sounding board dated 1634. The pews are of the later 18th century and there was a singers' gallery. (fn. 140) The present screen, designed by Frederick Bligh Bond, was built in 1916. (fn. 141)
There are three bells, the first of 1707 by Stephen March, the second of 1620 by Robert Austen, and the third of 1759 by T. Roskelly. (fn. 142) The plate includes a cup and cover of 1574 by Richard Orenge. (fn. 143) The registers begin in 1684 and are complete. (fn. 144)
NONCONFORMITY
In 1824 a house was licensed for use by Wesleyan Methodists and regular services were held from 1826. (fn. 145) A chapel was built in 1837 in what later came to be called Chapel Lane and in 1851 the congregation at the afternoon service was 40 adults and at the evening service 81. (fn. 146) The chapel was apparently still open in 1937 but had closed by 1949 (fn. 147) and was subsequently demolished.
EDUCATION
In 1634 the rector kept a school in the church. (fn. 148) In 1818 there was a Sunday school for 33 children supported by voluntary contributions. (fn. 149) It had 22 children in 1846-7 and was supported by the rector and principal inhabitants. (fn. 150) By 1861 a National school for boys and girls had been established and in 1866 it was said to be held 'in conjunction with Compton Pauncefoot'. A Sunday school was still then held in the schoolroom. (fn. 151) By 1875 the school had been transferred to Compton Pauncefoot. (fn. 152)
CHARITY FOR THE POOR
Between 1724 and 1780 the overseers accounted for the distribution of 10s. each year at Christmas, the interest on a sum of £10 given for the poor by a man named Sherrill and paid until his death in 1769 by Henry Dampier. (fn. 153) Dampier's widow, and subsequently her daughters Mrs. Gollop and Mrs. Phelps, continued to distribute the money through the churchwardens to 10 poor people not in receipt of parish pay until 1826. (fn. 154) The charity was registered in 1965 but with no income it was removed from the register in 1993. (fn. 155)