Pages 75-83
A History of the County of Somerset: Volume 7, Bruton, Horethorne and Norton Ferris Hundreds. Originally published by Victoria County History, London, 1999.
This free content was digitised by double rekeying. All rights reserved.
ABBAS AND TEMPLE COMBE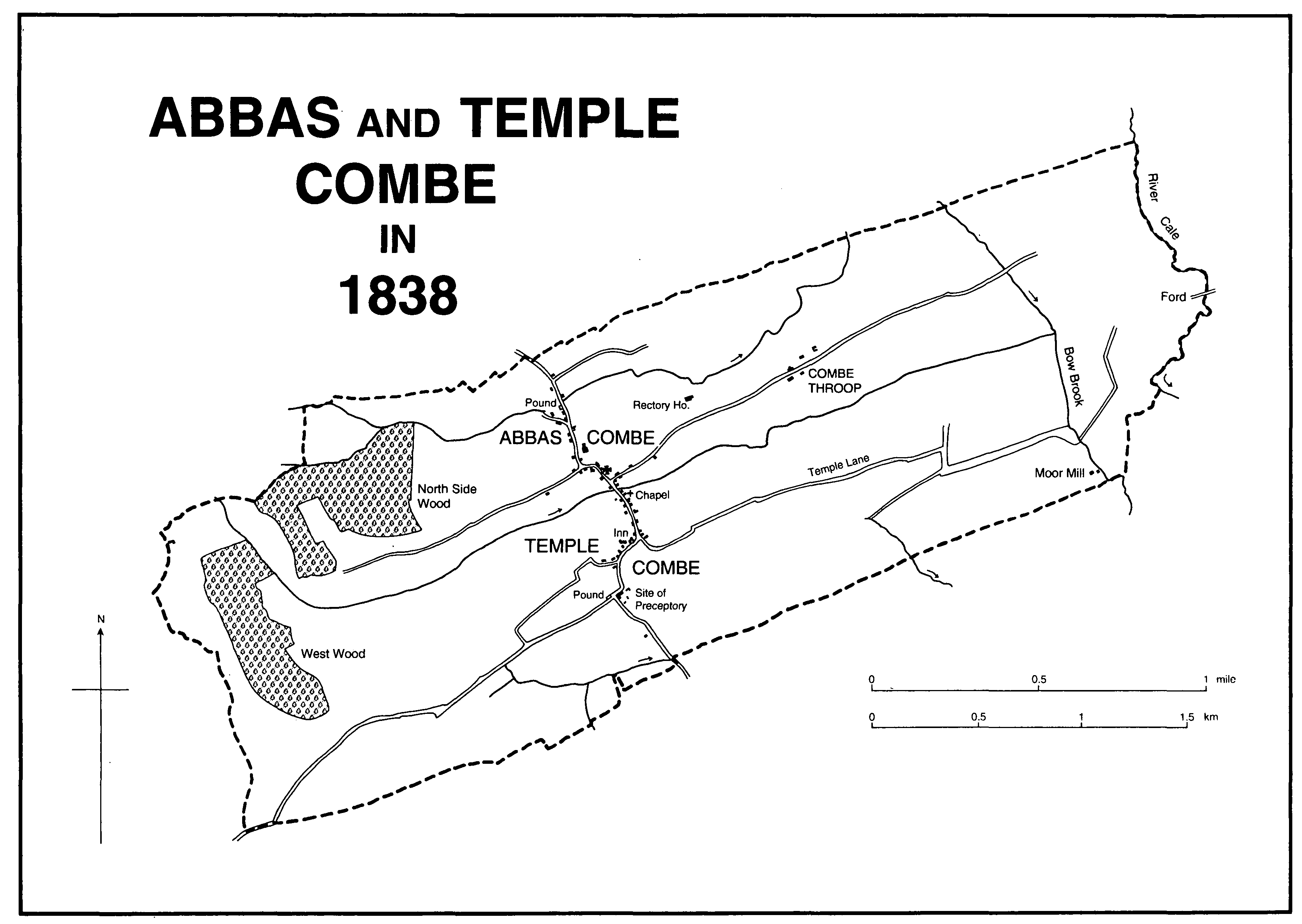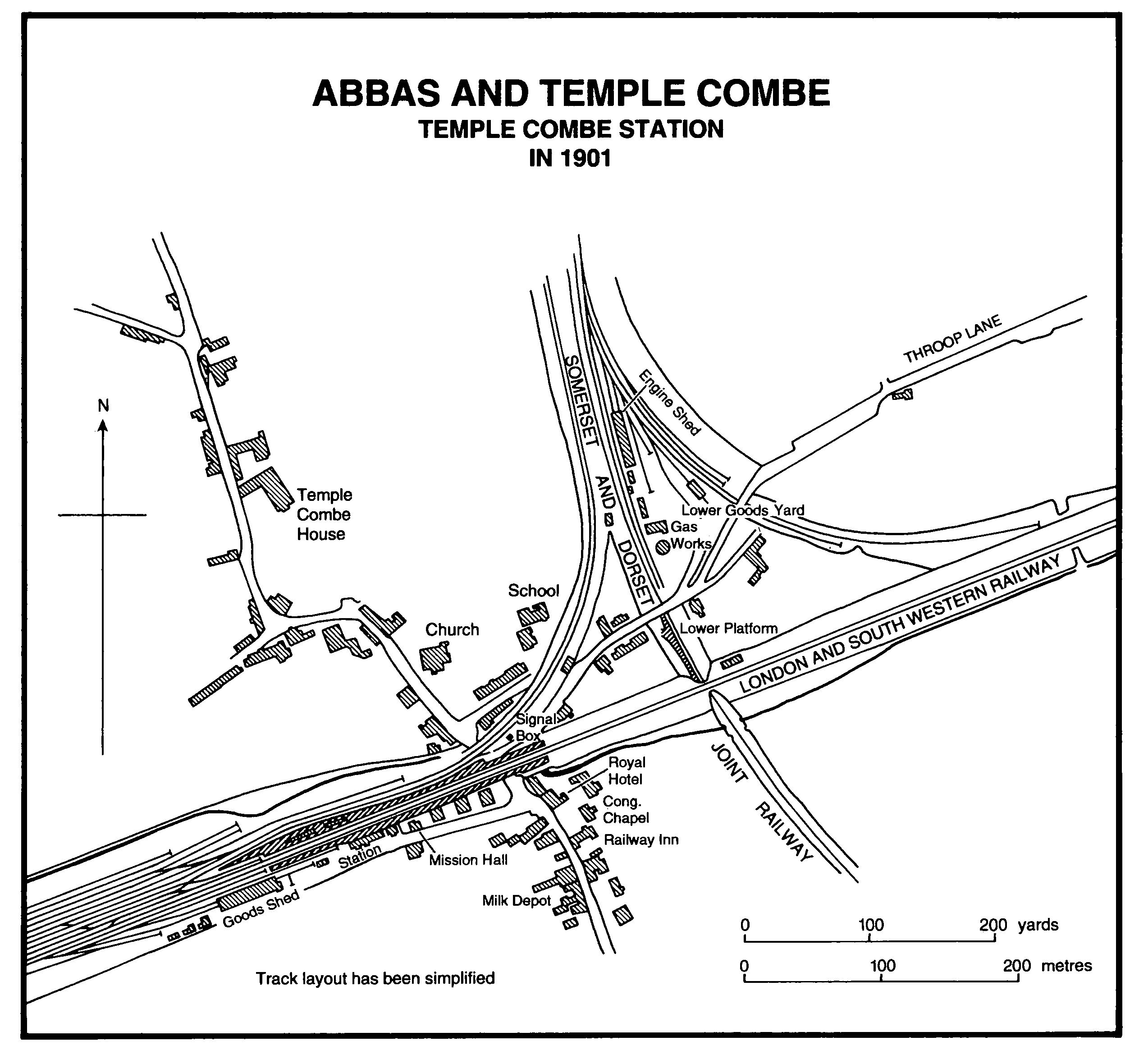 The parish of Abbas and Temple Combe, comprising the two villages of those names and the hamlet of Combe Throop, is c. 5 km. south of the centre of Wincanton and borders Buckhorn Weston (Dors.) and Kington Magna (Dors.) on its eastern boundary. It is roughly rectangular in shape, measuring 1.5 km. from north to south and 4.5 km. from east to west. The eastern boundary partly follows the present and partly an earlier course of the river Cale, and parts of the northern and southern boundaries with Horsington and Henstridge are marked by streams. The eastern half of the parish lies on marshland below the 70-m. (250-ft.) contour and is crossed by the Bow brook, also known as the Moor brook, (fn. 1) and its tributaries. The western half of the parish bordering on Charlton Horethorne and Stowell is divided by a valley or combe running east to west now occupied by a stream and the London-Exeter railway line. On either side the ground rises gradually towards the summits of Stowell hill to the north (162 m. (530 ft.)) and Bowden hill to the south (145 m. (475 ft.)). (fn. 2) The parish covers 773 ha. (1,910 a.).
The original settlement at Abbas and Temple Combe was on a narrow strip of Cornbrash limestone running north-south between broad bands of Oxford Clay and alluvium on the east and of Forest Marble clay on the west. The hamlet of Combe Throop, probably of the 17th century, lies on Oxford Clay 1 km. east of Abbas Combe. (fn. 3)
The principal route running north-south through the parish is known as Slades Hill and Church Hill in Abbas Combe and as High Street in Temple Combe. In 1824 it was turnpiked by the Blackmore Vale trust as part of the route from Castle Cary to Stalbridge (Dors.). (fn. 4) At Temple Combe it was joined by roads from Sherborne (Dors.) and Buckhorn Weston (Dors.). Throop and Temple lanes served the common moors in the east. (fn. 5) In the early 13th century the abbess of Shaftesbury established a right of way across Buckhorn Weston meadows from her grassland of Abbas Combe, with the right to build a bridge across the Cale. (fn. 6) 'Abbayes' Ford, recorded in 1550, (fn. 7) was presumably the ford at the end of Temple lane which was disused in 1886 (fn. 8) and had been replaced by Abbas Ford, now Abbey Ford, bridge. (fn. 9)
The Salisbury and Yeovil railway reached the parish in 1860 and a station, later known as the Upper or Top station, was opened west of the main street. In 1878 the line was taken over by the London and South Western Railway. (fn. 10) In January 1862 the Dorset Central railway opened a line beginning near Cole, in Pitcombe, to a terminus known as the Lower station. That line was worked from Highbridge by the Somerset Central railway which merged with the Dorset Central railway in the same year to become the Somerset and Dorset Joint railway and was extended first to Blandford (Dors.) and eventually to Bournemouth. Templecombe, as the station came to be called, was an important stage on the Somerset and Dorset line and included an engine shed and goods depot. (fn. 11) The two railways were linked by an eastern spur and from 1870 by a western spur into the Upper station. The Lower station was replaced in 1887 by a single platform further south. The goods yard closed in 1950 and the line in 1966. (fn. 12) The Upper station, bombed in 1942, was closed in 1966, but following public pressure some trains called there in 1982 and the station was re-opened in 1983. (fn. 13)
The earliest known settlement is a late IronAge or Roman site near the boundary with Horsington parish; near it is a cemetery probably dating from the 9th century. (fn. 14) Abbas Combe and Temple Combe or Combe Templar (fn. 15) were so named from the valley which divided them and from their respective medieval owners, Shaftesbury abbey and the order of Knights Templar. (fn. 16) Abbas Combe included the church and extended northwards along the north-south route through the parish. Temple Combe, which included the Templars' preceptory buildings, lay along the same main route. By the 1830s the two settlements were linked by buildings along the main road with some growth along side roads such as Back and Throop lanes. (fn. 17) In the 20th century most new building took place south-west of Temple Combe. (fn. 18)
The older houses in the parish are mainly of local stone with tile or slate roofs and date from the 17th and the 18th centuries. An earlier building is Lions Gate in Temple Combe, the former Blue Boar inn, which has a late-medieval 4-bayed open hall with crucks. (fn. 19) Brick was introduced extensively in the later 19th century and with the later appearance of blocks of flats and industrial units on the site of one of the railway stations Abbas and Temple Combe have a more urban feel than most of their neighbours.
In 1765 there were three licensed alehouses, but for most of the 18th century there were two. (fn. 20) One of those may have been the White Horse which had probably ceased to be an inn by 1790. (fn. 21) From 1792 until c. 1861 the only public house was the Blue Boar (fn. 22) which closed between 1931 and 1939. (fn. 23) Worthy's Royal hotel, later the Royal Wessex hotel, opened in the main street near the station c. 1861. In 1872 it was described as a posting house and included refreshment rooms. (fn. 24) It remained open in 1992. The Railway inn opened c. 1861 in the main street and remained open until 1931 or later. (fn. 25) The Temple inn was recorded as a beerhouse in 1861 (fn. 26) and a baker's shop had a beerhouse attached, probably at Abbas Combe, between 1871 and 1875. (fn. 27) The Junction inn was open by 1881 and closure was considered in 1905 but it appears to have survived until 1923. (fn. 28)
The United Kingdom Railway Temperance Union had established a mission hall in Station Road by 1901. (fn. 29) By 1924 there was a reading room and young men's institute which appears to have closed in 1948. (fn. 30) The Temple Combe Friendly Society was established in 1835. It met over an ironmonger's shop and had a feast on Whit Thursday but was disbanded in 1867. (fn. 31)
There were 90 taxpayers in the parish in the later 14th century (fn. 32) but only 52 families in 1650. (fn. 33) In 1801 the population was 425 and it fluctuated thereafter, reaching 487 in 1861. Between 1861 and 1901 the population rose rapidly to 678 in contrast to the decline in other parishes in the area. The total rose even more rapidly in the 20th century to 1,015 in 1951. After a fall to 910 in 1961 it rose to 1,147 in 1981 and to 1,377 in 1991. (fn. 34)
In 1942 bombs near the railway killed 13 people and injured others. The parish church, the Congregational chapel, two hotels, and about 60 houses were damaged. (fn. 35)
MANORS AND OTHER ESTATES.
In 1066 there were two estates at Combe. Shaftesbury abbey held the smaller, (fn. 36) usually known as ABBAS COMBE manor, until the Dissolution. In the late 12th or early 13th century the manor or demesnes were let to Thomas of Combe, the abbey's porter, (fn. 37) probably giving rise to the name Combe Porter in use in 1293. (fn. 38) The demesnes were farmed by the Hobbes family in the early 16th century. In 1542 the manor was granted by the Crown to (Sir) William Sharington (d. 1553). (fn. 39) By 1563 it had been acquired by Richard Duke (d. 1572) who held it of the queen for 1/20 knight's fee. (fn. 40) After 1568 it descended with Temple Combe manor. (fn. 41)
The capital messuage was mentioned in the early 16th century. (fn. 42)
In 1066 the larger Combe estate was held by Earl Leofwin (d. 1066) and in 1086 by Bishop Odo of Bayeux, (fn. 43) whose lands were confiscated in 1088. (fn. 44) Odo's tenant Samson became bishop of Worcester in 1096 and died in 1112. (fn. 45) Combe was variously said to have been granted to the Templars by the king, (fn. 46) by William Martel, the king's butler, before 1136, (fn. 47) and by Serlo FitzOdo c. 1185, (fn. 48) and the estate became known as TEMPLE COMBE. (fn. 49) The Order was suppressed in 1312 and the estate passed to the Crown. (fn. 50) It appears to have been held by Richard Lovel in 1316 and 1327 (fn. 51) and in 1332 by Geoffrey Stowell. The manor was given in 1332 (fn. 52) to the Hospitallers, who retained it until their dissolution in 1540.
In 1543 the Crown sold Temple Combe manor to Edward Clinton, Baron Clinton, and to Richard Tyrwhitt. (fn. 53) In 1558 the manor was given to the refounded hospital of St. John of Clerkenwell, (fn. 54) but before 1568 was recovered by Richard Duke (d. 1572) who had bought or leased the demesnes in 1542. Abbas Combe and Temple Combe manors and the preceptory demesne were each held for 1/20 knight's fee. Richard was succeeded by his daughter Christian (d. 1608), wife successively of George Brooke and of George Sprint, (fn. 55) and her only surviving son, Charles Brooke. Their trustees held courts in 1592-3 and 1609. Charles died childless in 1610 leaving his estates to Robert Cecil, earl of Salisbury. (fn. 56) In 1611 Cecil conveyed the two manors to his agent (Sir) John Daccombe, also an executor of Charles Brooke and feodary of Somerset. (fn. 57) Daccombe died in 1618 leaving a son John under age. (fn. 58) In 1632 the younger John with his mother Melior and his only surviving sister Alice and her husband Henry Smith sold Abbas and Temple Combe to Sir John Bingley who in 1636 sold them to Sir John Jacob (d. 1666). (fn. 59) Sir John, whose brother Robert leased the demesnes from 1641 until 1668 or later, (fn. 60) was succeeded by his son, also John (d. 1674), (fn. 61) but the estates and advowson appear to have been held by his third wife Elizabeth (d. 1697) and her husband Sir William Wogan (d. c. 1708). Wogan is said to have lived at Temple Combe and appears to have acquired the estate in 1676. (fn. 62)
By the early 18th century the estate comprised only Temple Combe demesne farm and several houses and may have been held by John Symons of Llanstinan (Pembs.) as devisee of Sir William Wogan. (fn. 63) The lordship of both manors passed to James Medlycott (d. 1731), whose son Thomas sold them to Nathaniel Farewell of Horsington in 1732, possibly in trust. (fn. 64) Lordship was later acquired by Peter Walter (d. 1746) who left his estates to his grandson, also Peter Walter (d. 1753). The latter settled his estates on his brother Edward (d. 1780 s.p.m.) and his male heirs with remainder to Edward (d. by 1780 s.p.) and Henry Bayly. Henry (cr. earl of Uxbridge 1784, d. 1812) took the additional names Paget in 1769 and Peter Walter in 1780 and was succeeded by his son Henry William Paget, marquess of Anglesey. (fn. 65) In 1850 Lord Anglesey sold the manors and remaining lands to John Bailward of Horsington. (fn. 66) In the previous year Bailward had purchased from the Wickham family the Long House, near Stowell, and nearly 400 a., a large part of which may have formed part of the preceptory demesne. (fn. 67) Bailward made further small purchases and his estate descended with Horsington manor until 1911. (fn. 68) Lordship remained with the Bailward family and was last recorded in 1931. (fn. 69)
The capital messuage of Temple Combe manor was recorded in 1260. (fn. 70) In 1338 the site included a garden and two dovecots. (fn. 71) In 1501 the house was let on condition that hospitality was kept. (fn. 72) In 1514 it comprised a hall, great and little parlours, pantry, brewhouse and bolting house, kitchen, larder, dairy, five chambers, one described as new, a milk house, and a study which contained only furniture and tools. (fn. 73) Richard Duke and his successors held it with the demesnes and seem to have lived in it until the 1630s. (fn. 74) Thereafter it appears to have been used as a farmhouse usually known as Temple Combe Manor Farm or Manor House. The building is L-shaped, of stone rubble under a tile and slate roof, with a 2-storeyed main range and a lower long east wing, mainly non-domestic. The house is two rooms wide with a cross passage and rear stair turret. It was said to have been 'much amended' by Charles Brooke (d. 1610). (fn. 75) Most of the features are of the 17th century. (fn. 76)
In 1338 the chapel at the preceptory was served by a chaplain who received 20s. a year. (fn. 77) It was dedicated to St. Edmund by 1392. (fn. 78) In 1514 the furniture included a painted cloth and pillow for the sepulchre. (fn. 79) In 1650 it was said to be for the ease of the lord of the manor, who paid £4 to a curate to preach monthly. (fn. 80) It was recorded as a private chapel in 1705 (fn. 81) but by the late 18th century it was in ruins. The walls collapsed and the remainder was demolished in the later 20th century. It appeared to have dated from the 13th century. (fn. 82)
John, son of Joseph Walter, of Abbas Combe, by will dated 1726 granted an estate to Sexey's hospital, Bruton. The grant, originally to take effect after the deaths of his nieces Charlotte and Honor, was made under a decree of 1743. (fn. 83) In 1780 the estate consisted of a house adjoining the parish church and nearly 50 a. of scattered fields. In 1804 the house was described as a poor cottage divided in two. Part of the land was sold for railway construction in 1858 and land adjoining the church to John Bailward in 1865. (fn. 84) In 1839 Salisbury infirmary had 12 a. in the parish. (fn. 85)
ECONOMIC HISTORY.
In 1086 there were thirteen ploughlands and 10 teams in Combe. Five teams were in demesne, two on the 2½-hide estate of Shaftesbury abbey and three on Bishop Odo's 5-hide demesne, the latter worked by 7 servi. The 14 villani and 13 bordars worked 4½ hides. There were 40 a. of meadow and 40 a. of pasture on the bishop's estate; the abbey had meadow 4 furlongs by 2 but no recorded pasture. The abbey had one riding horse, 7 beasts, and 40 sheep and the bishop's tenant had 2 riding horses, 6 beasts, 20 pigs, 25 goats, and 100 sheep. The estates were worth together £16. (fn. 86)
In 1086 there was woodland 3 furlongs by 1, and 60 a. of underwood. (fn. 87) The woodland was said to have been wasted after the suppression of the Templars. (fn. 88) In the 16th century there were probably three woods, East, West, and North Side. East Wood, possibly also known as Cockerhead or Cockroad Wood, had been cleared by 1839 when the 124 a. of woodland was mostly divided between West and North Side woods (fn. 89) and comprised mainly oak, ash, and elm. (fn. 90) West and North Side woods were steadily reduced in size during the 19th and 20th centuries (fn. 91) and only 87 a. was recorded in 1905. (fn. 92)
In 1293 the abbess of Shaftesbury received a grant of free warren at Combe (fn. 93) and in 1517 there was a small park at Temple Combe east of the preceptory buildings. (fn. 94) By 1647 the park, which may have covered 60-70 a., had been divided into fields and two other fields (30 a.) bore the name Coniger, (fn. 95) a name which survived in the east of the parish near Temple Lane in 1839 and perhaps recalled the warren. (fn. 96)
Agreements were made between the two manors over common pasture in the parish, probably in the 13th century, (fn. 97) and an early 13th-century grant allowed the abbess of Shaftesbury to build a bridge across the Cale to carry 60 carts of hay. (fn. 98) In 1307-8 the Templars had a herd of over 30 cattle and their grange was stocked with wheat, maslin, peas, vetches, oats, and malt. (fn. 99) In 1327 and 1331 Nicholas of Weathergrave complained that he had had stock taken from Temple Combe including horses, mares, colts, a bull, oxen, pigs, a boar, and sheep worth £40, and cattle worth £50. (fn. 100) In 1338 the Temple Combe demesne comprised 368 a. of arable, 60 a. of poor land, 60½ a. of meadow, and pasture for 33 oxen, 12 cows, and 200 sheep. Nevertheless, the small household of three brothers and possibly ten servants needed to buy wheat, barley malt, and oats for baking and brewing. (fn. 101) One of the Hospitaller tenants in 1392 owed ploughing and carrying works on the demesne and on his death a relief of a horse with collar, bridle, and halter, a sword, a tabard, and 10s. (fn. 102) The Temple Combe demesne had been farmed out by the early 16th century but the Hospitallers had husbandry tools, including a plough, and kept pigs, geese, ducks, and peafowl. (fn. 103)
In 1540 the income comprised copyhold rents, sales of customary works, court profits, and the farm of the demesne totalling £20 9s. 6½d. The demesne then consisted of 167 a. in closes, 30 a. of meadow in the common moor, and 92 a. of arable in open fields. (fn. 104) In 1539 the Shaftesbury abbey demesne land was let to farm and the manorial income consisted entirely of rents and court profits. (fn. 105)
Open arable fields, probably in the west of the parish, and common meadow in the marsh in the east of the parish were recorded in the 16th century. (fn. 106) Dairying appears to have been important in the agrarian economy. Cows were hired out in 1553 (fn. 107) and in the late 16th and the early 17th century the 200 a. of common meadow at Abbas Combe moor was grazed by the cattle of customary tenants after the hay had been cut. (fn. 108) In 1632 a badger of butter and cheese from Temple Combe was allowed to sell at Exeter and other Devon markets. (fn. 109) In 1654 the parish was said to be poor and seems to have remained so into the 19th century. (fn. 110) By the later 17th century the common meadows on the marsh by the river Cale were inclosed (fn. 111) and conversion of arable to grass (fn. 112) continued during the 18th century after former demesne land had been sold and large fields were subdivided into smaller enclosures. (fn. 113) In 1801 only 68 a. of crops was returned, mainly wheat, barley, and oats, but also potatoes, peas, and beans. (fn. 114) In 1839 there were 185 a. of arable, 1,450 a. of grass, and 106 a. of orchard. Sheep were folded on the corn land on higher ground where white and green crops were alternated. The entire length of Temple Lane was described as over 13 a. of common comprising 26 horse leazes. (fn. 115)
In 1839 there were three holdings of over 100 a., of which the largest was the Revd. William Wickham's farm with 310 a. Eight farms had between 50 a. and 100 a., sixteen between 10 a. and 50 a. (fn. 116) Following John Bailward's purchase of the largest farms in 1849 and 1850 (fn. 117) they were reorganized, new farms were created, and Wickham's house near Stowell church was abandoned and later turned into cottages. In 1851 fifteen farms employed 61 labourers. The largest was the 600-a. farm of Samuel Worthy who had been tenant to the Wickham family. That was divided after 1861. By 1881 there were only ten farms and 47 labourers. (fn. 118)
Large numbers of paupers were recorded in 1851 and a farmer out of business in 1861. Dairy men and women were recorded throughout the century and by 1883 there was a milk factor in the parish. (fn. 119) The coming of the railway encouraged the marketing of milk. By 1897 there was a branch of Salisbury, Semley, and Gillingham Dairies in the parish. The milk factory appears to have closed shortly before the Second World War. (fn. 120) A new farmhouse at Combe Throop had two cheese rooms in 1899 and another had a cheesemaking plant in 1928. (fn. 121) In 1905 only 70½ a. of arable was recorded and 1,624 a. of grass. (fn. 122) In 1938 a single dairy farm of 85 a. supported up to 40 cows and was equipped with modern cowstalls. (fn. 123) In 1964 Temple Combe Manor farm produced some corn but mainly supported a herd of 60 cows. (fn. 124) Of 15 holdings returned in 1988, three were dairy farms and one concentrated on cattle rearing. There was a total of 497 ha. (1,228 a.) of grass out of 548.9 ha. (1,356 a.) returned. Wheat appears to have been the principal arable crop followed by maize, winter barley, and fodder crops. There were only six holdings over 50 ha. (124 a.) of which two were over 100 ha. (247 a.) and 37 workers were employed. (fn. 125) A farm raised game birds in 1992.
A dyer was recorded in 1327 (fn. 126) and a weaver in 1636. (fn. 127) As in neighbouring parishes there was a linen industry from the late 17th to the early 19th century and six linen weavers or linmen were recorded in the 18th century. (fn. 128) Paupers spun linen yarn and in 1820 336 lb. were sold. In 1823 the overseers rented a flax dressing room and sold tow and yarn. (fn. 129) There were five yarn bartons, two in Throop Lane, in 1839 (fn. 130) but only one weaver was recorded thereafter. (fn. 131) Stone was quarried west of Temple Combe and lime was quarried and burnt in the later 19th century west of Abbas Combe and south of the Upper railway station. (fn. 132) Tradesmen included a tallow chandler in 1819, (fn. 133) a shopkeeper in 1841, and a bookbinder, a draper and grocer, and a biscuit baker in 1851. Between 1841 and 1881 several glovers were recorded, mainly women. (fn. 134)
In 1861 eight people were employed on the newly-arrived railway and by 1891 80 men and women worked for the two companies. The railways also brought indirect employment with the opening of several inns, lodging houses, shops, a milk factory, a gas works, and coal yards. By the 1870s the community supported a herbalist, an architect, a stationer, and a solicitor. (fn. 135) During the late 1870s c. 10,000 tons of freight was exchanged between the two railway routes every month including milk, butter, cheese, fruit, rabbits, coal, and beer. By 1900 some 200 trains a day used the spur linking the two lines. (fn. 136)
In the early 20th century there were a local Co-operative and Industrial Society, a general stores, a newsagent, and an agricultural engineer. (fn. 137) In 1949 an association was formed to grow tobacco plants for sale to members and to cure the leaf. (fn. 138) In the late 20th century the major employer was Marconi Underwater Systems, formerly Plessey Naval Systems, with several hundred employees, helping to reverse the decline in population brought about by the contraction of rail business. In 1992 the village remained a small local centre with several shops and small businesses. (fn. 139)
There appears to have been a watermill on the Bow brook in the south-east of the parish. It seems to have gone out of use by 1668 but the name Moor Mill survived for a house and small holding. The house appears to have been abandoned after 1841. (fn. 140) The name Windmill Shard occurred west of Temple Combe Manor Farm in 1839. (fn. 141)
LOCAL GOVERNMENT.
Abbas and Temple Combe appear to have formed one tithing until in the 19th century two separate tithings were recorded by the census enumerators. (fn. 142)
Separate courts were held for each manor during the Middle Ages, (fn. 143) but a single court met each year when the manors were held by the same owner. Records of the single court survive for 1568, 1592-3, 1609, 1612, 1614, 1629, and 1654 (fn. 144) and sessions continued to be held until 1850 or later. (fn. 145) Court dinners were held in the 1790s. (fn. 146) Each manor had its own hayward and pound in the early 19th century. (fn. 147)
In the late 17th century the overseers relieved paupers mainly in kind but some regular cash relief was paid. They also distributed charity income and a fine levied on a waggoner. In 1770 there was a poorhouse, possibly in Throop Lane. It was still in use in the early 19th century. (fn. 148) In 1821 a house on the village street in Abbas Combe was leased to the parish. (fn. 149)
In 1835 Abbas and Temple Combe became part of Wincanton poor-law union and in 1894 formed part of Wincanton rural district which was absorbed into Yeovil, later South Somerset, district in 1974. (fn. 150)
The Temple Combe and Henstridge joint water committee had a small reservoir and pumping station in the 1940s. (fn. 151) The Merthyr Guest cottage hospital in Temple Combe, built by Lady Theodora Guest, opened in 1906. It was maintained from subscriptions, donations, and fees but treated children free. In 1947 there were 203 inpatients, mainly maternity cases, and 110 outpatients. (fn. 152) From 1948 it was a maternity hospital serving south-east Somerset and part of Dorset. It was closed in 1976 (fn. 153) and in 1992 it was used as offices.
CHURCH.
Part of the church appears to date from the late 12th century. (fn. 154) The living of Abbas and Temple Combe, mentioned in 1291, remained a sole rectory until 1976, when it was united with Horsington. (fn. 155) The advowson belonged to Shaftesbury abbey until the Dissolution. (fn. 156) It was granted to (Sir) William Sharington in 1542 and descended with Abbas Combe manor until 1673 or later. (fn. 157) Thereafter it passed through several hands: Thomas Stormey presented in 1693, Sir William Wogan in 1705, Richard Noyes in 1717, John Symons in 1726, Robert Vincent in 1733, (fn. 158) John Tucker in 1762, (fn. 159) John Slade in 1785 and 1793, (fn. 160) and the Revd. J. Raymond in 1819. (fn. 161) By 1835 the advowson was held by the Fox family, rectors and patrons until c. 1931 when patronage was transferred to the bishop of Bath and Wells. From 1976 the bishop presented at every other turn. (fn. 162)
The church was valued at £9 6s. 8d. in 1291, (fn. 163) £9 9s. 4d. net in 1535, (fn. 164) £70 in 1650, (fn. 165) and approximately £90 c. 1670. (fn. 166) In 1535 the tithes were worth £9 15s. (fn. 167) In 1839 they were commuted for £380. (fn. 168) The glebe was valued at 6s. 8d. in 1535 (fn. 169) and measured c. 46 a. in 1606 (fn. 170) and 1786. (fn. 171) There was 38 a. in 1839 (fn. 172) but some fields were exchanged in 1909. (fn. 173)
The glebe house recorded in 1606 was probably medieval. It had a detached kitchen open to the roof and a bakehouse, barn, and stall. The buildings lay on three sides of a courtyard. The house comprised hall, parlour, chamber with boarded floor, and buttery, and three upper chambers. The glass in the hall and parlour windows and a long table were given by the Revd. Edward Burnell (d. 1569). (fn. 174) Alterations appear to have been made to the house in 1616 and 1697 (fn. 175) but it was considered unfit by the early 19th century and was used neither by the incumbent nor his curate. (fn. 176) It appears to have had a 6- or 7-bayed south front with an extension on the north-west and a rear staircase turret. In 1833 a new stone block with slate roof was added and the old part of the house was altered to match and converted to a servants' hall, kitchen, and brewhouse. The principal rooms were in the new block which was of two storeys with cellars and was separated from the original building by a passage. (fn. 177) In 1860 the rector built a 2-storeyed extension on the south and a kitchen on the north. (fn. 178) The house and glebe were sold in 1960 and the rector moved to a new house at Church Hill. (fn. 179) The former rectory house, 0.5 km. north-east of the church, was known as Empire Game Farm in 1992.
In 1311 the rector was licensed to study for a year, (fn. 180) in 1377 a parochial chaplain was recorded, (fn. 181) and in 1411 the rector was granted a year's non-residence to serve the king. (fn. 182) John Wygrym, rector 1459-63, was a canon of Wells, Lincoln, and Windsor, and held Devizes (Wilts.) rectory. (fn. 183) There was an endowed light in 1548. (fn. 184) John Williams, rector 1669-93, lived at South Cheriton. (fn. 185) Many of his successors were also non-resident and curates served the parish. (fn. 186)
In 1720 the vestry agreed to pay for ten parishioners to be taught to sing, as the best singers had gone to the Presbyterian meeting house. In 1751 there was a similar scheme to attract more young people to church. (fn. 187) There were between 25 and 30 communicants c. 1788. (fn. 188) Five generations of the Fox family served the parish as rectors between 1785 and 1921 and at least one served as curate. Many were pluralists but after the rectory house was enlarged in 1833 they were usually resident. (fn. 189) There were two Sunday services in 1815 and in 1840. (fn. 190) An organ was installed in 1846. In 1848 the churchwardens put four men in the stocks for playing pitch halfpenny on a Sunday. (fn. 191) Holy communion was celebrated eight times a year in 1870 and two sermons were preached each Sunday in summer and one in winter. (fn. 192)
The church of ST. MARY, so dedicated by 1871, (fn. 193) is of rubble with ashlar dressings and has a chancel with a north chapel and vestries, and a nave with north aisle, a south chapel, and a south tower over a porch. The tower, which was originally unbuttressed, is of the 13th century and was built against an earlier nave which may have been contemporary with the late 12th-century font. The upper part of the tower was rebuilt in the 15th century when the buttresses were added. The south chapel, which is said to have belonged to the Brine family, is of the 15th or the early 16th century although its reset windows were of the 14th century. (fn. 194) The nave, probably late 12th-century, rebuilt or refenestrated in the 14th century, was reroofed in the 16th or the early 17th century.
A west gallery was built in 1721-2 and altered in 1846-7. (fn. 195) In 1834 the north aisle was added (fn. 196) and in 1864 at a general restoration the gallery was removed, the chancel was rebuilt, the vestries were added, and new windows were put into the nave and south chapel. (fn. 197)
The late 12th-century Purbeck marble font had wooden corner pillars which were replaced with marble in 1864. (fn. 198) A painting of Christ's head, probably dating from the 13th century, may be associated with the Templars or Hospitallers. (fn. 199) Some pews perhaps date from the early 17th century.
The church plate includes a cup and cover of 1628 by 'R.M.', two square salvers of 1725 by Anthony Nelson, and a flagon given in 1845. (fn. 200) The oldest bell is c. 1420 from the Salisbury foundry. Two others are by Thomas Purdue dated 1656 and two by Thomas Bilbie of 1736. A sixth was added in 1891. (fn. 201) The registers date from 1563 and are complete. A registrar was elected in 1653. (fn. 202)
NONCONFORMITY.
A minister and an elder from the Abbas Combe meeting attended the Wells and Bruton Presbyterian classis in the mid 17th century. (fn. 203) In 1672 five houses were licensed, including two at Abbas Combe and one at Temple Combe for Presbyterian worship, and Moor Mill house which had a Congregational teacher. (fn. 204) Licences were issued for unspecified denominations in 1691, 1693, and 1699; (fn. 205) at least one group may have been Presbyterian as the Revd. John Sprint, minister of Milborne Port, is said to have served Temple Combe and preached there in 1693. (fn. 206) In 1716 a Presbyterian meeting house was built and was licensed in the following year. (fn. 207) Further licences were issued for Presbyterians in 1759 and 1761 (fn. 208) and a Presbyterian minister was recorded in 1772 and c. 1788. (fn. 209)
Licences for Independents were issued in 1748, (fn. 210) 1795, 1799, possibly for the house licensed for Presbyterian worship in 1761, and 1805. (fn. 211) The former Presbyterian meeting house was an Independent chapel by 1816 and was served with South Cheriton. (fn. 212) It was rebuilt in 1834 and on Census Sunday 1851 50 people attended in the morning and 150 in the evening. (fn. 213) The chapel, a United Reformed church in 1992, has rendered walls and a hipped slate roof and is set back from the main street south of the railway.
About 1788 there were said to be a 'few' Anabaptists in the parish but with no place of worship. (fn. 214)
Wesleyan Methodists preached in the parish in 1826-7 and in 1872. (fn. 215)
EDUCATION.
There was a schoolhouse beside the rectory kitchen in 1606. (fn. 216) In 1632 George Phillips was licensed to teach and in 1662 John Dey was licensed to keep a grammar school. (fn. 217) In 1663 George Croyden the elder gave land in Abbas Combe to teach poor boys. About six children were being taught reading and in 1824 a mistress was paid to teach nine poor boys. (fn. 218) By 1825 the charity school appears to have been accepting pupils not on the foundation and in 1833 there were 30 children, of whom nine boys were supported by the charity and the rest by their parents. (fn. 219) By 1817 a Sunday school had been established and in the following year was attended by 48 children. (fn. 220) A second day school had 18 girls and 2 boys in 1833. (fn. 221)
The charity school continued, linked with the National Society from 1835, and by 1846 52 children attended on Sundays and weekdays and 6 boys attended on weekday evenings. (fn. 222) The school, east of the church, appears to have received the charity endowment with an additional gift of over £100 in consols from the Revd. Thomas Fox in 1863 when there were 58 children on the register. (fn. 223) An infant classroom was added in 1873, there were 103 pupils in 1879, and a new schoolroom for older children was built in 1899. In 1903 there were 142 children on the books and 4 teachers. (fn. 224) In 1948 the school adopted voluntary controlled status, and from 1958 took only pupils under 11. There were 104 children on the register in 1988 when the school was extended. (fn. 225)
Between the 1840s and 1870s at least two private schools took day pupils and boarders. (fn. 226)
CHARITIES FOR THE POOR.
Gifts totalling £33 made in 1609 by Margaret Brooke (d. 1642), Charles Brooke (d. 1610), George Rockliffe, and Sir John Jacob were used in 1647 to buy land. It was sold in 1657 and Parsonage Close bought, the rent from which was distributed on St. Thomas's day. (fn. 227) James Oliver, by will dated 1709, devised a field to his son, also James, with reversion if he had no issue for the benefit of the poor. The younger James confirmed the gift in his will dated 1725 and in 1755, following litigation, the land was conveyed to the rector for the use of the poor. The income was also paid on St. Thomas's day. (fn. 228) John Brine by will dated 1763 gave a rent charge for a similar purpose. (fn. 229) About 1862 Samuel Worthy gave £35 for six poor single women and the Revd. Thomas Dodington (d. 1876) and John Read provided a stock of over £134 before 1891 to supply the poor with coal. In 1910 all the land had been sold and converted to investments. In the same year Oliver's charity was used to provide coal and clothing. All the charities were united under a scheme of 1914 for the relief of those in need, and in 1991 there was an income of £329. (fn. 230)