Pages 210-223
A History of the County of Somerset: Volume 8, the Poldens and the Levels. Originally published by Victoria County History, London, 2004.
This free content was digitised by double rekeying. All rights reserved.
WOOLAVINGTON
TOPOGRAPHY
Woolavington parish, its name derived from a Saxon personal name, (fn. 1) lies on the northern slope of the Polden ridge near its western end. It is 6 km. northwest of Bridgwater. The ancient parish was almost rectangular in shape measuring 3 km. from north to south and 2.5 km. from east to west. Its northern and eastern boundaries were marked by watercourses including the Withy rhyne to the north, its original course partly obliterated by the construction of the Huntspill River in 1940. Some of the southern boundary is a lane or footpath. (fn. 2) In 1842 the parish measured 1,735 a. which included the detached part of Sedgemoor at Penzoy awarded in 1795. (fn. 3) In 1885 Withy Leaze, a detached part of Shapwick parish on the north-west boundary, was added to Woolavington, but in the following year Penzoy was transferred to Westonzoyland, leaving a total of 1,708 a. (fn. 4) In 1981 minor adjustments to the boundary with Bawdrip resulted in a total area of 717 ha. (1,772 a.). (fn. 5)
The northern part of the parish lies in the alluvial Brue valley and averages 5 m. (16 ft.) above sea level. It is the site not only of part of the course of the Huntspill River but also of two holding ponds built like the river to provide water for the Royal Ordnance Factory in Puriton parish. (fn. 6) The southern part lies between 19 m. (62 ft.) on a broad band of Lower Lias clay and limestone and 61 m. (200 ft.) in the southwest corner on Rhaetic beds of limestone, shale, and marl. (fn. 7)
COMMUNICATIONS
A north - south road, by 1650 named the Woolavington causeway where it crosses the moor, known as Woolavington level, north of the village, links the ancient Polden ridge road with the Mark causeway beyond the river Brue. (fn. 8) In 1714 the causeway and another road had to be improved to allow the passage of waggons. (fn. 9) The road crossed the Withy Pill rhyne by Quaking bridge. (fn. 10) Other routes run east - west between Cossington and Puriton. Crancombe Lane, running south-west from the village across field boundaries, seems to have been an addition to the ancient road pattern. (fn. 11)
POPULATION
The population numbered 294 in 1801 and rose steadily to 448 in 1841 when at least two men emigrated. (fn. 12) Numbers declined gradually to 314 in 1891 and after fluctuating slightly fell to 296 in 1931. The building of the ordnance factory estate led to a dramatic rise to 1,082 in 1951 and later 20th-century building ensured continued population growth to 2,082 residents in 1991. (fn. 13)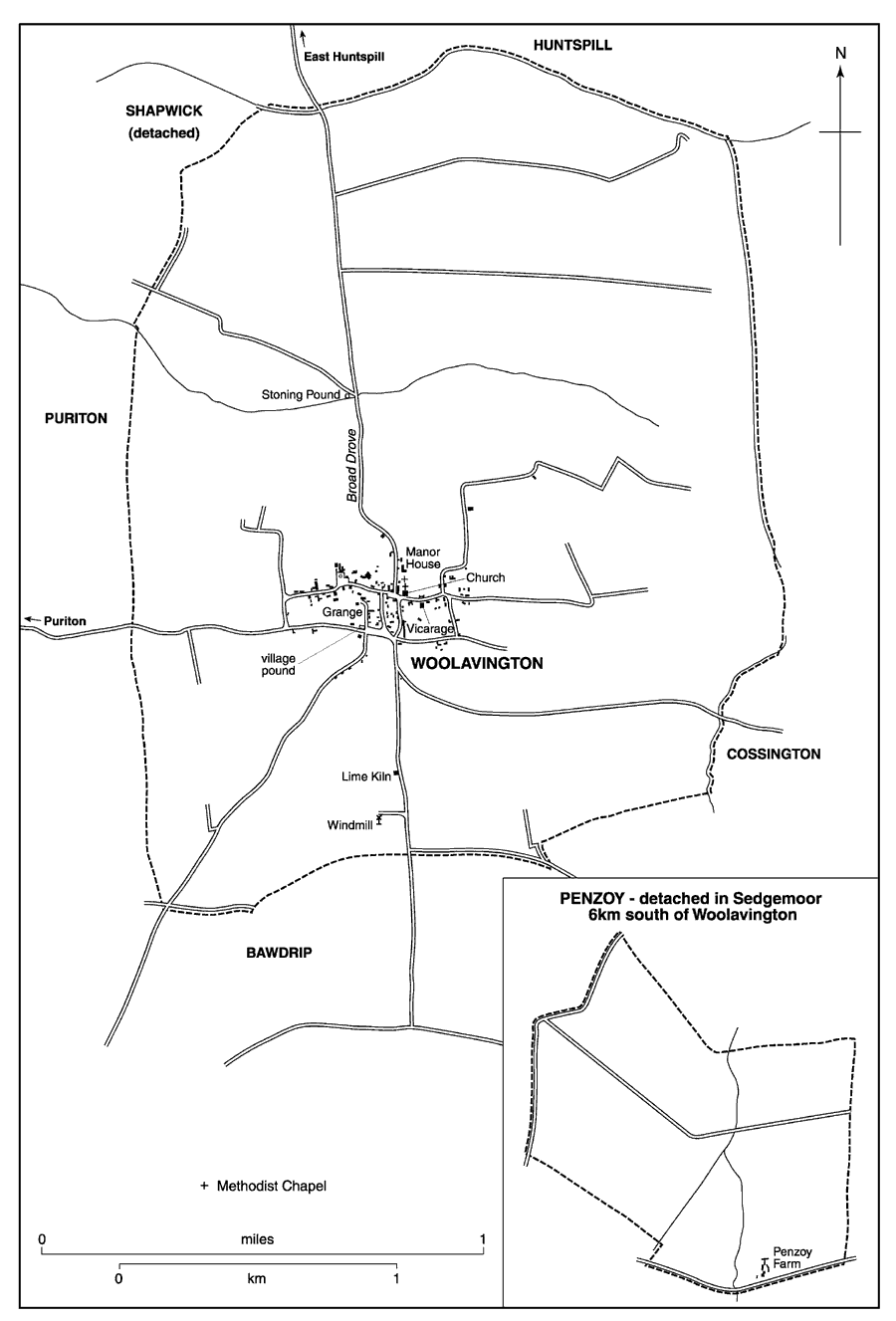 SETTLEMENT AND BUILDINGS
A Bronze-Age round barrow lies on the boundary with Puriton in the south-west of the parish and there is extensive evidence of Romano-British occupation in several places, some unidentified, including the Combe in the south-east. Further north on the moor, mounds of debris including pottery and coins are thought to have been part of a salt-making industry. (fn. 14)
Woolavington village forms a grid at the junction of the main north - south and east - west roads on the edge of the moors. The slope to the south of the village was occupied by the arable land, less than a third of the parish, divided by the 16th century into four fields: East, South, West, and Crany or Crandon. They were very small, possibly including the area known as Martland in the south-west, and land known as Sog and Waterpit implies that even this slightly higher ground had problems with drainage. (fn. 15)
The main village street runs east - west and includes the church and several surviving 16th-and 17th-century houses. (fn. 16) Most were set back from the road and a small green, now known as Hector Stones, after the occupier of neighbouring property, was formed in front of one. (fn. 17) The parallel street to the south seems to have been created from house sites taken from the arable fields or orchards. (fn. 18) The houses south-east of the church, two of which, Dawbins and Harrisons, date from the 16th century, were built on strips of orchard. Most dwellings in the late 18th century were one-and two-storeyed, thatched, cob cottages; (fn. 19) in Lower Road two still stand of a former row and a small house encroaches on the waste at the end of the road. More substantial stone-built cross-passage houses of the 16th and 17th centuries survive south of the main east - west street. They include Dawbins, Jacobs, Tassel's Cottage, no. 4 Vicarage Road, and Apple Tree Cottage. Originally single-storeyed, they were raised later, the 16th-century houses as early as the 17th century, (fn. 20) although some houses in the village were being raised to two storeys as late as the 1930s. (fn. 21)
In the 18th century a large stone barn was built at the Grange and two-storeyed farmhouses were erected west of the church north and south of the main street. In Lower Road they include Causeway Farm, dated 1734 and with old-fashioned ovolo-moulded windows, the later 18th-century house opposite, and the former Mortimers Farmhouse, set behind a walled forecourt. One or two similar houses were built in the centre of the village in the early 19th century, for example no. 4 Higher Road. There was a limited amount of house building between 1838 and the 1930s; most conspicuous is the poor quality stone terrace north-west of the church, formerly an almshouse. (fn. 22) Local authority houses were built in the village in the 1930s and the 1940s. (fn. 23) Houses were pulled down opposite Dawbins to build new homes in the 1960s.
In 1941 a large new estate was begun on the hillside south of the village to house workers at the Royal Ordnance Factory in Puriton. By October 1942 177 pre-cast, concrete bungalows, described as temporary, had been built by the Ministry of Supply. It was for a long time a separate community with its own social centre and youth club. (fn. 24) The prefabricated houses were replaced by 228 local authority houses and bungalows between 1963 and 1966. (fn. 25) The space between that estate and the village was subsequently filled by private housing, and in the later 20th century more house were built on orchards and other sites within the original village.
SOCIAL LIFE
The Polden Hill and Woolavington Friendly Society, founded 1854, and in the early 20th century the Rational Sick and Benefit Society, met at the White Lion. (fn. 26) A village hall opened in 1929. It was replaced by the former R.O.F. social club which opened in 1967 but closed in 1973. (fn. 27) A cricket club was established in 1947 and continued until 1950 or later. (fn. 28) There is a water-skiing centre north of the village.
In the 1530s up to four brewers were presented for a breach of the assize of ale (fn. 29) and in 1595 William Edwards sold wine and beer, probably at the alehouse recorded in 1605. (fn. 30) A tippler and another victualler were licensed in 1620 and a tippler and a taverner were recorded in 1622 but thereafter only one house was licensed. (fn. 31) That inn was known as the Phoenix by 1679. (fn. 32) but simply as the Inn in the 18th century. (fn. 33) By 1788 it was called the White Lion, (fn. 34) the name it retained until it closed c. 1913. (fn. 35) It stood in the centre of the village, and was converted into three cottages known as Old White Lion and by the 1950s as the Square. (fn. 36) By 1839 the Bull and Butcher had opened north-west of the church on the road to East Huntspill (fn. 37) but had been renamed the Crown by 1871. (fn. 38) It was open in 1881 and appears to have been renamed the Globe, perhaps because of its bad reputation which led to objections to a renewal of its licence. It closed, probably before 1885, and became a private dwelling known as Globe House. (fn. 39) The Prince of Wales beerhouse on the road south of the village had probably opened by 1871 and was so named by 1886. (fn. 40) It was the sole licensed house for most of the 20th century (fn. 41) and remains open.
NOTABLE RESIDENTS AND NATIONAL EVENTS
The Hody family originated as unfree tenants at Woolavington, and included Sir John Hody (d. 1441), chief justice of the king's bench. (fn. 42) Fifty horsemen, a foot company from the Bridgwater garrison, and another company from the Taunton garrison were quartered in the village in 1646, the last after the order for disbandment of both garrisons. Humphrey Willis, clubman and author of The Power of the Committee of Som. (1646), Times Whirligig (1646/7), and England's Changeling (1659), is said to have come from Woolavington. (fn. 43) Brigadier-General John Jacob (1812-58) and the astronomer William Jacob (1813-62) were born in Woolavington, the younger sons of the vicar, Stephen Jacob. (fn. 44) In 1922 the whisky distiller and racehorse owner James Buchanan (d. 1935) was created Baron Woolavington. (fn. 45)
MANOR AND OTHER ESTATES
WOOLAVINGTON THROCKMORTON MANOR
In 1066 Woolavington belonged to Glastonbury abbey as part of a 30-hide estate centred on Shapwick. (fn. 46) The abbey retained the overlordship until 1490 or later although in 1409 it was said to be held of the king in chief. (fn. 47) It was also variously said to be held of Glastonbury by knight service or 1d. rent. (fn. 48)
The terre tenancy was held in 1066 by Alwi Banneson and in 1086 by Alfred d'Epaignes and descended with Alfred's manor of Nether Stowey through his daughter Isabel to the Chandos family. Maud de Chandos gave it to her youngest son Henry de Columbers but after his death before 1215 without male issue it was held by Crown grantees during the minority of Henry's nephew and male heir Philip de Columbers. (fn. 49) Thereafter it descended in the Columbers and Audley families with Nether Stowey and Puriton. (fn. 50) Like Honibere in Lilstock it was held as security for Lord Audley's debts to the Crown in the 1520s before passing in 1538 to Edward Seymour, earl of Hertford. (fn. 51) Following Seymour's attainder and death in 1552 the manor reverted to the Crown until 1553 when it was sold to Kenelm, Clement, and (Sir) John Throckmorton, probably in trust for John, to be held in chief. (fn. 52)
John Throckmorton held for life with remainders first to his wife Margery for life and then to his heirs. (fn. 53) John died in 1580 and his son Francis sold the manor, thereafter known as Woolavington Throckmorton, in the same year to Alexander Pym (fn. 54) owner of a second estate in the parish. (fn. 55)
The capital messuage was let from 1554 with 143 a. Among the lessees were two members of the Crifte family who gave their name to the house in the 17th century. In 1607 it was let with effect from 1617 in two moieties (fn. 56) and by 1662 most of the land was let to tenants though the pym family retained the house. (fn. 57) In 1685 Criftes house was let with 34 a. (fn. 58) It had been sold away from the manor by the later 18th century, probably between 1758 and 1786. (fn. 59) It is said to be the house north of the church, known since 1851 as the Manor House, (fn. 60) owned and occupied by the Wyburn family after c 1840 but divided by 1909. (fn. 61) The Manor House is said to date from the 16th century but has been much altered. (fn. 62)
WOOLAVINGTON PYM MANOR
Gilbert le Waleys (d.c 1298), rector of Huntspill, held an estate in Woolavington (fn. 63) and was followed successively by his daughter Agnes, wife of Roger of Mucheldever (fl. c. 1327-36), (fn. 64) and his nephew John, son of Gilbert's brother Hugh (fl. 1266-80). (fn. 65) John Gilbert, John's son, was described as successor to Gilbert le Waleys and in 1344 was a free tenant of James Audley. (fn. 66) John's son Gilbert Gilbert (fl. 1373- 85) (fn. 67) had three sons: John, who died childless before 1409 when his widow Joan held dower, John who held the estate with his wife Margaret until 1419 and is said to have died childless or to have left a son Richard who died childless, and Richard (fl. 1433-43), who left a daughter Joan, wife of Roger Pym. Joan held jointly with her mother Eleanor who married secondly John Davy of Bridgwater. (fn. 68) By 1491 Joan had been succeeded by her son Alexander Pym (d. 1505) and his widow Elizabeth (fl. 1533), later wife of Sir Anthony Willoughby. (fn. 69) The estate, described as a manor and later known as Woolavington Pym, (fn. 70) descended in the Pym family like Brymore in Cannington, although it was farmed by Sir Anthony Rouse and Lady Philippe, widow of Alexander Pym (d. 1585), until 1603 or later. (fn. 71) It passed in succession to Mary (d. 1729), wife of Sir Thomas Hales Bt., to her son Sir Thomas (d. 1762), and to her grandsons Sir Thomas Pym Hales (d. 1773) and Sir Philip Hales (d. 1824). (fn. 72) Philip sold a large part of his land mainly to Edmund Broderip but also in small parcels to several buyers. (fn. 73) His daughter Elizabeth died unmarried in 1836 and in 1839 her trustees sold the two lordships to Edmund Broderip. In 1841 they sold him additional land following an auction of the estate in 1840. (fn. 74) The unsold property, 30 a. and a few houses, passed with Brymore to Philip Pleydell Bouverie who sold it piecemeal between 1857 and 1868. (fn. 75) The Broderip estate (c. 110 a.) was also dispersed during the later 19th century but the family retained lordship until 1931 or later. (fn. 76)
The capital messuage of Woolavington Pym manor was recorded with a dovecot in 1491 and in 1571 it was farmed out with the demesne. (fn. 77) In 1636 it was known as the Farmhouse and from 1687 until 1784 was held by the Jeanes family with dovecot and over 100 a. (fn. 78) It was described in the 1780s as a gentleman's seat with pleasant gardens. (fn. 79) The farm was divided up (fn. 80) but the house may be identified as Morses or Morris's Farm, known since the early 20th century as the Grange, (fn. 81) whose cockpit (fn. 82) may have been formed from the dovecot by the addition of an outside stair and gallery. (fn. 83) The Grange, two dwellings in 1975, is a high-quality 17th-century three-room, cross-passage house, with an early 16th-century core. Built of squared rubble under pantiles, it was extended to east and west and altered in the 19th century resulting in an irregular six-bay front of two storeys and attics. Most of the farm buildings, including a large 18th-century barn, have been converted into dwellings. (fn. 84)
WOOLAVINGTON AND COSSINGTON MANOR
In the later 12th century Maud de Chandos gave William son of Ranulph de Woolavington the land which his father had held in Woolavington and her son Philip (d. c. 1216) confirmed the grant to William's son Henry. (fn. 85) The estate, later known as the manor of Woolavington or Woolavington and Cossington, was held of the main manor until 1708 or later. (fn. 86) Henry was succeeded by his son Henry of Woolavington (d. 1270-80) who was probably followed by Nicholas, a minor in 1280. (fn. 87) By 1306 Nicholas had been succeeded by his son Henry (fl. 1324), (fn. 88) who may have been followed by John of Woolavington (fl. 1326-31) and Robert (fl. 1333-44), a free tenant of James Audley, lord of Nether Stowey. (fn. 89) Robert's daughter Joan married William Ayshford and the estate is said to have descended in the direct male line to her son John Ayshford, her grandson William, her great grandson John, and her great great grandson William Ayshford (d. 1508). In 1489 William settled his manor of Woolavington on his second wife Margaret. (fn. 90) Their son Nicholas, who died in 1557 was succeeded in the direct male line by Nicholas, who was dead by 1587, (fn. 91) and then by Roger (d. 1611), (fn. 92) and Henry (d. 1650), who was succeeded by his grandson Henry Ayshford (d.s.p. c. 1662). (fn. 93) Arthur Ayshford (d. 1670), cousin and heir to the last, was followed by his brother John (d. 1689). (fn. 94) In 1700 the next male heir, Nicholas Ayshford, nephew of Henry (d. 1650), released his claim in favour of John Sanford, grandson of the same Henry. (fn. 95) John (d. 1711) and later his son William sold the estate piecemeal, the manor itself and land to the tenant Hector Stone in 1714 and the remaining land to John Lane in 1715. In 1737 Stone's eldest son, also Hector, sold most of the land to Sir Thomas Hales. In 1791 Uriah Stone, son of the elder Hector's son Richard, sold his share to Sir Philip Hales, who had bought John Lane's estate in 1789. (fn. 96) There was no further reference to lordship and the lands were absorbed into the manors already held by the Hales family. (fn. 97)
The capital messuage with c. 60 a. had been let to the Moore family by 1587 and it was bought by John Moore in 1703. (fn. 98) It descended to George Moore whose only child Mary left a daughter and heir Mary Smith who in 1752 mortgaged the farm to John Evered. (fn. 99) The estate may have been forfeited as John Evered was in possession in 1767 and his family owned it until 1842 or later. (fn. 100) The house was described in 1612 as ancient, 'something decayed', and had a herb garden. (fn. 101) It was known as Everett's farm in 1885 (fn. 102) and Elm Farm in the 20th century when it was divided. (fn. 103) It is now known as Ash Cottage and Elm Tree Farm.
RECTORY ESTATE
The rectory had been appropriated by Goldcliff priory (Mon., later Gwent) before 1222 but the Columbers family was often in dispute with the priory about its extent. (fn. 104) During the wars with France the Crown took possession and it was farmed out. (fn. 105) In 1441 the priory's possessions were granted to Tewkesbury abbey (Glos.) (fn. 106) and despite an appeal to the Pope by Goldcliff in 1445 (fn. 107) and royal grants to Eton college (Bucks.) in 1451 and 1467, (fn. 108) the abbey remained in possession until 1475 when the rectory was transferred to St. George's Chapel, Windsor (Berks.). The rectory was let to farm for short terms throughout the 15th and early 16th centuries; one farmer was a Bridgwater merchant. (fn. 109) From 1566 it was let to Robert Dudley, earl of Leicester, and continued to be let until 1876. (fn. 110) In 1650 Woolavington rectory comprised two houses and 32 a. of land worth £25 a year, and rents and tithes worth £42. (fn. 111) Rectorial tithes were commuted for £50 in 1842. (fn. 112) Benjamin Greenhill (d. 1881) secured enfranchisement in 1876 but in 1884 the house and 183 a. were sold. (fn. 113)
In 1588 the farmer of the rectory was licensed to rebuild the parsonage house. (fn. 114) In 1650 the house comprised a hall, two butteries, kitchen, and dairy with chambers over each of them and outbuildings. (fn. 115) It lay east of the church and was known as the Priory by 1842 and was rebuilt as Parsonage, later Priory, Farm. (fn. 116)
WOOLAVINGTON CHANTRY ESTATE
Woolavington chantry estate in 1548 comprised a house and garden and c. 40 a. of land. (fn. 117) The land was sold in 1554 to William Morgan and Jerome Halley who in the same year sold it to Sir Thomas Dyer of Sharpham. (fn. 118) Edward Dyer, Thomas's great nephew, sold it in 1613 to Edward Tynte. In 1629 it passed to Tynte's infant son John but by 1634 it was in the hands of the Watts family, Sir Edward Dyer's tenants in 1600. The land has not been traced further. (fn. 119) In 1549 the chantry house was granted to William Fountayne and Richard Mayne. The manor site which the Crown let to Henry Bannester in 1593 may have been its site. (fn. 120)
ECONOMIC HISTORY
AGRICULTURE PRE-INCLOSURE
In 1086 Woolavington was assessed at 5 hides. Alfred d'Epaignes' demesne was 3 hides, worked with 2 ploughteams and 5 serfs. The 12 villeins and 8 bordars worked 2 hides with 6 teams. Recorded demesne livestock comprised 13 riding horses, 11 cattle, 33 pigs, and 151 sheep. The estate was worth £7. (fn. 121)
Arable land known as Velghdole and Benydole occuring in 1243 suggests shared enclosures. (fn. 122) Similar arable areas called Brekes and Cleyputtes adjoined a common field on the boundary with Cossington in 1330, the latter implying the use of marl. (fn. 123) Bond tenants on the Columbers estate were responsible for sowing a small amount of demesne arable in 1334. (fn. 124)
By the early 13th century some pasture had been improved for meadow (fn. 125) and pasture rights were established on land later called Cowleaze and Hayes. (fn. 126) By the early 15th century there were inclosed pastures, some marked by Stonyngwall, the name surviving as Stoning Pound, north-west of the village and adjoining Cowleaze. (fn. 127) Common pasture for oxen and presumably for sheep was mentioned in the 16th century on the leazes along the Cossington boundary, beyond the Middlemoor pastures and the Reeds to the south-west. The latter was a common reed bed on the edge of the moor. (fn. 128) There was a sheepwash at the south end of the leazes. (fn. 129) In 1485 Lord Audley had the right to take fish and fowl in Withy rhyne which marked the northern boundary of the parish. (fn. 130)
By the later 15th century the demesnes on the Audley manor and the rectory were farmed and the rectory demesne was in closes by 1463. (fn. 131) In the early 16th century, apart from the farmer of the demesne, there were 13 tenants on the rectory estate in Woolavington with holdings of between 1½ a. and 32 a., (fn. 132) a pattern which continued into the 17th century. (fn. 133) Several new houses were recorded on the Throckmorton manor in the early 17th century, one on the site of a bakehouse and another adjoining the pound, but they were held with little land. (fn. 134) In 1612 the Ayshford manor covered over 450 a. of which c. 295 a. was arable. Four tenants held cottages and thirteen others had between 1 a. and 65 a. Three of the houses were decayed. (fn. 135) By the end of the 16th century pressure on grazing land is evident from orders in the manor courts. Broad Drove, beside the causeway north of the village, was used for grazing horses. (fn. 136) In 1598 the tenants of Woolavington Throckmorton manor were required to stock no more than three sheep per acre in two fields and were repeatedly ordered to keep them out of the corn. (fn. 137)
Part of the common reed bed by the moor had been illegally inclosed in 1693 and there were frequent disputes between landowners over encroachments. (fn. 138) In the early 18th century straying ducks and geese were a problem and tenants were forbidden to put stock on flood walls. There was continual anxiety over flooding and drainage even on the arable land, and in 1735 tenants were ordered to ditch twice a year if necessary. There were regular orders concerning the gutters which drained the wheat field, use of heavy waggons on the northern part of the field was forbidden, and only sheep were allowed in the stubble after the end of October. Sheep folds had to be removed from the barley field in early spring. (fn. 139)
Holdings remained small in the 18th century. After the sale of the capital messuage and other land, the Sanford manor comprised c. 198 a. of arable and 141 a. of meadow divided between sixteen tenements. (fn. 140) At the same time Woolavington Pym and Woolavington Throckmorton manors, excluding freeholds, themselves very small, consisted of 85 tenants of whom 61 held c. 1,460 a. of land in Woolavington. Some tenants had beast leazes and all had common in Sedgemoor, outside the parish. Apart from Woolavington farm (246 a.) there were only 13 holdings over 25 a. and very few tenants had more than one. (fn. 141) By 1732 a few holdings were let at rack rents (fn. 142) but in 1758 there were 99 leasehold tenants, indicating that former Sanford holdings had been added but no amalgamation seems to have taken place. (fn. 143)
Most arable was still in strips in the late 18th century, probably because of the high value of the soil. Few turnips were grown and hedges were neglected. There were said to be 30 farmhouses c. 1780 and perhaps as many holdings (fn. 144) but by 1787 one farmer, John Magor, rented five holdings and sublet two houses, leaving a total of c. 170 a. of which 60 a. was in the common fields and 13 a. inclosed. In 1787 he sowed 30 a. of wheat and the same amount of Lent corn, produced cheese to the value of £30, and had calves, pigs, sheep, and wool worth £90. Rents and a salary, perhaps as rent collector or steward, brought a total income of £340. (fn. 145)
AGRICULTURE POST-INCLOSURE
The inclosure of Sedgemoor in 1795 gave over 200 a. to 54 Woolavington tenants north and north-west of Penzoy Farm. They probably sold quickly since the land was too far from the parish. Two years later remaining areas of common arable in West, SouthWest, South-East, and North-East fields and in West Ham and Common Reeds, amounting to 310 a., were inclosed, together with 16 a. of common grassland in Broad Drove. (fn. 146) Farming changed little immediately and c. 1811 John Magor still kept winter sheep and 8 plough beasts and his wheat worth nearly £800 was his largest asset in an estate worth £1,826. (fn. 147) By 1842 the pattern of holdings had changed little since the 18th century, only 47 holdings measured over 10 a. of which 30 were under 25 a., 10 between 25 a. and 50 a., 6 between 50 a. and 100 a., and one over 100 a. Many holdings were now owner-occupied and few people held more than one. There were 270 a. of arable, 1,354 a. of pasture, 43 a. of orchard, and 6 a. of wood. (fn. 148) By 1851 much consolidation had taken place. There were four farms over 100 a. out of 14 recorded. In 1881 there were still only four farms over 100 a. and eight with fewer than 25 a. Only 26 labourers were employed in 1851 but the number increased to 31 in 1861, before falling back to 15 in 1871. (fn. 149) In 1868 farming was largely pastoral but women were employed to pull turnips and mangolds, plant beans, and hoe wheat. Young boys kept sheep in the Levels, drove plough horses, planted potatoes and beans; the girls did general farm work. (fn. 150) In the 1890s parents took children out of school for blackberrying, keeping sheep, and harvesting potatoes and mangolds. (fn. 151) A market garden had been established by 1891. (fn. 152)
By 1905 arable had shrunk to 134 a., partly due to the transfer of Penzoy to Westonzoyland; there were 1,395 a. of grass and 9 a. of wood. (fn. 153) A land sale in 1913 referred to further conversion of arable to grass and a small dairy holding had 6 cowstalls and piggeries. (fn. 154) A farmer who went bankrupt in 1932 said it was difficult to make a farm pay as land had to be rented from several owners at high rents. He had tried to cut mowing costs by buying machinery but with only 3 a. of arable had to buy grain for his cattle. His wife kept 180 poultry. (fn. 155) Farms and smallholdings were amalgamated but in 1939 only one farm was over 150 a., one man described himself as a poultry farmer and two as smallholders. (fn. 156) Nine farms were recorded in 1955 (fn. 157) but only six or seven were active by the 1970s. (fn. 158)
MILLS
There were two mills on the Columbers manor in 1222 when the tithes were given to Goldcliff with priority of grinding for the priory's servants. (fn. 159) The site is unknown, but one may have been on the site of the later windmill in the south of the parish beside the road to the Polden ridge. The other may have stood on a plot of land called Windmill Moote, recorded in 1704. (fn. 160) By 1607 a new windmill had been built and let with the capital messuage. (fn. 161) Two millers were presented in 1622 but they may have worked in the same mill. (fn. 162) By 1707 the windmill was let separately from the capital messuage. (fn. 163) Two millers were recorded in 1841. (fn. 164) In 1842 the mill was sold to a Bawdrip yeoman and thereafter passed through several hands. (fn. 165) A miller was recorded in 1883 (fn. 166) but the mill was said to be out of use from c. 1906. (fn. 167) It was a four-storey tower mill with a thatched cap which was lost in a gale after 1934. (fn. 168) It was demolished c. 1967 but part of the windshaft was used to support roses in the mill house garden. (fn. 169) A windmill was recorded at Penzoy in 1822 and 1874. (fn. 170)
FAIR
A fair for cattle, sheep, and colts on 18 October is said to have started in 1777. (fn. 171) In 1849 and 1850 the churchwardens paid for cleaning the paths after the fair and it was last recorded as a cattle fair in 1872. (fn. 172) It is said to have continued for entertainment only in the centre of the village until the First World War. (fn. 173)
TRADE AND INDUSTRY
Building stone was dug in the east field in the 17th century, (fn. 174) and a quarry, excluded from a tenement c. 1700, was still in use in 1770. (fn. 175) A stone quarry seems to have opened or re-opened between 1861 and 1871 when several quarrymen and a timekeeper were recorded. (fn. 176) It was probably on the Puriton road. (fn. 177) In 1729 a local woman and a Bridgwater lime burner rented a limekiln on waste in the fields with licence to dig pits over 1 a. as long as they levelled, ploughed, and returned the land to pasture or clover at the end of six years. (fn. 178) The kiln remained in use throughout the 18th century. (fn. 179) There were said to be blue and white lias quarries c. 1785 and one stone called Jew Rock made very good lime. (fn. 180) There were former quarry grounds in two places south of the road to Puriton. In 1842 there was a kiln north of the windmill with quarry ground adjoining (fn. 181) but it was out of use by 1871 when the Prince of Wales beerhouse had been built on the site. (fn. 182)
In 1673 a Woolavington glass seller rented ground for a standing at North Curry fair (fn. 183) and there was a mercer's shop in 1698. (fn. 184) An illegal sawpit had been made on the waste in 1730. There was a butcher in 1775 and a cooper in 1819. (fn. 185) A shopkeeper and a cooper were recorded in 1841, (fn. 186) a tiler and a moulder in 1851, (fn. 187) and a cement moulder in 1861. (fn. 188) There were three shops in 1859 (fn. 189) and although only one was recorded in 1866 (fn. 190) there were two grocers, another shopkeeper, and a watchmaker in 1871. (fn. 191) By 1947 there were two bakers, a general shop, and a newsagent but with the increase in population largely due to the establishment of the ordanance factory in Puriton the number of shops and business had risen to thirteen by 1979 including two garages, an off-licence, and a hairdresser. (fn. 192)
LOCAL GOVERNMENT
Woolavington tithing was ordered to provide a tumbrel, possibly a cart, in 1536 and in 1650 the tithingman spent £5 13s. 4d. taking people to gaol. (fn. 193)
An extract of a court roll exists for 1476. (fn. 194) Court rolls survive for the manor of Woolavington Pym for 1598-9, 1604, and 1619-30 and for Woolavington Throckmorton for 1598-9, and 1604. A court book for both manors covers the years 1709-35. Sessions were termed manor courts or courts baron and were held between two and four times a year. During the 18th century a single court baron was held for both manors together once a year. The main business was land tenancy, maintenance of buildings and ditches, encroachment, and illegal grazing. (fn. 195) Courts were said to have been held annually in the late 18th century. (fn. 196)
Court rolls and presentments for the Ayshford manor of Woolavington survive for 1630-3, 1635, 1686, 1688-9, 1691-3, 1696-7, and 1700-01. Courts were held up to three times a year mainly for agricultural and tenancy matters. (fn. 197) In 1648 the tenants of the capital messuage on that manor were required to accommodate the lord, his steward, servants, and horses when keeping court or collecting rents. (fn. 198) Courts were held irregularly for the rectory in the 15th century, (fn. 199) and copies of court roll survive from 1738 to 1814. Presumably courts were held when necessary for tenancy matters. (fn. 200)
There was a pound in the village in 1823 (fn. 201) which by 1842 had been replaced by one south of the village on the road to Puriton. A third, known as Stoning pound, was by former common pasture north of the village. (fn. 202) The last may have been the pound whose sale was considered by the parish in 1893 but there are said to have been several pounds on the moors in the 19th century. (fn. 203)
There were two churchwardens and two overseers of the poor but no accounts survive earlier than the 19th century. In 1855 the vestry appointed a salaried assistant overseer. (fn. 204)
A poorhouse, said to have been built in 1700, (fn. 205) was recorded in 1817 (fn. 206) and continued to be repaired by the parish until 1857 or later, although its disposal had been considered in the previous year. (fn. 207) It stood on the edge of the churchyard (fn. 208) and was offered to the parish for use as a school in 1857 but appears to have continued to be occupied as dwellings. In 1877 the occupants were to be ejected for causing a nuisance. In 1887 to commemorate the Queen's Jubilee the parish rebuilt the dilapidated buildings as an almshouse for the aged poor. The house was to be maintained by a weekly charge of a halfpenny from each inmate and the sale of road scrapings. The almshouse known as the Jubilee Cottages continued in use until 1937. In 1948, after being used for storage, the building was sold and became a shop. The proceeds were used for street lighting and bus shelters. (fn. 209)
Woolavington had a parish meeting from 1896 and a parish council from 1949. It formed part of Bridgwater poor-law union from 1836, from 1894 was part of Bridgewater rural district, and was absorbed into Sedgemoor district in 1974. (fn. 210)
CHURCH
ORIGINS, PATRONAGE AND ENDOWMENT
The church may have been given by Robert de Chandos in 1113 as part of the foundation grant to his priory at Goldcliff (Mon., later Gwent) (fn. 211) and a rector was recorded in the late 12th century. (fn. 212) A vicarage was ordained in 1336 (fn. 213) and the living remained a sole benefice until 1730 when it was united with Puriton. The livings were disunited in 1883. (fn. 214) Woolavington was held with Cossington from 1976 and from 1987 also with Bawdrip. (fn. 215)
Goldcliff priory had the advowson, (fn. 216) except when it was in the hands of the Crown, (fn. 217) until its possessions passed to Tewkesbury abbey under a grant of 1441 and to St. George's Chapel, Windsor (Berks.), in 1475. (fn. 218) Thereafter the dean and canons of Windsor or their lessees were patrons. (fn. 219) The dean and canons of Windsor are patrons for one turn in two. (fn. 220)
In 1291 the church was valued at £6 13s. 4d. (fn. 221) When it was sequestrated in 1334 the fruits were worth £3 2s. 5d. (fn. 222) and in 1445 the rectory was worth £15. (fn. 223) Before 1222 the prior of Goldcliff granted an annual pension of 4s. to St. John's hospital, Bridgwater, payable out of Woolavington church. (fn. 224)
The vicarage, ordained in 1336, was confirmed in 1338 after a dispute between Goldcliff and the farmer over the size of the vicar's portion. The vicar received a house, offerings, small tithes, 1½ a. of meadow, grain tithes from 24 bond tenants of Philip de Columbers and from the land of Roger of Mucheldever, and tithes of crofts totalling at least 13 a. The vicar was responsible for providing candles for the church. (fn. 225) The vicarage was assessed at £5 6s. 8d. in 1445 (fn. 226) and at £11 19s. 4d. gross in 1535. (fn. 227) The reputed value of the vicarage was £50 c. 1670, (fn. 228) £100 c. 1780, (fn. 229) and £150 in 1807. (fn. 230)
Vicarial tithes were worth £8 19s. 4d. gross in 1535 (fn. 231) and in 1571 and 1636 the vicar claimed half the grain tithe of the parish, presumably on the basis of the 1336 award. (fn. 232) In 1650 the vicar's half of the grain tithe was valued at £25 and small tithes at £20. (fn. 233) In 1689 the vicar, supported by his older parishioners, claimed 1d. an acre from absentee landowners' meadow and pasture. (fn. 234) In 1842 the vicar's tithes, including half the great tithes, were commuted for £200. (fn. 235)
Only 1½ a. of meadow was recorded in 1336 (fn. 236) but the vicarage glebe was valued at £3 in 1535. (fn. 237) In 1571 the vicar held 1 a. by the house and 2 a. of meadow as glebe and 18 a. of pasture and 12 a. of meadow of manorial demesne at will in lieu of tithe on 180 a. of moor. In 1585 there was a dispute over whether 11 a. of meadow was held by the vicar as his glebe or as tenant of the rectory. By 1636 the extra land was listed as glebe and the vicar claimed a beast leaze against opposition. (fn. 238) The extra land did not form part of the 1650 valuation of the vicarage. (fn. 239) Exchanges were made of an allotment in Sedgemoor in 1809 (fn. 240) and in 1842 the glebe measured c. 32 a., most of which was said to have been given anciently in lieu of tithe and presumably represented the land held in 1636. (fn. 241) Sale of the glebe was discussed in 1941 but did not take place. (fn. 242)
The vicarage house was described as a mansion in 1336 and when let in 1480 the vicar reserved the principal chamber and parlour and stabling for two horses. (fn. 243) In 1650 the house comprised four lower and four upper rooms, a washhouse with loft, a barn, a stable, and other outbuildings. (fn. 244) In 1804 it was described as a very old thatched building with two paved parlours, low and dark, and a pantry on the ground floor, three small bedrooms above, and a garret over them. There was a detached kitchen with scullery. That house was described as ruinous and in c. 1807 it was replaced by a new two-storey house with attics, having a three-bay front with a false doorway, and an entrance and a kitchen wing at the rear. (fn. 245) In 1956 a new house was built to designs by V. A. M. Barton of Bridgwater south of the existing vicarage. (fn. 246) The former vicarage, known as Goldcleeve, with windows altered in brick and mansard added in the mid 19th century, contained two re-used 18th-century chimney pieces.
CHURCH LIFE
John Hody (d. by 1440), vicar 1394-1400, the illegitimate son of a Woolavington hayward Adam Hody and Isabel Gilbert, was a distinguished ecclesiastical lawyer. He was buried in Woolavington. (fn. 247) Richard Viel, vicar 1465-85, a former prior of the Carthusian house at Witham and bishop of Killala (Ireland) 1459-61, who in 1480 let his vicarage for 3 years to a yeoman and Thomas Hawkins. He reserved the right to use part of the house and be provided with food and drink. Hawkins became vicar in 1486. (fn. 248) Richard Lynke, vicar 1498-1503, was a friar minor. (fn. 249) William Hody (d. 1518), instituted in 1503 while only a deacon, was licensed in 1507 to hold Otterhampton in plurality. (fn. 250) Robert Pitman, deprived for marriage in 1554, had preached no sermons for three years. (fn. 251) His successor was not resident in 1557, the curate was not lawful, and the church lacked tabernacle and mass book. (fn. 252) Pitman was restored although not licensed to preach. (fn. 253) Communion was only received once a year c. 1594 and in 1605 there was neither a communion cloth nor a pewter pot. (fn. 254) In 1612 fives was played in the churchyard and bowls in the parish on Sundays and holydays. (fn. 255)
Vicars were resident in the 18th century (fn. 256) and there were up to 30 communicants c. 1780. (fn. 257) In 1815 and 1827 Sunday services alternated morning and evening with Puriton. (fn. 258) Stephen Long Jacob, instituted 1801, was also in 1835 incumbent of two parishes in Kent. (fn. 259) In 1840 and 1843 communion was celebrated four times a year and there was one Sunday service, alternately morning and evening, with sermon. The incumbent was resident and employed a curate. (fn. 260) In 1879 a stipendiary curate was appointed to live at Puriton. (fn. 261) By 1895 there was a choir (fn. 262) and in 1901 an organist, a choirmaster, and a church cleaner. (fn. 263) In 1903 there were two services every Sunday and c. 15 Easter communicants, but in subsequent years Sunday communion was often cancelled for lack of a congregation. Numbers of Easter communicants rose to 39 in 1934 and to 69 in 1950 when communion was held weekly. By 1960 there were three Sunday services and c. 100 Easter communicants. (fn. 264) During the 1940s weekday services were held on the new estate for ordnance factory workers. (fn. 265)
In 1500 John Biconyll gave 10 marks to the church to buy cows to maintain an obit for himself, his family, and others. (fn. 266) Our Lady's store was left a cow in 1535 (fn. 267) and a cow was withheld from the church in 1554. (fn. 268)
CHURCH FABRIC
The church of St. Mary, so dedicated by 1546, (fn. 269) is built of coursed rubble with a slated roof; the workmanship is very coarse. The plan comprises a short nave with south porch, north door, and north chapel, and a long chancel with north vestry. The nave, probably entered from the north and with large masonry blocks on that side, may be of the 12th century. In the 13th century the chancel was rebuilt and the north chapel, which has renewed lancets and a trefoil-headed piscina, was added. The head remains from a 13th-century effigy of a priest. The tower was built in the early 14th century. Although inside it has a crude chamfered arch on each side, now blocked, it seems never to have been a crossing tower, (fn. 270) and on the west side is the scar of a demolished building, probably the chapel built by the Hody family before 1441. (fn. 271) In the 15th century the south side of the nave was much rebuilt, the south porch added, and the chancel east window was renewed; the font is also 15th-century. The tower has been refaced and its upper stages rebuilt, perhaps in the 17th century. The west chapel may have been used as a vestry in the 16th century. (fn. 272) A new vestry had been built by c. 1780 on the north side of the chancel; (fn. 273) it had been rebuilt by 1826. (fn. 274) Excavations c. 1998 (fn. 275) revealed footings west of the chapel and possible steps down to a vault. In c. 1780 there was a singers' gallery at the west end of the nave. (fn. 276) The church structure has not been changed since the earlier 19th century. (fn. 277) In 1872 restoration included removal of box pews in the chancel and reflooring the whole church. (fn. 278) In 1916 the chancel was restored and a reredos removed. (fn. 279) In 1936 the nave roof was rebuilt after a fire and a turret flèche added. (fn. 280) An amenity block was added to the north side of the nave c. 1998 and the north door was reopened as an entrance to it.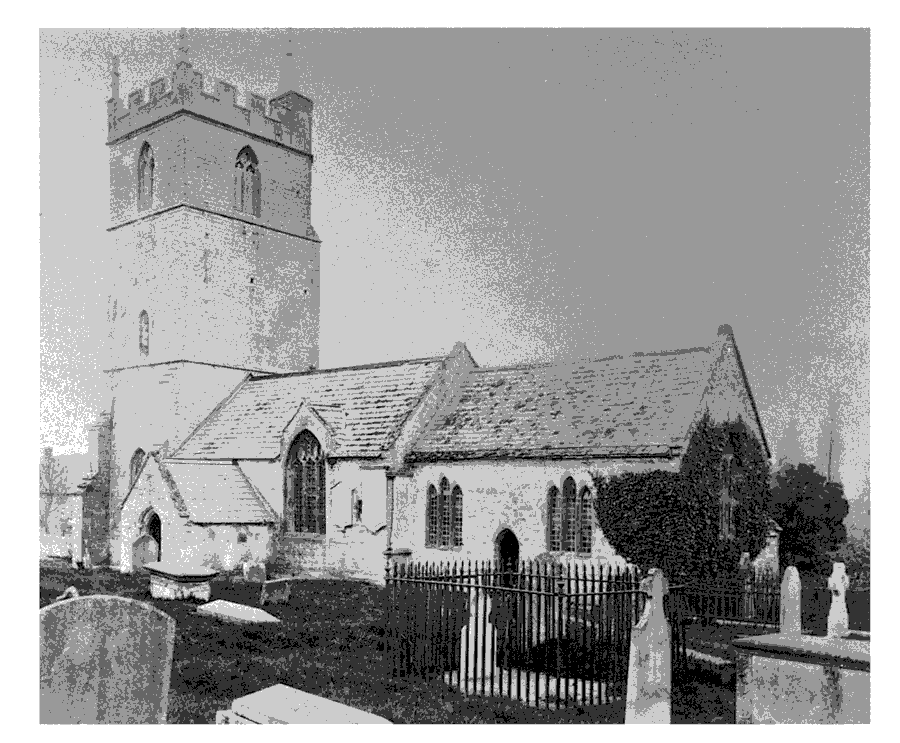 The eight bells include a medieval bell from the Salisbury foundry, one by Semson, one by George Purdue dated 1611, and two of 1691 probably by Thomas Purdue. (fn. 281) A sixth was added in 1953 and in 1986 two further bells from the Whitechapel foundry brought the peal to eight. (fn. 282) The church plate includes a cup with the Taunton mark dated 1678 and several 18th-century pieces. (fn. 283) The registers date from 1694 but a copy register for 1643-67 survives with the bishops' transcripts. (fn. 284)
CHANTRIES
Before 1285 Gilbert le Waleys of Woolavington built a chapel in the churchyard in which he established three chantries. In 1285 St. John's hospital, Bridgwater, undertook to maintain one and from 1297 Cleeve abbey the other two. (fn. 285) The chapel was originally dedicated to the Blessed Virgin Mary and the chantries were also named after her or the founder, but between 1422 and 1432 they took the name of the Holy Trinity (fn. 286) and were numbered one to three. (fn. 287) The first, maintained by St. John's hospital, was from 1489 named after St. John the Baptist. (fn. 288) The second retained the name of the Trinity, and the third from 1481 was named after St. Katherine. (fn. 289)
About 1327 right of patronage was contested between Agnes, daughter of Gilbert le Waleys, and Philip Mansel, also claiming to be Gilbert's heir. They agreed to present at alternate vacancies (fn. 290) but from 1327 until 1432 Thomas Trivet of Durborough and his heirs were patrons. (fn. 291) The Hody family presented thereafter with one exception, in spite of the claims of Roger Pym and his wife Joan, a Waleys heiress. (fn. 292)
The foundation agreements gave the chantry priests £8 6s. 8d. a year, 13s. 4d. for a lamp and repairs to the chapel, and 8 qr. of corn. (fn. 293) The grain render appears to have been lost by 1535 but Cleeve continued to pay the full amount agreed. Also by 1535 the chantries received £8 a year from the Hody family out of land at Stogursey, (fn. 294) which had been given in the 15th century. (fn. 295) After the dissolution of Cleeve abbey and Bridgwater hospital the chantries received a total of £12 4s. out of the Court of Augmentations. (fn. 296) The original foundation was augmented in 1373 when the chaplains were given a house in which to live and 44 a. in Woolavington to celebrate daily for the soul of Thomas, son of Richard May, probably a relative of Thomas May one of the chantrists. (fn. 297) The land, held of the Audley manor of Woolavington, was worth £1 10s. 6d. in 1535 (fn. 298) and by 1548 included two tenements in Bridgwater. The total value, including ornaments, was £27 18s. 6d. (fn. 299)
William de Lym was licensed to be absent from his chantry to serve the dean and chapter of Wells in 1316 (fn. 300) and in 1402 Roger Melles, also a vicar choral of Wells cathedral, was allowed to take the income without saying the required prayers. (fn. 301) In 1404 it was said that services had ceased for three years. (fn. 302) In 1548 there were three chantrists and only two chalices; the third was in the possession of William Hody. Among the other goods were two bells and eight old pairs of vestments. (fn. 303) The Crown retained ownership of the chapel until 1563 or later. (fn. 304)
NONCONFORMITY
A Mrs. Pym did not take communion in 1604 and Anne Drurie was presented as a popish recusant in 1629. (fn. 305) Houses were licensed for worship by unknown denominations in 1819 and 1850. (fn. 306) Wesleyan Methodists built a chapel in the village in 1838 and there were six members in 1840. (fn. 307) In 1851 there were two resident Wesleyan preachers, one of whom appears to have become a Primitive Methodist by 1852 when his house was registered for worship by that denomination. That meeting house was recorded in 1867 but had closed before 1895. (fn. 308)
The Wesleyan chapel was registered in 1861. (fn. 309) It was said to have been rebuilt in 1865 in Gothic style for 100 people. (fn. 310) Between 1899 and 1936 there were two Sunday services but thereafter only one, although a monthly morning service was held in 1960 attended by c. 15 people. Attendance at evening service averaged 12. A separate Sunday schoolroom was built to match the chapel in 1910. It was no longer used in 1978. (fn. 311) From 1968 winter services were discontinued, and in 1979 it was decided to unite with Monmouth Street, Bridgwater, and to close the chapel. (fn. 312) Chapel and schoolroom, north of the church, were used for storage in 2000.
EDUCATION
A chantry priest is said to have kept a school in the late 14th century. (fn. 313) There was a school in 1623. (fn. 314) In 1819 40 children attended a free Sunday school and 50 children two day schools. (fn. 315) About 1825 the Sunday school taught 34 girls and 11 boys at the vicar's expense and 34 children paid to attend a day school. (fn. 316) Both schools remained open in 1833 with 64 and 56 pupils respectively. (fn. 317) A married couple kept a day school in 1841 and a teacher was recorded in 1851. (fn. 318) In 1842 there was a schoolroom on Crancombe Lane, southwest of the village, possibly built 1838-9. (fn. 319) In 1861 there was a parochial school, recently started, whose teacher lodged at the Vicarage. That was the only school in 1867. Vestry proposals in 1857 to use the 1old poorhouse in the churchyard for a school had been opposed and were again opposed in 1870-3 when there was said to be no support for a voluntary school. (fn. 320)
A School Board was formed in 1874 (fn. 321) and a school was built in 1876 on land next to the Vicarage with two classrooms and a teacher's house in Tudor style with carved bargeboards. It opened with 78 children on the books. Poor attendance was a serious problem in the 1890s and many children were classed as halftimers. (fn. 322) The school had 83 pupils in 1903 and it was enlarged in 1909, but numbers declined to 36 in 1925. From 1930 the school took juniors only but numbers rose, reaching 94 in 1945 following the building of the ordnance workers' estate, and the school took over the parish hall. (fn. 323) By 1975 there were 209 on the books and three temporary classrooms. A new school was built in 1976 south-west of the village. The infants remained at the old building until the new school was extended in 1988. In 1998 there were 178 children in the school and 40 in a nursery. (fn. 324) The original school and teacher's house became a private dwelling.
CHARITIES FOR THE POOR
Joan Jeanes (d. 1767) gave £50 for the poor not receiving relief. In 1771 the capital was invested in the Bridgwater turnpike trust but the income fell from £2 in the 1780s to 5s. in 1814. (fn. 325) Further charitable bequests were made by Betty Tucker of £100 in 1838, by John Morse (d. 1857) of £100, and by Robert Skinner in 1859. In the later 19th century the income from those charities, totalling c. £10, was distributed in cash or clothing tickets to c. 50 recipients. Between 1917 and 1950 most of the income was distributed as a bonus to members of the Woolavington Charities Savings Club; the rest was given to widows. The four charities were registered in 1961 as the Woolavington Charities, but had ceased to exist by 1997 when they were deregistered. .PB (fn. 326)