Pages 9-12
A History of the County of Somerset: Volume 8, the Poldens and the Levels. Originally published by Victoria County History, London, 2004.
This free content was digitised by double rekeying. All rights reserved.
WHITLEY HUNDRED
Whitley hundred, (fn. 1) named after Whitley wood in Walton, was formed, probably in the later 12th century, from two earlier units, Loxley and Ringoldsway, the first taking the name of the wood at the southern edge of Shapwick on the Polden ridge, the second from Reynold's Way near Butleigh wood. (fn. 2) The Loxley element, or rather the Glastonbury holdings within it, still remained in existence under the name of Polden until the 16th century: the hundred was mentioned in 1216; (fn. 3) a court was held for the area in 1302-3; (fn. 4) the abbot of Glastonbury's claims in 1284-5 to the soil of Sedgemoor were in the names of his estates of Polden, High Ham, and Sowy; (fn. 5) and a watercourse called Hardingsditch, one of the boundaries of Sowy manor, ran from High Ham manor to what was named Pendon manor in 1308 and Polden manor in 1516. (fn. 6)
By the later 13th century Whitley hundred comprised the parishes of Ashcott, Blackford, (fn. 7) Butleigh, Cossington, Dundon, Greinton, Holford, (fn. 8) Middlezoy, Moorlinch and its hamlets of Catcott, Chilton (Polden), Edington, Stawell, and Sutton (Mallet), Othery, Podimore (Milton), Shapwick, Street, Walton, Westonzoyland, and Woolavington. (fn. 9) By 1315 Cary (Fitzpaine, in Charlton Mackrell) and Wheathill had been added, (fn. 10) By 1327 Blackford was defined as Blackford, Holton, (fn. 11) and Lattiford, (fn. 12) and Dundon as Dundon and Compton. By 1364 Durborough (in Stogursey) had been added, to be linked by 1497 with Cossington. (fn. 13) High Ham and West Monkton were regarded as part of the hundred by 1569, when Blackford, Holton, Wheathill, and Cary Fitzpaine together formed a single tithing. (fn. 14) Wheathill and East Lydford manors together paid for release of suit to the hundred for the men of Wheathill. (fn. 15)
In the later 17th century the hundred seems to have been divided for practical purposes, High Ham being described as in the out hundred. (fn. 16) By the earlier 18th century it had become the 'most troublesome [hundred] to make the necessary collections in of any in the county' and had thus been divided into four units known respectively as the Polden and the Zoyland or Sayland divisions and the Middle and Eastern limits. The Polden division comprised Cossington with Durborough and Holford, West Monkton, the Moorlinch hamlets of Catcott, Chilton Polden, Edington, and Stawell, and Woolavington. The Zoyland division comprised High Ham, Middlezoy, Othery, and Westonzoyland. Ashcott, Greinton, Moorlinch, Shapwick, and Walton formed the Middle limit; and Blackford and Holton, Butleigh, Cary Fitzpaine, Compton Dundon, Podimore Milton, Street, and Wheathill the Eastern limit. (fn. 17) In the 1730s the divisions were alternatively named Western, Zoyland, Middle, and Eastern. (fn. 18) The hundred remained virtually unchanged until the earlier 19th century for fiscal purposes, (fn. 19) although between 1735 and 1771 an area called Millers Ditch was included. (fn. 20) By 1841 Cary Fitzpaine seems to have been excluded, some parts of Compton Dundon parish were said to be in Somerton hundred, and parts of Chilton Trinity were said to extend into Whitley. (fn. 21) Parts of High Ham had been in Williton and Freemanors since the 18th century if not earlier. (fn. 22)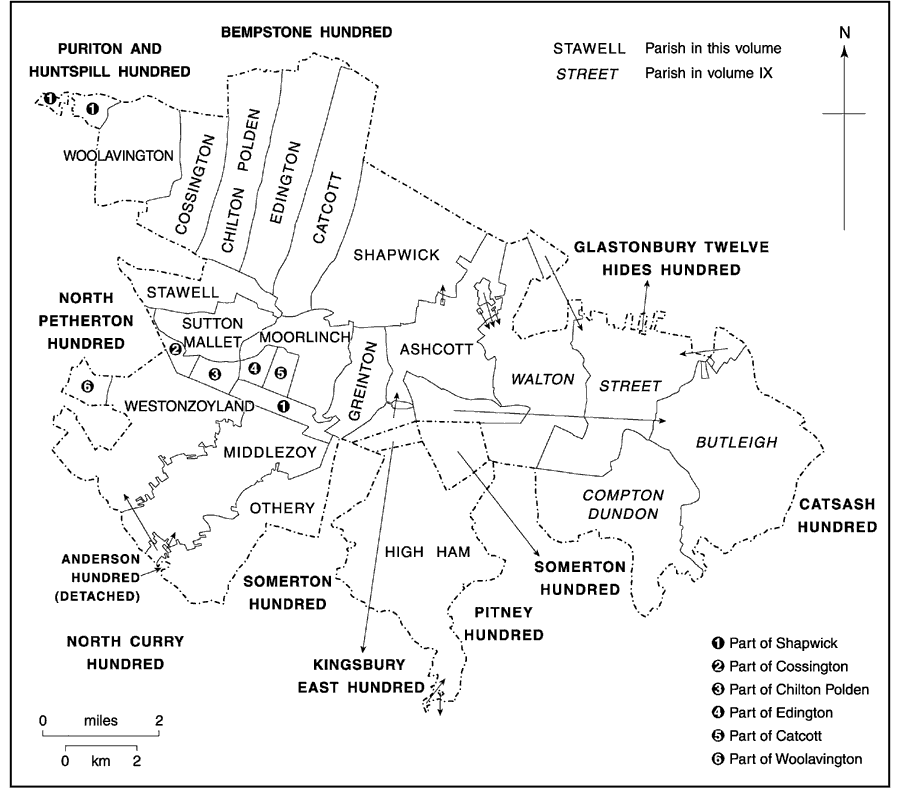 In the late 13th century the abbot of Glastonbury claimed to have had the return of writs and estreats of the hundred from time immemorial, and that he held the hundred of the Crown at fee farm for 50s. a year. (fn. 23) The second claim was justified only after 1266 when Walter Giffard, bishop of Bath and Wells 1265- 6, quitclaimed the rights of feudal lordship inherited from his predecessors Savaric and Jocelin when they held the abbacy. (fn. 24) In practice the abbey had been regarded as owner of the hundred since c. 1234. (fn. 25) The abbey retained possession until 1539 when the hundred passed to the Crown. In 1547 it was granted to Edward Seymour, duke of Somerset, (fn. 26) but reverted to the Crown on his attainder. In 1553 it was granted to Sir William Petre, but he exchanged it for other property with the Crown in 1554. (fn. 27) It was leased for 21 years from 1565 to Thomas Bryskowe, (fn. 28) in 1583 to Thomas Symcox, and in 1592 to Symcox, his wife, and brother. (fn. 29) In 1611 the fee was sold to Sir Richard Grobham and John Howe to be held of East Greenwich. (fn. 30) In 1617 they sold to the lessee Thomas Symcox, by that date lord of Butleigh, (fn. 31) and ownership thereafter descended with Butleigh manor. (fn. 32) Thomas Symcox the younger sold his mortgaged estate in 1653 to John Webb (d. 1672), then of St. Martin's in the Fields, London, (fn. 33) and it passed to John's son James (d. 1690), to James's widow Catherine, and to their son John. (fn. 34) The younger John died in 1712 and his mother retained the hundred as part of her jointure. (fn. 35) John's daughter, also Catherine, was lady of the hundred in 1736 and held jointly with her husband Thomas Medlycott Riggs in 1737. She died in 1738 and devised the hundred to James Grenville. (fn. 36) He was succeeded in 1783 by his elder son, also James (cr. Baron Glastonbury of Butleigh 1797, d. 1825), who held courts for the hundred until 1821 or later. (fn. 37)
Court rolls for the hundred survive for 1310-11, 1315, 1364-5, 1418, 1535-7, (fn. 38) and 1622, (fn. 39) estreat rolls for many years between 1669 and 1804, (fn. 40) and accounts from 1281-2 (or 1298-9), (fn. 41) 1302-3, 1304-5, 1311-14, 1539, (fn. 42) and 1658-1821. (fn. 43)
The abbot had return of writs and estreats, pleas vee de naam, gallows, and assize of bread and ale. By grant of Henry III he and his men were quit of tourns and aids. (fn. 44) Owners of Compton Dundon held their own assize of bread and ale from c. 1240 but their men were still obliged to attend the hundred court. (fn. 45) In the Middle Ages the abbey held tourns at Hockday and Michaelmas and monthly hundred courts or law hundreds, and in the mid 1530s seems to have assumed some business from manor courts including cases of debt and trespass. (fn. 46) The monthly courts, known as county courts, continued within the hundred rather than being transferred to the county clerk until 1574 or later, (fn. 47) but by 1622 the owner was only holding a court leet with view of frankpledge for the hundred twice a year. (fn. 48) Twiceyearly courts continued until 1821 or later. (fn. 49)
The accounts before 1314 record income from the Hockday and Michaelmas tourns and any continuation sessions, and expenditure in the form of pardons. The last account notes payments of perquisites and common fines at the Hockday and Michaelmas tourns and perquisites at the monthly hundred courts. (fn. 50) By the early 18th century income came from certum or common fines, essonia or essoin pence, and plegii or post money. (fn. 51) Business of the courts apart from private actions included, principally, breaches of the assize of ale and millers charging excessive toll. Regular presentments to the court concerned repairs to causeways, watercourses, hedges, fences, and gates, bridges, butts, and blocked footpaths, and there were occasional references to assault, card-playing, light bread, and dirty meat. Viewers of presentments were appointed to ensure satisfaction.
In the 13th and 14th centuries the hundred court was presided over by the Glastonbury abbey cellarer and steward. (fn. 52) In the earlier 16th century the chief steward of the abbey presided with three constables and a jury of 14 over cases of debt and trespass. (fn. 53) The Crown appointed a chief steward in 1553 (fn. 54) and a steward presided until the early 19th century.
A hundred bailiff kept accounts for Glastonbury abbey. (fn. 55) From 1545 the Crown-appointed hundred bailiff was also bailiff of Ashcott and other former Glastonbury abbey manors. (fn. 56) A collector was appointed in 1546. (fn. 57) A hundred bailiff continued to be appointed until the later 18th century, but fines were accounted for by the steward. (fn. 58) In the earlier 16th century there appear to have been three constables (fn. 59) and by 1622 four, (fn. 60) presumably one each for the divisions or limits into which the hundred was divided by the early 18th century. (fn. 61) Constables were chosen in rotation within their division in the 18th century, but High Ham, West Monkton, Durborough, and Holford were not involved. (fn. 62)
Ashcott manor provided oats for the steward's horse in the mid 14th century and paid expenses of cellarer, steward, and clerk in the 15th. (fn. 63) The connexion with Ashcott court was retained in the 19th century: inhabitants of Greinton paid to that court or to the hundred leet court the collection called Post and Sine or Common Fine. (fn. 64)
A court house for the hundred stood by 1326 on the boundary between Ashcott and Walton. (fn. 65) It was still standing in 1793 (fn. 66) but only its ruins were visible in 1889. (fn. 67) By 1713 the court met in the building in Ashcott alternatively called the Castle inn and Piper's inn. (fn. 68)