Pages 165-198
A History of the County of Somerset: Volume 9, Glastonbury and Street. Originally published by Victoria County History, London, 2006.
This free content was digitised by double rekeying. All rights reserved.
STREET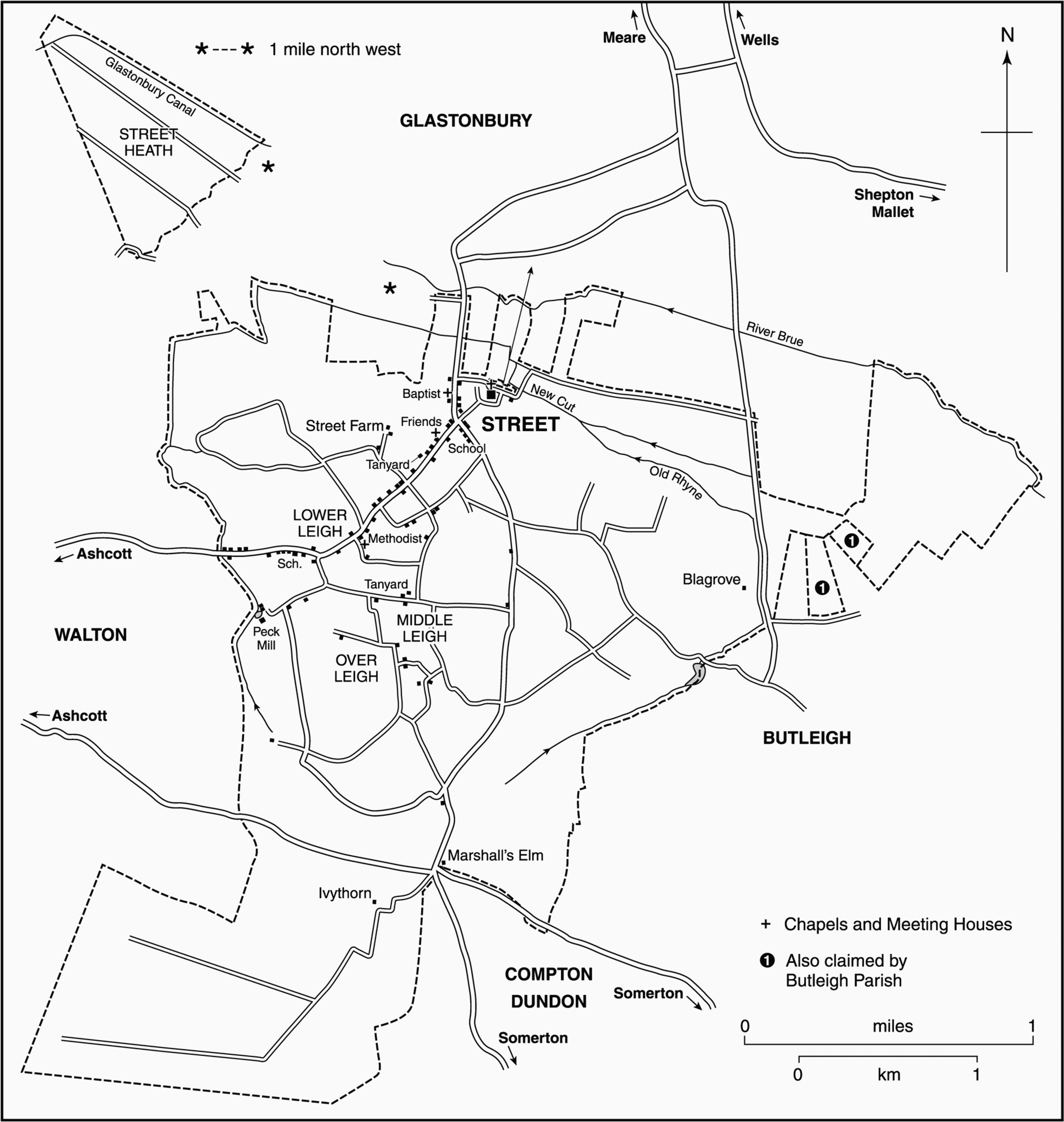 The name Street occurs in 1168 (fn. 1) and the parish was probably named after either the Roman road which formed the southern boundary of the manor along the top of Ivythorn hill, or the paved causeway from Glastonbury. (fn. 2) The parish is irregular in shape measuring 5 km. from north to south and 3 km. from east to west at its widest point. Parts of the eastern and western boundaries follow streams, the western known as Chalwell brook or Ford stream. The ancient northern boundary with Glastonbury may have followed an earlier course of the river Brue; it was known as the Old Rhyne and was diverted in the early 19th century. (fn. 3) Inclosure of moors in the mid 17th century and the late 18th century established limits in the south-west, north-west, and northeast, and in 1842 the parish measured 2,913 a. (fn. 4) Alterations to the boundary with Glastonbury in 1883–4 and 1894 took the parish north to the Brue. In 1933 part of Sharpham civil parish was absorbed and small areas of moor in the east were transferred to Butleigh. (fn. 5) The present civil parish covers 1,167 ha. (2,884 a.) (fn. 6)
Excluding the moors, the parish lies mainly above 15 m. (50 ft.), rising gently south to 62 m. (203 ft.) on Ivythorn Hill, given to the National Trust in 1919, then dropping steeply to Sedgemoor. (fn. 7) The moors to the north and south consist of alluvium and some peat. Street lies on Lower Lias clay but Ivythorn is on Keuper marl, the two areas divided by a narrow band of Rhaetic clay. (fn. 8)
The lias has produced fossils especially ichthyosaurs. (fn. 9) A plot in the heath was bought in 1923 as a nature reserve. In 1983 Street Heath was designated a Site of Special Scientific Interest. (fn. 10)
Communications
The main road from Glastonbury, until the late 12th century entering the parish near Street church, (fn. 11) and perhaps causewayed, (fn. 12) soon afterwards divided at Street Cross, where the foot of a cross stood in 1444. (fn. 13) Part turned south-west for Taunton and Bridgwater, later forming High Street, the main shopping street of the town. The route was turnpiked by the Wells trust in 1753. (fn. 14) Part ran south-south-east from Street Cross along Portway to Marshall's Elm and across the southern boundary. In 1675 it was part of the route from Bristol to Dorchester and was turnpiked by the Langport, Somerton, and Castle Cary trust in 1753. (fn. 15)
Cross routes included the Cock road along Ivythorn hill, part of the Roman route between Ilchester and Crandon Bridge. In 1399 it had been endangered by quarrying and by 1515 its course lay south of the manor boundary. (fn. 16) It formed part of the LondonBarnstaple road in the 17th century (fn. 17) and was turnpiked by the Langport, Somerton, and Castle Cary trust in 1778 but had been disturnpiked by 1857. (fn. 18) Further north Portway Lane ran eastwards through Middle Leigh and across Wootton Ford (fn. 19) and until 1818 continued to Butleigh and Barton St. David. (fn. 20) North of Street village, where a tollhouse was built and still stands, (fn. 21) a route ran eastwards across the moors to Baltonsborough (fn. 22) and an alternative route to Glastonbury. (fn. 23) In 1968 a by-pass north-west of the town took traffic from High Street. (fn. 24)
Settlement, Population And Buildings
The Rural Parish
Worked flints and Iron-Age or Roman pottery have been found on the eastern edge of the parish. Two Roman villa sites, near Ivythorn and near Marshall's Elm, were recorded by the antiquarian Samuel Hasell in the 1820s but only the latter has been accepted and scheduled as an ancient monument. The site of the church, unusually on the parish boundary, produced Roman pottery. (fn. 25)
Until its rapid development as a shoe-manufacturing town in the later 19th century, (fn. 26) Street was an area of scattered settlement. Lantokay, (fn. 27) recorded in 680, has been identified as Leigh, the name by which Street manor was known in 1086. (fn. 28) Leigh survives in Lower Leigh, Middle Leigh, and Overleigh. (fn. 29) It may be that in the Anglo-Saxon period there was no village but only a number of farmsteads and that the church was isolated. Before inclosure there were moors to the north-west and north-east, some converted to meadow in the Middle Ages; (fn. 30) the arable fields lay mainly to the east and south, although the latter was called the west field. (fn. 31) The names Leigh, Leigholt, Ivythorn, and Blagrove occurring in the south of the parish indicate a formerly wooded landscape presumably cleared before the late 11th century. (fn. 32) By the mid 12th century there was a large manor of Street, possibly centred on a grange on or near the site of the house, now known as the Grange, half a mile south-west of the church. (fn. 33) Ivythorn had developed as an independent estate, probably by 1152. (fn. 34)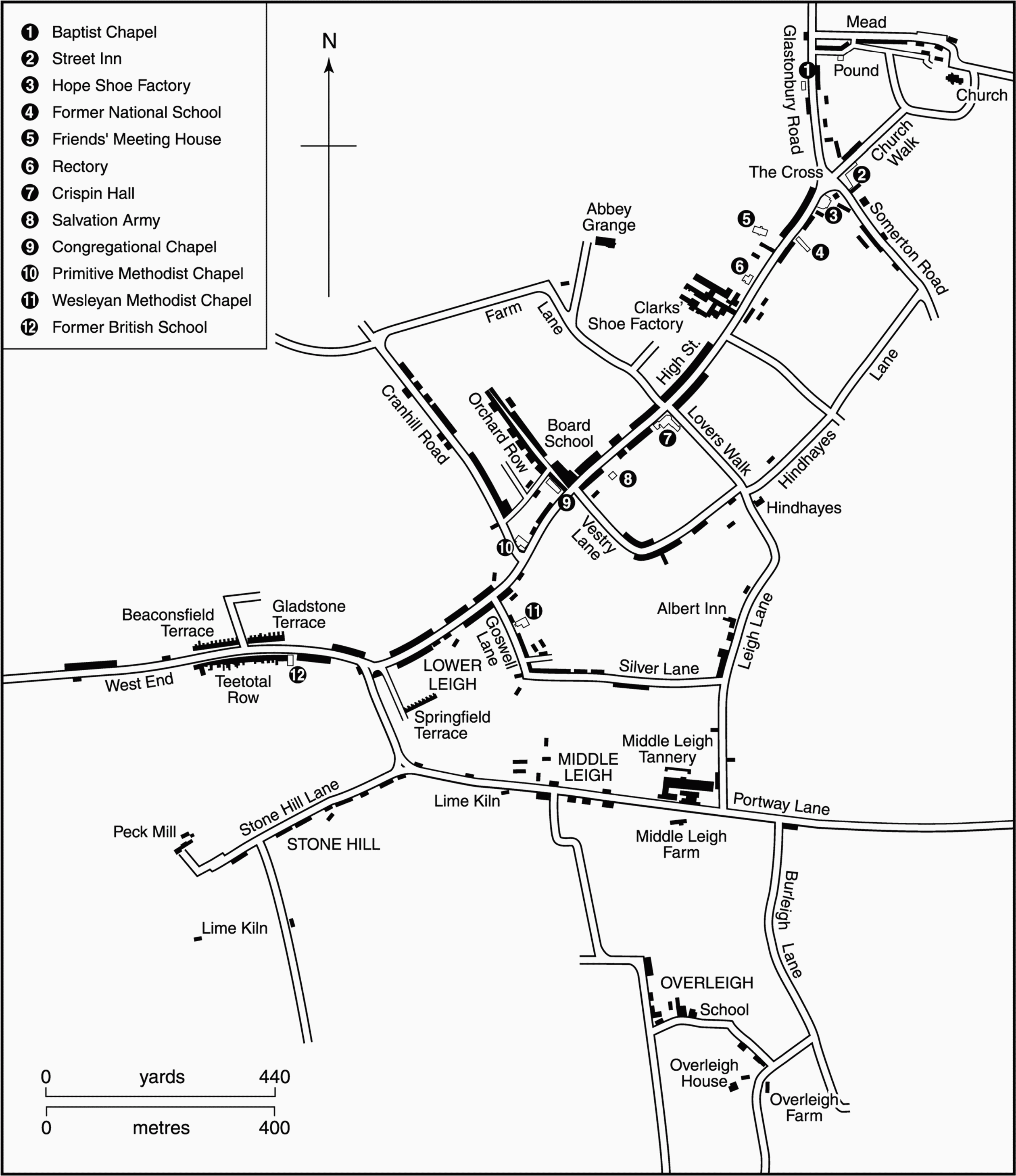 The settlement name Street, widely adopted by the 12th century, (fn. 35) was probably used for the area around Street Cross to the south and east of which are a few surviving 17th-century farmhouses. (fn. 36) By the early 16th century there were houses at Galpe or Gape Lane, (fn. 37) later Vestry Road, and Water Lane, probably both in the later Lower Leigh, and at Leigh, possibly the later Middle Leigh. (fn. 38) There were 56 households in 1563; (fn. 39) in 1671 33 houses were exempt from hearth tax. (fn. 40)
By the late 18th century buildings had spread south west along the road from Street Cross, and Street then comprised 61 houses; at the same time Lower Leigh had eight houses, Middle Leigh four including two 17thcentury farmhouses, and Upper or Over Leigh five. Elsewhere only two dwellings were noted, Ivythorn and Blagrove, (fn. 41) although they were joined early in the next century by Marshall's Elm Farm, at the crossroads in the south of the parish, and Hindhayes near Lower Leigh, which was said to have been built in 1807 for Joseph Clark who farmed c. 34 a. in 1842. A house at Overleigh had been divided into three by Richard King (d. c. 1821) and his son Robert built several more cottages, earning that part of Overleigh the name Kingstown. (fn. 42) Two of the terraces of cottages at West End, one known as Teetotal Row, were built before 1821. (fn. 43)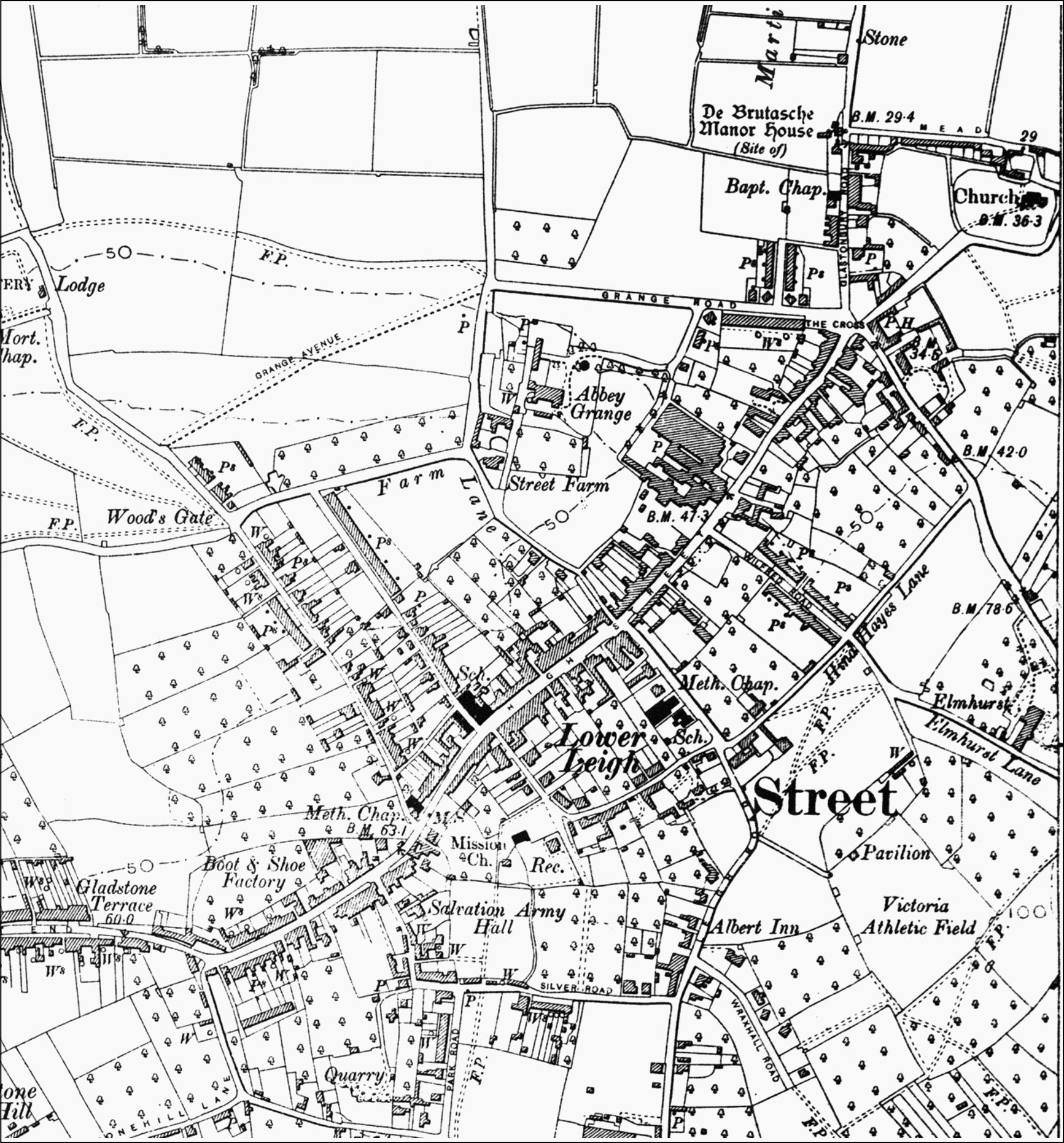 The oldest building to survive near the Cross may be the remains of the 16th-century Street farmhouse (later known as Street House and the Grange), which was aggrandized by the Strodes in the 17th century. (fn. 44) Most 17th- and 18th-century farmhouses and cottages, some perhaps with earlier cores, were of one-and-a half storeys and built of lias rubble and thatch; several seem to have had a three-room plan with a through-passage, following the usual local pattern. Some were well built of coursed blocks and had stone mullioned windows, for example the four-bayed Mullions south of the Cross and, to its east, Friends Charity farmhouse. (fn. 45) Those which lined Vestry Road at Lower Leigh and were considered to be picturesque were destroyed by fire in 1863. (fn. 46) The most substantial late 18th- and earlier 19th-century houses were of two storeys and three bays, built of coursed lias blocks and had clay pantiled roofs. Most, like the surviving Hindhayes and two farmhouses east of the Cross, were completely plain, although Hindhayes is distinguished by lower and slightly later one-bay wings. Goss House in High Street and Street Farm, the successor to Street farmhouse, (fn. 47) have slightly more sophisticated early 19th-century facades. Cyrus Clark's house adjoining his factory had the grandest classical exterior (fn. 48) apart from that of the Grange, which was also remodelled at the same period, when it was called Street House. (fn. 49)
The Town
The population rose steadily in every decade from 540 in 1801 to 1,219 in 1841, then by c. 250 in each decade to 2,514 in 1881. By the mid 19th century there had been considerable expansion of settlement and a small industrial town focussed upon High Street had started to emerge. There was a large increase in population in the 1880s and by 1891 the town had 3,535 inhabitants. Thereafter numbers rose gradually throughout the earlier 20th century to reach 5,299 in 1951, before once again growing more rapidly to reach 6,666 in 1961, 8,143 in 1971, and 9,563 in 1991. (fn. 50)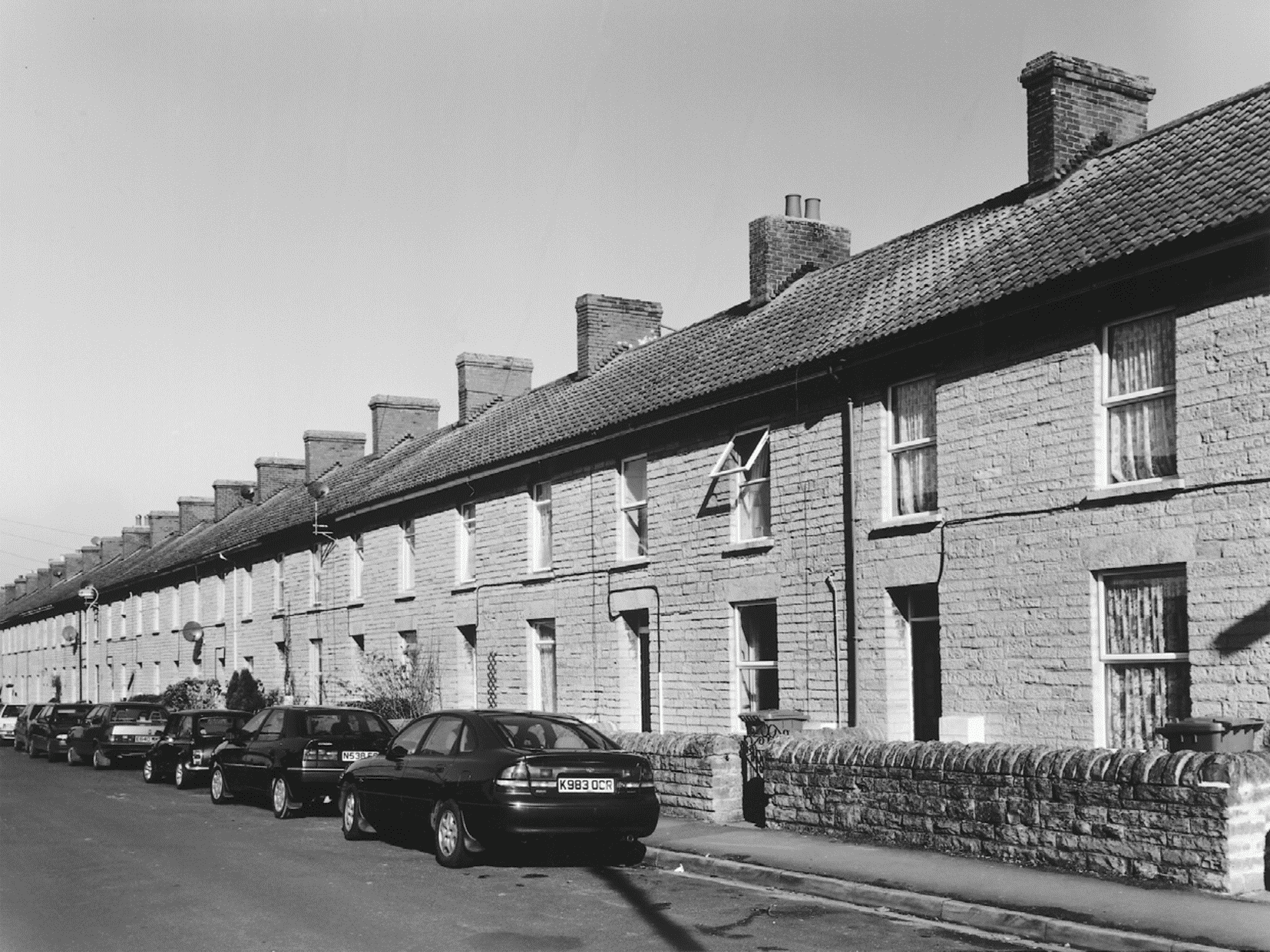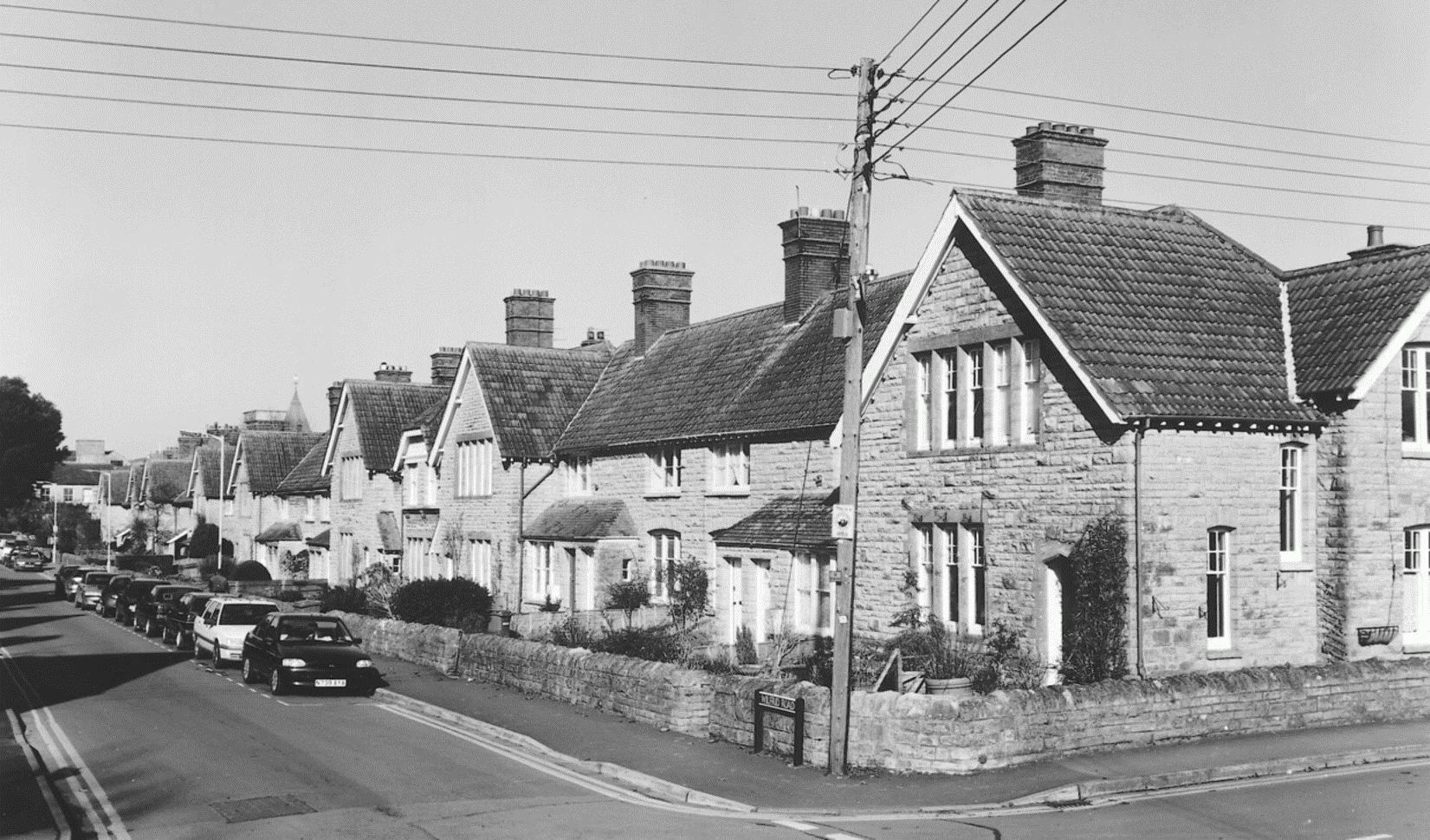 Philanthropic and Public Housing
By the mid 19th century there had been considerable expansion of settlement but the cottages built in the side lanes and alleys, the stoneworkers' houses at Stone Hill and the West End, and the squatter dwellings on the waste at Mead, west of the church, were cold, damp, overcrowded, and insanitary. Many houses had small backshops where shoeworkers worked in groups of six or more. (fn. 51) As late as 1891 there were a large number of three-roomed houses, apparently among the early to mid 19th-century terraces in the west of the parish, many of which survived into the mid 20th century. (fn. 52) Poor conditions probably led to the provision of housing by the Clark family. 'Superior cottages' were built in the 1850s in Somerton Lane, known in the 18th century as Whippys or East Lane, (fn. 53) followed by the development of new roads off High Street including Cranhill and Orchard roads. (fn. 54) They are lined with long rows of plain two-storeyed, two-bayed cottages, built of coursed lias with clay-tiled roofs and have rear extensions containing a well-lit shoemaker's workshop over a scullery. As late as 1885 orchards came up to the backs of most houses in Street. (fn. 55)
In 1883 Beaconsfield and Gladstone terraces were built nearby at West End. (fn. 56) From the 1880s spaciously laid out terraced houses of superior quality were provided for his workers by William S. Clark in Wilfrid Road due east of Clark's factory. Wilfrid and Cobden terraces, designed by the Norwich-based architect G. J. Skipper in 1885 and 1889 respectively, and Lawson Terrace of 1891 by Clark's nephew, William Reynolds, are picturesque compositions, each of up to 12 houses, in Old English cottage style. Their pantiled roofs and tall red brick chimneys contrast with walls of lias and Ham stone dressings. After the Grange estate was bought by the Clarks for housing development, Brutasche (1892) and Grange (1898) terraces were designed by Reynolds (fn. 57) in similar but simpler style and with large rear wings, probably for kitchens and bathrooms rather than workshops. They were built north-east of the Grange, followed by the Dovecots nearby in 1906. The plainer Barn Close (1913) was the work of the unqualified Samuel T. Clothier, who was Clark's son-in-law and clerk to the urban district council, for whom he designed in similar style the first local authority houses in Merriman Road in 1911–12. (fn. 58) From 1920 Street urban district council laid out streets of red brick and rendered houses between High Street and Middle Leigh, extending them in the next decade as far as Overleigh. (fn. 59) By 1974 the council had built 874 houses, and 150 bungalows for the elderly. (fn. 60) Other urban developments The village character of High Street changed during the 19th century to that of a small industrial town. Plain lias-built houses, mainly of two storeys and two or three bays, replaced older property or were built on new sites. Many buildings incorporated shops or were purpose-built with them, including 3-storeyed buildings in the High Street. By 1885 (fn. 61) both ends of the street were lined with such buildings and there were other villas and cottages north of the Cross on the road to Glastonbury. The middle section of High Street was transformed through the agency of the Clarks, who between 1829 and 1898 developed their premises from a small factory attached to a private house into a group with civic dignity, (fn. 62) as well as building the exuberantly styled Bear coffee house opposite and the Crispin Hall at the corner of Leigh Road. Leigh Road itself, a country lane on the line of Lovers Walk to Hindhayes, was made the civic focus and lined with public buildings. (fn. 63) Some High Street buildings were replaced on the same small scale in the later 20th century. In 1993 the conversion of factory premises to a shopping village opened up a large area north of High Street as part of the commercial centre. Middle Leigh was also expanded and transformed probably because of the presence of the tannery. (fn. 64) Public building in the later 20th century has taken place south-east of the church including the Strode College and theatre, Crispin Comprehensive school, and new swimming pool, and the new Strode Road, creating a modern civic focus near the church comparable to that developed along Leigh Road in the 19th century.
Many substantial private houses were built during the 19th century, notably for the Clarks, who at first remained near their factory where Netherleigh, a plain stone-faced villa, was built in 1835 for James Clark, and Greenbank, a farmhouse south of the factory, was altered to a gabled villa for William S. Clark, probably after 1866. (fn. 65) The building of Elmhurst, a gabled L-plan house in a large garden, designed in 1858 by J. F. Cotterell for Cyrus Clark, marked the removal of some of the family to more rural surroundings in the east of the parish. Elmhurst was followed in 1889 by nearby Millfield, a picturesque composition by G. J. Skipper for William S. Clark, close in design and materials to the workers' houses that Clark had built in Wilfrid Road. (fn. 66) Whiteknights was built in 1900 by S. T. Clothier as a small country house for Roger and Sarah Clark on the site of the early 19th-century Overleigh farmhouse, (fn. 67) and has large grounds in which an Alpine-style gazebo survives.
Speculative development of private housing went hand-in-hand with the expansion of population in the later 20th century. The earliest phase, the laying out of Grange Road, opened up the Houndwood area for semi-detached housing development as early as the 1930s. Despite being severed from the rest of Street by the relief road in 1968 that area has seen further residential development, as has the Brooks area in the south-west. (fn. 68) In the late 20th century a large supermarket was built north-west of the relief road.
Social Life
An ale with music was held in 1621 (fn. 69) and a revel was held on Trinity Monday in the late 18th century. (fn. 70) The revel appears to have become a disreputable affair by the early 19th century and declined after the establishment of a popular Public Tea on the same day by the Teetotal Society. (fn. 71) There was a strong temperance movement in Street in the early 19th century reflected in the names Teetotal Row at West End and Teetotal orchard. (fn. 72) The Temperance Society was founded in 1831 but only banned spirits. It was replaced in 1835 by the Teetotal Society. A three-storey Temperance Hall was built in 1847 but was uneconomic and was let to a grocer. (fn. 73)
The Street and Walton friendly society, established 1833, was dissolved in 1863. (fn. 74) A club day with procession was held on the first Monday in June and mustered c. 150 members in 1838. (fn. 75)
From the later 19th century the Clark family, by then the major employer in Street, (fn. 76) did much to promote social activity partly inspired by their own interest in education and the arts, especially the theatre. They produced plays at home (fn. 77) and in 1845 John Clark (d. 1852) exhibited in London his clockwork machine for creating Latin hexameters. (fn. 78) William Clark (d. 1925) and his son Roger (d. 1961) promoted education. (fn. 79) William also patronised architects including G. J. Skipper from Norwich and his own son-in-law S. T. Clothier. (fn. 80) Roger helped to secure the preservation of local historic buildings including Court House, Long Sutton, and Court Barn, West Bradley. He was the author of Somerset Anthology published after his death. Among entertainments he and his wife Sarah organized at their home, Whiteknights, was a concert arranged by Imogen Hoist in 1940. (fn. 81) Evelyn [Pechey] Clark (1886– 1970) was an archaeological writer and author of Exploring Old Buildings (1952) for children. (fn. 82) In the 1940s Clark's factory had a style centre, presumably a collection of shoes, and from 1951 a museum. In 1974 a public museum of shoes and shoe making opened in former factory offices. (fn. 83) Works of sculpture sited in the grounds of C. and J. Clark include Henry Moore's Sheep Piece and several metal sculptures by Philip King.
The Street Brass Band was established before 1870, probably as a factory band, and in 1905 was a reed and brass band. (fn. 84) The Street Club and Institute, usually known as the Crispin Hall after its principal room, was opened in 1885 and was an early work of George Skipper of Norwich for William Clark. It turns the corner of High Street and Leigh Road with picturesquely composed six- and seven-bayed ranges of two storeys with attics in a free Tudor style. As well as the main hall there were smaller rooms, a library, a museum, and a gymnasium. In the 1920s and 1930s the Street Players performed there including works by Rutland Boughton and Laurence Housman. Circus performances were held there and it was a British Restaurant during the Second World War. (fn. 85) By 1986 the Crispin Hall had reopened after closure as a craft centre with the addition of a community centre by 1996 and a small indoor market. In 1924 the library moved from the Institute to the new Wren-style premises in Leigh Road designed by S. T. Clothier and was opened by Charles Trevelyan, formerly Minister for Education. In the later 20th century it was administered by the County Library service and remains open. Writer and engraver Clemence Housman (1861–1955) and her brother the novelist and playwright Laurence Housman (1865–1959) built Longmeadow, Overleigh, c. 1919 to be near their friends Roger and Sarah Clark at Whiteknights. In 1965 most of Laurence's collection of books, manuscripts, and drawings was given to Street library. (fn. 86) A cinema, known as the Street Playhouse, was built in Leigh Road in 1920. Later renamed the Maxime it closed after 1986 and became a nightclub. In 1963 the Strode theatre was built at the college site in Church road. (fn. 87) In 1999 it formed part of Strode College, was a regional film theatre, and was associated with local theatrical organizations including Strode Opera.
Private essay societies compiled the Street Budget (1829–55) and the Village Album from 1857. The Village Album society continues to meet annually. (fn. 88) There was a newspaper reporter in 1891 (fn. 89) and C. and J. Clark issued several newspapers including the Street Comet by 1891, the Monthly News Sheet from 1924, and by 1962 the Clark's Courier. (fn. 90)
The Victoria recreation ground was laid out for the jubilee in 1897. (fn. 91) By 1939 there were bowling, tennis, and football clubs (fn. 92) and by 1979 the Victoria Club had facilities for cricket, skittles, and squash. (fn. 93) In 1923 Merriman Park was created (fn. 94) and in 1936 the Greenbank open air swimming pool, with a simple modern entrance range, was opened under a bequest from Alice Clark (d. 1934). (fn. 95) The Chalet on Ivythorn Hill, built as a summer house for the Impey family in 1914, was used as refreshment rooms between 1923 and 1931 when it was leased to the Youth Hostel Association. The Chalet Trust, under a gift of 1922, provides holidays for those of limited means. (fn. 96)
National Events
In 1642 there was a serious skirmish near Marshall's Elm between a troop of Royalist horsemen under Sir John Stawell of Cothelstone and c. 600 Parliamentary foot mainly from Taunton sent under orders from William Strode (d. 1660), owner of the Street demesne estate. The Royalists succeeded in ambushing and charging their opponents, driving them towards Somerton. There were complaints concerning the treatment of prisoners and Stawell's refusal to bury the dead, said to number 7 although a further 18 or 20 died of their wounds. (fn. 97) Seven local men were involved in the Monmouth rebellion, one of whom was said to have been forced to drive baggage for the rebel forces and two of whom were transported. William Strode sent horses and money to Monmouth but was pardoned in 1686. There is no evidence that any rebels were executed in the parish but some remains were displayed. (fn. 98)
MANORS AND ESTATES
About 680 Bishop Haedde gave the abbot of Glastonbury three cassati in Lantokay which has been interpreted as Leigh. (fn. 99) By 1168 the abbey's main estate was known as Street and the name Leigh was reserved for a smaller holding in the west of the parish, (fn. 100) although in 1189 many Street tenants were named as of Leigh. (fn. 101) By the late Middle Ages Street manor covered most of the parish apart from Ivythorn in the south which is separated from the rest of the parish by a ridge of high ground.
Street Manor
The manor later known as Street is probably to be identified with the Domesday manor of Leigh, held by Glastonbury abbey in 1086 although one hide was said to have been thegnland in 1066. (fn. 102) The abbey continued to hold Street manor until the Dissolution when it passed to the Crown. (fn. 103) Granted to Edward, duke of Somerset in 1547, (fn. 104) following Somerset's attainder it was let to John Rogers in 1552. (fn. 105) It appears that Rogers was either a trustee of Robert Hyett or had assigned his lease to him. Hyett could not pay the rent and assigned the manor to John Ewens. (fn. 106) Although the capital messuage and demesnes were included in grants and leases they were still held by Robert Hyett who had farmed them since 1530 (fn. 107) and secured the reversion in 1554. (fn. 108) The manor and the demesne estate remained separate until reunited by William Strode in 1711. Even when united the lordship continued to be distinguished from the house and former demesne and was eventually sold off in 1832. (fn. 109)
Ewens transferred the manor to Richard Marshall of Ivythorn who held a court for Street in 1566. Marshall assigned the manor to Thomas Wilson who had acquired a reversionary lease from the Crown in 1560. (fn. 110) Before 1571 Wilson transferred it to Lionel Ducket, a London alderman. The validity of the assignment to Marshall was disputed in 1571 but Ducket retained possession which had passed to his widow Ann by 1589. (fn. 111) In 1591 the manor was sold to trustees for Sir Christopher Hatton who died the same year leaving as his heir his nephew Sir William Hatton or Newport. (fn. 112) Street appears to have been sold immediately and three quarters of the manor had been acquired by Francis Whittington by 1592. Francis (d. 1605), who already owned Ivythorn, was succeeded by Andrew, son of his son Henry (d. 1603). (fn. 113) Meanwhile in 1598 James Hooper died in possession of a quarter of the manor which passed to his nephew Henry Hooper who in 1604 sold it to Simon Court. (fn. 114) It has not been traced further and was probably acquired by the Whittingtons.
Andrew Whittington (d. 1634) was followed in succession by his son John (d. 1667) (fn. 115) and by John's daughter Susanna and her husband Edmund Arundel. (fn. 116) Susanna's brother John released his claim in 1687 but joined with his sister and brother-in-law in a mortgage of the manor the same year. (fn. 117) Following Edmund's death in 1697 and in accordance with his will Susanna and her daughters sold land representing over half the rental and in 1699 conveyed the manor to John Whittington and his daughter Sarah, wife of Thomas Rook. (fn. 118) In 1700 the manor was settled on Thomas Rook who appears to have sold it to Nathaniel Wade of Bristol before 1704. (fn. 119) In 1706 Wade sold off more land but before 1711 he sold the manor to William Strode (d. 1747). Strode settled it on himself and his wife Jane Langhorne in 1728. By 1753 the manor was in the hands of John Stillingfleet, who claimed to hold in fee simple and conveyed it in that year to Sarah Langhorne and her nephew Joseph Brown, devisees of Jane. The same year Sarah made Joseph her heir. (fn. 120) By his will dated 1789 Joseph left the manor in trust for sale, but although his trustees offered his whole estate (720 a.) in 1791 (fn. 121) much remained unsold including the lordship. In 1830 the remaining land was sold but again the lordship failed to find a buyer. In 1831 it was settled on a surviving heir, also Joseph Brown, to facilitate sale. (fn. 122) In 1832 it was sold with a coppice to Sir Alexander Hood. (fn. 123) He already held a farm at Middle Leigh given to him in 1815 by his mother Elizabeth Periam, who had inherited it from her great grandfather John Pope (d. 1720). Sir Alexander bought Blagrove farm c. 1831 (fn. 124) and continued to acquire land in Street to enlarge his Butleigh Wootton estate, with which the lordship of Street descended. (fn. 125)
Demesne Estate
In 1559 Robert Hyett settled the capital messuage and demesnes, later known as Street farm, Street House, the Grange, or Abbey Grange, on his marriage to Ann Court or Parrys but died later that same year leaving a son Thomas who conveyed the estate to Sir Thomas Dyer. (fn. 126) Sir Thomas (d. 1565) left the Street demesnes to his youngest son Thomas, a minor, whose older brothers appear to have acted as his trustees. (fn. 127) Thomas (d. 1608) was succeeded by his son Alexander (fn. 128) who in 1628 sold the estate to William Strode (d. 1660) and his son William (d. 1695). William (d. 1747), son of the last, who had also bought the manor but lived at Barrington and was childless, (fn. 129) mortgaged the estate in 1741 to William Howe. Following the death of Strode's second wife Jane in 1748 her devisees, Sarah Langhorne and Joseph Brown, secured court orders for the reconveyance of the estate and in 1755 William Howe's widow Catherine and brother John Howe conveyed it to Joseph Brown, owner of Street manor. Joseph (d. 1789) was succeeded by his son Edward (d. 1808) who left his wife Mary (d. 1813) and daughter Mary (d. 1823) life interests in the house and farm (c. 470 a.). The younger Mary in her will of 1822 divided the property mainly between her cousins Charles Brown, who was left the house and grounds (33 a.), and the Revd. John Brown Hawkins, who received the stables, farm buildings, and 283 a. (fn. 130) Charles Brown died c. 1829 and John and William, two of his brothers and heirs, in 1830 after which Street House was auctioned by the surviving brother Joseph. The successful bidder was George Tuson (d. 1833), whose executors sold it in 1839 to John Weston Peters. In 1855 Peters sold it to Charles Wood (d. 1859) whose daughter was Frances Harriott Wood (d. 1930), writer of local tales. (fn. 131) Charles left it to his wife Lydia for life. In 1878 Charles Provost bought it from the Revd. R. N. Wood. In 1890 Provost, who had renamed the house Abbey Grange, sold the house to James Clark and, known as the Grange, it remained part of the Clark estate in 1999. (fn. 132) The Revd. Brown Hawkins settled his share in 1822 on his wife Susannah Whitmore who in 1844 married the Revd. Thomas Ainsworth and died c. 1869 when her estate comprising a new house, Street Farm, and 328 a. was auctioned. Most of it was acquired c. 1888 by James Clark. (fn. 133)
Manorial Buildings
A hall and chamber were mentioned in the early 14th century (fn. 134) but no house was recorded in 1499 when the demesne was farmed out. (fn. 135) By 1515 a house had been built for a farmer (fn. 136) and in 1565 Thomas Dyer referred to his farmhouse. (fn. 137) Dyer's building, later known as Street House or the Grange, may be incorporated at the north end of the present rendered house of two storeys and attics, which was west of the High Street and was largely built during the 17th century by the Strodes. They are said to have placed over the entrance a bear, representing the Barnard family whose wealth they inherited. (fn. 138) In 1656 the building was described as a mansion house with a brewhouse, dairy, stables, and a 'fair' barn. (fn. 139) The 17th-century fabric of the house starts with the north range of three or four bays, to which two doorways, one ex-situ, belong. A parallel three-bayed south range with a vaulted cellar seems to have been added and then east extensions made to both ranges. (fn. 140) The alterations created a double-pile house, from which a few mullioned and transomed cross windows with ovolo mouldings survive on the north and west. A tower in the middle of the house was mentioned in the 1780s (fn. 141) and an arch in the internal spine wall may have given access to it. Changes after 1790 included the insertion of sash windows and a north staircase lit by a Gothick window on the north side of the house, and the conversion of the barn to stables and coachhouse, which bears a date 1811. Probably before 1822 the Browns divided the house between a farmhouse, north, and their own home, which had dining, drawing, and breakfast rooms, study, seven bedrooms and domestic offices in 1828. (fn. 142) They were also probably responsible for remodelling the facades in neo-classical style, adding brick parapets and cement render to conceal the alterations and, possibly after 1821, making a symmetrical east range, which projects slightly to the south. (fn. 143) Its stone-columned east verandah, roofless in 1999, may have been added later. Between 1830 and 1833 George Tuson altered his share of the grounds, built lodges, and laid out a new drive, now partly Grange Road, to Street Cross. The former entrance to Street House was from a lane beside the Friends meeting house which appears to have led to the stables. (fn. 144) The house became a single dwelling after 1833 though dividing doors survived in the mid 19th century. (fn. 145) In the late 19th century the house was reroofed and given dormers to light attic rooms, and the south front was provided with mullioned and transomed windows, possibly replacing 17th-century originals. Other alterations, including the addition of a north-west laundry block in the 1890s, (fn. 146) were associated with changes of use after c. 1890 when the house ceased to be used as a residence, having been bought for the redevelopment value of its land. (fn. 147) The building first became a school, (fn. 148) and was subsequently a hostel, for Belgian refugees during the First World War, (fn. 149) and for Spanish refugees, mainly children, in 1937 and 1938, (fn. 150) and a sick bay for armaments workers, evacuees, and others until 1946. (fn. 151) In 1972 it was restored. In 1999 most rooms were still subdivided, as a result of former use by Clarks as a staff hostel and offices. (fn. 152)
Leigh
By 1189 the estate known as Leigh was one and a half hides, held of Street manor by Geoffrey de Meysey as mesne lord, possibly in succession to his father Ellis. (fn. 153) It may represent the hide which was said to have been thegnland in 1066. (fn. 154) Robert had succeeded Geoffrey by 1218 (fn. 155) and was followed by Grace de Meysey who c. 1263 gave Leigh to Sir Ellis de la Mare, her son by her first husband Nicholas de la Mare (d. by 1227). (fn. 156) In 1263 Leigh was claimed by Sir Ellis Cotele, Grace's son by her husband Richard Cotele (d. by 1253). (fn. 157) Sir Ellis de la Mare was succeeded by his son Nicholas who released his claim to the mesne lordship to Glastonbury abbey in 1272. (fn. 158)
The terre tenancy of Leigh was held in 1189 by Robert son of Reymer who had been succeeded c. 1197 by his son William. (fn. 159) By the mid 13th century it was held by Sir Martin of Leigh, (fn. 160) formerly Martin of Marlborough, probably in right of his wife Alice (d. 1263). (fn. 161) In 1263 Martin and his wife gave their land in Barton St. David to Robert of Barton and probably the land at Leigh similarly passed, although Leigh appears to have been held by Robert and John of Barton, possibly brothers. (fn. 162)
In 1275 Robert of Barton gave his estate at Leigh, probably half the manor, with the villeins, to Glastonbury abbey (fn. 163) which collected the rents, took produce from its grange, and cultivated 43 a. of its demesne. Leigh rents continued to be recorded until 1305 or later (fn. 164) and the demesne land late Robert of Barton's was accounted for separately in 1315. (fn. 165) By 1317 some of that land was still held as demesne by the abbey but other parts of Robert of Barton's Leigh land had been let as overland to tenants and this half of the manor had probably been absorbed into Street manor. (fn. 166)
In 1286 the abbot granted a life interest in houses and land at Leigh to Isabel, widow of Walter of Shapwick. (fn. 167) Isabel was dead by 1296 when the abbot agreed that the court of Leigh, possibly Robert of Barton's and which Isabel had held, with dovecot and vineyard but excluding the hall, chamber, kitchen, and offices north of the hall should be held for life by Luke of Hatch. Luke with his wife Alice held what was later described as half Leigh manor under John of Barton who had given the rent to Glastonbury in 1275. The arable and meadow at Barton and Leigh was estimated at 240 a. (fn. 168) Alice was probably dead by 1300 and by 1304 Luke had been succeeded by his daughter Elizabeth in his half manor of Leigh, but between 1304 and 1315 the farm of the grange, dovecot, and garden was held by William Paulet, guardian and possibly father to John Paulet, minor heir to half of Luke and Alice's estate. (fn. 169) Luke's daughter may have been the Elizabeth, wife of Robert de Burne (d. by 1330), who in 1309 held lands in Street and in 1330 and 1336 settled an estate in Street and Barton on herself and William Paulet for their lives with successive remainders to William's issue and Elizabeth's heirs. (fn. 170)
John Paulet may have given Leigh like Littleton in Compton Dundon to his two sons John and William. (fn. 171) William Paulet did fealty for one and a half virgates, (fn. 172) a quarter of Leigh, in 1342 and was later succeeded by his son William. John Paulet did homage for one and a half virgates in 1344 and was in possession in 1352. (fn. 173) William (d. 1349–53) was followed by his son Nicholas (fl. 1412), a minor, and John (d. c. 1382) by William. (fn. 174) Subsequent descent is unclear but Katherine Baylly (d. 1489) had a life interest in Nicholas's share which passed to her cousin Alice Brytte, wife of Hugh Larder. Larder held it for 2d. rent in 1500. By 1509 this share had passed to their son John who died in 1556 leaving an adult son John (fn. 175) but whose widow Avice granted her life interest to Humphrey Noke. (fn. 176) The other share had passed by 1500, like Pawlett manor, (fn. 177) to Sir Amias Paulet who also paid 2d. rent. Amias (d. 1538) was succeeded by his son Sir Hugh (fn. 178) who in 1543 sold his estate in Street and Barton to John Godwyn and his wife Isabel. (fn. 179) In 1615 another John Godwyn conveyed his estate in Street and Barton to Andrew Whittington (d. 1634) and it was absorbed into Street manor. (fn. 180) Andrew also purchased a holding described as three virgates from the Walton family which may have been the Larder family's estate. (fn. 181)
The court and house of Leigh were recorded in the mid 13th century. (fn. 182) In 1296 the court had a barn, dovecot, garden, and vineyard, adjoined on the north side by the hall, chamber, kitchen, and offices within the hall, excluded by the abbot from the grant to Luke of Hatch. (fn. 183) The court was last recorded in 1317 when it was worth three times as much as the court of Street. (fn. 184) Between 1330 and 1340 John Paulet was in possession of the garden and dovecot at Leigh (fn. 185) for life and by 1470 it was let to the reeve of Street and probably absorbed into Street manor. (fn. 186) The oxshed and grange were probably held by the bailiff of Street and his wife in the 1330s and were last recorded in 1365. (fn. 187) It is possible that the court of Leigh was on or near the site of the later Street House. (fn. 188) Alternatively it may have been an unidentified mansion, barton, and dovecot let out in 1537. (fn. 189)
Ivythorn Manor
Ivythorn may have been held by Richard of Ivythorn (fl. 1152). (fn. 190) In 1189 it was held by Peter of Ivythorn for one or one and a half hide by knight service under the abbot. (fn. 191) Peter was followed by Thomas in the mid 13th century (fn. 192) and Reynold of Ivythorn (fl. 1266), who was succeeded before 1277 by his son Thomas. (fn. 193) Thomas was dead by 1317 when his widow Joan held one third in dower and the rest was settled on another Thomas of Ivythorn (fl. 1330) and his wife Sarah. (fn. 194) Thomas was probably dead by 1336 leaving a son John (fn. 195) but John of Ivythorn, son of Richard (fl. 1312–14), possibly also a son of Thomas, was in possession by 1339 and did homage in 1343. (fn. 196) John was followed by John (fl. 1382–1407) (fn. 197) whose second son Richard held the estate in 1415 and 1428. (fn. 198) In 1431 Richard settled the manor possibly for Elizabeth, wife of John Marshall and probably his daughter, whose son John Marshall died in possession in 1471. (fn. 199) John, son of the last, was an infant but held in 1515. (fn. 200) In 1537 he was succeeded by Richard Marshall (d. 1558) whose son Richard (d. 1591) (fn. 201) sold Ivythorn in 1587 to Francis Whittington, later also owner of Street manor. (fn. 202)
In 1590 Francis (d. 1605) settled Ivythorn on himself and his wife Bridget (d. 1596) for life and then on his son Henry (d. 1603) and his wife Philippa and their male issue. Francis was succeeded by Henry's infant son Andrew (fn. 203) who died in 1634 leaving the manor in trust for 16 years, probably to provide for his large family of young children. (fn. 204) Andrew's eldest son John died in 1667. He was succeeded in turn by his sons William (d. 1672 s.p.) and John. (fn. 205) In 1688 John secured a release from his sister Susanna and her husband Edmund Arundel who had probably held a mortgage on the estate. (fn. 206) By 1702 John had been succeeded by his only child Sarah (d. 1746), wife of Thomas Rook (d. 1715), who was followed in turn by her sons Whittington (d. c. 1750 s.p.) (fn. 207) and Thomas Rook (d. c. 1764). Thomas, son of the last, settled it in 1768 on his marriage to Julia Harries. (fn. 208) In 1802 Julia and her only child, also Julia, sold to Richard Chapman (fn. 209) who, like the Rooks, mortgaged the estate heavily. The greater part of the land (287 a.) was sold between 1810 and 1813 and in 1846 became the Hood family's Ivythorn farm in Walton. (fn. 210) By 1827 Chapman was bankrupt and, having failed to sell Ivythorn in 1825, it was 'in Chancery' until 1843 when under a decree of the court it was conveyed to George Smith. (fn. 211) George (d. 1874) was succeeded by Charles Foss né Smith who in 1899 devised it for life to Charity Foss who sold it c. 1903. The house has since passed through many hands. (fn. 212)
Manorial Buildings
The manor house appears to have been rebuilt by the Marshall family in the later 15th and early 16th centuries. (fn. 213) It was occupied by its owners the Marshalls and the Whittingtons until the later 17th century when William Whittington's widow Mary (d. c. 1712) (fn. 214) occupied it under her marriage settlement with her second husband, Jerrard Newcourt of Somerton. (fn. 215) In 1705 the house had a hall, parlour, inner parlour, and kitchen with three chambers over, schoolhouse chamber, closet, brewhouse, and dairy. Newcourt kept a coach and horses at Ivythorn as well as farm livestock and waggons indicating substantial outbuildings although only the barn is mentioned. (fn. 216) The Rooks were resident from 1711 (fn. 217) but in the later 18th century the house and land were let, although in 1791 Julia Rook reserved the great parlour and kitchen with other rooms. (fn. 218) In 1799 there were seven chambers, a large dining room, and an 'excellent' kitchen. (fn. 219) By 1825 the house was 'roomy' but the outbuildings were too large for the remnant of the estate still held with it. They and the offices would cost at least £100 to repair. (fn. 220) In the early 19th century the building was two-storeyed and L-plan, (fn. 221) with a main south range of at least two different builds and a north-west range which seems to have been a separate building, agricultural in character, and almost detached. To the north, two separate buildings formed an open-ended courtyard with the main building: those buildings, which appeared to be 17th century and which have been demolished, may have included the 'shepherd's house' recorded in 1799 and said to have been demolished in 1861. (fn. 222) The manor house was later used partly as a farm store and cider cellar. (fn. 223) The present house, built of dressed stone and with a clay tiled roof, retains the south range of the house illustrated in 1834, (fn. 224) tidied up in a heavy late 19th-century restoration by Charles Foss. (fn. 225) Its west end was extended north in 1938 and a bay window added on the south to designs by William Bertram in the 1970s. (fn. 226) The north-west wing was remodelled or rebuilt c. 1910 and extended north in 1938. (fn. 227) The south range contains evidence of the room arrangement described in 1705. The block at its south-east end, built in the early 16th century, contains a fine, large ground-floor room with a ceiling divided into 24 compartments by intersecting moulded beams, and a large room above; both are lit by six-light mullioned windows. It seems to have been part of a sizeable house mostly replaced in the 17th century by slightly lower ranges attached to its west end and along its north side. The western addition is of two rooms flanking a chimneystack and axial staircase, the north one has at its east end a porch in which an early 16th-century moulded arch and one arched light have been set. Medieval glass and a carved stone with the arms of Abbot Selwood were incorporated in the south-east block after 1885 (fn. 228) and a stone inscribed JP 1578 was also re-used. (fn. 229)
The rectangular dovecot of c. 1600, lined with nesting holes for over 600 birds, was rebuilt in the 19th century of lias rubble under a Roman tile roof. It has been reduced in height and was used as a coach house with an inserted floor before 1946. (fn. 230) The house is also said to have had fishponds to the south-east and an icehouse in the woods. (fn. 231)
Other Estate
A virgate held by Alan of Farnham in 1189 for a wax rent and ploughing service was said later to be held by John de St. Elena by knight service. John, son and heir of Julian of Ellefield and grandson of Alan, conveyed his estate in Street and Leigh to Hugh Pruwet in 1297. (fn. 232) By 1316 Hugh had been succeeded by his son Richard who granted his estates including Street and his bailiwick of Whitley hundred to John of Mere for life. (fn. 233) Richard did homage for the estate in 1336. Subsequent descent is unclear but by the later 14th century it was held by William Carent, (fn. 234) although a house was held by Christine Pruwet in 1500 and was in hand in 1515. (fn. 235) In 1536 Sir William Carent sold his estate in Street to Edward Carne and it descended as part of the Butleigh Wootton estate. (fn. 236)
ECONOMIC HISTORY
Agriculture
In 1086 Leigh gelded for 4 hides but there were 10 ploughlands. The demesne measured 2 hides and was worked with 4 teams and 1 serf. Seven villeins and 10 bordars worked 2 hides with 5 teams. There were 35 a. of meadow and 30 a. of pasture. The demesne livestock comprised 2 riding horses, 8 beasts, 55 sheep, and 20 pigs. The estate had increased in value from £3 to £8 since 1066. (fn. 237) In the earlier 12th century the demesne holding, then known as Street, had been let to farm with 3 ploughs, 8 oxen, 2 draught horses, 200 ewes, and 6 sows, and gable and other rents totalled 30s. 3d. In 1171 there were 15 oxen and 1 draught horse and the rents had increased to 34s. 4d. (fn. 238) By 1189 there were 34 oxen and 4 draught horses but the land could have supported more. (fn. 239)
Early Middle Ages
By 1189 there were, apparently, seven freeholds. That of Geoffrey de Meysey, which became Leigh manor, was held by unspecified 'ancient' service, but the rest were held either for cash or wax rent and for small labour services. Other tenants comprised 3 virgaters and 6 half-virgaters who owed ploughing, harrowing, and carrying services as well as one or two days manual work each week depending on the season. Eighteen 5-a. holders owed ploughing and day work and paid hen rents. Four tenants held little or no land and others were excused works for their services as smith or bedel or for finding men to work for the lord. Small amounts of demesne were let to tenants and two crofts were said to be suitable for houses. The land was described as well cultivated and the corn and hay safely gathered. (fn. 240) Eight years later the demesne was let to farm and rents totalled £2 9s. 4½d. (fn. 241) In 1201 demesne stock comprised 11 oxen and 100 ewes. The whole vill owed mowing, reaping, and carrying services, 14 cottars were recorded as owing weekly works, and ploughing services of larger tenants totalled over 56 a. (fn. 242)
By c. 1240 there had been a slight increase in larger holdings presumably by the absorption of former overland and two householders were not classed by type of holding. There were 4 virgate, 7 half-virgate, and 15 5-a., and 2 cottage holdings. Works were more onerous with an increase to 3 manual works a week for most of the year, mowing at Baltonsborough every morning in the summer and carrying hay every afternoon, reaping, ricking, and carting firewood from Baltonsborough. Tenants without carts were required to dig the Glastonbury vineyard or maintain the enclosure of Pilton Park. Half-virgaters were also required to carry grain to the manor grange and to thresh and winnow wheat, barley, oats, and beans. (fn. 243) In 1258 there were 2 draught horses and 40 oxen on the demesne. Wheat was the dominant crop but 20 a. of beans and 10½ a. of barley were grown, and although most grain was delivered to Glastonbury or fed to stock, sales of corn produced over £2 11s. (fn. 244)
By c. 1260 the demesne farm comprised 548 a. of arable in east and west fields, 444 a. of meadow, and 63 a. of pasture. Wheat, rye, barley, beans, and oats were grown on land, significant parts of which had formerly been wooded. Demesne pasture supported 12 cows, 24 oxen, mares, bullocks, 400 sheep, and 40 pigs. Two freehold tenants each held 1 virgate, and 4 virgaters, 7 half-virgaters, and 20 other customary tenants, 17 of them described as ferdellers, owed services, rents and works together valued at just under £34. (fn. 245)
Later Middle Ages
The whole estate increased in cash value as labour services were gradually commuted and the demesne was let. Assize rents were just over £4 14s. 6d. in the later 13th century, (fn. 246) but had more than doubled by 1314 when an additional 15s. was paid for the court and garden at Leigh. In that year arrears amounted to £5 8s. 10d. (fn. 247) By 1334 assized rents had almost doubled again (fn. 248) and by 1403 had reached over £26, although in that year arrears amounted to nearly £159 having apparently been allowed to accumulate before being cleared from the account. (fn. 249) By 1470 fixed rents were over £40 (fn. 250) but in 1477 arrears and decayed rents accounted for well over £11. (fn. 251)
The area of demesne arable remained stable into the 14th century (fn. 252) but in the 1340s increasing amounts of arable were left fallow every year. (fn. 253) By 1366 only c. 150 a. was sown and some had been fallow for three years. (fn. 254) In the late 14th century some arable land may have been abandoned as in 1403 the manor paid for thistles and charlock to be removed from North and South Leigh and North and South Grove; more land was evidently let. (fn. 255) In 1438 only 109 a. of arable was sown. (fn. 256) By 1515 there were 218 a. still in hand, the rest let as overland to customary tenants. (fn. 257)
In the later 13th century the manor employed a reeve, a granger, a hayward, a smith, and 8 ploughmen. Wheat, mixed grains, barley, oats, and beans were sown on 300 a. ploughed by 39 oxen. (fn. 258) In 1301 there were 6 ploughs and 41 oxen, 2 harrows, a drag, and 8 carts. In 1303 two oxherds cared for 50 oxen and there appear to have been two oxsheds. Sales of grain exceeded the assize rents until 1305 or later as did release of works. Manumissions were recorded and the employment of stipendiary workers. (fn. 259) In 1312 most of the sowing was in North and South Leigh and Leigholt by task work but a stipendiary ploughman was employed. Some former meadow appears to have been converted to arable and only 20 a. of meadow was mown by customary work. (fn. 260) In 1340 a new stone grange with a stone tile roof cost over £54 and the foundations were dug in two days, firstly by 66 men from Ashcott, Shapwick, and Walton and secondly by 32 men from Baltonsborough and 30 from Street. The whole work took 26 weeks and 34 oxen to carry the stone. A new oxhouse, 63 ft. by 20 ft., was started in the same year and in 1343 a new carthouse, 30 ft. by 20 ft. was built with Doulting stone walls and roof. (fn. 261) By 1403, however, the waggon house, oxshed, and grange needed repair. (fn. 262)
In 1317 there were 128 a. of demesne meadow including former moor and 86 a. of pasture. (fn. 263) More grassland was inclosed from the moor in 1340, (fn. 264) but only sufficient to support sheep temporarily. In 1353 a flock of 220, mainly ewes, was accepted from Glastonbury, and in 1390 a flock of 240 from the same source. (fn. 265) In 1515 there were 80 a. of meadow and 121 a. of pasture and the farmer of the demesne in the 1530s was obliged to find pasture for 200 sheep in summer and 100 in winter. (fn. 266)
The demesne was an arable farm during most of the 13th century and, apart from a few pigs, only plough beasts were kept until the early 14th century. (fn. 267) In 1303 200 waggon loads of stone were used to repair a dovecot, probably at Leigh, (fn. 268) which was later farmed out, (fn. 269) and William Paulet had a piggery at Leigh in 1305. (fn. 270) A dairy was established by 1312 with a dairyman and cowherd, and churns and pails were bought but although 76 cheeses and 5 lb. of butter were made the entire herd of 17 cows was moved to Glastonbury. (fn. 271) In 1330 the dairy was repaired and there were 13 cows on the manor but they had gone by 1333. (fn. 272) A herd of 20 cows and 13 calves was kept in 1340 but the produce of all but one cow was farmed out. A boar and two sows were kept producing 20 piglets and a swineherd was usually employed. (fn. 273) In 1350 a severe outbreak of disease killed 21 cows before calving, also 15 young cattle, 30 oxen, a bull, a horse, and 9 pigs. (fn. 274) In 1343 a flock of sheep was pastured in the parish but was moved in the same year leaving the manor the sale of 201 fleeces. (fn. 275)
Common pastures may have been under pressure in the late 13th century as the moors were inclosed. In 1291 one tenant was allowed pasture for one ox, one cow, two bullocks, and five pigs, previously let to Martin of Leigh, provided he did not overstock with draught animals. During the 1290s the abbey secured releases of common rights in the moors to the west of Street in return for areas of pasture to the east. (fn. 276) In 1312 ditching was carried out in and around Martin's moor and the Nywedich was recorded. (fn. 277) In 1317 there was common at Houndwood, now partly cleared for pasture and arable, and in East and West moors. (fn. 278) Disputes since 1356 or earlier over pasture rights with the lords of Compton Dundon were settled by 1515 when they had licence to pasture draught animals and ewes on the south part of both arable fields when not under cultivation, as far as the lanes linking Wootton and Walton fords. That right was claimed into the 17th century. (fn. 279) Tenants of Street manor had common in South moor between Street and Glastonbury and could drive part of it. (fn. 280) The meadows around the church were common from 31 July to 2 February until the early 17th century (fn. 281) but Martin's moor, west of the causeway, and Priest or Press moor to the east were inclosed during the Middle Ages although the latter with Rough or Row closes near Houndwood remained pasture in several in 1317 and were converted to meadow in the early 15th century. (fn. 282)
By 1317 there had been no change in the larger holdings since the 13th century but five estate workers had joined the other ferdellers and there were twelve cottars holding no more than a croft and owing few if any works. Carrying, mowing at Baltonsborough, and taking firewood to Glastonbury were laid on tenants as a whole rather than on individual holdings and many workers were quit of services. Allowances of wheat were given to the hayward, smith, ploughmen, and mowers and the ploughmen might use the lord's plough on their own land on certain Saturdays. (fn. 283)
Building plots were let in the 1330s although a fire destroyed 9 houses in 1334 when the occupants were given wheat and beans from the grange. (fn. 284) By 1366 most works had been released or lost. Also the estate, probably Leigh, held for life by the bailiff, had reverted to the manor and was let in small parcels including 100 a. of arable but there were several decayed rents including the site of a house built earlier in the century. (fn. 285) In 1470 some houses were built or rebuilt (fn. 286) and by 1500 the demesne was farmed for £6 to two men with the barton and the grange. (fn. 287) The number of larger holdings in 1515 remained unchanged since 1317 but some tenants had more than one and up to 16 cottages had been lost. The four virgate holdings were at Leigh and were the largest farms with between 60 a. and 100 a. but several cottars and ferdellers had more land than half-virgaters, usually by amalgamating holdings or taking overland. Three tenants were still neifs but only two tenants owed works, ricking and ditching. One tenant had the common oven said to be newly raised but already in decay. Some rents had been reduced. (fn. 288)
Inclosure and Farming in the 17th and 18th Centuries
Grassland east and west of the parish was the focus of interest in the 17th century and comprised South moor (395 a.) shared between Glastonbury and Street, Street meadows (228 a.), and Houndwood meads (125 a.). (fn. 289) Inclosure of South moor, first agreed in the 1630s, was delayed by disputes over entitlement to common and early inclosures were destroyed in 1641. In 1665 it was agreed that William Strode should have 100 a. for his estates in Street and Glastonbury, 160 a. had already been allotted to the lord of the manor and 20 a. to Ivythorn, and that other commoners would receive shares for four common rights if their lands were worth over £15 a year, two if less, and one if there was no house on their holding. The Street allotments, known as Coax moor or mead and South moor, were inclosed in the 1670s. (fn. 290) In 1656 Street farm claimed common pasture in East, Hulk, Heath, and Sedge moors, and fuel in Heath moor. (fn. 291) An order of 1666 set aside a quarter of Houndwood for inclosure following a dispute between William Strode, owner of the wood, and the commoners who resisted inclosure. (fn. 292) It was not until 1796 that Sedgemoor and Heath or Turf moor were inclosed. (fn. 293) The two arable fields remained open into the 17th century but there were closes of pasture at Waterbarrow in the east field and of arable at Behind Hayes. (fn. 294) By 1656 land on Street farm was in closes and included many new meadow and pasture closes taken from the moors (fn. 295) but some arable strips survived in the 1770s. (fn. 296)
Street-based butter and cheese badgers in the earlier 17th century (fn. 297) were perhaps more to do with the central position of the parish than with the gradually improving moors for local dairy production, but by the later 17th century livestock farming was probably increasing in importance. Small herds of cows and flocks of sheep were kept (fn. 298) and clover was recorded in 1681. Individual farms, however, were small, twice as many as in 1515 and several houses were divided. In the 1680s Street manor included 97 separate holdings of which only two were more than 80 a. and nine more over 20 a. (fn. 299) Between 1699 and 1704 many of those holdings became freeholds. (fn. 300)
Some farmers were able to expand. James Clothier acquired two houses and over 130 a. at Middle Leigh which became the family home for over 200 years. (fn. 301) A fellow Quaker, Abraham Gundry (d. 1701), had wheat in store and growing, 4 oxen, 5 cows, 5 young cattle, 7 horses, 2 pigs, and 100 sheep but most of his wealth was in leases and bills. (fn. 302) Probably more typical was a shoemaker who in 1736 had a small dairy herd and a cheese press in his two-roomed house (fn. 303) or a yeoman who possessed only a mare and 17 sheep. (fn. 304) The two demesne farms of Street and Ivythorn probably each measured c. 370 a. (fn. 305) In 1705 at Ivythorn farm there were 15 cows and calves, 35 other cattle including 10 plough beasts, 11 horses including riding and coach horses, 153 ewes with lambs and 131 other sheep, and 15 pigs. Only 38 a. was under corn although there was stored wheat worth £72. There was a stock of clover seed and vetches. The dairy contained two cheese presses, a butter churn, and two pumps. (fn. 306)
Farming from the Late 18th Century
By the late 18th century large farms were developing, sometimes on new sites, probably as a result of the gradual inclosure of the arable fields and the acquisition by farmers of former manorial land. In 1791 the only surviving Street manor lands were 230 a. which, apart from one lease for years, were held in small parcels at will or for lives. (fn. 307) One of the new farms was Blagrove in the east of the parish created by the Mead family through several purchases in the later 17th century. In 1706 William Mead held 45 a. and had recently built a house. (fn. 308) By 1723 it belonged to William Moxham (d. c. 1730) who added further land and was succeeded by his son William (d. c. 1734) and grandson William (d. c. 1802 s.p.) (fn. 309) who bought over 100 a. in Butleigh and Street from Sir James Langham Bt. in 1777 and 1778. (fn. 310) Blagrove was bought by Sir Alexander Hood from the trustees of Moxham's nephew James Rocke (d. c. 1828) and by 1909 the farm covered 348 a. in Street and Butleigh. (fn. 311) The house was burnt down and rebuilt c. 1831. (fn. 312) Sir Alexander also owned a scattered farm with a house at Middle Leigh which had belonged to his mother and had been created out of the Street lands held by her Periam and Pope ancestors since the 1680s or earlier with purchases from her neighbours and tenants the Clothiers. (fn. 313) Sir Alexander embarked on a series of exchanges with other landowners including the Clarks and also bought small holdings. (fn. 314) He was thus enabled to reorganize his land into Middle Leigh and Marshall's Elm farms and to create a new farm at Leigholt which had 193 a. by 1867. (fn. 315) Brooks farm in the south-west was created by the Clothier family out of their estate at Middle Leigh. A house had been built by 1812. (fn. 316) The division of the old Street demesne estate in the early 19th century led to the creation of a new Street farm (c. 200 a.) and the building of a farmhouse between 1828 and 1841. (fn. 317) The farm was entirely pasture by 1888. (fn. 318)
By the 1780s two thirds of the parish was said to be pasture used for grazing rather than dairying. (fn. 319) In 1791 there was a 90-a. sheepsleight at Ivythorn. (fn. 320) In 1801 only 193 a. of arable was recorded producing abundant crops, mainly wheat (120 a.) but also small acreages of beans, peas, barley, potatoes, rape, and oats. (fn. 321) In 1841 there were 1,908 a. of pasture and 755 a. of arable, much of the latter on the recently inclosed Sedgemoor and Turf moor. Of 27 holdings over 20 a., 16 were under 50 a., many simply tracts of former moor, and only 5 over 100 a. (fn. 322) In 1845 most farmers were too poor to employ labourers although some employed boys. Labourers lived on potatoes, which were good unless grown on unimproved parts of Turf moor, and bread. Their gardens were small, allotments were uncommon, and they were not allowed pigs because of the temptation to steal food for them. Farmers who made cheese fattened pigs on whey. (fn. 323) Many agricultural workers emigrated to Australia in the mid 19th century (fn. 324) or went to work on the railways. (fn. 325) In 1851 53 labourers were employed on farms. Of 15 holdings over 20 a., 5 were under 50 a. and only 4 over 100 a. of which 3 were over 200 a. There were many smallholdings measuring less than 10 a. although some of those were combined with trade as a butcher or innkeeper. (fn. 326) The total number of small farms under 50 a. had fallen to 7 by 1871 and although there had been no change in the larger farms between 1861 and 1871 the number of labourers had dropped from 65 to 29. (fn. 327) There were still only 3 farms over 100 a. in 1881 and the number of employed labourers had fallen again leaving a high proportion of boys. One 190-a. farm employed only one boy. (fn. 328) Only 13 farms were recorded in 1891 of which one was a dairy farm. (fn. 329)
By 1905 arable had shrunk to 330 a. and 1,960 a. was under grass. (fn. 330) Dairying was important in the 20th century. In 1906 four dairy farmers, two dairymen, and a cowkeeper were in business and by 1939 the number of dairymen had increased to five although some may have been retailers. Only Blagrove farm had over 150 a. One farmer in 1906 was also a bus proprietor. (fn. 331) An egg collector was recorded in 1881 (fn. 332) and an egg collecting company was in business between 1906 and 1939. (fn. 333) Large quantities of potatoes were grown on allotments (fn. 334) and in 1939 a beekeeper and a poultry farmer were recorded. (fn. 335) By 1930 most of the farms in the centre of the village, including Street farm, had disappeared under housing, (fn. 336) a process which extended to Middle Leigh and Overleigh in the later 20th century. One of the surviving farms, Blagrove, obtained permission to build a 104-cow cubicle building in 1973. (fn. 337)
Horticulture
There was a vineyard at Leigh in 1296. (fn. 338) Several small holdings had orchards in 1515. (fn. 339) A third orchard at Ivythorn was planted c. 1800. (fn. 340) By 1841 there were many orchards (fn. 341) and with the decline of quarrying from the late 19th century the pits were planted as orchards. (fn. 342) In 1883 the Peck mill orchards were let with a proviso that the apples were not used for cider. (fn. 343) During the 20th century they have been largely displaced by housing although some cider was made in the 1950s. (fn. 344)
Robert Impey, a Quaker seedsman from Colchester, married into the Clothier family and established himself as a seedsman in Portway, Middle Leigh, where he built Askew, later Portway, House in 1845. He is credited with introducing the cherry plum to Street. By 1871 he employed 24 workers (fn. 345) and in 1881 he had 57 a. on which 12 men and boys were employed. (fn. 346) He also supplied agricultural implements. (fn. 347) After his death in 1886 (fn. 348) the business was carried on by his daughter Ellen. (fn. 349) By 1891 Richard Candy had taken over the retail and machinery business but Ellen Impey continued to run the nursery at Middle Leigh until 1906 or later. (fn. 350) A jam factory was started by Robert Impey's wife Mary and although she had retired by 1891 the factory employed 6 people. (fn. 351)
Woodland
In 1086 recorded woodland measured only 6 a. (fn. 352) About 1260 there was an area of 51 a. of arable in the east field called Blagrove and 171 a. of arable in the west field called Leigholt, and 30 a. of pasture called Blagrove which appear to have been former woodland. At the same time alder in the moor, possibly at Houndwood to the west of the parish, was cropped at the rate of 8 a. each year. (fn. 353) More woodland at Leigholt was let in 1273 for inclosure and improvement. (fn. 354) Houndwood in 1300 appears to have been on the Leigh estate; (fn. 355) part had been cleared for arable and pasture by 1317. (fn. 356) Underwood from Westholt was sold in 1438. (fn. 357) Grove near the manor grange was fenced in 1448, (fn. 358) but by 1515 it had been cleared along with more of Blagrove. Houndwood, in the 1540s comprising 40 a. of thorn, underwood, and oak, was lopped every 12 years. (fn. 359) By 1656 Houndwood was part of Street farm and was said to cover 50 a. with 1,200 oaks. (fn. 360) In 1666 one quarter was to be inclosed but those with grazing rights in the wood objected. (fn. 361) Alder was coppiced in South moor, sometimes called Alder moor. In the early 17th century it was claimed that only a third of South moor in Street was uncoppiced. (fn. 362) In the south of the parish Ivythorn hill was well-wooded. (fn. 363) Timber was excluded from a lease of Ivythorn in 1791. (fn. 364) By 1841 Houndwood had been completely cleared but there were 60 a. of wood in the parish mainly at Leigholt Coppice (16 a.), Marshall's Elm (12 a.), Ivythorn Wood (13 a.), and several small plantations. (fn. 365) Those woods survived in the later 20th century. Willows, for bats, were planted by the urban district council around the sewage works in the north of the parish. (fn. 366)
Corn Mills
A mill given by Abbot Henry of Blois (d. 1171) was thought by the later 13th century to have been assigned to support the abbey cook's office. (fn. 367) 'The mill beyond Street bridge' seems to have been taken from the community by Robert of Winchester, abbot 1171–8, and was granted with fisheries in 1193 either to the cellarer or to the cook. (fn. 368) In 1189 it was let with ½ virgate of land. (fn. 369) Bishop Jocelin (d. 1242) was accused of destroying the Street mill but claimed it had been done by the king's order. (fn. 370) The mill was rebuilt by Abbot Michael of Amesbury (d. 1252) and during his time the abbey cook received 10s. from its farm. (fn. 371) The cook was in possession in 1346 (fn. 372) but no further reference has been found. In 1189 the mill ditch of Street mill crossed the land of Robert son of Reymer who held Leigh (fn. 373) and the same ditch was mentioned c. 1255, and in 1366 described as on the boundary between Street and Walton. (fn. 374)
Peck mill, near the boundary with Walton, was recorded in 1726, (fn. 375) probably the mill which had been held with the demesne in 1622 (fn. 376) and was leased from the manor in the late 17th century. (fn. 377) By 1751 milling appears to have ceased and there was no working mill in the parish in the 1780s. (fn. 378) Peck mill was sold in 1791 and by 1836 the mill was again in use. (fn. 379) It was owned and occupied by several millers in succession during the 19th century. (fn. 380) In 1883 James Clark, who had recently bought the mill, agreed to repair the water wheel and other machinery for the tenant. (fn. 381) The mill was always short of water and a steam engine had been installed by 1881. It was occupied mainly as a farm and the flour mill was disused in 1938, but some milling of animal feed continued until 1966. (fn. 382)
A windmill recorded in the 13th century (fn. 383) may have been that on Ivythorn manor is use between 1317 and 1364 and described as old in 1444. (fn. 384) It probably stood on Ivythorn hill and was in use in 1622. It was last recorded in 1688. (fn. 385) A mound near Marshall's Elm may mark the site. (fn. 386)
A windmill in Street east field, called the 'Burne' mill in 1636, was also recorded in 1660 and 1675 but had been demolished by 1681. (fn. 387) It probably stood on fields called Millbatch east of the Somerton road. (fn. 388)
A steam-powered provender mill, known as Goss mills, was established c. 1919 in a disused shoe factory near Street Cross. It was still in business in the 1950s. (fn. 389)
Quarrying
Lias was quarried for building and paving by the 14th century on Ivythorn hill in Street and Walton. (fn. 390) In 1399 quarrying at Ivythorn damaged the highway. (fn. 391) A quarry at Ivythorn was recorded in 1500 (fn. 392) and another, described as in Street in 1518, was opened on Street manor to supply stone for a new building at Glastonbury. (fn. 393) Stone for houses and roads continued to be dug on Ivythorn hill and at Marshall's Elm in the later 18th century (fn. 394) and quarries had opened by 1822 at Stonehill in strips in a former furlong. (fn. 395) At least one limekiln was in operation. (fn. 396) By 1840 there were six stone masons, seven stone cutters and quarrymen, and a gravestone cutter; (fn. 397) in 1841 34 stone workers, some probably working in Walton, lived in a row of cottages at Ford Stream. (fn. 398) Stone workers' housing was of poor quality, sometimes self-built from waste lias, and insanitary resulting in above average vulnerability to epidemic disease. (fn. 399) During the mid 19th century there were quarries throughout the western half of the parish, at least three with lime kilns. (fn. 400) They were said to be the richest lias quarries in the kingdom; they could supply limestone paving slabs in very large sizes, and also produced large quantities of fossils. (fn. 401) The blue-black strata were found to take a polish and were substituted for marble at St. Mary's, Paddington (Mdx.), in 1868. (fn. 402) In 1851 there were 44 stoneworkers, in 1881 56 cutters and quarrymen, and in 1891 99 stoneworkers, mainly employed by stone merchants who owned or leased the quarries. (fn. 403) The industry declined in the early 20th century and especially during the 1920s when the large firms disappeared leaving only four small quarries in business by 1939. (fn. 404) The shallow quarries were backfilled for orchards. (fn. 405)
Industry
The industrial history of Street is dominated by shoemaking and other leather industries from the 19th century onwards. Earlier crafts have left fewer traces but the rapid growth from village to town at the end of the 19th century (fn. 406) has attracted a wide variety of businesses, culminating in the 1990s in a popular shopping centre with factory outlets.
A tucker was recorded in 1189. (fn. 407) Coarse cloth called streets may have come from this area in the 16th century. (fn. 408) A stocking maker had land in the parish in 1786 (fn. 409) and many people in the early 19th century were said to work for Glastonbury stocking makers. In 1831 59 men were said to be employed in cloth manufacture. (fn. 410)
Leatherworking: Gloving and Tanning
John Bull, glover, moved to Street c. 1804 and made coarse farm gloves in High Street. Although the business seems to have ceased on his death in 1822, gloving continued on a small scale. (fn. 411) A few glovers worked in the parish until 1881 but the highest recorded number was 11 in 1871. (fn. 412)
Arthur Clothier is said to have started his tanyard at Middle Leigh c. 1810. By 1841 seven tannery workers were recorded and several buildings had been erected with pits for soaking skins. (fn. 413) By 1851 there were 14 tanyard workers, a figure which remained fairly constant for most of the century (fn. 414) although it is sometimes said that 100 people were employed at the yard. (fn. 415) Arthur Clothier (d. 1865) was succeeded by his son John William Columbus (d. 1895) and grandson Arthur (d. 1942), (fn. 416) but the yard declined at the end of the 19th century. (fn. 417) The tanyard had become a chrome tannery by 1902. It closed briefly after 1906 (fn. 418) but was used to produce glacé kid between 1912 and 1916 when it was sold to the Co-operative Society. In 1920–1 a new tannery was built. By the 1950s it employed 75 workers processing 1,100 skins a week, mainly goatskins imported from Africa and India, into coloured chrome glacé kid and suede for Co-operative shoe factories. Arabian and Nigerian sheepskins were imported for the gloving and bookbinding industries. (fn. 419) In the later 20th century the tannery closed and the main building was converted into 18 warehousing units. (fn. 420)
Leatherworking: The Clarks' Companies
Cyrus Clark started business as a woolstapler and fellmonger, having worked with Arthur Clothier between 1821 and 1825. He moved in 1825 to the premises of his late father-in-law John Bull where he sank skin dressing pits and in 1829 built a factory to make rugs, probably from sheepskin, taking his brother James into partnership in 1833. Mops and chamois leathers were also made. (fn. 421) In 1836 Cyrus Clark moved his skin dressing yard from the factory to Bowling Green, locally in Glastonbury parish, which was used as a tanyard from c. 1853 to 1870. (fn. 422) In the 1840s mats for gigs were made from dressed sheepskins. (fn. 423) In 1851 21 rug workers, including dyers, were recorded but in 1853 it was said that the industry employed 40. (fn. 424) John Clough created a golden crimson dye which remained popular, especially with buyers in Glasgow, until the secret died with him in 1871. (fn. 425) Clarks earned nearly £5,000 from the sale of rugs in 1851 and in 1859 the company dressed lion and tiger skins as well as goat and sheep. In 1870 the business moved to new premises in Glastonbury, although continuing to provide employment for people from Street. (fn. 426) In 1962 Bayliss and Sons began making sheepskin coats but later moved to Glastonbury retaining a shop in Street. Another company produced coats, gloves, hats, and slippers from sheepskin in the 1970s. (fn. 427)
James Clark, brother of Cyrus, began making slippers, later known as Petersburghs or Brown Peters, and shoe linings from scraps of sheepskin and by 1833 was making shoes which were largely exported through Bridgwater. At first the shoes were cut in the factory by clickers and made up by independent outworkers in their backshops in Street and other villages. Women worked as binders or closers, sewing the uppers, and men as shoemakers, attaching the soles and finishing off. (fn. 428) In the 1840s most of the shoes were exported to Ireland. (fn. 429) In 1841 only 29 shoemakers were recorded but by 1851 there were 261. (fn. 430) In 1853 it was reported that c. 600 people were employed making shoes, including women working at home, (fn. 431) and by 1859 about 150 people worked in the factory, including rug workers, although it was said the total employed by Clarks including outworkers was nearly 1,000. (fn. 432) By 1851 sales of shoes totalled over £21,000 and in 1858 the first cutting machines were introduced followed by sewing machines which brought more workers, especially women, into the factory where they could be supervised and where better conditions prevailed for apprentices who were often left without work when their masters became drunk. (fn. 433) Local engineer James Miles patented a sole cutting press in 1862 and in 1863 the sewing room foreman John Keats patented a lockstitch sewing machine which could use waxed thread. (fn. 434) Whole families were engaged in the shoe trade and as the business increased many shoemakers took in apprentices and assistants to lodge with them. The number of recorded shoeworkers rose from 371 in 1861 to 447 in 1871, and to 545 in 1881 when Clarks were said to employ c. 1,100 people. Most employees were Somerset born and mainly local and although there were some migrants later, the firm relied heavily on local labour. (fn. 435) From the mid 19th to the early 20th centuries Clarks provided housing for their workers, often of high quality. (fn. 436) With the introduction of more machinery including finishing machines in the 1880s, to which there was some short-lived opposition, the outworker system declined although some workers preferred to work at home and continued to do so into the 20th century. (fn. 437)
Following several financial crises, especially the near bankruptcy of 1862, due partly to the failure to reinvest capital in the business, the elder brother, Cyrus Clark, and his immediate family were excluded. With the help of other Quaker businessmen James Clark's son William took over the firm in partnership with his father in 1873 and from 1889 with his brother Francis. The business expanded especially into the manufacture of ladies' and children's footwear. In 1875 361,000 pairs of shoes were sold for £76,000. By the late 19th century shoes were exported to Australia, U.S.A., and South Africa but there was growing competition from American footwear which was improving in quality. (fn. 438)
By 1891 859 people from Street were employed in shoemaking including clerical and warehouse staff and Clarks had a total of 1,167 employees excluding apprentices. (fn. 439) In 1900 shoe sales totalled £143,000 and in 1903 the firm became a limited company. (fn. 440) In 1911 Clarks employed nearly 1,500 people and every process except tanning was carried out on the premises including machine building. Exotic skins such as leopard and lizard were used. (fn. 441) By 1913 400,000 pairs of shoes were sold at home and the same number overseas. (fn. 442) Exports declined thereafter but in 1927 the firm began to make a range of less expensive shoes which were successful at home, especially children's sandals. In 1928 831 men and 504 women were employed, earning twice as much as agricultural workers. (fn. 443) In the 1930s the company entered the retail shoe business and formed C. and J. Clark Retail Ltd. in 1937. (fn. 444) During the Second World War an increase in work, especially on American army boots but also producing hinged wooden soles to replace scarce leather, led to a shortage of labour. Women were brought by bus from Bridgwater and Shepton Mallet and girls from Devon, Wales, and Ireland were provided with hostel accommodation. After the war factories were established in many of those places utilising the workforce trained at Street. (fn. 445) In 1948 2,570 people in the Street and Glastonbury area were employed in the shoe industry, about 39% of all workers in the area. (fn. 446)
Shoes were offered in individual packaging from 1883 and a carton making department was opened in 1893. Boxes had previously been bought in and a local boxmaker was recorded in 1881; 14 were recorded by 1891. (fn. 447) A cardboard box maker was in business between 1906 and 1923. (fn. 448) In 1914 a plant for making wood blocks opened and in 1918 one for lasts. (fn. 449) Lasts had previously been supplied by independent makers of whom 5 were recorded in 1891. A Glasgow lastmaker moved to Street in 1888 and devised wooden moulds from which iron lasts could be cast. (fn. 450) The heel- and last-making division eventually became a separate subsidiary company known as Avalon Shoe Supplies and its Maple factory was opened in 1960. It later became a warehouse. (fn. 451) Warehouses for finished shoes and raw materials were built at Houndwood in 1954, 1957, 1964, and 1984, and a retail warehouse in 1969. (fn. 452)
The firm C. and J. Clark became the holding group for many subsidiaries including retailing, importing, and overseas companies but the largest company was Clarks Ltd., shoe manufacturers and wholesalers. (fn. 453) In 1985 the shoe factories employed 23,000 worldwide producing 23 million pairs of shoes (fn. 454) but manufacturing in Street declined and in 1992 the factory closed. Plans to sell the company in the following year were thwarted but in 1996 300 office jobs were lost leaving c. 800 office and 400 warehouse staff at Street. In 1993 a large part of the factory site was converted into a shopping village employing c. 550 people, mainly part-time, and by 1998, following its sale to an American company, further shopping space had been added. (fn. 455)
Clarks' employees enjoyed educational and recreational opportunities, annual outings, (fn. 456) and benefit societies, including a club for outworkers. The Street Shoemakers Provident Benefit Society was formed in 1913 and a savings bank in 1917. (fn. 457) Following a shortlived strike against machinery in 1880 trade union activity was forbidden. After the ban was lifted unionism was not encouraged and few workers joined, but neither did Clarks belong to the employers' federation and so the firm escaped the disputes found elsewhere in the industry. Wages were lower than in other shoemaking areas and there was some migration but as agriculture remained the only alternative employment there was little competition for labour. Hours were gradually reduced from 64 a week to 50 by 1913. A works council was set up in 1918 and in 1924 a factory newspaper. In 1926 a Trade Union Hall was built in Vestry Road. (fn. 458)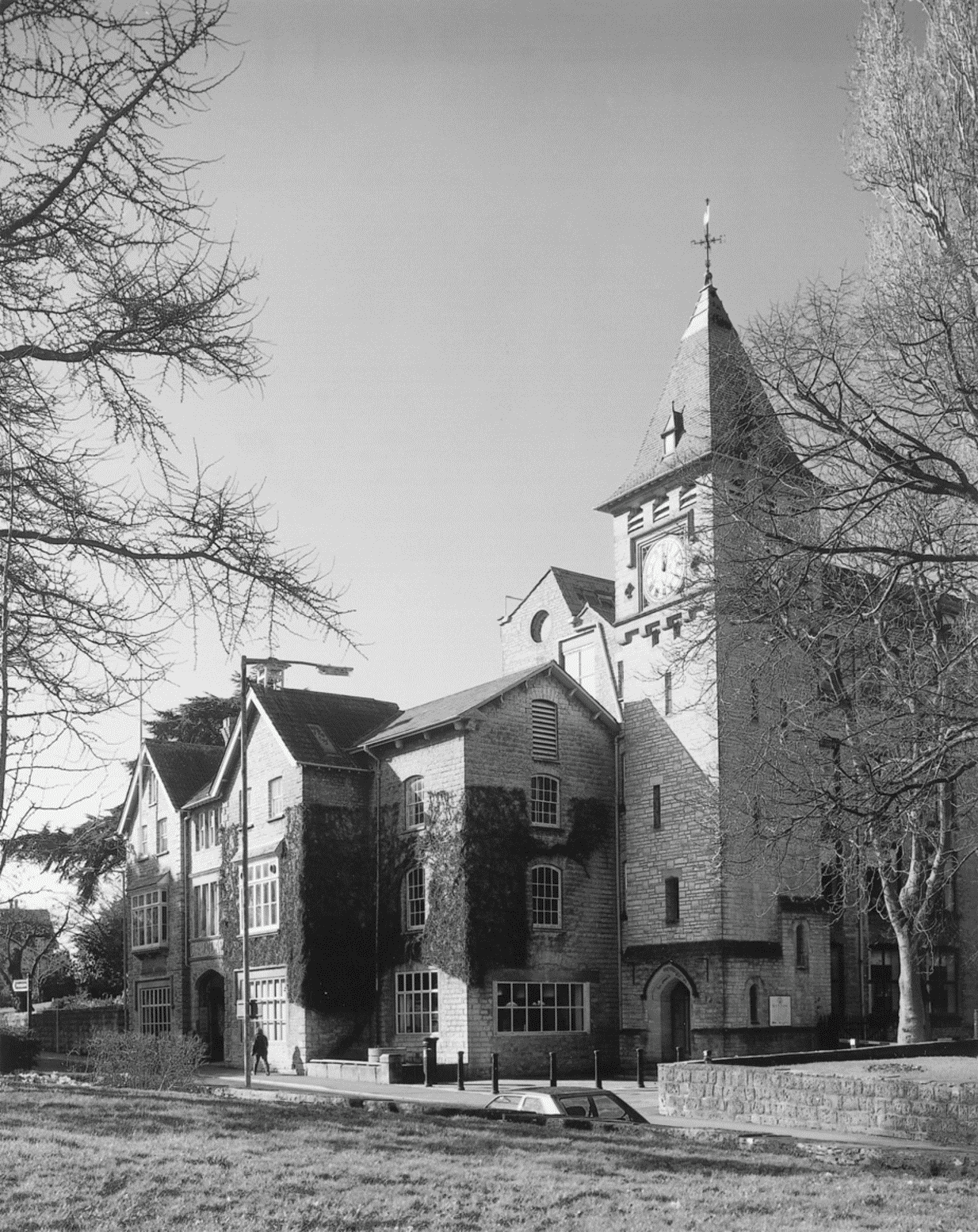 The factory expanded piecemeal from the original 1829 building both into adjoining houses in High Street and by extensions to the rear. By 1845 there were several buildings of coursed blue lias with pantiled roofs. The three-bayed block of three storeys of 1829 lay at right angles to the High Street, with two- and three-storeyed blocks attached its west side, one of them linked by a chute or walkway to other buildings north-east of a cart way. Flanking the factory buildings were, north-east, the two-storeyed house of Cyrus Clark, said to have been built for his father-in-law John Bull (d. 1822), and, south-west, the plain Netherleigh of James Clark built in 1835. The earlier house had a rendered five-bay façade with a pedimented centre and a taller two-bayed south-west block. (fn. 459) That house had gone by 1887 when the Franco-Flemish style clock tower designed by G. J. Skipper was built and the water tower, designed by William Reynolds, in 1897. Reynolds gave the factory a cohesive frontage of informal domestic character in 1898. By 1891 the main ranges were about 27 bays long and there was a tall brick chimney, (fn. 460) replaced in 1920 by a steel one, later encased in brick. (fn. 461) The 'Big Room', 26,450 sq. ft. in area, was built in 1895. (fn. 462) The factory was enlarged in 1912, in the 1920s, and the 1930s, notably the Morelight block to the north with large glass windows built in 1933. In 1950 a new factory covering 22,500 sq. ft. was opened nearby for welted shoes. (fn. 463)
Leatherworking: Other Companies
The Hope shoe works in High Street, south of the Cross, was set up in 1877 by Edward Sadler, a former traveller for Clarks, to produce cheap imitations of Clarks' designs. The new company benefited from a temporary period of unemployment and had c. 300 employees of whom about 100 worked in the factory. The company moved business to Worcester and is said to have closed in 1897 but Sadler continued producing boots at Street. (fn. 464) The Lockhill boot and shoe factory had opened in High Street by 1902 but by 1906 had merged with Sadler as Sadler Lockhill Ltd. It closed c. 1930 and became a vehicle works. (fn. 465) The Hope factory was converted to a provender mill. (fn. 466) The Phoenix Boot Machinery was in business at Bowling Green between 1902 and 1906. (fn. 467) In 1979 there was a shoe machinery company at Stonehill. (fn. 468) Several independent shoemakers were in business in the early 20th century. Some combined before 1923 to form Pursey and Bacon Ltd. at the end of Orchard Road but that business had closed by 1934. (fn. 469) In 1939 four independent shoemakers were recorded. (fn. 470)
The Leatherboard Mill
The Avalon Leatherboard mill opened in 1878 in a derelict tanyard at Bowling Green, north-east of the church and in Glastonbury parish. (fn. 471) Leatherboard was made from rope and rag fibre until the 1930s when leather waste was used, for bookbinding, belts, portmanteaus, and cards for jacquard looms, and from the 1880s until 1967 primarily for shoe stiffening and insoles. (fn. 472) Only one leatherboard worker was recorded in 1881 although three rag and paper workers may have been employed at the mill. (fn. 473) In the 1880s there were complaints of pollution in the South Moor Drain from the old settling pits and by furnace slag from the engine house. (fn. 474) By 1889 the mill employed 19 men and 10 boys rising to 96 staff in 1913 when the mill, equipped with 4 steam engines, produced 722 tons of leatherboard. By that date the site had spread across the drain and new buildings had been added. (fn. 475) In 1938 the company became a subsidiary of Clarks and in 1957 part of Clarks' Avalon Industries Ltd. In 1950 c. 120 people were employed at the mill which then had six rolling machines and two new mills built in 1940 and 1946. Further buildings including a laboratory and a new chimney were built between 1956 and 1967. In 1966 5,015 tonnes of leatherboard were produced and sales reached £1,170,000. The mill closed in 1990. (fn. 476) Part of the original mill has been retained for residential use but the rest of the site was cleared for housing development.
Trades And Services
In 1830 Street was described as an inconsiderable village with 'nothing worthy of notice', (fn. 477) but by 1840 as a small town with six daily mail and coach services. (fn. 478) A cooper had a shop in East Lane, later Somerton Road, in 1833 (fn. 479) and two surgeons, a chemist, and three shopkeepers were recorded in 1839. (fn. 480) By 1841 the parish had smiths, waggoners, a carrier, and a wheelwright and by 1851 there were at least three wheelwrights and a van driver. (fn. 481) One carrier was said to have had 100 horses (fn. 482) and the growing shoe business and the lack of a railway probably provided work for three hauliers in 1871 and a railway carrier and a horse trainer in 1881. (fn. 483) The expansion of Street provided work for large numbers of building workers in the later 19th century and also for telegraphists, coal merchants, sweeps, dressmakers, milliners, doctors, nurses, and laundresses. (fn. 484)
The first shops were around Street Cross, but by 1851 there were a few further down High Street south-west of Clarks' factory and by the later 19th century that was the main shopping area and remained so in the 1990s. (fn. 485) In 1861 there were ten grocers and drapers, two general shopkeepers, a confectioner, a watchmaker, and two cabinet makers. (fn. 486) By 1875 they had been joined by a fancy repository and the Co-operative stores which by the 1880s had grocery and drapery departments and sold furniture, perambulators, and washing machines. (fn. 487) In 1871 a draper had two resident assistants, a tailor had two, and a draper and grocer had five. (fn. 488) In 1881 one grocer employed 19 men and there were at least two grocers at West End. (fn. 489)
By the end of the 19th century Street provided a great variety of services and was probably a shopping centre for a large rural area as there were two bus proprietors by 1902. In that year there were at least 33 grocers, confectioners, and other food shops, eight drapers, seven jewellers, a florist, a chemist, a berlin warehouse, two stationers, eight general shops including the Cooperative store, a tobacconist, two ironmongers, an earthenware dealer, and three cycle agents. Services were provided by three hairdressers, a watchmaker, a photographer, solicitors, accountants, auctioneers, an architect, three tailors, refreshment rooms, and a bank. (fn. 490) Later were added dealers in furniture, sewing machines, fried fish, cooked meats, picture frames, sports goods, and wireless sets, and dentists, a chiropodist, a horse slaughterer, and a sign writer. (fn. 491) Between 1942 and 1955 Street and Glastonbury had a shared Trades Council, but subsequently Street had its own Chamber of Trade, and between 1962 and 1977 the Street District of the Co-operative society included stores at Wells and Shepton Mallet. The Street store provided accommodation for staff in the 1960s and mobile shops. In 1969 the food department became a supermarket. (fn. 492) In 1973 a large supermarket and a shopping mall were built (fn. 493) and further developments in the 1990s included two more supermarkets, one outside the town centre. In the later 20th century a large number of shops selling shoes, sheepskins, and leather goods serving a wide market dominated the High Street, although those have gradually declined in number since the closure of Clarks factory and its conversion in 1993 into a shopping village, also designed to attract shoppers from outside the area. (fn. 494)
By 1840 a December cattle fair was held near Street Cross but it is said to have gradually declined and had ceased by the end of the 19th century. (fn. 495) In 1923 and 1931 there was a fortnightly produce market. (fn. 496) In the 1990s a small general market was held in the Crispin Hall.
Public Houses
Ten people including a miller sold ale without licence in 1315 (fn. 497) and illegal selling was recorded in 1535 at the Whitehouse and in 1594 at the Dog and Bull where there were unlawful card and dice games. (fn. 498) The Eagle and Child was recorded between c. 1602 and 1783 (fn. 499) and was probably the inn which in 1686 had beds for two guests and stabling for five horses. (fn. 500) It may have been the sole inn for most of the 17th and 18th centuries but there were two other licensed houses in 1732 and 1735. (fn. 501) The inn had probably closed by 1789 when it was known as the Old inn and it was last recorded, as the Old Eagle and Child, in 1793. (fn. 502)
The Street inn, at Street Cross, first recorded in 1767, was also a farmhouse with 132 a. (fn. 503) It belonged to the Gould family until 1881 when it was bought by a brewer. (fn. 504) It was rebuilt during the earlier 19th century to form a long double-pile two-storeyed range with a plain six-bay front. It remains in business. In 1839 there was a beerhouse opposite the Baptist chapel (fn. 505) and c. 1844 cider houses in Somerton Road and at West End, possibly unlicensed. (fn. 506) James Godfrey kept a beerhouse opposite Clark's factory from 1861 or earlier (fn. 507) until 1884 when it was bought by William Clark and turned into the Bear coffee house. It was rebuilt to designs in his usual picturesque style by William Reynolds as the Bear Inn and became a temperance hotel. (fn. 508) By 1923 it had 13 bedrooms. (fn. 509) It was licensed by 1986 (fn. 510) and remains in business. The Wessex hotel with c. 50 bedrooms was built near the Cross in 1962. (fn. 511)
An inn at Marshall's Elm was said to have been open c. 1844. It was recorded in 1867 and was also a farmhouse. It remained open until the early 20th century. (fn. 512) The Rising Sun was in business in 1871 (fn. 513) and in the 1880s changed its name to the Elms; it obtained a full licence in 1958 (fn. 514) and remains in business. The Albert in Leigh Road had opened by 1872 (fn. 515) and remains in business as the Two Brewers. There was a beerhouse at West End between 1881 and 1931. (fn. 516)
LOCAL GOVERNMENT AND WELFARE
Street was a tithing in Whitley hundred with the exception of a small area by Street Farm which was in Glastonbury Twelve Hides hundred. (fn. 517)
Manorial Administration
During the Middle Ages regular halimote courts were held for Street but in the early 16th century sessions were held either there or at Walton. Court records survive in part from the 1260s to the 1540s. (fn. 518) The halimote was concerned mainly with tenancies, agriculture, and absent neifs, one as late as 1530. (fn. 519) In 1533 a man was accused of felling 41 trees and his wife of preventing the hayward impounding two cows. (fn. 520) The Glastonbury abbey cook's tenants owed no suit to the manor court. (fn. 521)
A court of survey was held for the rectory manor in 1636, (fn. 522) and a court book survives for 1767–1850. The court met when needed at either Walton or Street and dealt mostly with tenancies as a court baron although occasionally courts leet were held to deal with scouring of ditches and defaults. (fn. 523)
Parish Administration And Poor Relief
In the 18th century the parish was governed by a vestry of between 5 and 9 members, by the early 19th century by two wardens, two overseers, and two waywardens. (fn. 524) In the late 18th century the vestry administered parish property and poor relief and appointed parish officers. By 1800 it had established a poor house committee. A select vestry had been formed by 1833 and separate accounts were kept for parish property by 1839. (fn. 525) In 1849 the vestry attempted to improve drains and water supply (fn. 526) and in 1857 assisted emigration to Australia and pressed for improvements in paving. (fn. 527) Churchwardens relieved large numbers of travellers and until 1847 paid bounties for vermin. (fn. 528) Overseers paid relief in cash and kind through regular and casual payments. In 1817 they bought horses which they lent to a carrier, encouraged potato growing, and established allotments. Overseers were responsible for cleaning rivers and drains on the moors, and administered a tract of moor allotted to the poor. (fn. 529) From 1847 vermin bounties were payable from the highway rate. (fn. 530)
Several houses were owned by the parish in the late 18th century. A row, with paved frontage and pump, was built c. 1799 (fn. 531) and in 1853 was let as eight dwellings. (fn. 532) It had been sold by 1856. (fn. 533) The parish still retained other cottages and gardens at Bowling Green. (fn. 534) In 1856 the vestry planned to build a vestry room, lock-up, and cottage on the site of the pound in High Street. The building was completed in 1860. By 1887 it was inadequate and a new vestry room with fire station was built in Leigh Road next to the Crispin Hall and in similar style. (fn. 535)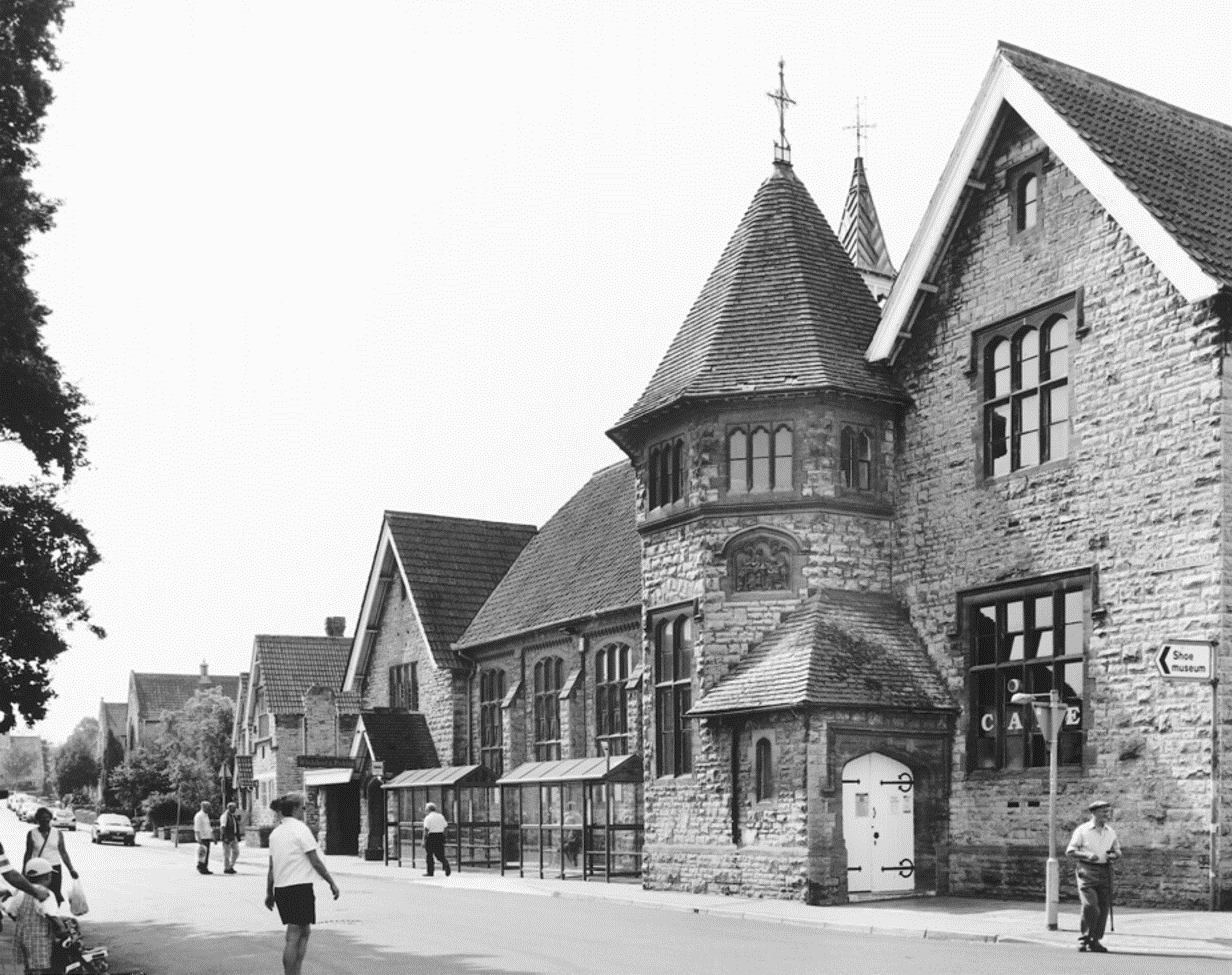 In 1836 Street became part of the Wells poor-law union. (fn. 536) The union opened cottage homes for children in 1901 and 1904. (fn. 537) In 1853 after an outbreak of fever caused by poor drainage, lack of sanitation, and water pollution (fn. 538) Street Board of Health was formed (fn. 539) under the chairmanship of Cyrus Clark. It had a salaried clerk, a treasurer, a medical officer of health, a surveyor, and an inspector of nuisances assisted by two people in each of the four districts into which the parish was divided. The board was originally responsible for drainage, water supply, refuse collection, and road repair. (fn. 540) It was also concerned with rabies and in 1877 paid for dog bites to be cauterised and the following year ordered dogs to be muzzled. In 1880 a licence to hawk petroleum in the streets was issued. (fn. 541) In 1885 the board published very detailed byelaws concerning the construction of houses and industrial buildings, slaughterhouses, water closets, and privies. (fn. 542) By 1884 the board was known as the Board of Health and Local Government (fn. 543) and in 1891 became Street Local Board and Urban Sanitary Authority. (fn. 544) In 1895 the authority became Street Urban District whose council had twelve members with Public Works, Public Health, Farm, Finance, and Special sub-committees. (fn. 545) A cemetery was opened in the west of the parish in 1903. (fn. 546) Street urban district was absorbed into Mendip district in 1974. (fn. 547)
Charities For The Poor
Mrs. Comer's charity, with capital of £20, was lost c. 1819. (fn. 548) George Cox, by will dated 1865, left £10,000 for charitable purposes. Under a scheme of 1866 most of the income, £185, was to support an almshouse or pensions with the remaining £90 to be distributed to the poor in cash and kind. (fn. 549) The income had risen to c. £400 by 1873 (fn. 550) and to £2,586 by 1995 when it was used for general relief under a Scheme of 1985. The two Victoria Homes in Wraxall Road were given for the use of the elderly poor in 1899. Under a Scheme of 1970 the Victoria Homes Relief in Need charity was established to provide goods and services for needy residents of Street. The income was £1,346 in 1995. Hilda and Alice Clark's charitable trust of 1984 for general purposes was said to have an income of £41,088 in 1998. (fn. 551)
Public Services
Until the mid 19th century water came from Polly Hole, also known as Godswell or St. Mary's well, south-west of High Street, the Street mill stream, or shallow wells. (fn. 552) In 1857 a reservoir was proposed to store water from Polly Hole which from 1888 supplied a cast iron fountain at the Cross and conduits elsewhere. (fn. 553) An additional reservoir was built in 1904 at Keen Sugg on the Somerton Road, itself supplied with water from Rodney Stoke. (fn. 554)
A stream along the High Street was the main drain of the village and ran into a pool at the Cross. The pool was filled in 1781 and some of the stream flowed into a stone drain. (fn. 555) The rest lay open and was flushed by dyke reeves. (fn. 556) Pipes were eventually laid in 1856–7 and extended to West End in 1878. (fn. 557) A sewage works by South Drain was completed in 1892. (fn. 558)
In 1867 four public paraffin lamps were erected and in 1883 public oil lighting was contracted out. (fn. 559) In 1898 the council decided to provide gas lighting. (fn. 560) In 1915 electric lighting was planned, with a generating station to be built at the end of the war. (fn. 561) Clarks' factory generated its own electric power from 1911 and until 1928 provided a surplus for public supply. (fn. 562) Thereafter gas was supplied from Glastonbury and electricity by the Mid Somerset Electric Supply Company. (fn. 563)
By 1861 there were two policemen living in High Street. (fn. 564) In 1887 a station designed by William Willcox of Bath was built in Leigh Road. (fn. 565) It had closed by 1978. (fn. 566)
In 1863 the only fire engine was that belonging to Clothier's tannery but a volunteer brigade was founded in 1872. The engine was kept at the vestry room in Leigh Road. (fn. 567) The present fire station was built in Cranhill Road before 1986. (fn. 568)
Street urban district council was jointly responsible with Glastonbury borough for St. Saviour's Isolation Hospital in Glastonbury until its closure in 1932. (fn. 569) A sick bay was established at the Grange c. 1940 in the care of a matron and a council committee. It primarily served the armaments workers from Weymouth who had taken over part of Clark's factory but also evacuees and others. The council proposed continuing it as a local hospital but staffing problems led to closure in 1946. In the Second World War the council ran a British Restaurant in the Crispin Hall providing c. 1,000 lunches each week. (fn. 570)
CHURCH
Origins And Advowson
Street church was mentioned in two spurious preConquest charters but its site, the roughly circular enclosure, and formerly visible parts of the fabric suggest the early nature of its foundation. The dubious charters may have been an attempt by Glastonbury abbey to provide documentation for a church or chapel which had been in their possession for some time. (fn. 571) Its unusual site on the parish boundary might have been chosen because of the presence there or nearby of an earlier chapel, dedicated to St. Gildas, which was still standing in 1278 (fn. 572) and which was said to have been built by Gildas in the name of the Trinity. This in its turn may have been deliberately built on a pre-Christian site. (fn. 573) The present church was called locally after St. Gildas or St. Giles in the early 16th century. (fn. 574) By 1705 it kept its dedication festival on Trinity Sunday and it is now known as Holy Trinity. (fn. 575)
The living was a rectory, with the chapelry of Walton usually annexed or held in plurality. (fn. 576) Until the Dissolution it was in the patronage of Glastonbury abbey, (fn. 577) which c. 1200 and again in 1332 was authorised to appropriate, (fn. 578) but did not do so. The living was, however, charged with a pension of 60s. in 1189, payable to the abbey medar, (fn. 579) a sum reduced to 40s. in the 13th century. (fn. 580) From 1978 the living was held with Walton and between 1981 and 1993 also with Greinton. (fn. 581)
Patronage passed to the Crown at the Dissolution (fn. 582) and descended with Walton manor (fn. 583) although the Crown presented by lapse in 1635. (fn. 584) Following the sale of the Walton estate in 1939 the advowson was vested in the diocesan board of patronage. (fn. 585)
Endowment
The church was valued at £16 13s. 4d. in 1291 (fn. 586) and, including Walton, at just over £24 12s. net in 1535. (fn. 587) The reputed value was £150 in the early 1670s (fn. 588) but only 'above £30' in 1705. (fn. 589) The average net income c. 1830 was £675. (fn. 590) In 1535 the predial and wool tithes were worth £18 13s. 4d. (fn. 591) but c. 1557 the grain tithes were let for over £26. (fn. 592)
The rectorial glebe was known as the rectory manor of Street and Walton. (fn. 593) In 1535 the glebe was valued at 40s. (fn. 594) and in 1624 amounted to at least 44 a. and 8 houses in Street and c. 43 a. and 6 houses in Walton. (fn. 595) By 1799 there were six copyhold tenements in Street and three in Walton. (fn. 596) In 1841 there were only three houses belonging to the rector in Street but inclosure of the moors had produced allotments and the total area of the glebe in Street was c. 47 a. of which all but 11 a. was let out by copyhold. There was over 25 a. in Walton. (fn. 597) After 1886 the estate was divided as an endowment for the newly created living of Walton; (fn. 598) reference to the rectory manor was last made in 1922 (fn. 599) and the land was sold piecemeal between 1924 and 1942. (fn. 600)
The rectory house mentioned in 1337 (fn. 601) was probably that at Walton as in 1554 there was said to be no house at Street. (fn. 602) In 1624 the westernmost of a row of six houses in Street was called the parsonage house. (fn. 603) It had been burnt down some years before 1840, (fn. 604) to be replaced by 1841 by a house said to have been occupied by successive clergy and bought by the Revd. Lord John Thynne as a home for the curate. (fn. 605) In 1858 it was sold to the then rector and became the rectory house when Walton became independent. In 1895 it was sold to William and Francis Clark. (fn. 606) The house, known later as the Old Rectory, stood north-east of Clarks' shoe factory in High Street and was subsequently used as a dental surgery, women's club, and as offices by the company. (fn. 607) It was very plain, with a symmetrical two-storeyed facade of three bays, and a one-bay addition to the north-east. In 1897 a new rectory house, possibly designed by William Reynolds, was built to replace it in Vestry Road which in its turn was replaced in 1995 by a house built on the rear of the site. (fn. 608)
Pastoral Care And Parish Life
Many of the medieval rectors were pluralists and absentees. They included Boniface de Foliano in the mid 13th century, (fn. 609) John of Westmancote, rector 1332–7, canon of Salisbury and Bosham, and in the household of the bishop of Durham, (fn. 610) John Lax or Chester, rector 1449–60, but resident in Rome as a papal secretary and deprived of Street by action in the royal courts, (fn. 611) and William Boket, rector 1463–82, under age, at university for at least six years, eventually a canon lawyer, and holder of several other Glastonbury livings in plurality. (fn. 612)
William Collyns, rector 1546–50, was evidently resident (fn. 613) and was followed by John Best, deprived for marriage in 1554 but evidently reinstated before his appointment as bishop of Carlisle in 1561. (fn. 614) A cross light was recorded in 1545 and 1547. (fn. 615) In 1554 the altar was unblessed, possibly because it was a replacement, and in 1557 some of the church goods were missing. (fn. 616) In 1515 the churchwardens rented a cottage from Street manor. A cottage had formerly been held by service of carrying the holy loaf. (fn. 617) A church house consisting of a hall with chamber over and other rooms was held on lease from the manor as a dwelling in 1690. (fn. 618)
Further distinguished but absentee rectors include Walter Raleigh, rector 1635–46, dean of Wells from 1641 and ardent royalist, (fn. 619) Joseph Glanvill, 1672–80, already rector of Bath Abbey and a noted theologian, and Thomas Thurlow, rector 1769–70, later bishop of Lincoln and of Durham. (fn. 620) Lord John Thynne, rector 1823–50, was normally resident at Walton, despite holding two other parochial livings and a prebend at Westminster, and his curate lived at Street. (fn. 621)
There were c. 20 communicants in the later 18th century. (fn. 622) In 1815 the rector, Josiah Thomas, served two churches in Bath but the curate was resident in Walton and served Street once each Sunday. (fn. 623) By 1836 two services were held on Sundays and there were 39 Easter communicants. Communion was celebrated seven times a year in 1837. (fn. 624) Nathaniel James Merriman, resident curate in the 1840s, (fn. 625) was later bishop of Grahamstown and his son John Xavier, born at the Old Rectory, became Prime Minister of the Cape. (fn. 626) There were resident curates until 1886 (fn. 627) and in 1873 there were two Sunday services and communion was celebrated weekly and on feast days. (fn. 628) In the later 20th century three Sunday services were held. (fn. 629)
Church Buildings
Holy Trinity
The parish church of Holy Trinity has a short nave and formerly had a tall narrow opening on its north side, (fn. 630) which has been interpreted as a doorway or entrance to a porticus, suggesting that the building had a preConquest origin. (fn. 631) The church, of coursed, squared lias was increased in size in the late 13th or the early 14th century by the addition of an unbuttressed west tower and south porch, and the extension eastward of the chancel with high quality work which includes ornamented double sedilia and piscina. In the later 15th century nave and chancel were given new roofs of heavy construction; they have traceried trusses and two tiers of cusped windbraces. The font is also 15th century. The upper stage of the tower was added in the 15th century or later. A gallery was inserted in 1729–30, (fn. 632) and in 1738 the vestry agreed to build a partition between the chancel and the nave. (fn. 633) A new pulpit was bought in 1782 and a new communion table and rails in 1786. (fn. 634) The north aisle was built in 1829–30 and the church newly roofed, ceiled, and plastered to designs by John Ralphs, surveyor of Longleat. (fn. 635) In 1843 under Benjamin Ferrey the north aisle was improved and in place of a west entrance the south porch, which had been used as a vestry, was re-opened. A new vestry was built on the south side of the chancel. (fn. 636) As part of that restoration plaster ceilings were removed, exposed timbers decorated, and texts painted on walls. Minton tiles were laid in the sanctuary and the chancel windows, which had previously contained scraps of old glass, (fn. 637) were filled with stained glass by Ward and Nixon of Soho, (fn. 638) and the chancel arch was modified. A new pulpit and reading desk were bought and the seats, including the Street House, later the Grange, and Ivythorn pews and those in the chancel were rebuilt as open benches re-using ornamental parts. (fn. 639) The gallery was not removed until 1886. The pulpit and lectern were replaced again in 1927. (fn. 640)
The plate comprises a silver chalice of 1720 with two patens of 1724 and a flagon given in 1841. (fn. 641) There are now eight bells but only four were recorded in 1701 of which one was recast in 1702. In 1753 one fell. (fn. 642) There were five bells by 1775, recast and increased to six in 1777 by William Bilbie. In 1805 one of the bells was cast again by Thomas Mears. (fn. 643) A chiming mechanism had been installed by 1877 and the third bell was recast again in 1891. (fn. 644) In 1903 two new bells by Mears and Stainbank were added to the peal which was rehung. (fn. 645) The registers date from 1599 but only a few pages survive from the first volume. (fn. 646)
Mission Church
A wood and corrugated iron church known as the Mission Church was acquired from the diocese and erected beside the rectory house in Vestry Road in 1898. (fn. 647) One service was held on Sundays and there were 122 Easter communicants in 1978. (fn. 648) It closed in 1989 and was replaced by a new church, designed in a domestic idiom using lias and slate, on the same site, which opened in November 1990. (fn. 649) It is still known as the Mission Church. The baptismal registers date from 1898. (fn. 650)
NONCONFORMITY
Quakers
Quakers met in at least two houses in the 1650s and had a burial ground in 1658. The 'Street paper', an early history of the society, was written in 1659 and George Fox visited in 1663. By 1668 there were 17 male Quakers in Street, one of the most prominent being Jasper Batt. He kept the Monthly Meeting minutes almost until his death in 1702 and requested interment in the Quaker burial ground. (fn. 651) Illegal conventicles, held regularly from 1670 to 1676 and attended by 20–40 from a wide area, appear to have been Quaker meetings. (fn. 652)
The houses of four Quaker families were licensed in 1689 and in 1706 one family obtained a further licence as did George Clark. (fn. 653) One of those was probably at Middle Leigh, home of the Clothier family. Another was the farmhouse at the southern end of High Street belonging to the Gundry family who had given the burial ground. That house appears to have become the principal Quaker meeting place until the early 18th century. It was demolished in the 19th century, but the names Meeting House Ground and Orchard survived in the 1840s. The burial ground had been abandoned by 1719 or earlier. (fn. 654) A new meeting house was built, probably in 1708 when a licence was issued to the Quaker preacher John Banks whose widow Hannah in 1713 leased a site near the northern end of High Street to trustees. (fn. 655) The freehold was probably purchased with the new burial ground in 1719. (fn. 656) There were said to be only four Quaker families c. 1780. (fn. 657) In 1841 the Monthly Meeting was held at Street for the first time, probably because of the influence of the Clothier and Clark families. (fn. 658) One Meeting was held every Sunday in the late 20th century. (fn. 659)
The first meeting house on the site was of two parts under a thatched roof. On its entrance side, the meeting house of three bays had two tall windows and a doorway, while at one end was a two-storeyed heated section. Before 1840 a pentice with a tiled roof had been built against the meeting house. (fn. 660) A new building (fn. 661) by J. F. Cotterell of Bath was built on the same site in 1850. It had 320 free seats though attendance on Census Sunday 1851 was only 61. (fn. 662) Cotterell's rectangular building is solidly faced in large squared blue lias blocks, rusticated at the angles and plinth, under a hipped slate roof with wide eaves, and a louvred cupola over the meeting house. On the main façade a Tuscan portico shelters the entrance in the third of six bays, the rest of which are filled by five tall windows. The meeting house, which has its original stand and gallery, is a single volume, capable of being made into a small and a large meeting room by a timber divider. (fn. 663)
Baptists
There may have been Baptists in the parish in the 17th century as several early Quakers were said to have been Baptists before the 1650s. (fn. 664) A chapel was built 1813–14 with 12 members and seats for 200. (fn. 665) The first adult baptisms took place in 1815 (fn. 666) but the chapel was not licensed until 1824. (fn. 667) It had its own burial ground. (fn. 668) In 1851 44 adults and 35 Sunday schoolchildren attended in the morning, 70 adults and 44 children in the afternoon, and 63 adults in the evening. (fn. 669) The chapel, on the Glastonbury road, was said to have been Particular Baptist in the 1880s but was later General. (fn. 670) It was rebuilt in Early English style before 1892, although part of the older building survives in the present small chapel. (fn. 671) There was a resident minister in 1986 holding two Sunday services, (fn. 672) and the chapel remained open.
A house, possibly at Godswell, was licensed for Particular Baptists in 1835. (fn. 673)
Congregationalists
In 1798 part of a house was set apart for Independent worship (fn. 674) but the congregation may have been shortlived. In 1852 Congregationalists held Sunday evening services at the Temperance Hall which had been licensed for worship in 1850. (fn. 675) A church was formed in 1853 and a chapel opened in 1855. (fn. 676) A Sunday school was built in 1866 and rebuilt between 1875 and 1885. The chapel was extended in 1874. (fn. 677) A manse had been provided for a resident minister by 1881. (fn. 678) There were two Sunday services in the late 20th century. The chapel, on the corner of High Street and Orchard Road, is a plain building with a gable front with long round-headed window. It remained open as part of the United Reformed Church in 1999. (fn. 679)
Methodists
Houses licensed in 1806 and 1812 were probably for Methodists, (fn. 680) who were said to have met c. 1820 in a cottage in Gape Lane served by Charles Colman (d. 1835). (fn. 681) In 1835 another house was licensed. (fn. 682) In 1839 a Wesleyan chapel was built in Silver Lane, later Godswell Road, and licensed in 1840. (fn. 683) On Census Sunday 1851 there were 66 children in the morning, 101 adults in the afternoon service, and 139 in the evening. (fn. 684) The church was enlarged in 1854 and provided with a burial ground but was still inadequate for the congregation and Sunday school, which had 243 children on the books in 1890. A new building in Leigh Road was opened in 1893. In 1895–6 a Sunday school was added behind with an assembly hall and 10 classrooms on two floors. (fn. 685) The chapel choir sang at neighbouring chapels including those of other denominations and gave concerts. A new organ was installed in 1905. (fn. 686) In 1906 two services were held on Sunday and one or two during the week. (fn. 687) By 1966 the resident minister also had charge of Ashcott, Baltonsborough, and Walton but two Sunday services continued to be held in Leigh Road. (fn. 688) The Leigh Road chapel, designed in Geometrical Gothic style by Henry Hawkins, is built of blue lias stone with Ham Hill dressings under a clay pantile roof and has side aisles and transepts. (fn. 689) There were two Sunday services in the late 20th century (fn. 690) and the chapel remains in use.
Primitive Methodists held open air meetings in 1852 and formed a society in 1863. In 1872 a chapel was built in High Street and was registered for worship in 1874. (fn. 691) It was enlarged in 1882–3 (fn. 692) and had a three-bay gabled stone front with elaborate ball finials, a triple-gabled porch, and round-headed doorway and windows with prominent keystones. There was a resident minister in the manse at Bourne Road until the mid 20th century. (fn. 693) Following Methodist union in 1932 the chapel was retained until closure in 1963. (fn. 694) Part was demolished and the rest converted into a shop. (fn. 695)
Other Congregations
A house was licensed for worship by an unspecified congregation in 1825. (fn. 696)
In the later 1840s a Swedenborgian family held meetings in their house in the High Street. The New Church congregation remained small, about a dozen members in 1893, but they continued to hold cottage meetings in the 1940s, served by visiting ministers. (fn. 697)
The Salvation Army met in a hall south of High Street, said to have been built in 1872 by James Seymour, which was registered in 1888. There was a resident captain by 1891. In 1893 they moved to the vacated Wesleyan chapel in Godswell Road. (fn. 698) In the late 20th century two services were held on Sundays with open air meetings in the summer and a Sunday school. (fn. 699)
Roman Catholic masses were celebrated in Street in 1922 and c. 1939 but later Catholics would have attended the church at Glastonbury. (fn. 700)
A Christian Science room was built on the corner of Southleaze and Orchard roads in 1934 and was registered for worship in 1935. There was one Sunday service in 1986 and a reading room was open once a week. It remained open in 1999. (fn. 701)
A Pentecostal church held two Sunday services and a Sunday school at the Junior school in High Street in 1971. (fn. 702)
EDUCATION
Before The School Board
There were dame schools in the early 19th century including that kept by Sarah Rood which James Clark attended. (fn. 703) In 1819 there were three day schools with 10–12 pupils and poor children attended Walton Sunday school. (fn. 704) The voluntary infant and day schools recorded in 1833 were probably the British schools. The same year four day and boarding schools, including one run by Quakers and another by Baptists, taught 66 boys and 43 girls at their parents' expense. There were Baptist and Church of England Sunday schools. (fn. 705)
In the 1800s Quaker Sunday schools were established for boys at various cottages and for girls at a house near the church. By 1815 20 girls attended for a hour on Sunday mornings and for one and a half hour in the afternoons. Both schools moved to the Friends meeting house c. 1819 when there were 60 children. (fn. 706) The Sunday school ceased c. 1827. Attempts to set up a joint Anglican and nonconformist day school failed in 1827 because of religious differences between the promoters Frances Clark and Susannah Hawkins, but Quakers established a school in Pound Lane for infants whose parents paid 3d. a week. In 1831 the Street and Walton British school was started in Teetotal Row, later West End, and the infants moved to an adjoining room. (fn. 707) Those were probably the voluntary schools recorded in 1833 with 47 boys and 42 girls. (fn. 708)
The Quaker Sunday school was revived in 1838 but closed in 1841 after the opening of the Wesleyan Sunday school. In 1856 a women's Sabbath Day school started at the Friends' meeting house. A man's class there was short-lived but in 1859 the school was re-established for mixed adults in the new British school and continued until the 1870s or later. Between 1859 and 1866 593 men and women were admitted, attending every Sunday between 8.30 a.m. and 9 a.m. (fn. 709) In the mid 19th century the Wesleyan Methodists held an evening school between 7 p.m. and 9 p.m. Monday to Friday at their chapel. (fn. 710)
A school, probably the church Sunday school, opened in 1831 with 125 children and a lending library (fn. 711) in premises opposite the Friends' meeting house. It was affiliated to the National Society before 1839 when it taught 52 children on weekdays and 42 on Sundays. By 1847 the National school took infants only and had a total of 109 pupils of whom 43 attended on Sunday only. (fn. 712) It was said that the school declined after 1850 and that the children spent too much time in church. (fn. 713) It remained open until c. 1872 but closed, probably in 1874 when the school board was formed, and in 1875 the schoolroom was used as a Sunday school. (fn. 714) It continued in use as a Sunday school with the attached cottage occupied by the caretaker until the 1950s except for about twenty years from 1935 when it was used as a labour exchange. (fn. 715) In the later 20th century it was a store. (fn. 716)
In 1819 there were 20 children at the Baptist Sunday school. (fn. 717) In 1833 there were 37 pupils, and in 1839 there were 41. A Baptist minister and his daughters taught 15 children at a day school between 1833 and 1839. (fn. 718) The British school, (fn. 719) with 41 children and a Sunday school in 1839, was said in 1842 to be run by Baptists. (fn. 720) In 1858 it was rebuilt in High Street on land provided by the Clark family (fn. 721) to the designs of S. Pollard of Taunton. (fn. 722) The school with room for 350 children opened in 1859 with readings by William Macready. (fn. 723)
Infant And Primary Education After 1874
In 1874 a school board was formed. (fn. 724) The British school became Street board school and was extended in 1876, 1886, and 1893 to accommodate 1,100 children. (fn. 725) In 1903 it had 18 classrooms and 826 children. An evening school was held. (fn. 726) The school was separated into junior and infant schools under one roof. In 1905 there were 479 juniors and 219 infants at the school, then known as Street mixed school. After the removal of the infants numbers at the junior school fell to 377 in 1935 and 282 in 1945. In 1955 there were 694 pupils aged 7 to 15 and in 1958 some of the 775 children were taught in the Congregational and other Sunday schoolrooms and part of the Crispin Hall. Numbers fell to 426 in 1965 following the removal of senior pupils. (fn. 727) In 1974 the juniors moved into the former grammar school at Elmhurst Lane to become Elmhurst county junior school. There were 303 children on the register in 1998. (fn. 728) The former British school became a furniture shop. The two-storeyed schoolroom block of austere Tudor design, built in 1859 to face High Street, has survived, together with the School Board extensions which were built on the site of the schoolmaster's house in Orchard Street and the yard in the angle of the buildings. (fn. 729) The extensions of 1893 and 1901 were said to have been designed by W. Reynolds. (fn. 730) Street infant school moved in 1928 to new 'model verandah' premises in Hindhayes, comprising eight classrooms in two wings with an assembly hall, kitchen and staff accommodation, and medical suite in the main neo-Georgian block. There were 230 children in 1935 and numbers have remained stable despite the opening of a new primary school in 1973. From 1955 the school was limited to 5 to 7 year olds and from 1959 was known as Hindhayes. In 1998 it had 223 pupils. (fn. 731)
A Quaker school at Overleigh, opened in 1891 with 36 children, was under the management of the school board but succeeded a private school built c. 1882 by Ellen and Catherine Impey to replace nearby premises. (fn. 732) From 1896 juniors were transferred to Street mixed school (fn. 733) and Overleigh took infants only. In 1903 there were 32 infants on the books. (fn. 734) Although numbers remained around 30 the school closed in 1922. (fn. 735)
A new county primary school in the south-west of the parish opened as Brookside in 1973 with 250 children, rising to 300 in 1985 and to 327 in 1998. (fn. 736)
Secondary And Technical Education
The Somerset School of Cookery and Housewifery, to train girls for domestic service, was established under the chairmanship of William Clark at the Grange or Abbey Grange, the former Street House, in 1897. The Clark family leased the school to the county council whose Education Committee provided studentships. In 1912 those were given to 25 girls and another 12 were put on the reserve list. Courses were originally of 6 months duration but soon extended to one year, and by 1904 a few girls were allowed a second year. The school closed in 1916. (fn. 737)
The Street Technical School was established in 1899. It included the art night class begun in 1871 in the reading room at Clarks' factory which by 1891 also provided evening classes for Street and Walton leading to examinations. (fn. 738) In 1900 purpose-built premises, designed in a severe late Tudor style by William Reynolds, were opened in Leigh Road with 16 pupils. The two-storeyed building included a large lecture room, a carpenters' shop, and a caretaker's cottage. Evening classes included French, arithmetic, physiology, lacemaking, beekeeping, carving, and shorthand. Automobile classes begun in 1935 were unsuccessful. By 1936 the school had 399 pupils. Students paid fees although members of the army training corps and others attended free of charge during the Second World War. In 1942 there were 155 pupils, 11 teachers, and German and shoemaking classes were available. Veterinary and horticultural studies had been added by 1953 when 429 students attended classes in 25 subjects. (fn. 739) The technical school closed in 1962 and students transferred to the new area college to be known as Street Technical College, but day and evening classes continued at Leigh Road even after the new premises in Church Road opened in 1963. (fn. 740) The technical college became Strode College in 1973 and thereafter provided full-time classes for sixth-form pupils and evening and sandwich courses. By 1979 there were 303 full- and part-time students in addition to those attending adult literacy and nonvocational classes. (fn. 741) By 1986 there were over 300 fulltime students aged 16–19. (fn. 742)
A woodwork class for 13 boys at the technical school begun in 1913 was the start of Street, later Strode, day continuation school formed in 1914 in Leigh Road. After 1920 it moved to the vacated Strode school. Most of the pupils came from Clarks' factory and spent 22 hours a week studying woodwork, dressmaking, and housewifery as well as vocational subjects. There were separate boys' and girls' schools under one roof with two head teachers. In 1925 a large new block incorporating a boys' classroom, a domestic subjects room, and a two-storeyed house for the headmistress was built between the existing school and the corner of Leigh and Vestry roads. In addition to teaching between 70 and 100 pupils aged from 14 to 16 the school also provided technical classes for senior pupils from other Street schools. After 1947 day continuation pupils had to be between the ages of 15 and 17 and were only entitled to 8 hours a week. In 1962 the schools closed and pupils transferred to the new Street Technical College. (fn. 743) The buildings became a day centre for the elderly. (fn. 744)
Strode school was built in 1913 to a design by S. T. Clothier for William Clark in Leigh Road. It opened in the small and plain building with 17 fee-paying pupils as a co-educational secondary school. Numbers rose to 55 in 1920. Bursaries were given and Mr. Clark met the shortfall in costs. In 1919 his son Roger bought Elmhurst house, built in the 1830s by Cyrus Clark, and in 1920 the County Secondary school opened on the premises, mainly with children transferred from Strode school. (fn. 745) The new county school had a mix of free and fee-paying pupils and in 1924 a sixth form was added. The school was renamed Elmhurst County School in 1925 and many additional buildings were provided on the site, including an assembly hall opened by General Smuts in 1929. There were 200 pupils by 1937. In 1945 it became Elmhurst Grammar School. Numbers fluctuated between 200 and 300 during the 1950s and 1960s partly because of the loss of fee-payers, but rose rapidly to 390 in 1970 and to 534 in 1972. (fn. 746) The school closed in 1973 when pupils transferred to Crispin School or Strode College. (fn. 747)
Strode County Secondary Modern School opened in 1961 sharing premises with the technical college first in Leigh Road and from 1962 in Church Road. It had 19 forms and a quarter of the pupils were drawn from schools in neighbouring villages. (fn. 748) It had 571 pupils in 1965 rising to 625 in 1972. In 1973 pupils transferred to Crispin Comprehensive school on the Church Road site which had 1,095 pupils in 1975, rising to 1,115 in 1985 but falling to 912 in 1998. (fn. 749)
Somerset Special School for girls opened in 1917 at the Grange, formerly the school of cookery and housewifery. (fn. 750) Numbers rose from 19 in 1917 to 38 in 1919 and to 40 in 1921. In 1925 the school closed and 37 girls were transferred to Sandhill Park, Bishops Lydeard. Later that year the school re-opened for 13 boys, increasing to 33 in 1926 but in 1930 the boys also transferred to Sandhill Park and the school closed. (fn. 751) In 1974 Avalon County Special School opened in Brooks Road with 77 children, rising to 140 in 1975 and to 157 in 1985, but had only 100 children aged 2 to 16 at the school in 1998 when 40 3- to 5-year olds attended the connected Acorns Nursery school. (fn. 752)
Private Schools
There were several private schools including a day school in 1840 (fn. 753) and the Collegiate school, probably for boys, in 1875. (fn. 754) In 1881 there were private day schools near Elmhurst and at Lower Leigh, and a schoolhouse at Overleigh, probably the predecessor of the Quaker infant school. (fn. 755) Helen Lean kept a private school until she became head of Strode school in 1917. (fn. 756) Sarah and Roger Clark ran a small school at their house, Whiteknights at Overleigh, in 1926 and later at the Friends' meeting house. (fn. 757) A women's adult school was held at Overleigh in the late 1950s in the former infant school under a charitable Scheme which was registered in 1964. It had closed by 1993 when it was deregistered. (fn. 758) The Cedars private school at the Friends' meeting house taught 4- to 8-year olds in 1979 and 1986 and Park School, a private infant school, was open in Vestry Road in 1979. (fn. 759)
A private school was established in 1935 by R. J. O. Meyer. It was said originally to have been intended to provide an education for the sons of the Indian aristocracy. It acquired its name, Millfield, from the house it originally occupied. (fn. 760) It had c. 200 boys in 1951 and 20 girls preparing for University entrance. (fn. 761) It became an independent public school in 1953. By 1964 there were 491 pupils of whom 435 were boarders and in 1979 there were 1,100 boys and girls aged 13 to 19 and 250 aged 8 to 13. (fn. 762) The school has expanded considerably on its Millfield site which includes modern teaching blocks, playing fields, and landscaped grounds. There are junior and senior schools with boarding houses scattered over several sites in the area accommodating c. 1,220 pupils including c. 900 boarders, many in old houses in neighbouring parishes. (fn. 763)