Pages 213-220
A History of the County of Somerset: Volume 9, Glastonbury and Street. Originally published by Victoria County History, London, 2006.
This free content was digitised by double rekeying. All rights reserved.
NORTH WOOTTON
North Wootton, a chapelry of Pilton and anciently part of that parish, occupies part of a small ridge which is an outlier of the southern scarp of the Mendips 3.5 km. south-east of Wells. It is deeply cut by the Redlake river. It extends south and south-west across the eastern end of Queen's Sedgemoor. (fn. 1) Its name suggests a woodland settlement, the prefix perhaps added to distinguish it from Wootton in Butleigh. It is irregular in shape, interlocked with Pilton, and measuring up to 3 km. from north to south at its deepest and 5.5 km. from east to west, where a triangular extension across the moor resulted from inclosure in 1796. (fn. 2) Detached parts of Pilton and Croscombe within the parish were absorbed in 1883 and in 1884 parts of Pilton and Glastonbury on Queen's Sedgemoor were added. (fn. 3) In 1801 the parish measured 1,536 a. (fn. 4) but 848 ha. (2,095 a.) in 1991. (fn. 5)
Launcherley (120 m. (394 ft.)) and Stoodley hills are the high points of the ridge of Keuper marl with strips of Rhaetic clay (fn. 6) which forms the northern part of the parish, the boundary following much of the top of the scarp. There were blue lias quarries, probably at Quaish farm, in the late 18th century. (fn. 7) The slope is at first steep but becomes more gradual towards the alluvium of the moor. Two barrows, described as new made and possibly mounds or cairns, marked part of the western boundary in 1351. (fn. 8) The medieval moorland settlements of Barrow, Quaish, and Edwick lie on the 15-m. (50-ft.) contour. (fn. 9)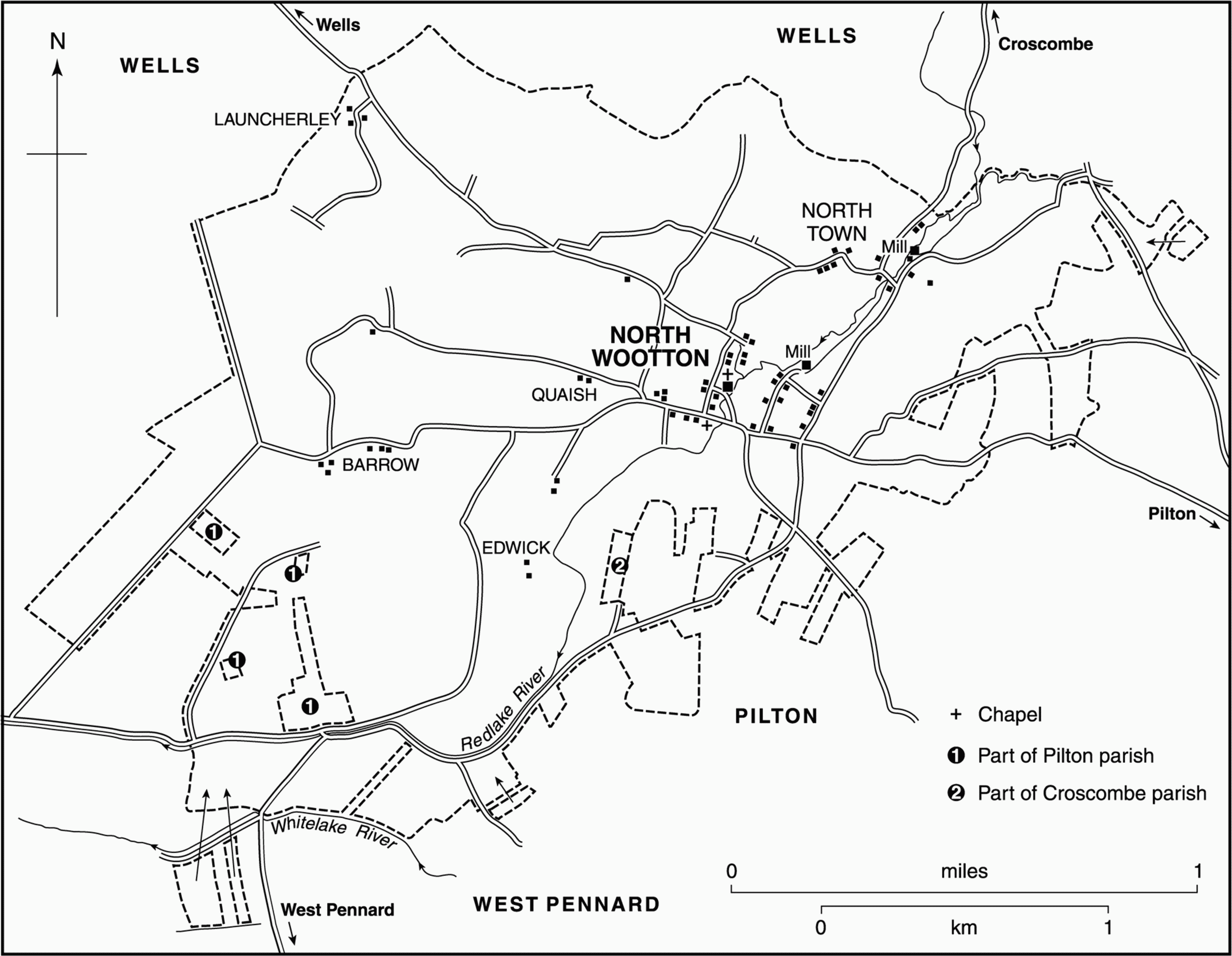 Communications
North Wootton village lies at the junction of a north-south route from Wells and Croscombe which comes down the valley of the Redlake, with a route from Pilton running west along the southern slope of the ridge. One of the routes was known as the Portway in 1517. (fn. 10) Land at Slough Lane was known as Stakeway by the early 14th century. (fn. 11) Slough Lane was a waggonway in the 1520s, (fn. 12) perhaps then linking with Fountain wall as a route to Glastonbury. (fn. 13) Batts bridge, by the ford across the Redlake river south of the church, was recorded in 1517 (fn. 14) as also was Holybrook bridge, which may have been on the stream which joins the Redlake north of the church. (fn. 15) The north-south road from Wells was turnpiked from Dulcote to Steanbow in West Pennard by the Wells trust in 1764 and disturnpiked in 1821. (fn. 16)
Population And Settlement
There is evidence of scattered pre-Conquest settlement outside the village. Edwick, formerly Yadwick, was recorded in the 12th century and probably signified an entry to the moors. (fn. 17) Launcherley straddled the boundary or 'landshare' with Wells. (fn. 18) Barrow, recorded in 1327, possibly takes its name from Wolstones or Wlfstones barrow mentioned in the mid 13th century. (fn. 19) Quaish or Squash was named in 1628. (fn. 20) The earliest part of North Wootton probably lay originally along the north-south road west of the church where the 17th-century North Wootton Farm and another house of similar date stands near the sites of the rectory house and the church house. (fn. 21) The existence of large arable fields on the west and east probably restricted expansion of settlement in the Middle Ages. There were 28 households in 1563 (fn. 22) and 51 resident males in 1641. (fn. 23)
Settlement later extended along the east-west route between the river and the early 19th-century Wootton House, including two 17th-century farmhouses: eastwards to occupy two parallel roads east of the Redlake river; and north to North Town, evidently in existence in the 17th century. (fn. 24) In the late 18th century there were said to be c. 300 inhabitants in 40 houses. (fn. 25) In 1801 the population was 224 but fell sharply to 148 in 1811 before rising to 278 in 1831 and 375 in 1841. It declined gradually from 335 in 1851 to 255 in 1901 and to 227 in 1921. Thereafter it remained fairly stable until the later 20th century but between 1961 and 1971 it rose from 219 to 250. There were 254 residents in 1991. (fn. 26) Development has also taken place east along the Pilton road, including mid 20th-century local authority houses, creating a nucleated village. (fn. 27)
MANOR AND OTHER ESTATES
North Wootton Manor
A 5-hide estate at Wootton is said to have been given to Glastonbury abbey by King Cynewulf in 760 and another estate by King Ethelbald to Heregith c. 860. (fn. 28) A grant of five 'mansae' by King Edmund to the thegn Ethelnoth in 946 was probably a lease. (fn. 29) In 1086 five hides at Wootton were held of the abbey by Edred in succession to Almer, holder in 1066. They formed part of Glastonbury's Pilton estate (fn. 30) until the Dissolution. (fn. 31)
In 1547 the estate was granted to Edward Seymour, duke of Somerset, (fn. 32) and descended in the Seymour family to Elizabeth (d. 1697), wife of Thomas Bruce, earl of Ailesbury. (fn. 33) Their son Charles, Lord Bruce, sold land in North Wootton in fee in 1705, (fn. 34) and with his uncles Robert and James Bruce, he sold Pilton manor in 1719 to Joseph Langton (d. 1779). (fn. 35) It passed to Joseph's daughter Bridget and in 1783 was settled on her marriage to William Gore (d. 1847) who outlived Bridget and their son William and was succeeded by his grandson William Gore-Langton (d. 1873). William, Earl Temple, son of the last, died in 1902 and the estate was held by trustees (fn. 36) but by c. 1915 it was broken up and sold. (fn. 37)
Yadwick
Land at Yadwick was held in the early 12th century of Glastonbury abbey by Robert who was succeeded by his son Roger and by Roger's nephew Baldwin of Cary. In the mid 12th century Baldwin was given his estate in fee (fn. 38) and in 1189 he or another Baldwin, also known as of Yadwick, did homage for 1½ virgate there. In the early 14th century John of Yadwick was holding the estate. (fn. 39) Another virgate was held in 1189 by Robert of Yadwick, (fn. 40) who by the mid 13th century had been succeeded by William of Yadwick. William had acquired a further virgate at Yadwick and held both in chief of Glastonbury. (fn. 41) In 1278 William appears to have granted his land to another William, called the younger and probably his son, while retaining a life interest. (fn. 42) In 1281 both acquired further land from the abbot under an inclosure agreement. (fn. 43) In 1302 the younger William released his land to his brother Thomas who held two virgates c. 1316. (fn. 44)
The subsequent descent of the two Yadwick holdings is uncertain. Thomas or a namesake, probably in the late 14th century, claimed to have been disseised of three carucates in Yadwick by Thomas Andrew (fn. 45) and probably the same Thomas Andrew, husband of Joan, daughter and heir of John Yadwick, held land in Pilton. (fn. 46) In the early 18th century Edwick farm belonged to a Mrs Boddingham or Bodenham. (fn. 47)
Subchantry Estate
Giso, bishop of Wells 1061–88, gave ½ hide and 1 virgate in North Wootton for the support of the Lady Chapel in Wells cathedral. By 1136 a further ½ hide there also belonged to the cathedral, having earlier been given by bishop Godfrey (1123–35) to St Cuthbert's Wells. (fn. 48) By 1176 ½ hide of the cathedral's estate had been assigned to the office of succentor (fn. 49) and remained part of the subchantry manor until c. 1547 when it was assigned instead to the deanery. (fn. 50) In 1851 the Ecclesiastical Commissioners sold the manor, which included c. 120 a. land in North Wootton, to the tenant, John Davis Sherston. He divided and sold it. (fn. 51) The North Wootton land included Quaish and part of Launcherley. (fn. 52) Part was bought by Somerset County Council in 1920. (fn. 53)
In 1269 the succentor agreed to pay 13s. 4d. to Glastonbury abbey for common in the moor. (fn. 54) This payment continued to be made to Pilton until 1719 or later and the common, known as the subchantry dole, was allotted to the farmer of the subchantry manor when the moor was inclosed in 1796. (fn. 55) In 1770 another charge on the land was 4s. for the cathedral Lady Chapel, probably representing bishop Giso's gift. (fn. 56)
The succentor's house was recorded in 1517 (fn. 57) and may have been the house with dovecot held by George Noble c. 1662. (fn. 58) Noble's house and dovehouse were last recorded in 1836. (fn. 59)
Rectory Estate
In 1176 Robert, abbot of Glastonbury, gave the church of Pilton, presumably including North Wootton chapel, to Wells cathedral. The original intention to establish two prebends was abandoned but the church was retained and by 1269 had been assigned to the precentor. (fn. 60) Successive precentors, and after them the Ecclesiastical Commissioners, let the rectory estate (fn. 61) until 1863 when it was used to endow the living of North Wootton. (fn. 62)
In 1673 the estate comprised five houses and 32 a. as well as tithes and the mansion. (fn. 63) The tithes were commuted for £100 in 1840. (fn. 64)
The precentor's house was recorded in 1454 (fn. 65) and 1517 and stood west of the churchyard. (fn. 66) In 1831 it was described as very large and in bad repair and no trace of the parsonage barn remained. (fn. 67) It was an L-shaped house with a four-bay south range and a west wing. (fn. 68) The house burnt down in 1854 (fn. 69) and the site was later incorporated into the churchyard. (fn. 70)
Charity Estate
In the early 18th century two estates at North Wootton, one called Hurn, were purchased to endow Harper's almshouse in Wells. (fn. 71) In 1840 the charity had c. 42 a. but part of the property was later sold to the tenant. (fn. 72)
ECONOMIC HISTORY
Agriculture
In 1086 five hides at Wootton were linked with smaller estates at Pilton and Pylle as part of the great manor of Pilton. (fn. 73) By 1189 some pasture had been inclosed and converted to meadow, for which tenants paid a goose, later 1d. (fn. 74) Intercommoning took place on the moors including Wootton and Hearty moors. (fn. 75) In the later 13th century there was evidence of increased pressure on land to produce more food: in 1279 it was agreed that arable in Brook furlong and 100 a. in Wootton moor were to be inclosed and improved; (fn. 76) and an assart was recorded in 1290. (fn. 77) Herbage at Hearty Lake was sold by Pilton manor in the early 14th century. (fn. 78) Barrow field and Brook furlong were arable lands mentioned in the later 13th century. (fn. 79)
In the mid 13th century c. 40 tenants (fn. 80) apparently half-virgaters and ferdellers, owed the usual works and carried firewood from Baltonsborough to Glastonbury. Some were required to carry millstones and one tenant owed 143 days each year. (fn. 81)
In the early 16th century there were several complaints of pigs wandering unringed and of Croscombe men pasturing too many horses in the meadows and fields of Wootton. The Barrow, or west, and Wootton, or east, fields were recorded west and east of the village respectively. (fn. 82) The latter in 1627 was said to contain 400 a. and to be divided from Pilton fields by a gate at Stoodley hill. (fn. 83) The field was gradually inclosed and much of it converted to pasture. By 1840 only a small area of arable closes remained in the south, still known as Wootton field. (fn. 84)
In the 18th century sheep and geese were kept on the moors although the manor court declared that they were to be removed from Sedgemoor. Tenants were allowed to stock the west field with sheep at the rate of three per acre. (fn. 85) By the end of the century butter and cheese were being produced and grass was worth between 15s. and 35s. an acre. Arable on the hills was worth less than 8s. an acre and produced indifferent crops of wheat, oats, and beans. It was said to be capable of improvement but local farmers grew little barley, turnips, artificial grass, or clover and made not much use of lime. (fn. 86) A number of fields named Clover ground and one called Marlpit ground indicate that some farmers had tried improving their land. (fn. 87) In 1796 Queen's Sedgemoor was inclosed and new droves laid out. By 1840 the tiny strips had been amalgamated into large inclosures. Many strips remained in the former arable fields, although many had been converted to pasture or orchard. (fn. 88)
In 1840 grassland covered nearly 1,230 a. and dairying predominated. There was only 133 a. of arable. Holdings were small but often combined. The largest (169 a.) was a tract of inclosed land in Queen's Sedgemoor and only one farm had over 100 a. Of the other 30 holdings over 10 a., 16 were under 25 a., and only 5 over 50 a. (fn. 89) Of 19 farmers recorded in 1851 ten had over 50 a. and 25 labourers were employed. (fn. 90) A similar pattern continued in 1861 but by 1871 there were slightly fewer holdings and two were over 200 a. although the number of labourers had not changed since 1851. One woman kept 20 cows and employed 4 people, and several farmers had a second occupation. (fn. 91) Statistics for 1881 are incomplete but appear to show little change. A beerhouse keeper described himself as a drainage contractor. (fn. 92) Two farms and several labourers' cottages were empty in 1891. (fn. 93) By 1905 there were only 43 a. of arable and 1,827 a. of grass. (fn. 94) A 34-a. farm was let on a yearly tenancy in 1921 with restrictions on arable cropping and mowing and penalties for converting grass to tillage. (fn. 95) In 1978 only 9 holdings out of 19 were over 20 ha. (50 a.) and 8 were dairy farms. There were 523 dairy cows and 426 sheep. By 1983 there were no working farms in the village. (fn. 96)
In 1840 there were 123 a. of orchard. (fn. 97) In 1856 a carpenter's estate included a cider house and mill (fn. 98) and there was a cider maker at North Town in the early 20th century when orchards were still plentiful. (fn. 99) Later agricultural enterprises included a chick breeder and a commercial vineyard established in the 1970s. (fn. 100)
Woodland
The woodland which gave the parish its name may have been cut for charcoal in the early 14th century when William le Colyar was mentioned (fn. 101) but had been largely cleared by the 16th century when the manor court was concerned about illegal felling and the taking of underwood. (fn. 102) By 1840 there were only 12 a. of woodland, mainly at Launcherley, and North Wootton's shares (c. 42 a.) of Ham Wood and Westley's Wood in Pilton had been largely cleared for pasture. (fn. 103) There had been further shrinkage to 8 a. in 1905. (fn. 104)
Mills
By the mid 13th century Glastonbury abbey had a mill on land obtained by exchange with William of Yadwick. (fn. 105) In 1316 it was classed as a freeholding. (fn. 106) In 1435 William Hackett held a mill with three tenements and it bore his name in 1517. (fn. 107) In 1707 the mill appears to have been settled on Henry Coles the younger who in 1723 conveyed it to Samuel Coles the elder. From Samuel it passed to William Little and by 1753 to Robert Bartlett, (fn. 108) but continued to be known as Coles's mill. (fn. 109) By 1767 it had passed to the Catcott family and by 1832 to Edward Foxwell. (fn. 110) In 1840 it belonged to John Coombs. (fn. 111) The mill, north of North Wootton village, was an overshot water grist mill (fn. 112) but by 1866 it had been converted into a bark mill for Coombs's tannery. (fn. 113)
By 1275 there was a second mill belonging to the manor. (fn. 114) That mill, at North Town, continued to be leased out by the owners of the manor. (fn. 115) It remained an overshot grist mill until 1906 or later although the miller was also a cowkeeper, smith, and wheelwright. (fn. 116)
Industry
There appears to have been some cloth making with both linen and broad weavers recorded in the 17th century. (fn. 117) A local man sold worsted at Wells fair in 1714. (fn. 118) In the late 18th century most of the poor were said to be employed in spinning and knitting. (fn. 119) A field by the Redlake river was known as Dyehouse field. (fn. 120) A teasel dealer was recorded in 1851 and a velvet weaver was at work in 1861. (fn. 121)
A tanhouse was established in the 1780s (fn. 122) but had closed by 1842. (fn. 123) A tanner was recorded in 1826 (fn. 124) and the Coombs family had set up a tannery north of the village by 1839. (fn. 125) They later built a large complex of buildings on the site, acquiring the nearby mill to grind bark. (fn. 126) The tannery employed between 9 and 14 people (fn. 127) but appears to have gone out of use by the end of the century. (fn. 128) It was derelict by the 1980s but was converted for residential use in the 1990s. (fn. 129) There were tanners at Edwick Farm in 1872 and Hobbs Farm in 1891. (fn. 130)
Retail Trades And Services
Breaches of the assize of ale were presented in 1314, 1469, and 1557. (fn. 131) There was an alehouse between 1675 and 1696 (fn. 132) and in 1686 there were beds for 3 guests and stabling for 6 horses. (fn. 133) Two victuallers were licensed in 1733 but thereafter only one, although there were said to be two public houses in the 1780s. (fn. 134) The Queen's Head beerhouse, in North Town, was recorded by name in 1813 (fn. 135) and remained until the 1970s. (fn. 136) Known as Manor House Farm, the building dates from the 17th century but was altered in the 19th and 20th centuries. It had an upper room approached by stone steps with a wrought iron rail (fn. 137) possibly the meeting place of North Wootton Friendly and Benefit Society whose rules were enrolled in 1842. (fn. 138) Between 1859 and 1902 there were two other beerhouses most of whose keepers also worked as farmers and blacksmiths. (fn. 139) One had closed by 1906 but the other, known as the New, later Crossways, inn, remains open. (fn. 140)
Shopkeepers were recorded in the 19th century and a linendraper in 1851. (fn. 141) In 1871 there was a butcher and a grocer at North town and a second butcher in North Wootton village. (fn. 142) One general shop survived in 1947 and in 1979 the post office was a general store but was later closed. (fn. 143)
LOCAL GOVERNMENT AND WELFARE
The parish was divided between Glastonbury Twelve Hides and Whitstone hundreds. In 1517 the Twelve Hides appears to have included the east of the parish (fn. 144) but the later tithings, both called North Wootton, do not appear to have had clear geographical boundaries and may have been based on land ownership. The tithing in the Twelve Hides also included Westholme in Pilton. (fn. 145) By 1841 the whole parish was deemed to lie in Glastonbury Twelve Hides. (fn. 146)
Separate halimote courts for the tithing in Twelve Hides hundred were held, probably twice a year. In the early 16th century the courts were held at Pilton. Court rolls survive for 1262, 1265, 1308, 1315, and 1526–32. Business consisted mainly of tenants' pleas, drainage, strays, tenancies, and illegal tree felling. (fn. 147) In the 18th century North Wootton had a hayward (fn. 148) and a pound opposite the old rectory house. (fn. 149) In the 15th century Wootton tithing was represented at the Whitstone hundred court which dealt with breaches of the assize of ale, excessive tolls at the mill, and drainage. (fn. 150)
The precentor of Wells had peculiar jurisdiction in the parish. In 1314 he had his own pound. (fn. 151) There are formal visitation records for 1758 and 1775–1803 and some earlier papers, (fn. 152) churchwardens' presentments at visitation for various dates from the later 17th to the 19th centuries, mainly concerning the church fabric but also non-payment of rates, tithes, probate, defamation, moral matters, and bridge repair, (fn. 153) and probate indexes 1660–1756. (fn. 154)
A vestry met in the 18th and early 19th centuries to order poor relief (fn. 155) and to appoint constables in the mid 19th century. In 1849 it set up a committee for the removal of nuisances. It was also concerned with road and drainage improvements. (fn. 156) In 1862 there was a burial board. (fn. 157)
Poor Relief
Throughout the 18th century the overseers paid for medical attention and firewood. In 1801 coal and potatoes were bought for the poor and several paupers were given seed potatoes. (fn. 158) The church house, rented from Pilton manor, appears to have been repaired and modified in the 1640s to accommodate the poor and in 1680 the overseers paid the churchwardens the equivalent of 120 years rent for the house. (fn. 159) In 1752 a pauper's goods were redeemed for use in the poorhouse. In 1767 a family was housed, presumably downstairs, and two female and three male paupers occupied two upper chambers. (fn. 160) In 1836 the paupers were removed and in 1847 the premises, east of the church, were sold to the parish and replaced by a new school and a vestry room. (fn. 161) In 1906 the vestry room was replaced by a new church room, later the village hall. (fn. 162)
North Wootton formed part of the Wells poor-law union from 1836 and from 1894 it was part of Wells rural district which was absorbed into Mendip district in 1974. (fn. 163)
Charities For The Poor
Thomas Pittard in 1850 and John Coombs in 1882 each left £100 to the poor. A similar sum was given by Sarah Sage by will dated 1928. The three charities, together producing up to £7 a year in the mid 20th century, were in 1993 wound up. (fn. 164)
CHURCH
Origins And Endowment
North Wootton was a chapelry of Pilton, (fn. 165) and had a chapel in the 12th century. (fn. 166) The chapelry became a vicarage in 1845 with the chapelry of Worminster, formerly in Wells, annexed. (fn. 167) It remained a sole living until 1972 when it was reunited with Pilton. (fn. 168) From 1980 it was held with Croscombe and Dinder. (fn. 169)
In 1311 the vicar of Pilton seems not to have been obliged to serve the chapelry in person or by deputy, (fn. 170) perhaps to allow the people of Wootton to pay for his services, an arrangement which seems to have been agreed later in the century. (fn. 171) From 1845 successive vicars of Pilton held the advowson until 1972 when the bishop of Bath and Wells became patron of the united benefice. (fn. 172) From 1311 the vicar of Pilton had most of the small tithes of North Wootton including the tithes of a mill. (fn. 173) They were commuted for £50 in 1840. (fn. 174) The new benefice was endowed with £39 a year, to which in 1863 was added the rectory land in the parish and a further £216 a year. (fn. 175)
A vicarage house was not provided until 1869. (fn. 176) The house, south-east of the village on the Pilton road, was sold c. 1961 and was subsequently named Tyler's House, after the Revd. Owen Tyler, the first occupant. (fn. 177) A new vicarage house, built after 1961, was sold in 1972. (fn. 178)
Pastoral Care And Parish Life
There may have been a resident curate in 1290. (fn. 179) The churchwardens paid the Pilton churchwardens between 4s. and 5s. 9d. a year for an Easter light at Wootton in the late 15th and the early 16th century. (fn. 180) That payment, fixed at 5s. 4d., continued to be made until 1764 or later. (fn. 181) There was a high cross light in 1511, (fn. 182) whose endowment continued until 1548. (fn. 183) A church house stood to the east of the churchyard. (fn. 184) It was still used in 1611 to hold a church ale, (fn. 185) but its brewing furnace was sold. (fn. 186)
In 1611 the vicar of Pilton refused to read evening service although he was offered a horse. (fn. 187) The chapel was served by a curate in the late 17th century but service was said in 1733 to have deteriorated. (fn. 188) During the 18th century the wardens paid for a dinner for the precentor's visitation. (fn. 189) In 1815 a salaried curate served on alternate Sunday mornings and afternoons but also served Pilton and was priest-vicar at Wells cathedral. (fn. 190) On Census Sunday 1851 there were 32 adults and 21 children at the morning service and 82 adults and 15 children attended in the afternoon. (fn. 191) In the early 20th century there were two or three services on Sunday and some on weekdays. There were 50 Easter communicants in 1906 and 69 in 1963. (fn. 192) An organ was installed in the late 19th century and in the later 20th century there was a robed choir. In 1930 a harvest home was revived. (fn. 193)
Church Building
The church of St. Peter, so dedicated by 1851, (fn. 194) is a small building with aisleless nave that probably dates from the 12th century, chancel, and a west tower. The nave was extensively remodelled in the mid to late 14th century when new windows, mostly square-headed and of two lights, were inserted and the south porch, which incorporates an ogee-headed stoup, and the west tower were added. The nave's plain north doorway may be earlier. The chancel was rebuilt in the mid 15th century and has a south rood turret.
In 1746–7 the building was roughcast and the chancel also whitewashed. (fn. 195) A sundial over the south porch is dated 1767. The whole church was restored in 1869 (fn. 196) when the west gallery, probably of the 18th century, (fn. 197) was removed, the chancel largely rebuilt, and the organ chamber added. The waggon roofs were probably inserted at that date. Painted texts on the walls were obliterated. (fn. 198) The top stage of the late medieval tower was rebuilt c. 1904. (fn. 199)
The Norman font has cable and chevron designs and an 18th-century cover, probably adapted from the pedestal of a tea table. Fragments of late medieval glass survive in the rood stair window and a few 15th- and 17th-century carved benchends in the nave and choirstalls. The pulpit and part of the contemporary communion table are early 17th century, and a reading desk was installed in 1685. (fn. 200) The royal arms of 1826 may be a reworking of an older one. (fn. 201) The east window of 1902 is by H. V. Milner, (fn. 202) the carved oak screen in the tower arch was made by a ladies technical class in 1904, (fn. 203) and the Madonna and Child by Thomas Matthew Rooke (1842–1942). (fn. 204)
The plate includes a cup and cover of 1750 by John Robinson and a chalice and paten are dated 1881. (fn. 205) There are three bells: one dated '1265', perhaps by R. Purdue and the other two recast by Thomas Purdue of Closworth in 1671. (fn. 206) The registers begin in 1565 but the earliest is a copy made in 1604. (fn. 207) Right of burial in the churchyard was granted in 1571, (fn. 208) although there were burials in North Wootton from 1566. (fn. 209)
NONCONFORMITY
Licences for meetings of Independents were issued in 1787 and 1791, (fn. 210) for Methodists in 1812, and for unspecified congregations in 1812, 1817, and 1828. (fn. 211) Buildings were licensed in 1829 and 1831. The latter named Providence Chapel, (fn. 212) and completed in 1832, was apparently used by Bible Christians but it had closed by 1848 when it was taken over by Baptists from Croscombe and later served from Shepton Mallet. In 1851 the average attendance was 20 children morning and afternoon and 50 adults in the evening. (fn. 213) The chapel, which stood at the south end of the village and seated 110, had occasional services in 1947, closed after 1953, and was a private house in 1998. (fn. 214)
EDUCATION
In 1762 a man was licensed to keep a writing school. (fn. 215) In 1735 John Humphreys left almost £118 to teach poor children. (fn. 216) By 1760 there was a schoolroom repaired and furnished by the parish. In 1793 the overseers paid for the Sunday school and for three night schools each week. The Sunday school was the only school in 1819. (fn. 217) In 1825 it was kept by the parish clerk who taught 14 children (fn. 218) and it remained the only school in the 1830s. (fn. 219) In 1847 44 children attended daily and 12 attended Sunday school only. (fn. 220) In the same year the National Society gave a grant for a new schoolroom which was built in the following year. (fn. 221) In 1866 the Ecclesiastical Commission conveyed two plots of former rectory land to extend the school site. (fn. 222) A teacher's house was provided but by 1907 it was let. (fn. 223) Average attendance was 50 in 1878 although absenteeism was high. (fn. 224) The school was enlarged in 1894 for 80 but in 1903 there were only 42 on the books. (fn. 225) Thereafter numbers declined to 23 in 1925. Senior pupils were removed in 1928 but numbers stabilised between 21 and 28 until 1962 although 76 evacuees from Bristol and London attended between 1939 and 1944. The school closed in 1962 and the children transferred to West Pennard. (fn. 226) The buildings and site were sold in 1963 and later converted to a dwelling. (fn. 227)