Pages 59-75
A History of the County of Somerset: Volume 9, Glastonbury and Street. Originally published by Victoria County History, London, 2006.
This free content was digitised by double rekeying. All rights reserved.
BALTONSBOROUGH
The parish and ancient chapelry of Baltonsborough lies in the broad, flat Brue valley 5 km. south-east of Glastonbury. (fn. 1) It may derive part of its name from a barrow mentioned in its north arable field in 1388 in the area later known as Barrow Hill (fn. 2) and comprises the settlements of Baltonsborough, Lubborn, and Ham Street in the centre, Tilham Street in the north-east, West Town in the north-west, and Catsham and Southwood to the south. (fn. 3) The parish is roughly triangular in shape, its south-western limit formed by the river Brue. In the north much of the boundary is the Coxbridge brook but there are projections into Kennard moor and West Bradley resulting from inclosure, probably in the later 17th century. (fn. 4) Part of the eastern limit is formed by Hell Ditch (fn. 5) and part by a boundary cross set up by 1503. (fn. 6) The southern boundary is a tributary of the Brue known variously in the Middle Ages as Bitter Water, Dunstan's Ditch, (fn. 7) or the Nymet, (fn. 8) and in the 17th century as the Emmett. (fn. 9) The name Dunstan's Ditch or Dyke was also given to a headland or fore-earth, probably in the north of the parish, granted to Glastonbury abbey in the mid 13th century (fn. 10) and by the later 19th century to the millstream in the south of the parish. (fn. 11) The parish measured 2,743 a. in 1842. (fn. 12) The detached part of West Bradley was absorbed in 1884 and the modern civil parish measures 1,099 ha. (2,716 a.). (fn. 13)
Communications
A low ridge of Lower Lias clay lying east-west in the centre of the parish rises to 58 m. (190 ft.) at Windmill Hill and falls away westwards to the alluvium of the Brue below the 15-m. (50-ft.) contour. (fn. 14) Most of the settlements lie on a road along that ridge, a road which linked the Glastonbury manors of East Pennard and Butleigh. In 1503 it crossed the Brue, there called Pynneslake, by a two-arched bridge on the site of the present Wallyer's bridge. A north-south route, known as a harepath in 1503, (fn. 15) crosses the ridge route at Ham Street, running from Havyatt in West Pennard, on the GlastonburyPilton road, to Ilchester. Baltonsborough wall and Whitecocks or Whitelocks wall, both recorded in the 15th century, (fn. 16) and Receyvers or Hestovers wall, known from 1564, (fn. 17) proved necessary to improve access to more low-lying parts of the parish. Stepping stones were also laid down. (fn. 18)
Bridges indicate the continuing importance of the main routes. Wallyer's bridge, over the Brue in the north-west and known as Baltonsborough bridge in 1686 (fn. 19) and as Wallgate bridge in the 18th century, was rebuilt in 1723. (fn. 20) Nogger bridge appears to have spanned the millstream and was probably the stone Frogardsbrigge, Nogger, or Little Bridge on the road to Butleigh. (fn. 21) It was rebuilt in 1780. Both were described as horse bridges and too narrow for waggons. Wallyer's was again rebuilt in 1799 and in 1972 that was replaced by a stone, concrete, and iron road bridge. (fn. 22)
The Ilchester road crossed the Brue by a bridge known in 1315 as Todelemill (fn. 23) and later as Tootle. Its great arch was in danger of collapse in 1719 and it was then completely rebuilt. (fn. 24) Catsham bridge, also on the Ilchester road, over a Brue tributary and mentioned in 1404, (fn. 25) may have been rebuilt in 1786. (fn. 26) Church and Flight bridges, both crossing the millstream, were repaired in the 18th century. (fn. 27) The Flights or weirs, where the millstream leaves the river, were rebuilt in 1840. (fn. 28)
Settlement And Buildings
Baltonsborough was recorded in a charter of 744 and St. Dunstan is said to have been born in the parish in 924. (fn. 29) The pattern of scattered settlement was probably influenced more by the presence of the moors in the south-west and woodland in the north and the south of the parish rather than by the relatively small arable fields. Many cottages appear to have been built on roadside waste or around the edges of former woods. (fn. 30) By the earlier 14th century settlement was dispersed along the ridge route between Baltonsborough church, la Borne, later Lubborn, and Hamme, later Ham Street, probably due to the increasing number of cottagers. (fn. 31) By the earlier 18th century settlement seems to have concentrated at Ham Street but there were houses or cottages at West Town, site of a former capital messuage and dairy; Style, Tyle, Tilme, or Tilham Street; Merkell, Markyl, or Martin Street, and Mill Street. (fn. 32) Houses were built across the parish after the break-up of the manor and sale of farms in the 1560s. (fn. 33) In the late 18th century there were only 4 houses in Martin Street and 8 near the church. The largest settlement, with 25, was Ham Street, followed by West Town with 10, Lubborn with 9, Southwood with 8, and Tilham Street with 5 and a barn formerly a dwelling. (fn. 34) During the 19th and the 20th centuries there was building at Baltonsborough and Ham Street and along the road between them, (fn. 35) including local authority houses in the 1940s. (fn. 36) Late 20th-century infilling has created a more nucleated settlement near the church.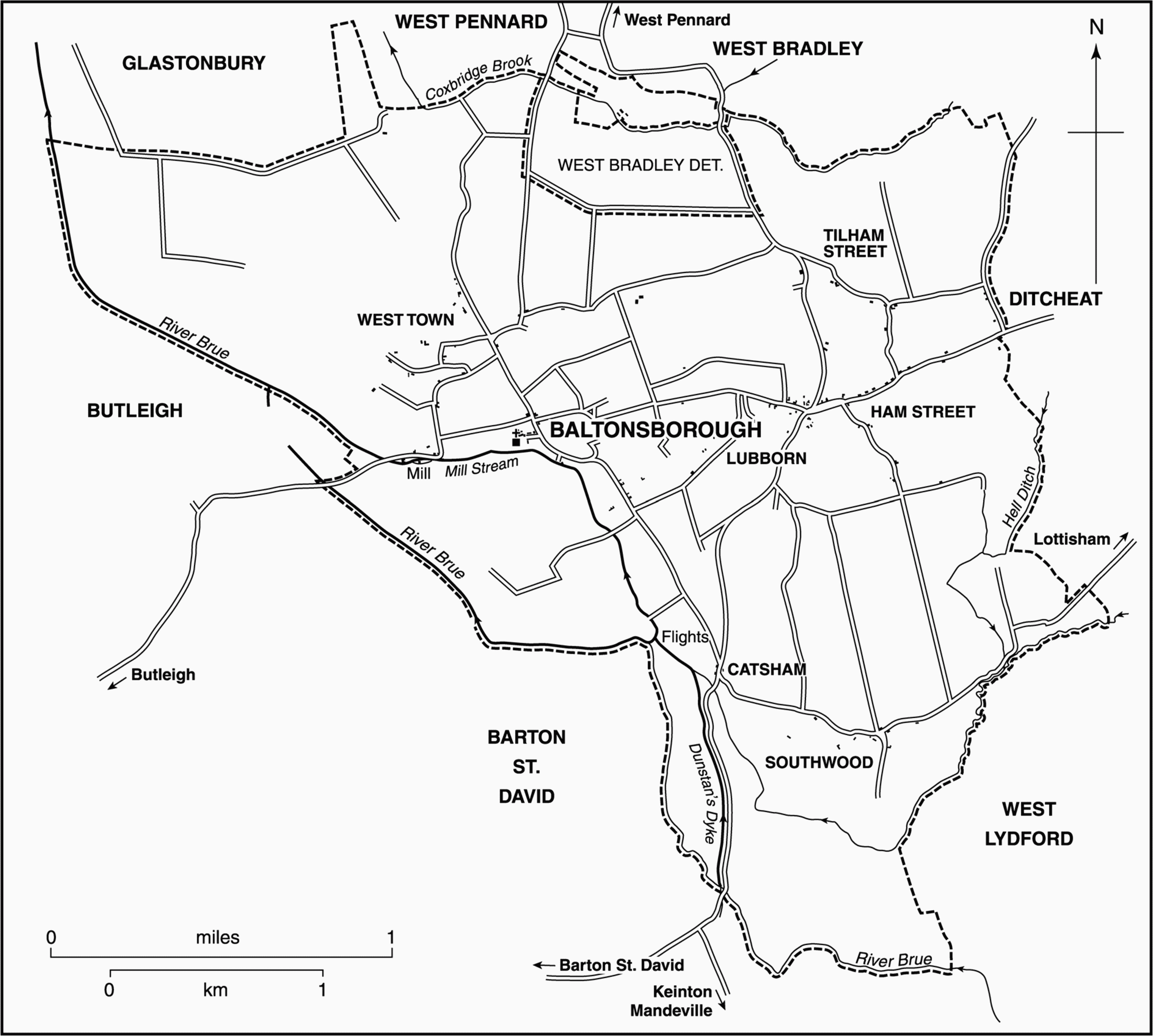 Population
There were 73 households in 1563 (fn. 37) and in 1641 119 males. (fn. 38) In the late 17th century 67 houses were recorded, 72 a century later. (fn. 39) In 1801 the population was 547, rising sharply to 644 in 1811 and more gradually to a peak of 763 in 1861. Numbers declined gradually to 718 in 1891 then very rapidly to 617 in 1901 and to 509 in 1911. Thereafter the population remained relatively stable before rising in the mid 20th century to 591 in 1961 and 808 in 1991. (fn. 40)
Domestic Buildings
All but one of the houses in Baltonsborough are stone built. (fn. 41) Most of those built before 1800 have had thatched roofs replaced by clay tiles in the 18th century or early 19th. Very few are still thatched and only one, the later 17th-century Owletts Ash, has some timber-framed external walling, with wattle and daub or cob infilling, used in combination with well-dressed stone, (fn. 42) though there seems to be evidence of a timber-framed wing having formed part of the late 16th or 17th-century so-called Priest's House. (fn. 43)
Remains of three late medieval open hall houses with ends in line survive at Old Farm, Southwood, (fn. 44) Bridge farmhouse, (fn. 45) and Gatehouse. (fn. 46) The roofs of Bridge farmhouse and Gatehouse were constructed with two tiers of raised crucks, like that of Bridge farm, Butleigh, (fn. 47) while the remaining truss at Old Farm has extended arched braces, also found at Church House. Church House and Old Parsonage (fn. 48) were built in the early 16th-century with two storeys and smoke-bays. Late 16th- and 17thcentury modernisation of all the houses already mentioned involved the insertion of chimneystacks, and floors into halls or into open upper rooms. Most farmhouses newly built in that period (Ham Street, Martin, West Town, Hambush) were two-storeyed and of 2 to 4 units in line with a cross-passage, a pattern that continued into the 18th century at, for example, Newtown farm at West Town. Far fewer houses were single-storeyed with attics, in the manner of Owletts Ash and the remodelled Old Farm, Southwood. Ovolomoulded mullioned windows continued to be used in the early 18th, if the date stone of 1707 at the house divided into Woodgate Cottages can be believed. Only Gatehouse, which is of different, higher status, has any surviving ornament.
There are very few 18th-century houses and it seems that there was little house building then. (fn. 49) In the early to mid 19th century some farmhouses were rebuilt or newly built on a modest scale with plain classical facades, brick-built end chimneystacks, and slate or tiled roofs, for example Northwood, Tootle Bridge, and the larger Fernleigh which has a slightly pretentious entrance gateway. Several new genteel residences also appeared then, such as Southwood House, Kernrick House and Myrtle House with a Doric portico. Ham Street House and Grove, formerly Lubborn, House, home of the Mullinses, cheese factors, were enlarged and modernised. Among the largest houses were Orchard Neville House, built in the 1850s by the Grenvilles, and Hillside built in 1868 for William Austin. (fn. 50)
Events And Social Life
In 1802 James Austin, labourer, was transported to Australia for stealing honey and beehives. (fn. 51) He settled in Tasmania and became a wealthy man which may have inspired emigration especially as the parish suffered extreme poverty in 1840. In addition to early emigrants, including other members of the Austin family, at least 21 adults and more than 18 children from Baltonsborough emigrated to Australia between 1840 and 1852, most settling permanently. As well as labourers the emigrants included servants, a glover, a baker, a carpenter, and a sawyer. (fn. 52) At least one family had emigrated to America earlier and a Baltonsborough man settled in New Zealand in 1842, followed by members of five local families between 1843 and 1879. (fn. 53) John Goodson spent some time in Jamaica in the early 19th century. (fn. 54)
Queen Victoria's coronation in 1838 was celebrated with a dinner for more than 400 inhabitants. (fn. 55) In 1871–2 there was a men's club and reading room. (fn. 56) A three-night Skimmington ride against the vicar was held in 1911. (fn. 57) There were a ladies' cricket team and a ladies' cycling team before the Second World War. (fn. 58) The Baltonsborough Horticultural Show is held each year. (fn. 59)
Manor and Other Estates
Baltonsborough Manor
In 744 Lulla or Hilla, possibly a religious, gave at least 5 hides in Baltonsborough and up to 5 hides nearby to Glastonbury abbey. (fn. 60) In 1079 Aethelnoth, abbot 1053 to 1077/8, is said to have granted land there to benefit the poor, (fn. 61) but he evidently continued to hold the main estate and the abbey was in possession at the Dissolution. (fn. 62) In 1547 the Crown granted Baltonsborough to Edward Seymour, duke of Somerset, (fn. 63) and in 1552, following his attainder, it was granted to John Ryther, the Cofferer of the Household, for a fee-farm rent of £99 6s. (fn. 64) In 1556 Ryther's son, also John, sold it to William Hungate (fn. 65) who in 1558, with Thomas Hungate, let a life interest. (fn. 66) Between 1563 and 1568 William, from 1566 with his son also William, divided and sold the land. (fn. 67) In 1576 they sold the lordship with unsold land to 24 local men who shared it and payment of the fee-farm rent. (fn. 68) That completed the fragmentation of the estate. Shares, often subdivided, in the royalty were in the 18th century accompanied by an equivalent share in a small field called Royalty close, itself perhaps what remained unsold in 1576. (fn. 69) In 1779 only ten shareholders could be identified; (fn. 70) by 1837 there was a 1,440th share. (fn. 71) After the 1830s only William Naish (d. 1885) claimed lordship in respect of lands carrying very small shares and his trustees maintained those claims into the 1930s or later. (fn. 72)
The fee-farm rent, payable to the Crown from 1547, (fn. 73) was in 1620 granted to Lawrence Whittaker and Henry Price. (fn. 74) Before 1642 it was bought by the Orchard family and they sold it in 1649 to John Codrington. (fn. 75) It remained in the Codrington family until 1793 when John Codrington sold it to George Rich. (fn. 76) Rich appears to have sold all the rents to those who paid them and they were thus extinguished. (fn. 77)
The demesne farm of the estate, which lay in the north-west and was let to Walter and Isobel Adams for thirty years from 1518, measured c. 180 a. (fn. 78) With over 100 a. of land it was sold in 1564 to Thomas Smythes to be held on payment of a fee-farm rent to the Crown. (fn. 79) Thomas (d. 1568) was succeeded by his son John, a minor, who in 1585, with his brother George, sold the farm to John Grimstead and William Oram. (fn. 80)
Grimstead's share may have been settled by John Grimstead on himself and his son Edward as in 1598 each gave their shares to Edward's brother William (fl. 1608). (fn. 81) By 1626 William had been succeeded by Humphrey, probably his son, who gave a life interest in his estate to his intended wife Alice. (fn. 82) In 1657 the farm was settled on the marriage of their son Richard (d. 1680?) with Rebecca Savage (d. 1660) and in 1688 on the marriage of Richard's only child Humphrey with Joan Pope. (fn. 83) In 1711 Humphrey's daughter and heir Joan held it and the same year she married Dr. John Warren. In 1712 they sold it to Dr. Richard Healey. (fn. 84) In 1713 Richard's widow Mary settled it for the benefit of her son, also Richard, and in 1720 conveyed it to him absolutely. (fn. 85) After 1729 it passed to Thomas Healey (d. c. 1738) who left it to his brother-in-law the Revd. Francis Warre in trust for the latter's son, also Francis, a minor. (fn. 86) The younger Francis was in possession in 1771 (fn. 87) but was dead by 1784. By 1812 the farm had passed to Mr. Bastin, owner in 1820, and by 1832 to John Gear, owner in 1842. (fn. 88)
Before 1610 William Oram had been succeeded in his share of the former demesne farm by his son Humphrey who with his wife Mary sold their estate to Thomas Wadley in 1612. (fn. 89) In 1624 Thomas sold it to William Walter (fn. 90) from whom it had descended to John Walter (fl. 1721) by 1701 (fn. 91) and to Philip Walter who with his wife Mary conveyed it to Thomas Walter in 1724. (fn. 92) Subsequent descent is uncertain but by 1842 it was owned by James Goodson whose family had held it since 1771 or earlier, and may previously have been tenants. (fn. 93)
Manor House
There was a house on the demesne to the north-west of the village with a 2-a. curtilage in 1310. (fn. 94) A chamber had been built c. 1304 when the hall and the door to the court were repaired and farm buildings repaired or rebuilt. (fn. 95) In 1314 the woodward's chamber was recorded. (fn. 96) The capital messuage, let to the Cupper family in the later 15th century (fn. 97) and to Walter Cary before 1516, in 1518 consisted of a hall and chambers, with dovecot, stable, granges, and cowshed. (fn. 98) In 1585 it was known as Baltonsborough Farm. (fn. 99) After the division of the estate the old capital messuage seems to have been replaced almost immediately on the same site, later called West Town; however, the two houses now standing look late 17th-century, plain and of coursed and squared rubble with ovolo-moulded window mullions. Hestover (fn. 100) or Westover appears from the entrance front to be a much altered house of three units with a cross passage. The second house, West Town Farm, was built on the same plan, to which a dairy wing was added in the 18th and 19th centuries; a stone plaque on the chimney is carved with ICLG 1699, probably referring to John Goodson and his wife Lucy. (fn. 101)
Other Estates
Freeholds
There were several freeholdings in the Middle Ages. William son of Edmund held 1½ virgate of land under Glastonbury in 1189. (fn. 102) William was succeeded in turn by John Edmund and by Edmund of Baltonsborough. (fn. 103) By 1310 William Golde, a tenant of the abbey, held part of that estate which passed to his son Richard before 1344. (fn. 104) Part passed to George Samuel, (fn. 105) who was followed by William Samuel (fl. 1310) whose heir John Irish sold it to John Deverel in 1362. (fn. 106) In 1363 Deverel's estate and several houses were granted to Glastonbury abbey to endow lights in St. Mary's chapel there. The abbey was to take possession on the death of the tenants. (fn. 107) In the mid 13th century Robert of Pylle held 5 virgates, formerly held by Richard Conteville, by royal service. (fn. 108) That estate was not recorded again. In the 13th century Simon de Ralegh gave Wermeshull, between Baltonsborough and Lottisham, (fn. 109) to Matthew de Combe, reserving a rent of 2s. Shortly before 1300 Matthew granted the land to Glastonbury abbey and it was absorbed into Baltonsborough manor although the abbey paid the chief rent to the lord of Alford manor until the Dissolution. (fn. 110) Robert de Marisco was said to have lost a virgate and custody of a wood in Baltonsborough to Abbot Michael of Amesbury. (fn. 111) During the early 15th century a few very small holdings were acquired by the abbey, and by 1539 at least some of the former freeholds had been divided amongst the customary tenants. (fn. 112) Woods and Moors
In the 16th and 17th centuries there were a number of disputes relating to the woods and moors of the parish, which, it was claimed, were Crown waste and as such not part of Baltonsborough manor, even though part of the Glastonbury estate. Northwood and Southwood which comprised some 800 a. along the northern and southern boundaries of the parish (fn. 113) were the subject of a grant. In 1262 Isabel, daughter and heir of John de Bonville, with her husband Nicholas son of Martin, released their rights in Baltonsborough woods to the abbey. (fn. 114) In 1720, however, it was claimed that Northwood had belonged to Sir John Kentwood, late 14th-century lord of West Bradley. (fn. 115) A suit by the Crown against William Hungate concerning ownership in the 1560s and 1570s was not pursued. (fn. 116) A pre-Dissolution lease having expired in 1614, the woods were said to belong to the Crown, which in 1661 leased the woods together with Church moor (147 a.) and Kennard moor with Blackacre (400 a.) to Edward Keeling and two others for 31 years. Keeling granted his third of the profits to Timothy Stamp. A long dispute with the commoners followed, as Keeling's claim covered half the parish. (fn. 117) In 1670 it was claimed that Kennard moor was inclosed to raise money to pay the costs of defending the suit. (fn. 118) No later claim to ownership is recorded, and the woods were neither rated nor taxed until the late 18th century, long after inclosure. The moors and Southwood were probably all inclosed by agreement in the later 17th century and Northwood under statute in 1720. (fn. 119)
Rectory
The rectory, part of Butleigh and held by Glastonbury abbey until the Dissolution, (fn. 120) was let c. 1518 to Walter Adams, farmer of the capital messuage, and appeared to consist only of tithes. (fn. 121) In 1540 it was let by the Crown to Thomas Strode (fn. 122) who assigned his lease to Andrew Wadham, a fellow usher to the Queen, for payment of debts. (fn. 123) It was let by the Crown to a succession of tenants during the later 16th century. (fn. 124) By 1654 it had been acquired in fee by Thomas Martin (d. 1690) (fn. 125) who probably settled it on his son, also Thomas (d. by 1687). The latter's son Thomas sold it to Abraham Gatehouse in 1706. (fn. 126) Abraham and his nephew Thomas Gatehouse mortgaged it and the rectory passed through several hands in the 18th century until it came into the possession of Benjamin Saunders in the early 19th. (fn. 127) He was dead by 1842 when his trustees received a rent charge of £152 in lieu of great tithes. (fn. 128)
Gatehouse
The Martin family also held a house and land inherited from the Waltons. It was probably the house which William Walton and Joan held of the manor in 1544 but did not live in. William bought the house, which lies near the former mill, in 1563 (fn. 129) and died shortly afterwards. His son Richard (d. 1581), who rebuilt it, was succeeded by his son Thomas (d. 1610) and by the latter's son Richard (d. unm. 1658) who enlarged it. (fn. 130) Richard's heir was Thomas Martin, infant son of his sister Margaret (d. 1657), and the estate descended with the rectory until 1698 when the house and 30 a. were sold to Robert Gatehouse (d. 1711). Robert's son Thomas (d. 1772) was succeeded by his eldest son Robert (d. 1828), whose children and grandchildren sold it to George Neville Grenville, owner of the Butleigh Court Estate. (fn. 131) The house, known by the later 19th century as Gatehouse, remained part of that estate until 1947. (fn. 132)
Gatehouse originated as a late 15th-century house, two bays of which survive including the remains of a truss with smoke-blackening. The building was extended in the late 16th century to form an L-plan house of stone rubble of six irregular bays with a thatched roof, and ornament of some sophistication. The late medieval hall was floored and chimney inserted: the chimneypiece and the east entrance doorway have classical detail. A shorter, north-east wing was added in the mid-17th century resulting in an irregular E-plan, which has a central cross-passage north of the hall stack, parlours to the south, service rooms to the north, and chambers above; a west porch with contemporary classical detail bears the date 1637. The house was altered in the 19th century to provide three labourers' cottages but was restored in the later 20th century as two dwellings. (fn. 133)
ECONOMIC HISTORY
Agriculture
When it was surveyed in 1086 the estate, then assessed at over 4 hides, comprised 6 ploughlands worked by only 4 teams. Most of the estate was in demesne with two teams worked by 4 serfs. Five villeins, 9 bordars, and 3 cottars had two teams but only three virgates; possibly they also worked land elsewhere. There were 30 a. of meadow and woodland 1½ by ½ league. The demesne livestock comprised 2 horses, 16 oxen, 14 pigs, and 33 goats. The estate was worth £8. (fn. 134) In the early 12th century rents totalled £5, probably including the farm of the demesne. (fn. 135)
Middle Ages
In 1189 (fn. 136) there were 8 half-virgaters, one with two houses and another having a new holding made from two smaller ones, 11 holders of 5 a. and one of 2½ a. The half-virgaters owed ploughing, haymaking, and reaping work but the rest owed only two days. Most tenants paid hens as church scot and some rented demesne arable in the two fields. Two ploughmen, a beadle, a man who kept the cows and pigs, and the smith were quit of other work. Rents totalled 11s. 4d. Livestock comprised 8 oxen, but there had formerly been 16 and a draught horse, 7 cows, 4 'otiose' animals, a bull, two sows, 8 piglets, and 2 yearling pigs. It was said the estate could support many more livestock including up to 14 cows and 60 pigs. The land was said to be well cultivated, the corn and hay well gathered. (fn. 137) In contrast, in 1171 the demesne had been in hand with 10 oxen, 1 draught horse, 3 cows with calves, 1 bull, 3 yearlings, and 2 sows with piglets. Rents were 23s. but the total value of the estate was £5. (fn. 138) By 1198 rents were 64s. 4d. (fn. 139)
By the mid 13th century the demesne comprised 219 a. of arable in two fields, (fn. 140) 108 a. of meadow, and c. 150 a. of pasture. By then the arable appears to have shrunk since only two teams were needed where four had been before. Some of the moor had been inclosed for meadow and also some demesne pasture, probably in the east of the parish. Pasture had also been let. (fn. 141) More pasture in the woods and moors was in controlled use, the abbot grazing 40 cows and their calves in summer, 30 in winter, together with 15 pigs, 40 goats, and 5 horses with their issue. Tenants were divided into 12 half-virgaters, 14 ferdellers, 4 half-ferdellers, and 6 cottagers. The last had few duties but the rest owed a varying number of general works. The half-virgaters owed ploughing, harrowing, planting, and firewood cutting. The tenants also owed park fencing work at Pilton, 140 church scot hens, and 250 Easter eggs. (fn. 142)
The next half century saw considerable changes. By the 1280s 105 a. of arable land in the east had been inclosed (fn. 143) and inclosed pastures, some formed from woodland, were let. (fn. 144) There was a consequent increase in rents to over £15 by 1300 and to over £21 in 1313, including a partial commutation of works. (fn. 145) However, a new granary was built in 1274 and 3 ploughs were maintained but only 42 a. were sown, with wheat, dredge, oats, and beans. (fn. 146) In 1301 wheat was bought for sowing and only 2 ploughs were kept. The ploughman's custom was recorded in 1310 but none was employed until 1335. (fn. 147)
By 1310 the demesne farm had fallen in size to 302 a. of which 100 a. were arable, 148 a. meadow, and 54 a. pasture, together with grazing rights in nearly 640 a. of woodland and moor. The increase in demesne meadow had been mostly in Butt moor in the north-west and there was some increase in tenanted pasture in former woodland in Sidewood, east of Southwood. Most tenants also rented extra land in the north and east of the parish including the Wormshill estate acquired by the abbey in the late 13th century, (fn. 148) arable in Whitebarrow and Whiteheching in the north-east, and wood pasture. The park adjoining Butt moor had been let for pasture and 35 tenants leased common meadow in 1315. One half-virgater rented the land once allowed to the reeve to maintain two ploughs and two carts, and the reduction in demesne arable since c. 1260 probably also accounts for the replacement of most general works by fewer but specific tasks. A freeholder was responsible for supervising the fencing at Pilton park and providing horses to carry monks into Cornwall. However, although tenements remained virtually unchanged, cottagers had increased from 6 to 27, most holding between ½ a. and 15 a., but one held c. 40 a. and a freeholder leased a cottage and 50 a., mostly in Wormshill. At haymaking tenants were entitled to cheese and strips of meadow and some were released from rent for the period of work. The reeve, bedel, and ploughman were entitled to customary payment in kind and the whole homage held the chase of Northmoor. (fn. 149) In the 13th and 14th centuries Cowlease by the Brue, formerly Quenelease, was mown by tenants of several manors who were required to carry the hay to Glastonbury. (fn. 150)
A dairy on the demesne farm by 1260 produced over 100 cheeses. (fn. 151) Its site, near the capital messuage, was still remembered in 1719. (fn. 152) The herd usually included c. 40 cows but by the 1270s production had increased to c. 330 cheeses and 12 stone of butter. A peak of 406 cheeses and 16 stone of butter was reached in 1304, (fn. 153) and a second cowshed was built. (fn. 154)
In the later 13th and early 14th century the abbey kept bullocks, pigs, and goats. Twenty-one kids were born in 1258 and 66 piglets in 1313. (fn. 155) Tenants also kept goats and c. 1304 256 were presented for being in the lord's wood. (fn. 156) The demesne herd was attacked by disease in the early 1300s and the survivors were transferred to Godney c. 1304, but a few goats were recorded in 1332. (fn. 157) Geese were kept during the early 14th century and sheep in the 1330s. (fn. 158)
By 1335 rents were over £29 and the manor income over £60. The dairy herd had declined to 20 cows. New assarts, including 8 a. by the dairy, were sown with beans and oats in 1332, and although only 35 a. were sown in 1335, two stipendiary ploughmen were employed. Nearly half the customary 3,000 works had been lost or released. (fn. 159)
By the time of the next surviving account in 1446 assize rents totalled over £31 and new rents almost £40. Few livestock were kept, apart from 20 cows, but a dovecot produced over 300 squabs a year in the 1450s and four hives of bees were kept between 1446 and 1451. The only arable crop was beans for the doves and pigs and in 1455 the remaining demesne oxen were sold. A dairyman was still employed and candles were bought for the dairy, but the produce was taken to Glastonbury without being accounted for. (fn. 160) By 1472 new rents had increased to over £43 but arrears exceeded the fixed rents. The dovecot produced 190 squabs but the only other livestock belonged to the hostiller of Glastonbury, and a reeve and a clerk were the only paid officials. (fn. 161) In the 1530s arrears were fewer and the total rents amounted to over £84; with the farms of the capital messuage and rectory the total income of the manor was over £142. (fn. 162)
Sixteenth to Eighteenth Centuries
In 1516 the farmer of the demesne had a sheep house and over 38 a. of inclosed land. Several tenants also had newly-inclosed land, mainly at Southover in the extreme south of the parish. Arable at Coxbourne, probably in the north of the manor, was held by residents of West Pennard and the river meadows were shared. (fn. 163) There had been little change in the number and type of tenancy since the early 14th century. By 1516 there were 28 cottar and other small holdings but a further 11 tofts or cottage sites were recorded and at least two tenants held more than one house. (fn. 164) In 1533 two men living outside the parish were presented for having a total of 128 sheep in Northwood. (fn. 165)
Moors dividing neighbouring settlements were subject to intercommoning. People from Lottisham had common meadow in Honeymead in the south of the parish and parishioners of West Pennard and Butleigh held meadow in Butt moor. (fn. 166) Some moors remained largely open in 1638. Baltonsborough tenants then had common on South moor, Kennard moor was shared with Glastonbury, West Bradley, and West Pennard, and there were 567 a. of moorland meadows between Baltonsborough and Butleigh. (fn. 167) The fragmentation of the manor led to overstocking of the commons. Church or Baltonsborough moor, south of the church, measured 147 a. in 1516 and the 1540s (fn. 168) but was assessed at 180 a. in 1641 when it was common to 432 beasts and was said to have been spoiled by commoners and trespassers. The principal owners wanted to inclose in order to improve value and provide work for the poor. A Chancery decree was issued for inclosure in 1642. (fn. 169) Inclosure had been completed by 1651. (fn. 170) The common meadows at Cowlease, Honeymead, and Butt moor appear to have been gradually inclosed during the 17th century. (fn. 171)
A late 17th-century survey of the parish shows that holdings were very small, 44 out of 90 recorded were under 10 a. and there were only 9 over 50 a., of which only one was over 100 a. However, a few holdings had been amalgamated and some common arable had been inclosed and small acreages converted to grass. (fn. 172) In the earlier 18th century turkeys and geese were kept in the parish; in the 1740s a deceased farmer's stock included 19 geese with their goslings and 50 lb. of feathers. (fn. 173) In the later 18th century the parish was mainly pasture as the heavy soil produced only wheat and beans, (fn. 174) and tithes were paid on cattle, colts, and lambs. The tenant of the rectory grew beans, kept steers and sheep, and in 1774 made 30 hogsheads of cider. (fn. 175)
Nineteenth Century to Present
The change from arable to grass continued into the early 19th century. (fn. 176) By 1842 there were only 290 a. of arable and 125 a. of meadow compared with 2,003 a. of pasture. The arable still lay in tiny strips in the remnants of the former common north and south fields, the latter divided into River Furlong, Middle Furlong, and Blatchbrook. The meadow lay in rectangular allotments in Butt moor, most of the other former common meadows having been converted to pasture. There were no large landowners and many properties were occupied by the owner or a relative. Of 46 holdings over 10 a., 23 were under 25 a., a further 18 under 50 a., and only 5 covered more than 50 a., including 3 over 100 a. (fn. 177) However, some farmers occupied more than one holding and in 1851 7 farmers had over 100 a. of whom 2 held over 300 a. There were still a large number of small farms but c. 60 labourers were employed, some on small holdings. (fn. 178) The pattern of farms changed little during the later 19th century although some holdings were temporarily worked by the same farmer. In 1881 there were 6 farms covering 100 a. or more but the number of labourers employed had fallen to 32 of whom 8 were boys. (fn. 179)
Dairymen were recorded in the later 19th century and from 1871 the Mullins family were cheese factors employing a storeman and carter. (fn. 180) In 1881 there was a milk seller and renter of cows besides 5 dairymen and women, and a dairy manager. (fn. 181) In the 1900s the cheese factory store employed c. 30 workers but appears to have closed about 1910. A second cheesemaker operated briefly at Southwood. Cheddar cheese was made in the summer and Caerphilly in the winter. The business was said to have been lost after 1914 when milk was sold directly to creameries. (fn. 182) Some small-scale cheesemaking was revived in the later 20th century. (fn. 183)
Cider was produced, and illegally sold, in the 18th century, some of it boiled with hops. (fn. 184) An early cider press, possibly 18th century, is housed in a contemporary barn at Middle farm at Southwood. (fn. 185) A cider manufacturer and storekeeper was in business from 1891 or earlier. (fn. 186) The business employed 20 people in 1947 but had closed by 1961. (fn. 187)
In 1941 there were 51 holdings of which 32 had fewer than 50 a. Apart from poultry (c. 6,500), cattle were the predominant livestock and only 63 a. of cereal was recorded compared with 2,383 a. of grass. This remained the pattern during the later 20th century. Agricultural and horticultural businesses recorded in 1962 included broiler poultry production, intensive calf-rearing, orchid-growing under glass, and a flower and vegetable nursery specialising in chrysanthemums and dahlias. (fn. 188) Orchid-growing and market gardening continued to provide employment in 1980 together with cheese and pig production, including rare breed pork. (fn. 189) In 1988 there were only 26 agricultural holdings of which 13 had fewer than 50 a. (fn. 190) A plant laboratory produced date palms for export in the 1990s.
Fishery
In 1516 a tenant of the manor leased the fishery, (fn. 191) said in the 1540s to stretch a quarter of a mile from West Lydford to the Flights and let for 8d. (fn. 192) It was sold in 1571, the vendor reserving the fishing from the Flights north to Baltonsborough mill, (fn. 193) and may be the fishery recorded in 1694. (fn. 194) In 1776 fishing boats were said to be rated at 1s. as they were fishing up to five miles away. (fn. 195) The Brue was said in the late 18th century to produce eels, trout, dace, roach, and gudgeon. (fn. 196)
Woodland
Until the 17th century Baltonsborough had extensive woodlands providing timber, fuel, and pasturage. Fuel supplied to Glastonbury abbey was carried there by tenants of many abbey manors (fn. 197) and a corrodian maintained by the abbey in 1189 may have been a forester of Baltonsborough. Southwood was recorded in 1189 and there was a charcoal maker. (fn. 198) About 1260 the abbot could also sell 10 a. of underwood each year. (fn. 199) In 1310 Northwood and Southwood, in the north-east and south, contained respectively 100 a. and 120 a. of oak and thorn, and smaller alder woods on Kennard and Butt moors supplied the abbey hearths. (fn. 200) A woodward appears to have kept accounts separate from those of the manor. (fn. 201)
In the early 16th century Northwood and Southwood totalled 800 a. of old and young oak of little use as timber but capable of producing 2,600 faggots a year worth between 16s. and 20s. a thousand above the cost of making them. The tenants had the right to thorn for fuel. There were also two 4-a. groves of oak and ash in the park. (fn. 202)
Some woodland was sold with tenements in the 1560s (fn. 203) and in 1568 a local farmer sold 6 a. in Southwood for felling, with fowling and hunting rights. (fn. 204) In 1665 the inhabitants of Baltonsborough and Lottisham wanted Southwood inclosed because it had been ruined by overstocking. Attempts to regulate failed and in 1673 a Chancery commission divided and allotted the wood. (fn. 205) A similar attempt in 1655 to inclose Northwood failed through the opposition of the lord of Glastonbury, (fn. 206) but following a tithe case in 1719 it was stated that the wood had been cleared for sheep pasture and lay open to adjoining commons including Kentwood's grove, probably Kenter's Green in West Bradley. (fn. 207) Formerly it was said to have been used to graze cattle who wore bells to identify them among the oak coppice. (fn. 208)
Inclosure followed an Act in 1720 and was not without opposition, but agreement was reached to divide 520 a. into 133 rights, 80 for Baltonsborough and the rest for commoners of West Bradley, Lottisham, and West Pennard. (fn. 209) The land required new drove roads, ditching, and the removal of many thousands of anthills. (fn. 210) By the late 18th century there were said to be no woods in the parish. (fn. 211)
Mills
A mill paid 5s. in 1086. (fn. 212) It may have been destroyed and rebuilt c. 1210–20. (fn. 213) The mill appears to have been farmed in the mid 13th century for £5 payable to the abbey kitchen. (fn. 214) It was sold by William Hungate to William Walton in 1563 (fn. 215) and descended with Gatehouse until the later 18th century, (fn. 216) but ownership has not been traced further. It produced animal feed in the early 20th century and until the 1960s was driven by water. It was then converted to electricity and ceased milling shortly before 1973 when it became a private house. (fn. 217)
A mill, presumably a watermill, had been built in Butt moor shortly before 1598. (fn. 218) It had been demolished by the 19th century but the name Mill Butts survived. (fn. 219) A windmill, probably on Windmill Hill near Ham Street, was in existence in the 17th century. (fn. 220)
Trade And Industry
Tanning and Related Trades
Skins were a by-product of livestock farming and in the early 16th century a local man supplied parchment. (fn. 221) A tanner was recorded in 1516 (fn. 222) and others in the 17th (fn. 223) and 18th centuries (fn. 224) of whom one had a tanhouse in Mill Street, probably that which belonged later to the Bush family. (fn. 225) The Goodsons of Martin Street, tanners in the early 18th century, became gentry and acquired substantial estates. (fn. 226) Several generations of the Bush family were parchment makers in Baltonsborough and Barton St. David in the 17th and 18th centuries. (fn. 227) They became tanners in the later 18th century. One married into the Goodson family and took over their tannery which included a tanhouse, drying houses, and limepits in 1809. They also purchased the mansion house beside the church, later the vicarage. (fn. 228) The tanyard, north of Mill Street, passed through several hands and by 1840 had become a rug factory which also produced sheepskin slippers and mops. (fn. 229) The manager was a former skin dresser at Clark's in Street. (fn. 230) In 1851 the business employed a woman matmaker and at least three labourers. (fn. 231) By 1861 there was a sheepskin rug dyer and the rugmaking business was in the hands of 20-year old Albert Baily, who later moved to Glastonbury. The Norfolk family continued rugmaking in Baltonsborough until 1872. (fn. 232) The buildings were taken over by a cider merchant in the 1890s and in the later 20th century by a waste paper business. (fn. 233) The site had been cleared for housing development in 1998.
Trades and Crafts
A clothier was resident in 1480. (fn. 234) A joiner was recorded in 1668 (fn. 235) and a local baker's son was bound apprentice at Carpenter's Hall, London, in 1671. (fn. 236) Other occupations were a button maker in 1683, (fn. 237) a tallow chandler in 1704, a family of mercers in the early 18th century, (fn. 238) and a soap boiler in 1721. (fn. 239) A carpenter who died c. 1738 had a large quantity of iron and 600 spokes but also farmed and made cider. (fn. 240) A stockingmaker was recorded in 1767. (fn. 241)
In 1821 22 out of 130 families were engaged in trade. (fn. 242) In 1851 there were 14 glovers, a straw bonnet maker, a basketmaker, and several boot and shoe binders, probably outworkers of C. & J. Clark. (fn. 243) Gloving continued until 1891 but only one glover remained at that date. A stocking knitter and a coach maker were recorded in 1871 and a cabinet maker in 1891. (fn. 244) In 1947 there were car and cycle repairers, a blacksmith, and a builder who employed six regular as well as casual workers. (fn. 245) The blacksmith restored the weathervane at Street House in 1951. (fn. 246) In 1962 there was a variety of agricultural business but most people were employed in the shoe factories at Street. (fn. 247) In 1980 employment was provided by various small companies including a sheepskin slipper manufacturer and a paper reclamation business. (fn. 248)
Retail Trades And Services
There were two shopkeepers in 1841 increasing to five in 1851, including grocers and a draper. (fn. 249) A cycle agent was in business in 1897. (fn. 250) A garage had opened by 1931 when there were four shops, an undertaker, a cycle dealer, and a post office and tobacconist. (fn. 251) In 1947 there were two general shops, a draper, a newsagent, and a hairdresser. The parish also had a surgery with two doctors and a private circulating library. (fn. 252) Three shops remained in 1962 (fn. 253) but by 1980 only one combined shop and post office survived, the others, with the garage, having closed in the 1970s. The village still had a doctor's surgery but no other services. (fn. 254)
Public Houses
In 1315 eleven people were selling ale by false measures. (fn. 255) During the 15th century at least two ale brewers were punished. (fn. 256) A victualler was recorded in 1720 and in 1733 there were two licensed victuallers and a retailer of brandy. (fn. 257) From 1753 there was usually one victualler. (fn. 258) The New inn was open by 1832, (fn. 259) and was still open in 1836 or later. (fn. 260) The Butchers Arms was recorded in 1838–9. (fn. 261) In 1841 there were public houses, apparently short-lived, at Catsham and in Ham Street, and a wine and spirit merchant was in business in the 1850s. (fn. 262) The Newport Arms, from 1872 the Greyhound, had been a public house since 1839 or earlier on the crossroads north of the church. (fn. 263) It was known in 1859 as the Goodson's Arms. (fn. 264) It remains in business. It was built c. 1800 but incorporates a reused datestone of 1700 in the plain front mainly two-storeyed elevation with pentroofed outshut.
LOCAL GOVERNMENT AND WELFARE
During the Middle Ages Baltonsborough was divided between Glastonbury Twelve Hides and Whitstone hundreds, the former comprising the demesne and the woods, the latter the settlements, arable fields, meadows, and moors. (fn. 265) A boundstone remained in Martin Street in 1530. (fn. 266) A tithingman attended Whitstone law hundred courts in the 14th and 15th centuries (fn. 267) but the tithing also owed common fine money to Glastonbury in 1516. (fn. 268) After the Dissolution the whole parish was considered part of Glastonbury Twelve Hides. (fn. 269)
Records of the abbot's halimote court for Baltonsborough survive in part from the 1260s to the 1530s. (fn. 270) In the 1380s the courts were held at Glastonbury, (fn. 271) in the 1480s at Butleigh, (fn. 272) and after the Dissolution at Street, possibly for lack of suitable room at Baltonsborough. (fn. 273) Court business was mainly regulatory, but might include tenants' pleas. It included the collection of capitation payment for boys and the imposition of fines for marrying without licence or out of the manor. (fn. 274) Livestock was regulated, for example, by the appointment of a man to supervise the grazing of geese on the moor in 1530 (fn. 275) and by the provision of a pound, in the early 16th century at the capital messuage and later at Ham Street. (fn. 276)
Although a chapelry, Baltonsborough managed its own civil affairs with its own officers, including wardens from the 1520s. (fn. 277) The overseers provided relief in cash and kind from 1696 and also distributed charity money and fines for burial in linen. In the 1720s the poor were badged and supplied with firewood. (fn. 278) By the late 18th century expenditure was exceeding income and the cost of poor relief rose from over £200 in 1790 to nearly £580 in 1801 when coal and flour were bought for the poor, trees were felled for fuel, and one family was assisted to emigrate to America. (fn. 279) Over 100 bu. of barley were bought for sale to the poor in 1801 but many failed to pay. (fn. 280) From 1812 separate accounts were kept of bastardy payments by fathers and in 1820 14 women received support for 17 children. (fn. 281)
Poorhouses were recorded in 1722 and 1735, (fn. 282) in the later 18th century the parish maintained a poorhouse at Corps Green, probably near Lottisham Green, (fn. 283) and from the 1780s there were poorhouses in Ham Street, Hitchings Lane, near Lottisham Green, and Northwood. (fn. 284) The last was known in 1881 as Solomon's Temple, enlarged from one house in 1833. (fn. 285) Up to four cottages in Ham Street were sold between 1836 and 1842. (fn. 286) The rest were sold or let out during the 19th century. (fn. 287)
A vestry met regularly in the 18th century, ordering poor relief, placing parish apprentices, arranging medical treatment, and taking rating decisions. (fn. 288) In 1824 it offered a reward for information concerning cutting of the river banks and in 1834 it ordered the demolition of the houses and gardens of 15 people at Lottisham Green. (fn. 289) The vestry let the feed of droveways, appointed parish officers, and administered the parish property. In 1840 it agreed on a bounty for corndestroying birds and in 1842 appointed a mole catcher. (fn. 290) There was a resident police constable in the later 19th century. (fn. 291) Land near Catsham Bridge had been acquired by the parish council before 1922 for allotments. (fn. 292)
Baltonsborough formed part of the Wells poor-law union from 1836 and from 1894 was part of Wells rural district which was absorbed into Mendip district in 1974. (fn. 293)
Charities For The Poor
Elizabeth Goodson gave £6 to the poor before 1689 and the interest was distributed yearly by the churchwardens until 1739 or later. (fn. 294) Interest on a gift of £10, distributed by the overseers from 1697, was in arrears by 1704 when the money had been used to buy a house and shop in Ham Street. The rent was distributed to the poor with that of another house and shop acquired by 1719. In 1725 the poor only received 15s. out of 36s. or more, with 2s. interest on 40s. stock in the second shop. (fn. 295) From 1732 only one house and shop was being let and in 1750 the house was sold. Of the proceeds £10 were put towards the poor rates and 15s., presumably the interest on the rest, was distributed until 1773. Neither interest nor rent seems to have been received later. (fn. 296)
Thomas Sever the elder gave an annuity to the poor before 1704 when 12s. was distributed. (fn. 297) In 1734 Thomas Healey of Wells left a rent charge of £5 a year on his lands at Baltonsborough but there is no record of any distribution. (fn. 298) By 1786 an anonymous bequest of £15 had been lost by insolvency; that may have been the proceeds of the 1750 sale. Thomas Goodson's bequest of £1 a year was paid before his death by Robert Grimstead (d. 1766) with a further 12s., possibly Thomas Sever's gift, and 15s. a year, said by Robert's son, also Robert, to be a voluntary donation but probably the interest on the £15. (fn. 299) By 1825 those bequests were said to have been invalid and nothing had been paid for a great number of years. (fn. 300)
CHURCH
Origins And Endowment
There was a church in Baltonsborough village by 1168. (fn. 301) It was a dependent chapelry of Butleigh (fn. 302) but by the mid 16th century it had its own burial ground. (fn. 303) In 1895 Baltonsborough became an independent parish and the living remained a sole benefice until 1980, from which date it was held with Butleigh and West Bradley. (fn. 304) The advowson of the new benefice remained with the patrons of Butleigh until 1947 when it was transferred to the bishop of Bath and Wells. (fn. 305)
Tithes were due to the rector and vicar of Butleigh except from the capital messuage which paid a modus of 13s. 4d. to the Glastonbury sacrist. (fn. 306) After the Dissolution all the tithes of the north-west of the parish were held with West Bradley and West Pennard by successive bishops of Bath and Wells and were commuted for £5 19s. 6d. in 1842. The vicarial tithes of the rest of the parish were commuted for £175. (fn. 307) In 1894 the proposed separate parish was endowed by James Goodson with land in Baltonsborough worth over £45. (fn. 308) William Neville gave £2,700 which was used to augment the living in 1906. (fn. 309)
By 1516 the wardens had a messuage, possibly the later minister's house, a 1-a. croft, and ½a. in the fields. (fn. 310) A minister's house, perhaps acquired before 1516, was certainly maintained by the parish in 1663. Let out from the 1670s, and described as a cottage in 1840, (fn. 311) it was probably the house known as the Old Parsonage, in Worms Lane, which was the post office in 1937. (fn. 312) It is an early 16th-century stone house, improved in the early 17th and 19th centuries and tiled in the 20th century. (fn. 313) In 1841 the vicar of Butleigh, George Grenville, bought a house by the church. (fn. 314) It was largely rebuilt in 1881 following a fire (fn. 315) and in 1895 was conveyed to the governors of Queen Anne's Bounty as a vicarage house for the new benefice. (fn. 316) From 1980 the vicar has lived at Butleigh, and Baltonsborough vicarage ceased to be a clergy house. (fn. 317) There was a 3-a. glebe in 1842 (fn. 318) which appears to have been sold between 1889 and 1937 when the church lands were classed as glebe. (fn. 319)
By 1735 the church lands also included allotments in Northwood and Southwood and in Church moor and in 1842, in addition to 3 a. of glebe, totalled over 10 a. with several houses, some of which were poorhouses. (fn. 320) Despite some sales, possibly poorhouses, in the 1840s, and exchanges and sales of odd fields in 1919 and 1947, most church land continued to be let out during the early 20th century, producing an income of nearly £50 in the 1930s. (fn. 321)
The church house, on the north side of the churchyard, was built on land leased from the manor by the chapel wardens c. 1529 for 61 years. (fn. 322) It was probably purchased in the later 16th century and was maintained and let out by the parish. (fn. 323) In 1842 it was used, at least in part, as a vestry room, a function it retained in the late 20th century, (fn. 324) although the rest of the house was let. (fn. 325) It was restored in the late 1980s and acquired by the Landmark Trust in 1992. The main range of c. 1530, which had been divided before 1988 into two dwellings, was built of coursed lias rubble and originally had a thatched roof constructed with arched-braced trusses, in-line purlins and plain windbraces; it was concealed by an inserted ceiling in the 17th century. A partition formerly divided the house into two rooms on both floors and the east room was heated by means of a smoke bay, which now forms part of Clerk's Cottage, built later at right angles on to the east end. The western end has been rebuilt as Church View. (fn. 326)
Pastoral Care And Parish Life
The chapel was served by chaplains or curates, (fn. 327) presumably appointed by the vicar of Butleigh, who paid them before the Dissolution. (fn. 328) In 1557 burials were conducted by the parish clerk (fn. 329) who was provided with a house attached to the church house. (fn. 330)
In 1600 the curate was unlicensed and in 1616 another was accused of assault and refusing to catechise or to visit the sick. (fn. 331) In 1627 the wardens paid 20s. to Butleigh to have a resident curate. (fn. 332) By the early 18th century that was described as a gift to the vicar of Butleigh and the parish was often without a curate. (fn. 333) After 1841 curates, and later incumbents, were usually resident until 1980 after which the vicar lived at Butleigh. (fn. 334)
By the early 16th century the wardens held some property and had erected a church house for parish activities. (fn. 335) In 1516 a cottager at Ham owed service of carrying the holy loaf. (fn. 336) A light was endowed with cash and a cow before 1547. (fn. 337) In Mary's reign there was neither tabernacle nor lamp for the sacrament. (fn. 338) There were c. 30 communicants in the late 18th century (fn. 339) and in 1815 and 1827 there was one Sunday service. (fn. 340) In the mid 18th century the church plate comprised a silver chalice with cover, said to be in need of repair in 1839, and replaced c. 1865, (fn. 341) and a pewter flagon. By 1832 there were also two pewter plates. The church had a paid choir in 1830 and an organ by 1845. (fn. 342) In 1840 there was no regular Sunday service but communion was celebrated at least three times a year. (fn. 343) By 1843 there were two Sunday services and celebrations were increased to twelve a year (fn. 344) and by 1850 the plate had been augmented by a silver paten, dated 1847, and two engraved brass almsdishes. (fn. 345) By 1873 communion was celebrated weekly. (fn. 346) Following the establishment of a separate parish, Sunday services increased to four. (fn. 347) Under the first vicar, the Revd. Henry Dawes, deprived for misconduct in 1911, there were a choir and orchestra. In the 1940s in addition to the four regular services, choral eucharist was held once a month (fn. 348) but by 1970 there were only two regular Sunday services although the number of communicants at 83 remained unchanged from the 1920s. (fn. 349) The registers date from 1538 although they were poorly kept in the later 17th century. (fn. 350)
Anglican Benedictine nuns came from Edmonton (Mdx.) to a house in Martin Street in 1906 and acquired three cottages for a guest house in 1907. They built an iron chapel and had their own chaplain who also assisted the vicar. Public services were held at the convent chapel in 1911 and two nuns were buried in the churchyard in 1915 and 1916. The nuns moved to Malling Abbey (Kent) in 1916. (fn. 351)
Church Building
The church of St. Dunstan, so dedicated by 1536, (fn. 352) is more impressive than its chapelry status would suggest. It was entirely built in the 15th century and may have been sited to be visible across the moors. The two-bayed chancel, which has ogee arches in its window tracery, may postdate the four-bayed aisleless nave with south porch, and the three-stage west tower. (fn. 353) The interior retains many original features, including piscinae in chancel and nave, sedilia, aumbry, font, stone pulpit, plain pews, stand for an almsbox, and a traceried south door. Chancel and nave have wagon roofs: the chancel roof has a decorated wall plate with angels holding open books and plain shields, the nave roof a double pattern of ribs marking the position of the rood screen, which had decayed by 1850 although some carving had been preserved. (fn. 354) Fragments of stained glass in the east window have been lost since the early 19th century. (fn. 355) Three trefoiled panels from a 15th-century monument have been built into the sedilia, together with the arms of the Walton family from a lost 16th-century memorial formerly on the north wall, and an early 17th-century brass to the same family was moved to the tower. (fn. 356)
The embattled tower, partly rendered and with diagonal buttresses, was substantially repaired in 1663 and the weathercock installed. The weathercock was replaced in 1739 and in 1837 after storm damage to the tower a local smith made a large vane of scrolled wrought iron with a three-dimensional cock, (fn. 357) which stands on a pyramidal lead cap. Eighteenth-century refurbishment involved the painting of a gallery in 1715, together with the pulpit, font, pillars, and arches, and improvement of the gallery in 1736–7 with wainscot front, plaster ceiling, and windows at each side. (fn. 358) In the late 18th century the nave roof was whitewashed with yellow ribs. (fn. 359) The pulpit has an 18th-century iron hour glass stand, the south porch early 19th-century wrought-iron gates.
By 1840 the chancel was in need of repair. (fn. 360) The roof was extensively repaired in 1846 and the church was restored and partly refurnished in 1848. Work included replacing or restoring windows, mullions, and quoins, installing new south gallery (since removed) and west belfry windows, and restoring the arches. (fn. 361) The ceiling was said to have been restored and coloured c. 1875, (fn. 362) and a modern screen by F. Bligh Bond had been installed by 1880. (fn. 363) A vestry and an organ chamber were also built during the 19th century. By 1904 the tower was in a dangerous state and had to be partly demolished and rebuilt in 1905. (fn. 364) The bells were rehung then. (fn. 365) Five of them date from 1804, when an earlier set was sold and replaced by a set of six from Mears; one, known as Tom of Lincoln, had to be replaced in 1843. (fn. 366) A clock was installed in 1845. (fn. 367) The chancel was restored in 1925, following advice from Francis Eeles of the Victoria and Albert Museum. (fn. 368)
The churchyard was enclosed by a stone wall probably c. 1820 or 1826, the date on the Gothic gateway. The churchyard cross was restored in 1877 when a new shaft and steps were made and the late medieval head showing the crucifixion was replaced. (fn. 369)
NONCONFORMITY
Recusants were recorded from 1616, (fn. 370) including two gentry families in 1641 and nine individuals in 1675. (fn. 371) There were Roman Catholics in the parish during the 18th century. (fn. 372)
A house was licensed for Independent worship in 1809 and another for Methodists in 1811. Two licences for unspecified congregations were issued in 1818 and another in 1846. (fn. 373) By 1843 Baltonsborough Wesleyan Methodists were meeting on Sunday evenings with a monthly weekday service, (fn. 374) and in 1844 a chapel was completed, west of Baltonsborough cross roads, and licensed. It had sittings for 124 and on Census Sunday 1851 there were services in the afternoon for 20 adults and 21 children and in the evening for 38 adults. Eleven children attended morning Sunday school. (fn. 375) Membership fluctuated but the chapel was renovated in 1911. (fn. 376) The building was condemned c. 1960 and services were held in the village school. Average attendance in 1960 was 22 in the morning and the same in the evening. The church had 19 members and a choir. (fn. 377) A new chapel, built of precast concrete behind the old, was opened in 1962. (fn. 378) In the later 20th century an evening service was held each Sunday. (fn. 379) The chapel closed in 1998. (fn. 380) The Moravian or United Brethren chapel was built, opened, and registered in 1852. (fn. 381) A house was added on the site in 1859 and there was usually a resident minister. (fn. 382) The congregation comprised 85 adults and children in 1868 and average attendance was c. 70 in the 1890s, but later declined and the church was frequently in financial difficulties. In the 1930s there were two Sunday services, a Sunday school attended by 10 children, and monthly communion. By 1955 there were only 10 communicants and 14 other members. (fn. 383) In 1874 meetings, usually on Tuesdays, were started at Southwood for c. 10 people. Those services were dropped in 1904. (fn. 384)
The chapel, north of the road from Baltonsborough to Ham Street, was a stone building in Gothic style with seats for 250. It closed in 1955 and was derelict by 1961, (fn. 385) but has since been converted into a dwelling. The burial ground remained in use until 1960. (fn. 386)
EDUCATION
There was a Sunday school in 1819 with 20 children, (fn. 387) probably the school which had 100 pupils in 1825 and whose accounts were examined by the vestry in 1832. (fn. 388) It had 63 children in 1839. (fn. 389) Five day schools opened in 1818 and in 1833 taught 76 children at their parents' expense. (fn. 390) By 1839 one private school also took boys and girls, day or boarding, up to 12 years. (fn. 391) In 1851 there was a girls' school in Mill Street with two boarders. (fn. 392) A boarding school or seminary for girls, located at Ham Street in 1861, was recorded under various proprietors until 1866. (fn. 393) An otherwise unrecorded private school kept by Mrs Goodson closed c. 1932. (fn. 394)
A National school had been established by 1847 with 64 day pupils but 10 girls attended on Sunday only. (fn. 395) A separate infant school was recorded in 1859. (fn. 396) The National School, variously said to have been built in 1848 and 1850, had 62 pupils in 1903. (fn. 397) It was built on land south-east of the church given in 1850 by the Revd. George Grenville. (fn. 398) Attendance fluctuated in the early 20th century and had fallen to 40 by 1955 when it was a voluntary controlled school for 5 to 11 year olds. Subsequently pupil numbers rose; in 1996 there were 84 children on the register and plans were made to rebuild the school. (fn. 399) In 1998 it moved to new premises in Ham Street.
The British school, built in 1860, was a Moravian school attached to the chapel near Ham Street. (fn. 400) An infant school was added in 1873. (fn. 401) There were 48 children on the register in 1881 rising to 73 in 1891 but falling to 47 in 1903. From 1907 the school was undenominational. Pupil numbers declined to 38 in 1905 and 22 in 1915. (fn. 402) Although numbers rose to 33 children in March 1922 the school closed later that year. (fn. 403)
St. Anne's school for the daughters of clergy and professional men was opened by Anglican nuns from Clewer (Berks.) before 1871 on a site in Martin Street given by Georgiana and Cicely Neville. (fn. 404) In 1881 there were five teachers, including those specialising in French and music, and pupils came from all over Britain. Day pupils were also taught. (fn. 405) The number of boarders fell from 37 in 1883 to 28 in 1889 and the school had closed by 1897. It later became a farmhouse. (fn. 406) In 1963 it was bought by Millfield school and converted into a boys' boarding house. (fn. 407) It remained in use in 1998. The front range includes the former chapel, now divided for domestic accommodation, and there is a large stair tower.