Pages 149-162
A History of the County of Stafford: Volume 5, East Cuttlestone Hundred. Originally published by Victoria County History, London, 1959.
This free content was digitised by double rekeying. All rights reserved.
RUGELEY
Rugeley, now an Urban District, includes the mining village of Brereton and the hamlets of Slitting Mill and Etching Hill. The urban district with Hazel Slade and the area now known as Brindley Heath (fn. 1) formed the ancient parish. Rugeley is bounded by the Trent on the north-east and by the high ground of Cannock Chase on the west, and these natural features until recently determined the shape of settlement within the parish, most of the building being concentrated along the north-east, south-west axis of the Stafford-Lichfield road. The Rising Brook flows down from the Chase through Hagley Park and the centre of the town into the Trent. The geological strata include Bunter Pebble Beds below the unproductive Cannock Chase uplands to the west, the northern limit of the South Staffordshire Coal Measures to the south, and Keuper Marl under the productive soils to the east and south-east. (fn. 2) The area of the Urban District is 2,879 acres and of Brindley Heath, which includes much of Cannock Chase, 5,580 acres. (fn. 3)
Rugeley was described in 1747 as 'a handsome clean well-built town of exceeding pleasant and healthful situation'. (fn. 4) By 1834 it was considered 'the largest and handsomest market town in the Cuttlestone hundred'. (fn. 5) At this time it was said to consist in the main of one long street with short roads leading off it. (fn. 6) During the previous twenty years many new houses had been erected and some of the old ones rebuilt. (fn. 7) Albion Street had been formed a few years before, and Church Street was under construction, most of the houses being well built and some 'even elegant, being occupied by wealthy families and having neat lawns and pleasure grounds'. (fn. 8) The greatest expansion of the town in the second half of the 19th century took place to the south and east, although parts of the Brereton and Armitage roads were already built up by 1842. (fn. 9) The area east of Market Street, where there was once a forge, (fn. 10) contains the gas works and is largely industrial. When the Roman Catholic church was built in 1849–51 (fn. 11) it was on the outskirts of the town, but a network of small streets to the south and east as far as the canal soon followed, together with a great increase of building on the Brereton and Armitage roads. The greatest alteration to the town centre took place in 1878 when the old Town Hall was demolished and Anson Street was cut to connect the Market Place with Wolseley Road. (fn. 12) The south-west end of Church Street was built up late in the 19th century. In the 20th century council housing estates to the west and south greatly increased the area of the town. The estates at Burnt Hill and Newman Grove were built before the Second World War while Springfield Crescent, containing two-story prefabricated houses, dates from immediately after it. Attlee Crescent was laid out c. 1950. The large Pear Tree housing estate on rising ground south-west of the town was begun in 1953.
Brereton had several dwellings by 1775 (fn. 13) and has been a mining area since at least the early 19th century. (fn. 14) It was described in 1834 as 'a village with several well-built houses'. (fn. 15) The Redbrook housing estate was laid out by the National Coal Board in 1953 and the St. Michael's estate is still (1957) under construction.
Etching Hill, which takes its name from a natural hill of that name (454 ft.) surmounted by a circular burial mound, (fn. 16) has developed as a purely residential district where the houses are all privately owned and as such is one of the first areas in the parish in which extensive building has taken place above the 300-ft. contour. (fn. 17) The village hall in East Butts Road was built in 1948. (fn. 18)
By 1775 there were houses at Stone House, now the hamlet of Slitting Mill. (fn. 19) The village hall, southwest of Horns Pool, was built in 1953. (fn. 20)
The hamlet of Glovers Hill lay to the south-east of Rugeley town on the Brereton road in 1834 and 1851, (fn. 21) but it was subsequently absorbed by the urban spread.
The hamlet of Hazel Slade, now in Cannock but formerly within the ancient parish of Rugeley, was non-existent in the middle of the 19th century, but a few streets of continuous terrace housing were built later, presumably in connexion with the pits near Cannock Wood opened in 1865 and 1874. (fn. 22) The front doors open directly upon the pavements and there are no gardens but only communal drying grounds at the rear of the houses. There are some later houses to the north-east and an estate of prefabricated bungalows to the south.
Rugeley lies on the main Stafford-Lichfield road which continues south to London and north to the Potteries and Manchester. By 1818 there were three coaches daily to London and Liverpool and one to Manchester from 'The Dog and Partridge', while from 'The Swan' there were coaches to London and Liverpool four days a week. (fn. 23) By 1834 there was also a coach to Birmingham six days a week. (fn. 24) A by-pass road running west of the town centre was opened in 1957 as Western Springs Road by the President of Western Springs, Illinois, with which Rugeley has ties of comradeship. (fn. 25) The railway station on the main line from London to Stafford and the northwest of England (Rugeley Trent Valley Station, situated in Colton parish, Pirehill hundred), was opened in 1847, and in 1851 there were trains in each direction four times a day, with buses leaving 'The Talbot Arms' to meet each train. (fn. 26) In 1859 the railway from Walsall was extended from Cannock to join the main line at Rugeley, (fn. 27) and this branch, known as the Cannock Mineral Line, (fn. 28) has a station (Town Station) in the south-west part of the town and another in Brindley Heath. The Trent and Mersey Canal, opened in 1777, (fn. 29) passes through Rugeley close to the Trent which it crosses on an aqueduct at Brindley's Bank north-west of the town. The aqueduct formerly had five arches and was said in 1834 to have been 'so admirably constructed by that eminent engineer Mr. Brindley' that it had 'withstood the floods of the river for more than half a century without requiring material repairs'. (fn. 30) It appears to have been rebuilt, however, in the middle of the 19th century and is now a structure of blue brick with six arches. By at least 1817 there was a wharf to the south-east of the town connected by rail to Brereton Colliery, (fn. 31) but this wharf went out of commercial use between 1940 and 1956. (fn. 32) The course of the line to the colliery can still be clearly distinguished near the Wesleyan almshouses in Brereton.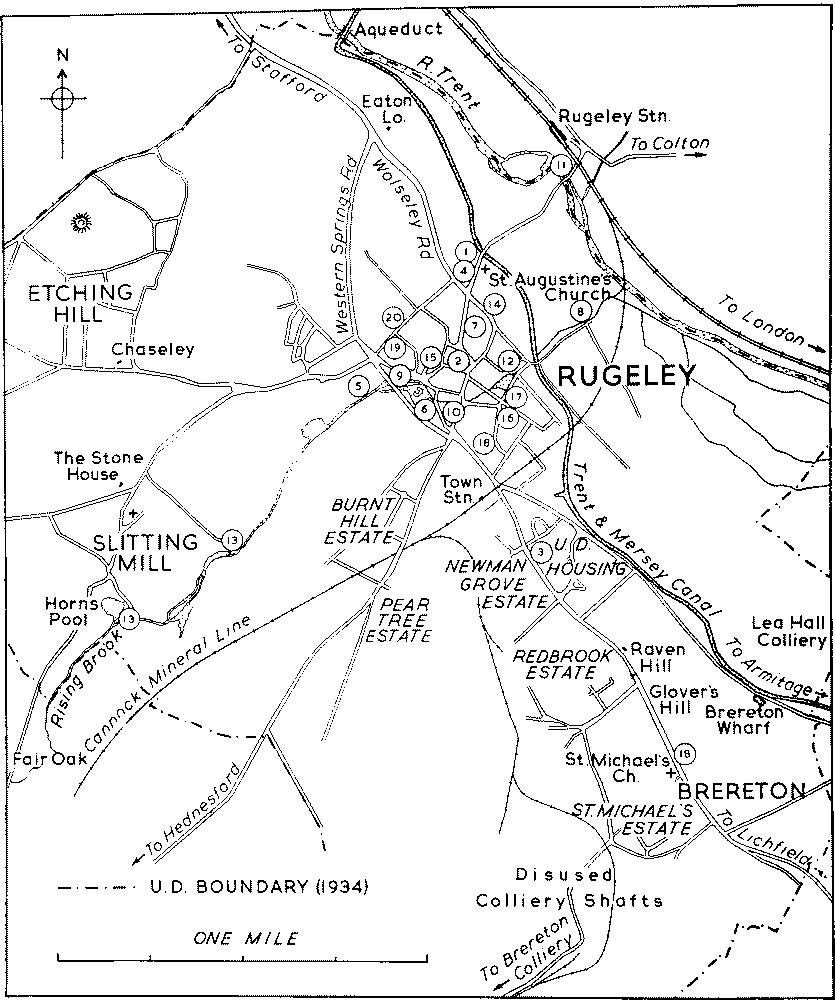 A bridge called 'Elemetebrugge' occurs in 1357. (fn. 33) A stone bridge, presumably on the site of the present Colton Bridge carrying the road that leads to the main line station and to Uttoxeter (Totmonslow hundred) and Abbots Bromley (Pirehill hundred) over the Trent, was built in 1646 at a cost of some £30 by Mr. Chetwynd (probably John Chetwynd of Rugeley), but it was broken down in the floods of 1708. (fn. 34) Colton Bridge was rebuilt in 1790 (fn. 35) and is of stone ashlar with a single segmental arch. Although it was a county responsibility by at least 1830, (fn. 36) Rugeley bore one-quarter of the cost of its repair and enlargement in 1886 and 1887. (fn. 37) It was probably at this time that it was widened on the north side and the present parapets and piers were added. (fn. 38) The building of a brick bridge over the 'Town Brook' 'from the present bridge over the brook by the Anchor down to Mr. Banks's garden', that is, over the Rising Brook in Brook Square between the present Upper and Lower Brook Street, was ordered by the vestry in 1821. (fn. 39) In 1827 the vestry also ordered the building of a bridge 'over the brook near the wharf'. (fn. 40)
The inhabitants of Rugeley were unable to relieve their poor in 1598, and various other parishes were ordered by the justices in Quarter Sessions to assist them with weekly sums. (fn. 41) A workhouse was built c. 1780, (fn. 42) presumably at Etching Hill where the parish workhouse was situated by 1834 at the house now called Chaseley. (fn. 43) The salary of the governor was £25 in 1822 and was confirmed at this figure in 1831. (fn. 44) The poor of Rugeley were transferred to the Union Workhouse opened in Lichfield in 1841, (fn. 45) and in 1845 the vestry ordered the leasing to the Guardians of the Poor of the Lichfield Union of the 'very large brick and tile dwelling house . . . now unoccupied and hereto used as the workhouse for the poor of the parish'. (fn. 46) Chaseley is a large stucco house in its own grounds. It formerly had a symmetrical late-Georgian front, but there have been many alterations and additions.
The larger of the two iron-foundries in Rugeley in 1834 had 'a gas apparatus which supplies both its own workshops and the town with its brilliant vapour'. (fn. 47) The municipal gas-works were completed in 1849, and by 1851 there were some 45 public lamps. (fn. 48) In 1843 the vestry meeting expressed its appreciation of 'the Rural Police now stationed in Rugeley' and recommended that premises in Albion Street be taken on lease by the parish officers for use by the police. (fn. 49) By 1851 there was a police station, apparently in Horse Fair, with an inspector and two men. (fn. 50) The new Town Hall opened in 1879 included a police station, (fn. 51) and the present station in Anson Street was opened in 1907. (fn. 52) In 1859 the vestry was considering the provision of a fire engine. (fn. 53) There was a 'fire engine station' in the new Town Hall, (fn. 54) and the present fire station in Taylors Lane was opened in 1936. (fn. 55) The Rugeley Home and Cottage Hospital in Church Street was founded by Mrs. Levett in 1866, (fn. 56) and the Rugeley District Hospital was opened in 1871, (fn. 57) while by 1912 the Urban District Council had a cottage small-pox hospital near Brindley Heath. (fn. 58) The sewering of the town was undertaken by the local board set up in 1865 mainly for that purpose. (fn. 59) The South Staffordshire Water Works Company had a pumping station near Fairoak by 1880, the water being stored in Hednesford reservoir, (fn. 60) and there are now (1957) two pumping stations in Brindley Heath, one (dated 1932) on the site of the former slitting mill south-east of Hagley Farm and the other in Tudor style at Brindley Bank (dated 1905). The Rugeley Free Jubilee Library was formed in 1887 and housed in the Reading and Recreation Room, Bow Street. (fn. 61)
The ancient stone pinfold, situated apparently on the north side of Sheep Fair, was moved c. 1829 at the expense of the parish to a site on the Marlpits estate where it still stood in 1878. (fn. 62) In 1774 the vestry had ordered the conversion of part of the pinfold 'into a place of security for felons, &c., previous to their being carried before a magistrate'. (fn. 63)
A parliamentarian garrison seems to have been set up at Rugeley in 1645. (fn. 64) In 1859 a company of volunteers was enrolled. (fn. 65) The commander of the Cannock Chase manoeuvres of 1873 set up his flag on Etching Hill. (fn. 66) An R.A.F. camp (R.A.F. Hednesford) in Brindley Heath was taken over in 1956 as a camp for refugee Hungarians. An army camp on Stile Cop, formerly used for prisoners of war, is now (1957) abandoned.
A maypole was set up between Sandy Lane and Horse Fair for the coronation celebrations of George III (fn. 67) and was still there in the mid-19th century. (fn. 68)
There was foot-racing on a 3-mile course at Etching Hill by 1678. (fn. 69) By 1834 horse races were generally held on a 1½-mile course at 'Hitchin Hill' on the last Thursday in September, (fn. 70) and by 1851 they were held during the first week in October. (fn. 71) September horse-racing at Rugeley was mentioned in 1854 and 1860. (fn. 72)
A fire in Rugeley on 20 May 1649 burnt down 29 houses and the tithe barn. (fn. 73) Another fire in February 1709 began at a baker's house at the west end of the town at 9 a.m. and was fanned by a strong southwest wind. (fn. 74) The amount of damage done then was assessed at £808 3s. 2d., and appeals for assistance were sent to parishes outside as well as inside the county, £340 1s. 4½d. being raised from Staffordshire alone. (fn. 75) Damage done by the 'great rain' on 15 September 1708 was assessed at £200. (fn. 76)
A local board for Rugeley was set up in 1865 under the Act of 1858. (fn. 77) The Urban District Council of Rugeley was formed in 1894, when Brereton, including Hazel Slade, Slitting Mill, and Etching Hill, was made into a separate civil parish within the Lichfield Rural District. (fn. 78) Under the Staffordshire Review Order of 1934 parts of Brereton, including Slitting Mill and Etching Hill, and parts of Armitage with Handsacre and of Longdon were added to the Urban District. Hazel Slade was added to the Urban District of Cannock, and the remainder of the former civil parish of Brereton stayed within the Lichfield Rural District as the new civil parish of Brindley Heath. (fn. 79)
The ancient parish was stated in 1646 to contain many hundred communicants, (fn. 80) and it included 219 households in 1666. (fn. 81) The population in 1801 was 2,030. (fn. 82) In 1951 the population of the Urban District was 8,525 and of Brindley Heath, including the R.A.F. camp, 5,028. (fn. 83)
Mrs. Mary Knowles (1733–1807), Quakeress, painter, and friend of Dr. Johnson, was the eldest daughter of Moses and Mary Morris of Rugeley. (fn. 84) William Palmer (1824–56), the second son of Joseph Palmer of Rugeley, timber merchant and sawyer, started practice in Rugeley as a doctor in 1846, and was hanged at Stafford in 1856 on the charge of poisoning John Parsons Cook at 'The Talbot Arms'. (fn. 85) Professor T. G. Bonney (1833–1923), the Cambridge geologist, was born at Rugeley, the eldest child of the Revd. Thomas Bonney, master of Rugeley Grammar School. (fn. 86)
The south-west end of the town contains the largest number of old buildings, and it seems probable that the fire of 1709 (fn. 87) missed this area. A group of timber-framed cottages at the corner of Elmore Lane and Sandy Lane survived until shortly before the First World War. (fn. 88) Two existing houses on the south-west side of Horse Fair have timber-framing of 17th-century type. A framed building opposite, demolished in 1956, was probably more ancient. (fn. 89) Sheep Fair was evidently a built-up street at an early date. Nos. 16 and 18, formerly the White Lion Inn, (fn. 90) form an L-shaped timber-framed block dating from the late 16th or early 17th century. It retains a large central chimney with diagonal shafts. A brick house of c. 1700 opposite has original mullioned and transomed windows to the first floor. At the upper end of the street several old houses, some timberframed, are derelict or partly demolished. A timberframed outhouse adjoining the Vine Inn is said to have been formerly a malthouse. (fn. 91) Two late-18thcentury brick houses at the corner of Bow Street and Crossley Stone form a single square block. Good symmetrical brick fronts with three-light sash windows face both streets. The doorway to Crossley Stone has fluted pilasters, an enriched frieze, and a voluted pediment. An added bay on the south side has 'Greek' detail of c. 1820. About 1842 this property included a brewery. (fn. 92)
The main street through the town consists of Lower Brook Street, Upper Brook Street, and Market Street. The first two names occur only after the middle of the 19th century before which Market Street extended as far as Brook Square. (fn. 93) Most of the houses in both streets have been rebuilt since this period. An exception is the tall gabled brick house, now Nos. 5 and 7 Lower Brook Street, which dates from the late 17th century. Nos. 17 and 19 Upper Brook Street have an imposing stucco façade with good 'Regency' detail, the only example of this type in Rugeley. The property, which was formerly occupied by a farmer, changed hands in 1825 (fn. 94) and was evidently rebuilt as a shop. A much-altered building of c. 1700 stands near the Market Place on the south side of Bow Street. The south-east side of the Market Place is occupied by a property formerly the home of the Landors, which originally dated from the 17th century and had five hearths taxable in 1666. (fn. 95) The front, which was rebuilt in 1773, (fn. 96) has been covered with stucco and much altered but retains its original doorway, cornice, and enriched key-stones. Until 1878 the Town Hall stood in the centre of the Market Place. (fn. 97) It consisted of a square brick building of c. 1790 (fn. 98) with an open arcade of three bays to the ground floor and a cupola on the roof. A small single-story structure to the north (fn. 99) was replaced c. 1850 by an extension of the Town Hall with 'Tudor' details. The Shrewsbury Arms Hotel in Market Street was known until at least 1810 as 'The Crown'. (fn. 100) In the early 19th century it became 'The Talbot Arms', and its name was again changed after the trial of William Palmer in 1856. (fn. 101) Parts of the structure may date from c. 1700, but the building was largely remodelled in the early 19th century, and the existing frontage is of this period. In 1834 a large Assembly Room had 'lately been built' here. (fn. 102) Palmer's house on the opposite side of the street (fn. 103) has an altered frontage but retains two gabled wings at the rear, one timberframed and one of stone, which probably date from the 17th century. The Red Lion Inn has exposed timber-framing at the rear and an end gable wall of stone. It dates from c. 1600 and has a fragment of contemporary panelling internally. The brick front was renewed after a fire in 1950. (fn. 104) At the junction of Market Street and Wolseley Road is a timber-framed range, now plastered, known as The Sycamores. It was formerly a single house of four bays dating from the late 16th or early 17th century. At the rear are the remains of another timber-framed range. No. 37 Wolseley Road is a detached 3-story brick house with a good symmetrical front of c. 1790. The buildings of Rugeley Grammar School at the junction of Wolseley Road and Colton Road all date from the 19th century or later. The former school, of which the first stone was laid by Richard Hollinhurst, mason, on 9 September 1707, (fn. 105) appears to have been rebuilt c. 1820 by the Revd. John Clarke who also rebuilt the master's house. (fn. 106) This second school building has also disappeared, but the house, in an altered form, is now (1957) used as offices and classrooms. Residential property in Wolseley Road includes Eaton Lodge, a large house in its own grounds which was probably built c. 1830 by Capt. George Hamilton. (fn. 107) It had become the home of the Sneyd family by 1854 (fn. 108) and is now the Eaton Lodge Hotel and Country Club.
Albion Street, east of Market Street, was constructed c. 1830 (fn. 109) and contains some typical detail of that period. Beyond it the group of buildings connected with the Roman Catholic Church date from 1849 to 1851. (fn. 110) Heron Court, now St. Anthony's Convent, was built in 1851 by Joseph Whitgreave, co-founder of the church. (fn. 111) It is a tall gabled house of dark brick with stone dressings in the mid-19thcentury Tudor style. At this period the buildings including the 'elegant mansion of Heron Court' were considered 'the greatest ornaments of the town'. (fn. 112)
The Town Hall, erected at the corner of the Market Place and Anson Street on the site of the Shoulder of Mutton Inn, (fn. 113) was opened in 1879. (fn. 114) The building has a tall clock tower and is of red brick with Bath stone dressings. The style is a highly ornamental version of mid-Victorian Gothic. It contains a covered market and offices on the ground floor with assembly rooms above. The mid-19thcentury wing of the demolished Town Hall was reconstructed at the Anson Street end of the new building.
Brereton House has a good late-18th-century brick front with five windows to each of the upper floors and a central Roman Doric doorcase with a pediment. The forecourt is bounded by a low brick wall with a simple wrought-iron gate and stone piers in the centre. The property was owned and occupied by Elizabeth Birch c. 1842. (fn. 115)
The two houses known as Brereton Hall and Lanes End form together a very long three-story range with two projecting wings at the rear. The road front was formerly of stone, but plate-glass windows and a facing of yellow brick were added in the late 19th century. A ground-floor room at the south end of Brereton Hall has moulded oak beams, probably of 17th-century date. The general structure and layout suggest that a 17th-century house had a long mill or other early industrial building of slightly later date adjoining it. The detail of the two front porches and most of the interior fittings would be consistent with a conversion into two dwelling houses c. 1800. It was already in double occupation by 1842. (fn. 116) At the rear is a stone barn with 17thcentury timber-framing in the gables. A later tall brick outbuilding has been converted into a cottage. A culvert runs below this building, and there are two artificial pools in the field east of the house. In the early 20th century Lanes End is said to have been a girls' orphanage. (fn. 117)
The Cedar Tree, formerly Cedar Lodge, is an 18th-century brick house, with a central doorway flanked by two-story semicircular bays. The stucco front and the bays, which are surmounted by castiron balustrades, are probably additions of the early 19th century.
The Hollybush Inn at Brereton Slade is a timberframed building with a thatched roof. It consists of three bays with a single-story wing at the back and a brick addition at the west end. The two eastern bays probably date from the 16th century, and there are indications that they were formerly of one story, open to the roof. The two-story bay to the west appears to have been added at a slightly later date.
Manors
In 1086 RUGELEY, assessed at 1/5 hide, was held by the king as part of the escheated lands of the earldom of Mercia. (fn. 118) Lands in Rugeley were held of the king by Robert de Sancto Paulo in 1156 and 1157 (fn. 119) but apparently not afterwards, and the vill was tallaged like other royal lands from 1173 until 1187. (fn. 120) Richard I granted it to the Bishop of Coventry and Lichfield in 1189 along with Cannock, (fn. 121) with which it henceforth descended. (fn. 122) The Marquess of Anglesey, into whose family the manor had passed in 1546, (fn. 123) disposed of all his property in Rugeley in various sales after 1918. (fn. 124)
The manor had no capital messuage in 1298, (fn. 125) and there seems to have been none before or after that date.
From at least 1309 the courts of Rugeley were held jointly with those of Cannock, usually at each manor alternately. (fn. 126) A view of frankpledge was held by 1277, (fn. 127) and Rugeley was represented jointly with Brereton by five frankpledges by 1341 (fn. 128) and separately by four by 1463. (fn. 129) The lord of Rugeley's revenue from this view was 3s. 6d. by 1277 (fn. 130) and 13s. in 1291. (fn. 131) Between at least 1424 and 1533 the proceeds of the manor included 3s. for frithsilver from the fixed view of frankpledge, (fn. 132) and between at least 1762 and 1769 the constable was paying 4s. 1½d. in frithsilver. (fn. 133) In 1826 the vestry of Rugeley voted an allowance of 10s. each to the constables and headboroughs for their expenses in attending the leet. (fn. 134) The constables were still elected at the October court leet in 1834. (fn. 135)
It was stated in 1595 that the bailiff of Rugeley was allowed 18d. and the Bailiff's Acre. (fn. 136)
The bounds and customs of the manor were set out with those of Cannock at the survey of 1595. (fn. 137)
By 1228 the overlordship of BRERETON seems to have been held by the Bishop of Coventry and Lichfield. (fn. 138) It descended with the manor of Rugeley until at least 1555. (fn. 139)
A mesne lordship of Brereton was held c. 1228 by Sir Henry de Audley (fn. 140) whose son James surrendered part of it, the land at Red Moor, to the bishop in 1250. (fn. 141) James was still mesne lord in 1254, (fn. 142) but nothing further is known of this lordship.
About 1228 Sir Henry de Audley granted his land in Brereton, except for Red Moor, to Adam de Mutton, (fn. 143) who gave 6 acres of this land soon afterwards to William de Mutton, probably his brother. (fn. 144) Sir Adam was dead before 1241, leaving a son Ralph, a minor, to succeed him, and Henry de Audley granted the custody of the lands in Brereton to Adam's widow Isabel. (fn. 145) Ralph himself was dead in 1241, (fn. 146) with an infant daughter Isabel as his heir, (fn. 147) and in 1254 his widow Agnes was claiming ⅓ carucate in Brereton as her dower against Hugh de London who called upon James de Audley to warrant his title. (fn. 148) Ralph's daughter Isabel was married, apparently by 1257, to Philip de Chetwynd, (fn. 149) who was dead by 1284. (fn. 150) By 1290 she was the wife of Roger de Thornton. (fn. 151) Her son Philip de Chetwynd (II) succeeded her in 1291 (fn. 152) and in that year granted a life interest in the manor to Roger, (fn. 153) who was dead in 1297. (fn. 154) Philip made a settlement in 1307 of a messuage, a carucate, 40 acres of wood, and 40s. rent in Brereton, (fn. 155) and was dead by 1308 when his son Philip (III), a minor, had succeeded. (fn. 156) A protracted lawsuit then began concerning the dower of Isabel, widow of Philip (II). (fn. 157) The manor then descended with Reule in Bradley (fn. 158) until at least 1735. (fn. 159)
John Viscount Chetwynd (d. 1767), was lord of Brereton in 1750, (fn. 160) and by 1780 the manor was held by his daughter Catherine, wife of John Talbot, (fn. 161) whose son John Talbot (Chetwynd-Talbot in 1786), created Viscount Ingestre and Earl Talbot in 1784, was lord in 1785. (fn. 162) His son Charles Chetwynd was holding the manor in 1800, (fn. 163) and although his right to the manor was questioned by the Marquess of Anglesey in 1818, (fn. 164) the estate remained in the family until the sale of the collieries in 1923 and of the rest of the property between then and 1951. (fn. 165)
From at least 1341 Brereton was within the leet of Cannock and Rugeley and was represented, with Rugeley, by five frankpledges at the twice-yearly view, but by 1463 Brereton presented separately by one frankpledge. (fn. 166) The lord of the manor was holding his own view of frankpledge in 1832 and 1837 along with a court baron. (fn. 167) Surveys of the manor between 1797 and 1837 show it as situated in the parishes of Rugeley, Longdon, and Armitage. (fn. 168) The respective boundaries of the manors of Brereton, Armitage, and Handsacre were in dispute by 1806. (fn. 169)
The manor of HAGLEY seems to have originated in the land in Rugeley held, probably from the time of Henry II, by the keepers of the hay of Rugeley within the forest of Cannock. (fn. 170) The overlordship was held by the lords of this woodland until at least 1762. (fn. 171)
Land in Rugeley seems to have been granted by Henry II to a William de Puys (Puteo), whose son Roger had succeeded him by 1166. (fn. 172) Roger was still living in 1176, (fn. 173) but by 1189 his younger brother Richard was holding the land, apparently 30 acres in extent, although Roger had left a son, also Richard. (fn. 174) This brother Richard was dead by 1194 and had been succeeded by another brother, Reynald. (fn. 175) In 1198, however, Reynald, as keeper of an unspecified hay within the Forest of Cannock, was holding 15 acres in Rugeley worth 3s. a year, while his nephew Richard was holding a quarter of a carucate, also by some forest service. (fn. 176) Agnes, the widow of Roger, and her husband William de Eisse sued Richard in 1199 for dower in Roger's land, and he gave them ⅓ virgate in Rugeley called 'Hoddesley'. (fn. 177) All 30 acres had passed to Reynald's son Robert by 1225, (fn. 178) but Richard secured them in 1227, giving Robert land in Warwickshire in exchange. (fn. 179) Reynald's widow Sarah sued Richard for dower in the 30 acres in 1230, and he gave her an annuity of 7s. 6d. (fn. 180) Richard de Puys was holding a carucate in Rugeley in 1236 by the service of keeping the hay of Rugeley, (fn. 181) and this office and the appurtenant land in Rugeley had passed by 1288 to a William de Puys, who had the status of a 'valettus' and built a small house and a barn there worth 40s. (fn. 182)
William was dead by 1301, leaving a daughter Agnes, wife of William de Thomenhorn (Tamhorn), who was ousted from the land by the overlord on the grounds of illegitimacy. (fn. 183) Agnes and William, however, were reinstated in 1302. (fn. 184) William de Thomenhorn was still living in 1332, (fn. 185) but by 1347 his son, or grandson, Thomas de Thomenhorn, held 8 messuages in Rugeley with a carucate of land, meadow and pasture, 16s. rent, and a mill. (fn. 186) Thomas's heir was his son William, (fn. 187) whose wife Anne survived him and was succeeded after her death by William's brother Thomas. (fn. 188) By 1392 Thomas was holding a messuage with ½ virgate in Rugeley, and since several of his buildings there had been destroyed by fire at some time before that year, he built himself a new house (novum manerium) consisting of a hall, four chambers, a chapel, a kitchen, two barns, a stable, an oxstall, a brewery, and a gatehouse with a drawbridge, felling 100 oaks within the bishop's chase of Cannock for the purpose as part of his right to timber for building, fencing, and fuel appurtenant to his tenement in Rugeley. (fn. 189) The bishop, challenging this right, claimed that twelve oaks were sufficient for the more modest buildings of Thomas's ancestors, (fn. 190) but it was agreed in 1393 that Thomas should in future cut sufficient timber for repairs under the supervision of the bishop's officials and, as keeper of the bailiwick of Rugeley, enjoy general timber rights. (fn. 191)
Thomas and his wife Alice in 1398 or 1399 granted the reversion of what was described as the manor of Rugeley and of the lands held by the service of keeping the hay of Rugeley to Adam de Peshale of Weston under Lizard in the event of their having no children, (fn. 192) but they were stated to be holding the 'manor' for life only in 1406 when Adam granted the reversion to his daughter Margaret and her husband Richard Mutton. (fn. 193) Sir Thomas de Thomenhorn died in 1416 or 1417, and the 'manor' and lands passed to William Mutton, the son and heir of Richard and Margaret and a minor. (fn. 194) The manor consisted in 1421 of 100 acres of arable each worth 2d. a year, 20 acres of meadow each worth 6d., 100 acres of pasture each worth 4d., 6 acres of wood worth nothing because there was no customary wood cut, and 23s. in rent. (fn. 195) William Mutton was of age in 1437 (fn. 196) and was still living in 1492, (fn. 197) but in 1500 his son John died seised of 6 messuages, pasture, meadow, and four mills in 'Hagley' and Rugeley, worth £10 and held by the service of keeping the bailiwick of Rugeley. (fn. 198) John's son and heir John made settlements of what was called the manor of Hagley in 1513 (fn. 199) and 1527, (fn. 200) and in 1530 he settled the reversion of his Staffordshire lands after the death of himself and his wife Constance on his grandson Edward Harpesfield (later Mitton), a minor, in the event of Edward's marrying Anne Skrymsher. (fn. 201) John seems to have mortgaged the manor in 1532, reserving a rent from it to his daughter and heir Joyce. (fn. 202) He died in 1533, when the manor, with certain cottages in Penkridge, was valued at £6 6s. 8d. (fn. 203) and Joyce seems to have been in receipt of the rent in that year. (fn. 204) Thomas Skrymsher, father of Anne, subsequently sued John's widow Constance and others for the custody of John's heir and for deeds relating to Hagley and elsewhere, (fn. 205) while Richard Weston of Brereton and others were suing for deeds relating to the manor on behalf of Joyce, apparently in 1533. (fn. 206)
By 1544 Richard Weston's son John was described as of Hagley (fn. 207) and held the manor in 1547. (fn. 208) He died in 1566, (fn. 209) and by 1571 his son Richard's right to Hagley was being disputed by Edward Harpesfield, then lord of Weston under Lizard. (fn. 210) Richard and his wife Barbara, however, held the manor in 1578, (fn. 211) and Richard was succeeded in 1613 by his son, also Richard, (fn. 212) who made a settlement of the manor in 1624. (fn. 213) This Richard was M.P. for Lichfield in 1621, knighted in 1635, and a baron of the Exchequer from 1634 until 1645. (fn. 214) About 1643 he owned lands in Rugeley and Brereton, leased to eighteen and six tenants respectively, in addition to his demesnes. (fn. 215) He was succeeded in 1658 by his grandson Philip, (fn. 216) who sold the manor to Anne Lane in 1710. (fn. 217) By 1725 the manor was held by Warin Faulkner, (fn. 218) whose Jacobite sympathies seem to have led to the plundering of Hagley Hall in 1745. (fn. 219) He died in 1748, (fn. 220) and by 1752 the manor had passed to Assheton Curzon (fn. 221) (Baron Curzon of Penn in 1794, Viscount Curzon in 1802), (fn. 222) who is said to have spent much of the year at Hagley and to have kept hounds and racehorses there. (fn. 223) He died in 1820, (fn. 224) and by 1823 Hagley was in the hands of his younger son Robert, (fn. 225) who died in 1863. (fn. 226) Hagley was sold in 1864 to William Harrison, the local colliery owner, and in 1878 or 1879 to the 3rd Marquess of Anglesey (d. 1880). (fn. 227) The 6th Marquess (d. 1947) sold the Hall and some of the land to Mr. Cumberland Brown of Luton (Beds.) in 1927. (fn. 228) Most of this estate, with the Hall, passed to the South Staffordshire Waterworks Company in or soon after 1931, the remainder being sold for building plots. (fn. 229) The Marquess retained Hagley Farm, comprising some 146 acres until its sale in 1944 to Mr. C. J. Whieldon (fn. 230) who in 1941 or 1942 had bought the Hall and its surrounding land (fn. 231) and was still living there in 1957.
The lords of Hagley held courts baron between at least 1585 and 1728. (fn. 232)
The 14th-century capital messuage probably occupied the low-lying site to the west of Crossley Stone where a large moat encircling an island is still in existence. The present Hagley Hall stands on high ground some 300 yds. farther west, the level falling away steeply on its south side to form a cliff above the Rising Brook. Sir Richard Weston (d. 1658) is said to have built the first house, at one time known as Bank Top, on this site. (fn. 233) In 1666 his heir was taxable for fifteen hearths. (fn. 234) Towards the end of the 18th century the house was remodelled and greatly extended by Assheton Curzon, (fn. 235) who also improved the grounds, planted shrubberies, and built a high wall round the park. (fn. 236) Alterations to the east side of the house were made in the early 19th century. About 1932 the greater part of the building was demolished, leaving only the central portion which had contained the kitchen and service quarters of the 18th-century mansion. (fn. 237) Plans and drawings of the mansion before its partial demolition (fn. 238) show gabled wings at the rear which may have represented the 17th-century house. Facing south and reaching to the edge of the cliff were the principal 18th-century rooms which included an octagonal drawing-room, the base of which is still in position below ground level. Alterations to the present house by Mr. C. J. Whieldon include an entrance porch incorporating parts of stone columns brought from Abbots Bromley (fn. 239) (Pirehill hundred).
On the crown of the hill to the west is an 18thcentury brick stable range, now cottages, with a domed cupola at its north gable-end. Beyond this is an ice-house sunk in the hillside consisting of a circular domed brick chamber approached by a narrow passage. (fn. 240) Two ranges of well-designed brick outbuildings dating from the 18th century lie between the Hall and Hagley Farm. In the cliff below the house are a series of rock-cut chambers which may represent an 18th-century garden feature or grotto. Alternatively, it has been suggested that the caves were cut by the colliery owner William Harrison to provide work for unemployed miners. (fn. 241) The largest of the chambers has a barrel ceiling and two flanking aisles, the arcades supported on squarecut piers. A niche and pedestal at one end has prompted the suggestion that the room contained an altar and was used as a chapel. The Rising Brook, which runs along the base of the cliff towards Hagley Mill and the former moat, falls over several low weirs and is spanned by a small late-18th-century stone bridge. This is of vermiculated masonry and has a wrought-iron balustrade with circular piers surmounted by vases. A pool at the upper end of the park was made by William Harrison. (fn. 242) Since 1930 successive building schemes have encroached on the grounds, and the old moated site is now (1957) cut off from the garden by the new by-pass road. (fn. 243)
Hagley Farmhouse was formerly of red brick with stone dressings and was probably built in the late 17th century. It is now (1957) covered with roughcast and has recently been reroofed.
Lesser Estates
A Philip de Rugeley succeeded in 1224 to lands in Rugeley held of the king by his father Richard. (fn. 244) An Adam de Rugeley, who occurs holding fishing rights at Rugeley in 1326, (fn. 245) paid tax here in 1327 (fn. 246) and 1332 (fn. 247) and was still alive in 1339. (fn. 248) A Simon de Rugeley, who also paid tax here in 1327 (fn. 249) and 1332 (fn. 250) and was prominent in the county as sheriff, knight of the shire, commissioner, and tax collector between 1336 and 1348, (fn. 251) was granted free warren on his demesne lands in Rugeley and elsewhere in 1337. (fn. 252) The bishop leased a fishery in the Trent within the manor to him in 1342, (fn. 253) and at his death in 1349 he held of the bishop a messuage in Rugeley with a carucate, meadow, pasture, and rent of 22s. from cottars. (fn. 254) His heir was his son Henry aged 14 and studying at Oxford. (fn. 255) A Nicholas de Rugeley of Hawkesyard (in Armitage, Offlow hundred) had inherited houses, woods, and gardens in Rugeley from a kinsman, Thomas de Rugeley, by 1412. (fn. 256) A Simon de Rugeley of Hawkesyard, who died in 1516, was holding a messuage in Rugeley of the bishop, with 27 acres of arable, an island in the Trent called 'le Holmes', and a fishery in the river. (fn. 257) His son and heir Thomas died in 1552 holding lands, tenements, and a fishery in Rugeley of Lord Paget and a messuage, lands, and tenements in Brereton of Thomas Chetwynd. (fn. 258) A Simon de Rugeley held an estate in Rugeley in 1663. (fn. 259)
The Dean and Chapter of Lichfield as rectors of Rugeley held a house there in 1276 situated across the street from that assigned to the vicar, (fn. 260) and in 1356 they were accusing the vicar, presumably as farmer of the rectory, of neglecting to repair it. (fn. 261) In 1359 they leased the estate, then called Puysland and consisting of the house and all buildings there, except the tithe barn, and 45½ acres of arable and 4 acres of meadow in Rugeley to Henry Puys, his wife Juliana, and their heirs for a rent of 16s., confirming the grant in 1363 and 1389. (fn. 262) The estate may have passed to Thomas Meverell of the Bold (in Blithfield, Pirehill hundred), son of Nicholas Meverell, before his death in 1517, (fn. 263) and his son and heir Lewis was holding it when he died in 1532. (fn. 264) It then passed to Lewis's daughter Mary, (fn. 265) who married John Chetwynd of Ingestre (Pirehill hundred). (fn. 266) John's son by his second wife, Sir Walter Chetwynd, granted the house with lands belonging to it to his brother Thomas Chetwynd of Rugeley and his heirs in 1614. (fn. 267) The estate then descended in his family, the Chetwynds of Rugeley and Grendon, being held in 1761 by Lady Raymond and by 1764 by her second husband, Lord Robert Bertie. (fn. 268) In 1768 Lord Robert conveyed what was described as the 'manor' of Rugeley to Thomas Anson (Viscount Anson of 1806) of Shugborough (in Colwich, Pirehill hundred) and Orgrave (in Alrewas, Offlow hundred). (fn. 269) In 1780 'a very ancient timberhouse, which once belonged to the Chetwynds, and is now the property of Mr. Anson', still stood opposite the parish church, (fn. 270) and part of the garden wall is still (1957) visible between Anson Street and Market Street. (fn. 271) Viscount Anson was succeeded in 1818 by his son Thomas William (Earl of Lichfield in 1831) (fn. 272) who was holding the 'manor' in 1829 (fn. 273) and an estate of some 445 acres in and around the town c. 1842. (fn. 274) The property was all sold between 1895 and 1938. (fn. 275) Fishing rights in the Trent formed part of this estate between at least 1768 (fn. 276) and 1829. (fn. 277)
Ralph Weston, whose father had been a cousin of Philip Weston of Hagley, died in 1757 at Stone House, in what is now the hamlet of Slitting Mill, (fn. 278) and his nephew Ralph (d. 1794) lived here. (fn. 279) Between 1807 and c. 1842 Stone House was owned by Thomas Pickering or his trustees. (fn. 280) In 1808 Sarah Hopkins moved here with her brother Samuel from 'The Forge' (later Fair Oak House), and she remained here until her death in 1844. (fn. 281) James Gardner, of Gardner & Sons, Solicitors, Crossley Stone, lived here between at least 1854 and 1880 and James W. Gardner between at least 1884 and 1928. (fn. 282) Shortly before the Second World War the house was converted into a country club by Cannock Chase Hotels Ltd. (fn. 283) In 1940 it was taken over by the Air Ministry and in 1957 was their No. 6 Works Area H.Q. (fn. 284) The oldest part of the house is a roughly square block at its south-east corner dating from the late 16th or early 17th century. It is of stone ashlar, built directly upon the rock, and has two stories, cellar, and attics. The south front has twin gables and retains some original stone mullioned windows and moulded window hoods. The house was remodelled early in the 18th century when a symmetrical entrance front was added on the east side. There are further additions of the early 19th century and of c. 1840.
A house and land called Raven Hill lay on the road between Rugeley and Brereton by 1775, (fn. 285) and in 1796 the estate was held of the manor of Brereton by Lord Curzon of Hagley Hall. (fn. 286) About 1842 the estate, comprising some 62 acres, was owned by Lord Curzon's son Robert and was in the tenure of James Wright. (fn. 287) During the Second World War the house was the property of the Urban District Council and in 1948 was taken over by British Electronic Products Ltd. (since 1950 the Lancashire Dynamo Electronic Products Ltd.), (fn. 288) who have erected factory buildings in the grounds. The oldest part of the house is on the south side and dates from the late 18th century. There are numerous additions, mostly of the mid-19th century.
A fishery in the Trent cum solo within the manor of Rugeley was granted by the bishop in 1339 to Robert Mauveysin, his wife, and his heirs at a rent of 3s. 2d., on condition that no mill or mill-pool should be made nor the stream diverted. (fn. 289) The stretch of river granted lay in the north-eastern corner of the manor, between 'Hemprudinge overende', near the wood of Anselm le Mareschal called Ashley Hay, to 'Assheleyenetherende'. (fn. 290) By 1762 a fishery in the Trent was held of the lord of Rugeley by a Mr. 'Secheverill', who was paying 3s. 2d. for it and still held it in 1764. (fn. 291)
Woods
In 1086 the king had woodland three leagues long by two broad attached to his manor of Rugeley. (fn. 292) The lordship descended with that of the woodland of Cannock, both areas being organized together as a free chase belonging to the manors of Cannock and Rugeley from 1290. (fn. 293) Much of the new Cannock Chase State Forest lies in Brindley Heath.
In 1589, while the chase was in the queen's hands owing to the forfeiture of Thomas Lord Paget, the lease of much of the timber there was granted to Fulke Greville for 21 years, and the royal surveyor reported that there were 3,123 acres of wood within the lordship of Rugeley, each acre being worth at least £7. (fn. 294) By 1595 the wooded area was much reduced. (fn. 295) Between 1589 and 1595 the queen's steward took 180 trees from the bailiwick, and Greville, Gilbert Wakering, and others illicitly cut trees belonging to the queen. (fn. 296) Greville, unlike Lord Paget before him, was making no coppices and leaving no standels while cutting the timber granted to him. (fn. 297) As a result of this destruction of the woodland the tenants of the manor were losing their customary timber and the queen was losing her pannage dues. (fn. 298) It was further stated in 1595 that the browsing of the hollies within the manor of bailiwick of Rugeley was worth at least £7 a year to the Crown but that this revenue was endangered by Greville's workmen who were felling many of the hollies, although these had been excepted from the lease. (fn. 299)
The keepership of the hay or bailiwick of Rugeley followed the same descent as the manor of Hagley, which was held in serjeanty by the keepers, (fn. 300) until 1588 when the queen granted the keepership of Rugeley Bailly to William Sneade (fn. 301) on whom William Paget, having received most of his father's estates from the Crown in 1597, (fn. 302) conferred the office of keeper of the forests in the ambulation or 'le Walke' called 'Ridgley baylywick' within the chase in 1598. (fn. 303)
The forester of Rugeley, like the forester of Cannock, made presentments at the joint courts of the two manors by at least 1342. (fn. 304)
Agriculture
By 1277 there was no demesne and all the land in the manor was held by tenants. (fn. 305) In this year 8d. was spent on the lord's conyger. (fn. 306) Twenty-eight persons in the manor were paying pannage dues in 1350 for 35 pigs and 25 'hogs' (hogg'), (fn. 307) and in 1819 37 freeholders and copyholders of Rugeley and Etching Hill were pasturing 3,367 sheep on Cannock Chase. (fn. 308)
In 1801 the parish of Rugeley had 608 acres sown, 110 with wheat, 214 with barley, 166 with oats, 20 with potatoes, 95 with turnips or rape, and 3 with rye. (fn. 309) The land by the Trent and the heavier soils to the east of the town were used in 1956 mainly for pasture, while to the south and south-east the agricultural land was used mainly for arable. (fn. 310) In 1956 there were six farms within the Urban District, of an average size of 70 acres, all mixed but with a tendency in favour of dairy-farming, pigs, and poultry, but very few of the population were engaged in agriculture. (fn. 311) It was then expected that much of the agricultural land would have to be used for housing estates to accommodate the expanding population. (fn. 312)
In 1353 the manor possessed common fields called Up Field, Church Field, and Hodgley ('Hoddesleye'), (fn. 313) lying respectively to the north-west of the town, to the north-west and north, and to the south-east. (fn. 314) By the 16th century there were in addition three 'small common fields' called Redbrook Field, Ravenhill ('Revynghill') Field, and Newland Field. (fn. 315) Piecemeal inclosure seems to have begun by the 16th century, (fn. 316) and in 1755 Up Field, Church Field, and Hodgley were inclosed by agreement. (fn. 317)
In the 16th century there were eight common meadows: Oldington Mead, Mowen Mead, 'Broode' Mead, 'the mead at the Brook', Turkyshall Mead, Woodfall Mead, Fleet Mead, and Assheley Mead. (fn. 318)
In 1885 4,790 acres of common on Cannock Chase within the parish were inclosed under an Act of 1864. (fn. 319)
Mills
In 1086 there was a mill worth 30s. attached to the manor of Rugeley. (fn. 320) In 1277 the mill was held by a tenant, (fn. 321) and was described as newly built in 1298. (fn. 322) When the bishop in 1339 granted part of the Trent within the manor to Robert Mauveysin, he stipulated that no mill or mill-pool should be constructed and that the stream should not be diverted. (fn. 323) Before 1423 there was a fulling mill in Rugeley belonging to the lord of the manor and leased by 1424 to Thomas Walker of Penkridge and John Walker of Rugeley at a rent of 20s. with an increase of 6s. 8d. (fn. 324) Repairs costing 16s. 10d. were carried out between 1470 and 1473. (fn. 325) In 1475 three oaks were taken from the bailiwick of Rugeley for further work on this mill, 15s. being paid to the carpenter, while in the same year another 5s. was paid to a labourer for repairing it in four places. (fn. 326) In the year ending Michaelmas 1533 the fulling mill, recently held by Thomas Hille for 40s., was leased to Robert Gibson of Rugeley for 53s. 4d. (fn. 327) and it was still leased at that rent in 1560. (fn. 328) Another mill in Rugeley had been leased by the lord by 1560. (fn. 329) A mill situated near the present Leathermill Lane from at least 1775 (fn. 330) was held of the lord of Rugeley by members of the Brittain family from before 1803 (fn. 331) and owned by a James Brittain c. 1842. (fn. 332) It was still in use as Turkeyshall Mill in 1884, (fn. 333) but there is now (1957) no trace of the site.
Thomas de Thomenhorn held a mill in Rugeley in 1347, (fn. 334) and John Mitton was holding four watermills with his lands in Hagley and Rugeley in 1500. (fn. 335) Richard Weston, lord of Hagley, inherited a walk mill in Rugeley from his father in 1566, (fn. 336) and in 1578 his possessions in Rugeley, Cannock, Brereton, and Longdon (Offlow hundred) included two watermills and two fulling mills. (fn. 337) He still held the walk mill in 1592. (fn. 338) By 1600 there was a messuage within the manor of Hagley called 'le wyndmyll', formerly held by Erasmus Wolseley, whose son and heir Thomas owed a relief for this and other tenements within the manor. (fn. 339) Philip Weston was holding two water gristmills in Rugeley and Cannock 'Heath' by 1681 (fn. 340) and a paper-mill on the Rising Brook to the east of Rugeley town between at least 1671 and 1685. (fn. 341) Assheton Curzon as lord of Hagley owed the lord of Rugeley 6s. rent for corn-mills and 1s. for the watercourse in 1762, (fn. 342) and his son owned a mill on the northern side of Hagley Park c. 1842. (fn. 343) A mill here seems to have descended with the rest of the Hagley estate and was owned in 1919 by the Marquess of Anglesey who then offered it for sale. (fn. 344) In 1957 Hagley Mill was owned by Messrs. Isaac Nixon & Son Ltd. (fn. 345) and was used for grinding cattle food. The building contains brickwork of the 18th century and later, the base being of stone and possibly dating from the early 17th century. The wheel, of the breast type, was formerly at the west end of the mill building. Water power was replaced by electricity in 1954–5. (fn. 346) The pool and watercourse have been filled in.
The only other mill still operating in Rugeley in 1957 was that off Bees Lane (The Central Mills, Messrs. H. T. Nock Ltd.). This may occupy the site of the ancient manorial mill, and there has been a mill here from at least the early 19th century. (fn. 347) The mill house, now used as offices, dates from this time, but the mill itself was rebuilt in 1912 when the undershot wheel was replaced by a turbine. Since 1952 electricity only has been used.
A fulling mill in Rugeley was settled on William Chetwynd in 1680, (fn. 348) and the estate in Rugeley which passed from the Chetwynd family to William Anson in 1768 was said to include three mills by 1829. (fn. 349)
By 1469 Thomas Coton was tenant of a mill in Rugeley leased to him for 30 years by Nicholas Brokholes. (fn. 350) John Hearn's mill, dam, and floodgates in Rugeley were damaged in the floods of September 1708. (fn. 351)
Between at least 1860 and 1896 there was a steam corn-mill in Market Street owned by Messrs. Timmis & Co. (fn. 352)
Markets and Fairs
A market to be held every Thursday within the manor of Rugeley was granted to the Bishop of Coventry and Lichfield by the king in 1259, (fn. 353) and the bishop apparently upheld this right in 1293. (fn. 354) In 1382, however, he was accused of having held a market in Rugeley for twenty years without the king's licence and to the prejudice of the burgesses of Stafford who were losing 12d. a year as a result. (fn. 355) The charter of 1259 was confirmed at some time between 1387 and 1390. (fn. 356) Further complaints were made in 1661 that the inhabitants of Rugeley were usurping privileges in the matter of markets, (fn. 357) but the Thursday market was still being held in 1747 (fn. 358) and 1851. (fn. 359) By 1868 general markets were held each Saturday as well as Thursday, with a cattle market every alternate Tuesday. (fn. 360) The Saturday market had lapsed by 1912 (fn. 361) but by 1956 was again held along with the other two. There are now 26 stalls in the general market offering a wide variety of goods, and stallholders come from several neighbouring towns. (fn. 362) The cattle market had become a weekly event by 1956. (fn. 363)
The charter of 1259 included a grant of a fair to be held annually on the Vigil, Feast, and Morrow of St. Augustine of Canterbury (25–27 May), (fn. 364) and this right, too, was apparently upheld in 1293. (fn. 365) The inhabitants of Rugeley were stated in 1661 to be usurping privileges in the matter of fairs as well as markets, (fn. 366) but by 1747 Rugeley had two fairs a year, for saddle horses on 26 May and for cattle on 10 October. (fn. 367) By 1834 there were four cattle fairs a year, on 14 April, from 1 to 6 June (a large fair for colts and horses), on 21 October, and on the second Tuesday in December when Earl Talbot generally gave prizes for the best fat cattle shown. (fn. 368) By 1912 only the June fair was still held (fn. 369) and though held in 1932, (fn. 370) had lapsed by 1940. (fn. 371)
Industries
Rugeley's chief manufacture by 1817 was hatmaking. (fn. 372) There were some 30 journeymen hatters in the town and its neighbourhood by 1834, (fn. 373) and the manufacture was still flourishing in 1851. (fn. 374) There were brick and lime kilns in operation by 1832. (fn. 375) Rugeley possessed a large brewery at Crossley Stone and two chemical works in 1834 (fn. 376) and a tan-yard and a brass foundry as well as the brewery in 1851. (fn. 377) In 1955 the industries included engineering, quarrying, tanning, colour manufacture, and the making of clothes, boots, shoes, and electrical apparatus. (fn. 378)
Brereton Colliery was in existence by at least 1814 (fn. 379) and in 1834 was being worked by Earl Talbot. (fn. 380) The present drawing shaft there was sunk in 1876, (fn. 381) and although much of the coal has now (1957) been worked out, production is expected to continue for about fifteen years. (fn. 382) By 1834 the Hayes Colliery, near the Brereton Colliery, was being worked by Joseph Palmer (fn. 383) and in 1851 by the Marquess of Anglesey. (fn. 384) It was closed before 1928. (fn. 385) The Fair Oak Colliery was opened in 1871 but was closed after some years owing to water difficulties. (fn. 386) The West Cannock No. 5 Pit at Brindley Heath was opened by the West Cannock Collieries Company in 1914. (fn. 387) Boreholes were put down to the north-east of Brereton before 1848 and again in 1863, but the existence of coal in the area was not conclusively proved. (fn. 388) It had, however, been established by 1956, (fn. 389) and the National Coal Board are now (1957) preparing to open a new pit at Lea Hall Farm within the next few years.
There were iron-mines and a forge within the manor of Rugeley by 1298. (fn. 390) In 1380 there were seventeen workers in iron. (fn. 391) A piece of waste land here called 'le forgeplace' was held by John Paynter for a rent of 2d. by 1533, (fn. 392) and Thomas Chetwynd, lord of Brereton, was holding a forge here of the lord of Rugeley in 1555. (fn. 393) William Lord Paget and his son and heir Henry were given leave in 1560 by the Crown to fell any oak, beech, or ash on Cannock Chase or in any wood in Cannock, Rugeley, and elsewhere in the county for fuel in the making of iron, (fn. 394) and the Paget ironworks on the Chase were already in operation. (fn. 395) Thomas Lord Paget's property was confiscated by the Crown in 1587, (fn. 396) and in 1589 the queen leased to Fulke Greville for 21 years at an annual rent of £211 10s. two iron-furnaces and two iron-forges on the Chase with all the waters appurtenant; all woods and trees in the Forest of Cannock, excepting 3,000 marked trees, for use as fuel in the furnaces; five workmen's cottages; and all mines or ironstone in the forest. (fn. 397) Greville undertook to pay 1d. for each load of ironstone removed and to work 'one onlie furnace' with the two forges, using the timber only for the iron-work. (fn. 398) He was mining ironstone on the Chase at a place called Black Mine in 1595. (fn. 399) William Paget, son of Thomas Lord Paget, recovered two furnaces and two forges on the Chase along with other of his father's possessions in 1597 (fn. 400) and subsequently confirmed Greville's lease. (fn. 401) A boy was killed in 'the forge whiele' in 1605. (fn. 402) Walter Chetwynd of Rugeley was granted the lease of a furnace, a forge, and a slitting mill within the parish by Lord Paget before 1646, by which year they had been sequestered with the rest of Walter's property, the lease having three years still to run. (fn. 403) There was a forge near the modern hamlet of Slitting Mill by 1682. (fn. 404) The floods in Rugeley in September 1708 damaged the dams and floodgates of Furnace Pool, Tipper's Forge Pool, and Forge Pool and the dam of Brindley's Pool. (fn. 405) The slitting mill at Rugeley, presumably near the site of this hamlet, was handling most of the output of the Staffordshire iron-works between 1692 and 1710, and in the year ending Michaelmas 1709 its output of rod iron reached 608 tons. (fn. 406) In 1746 the slitting mill and forge in Rugeley, with all ponds and pools appurtenant, lands near the forge, two workmen's houses, and coal were leased to a group of partners for 21 years at a rent of £60. (fn. 407) There was a mill, presumably this slitting mill, on the Rising Brook near the present hamlet of Slitting Mill c. 1775, with a forge about a mile upstream from the mill. (fn. 408) A piece of land in Brindley Slade was leased in 1735 for the making of a pool to John Biddulph, who before 1761 was tenant of two pools called Furnace and Brindley Pools. (fn. 409) He still held the land in Brindley Slade in 1762, (fn. 410) and c. 1775 there was a furnace on the Rising Brook where it is joined by the stream from Brindley Valley near the road to Rugeley about a mile north of Hednesford. (fn. 411) There was also a forge in the town of Rugeley c. 1775 (fn. 412) in the area where there are still two streets called Forge Lane and Forge Road. The furnace at Brindley Valley was still in existence in 1820. (fn. 413) There were two slitting mills in Rugeley in 1832, one near the hamlet now called Slitting Mill and the other c. 400 yds. south-east of Hagley Farm. (fn. 414) Rugeley had two forges and rolling mills and two iron foundries in 1834 (fn. 415) and in 1851 a large sheetiron and tin-plate mill and two foundries. (fn. 416)