Pages 49-63
A History of the County of Stafford: Volume 5, East Cuttlestone Hundred. Originally published by Victoria County History, London, 1959.
This free content was digitised by double rekeying. All rights reserved.
CANNOCK
The ancient parish of Cannock consisted of the townships of Cannock (including Hednesford, Leacroft, and Cannock Wood), Huntington, and Great Wyrley. The greater part of the parish lay in Cannock constablewick with which the present Urban District of Cannock is roughly coextensive. The history of Huntington and of Great Wyrley will follow that of the area now in this Urban District. The account of recusancy in the three townships will be given under Cannock.
The Urban District is situated to the south and south-west of Cannock Chase, the ground sloping from 801 ft. at Castle Ring Camp near the hamlet of Cannock Wood in the north-east to 365 ft. at Wedges Mill in the south-west. The boundary on the south and south-east is formed by the Wyrley Brook, the Wash Brook, and the Newlands Brook. The soil is light, with a subsoil of gravel and clay, the geological formation being Bunter around Cannock itself and Coal Measures to the east. (fn. 1) The area is highly industrialized, mining being the chief industry, and the main centres of population are the towns of Cannock and Hednesford. There are, however, several farms around Leacroft and Cannock Wood. Under the Staffordshire Review Order of 1934 the hamlet of Hazel Slade, then in Brereton (in Rugeley), and a portion of the parish of Norton Canes (in Offlow hundred) were added to the Urban District, part of which was transferred to Norton Canes. The area of the Urban District was thereby increased from 7,965 acres to 8,155 acres. (fn. 2) The population in 1951 was 40,917. (fn. 3)
The town of Cannock lies about a mile north of Watling Street some 300 ft. lower than Cannock Chase to the north-east. The original built-up area of Cannock lies south and west of the parish church where the roads from Penkridge, Stafford, Rugeley, Walsall, and Wolverhampton converge. This part forms the centre of the modern town and, although much altered, still contains buildings of the 16th, 17th, and 18th centuries (see below). Cannock constablewick comprised 86 households in 1666, (fn. 4) and the district was described in 1747 as having 'a delightful situation' (fn. 5) and in 1817 as 'formerly a place of great resort on account of the salubrity of Reaumorehill well, which was a fashionable watering-place in its day'. (fn. 6) By c. 1843 there was continuous building on both sides of High Street and High Green, a short way along the east side of Stafford Road, and along the south-west side of Old Penkridge Road. (fn. 7) Mill Street was built up, particularly on its south side, but the Walsall and Wolverhampton roads were almost clear of building. (fn. 8) By 1851 Cannock was 'a large and well-built village, with about 1,100 inhabitants'. (fn. 9) In 1956 the district south-west of Cannock was still being developed as an industrial area, and there were several factories on the east side of the Wolverhampton Road. Residential development at Moss Wood to the south-west of the town dates largely from between the two World Wars and later, and there is an estate of pre-fabricated bungalows south of Longford Road. The area to the north-west was still developing as a residential district in 1956.
Hednesford, two miles to the north-east of Cannock, developed rapidly in the second half of the 19th century, after the opening of the Uxbridge Pit, from a small hamlet providing local staging services for travellers and facilities for the training of racehorses. The Cross Keys Inn and a few cottages remain from the original hamlet which was situated at Hill Top and immediately to the south of it. (fn. 10) There are still pre-19th century buildings in Forge Street and at Littleworth. Hednesford contained 53 households in 1666, (fn. 11) and was described in 1851 as 'an enclosed hamlet on Cannock heath'; it then had a population of 304, (fn. 12) which had risen to about 800 by 1860. (fn. 13) The present town centre, with the railway station as its nucleus, dates almost entirely from between 1860 and 1880, reflecting the sharp rise in population during these twenty years. The market hall and the gasworks were built in 1872, the public rooms in 1876, and the police station in 1877. (fn. 14) The present railway station dates from 1876, replacing a building of 1859 which was burnt down. (fn. 15) The latest expansion of Hednesford has been mainly to the north-west. There are large Council housing estates, some dating from before 1939, at Pye Green and Green Heath. At Pye Green there are also prefabricated bungalows and a caravan site.
Wedges Mill is a hamlet in the south-west corner of the Urban District dating from the foundation of William Gilpin's edge-tool works in 1790; a long range of two- and three-story workmen's cottages on the east side of the road are probably of the original date. (fn. 16) The site of the mill itself lay between the canal bridge and Watling Street. (fn. 17)
In Bridgtown which lies farther east along Watling Street, the oldest surviving building is part of the edge-tool works of Cornelius Whitehouse &; Sons Ltd., Walsall Road, an early-19th- century factory building of brick with round-headed metal windows. A slightly later factory of similar type, occupied in 1956 by E. W. Wynn, ironfounders, stands at the corner of Watling Street and North Street. The built-up area of Bridgtown, contained in the triangle between Watling Street and Walsall Road, dates uniformly from the last third of the 19th century. By 1876 it was already laid out for streets which were being 'rapidly built'. (fn. 18)
The hamlet of Leacroft to the south-east of Cannock town had 24 households in 1666. (fn. 19) A few scattered farms and cottages remain there. Since 1945 new houses have been built on raft foundations in this area (fn. 20) because of the danger from subsidence due to mining operations. There was an open-cast mining site to the south in 1957. (fn. 21)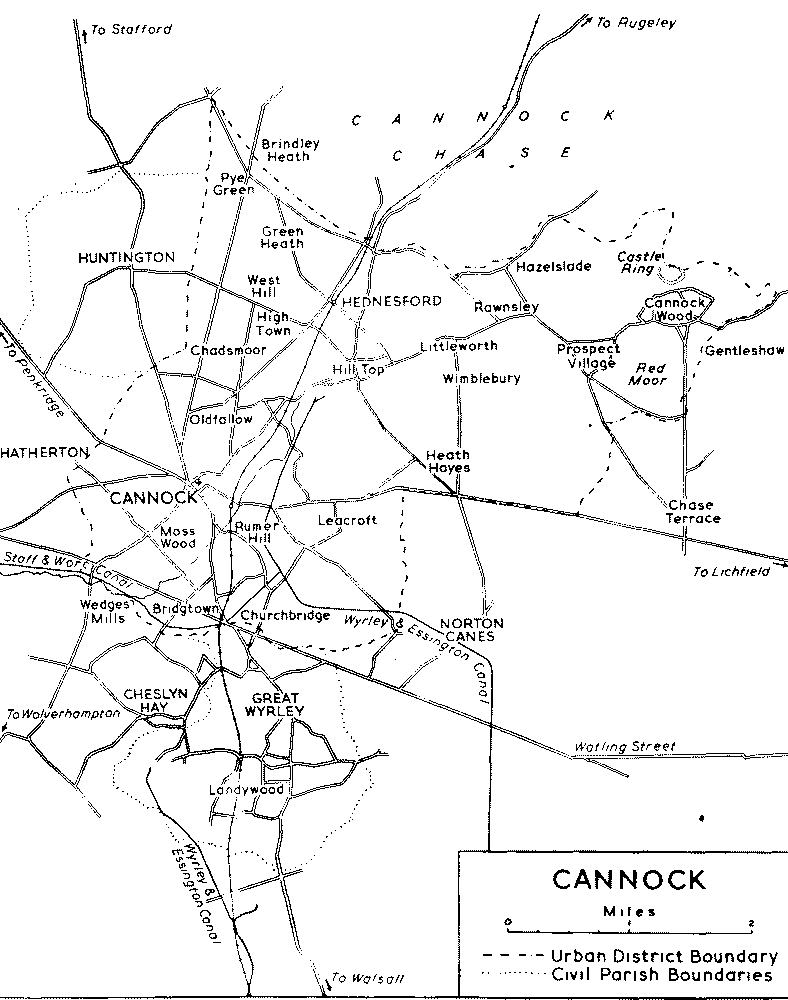 Chadsmoor and High Town to the north-east of the town represent the late-19th-and 20th-century expansion of Cannock as a mining area. They now form an almost continuously built-up area joining Cannock to Hednesford. Much of West Chadsmoor consists of council and other housing dating from between the two World Wars and later.
Heath Hayes and Wimblebury to the south-east of Hednesford date largely from the twenty years between 1890 and 1910, but there are later houses on the outskirts, including a Council housing estate at Wimblebury. At Rawnsley, to the north-east of Wimblebury, are 100 houses of the terrace type built by the Cannock &; Rugeley Colliery Company in 1914. (fn. 22) Prospect Village to the south-east of Rawnsley was built in its entirety c. 1926. (fn. 23) It consists of roughcast semi-detached houses standing in small gardens.
Cannock Wood, in the north-eastern corner of the Urban District, is a scattered hamlet lying on a south-eastern spur of Cannock Chase. A few cottages and farms date from before the 19th century. In 1666 it had eighteen households, (fn. 24) and in 1851 there were 'a few good farms and 275 inhabitants' with 'a large portion of the open heath, where there are a number of cottages with small plots of garden ground attached to them'. (fn. 25)
The Stafford-Walsall road runs through the town of Cannock where it is joined by the roads from Wolverhampton, Penkridge, Rugeley, and Lichfield. Watling Street crosses the south-western part of the Urban District. In the 18th century the road from Birmingham to Stafford and the north of England crossed Cannock Chase via Hednesford, where the Cross Keys Inn, built in 1746, (fn. 26) was an important posting station. Coaches travelling between London and Liverpool passed through the town of Cannock three times a week in each direction by 1818 (fn. 27) and once a day by 1834, when there were also two a day in each direction between London and Manchester. (fn. 28) There were two tollhouses on Watling Street in Cannock c. 1843, one at the corner of Walkmill Lane and the other near Churchbridge, and there was another on the Stafford road a little to the north of its junction with Watling Street. (fn. 29) By 1818 letters were conveyed to Lichfield three times a week and to Walsall five times, (fn. 30) and by 1829 Cannock lay on the route of a horse-mail travelling daily between Walsall and Penkridge. (fn. 31) There was a post-office at John Cook the tailor's by 1834 with letters coming and going to all parts via Walsall. (fn. 32)
In February 1858 Cannock station, then the terminus of the line from Walsall, was opened for passenger and goods traffic. (fn. 33) In the same year the South Staffordshire Railway began 'a well-appointed omnibus' service between Cannock and Rugeley, (fn. 34) pending the completion in the next year of the railway from Cannock to Rugeley, where it meets the main line from London to Stafford and the northwest of England. (fn. 35) There are also numerous branch lines serving the collieries. The Cannock extension of the Wyrley and Essington Canal had been constructed as far as Churchbridge by 1844 (fn. 36) and to its present termination in Hednesford by 1858. (fn. 37) The Churchbridge extension of the Hatherton branch of the Staffordshire and Worcestershire Canal was built in 1860 (fn. 38) to join the first canal to the north-east of Churchbridge. It was no longer in use owing to the danger of mining subsidence by 1957 when part of the eastern end was blown up to make way for the open-cast mining site. (fn. 39)
A bridge in Cannock, probably that near the mill, was rebuilt in 1281. (fn. 40) The 'bridge of Cannock near the mill' existed by 1427 when Thomas Heth of Great Wyrley bequeathed 6s. 8d. to its maintenance, (fn. 41) and the Riddings Bridge on the brook leading to the mill was mentioned in 1697. (fn. 42) The bridge at the hamlet of Wedges Mill, carrying the road from Cannock to Shareshill over the Wyrley Brook, was a wooden foot-bridge in the 17th century maintained by the parishioners of Shareshill and Cannock. (fn. 43) It was rebuilt in 1711 as a stone horse-bridge at a cost to the county of £20, (fn. 44) but the bridge there was described as new in 1830. (fn. 45)
In 1877 Cannock was divided into the three wards of Cannock, Chadsmoor, and Hednesford under a Local Board which had offices in Church Street from 1880. (fn. 46) (fn. 47) The Urban District was established under the Local Government Act of 1894, the three new wards of Bridgtown, Heath Hayes, and Littleworth being added in 1900. (fn. 48) The main council offices have been situated at High Green in the centre of Cannock town since 1927, (fn. 49) although the offices in Church Street are still used.
Before 1834 the three townships of Cannock, Huntington, and Great Wyrley were each supporting their own poor, while the hamlets of Hednesford, Leacroft, and Cannock Wood supported theirs jointly. (fn. 50) A parish workhouse was built at Snout's Gap, Walsall Road, in 1743. (fn. 51) The workhouse on the Wolverhampton road half a mile from the centre of Cannock was built in 1872 with a capacity of 200 to replace that at Brewood as the workhouse for the Penkridge Union, which by 1880 had been renamed the Cannock Union. (fn. 52) In 1948 the workhouse became a county hostel, used partly as a hospital for the aged and partly as a home for the aged and the temporarily homeless. (fn. 53)
The village of Cannock, situated on a slight hill of gravelly soil, was often short of water in the summer until pipes were laid by the Cannock Conduit Trustees from a spring in Stringer's Meadow in Leacroft, given in 1736 by Dr. Birch to the inhabitants of Cannock. (fn. 54) The cost was met by subscriptions, the last in 1786, and also from the rents of some land within the parish inclosed in 1737, (fn. 55) and although the South Staffordshire Water Works Company was set up in 1853 the Conduit Trust continued to supply water until 1942 when through mining subsidence piping finally became impossible. (fn. 56) Under a Scheme of the Charity Commissioners of 1954 the trust's income is applied for the general benefit of the inhabitants of the ancient township or liberty of Cannock by the provision of shelters against the weather, of places of recreation and of lectures and exhibitions. (fn. 57) The income in 1955 was £276 16s. 2d. interest on stock and £22 4s. rent. (fn. 58) The tank building of the Cannock Conduit Trust, erected in 1736, stands west of the Bowling Green. It is a small hexagonal stone structure with a pyramidal roof and a ball finial.
The South Staffordshire Water Works Company's reservoir in the hills west of Rawnsley was in existence by 1880 (fn. 59) but was disused by 1952. (fn. 60)
The cemetery at Oldfallow, West Chadsmoor, which has a small mortuary chapel of variegated brick, was established in 1865 on 4 acres of land granted for this purpose out of Cannock Chase by the Inclosure Commissioners. (fn. 61) In 1923 a further five acres were added. (fn. 62)
The Bowling Green, forming an island site in the centre of Cannock town, existed in 1753 when a brick wall was built round it. (fn. 63) After a long dispute over the ownership of this acre or so of land the Green was, in 1896, vested in trustees, four appointed by the Bowling Club and four by the Urban District Council, and leased to the Club at a peppercorn rent. (fn. 64) The Trust was still in existence in 1956. (fn. 65)
By 1817 the Hednesford district was already being used for the training of race-horses, (fn. 66) as it still is, (fn. 67) and by 1834 about 100 horses were trained during a season on the Hednesford Hills. (fn. 68) In 1839 Hednesford was 'the most noted place for training available to persons in the Midland Counties'. (fn. 69) In addition to public training establishments there were two in private hands, the larger belonging to Edmund Peel who had built Hednesford Lodge (see below), at the side of Hednesford Pool in 1831 with stables for his horses. (fn. 70) He also owned one of the two studs. (fn. 71) By 1851 eleven distinguished trainers and jockeys were training some 120 horses during a season. (fn. 72) The Grand National Trophy has been won four times from the stables at Hednesford. (fn. 73)
Cannock was the scene of a skirmish in 1646 in which a troop of parliamentarian horse from Stafford repulsed a royalist force from Lichfield. (fn. 74) The Cannock Rifle Volunteers Corps was formed in 1860 and given a range on Cannock Chase by the 2nd Marquess of Anglesey. (fn. 75) In 1873 the Chase was used for part of the British Army manoeuvres. (fn. 76)
Castle Ring Camp, an earthwork of the hill-fort type, situated to the north of the hamlet of Cannock Wood at the highest point on Cannock Chase (801 ft.), was bought by the Urban District Council in 1933 from the 6th Marquess of Anglesey and is scheduled as an ancient monument. (fn. 77) At Red Moor, less than a mile to the south of the camp, is the site of the Cistercian abbey of Radmore. (fn. 78)
Two pools called 'Hedne Ford Poole', situated alongside the road to Rugeley in what is now the centre of Hednesford (fn. 79) and possibly connected with local iron-working, were held of the manor of Cannock in 1595 by Gilbert Wakering (fn. 80) and were in the hands of the Marquess of Anglesey c. 1843. (fn. 81) The larger covered 27 acres in 1834, (fn. 82) but probably as a result of the floods of 1845 it had shrunk to 23 acres by 1851. (fn. 83) They have long since been built over.
Cannock town still possesses several ancient buildings. No. 79 High Street, now an ironmonger's shop, was originally a timber-framed house, probably dating from the 16th century. It has been faced with brickwork but retains a massive stone chimney at its west end and a roof truss with curved struts. There was formerly a Tudor-arched porch in the angle of one of the two gables facing the road. (fn. 84) A fine late-16th- or early-17th-century timber house which stood near the west end of the parish church has now disappeared. Drawings of 1836 and 1841 (fn. 85) show a three-gabled front with timbering of chevron pattern on its overhanging upper story. No. 2 Walsall Road is a much altered timber-framed cottage, now a shoe shop and store rooms. The Crown Hotel is a brick house dating from c. 1700 with two gables facing the road. It formerly had mullioned and transomed windows and a central pedimented doorway over which hung the inn sign. (fn. 86) No. 10 Mill Street has an unaltered mid-18th-century brick front with a moulded eaves cornice, angle pilasters and a pedimented central doorway. The windows have brick aprons and stone key-blocks. No. 8 had at one time a similar front. No. 5 Mill Street is a tall late-18th- or early-19th-century house retaining its original garden and outbuildings. The Council House, High Green, is a dignified mid-18th-century house facing the Bowling Green. The front, faced with later stucco, has sash windows and a pedimented doorcase. The original wrought-iron gates and part of the railings are in position. The building has been used as offices by the Cannock Urban District Council since 1927. (fn. 87) There are several 18thand early-19th-century houses on the south side of High Green, mostly much altered and with inserted shop-fronts. A Georgian house known as the Manor House which formerly stood at High Green was demolished in 1936, and modern buildings, including a cinema, occupy the site. (fn. 88) The former Local Board Offices, built in 1880, have a red-brick front with a central entrance flanked by marble shafts with carved foliage capitals. (fn. 89) The Benton Memorial Clock turret in Market Square was erected in 1935. (fn. 90)
The Anglesey Hotel, formerly Hednesford or Hedgeford Lodge, in the centre of modern Hednesford, was built in 1831 by Edmund Peel of Fazeley (in Tamworth), (fn. 91) as a summer residence and to provide stabling for racehorses. The house was unoccupied in 1851 (fn. 92) and became a hotel between 1860 and 1868. (fn. 93) The white stucco front has two stepped gables with a smaller gable and a Tudor-arched portico between them. Part of the original stabling is in existence. The Cross Keys Inn, Old Hednesford, dates from 1746 and carries an original date stone on an altered stucco front. Cross Keys Farm, which lies 100 yds. farther south, is the only timberframed building in Hednesford and probably dates from the 16th century.
At Leacroft Hill Farm an early-17th-century timber-framed house of three bays is almost derelict. The front framing has small brick-filled panels and three gabled dormers. The farmhouse dates from 1930. (fn. 94)
The architecture of houses attached to lesser estates and of the mill is treated below under the relevant sections.
Manors
In 1086 CANNOCK (Chenet) was assessed at one hide with appurtenances and was held by the king in demesne as part of the escheated lands of the Earldom of Mercia. (fn. 95) Some rights in the vill seem to have been among those confirmed to Bishop Walter Durdent by the Pope in 1152, (fn. 96) and any such rights were exempted from the grant made by Henry Plantagenet in 1153 to Ranulph Earl of Chester of all royal lands in Staffordshire. (fn. 97) Ranulph died at the end of that year but had meanwhile granted the vill of Cannock with all rents and appurtenances to the Cistercian abbey at Radmore. (fn. 98) This grant had been confirmed by Henry. (fn. 99) The monks were transferred to Stoneleigh (Warws.) at their own request by 1155, (fn. 100) and from at least 1169 to 1187 the vill was assessed for aids and tallages like other royal lands. (fn. 101) In 1189, when raising money for his crusade, Richard I conveyed Cannock and Rugeley to Hugh de Nonant, Bishop of Coventry and Lichfield, in free alms, together with the advowson of the church and all other rights and appurtenances, exempt from suit to the shire and hundred courts. (fn. 102) In 1191 the Pope confirmed the bishop in possession. (fn. 103) Because he conspired with John during Richard's absence, Hugh was deprived of his see, offices, and temporalities when the king returned from captivity in 1194, (fn. 104) but he was restored to favour in 1195 (fn. 105) and given Cannock and his other possessions for a fine of 2,000 marks. (fn. 106) At some date between 1195 and 1198 Archbishop Hubert Walter, as primate and legate, confirmed Richard I's original grant of the vill. (fn. 107)
On Hugh de Nonant's death in March 1198, the temporalities of the see passed into the king's hands, and tallage was imposed on Cannock for the year ending Michaelmas 1198. (fn. 108) The next bishop had received the temporalities by the end of the year, (fn. 109) but by Michaelmas 1200 he had restored Cannock and Rugeley to the Crown in exchange for a rent of £10 for the two. (fn. 110) This was paid until his death in 1208, (fn. 111) after which the see was kept vacant until 1215. Meanwhile the two towns were again tallaged, with other royal manors, in 1205 (fn. 112) and 1214. (fn. 113) Bishop William de Cornhill (1215–23) received £5 rent for the half year ending Easter 1215, (fn. 114) and although the manor, with Rugeley, was confirmed and restored to him in 1217, (fn. 115) yet from at least his last year, 1222–3, until Easter 1230, he and his successor were paid £10 from the Exchequer in return for the farm of the two manors, (fn. 116) which were once more tallaged as royal demesne in 1227. (fn. 117) In April 1230 Richard I's charter of liberties, granted to the bishop in 1189, was confirmed, and the two manors were restored to the bishop, (fn. 118) although they were tallaged for the year ending Michaelmas 1230. (fn. 119) In 1255 the bishop, as lord of Cannock and its members, was returned as holding 1 hide which was not geldable. (fn. 120) In 1259 the king granted to Bishop Roger de Meuland or Longespèe (1258–95), his kinsman, free warren in all his demesne lands, including the manors of 'Kanocbury' and Rugeley. (fn. 121) The charters of 1189 were confirmed in 1290 (fn. 122) and at intervals again until 1510. (fn. 123) The vills of Cannock and Rugeley were stated in 1316 to be held by the bishop as part of his liberty, with return of writs. (fn. 124)
On 28 September 1546 the Chancellor of the Court of Augmentations was ordered to 'practize and conclude' with Bishop Richard Sampson for the surrender of lands and manors, including Cannock and Rugeley, in return for benefices of equivalent value. (fn. 125) The lands were surrendered by the bishop on 29 September (fn. 126) and on 26 October were granted to Sir William Paget by letters patent, (fn. 127) confirmed by Act of Parliament the same day. (fn. 128) Sir William, created Lord Paget of Beaudesert in 1549, (fn. 129) settled his estates in 1554 on himself and his heirs male, with contingent remainder to his daughters. (fn. 130) He was succeeded in 1563 by his eldest son, Henry 2nd Lord Paget of Beaudesert. (fn. 131) Henry died in 1568, leaving an infant daughter Elizabeth (fn. 132) who became de jure Baroness Paget. (fn. 133) Although the estates should have descended to Henry's brother Thomas, under the settlement of 1554, Elizabeth seems to have had some rights in them until her death in 1570. (fn. 134) Thomas, her uncle, was her heir, (fn. 135) and from this time Cannock and Rugeley descended in the Paget family with the barony, of which the caput was at Beaudesert in Longdon (Offlow hundred), (fn. 136) until the 6th Marquess of Anglesey (d. 1947) disposed of his property in Cannock and Rugeley in various sales after 1918. (fn. 137)
In 1298 there was a capital messuage here with a garden, together valued at 26s. 8d. (fn. 138)
From at least 1309 the courts of Cannock and Rugeley were held jointly, usually at each manor alternately. (fn. 139) A twice-yearly view of frankpledge was being held by 1274. (fn. 140) From that date until 1510 the townships there represented were Cannockbury (or Cannock) by five frankpledges, Rugeley and Brereton by five, Great Wyrley by two, and Huntington by two. (fn. 141) From at least 1529 the vill of Cannock had only three, with one for Leacroft and one for Hednesford and Hatherton (in St. Peter's, Wolverhampton) jointly. (fn. 142) The lord's revenue from the view of frankpledge amounted to 3s. in 1274 and 1281, (fn. 143) and by at least 1424 the proceeds of the manor included 3s. called frithsilver from the view of frankpledge. (fn. 144) The same sum was paid in 1533, (fn. 145) and by 1560 it had risen to 4s. (fn. 146) Cannock was paying 1s. 6d. in frithsilver between at least 1740 and 1769, Great Wyrley 1s. and Huntington 6d. (fn. 147)
At the three-weekly courts, held by at least 1309, business included not only the usual surrenders, admittances of tenants and payments of heriots and reliefs but also the presentment of offences within the lord's woods by the forester of Cannock, the forester of Rugeley and the rider (equitator) and the presentment of brewing and baking against the assize of bread and ale by the ale tasters of Cannock and Rugeley respectively. (fn. 148)
At a court of survey held in 1595 defining the bounds of the manor and leet and the customs of the manor it was stated that the 'oldholders' had timber rights on the Chase and might hunt the fox, the hare, and the roe there and hawk with a sparrow-hawk. (fn. 149) These 'oldholders' owed suit only at the two great leets, while other tenants (copyholders) had to appear at the three-weekly courts or else buy their exemption at ½d. a day or 8d. a year. When an 'oldholder' died, one heriot was due for his holding, and his heir paid the equivalent of a year's chief rent when he entered upon the property. On the death of a copyholder a heriot was due for each messuage, with a year's rent from the heir or two years' rent from anyone who secured the property by purchase. The heriot on each cottage was 6d., but all other heriots had to be appraised by 'the twelve men', with payment at the next audit. 'Oldholders' and copyholders might sublet their land without the lord's consent, provided he lost no rent, and they could not be impeached for committing waste on any of their lands. No cottagers might serve as jurors at the great leet so long as there were sufficient freeholders, oldholders, and copyholders to serve. When the great court was held at Rugeley, the lord gave dinner there to all the tenants from Cannock who served on the jury, and similarly for the Rugeley tenants when the great court was held at Cannock. All inhabitants might turn their cattle loose on the Chase all the year round and let them browse the hollies there in winter for a reasonable amercement.
Lesser Estates
A carucate of land in Cannock worth 5s. was held in 1086 by Alvric, one of the king's thegns. (fn. 150) The subsequent descent of this land is not known.
A virgate in Cannock was held of the king at some time before 1236 by Robert Trumwyn, as by his ancestors before him, possibly since the time of the Conqueror when it may have been held by Lewinus, by the service of keeping the Hay of Cheslyn within the royal forest of Cannock. (fn. 151) The overlordship had passed to Bishop Alexander Stavensby by 1236, (fn. 152) but from at least 1250 (fn. 153) until at least 1575 (fn. 154) this overlordship remained with the Crown. By 1250 Robert Trumwyn had been succeeded by William Trumwyn (fn. 155) who was dead by 1296. (fn. 156) The virgate, now valued at ½ mark, passed to his son William (II) (fn. 157) who was dead by 1318 and had held a messuage as well as this land. (fn. 158) The messuage, being ruinous, was worth nothing, but the virgate, consisting of 12 acres, was worth 12d. (fn. 159) William's son and heir William (III) (fn. 160) was dead by 1340 when the messuage was still ruinous and the virgate was stated to be worth only 5s., because of the sandy nature of the soil. (fn. 161) William was succeeded by his son William (IV) (fn. 162) who died in September 1349 with a son William (V) as his heir. (fn. 163) Meanwhile a messuage, garden, land, and wood in Cannock now belonging to William had been leased for ten years to a John le Carter who, towards the end of 1349, was sued by William for pulling down a chamber there and selling the timber, digging pits, and selling the stone and clay, and cutting down and selling oak, ash, hazel, and apple-trees. (fn. 164) The messuage was still worth nothing in 1350, (fn. 165) but when William died in 1362 there was a dovecot there. (fn. 166) William (VI), his son and heir, was a minor (fn. 167) and in the same year the king granted the wardship of two parts of the child's lands, along with his marriage, to Philip de Lutteleye. (fn. 168) William was succeeded by his brother John who himself died under age in 1369, and whose heir was his sister Elizabeth, also a minor. (fn. 169) Her marriage was bought for £20 by William Strete, yeoman and butler of the king, (fn. 170) and by 1370 she was the wife of Roger Lansant. (fn. 171) She died childless in 1375, when her lands passed to her aunt Isabel, wife of William Reynald. (fn. 172) When Isabel died in 1399 she was the wife of Nicholas Ruggeley, but it was John Salwey, her son by her second husband, who succeeded her. (fn. 173)
John died in 1420, with a son Humphrey, aged only nine years, to succeed him. (fn. 174) Humphrey settled the messuage and virgate on his second son Thomas in 1486, reserving ½ acre worth 6d. out of the virgate as the inheritance of his eldest son, the lunatic Sir John. (fn. 175) Thomas succeeded in 1493 (fn. 176) and at his death in 1513 left as his heir a minor, his son Thomas (II), (fn. 177) who passed into the king's wardship. (fn. 178) Sir John Salwey now seems to have secured these as well as other of Humphrey's lands, and when he died in 1518 he was holding in serjeanty a messuage and virgate in Cannock worth 12s., with three daughters to succeed him. (fn. 179) Richard Biddulph, husband of Margaret one of the coheirs, was holding a share in a messuage and other lands in Cannock at his death in 1552, (fn. 180) and shortly afterwards Thomas Salwey (II) was suing the heir Francis Biddulph, along with John Leveson of Wolverhampton who had acquired an interest in some of the Salwey lands, for detention of deeds relating to lands in Cannock and elsewhere. (fn. 181) In 1564 and 1567 Thomas again sued for his lands, including those in Cannock, (fn. 182) and it was decreed in 1568 that pending further suits the disputed inheritance should be divided among the various claimants. (fn. 183) John Leveson was said to be holding a messuage and virgate in Cannock of the queen at his death in 1575, (fn. 184) and his son and heir Thomas, (fn. 185) who in 1590 was granted two parts of a messuage and lands in Cannock by Thomas Salwey's sons Arthur and Matthew, (fn. 186) was probably holding the estate at his death in 1594. (fn. 187)
In 1310 Margery, widow of John le Olde of Leacroft, and Adam and John, sons of William Salwey, were disputing land within the manor of Cannock. (fn. 188) An Adam Salwey occurs in 1332 (fn. 189) and 1342 (fn. 190) and Richard son of Adam Salwey of Leacroft in 1360. (fn. 191) A John Salwey, who was dead by 1399, may have held land in Leacroft. (fn. 192) His son John died in 1420, leaving a son Humphrey, then aged nine, (fn. 193) who at his death in 1493 was holding land and rents in Leacroft of the bishop. (fn. 194) This land seems to have followed the same descent as his land elsewhere in Cannock (fn. 195) until at least 1594. (fn. 196)
John Birch of Leacroft, yeoman, occurs between 1586 and 1603. (fn. 197) In 1614 a settlement of land in Leacroft was made by a John Birch and his wife Elizabeth (fn. 198) and in 1624 by John Birch (of Bloxwich) and his wife Alice. (fn. 199) John Birch, attorney, of Cannock, presumably the son of John and Alice, was imprisoned by the Parliamentarians in 1643, and his estates, including lands and rents in Leacroft worth £100 annually before the Civil War, lands in Cannock called 'the Kingswood' previously worth £60, and lands in Cannock held by the courtesy of England and previously worth £50, were sequestered, having been twice plundered by the Royalists. (fn. 200) He was fined £100 in 1645, but his petition for release from sequestration in June of that year was granted in August in view of his parliamentarian sympathies. (fn. 201) This John was still living in 1663, aged 69, (fn. 202) but it was his son Edward (of the Middle Temple) aged 28 in 1663, who was assessed at fifteen hearths in Leacroft for the Hearth Tax in 1666. (fn. 203) Edward was appointed deputy to the High Steward of the honor of Tutbury in 1675, (fn. 204) and was living at Leacroft in 1694 and 1696. (fn. 205) A Dr. Birch owned the estate in 1736. (fn. 206) About 1843 a Mr. Henry Birch owned land in Leacroft, some of which was in his own hands, including a house at the junction of the roads from Lichfield and Norton by the present canal bridge. (fn. 207) Leacroft Old Hall had probably been partially demolished by 1851 when such buildings as remained were occupied by a farmer. (fn. 208) The site is now part of the Cannock and Leacroft Colliery and is the property of the National Coal Board. A long red-brick range with stone quoins, moulded cornice, and central pediment probably represents a late-17th-century stable block. At its south end a barn with a gable-end facing the road carries a date tablet of 1676. An outhouse farther north has a tablet inscribed 'Dr. W. B.' 1737. Another outhouse with an octagonal brick base may represent the remains of a dovecot. A field south of the road was formerly known as Dovecot Meadow. (fn. 209) Later buildings on the site are occupied by the National Coal Board and part of the stable range has been converted into cottages.
Fletcher's Farm in Leacroft, held in 1641 by John Giffard of Wolverhampton, (fn. 210) and by 1645 in the tenure of Simon Breffitt at a rent of £38, (fn. 211) was sequestrated with the rest of John's estates in 1647 for his recusancy. (fn. 212) It was leased for a year in 1651 by the County Commissioners to a certain Andrew Mills (fn. 213) and sold in 1652 by the Treason Trustees to Francis Gregge of Clement's Inn. (fn. 214) Meanwhile John's son Peter claimed, in 1651, that the farm had been settled in 1641 in trust for him and his youngest sister. (fn. 215) In 1653 Anthony Dormer, by then married to Peter's sister Dorothy, claimed that the purpose of the trust had been the provision of £700 for Dorothy. (fn. 216) Dormer's claim to the estate was allowed in 1654, (fn. 217) and the lessee, Mills, was compensated in 1655 by the County Committee. (fn. 218)
John Coleman of Cannock, son of Thomas Coleman of Cannock, occurs from 1564 (fn. 219), and when he died in 1596 his estates included a messuage and cottage in Hednesford, 40 acres of land and oneninth of a meadow called Organs Meadow in Cannock, and lands held in chief elsewhere in the parish. (fn. 220) He was succeeded by his son, Walter, aged 30, (fn. 221) who with his wife Dorothy was holding a messuage and lands in Cannock at some time between 1603 and 1625. (fn. 222) Walter seems to have been succeeded by a son John whose estates in Cannock included the Old Hall, (fn. 223) but by 1646 his possessions had been sequestered because he was a papist. (fn. 224) He was dead by 1650. (fn. 225) His widow, Margaret, also a recusant, petitioned in 1652 for release from sequestration of one-third of her estate, which consisted mainly of the parish tithes, pleading the impoverishment of her six small children, and in the same year she was allowed this one-third along with her house. (fn. 226) The house of a Charles Coleman in Hednesford was stated in 1666 to have been demolished and sold. (fn. 227) A messuage or cottage with lands and appurtenances in Cannock, called 'le Old Hall' and held by copyhold tenure of the manor, was being claimed in 1703 by a Charles Coleman, as the son of another Charles Coleman and Anne, against William Wilson and his wife Margaret. (fn. 228)
Henry Plantagenet, as Duke of Normandy, granted 'Hedenedford' as pasture free from pannage dues to the local Cistercian abbey of Radmore c. 1153. (fn. 229)
A freehold in 'Edenesford' and elsewhere was held in 1352 by Roger son of Roger Trumwyn. (fn. 230) A messuage, carucate, and other lands held by Roger at his death in 1362 of the bishop (fn. 231) then passed to Katherine, sister and heir of Roger and widow of John Musard. (fn. 232) This land had passed by 1408, with the lands of the Cannock branch of the Trumwyns, to John Salwey, first husband of Iseult Washbourne, who was a relative of John Musard. (fn. 233) The estate descended with John Salwey's lands elsewhere in Cannock, (fn. 234) being held of the manor of Cannock by Thomas Leveson in 1594. (fn. 235)
Another plot of land in Hednesford, called 'le Plash', was held by Roger Trumwyn at his death in 1362 of his kinsman William Trumwyn of Cannock. (fn. 236) A field called Middle Plashes and lying to the south side of Splash Lane between Hednesford and Wimblebury was owned by the Revd. Richard Levett c. 1843. (fn. 237)
King Stephen gave land at 'Radmore' (now Red Moor) near the present hamlet of Cannock Wood to two hermits, who with others founded the Cistercian abbey there in 1141. (fn. 238) The monks had exchanged Radmore for land at Stoneleigh (Warws.) by June 1155, (fn. 239) and by Michaelmas Radmore was in the hands of the king, (fn. 240) who was there during 1155. (fn. 241) The 'king's houses at Cannock', for the upkeep of which 35s. 5d. a year was allowed between 1156 and 1161 (fn. 242) and 6s. 8d. from 1162 to at least 1215 while the canons of Lanthony Secunda (Glos.) were custodians, (fn. 243) may possibly be identified with the 'king's houses and hays' at Radmore where building or repair work was carried out in about 1159. (fn. 244) The king continued to hold the houses at Cannock after the manor had been granted to the see of Lichfield in 1189 (fn. 245) until at least 1215 (fn. 246) but by 1230 they seem to have passed out of his hands. (fn. 247) They may be connected with the large rectangular moat, now dry, with an outer bank which still exists at Courtbanks Covert near the abbey site. (fn. 248)
'All the land of Redemore' was held by Henry de Audley in about 1228 (fn. 249) and at some time after 1245 land in 'Rugemor' was held of Bishop Roger de Weseham by Henry's son James de Audley who undertook not to introduce any monks there without the bishop's permission. (fn. 250) James granted his land in 'Redemor', with buildings and woodland, to the bishop in about 1250, (fn. 251) and the estate seems then to have descended with the manor of Cannock until 1937 when it was sold with the abbey site by the 6th Marquess of Anglesey (d. 1947) to Mr. Daniel Clewley. (fn. 252)
A plot of waste in Cannock Chase called 'Le Newehaye' was leased, with two other parcels of waste, in 1348 by the bishop to Sir Richard de Stafford and his wife Isabel, with the confirmation of the dean and chapter. (fn. 253) By 1355, when the bishop confirmed the lease, the hay was surrounded by a double ditch and hedge. (fn. 254) As the 'pasture called Newhay' it was later leased to John Stanley who was dead by 1528 when his daughter Elizabeth, with her husband John Hercy, and Walter Moile or Moyle, husband of the other daughter Isabel, reconveyed their respective moieties to Bishop Geoffrey Blythe. (fn. 255) A lease for 21 years of all coal mines 'taken or found but not yet worked' in 'Newheye' and 'Redmore', near Beaudesert Park, and formerly part of Cannock Forest, was given by the queen in 1589 to Gilbert Wakering, with licence to dig and make pits. (fn. 256)
A house at Chestall (or Cheshall) to the east of Castle Ring seems to have been held by Simon de Rugeley of Hawkesyard (in Armitage parish, Offlow hundred) in 1333 and by James de Rugeley in 1370. (fn. 257) A descendant, Francis Rugeley, son and heir of either Humphrey or Antony Rugeley of Chestall, sold the house to Richard Hussey of Albrighton Hussey (Salop.) in 1562. (fn. 258) Hussey sold it to a Barlow of Derbyshire and he to a Lawrence Wright, who probably held it in about 1600 when Sir Edward Littleton of Pillaton (in Penkridge parish) also had a house there. (fn. 259) Chestall was mentioned in 1595 as one of the bounds of the manor of Cannock, (fn. 260) and Chestall Hall in Cannock Wood occurs c. 1640. (fn. 261) By the end of the 18th century the farmhouse called Chestall was owned by the Earl of Uxbridge (d. 1812) (fn. 262) and between at least 1834 and 1892 was occupied by members of the Darling family, land (and later mineral) agents to the Marquess of Anglesey. (fn. 263) John Reid Walker was the tenant in 1896 and 1900 (fn. 264) and Arthur Chetwynd in 1912 and 1916. (fn. 265) In 1938 it was sold by the 6th Marquess to Charles Wootten, (fn. 266) whose widow had put it up for sale by 1956. (fn. 267) The house, which has an 18th-century farmhouse as its core, was much enlarged in the middle of the 19th century and is now a red-brick mansion with stone dressings in the Tudor style. There are extensive gardens, stabling, and outbuildings.
The rectory of Cannock belonged to a prebend in Penkridge collegiate church by the late 12th century. (fn. 268) In 1189, however, the king granted the ecclesia of Cannock to the Bishop of Coventry and Lichfield (fn. 269) who by 1192 had given it to the canons of Lichfield, subject to an annual payment of 4s. to the canons of Penkridge. (fn. 270) The bishop subsequently allowed the Penkridge prebendary or his lessee to hold the rectorial estate of the canons at a rent of 4s. (fn. 271) In 1207 the Dean of Penkridge, after some dispute, conceded the right of appointing the chaplain to the canons of Lichfield who in turn granted to Penkridge the mortuaries of Cannock and an annual payment of one mark. (fn. 272)
Despite the speedy renewal of the dispute, (fn. 273) the rectory seems to have remained with Lichfield (fn. 274) until c. 1274 when the church of Penkridge had reestablished its claim and the Dean and Chapter of Lichfield complained to the Pope, demanding half the mortuaries. (fn. 275) In 1290 the king confirmed the grant of 1189. (fn. 276) In 1313, however, the Crown took the opportunity of a vacancy in the deanery of Penkridge to present a royal clerk to what was then called the prebend of Cannock in Penkridge church. (fn. 277) The Dean and Chapter of Lichfield withheld the mark due each year to the canons of Penkridge (fn. 278) and apparently ejected the royal nominee from 'some of his prebendal possessions' until the sheriff intervened on the king's orders and prevented the dean and chapter from collecting tithes in Cannock. (fn. 279) The king, however, in 1315 allowed the dean and chapter to have the tithes until their complaint should be heard in the king's court. (fn. 280) The canons of Penkridge continued to exercise their right to burials and mortuaries until the Dean and Chapter of Lichfield had a graveyard at Cannock secretly consecrated by the Bishop of St. Asaph in 1330 and started conducting burials there and taking the mortuaries. (fn. 281) Three canons of Penkridge challenged their action, and the dean and chapter had them imprisoned in Stafford gaol. (fn. 282) When the king once more appointed a royal clerk to the prebend and chapel of Cannock in 1337 during a vacancy in the deanery of Penkridge, (fn. 283) the Dean and Chapter of Lichfield sued in Chancery for a revocation of the grant (fn. 284) and meanwhile made their own appointment to the chapel. (fn. 285) In 1345 the king confirmed the grant of 1189 to the bishop and the bishop's grant to the canons of Lichfield. (fn. 286) Despite these renewed disputes the Dean and Chapter of Lichfield seem to have enjoyed uninterrupted possession of the tithes of Cannock from at least 1323 (fn. 287) and to have retained the rectory without further dispute after 1345. (fn. 288)
The rectory was leased out by the Penkridge prebendary in the late 12th century for a rent of 4s. (fn. 289) and by the canons of Lichfield from at least 1323. (fn. 290) By 1564 the lease was held by John Coleman, (fn. 291) who in 1588 was occupying a house in Cannock called The Priest's Chamber. (fn. 292) In 1605 the rectory was demised to William Cumberford of Wednesbury (Offlow hundred) for the lives of John and Walter, sons of Walter Coleman of Cannock, and Thomas Hall of Sedgley (Seisdon hundred), at a rent of £18. (fn. 293) John Coleman seems to have lost the tithes by sequestration, as a papist and delinquent, by 1646, (fn. 294) and in 1650 two-thirds of the Coleman estate, which consisted mainly of the tithes, were granted to Richard Twigg of Stockton (Baswich parish) and Thomas Hide and Simon Brevett of Great Wyrley. (fn. 295) One-third of John Coleman's estate was restored to his widow Margaret in 1652. (fn. 296)
A tithe barn situated in a croft adjoining the church had disappeared by 1650. (fn. 297) The field was still called Tithe Barn Croft c. 1843. (fn. 298)
Woods
In 1086 the king had woodland 6 leagues long by 4 wide attached to his manor of Cannock and woodland 3 leagues by 2 leagues attached to the adjoining manor of Rugeley. (fn. 299) Liberties in 'wood and plain' were given in 1189 by Richard I to the see of Lichfield along with these manors. (fn. 300) This woodland lay within the metes of the king's forest of Cannock. (fn. 301) The bishop's rights were limited until, with the confirmation of the manors to him in 1230, Bishop Alexander Stavensby (1224–38) claimed the 'covert of the forest of High Cannock', taking venison and excommunicating the king's steward or chief forester who sought to oppose him and at the same time preventing the two hereditary foresters in fee, William Trumwyn, who held a virgate in Cannock, and Richard de Putes, who held a virgate in Rugeley by serjeanty, from presenting attachments of vert and venison in the swanimote of Cannock before the royal steward. (fn. 302) The king subsequently regained control of at least Trumwyn's bailiwick, but by 1286 it was evidently in the bishop's hands again. (fn. 303) The bishop had a park at Cannock by 1274, (fn. 304) and in 1280 2s. 3d. was paid to an 'oterhunter' and 11s. 6d. as the expenses of the hunters (venatores). (fn. 305) During proceedings following the forest eyre. of 1286, Bishop Roger de Meuland (1258–95) claimed the same rights as his predecessors, namely to hold the woods free from all interference from the king's foresters, verderers, or other ministers and to hunt and take there at will all wild beasts which came from the king's forest. (fn. 306) In 1290, after being surrendered to the king, these same woods were restored to the bishop to be held in free alms as his free chase for ever, with permission to enclose and impark them so long as there were no deer leaps nor stretched nets to take deer outside the parks which might be made there. (fn. 307) These woods, although within the metes of the royal forest of Cannock, were to be quit of pleas of the forest, waste, assart, and regard, so that no justice of the forest should intermeddle, and any free tenants of the bishop there should have their rights in woods, lands, and holdings with common of pasture. (fn. 308) The metes and bounds of this free chase of Cannock, covering Cannock and Rugeley manors, were then set out. (fn. 309)
The chase, comprising the two bailiwicks of Trumwyn and of Puys (or Rugeley), descended with the manors of Cannock and Rugeley, passing in 1546 to Sir William Paget (fn. 310) and in 1583, after the flight of Thomas Lord Paget, to the queen. (fn. 311) The wood and timber in the manors of Cannock and Rugeley were valued at £20,000 in 1588, (fn. 312) and in the next year the queen leased the timber in Cannock 'Forest', apart from the hollies and 3,000 marked trees, to Fulke Greville for 21 years. (fn. 313) It was stated in 1595 that those appointed to mark the trees had not marked the full number while those marked were mostly inferior and that Greville, unlike Lord Paget, was failing to make coppices and leave standels for the preservation of the woodland. (fn. 314) By 1595 78 marked trees within the bailiwick of Trumwyn had been delivered by royal warrant and three without warrant, while 33 marked trees had been taken by unauthorized persons and others by Gilbert Wakering, the royal woodward there, for the repair of Beaudesert House (in Longdon, Offlow hundred), likewise without warrant. (fn. 315) In addition 47 unmarked trees had been taken without warrant. (fn. 316) There were similar losses in the Rugeley bailiwick. (fn. 317) William Paget, later 5th baron (d. 1628), regained his father's estates in 1597 (fn. 318) and subsequently confirmed Greville's lease. (fn. 319) The disafforestation of the area was lamented by Drayton in Polyolbion (1613 and 1622) and by Masters in his Iter Boreale (1675). (fn. 320) The 6th Marquess of Anglesey, with other landowners, leased land to the Forestry Commission after 1920 for the new State Forest of Cannock Chase, (fn. 321) which includes Shoal Hill and other land at Huntington and the area to the north and west of Cannock Wood. The area of woodland and heathland now known as Cannock Chase lies in the parishes of Cannock, Rugeley, Colwich (Pirehill hundred), and Baswich.
With the creation of the bishop's chase of Cannock in 1290, the former royal forest officials were replaced by those of the bishop. The chief wardenship of his free chase of Cannock as well as of the woods belonging to his barony of Haywood and Lichfield and of the parks already made or planned therein was given by Roger de Meuland (1285–95) to Roger de Aston of Haywood and Bishton in Colwich parish (Pirehill hundred). (fn. 322) Except for temporary dispossession during vacancies of the see in 1386 and 1415 when the king appointed his own nominees, (fn. 323) this office descended in the Aston family (fn. 324) and included in 1496 'the mastership of the game and rule of the Cankewodde'. (fn. 325) In 1538, to end disputes, Sir Edward Aston agreed to surrender the keepership of the woods, hays, and parks together with the perquisites, including four trees a year for firewood and one tree for repairs to his houses in Tixall (Pirehill hundred) and Haywood, in return for confirmation in the office of the mastership of the game within the chases of Cannock and Haywood and the parks of Beaudesert and Haywood. (fn. 326) As master of the game he was allowed to take two bucks in summer and two does in winter from the chases of Cannock and Haywood and a third buck and doe in Beaudesert Park after giving due warning to the bishop's keepers. (fn. 327) The fee of this office was the right to some portion of each deer killed in the woods by persons other than the bishops or their surveyors, with 100 cart loads of firewood annually for burning only in his own dwelling-places in Haywood and Tixall. (fn. 328) Sir Edward retained this office when the bishop's manors passed to the Pagets, and described either as chief custody of the chase or mastership of the game it descended in his family, his grandson Sir Edward dying seised of it in 1597. (fn. 329) Further disputes between the Pagets as overlords and the Astons as hereditary wardens or masters were ended by a compromise in 1712 when Walter Lord Aston agreed to waive all claim to the mastership of the game and accept instead four bucks a year, an arrangement still in force in 1815. (fn. 330)
Besides the hereditary chief warden and master of the game, there were two foresters of the chase, one for Cannock who by at least 1473 was described as the forester of Trumwyn, (fn. 331) and one for Rugeley, each making their presentments at the joint courts of the two manors by at least 1342. (fn. 332) There was also the rider or ranger (equitator) who was similarly presenting forest offences in the manor courts by at least 1342, (fn. 333) and from at least 1424 until at least 1542 he presented an annual account of his office with the other bailiffs, collectors of rents, and farmers of the lands of the bishops and their successors, the Pagets. (fn. 334) His account in 1424 included 38s. 2d. from perquisites of court and sale of woods, loppings, and bark, and 22s. 6d. from fines. (fn. 335) Among the riders were Richard de Hampton, the king's yeoman, appointed in 1359 during a vacancy of the see, (fn. 336) James Arblaster, whose appointment was confirmed during another vacancy in 1385, (fn. 337) and, in 1415, Roger Assent, the king's 'servant', who was also given a forestership to hold while the temporalities were in the king's hands. (fn. 338) By 1423 the rider was Richard Ruggeley (fn. 339) and by 1472 John Eggerton. (fn. 340) Ralph Longford occurs in 1535 as rider and bailiff of Cannock Chase, (fn. 341) and in 1542 William Hervy accounted as rider for £17 10s. 5d. from the sale of wood and bark. (fn. 342) The bishop, probably in 1542, gave the office of rider, in tail, to a Littleton, (fn. 343) probably Sir Edward Littleton, keeper of Teddesley Hay. (fn. 344)
Agriculture
By 1273 there was no demesne in Cannock manor and all the land was held by tenants. (fn. 345) It was stated in 1595 that there was no site of a manor and no demesne except the mill and Mill Meadow. (fn. 346) The assised rents amounted in 1273 to £8 13s. 8d., with new rents of 16s. 5½d. (fn. 347) and in 1424 to £11 14s. 1¼d. with ¼d. new rent from a John Bounde for a small piece of land next his demesne on the Green added to his garden out of the lord's waste. (fn. 348) In 1560 the rents from free tenants amounted to 21s. 5½d. and those from copyhold tenants to £14 8s. 5½d. (fn. 349) Forty-one persons in Cannock paid pannage dues of 7s. 2½d. in 1350 for 38 pigs and 73 'hogs' (hogg'), while five persons in Hednesford paid 5½d. for one pig and nine hogs. (fn. 350)
The following open fields within the manor were mentioned at various times between c. 1300 and 1640: 'Callughull' ('Calfe Hylles') Field, Greystones Field, Half Field, Hawsley Field, Newland Field, Sladeland Field, Hatherton Sich, and Sich Field. (fn. 351)
It was stated in 1794 that the best land on Cannock Chase for sheep and crops, especially barley and turnips, lay on the west and north sides and around Hednesford, the soil being light as opposed to the gravelly undrained heathland to the south and east. (fn. 352) At this time a breed of greyfaced hornless sheep native to Cannock Chase was very prolific, 'the common being now in many places perfectly whitened with them'. (fn. 353) The parish of Cannock, described as 'extensive . . . with scattered small farms', had 1,933½ acres sown in 1801, 481 acres with wheat, 549 with barley, 491 with oats, 12 with peas, 20½ with potatoes, and 280 with turnips or rape. (fn. 354) By 1819 seven freeholders and copyholders from Cannock were pasturing 369 sheep on the chase; 38 from Leacroft and Hednesford were pasturing 1,782 sheep, 28 cows, 1 ass, and 6 horses; and 43 from Cannock Wood were pasturing 789 sheep, 13 cows, 3 asses, and 2 horses. (fn. 355) The Cannock Agricultural Association was formed in 1845, with the help of Lord Hatherton, for tenant farmers living within an eight-mile radius of Cannock. (fn. 356) The land was used in 1940 mainly for oats, wheat, turnips, mangolds, and pasture. (fn. 357)
William Coleman and other men of Cannock in 1544 forcibly threw open certain pastures and meadows in Cannock inclosed by Ralph Bostock and Thomas Alport who had acquired them from Richard Biddulph. (fn. 358) Thomas Lord Paget held a conyger within the manor before his forfeiture in 1587, (fn. 359) and in 1595 Thomas Wolseley, William Chetwynd, William Hough, and Thomas Littleton held various inclosures on Cannock Chase to the detriment of the queen and the tenants of the manors of Cannock and Rugeley. (fn. 360) Piecemeal inclosure of the common fields seems to have begun by this time. (fn. 361) William Lord Paget as lord of Cannock and Rugeley, having come to an agreement with his tenants in 1605, made an inclosure within the parish of Cannock which was subject to renewal in the manorial court every nine years, but in 1651 his son and heir William complained of attempts to throw this inclosure open. (fn. 362) It was stated in 1682 that temporary inclosures, usually for five years, were made on Cannock Chase for the growing of corn by the inhabitants of Cannock, as by those of Rugeley, Penkridge, Baswich, Brocton, Haywood, Colwich, Longdon, and Norton, by agreement with the lord of the manor concerned. (fn. 363) Henry Lord Paget, Earl of Uxbridge, at some time after 1735 allowed the inclosing of some 30 acres of Cannock Chase so that the rents might be used towards defraying the cost of piping Cannock's water-supply from Leacroft. (fn. 364) Hednesford, Leacroft, and Rumer Hill were described in 1817 as 'enclosed hamlets of Cannock'. (fn. 365)
Some 3,000 acres of land on Cannock Chase within the parish of Cannock were inclosed in 1868 under an Act of 1861. (fn. 366)
Mills
The lord's mill at Cannock was leased at a rent of 3s. 4d. in 1274, (fn. 367) and in 1281 the mill, still held by a tenant, was extensively repaired. (fn. 368) In 1424 William the miller paid 73s. 4d. for the farm of the water-mill and a 'mora' called 'Mulnemore'. (fn. 369) Timber for the mill and repairs to the mill pond in this year cost the lord 14s. 1d. (fn. 370) In 1449 the bishop granted a twenty-year lease of the mill, called 'Coyngere', to John Justice, millward, and after John's death, the mill was leased in 1463, along with fish ponds and the 'Mylnemore,' to John Parker and Hugh Collins for 21 years. (fn. 371) During the year ending Michaelmas 1473 14d. had been spent on repairs to the mechanism of the mill and the river bank by it. (fn. 372)
In 1641 the water corn-mills in or near Cannock, commonly called Cannock Mills and lately held by John Coleman, were leased by William Lord Paget, then lord of the manor, to Walter Chetwynd for 21 years at an annual rent of £22. (fn. 373) Lord Paget sold the lease of what may have been the same mills to John Byrch of Stafford and Robert Sankey of Cannock in 1650, (fn. 374) but by 1659 the mills were held by Edward Rowley of Leacroft. (fn. 375) In 1697 Cannock Mill, situated on the brook leading from Ridding Bridge, was held by Rowley's grandson Henry Barton who in that year conveyed his rights in it to Edmund Wilson of Cannock. (fn. 376) Wilson died in 1709, and his executors renewed the lease in 1710 to Thomas Barton, miller, for another thirteen years. (fn. 377) The present-day Cannock Mill also stands on the Ridings Brook, on the north side of Mill Street with the mill pool lying to the north. (fn. 378) It is a red-brick building retaining its water-wheel and was still operating on a small scale c. 1954. (fn. 379) The mill-house is a roughcast building of three stories dating from c. 1800. Northeast of the mill pool there was formerly land called Windmill Bank. (fn. 380)
About 1250 James de Audeley granted the Bishop of Coventry and Lichfield a rent of 10s. a year from a mill at 'Canocbury'. (fn. 381) A water-mill in Cannock was held of the bishop by William Trumwyn at his death in 1317 or 1318 (fn. 382) and descended with his lands in Cannock until at least 1639 when Thomas Leveson made a settlement of two water-mills and lands in Cannock and Wednesfield. (fn. 383) In 1448 the bishop sued John Justice, millward, for taking the corn of the bishop's men for grinding at this mill instead of at the lord's mill. (fn. 384)
The Walk Mill, situated a little to the south of Watling Street on the road to Cheslyn Hay southwest of the modern Bridgtown, was in existence in 1775. (fn. 385) In about 1843 it was owned by Jonathan Stokes, M.D., (fn. 386) and it was advertised for auction in the following year as a water corn-mill. (fn. 387) There was a miller here in 1880. (fn. 388)
A Robert Wedge was holding Whitnall Mills in Cannock of Sir Edward Littleton of Pillaton (in Penkridge) c. 1643, (fn. 389) and in 1709 Robert Wedge, Mary his wife, and Robert their son made a settlement of grain mills and lands in Cannock and Saredon (in Shareshill). (fn. 390) What was called Wedges Mill was held of Sir Edward Littleton in 1754 by a John Olerenshaw, (fn. 391) but in 1768 and 1769 (fn. 392) William Webb was paying the lord of Cannock 1s. 6d. rent for Wedges Mill. (fn. 393) In 1817 the mill was described as a water-mill 'situated on the Hedgeford river' and forming part of William Gilpin's edge-tool factory at Churchbridge about a mile to the east in the township of Great Wyrley. (fn. 394) It was owned by George Gilpin c. 1843. (fn. 395)
Markets and Fairs
In 1259 Henry III granted Bishop Roger de Weseham, his kinsman, the right to hold in his manor of Cannock a market every Tuesday and an annual fair on the vigil, feast, and morrow of St. Michael in Monte Tumba (15, 16, 17 October). (fn. 396) The right was upheld in 1293 (fn. 397) and confirmed between 1387 and 1390. (fn. 398) The Tuesday market had been discontinued by 1747, but fairs were then held on 20 April, 20 August, and the second Monday after Michaelmas. (fn. 399) By 1834 cattle fairs were held on 8 May, 24 August, and 18 October, with a feast or wake on the Sunday following the last of these. (fn. 400) By 1868 markets were being held on Saturday evenings, (fn. 401) and a market-hall was built in Cannock in 1869. (fn. 402) By 1924 the fairs were no longer held, but markets were then held on Tuesday and Saturday. (fn. 403) By 1956 an additional market was held on Friday. (fn. 404)
A Saturday evening market was held at Hednesford from 1872 when the market-hall was built. (fn. 405) In 1956 the Hednesford market was open on Tuesdays and Saturdays. (fn. 406)
Industries
There was coal mining within the manor by 1298. (fn. 407) In 1589 the queen leased for 21 years all mines and veins 'of coal "called pitt cole, stone cole, and sea cole"' in New Hay and Red Moor near Beaudesert Park, with permission to dig pits and ditches called 'le sowghes' and to cut the necessary timber, to Gilbert Wakering, (fn. 408) who in 1595 held two coal-mines on the Chase, one of black coal and one of cannel coal. (fn. 409) Three colliers of Cannock Wood occur in 1601 (fn. 410) and a collier of Hednesford in 1603, (fn. 411) and in 1688 Lord Paget granted a lease of his mines at Cannock Wood, 'Newhay', and elsewhere in the vicinity. (fn. 412) There were pits a little to the north-west of New Hayes on the site of the present Cannock Wood Colliery in 1775, (fn. 413) and a colliery here called Park Colliery was noted in 1820. (fn. 414) In 1817 William Gilpin was raising coal at the Walk Mill for use in his edge-tool factory at Churchbridge and for sale. (fn. 415) The colliery at Rumer Hill, near Leacroft, belonging to Edward John Littleton, later Lord Hatherton, was in operation in 1832, (fn. 416) but by 1858 these pits, over 70 yds. deep, had been closed. (fn. 417) Lord Hatherton also owned the Long House Colliery, of which Joseph Palmer, coalmaster, held the lease between 1848 and 1854. (fn. 418)
The Cannock Chase Colliery Company, launched in 1850 by the Marquess of Anglesey, had opened the Uxbridge Pit at Hednesford by 1852. (fn. 419) Between 1860 and 1867 this company opened pits at Chase Terrace (in Chasetown parish, Offlow hundred), Rawnsley, and Heath Hayes which were still in use in 1954. (fn. 420) It was among the first companies to build, about 1866, its own railway linking its collieries to the main line, and, in about 1886, to generate its own electricity. (fn. 421) In 1865 and 1874 the Cannock & Rugeley Collieries Company sank two shafts at the Cannock Wood Colliery. (fn. 422) In 1869 the West Cannock Collieries Company opened three pits in Hednesford. (fn. 423) During the trade boom which followed the Franco-Prussian War of 1871 there were several new undertakings in the Cannock Chase region, most of which failed. (fn. 424) Only one within Cannock itself survived in its original form, the Cannock and Leacroft Colliery (fn. 425) begun between 1874 and 1877. (fn. 426) The East Cannock Colliery at Hednesford, on which some £150,000 was spent, was sold for £20,000 to a new company which survived until nationalization in 1947. (fn. 427) The Wimblebury Pit was opened in 1872, (fn. 428) but it was nearly exhausted by 1896 when the Cannock &; Rugeley Collieries Company took it over and started coal-drawing there instead of at their Valley Pit in Hednesford, opened in 1874. (fn. 429) The Mid-Cannock Colliery, started in 1873, was abandoned in 1882. (fn. 430) The Cannock & Huntington Colliery Company, which began to make sinkings at Huntington in 1877, met with serious water difficulties and, having abandoned the shafts, was dissolved in 1881. (fn. 431) During the 'Great Federation Lock-Out' of 1893 a Hednesford miner, Thomas Thomas, wrote ballads designed to win public sympathy for the strikers. (fn. 432)
The first new venture after the slump was the opening in 1894 of the Coppice, or Fair Lady, Colliery at Heath Hayes by the Coppice Colliery Company. (fn. 433) Lord Hatherton recovered one of the shafts at Huntington in 1897 and sank another, and coal-drawing started in 1904. (fn. 434) In 1954 the colliery was one of the largest in the Cannock Chase Coalfield. (fn. 435) The abandoned Mid-Cannock Colliery was taken over by Messrs. William Harrison in 1913 and reopened in the following year. (fn. 436) The West Cannock Collieries Company opened their No. 5 Pit at Hednesford in 1914. (fn. 437) Open-cast mining was begun in 1956 at a site on the north side of Watling Street to the east of Churchbridge and was being extended northwards from there in 1957. (fn. 438) The National Coal Board's office in Cannock covers the Cannock Chase area of the West Midlands Division. The County Mining College in Cannock was opened in 1928 and enlarged in 1935. (fn. 439)
The presence of slag and refuse on the western slopes of the Castle Ring Hill may indicate the site of a bloomery, while the oaks growing out of these deposits show its long disuse. (fn. 440) There was a forge at Hednesford by 1473 when William Colmore was paying the lord of Cannock 2d. new rent for its site, a parcel of waste 20 ft. square. (fn. 441) 'Blome smithes' at Risom Bridge on Cannock Chase near Beaudesert Park (in Longdon parish, Offlow hundred) were leased to William Fletcher in 1542 and still held by him in 1549. (fn. 442) Joyce Ashebye was mining ironstone in Cannock about 1553 at a place called 'Woddy Hey', selling nine loads for 33s. 4d. (fn. 443) Lord Paget received £20 as the farm of 'all le blumsmythes' in Cannock in 1560 and was working a furnace on the Chase by 1563. (fn. 444) In the year ending 24 December 1584 the Paget ironworks on Cannock Chase and in Teddesley Hay produced 164 tons 1 cwt. of iron. (fn. 445) Between at least 1692 and 1710 a forge in Cannock under the control of a partnership known as 'The Staffordshire Works' was specializing in chafery, and its output of bar iron reached 109 tons in the year ending Michaelmas 1709. (fn. 446) A plot of 'boggy ground' at the head of Green Brook Valley was leased in 1734 by the lord of Cannock for the making of two pools to John Biddulph, who before 1761 was tenant of two pools in Rugeley. (fn. 447) A forge in Cannock was still active in 1750 when the output of iron was 180 tons. (fn. 448) By 1953 there were iron-foundries in Cannock, Hednesford, and Rawnsley. (fn. 449)
Other industries in Cannock, many of which were started after 1939, include light engineering, enamelling, and the manufacture of precision instruments, brushes, electrical appliances, food preparations, and jewellery. (fn. 450) There are also clothing mills and saw-mills in the town. (fn. 451) By 1868 bricks and tiles were being manufactured at a factory on the Watling Street, (fn. 452) and by 1953 some 100,000 tiles a day were produced at the Longhouse Works on Watling Street, owned by Messrs. Henry Hawkins L'td. (fn. 453) William Gilpin seems to have opened an edge-tool factory at Wedges Mill in 1790, but by 1817 most of the work was done at the factory opened in 1806 at Churchbridge in Great Wyrley. (fn. 454) Industrial development was taking place to the south-west of Cannock town by 1956.