Pages 169-175
A History of the County of Stafford: Volume 7, Leek and the Moorlands. Originally published by Victoria County History, London, 1996.
This free content was digitised by double rekeying. All rights reserved.
OUTLYING TOWNSHIPS
BRADNOP
Bradnop was formerly a township in Leek parish and later a civil parish 3,568 a. (1,444 ha.) in area. (fn. 1) It is pasture and shares with Onecote the south end of Morridge, formerly an area of extensive waste. There is a small village immediately north of the Leek-Ashbourne road, which runs diagonally across the township. Cartledge brook forms the northern boundary with Tittesworth, Kniveden brook the western boundary with Leek and Lowe, and Coombes brook part of the southern boundary with Ipstones. On the south-east the rest of the boundary with Ipstones follows the line of a medieval road called the Earl's Way. (fn. 2) The irregular eastern boundary with Onecote probably reflects a division of pasture rights on Morridge. The township included three detached portions, which were added in 1934 to the adjoining civil parishes: 53 a. including part of Thorncliffe village to Tittesworth, 385 a. centred on Hurdlow Farm to Heathylee, and 205 a. known as Cawdry to Butterton. At the same time 57 a. of Bradnop, mostly the wedge of land east of the Onecote-Ipstones road, were added to Onecote civil parish, and 417 a. of Onecote west of the road running along the top of Morridge were added to Bradnop from Onecote. As a result Bradnop civil parish was reduced to its present 3,285 a. (1,329.4 ha.). (fn. 3) This article deals only with the main part of the former township. The detached portions at Thorncliffe and Hurdlow are treated in the articles on Tittesworth and Heathylee respectively, and that at Cawdry is reserved for treatment under Butterton in a later volume of this History.
The land beside Kniveden brook lies at 577 ft. (176 m.) near Ashenhurst Mill Farm and at 702 ft. (214 m.) near Pool Hall Farm. Bradnop village lies at 838 ft. (255 m.), and to the north-east the land rises to 1,331 ft. (407 m.) on Morridge. The underlying rock is sandstone of the Millstone Grit series. It is overlain by Boulder Clay, and the soil is mostly fine loam, with poorer quality soil on Morridge. (fn. 4)
Twelve people in Bradnop were assessed for tax in 1327 and 10 in 1333, the figures possibly including Onecote township which lay in Bradnop manor. (fn. 5) Eighty-two people in the manor were assessed for hearth tax in 1666 and a further 23 were too poor to pay. (fn. 6) The population of Bradnop township in 1811 was 420, rising to 489 by 1821. It was 467 in 1831, 447 in 1851, 445 in 1871, and 450 in 1891. By 1901 it had fallen to 405. It was 432 in 1911, 423 in 1921, and 384 in 1931. The population of the reduced civil parish was 315 in 1951, 283 in 1961, 275 in 197, 294 in 1981, and 305 in 1991. (fn. 7)
The name Bradnop, recorded in 1197, is derived from Old English words describing the broad (bradan) enclosed valley (hop) which opens to Cheddleton in the south-west. (fn. 8) Settlements existed in that part of the township by the later 13th century at Ashenhurst, Apesford, and Revedge, (fn. 9) and apparently at Middle Cliffe and Wildgoose Farm. (fn. 10) There was a house at Longshaw by 1343. (fn. 11) Cliffe Farm has a doorhead dated 1679 with the initials of members of the Fernihough family, (fn. 12) and Revedge Farm has a date stone of 1691 with the initials possibly of Francis Hollinshead of Ashenhurst. (fn. 13) Longshaw Farm on the south side of the Leek-Ashbourne road is also of the 17th century. Lower Lady Meadows Farm on the south-eastern boundary is of the late 18th century.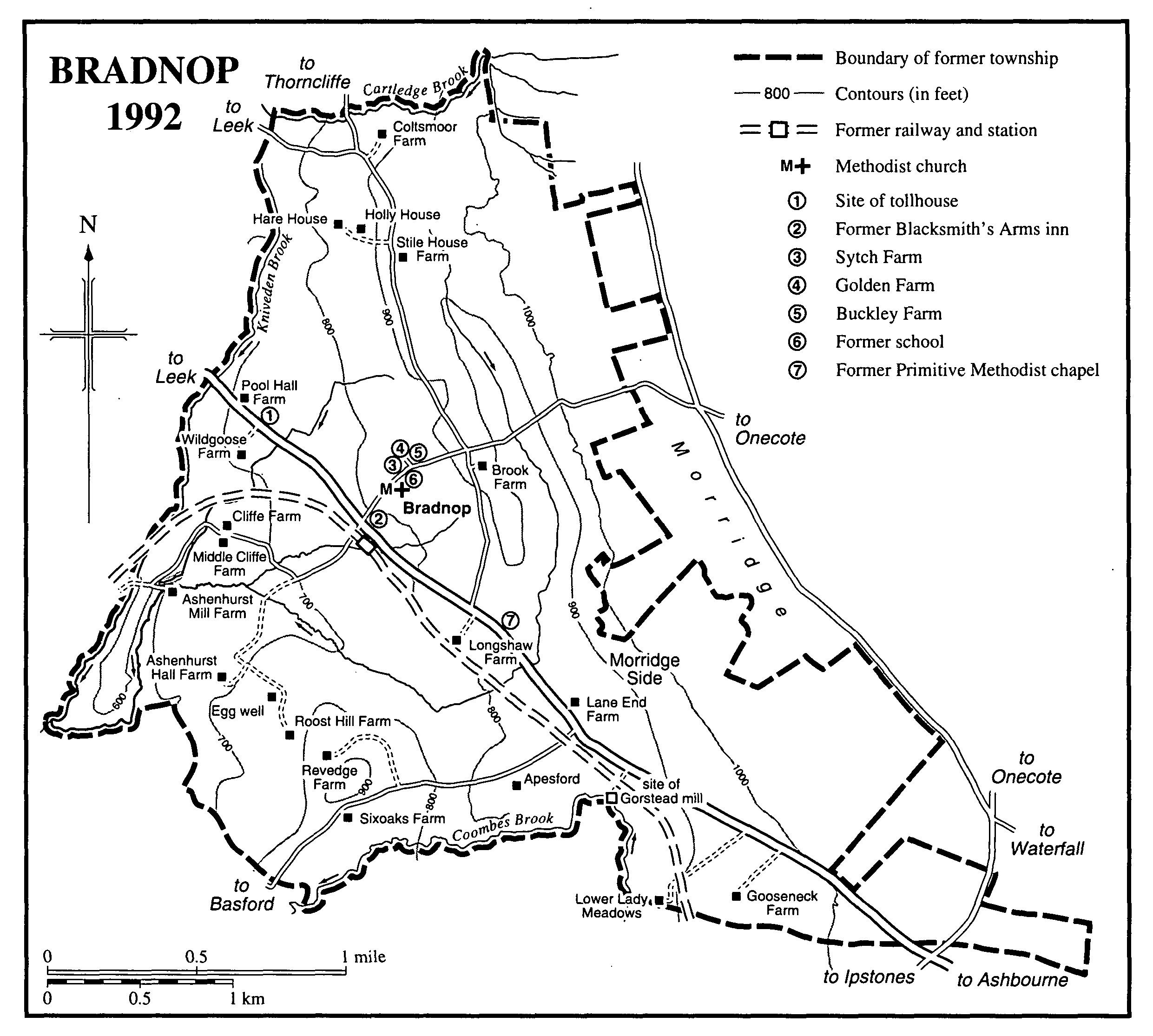 Bradnop village stands in the centre of the Bradnop valley, north of the present Leek- Ashbourne road but on the line of the medieval Earl's Way. (fn. 14) The oldest house in the village is Sytch Farm, which incorporates at its east end a cruck truss that was part of a medieval hall. Buckley Farm is probably of the 17th century, and School Cottages, a pair of houses east of Sytch Farm, is dated 1750. Golden Farm was built in the earlier 19th century. Brook Farm east of the village existed as Bent Head in 1690, (fn. 15) and the present house is probably of that date. South-west of the village is a cluster of houses called Stunsteads, a name recorded in the earlier 14th century as Tunstedes and meaning a farmhouse. (fn. 16) By 1834 there was an inn called the Hare and Hounds on the Ashbourne road; it still existed in 1868. (fn. 17) By 1850 there was another roadside inn, the Blacksmiths Arms; it was closed after a fire c. 1940. (fn. 18)
What was called 'the other Bradnop' in the mid 13th century and Upper Bradnop in the 1260s was evidently a settlement at the north end of the Bradnop valley. (fn. 19) Field House, recorded in that area in 1342, may have been an earlier name for Hare House, whose south front retains a 17th-century doorhead. (fn. 20) By 1343 Hulton abbey had a grange at Upper Bradnop, and in 1345 it gave a tenant permission to build on land in the area called Colts moor. (fn. 21) In the earlier 16th century a house called the Grange was held by the Cokelee family of Coltsmoor, (fn. 22) and in 1666 what was called Coltsmoor House was assessed for tax on four hearths. (fn. 23) The Grange and Coltsmoor House probably stood near each other, but their sites are unknown; the present Coltsmoor Farm near the northern boundary was built after the waste there was inclosed in the later 18th century. Stile House Farm east of Hare House is of the 18th century and has an extension dated 1859.
There was a cottage called Pool Hall on the Ashbourne road north-west of Bradnop village by 1663. (fn. 24) It was rebuilt in Gothick style in the earlier 19th century for William Critchlow, the owner in 1839. (fn. 25) Lane End Farm further east along the Ashbourne road, mentioned in 1675, was an inn called the Red Lion in 1818; a coach house on the opposite side of the road is dated 1821 and has the initials of the innkeeper, John Cook. (fn. 26) It was still an inn in 1851 but no longer by 1860. (fn. 27) Houses at Morridge Side east of Lane End Farm and other houses to the south-west probably stand on the sites of cottages built on the waste in the 17th century and later. (fn. 28) One of the largest is Gooseneck Farm, which is partly of the 18th century.
The medieval Earl's Way, which formed part of the route between Leek and Ashbourne, entered Bradnop on the west near Pool Hall Farm. It continued east through Bradnop village and then turned south-east, leaving the township along the line of the boundary east of Lower Lady Meadows. (fn. 29) The road had evidently been replaced by the present line of the LeekAshbourne road by the 17th century, when the site of Lane End Farm was occupied. The Leek-Ashbourne road was turnpiked in 1762. There was at first a tollhouse over the Leek boundary at Lowe Hill; an improvement in the line of the road in 1828 included its replacement by a new tollhouse east of Pool Hall Farm, in Bradnop. Three cast-iron mileposts along the road form part of a series made in 1834. The road was disturnpiked in 1876. The Pool Hall tollhouse was demolished in the 1970s. (fn. 30)
A railway from Leekbrook, in Leek and Lowe, to Waterhouses was opened in 1905 with a station near Bradnop village. The station was closed in 1935 and later demolished, but the line remained open for the transport of limestone from quarries at Caldon Low until 1989. (fn. 31)
A spring called Egg well south-east of Ashenhurst Hall was believed to have curative powers. It was provided with an oval, or egg-shaped, stone surround bearing a Latin inscription praising the water's powers and the monogrammed initials of William Stanley, the owner of Ashenhurst between 1744 and 1752. In the 19th century the well was protected by a square wall, later roofed over. (fn. 32) The structure remained standing in 1992.
Bradnop village had a mains electricity supply by 1940 and was connected to a mains water supply in 1967. (fn. 33)
Part of the Coombes brook valley south of Apesford is included in a nature reserve, most of which lies in Ipstones. The reserve originated in 1961 with the scheduling of 26 a. owned by George Lovenbury at Clough Meadows, on the Ipstones side of the brook; a further 200 a., some of it in Bradnop, was bought by the Royal Society for the Protection of Birds in 1962. The reserve was open to the public and Mr. Lovenbury and his wife acted as honorary wardens. A salaried warden was appointed in 1969, and since 1970 he has lived at Sixoaks (formerly Ballfields) Farm, in Bradnop, where there is an information centre. (fn. 34)
A Women's Institute was formed in 1970. (fn. 35) In 1992 the former school in Bradnop village was used as a village hall.
MANOR AND OTHER ESTATES.
In 1168-9 the Crown confirmed a grant to John Lestrange of Ness (Salop.) of unnamed pasture in Staffordshire, (fn. 36) probably at BRADNOP and held by grant of one of the earls of Chester. The earl seems to have objected when in 1197 John Lestrange's son, also John, gave land at Bradnop and at Mixon, in Onecote, to his cousin Margery (or Margaret) Lestrange and her husband Thomas Noel, (fn. 37) and in 1199 the earl was accused of trying to eject Lestrange and Noel. (fn. 38) There was no mention of overlordship when in 1218 Margery and her second husband, Thomas of Whitchurch, granted what were styled the manors of Bradnop and Mixon to Henry de Audley. (fn. 39) In 1223 Henry de Audley gave Bradnop and Mixon to his newly founded abbey of Hulton. (fn. 40) He renewed the grant after the death of Ranulph, earl of Chester, in 1232, requiring the monks to celebrate a daily mass for the earl and himself. (fn. 41) It was presumably because Ranulph was Henry's personal lord that the overlordship of the manors passed to the earl: in 1252 the Crown claimed the overlordship on the grounds that it had once belonged to Ranulph. The service then owed to the Crown by Hulton abbey comprised a rent of 5s. 2d. and four loads of hay to be delivered to the royal manor of Penkhull, in Stoke-upon-Trent. The service, however, was being withheld. (fn. 42) In 1275 it was stated that the abbey formerly held Mixon, presumably with Bradnop, of the Crown in fee farm for a rent of 5s., one cartload of hay, and an iron fork. (fn. 43) Penkhull manor had by then been absorbed into the royal manor of Newcastle-under-Lyme, (fn. 44) and the overlordship passed to the earls (later dukes) of Lancaster as lords of Newcastle; they were still the overlords in 1469. (fn. 45)
Hulton abbey was dissolved in 1538, and in 1546 the Crown granted Bradnop manor to Edward Agarde, a London speculator. In 1547 he was licensed to transfer it to Sir Edward Aston of Tixall, (fn. 46) in whose family (from 1628 Barons Aston) the manor descended, passing on the death in 1751 of James, Lord Aston, to his daughters Mary and Barbara jointly. Barbara married Henry Thomas Clifford, and Mary married Sir Walter Blount, Bt. (fn. 47) In 1770 an Act was secured to allow the division of their property, (fn. 48) and later the same year both parts of the manor were sold to John Sneyd of Bishton, in Colwich. (fn. 49) Sneyd was succeeded in 1809 by his son William (d. 1851). William's son, the Revd. John Sneyd, of Ashcombe Hall, in Cheddleton, still held the manor in 1868, but manorial rights were probably extinguished when a sale after his death in 1873 broke up the estate into its constituent farms. (fn. 50)
An estate at ASHENHURST was held by Henry of Ashenhurst in 1275. (fn. 51) Ranulph of Ashenhurst probably held it in 1318-19, and by 1327 it had probably passed to William of Ashenhurst. (fn. 52) The later descent is uncertain until the mid 16th century. John Ashenhurst, the owner in 1552, had been succeeded by his son, another John, by 1560, and the younger John was succeeded by his son Ralph in 1597. (fn. 53) Ralph died c. 1629, having settled Ashenhurst on his son Randle in 1616. Randle was still alive in 1662, when he was living at Glossop (Derb.). (fn. 54) He was succeeded by his son John, who sold the estate in 1667 to his cousin, Francis Hollinshead (or Hollingshed) of Gawsworth (Ches.). (fn. 55) Hollinshead's son, also Francis, held the estate in 1675 (fn. 56) and was succeeded in 1717 or 1718 by his son Thomas, who died childless in 1744 with his nephew William Stanley as his heir. (fn. 57) William was succeeded in 1752 by his son Thomas, Thomas in 1765 by his brother Lawrence, and Lawrence in 1772 by his sister Frances, wife of the Revd. George Salt. George died in 1797 and Frances in 1808. She left Ashenhurst to her god-daughter, Margaret Leigh, who in 1824 sold it to Richard Badnall, son of Richard Badnall of Highfield Hall, in Leekfrith. (fn. 58)
Richard Badnall was declared bankrupt in 1826, and in 1828 the 143-a. Ashenhurst estate was bought by Samuel and William Phillips, brothers and Leek silk manufacturers. (fn. 59) Samuel died in 1851 and William in 1871. William's heir was his nephew Capt. (later Maj.-Gen.) Thomas Phillips. (fn. 60) Thomas died in 1913 and his widow Jessey in 1940, when a life interest passed to their daughter, Elsie Boynton. Elsie died probably in the early 1950s. (fn. 61) Her son Thomas had Ashenhurst Hall demolished in 1954, and its site and 72 a. were sold to the present owner, Mr. Isaac Hudson. (fn. 62)
In 1666 John Ashenhurst was assessed for tax on four hearths. (fn. 63) His house may have been rebuilt or remodelled by his successor. (fn. 64) A new house designed by Joseph Sanderson was built for William Stanley in or soon after 1745. (fn. 65) Facing east and approached from the north, (fn. 66) the house had an irregular plan which was partly concealed by symmetrical elevations on the north and east, giving it the appearance of a double-pile house. The earlier house may have survived behind the new elevations, for there was no direct relationship between the elevations and the arrangement or uses of the rooms behind them. The principal elevation was of seven bays with Corinthian pilasters at either end; the three central bays projected and were surmounted by a pediment. A central doorway on that elevation had been abandoned in favour of an entrance beneath a porch on the north elevation by the early 19th century. By then there were plantations around the house and a landscaped park to the north and east. (fn. 67) The north side of the house was remodelled in 1910 to the design of R. Scrivener & Sons of Hanley. (fn. 68)
Ashenhurst Hall Farm was built in 1981 on a site north of the former hall with stones from the dairy and one of the stable blocks. In 1992 the remaining stable block, which was originally a barn and retained its 17th-century roof, was being converted into a house.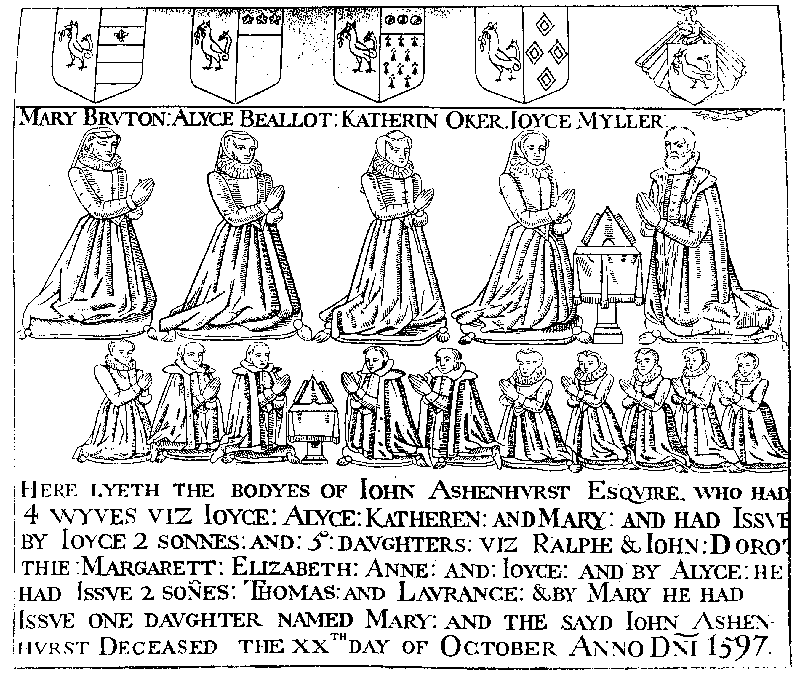 ECONOMIC HISTORY.
Agriculture.
Pasture on Morridge was included in Henry de Audley's endowment of Hulton abbey in 1223. (fn. 69) Its use was disputed by Dieulacres abbey, which had been established a few years earlier in Leekfrith and possibly resented Hulton's intrusion into the area. By an agreement made in the early 1230s Dieulacres was given pasture rights in the Birchall area, on the west side of Kniveden brook in Leek and Lowe, while Hulton was given pasture rights in the Bradnop valley, as long as it paid tithe to Dieulacres, as rector of Leek. For any land under cultivation on Morridge, Hulton was liable to pay great tithe to Dieulacres, along with a goodwill offering of 5s. at Easter. (fn. 70) By a further agreement, made in 1237 and relating chiefly to Hulton's grange at Mixon, in Onecote, Dieulacres was allowed pasture rights on Morridge for pigs 'without number' and in the summer for 200 dry cattle. (fn. 71)
By 1343 Hulton abbey had a grange in the north part of the township. It let it that year to William Gonne, along with pasture rights on Morridge for all animals except goats. (fn. 72)
A wood called Witherwood, which was included in Hulton's endowment of 1223, lay on the slope of Morridge south-east of Bradnop village: land called Weather Woods was recorded in 1827 near Lane End Farm. (fn. 73)
In the 1550s Sir Edward Aston, lord of Bradnop, tried to extinguish the rights of common claimed on Morridge by men from Grindon and Waterfall. (fn. 74) About 1634 Walter, Lord Aston (d. 1639), planned to inclose Morridge, then stated to cover 2,000 a., (fn. 75) and in 1638 the Crown apparently gave permission. (fn. 76) The freeholders of Bradnop objected to such large-scale inclosure, although they agreed that the waste needed to be protected from outsiders. In 1653 they proposed that Walter, Lord Aston (d. 1678), should inclose 200 a. only and let it to them at 2s. 6d. an acre. (fn. 77) The rights of poor cottagers already settled on Morridge were protected in 1655 by the county justices, who ordered that each cottage was to have 4 a. of common allotted to it. (fn. 78) About 240 a. seems to have been inclosed, mainly at the south end of Morridge. (fn. 79) The Astons, however, remained intent on large-scale inclosure. In the early 18th century Thomas Hollinshead of Ashenhurst claimed that Lord Aston in 1660 had made an agreement with the freeholders not to inclose further and not to grant any right of pasture to people who had no land in the manor. Despite the alleged agreement Aston and his son Walter, Lord Aston (d. 1714), had in fact inclosed a further 600 a. and had settled cottagers on the land. (fn. 80) A draft agreement of 1688, evidently drawn up by the freeholders but not ratified, acknowledged Lord Aston's right to inclose up to 2,000 a., half of which was to be assigned to the freeholders. (fn. 81) Despite the Astons' efforts much of Morridge remained open, and full-scale inclosure did not take place until 1769 when 3,139 a. in Bradnop and Onecote were inclosed under an Act of 1766. (fn. 82)
To counter the problem of trespassers, or 'out men', using Morridge as pasture, the freeholders in 1653 proposed that a moor keeper be appointed; any fines that he collected were to be shared equally among Lord Aston, the poor of Bradnop manor, and the keeper himself. (fn. 83) In 1683 the freeholders further proposed that they should be allowed to prosecute trespassers in the Aston's name, although at their own expense. (fn. 84) A more complex means of policing was drawn up in 1691, whereby householders in both Bradnop and Onecote were divided into six groups of 20 (three for Bradnop and three for Onecote), each group providing by rota a hayward to deal with the trespassers; the haywards had the duty of inspecting the common at least once a month between 21 April and Michaelmas. (fn. 85)
In pursuing the policy of inclosure Lord Aston (d. 1714) was associated with others, including Humphrey Perry and William Greene, both of Stafford, George Gatacre of Cannock, and Joshua Potts of Park House Farm, in Leekfrith. (fn. 86) It is possible that those men arranged for cattle from other parts of the county to be pastured on Morridge and then sold them to butchers.
Of the 1,160 ha. of farmland returned for the civil parish in 1988, grassland covered 1,054 ha. and there were 85.5 ha. of rough grazing. The farming was chiefly dairy and sheep, with 2,441 head of cattle and 2,422 sheep and lambs. There were also 2,162 pigs and 1,847 hens. Of the 50 farms returned, 31 were under 20 ha. in size, 14 were between 20 and 49 ha., and 5 were between 50 and 99 ha. Woodland covered 10.2 ha. (fn. 87)
Mills.
About 1600 a mill at Ashenhurst was run by John Brindley of Wildgoose Farm. (fn. 88) Run by James Brindley in 1834, Ashenhurst mill apparently stopped working in the mid 1880s. (fn. 89)
Gorstead mill on Coombes brook east of Apesford was described in 1815 as lately built. It apparently stopped working in the late 1890s. (fn. 90)
Industry.
Land called the Smelting Mill beside Kniveden brook in the south-west part of the township in 1687 (fn. 91) suggests iron smelting at some date.
In 1825 Richard Badnall licensed a partnership of stone merchants to dig for stone on his estate at Ashenhurst. The quarry, whose site is unknown, produced stone suitable for the manufacture of cement. Work probably stopped with the sale of Ashenhurst in 1828. (fn. 92)
LOCAL GOVERNMENT.
In the earlier 1370s the duchy of Lancaster, as overlord, held a great court for Bradnop manor attended by two frankpledges, one presumably representing Bradnop tithing and the other Onecote tithing. (fn. 93) The duchy still held a great court for Bradnop in 1469. (fn. 94)
The abbot of Hulton held a small court for his tenants at Bradnop in 1317, and a twice-yearly court in 1342. (fn. 95) The abbot still held a court at the Dissolution. (fn. 96)
A view of frankpledge for Bradnop manor was held by Walter, Lord Aston, as lord of the manor by the late 17th century. (fn. 97) In 1744 the customary meeting place was in Onecote. (fn. 98) The court was last recorded in 1868 when the lord, the Revd. John Sneyd, advertised a view with court leet and court baron for Bradnop to be held at the Blacksmiths Arms in Bradnop in November. (fn. 99)
Bradnop manor formed a constablewick by 1377 and still in the later 17th century. (fn. 100)
The township was part of the Bradnop quarter of Leek parish, and in the 1660s its poor were relieved by the quarter's overseer. (fn. 101) The township had its own overseer by 1743. (fn. 102) It became part of Leek poor-law union in 1837. (fn. 103)
CHURCH.
People from Bradnop attended the church built in Onecote in the earlier 1750s, and the township was included in a parish created for Bradnop and Onecote in 1862. Services were also held in the school opened in Bradnop village in 1862. (fn. 104) The school was closed in 1978, but the building was still used for services until they were transferred in 1990 to the Methodist church in Bradnop village, where they were held fortnightly in 1992. (fn. 105)
NONCONFORMITY.
Two Quakers from Bradnop, John Bloor and Ann Bottom, were married at a meeting of Friends at Whitehough, in Ipstones, in 1701. (fn. 106)
A Methodist society of eight members met at Stile House Farm in 1784. It still met there in 1790 but may later have used a house in Bradnop village which was registered for protestant worship in 1802. (fn. 107) Apparently later disbanded, the society had been revived by 1813, and in 1829 there was a weekly Sunday service in Bradnop. (fn. 108) A chapel was built in the village in 1840, and on Census Sunday 1851 the attendance was 32 in the afternoon and 40 in the evening, besides Sunday school children. Enlarged in 1890, the chapel was still open in 1992. (fn. 109)
Primitive Methodists apparently met in a barn at Cliffe Farm from the later 1830s. In 1890 they opened a chapel on the Ashbourne road. It was closed in 1970, and the building was derelict in 1992. (fn. 110)
EDUCATION.
A schoolmaster was recorded at Bradnop in 1681. (fn. 111) The pair of houses in Bradnop village called School Cottages is probably identifiable as the School House, so called in 1783. (fn. 112) In 1876 it was claimed that a school had been maintained in the township since the 1790s. (fn. 113) A school which in the earlier 1830s had 30 boys was by then endowed with a house and garden worth £5 a year. Also in the earlier 1830s there was a girls' school with 20 pupils and a Church of England Sunday school at which 23 children were taught free. (fn. 114) The Sunday school was possibly replaced by a school which was set up as a branch of Leek Sunday school in 1835 with an attendance of 43 children. That school still existed in 1861. (fn. 115)
A school-church was built in the village in 1862. (fn. 116) The site was given by the Revd. John Sneyd, the lord of the manor; the building and its furnishings were paid for by local subscribers, and free carriage of materials was provided by Bradnop farmers. (fn. 117) The school was run by a committee of local people as a public elementary school and was considered to be the successor to the earlier parish school. From 1876 the school received a government grant, and a board of managers was set up in 1904. (fn. 118) The decision in 1930 that what was then an all-age school with 30 children on its books should become a junior school took effect in 1937, the senior children being transferred to Leek. (fn. 119) Bradnop school took controlled status in 1959. (fn. 120) It was closed in 1978, and the children were transferred to Leek. (fn. 121) In 1992 the school building was used as a village hall.
CHARITY FOR THE POOR.
By will of 1693 John (or Thomas) Stanley left the interest on £84 to be distributed after the death of his wife among the poor of Bradnop on 24 December each year. The beneficiaries were probably residents in the Bradnop quarter of Leek parish. In 1743 the capital was invested in 5 a. at Sheen, and it was agreed that the poor of both Bradnop and Onecote townships should benefit equally. The rent received from the land was £3 10s. in the later 1780s and had increased to £10 by the earlier 1820s. (fn. 122) By a Scheme of 1928 the charity was amalgamated with that of Joan Adsetts for Onecote, and the income in 1976 was £22. (fn. 123)