Pages 31-37
A History of the County of Stafford: Volume 7, Leek and the Moorlands. Originally published by Victoria County History, London, 1996.
This free content was digitised by double rekeying. All rights reserved.
HEATHYLEE
Heathylee was formerly a township in Alstonefield parish and later a civil parish 5,535 a. (2,240 ha.) in area. (fn. 1) It is mostly pasture, with scattered farms in river valleys and with no village centre. The western boundary with Leekfrith is formed by Back brook, which flows south to join the river Churnet, and two arms of Black brook which flow north and west to join the river Dane. Most of the northern boundary with Hollinsclough runs along a ridge, and the river Manifold forms the short eastern boundary with Sheen. In 1934 the civil parish was enlarged by the addition of land from neighbouring parishes: a detached portion of Bradnop centred on Hurdlow Farm and covering 385 a.; a detached portion of Leekfrith lying between Hurdlow and Upper Hulme and covering 10 a.; 30 a. from Onecote; and 18 a. from Longnor lying on the south side of the present course of the river Manifold east of Longnor bridge. At the same date 1 a. on the north side of the river was transferred from Heathylee to Longnor. As a result the area of Heathylee civil parish was increased to its present 5,977 a. (2,419 ha.). (fn. 2) This article deals with the former township together with the land added in 1934.
Morridge divides the township into a western part and a larger eastern part. The former is drained by the Churnet and the latter by the Manifold and a tributary, Oakenclough brook. The land lies at 825 ft. (251 m.) in the south-west corner beside Back brook. To the north and east on Morridge it reaches 1,535 ft. (468 m.) near Morridge Top Farm and 1,590 ft. (487 m.) near Blake Mere. On the east side of the township the land lies at 942 ft. (287 m.) where the LeekLongnor road crosses Oakenclough brook at Hardings Booth and 862 ft. (263 m.) where the road crosses the Manifold at Longnor bridge. The underlying rock is sandstone of the Millstone Grit series, which outcrops on the west side of the township at Ramshaw Rocks and near Newstone Farm. A shallow basin of the Coal Measures overlies the rock in the Blue Hills area along the western boundary. The best soil lies in the east where it is coarse loam. Elsewhere it is mostly clay and loam, with peat on the west side of Morridge. (fn. 3)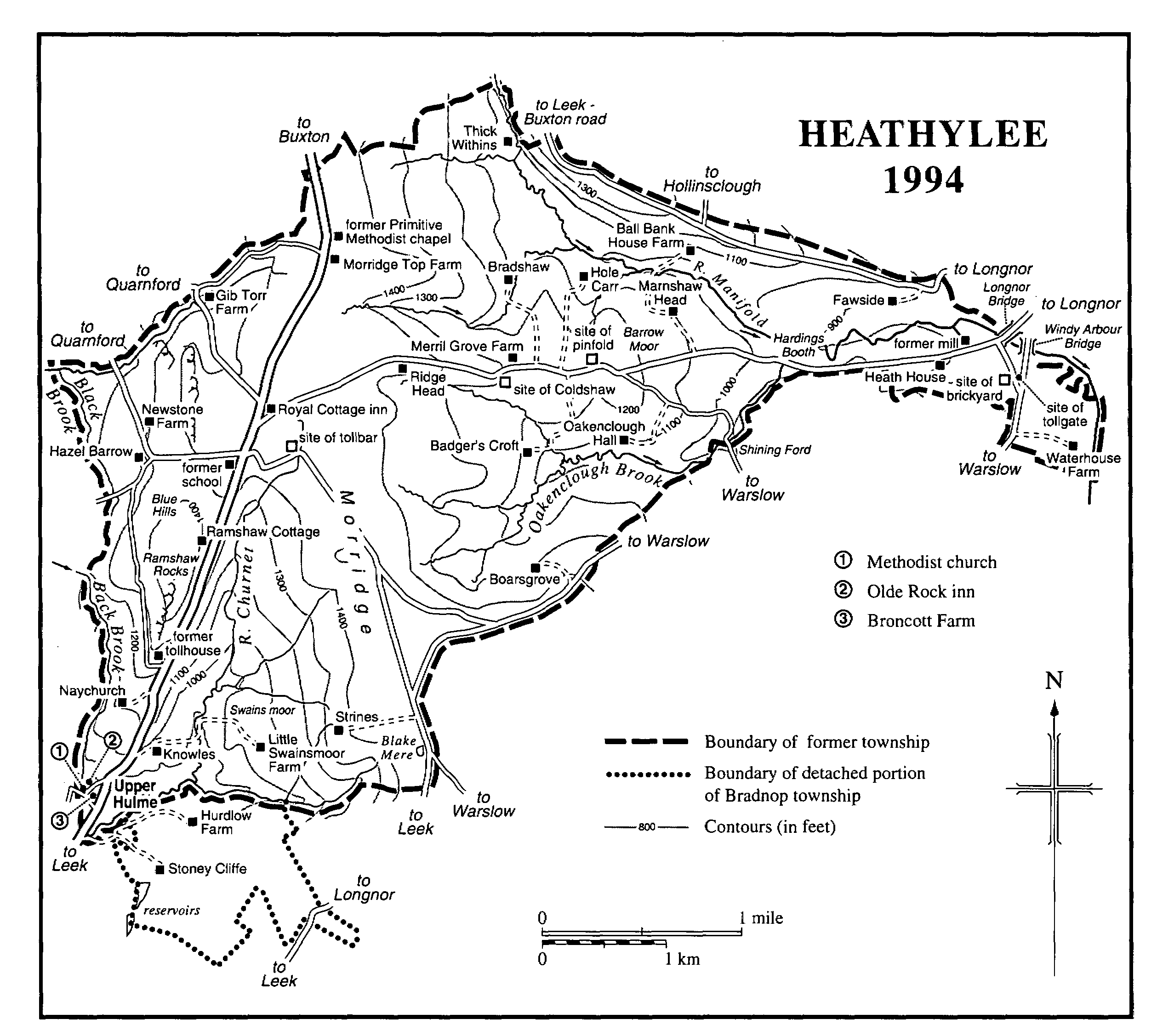 The number of people in Heathylee owing suit at the manor court in the late 1760s was 100. (fn. 4) The population of the township was 520 in 1801, 706 in 1811, and 788 in 1821. By 1831 it had fallen to 689, and a steady decline thereafter reduced it to 504 in 1861, 361 in 1891, 353 in 1901, 331 in 1911, 333 in 1921, and 345 in 1931. The population of the enlarged civil parish was 280 in 1951, 279 in 1961, 258 in 1971, 265 in 1981, and 244 in 1991. The population of the Hurdlow Farm area added in 1934 was 25 in 1841 and 23 in 1881. (fn. 5)
The earliest medieval settlement was probably in the south-west corner where the hamlet of Upper Hulme existed on the Leekfrith side of Back brook by the mid 13th century. (fn. 6) There was an estate called Broncott on the Heathylee side of the brook by 1299; the name is derived from words meaning broom cottage. (fn. 7) A house built north of Broncott Farm in the later 18th century almost certainly for Joseph Billing, who worked a quarry there, was an inn by the later 1820s. It was then called the New inn, and it survived as a public house, the Olde Rock, in 1994. (fn. 8) A cottage beside Back brook west of the inn has the date 1778 over a fireplace. To the north of Upper Hulme a house called Naychurch, in existence by the early 15th century, (fn. 9) retains 17th-century stonework.
There was a house on the site of Knowles Farm north-east of Upper Hulme probably by 1308, when Robert of Knolles was recorded as a tenant of Alstonefield manor, and certainly by 1476. (fn. 10) To the east, across the headstream of the Churnet, pasture on Morridge was called Swains moor by the early 14th century. (fn. 11) There was house called Strines on the edge of the moor by 1415, (fn. 12) and one to the west on the site of Little Swainsmoor Farm by the early 16th century. (fn. 13) South of Swains moor, the detached portion of Bradnop township added to Heathylee in 1934 was centred on Hurdlow Farm, which belonged to Dieulacres abbey at the end of the Middle Ages. The name Hurdlow combines Old English hord, treasure, and hlaw, a hill or possibly a barrow. (fn. 14) There was a house at Stoney Cliffe south-west of Hurdlow by 1586. (fn. 15)
On the east side of the township there was a settlement at Hardings Booth at the confluence of the Manifold and Oakenclough brook by 1327. (fn. 16) The site of Oakenclough Hall to the south-west in the valley of Oakenclough brook was inhabited by the early 15th century. (fn. 17) A 17th-century stone house there, styled a hall in 1747, (fn. 18) was replaced by the present house built on an adjacent site in the later 1890s. (fn. 19) The site of Badger's Croft further west was probably inhabited by 1308, when Robert of Bochardescroft was recorded as a tenant of Alstonefield manor. The house was known as Butcher's or Badger's Croft in the 18th century. (fn. 20)
A house called Heathylee was recorded in 1406. Its site was probably in the Manifold valley north-west of Hardings Booth, where there were two houses called Heathylee in 1571. (fn. 21) There was a house in the upper part of the valley at Thick Withins by 1406, (fn. 22) and others to the east at Fawside by c. 1420 (fn. 23) and Ball Bank by 1444. (fn. 24) There were also houses by the earlier 15th century on the south side of the Manifold: Hole Carr was recorded in 1414, (fn. 25) Bradshaw in 1429, (fn. 26) and Marnshaw in 1444. (fn. 27) Houses at Coldshaw and Merril Grove beside the Longnor road were recorded respectively in 1429 and 1439. (fn. 28) The place-name 'shaw' means a copse, and its use suggests late-medieval settlement in a wooded landscape. (fn. 29) The site of Heath House on the Longnor road east of Hardings Booth was occupied by 1406. (fn. 30) Waterhouse Farm at the township's eastern tip beside the Manifold was so called by 1571. There were then two adjacent houses, Over Waterhouse and Stewards Place, the latter possibly once used by the steward of Alstonefield manor. There were still two houses there in the later 18th century. (fn. 31)
Blue Hills north of Upper Hulme was probably the last area of the township to be settled. So called by c. 1680, it apparently takes its name from the colouring of watercourses by coal deposits, which were mined by the early 15th century. (fn. 32) A house called Gylfields in 1481 stood near Gib Torr Rocks (in Quarnford), possibly on the site of the present Gib Torr Farm. There was certainly a house called Gib Torr by 1564. (fn. 33) The present house is probably of the 19th century, and a barn carries the initials of Sir George Crewe and the date 1841. There was a house at Hazel Barrow by 1719, (fn. 34) and Newstone Farm is dated 1773.
A pool called Blake Mere on the east side of Swains moor was evidently so called in the 14th century, when the name was used for a nearby house (the present Mermaid inn) in Onecote, in Leek parish. (fn. 35) A belief that the pool was bottomless and that cattle would not drink from it or birds fly over it was dismissed as fanciful by the antiquary Robert Plot, writing c. 1680. He accepted, however, a story about the rescue of a woman whose lover tried to drown her in the pool. The event was the subject of Robert Southey's poem 'Mary, the Maid of the Inn', written in 1796. (fn. 36)
The Leek-Buxton road through Heathylee was laid out in the later 1760s as a branch of the road from Newcastle-under-Lyme to Hassop (Derb.) via Leek and Longnor, turnpiked in 1765. (fn. 37) Two miles north of Upper Hulme the Hassop road followed the line of a road which existed by 1408, when it was apparently known as Jaggers Lane in the Hardings Booth area; (fn. 38) a jagger was a carrier or packman. At that time it probably ran across the breadth of the township, crossing into Quarnford past Gib Torr. There was an inn by 1805 where the Buxton branch left the main road. By 1833 it was called the Royal Cottage, a name taken from a belief that Prince Charles Edward Stuart slept in the house in 1745. In fact he stayed in Leek, and it is not known that there was a house on the site before the turnpike road was laid out. (fn. 39) The bridge over Oakenclough brook at Hardings Booth was rebuilt in 1779 and again shortly after 1808, by which date it was a county responsibility. (fn. 40) A side road running north-west from the Royal Cottage via Gib Torr to Manor Farm, in Quarnford, was turnpiked in 1773. Another road to Manor Farm running across the Blue Hills area via Hazel Barrow was turnpiked in 1793. (fn. 41) A tollgate and house were erected at Gib Torr in 1775; the gate was removed in 1825, when another was set up further along the road in Quarnford. (fn. 42) A road from Warslow laid out in the late 1810s joined the Leek-Buxton road south of the Royal Cottage, and by the later 1820s there was a tollbar east of the junction. (fn. 43) A tollhouse was built on the main road near Ramshaw Rocks in 1842. (fn. 44) The road system was disturnpiked in 1875. (fn. 45) A new stretch of road was built in 1955 to bypass Upper Hulme on the east. (fn. 46)
A short stretch of the Cheadle-Buxton road runs through the east side of the township. Formerly it joined the Longnor road near Longnor mill, but after being turnpiked in 1770 it was realigned to run directly to Longnor village by way of a bridge at Windy Arbour. (fn. 47) By 1818 there was a tollgate at the junction of the old and new routes. (fn. 48) The road was disturnpiked in 1878. (fn. 49)
A surviving stone bridge across a stream northwest of Stoney Cliffe carried a packhorse way between Cheshire and Nottinghamshire, which crossed the south-western tip of the township before climbing Morridge to the Mermaid inn in Onecote. (fn. 50)
Heathylee was connected to a mains electricity supply in 1963. (fn. 51)
It was apparently a custom in the early 19th century for people to gather on May Day at the Bald Stone west of the Royal Cottage and to paint it white. (fn. 52) The New inn at Upper Hulme was the meeting place of the Colliers' Refuge friendly society, established in 1842 as a lodge of the Order of Foresters. The society had 162 members in 1876. (fn. 53) A brass band formed at Upper Hulme by 1850 (fn. 54) was probably drawn from members of the lodge.
ESTATES.
An estate centred on BRONCOTT FARM at Upper Hulme probably existed by 1299 when the widow of Henry of Broncott held a house of Nicholas de Audley, the lord of Aenora Malbank's share of Alstonefield manor. (fn. 55) In 1327 Ranulph of Bagnall gave his son William lands and tenements in the vill and fields of Broncott, and in 1341 Thomas of Bagnall acquired a 'great house' there with further land. In 1370 the estate was held by Thomas's son John, and in 1432 John's son William granted it to Roger Fowall, retaining a life-interest. (fn. 56) Richard Fowall held the estate in 1557, when he was succeeded by his son William, (fn. 57) and Roger Fowall held it in 1567 and 1577. The owner in 1591 was Ralph Fowall, who became the tenant in 1592 on selling the estate to John Harpur, lord of Alstonefield manor. (fn. 58) In 1633 the tenant of what was then a 52½-a. farm was Robert Brough (d. 1657). (fn. 59) He was succeeded by his son Thomas, and Thomas by his son Robert, the tenant in 1679. (fn. 60) He or another Robert was succeeded in 1712 by his son Robert (d. 1753). (fn. 61) The tenant when the Harpur Crewe family offered the farm for sale in 1951 was Colin Lownds (d. 1975), whose daughter Edith and her husband William Waters were the owners in 1994. (fn. 62) The stone-built farmhouse is dated 1833.
The detached portion of Bradnop added to Heathylee in 1934 consisted of an estate centred on HURDLOW FARM. The estate belonged to Dieulacres abbey at the Dissolution, and in 1546 the Crown sold it to two speculators, Hugh and Robert Thornhill. (fn. 63) By 1625 it was owned by the Hollinshead family, later of Ashenhurst Hall in Bradnop, who still held it in 1680. (fn. 64) The later descent is unknown until 1835, when a house and 189 a. were offered for sale under the will of John Bourne, possibly of Lane End in Longton. (fn. 65) The property was again offered for sale in 1845, and 177 a. were bought by the Revd. John Sneyd of Basford Hall, in Cheddleton. (fn. 66) Rebuilt in the 19th century, the house with its farmland was owned by the Belfield family in 1994.
ECONOMIC HISTORY.
Agriculture.
Over field and Nether field recorded at Broncott in 1341 may have been open fields. (fn. 67) The common waste lay chiefly on Morridge and covered 940 a. in 1839 when it was inclosed under an Act of 1834 amended in 1836. Sir George Crewe was awarded 48 a. as lord of the manor and 276 a. as impropriator of Alstonefield rectory, and the inclosure commissioners sold him a further 332 a. (fn. 68) Sir George also acquired by exchange in 1839 the 207 a. which had been awarded in lieu of tithes to the vicar of Alstonefield. (fn. 69)
Of the 2,034.9 ha. of farmland returned for the civil parish in 1988, grassland covered 1,609.6 ha. and there were 402.6 ha. of rough grazing. The farming was dairy and sheep, with 2,065 head of cattle and 7,438 sheep and lambs. One farm specialized in fattening pigs, of which there were 2,032 in the civil parish. Of the 55 farms returned, 47 were under 50 ha. in size, 5 were between 50 and 99 ha., and 3 were between 100 and 199 ha. (fn. 70)
Mills.
What was called Frith mill by 1404 (fn. 71) almost certainly stood on the Manifold in Heathylee near Longnor bridge: land called Milne Holme, with which the mill was held in the 16th century, lay in that area. (fn. 72) In 1605 Sir John Harpur replaced it with a mill on a nearby site called Longnor mill and powered by a cut from the Manifold. (fn. 73) Shortly before 1770 Longnor mill was rebuilt by a corn dealer and chapman, Richard Gould of Brownhill, in Warslow. Gould became bankrupt in 1773, and the mill may have fallen into disuse. (fn. 74) It was working again by 1831, when it was enlarged to include a bone mill. (fn. 75) The mill was used for grinding corn until c. 1870 and for grinding bone until c. 1890. By 1884, and possibly by 1880, the mill was also used as a saw mill, specializing in the manufacture of rakes. (fn. 76) It remained a saw mill until it ceased working in the mid 1980s.
Trade and industry.
In 1401 Richard Strongarme took a year's lease of two coal mines and a forge at Back brook and Thomas Smyth a year's lease of a vein of coal at Black brook. In 1404 a smith named John Toples took a lease for life of 140 ft. of coal at Black brook. He seems to have worked the mine only until 1407. About 1415 a mine was let for 12 years to Robert of Hulme. (fn. 77) A mine in the Blue Hills area was being worked c. 1680. (fn. 78) In 1764 Sir Henry Harpur let a mine at Blue Hills for 21 years to James and Tobias Mallors, stipulating 1/10 of the coal as rent. (fn. 79) What was called the Bluehills Colliery in 1796 was then owned by the earl of Macclesfield. It still existed in 1869, when it was offered for lease. (fn. 80) Four miners lived in the Blue Hills area in 1871, but only one in 1881. (fn. 81)
The house north of Broncott Farm which became the New inn was occupied in 1786 by Joseph Billing, a stone cutter who presumably worked the quarry still open there in the early 19th century. (fn. 82) Several small quarries were opened along the Longnor road later in the 19th century, and there were 3 stonemasons and 3 stone breakers in the township in 1861 and 2 masons in 1881. (fn. 83) In the later 1820s there was a brickyard east of Heath House. (fn. 84)
In 1601 a button maker lived at Stonieway, apparently near Hardings Booth. (fn. 85) About 1680 a stream issuing from a mine at Blue Hills was used to dye button moulds, and poor people of that area were then said to be much employed in making buttons. (fn. 86) It was common for women and girls in the township to work as button makers in the earlier 19th century, and some of them may have been involved in an attempt to establish a trade union in 1834. (fn. 87) Only 6 women button makers were recorded in the township in 1841, but there were 38 in 1851 and 42 in 1861. Only 5 were recorded in 1881. (fn. 88)
In the later 1760s Adam Billing of Boarsgrove, south-west of Oakenclough Hall, traded as a hawker, selling goods from Manchester, possibly small wares, in the summer and fish in the winter. Isaac Belfield, who lived at Barrow Moor on the Longnor road in 1772, also seems to have been a dealer in small wares. (fn. 89)
LOCAL GOVERNMENT.
Heathylee was part of the Forest tithing of Alstonefield manor by the late 1390s and remained so in the earlier 1530s. (fn. 90) By 1594 it shared a frankpledge with Hollinsclough, the joint tithing sometimes being called High Frith. (fn. 91) That was still the arrangement in 1676, but by 1697 Heathylee had its own frankpledge, by then styled a headborough. (fn. 92) There was a pinner for the joint tithing by 1596. (fn. 93) In the later 1820s there was a pinfold on the Longnor road west of Hardings Booth. (fn. 94)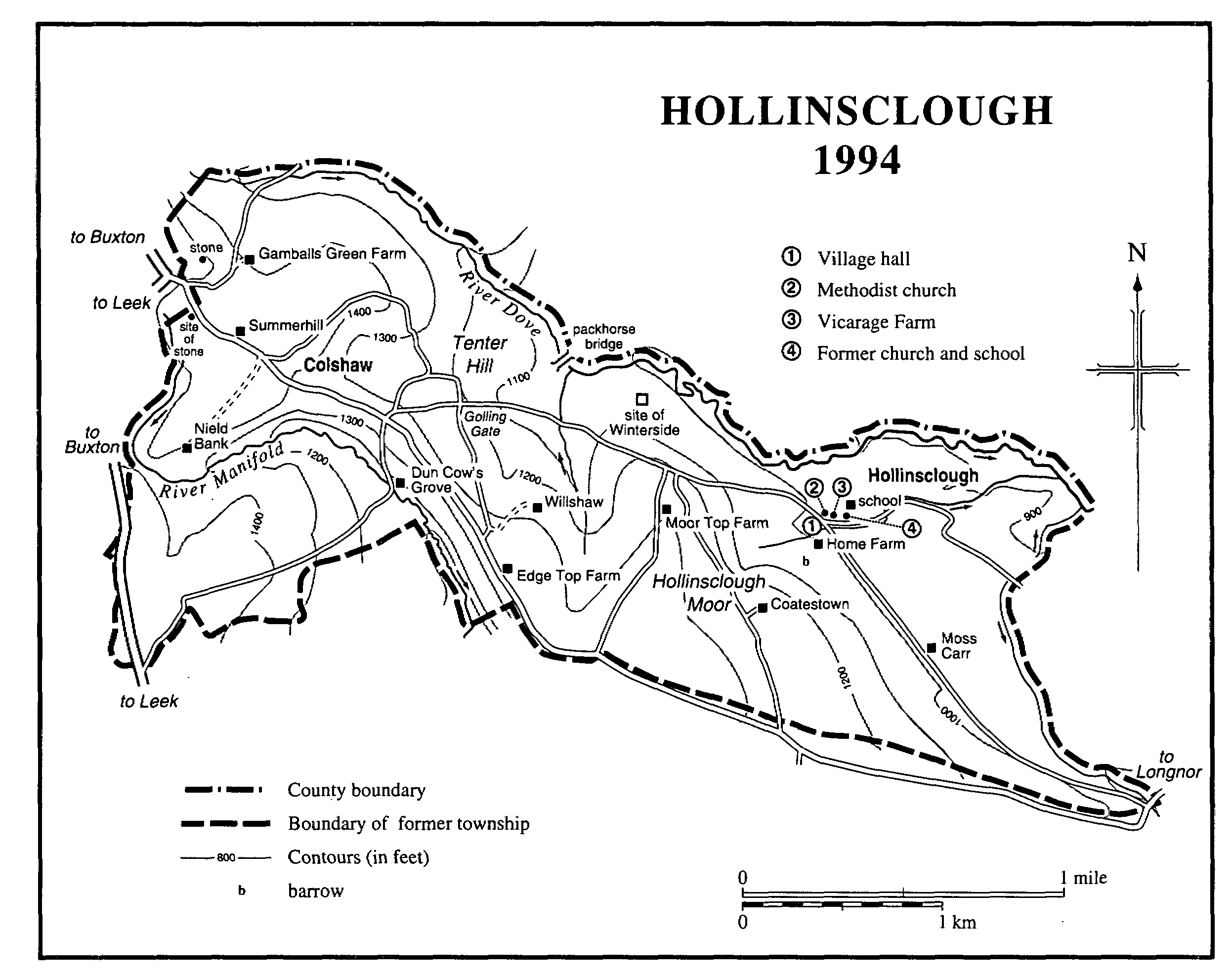 Two surveyors of the highways for Heathylee were appointed at the manor court apparently for the first time in 1601. From 1602 there was normally only one. (fn. 95)
In the later 17th and earlier 18th century the poor of Heathlyee, Fawfieldhead, Hollinsclough, and Quarnford were maintained jointly. (fn. 96) Heathylee relieved its poor separately from 1733. (fn. 97) It became part of Leek poor-law union in 1837. (fn. 98)
CHURCH.
In 1559 Ralph Gylmen of Merril Grove in Heathylee bequeathed a lamb for 'God's service' at Longnor, probably an indication that he attended Longnor church; people from Heathylee certainly did so by the late 17th century. (fn. 99) From 1744 those living in the western part of the township attended the church built that year at Flash, in Quarnford, and in 1902 that part of Heathylee was assigned to Quarnford parish. (fn. 100) By 1900 and at least until the later 1950s mission services were held in the schoolroom on the Buxton road. (fn. 101)
NONCONFORMITY.
A Methodist society met at Ridge Head, the home of Isaac Billing on the Longnor road, in the late 18th and early 19th century. (fn. 102) It numbered 46 in 1803 but only 8 in 1819, members presumably having moved to other societies in the area. (fn. 103) In 1829 Wesleyan Methodist services were held fortnightly on Sundays at Hole Carr and at Upper Hulme and once a month at Ridge Head. A Sunday service was also held twice a month at Hazel Barrow and at Newstone Farm, where a meeting room or chapel had been added to the farmhouse apparently in 1816. By 1832 Sunday services were held three times a month at Newstone and once a month elsewhere in the township. (fn. 104) A chapel opened at Upper Hulme in 1837 had an evening congregation of 30, besides Sunday school children, on Census Sunday 1851. (fn. 105) Services were still held at the chapel in 1994. The average attendance at Newstone in 1851 was between 50 and 60 adults. Services were last held there in 1930. (fn. 106)
A Primitive Methodist chapel opened in 1853 at 'Morridge End' was replaced c. 1880 by one on the Buxton road north of Morridge Top Farm. That chapel was closed in 1972 and was used in 1994 as a farm outbuilding. (fn. 107)
EDUCATION.
There was no school in the township in 1819. (fn. 108) In the earlier 1830s there were two day schools, with between 30 and 40 children who paid fees. There was also a Sunday school in which 120 children were taught free. (fn. 109) A Wesleyan Methodist Sunday school at Upper Hulme had an attendance of 28 on Census Sunday 1851. (fn. 110) There was evidently a dame school in 1841, when a schoolmistress lived in the township. A mistress was again recorded in 1851, 1861, and 1881. (fn. 111)
A school board for Heathylee was formed compulsorily in 1880, and in 1884 a school was built on the Buxton road south of the Royal Cottage. The cost was met by Sir John Harpur Crewe. It became Ramshaw council school in 1903. (fn. 112) The decision in 1930 that what was then an all-age school with 40 children on its books should become a junior school took effect in 1940, the senior children being transferred to Leek. (fn. 113) Ramshaw school was closed in 1970, and the building was later converted into a house. (fn. 114)
CHARITY FOR THE POOR.
By will of 1793 John Robinson of Fawside left half the interest on £196 9s. 6d. for the poor of Heathylee and Longnor. In 1972 the charity was administered jointly with others for Longnor. (fn. 115)