Pages 49-56
A History of the County of Stafford: Volume 7, Leek and the Moorlands. Originally published by Victoria County History, London, 1996.
This free content was digitised by double rekeying. All rights reserved.
QUARNFORD
QUARNFORD was formerly a township in Alstonefield parish and later a civil parish 3,141 a. (1,271 ha.) in area. (fn. 1) It is mostly pasture, and occupies the north-east corner of Staffordshire, marching with Cheshire and Derbyshire. The river Dane forms the boundary with Cheshire on the west and a tributary, Black brook, the southern boundary with Leekfrith. The headstreams of the rivers Dove and Manifold form short parts of the boundary on the east side, respectively with Hartington (Derb.) and Heathylee. The source of the Dove is marked with a capstone bearing the initials of the anglers Charles Cotton and Izaak Walton. (fn. 2)
The village of Flash on the east side of the township is the highest in England, its school standing at 1,526 ft. (465 m.). Oliver Hill north of Flash rises to 1,684 ft. (513 m.) and is the highest point in Staffordshire. South of Flash the land falls to 1,261 ft. (383 m.) near Flash Bottom, and Manor Farm on the western boundary stands at 870 ft. (265 m.). Goldsitch Moss, in the south part of the township, is an area of flatter ground, lying at 1,170 ft. (356 m.) at its centre. The land rises again in the west, reaching 1,310 ft. (398 m.) on Gradbach Hill. The underlying rock is sandstone of the Millstone Grit series, which outcrops in the north part of the township at Turn Edge, Wolf Edge, and Drystone Edge. There are shallow Coal Measures in the north-west corner of the township and at Goldsitch Moss. The soil is poor-quality clay and loam, and there are patches of peat. (fn. 3)
Panniers Pool or Three Shire Heads on the north-west boundary was held in 1533 to be the meeting point of Staffordshire, Cheshire, and Derbyshire. (fn. 4) By the early 17th century, however, three stones on the top of Cheeks Hill at the northern tip of the township were thought to mark the meeting point, and they still existed in the early 19th century. (fn. 5) When the common waste of Hartington parish in Derbyshire was inclosed in 1804, Panniers Pool was confirmed as the point were the counties met. (fn. 6) The pool probably takes its name from the baskets carried by packhorses; several packhorse ways converge at the pool. (fn. 7)
In 1751 there were 218 people aged over 16 in the township. (fn. 8) The population was 737 in 1801. It was 699 in 1811 and 695 in 1821, but by 1831 it had risen to 783. Thereafter it fell to 709 in 1841, 549 in 1861, 436 in 1881, 339 in 1901, 311 in 1911, and 295 in 1921. It was 296 in 1931, 243 in 1951, 216 in 1961, 220 in 1971, 270 in 1981, and 222 in 1991. (fn. 9)
The name Quarnford, recorded in 1227, is derived from Old English cweorn, a quern or millstone. (fn. 10) The ford was probably over the Dane near Manor Farm, and the name may refer to a stopping place on a route for the carriage of millstone. Manor Farm, a mainly 19th-century farmhouse which retains a date stone of 1739, was called Quarnford House until c. 1895 and presumably stands on the site of Quarnford Farm, in existence by 1597. (fn. 11) Birchen Booth further up the Dane from Manor Farm was possibly the site of a dairy farm in the Middle Ages, and a house there was recorded in 1597. (fn. 12) Birchen Booth farmhouse was still occupied in 1940 (fn. 13) but was later abandoned.
There was a house at Gradbach south-west of Manor Farm possibly by 1374, when there was mention of Henry Gratebache. There was certainly a house by the earlier 1630s on the site of Gradbach Old Hall, a mainly 19th-century house which retains 17th-century stonework. (fn. 14) The nearby Gradbach House Farm was built in the early 20th century. (fn. 15) In 1951 Gradbach Old Hall was bought by the Buxton and District Scout Association, which uses its fields as a camping ground. Since the death of the tenant in 1956 the house has provided accommodation for visitors and staff. (fn. 16) A cotton mill was erected beside the Dane in the late 18th century. In 1984 the mill and mill house were converted into a youth hostel. (fn. 17)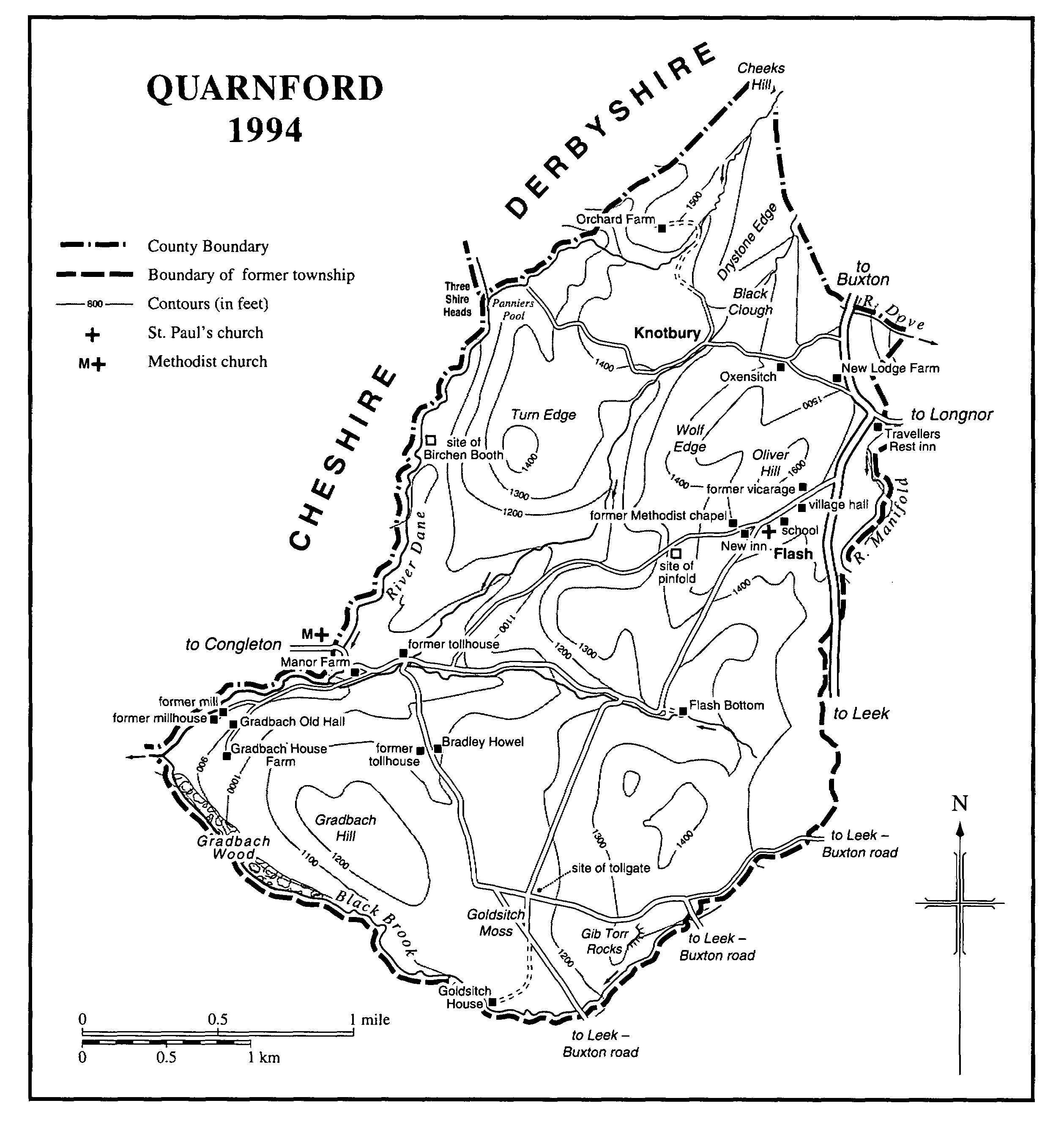 Goldsitch Moss probably takes its name from marigolds growing by Black brook. (fn. 18) A house there occupied in 1634 by a coal prospector (fn. 19) almost certainly stood on the site of Goldsitch House, which is partly of the 17th century.
Flash on the east side of the township, whose name means a swamp, had at least five houses in 1597. (fn. 20) During the 18th century the area was settled by pedlars and hawkers, and the present village grew up around a church built in 1744. (fn. 21) It had three inns and three shops in 1817 and was the main centre in the north-west part of Alstonefield parish. (fn. 22) When Sir George Crewe first visited Quarnford in 1819 or 1820, it appeared to him as 'the very end of the civilized world', and Flash village was 'dirty, and bore marks principally of Poverty, Sloth, and Ignorance'. (fn. 23) Sir George was probably responsible for improving c. 1840 the former Leek-Buxton road runnning to the village over Goldsitch Moss. (fn. 24) There was a village post office by 1904. (fn. 25)
The Leek-Buxton road formerly entered the township near Goldsitch House. It ran over Goldsitch Moss and continued north over the west side of Oliver Hill, crossing into Derbyshire beyond Oxensitch. (fn. 26) By 1749, however, it had been realigned to run north-east through Flash. (fn. 27) A new route for the Buxton road running mostly through Heathylee was laid out in the later 1760s as a branch of the road between Newcastleunder-Lyme and Hassop (Derb.) via Leek and Longnor, turnpiked in 1765. A tollgate called Flash Bar and a tollhouse were built in 1771 at the junction with a road to Longnor north-east of Flash. (fn. 28) An Act of 1773 turnpiked a side road running north-west from the Leek- Buxton road at the Royal Cottage, in Heathylee, to Manor Farm across Goldsitch Moss. Another side road to Manor Farm which entered Quarnford from the Blue Hills area of Heathylee was turnpiked under an Act of 1793. (fn. 29) In 1825 a tollgate, replacing one at Gib Torr, in Heathylee, was erected on Goldsitch Moss, and a tollhouse was built to the north-west at the home (now Bradley Howel) of John Bradley. (fn. 30) The tollhouse was replaced in 1842 by a house and gate at the road junction further north. The gate remained in use until 1852 when both it and the Goldsitch Moss gate were removed. (fn. 31) The Act of 1773 also turnpiked a side road which ran west from Flash Bar to Knotbury and then to coal pits on the Cheshire side of the Dane. (fn. 32) A tollgate erected at Oxensitch in 1829 was apparently no longer used in 1839. (fn. 33) The road system was disturnpiked in 1875. (fn. 34)
Flash association for the prosecution of felons existed in 1811. (fn. 35) A police constable recorded in Quarnford in 1896 probably lived at Flash. (fn. 36) A mains electricity supply was connected in 1962, and in 1984 the civil parish received a mains water supply, after a reservoir had been built on Oliver Hill. (fn. 37)
Quarnford Club, mentioned in 1767, was probably a burial or sick club. (fn. 38) By 1840 a sick club was based at the Travellers Rest, (fn. 39) an inn on the Buxton road north-east of Flash in existence by the later 1820s and so called by 1834. (fn. 40) The Flash Loyal Union friendly society was established in 1846. Known as the Tea Pot Club by 1906, it was dissolved in the early 1990s. (fn. 41) There was a lodge of the Order of Foresters in 1906. (fn. 42) From 1905 the post office at Flash housed a parish lending library and probably a reading room. (fn. 43) A village hall was opened north-east of the village in 1959. (fn. 44) A Women's Institute was formed in 1962. (fn. 45)
The belief that coins were counterfeited at Flash is an erroneous inference from its name, although a coining machine has been found in the neighbourhood at a farm in Sutton, in Prestbury (Ches.). (fn. 46) The alleged counterfeiting of bank notes at Flash in the early 19th century (fn. 47) was the main theme of the novel Flash (1928), an historical romance by Judge Alfred Ruegg.
MANOR.
What was called the manor of QUARNFORD in 1321 was held by Hugh Despenser, created earl of Winchester in 1322. (fn. 48) It may have originated in the early 13th century, when Hugh's grandfather owned a park in Quarnford. (fn. 49) Hugh Despenser was executed in 1326, and in 1327 the Crown assigned Quarnford to Sir Roger Swynnerton, along with Despenser's share of Alstonefield manor and his manor of Rushton Spencer, in Leek. (fn. 50) At his death in 1338 Sir Roger was stated to hold what was described merely as pasture on the moors in Quarnford, for which he paid a chief rent of two arrows a year to James, Lord Audley, lord of Aenora Malbank's share of Alstonefield. By 1515 the rent was 2d. a year. (fn. 51) In the mid 15th century Quarnford and Rushton were acquired by John Savage, (fn. 52) whose descendant Sir John Savage in 1597 conveyed farms and waste ground in Quarnford to John Harpur, the lord of Alstonefield. (fn. 53)
ECONOMIC HISTORY.
Agriculture.
Quarnford was in the forest of Alstonefield. About 1200, when Peter the clerk, a member of the earl of Chester's household, created a park there. In Peter's time the park was not fenced but was guarded by his men while the grass was growing; after the grass had been cut, the park was laid open as common pasture. Peter was succeeded by Hugh le Despenser, also a member of the earl of Chester's household. Hugh erected a fence around the park, but in 1227 he agreed to take it down and to restore pasture rights. (fn. 54) The park possibly lay in the south-west corner of the township: there was land in the Gradbach area called the Park in the earlier 1630s. (fn. 55)
There was a vaccary, or dairy farm, in Quarnford in 1308. (fn. 56) It was possibly beside the Dane on the site of Birchen Booth, which derives the second part of its name from both, a cowhouse or herdsman's shelter. (fn. 57) In 1597 Ralph Rudyard held a lease of 300 sheep gates in Quarnford, (fn. 58) and sheep farming was evidently important in 1703 when a farmer was presented for grazing sheep in Quarnford in the summer but not in the winter, thereby evidently depriving the ground of manure. (fn. 59)
Quarnford's claim to a share of the common waste which lay north of Flash and spread into the Derbyshire manor of Hartington was disputed in the early 17th century. (fn. 60) In 1674 arbitrators awarded part of the waste to Sir John Harpur, as owner of Quarnford, and by 1737 c. 50 a. had been inclosed at Orchard Farm. (fn. 61) The remaining 134 a. of common waste in that area was inclosed in 1839 under an Act of 1834 amended in 1836, as were 136 a. south-east of Gradbach. All the inclosed land was awarded to Sir George Crewe, as impropriator of Alstonefield rectory. (fn. 62)
Gradbach wood along Black brook covered 26 a. in the early 19th century. The owner, Sir Henry Harpur, was informed in 1810 that trees were being felled illegally, and some replanting took place in 1837. (fn. 63)
Of the 1,210.1 ha. of farmland returned for the civil parish in 1988, grassland covered 725.7 ha. and there were 475.5 ha. of rough grazing. The farming was dairy and sheep, with 843 head of cattle and 6,905 sheep and lambs. Of the 41 farms returned, 37 were under 40 ha. in size, 3 were between 50 and 99 ha., and one was between 100 and 199 ha. Woodland covered 2.3 ha. (fn. 64)
Mill.
There may have been a corn mill at Gradbach in 1640. That or a later mill on the site was apparently burnt down in 1785. (fn. 65)
Fairs.
In 1851 fairs were held at Flash on the Saturdays before Easter Sunday and Whit Sunday, at Michaelmas, and on the Saturday before the fair at Rugeley on the second Tuesday in December. The Michaelmas fair dated from c. 1839 and was for sheep and cattle. (fn. 66) A walled enclosure in a field north of Flash school in the late 1870s was probably used for cattle sales; such sales took place monthly in the earlier 20th century and possibly later. (fn. 67)
Trade and industry.
There were coal pits in the Goldsitch Moss area in 1564 and coal workings at Black Clough in the north part of the township in 1602. (fn. 68) When Sir John Harpur let a house and 37 a. at Goldsitch Moss to Peter Higson in 1634, he included all coal works in Quarnford. The lease was for 21 years, Higson paying an annual rent of £12 and 2 fat hens. (fn. 69) In 1673 coal was dug where it outcropped along streams south and east of the later Orchard Farm. (fn. 70) The mines were worked despite their expense. In his will of 1718 William Wardle of Boosley Grange, in Fawfieldhead, who in 1677 had taken a lease of coal mines in Alstonefield parish, asked Sir John Harpur to renew the lease in favour of his son, another William, in consideration of 'the vast charge' which the elder William had borne in improving tenements and in draining the mines. (fn. 71) In the earlier 18th century the younger William Wardle had to repair a road damaged by the number of coalladen sledges from mines at Knotbury. (fn. 72) In 1765 Sir Henry Harpur let coal mines at Goldsitch and Knotbury to two Derbyshire men, George Goodwin and John Wheeldon, and to James Slack of Knotbury for 21 years at a rent of £10 15s. a year. It is probable that Goodwin and Wheeldon provided the money for the lease and that Slack worked the mines. The lease included a forge which Slack had recently set up. (fn. 73) There were 20 coal miners and colliers in the township in 1841 and 32 in 1851; the number had declined to 14 by 1881. (fn. 74) The main workings in the late 19th century were at Knotbury and near Orchard Farm, and they were closed and reopened according to local demand. The last mine, Hope Colliery near Orchard Farm, was worked between 1925 and 1932. (fn. 75)
In the 18th century Flash became a centre for pedlars and hawkers who travelled in North Staffordshire, Cheshire, and Derbyshire. The description 'a Flash man' was used for one of them in 1766. (fn. 76) The pedlars' goods consisted chiefly of silk ribbons from Leek, buttons from Macclesfield, and smallwares from Manchester. (fn. 77) The benefactors of the church built at Flash in 1744 included six button men and two petty chapmen of Quarnford. (fn. 78)
Buttons were also made in the area around Flash by the late 18th century, (fn. 79) and in February 1834 the Travellers Rest was the scene of an attempt to establish a trade union for the female button makers of the locality. Five men organized a meeting at which, after prayers, oaths were taken from the women. They swore not to make buttons for less than certain piece rates and to 'turn out for wages', presumably meaning to strike, in three months' time. The women would then receive 6s. a week, having contributed 2d. a week to the union during the intervening period. The oaths were repeated in March, apparently as a defiant response to the conviction of trade unionists from Tolpuddle (Dors.). The promoters were brought to trial at Stafford in July, and the case was heard by Sir John Williams, the judge who had sentenced the Tolpuddle Martyrs to transportation. The defendants pleaded guilty, and because of their good character and the prosecution's call for leniency they were merely lectured by the judge and released on their own recognizances. (fn. 80)
Women and girls in Quarnford township continued to work as button makers. Only one was recorded in 1841, but there 34 in 1851 and 30 in 1861. Although only one was again recorded in 1881, there may have been many part-time workers: in 1884 it was stated that buttons were still made by hand in villages around Leek, principally Flash. (fn. 81)
In 1792 Thomas and James Oliver of Longnor and Thomas White of Hartington (Derb.) took a 31-year lease from Sir Henry Harpur of land by the Dane at Gradbach in order to build a mill to spin wool, cotton, or silk. (fn. 82) The mill was duly built, but in 1794 the lessees, then described as cotton spinners, dealers, and chapmen, went bankrupt. In 1798 the remainder of the lease was transferred to John and Peter Dakeyne, cotton spinners of Darley (Derb.). They converted the mill to flax spinning and erected a warehouse. (fn. 83) In 1837 the buildings included the mill and two warehouses, of two and three storeys; there was also a large house. (fn. 84) The mill provided employment for 64 people in 1838. (fn. 85) The Dakeyne family continued as lessees, and in 1850 Bowden Dakeyne worked both flax and silk at the mill. He still ran it in 1864, but it had been closed by 1868. (fn. 86) In 1978 the Youth Hostels Association bought the land and buildings from the HarpurCrewe estate and converted both the mill and the mill house into a hostel, opened in 1984 as Gradbach Mill youth hostel. (fn. 87)
LOCAL GOVERNMENT.
Quarnford seems not to have come within the jurisdiction of Alstonefield manor court in the Middle Ages: no matters relating to the township were entered in the surviving court records.
In 1613 Alstonefield manor court appointed a surveyor of the highways for Quarnford, and in 1614 the frankpledge for Heathylee and Hollinsclough also represented Quarnford. Quarnford no longer shared that officer in 1615, although the court appointed a highway surveyor jointly for Quarnford and Hollinsclough from 1617 until 1629 or later. (fn. 88) By 1697 Quarnford formed its own tithing with a frankplege, by then styled a headborough. (fn. 89) Probably from 1745 and certainly from 1751 a separate view of frankpledge was held for Quarnford; it continued until 1756 or later, but from 1761 the headborough once more attended the view at Alstonefield. The Quarnford view was revived in 1775. (fn. 90) The court met at Manor Farm in the earlier 19th century and was still held in 1853. (fn. 91)
An order was made in 1714 for stocks to be set up on a green at 'Flashhead', presumably in the area of the later village. (fn. 92) There was a pinfold in the township in 1620. No pinner specifically for Quarnford is recorded before 1751, when one was appointed at the Quarnford view. (fn. 93) There was a pinfold south-west of Flash village in the late 1870s. (fn. 94)
In the later 17th and earlier 18th century the poor of Quarnford, Fawfieldhead, Heathylee, and Hollinsclough were maintained jointly. (fn. 95) Quarnford relieved its poor separately from 1733. (fn. 96) It became part of Leek poor-law union in 1837. (fn. 97)
CHURCH.
By the late 17th century and presumably earlier people from Quarnford attended Longnor church. (fn. 98) In 1744 a church was built at Flash by the inhabitants of Quarnford township on land given by Sir Henry Harpur. (fn. 99) The perpetual curate was to receive £15, of which £10 was paid as a subscription by 32 inhabitants and landholders of Quarnford, each of whom was allotted a pew, and £5 by the trustees of the chapel. (fn. 100) The fees were to be retained by the vicar of Alstonefield and the curate of Longnor, although a small payment was made to the chapel out of parish funds until 1768 or later. (fn. 101) There was a chapelwarden by 1747. (fn. 102)
The benefice was vested in the Harpur family, and was styled a vicarage from 1868. (fn. 103) A parish of Quarnford, covering Quarnford and the western halves of Heathylee and Hollinsclough, was created in 1902. (fn. 104) The church retained its own vicar until 1963, and from 1965 it was served successively by the vicar of Meerbrook, in Leekfrith, and the vicar of Longnor as priests-in-charge. (fn. 105) In 1985 the benefice was united with those of Longnor and Sheen, although all three parishes remained separate. The vicar was to live in Longnor. (fn. 106)
In 1752, 1754, and 1800 Queen Anne's Bounty made grants of £200. By 1824 some of the money was used to buy 27 a. south of Hare House in Bradnop, in Leek parish. The Bounty made a further grant of £1,000 in 1822. In 1824 the rent from the Bradnop land was £30, and the interest on the remaining Bounty money was £44. Sir George Crewe then paid the £5 formerly paid by the trustees. (fn. 107) In 1829 Peter or William Walmesley left £50, but Sir George Crewe held the money in 1836 and it seems not to have been invested. (fn. 108) About 1830 the living was worth £85. (fn. 109) The £10 subscription established in 1744 came to be treated as a rent for the pews allocated to the original subscribers and was not always forthcoming. It was stated in 1834 that some pew-holders were too poor to pay and that some were annoyed at being expected to contribute when other worshippers paid nothing. Moreover the heirs of some of the benefactors were Methodists, and they presumably did not pay anything. As a result the curate usually received only half of what was due. (fn. 110) In 1874 the Ecclesiastical Commissioners gave an annuity of £6 13s. 4d. to meet a benefaction of £500, comprising £200 from the Poor Benefice Fund, £100 from the Lichfield Diocesan Church Extension Society, and £200 from donations by the patron and others and from collections in Alstonefield and Flash churches. The Commissioners themselves made a grant of £400 in 1885. (fn. 111) There were 29 a. of glebe in 1887, with an estimated rental of £40. (fn. 112)
The first curate, Daniel Turner, was already the curate at Meerbrook, in Leekfrith, and he later became the curate of Rushton Spencer also. He lived at Meerbrook, where he died in 1789. (fn. 113) His successor, James Whitaker, became vicar of Alstonefield in 1814 and employed stipendiaries to serve Quarnford. They included Robert Balderson, whom the chapelwarden tried to bar from the church in 1821 as 'a most depraved and drunken man'. (fn. 114) The appointment of James Roberts as perpetual curate later the same year brought an improvement. He lived in a house at Flash rented from Sir George Crewe, who had it enlarged for the purpose. (fn. 115) By 1840 the house was in a bad condition, (fn. 116) and when Roberts's successor was appointed in 1850 he chose to live in Hollinsclough village. (fn. 117) The curate of Quarnford continued to live at Hollinsclough until a vicarage house was built north-east of Flash in 1884. (fn. 118) No longer needed after 1963, it was sold and became a private house.
The chapel clerk in 1760 was described as having a good voice and understanding psalmody well, and in 1833 there was a singers' club at the church. (fn. 119) In 1830 there was one Sunday service at Flash, and Communion was celebrated four times a year. (fn. 120) The curate also served Hollinsclough until at least 1865, and on Census Sunday 1851 only an afternoon service was held at Quarnford. The attendance was 48, besides Sunday school children; the average adult attendance, however, was stated to be 80. (fn. 121)
A building on the east side of Gradbach mill was opened as a place of worship in 1833, presumably for mill workers. (fn. 122) It was known by 1870 as the Lodge, and services were still held there in 1886. (fn. 123) By 1900 and at least until the later 1950s a mission held at Ramshaw schoolroom in Heathylee was served from Quarnford. (fn. 124)
The present church of ST. PAUL at Flash dates from 1901. The church of 1744 was a single-cell building of brick with stone dressings, entered through a west door. (fn. 125) A west tower was added in 1750, with an external staircase probably giving access to a west gallery erected in the same year. (fn. 126) The church was extended eastwards in 1754 at the cost of John Bourne of Newcastle-under-Lyme, a noted benefactor of churches in North Staffordshire. (fn. 127) The extension had a Venetian east window. (fn. 128) By 1830 there was a small north-east vestry and additional east and south galleries, and in 1857 the pulpit and reading desk were on the north side of the nave. (fn. 129) An organ was acquired from St. John's church in Buxton (Derb.) in 1871, and in 1873 Lady Harpur Crewe gave a font. (fn. 130)
The fabric was probably in poor condition in 1794, when there was a plan to rebuild the church. That was still the intention in 1841, but the parishioners could not afford the cost and in 1850 the church was in 'a most neglected condition'. (fn. 131) The church was rebuilt in 1901. Of coursed ashlar in a Gothic style to the design of W. R. Bryden of Buxton, it consists of a chancel with south organ chamber and north vestry, a nave, and a west tower. Fittings include a stone pulpit carved and given by a local sculptor, Edward Ash, a stone and marble reredos given by James Oliver of Meerbrook, in Leekfrith, and an oak lectern given by the Knowles family of New Lodge. (fn. 132) The glass in the east window was given in memory of Thomas and Maria Beswick of Northfield Farm in Flash village. (fn. 133)
There is an 18th-century silver chalice, presumably that given by William Trafford of Swythamley, in Heaton (d. 1762). Trafford also gave a silver paten, apparently no longer at the church in 1830. The church then had a silverplated flagon and dish. A set of plate was given by Lady Harpur Crewe in 1901. (fn. 134)
An early 19th-century Commandments board hangs on the north wall of the chancel, and four benefaction boards on the west wall of the nave include one of 1820 relettered in the later 1850s.
The registers date from 1744. (fn. 135)
The churchyard of 1744 was extended in 1857, 1898, and 1927. (fn. 136)
NONCONFORMITY.
A house in Quarnford registered for protestant dissenters by Thomas Redfern in 1772 was evidently for Methodists, estimated by the curate in 1773 as numbering c. 40. (fn. 137) The meeting place was probably at Flash, where a Methodist chapel was built in 1784. A Methodist society there had c. 60 members that year and more than 90 by 1790. (fn. 138) Sunday services were held fortnightly in 1798 and weekly in 1802. (fn. 139) As other Methodist societies were established in neighbouring villages the size of the society at Flash declined, and by 1803 it numbered 56. (fn. 140) It remained the largest in the area, however, and the chapel was rebuilt for Wesleyan Methodists in 1821. (fn. 141) On Census Sunday 1851 the attendance was 80 in the afternoon, besides Sunday school children, and 180 in the evening. (fn. 142) Closed in 1974, (fn. 143) the chapel was later converted into a house.
Methodists held a Sunday service at Gradbach monthly in 1798 and fortnightly in 1802. (fn. 144) A Wesleyan Methodist chapel was built on the Cheshire side of the boundary beyond Manor Farm in 1848 but was apparently used only from 1849. (fn. 145) It was known as Gradbach Wesleyan chapel in 1994.
EDUCATION.
John Bourne of Newcastleunder-Lyme built a school at Flash in 1760, a building which in 1994 was attached to the New inn. The chapel clerk was the schoolmaster in 1764. (fn. 146) What was probably the same school in 1819 had no endowment, and the master presumably charged fees. (fn. 147)
The school was reorganized in 1834 as a free day school, with the support of Sir George Crewe, who gave £10 a year, and Joseph Tunnicliffe of Macclesfield (Ches.), who gave £10 to pay for children from Hollinsclough. Tunnicliffe's donation ceased in 1835. The curate believed that if Sir George continued to contribute, it would be possible to teach 15 children free. (fn. 148) By the later 1840s the school was a National school, and in 1850 the master taught 36 children free. (fn. 149) The school was rebuilt in 1873 on a site north-east of the church and was enlarged in 1895. (fn. 150)
What was called Quarnford Church of England school in 1931 remained an all-age school until 1940, when the senior children were transferred to Leek. Quarnford school took controlled status in 1950, and by 1965 it was known by its present name, Flash Church of England (Controlled) primary school. (fn. 151)
A schoolmaster living at Goldsitch Moss in 1841 probably taught at Gradbach, where a National school had 10 boys and 10 girls in the later 1840s. (fn. 152) The school probably met in the mission church at Gradbach mill. Nothing further is known about it.
In 1830 the township had a Sunday school, attended by both Anglicans and Wesleyan Methodists. (fn. 153) The school received £5 a year left by Laurence Heapy (d. 1828), curate of Macclesfield (Ches.), for the religious education of poor children who attended the church at Flash. (fn. 154) In the earlier 1830s there were two Sunday schools, presumably one for Anglicans and the other for Methodists; the children numbered 114 boys and 105 girls. (fn. 155) On Census Sunday 1851 there was an attendance of 50 at the Church of England Sunday school, although the average attendance was stated to be 70. The attendance at a Wesleyan Methodist Sunday school at Flash on the same day was 51. (fn. 156)
CHARITIES FOR THE POOR.
None known expressly for the township.